Cloud-based call centers have transformed the way companies interact with customers and leads.
Traditional onsite call centers have given way to software as a service (SaaS) call centers that offer internet-based VoIP calling, omnichannel agent dashboards, and tons of other advanced features–without the hassle of hardware storage and maintenance.
But what exactly is a SaaS call center, and how can it help your company?
This article will outline the SaaS call center, including what it is, its main benefits, key features, and top providers.
Compare pricing & features of
top SaaS call centers
Jump to ↓
What is a SaaS Call Center?
A SaaS call center is a cloud-hosted software phone system providing inbound and outbound VoIP calling with virtual features like call management, routing, analytics, and omnichannel communication.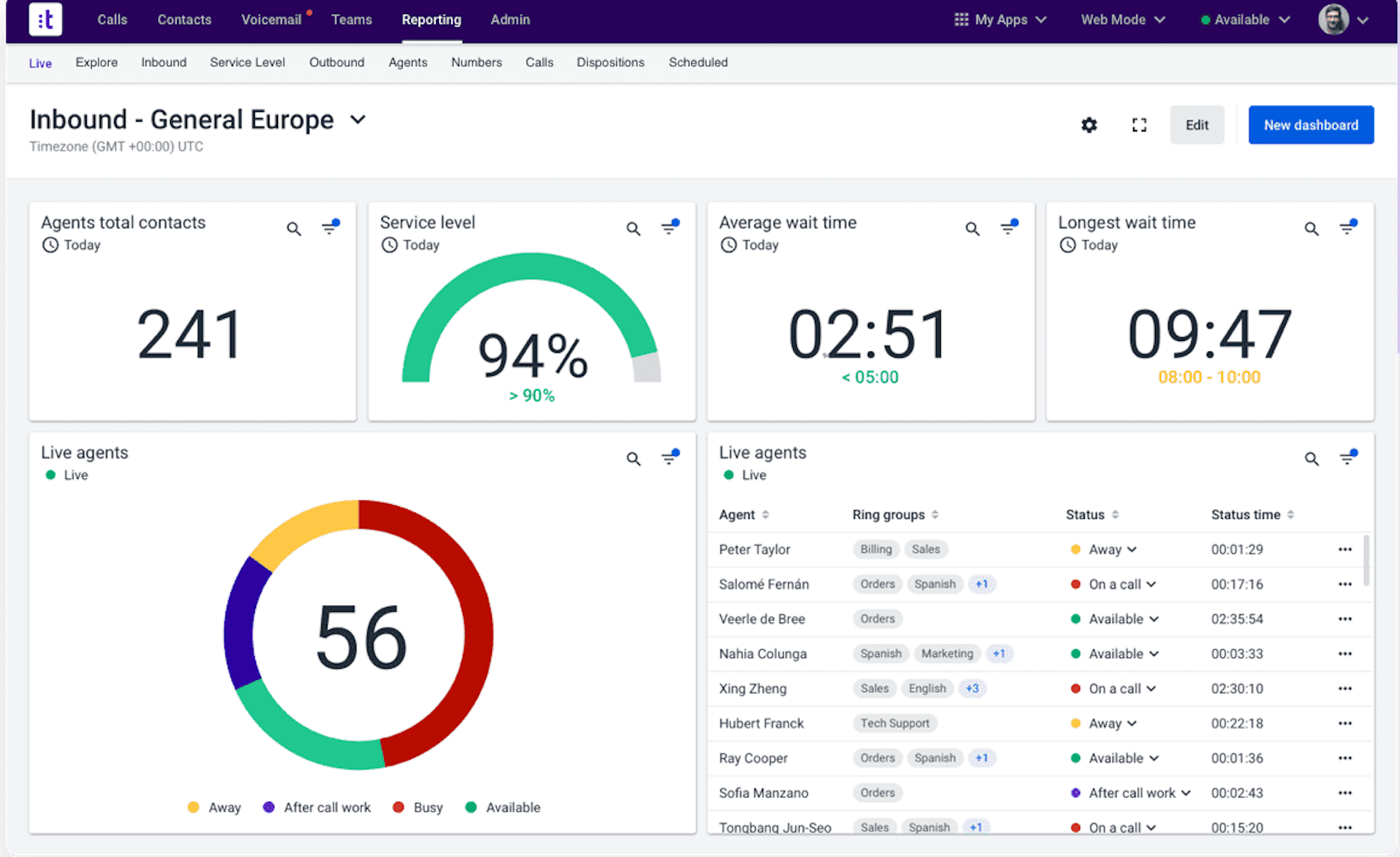 Paid by subscription, SaaS call centers use the internet for calling and messaging, providing a dashboard unifying multiple communication channels: voice, email, web chat, SMS, and video meetings. These channels help agents collaborate internally, serve customers, and create outbound marketing messages.
The Difference Between an On-Premise and SaaS Call Center
The difference between an on-premise and SaaS call center is that on-premise call centers require physical onsite hardware, while SaaS call centers require only the internet because communication software is hosted in the cloud, by the provider.
Traditional on-premise call center hardware, software, and infrastructure take up office space and require frequent IT-staff maintenance. Purchasing licenses and adding new agents is a time-consuming and costly process, involving the installation of new phone lines. All user extensions are rooted to a singular company landline number and address.
On the other hand, SaaS call center software saves time, space, money, and effort because the provider handles maintenance, setup, and upgrades. Users can upgrade features and communication channels, add remote team members, purchase local numbers around the world, set up omnichannel routing features, and integrate with other software tools–all in just a few clicks.
Benefits of a SaaS Call Center
SaaS call centers provide the following benefits:
Customizable Virtual Features
While on-premise call center systems include basic routing and call management features like voicemail, phone number extensions, and call hold and transfer, most SaaS call center plans include dozens of customizable tools and routing features like IVR systems, drag-and-drop chatbot flow builders, device switching, call recording and transcription, voicemail-to-email forwarding, and more.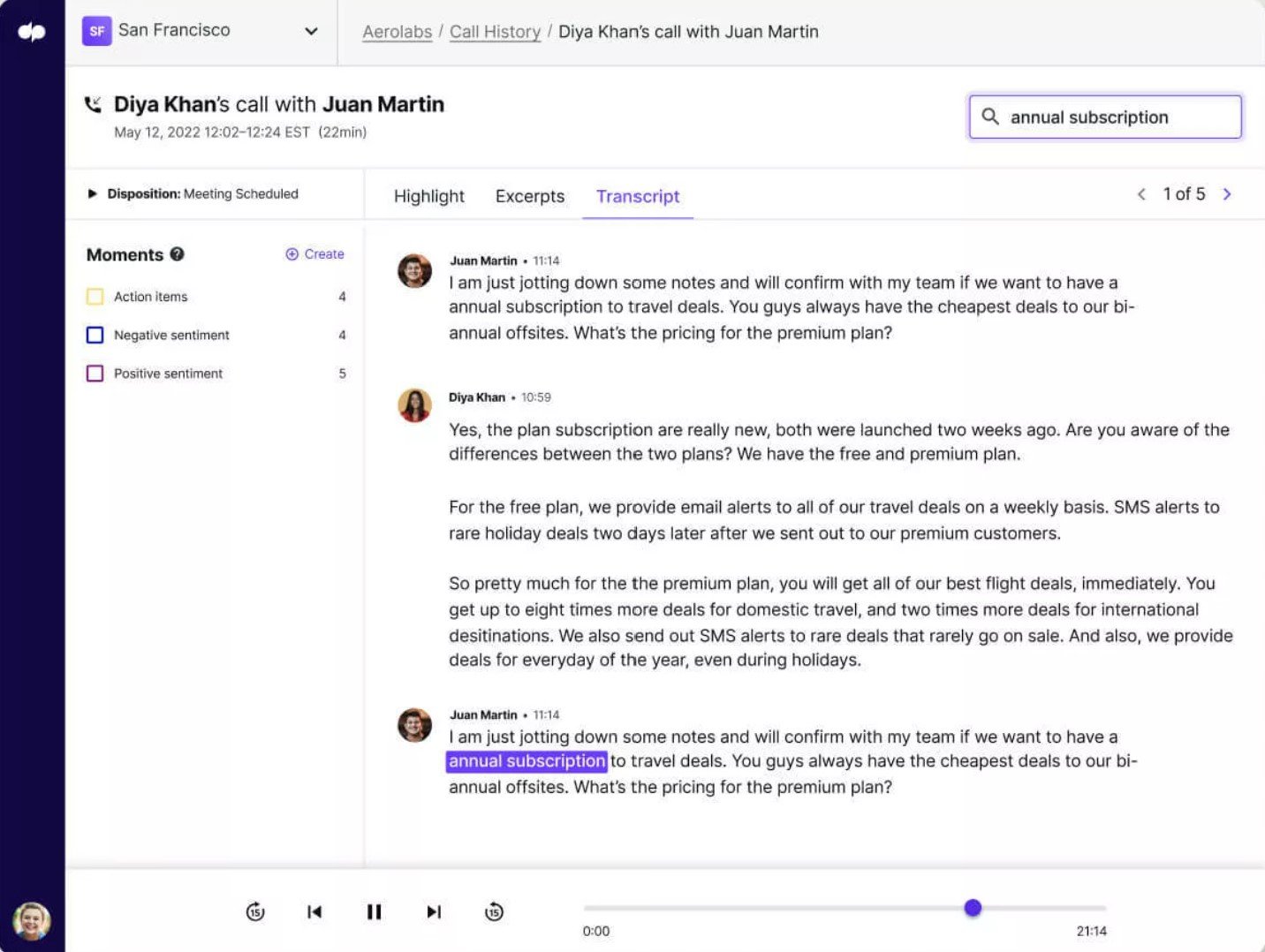 Omnichannel Communication
Call center software offers an omnichannel solution where agents can monitor, reach, and serve customers across digital channels. Customers can choose how they contact your company–email, phone with HD voice, SMS, or webchat– and omnichannel contact center dashboards organize these tickets in agent inboxes, with notifications.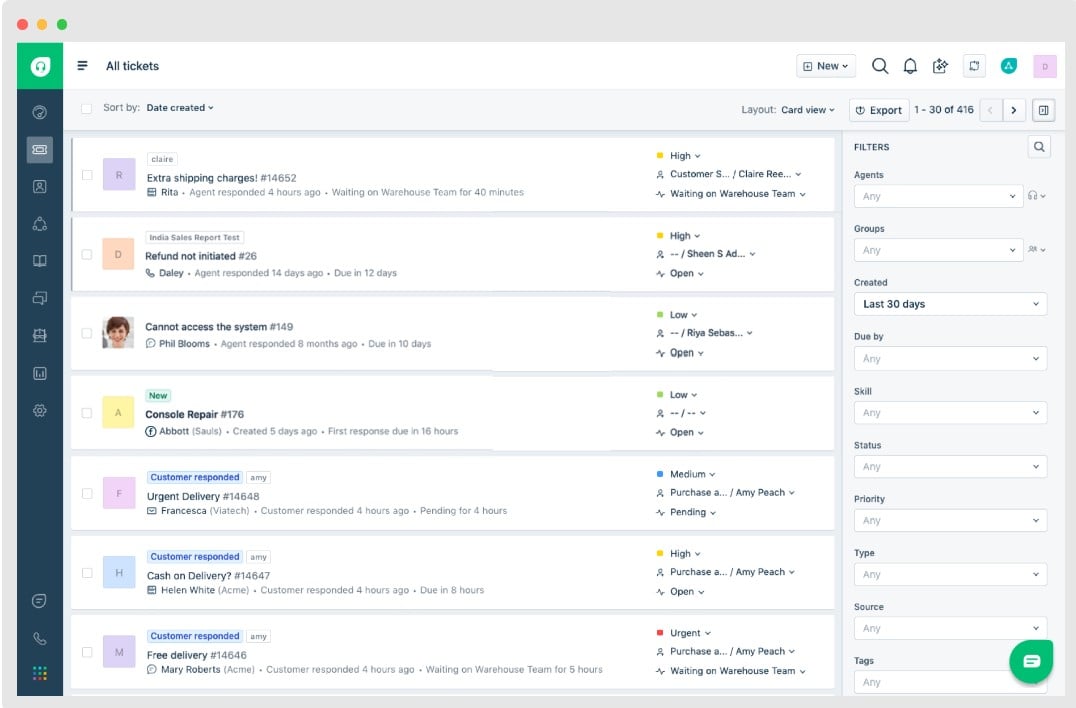 Agents can contact customers or collaborate internally through any channel with a few clicks and even flip instantly between channels mid-call, while retaining full visibility into customer conversation history, profile, and information.
Better Customer Support
SaaS call center software makes customer support quicker, smarter, more flexible, and more personalized. Customizable self-service features like chatbots and IVR menus let customers access information and take action 24/7, handling simple tasks on their own when an agent is unavailable or unnecessary.
Routing and queueing features like IVR trees, ring groups, and tagged conversations ensure that each customer reaches the right initial destination.
Since call center agents can access the customer's conversation and action history, they avoid asking the customer to repeat themselves and can use or switch to the customer's preferred channel at any time.
Increased Mobility
On-premise inbound call centers restrict agent and administrator mobility. Phones connect by wire to the on-premise PBX system, and the company can only provide extensions for the phone number assigned to their street address. Since phones connect to wall jacks, agents must remain near their desks while on a business call.
SaaS call center software frees businesses and agents to work remotely or wherever they have internet. Providers offer virtual phone numbers with area codes in hundreds of countries, including local, toll-free, and vanity numbers, so large and small businesses can purchase unlimited global numbers regardless of where their headquarters are located. Companies can establish a local presence wherever they do business, leading to higher customer answer rates and message open rates.
Companies can add new agents anywhere in the world and assign them a phone number in moments, making remote work much easier. Softphone applications enable agents to make business calls from their computers or phones, freeing agents to make calls on the go.
Lower Cost
On-premise phone system costs add up quickly. Desks, monitors, and handsets for agents, a PBX switch system that takes up space, licenses for each agent, plus the costs of additional routing and customer service tools like automatic call distribution, IVR, and call recording. IT staff maintenance incurs even more salary costs.
With a cloud phone system, the only required expense is the monthly service subscription–most providers don't even charge setup costs. With multiple pricing tiers and feature offerings, you can purchase a plan containing just features you will actually use.
Providers offer mobile, desktop and browser apps with full feature access, including softphone functionality so agents can use their iOS, Android, or computer to make calls from a business phone number. No additional hardware or office space is required. Since agents can make calls from anywhere, you can hire agents who live anywhere your provider offers service–typically up to 180 countries.
Easy Setup
Setting up a SaaS cloud contact center or call center is easier and faster than a traditional landline call center because most of the setup process is automated or handled by the provider.
To set up new agents, simply purchase a virtual phone number and a license–a process that takes minutes. Once assigned a number and given login information, agents can begin making calls from a computer or desktop. You can port in pre-existing numbers too, although this process involves more documentation and back-and-forth.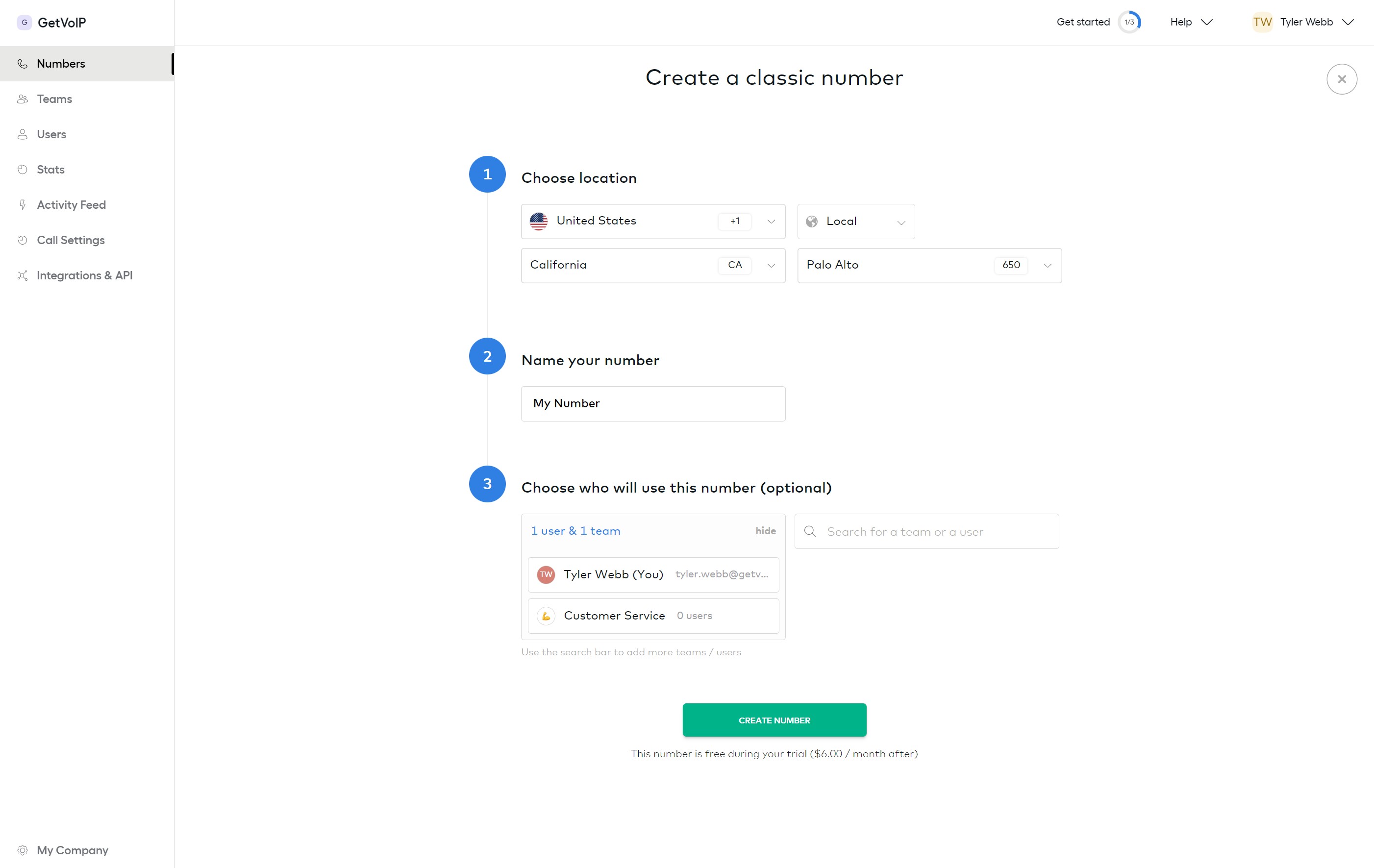 Setting up advanced routing features like IVR trees, automated call distribution (ACD), ring groups, and even automated chatbots is smooth, with intuitive setup menus or drag-and-drop flow builders to customize triggers, menu levels, and automations without writing any code.
Improved Agent Experience
SaaS call center software features help agents perform well.
SaaS contact center solution agent tools:
Visual voicemail: Access voicemail in a virtual log, with transcription and the ability to search by caller or keyword. This enables agents to quickly scan emails without having to listen to the whole recording. Set voicemail-to-email or voicemail-to-text for automated delivery on those devices.
Customer information and history: Call center software integrates with your CRM system to house customer information, journey history, and conversation history. On incoming calls, the screen auto-populates with customer profile information for full agent context.
AI-assisted suggestions: A feature often reserved for top-tier plans, AI transcribes conversations and identifies keywords that indicate sentiment, topics, and action items. It uses these to generate live agent suggestions like responses, answers to questions, and relevant knowledge base articles.
Internal collaboration: With collaboration options like chat groups and impromptu video meetings, tea members can consult each other quickly to touch base
Smart routing: Tag and route incoming tickets to the correct agent using call center IVR, ring groups, language- or skill-based routing, business hours, and customer location
Easier Collaboration and Task Management
SaaS call center omnichannel dashboards strengthen agent collaboration and task management.
Within the dashboard, agents can initiate a quick teammate 1:1 chat with just a few clicks, even when on a live call. One-click video meetings support brief face-to-face collaboration enhanced with screen sharing.
Teams can create task-based group chats to access shareable to-do lists, simultaneously edit files live, create threads, pin important messages, and even jump into an ongoing video meeting.
Note that while some providers include these features with contact center software, some providers sell separate business communication platforms that exclusively provide these collaboration features plus more advanced capabilities like whiteboards and video engagement tools.
Flexible Scaling
SaaS call centers support smooth scaling internally and with customers and clients.
No matter where your headquarters are located, hire remote agents around the world, spread across multiple time zones or wherever your customers are located.
Do global business utilizing provider VoIP networks with thousands of mobile and PSTN carriers across hundreds of countries, accessible through SaaS or APIs. Many SaaS call center providers include unlimited calling in dozens of countries.
Live transcription and translation of voice and video help your team overcome language barriers for fluid customer interactions.
Key SaaS Call Center Features
Find the following routing, call management, and analytics features in SaaS call center plans.
Interactive Voice Response
An IVR or auto-attendant system is an automated phone menu that routes incoming callers to the appropriate destination via self-service DTMF or voice options. Connected to a business number, IVR systems direct customers to an agent, department, voicemail, informational message, or special promotion.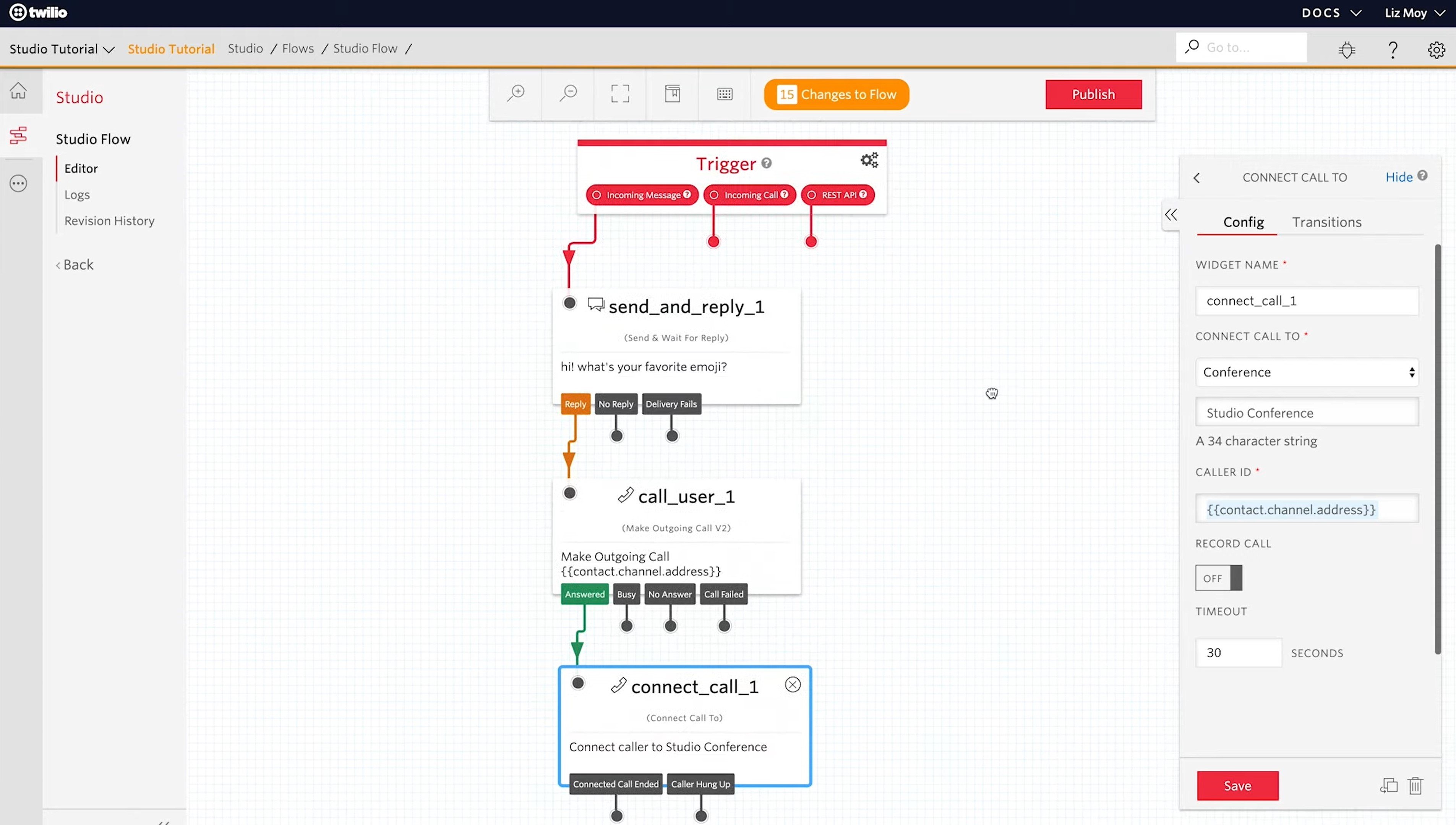 Use premade templates, save multiple IVRs to swap in and out depending on the use case, or assign different IVRs to different business numbers.
IVR setup is intuitive and creative. Build custom IVR paths via a drag-and-drop flow designer, connecting multiple levels of menu options via type-to-text or voice recording. Leverage functions from within your company's app, such as sending automated texts, facilitating payments, booking or canceling appointments, or providing personal information from accounts and databases.
Advanced Reporting and Analytics
A library of reports and dashboards that track call center performance, statistics, trends, and insights. Administrators can create custom reports with favored KPIs or schedule routine custom-report emails.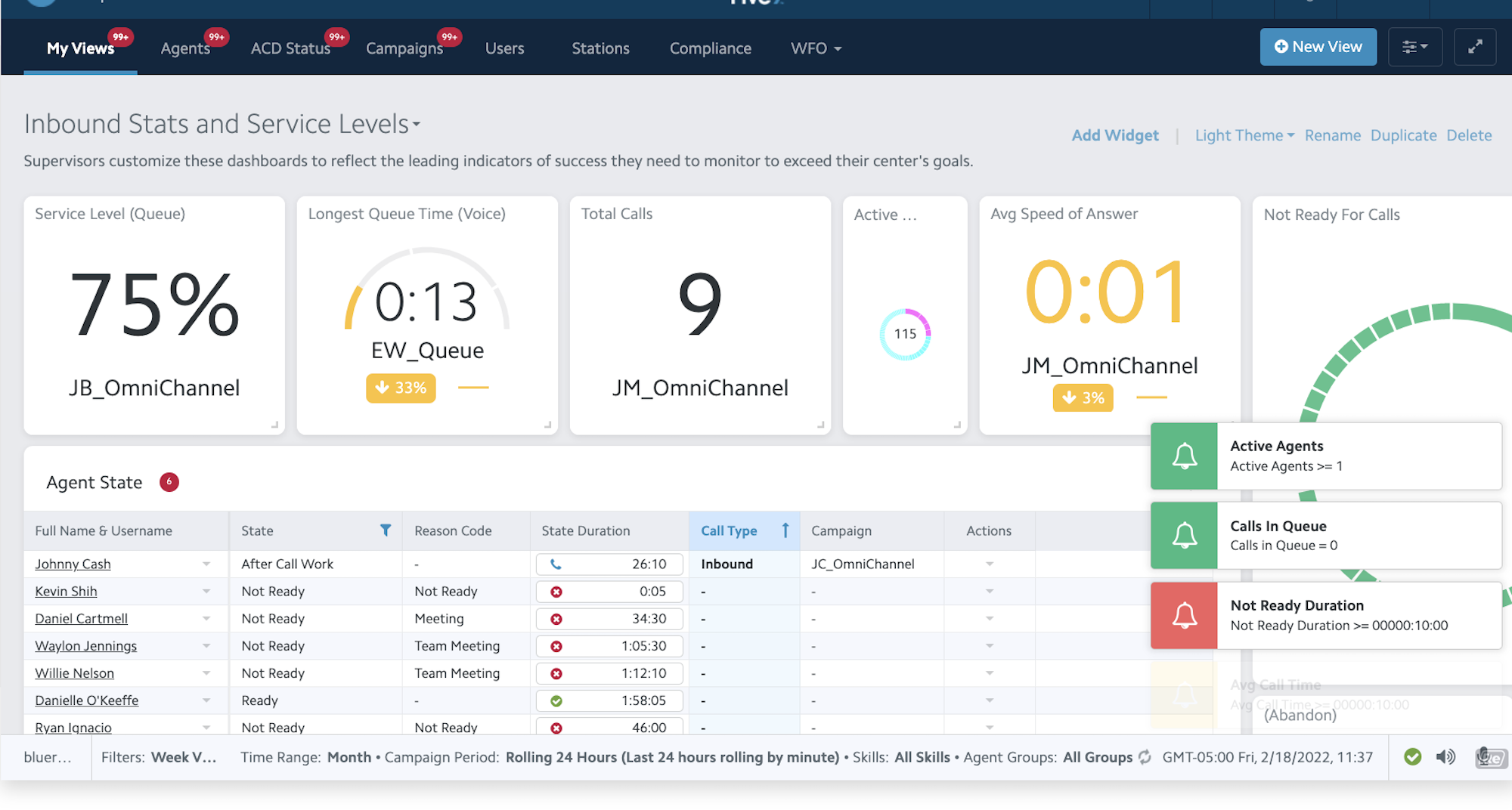 Some examples of SaaS call center reports:
Real-time queue dashboards: Live queue statistics like tickets resolved, failed tickets, average ticket duration, first call resolution, call volume, number of live agents, and more
Usage reports: Channel usage by user or department, including each agent's total volume of calls made, messages sent, and video meetings participated
Performance reports: Agent and department communication metrics like customer satisfaction score, customer sentiment, agent vs customer talk time, on-call silence, ticket resolution rate, and more
Call quality reports: Information about audio quality and lag, video quality, and message delivery rate
Customer data: Customer feedback and survey responses, most popular customer destinations, and most used customer channels
Omnichannel Inboxes and Dashboards
Virtual call centers provide channel flexibility for customers and agents. Customers have the option to contact your company through not only VoIP telephony, but SMS, web chat, video meetings, email, and social media.
The agent dashboard aggregates and organizes all of an agent's tickets across channels–in separate inboxes or a unified multichannel inbox–for easy management and response through browser or mobile apps.
Omnichannel call centers transfer customer history, identity, and information across channels, so all agents retain full context, minimizing requests for customers to repeat information they've already given.
Utilize multiple channels for customer support, help desk and marketing use cases. Create chatbot flows for customer self-service via webchat embedded into your website, or automated SMS conversations. Bots resolve simple customer issues and gather customer context to route to agents, who can take over the conversation in any channel.
CRM Integrations
Integrate your SaaS call center with popular customer relationship management software–like Zendesk, Salesforce, Hubspot, and Zoho–to empower sales teams and support teams with deep customer information that can drive personalized outbound campaigns and support.
Users can access the following customer details in the dashboard, pulled from your CRM:
Customer journey map and recent website activity
Recent purchases
Customer sentiment history
Lead status
Contract amount and value
Basic contact and company information
Preferred contact methods
Multichannel conversation history
CRM integrations unlock powerful outbound workflow automations and marketing campaign options. Use your CRM system to group customers by lead status, priority, or a custom grouping. Trigger outbound calls and messages based on abandoned carts, first-time sign-ups, purchases, low satisfaction scores, and more, reaching select audience groups with specialized content. Design templates that insert customer information–name, company, product order, and more–to give a personalized feel to bulk messages and outbound voice messages.
ACD, Ring Groups, and Call Routing
Automatic call distribution (ACD) and call routing features, part of cloud-based call centers, tag and qualify incoming calls through multiple methods in order to direct them to the right agent.
While IVR systems are a common and effective means of distributing phone calls, you can set up call distribution and call queueing based on other details such as:
Business hours
Agent work times
Caller location and language
Call subject
Agent skill
Ring Groups are groups of agents, phone numbers, or extensions that receive inbound calls simultaneously when one number is dialed. This way, the first available agent can take the call, minimizing wait time. Administrators can customize ring order style: simultaneous ring, round robin, or ringing the longest-idle agent.
Use omnichannel routing rules to determine how calls are distributed among qualified agents. For example, route incoming calls to the longest idle agent or the agent with the shortest queue.
Call Recording and Transcription
During voice calls, conference calls, and video meetings, view live on-screen transcription that clarifies who is speaking and what they say. Calls are recorded and stored, along with the transcription, in the provider's cloud storage.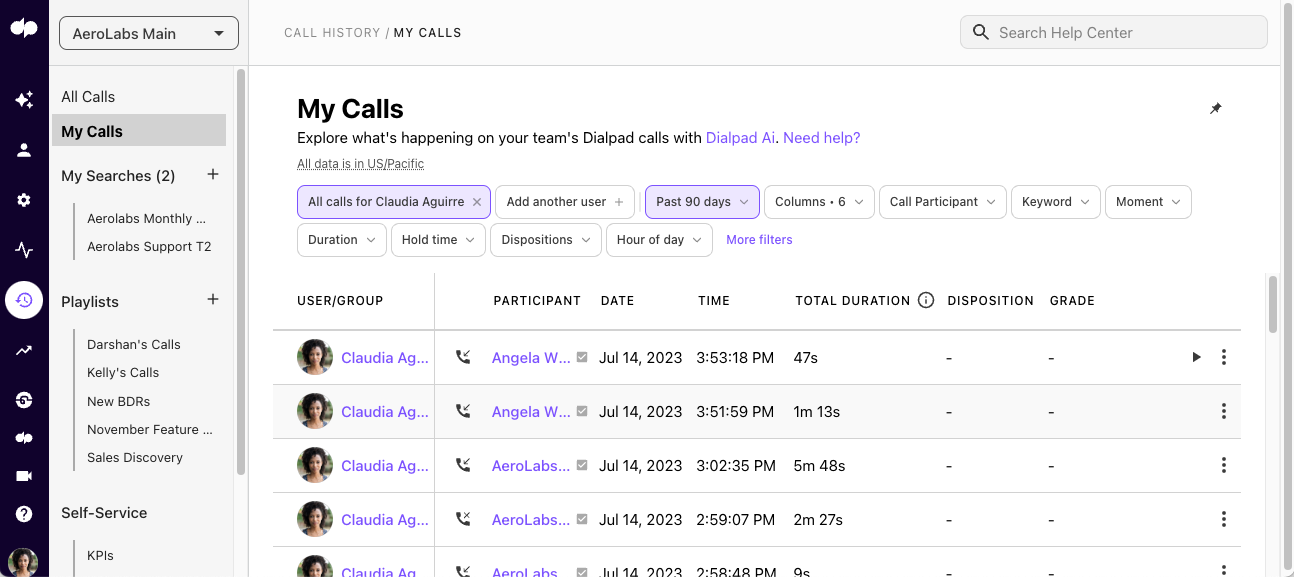 Live recording and transcription enable other advanced features, like real-time translation, sentiment analysis, and agent speech coaching. AI uses transcription to identify keywords, key moments, and action items during the conversation, organizing these important details into post-call summaries.
Top Providers Offering SaaS Call Center Solutions
Here are today's top SaaS call center providers.
Provider
Pricing
Key Features
Best For
Five9 »
4 plans from $149 to $229 monthly per user
-Workforce management tools

-Multichannel customer context, history, and live switching

-Proactive customer outreach

Workforce management tools like channel usage forecasting and predictive scheduling
Talkdesk »
4 plans from $75 to over $125 monthly per user
-Agent Assist with real-time action recommendations and suggested answers

-Outbound predictive dialer for smart, efficient customer outreach

Automated customer outreach and engagement
Nice CXOne »
Custom quote-based plans from $80 to $150 monthly per user
-Enlighten XO self-service builder to design AI-enhanced smart chatbots and IVR

-Enlighten AI quality and coaching insights to analyze and improve agent behavior

Live agent support and coaching
Genesys »
5 plans from $75 to over $150
-Create a searchable knowledge base to empower customer self-service and agent support

-Long-term workforce forecasting, scheduling, and planning

Knowledge base and content management
Nextiva »
Custom quote-based plans from $50 to $120 monthly per user
-Customer experience scores that track customer and prospect mood

-Conversation analysis with insights about subjects, related knowledge base content, priority, and tone

AI-supported customer insights and sentiment analysis
Dialpad »
Custom quote-based plans averaging $95 monthly per user
-Live transcriptions with sentiment analysis and action items

-CSAT and live customer sentiment on 100% of customer calls

-Real-time agent coaching

Easily navigable agent workspace
Twilio »
2 payment options: $150 monthly per user flat rate, or $1 per active user hour
-Drag-and-drop custom report creation

-Omnichannel dashboard with email, voice, SMS, WhatsApp, Facebook Messenger, and WebChat

Flexible pay-per-use pricing options
RingCentral »
Custom quote-based plans averaging $85 monthly per user
-Advanced IVR with visual flow designer

-Click-to-call browser extension with no dialing

-Screen recording

-Advanced voice recording

Custom IVR flows
8×8 »
3 plans from $85 to $140
-Co-browsing for customer support agents to help customers via shred browser

-Video conferencing with 500 participants

-Post-call surveys

Customizable agent workspace
Aircall »
3 plans from $30 to over $50 per user
-Ring groups for team-handled incoming calls

-Flexible call distribution rules

-Call recording

An affordable voice-only call center