Vanity phone numbers contain words or phrases and help businesses increase brand recognition, market their company quickly and effectively, and appear more established.
In this post, we'll teach you how to get a vanity number, the benefits they offer, and top providers.
Compare vanity phone numbers from
top providers
What is a Vanity Phone Number?
A vanity phone number is a local or toll-free telephone number with a custom set of digits that spell out a word or phrase. Usually, it is the name of a company or relevant words that are memorable in some way (1-800-FLOWERS, 1-877-KARS4KIDS, etc.)
The popular number prefixes of vanity numbers are: 800, 888, 877, 866, 855, 844, and 833.
Vanity phone numbers are available for purchase from business phone system providers or other RespOrgs.
What is a RespOrg?
A RespOrg (Responsible Organization) is a business entity/carrier that assigns, maintains, ports, and manages toll-free phone numbers on behalf of its end users. RespOrgs have access to the TFN Registry, which is a database of all in-use and available toll-free numbers and their current status.
Only RespOrgs can assign your business a toll-free vanity number, which is regulated by the FCC. RespOrgs must make their toll-free numbers "portable" (transferrable) so you can keep your existing toll-free vanity number even when switching carriers or providers.
Never do business with any toll offering to sell you an existing vanity number. Attempting to buy or sell existing vanity numbers is called "number brokering," and is prohibited by the FCC.
Benefits of Using A Vanity Phone Number
The top benefits of using vanity numbers include:
Improves Consumer Trust: Having a verifiable phone number legitimizes your business, establishes a local presence, and makes consumers more likely to answer your calls. Studies show consumers are 3-4 times more likely to reach out to a company that has a vanity phone number.
Increases Brand Recognition: Customers will easily remember your vanity phone number, and even if they don't need your products/services now, when they do, they'll know exactly how to contact your business. After watching a 30 second ad, 72% of shoppers remembered vanity phone numbers correctly–while only 5% remembered standard phone numbers
Provides Access to Advanced Phone Features: Buying vanity phone numbers from cloud communications platforms like UCaaS and CCaaS providers gives you access to advanced voice calling features like IVR, third-party integrations, call routing strategies, and call queues
Better Security and Privacy: Protects your business and customers from porting-out scams, ransomware, and other security threats with features like multi-factor authentication, end-to-end encrypted voice calling, GDPR/PCI compliance, and more
How To Get A Vanity Phone Number
The steps to getting a vanity number are:
1. Choose Your Vanity Number Carrier
You can purchase an affordable standard vanity telephone number directly from a VoIP number provider, or as a feature of a more advanced business phone system or UCaaS platform.
Quality vanity phone number providers have RespOrg Certification, offer local and toll-free vanity numbers, and let users choose from a variety of toll-free number prefixes (800, 888, etc.)
2. Brainstorm Potential Phone Numbers
The popularity of toll-free vanity numbers means there's a good chance your "first choice" has already been claimed by another business. Come up with a list of words and phrases that are relevant to your business and easy to remember.
Best practices for choosing a vanity phone number for your business are:
Choose a word that's easy to spell/doesn't have spelling variations
Avoid words/phrases closely associated with competitors or other popular businesses
Make sure the word/phrase clearly indicates what your business does–and be specific when possible (for example, chose 888-BUY-A-VAN over 888-GET-CARS)
Select "evergreen" words/phrases over slang or "trendy" terms that will soon be outdated
3. Check Number Availability
Vanity number provider sites should include a searchable phone number database that lets you check on your desired number's availability.
Most also provide a list of similar suggested phone numbers if your first choice is taken.
4. Pay and Claim Your Vanity Number
Once you've decided on an available vanity number, claim it by entering in your payment information on the provider's website.
Standard local VoIP phone numbers are typically ready for use within 1-2 hours of payment. The activation process for toll-free vanity numbers may take 24-48 hours or longer depending on your provider.
Best Vanity Phone Number Providers
Below, we'll review the top vanity phone number providers.
Phone.com
Phone.com is a VoIP phone system provider offering local and toll-free vanity phone numbers, standard local numbers, international phone numbers, and number porting.
Users can check to see if their desired vanity number is available on Phone.com's number database, which also provides suggested numbers. Vanity number pricing starts at $99/number.
Phone.com plans include unlimited extensions, video conferencing with unlimited meeting durations for 10-100 participants, screen/file sharing, SMS texting, audio conferencing for up to 300 participants, voicemail-to-email, and 24/7 customer support.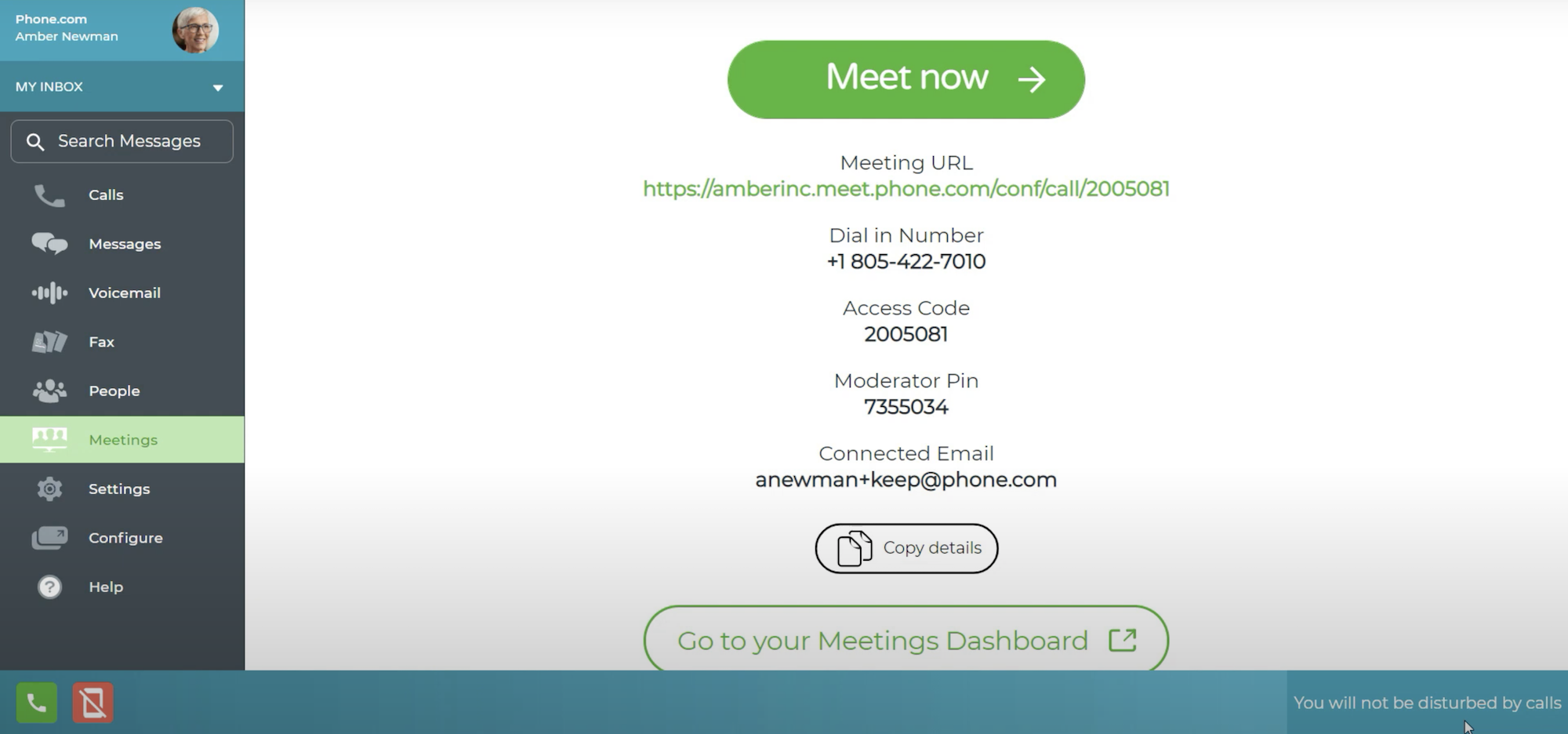 Phone.com pricing:
Phone.com has three bundled plans with monthly and annual pricing:
Pro Plan ($12.47/user/month)
Plus Plan ($18.69/user/month)
Basic Plan ($27.19/user/month)
All plans include a 30-day money-back guarantee, mix-and-match pricing, and volume discounts. Users can check to see if their desired vanity number is available on Phone.com's number database, which also provides suggested numbers. Vanity number pricing starts at $99/number.
Add-on features include a Live Receptionist ($90/month), international phone numbers and calling ($4.99-$14.99/number/month, country calling rates), call recording ($8/month), and additional bundled minutes ($18.50/month for 500 minutes-$725/month for 25,000 minutes.)
Key features:
Custom Greetings: Upload custom auto attendant greetings (wav, mp3, gsm) or use Text-to-Greeting feature to choose from 40+ automated voices/sound effects
Call Handling Rules: Set business call routing rules by time of day and Caller ID, enable round robin routing, create call queues and set maximum hold times, forward calls to external numbers
Voice Tagging: Similar to a warm transfer feature, voice tagging tells agents which menu options the caller chose before connecting them
Best for: Phone.com is best for small businesses needing an affordable business phone system offering both toll-free and local vanity phone numbers, as well as the option to add on international calling. Phone.com users don't need third-party integrations, and prioritize ease of use over a feature-rich UCaaS solution.
Grasshopper
Grasshopper is a basic VoIP calling platform offering vanity, numbers, toll-free numbers, local numbers, and number porting. International calling can be enabled, but is not included in any Grasshopper plans. Grasshopper includes a free number lookup tool on its website that provides suggestions if your desired number is already taken.
All Grasshopper plans include unlimited VoIP/WiFi calling in the US and Canada, business texting, desktop and mobile app access, virtual voicemail, and virtual faxing.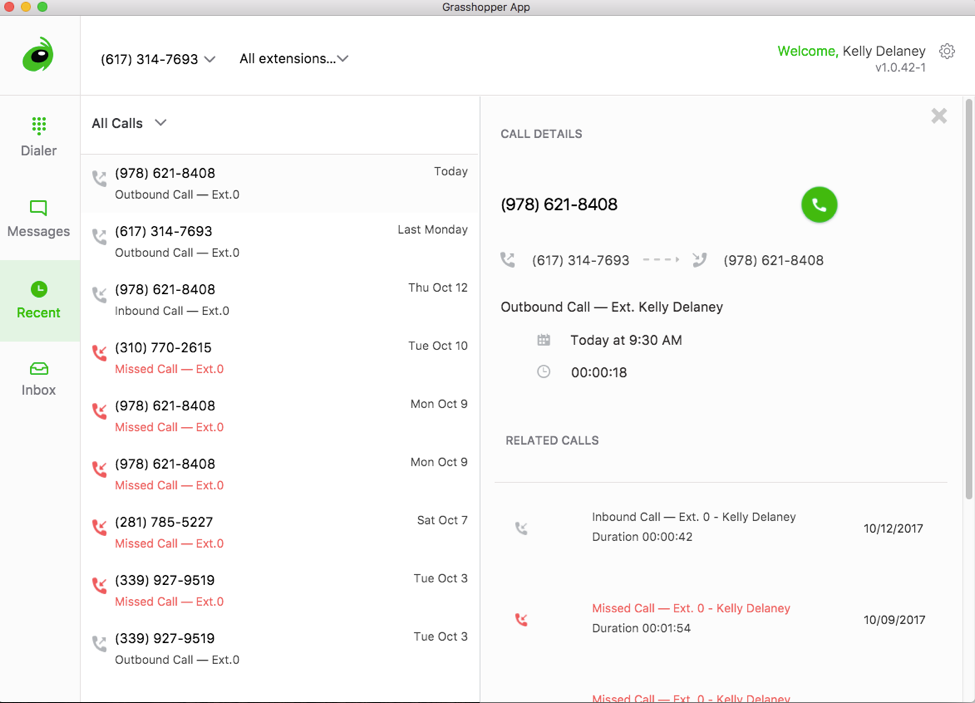 Grasshopper Pricing:
Grasshopper pricing is unique in that all four plans have the same bundled features, but each plan offers a different number of users, phone numbers, and extensions. Grasshopper's four plans are:
True Solo Plan ($14/month, 1 user/1 extension/1 local or toll-free phone number)
Solo Plus Plan ($28/month, unlimited users, 1 local or toll-free phone number, 1 extension)
Partner Plan ($46/month, unlimited users, 3 local or toll-free phone numbers, 6 extensions)
Small Business Plan ($80/month, unlimited users, unlimited extensions 5 local/toll-free numbers)
A 7-day free trial is available.
Key features:
Instant Response: Automatically sends a prewritten text message to missed calls from new phone numbers
Virtual Voicemail: Transcribes voicemail messages, sends via voicemail-to-email, stores voicemail transcripts in a searchable repository
Virtual Receptionist: Auto attendants or live receptionist services via Ruby (add-on)
Best for: Grasshopper is best for solopreneurs and startups with under 5 employees that need a vanity phone number to help them appear more established. Grasshopper users don't need multi-channel communication or UCaaS features, and want an easily scalable business phone app that lets them add more phone numbers, users, or extensions as opposed to advanced features.
MightyCall
MightyCall  is a virtual phone system specifically designed for small businesses, offering vanity phone numbers for local and toll-free numbers, standard local/toll-free numbers, international numbers, and number porting.
As with other providers on this list, MightyCall provides a searchable number database and suggested numbers. MightyCall registers all of its users phone numbers with the CNAM database, which displays your business's name and phone number on outbound caller ID screens.
All plans include unlimited calling, unlimited SMS/MMS, and 2 local or toll-free phone numbers. Number porting and international phone numbers are also available.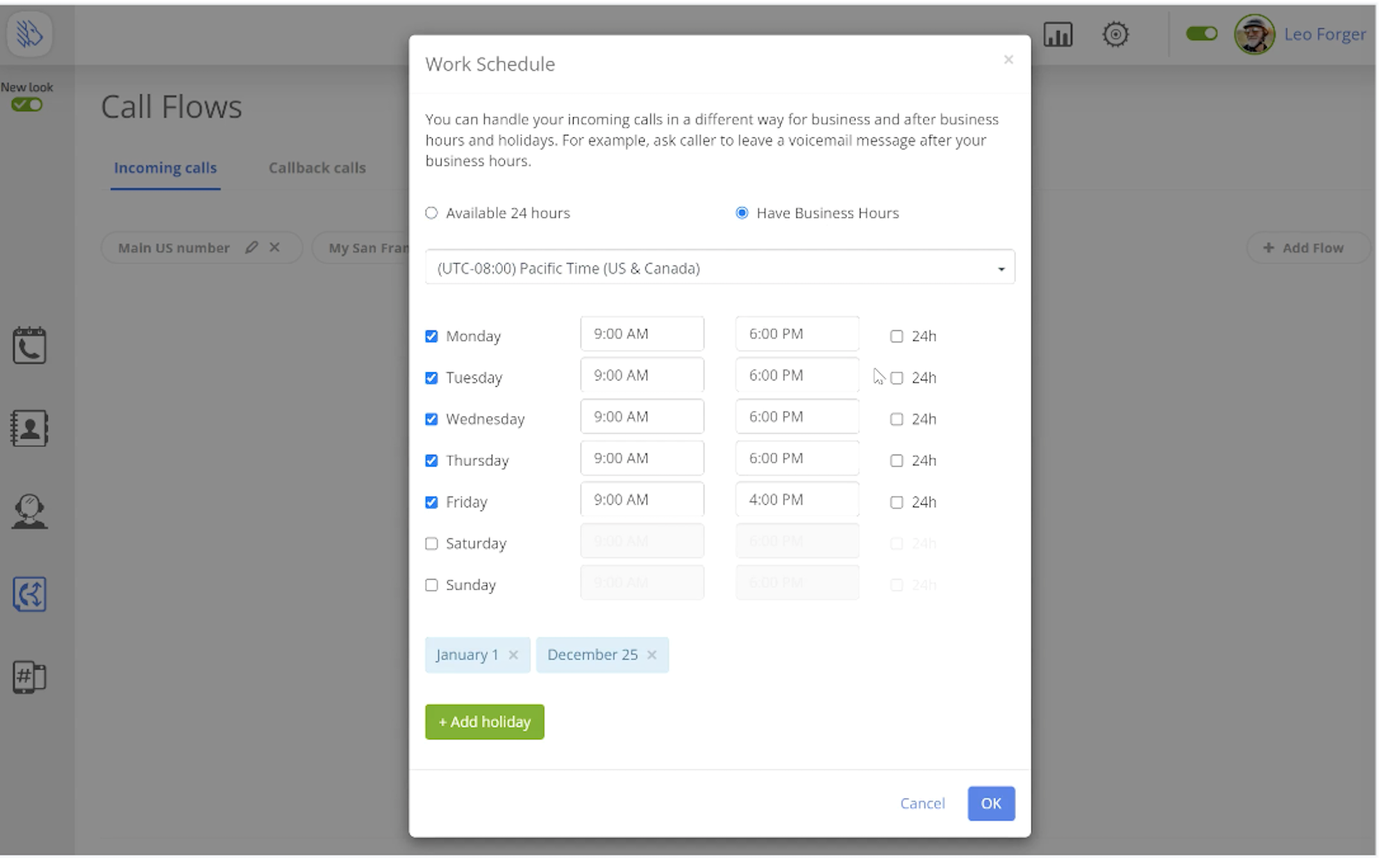 MightyCall pricing:
Core Plan ($15/user/month, 3-user minimum)
Pro Plan ($20/user/month, 3-user minimum)
Enterprise Plan (quote-based, 10-user minimum.)
Monthly and annual pricing options are available, as is a 7-day free trial.
Mightycall users can purchase additional local/toll-free phone numbers from $5, and additional international phone numbers from $10.
Key features:
Interactive Voice Response (IVR): Multi-level IVR (up to 10 sub-menus) with custom greetings, drag-and-drop call flow designer, ring groups, simultaneous ring, VIP and block list call routing, business hour routing, Dial by Name Directory, call queues
Automated Customer Callback: Automated callbacks let customers choose the ideal time/date to receive a callback from an agent instead of waiting on hold
Call Notes: Let's agents write post-call notes/comments that can be shared with other team members
Best for: MightyCall is best for small teams or solopreneurs that want access to a basic vanity phone number with a straightforward interface and fast setup process. It's not ideal for larger businesses that need access to additional communication channels like video calling or team chat messaging, but will work for teams that already have video/chat tools they want to continue to use, but lack a virtual phone number provider.
UniTel Voice
Unitel Voice is a cloud-based VoIP phone system that also gives users the option to add a toll-free or local vanity phone number.
Choose from a 1-800, 855, 844, 888, 877, 866, or 833 toll-free number, or a local phone number in the city/area code of your choice.Users can set up their own accounts or take advantage of UniTel's free concierge setup. Each phone number also serves as a send/receive fax line, with faxes emailed as a PDF.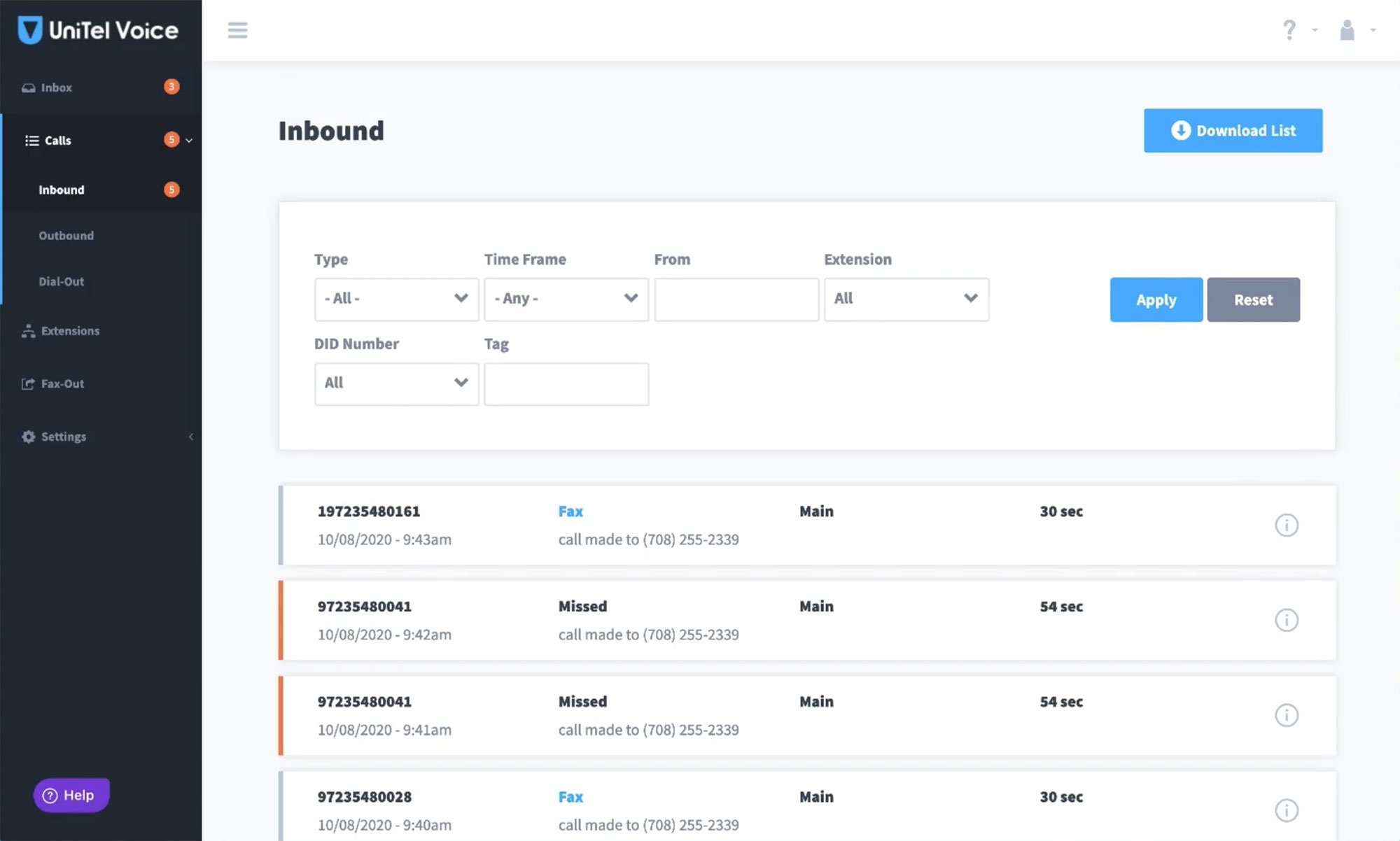 UniTel Voice pricing:
Start-Up Plan for $9.99/user/month (1 local/toll-free number, 3 users, 500 minutes/month)
Unlimited Plan for $24.99/month (1 number, unlimited minutes, unlimited users)
Office Plan for $29.99/month (1 number, unlimited minutes, 3 users)
Office Plus Plan for $49.99/month (1 number, unlimited minutes, 3 users)
A 30-day guarantee is available, as are annual billing options. Vanity phone numbers carry a $15 one-time setup fee, while 1-800 numbers have a $99 one-time setup fee. Additional numbers can be purchased from $4.99.
Key features:
Video Conferencing: Video calling with team messaging and screen sharing,
Number Parking: Users can "reserve" their unused business phone numbers to prevent them from going back into the database
Voice Call Management: Custom greetings, Do Not Disturb, Voice Talent Studio, caller ID, call logs,  unlimited call handling, call transfer, simultaneous/sequential ringing, 3-way calling
Best for: UniTel Voice is best for medium-sized businesses that only need one vanity phone number, and that either don't need access to advanced features aside or prefer to add them individually, a la carte.
800.com
800.com  is a toll-free and vanity phone number platform offering basic VoIP calling features like caller ID, call forwarding, call blocking, call notes, and call recording. Users can easily search the available number database or port in existing numbers. Voicemail transcriptions can be accessed within the 800.com interface, forwarded to email, or sent via SMS message.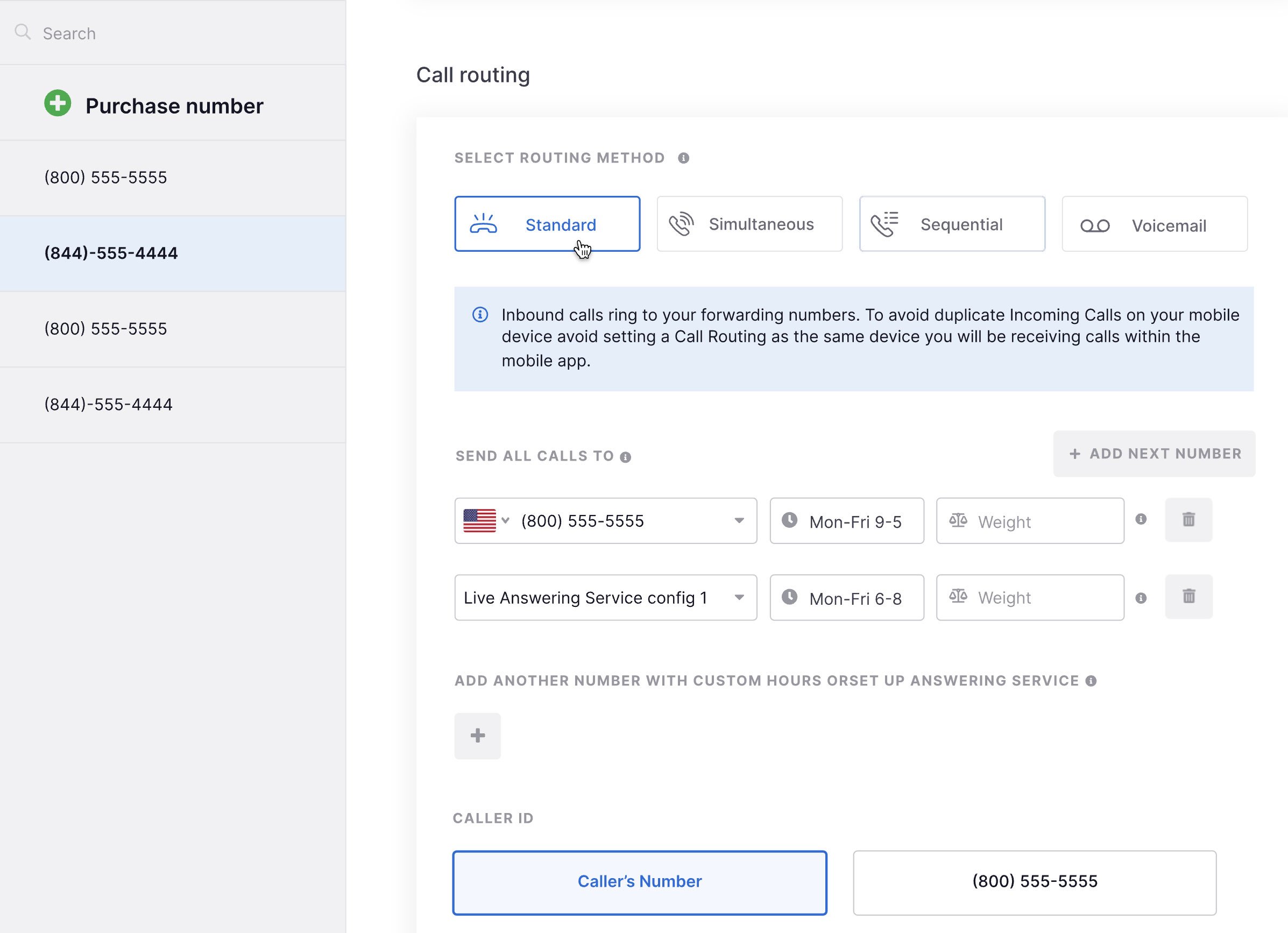 800.com pricing:
800.com offers three plans with monthly and annual billing:
Personal Plan for $23/month (includes 1 toll-free number, 1,000 minutes/month)
Unlimited Monthly Plan (includes 1 toll-free number and unlimited minutes)
 Pro Plan $149/month (includes 5,000 minutes/month and 5 toll-free numbers.) Monthly and annual billing is available.
Key features:
Call Routing: Simultaneous/sequential call routing, custom business hour routing, time-based call routing, call forwarding, send calls to voicemail, custom ring time limits
Call Tracking: Historical call analytics include call start/end times, call duration, searchable call recordings and transcriptions, agent notes, number of answered/missed/voicemail calls, marketing campaign tracking
SMS Marketing: SMS campaign management, campaign lists, scheduled messages, message drafts, two-way messaging, SMS API
Best for: 800.com is best for SMBs businesses needing a vanity phone number from a provider offering basic call management features and the option to choose between pay-as-you-go and unlimited calling pricing plans. 800.com users are also interested in exploring SMS marketing campaigns via business phone numbers.
FAQs
Below, we've answered vanity number frequently asked questions.