Vanity phone numbers communicate what your business does, help customers remember how to reach you, and are a surprisingly effective marketing strategy.
Here, we'll explain what vanity phone numbers are, the benefits they offer, and how to get one. We'll also outline the top vanity phone number providers, pricing, and available features.
Compare vanity phone numbers from
top providers
What is a Vanity Phone Number?
A vanity phone number is a local or toll-free business telephone number consisting of a number prefix and a custom set of digits that spell out a relevant word or phrase on a dial pad.
The most popular vanity numbers begin with an 800 toll-free number prefix, like 1-800-FLOWERS or 1-800-CONTACTS. However, because these 800 vanity numbers are available on a first come, first served basis, many of them have already been claimed–and those that haven't are expensive.
To meet the increased demand for toll-free vanity phone numbers, the FCC created the additional number prefixes: 888, 877, 866, 855, 844, 833.
Benefits of Using A Vanity Phone Number
The top benefits of using vanity numbers include:
Improved Consumer Trust
A vanity phone number is an excellent way to communicate that your business is established, reliable, and professional–three factors essential to building consumer trust.
Customers are much more likely to both answer inbound calls from and make outbound calls to businesses with a verifiable phone number. Having a vanity phone number is especially valuable to newer businesses, as it gives the impression that your company is well-known, successful, and has been around for a long time.
Increased Brand Recognition
The best way to understand just how much of an impact vanity phone numbers have on brand recognition and recall is to try to think of how many you know. We're willing to bet that at least 3 or 4 custom phone numbers–and their respective advertising jingles–come to mind instantly.
Studies show that 72% of consumers remember a vanity number mentioned in a 30-second advertisement–but only 5% correctly remember a standard phone number. Even online ads including vanity numbers outperform digital ads featuring a traditional phone number by 33%.
Having a memorable vanity phone number ensures you win over two different types of customers: those who need what your business has to offer now, and those who will need your products and services in the future.
Access to Advanced Phone Features
While some vanity number providers offer only basic VoIP features like call forwarding, call hold, and caller ID, others give your business access to advanced calling–and even texting–functionalities.
Depending on your current business needs, you can prioritize the lower costs of a standard vanity number carrier or the advanced features and tiered pricing of more established business VoIP platforms. Just make sure the cloud phone service you choose does indeed offer vanity phone numbers in addition to standard local, international, and toll-free options–as not all do.
Top vanity phone number providers may include advanced phone system features like:
Call history/call logs
Missed call notifications
Third-party business software integrations (CRM tools, chat messaging apps, video conferring solutions, etc.)
Visual voicemail and voicemail-to-email
Call recording and transcription
Virtual faxing
SMS/MMS messaging
Audio conferencing
Auto attendants and IVR
Call routing
Better Security and Privacy
Purchasing a vanity number for your business means you and your employees will no longer need to give out their personal phone numbers to clients or other work-related contacts.
Quality providers also have security measures in place to protect your phone number from fraudulent activities, like porting-out scams. Features like two-factor authentication, real-time SMS/email notifications, and account activity monitoring prevent hackers from taking control of your vanity number or holding it for ransom to steal from business owners.
How To Get A Vanity Phone Number
Vanity phone numbers, just like local, international, and standard toll-free numbers, are available for purchase from business phone system providers or other RespOrgs.
A RespOrg–short for "Responsible Organization"–is a business entity/carrier that assigns, maintains, ports, and manages toll-free phone numbers on behalf of its end users. RespOrgs, established by the FCC in 1993, all have access to the TFN Registry.
Managed by Somos, Inc (formerly SMS/800), the TFN Registry is a database of all existing toll-free numbers and their current status (in use, available, etc.)
Although only RespOrgs can assign your business a toll-free vanity number, the FCC regulates the laws surrounding their purchase and use. The most important FCC requirement is that all RespOrgs must make the toll-free numbers they sell "portable," meaning they can be transferred from one RespOrg to another. This portability guarantees that your business still has access to the same toll-free number when switching carriers/providers.
Now that you know the basics, let's walk you through the steps to get a vanity phone number.
1. Choose Your Vanity Number Carrier
First, you'll need to select your vanity phone number provider.
To ensure you're working with a quality, trusted carrier, never do business with any toll offering to sell you an existing vanity number. Attempting to buy or sell existing vanity numbers is called "number brokering," and is prohibited by the FCC.
A quality toll-free vanity phone number provider will:
Offer multiple number prefixes (800, 888, 844, etc.)
Offer both local and toll-free vanity numbers
Have RespOrg certification
Offer a variety of pricing options, plans, and available features
Have strong security measures in place (2FA, GDPR compliance, admin controls, etc.)
2. Brainstorm Potential Phone Numbers
Given the sheer volume of existing toll-free vanity numbers, there's a good chance that your "first choice" will already be taken.
For this reason, it's a good idea to come up with several potential words, phrases, and number prefixes that are easy to remember and communicate what your business does. Some businesses purchase multiple toll-free numbers connected to different regions/locations, departments, or marketing campaigns–but this may not be necessary for a new or small business.
Best practices for choosing a vanity phone number for your business include:
Picking a word that's easy to spell and doesn't have spelling variations
Choosing a word/phrase that specifies what your business does (for example, 888-BUY-A-VAN is more specific than 888-GET-CARS, 833-ADOPT-CATS is more specific than 833-NEW-PETS, etc.)
Avoiding phrases/words too closely associated with competitors or other well-known businesses (for example, if you're a flower shop, avoid 888-FLOWERS and opt for something like "888-ROSE2ME" or "888-BOUQUET"
Avoiding slang or "trendy" words/phrases that will soon be outdated
3. Check Number Availability
Once you've developed your list of potential numbers, enter your top pick into the number database search tool on the provider's website.
This tool (which all quality providers have) automatically searches the existing vanity number repository and tells you whether or not your desired number is available. Even if your ideal toll-free or local vanity phone number has already been claimed, most providers will offer a list of similar alternative numbers that are still available
4. Pay and Claim Your Vanity Number
Once you've decided on an available vanity number, all you have to do is enter your billing information on the provider's website and wait for the payment to clear.
After that, the vanity phone number is yours.
Note that, although standard local VoIP phone numbers are typically ready for use within 1-2 hours of payment, the activation process for toll-free vanity numbers may take 24-48 hours or longer depending on your provider.
Best Vanity Phone Number Providers
Below, we'll review the top vanity phone number providers.
1. Phone.com
Phone.com is a multi-channel business phone system offering local, toll-free, custom vanity, and global numbers alongside VoIP calling, video conferencing with meeting chat, SMS texting, and virtual faxing.
Phone.com offers over 50 unified VoIP features, providing users with flexible, enterprise-level plans without the complications of more well-known UCaaS providers. Users can access their phone system via the desktop or mobile Phone.com app, or connect existing analog phones via ATAs.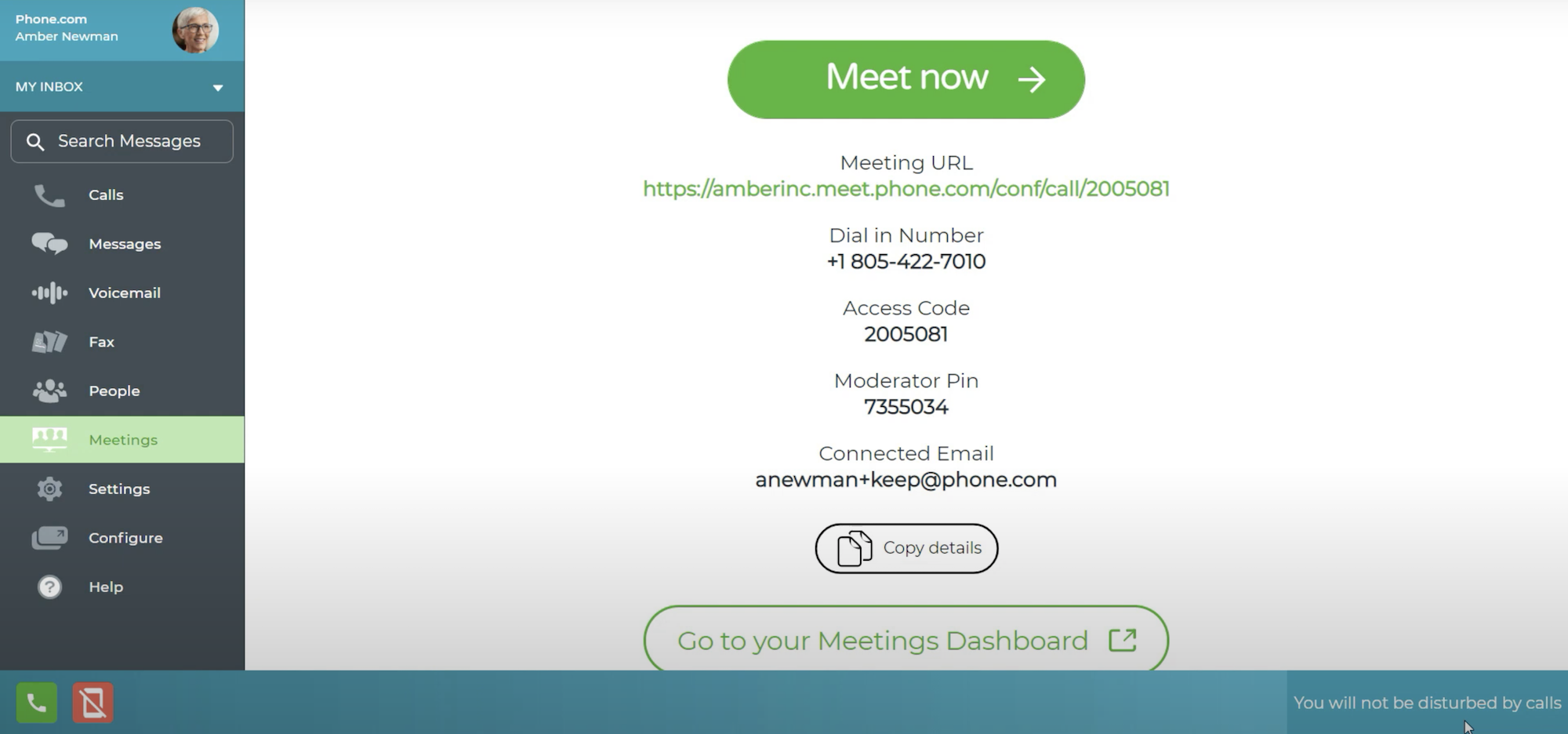 The Basic Plan provides HD voice calling in blocks of 500 pooled minutes, while unlimited HD calling in the US/Canada is included with Plus and Pro Plans.
Phone.com lets admins create and edit IVR (Interactive Voice Response) call menus for each phone number using its easy Text-to-Greeting tool, pre-programmed with over 40 sound effects and voices to choose from. Automated call menus and voicemail greetings can be further customized with hold music and uploaded audio files.
Admins can enable list-based or schedule-based call routing to automatically send business calls to different departments, greetings, extensions, phone numbers, call menus, and voicemail boxes based on the time of the inbound call.
All plans include video calling for up to 10 users (unlimited length), screen sharing, in-meeting chat, file sharing, meeting room branding, and basic moderator controls. Advanced video features like meeting locks and access codes, whiteboarding, live streaming to YouTube, audio/video recording and transcription, and breakout rooms are accessible on more expensive plans.
Additional Phone.com features include:
Click-to-call and dial-by-name directory
Audio conferencing for up to 300 participants
Call blocking, Caller ID, Do Not Disturb
Desktop and mobile SMS text messaging
Call forwarding, call transfer, call waiting, call notifications
Call logs (Basic+Plus Plans) and call analytics (Pro Plan)
Call queueing
Voicemail transcription/voicemail-to-email (mp3 audio file and/or voicemail-to-text)
Automatic or custom call recording
Phone.com Pricing
Phone.com offers three paid plans: the Basic Plan from $11.99/user/month, the Plus Plan from $15.99/user/month, and the Pro Plan from $23.99/user/month. All plans are payable on a monthly and annual basis ( with the annual plan offering a 20% savings) and mix-and-match user pricing is available. All plans offer a 30-day money back guarantee, and volume discounts for multiple phone numbers are available.
Add-on features include:
Additional phone numbers: $4.99/number/month and up
Shared phone line: $5.00/month
Call recording: $8/month for Basic and Plus Plans, included in Pro Plan
International calling: Charged at country rates
Live receptionist: $90/month
Inbound faxing: $4.99/month
Phone.com Pros and Cons
Pros
Excellent value for access to multi-channel communication and 50+ advanced features like video calls for 10 users, 1000 SMS pooled texts
High ease-of-use compared to other providers on this list, especially regarding auto attendant setup, call handling rules, and call queues
Strong support and security features like 24/7 phone, chat, and email customer support on all plans, HIPAA compliance, live uptime reports, meeting locks and security codes, AES-256 encryption
Cons
Though third-party integrations are available, they're limited to just 5: Zapier, Comm100, Chrometa, Zoho, and AllProWebTools
Call recording features not included with Basic and Plus Plans and requires $8 additional monthly fee, and voicemail transcription isn't available on Basic Plan
Advanced video calling features like video recording, whiteboard, live streaming, and increased 100 participant limit are only available on most expensive Pro plan
Best For
Phone.com is best for SMBs that need an affordable vanity phone number provider that also offers video conferencing, SMS texting, virtual faxing, and audio conferencing within one platform. While Phone.com users need access to multiple communication channels, they want to avoid the complicated setup and training process of a more expensive, feature-overloaded UCaaS solution. They prefer a vanity number provider offering advanced, HD voice calling with scalable features and more basic IVR/auto attendant features, and don't require lots of third-party integrations.
2. RingCentral
RingCentral is a business cloud phone system offering vanity, toll-free, international and local phone numbers from over 200 area codes, plus unlimited HD calling in the US and Canada, video calling, team chat messaging, and SMS.
Toll-free minutes for vanity numbers are available in blocks of 1,000 to 100,000 minutes, and additional minutes can be purchased automatically in the admin portal. Every RingCentral user receives a dedicated phone number, and additional phone numbers are available for purchase.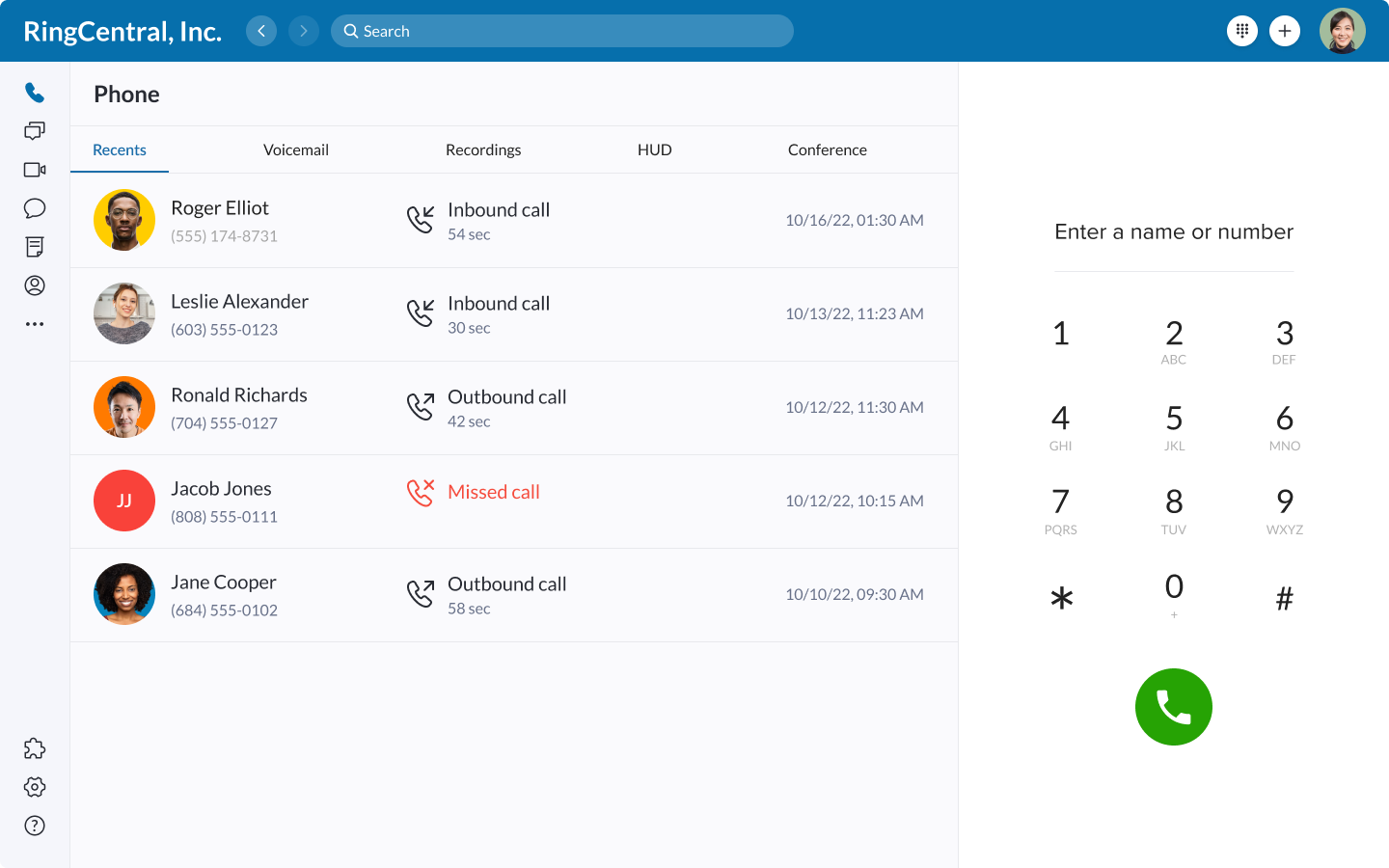 RingCentral's phone system offers excellent IVR and call handling capabilities to manage higher call volumes, and relies heavily on automation. Tools like call delegation, heads-up display, and user presence provide real-time updates on agent status and call transfers. Features like hot desking, call flip, call park, user extensions, and shared lines increase first call resolution rates, allow team members to access their business phone system from anywhere, and prevent agents from getting overwhelmed.
RingCentral uses multi-level IVR to automate as much customer support as possible, allowing admins to set complex answering rules with features like:
Direct Inward Dialing (DID)
Priority and standard call queueing
Ring groups
Automated callbacks
Outbound call routing
Schedule-based routing
Multi-lingual routing
Fixed order routing
Round Robin routing
List-based routing
Additional RingCentral features include:
Enhanced Business SMS
Visual voicemail
Persistent team chat messaging and in-video chat messaging with file sharing, task management, user tagging, channel creation, etc.
Video conferencing: 200 participants maximum, 24-hour meeting duration, meeting recording, transcription, and live closed captioning, on-demand/scheduled meetings, screen sharing with co-annotation, meeting waiting room, etc.
Unlimited virtual faxing and audio conferencing
Call monitoring, call barge, call whisper, call recording (on-demand or automatic)
Real-time and historical analytics
Advanced third-party integrations
RingCentral Pricing
RingCentral offers three paid plans: The Core Plan from $20.00/user month, the Advanced Plan from $25.00/user/month, and the Ultra Plan from $35.00/user/month, A limited free trial is available, as are monthly and annual payment plans (with annual plans offering savings of up to 33%.) Volume discounts are available for 50+users. The pricing shown in the image below outlines RingCentral pricing on an annual basis.
Add-ons include:
Additional vanity numbers: $30.00 one-time-fee
Additional toll-free/local numbers: $4.99/user/month
Additional international numbers: $5.99/user month
Additional international toll-free numbers: $25 one-time fee+$14.99/user/month
High volume SMS from $0.0085/message
RingCentral Pros and Cons
Pros
Excellent auto attendant, IVR, and call management features that keep more live agents free, provide customer self-service, and streamline business processes
Extensive third-party integration with standard and industry-specific tools like: Canvas, Salesforce, Zendesk, HubSpot, Slack, Microsoft365, and Google GSuite
Strong security and support features like 24/7 phone and chat support, QoS reports, SSO, device status alerts, end-to-end encryption, fraud mitigation, spam blocking, 99.999% uptime
Cons
More extensive feature bundles mean higher costs, with the most expensive plan starting at $20/user/month
Sheer volume of features means higher learning curve and lower ease-of-use, some small businesses will find the amount of RingCentral features unnecessary and overwhelming
24/7 support isn't available in Essentials plan, and all plans require a contract
Best For
RingCentral is best for medium-sized teams looking for a business phone system that, in addition to vanity phone numbers, also offers video conferencing, SMS and team chat messaging, virtual faxing, and advanced third-party integrations. RingCentral is one of the few unified communications suite platforms on this list, meaning it's not right for new or small businesses that just need a vanity number with basic calling features. RingCentral users have a moderate-to-high daily call volume, heavily rely on internal team collaboration throughout the workday, and need more advanced automation features to keep business processes moving.
3. Grasshopper
Grasshopper is a basic cloud phone platform offering vanity, local, and toll-free phone numbers accessible on desktop and mobile devices. It's ideal for startups or solopreneurs that need a business phone number to look more established–and to serve as an alternative to their personal number.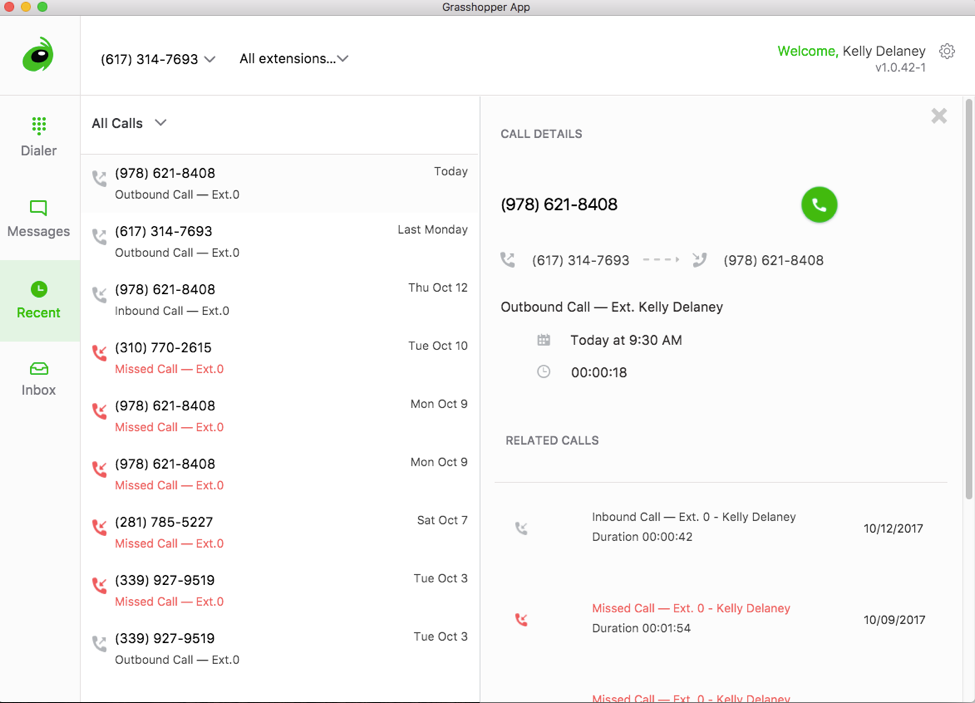 Users can set up custom greetings themselves, or pay $75 for Grasshopper's Voice Studio for a professional greeting recording of up to 250 words.
Grasshopper's Instant Response feature automatically sends a prewritten text message to missed calls from new phone numbers, ensuring your team doesn't miss the chance to win over a new client when they're unavailable. These automated business text messages let potential customers know they've dialed the correct phone number, and can be customized to include links, suggested callback times, images, contact information, and more.
Grasshopper also offers add-on access to virtual receptionist services via RubyⓇ, which makes your business look even more professional by connecting callers to live receptionists who can take messages, transfer calls, and answer basic customer questions.
Additional Grasshopper features include:
Unlimited VoIP/Wi-fi calling in the US and Canada
Voicemail transcription and voicemail-to-email
Call forwarding, custom business hours, call transfer
Call screening and call blocking
Virtual faxing
Call logs
Simultaneous call handling/simultaneous ringing
Grasshopper Pricing
Grasshopper offers three paid plans: the Solo Plan for $28/month, the Partner Plan for $46/month, and the Small Business Plan for $80/month.
Grasshopper offers a 7-day free trial for all three of its plans, and additional phone numbers are available for $10/number per month. The image below outlines Grasshopper's annual pricing, which offers a 10% savings compared to its monthly billing option.
Add-on features include:
Voice Studio: $75/order
Ruby Receptionist: Quote-based
International Calling: Rates by country
Call Blasting: $10/month (up to 15 lines)
Grasshopper Pros and Cons
Pros
Each plan has access to the same feature bundle, pricing is based on the number of phone numbers and extensions needed
Vanity/toll-free SMS texting available
24/7 phone support, live chat support, online knowledge base with tutorials
Cons
Expensive (top plan costs $80/month) for the limited features available
No native third-party integrations
Lack of advanced features like IVR, call routing, automated callback, etc.
Best For
Grasshopper is best for new or small businesses (<10 employees) with a low daily call volume needing basic phone system features like call transfer and forwarding, virtual voicemail, and limited text messaging. While Grasshopper users don't need advanced features, they do need a provider offering unlimited extensions, users, and multiple vanity, toll-free, and local phone numbers.
4. MightyCall
MightyCall is a virtual phone system specifically designed for small businesses, offering vanity phone numbers alongside toll-free, local, and international numbers.
MightyCall registers all of its users phone numbers with the CNAM database, which displays your business's name–not just your business phone number–on outbound caller ID screens.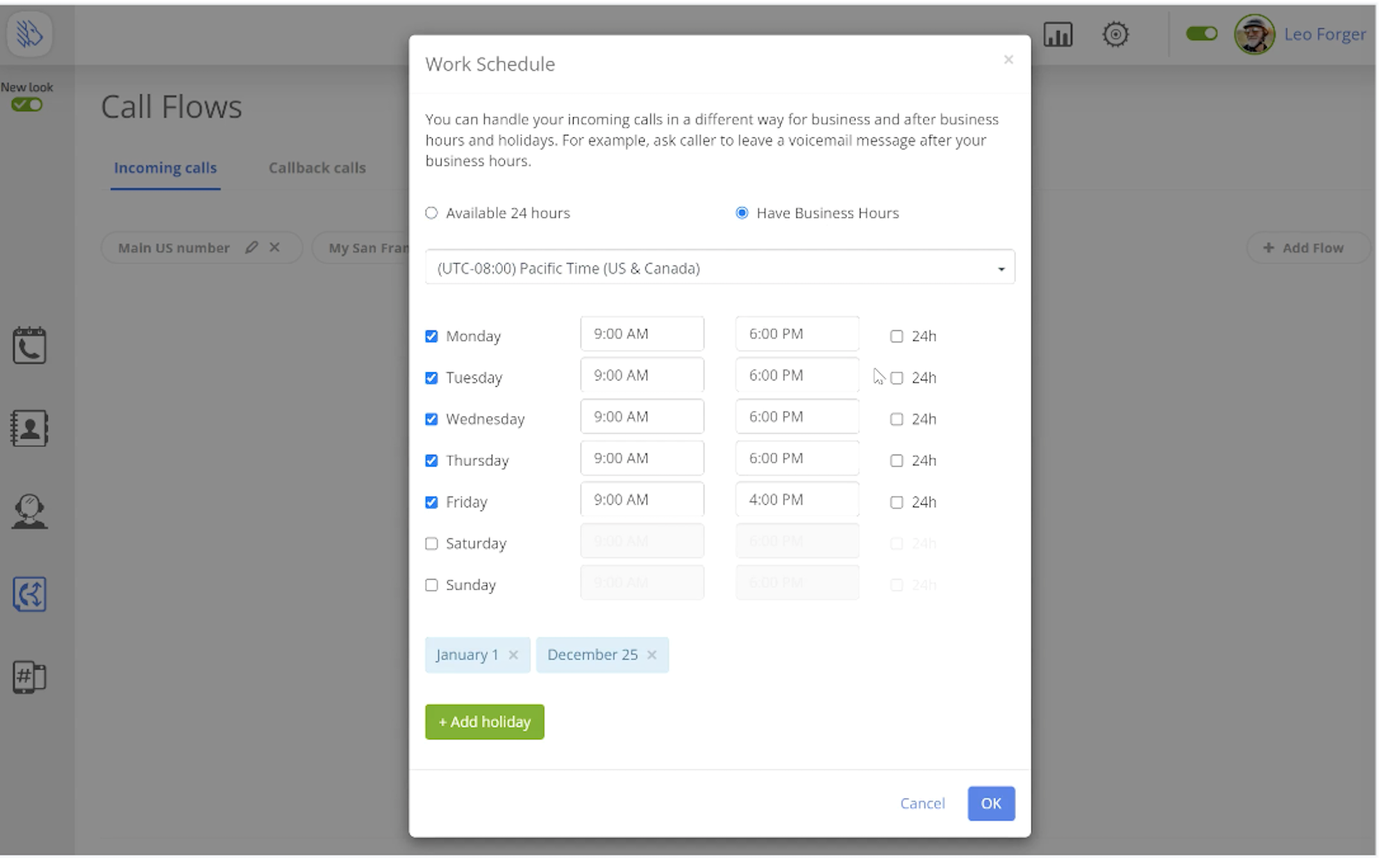 The MightyCall Business Hours Call Routing feature lets admins set specific "office hours," alongside specific answering rules that are automatically switched on when you're out of the office. Admins can have calls forwarded to personal numbers, other agents, or voicemail boxes for a simpler alternative to more complex IVR.
MightyCall does also offer standard and multi-level IVR, which allows admins to update call flows within a drag-and-drop editor, choosing from time-based or relationship-based routing options. Users can record new automated call menu messages or edit call flow paths at any time. Up top 10 sub-menus can be configured per number.
Additional phone numbers–toll-free, local, and international–can be purchased for $10.
Other key MightyCall features include:
Call forwarding, call blocking, call transfer, call queues, caller ID, call screening, call waiting
Hold music and custom greetings
SMS and MMS
99.99% uptime
iOS and Android mobile app
Dial by name directory
Performance indicator analytics
Integration with existing desk phones
Auto receptionist
Visual voicemail
CRM integrations
Call recording
MightyCall Pricing
MightyCall offers three paid plans: the Small Team Plan for $15/user/month, the Business Plan for $20/user/month, and the Enterprise Plan for $150/month (flat fee.) A free 7-day trial also is available.
MightyCall Pros and Cons
Pros
Contact book feature serves as a native customer database/CRM feature, storing entire communication history with customer
Easy-to-use, drag-and-drop call flow editor with straightforward routing options
Integration with key third-party apps like Zapier, Pipedrive, Salesforce, Freshworks, HubSpot, Zoho, WhatsApp
Cons
Lacks basic features like simultaneous ringing and skills-based routing
Lack of transparency regarding customer service, only specifies "live support" is available, not hours/channels
Enterprise Plan, even with unlimited users and unlimited minutes, is still too expensive ($150/month)  given the lack of advanced features provided
Best For
MightyCall is best for small teams or solopreneurs that want access to a basic vanity phone number with a straightforward interface and fast setup process. It's not ideal for larger businesses that need access to additional communication channels like video calling or team chat messaging, but will work for teams that already have video/chat tools they want to continue to use, but lack a virtual phone number provider.
5. GoTo Connect
GoTo Connect is a cloud phone system and vanity phone number provider offering unlimited extensions, custom dial plans, international calling, and toll-free/local numbers. Audio and video conferencing, team messaging and premium integrations and analytics are also available.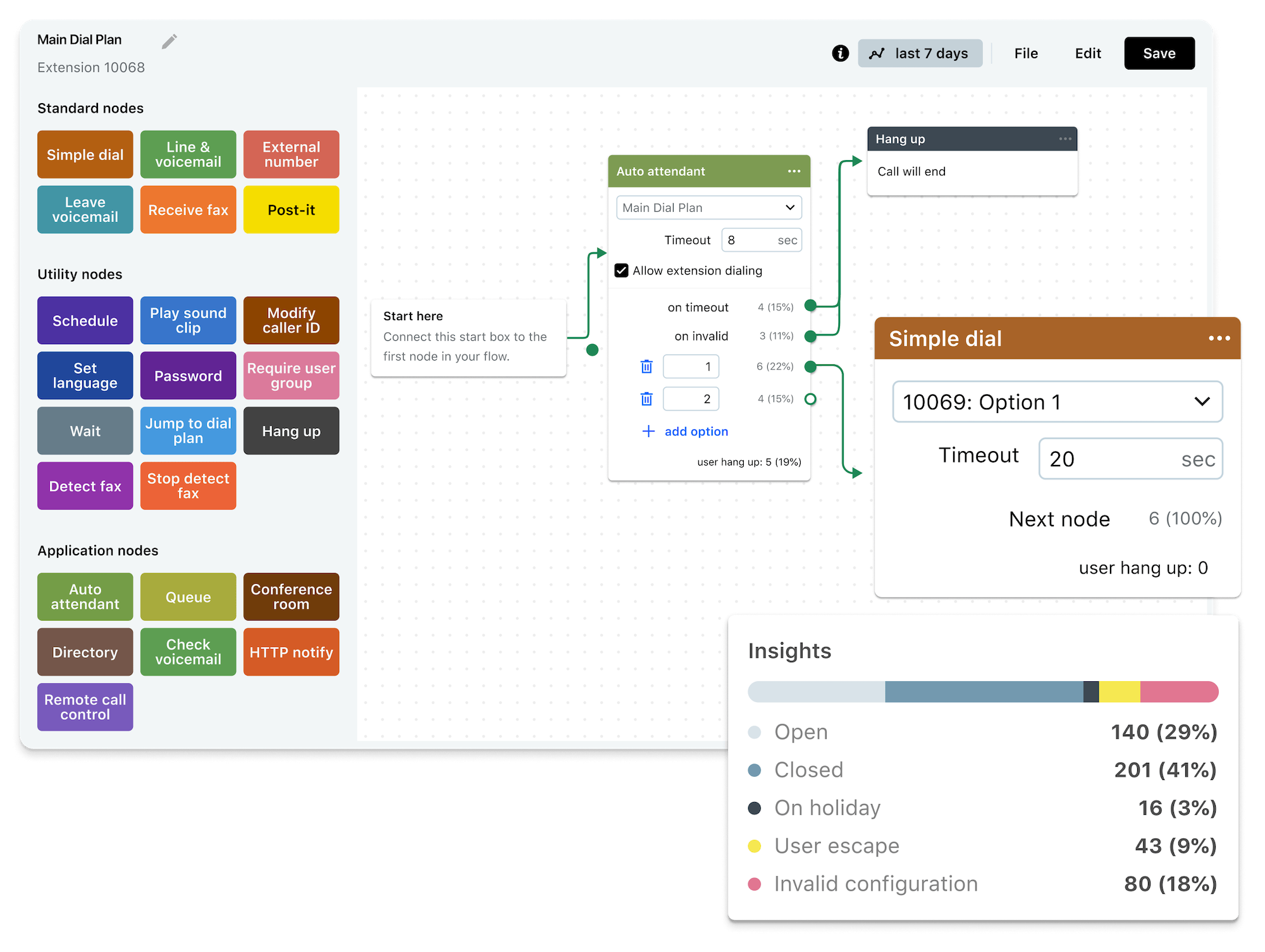 Toll-free minutes are available on a per-minute, pay-as-you-go basis and in bundles of 1,000 and 5,000 minutes on more advanced plans.

Smart Routing, one of its standout features, instantly and intelligently routes callers according to custom preset rules (called "nodes") created with the Dial Plan Editor.

Popular automation nodes include:
Voicemail routing
Schedule-based routing
Play sound clip, then routes caller accordingly
Updated caller ID: Updates customer caller ID by topics (billing, support, etc.) to prepare agents for the call
Language setting
Password-protected call flows
Interactive IVR call menu
Location-based, skills-based, and relationship-based routing
GoTo Connect's user-friendly Dial Plan Editor makes creating, optimizing, and editing call flows simple thanks to its drag-and-drop interface. In addition to configuring the smart routing call paths mentioned above, admins can build Find Me/Follow Me call forwarding paths, set up automatic call rejects based on Caller ID, and use the auto divert feature to instantly send callers to another agent, call menu, or extension. Customizable call filters make call paths even more effective, and warm transfers ensure agents always have the information they need ready to best assist a customer.

Additional GoTo Connect features include:
Ring Groups
Shared Line Appearance
Audio conference bridge (20 participants)
Custom greetings
Instant Response (text first time callers in the event of a missed call
Call queueing and automated callbacks
Video calling for 250 participants, unlimited meeting duration, screen sharing
Compatibility with 180+ desk phones
Call recording and cloud storage
Voicemail to email
Dial-by-name directory
Hot desking
Virtual faxing
Call whisper, call barge
Call hold, Do Not Disturb, call forwarding, call transfer
Real-time and historical analytics
Third-party integrations
GoTo Connect Pricing
GoTo Connect offers two paid plans: the Basic Plan from $24/user/month and the Standard Plan for $29/user/month.  A free 14-day trial is available, and additional phone numbers can be purchased for $5/month.
GoTo Connect Pros and Cons
Pros
Intuitive drag-and-drop Dial Plan Editor makes optimizing call flows and call queues quick and easy
High-level scalability, especially since GoTo Connect is a part of the GoTo software family, which includes GoToWebinar, GoTo Meeting, GoTo Contact Center, etc
Integrations with key CRM software and other third-party tools like Salesforce, Zoho CRM, Zendesk, GSuite for Google, Microsoft365, Microsoft Teams Connector
Cons
Basic Plan only allows for 1 dial plan, 1 auto attendant greeting, 1 ring group, and 1 call queue
Essential call analytics, like live queue updates, call monitoring, agent-specific performance analytics, and custom admin controls only available on Premium Plan
Video and team chat messaging features are limited compared to other providers on this list
Best For
GoTo Connect is best for small to medium-sized businesses that need a vanity phone number provider focused on optimizing call flow paths and call queues. These users likely rely on other tools, like Slack or Zoom, for additional communication channels, but may consider switching to the GoTo universe for unified communications in the future. Though GoTo Connect users may not have a high daily call volume, they need to automate as many business processes as possible to avoid hiring additional agents.
6. eVoice
eVoice offers local and toll-free vanity 800, 888, 877, 866, 855, 844, and 833 business phone numbers.
It includes over 30 features that allow for advanced calling rules, but is also the best option for companies who aren't yet sure whether or not they truly need a vanity number. The 30-money-back guarantee lets users create their first phone number for free and test out all eVoice features–which makes deciding on which paid plan you need much easier.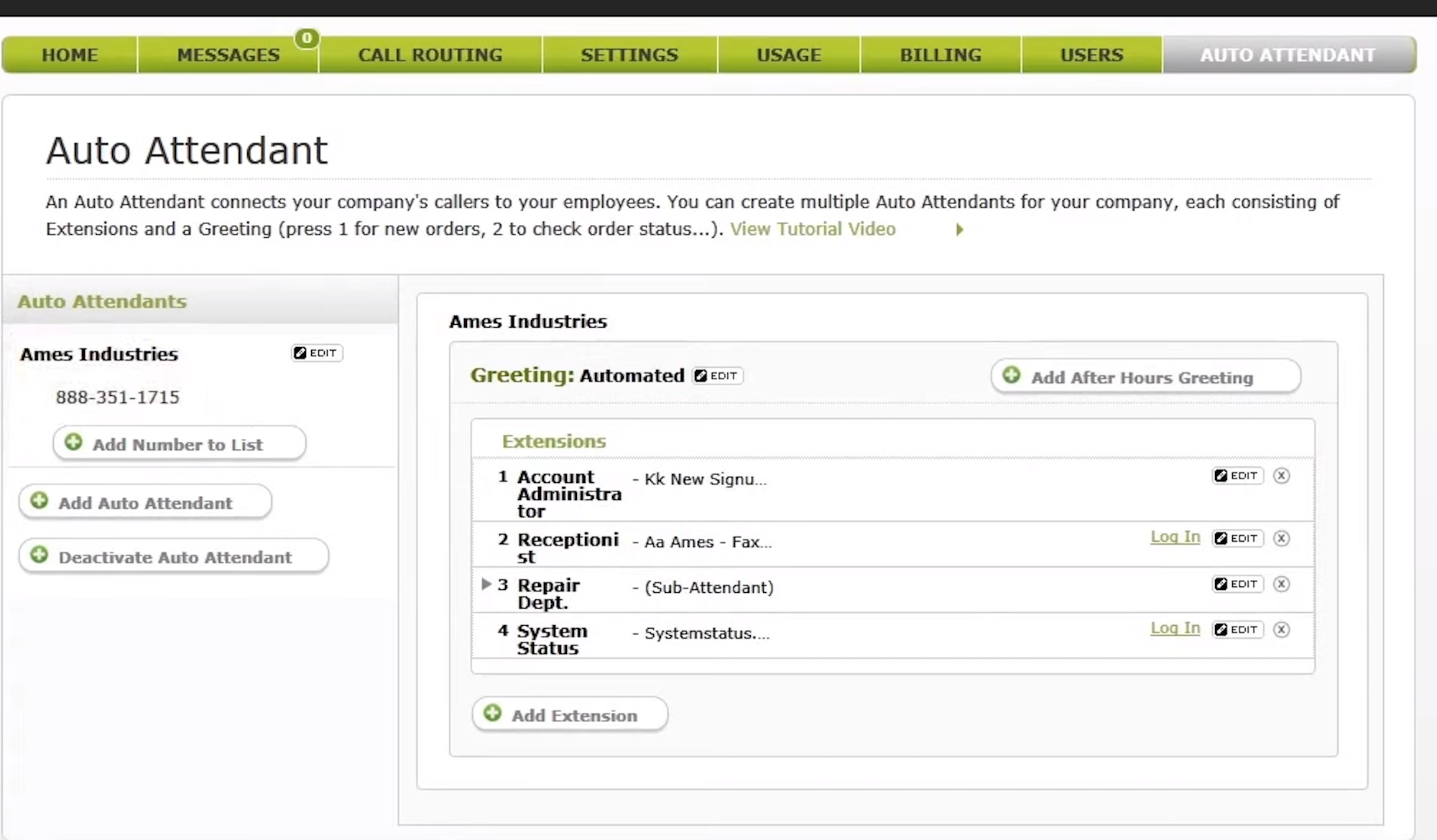 It also lets users create their own Internet phone numbers, allowing you to have multiple business numbers with a variety of area codes within a single eVoice account. eVoice is compatible with any phone hardware or smartphone and has Apple iOS and Android mobile applications.
eVoice also offers basic video conferencing with meeting recording, file sharing, and screen sharing.
eVoice provides additional calling features like:
Advanced local and international call forwarding, call routing, screening, and queuing
Call recording
Voicemail, voicemail-to-email, and voicemail-to-text
Online faxing and text messaging
Caller ID and call blocking
Virtual PBX cloud-based phone system
Do Not Disturb
Call scheduling and call rules
Conference calling for up to 94 participants
Advanced reporting and analytics
After-hours greetings
Hold music
Simultaneous and sequential ringing
Dial-by-name directory
Real-time call notifications
Auto-attendant with extensions or a live receptionist
eVoice Pricing
eVoice offers a monthly and annual plan, each with its own series of four sub-plans. Though the annual plan offers some cost savings and two months free, most still opt for the monthly plan, which offers a free 30-day money-back guarantee.
The four Elite Plans range from $13.50/month/user for 11 users to $10/month/user for 10 users.
Note that eVoice also offers a series of Live Receptionist plans from $139.95/month to $399.95/month, which offer all the above features in addition to a live receptionist.
eVoice Pros and Cons
Pros
Access to professional live receptionist services and professional greeting recording
Simultaneous ringing automatically dials your 5 agents at once, sequential ringing makes call forwarding easier
Call scheduling feature increases team flexibility, integrates with agent schedules, and can be adjusted in real-time, to the minute
Cons
Some key features, like call recording, virtual faxing, and video conferencing, are available only as add-ons
The variety of plan options, alongside add-on costs, can make it difficult to determine the true cost of your vanity number
Outdated interface can be challenging to navigate, and limited support is available in the online knowledge base
Best For
eVoice is best for small to medium-sized, mostly remote teams needing a vanity phone number with standard features like call forwarding, virtual voicemail, and auto attendants. These businesses need to purchase multiple phone numbers and want to take advantage of eVoice's bulk number pricing.
7. UniTel Voice
Unitel Voice is a cloud-based VoIP phone system that also gives users the option to add a toll-free or local vanity phone number.
Choose from a 1-800, 855, 844, 888, 877, 866, or 833 toll-free number, or a local phone number in the city/area code of your choice.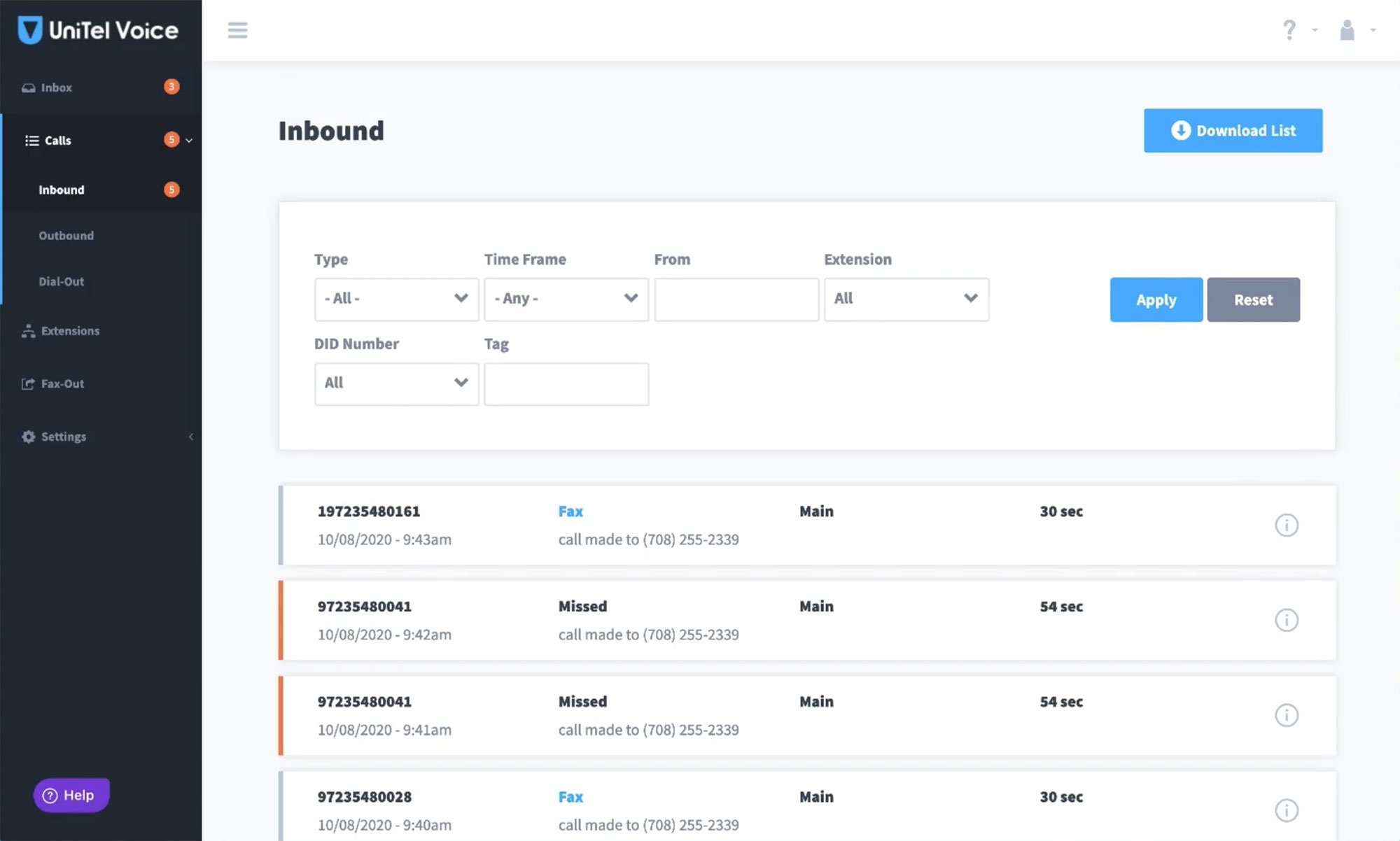 Users can set up their own accounts or take advantage of UniTel's free concierge setup. You can record your own greeting or voicemail message, or use their free Voice Talent Studio to have a professional do it for you.
Users will own their new toll-free number, and can port them to new carriers without having to pay a fee to UniTel. Your phone number also serves as a send/receive fax line, with faxes emailed to you as a PDF.
Additional UniTel features include:
iOS and Android mobile app
Call forwarding and call transferring
Voicemail and faxing
Virtual auto attendant
Hold music and Do Not Disturb mode
Call scheduling/after-hours mode plays a different voice recording to customers after the close of the business day
Browser-based dashboard
Voicemail-to-email and/or voicemail-to-mobile app
Call log storage
Dial-by-name directory
Call blocking
3-way conference calling
Caller ID display
Missed call push notifications
WiFi calling
Call recording
UniTel Voice Pricing
All of the four UniTel plans include one telephone number, but unlimited users (phone extensions) and unlimited minutes are available on all plans except the Start-Up.
Users can also create additional UniTel business numbers for $4.99/per month. Every plan offers all of the features listed above or add-on features, with the only differentiating factors being the number of users, devices, and minutes.
Note that 1-800 numbers come with a $99.00 one-time set-up fee, while custom vanity numbers carry a one-time $15.00 set-up fee. UniTel offers a 30-day guarantee.
Add-ons include:
Conference Calling: $2.99/month
Call Recording: $5/month
Call Blasting: $10/month
Voicemail Transcription:$5/month
Call Parking: $5.00/month
UniTel Voice Pros and Cons
Pros
Basic plan provides access to a robust feature set
Unlimited call handling (unlimited concurrent calls with an automatic redirect to voicemail)
Call announcement feature prepares agents to handle call
Cons
Many essential features, including voicemail transcription and call blasting, are add-ons
Users only get one phone number, even on most expensive plans
Expensive set-up (one-time) fee
Best For
UniTel is best for medium-sized businesses that only need one vanity phone number, and that either don't need access to advanced features aside or prefer to add them individually, a la carte.
8. RingBoost
RingBoost is a business phone number provider offering toll-free, easy-dial, local, and vanity phone numbers.
It's the most basic provider on our list, and also has the easiest searchable database. Users can locate available vanity numbers via keyword, area code or toll-free prefix, or by browsing a catalog of available numbers.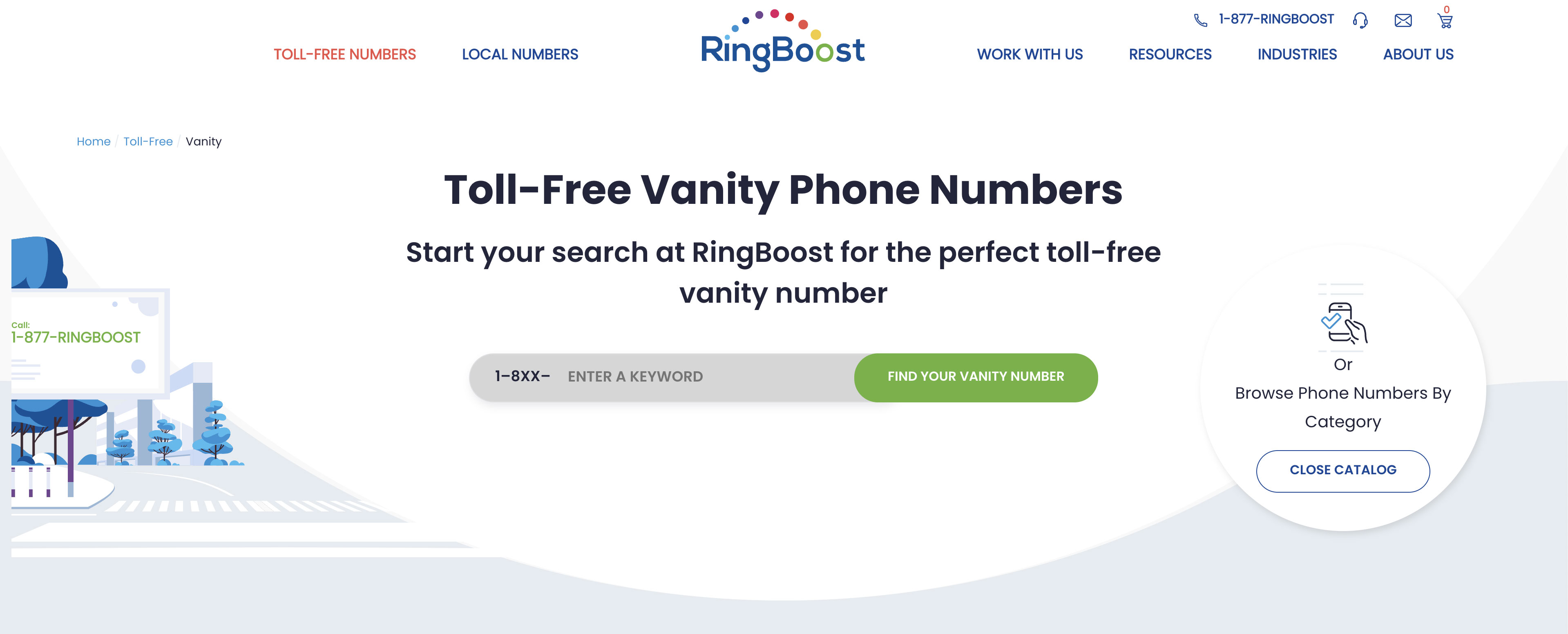 All RingBoost plans include:
Number blocking
An admin portal
Basic call forwarding
Call history
Email notifications for missed calls
Custom Caller ID display
Call Announcement, SMS call notifications, SMS texting, and call recording with 30-day storage are available as add-on features.
RingBoost Pricing
RingBoost pricing is based on the number of included minutes per month, and is available in three tiers: The Starter Plan for $1.99/month, the Business Pro Plan for $10.99/month, and the Premium Plan for $19.99/month.
RingBoost Pros and Cons
Pros
Simple setup and activation process
Vanity numbers available from $2/month
Searchable number database helps you find available numbers fast
Cons
Plans may be too basic for some users
No information regarding customer support options
Call recording, SMS texting, and SMS call notifications only available as add-ons
Best For
RingBoost is best for new small businesses of under 5 employees or solopreneurs that need to establish their business with a vanity phone number. It's ideal for those looking for a fast and simple vanity number registration process and who aren't concerned about advanced features. RingBoost users may not even communicate with customers via phone often, but want to purchase a vanity number for credibility.
9. 800.com
800.com primarily provides 800 vanity numbers, but it also offers basic calling features.
These features include caller ID, call notes, call forwarding, blocking, recording, and call notifications.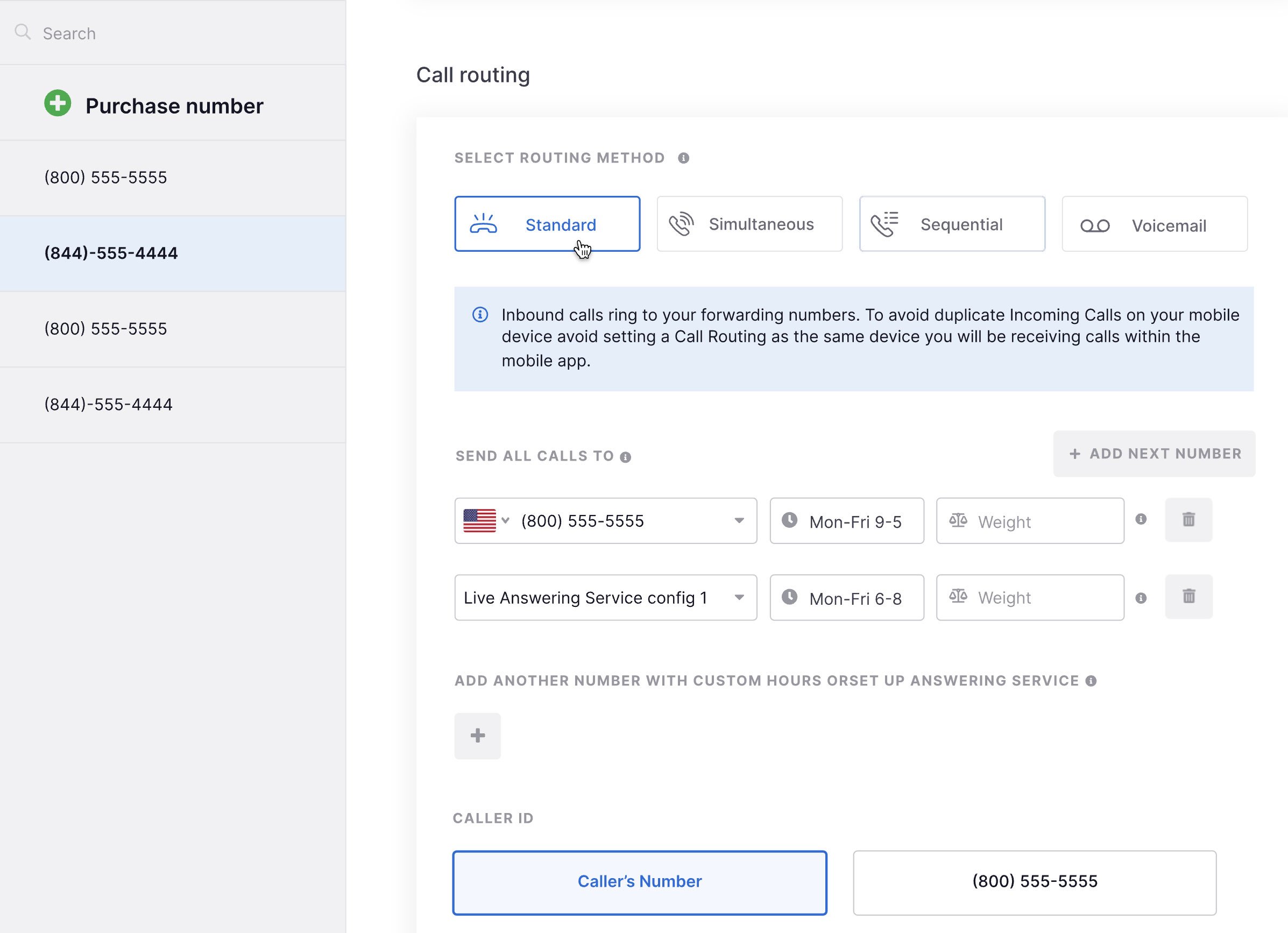 Users can easily search the available number database or port in existing numbers. Voicemail transcriptions can be accessed within the 800.com interface or forwarded to your email or sent via SMS message.
Additional 800.com features include:
Extensions
Virtual Faxing
Voicemail boxes
SMS texting
Basic analytics
API Access
Voicemail transcription
Sequential call forwarding
800.com Pricing
800.com offers three paid plans: the Personal Plan for $25/month, the Unlimited Plan for $64/month, and the Pro Plan for $127/month.
Each vanity number purchased incurs a one-time $35.00 setup fee, while additional standard toll-free or local numbers incur a $25.00 setup fee. If users go above the set number of minutes, an overcharge fee is incurred.
800.com Pros and Cons
Pros
Offers 1,000 toll-free bundled minutes each month, providing cost savings
Includes API access for high-level customization
Easy to find numbers via the interactive database
Cons
The limited available features don't justify the high price
Lack of information on available customer support
Even for $64/month, users still only get one toll-free number
Best For
800.com is best for medium-sized businesses that need just one vanity number, but that want a higher number of toll-free minutes than most plans offer.
10. NumberBarn
NumberBarn is a vanity phone number provider offering users the options to purchase and port away, park, or continue to use their new number.
The Port Away Plan, allows customers to purchase and activate the vanity number of their choice, then port the number to a VoIP provider with more advanced features–for just $2.00. Users can port their number out in 30 days.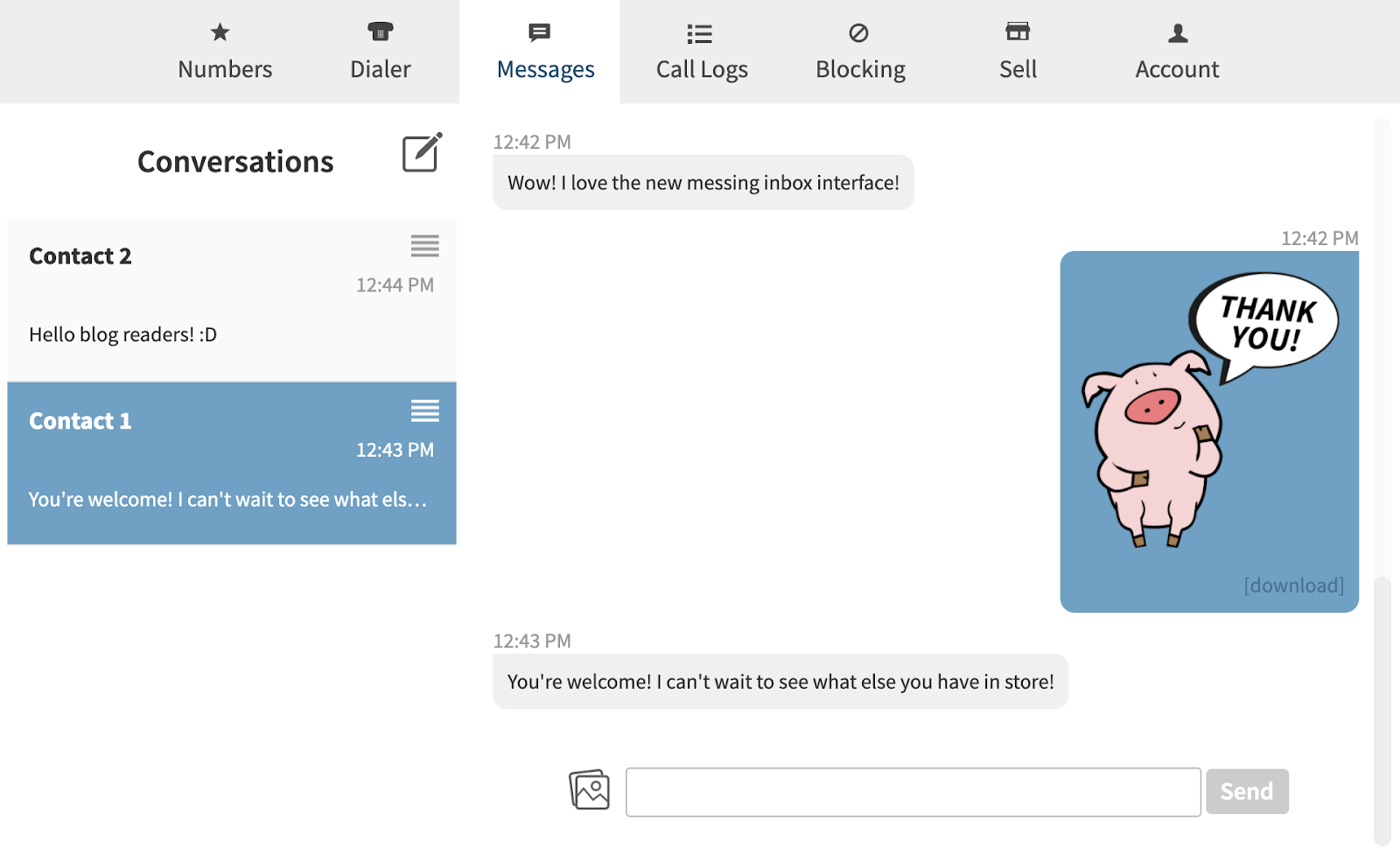 NumberBarn offers two longer-term plans, Forward and Unlimited, with 300 monthly minutes and unlimited monthly minutes, respectively. The Forward and Unlimited Plans also provide access to the below features:
Call forwarding
Voicemail and voicemail to email
Auto attendant
Inbound caller ID
SMS
Call logs
Call blocking
NumberBarn Pricing
NumberBarn offers 4 paid plans from $2/per number to $19/per number, all with varying pricing structures depending on whether or not you want to keep NumberBarn as a carrier or port it out.
NumberBarn Pros and Cons
Pros
Affordable vanity phone numbers starting from $2
Ability to purchase vanity numbers to port or park
Quality set of features for the price, including call blocking, call logs, auto attendants, and voicemail to email
Cons
Lack of nearly any advanced features
Customer support available via chat or email only
One-time setup fee amount is not listed on the NumberBarn website
Best For
NumberBarn is best for solopreneurs or small teams under 5 that want to purchase a vanity number then port it to a more advanced VoIP phone system provider, or those that want a vanity number to legitimze their company name.
Vanity Phone Numbers FAQs
Below, we've answered vanity number frequently asked questions.
Within 24 hours of your purchase -- but many are able to have it activated in just 1-2 hours. Vanity 800 numbers, however, may take several business days to be entirely set up. 

Not quite. While a vanity number can be a toll-free number (or a local one) it specifically has a number sequence that spells out relevant words or memorable number patterns. Toll-free numbers have specific dialing prefixes that, when dialed, mean that the person placing the call will not be charged.

As lucrative as it might sound, the answer is no. This practice, sometimes called "number brokering" is expressly forbidden by the FCC. Avoid anyone who tries to sell you an existing vanity phone number.