Call center software offers advanced features, business process automation, communication channels, real-time and historical analytics, and self-service options that improve both the agent and customer experience.
Top providers offer a variety of call center software pricing to fit your business's budget, current needs, and plans for future growth.
Small business owners and enterprise-level corporations can choose from bundled or customized call center plans, add on individual features a la carte, or scale up to higher tiers for advanced capabilities and higher user limits.
Get a
personalized quote
from top Call Center Providers
This post covers the below call and contact center service providers alongside their pricing, features, and ideal users:
Overview: Call Center Software Pricing From Top Providers
Provider
Pricing and Plans
Top Features
Best For
Five9
4 paid plans from $149-$229/month
Five9 Dialer, IVAs, Digital Engagement
Call centers that need to maximize lead list penetration and boost FCR rates
Talkdesk
3 plans from $75-$125/user/mont,Custom quote based Experience Cloud plan available
Conversations, AppConnect, Customer Experience Analytics
Omnichannel contact centers that need to automate most inbound/outbound customer interactions
NICE CXOne
4 scalable quote-based plans
Agent Assist hub, Workforce Optimization, Smart Self-Service
Enterprise-level contact centers with a high omnichannel contact volume
Dialpad
Business Communication Suite: $15-$25/user/month, custom quote-based plan available

AI Sales and AI Contract Center Suites: Quote-based Pro and Enterprise Plans

Dialpad AI, Call Summary, Dialpad Meetings
Enterprise-level call centers that need on AI UCaaS tools to streamline internal communication
Genesys
5 paid plans from $75-$150/month
Predictive Routing, Workforce Optimization, Outbound Auto Dialer
Remote call centers that need to automate outbound calls and require high-level third-party integrations
Aircall
2 plans from $30–%$50/user/month, custom quote-based plan available
Shared Call Inbox, Live Activity Feed, Number Panel
Small businesses and startups needing a basic plan and an affordable call center platform
8×8
6 plans from $15-$140/user/month
Frontdesk, Conversation IQ, Workforce Management
Remote inbound customer support centers that prioritize personalized live agent:customer voice calls
GoTo Contact Center
Available as a custom-priced add-on for GoTo's UCaaS plans
Campaigns, Live Guide, Dial Plan Editor
SMBs scaling up from basic VoIP phone systems to access multiple communication channels but don't need advanced WFO tools
Zoom Contact Center
Quote-based pricing, available add-ons from $60/year
Outbound Video Calls, Contact Center Analytics, Active Engagement Assignments
Current Zoom One/Zoom Phone users that want a contact center solution with a familiar interface and add-on features
Five9
Five9 is an intelligent inbound/outbound voice and digital CCaaS platform offering 24/7 customer support on all plans, advanced Workflow Automation and Optimization features, and AI-powered analytics.
Agents and customers can connect across key communication channels like voice calling, SMS, email, social media messaging, and video chat.
Though designed for digital-first contact centers, Five9's robust outbound dialer, user-friendly drag-and-drop call flow design tool, and numerous call routing strategies make it just as ideal for blended sales and customer service call centers.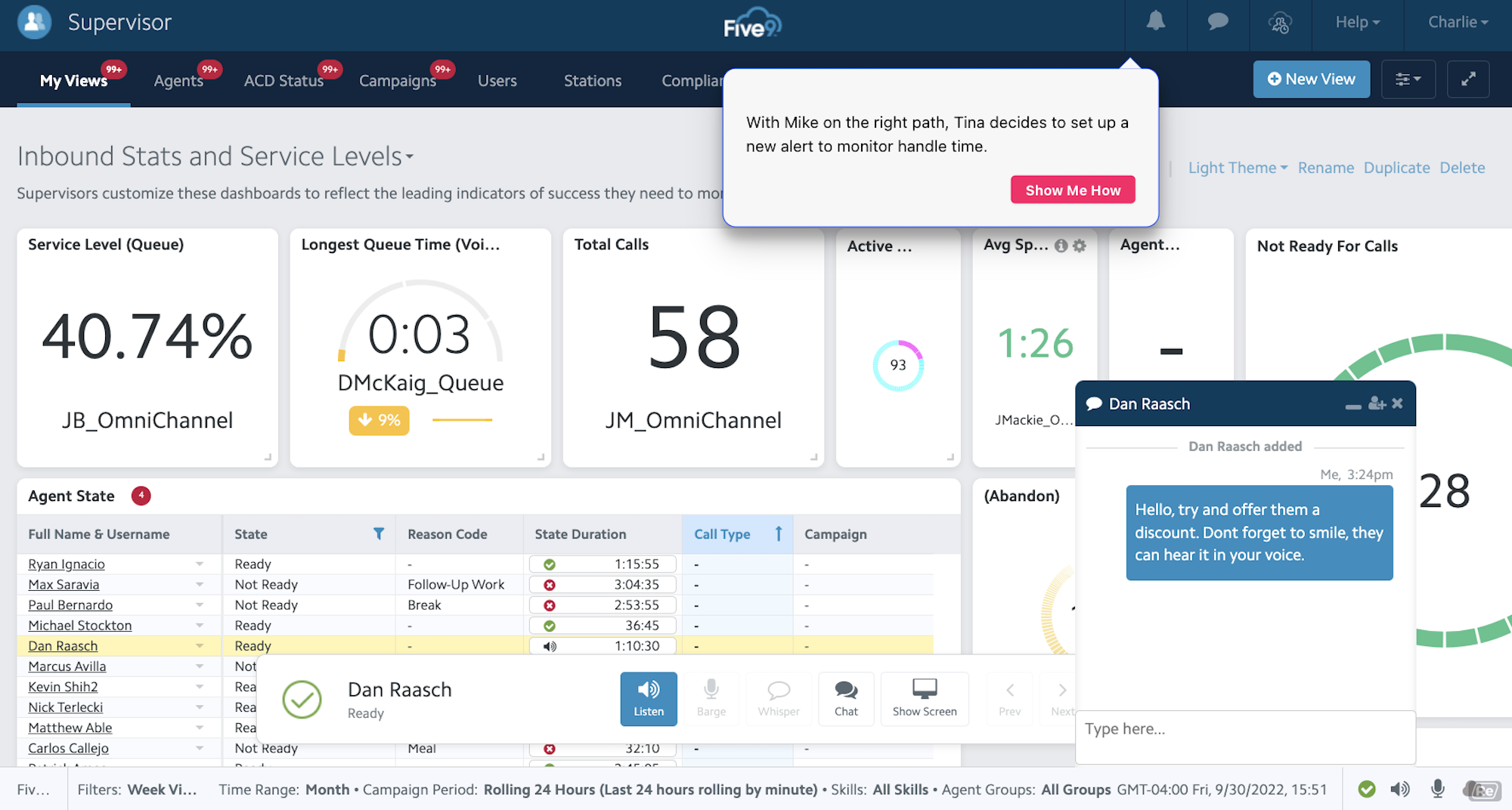 Key Features
Key Five9 features include:
Five9 Dialer
Five9 Dialer is an outbound auto dialer with Predictive, Power, Progressive, and Preview, and manual dialing modes to optimize lead list penetration and increase conversion rates in sales-based call centers and telemarketing firms.
The Dialer also conducts real-time Do Not Call list management for TCPA compliance, performs list scrubbing of disconnected or outdated phone numbers, and provides CRM CTI (Computer Telephony Integration) screen pops, a local caller ID, and disposition timers.
Digital Engagement
Five9 Digital Engagement is a unified digital-first communication dashboard for both agent: customer and self-service interactions.
The Digital Engagement tool is best known for its Messaging feature, which empowers social media, website, and SMS text messaging in real-time across desktop and mobile applications.
Messaging capabilities include:
Intelligent omnichannel routing (skills-based routing, priority-based routing, time-of-day routing, voicemail routing)
Automated real-time Agent Assist via CRM/knowledge base integrations
IVA chatbots and auto-replies
Text-to-speech messaging
Location sharing
Concurrent messaging
Send/receive attachments, customer surveys and forms, links, emojis, direct replies
Escalate chat/message to video call
Intelligent Virtual Agent (IVA)
The Five9 Intelligent Virtual Assistant (IVA) is an omnichannel automated customer self-service feature especially popular with voice-based interactions.
With 25 natural-sounding available voices, sentiment analysis, speech recognition, Natural Language Understanding, post-call summaries, and a no-code, drag-and-drop call flow design tool, call centers using Five9 can automate the majority of customer service and support phone interactions.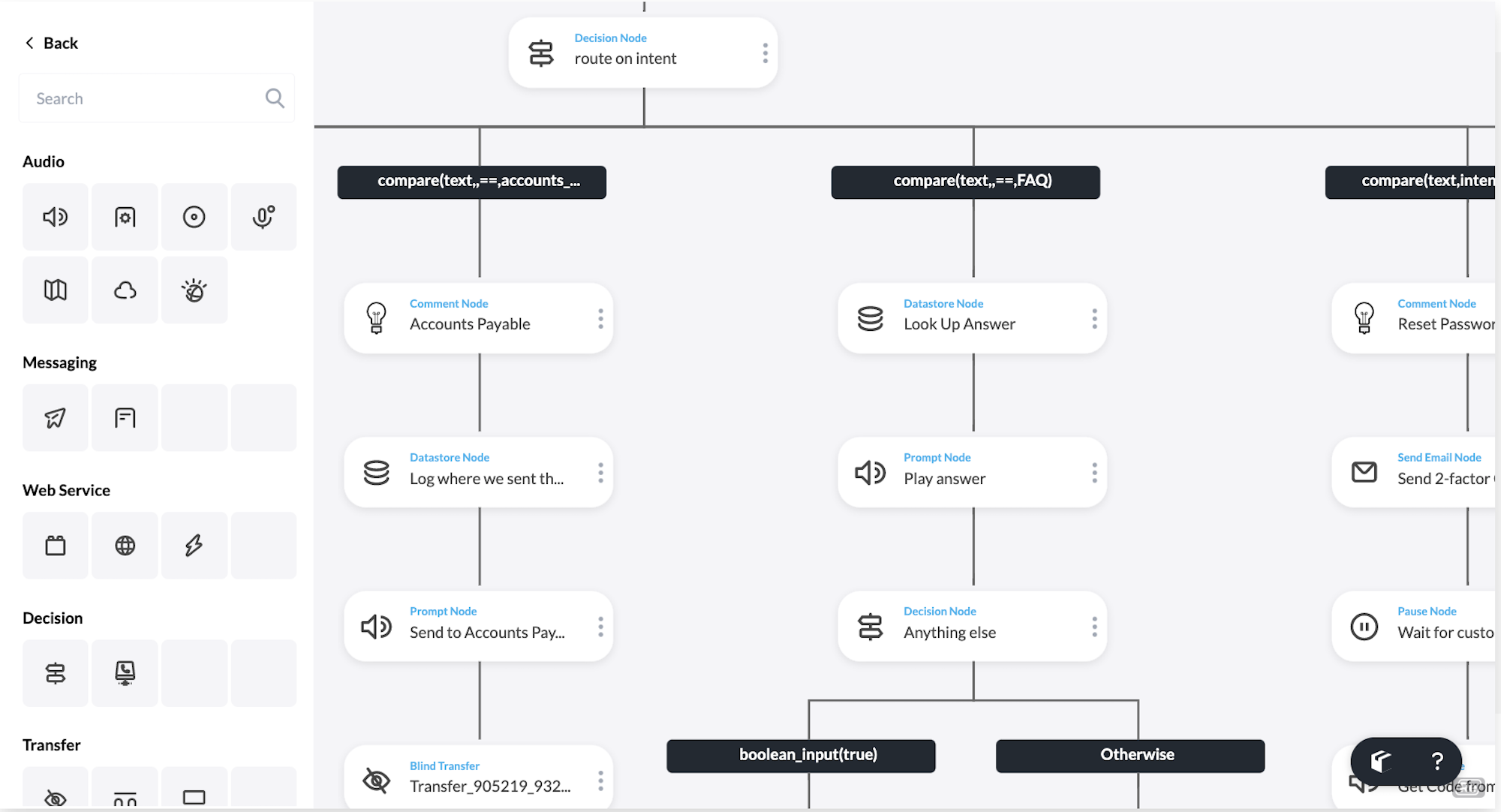 Pricing and Plans
Five9 offers 4 paid bundled monthly plans from $149-$229/month, with scalable access to voice and digital communication channels, workforce optimization features, and workflow automation tools.
Key differences between the plans are outlined in the image below: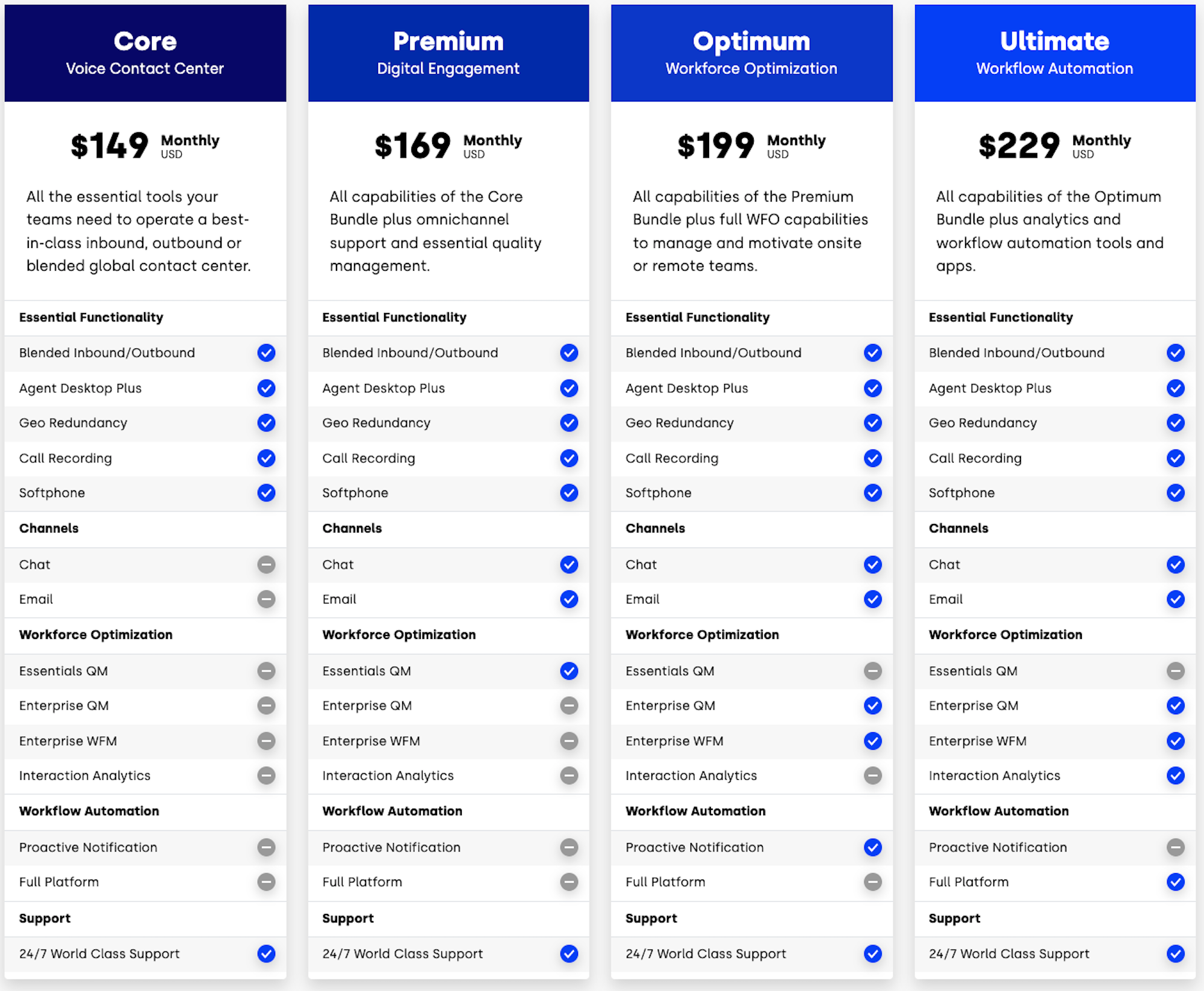 Best For
Five9 is best for outbound call centers that need to shorten average call handling time to increase the number of daily outbound calls.  It's also right for inbound call centers focused on maximizing lead list penetration, and boosting first contact resolution rates.Five9 users prefer to automate customer service and support interactions across digital channels to keep agents free to make sales calls.
Talkdesk
Talkdesk is an AI-powered omnichannel cloud contact center that empowers real-time agent:customer interactions and self-service across voice, website chat, email, SMS texting, and social media platforms like WhatsApp, Facebook, and Twitter.
The interface, Talkdesk Workspace, can be customized or built with pre-made dashboard templates organized by role (Admin, Agent, Supervisor). Admins can create multi-user Workspaces for specific departments or projects, adjust IVR (Interactive Voice Response) call menus in Talkdesk Studio, or edit Talkdesk Virtual Agent omnichannel conversation flows using the Conversation Design tool.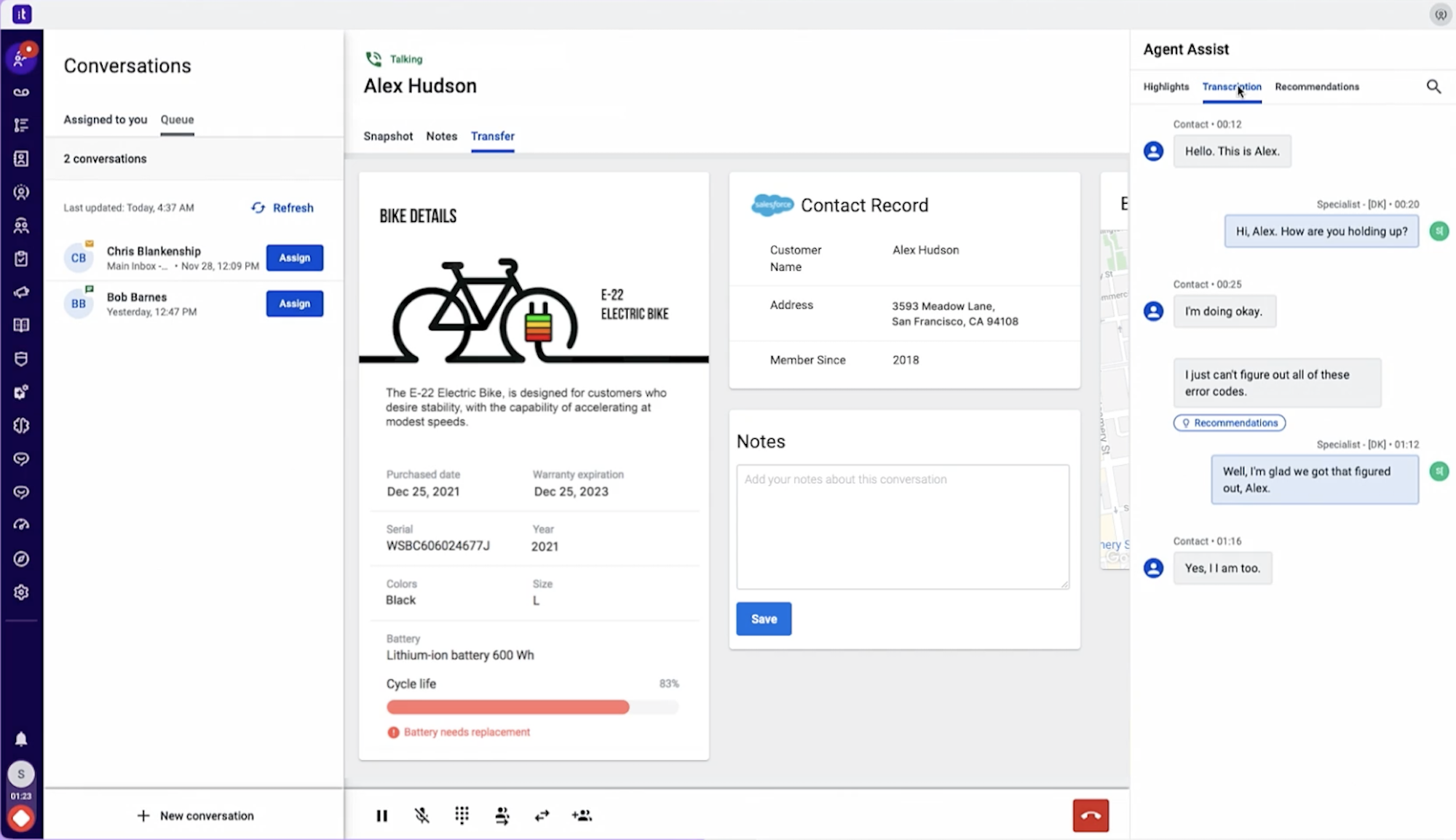 Key Features
Key Talkdesk features include:
Conversations
The Conversations tab shows real-time and historical voice and digital interactions in a unified interface. It also lets support and sales team agents respond to, receive, review, reassign, or resolve individual or ring group-based Conversation assignments.
Other voice and digital Conversation capabilities include: 
Filter interactions by channel or tag
Set customer dispositions and add agent notes
Access conversation history
View/update CRM data
Access AI-powered Agent Assist
Access response templates, scripts, canned responses
Move between channels during one interaction
Complete/review After Call Work
Access voicemail database, complete assigned voicemail follow-ups
Create, edit, and view contacts
Review/edit personal agent schedules and performance evaluations, or request additional coaching
Talkdesk AppConnect
AppConnect is Talkdesk's robust third-party integration marketplace, which includes 60+ pre-built CRM, team collaboration, and business communication integrations with tools like:
Microsoft Teams, Zoom, Slack, Microsoft365, Google Workspace
Shopify and BigCommerce
Zoho, Salesfroce, Freshdesk, Zendesk
Textline, Jabra, Avochato
Proactive Outbound Engagement 
The Talkdesk Predictive Outbound Engagement tool is a highly advanced automated dialer with Power Dialer, Predictive Dialer, and Preview Dialer modes, Salesforce integration, and campaign prioritization.
In addition to live outbound voice calls, agents can access a Voicemail Drop feature or send out automated SMS promotional messages/reminders.
Additional Outbound Engagement features include: 
Automatic lead list scrubbing
Upload/verify/prioritize call lists and campaigns
Manual or automatic dialer pacing and maximum dialing ratio adjustments
Answering Machine Detection
Access multiple outbound scripts and reporting templates
Custom Caller ID
Set maximum abandonment rate, time out, maximum ringtone
Default retry period
Set Caller Disposition
Customer Experience Analytics
The Talkdesk CX Analytics Suite is made up of five core monitoring and management elements:
Talkdesk Live: 17 pre-made or customer reporting dashboards show real-time call center activity and KPIs like AHT, call queue length/times, call abandonment rate, calls in progress, average/longest wait times, etc.
Talkdesk Explore: 900+ historical KPIs and analytics with custom and premade reporting templates filterable by agent, communication channel, date range, time of day, etc.
Talkdesk Interaction Analytics: AI-powered omnichannel interaction analytics focused on customer sentiment, support topic trends, customer intent, and "key moment" recognition and analysis for customer journey optimization
Talkdesk Performance Management: Includes leaderboards and agent challenges to boost team productivity and the overall quality of customer service and support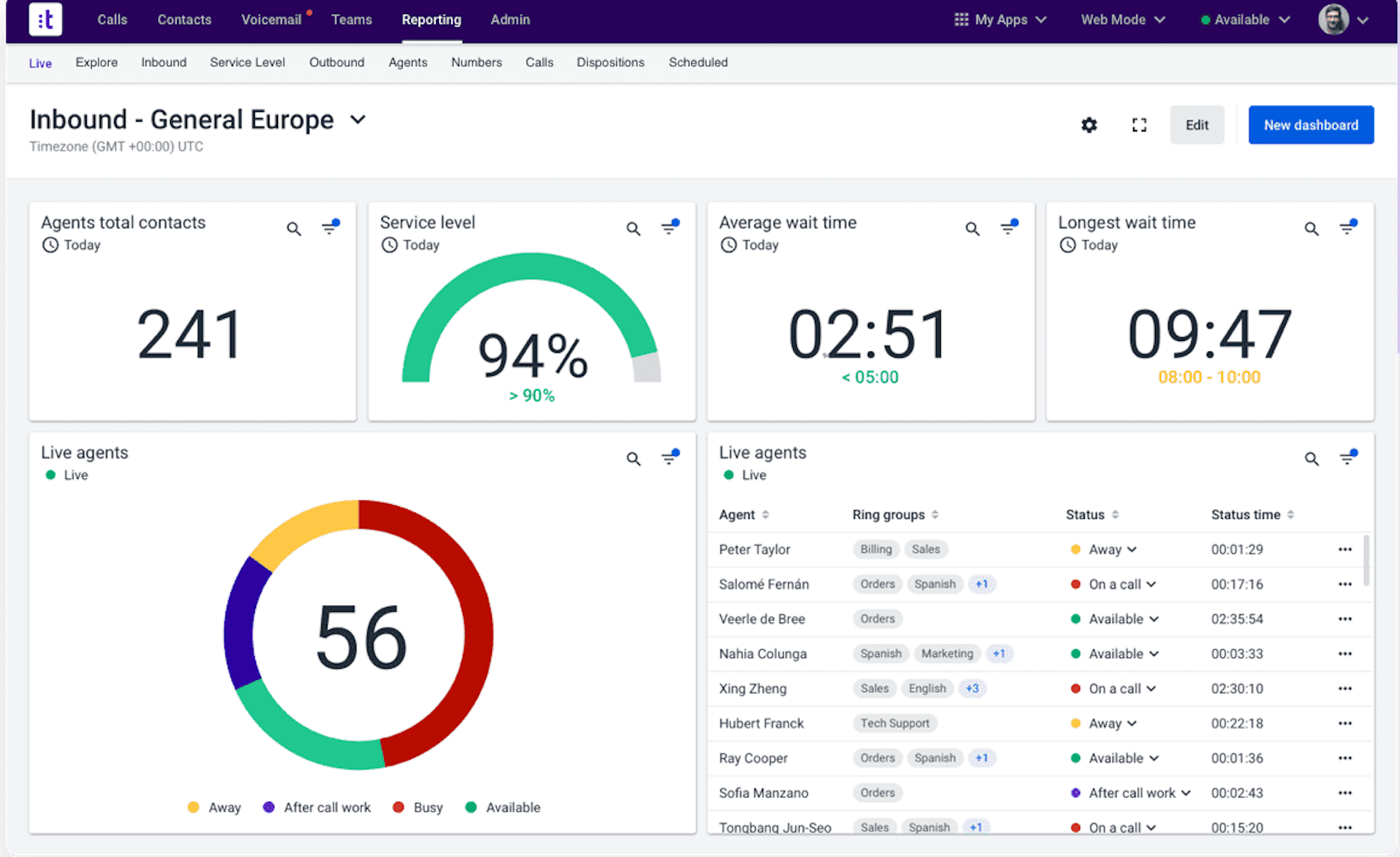 Pricing and Plans
Talkdesk offers three bundled packages ranging from $75-$125/user/month, as well as custom Experience Cloud packages with quote-based pricing.
Talkdesk add-ons include Premium Tech Support, PCI Payments, Identity Authentication, and WOrkforce Management.
Talkdesk pricing details are outlined in the image below: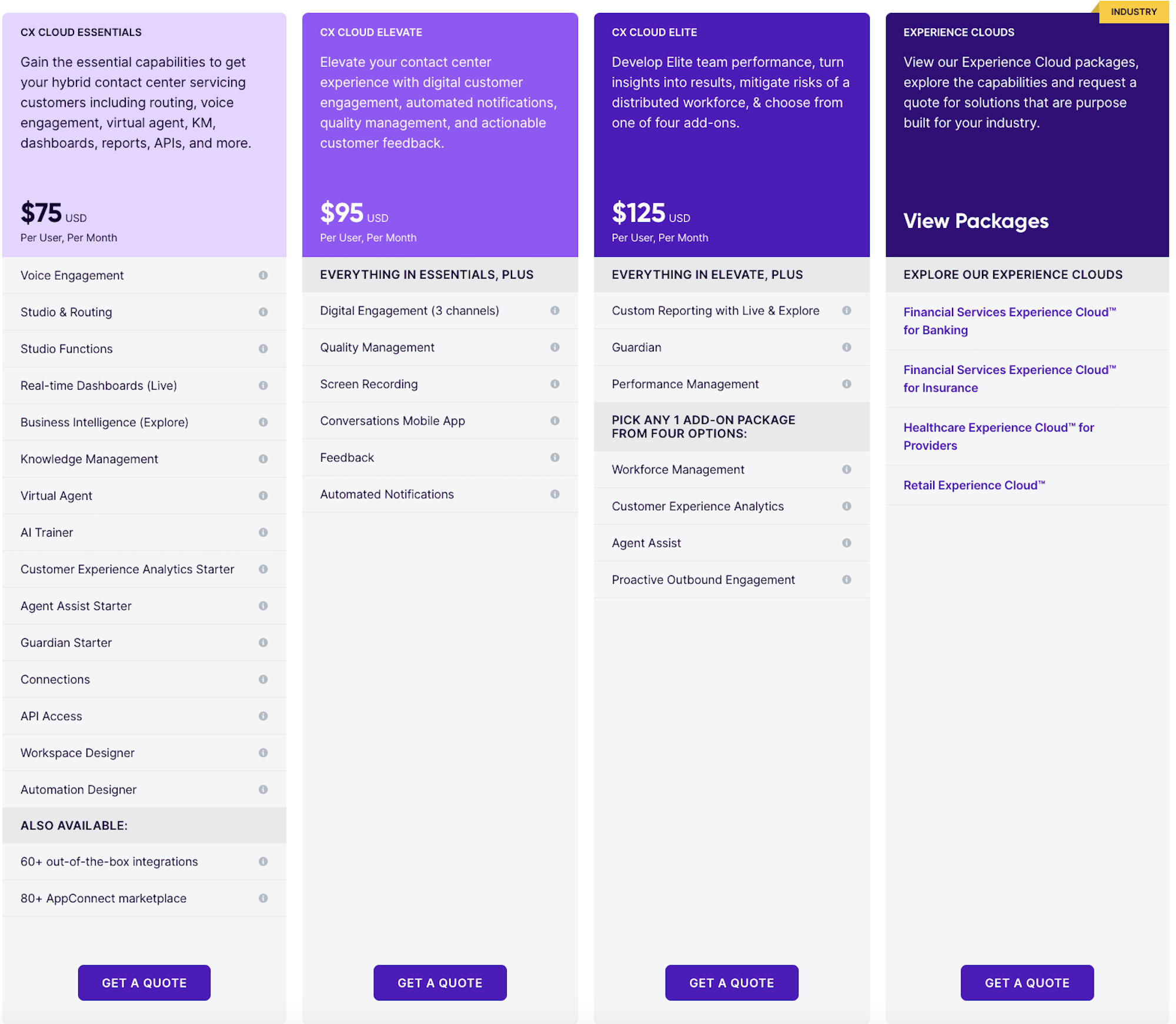 Best For
Talkdesk is best for medium-to-enterprise-level omnichannel contact centers that seek to automate the majority of inbound and outbound customer interactions and require advanced analytics to improve agent performance and IVR/IVA conversation paths. These users need a contact center with a robust set of native features, but still want to integrate their existing third-party software like Twilio or RingCentral into their contact center software.
NICE CXone
NICE CXone is a voice and digital cloud contact center and customer experience platform powered by NICE Enlighten AI.
NICE CXone's IVA voicebots and chatbots provide high-level customer self-service across 40+ communication channels like inbound and outbound voice calling, website chat, social media messaging, email, and business text messaging. Omnichannel customer interactions are united, updated, and managed within My Agent eXperience (MAX), NICE CXone's asynchronous agent inbox.
Workforce Engagement tools, advanced real-time and historical analytics, and pre-built CRM integrations further optimize the customer and agent experience.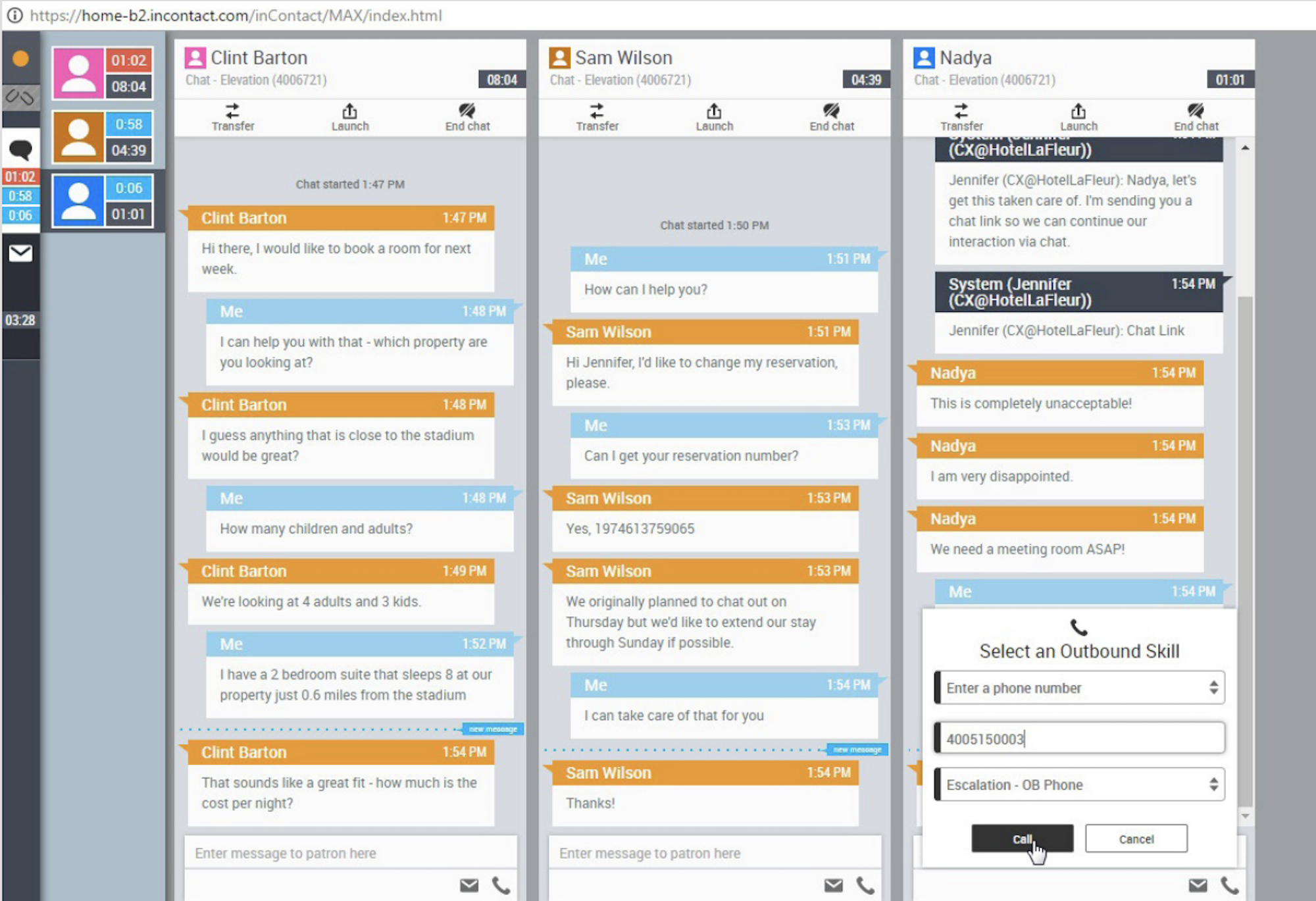 Key Features
Key NICE CXone features include:
Agent Assist Hub
The Agent Assist Hub offers live voice and digital in-conversation agent assistance via CRM and internal knowledge base integrations.
Using Natural Language Processing and machine learning to recognize common customer phrases and trigger words, Agent Assist automatically displays relevant suggested next steps, call scripts, canned responses, and data-packed Customer Cards. Agent Assist also offers  real-time customer sentiment analysis, live in-call agent coaching or smart coaching assignments, and automated agent scoring and evaluations.
Workforce Optimization and Employee Engagement
The NICE CXone Workforce Engagement Suite is a set of tools to measure and optimize agent performance, streamline workforce management, and provide high-level insight into contact center activity.
Functionalities include:
Agent schedule/shift bidding with PTO auto-approval, omnichannel forecasting, and adherence monitoring
Agent performance gamification and leaderboards
Searchable omnichannel audio and screen recordings
Real-time quality monitoring alerts
250+ filterable omnichannel analytics with 90+ reporting templates
Self-service analytics
Topic clustering
Feedback Management for customer and employee surveys
Smart Self-Service and Customer Journey Orchestration
Omnichannel customer self-service powered by Enlighten AI measures 100% of customer interactions in real-time, using advanced intent analysis and predictive algorithms to optimize:
Automated IVA call/chat scripts
Call and chat routing paths and conversation flows
IVR menus
Proactive outbound customer support with CXone Guide
Common business processes like bill payment, appointment scheduling, complaint management, escalation matrix design and initiation, account verification and maintenance, order updates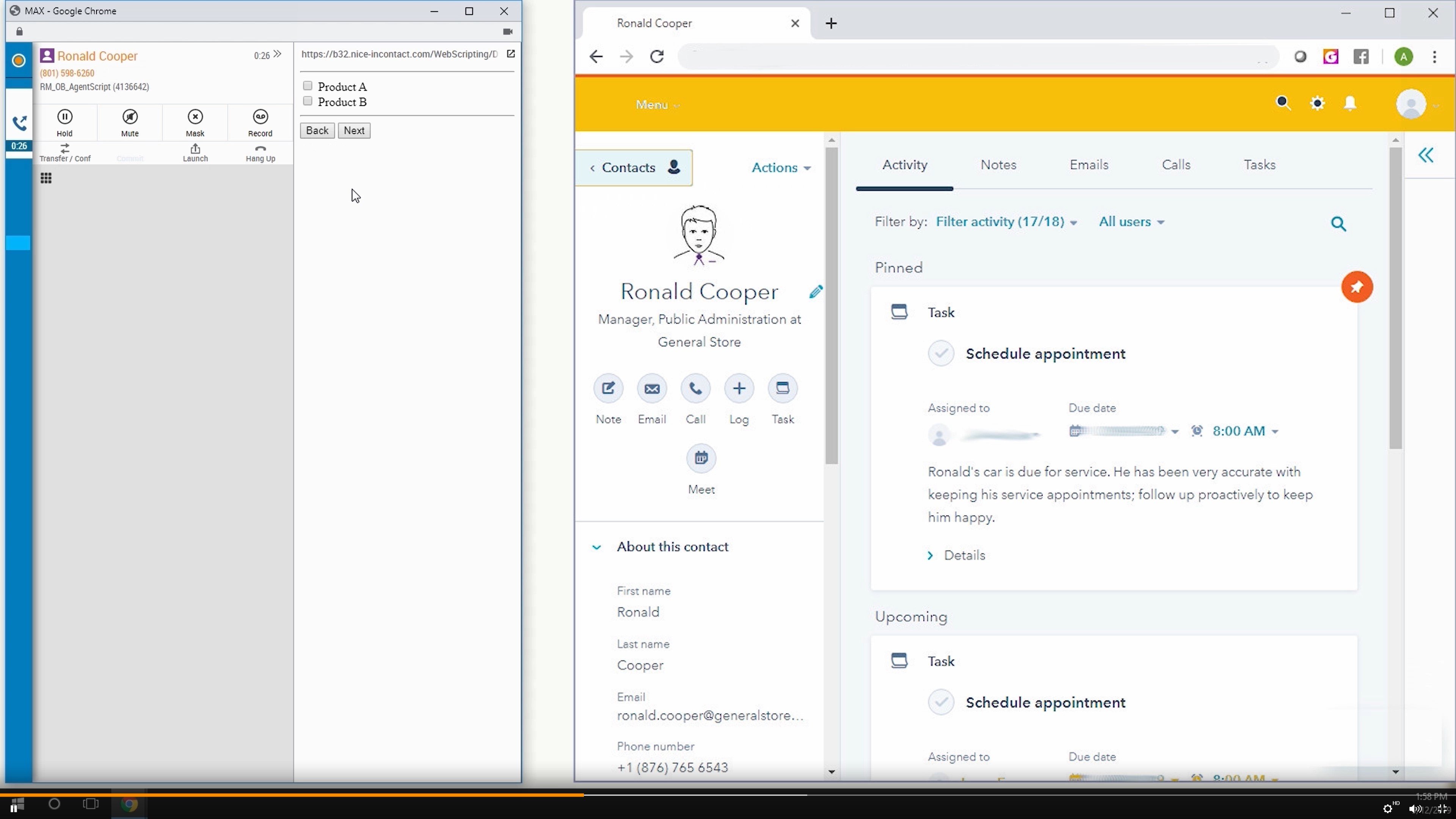 Pricing and Plans
NICE CXone pricing is available only on a quote basis and allows users to choose between four scalable, bundled plans: Customer Engagement, Essentials, Core, and Complete. Note that third-party integrations incur a one-time fee/integrated tool.
Differences in NICE CXone plans are shown in the image below: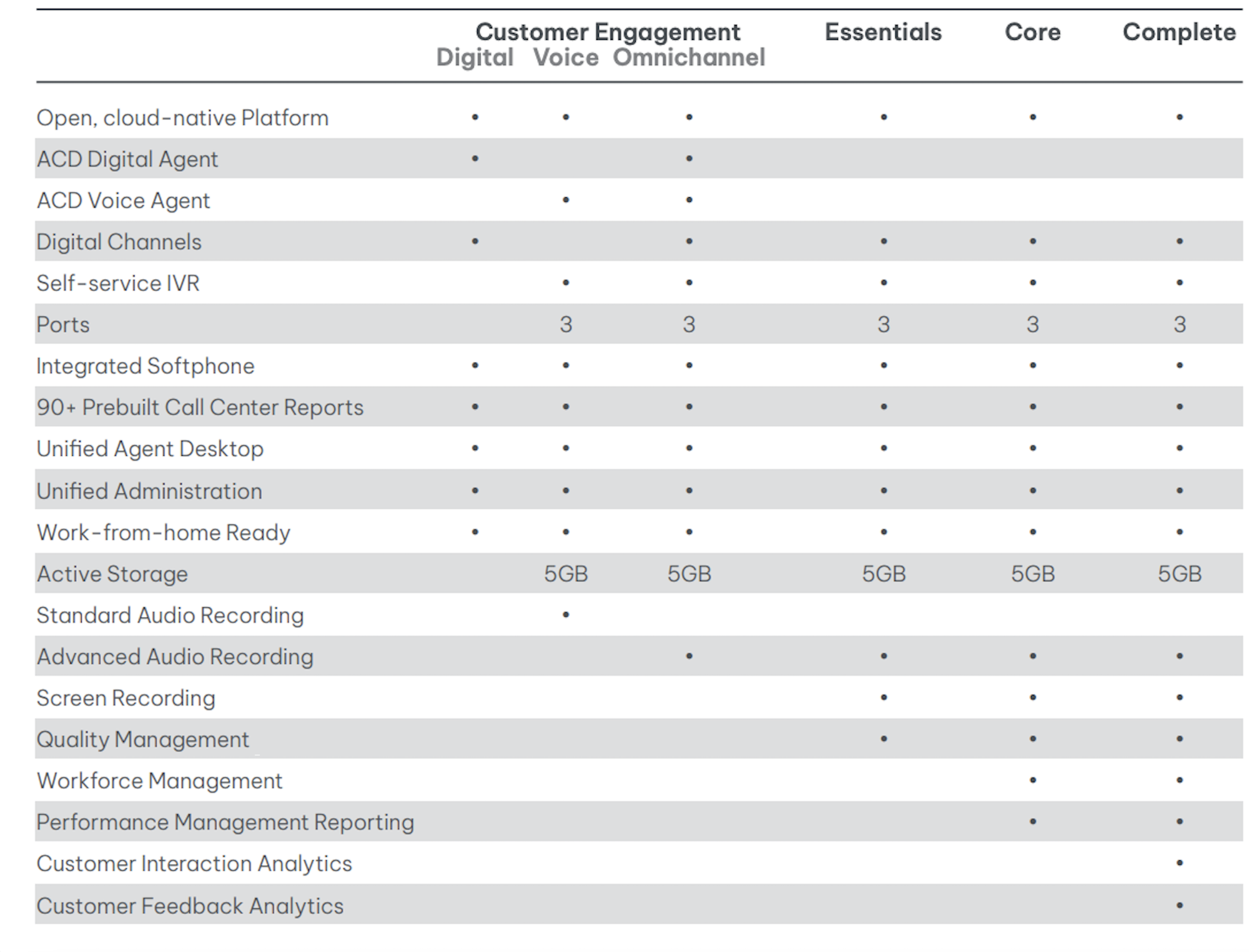 Best For
NICE CXone is best for enterprise-level contact centers with a high daily inbound digital contact and voice call volume. Therefore, NICE CXone users heavily rely on AI-powered IVAs–not live agents–to handle every aspect of the customer journey/support process from start to finish.
Dialpad
Dialpad is an omnichannel CCaaS and UCaaS platform that leverages advanced AI to optimize internal and external communication across voice calling, SMS/MMS, video, social media messaging, and website chat.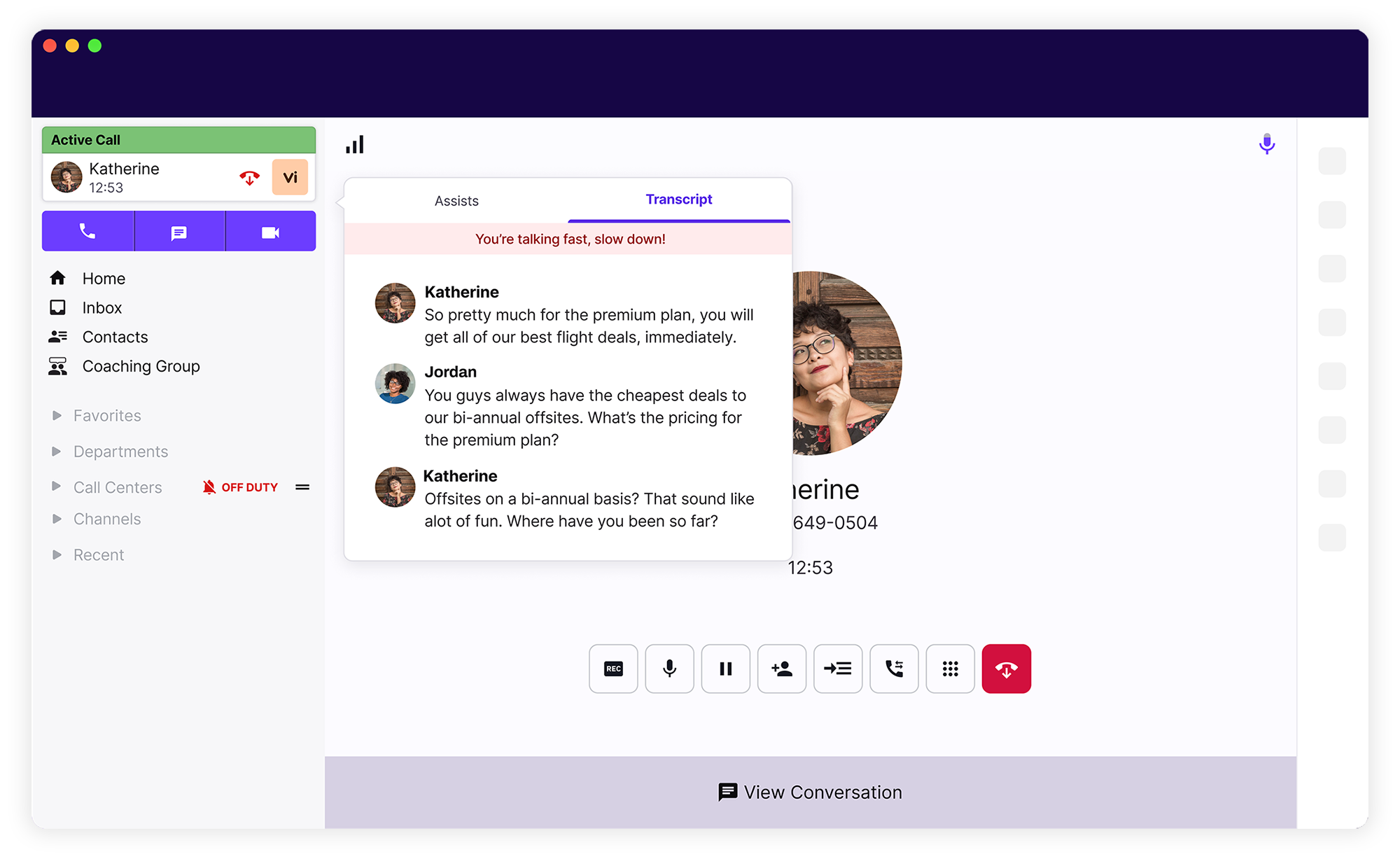 Key Features
Key Dialpad features include:
Dialpad AI
Dialpad AI powers omnichannel customer engagement, sales outreach, digital communications, customer self-service, and even Customer Satisfaction (CSAT) analytics.
It uses NLP and machine learning to accurately transcribe conversations in real-time, while voice recognition easily differentiates between speakers.
Additional Dialpad AI-powered functionalities include: 
Objection handling
Smart responses and automated call scripts
Outbound voicemail drop and Power Dialer
Live agent coaching with Quality Assurance scorecards
Omnichannel routing, ACD (Automatic Call Distribution),  IVR
Real-time analytics including customer sentiment analysis
Team Collaboration Tools
Dialpad's advanced team collaboration tools streamline internal SMS, video conferencing with Dialpad Meetings, phone calls, audio conferences, and chat messaging within the Dialpad Workspace.
The messaging interface, also available during video calls, lets users:
Create messaging channels and message users 1:1
Meet for up to 5 hours with 150 participants
Share files, videos, and images
Access real-time meeting captions, post-meeting transcripts, and AI-powered meeting summaries with custom action items
Customize message notifications
Record video meetings with audio
Mention other users
Set agent presence/status
Search message history
Access one-click video meetings
Switch between devices while in a meeting/on a call
Share screens and collaborate on virtual whiteboards
Dialpad Call Summary
The Dialpad Call Summary automatically creates a searchable post-call transcript and compiles key data points like customer contact information, call length, and call date. These call transcripts, which are automatically emailed to agents and admins once the call has ended, also include speaker differentiation, suggested action items, customer sentiment analysis, and call snippets.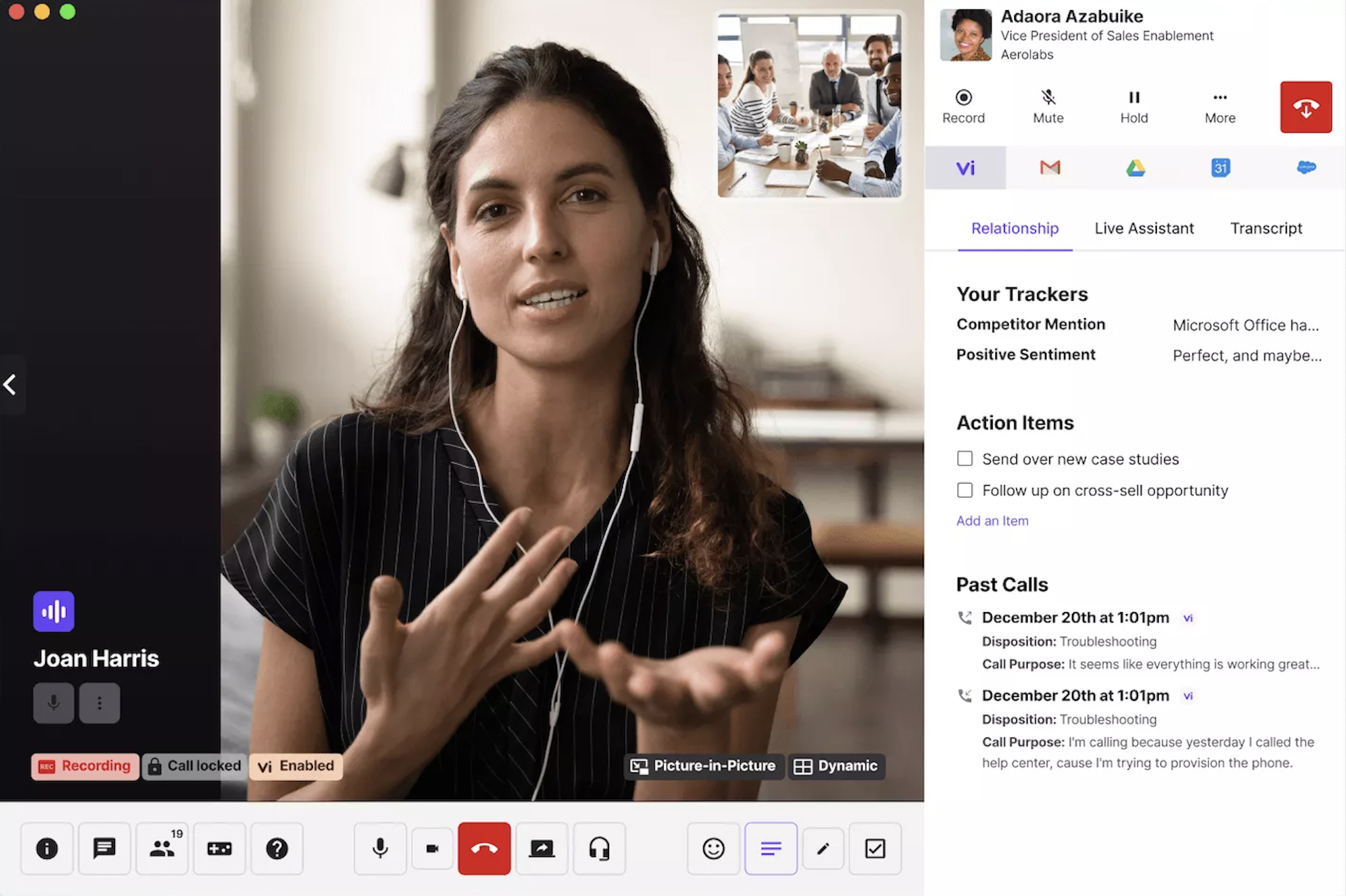 Pricing and Plans
Dialpad Contact Center pricing follows a different model than other providers on this list, as the two CCaaS platforms–Dialapd AI Contact Center and Dialpad Sales–must be purchased independently of each other.
Both Contact Center plans include Dialpad's UCaaS and call center Business Communication Suite, which may be enough for small or new businesses not interested in omnichannel communication or outbound dialing. The Dialpad Communications Suite offers 2 tiered paid plans: The Standard Plan for $15/user/month, and the Pro Plan for $245/user/month. Additional Communication Suite pricing, including details on the quote-based Enterprise Plan, is shown in the below image: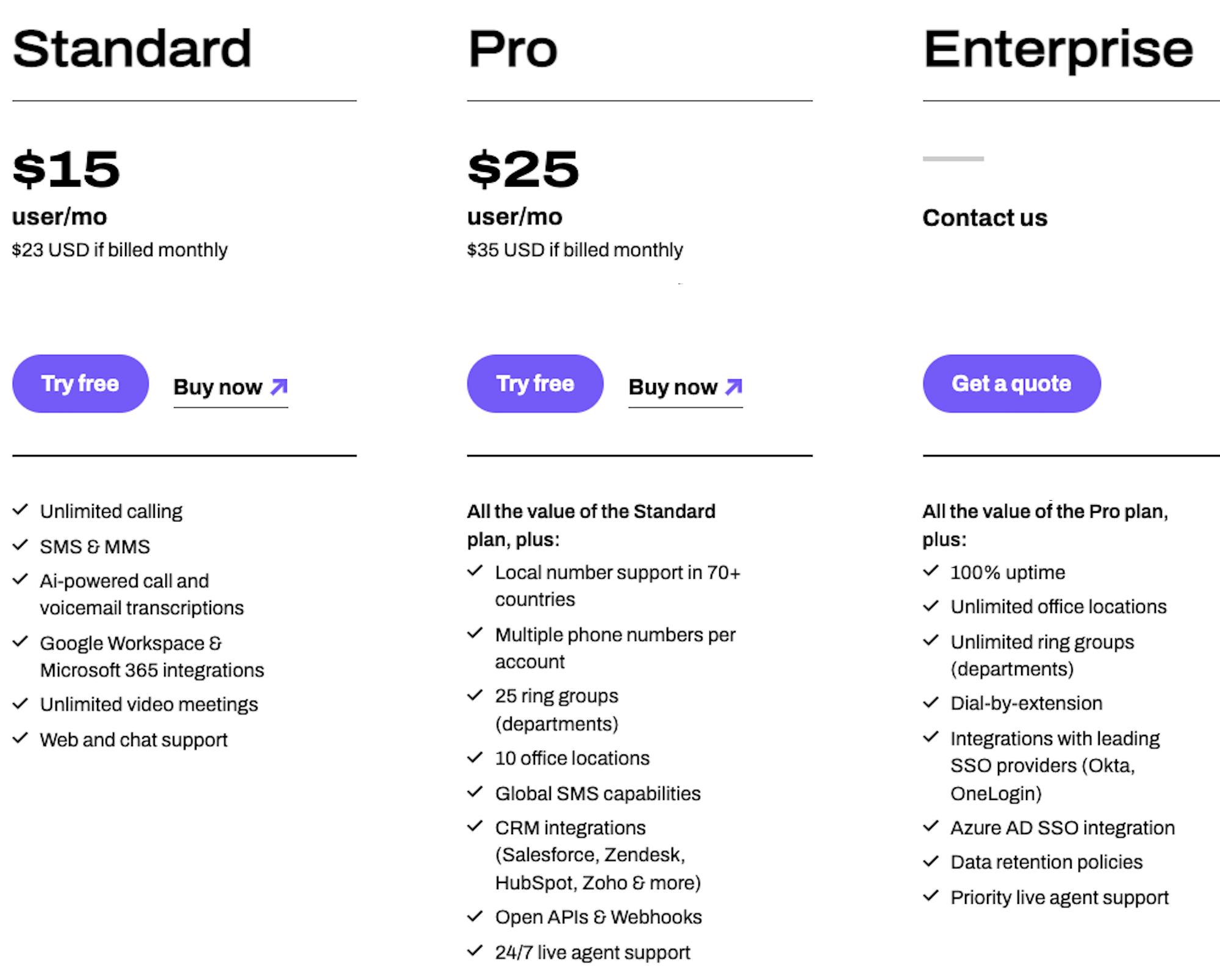 Teams needing an omnichannel contact center software  solution with AI, unlimited call queues, advanced reporting, and customer sentiment tracking should select from the Pro and Enterprise AI Contact Center and AI Sales Suites, which offer quote-based pricing only.
The below image highlights the differences between Pro and Enterprise AI Sales Suite plans: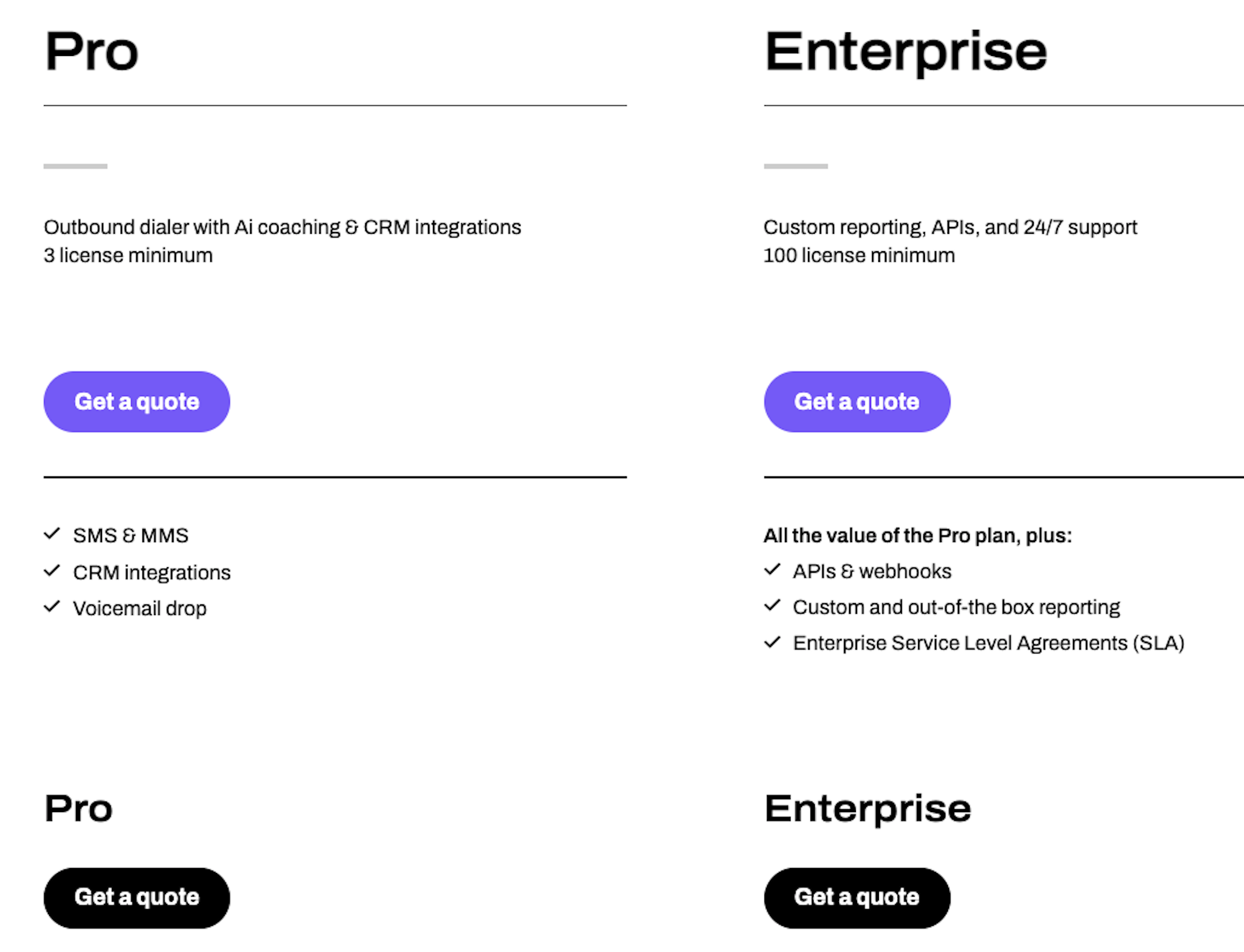 Best For
Dialpad is best for enterprise call centers that need to optimize both internal and external communication across voice and digital channels. It's also ideal for teams that rely on AI features like meeting summaries and transcripts, live agent assistance, and automated outbound campaign management to increase team productivity and cut down on communication silos.
Genesys
Genesys is an omnichannel CCaaS platform with a focus on AI-powered automation and customer self-service across inbound and outbound voice calling, email, social media and chat messaging, and SMS texting.
Its advanced voice and digital IVAs (Intelligent Virtual Agents) use past customer data for optimal outbound predictive engagement, integrate with internal knowledge bases, help desks, and CRM tools for real-time agent assistance, and provide numerous omnichannel routing strategies.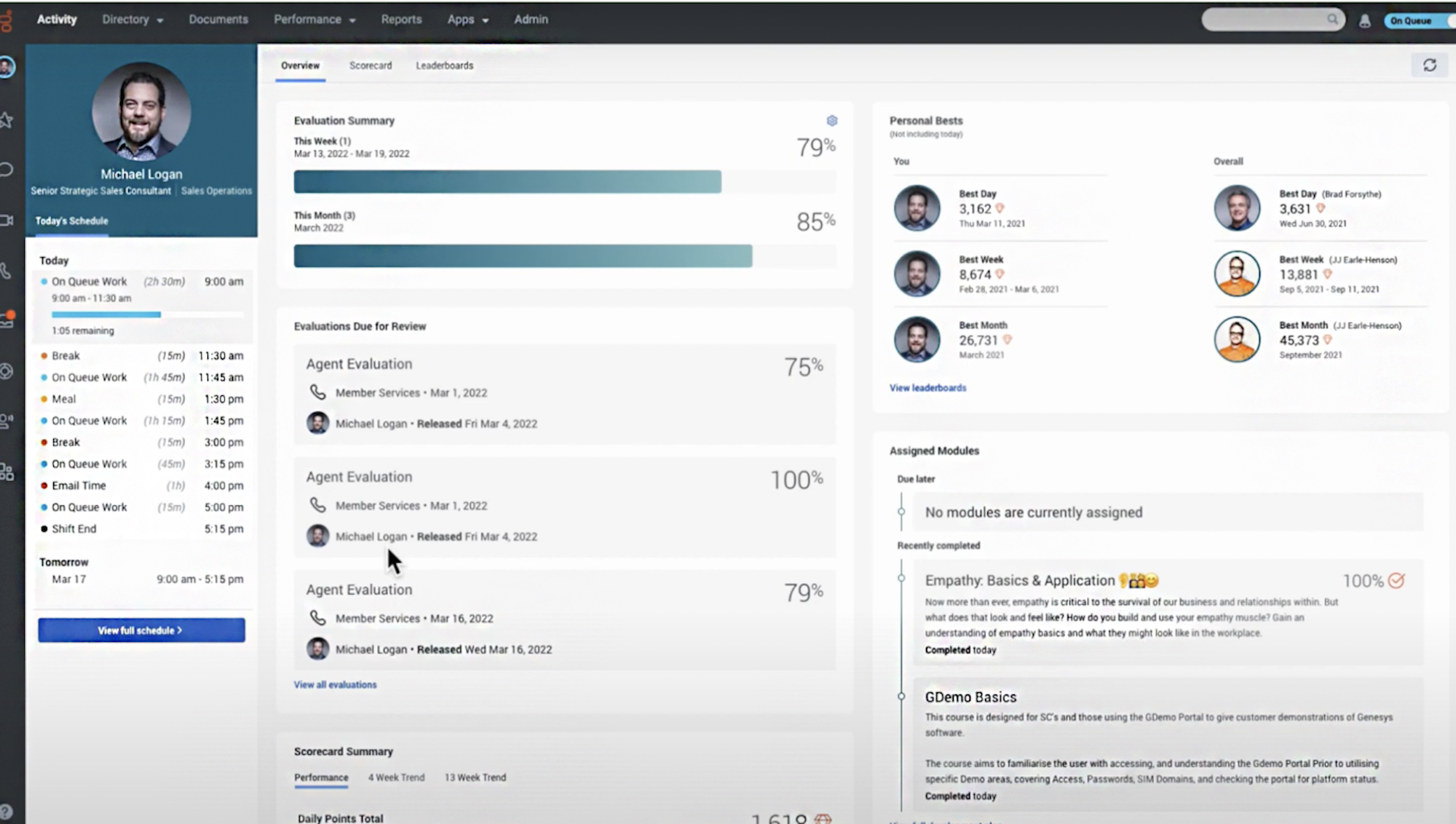 Key Features
Key Genesys features include:
Outbound Auto Dialer
The Genesys auto dialer includes Preview, Progressive, Predictive, Power, and Agentless dialing modes with additional features like: 
Automatic and manual call pacing adjustments
Voicemail detection and list scrubbing
Integrated DNC lists and customer opt-ins
Automated suppression lists
Outbound IVR
Call progress detection
CRM integration, outbound call pops
Customer and list segmentation
Workforce Optimization Tools
Genesys WFO suite relies on advanced speech and text analytics to provide insight into customer journeys and agent performance across channels.
The personalized agent development hub displays current agent performance scores, assigned training modules and coaching sessions, agent skills, schedule breakdowns, and gamification tools to boost engagement.
Additional WFO tools include:
Customer intent miner and sentiment analysis
Conversational intelligence with topic/phrase recognition and voice transcripts
Forecasting and scheduling automation
AI agent assist
Screen recording
Predictive Routing
In addition to standard skills-based, relationship-based, and schedule-based routing strategies. Genesys offers intelligent predictive routing to decrease hold times, optimize call queues, and evenly distribute agent workloads.
Predictive routing analyzes contact center queues to make suggestions for improvement, runs comparison testing to determine the best routing strategy, and summarizes the benefits of implementing the predictive call flow paths.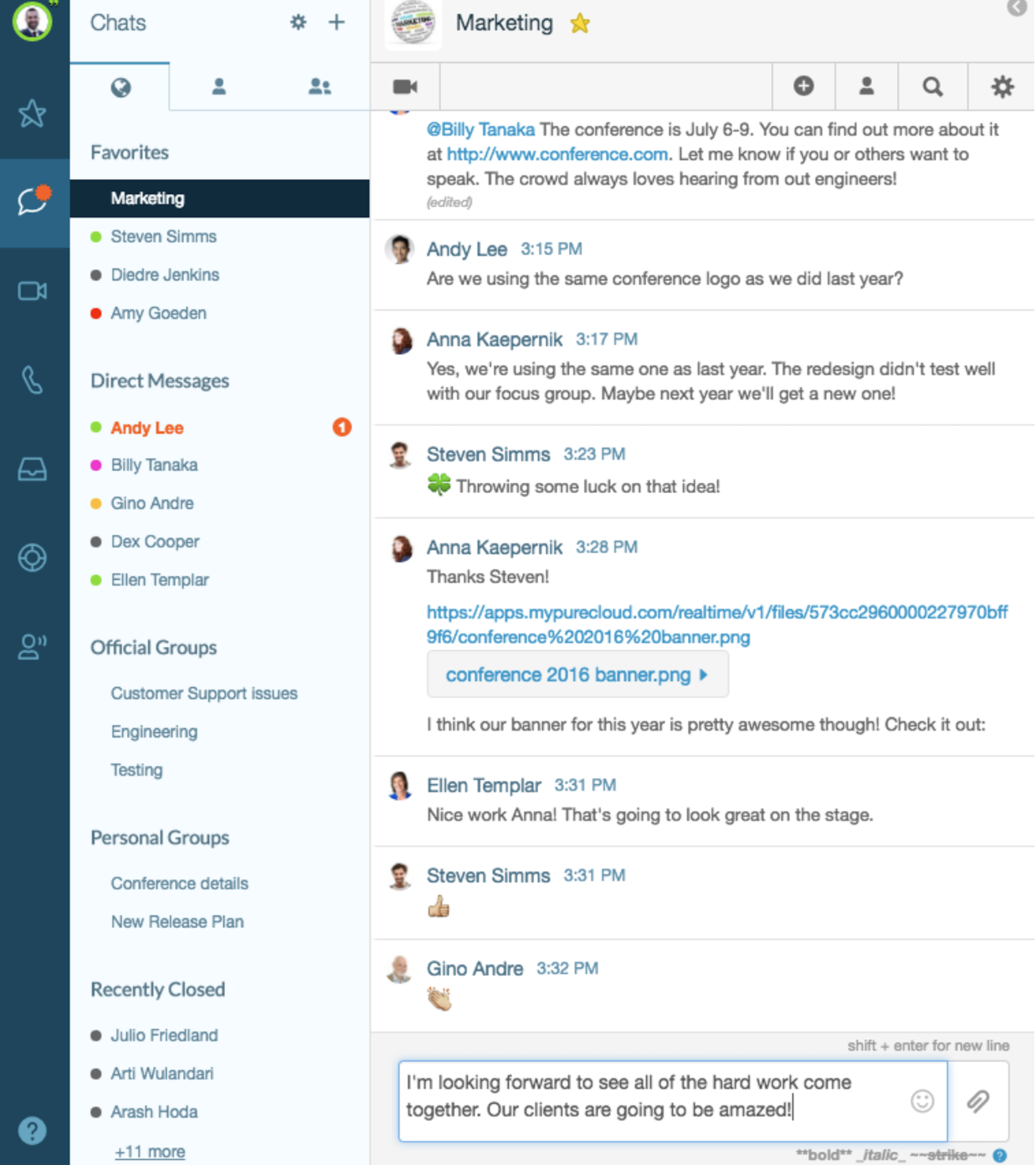 Pricing and Plans
Genesys Cloud CX offers four paid plans from $75-$150/month, with scalable options for a voice-only or digital-only contact center, a voice and digital platform, or a complete CCaaS solution with voice, digital, and workforce management features.
Genesys pricing plans differences are shown in the image below: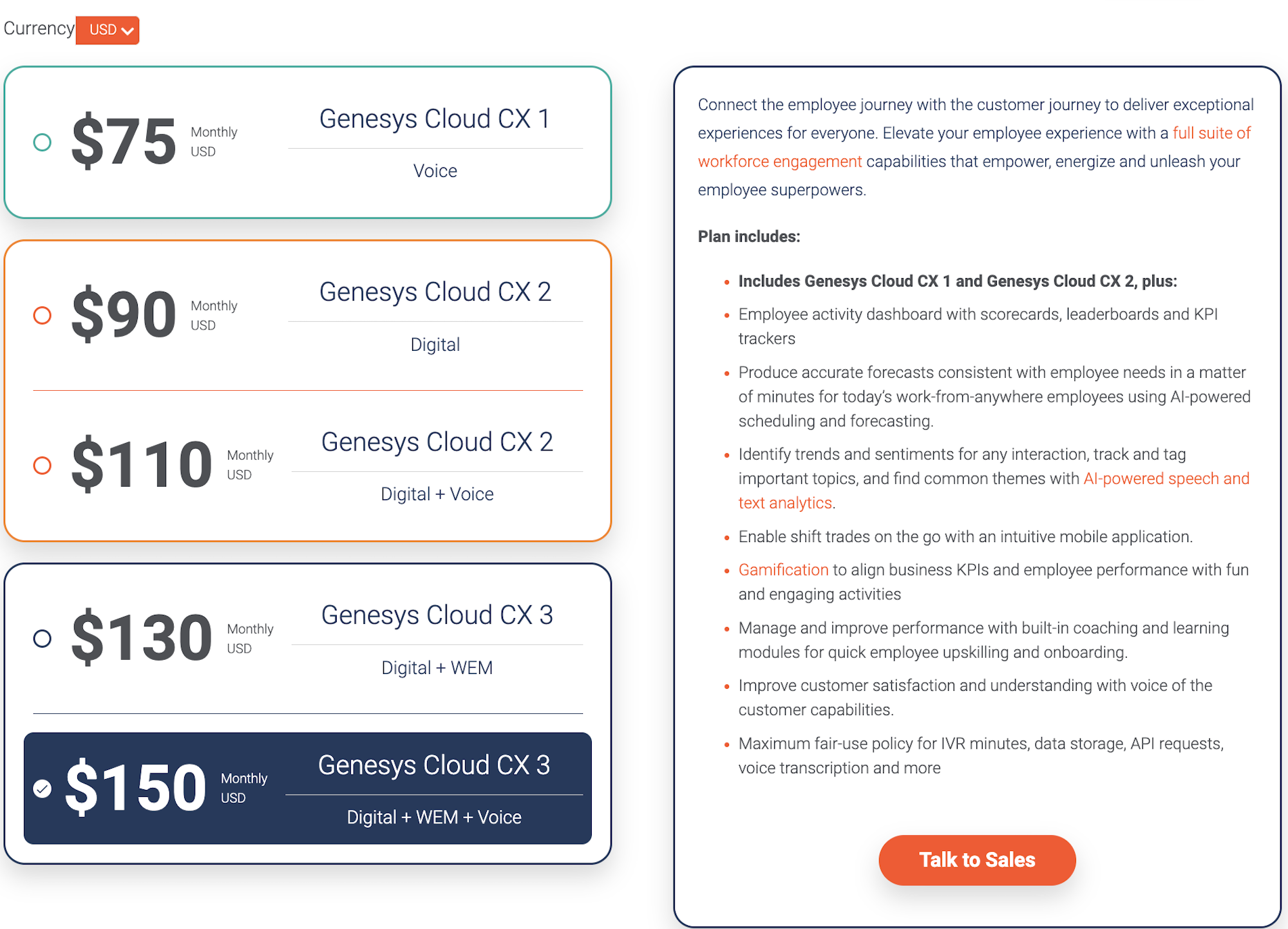 Best For
Genesys is best for mostly remote call centers that need a solution with advanced outgoing call automation features like outbound IVR, multiple dialing modes, and other capabilities that eliminate the need to hire additional agents to increase sales. Because Genesis integrates with over 350 third-party tools, it's also ideal for teams that want to customize their call center and consolidate their business applications into one platform.
Aircall
Aircall is a cloud business phone system with standard, easy-to-use inbound/outbound calling features, limited SMS texting, real-time and historical call center activity analytics, and affordable monthly plans.
Unlike the other providers on this list, Aircall is not heavily focused on AI and automation.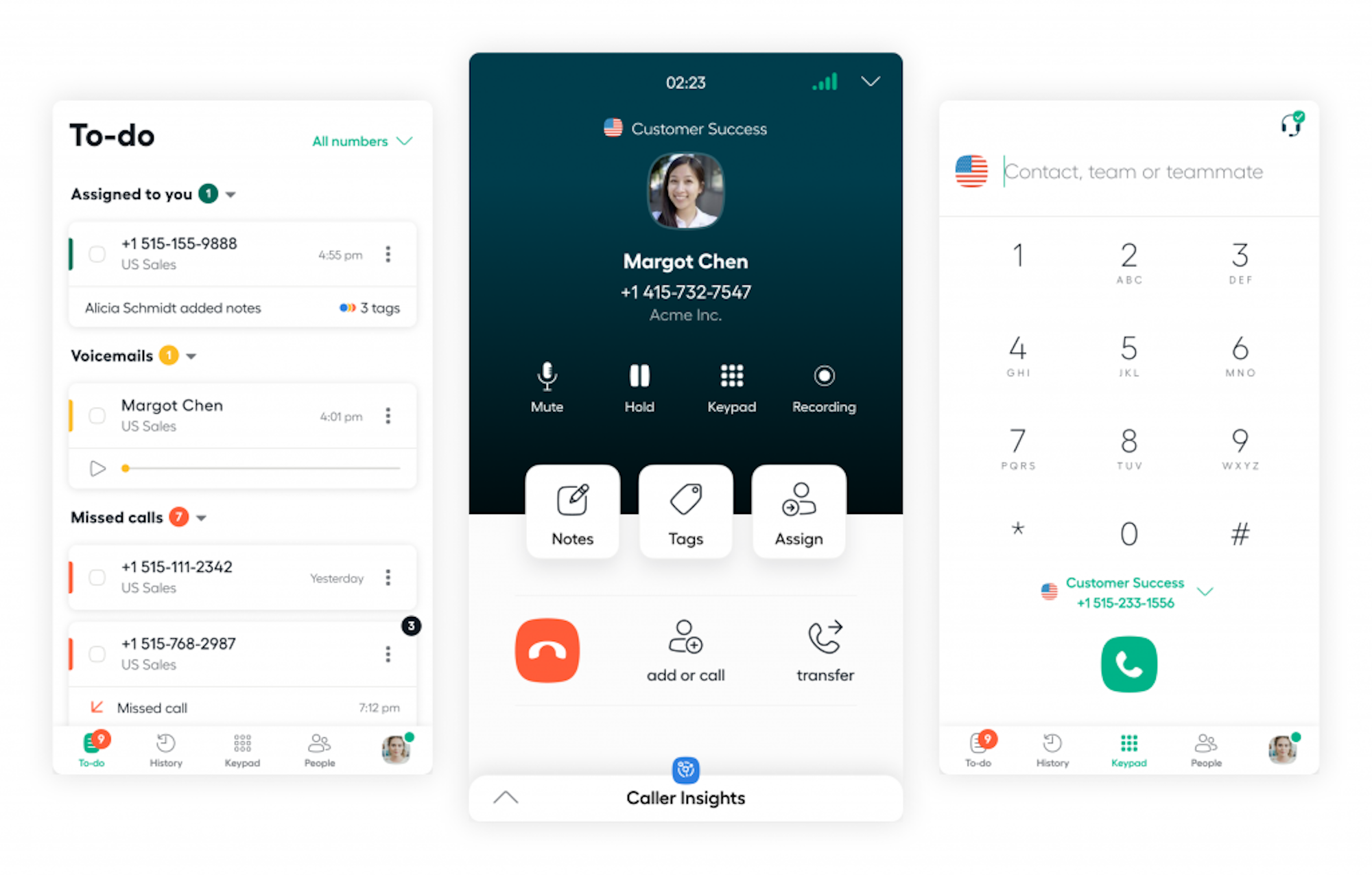 Key Features
Key Aircall features include:
Shared Call Inbox
Aircall's Shared Call Inbox lets all agents simultaneously view, update, take, and complete calls within a shared interface, speeding up the resolution and callback process while preventing multiple agents from contacting the same client.
Within the Shared Inbox, agents can update case status or color-coded tags, add call comments, review agent notes and recordings, and access stored voicemail messages.
Live Activity Feed
The Aircall Live Activity Feed displays a real-time overview of the top call center metrics and KPIs and agent activity in a digestible, interactive format.
Key Live Activity Feed KPIs include:
Current number of calls in queue
 Number of missed calls in the past 30 minutes
Individual agent activity including contact being called
Current service level
Average wait time
How long agent has maintained current status
Number Panel and Power Dialer
Aircall's Power Dialer integrates with your preferred CRM software, Salesforce, and Google Sheets to streamline lead list generation and penetration. Within the Power Dialer interface, admins can assign agents to lists or individual contacts and adjust after call-work time.
The Number Panel automatically pulls phone numbers from websites agents visit and lets reps reorder, edit, or begin calling all the numbers on the lead list. All Number Panel entries are synced with the integrated CRM system, and CRM call pops (Aircall Insights) display relevant contact information on the agent screen.
Pricing and Plans
Aircall offers two bundled plans: the Essentials Plan for $30/user/month and the Professional Plan for $50/user/month. A custom quote-based plan is also available.
Additional pricing details are shown in the image below: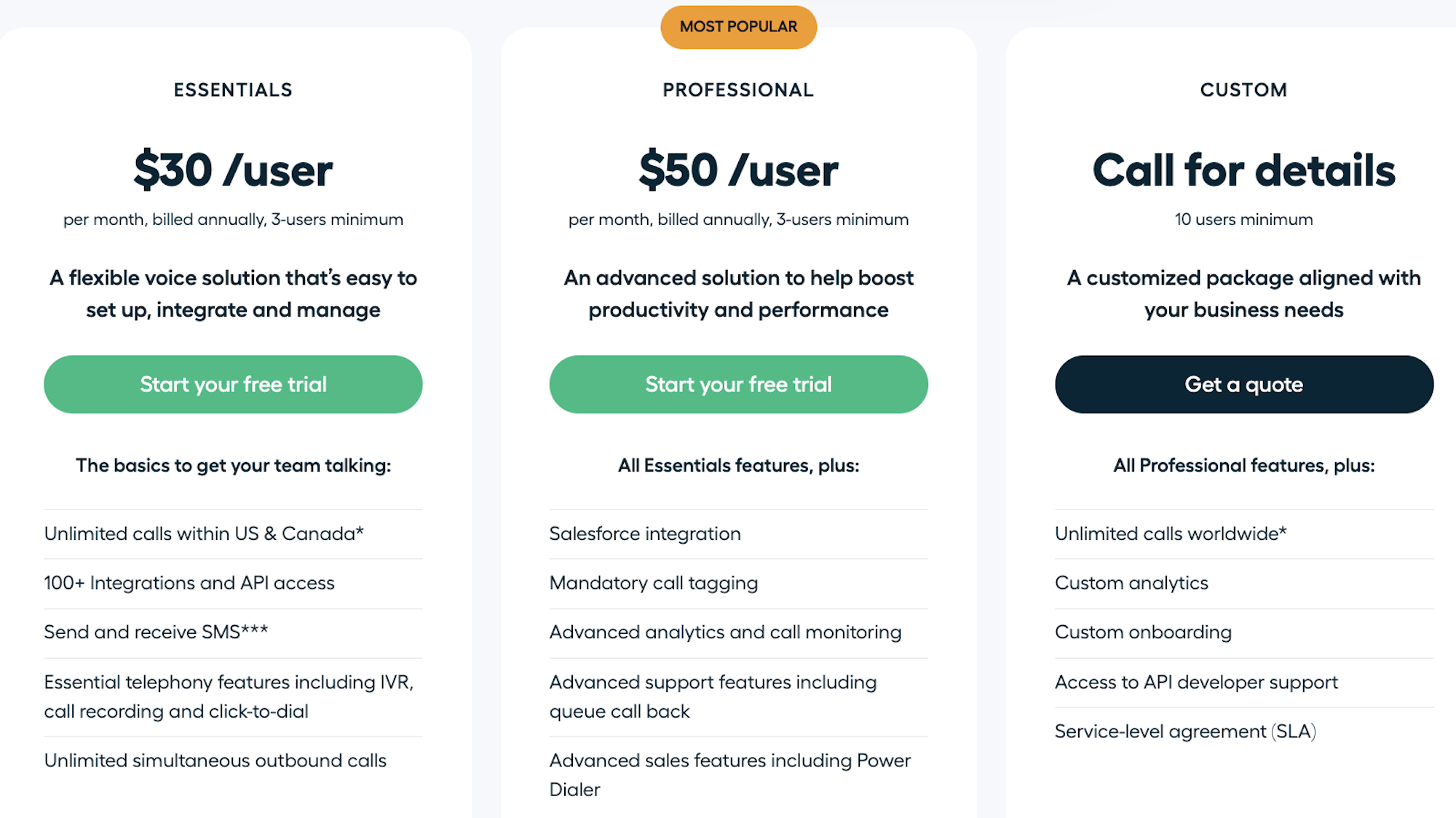 Best For
Aircall is best for small, in-office call centers and startups that communicate almost entirely via voice calling and either don't need or already have third-party video conferencing, team collaboration, and chat messaging tools.
These teams need only basic call management features like call routing, call forwarding, call queuing, and call monitoring.
8×8
8×8 XCaaS is a cloud-based call center software and communications solution combining CCaaS and UCaaS features into a highly scalable, customizable platform
Communication channels vary by plan, but include voice calling, social media messaging, chat, email, and video calling. Businesses can choose to add individual channels via Communication APIs or selected bundled X Series plans.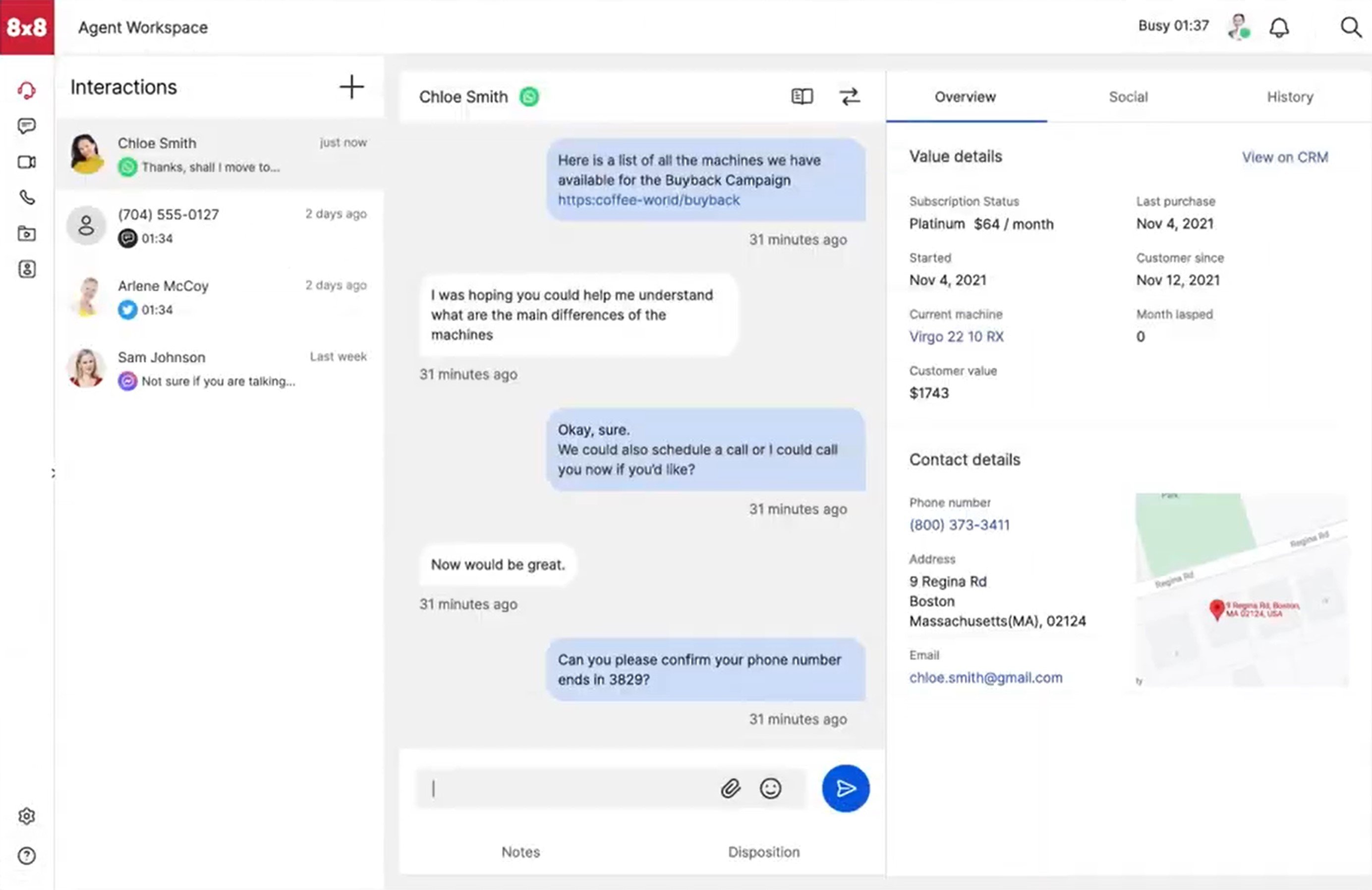 Key Features
Key 8×8 features include:
Conversation IQ
Conversation IQ is 8×8's advanced, AI-powered analytics tool, providing omnichannel contact center insights via speech and text analytics that collect data from all call center transcripts and recordings.
Key Conversation IQ capabilities include: 
Word clouds filterable by phrase, topic, and category
Step-by-step IVR menu navigation history
Emotion detection via sentiment analysis
Overtalk data
"Best of" interaction information
Frontdesk
8×8 Frontdesk gives all agents access to call management and call handling tools that allow them to act as receptionists and lower-level admins.
Within Frontdesk, agents can manage multiple calls, initiate warm/blind call transfers, access call scripts and greetings, forward calls, and message other agents for support team requests, ticketing updates, or account information.
Frontdesk also serves as an agent interface, providing real-time agent assistance, preview, progressive, and predictive dialing, and ring group activity and assignment updates.
Workforce Management 
The 8×8 WEM suite encompasses Customer Surveys, Quality Management, Speech Analytics, and Workforce Management.
Key features include:
Call transcripts and agent screen recordings with agent tagging and admin notes
Real-time and post-call coaching
NPS and CSAT scores
Agent scoreboards
Agent skill progression analysis
Customer survey analytics
Pre-made and custom agent evaluation templates
Schedule forecasting and adherence monitoring
Call snippets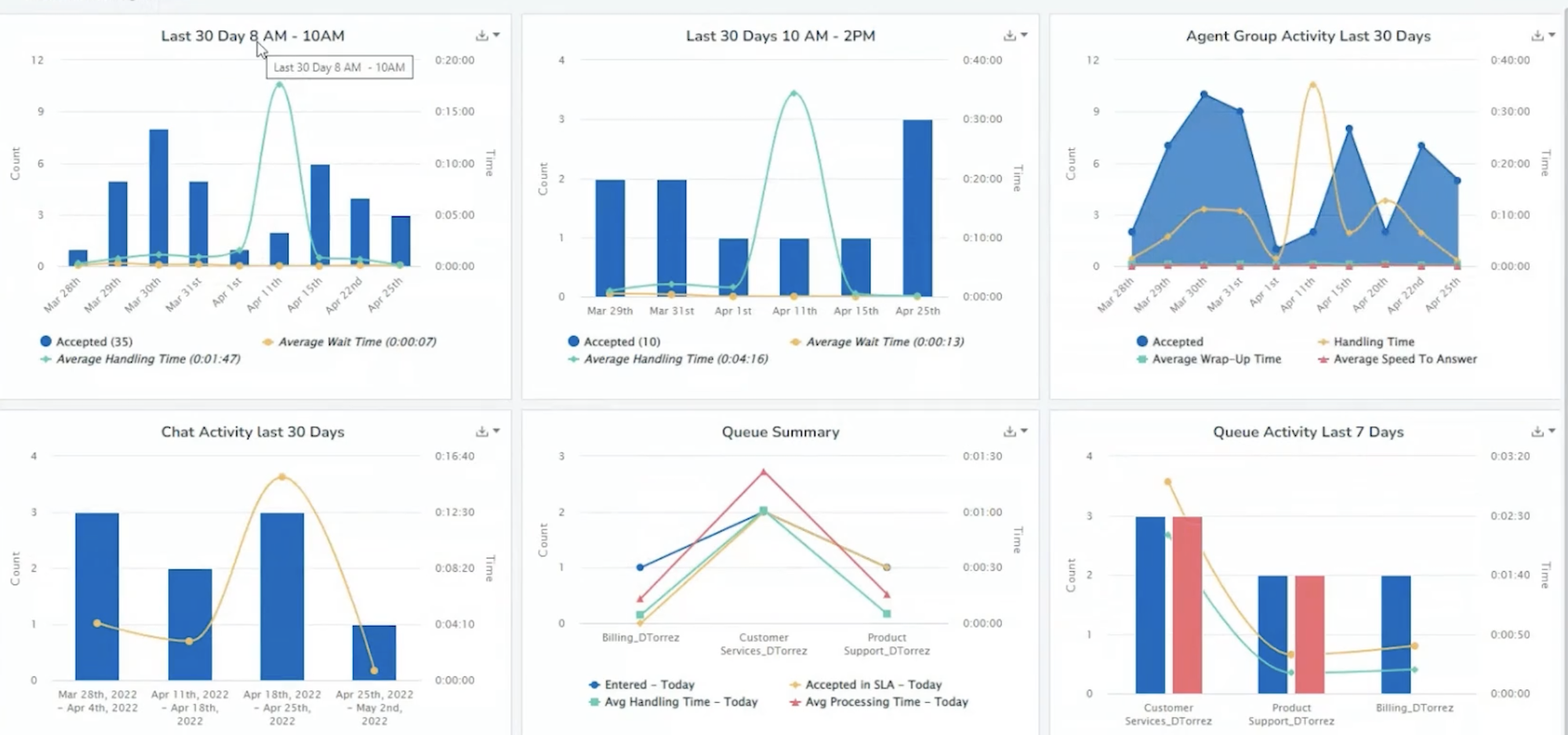 Pricing and Plans
8×8 offers 2 UCaaS plans from $24 to $44 monthly per user, and 3 contact center plans from $85 to $140 monthly per user. This structure lets teams scale from a basic call center solution to an enterprise-level omnichannel contact center.
Information about each plan is shown in the image below.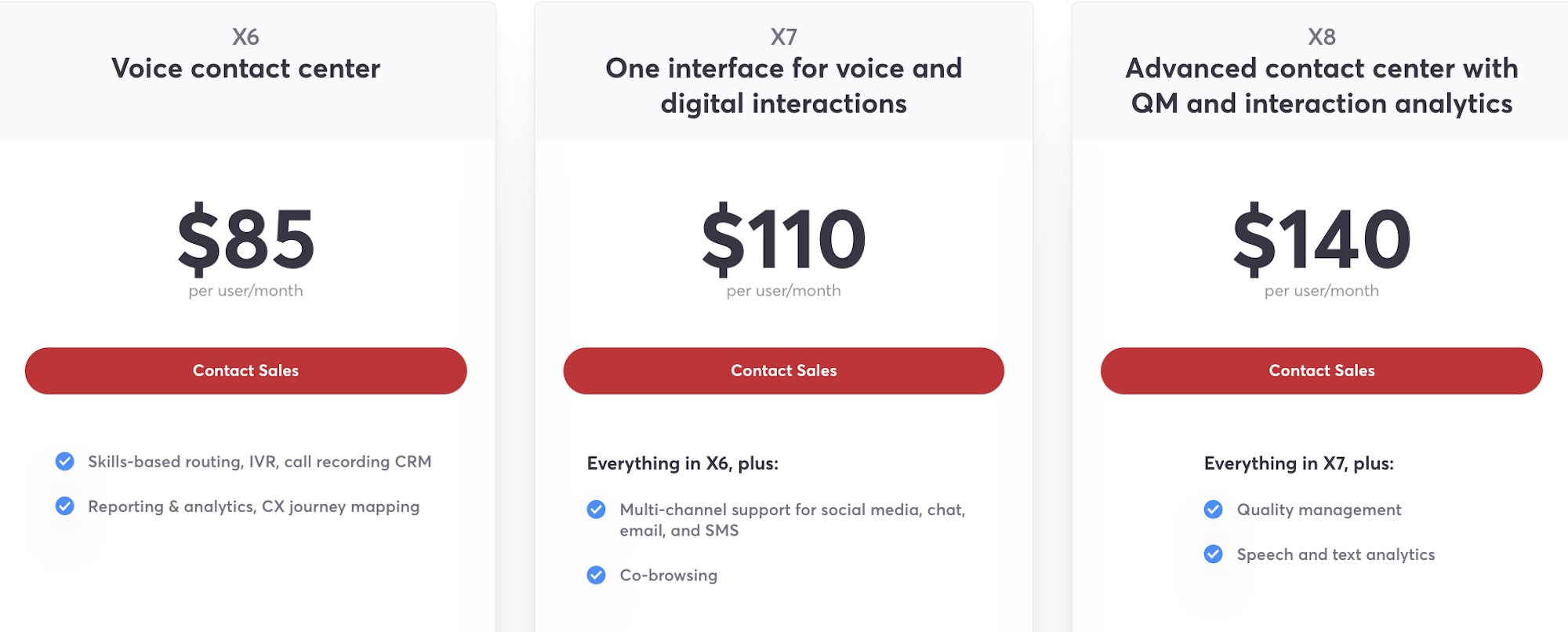 Best For
8×8 is best for remote incoming call centers focused on high-level personalization and customer support via voice calling. These teams prefer to handle most calls with a live agent on a 1:1 basis, and therefore don't need advanced automation or AI-powered software features. IVA/IVR menus are used to collect information to help agents prepare for calls, not completely resolve the issue without live agent assistance.
GoTo Contact Center 
GoToContact Center is an omnichannel cloud contact center solution available as a standalone product or in conjunction with the GoToConnect business phone system.
GoTo Contact Center offers inbound/outbound voice calling, video conferencing, chat messaging, and social media messaging in addition to UCaaS team collaboration features.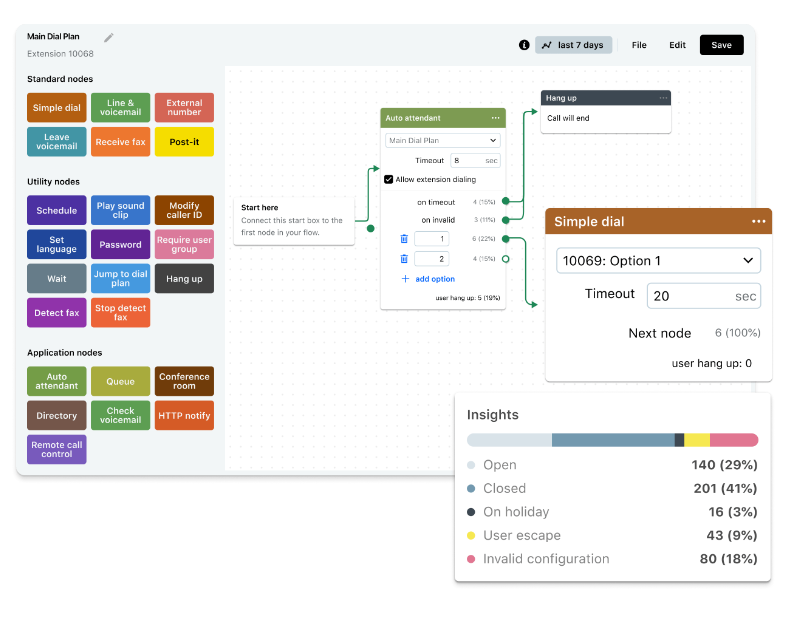 Key Features
Key GoTo Contact Center features include:
Live Guide
The GoTo Contact Center Live Guide is a secure co-browsing solution that lets phone and chat agents see a customer's screen and share their own in real-time, simplifying previously complex support requests and offering an excellent customer experience.
Live Guide comes with data masking and button-blocking features to prevent agents from seeing sensitive information, like customer credit card numbers. Customer:agent connections happen in an isolated browser separate from the customer's private device for even more security.
Visual Dial Plan Editor 
The Visual Dial Plan Editor lets GoTo Contact Center admins create, edit, and optimize advanced IVR call flows via the drag-and-drop interface.
Within the Editor, admins can: 
Set up auto attendants
Add ring or no answer timeouts
Set voicemail greetings and call menu greetings
Add call waiting, scheduling, call routing, and call forwarding nodes
Upload pre-recorded messages
Campaigns 
GoTo Contact Center Campaigns are outbound call queues designed for both customer callbacks and sales calls.
Admins can create new campaigns at any time, set up call recording or intelligent call routing, assign agents, supervisors, and ring groups to specific campaign queues, view campaign progress, and view logged-in agents.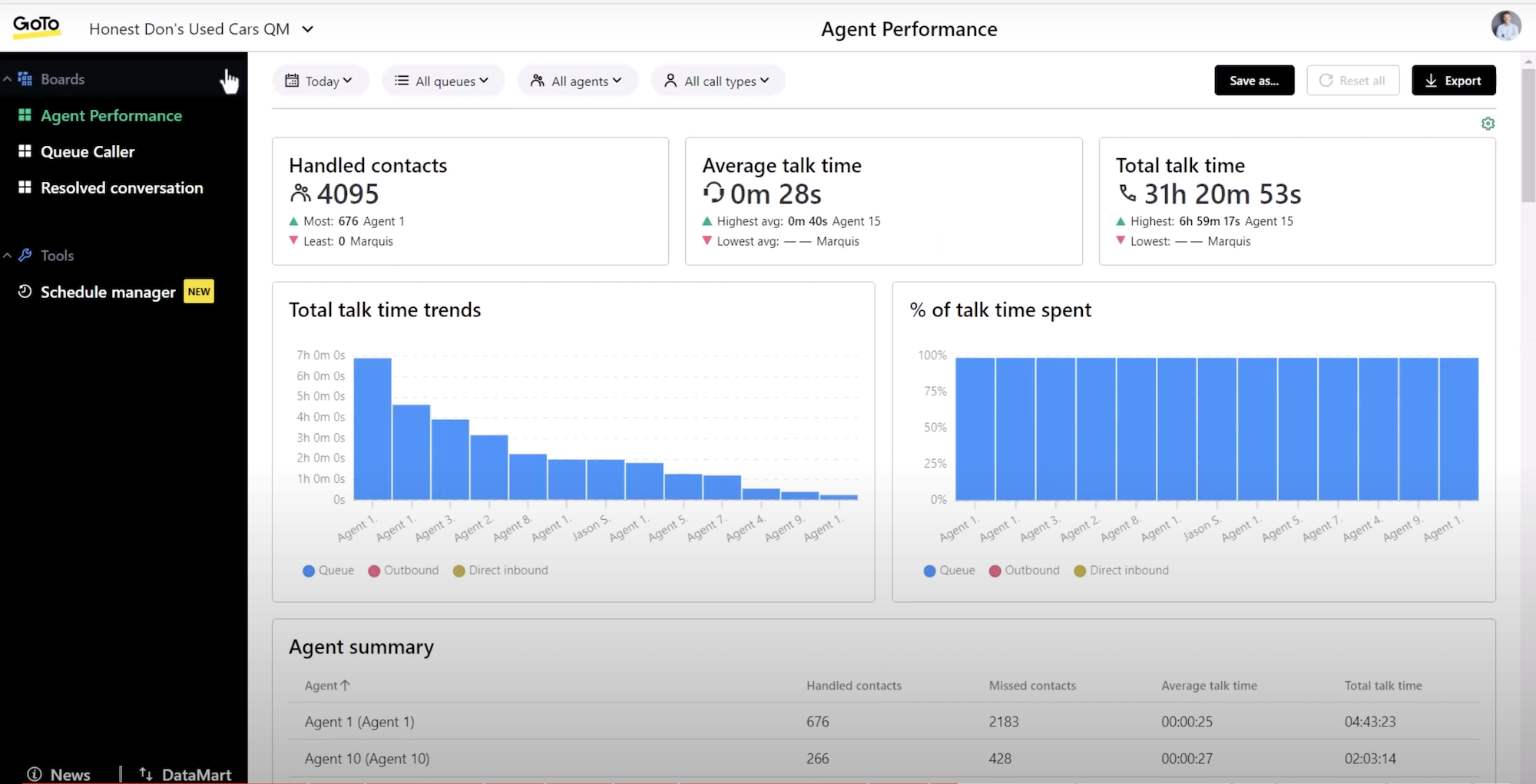 Pricing and Plans
GoTo Contact Center is only available as an add-on to GoTo Connect, the company's UCaaS platform. While the contact center uses custom pricing and requires you to contact GoTo for an estimate, the UCaaS platform offers two plans costing $24 and $29 monthly per user.
The contact center add-on is an additional fee beyond the UCaaS pricing listed here: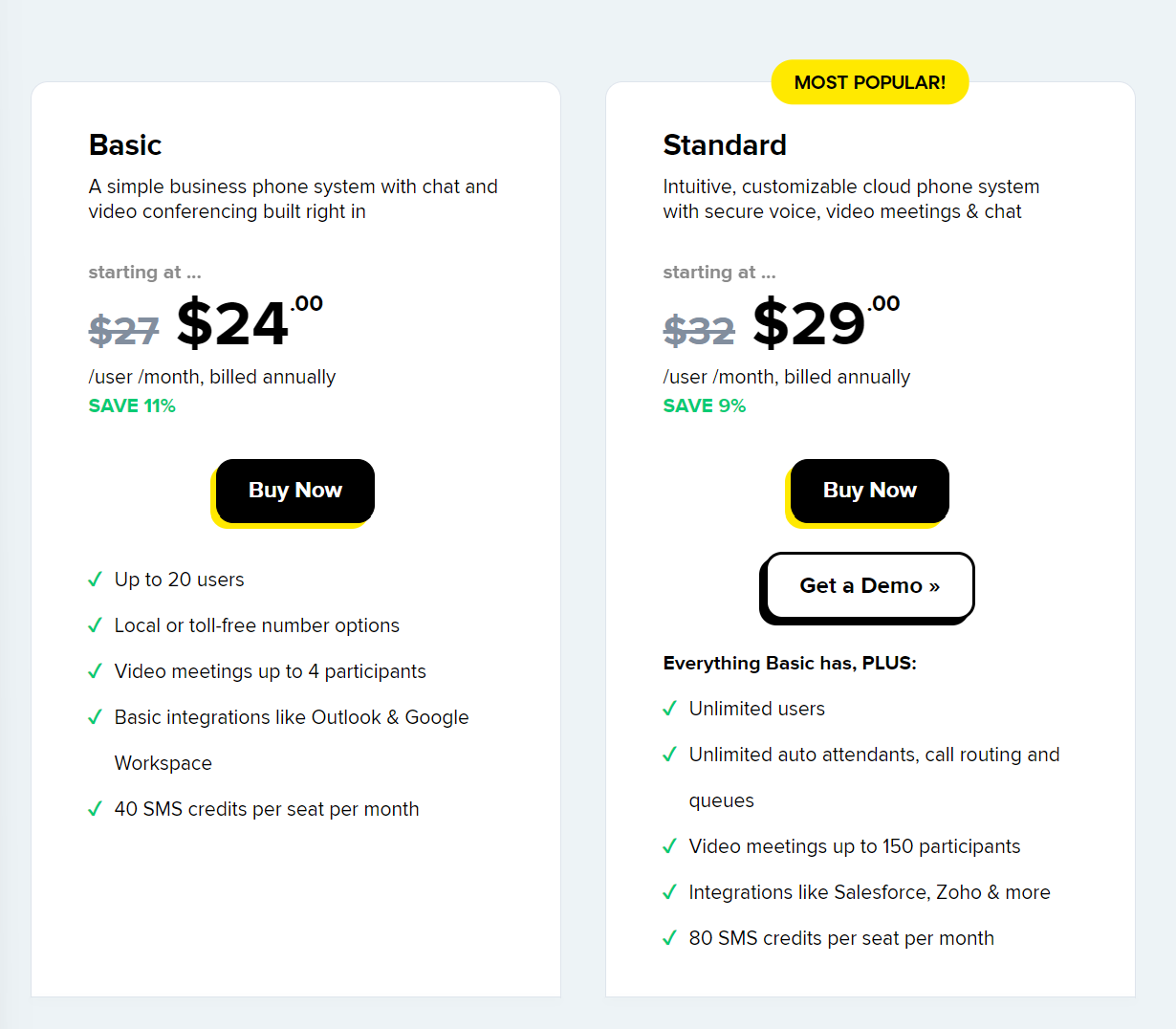 Best For
GoTo's Contact Center add-on is best for small businesses that don't require advanced contact center capabilities, but that do need to be able to connect with customers on a multi-channel system. It's more of a UCaaS platform with some added call center features, like GoTo Contact Center users aren't looking for advanced automation or Workforce Optimization tools.
Zoom Contact Center
Zoom Contact Center is an inbound/outbound CCaaS platform that lets agents and customers connect via voice calling, Zoom video meetings, SMS, website chat, and in-app chat messaging.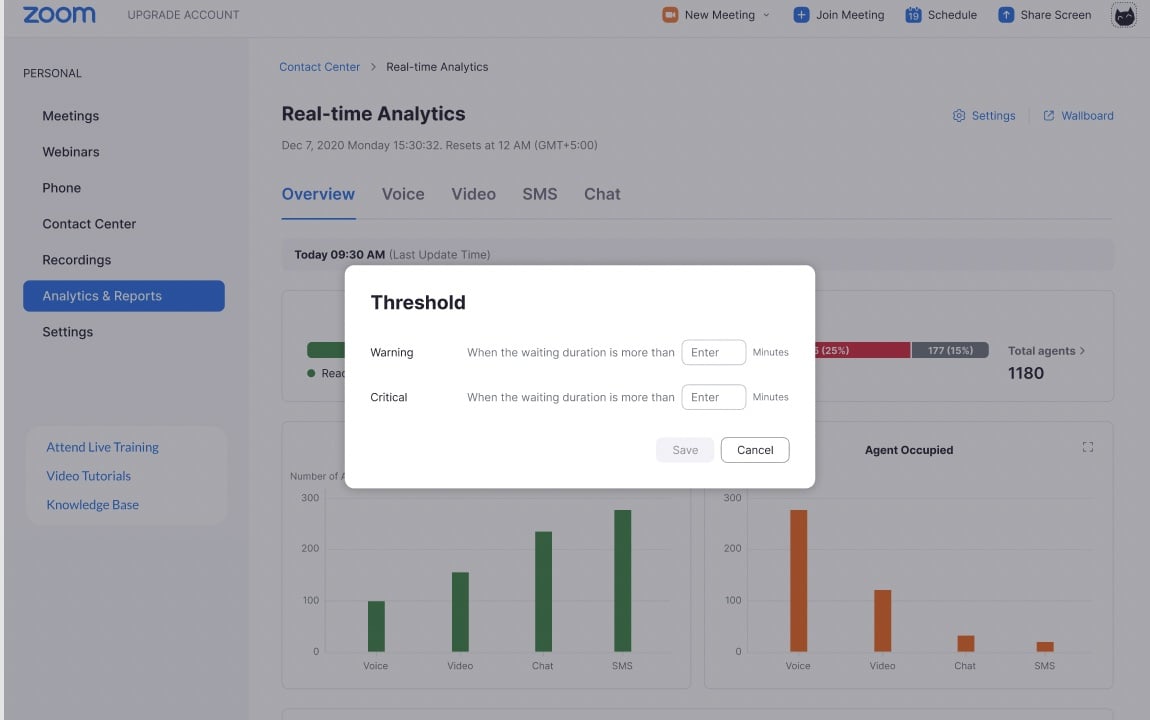 Key Features
Key Zoom Contact Center features include:
Outbound Video Calls
In addition to voice calls, Zoom Contact Center agents can place outbound video calls to assigned customers or anyone on an outbound campaign list. Agents can also start a video call by entering a customer's name, email address, or phone number.
Available features agents can access while on a video call with a customer include: 
Live captions
Screen sharing
Chat messaging
Transfer to another agent
Access prior agent notes, contact history, and more in the Engagement tab
Start/stop video
Mute/unmute video
Active Engagement Assignments
Active Engagement Assignments in the Zoom Contact Center lets both agents and supervisors assign voice and video customer interactions to themselves. Supervisors can also choose to assign specific interactions to individual agents.
When assigned an interaction, agents receive a real-time notification with a button to click to connect to the customer. This is an ideal feature for lower-volume contact centers that don't need advanced call queuing options, or that need to assign specific interactions to certain agents.
Zoom Contact Center Analytics
Zoom Contact Center Analytics let agents and admins access real-time and historical analytics dashboards, including:
Live and historical meeting and webinar activity
Quality of Service (latency, jitter, video quality, packet loss, etc.) 
Call queue analytics
Average handling duration, average hold/wait time
Number of agents available, occupied, or ready
Number of closed inbound and outbound engagement
Transferred calls
Details about types of calls
Contact Abandonment Rate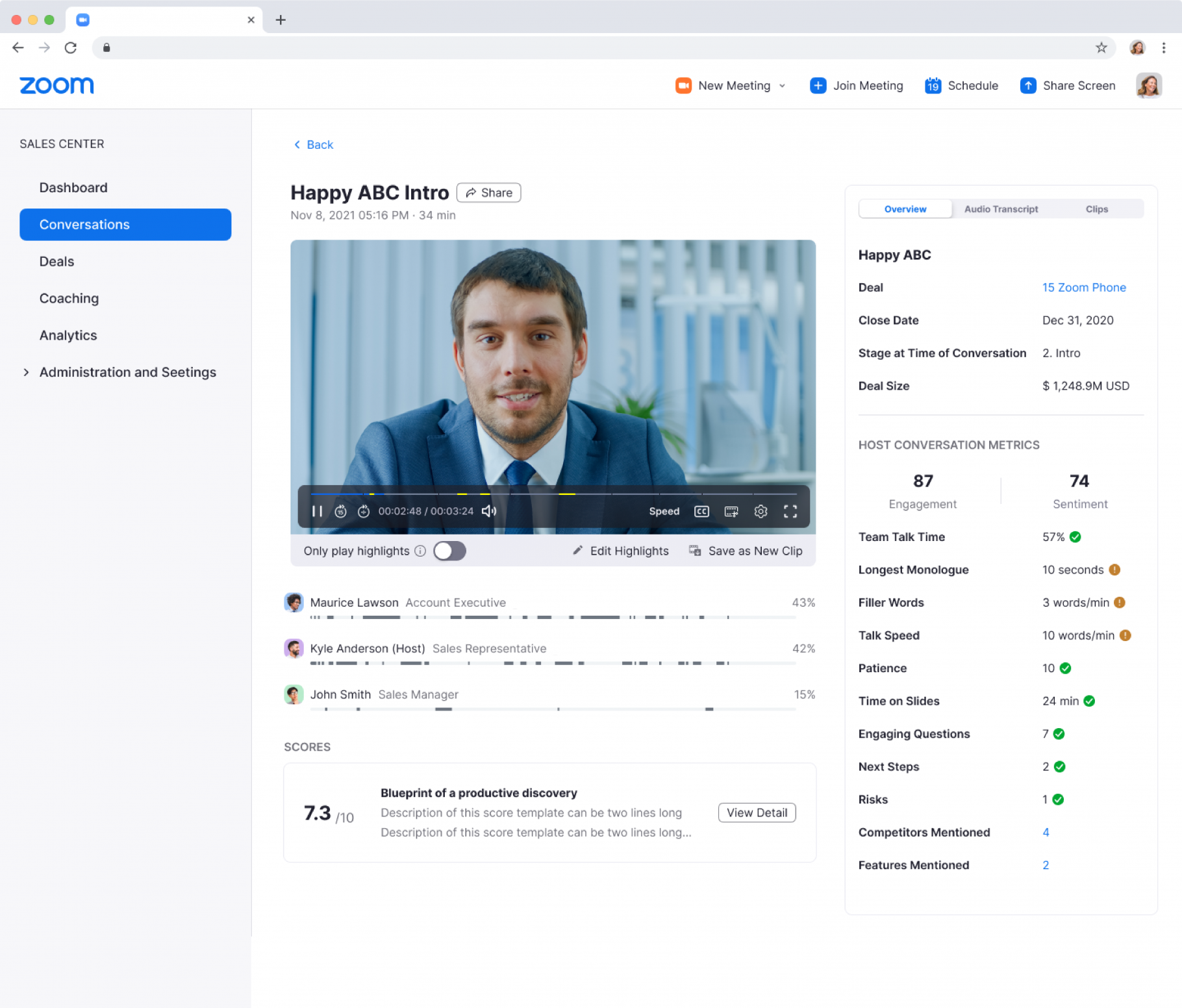 Pricing and Plans
Zoom Contact Center pricing is available on a quote basis only, but likely starts above $250/year/user–the cost of Zoom One's most expensive plan.
The four available add-ons require at least one Licensed Zoom CCaaS user to purchase, and are:
Zoom Virtual Agent: Quote-based pricing only
Zoom Toll-Free Phone Number: From $60/year
Contact Center Cloud Storage: From $120/year
Zoom Virtual Service Phone Number: From $60/year
Additional pricing details are shown in the image below: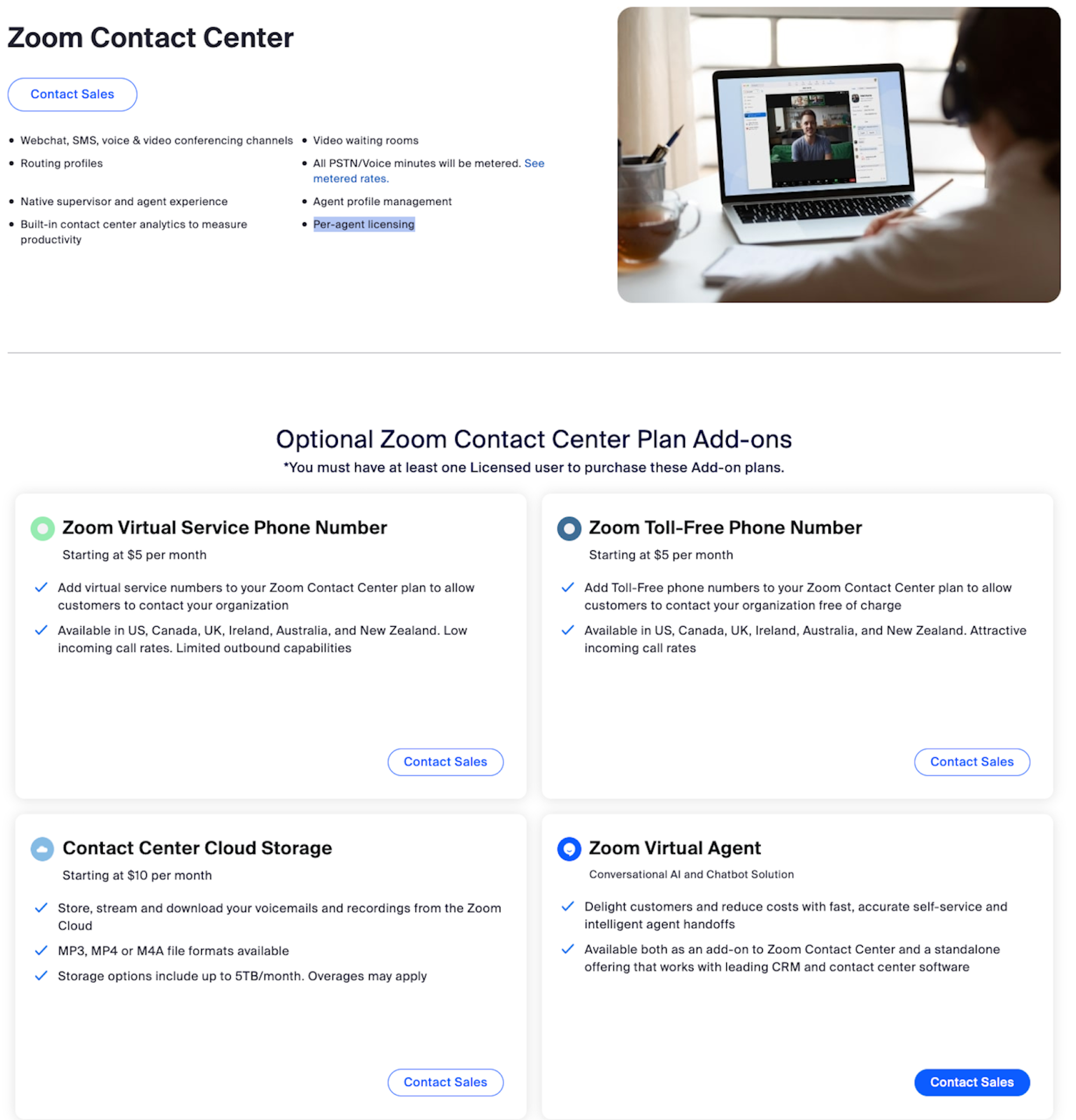 Best For
Zoom Contact Center is best for current Zoom One, Zoom Meetings, and Zoom Phone users that need contact center software with a familiar interface and the option for per-agent pricing. Users may also want to gradually scale up their contact center capabilities to include add-ons like cloud storage or a virtual agent.
What To Look For In Call Center Software 
Though call center software pricing and plans may be the first thing you consider when choosing the right platform for your business, it's far from the only element to think about.
Additional factors to consider when choosing the best call center software include: 
Guaranteed uptime (99.9% and up only)
Customer support (Available support channels and hours, response and resolution times, onboarding support and user training, quality of online knowledge base, community forums, etc.)
If on-premise options are available
Included features per plan vs add-on features
Service Level Agreement (SLA) guarantees and contract length
Limits on the number of users and user minimums
Available types of business phone numbers (Local, Toll-Free, Vanity, International)
Current software provider reviews and user feedback