If you're new to cloud-based phone systems, choosing from an overwhelming number of providers is overwhelming. Even if your business uses business VoIP, comparing providers is still a time-consuming challenge.
A cloud phone system offers numerous advantages over landline telephones and on-premise PBX systems, including advanced call handling features, cost efficiency, and flexible plans.
We've researched the best cloud phone systems for you and have condensed our findings on pricing and plans, features and customer service, network reliability, and more to help you and your team find the perfect solution.
Best Cloud Phone Systems: A Quick Overview
If you're familiar with cloud-based phone systems and know the features you're looking for, the quick comparison table between top providers may be all you need. Those needing more detail on each provider, or those with questions about cloud-based phone systems as a whole, should read on.
Provider
Pricing
Available Channels
What we like it
Best For

Dialpad

3 paid plans from $15.00-$25.00+/user per month
– Voice Calling

– Online Faxing

– SMS and MMS Texting

– Video Calling via free or paid Dialpad Meetings integration

– Team Chat Messaging

Speed Coaching
Small teams or startups with a call volume that outpaces their current number of agents need to optimize available team members, not hire more

Nextiva

4 paid plans from $14.95-$57.95/user per month
– Voice Calling

– Video Meetings

– SMS Texting

– Team Chat Messaging

Built-in native team collaboration and customer management tools with Call Pop and live Smart Agent assistance
Midsize teams of remote, in-house, or blended agents that need an "all-in-one" unified communications system with VoIP calling

RingCentral MVP

4 paid plans from $19.99-$49.99/user per month
– Voice Calling

– SMS Texting

– Team Chat Messaging

– Video Calling

Newly updated team collaboration suite that often eliminates the need for excessive integrations, allowing users to condense their  business communication tools
Small to midsize hybrid teams that need access to the advanced features and security measures of an enterprise phone system, especially regarding team collaboration

GoToConnect

3 paid plans from $22.00-$39.00/user per month
– Voice Calling

– Team Chat Messaging

– Video Calling

– SMS Texting

– Virtual Faxing

Highly customizable Dial Plan Editor to manage high call volumes and increase first call resolution rates
Value-focused smaller teams with a high daily call volume that require more customizable phone system solutions

Zoom Phone

3 paid plans, 1 pay-as-you-go plan for $120/user per year and 2 bundled plans from $180-$240.00/user per year
– Video Meetings (Zoom Meetings license required to use Zoom Phone)

– VoIP Voice Calling

– SMS Texting

– Team Chat Messaging

Advanced, feature-rich mobile application designed for on-the-go teams
Mobile teams currently using Zoom Meetings need Phone access within the Zoom interface. These teams plan to continue using existing third-party communication tools via integration within Zoom
Top 5 Cloud-Based Phone Systems + Pricing
The section below covers some of the most popular cloud-based phone systems in greater detail.
Discover cloud phone system pricing, most competitive features, who each system is best for, and where you can find more information about individual providers.
Dialpad Business Communications is a cloud phone system offering voice calling, online faxing, video calling, team chat, and business texting for desktop and mobile users in a unified interface.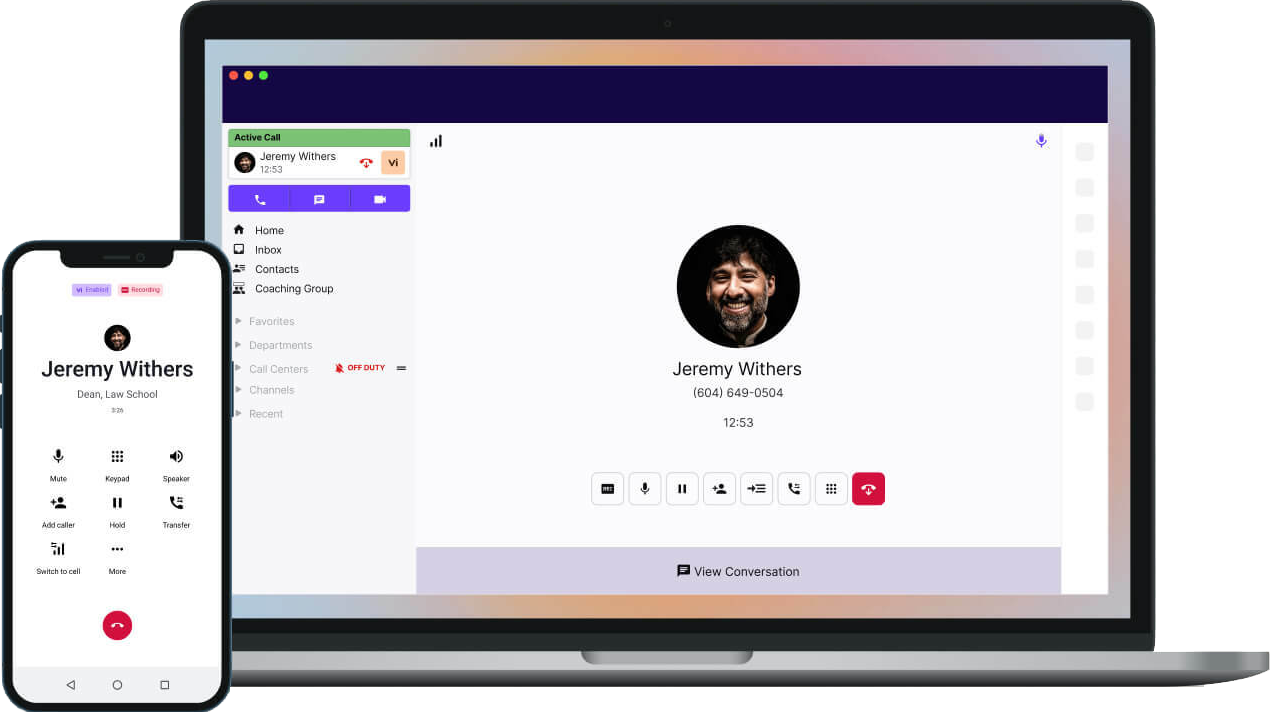 Its main selling points are its advanced built-in AI, clean and easy-to-use interface, (seen above) and overall affordability. Toll-free numbers, local phone numbers, and number porting are available.
What Sets It Apart
Dialpad's impressive AI tools are easily the best parts of the phone system.
Vi (Voice Intelligence) is Dialpad's AI-powered NLP and machine learning platform with in-call agent coaching. It offers real-time, speaker-differentiated call transcription agents can see while on the phone with a customer. It also automatically picks up on action items and caller sentiment analysis by "listening" for keywords and phrases.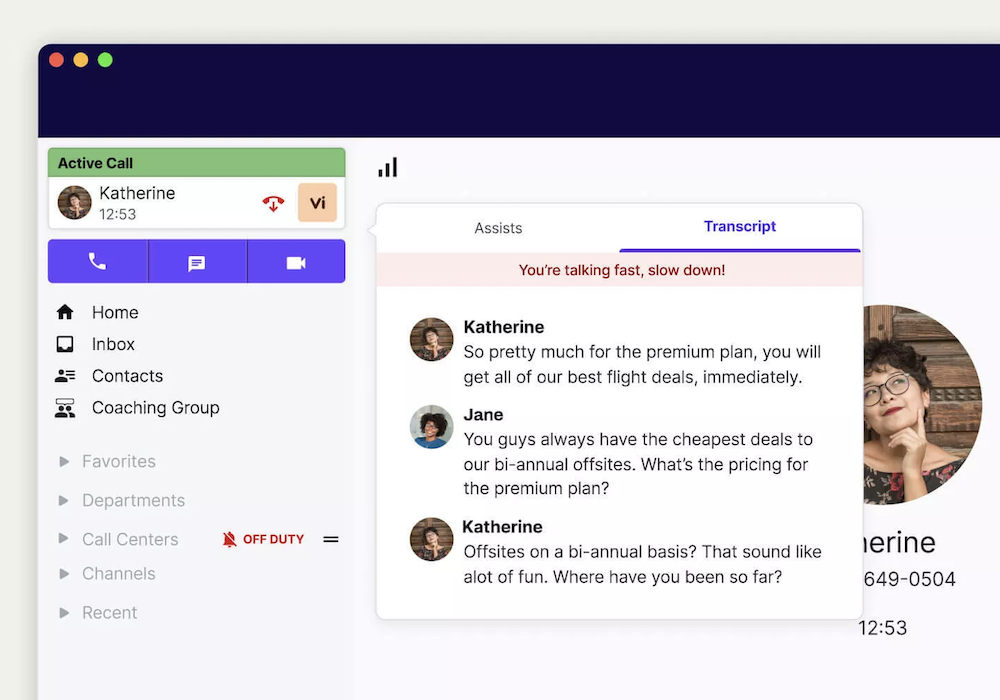 Best of all, it offers Real-Time Agent Assist (RTA) features that simplify the onboarding, training, and support/sales process. When the AI feature picks up on "trigger" keywords, it automatically offers relevant advice to the agent – even reminding them to slow down if they're talking too quickly. It pulls information from internal knowledge bases and customer accounts to make sure data agents need is always instantly within reach.
Dialpad also offers advanced call routing capabilities including skills-based, language-based, department-based, most idle, fixed order, round-robin, or random routing. Calls can also be set to go to voicemail boxes or back to the IVR menu, but admins can create "fallback" routing plans to further prevent calls from going to voicemail.
Network Reliability and Customer Support
Dialpad Enterprise customers have a 100% SLA guaranteed uptime, while all other users have a 99.9% uptime.
Users can add a failover number, but thanks to built-in network redundancy and automated data backups, the chance of a complete outage is rare. Dialpad also has a real-time status update page and network monitoring powered by Kentik.
The platform also offers a high level of security and privacy thanks to 256–but AES encryption, SRTP and TLS, SOC 2 Type 2 and GDPR compliance, and CCPA adherence. Enterprise users can customize their data retention policies. Dialpad is also CSA (Cloud Security Alliance) and HIPAA certified.
24/7 phone support is available to Pro and Enterprise customers, while Chat and online ticketing support is available on all plans 24/7. Users can purchase support add-ons like a dedicated account manager and professional deployment services.
Pricing and Plans
Dialpad Business Communications offers three paid plans for $15.00/user per month, (with a 1 license minimum) $25.00/user per month, (with a 3 license minimum) or custom pricing with a 100 license minimum. Annual pricing is also available, and there's a 14-day free trial.
Note that in order to access video calling tools, users will need to download Dialpad Meetings (formerly UberConference(, which does have a free version allowing 10 participants to meet for up to 45 minutes. A paid Dialpad Meetings plan is available for $15.00/user per month so up to 100 participants can meet for a maximum of 5 hours.
More Dialpad pricing information is available in the image below.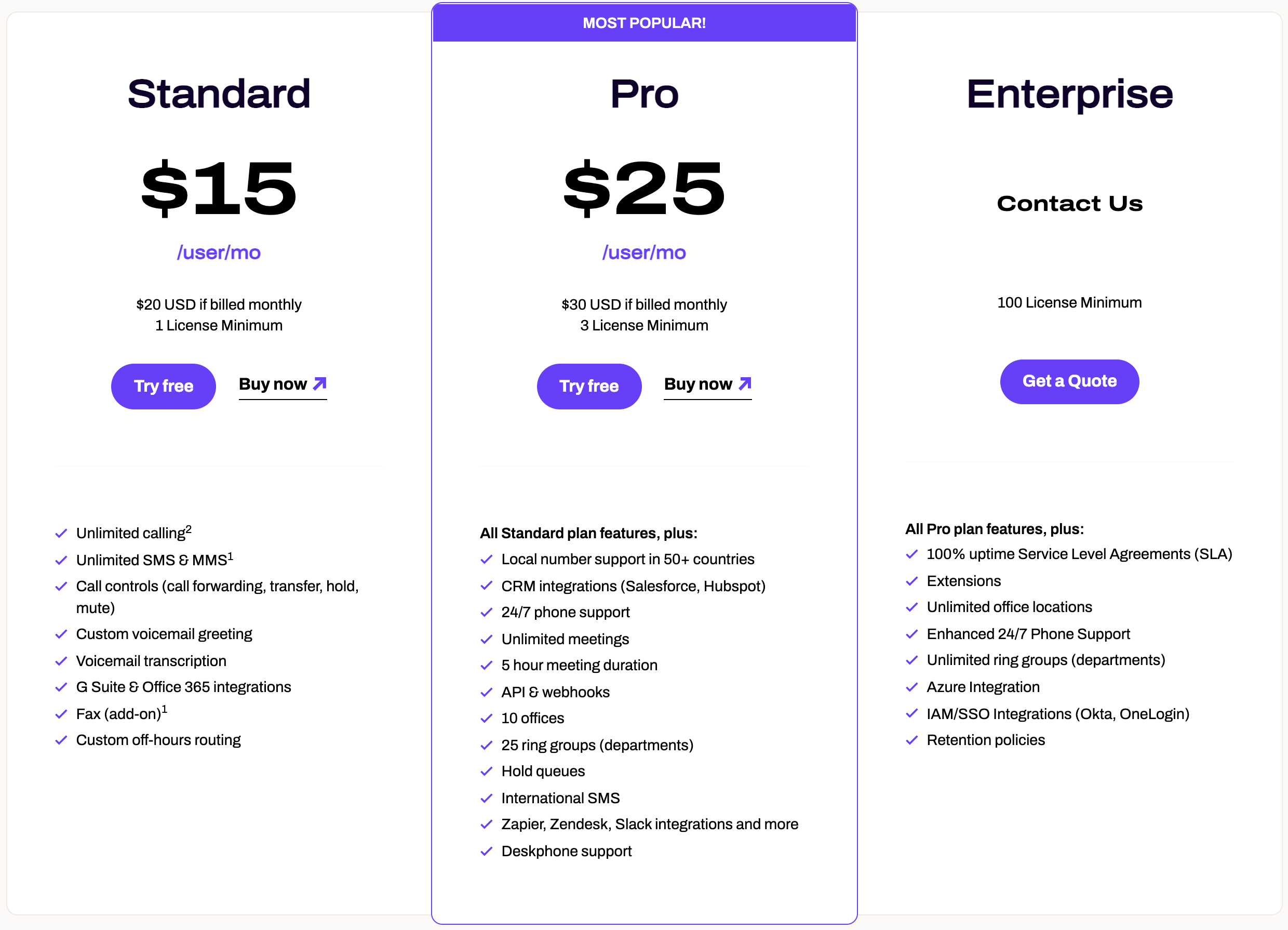 | | |
| --- | --- |
| Dialpad Pros | Dialpad Cons |
| All plans include call recording, call transcriptions, custom routing options, automatic post-call notes, and other features usually available only on more expensive plans | Only integrations available for cheapest plan are Google Workspace and Microsoft 365, rendering the most affordable plan useless for any teams with extensive third-party integration needs |
| More affordable than other providers, especially considering the advanced features of the Standard Plan | Smaller meeting capacity (10 users) when integrating free Dialpad Meetings video calling tool |
| Standout features like Automatic Post-Call Notes with action item creation and Speech Coaching improve agent productivity and boost the quality of assistance your agents provide | 3 or 100 license purchasing minimums for more advanced plans |
The Verdict
Dialpad is most popular with teams needing to improve or get deeper insights into current agent performance via Artificial Intelligence. Struggling or new small businesses can avoid hiring additional agents thanks to advanced routing strategies and AI tools that help keep track of to-dos and action items from calls.
It's also an ideal platform for higher-volume outbound call centers or remote teams that need to improve list penetration and overall outreach. Instead of manually leaving a message, Dialpad lets users instantly send a prospect a pre-recorded voicemail.
Nextiva is a business communications platform with a cloud PBX business phone system combining VoIP voice calling, video meetings, SMS, and team chat messaging in one dashboard.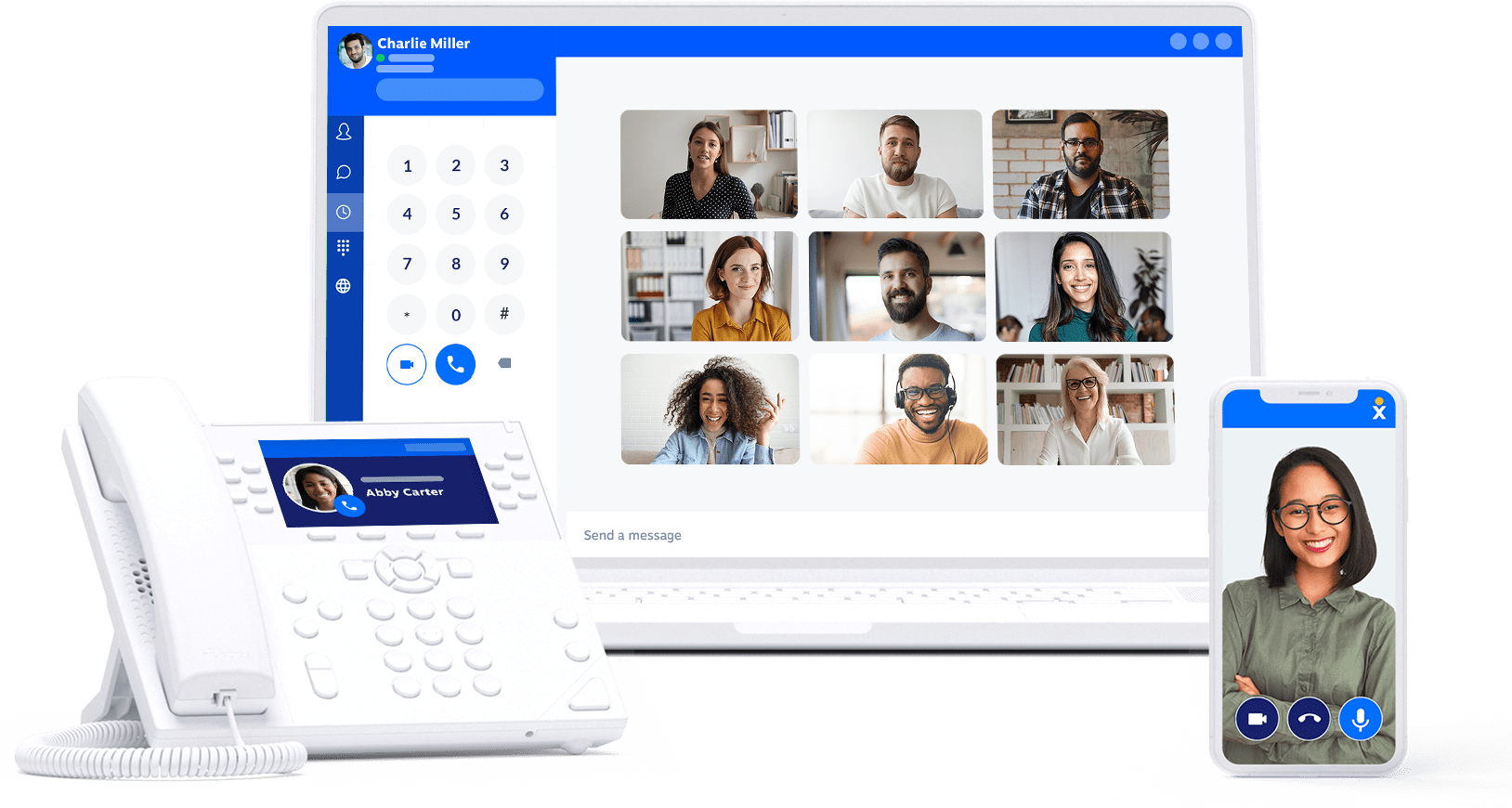 Users communicate seamlessly within the Nextiva App softphone interface switching between communication channels and even devices without missing a beat.
What Sets It Apart
Nextiva is the most "complete" phone system on this list, offering robust native features other providers don't.
Instead of relying on endless third-party integrations and APIs, Nextiva already includes its own CRM capabilities, team collaboration and project management tools, and even has features that have been specifically designed for customer service and sales teams like case routing and customer journey analytics.
It's perhaps best known for its Call Pop feature, which shows key caller details like contact information, date of last interaction, customer experience ratings, account value, and any notes from previous agents/conversations.
Analytics features like Sentiment Analysis instantly recognize positive and negative "trigger words," and unhappy customers are automatically flagged for review and escalation. Trend forecasting, call topic filters, and customer survey analytics in addition to KPI-based reporting templates all help you to be better informed.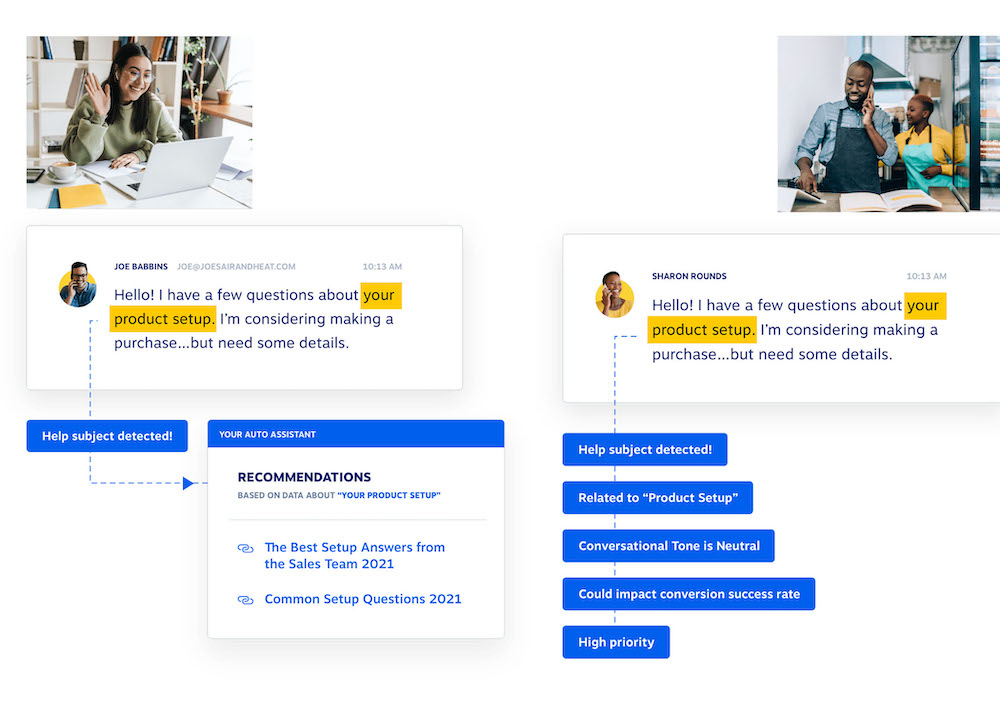 Smart Automation tools like automated welcome messages, reminders and follow-ups with corresponding automated status updates, and real-time agent assistance based on recognized keywords keep your business running smoothly.
Network Reliability and Customer Support
Nextiva's 24/7 network monitoring, backup power sources, and 8 global points of presence contribute to its competitive 99.999% uptime. The platform is SOC II, HIPAA, and PCI compliant, and end-to-end call encryption is available.
Customer support is available via live chat, email, and phone Monday-Friday from 5:00 AM-6:00 PM MST and Saturday and Sunday from 6:00 AM-6:00 PM MST. Ticket support requests can be submitted at any time. Nextiva has an online support knowledge base that is always available to current or potential customers.
Pricing and Plans
Nextiva offers four paid plans for 1-100+ users ranging in price from $18.95/user per month to $57.95+/user per month. Plans can be paid annually or on a monthly basis. Nextiva offers a 7-day free trial, but only for its Essential Plan.
The below table shows annual Nextiva phone plans for 20-99 users, the most popular option.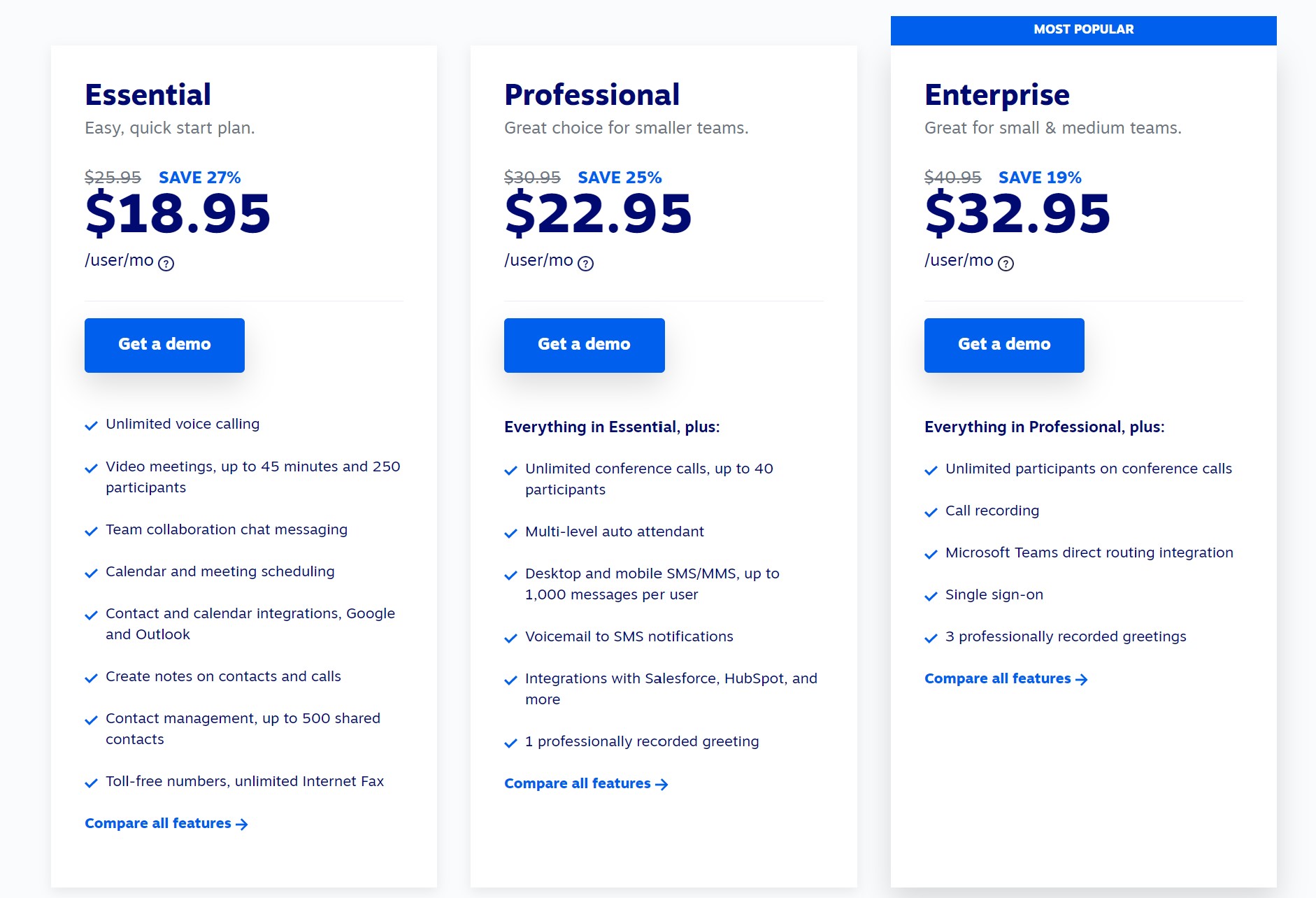 | | |
| --- | --- |
| Nextiva Pros | Nextiva Cons |
| Advanced native, built-in CRM tools as well as integration with third-party CRM software | CRM tools, recording, integrations, and SMS/MMS texting unavailable on Essential Plan |
| Automated in-conversation Smart Recommendations | No longer seems to offer 24/7 support as advertised |
| Analytics with company-wide Wallboard broadcast gamify performance and increase  employee engagement | Advanced features mean a high learning curve that lengthens the onboarding process |
The Verdict
Nextiva is a truly all-in-one phone system solution thanks to its superior built-in features, most of which would require third-party integrations to access on other platforms. Users get access to CRM tools, sales and customer service automation, and collaboration features like task management and team calendars all within the Nextiva interface – no need to switch between apps.
However, since SMBs considering Nextiva will likely want access to its advanced native functionalities, very few will be happy with the most affordable – but severely limited – Essential Plan. This means users are somewhat forced into buying a more expensive plan.
RingCentral MVP (Message, Phone, Video) is a unified communications platform offering high-level communication features to smaller teams.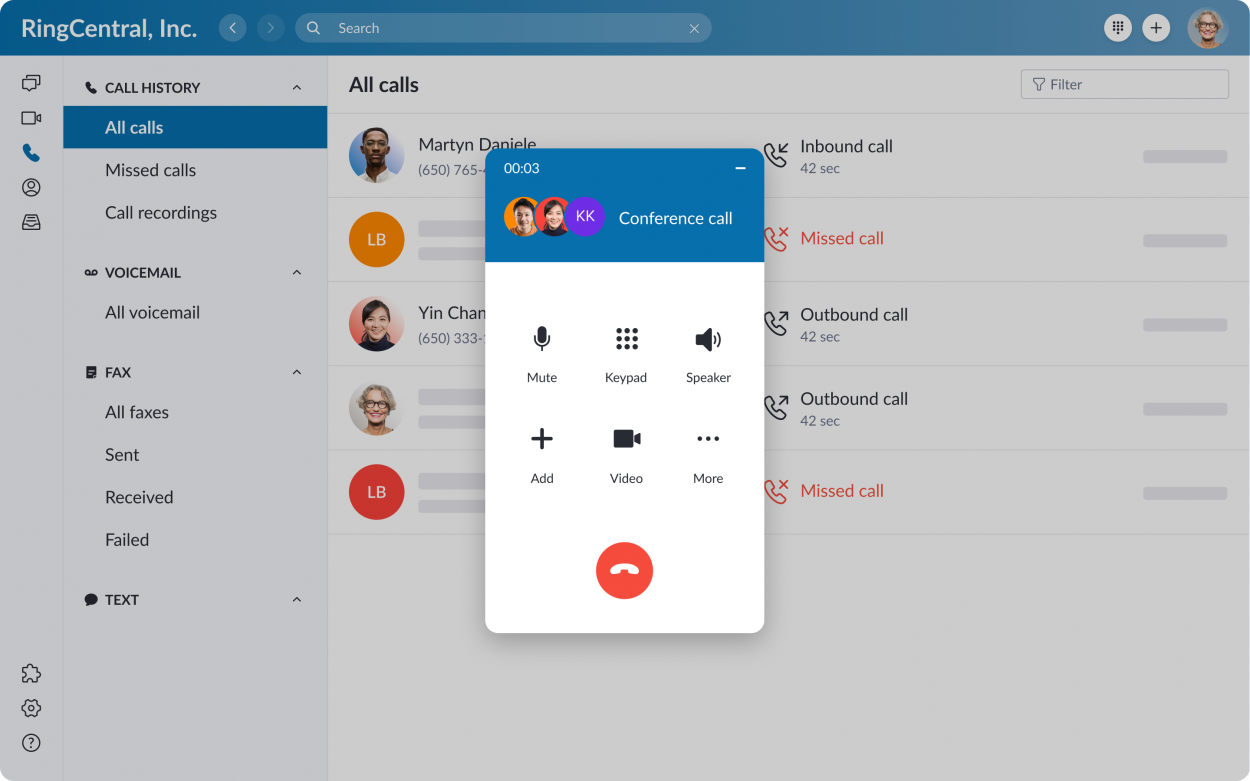 Recently, the provider has focused on providing innovative solutions and capabilities to the new hybrid workforce, especially regarding team collaboration. In addition to chat, voice calling, and video, RingCentral offers virtual faxing and SMS.
What Sets It Apart
RingCentral bridges the gaps and prevents miscommunications that often occur when remote teams and in-house employees work together.
Numerous call forwarding options exist for multiple devices and departments, including call blasting and the ability to specify the number of rings before a call is forwarded. Since every user gets a dedicated phone number and a dial-by-name directory, finding the right person is easy. Call delegation, call flip, and ring groups of up to 16 phones further prevent bottlenecks.
Self-service is made easy thanks to 250 programmable IVR call menus and submenus, advanced NLIP, and a drag-and-drop Visual Dial Plan Editor.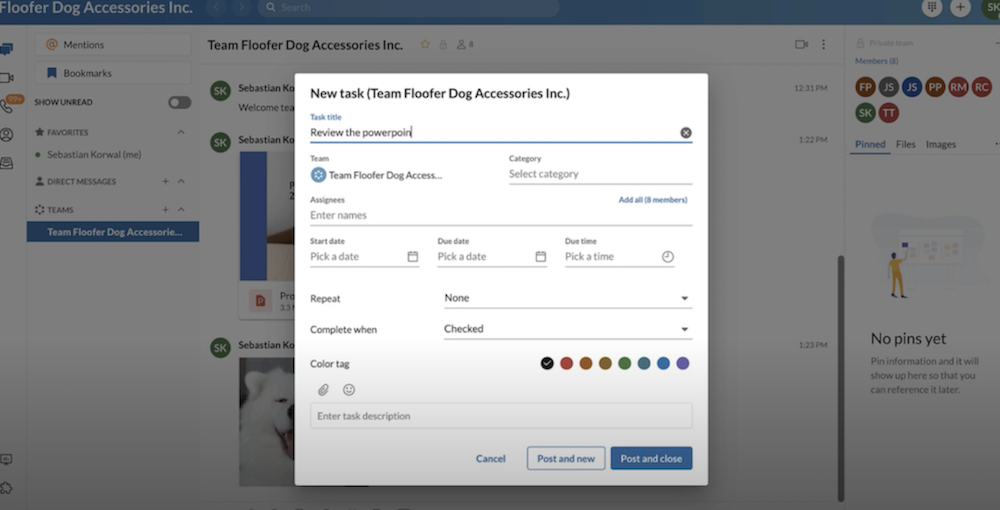 New advances to team collaboration include the Message Toolbar with unlimited file uploads and file organization, message pinning/editing, advanced task management whiteboarding, and note-taking. Often, these features eliminate the need for additional third-party integrations.
Network Reliability and Customer Support
Customer support is available 24/7 via phone and live chat, but RingCentral's online knowledge base with numerous how-to video tutorials offers a higher-than-average level of customer self-service. RingCentral offers on-demand and live training webinars via its RingCentral University platform and has a real-time service status page.
In terms of security, RingCentral easily ranks as one of the top platforms, especially regarding transparency.
Its seven-layer strategy includes third-party security testing and compliance (GDPR, SOC II, HIPAA, SSAE-16), end-to-end encryption, and network redundancy. Strong admin controls are available, as well as SSO and two-factor authentication.
With a 99.999% guaranteed uptime, RingCentral users will deal with less than 30 seconds of downtown each month.
Pricing and Plans
RingCentral MVP offers four paid plans from $14.99-$49.99/user per month, payable on a monthly or annual basis. A 15-day free trial is available, as are add-ons like additional local phone numbers, ($4.99/user/month) vanity numbers ($30.00 fee/number) and high volume SMS.
The below table shows pricing and plans for 2-20 users, the most common selection (999+ users available.)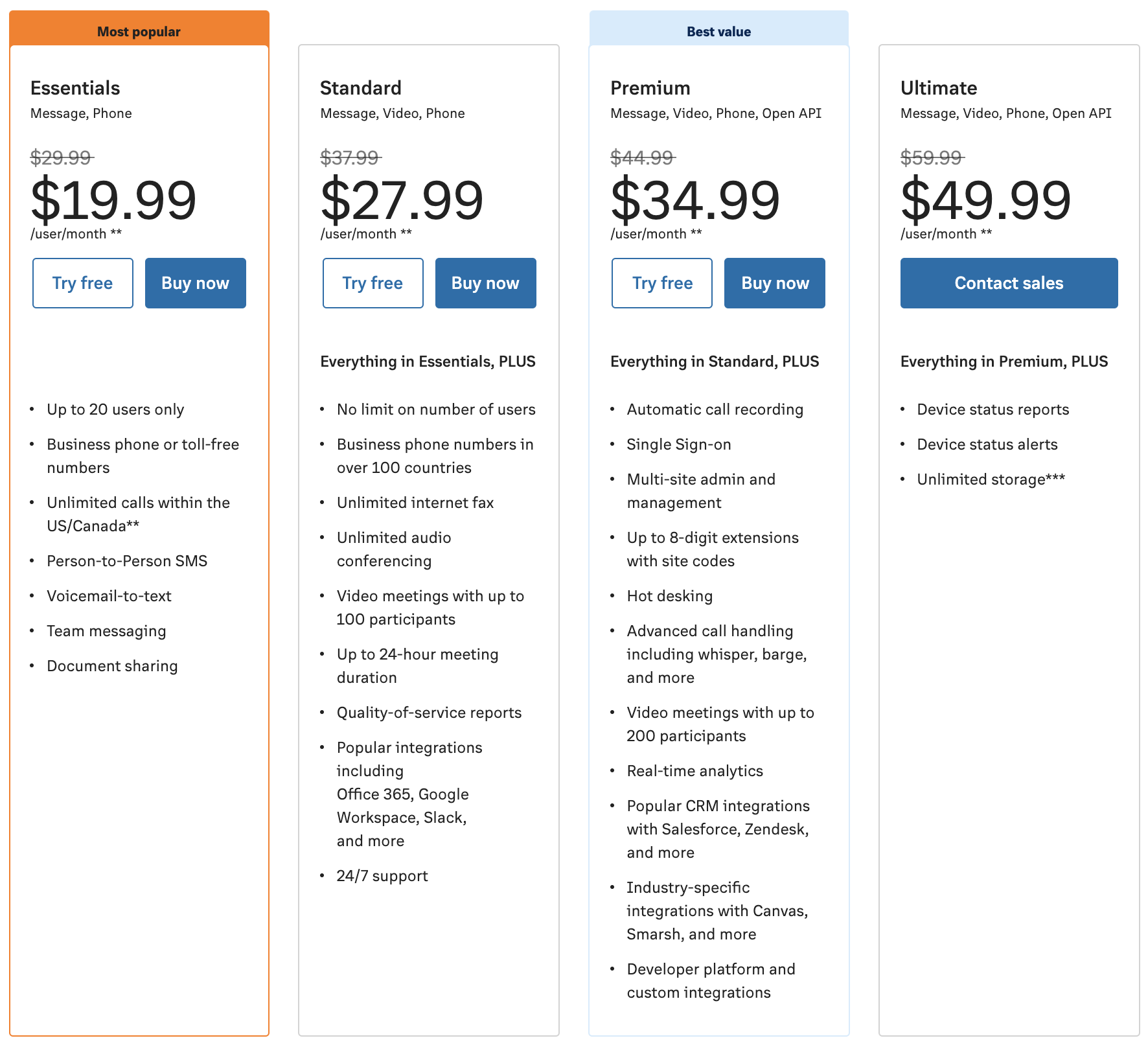 | | |
| --- | --- |
| RingCentral Pros | RingCentral Cons |
| 24/7 phone and live chat support and professional implementation/training | Some features like online faxing, video meetings, multi-level IVR, and call recording aren't available on the cheapest plan |
| Unbeatable team collaboration features and strong platform security | Overly frequent updates can cause confusion and delays |
| Lots of integrations are available via RingCentral App Gallery (Slack, Asana, Teams, Salesforce, Google Workspace, etc.) | Some integrations are only available to Premium and Ultimate Plan customers, including Zendesk and Salesforce integrations |
The Verdict
RingCentral MVP makes it easy for remote agents to connect with each other and with clients regardless of location or device, preventing miscommunications and increasing first contact resolution rates thanks to advanced call handling and routing strategies.
Its team collaboration features are enviable and will undoubtedly increase employee engagement and productivity. However, in-house teams will likely feel overwhelmed by the excessive number of collaboration capabilities and may find they lose more time than they gain if working in an exclusively in-person team.
GoToConnect by LogMeIn is a cloud phone system offering voice calling, video communications, and messaging in a unified interface. Local, toll-free, and vanity numbers are available, as is number porting.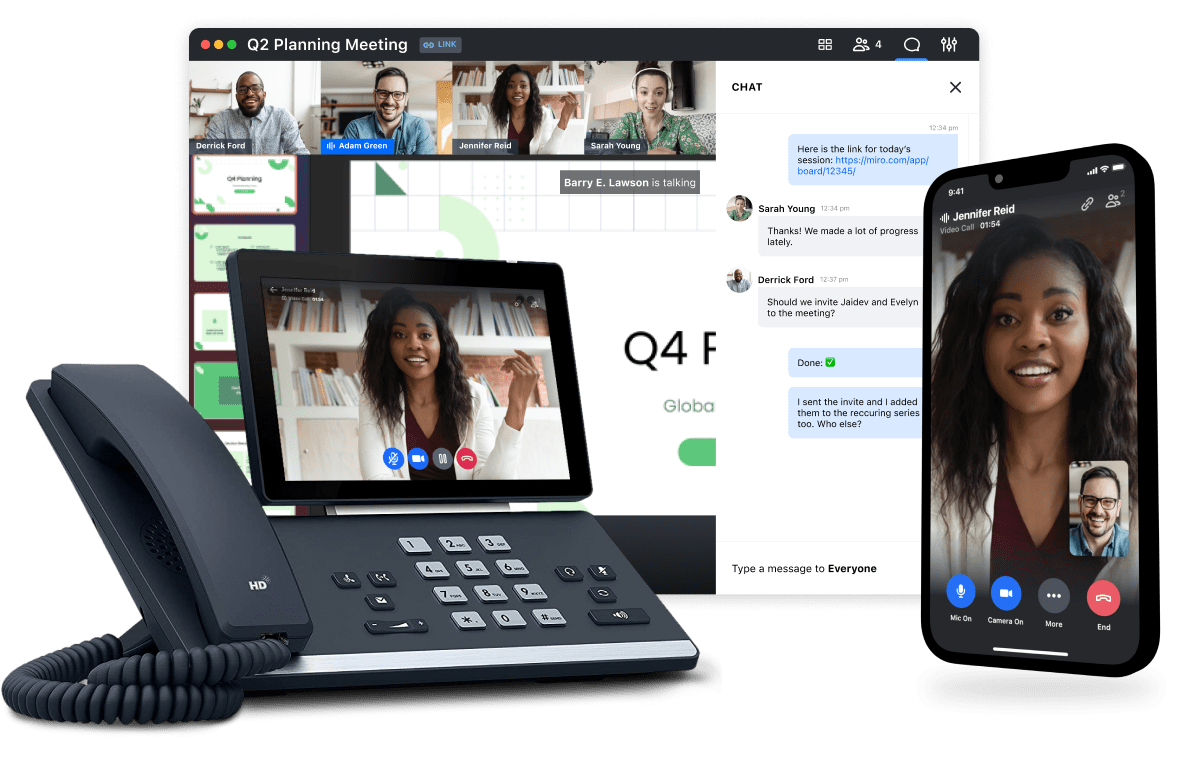 Remote or blended smaller teams of up to 25 employees will get the most out of GoToConnect, as will current GoTo universe users (GoToWebinar, GoTo Meeting, etc.) needing a business phone solution.
What Sets It Apart
GoToConnect offers over 100 call center management features, but one of the best is the Dial Plan Editor tool.
This refreshingly easy-to-use call flow management tool lets users set up advanced call routing, forwarding, waiting, and multi-level IVR strategies. Best of all, GTC offers unlimited auto-attendants and submenus, allowing users to get far more specific with custom self-service menus that will keep agents free.
Although GTC has few available third-party integrations when compared to other providers, it does have an excellent and active developer community with open source APIs and SDKs. This allows for a high level of customization.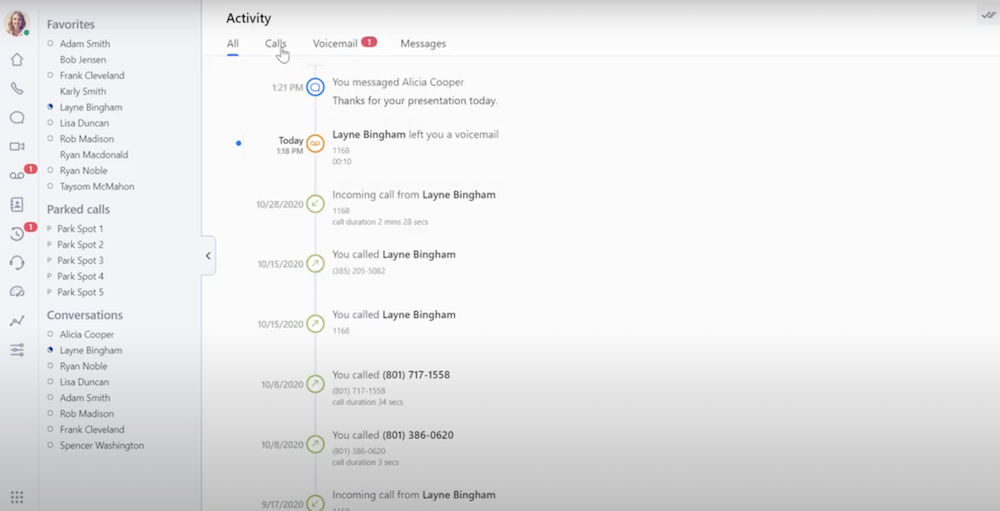 Ease of use is also a priority here, thanks to features like always-on visual notifications, a recent contacts list, and an intuitive sidebar that lets users see all current parked calls, recent chat conversations, and favorite contacts at all times. Its Activity Stream organizes all recent activity, regardless of channel, into one single interface. Users can also separate recent activity by channel, making it even easier to keep track of to-dos and follow-ups.
Network Reliability and Customer Support
Unfortunately, it's difficult to find much information about GoToConnect customer service and support.
Information on the website as of this writing states that GoToConnect is updating its support center, but where things stand now, it seems challenging to get a hold of a support representative. GoToConnect claims to offer 24/7 support for its top two plans via phone and live chat, as well as email and support ticket generation – but little information is available.
The biggest disappointment is that the most affordable plan offers a self-service-only option for customer support. For over $20.00/month per user, this is far below expectations despite the platform's value. The good news is that the online knowledge base is well-developed, with video tutorials, FAQs, extensive feature guides, and more. We will continue to monitor support updates and announcements for GoToConnect.
In terms of reliability and security, GoToConnect offers a 99.996% uptime and has 10 global data centers to keep things running smoothly. It is HIPAA, GDPR, CCPA, and SOC II Type II compliant. TLS/AES-256 encryption, two-factor authentication, and malware/firewall protection are also included.
Pricing and Plans
GoToConnect offers three paid plans from $22.00-$39.00/user per month, with plans payable on a monthly or annual basis. A 15-day free trial is available, and additional phone numbers are available from $5.00/number per month.
GoToConnect offers the best value out of any system here, as even its most affordable plan includes advanced features like video calling, team collaboration tools, and IVR auto-attendants. A detailed pricing outline is available in the image below, which shows the cost of 2-10 users (the most common selection.)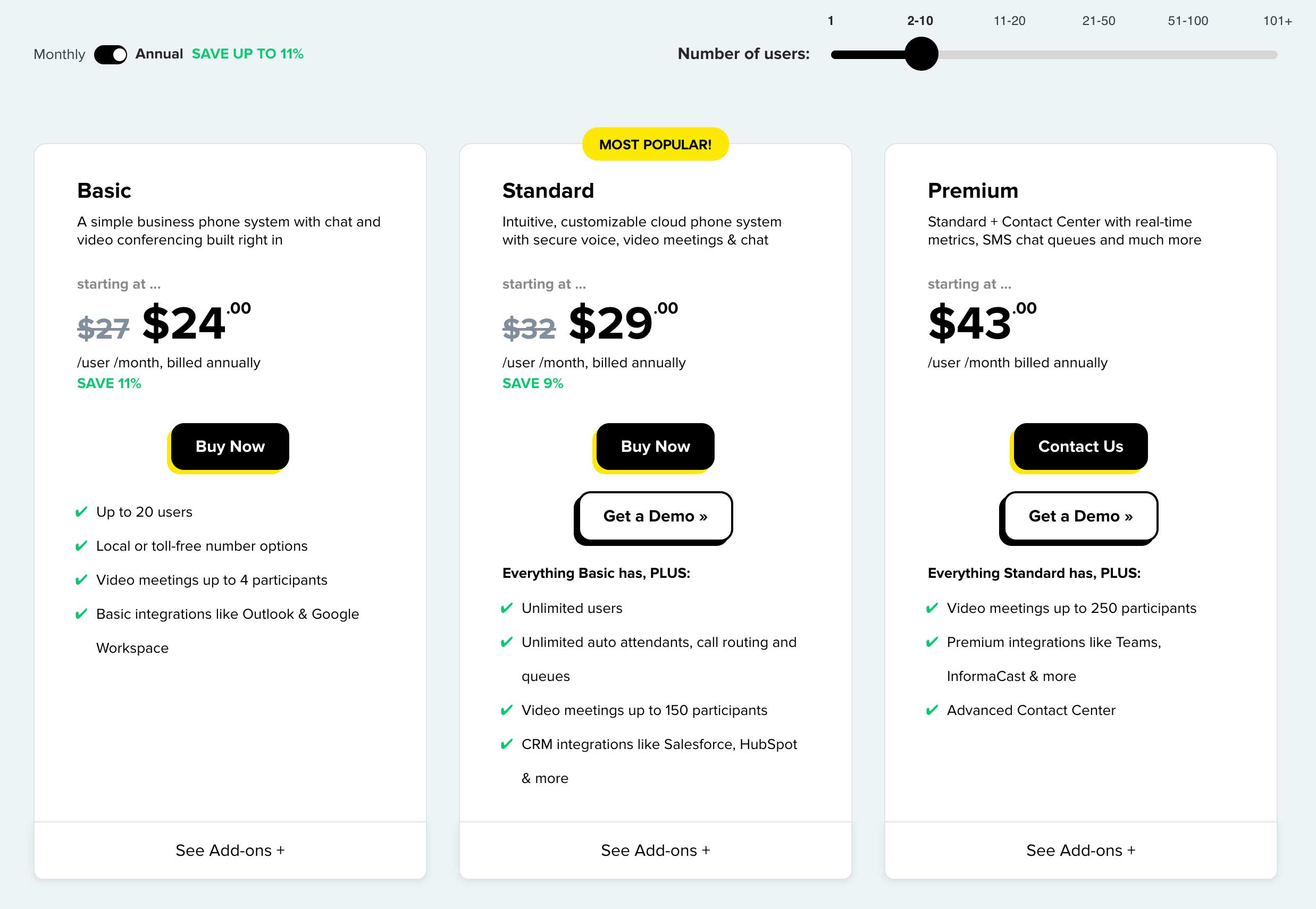 | | |
| --- | --- |
| GoToConnect Pros | GoToConnect Cons |
| Overall affordability and value when compared to other cloud phone providers | Self-service only support option for the cheapest plan, and support chatbot is unable to offer even basic assistance |
| Top two plans make it easy to upgrade from a business phone system to a more robust contact center by adding call center management features a la carte or as a bundle | Very limited third-party software integrations, seemingly designed to push users to invest in the entire GoTo suite even if other business tools better suit them |
| Customized call filtering, dial plan editing, shared voicemail inboxes, and over 100 other features make it easier to manage high call volumes | Advanced analytics require add-on purchases for Basic and Standard Plans, which can cost $29.99/user per month and up |
The Verdict
Given that self-service is the option for the Basic plan, those users should have the technical knowledge or IT professionals to handle any difficulties on their own.
What GoToConnect lacks in customer support, it more than makes up for in features and value. This makes it an ideal choice for smaller teams that face a high daily call volume and rely on features like live queue reporting, unlimited call routing with call routing optimization, and auto-queue callback.
Plus, the GoToConnect Premium plan offers features normally only available with call center software like caller perspective reports, smart routing, SMS queuing, and more.
Zoom Phone provides current or prospective Zoom users with a business phone system they can use alongside Zoom Meetings, eliminating the need to purchase a VoIP solution from a separate provider. Note that it's not available as a standalone product.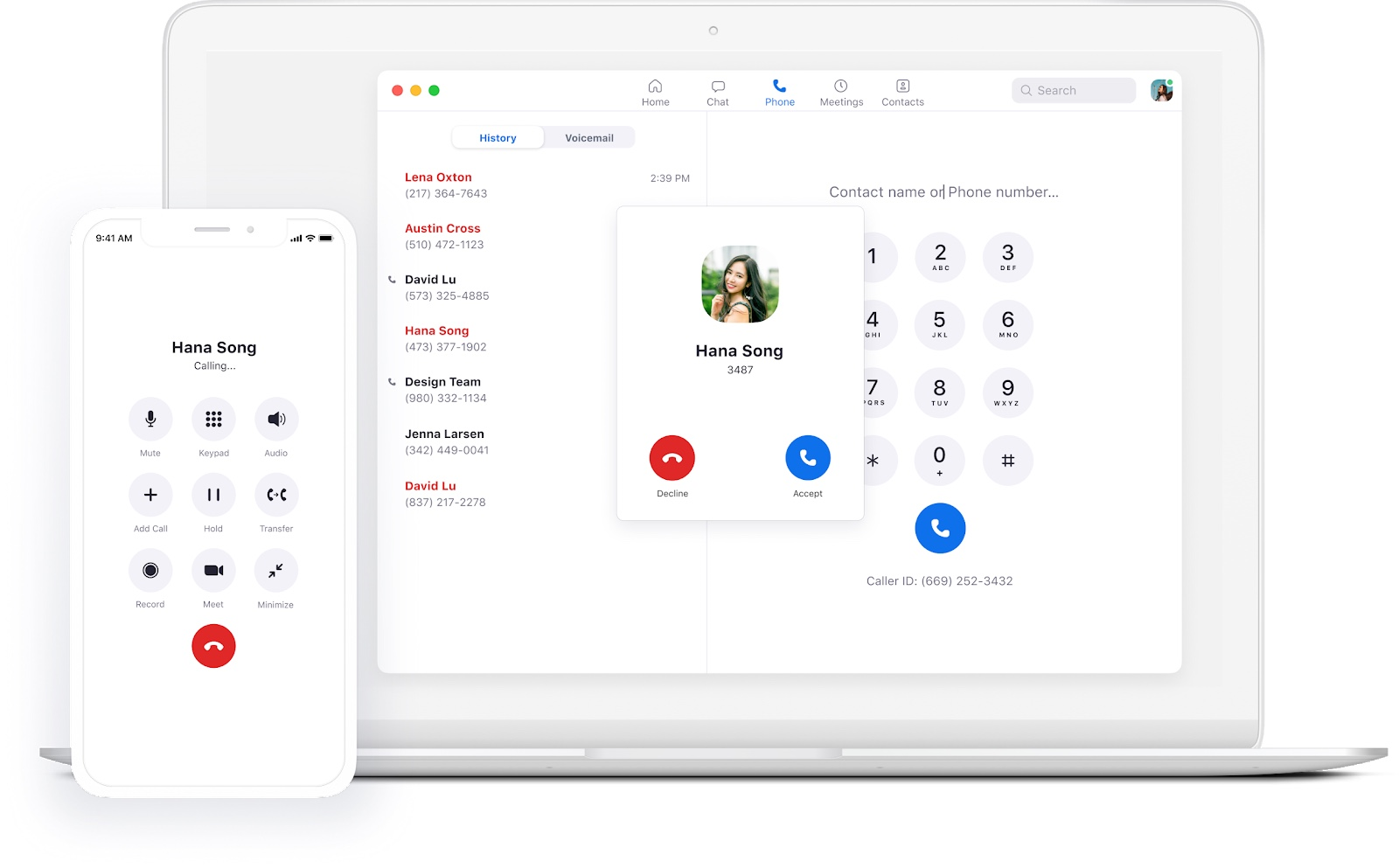 Available Zoom Phone communication channels are voice calling, texting, instant chat messaging, and video calling. Number porting, toll-free, and local phone numbers are available.
What Sets It Apart
Zoom Phone provides centralized call management options within the same interface as team chat messaging and web conferencing communication.
With desktop and mobile versions (its mobile app is one of the most robust we've reviewed) teams of any size can communicate anywhere, anytime, and from any device. This is ideal for connected geographically diverse teams operating across different time zones or sharing opposite work hours. International calling is available in 18 countries.
Its mobile app, available for both Android and Apple iOS users, offers call recording, call queue access, video meetings, team chat, call notifications, and more.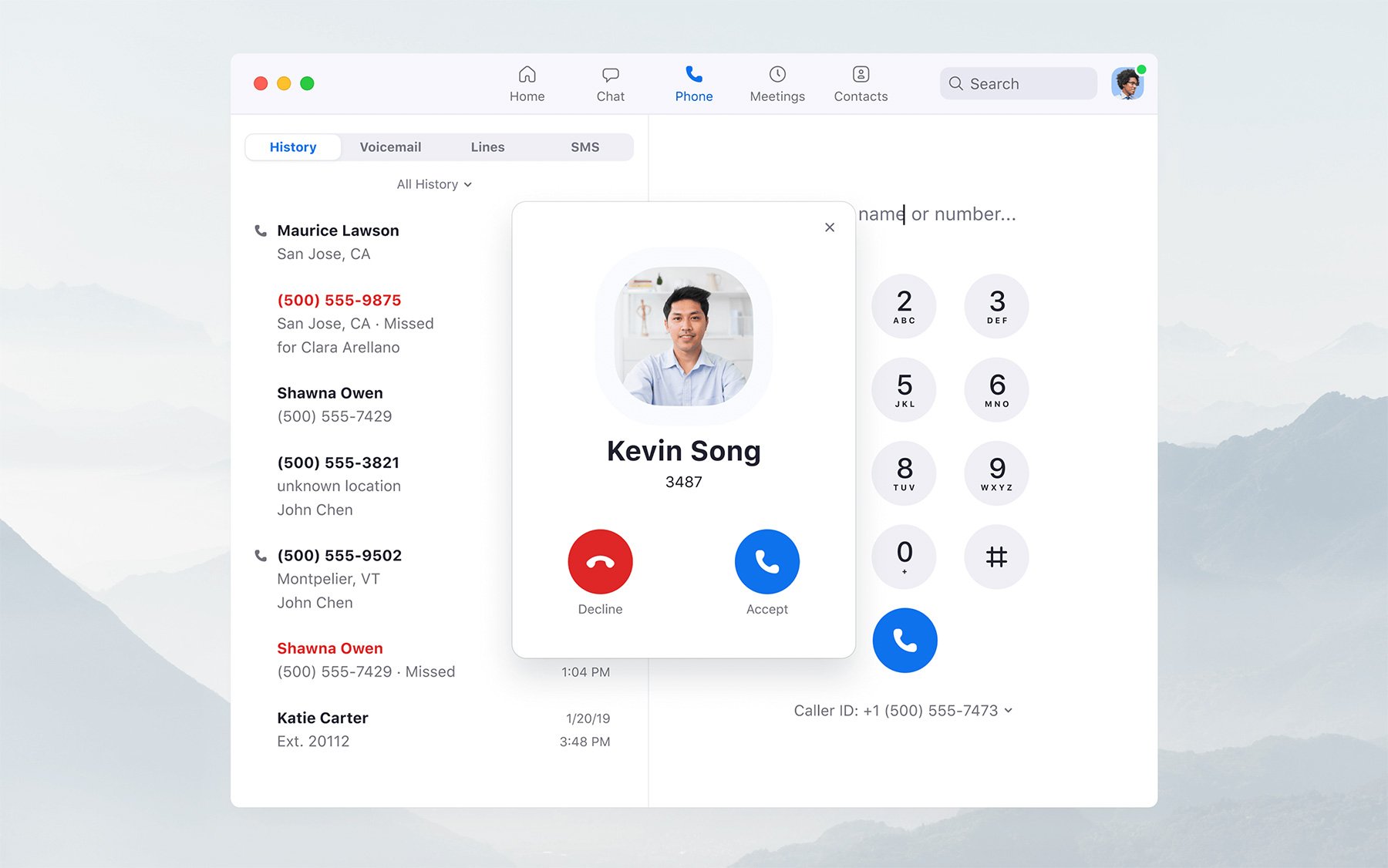 Like its video calling app, Zoom Phone has a high number of standard and advanced calling features, which is well-suited for quickly-evolving companies or businesses of any size that need access to enterprise-level tools like call queuing and callbacks, detailed analytics, and multi-level IVR.
Network Reliability and Customer Support
It's no secret that Zoom has faced severe criticism for its security policies in the past – something the provider has gone to great lengths to remedy.
In addition to 99.9% uptime and redundancy, Zoom now offers AES 256-bit encryption, SSO, two-factor authentication, FEDRamp, PCI, GDPR, and HIPAA compliance, and several other security certifications.
Zoom offers excellent customer support options, likely due in large part to the brand's financial dominance in the web conferring industry. This affords users privileges like 24/7 global customer care in the form of phone and chat support, a support chatbot, on-demand and live training webinars, onboarding assistance, support for BYOD/BYOC…the list goes on.
Paid premiere support options are also available.
Pricing and Plans
Zoom Phone offers both pay-as-you-go and unlimited plans payable only on an annual basis from $120.00-$240.00/user per year. Though Zoom Meetings offers a free trial, we couldn't find any information about a Phone free trial. A plethora of paid add-ons like additional phone numbers and toll-free numbers, ($60.00/year) international calling ($120.00/year) and the Zoom Phone Power Pack ($300.00/year/user) are also available.
More detailed Zoom Phone pricing is available in the image below.

| | |
| --- | --- |
| Zoom Phone Pros | Zoom Phone Cons |
| High number of available third-party integrations and APIs (Slack, Salesforce, Monday.com, Asana, etc.) | Zoom Phone is available only to existing Zoom Meetings customers |
| Excellent 2/47 support options, including dedicated Customer Success Manager and priority assistance | Can get expensive with monthly Zoom phone and Zoom Meeting requirements (Zoom United upgrade or Phone add-ons are even pricier) |
| Feature-rich phone system from one of, if not the, biggest virtual communications platform means early access to innovations and improvements | Though Zoom has made impressive privacy improvements, the history of data sales and Zoombombing means some businesses are not allowed to/won't use Zoom |
The Verdict
Zoom Phone is best for current Zoom users who, while still communicating primarily via video chat, now need business phone system capabilities. Because of its superior mobile application, Zoom Phone also serves fully remote and blended teams in high mobile industries, like shipping/delivery companies or sales teams with frequent in-person meetings.
However, its interface may be difficult and frustrating for those new to Zoom to learn to use and comes with a learning curve. Additionally, consider that Zoom is a web conferring tool first and foremost, and online meeting updates and attention will always come before its phone system.
11 Key Cloud Phone System Features
Here are the most important and effective cloud phone system features.
Advanced Call Routing With Drag-and-Drop Call Flow Design
Call routing lets users set customizable rules to determine which agents or departments calls are sent to and what happens if no one is available to take the call. It offers better overall call flow management.
This call flow is designed with an easy-to-use drag-and-drop interface and can be adjusted anytime.
There are several call routing strategies to consider:
Round Robin Routing

: Agents take turns answering inbound calls. The first call goes to agent A, agent B, agent C, and agent A again.
Skills-Based Routing: Calls are sent to the most qualified agent to assist the caller. Callers can dial a specific number to reach a certain department or type information into the voice responder to be directed to the appropriate agent. It ensures that customers calling for support aren't redirected to the billing or sales departments.

Most Idle Routing

: Calls are automatically sent to the agent that has not answered a call in the longest amount of time

Priority-Based Routing

: Calls from predetermined phone numbers (VIP clients, etc.) are sent to preferred agents or skip to the front of the queue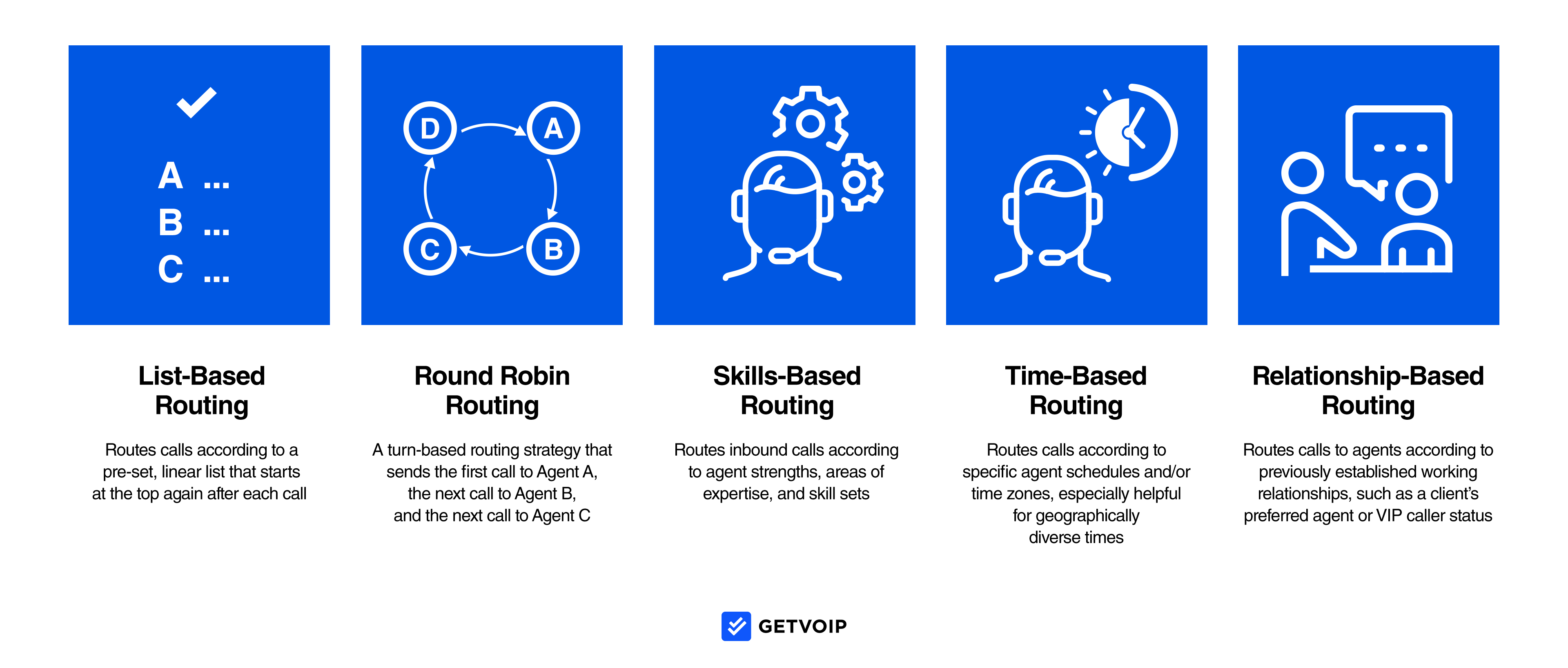 Why You Need It –  Call routing offers customized call flow management, increases agent productivity, decreases wait times and call lengths, and ensures callers speak to relevant and available agents.
IVR (Interactive Voice Response)
Cloud IVR uses pre-recorded automated messages and call menus to quickly connect callers to the appropriate departments, make payments, view account status, and more without speaking to a live agent.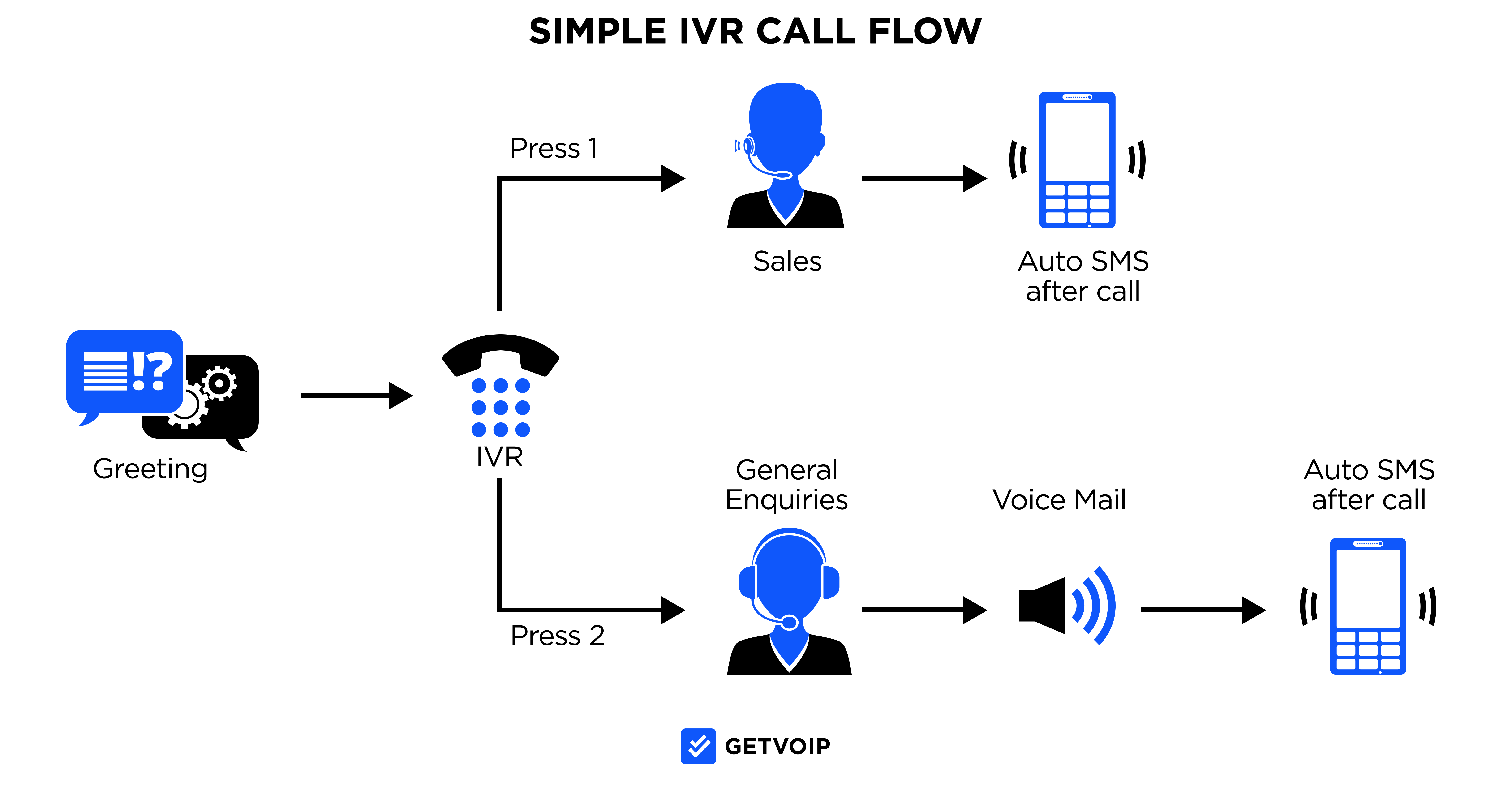 Customers enter their responses to voice prompts via dial pad touch-tone or speech. The IVR system guides callers through relevant call flows using NLP, voice recognition, and DTMF dial tones.
Why You Need It – IVR offers a high level of customer self-service and convenience and keeps more agents free to handle more complex calls.
Call Monitoring and Call Recording
Call monitoring lets managers/admins listen to live phone calls, use call whisper to give agents advice in real-time without the customer's knowledge, or use call barge to take over the call completely.
On-demand or automatic call recording records phone and video calls (often including screen streams during video meetings. Recording can be paused and restarted when discussing sensitive information.
Searchable call and meeting transcriptions are automatically generated and stored in the cloud or sent to participants.
Familiarize yourself with call recording laws before using this feature.
Why You Need It – Call monitoring lets users:
Evaluate sales and customer service reps' efficiency and performance
Discover common problems or reasons for the contact
Learn more about customers
Avoid taking notes during meetings
Verify conversations
Unified Communications
Unified Communications (UC or UCaaS) streamlines business communication by providing a central dashboard for multiple communication channels, including:
Voice calling
SMS texting
Video calling
Instant chat messaging (internal or live website chat)
Virtual faxing
All communication is automatically synced across channels in real-time.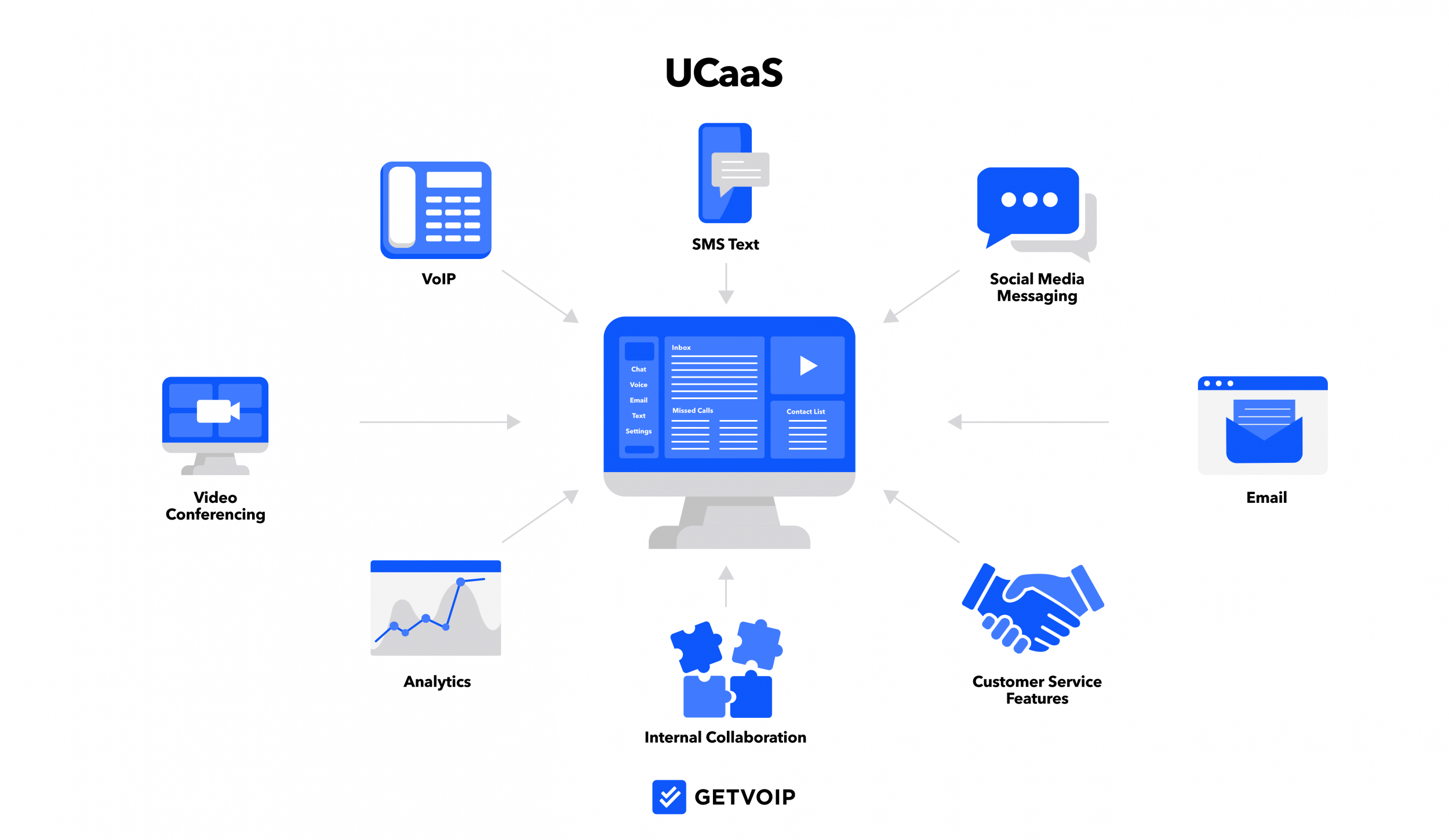 Why You Need It – UC has an abundance of benefits, including:
No need to switch between multiple channels or applications throughout the day
Preventing customers from having to repeat themselves to multiple agents
Increased productivity and customer satisfaction
Local Presence and Toll-Free Vanity Phone Numbers
Companies can port existing phone numbers into their cloud phone system or purchase new phone numbers directly from the provider.
Most VoIP providers include at least one free local phone number with their plans.
Regardless of a company's actual geographic location, buying several local phone numbers gives them a local presence in every region they target.
Toll-free vanity phone numbers (such as 1-800-DOGWALK) make it clear what products/ services your business offers. Clients and leads can contact businesses at no cost to them as the caller.
Why You Need It – Business phone numbers make your company look more professional, are easy to remember, and give you a local phone number in many different area codes/locations.
Video Calling With Team Collaboration Tools
Video conferencing offers face-to-face, real-time communication between colleagues, entire departments, and external participants.
Users can instantly transition from phone calls or team chat messages to ad hoc video calls with one click. Scheduled meetings with automated reminders, attached files, guest lists, and meeting descriptions are available.
Collaboration features like in-call instant chat messaging, screen sharing, remote screen control, file co-editing, and whiteboard tools make replicating in-person meetings even more realistic. More advanced tools like task management, in-meeting polling, user presence (status) updates, breakout rooms, and virtual hand-raising are often available.
Why You Need It – Video calling and team collaboration tools:
Decrease the need for constant in-person meetings
Connect remote/blended teams
Increase employee engagement
Decrease miscommunications
Visual Voicemail
Visual voicemail (sometimes called voicemail-to-text) transcribes voicemail messages and automatically sends the transcription and original audio files to users.
This means users can visually read their voice messages instead of having to listen to each one. Agents also receive voicemail notifications, ensuring they promptly return missed calls.
Why You Need It – Because agents can read voicemail messages, they can prioritize callbacks, determine if a callback is needed, or even respond via text or email.
Voicemail transcription also ensures the caller's message is correctly understood, decreasing miscommunications.
Call Pops and CRM Integrations
CRM (Customer Relationship Management) integrations and communication APIs let users integrate existing business software and applications into their cloud phone system.
Call Pops use the integrated CRM system to automatically display recent customer data for inbound/outbound calls within the softphone interface, so there's no need to constantly switch between apps.
For example, suppose you were to integrate Salesforce into your VoIP platform. When you receive an incoming customer call, Salesforce will instantly provide you with a Call Pop of available caller information.
Why You Need It – Integrations let teams continue to continue to use familiar/preferred business software and tools within the phone system interface. They also provide instant access to additional features that may not be native to the VoIP provider's platform. Plus, call pops mean key customer data like contact information, order history, and more are quickly and easily accessible.
Customer Callback
Customer callback capabilities eliminate the need for customers to wait on hold to speak to an agent. Instead, callers can schedule a callback for their preferred date and time.
The agent and the customer will receive reminder notifications of the upcoming call.
Why You Need It – Providing callers with the option to receive a callback instead of wasting time on hold drastically improves the customer experience, decreases call abandonment rates and better manages peak call times.
Real-Time and Historical Call Data & Analytics
Call analytics provide real-time and historical data about callers and agents over a preset, customizable period.
VoIP analytics include pre-made templates, or completely customizable reports focused on popular metrics and KPIs like:
Average call duration
The average speed of answer
Daily/Weekly/Monthly call volume (inbound/outbound)
First, call resolution rate
Average talk time per agent
Percent of calls sent to voicemail
Cost per call
Average conversion rate
Why You Need It – Call analytics provide invaluable insight into agent productivity levels, the quality of current training, current call volume management, busy times, and much more.
Automation and AI
Automation and AI (Artificial Intelligence) are auto-attendants or bots that automate common business processes, eliminating the need for agents to handle them manually.
Conversational AI and NLP (natural language processing) identify keywords/phrases that trigger preset automations.
For example, if a client calls and says, "I need help paying my bill," NLP tools "understand" the words "paying," "bill," and "help." AI and automation tools then send that caller to the billing department or help them to pay the bill over the phone.
Additional examples of automation and AI include:
Collecting/updating customer contact information
Workflow automation
Chatbots
Dial-by-name directories
Why You Need It – Automation eliminates routine tasks, saving time and boosting productivity levels.
Automation and AI handle Tasks like:
Data entry
Call placement
Scheduling
Call transcription
Reminders
Report generations
What is a Cloud Phone System?
A cloud phone system is a Voice Over Internet Protocol (VoIP) business telephone solution that a third-party provider hosts on a cloud server (hosted PBX) as opposed to on-premise PBX (Private Branch Exchange) hardware.
Cloud phone systems (also called virtual phones or cloud PBX) aren't tied to a single physical location and are accessible via any device with Internet access. This means users can access their business phone system from desktop computers, laptops, mobile phones, tablets, and even compatible desk phones.
Cloud-based phone systems have more advanced features than traditional landlines, offer a higher level of flexibility for a lower price, and streamline business communication within a single platform.
For more detailed information on the difference between a traditional and cloud phone system, check out our VoIP vs landline comparison.
How Does a Cloud Phone System Work?
Cloud phone systems are powered by VoIP, whereas landline phones convert audio into electrical signals and send them over copper wires.
Rather than change audio signals into pure electricity, cloud phones convert audio into data packets using codecs that are transmitted over the Internet.
A VoIP phone uses an Ethernet cable to connect to the Internet, while a landline uses an RJ11 traditional phone wire. Internally, VoIP phones are much more complex than traditional phones – more like small computers than analog devices.
Since a cloud-based phone system isn't limited to a specific location, your entire remote and/or blended team connects under the same service no matter their location. Plus, most cloud phone systems offer free calls between in-network extensions.
Cloud Phone System vs Traditional Phone System
A cloud phone system brings a unique experience that differs significantly from traditional PSTN (Public Switched Telephone Network) landlines. Let's take a look at the biggest differences:
| | | |
| --- | --- | --- |
| | Traditional Phone | Cloud Phone System |
| Hardware Requirements | Installed copper lines, phones, private branch exchange (PBX) | VoIP endpoints (phones, computers, smart devices), modems, routers |
| Scaling | Requires purchasing new licenses, lines, and phones from the telecom carrier | Easily add new lines online via the "add a line" section in the control panel |
| Long Distance | Long-distance calling means extra charges | Most providers include unlimited calling in the U.S. and Canada, more affordable international long-distance calling |
| Emergency Services | Dispatchers send responders to the registered location of the phone line | E911 services send responders to the location registered to the account via the provider's portal |
| Faxing | Converts scanned documents into an electric signal transmitted via phone lines | Cloud-based faxing sends faxes over data networks. Online fax is secure, and there are fewer quality issues compared to traditional faxing. |
| Call Forwarding | Call forwarding typically comes as an extra feature | Many providers have this feature, and many take it to the next level with features like remote call forwarding. |
| Call Routing | Most call routing is hardware-based | Advanced call routing, auto-attendant service, and basic IVR are included in most service plans |
| Sound Quality | Limited to voice band audio in an analog format, meaning sound fidelity varies | Sound quality is primarily affected by internet connection strength, packet loss, and other factors |
Cloud Phone System Pros and Cons
Since close to 80% of companies in the United States use VoIP telephony in at least one of their locations, it's obvious cloud solutions offer far more benefits than traditional phone systems ever could.
Unlike their landline counterparts, cloud phone systems have plans for businesses of all sizes and let companies choose between bundled all-in-one services or a la carte features purchasable on an individual basis.
But what are the downsides of business cloud communications?
The below table outlines the pros and cons of a cloud-based phone system.
| | |
| --- | --- |
| Cloud Phone System Pros | Cloud Phone System Cons |
| Reduces business communication costs by 30-50% when compared to traditional landlines | Can have a steep learning curve (look for service providers offering user training and 24/7 support) |
| Virtual PBX systems save 115 minutes/day per employee, saving roughly 49,660 hours each year | Users may need to purchase feature or user capacity add-ons and integrate additional business communication software |
| High level of reliability and guaranteed uptime through numerous remote data centers | Call quality is impacted by issues like jitter, latency, and packet loss — as well as your overall Internet connection |
| Easier setup (often same-day) and lower maintenance than traditional business phones | Often requires upgraded networking equipment such as VoIP routers, stronger Internet connections, and higher bandwidth |
| Scalable solutions so your business phone system can grow with your SMB | Usually requires a commitment/contract for at least 1-2 years |
Additional Resources on Cloud-Based Phone Systems
Now that you know what a cloud-based phone system can offer, it's time to switch to a cloud-based platform or re-evaluate your current virtual phone system or call center.
Curious to learn more about the virtual phone system providers we've mentioned in this post, including reviews from actual customers, complete cost breakdowns, and more?
Check out our more detailed head-to-head comparisons of top providers, such as Vonage vs RingCentral and RingCentral vs Nextiva.
Cloud Phone System FAQs
Below, we've answered some common cloud phone system FAQs.
Top cloud phone system benefits include: 
Lower costs than traditional business telephones

Advanced calling features like IVR, SMS messaging, and call routing

Scalable phone system solutions

Greater flexibility, specifically for mobile users 

Little equipment/hardware required 

Integrates with existing business communications software

Increased productivity 

Excellent analytics offering insight into agent/department activity and customer contact 
Cloud phone systems cost $15.00-$50.00/user per month, depending on the provider and specific features you choose. 
Opting for annual payment plans usually results in significant cost savings.
Cloud phones work by breaking up VoIP voice data into packets that travel to the call recipient across the Internet -- not the PSTN telephone network. 
Once the packets reach the recipient, they reassemble, delivering clear voice communication. This process is managed by your PBX solution.