Compared with traditional phone service, a VoIP phone system offers tons of benefits: advanced features, scalability, mobility, improved call quality, and reduced costs. And while VoIP is cheaper than landline, each VoIP provider offers unique pricing plans and features. It's important to be aware of VoIP costs so that you can choose the cloud-based phone system that offers your company the best value.
This article will outline everything you need to know about VoIP costs–including provider subscription fees, how VoIP services are priced, international calling charges, and hidden fees.
VoIP Providers Starting at
$10/mo
Jump to:
How Much Does a VoIP Phone System Cost?
A VoIP phone system typically costs between $20 and $40 monthly per user. The price will depend on several factors: 
Provider
Pricing plan and features
Number of users
Number and type of phone numbers
VoIP hardware
Calling destinations
Hidden fees
Most VoIP providers offer hosted-PBX phone service, making sign-up and installation free and instantaneous. VoIP phone systems can utilize softphone functionality that enables calling via Internet-connected devices–computers, mobile devices, and tablets. With the option for zero-cost setup and hardware, your VoIP (Voice over Internet Protocol) expense comes down to just a handful of factors: subscription fee, metered calling charges, and hidden fees.
The chart below outlines the monthly subscription fees for today's top VoIP service providers:
| | | | |
| --- | --- | --- | --- |
| Provider | Cost Per User, Charged Annually | Cost Per User, Charged Monthly | Pricing Plan Options |
| RingCentral | $20 to $35 monthly | $30 to $45 monthly | 3 UCaaS plans with VoIP, team chat, SMS, and video |
| Nextiva | $21.95 to $35.95 monthly | $29.95 to $43.95 monthly | 3 UCaaS plans with VoIP, team chat, SMS, and video |
| Dialpad | $15 to $25 monthly | $23 to $35 monthly | 3 UCaaS plans with VoIP, team chat, SMS, and video |
| OpenPhone | $13 to $20 monthly | $17 to $25 monthly | 3 phone system plans with VoIP, SMS, and team chat |
| 8×8 | $24 to $44 monthly | $24 to $44 monthly | 2 UCaaS plans with VoIP, team chat, SMS, and video |
| Vonage | $19.99 to $39.99 monthly | $19.99 to $39.99 monthly | 3 UCaaS plans with VoIP, team chat, SMS, and video |
| Zoom Phone | $15 to $20 monthly | $15 to $20 monthly | 3 phone system plans with VoIP, SMS, and chat |
| GoTo Connect | $24 to $29 monthly | $27 to $32 monthly | 2 UCaaS plans with VoIP, team chat, SMS, and video |
| Avaya | $20 to $35 monthly | $25 to $40 monthly | 3 UCaaS plans with VoIP, team chat, SMS, and video |
| Intermedia Unite | $27.99 to $32.99 monthly | $27.99 to $32.99 monthly | 2 UCaaS plans with VoIP, team chat, SMS, and video |
How VoIP Services Are Priced
A VoIP phone system's cost depends mostly on the provider and subscription that you choose–which includes features and communication channels. However, several other variables can influence the cost of your business phone system.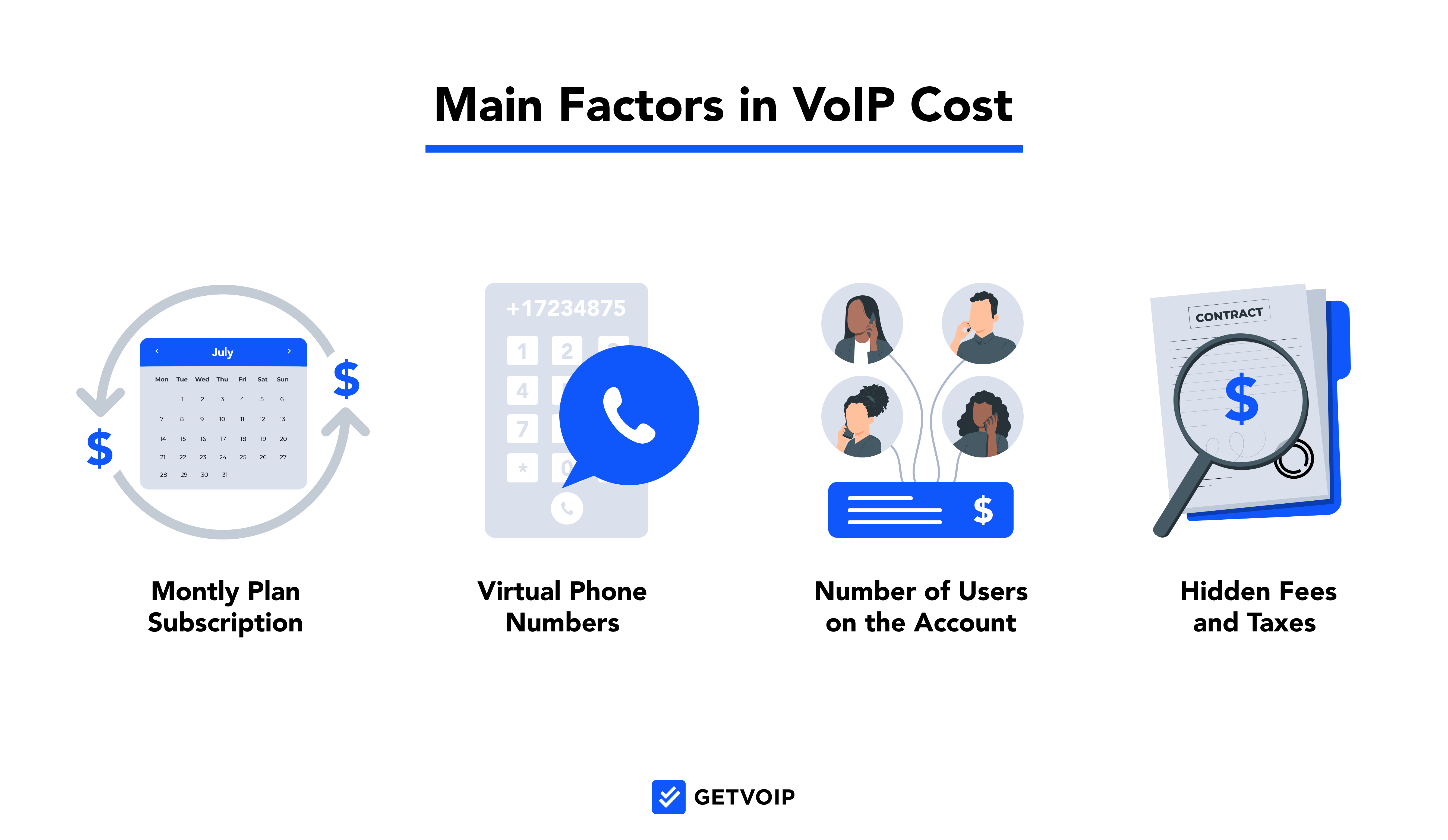 Calculate your monthly VoIP expenses by considering the following variables and factors:
Monthly VoIP Service Subscription
Your VoIP subscription is the monthly or annual cost you pay to your VoIP provider for cloud-hosted VoIP phone service. Depending on your provider, a VoIP service subscription averages from $15 to $35 monthly per user.
This cost covers your VoIP application–usually accessible through desktop, browser, and mobile app. The VoIP subscription includes your phone service, voicemail, routing features, multiple communication channels, and software maintenance.
Your monthly VoIP subscription's cost depends on three factors:
Service Provider: Each VoIP provider offers multiple pricing plans with unique features and costs. Some providers offer plans as cheap as $10 monthly per user, while some providers' plans can run over $40 monthly per user. Generally, the more expensive higher-tier subscriptions include more features. However, some low-priced VoIP plans offer exceptional value.
Number of Users: Each user sign-up adds an additional subscription fee to your total account charge. However, many VoIP providers offer volume discounts, which reduce the per-user subscription cost when your account surpasses a certain number of users. Providers usually offer volume discounts above 20 and 50 users.
Annual vs. Monthly Pricing: As illustrated in the table above, VoIP providers usually offer a cheaper monthly subscription cost if you commit to a whole year of service, paying once annually.
Advanced Features and Communication Channels
The monthly subscription covers your VoIP app, which includes dozens of phone system features and business communication channels. Most providers offer several pricing tiers, each tier bundling more features and channels.
Therefore, the more features and channels you want for your VoIP phone system, the higher your monthly subscription will be. Some VoIP solutions include basic phone system features like IVR, voicemail, and call controls. On the other hand, some VoIP software supports unified communications tools, with collaborative options like team chat, video-conferencing, intelligent routing, call queueing, and call center analytics.
For the following features, expect to purchase a higher-tier VoIP subscription:
Basic VoIP features: Desktop and mobile app, voicemail, call controls like transfer and call forwarding, call parking, conference calling, softphone functionality
Communication channels: VoIP, SMS text messaging, team chat, video conferencing with hundreds of participants
Routing and queueing: Interactive voice response (IVR), intelligent call routing, call queues, automatic call distribution (ACD), ring groups
Supervisor tools: Call logs, advanced analytics,  real-time reports, call monitoring
Add-Ons
While a medium or small business VoIP subscription generally costs between $15 to $35 dollars, providers also offer add-ons: optional packages, features, and phone numbers that you can purchase in addition to your regular VoIP plan.
Add-ons can range in price, from $5 monthly for a phone number up to $100 monthly for an advanced customer service or call-center software package.
Phone numbers ($5 to $15 monthly): Purchase additional virtual phone lines for users. Local phone numbers usually run around $5 monthly per user, while toll-free and international DID numbers can reach up to $15 monthly per user.
Calling features ($5 to $15 monthly per feature): Some providers offer standalone features as add-ons, such as call recording, auto attendants, shared multichannel inboxes, and more.
Software packages ($20 to $100 monthly per package): Some providers offer add-on advanced software packages–like analytics platforms, AI-support tools, or sales features like outbound auto dialers. Since the packages are advanced, some cost even more than the original phone-system subscription.
Phone Numbers
Each VoIP subscription includes a local or toll-free number, but you can purchase additional virtual phone numbers–including local, toll-free, vanity, and international numbers.
Here are the types of VoIP phone numbers, with associated costs:
Local or toll-free numbers ($5 monthly per number): A regular domestic business phone number, from an area of your choice, based within the US or Canada
International numbers ($5-$15 monthly per number): Business phone numbers based in area codes around the globe
Vanity numbers ($30 monthly per number): A toll-free number that spells out a word or phrase related to your company, such as 1-800-CONTACTS or 1-877-KARS-4-KIDS
International Calling
Most VoIP software subscriptions support unlimited calling within the US and Canada, which means that international calling costs extra. Typically, international calls cost between $0.03 to $0.07 per minute, depending on where you call.
Toll-Free and Metered Calling
While all domestic VoIP calls are free, your company must pay for your customers' call expenses for international toll-free incoming calls. This means that for long-distance phone calls to your toll-free number, you pay for your and your customer's international carrier fees, doubling the $0.03-$0.07 rates mentioned above.
Further, some VoIP plans–such as Zoom Phone's Pas-As-You-Go plan–include metered per-minute calling, which can cost $0.01 to $0.03 per minute, even for domestic calls.
VoIP Hardware
All VoIP applications on our list support softphone functionality–enabling users to make calls from any laptop or mobile phone with an Internet connection. However, you may choose to purchase VoIP hardware, such as VoIP desk phones, conference phones, handsets, or headsets.
VoIP phones can cost anywhere from $20 to $150, depending on the model you select.
Number Porting
Phone number porting is when you transfer a pre-existing number from your current telephony provider to your new VoIP provider. You can port any number into your VoIP phone system–even landline and mobile numbers. The process requires you to fill out a form with your previous carrier.
Though it takes a few weeks, number porting is usually free.
Setup and Installation
If your company uses VoIP softphone functionality, there is no setup or installation fee: Simply pay for the subscriptions, assign DID numbers to users, and they can begin calling.
However, if you want to set up an in-person call center or use SIP trunking, setup and installation can cost up to a few hundred dollars.
In-person hardware call center: Setting up an on-premises call center with VoIP hardware costs the sum of all VoIp hardware you purchased. Installation is easy–simply plug the phones into your users' computers.
SIP Trunking: SIP Trunking is when you convert your analog PBX phone system into a virtual PBX system that can make VoIP calls. This requires purchasing not only VoIP phones but a session border controller, which can cost around $1000–even before the monthly VoIP fee. SIP Trunking can often be pricier than the cloud-hosted applications in our list above.
In addition to your VoIP subscription, the sneakiest VoIP service cost is hidden fees. Nearly every VoIP provider has hidden fees–which usually add up to $10 monthly per user, or $100 per account.
These are the three most common types of VoIP hidden fees:
State sales and service taxes
Electronic 911 (E911) charges
Regulatory recovery fees
Check out our "Hidden Fees" section below to learn more.
The Cost of International VoIP Calls
Most VoIP plans support unlimited calling within the US and Canada–but international calling is usually charged on a per-minute basis. Dialing the most popular international destinations usually costs $0.03 per minute, but some destinations can cost up to $0.70 per minute.
Here's a breakdown of international calling costs to the most popular destinations:
China: $0.03 per minute
United Kingdom (UK): $0.02 per minute
Australia: $0.03 per minute
India: $0.04 per minute
Each VoIP provider offers unique international calling rates, so be sure to check your provider's rates for your most commonly called destinations, before signing up. Some providers–like GoTo Connect and 8×8–offer cost-effective unlimited calling areas that cover dozens of countries.
Keep in mind that toll-free calls from international numbers require your company to pay for your customer's expenses too, doubling the typical international calling cost.
In addition to your monthly VoIP subscription, VoIP providers charge several hidden fees, which can quickly add up in cost–sometimes over $100 on your account bill. These VoIP hidden fees cover everything from FCC regulations, to 911 surcharges, to taxes–and therefore vary among states.
When budgeting a VoIP phone system, consider the following hidden fees:
State-specific sales taxes ($5-$10 monthly per user): VoIP services like business phone systems and SIP Trunking are subject to state taxes and fees, such as the Telecommunications Sales Tax. These taxes vary by state and often total between $5 and $10 monthly per user.
911 fees ($5 to $10 monthly per account): The emergency 911 (E911) fee allows VoIP providers to charge for their 911 and directory services. This fee usually costs between $5 and $10 per account.
Regulatory recovery fee ($10 to $30 per account): This fee covers the VoIP provider's government expenses, such as contributing to the FCC and other charges.
Depending on the number of users on your account, these hidden fees can quickly add a significant amount to your VoIp. Expect to pay an additional $75 to $150 monthly in hidden fees and taxes, on top of your regular VoIP subscription.
FAQs
VoIP typically costs from $20 to $40 monthly per user–including the VoIP subscription and hidden fees.

No. While most providers offer a free trial from 7-14 days, you generally have to pay for business VoIP services.
Yes. Nearly all VoIP providers offer virtual phone numbers–including local, vanity, toll-free, and international business numbers.
Yes. VoIP services can send and receive SMS texts.