Aircall is a user-friendly cloud call center software offering toll-free, local, and international numbers combined with robust call management and productivity features.
Aircall can improve customer service, help agents spend more time talking to valuable leads, and give supervisors the insight they need to streamline business processes.
Read on to learn more about Aircall pricing and plans, features, benefits, and more.
Jump to ↓
What is Aircall?
Aircall is a business VoIP phone system that unifies call center tools, team collaboration, analytics, and virtual productivity features. Available on desktop and mobile, the Aircall app includes a variety of advanced phone-system features: SMS texting, IVR, intelligent routing, call queueing, power dialer, a shared call inbox, and real-time analytics.
Aircall is designed to integrate with third-party business applications like Salesforce and Slack, combining your team's favorite tools into one easy-to-navigate dashboard.
Its mixture of inbound and outbound features makes Aircall a great fit for both sales and customer support teams. However, because Aircall does not include video conferencing or team chat messaging, it's best for small-to-medium-sized businesses that primarily communicate via voice calling and occasional, one-on-one SMS texting.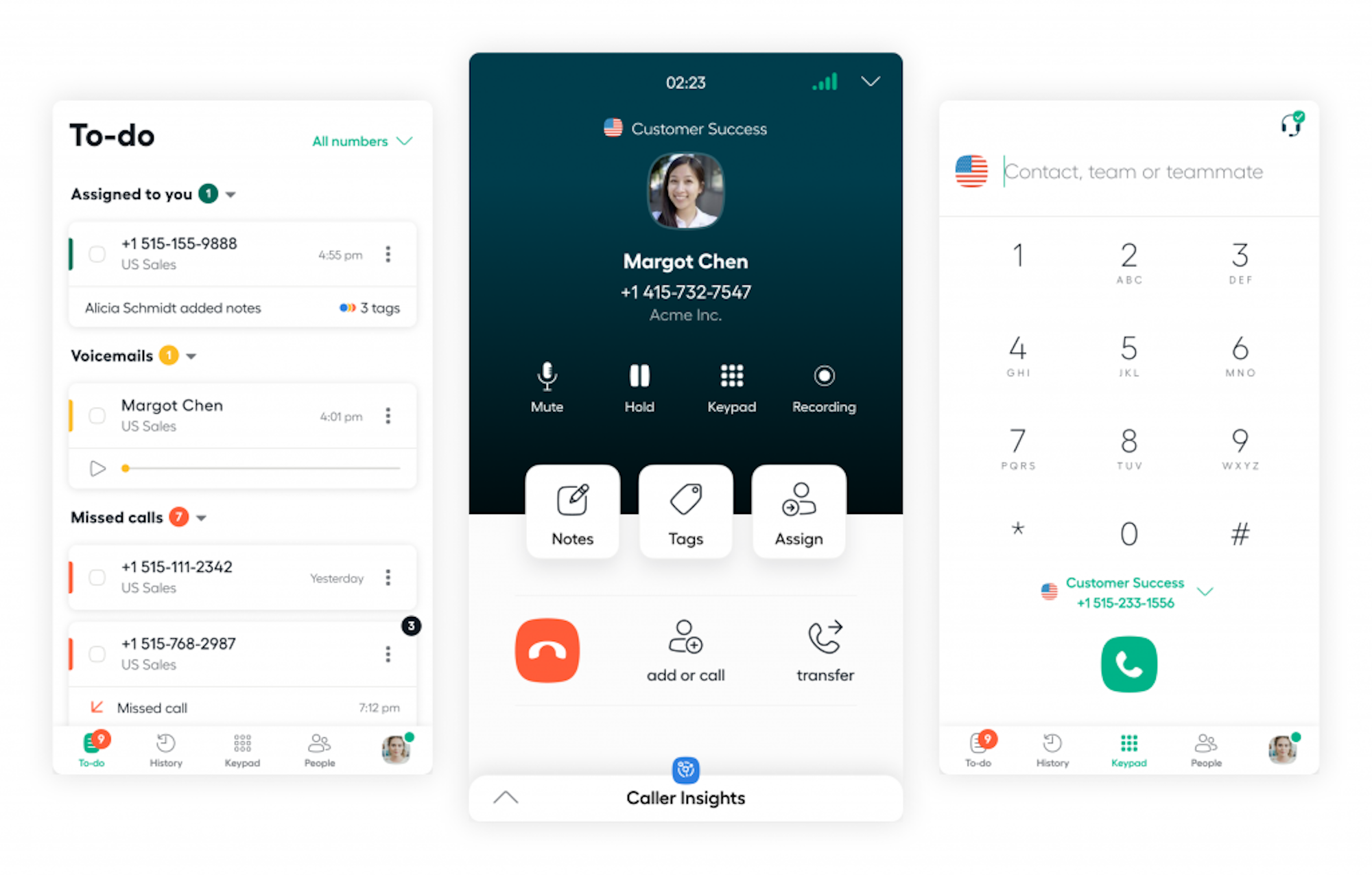 Aircall Pricing and Plans Overview
Aircall offers three phone-system pricing plans, ranging from $30 to over $50 monthly per user:
Essentials ($30 monthly per user)
Professional ($50 monthly per user)
Custom (On-demand pricing)
Essentials Plan
At $30 monthly per user, Aircall's Essentials Plan supports unlimited inbound and internal calling, and unlimited calls and SMS texts within the US and Canada. Each plan includes a local or toll-free phone number, with options based in area codes around the globe. The Essentials plan is best for smaller businesses, as it only supports 3 teams or designated departments.
The plan includes both basic and advanced phone system features, analytics, and productivity tools:
Phone-system features: Softphone calling on desktop or mobile, international business phone numbers, call queues, multi-level IVR with a drag-and-drop designer, and custom business numbers
Collaboration: Ring groups with flexible call distribution rules, shared call inbox, the ability to assign tasks and comment on calls, shared contacts
Analytics: Basic analytics including historical metrics and KPIs, which you can filter by date and user. KPIs include call and message volume, inbound vs outbound calls, and call type.
Productivity: Voicemail-to-email forwarding, click-to-dial within the Aircall app, desktop notifications for new activity, and warm call transfers
Integrations: Over 100 integrated apps and tools–including API and webhook support, Zendesk, HubSpot, Slack, Intercom, and more
This plan makes a great fit for small teams seeking to build an intricate phone system, without the need for team messaging, video conferencing, or advanced analytics. The call-assignment and shared inbox features promote team collaboration, even without the ability to send direct 1:1 messages.
Professional Plan
At $50 monthly per user, Aircall's Professional plan builds upon the Essentials plan by adding advanced analytics, call monitoring, a power dialer, and Salesforce integrations. With support for unlimited teams, the Professional plan transforms your small-business phone system into an inbound and outbound call center for teams of any size.
The Professional includes everything in Essentials, with the following additions:
Power Dialer: The Power Dialer automatically dials contact and campaign lists, such as your leads from Salesforce. The tool automatically identifies phone numbers from prospect websites and provides agents with live screen pops containing contact details.
Queue callback: Agents can call queued customers with one click, so that customers don't have to wait on the line when agents are busy
Call monitoring: Supervisors can view live stats from the admin dashboard, observing KPIs and joining calls directly. Supervisors can listen quietly or whisper private guidance to agents.
Analytics: Advanced metrics and a live-activity feed, where supervisors can monitor agent performance, queue activity, and KPIs in real time
The Professional plan is ideal for a growing call center or sales team–and Essential users will likely find themselves scaling up to this tier soon.
Custom Plan
The Custom Plan isn't much of a step-up from the Professional Plan, but does offer a higher level of customization and personalized attention. Its main upgrades include priority customer support, API developer support, unlimited outbound international calls, and custom analytics.
As pricing is quote-based, assessing the plan's value is a challenge. However, given that Aircall doesn't offer native additional communication channels, nor other advanced contact center features like AI-based automation, enterprise-level companies will likely opt for a UCaaS or contact center software instead.
Aircall Key Features
Aircall call center software offers a mix of call management, team collaboration, productivity, and call monitoring features alike.
While it includes basic functionalities like call recording, voicemail, conference calling, and unlimited simultaneous calls, Aircall separates itself from competitors with the following features:
Phone Numbers
Aircall offers local, toll-free, and international business phone numbers in over 100 countries. IVR-only phone numbers are also available. Each pricing plan includes a local or toll-free number, and you can add new numbers for $6 monthly or delete outdated ones.
Number porting makes it easy to keep existing telephone numbers, and vanity toll-free numbers ensure customers always remember how to reach you. All plans enjoy access to unlimited calling within the US and Canada, plus unlimited inbound calls from anywhere–except for those to a toll-free number.
Call Routing and Call Forwarding 
Aircall offers multiple types of intelligent call routing–including list-based, time-based, status-based, relationship-based, and customizable call routing strategies–to optimize call management and decrease customer hold times.
This ensures inbound calls reach available agents, or predetermined ring groups with simultaneous ring. Set up automatic call forwarding to additional agent numbers or voicemail boxes, with a customizable number of rings before calls get forwarded.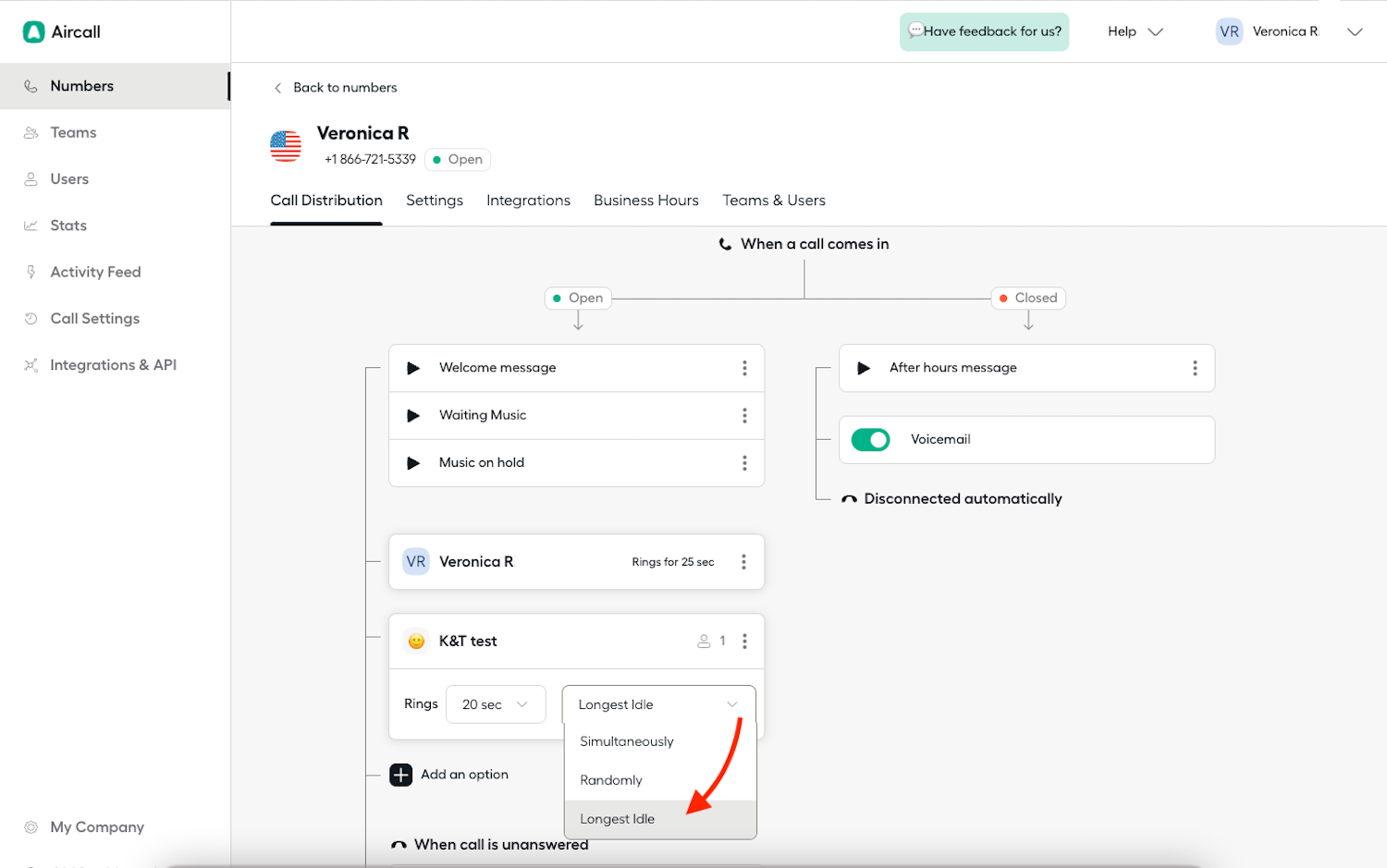 Interactive Voice Response (IVR)
IVR provides customer self-service, keeps queues manageable, and frees up agents by providing an interactive call menu with pre-recorded prompts customers guide themselves through.
Customize your IVR call flow and call distribution rules with a drag-and-drop designer, which connects messages, users, and routing functionality. Record menu options or use type-to-text, and link phone numbers to each menu option in a custom order. Preset call routing paths based on business hours, setting how long the phone should ring before moving on to the next user.
Create up to 10 submenus, connecting each one to queues, ring groups, and users.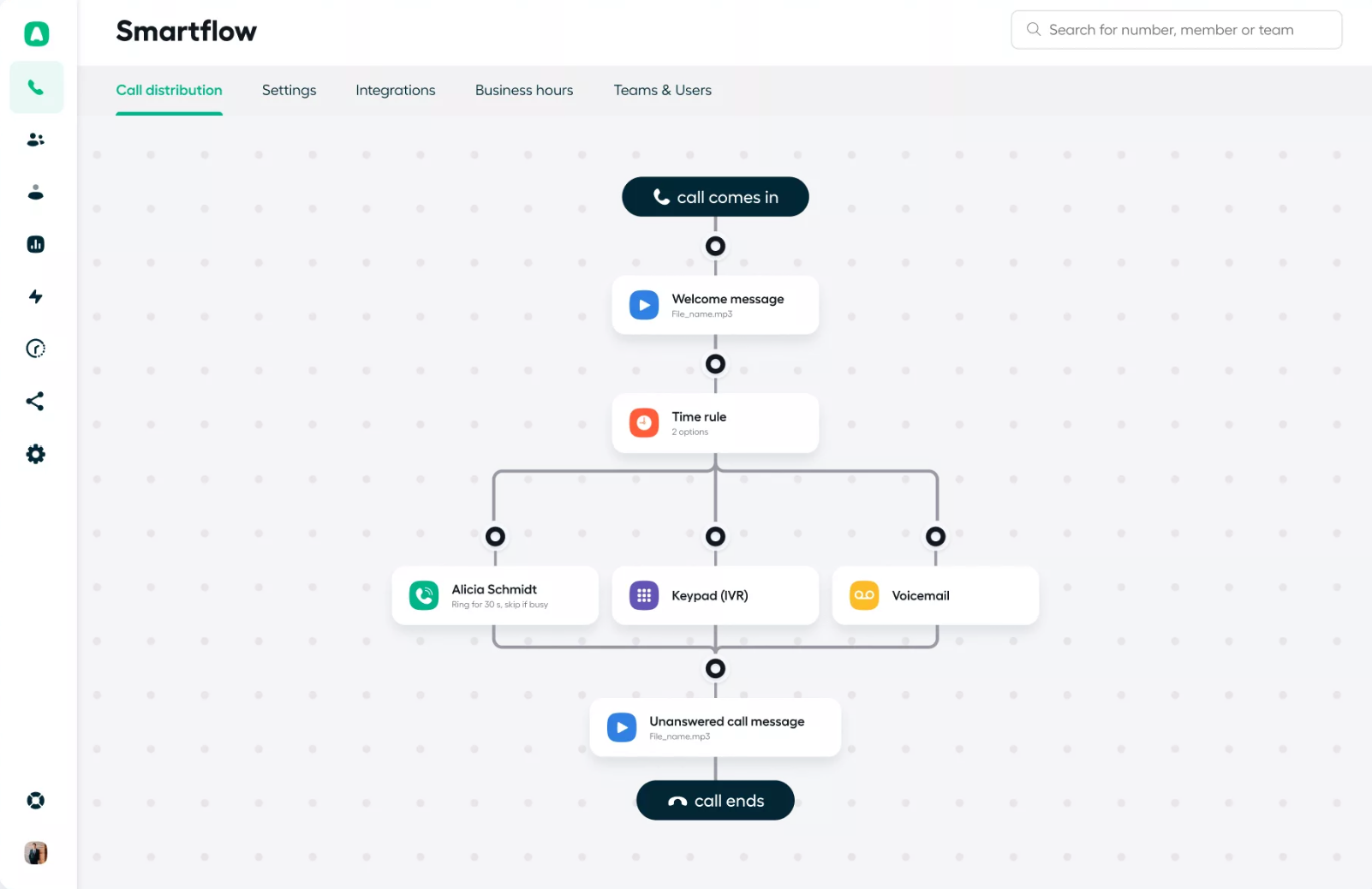 Call Queuing and Automated Callbacks
Call queuing places customers on hold when no one is available, keeping them informed with customized messages or hold music. Easily add agents to queues, and customize how long customers wait in a queue before getting sent to voicemail.
Automatic queue callbacks give customers the option to hang up and keep their place in line, allowing agents to call them back with one click. Agents can view their queues and callback lists directly from the app dashboard, including each customer's wait time. Supervisors can monitor queue activity live.
Agent Collaboration Tools 
Aircall's collaboration tools help teammates work together to keep call queues moving without sacrificing customer satisfaction levels.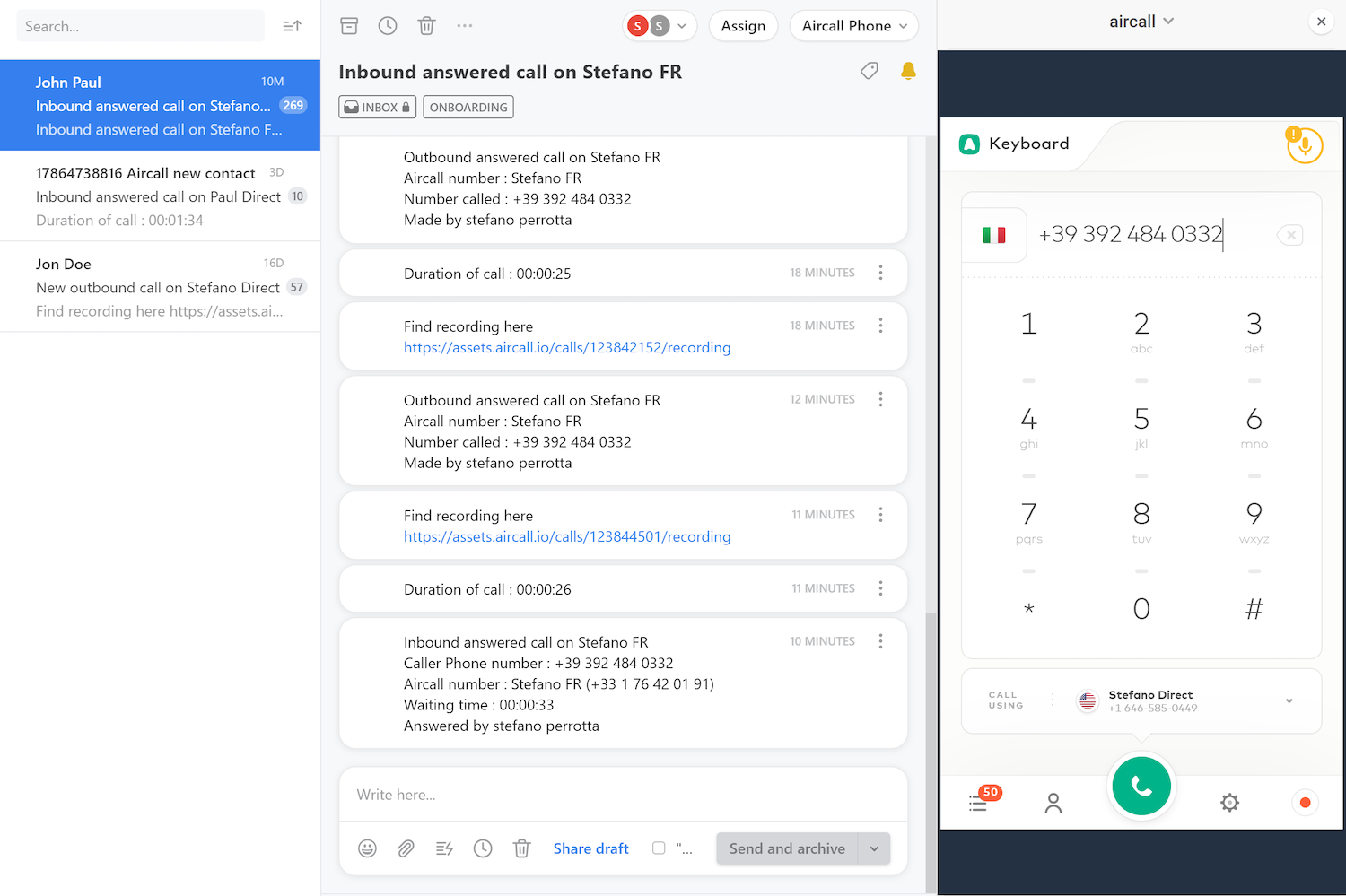 Standout Collaboration Tools:
Call tagging: Agents can add customizable and color-coded tags to their notes/call logs for easier filtering and better organization. Call tags are even synced across all your apps.
Shared contacts: Shared contact lists enables agents to leave notes and update contact info for all customers, keeping everyone on the same page. Import contact details from CRM platforms.
Shared inbox: Share inboxes, where each included user can view call logs, agent notes and tags, access call recordings and voicemail messages, and get notifications about missed calls or needed callbacks
Call assignment and commenting: Agents can add comments to call histories within the shared inbox, assign calls to one another, and use the warm transfer feature to give other agents all the information they need before connecting with a client
Power Dialer 
Aircall's Power Dialer streamlines the outbound calling process by automatically dialing the next phone number on an imported lead list, instantly after an agent finishes a call.
Admins can create and assign power dialer contact lists of up to 1,000 numbers at a time and reorder numbers with the drag-and-drop interface. The outbound autodialer optimizes lead list penetration by eliminating manual dialing and scrubbing duplicate/disconnected numbers.
The power dialer syncs with your CRM system, importing lead lists and automatically updating lead profiles in your CRM system with full context from outbound Aircall interactions.
SMS Business Texting
Aircall offers 1:1, two-way business text messaging in the US, UK, Australia, and France–with third-party integrations for bulk texting. US and Canadian numbers can send up to 4,000 monthly texts for free.
As with business calls, SMS texts with Aircall operate via a Shared Inbox. Users can text on desktop computers or iOS/Android mobile apps, adding to Aircall's ease of use.
Additional SMS Features:
Real-time badge and push notifications
Text message history
Read receipts
Contact lists (add contacts, message contacts, etc.)
After-Call Work
After-call work gives agents built-in wrap-up time between calls to take notes, tag and add call filters, assign calls, add comments, or take time to prepare for the next call.
Agent status automatically updates to show they're engaged in after-call work, and agents can't receive inbound calls until they've marked themselves ready.
Real-Time Modifications 
Adapt to sudden increased call volumes, busy agents, or schedule snafus with real-time modifications.
Assign agents to calls based on their current status, adjust routing strategies or maximum wait times, add agents to more queues, and use the live coaching feature to provide assistance to agents in real-time.
Top Aircall Benefits
In addition to the above features, Aircall offers the following benefits:
Improved sales and customer service
Fast and simple setup process
High-level security and network reliability
Robust app marketplace
Detailed insights from analytics
Improved Sales and Customer Service
Aircall's software features both inbound and outbound tools–a rare combination for a phone system, especially one that costs under $100 monthly per user. This mix of features supports both sales and customer-support use cases, providing some call center functionality with cheaper prices than nearly call-center alternatives.
Customer support: Tools like IVR, call queues, and intelligent routing help customers reach the right agent on their first try, serving customers quickly and improving customer satisfaction
Sales: The Power Dialer and Salesforce integrations automate outbound sales and lead-conversion efforts, increasing agent efficiency
Fast And Simple Setup Process
Aircall's app is not only easy to use, but easy to set up and maintain–with a variety of resources to guide onboarding and ongoing administration.
No hardware required: As a cloud phone system with softphone capabilities, Aircall eliminates the need for expensive hardware and time-consuming installations
Knowledge base: Aircall's online knowledge base and help center is one of the best we've seen–from initial installation and setup to ongoing customer service and support
Onboarding portal: The Customer Resources Center navigates new users through a straightforward, step-by-step onboarding portal outlining number porting, team creation, integration installation, and more
Customized dashboard setup: Aircall simplifies things even further with its dashboard setup survey–fill it out, return it, and receive a customized dashboard setup worksheet to get up and running ASAP
Professional services packages: For those who need further support, Aircall provides technical consulting, CRM and helpdesk automation, or a full technical support package for integration setup, call flow optimization and hands-on staff training
High-Level Security And Network Reliability
Thanks to its 7 global data centers, 99.99% uptime, partnerships with top-tier local and international voice carriers, and use of the Opus codec, Aircall provides consistent HD call quality.
Real-time network monitoring, live push notifications, and even in-call descriptions of issues like latency and jitter–with links to solutions–provide a high level of reliability. Post-call ratings let Aircall users rate the quality of every inbound and outbound call.
AirCall's security standards include:
End-to-end encryption
SOC 2, FedRAMP, HIPAA, GDPR, and PCI compliance
Third-party penetration testing
Frequent data backups
Robust App Marketplace
Aircall's App Marketplace contains over 100 third-party, one-click integrations, including the following:
Salesforce (Service Cloud and Sales Cloud)
Zendesk
Freshdesk
HubSpot
Pipedrive
Slack
Zoho
Shopify
REST API and webhooks allow for further customization–made even easier with Aircall's detailed API references, tutorials, and developer support.
Detailed Insights From Analytics
Aircall's call monitoring and analytics features inform data-driven business decisions and help supervisors manage call center performance.
The real-time analytics offer invaluable insight into customer journeys, agent productivity, and overall contact center activity. Interactive graphs, charts, and tags make the massive amount of data digestible.
Aircall's live Activity Feed shows:
Real-time agent status and availability/how long an agent has maintained their current status
Service Level
Number of current calls
List of all active inbound/outbound calls with one-click call coaching and live call monitoring
Number of calls waiting/longest call wait time/average waiting time in the last hour
Number of missed calls in the last 30 minutes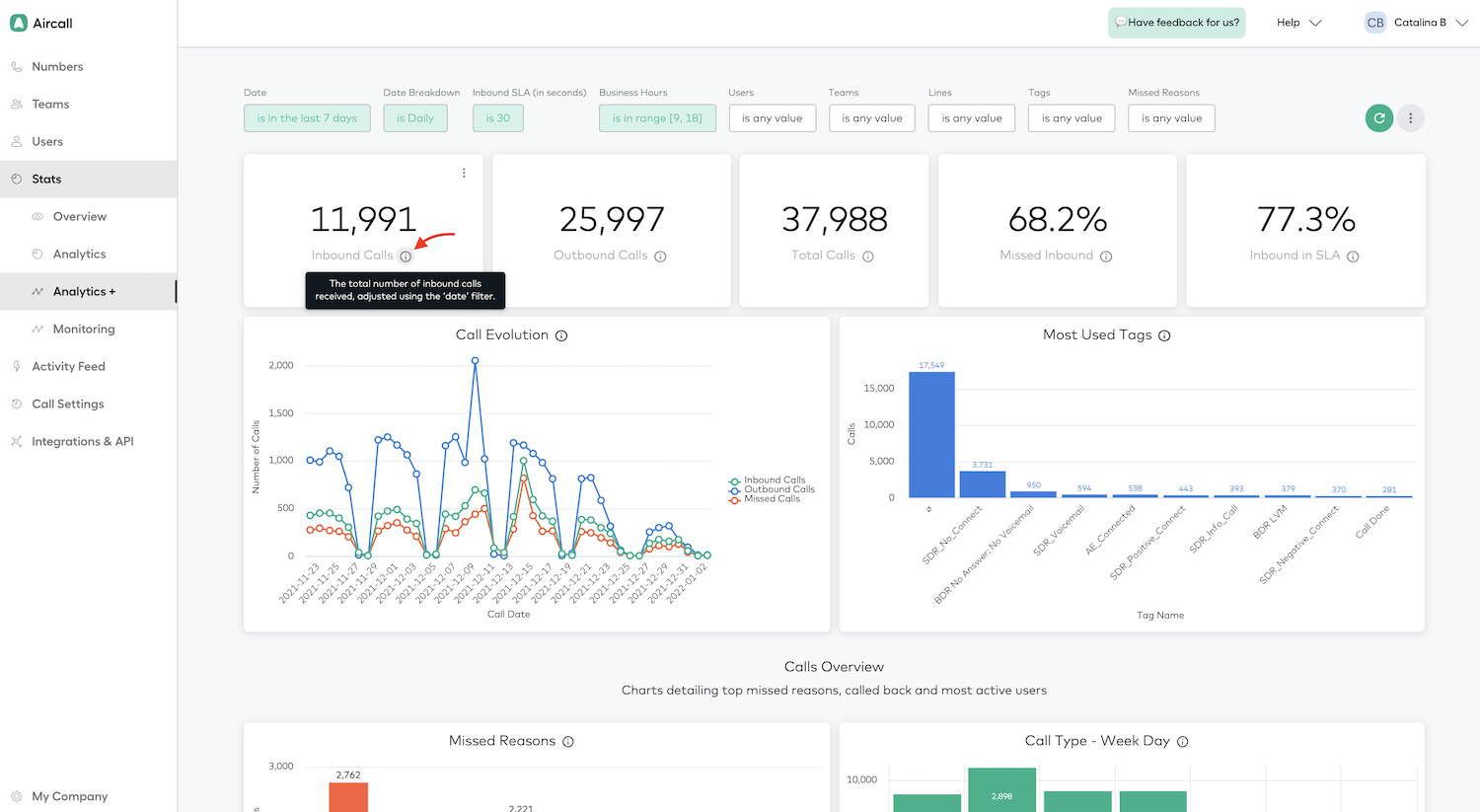 Aircall's historical dashboards–when combined with the advanced Analytics+ add-on–can be filtered by agent, date range, timezone, department, phone number, or specific call tags.
Historical call center metrics and KPIs include the following:
Number of total calls, number of inbound and outbound calls, number of missed calls
Top reasons for missed calls (call outside of business hours, no pickup, IVR abandoned, etc.) and callback data
Call trends, call type, and call evolution over date range
Most popular call tags
Agent rankings for missed calls, answered calls, talk time, outbound calls, etc.)
Average call duration, call wait time, call handling time
Agent status/availability monitoring
Average response time
Best Aircall Alternatives
Below, we've outlined the top 10 Aircall alternatives.
Provider
Pricing
Key Features
Integrations
Five9
4 plans from $149-$229 monthly per user
–Drag-and-drop call scripts

–Power, Preview, Progressive, Predictive dialing modes

–Workforce management tools

Zendesk, ServiceNow, Oracle, Salesforce, Freshdesk
Nice CXone
Quote-based
– Workforce Engagement analytics

– MAX customer data/info tool

– Feedback Management surveys

Salesforce, Oracle, SugarCRM, Zendesk, Zoom
Talkdesk
4 plans from $75-$125 monthly per user
– AI Agent Assist

– Call transcription commenting

– Sentiment analysis

Zendesk, Slack, Microsoft Teams, Shopify, Help Scout
Dialpad
3 plans from $15-$25+ monthly per user
– AI-based Voice Intelligence

– Dialpad Departments

– Automated post-call notes

Google Workspace, HubSpot, Salesforce, Slack, Zapier
Genesys
5 plans from $75-$155 monthly per user
– NLU-based conversational AI bots

– Advanced routing strategies

– Intent Miner

Salesforce, Zoom Phone, Zoho, Brightmetrics
Twilio Flex
$1 per active user hour, or $150 monthly per user
– Customizable communication APIs

– Automated callback queues

– Speech recognition bot

Monday.com, Zapier, Airtable, Salesforce, Slack, Twilio Studio
RingCentral
3 plans from $25-35 monthly per user
– Real-time analytics

– Unified team chat, phone calls, video conferencing

– 24/7 phone/chat customer support

HubSpot, Salesforce, Microsoft365, Google Workspace, Zoho CRM
Nextiva
3 plans from $18.95-$32.95 monthly per user
– Native CRM

– Call Pops

– Nextiva CoSpace

Google Workspace, HubSpot, Microsoft Teams, Zendesk, Salesforce
8×8
3 plans from $15.00-$44.00/user/month
– Unlimited international calling in 48 countries

– Post-call survey tool

– Customizable ring patterns

Microsoft Teams, Salesforce, Google Workspace, Pipedrive, Zendesk, Zoho
Freshdesk
1 free plan, 3 paid plans from $15.00-$75.00/user/month
– Intelligent support ticket assignment

– Field Service Management

– Team Inbox

WhatsApp, Slack, Shopify, Salesforce, Mailchimp, Microsoft Teams
FAQs
Aircall is used for call center optimization and management, providing a cloud-based business phone system for remote, blended, and in-house teams. It has over 100 third-party integrations, outbound power dialer capabilities, advanced call analytics, and customizable call flow paths with call routing and IVR (among other features.)

Aircall offers international phone numbers in over 100 countries, giving businesses a global presence. However, texting with Aircall is only available in the US, UK, Australia, and France.

The Aircall free trial is 7 days long. 
Aircall offers 1:1, two-way business texting in the US, UK, France, and Australia. Users can send up to 4,000 texts/month for free, but cannot send images or URLs. Bulk texting is available with third-party integrations only.