Dialpad is a leading UCaaS and CCaaS provider known for its innovation and integration of voice intelligence, AI, and machine learning into its business communication products.
Dialpad offers a variety of communication solutions, from an enterprise business phone system to a free video conferencing service.
We've outlined Dialpad products and pricing plans, standout features, and differentiating factors to help you find the right for your team's needs, size, and budget.
Quick links:
Business Communications Pricing
Dialpad's Business Communications suite is an all-in-one UCaaS solution providing voice, video and messaging functionality on one seamless platform.
Dialpad pricing is set up in a traditional three-tiered structure. The lowest tier includes almost all of the same features as the higher tiers. The mid-tier adds on international calling capabilities, while the highest tier offers a superior level of reliability and security including a 100% uptime guarantee.
Standard
Pro
Enterprise
Monthly Cost (Per User)
$15
$25
Quote based
Key Features

Unlimited calling
Multi-level auto attendant
Unlimited video meetings
Team Chat
SMS/MMS
Toll free numbers in the U.S. and Canada

Open APIs and webhooks
Integrations with Salesforce, Slack Microsoft, Zendesk, Zapier, etc.
International SMS
Local number support in 70+ countries
Hold queues

100% uptime guarantee
Unlimited office locations
Dial-by-extension
Unlimited ring groups
Integrations with leading SSO providers (Okta, Azure, etc.)
Extensions

Support

24/5 live support (web-based and chat-based only)
Self-service via community forum, knowledge base, FAQs, etc.

24/7 live support including phone support

24/7 live support including phone
Priority routing
Dedicated account and service manager
Standard Plan Overview
Dialpad's Standard plan is an affordable option for remote SMBs, and includes nearly all the same features as the Pro and Enterprise plans.
However, the Standard plan lacks the international communication features, support options, and increased security measures included with higher priced tiers.
Video conferencing, team collaboration, real-time call transcription, and AI-powered post-call summaries make the Standard plan suitable for small call centers.
Team Chat
Dialpad's team chat platform enables users to send messages and share files with internal team members and external clients/stakeholders.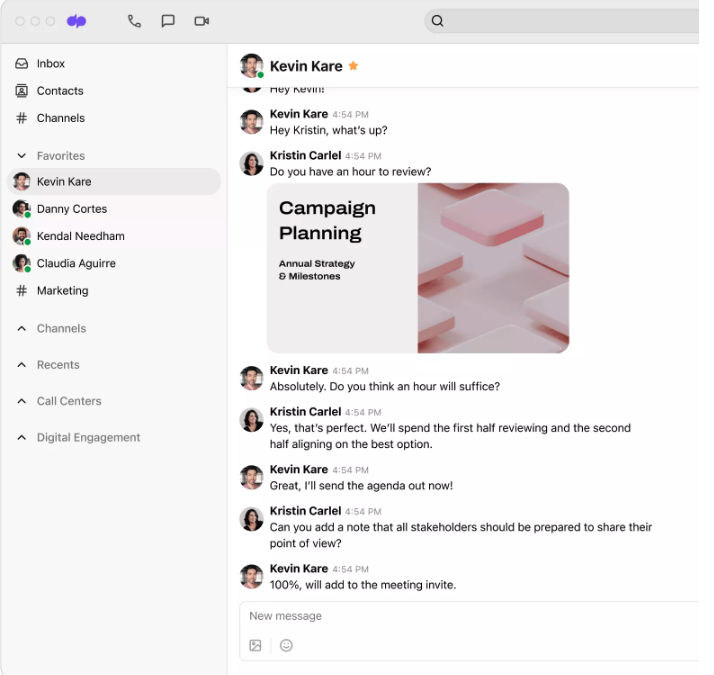 Dialpad's team chat platform is included with every business communications plan and includes:
Dedicated channels for any project/topic
1:1 and team channels
Search by keyword
Drag and drop file sharing
Connect to Google Drive
Smart messaging notifications
Start a phone or video call from any chat
Built-in persistent audio rooms
Status updates
Company directory
Video Conferencing
HD video conferencing is included with every Dialpad business communications plan.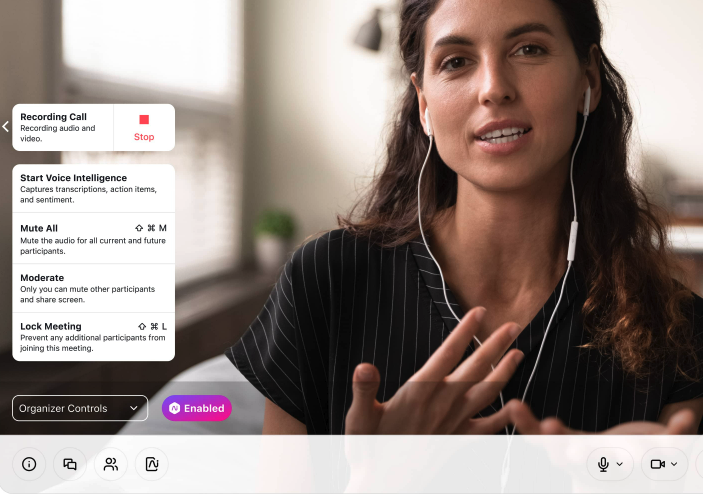 However, each plan–including Enterprise–allows for only 10 meeting participants and limits meeting length to five hours. The number of monthly meetings is unlimited.
If a higher participant limit is needed, users will need to add on the Business plan version of Dialpad AI Meetings solution ($15 per user/month). This allows up to 150 participants.
Dialpad video features include: 
Desktop and mobile screen sharing
Personal meeting ID
Unlimited audio recordings
In-meeting chat
Waiting room
Whiteboarding with Miro integration
Virtual backgrounds
HIPAA/BAA compliance
Emoji reactions
Host controls
Background noise reduction
Multiple video layouts (Spotlight, Grid, Screen share, Dynamic, Filmstrip)
Meeting lock
End of meeting reminder
Visual Voicemail
Dialpad's visual voicemail feature enables users to see and read voicemail transcriptions instead of having to listen to the audio. Voicemails are transcribed using Natural Language Processing (NLP).
Transcriptions and audio recordings can be searched, emailed to individual users, and stored in the Dialpad cloud until deleted. Voicemails can be transcribed in any supported language.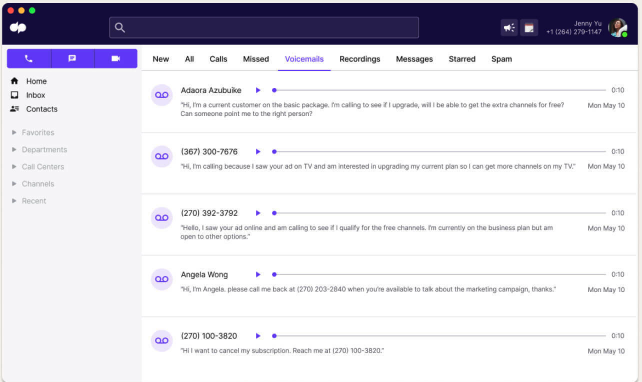 Real-Time Analytics
Dialpad's real time analytics feature lets users monitor and chart call data using multi-target filters. All data is organized into tabs such as "calls" and "text messages". Each tab includes a graph that displays usage over time.
Admins can filter data by user, call content, date range, and more. A Heatmaps tab provides a visualization of when call volume is heaviest. Admins can also set up alerts based on service level, wait time, etc.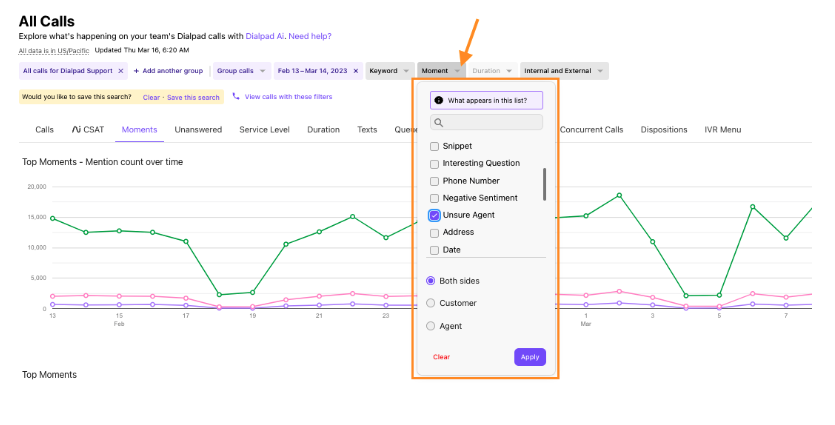 Pro Plan Overview
Dialpad's Pro plan is similar to the Standard plan, but includes:
The option to add on local or international numbers (70+ countries)
International SMS
Advanced integrations+APIs
Increased customer support
While the Pro plan is still affordable, it is significantly more expensive than the Standard plan. Its features are really only for global teams or businesses that need their CCaaS tool to integrate with existing systems like Salesforce or Asana.
International Services
Dialpad's Pro plan enables users to place international calls or send international messages billed on a per minute basis by country.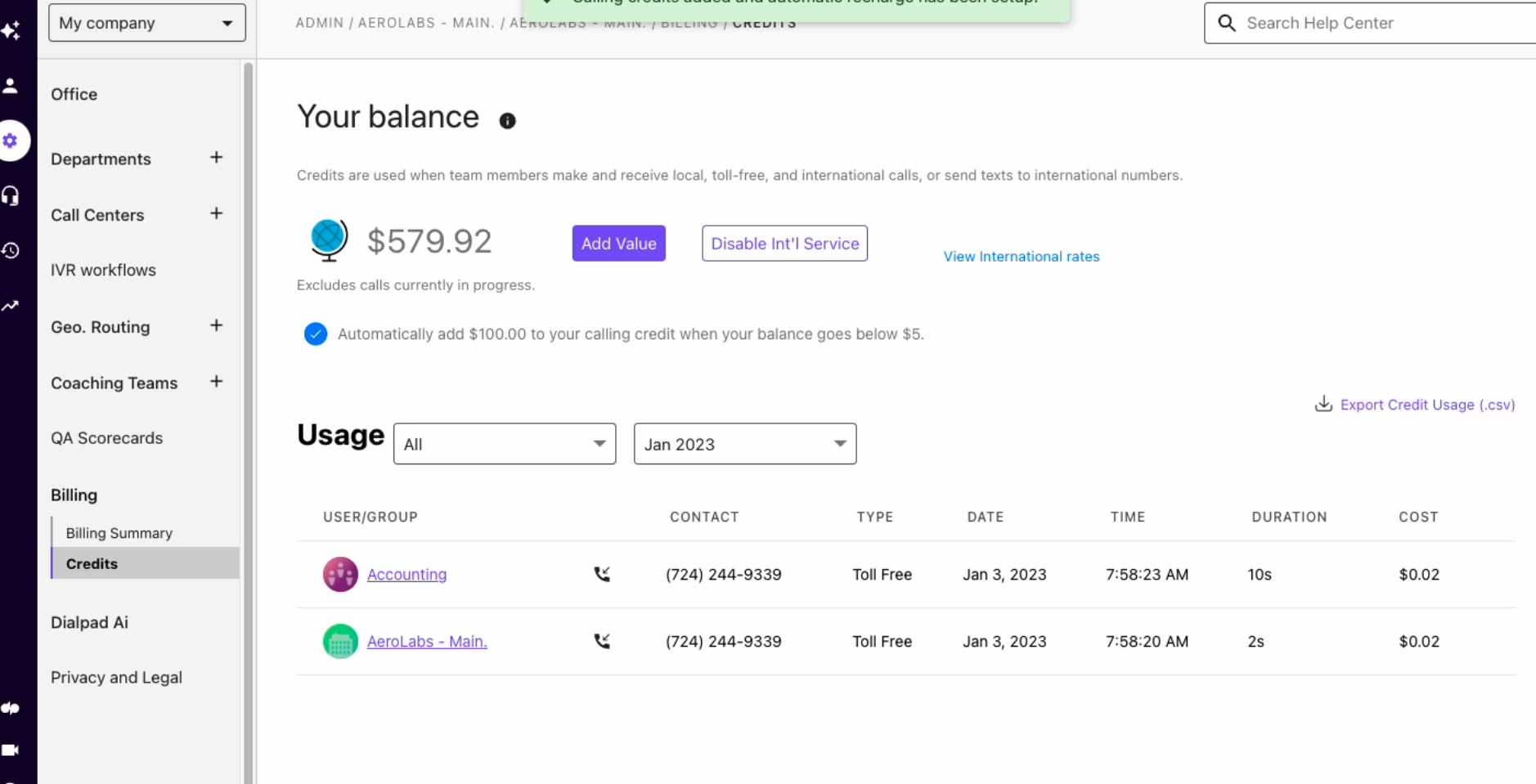 Once international services are enabled, admins must add credits to the account to cover costs. Companies can also limit which team members have international services access.
Admins are able to see which lines are using call credits and can receive monthly reports which breakdown the following metrics:
Number of toll-free calls
Number of international calls
Number of international messages
Date/Time of calls
Team member/Department that placed or received the call
Phone number that was used
Call duration
Cost
Dialpad APIs
Dialpad APIs allow developers to create custom applications and customer experiences. Dialpad APIs can also be used to create automated business communications and workflows. Developers create their application in a sandbox and test it using OAuth. Once tested, it can be published to the Dialpad marketplace.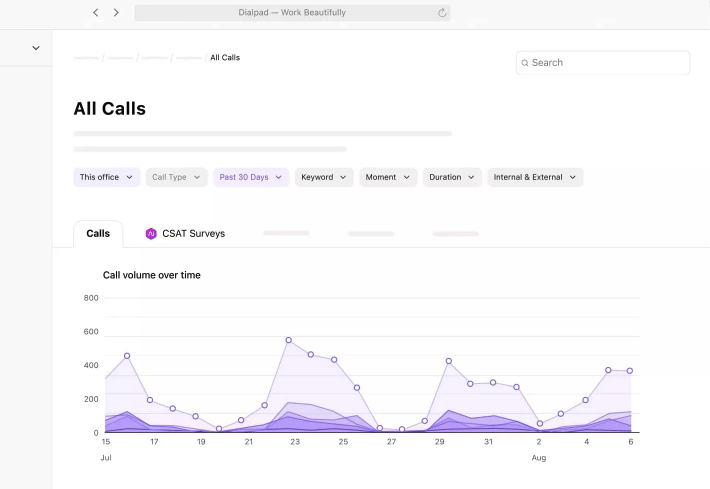 Dialpad APIs include:
Voice: Users will be enabled to make outbound calls with the Dialpad dialer, receive inbound calls, get call statuses, embed phone service, etc.
SMS: This function allows users to send SMS messages from the company's Dialpad number. Includes built-in team messaging.
Contact Center: This API can be used to enable users to set availability statuses, add and remove agents, or list agents.
Analytics: This API is used to generate call transcripts and reports.
Enterprise Plan Overview
Dialpad's Enterprise plan does not offer any different features than the Pro plan. It does, however, have a higher level of security with an SSO integration as well as increased reliability with a 100% uptime guarantee. 
Additionally, the Enterprise plan allows for unlimited office locations (the Pro Plan limits office locations to 10) and offers priority customer support including 24/7 phone support, a dedicated account manager and a dedicated service manager.
The Enterprise plan is the only Business Communications plan that has a seat minimum of 100 (Pro and Standard plans do not have minimums). The Enterprise plan is therefore best suited to large companies that need at least 100 seats.  
Ring Groups
The Enterprise Plan allows users to create an unlimited number of ring groups. The Pro plan and Standard plan have ring group limits of 25 and 3 respectively. When a ring group is created, incoming calls ring every individual in the group simultaneously.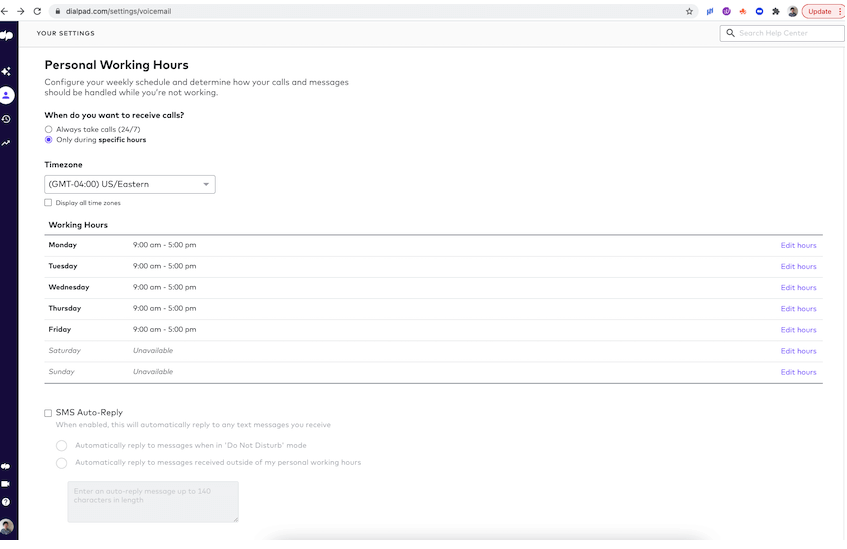 For each ring group or department, users can set business hours and define call routing rules such as longest idle, fixed order or skills-based.
AI Meetings Pricing
AI meetings is Dialpad's video conferencing platform. It can be purchased as a standalone product or combined with a Business Communications subscription for increased video functionality.
AI Meetings is useful for team collaboration as well as client meetings. Because the platform is HIPAA/BAA compliant, it can also be used by healthcare organizations to implement telehealth options.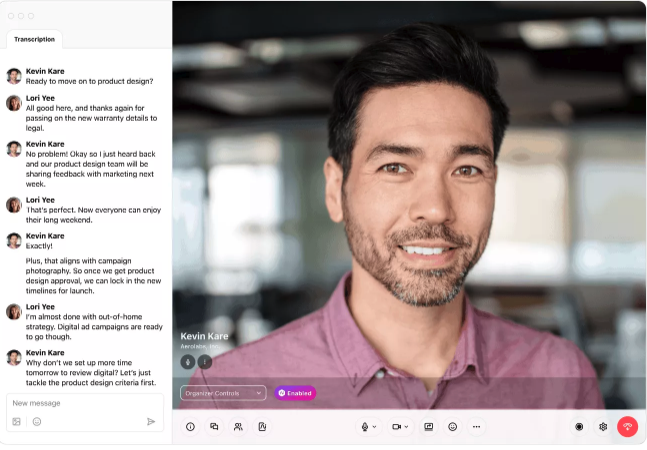 Dialpad's platform boasts a number of AI-powered features such as live transcription and automated summaries as well as advanced security features including encrypted data in-transit and at rest.  
Like other video conferencing platforms, AI Meetings has a limited, free version. Below is a breakdown of AI Meetings pricing:
Free
Business
Monthly Price Per User
$0
$15
Max Meeting Duration
45 minutes
5 hours
Participant Limit
10
150
Main Features

Screen sharing
Audio recording
Virtual backgrounds
Meeting lock
Waiting room
Mobile app for android and iOS

Co-hosts
Video recording
Live meeting transcripts and post meeting summaries
Custom hold music
Toll-free conference numbers
Free
The free version of AI Meetings has a strict limit on the number of participants as well as the meeting duration, however, it does offer a number of advanced features and a good level of security with features such as waiting room and meeting lock.
For small teams that only need video capabilities occasionally, the free version of AI Meetings is a solid option.
Free plan users have access to live customer support (via multilingual webchat) five days a week during business hours. The Free plan also includes over 10 pre-built integrations including Miro, Twitter, and Hubspot.
Screen Sharing
Dialpad's screen sharing feature enables users to share either their entire screen or a single tab. An alert appears in the top right corner whenever screen sharing is active. Users can also choose to share system audio to prevent muffled/distorted audio.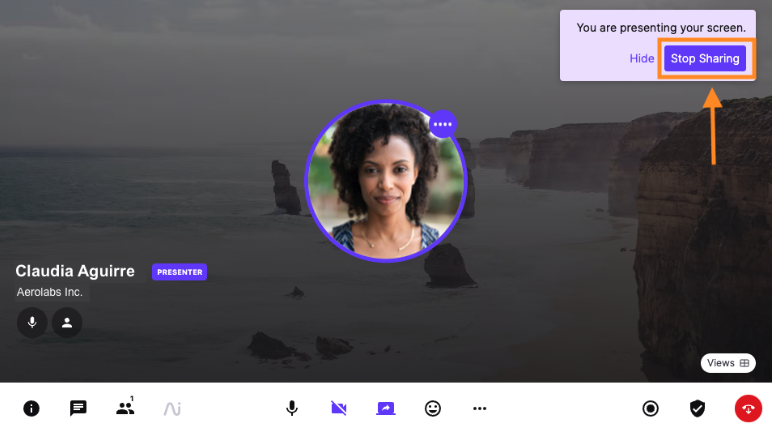 Multiple Video Layouts
Dialpad's AI Meetings solution lets users choose between four video layout options:
Dynamic: This layout is a split screen between up to four other video participants, ordered by the most recent person to speak.
Grid View: This layout displays contact cards for all participants on one screen.
Filmstrip: This view displays contact cards for all participants along with a screenshare on one screen.
Spotlight: This option focuses only on the person speaking or screen-sharing, allowing their video to fill the entire screen.
Users switch between layouts, by selecting the Views button during an active meeting or pressing the Spacebar key as a shortcut.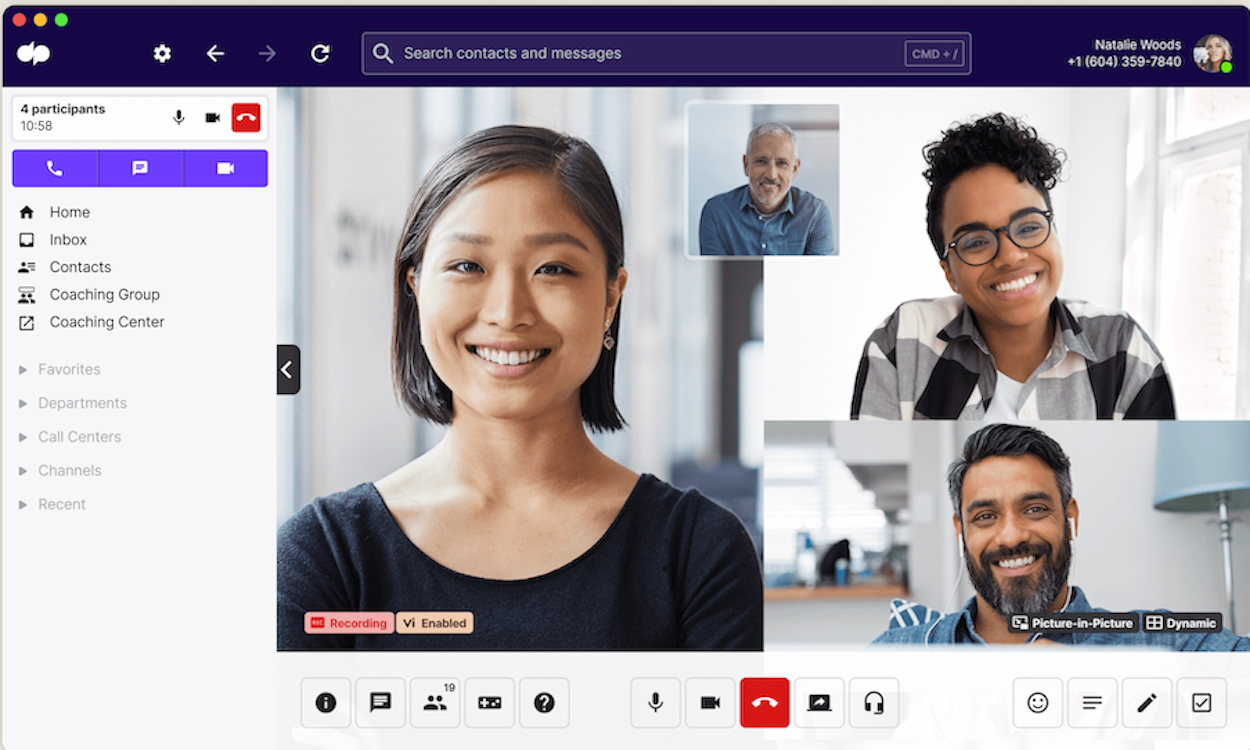 Host Controls
Host controls allow AI Meetings organizers to keep meetings running smoothly without distractions.
Organizers can access the below host controls during an active meeting: 
Enable/Disable Participants to share their screens
Enable/Disable Participants to Mute others
Mute all Participants
Lock the Meeting so others cannot join unannounced
Turn AI on or off
Business Plan Overview
The Business plan significantly increases the maximum number of meeting participants and meeting duration.
It offers 24/7 live customer phone support alongside high-level security features like user management, admin portal, and SSO.
The Business plan is necessary for any company that has frequent video meetings or needs the ability to host large meetings.
Built-in AI
The Business Plan adds in Dialpad's signature AI-powered features, including:
Automated post meeting summaries: A video meeting recap email (automatically sent to attendees) containing video and audio recordings, a searchable transcript, and action items
Live meeting transcriptions: Powered by NLP and machine learning, distinguishes between different speakers, includes timestamps
Post meeting transcriptions: A more polished version of the live meeting transcript that can be exported, stored, etc.
Custom action items: Automatically detects and highlights action items, users can also create/tag custom action items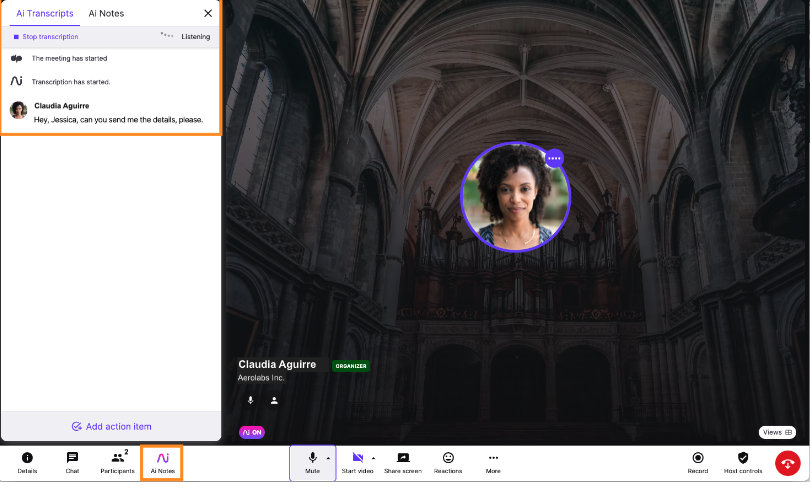 Meeting Dashboard and Analytics
Dialpad's Business plan includes reporting and analytics showing key metrics like total conferences, total minutes, total participants, and more. Users can select the time frame (past week, month or three months) but same day reports are not available. Admins can also access analytics for an entire team.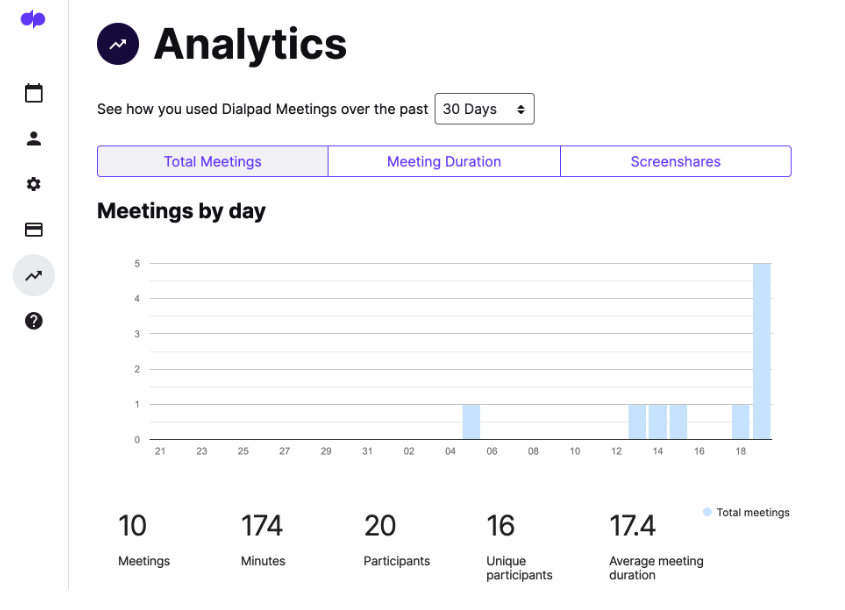 Available metrics include:
Total screenshares
Total number of participants
Total number of unique participants
Percentage of conferences that included screenshare
Percentage of conferences viewed online
Average conference duration
Average number of participants per conference
Most active day
In addition to Built-in AI and analytics, the Business plan does not require participants to use PINS and includes other advanced features such as:
Unlimited video recording
Meeting countdown timer
Unlimited call me/call out
Custom hold music
Co-hosts
Unique meeting links
Custom dial-in numbers
International dial-in numbers
Add on toll-free conference numbers (starting at $20 per number/month)
Auto dial out to participants
Team administration
AI Contact Center Pricing
Dialpad's AI Contact Center product is an all-in-one omnichannel contact center solution combining business voice features with AI-powered monitoring and analytics tools, self-service capabilities, and productivity tools like automated post call notes.
AI Contact Center integrates web messaging, video conferencing, live chat, SMS, and social media  communication channels into its unified platform.
There are only two pricing plans for Dialpad's AI Contact Center–Pro and Enterprise. Here is a quick breakdown:
Pro Plan
Enterprise Plan
License minimum
3
50
Hold Queues
25
Unlimited
Main Features

Multi-level Auto-Attendant
Customer sentiment analysis
Call monitoring (Listen, Barge, Take Over, etc.)
Real time agent recommendations
Digital engagement (web messaging, live chat, etc.)

Custom analytics and reporting
Custom queue rules
100% uptime SLA
Pro Plan
The Pro Plan offers all of the same features as the Enterprise but without an SLA and with less customizability. Live customer support is available 24/7 via phone, web, and chat for pro plan users.
Multi Level Auto Attendant
Dialpad's auto attendant feature, sometimes known as interactive voice response (IVR), enables users to set business hours and record a welcome message for closed and open hours and route calls.
When routing calls to agents, users choose fixed order, round robin, simultaneous ring, or longest idle prioritization. A fallback option is set up for phone calls that go unanswered by agents.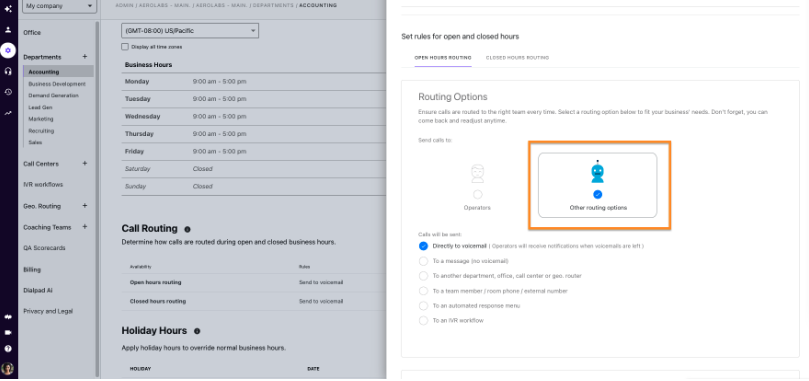 As an alternative to sending calls to live agents, other Dialpad call forwarding options include:
Directly to voicemail
To a message (no voicemail)
To another department
To a team member or specific number
To an automated response menu (directory, dial-by-extension, dial-by-name, leave a voicemail, etc.)
Speech Coaching
Dialpad's speech coaching feature displays suggestions to agents during calls reminding them to speak clearly.
The feature is powered by AI and activates when an agent speaks too quickly or too much without allowing space for others in the conversation.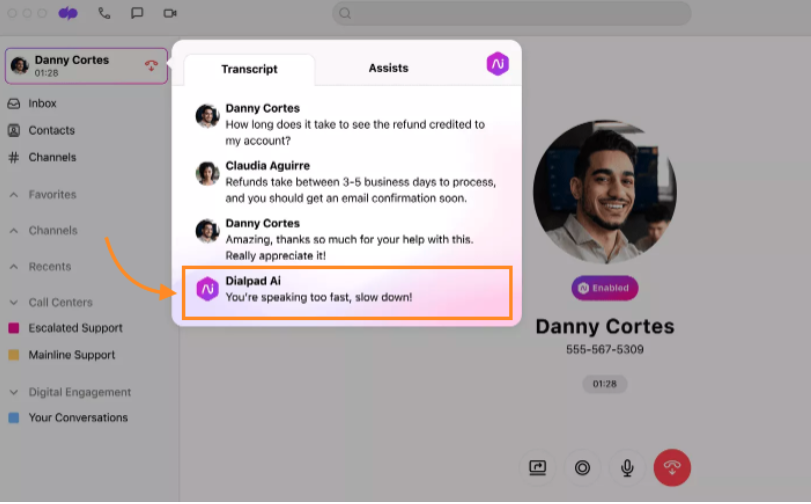 AI Call Summary
Dialpad's automated call summary feature uses AI and NLP to create a summary of every call as soon as it ends.
Dialpad offers different permission levels based on company roles for access to call summaries. Call notes can be searched by keyword, downloaded, or added to a playlist.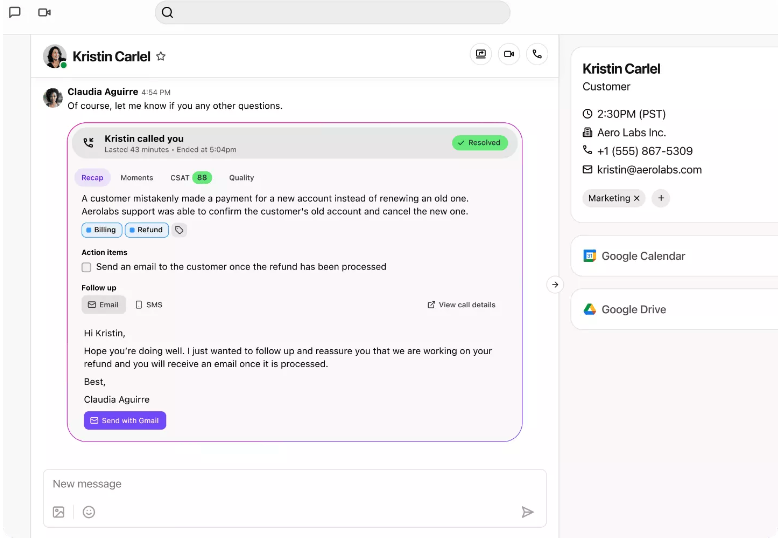 Call summaries include:  
Contact's name and number
Date, time and duration of the call
Caller sentiment: When the caller says something generally positive or negative
Action items: A single clearly defined task to be completed after the call concludes
Snippets: selections of the call that the agent manually marks for future reference
Manual notes
Agent Screen Capture
Dialpad's agent screen capture feature enables supervisors to see what a particular agent does on their desktop during a call.
The call and screen activity is recorded from pick up to hang up.
Agents need to grant access the first time they make a call within the Dialpad desktop app, and must turn on screen capture. Admins can only access screen capture in the Google Chrome browser.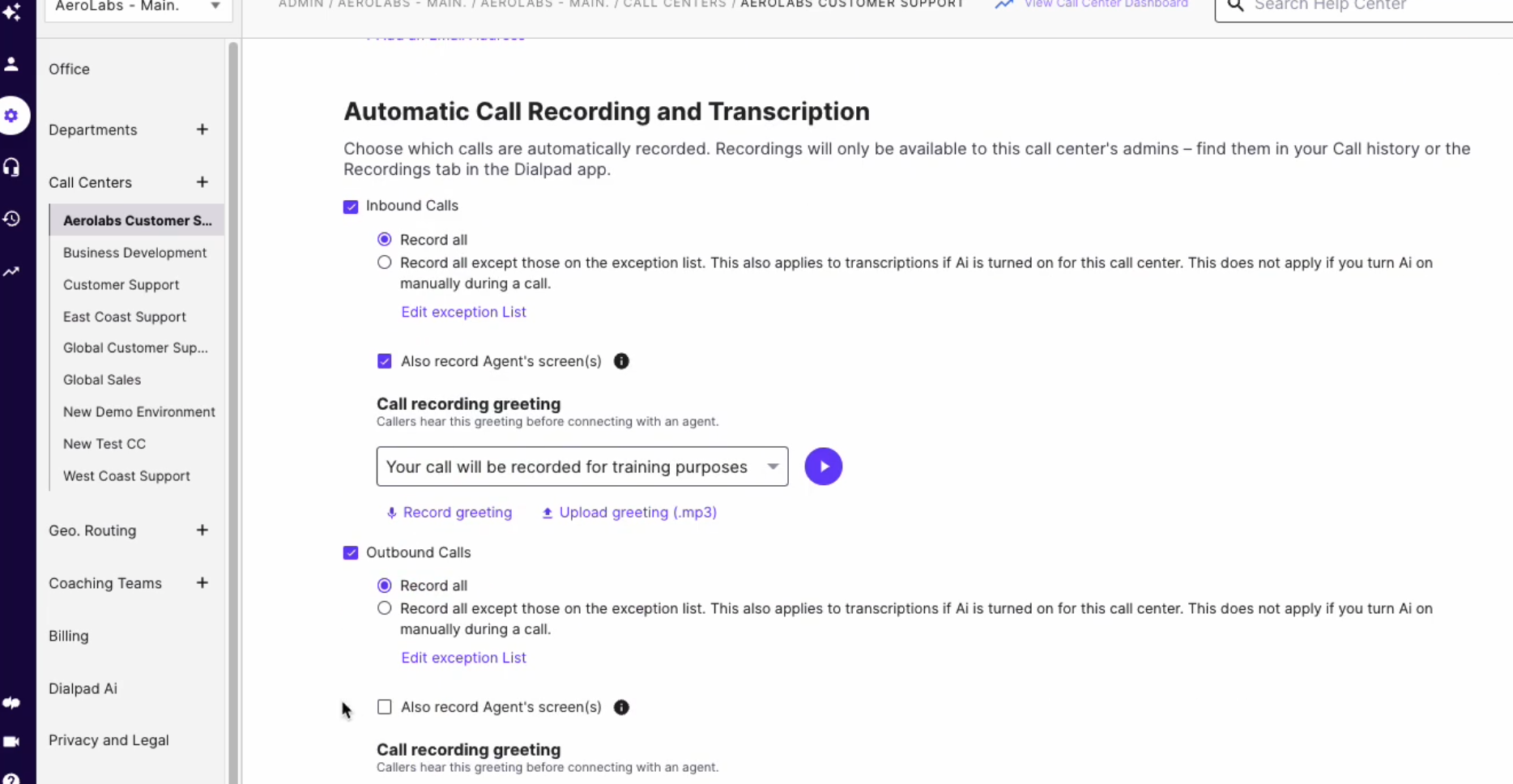 Enterprise Plan
The Enterprise plan offers greater reliability with a 100% uptime service level agreement and allows businesses to customize dashboards, reporting, analytics and business rules.
As all other features are identical between the two plans (including security features and customer support options), the Enterprise is only necessary for those businesses requiring an uptime guarantee or more custom solution.
AI Sales Pricing
Dialpad's AI Sales platform is a CCaaS solution for assisting sales teams with features such as live recommendations and scripts, QA scorecards, and native CRM integrations. 
As with AI Contact Center, AI Sales has two nearly identical pricing plans (Pro and Enterprise.) The Enterprise plan has a 100 user minimum and 100% uptime guarantee.
Pro
Enterprise
License Minimum
3
100
Main Features

Salesforce powerdialer
Rep leaderboards
SMS, MMS and group messaging
Voicemail drop
Local presence dialing

100% uptime guarantee
Custom call recording rules
Custom analytics and reporting
Pro Plan
The Pro plan offers sales teams a number of advanced VoIP features as well as sales team specific features like power dialing, local presence dialing, and voicemail drop. 
Pro plan users have access to 24/7 live support via chat, phone, and web. The platform is highly secure with SSO, user management and HIPAA/BAA compliance.
Salesforce Powerdialer
The Sales AI power dialer automatically dials the next phone number on an outreach list as soon as the previous call is terminated, saving agents time.
Dialpad's power dialer can be programmed to move onto the next call on its list if there's no pickup or if there's no live connection because the number is busy. The power dialer integrates with popular CRMs like Salesforce CRM, enabling agents to access the dialer directly from the CRM dashboard.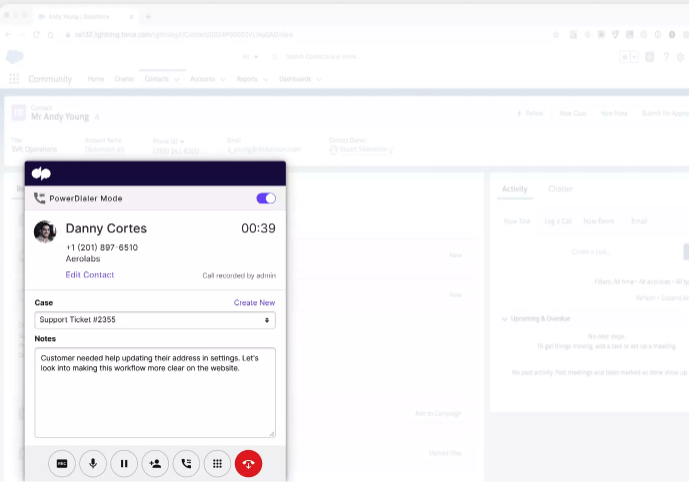 In-Call Monitoring
Dialpad's call monitoring features allow admins, supervisors, and coaches to assist reps during live calls. Supervisors click on the call they wish to monitor on the dashboard and select "listen in".
From the "listening screen", admins have the ability to start or pause recording, hold or hang up the call, view the live transcript, whisper to the agent, or barge in on the call.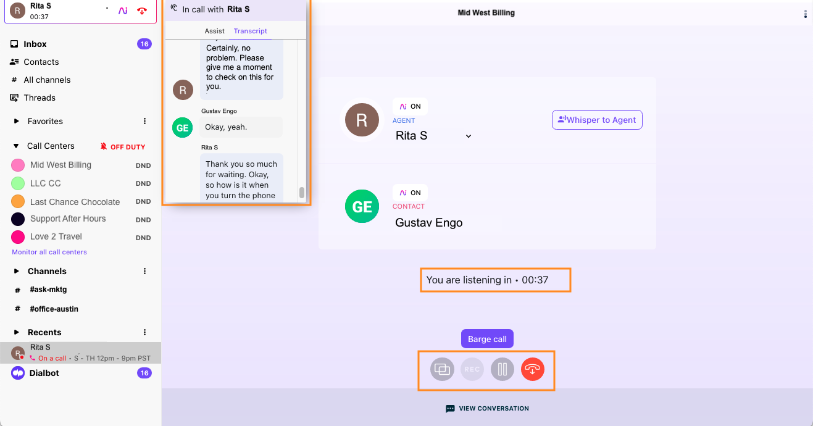 AI Sales includes four call monitoring features:
Call listening – Allows the supervisor to listen in on a live call
Call barging – Enables the supervisor to directly join live calls as a third-party
Call whisper – Allows the supervisor to talk to the sales rep during a call, without the customer hearing
Call takeover – Enables the supervisor to take control of the call completely and remove the sales rep from the call
Agent Assists
Dialpad's agent assists feature empowers admins to create cards that will pop up on agent screens whenever a specified trigger is mentioned.
Agent assists can be used to help sales reps handle frequently asked questions and difficult issues with a quick answer or script. Once an agent assist card is created, its usage is monitored in the "moments" tab of Dialpad analytics.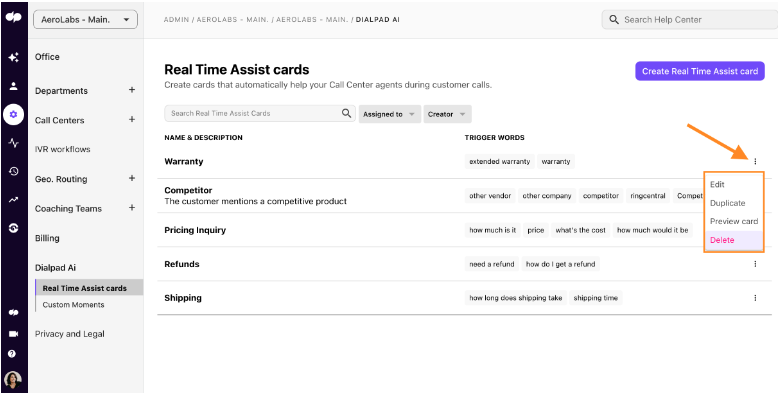 QA Scorecards
Dialpad's QA Scorecards allow admins to measure call quality with an objective grading questionnaire. Supervisors can also grade interactions with agents and trainees using scorecards.
Scorecards are shared with the agent in real-time via email or Dialbot alert. Once shared, agents can view their grade along with the details broken down by question and a summary.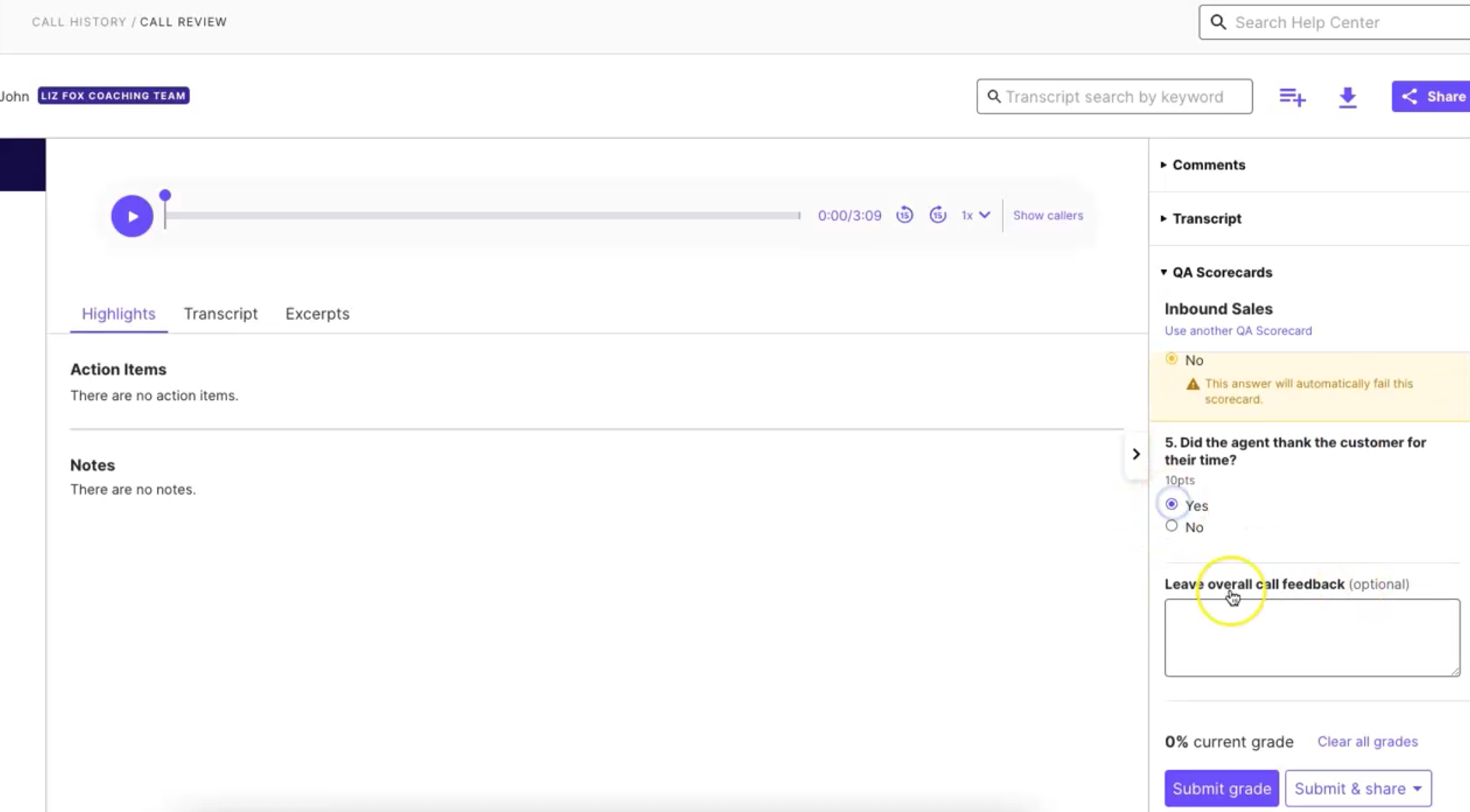 Admins customize scorecards by creating the questions, choosing the response type (yes/no, likert, etc.), assigning a point value given to each question, and choosing which optional question features to incorporate (such as automatically failing the scorecard if certain responses are given).
Enterprise Plan
As with AI Contact Center, the Enterprise plan of AI Sales offers greater reliability with a 100% uptime SLA. The AI Sales Enterprise Plan also offers API developer access along with custom call recording, analytics and reporting. 
All other features are identical and therefore the Enterprise is only necessary for those businesses that require an uptime guarantee and a high level of customization.
Who Should Use Dialpad?
Dialpad has a solution for a variety of business types, including:
Small and medium global teams: International teams will benefit from Dialpad's Business Communication suite. Pro Plan, which includes local number support in 70+ countries and international SMS
Sales teams: Dialpad's Sales AI Pro Plan includes several features to assist with outreach and improve productivity, essential within the retail sector
Omnichannel contact centers: Dialpad's AI Contact Center solution is perfect for call centers that wish to implement customer self-service tools like chatbots, and additional digital channel (Pro plan offers the best value)
Small businesses with remote/hybrid teams: Remote teams can benefit from Dialpad's video conferencing platform, available in all Business Communication plans or as a standalone product
Education institutions: Dialpad's Business Communication suite can be used by education institutions to create virtual classrooms and engage with students via built-in SMS
Healthcare organizations: Dialpad's Business Communication product is HIPAA compliant and includes enterprise-grade encryption and customizable retention policies ideal for healthcare organizations interested in telehealth, performance analytics, and improve staff productivity
FAQs
Yes! Number porting can help you with that.

Pricing starts at $0.01/min for inbound and $0.02/min for outbound calls within the United States. There is also an inbound toll-free per minute fee of $0.02/min per agent, per call center.

Call blocking and spam prevention features are provided to every user.