Poorly-optimized call queues mean extended hold times, decreased agent productivity, and a negative customer experience.
The good news is that improving your business's approach to call queue management can give you a major advantage over your top competitors.
How?
Because nearly 60% of consumers say waiting for extended periods of time to get the help they need is the number-one cause of a bad customer service interaction.
But what is a call queue, and how can you provide callers with the assistance they need quickly, but without sacrificing quality?
Business phone systems starting at
$10/mo
What Is a Call Queue?
A call queue is a business phone system feature that directs inbound callers into a virtual line (queue) based on pre-established criteria, placing them on hold until the ideal agent to assist them becomes available.
It's almost exactly like standing in a line while waiting for assistance, entry, or for your number to be called. But with proper queue management strategies, a virtual queue can be a much less frustrating experience for customers and agents than a physical one.
The purpose of a call queue is to cut down on hold time, call transfers, and the number of phone calls/amount of talk time needed to resolve an issue. Call queues accomplish this by evaluating information from caller Interactive Voice Response (IVR) input, following preset call routing rules, and by providing helpful information while customers wait for an available agent.
The image below outlines the basic call queue process.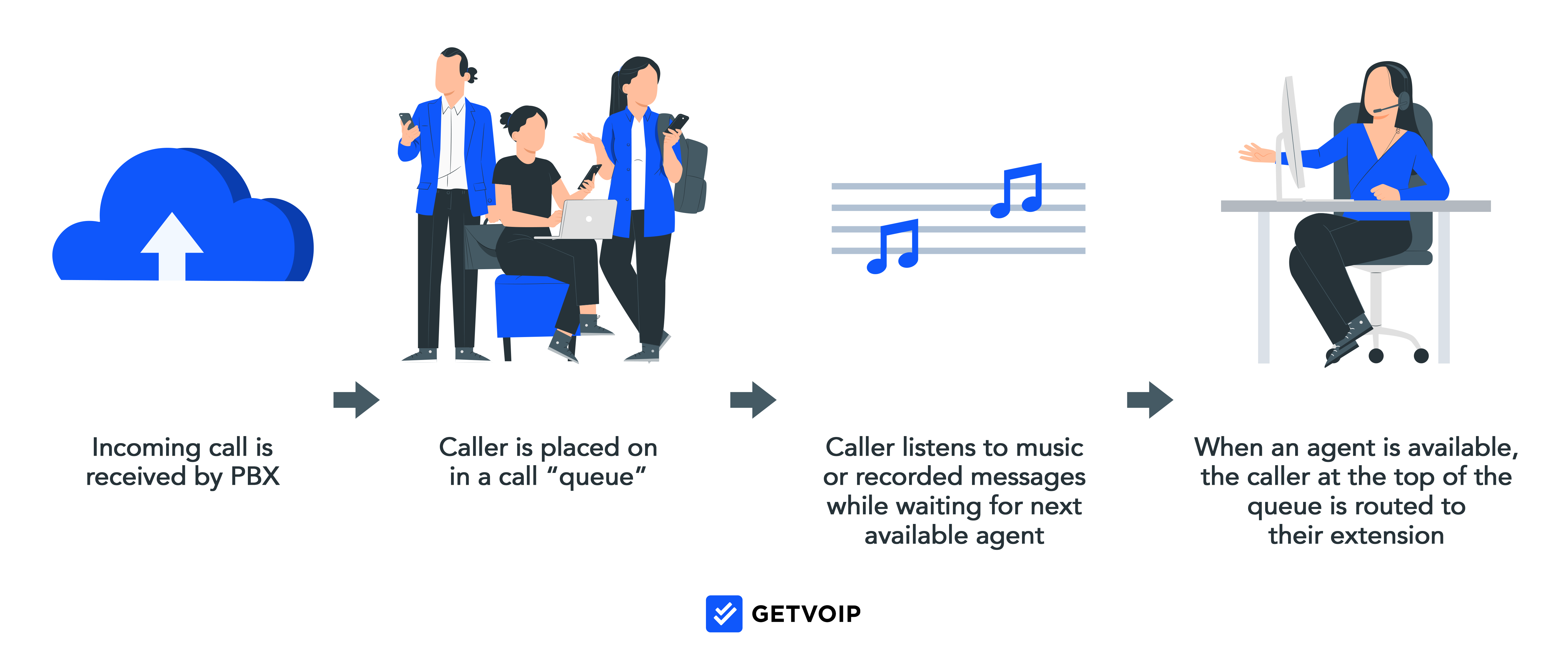 Note that call queuing doesn't eliminate the chance that a customer will need to wait on hold.
If properly optimized, however, call queues can drastically reduce the percent of inbound callers that do have to wait on hold.
This is accomplished by features like automated callbacks, shared voice mailboxes, ring groups, and other tools we'll discuss later in this post.
How Call Queues Work
Call queues work by following six key steps and criteria that begin the instant a customer places a call to your business.
These steps and criteria are outlined below.
1. Following Business Schedule Rules
The first thing a call queue "considers" when responding to a call is the time of the call in relation to the preset business schedule.
The specific path the queuing system follows depends on if the call is received:
During or after business hours
Over the weekend or on a weekday
On a holiday
2. Pre-Recorded Greetings
When placing calls to businesses, you often hear a pre-recorded message instead of standard phone rings.
These messages, called greetings, automatically play when a call is received. Greetings can be completely customized, or can be selected from a VoIP provider's pre-recorded greeting library.
These messages include key information to best assist the customer, such as:
The name of the business/business hours
IVR menus to collect data from the customer
Information on current agent availability
Language preferences
Hold music or hold messages ("Your call is very important to us. Please stay on the line.")
3. Automatic Call Distribution (ACD)
Automatic Call Distribution (ACD) is a business phone system feature that receives every inbound call and distributes them to an available agent.
ACD follows the preset call routing rules to connect the caller to the proper representative via the First In, First Out method, a linear pattern where the first caller in the queue is the first caller who is sent to an available agent.
It's important to quickly highlight the difference between ACD and IVR.
IVR gathers customer data that informs where calls will be sent (reason for call, customer name, department sought, etc.) ACD is the tool that actually sends and distributes these calls to the proper agent or department based on the information the IVR system collected.
4. Call Routing
Call routing strategies are what the ACD system follows when it sends calls to agents.
Call routing is likely the most important step of the call queue process, as it determines which specific agent the caller will actually speak to.
Top call routing strategies include:
Skills-Based Routing: Calls are routed to agents according to the specific training and skills they have (Billing department receives account statement questions, customer service department receives tech support questions, etc.)
Sequential Routing: Calls follow a list-based routing strategy that starts back at Agent 1 every time (ideal for small departments or departments with gap in agent experience)
Time-Based Routing: Calls are sent to available agents based on the agent's time zone (ideal for remote, geographically diverse teams)
Round Robin Routing: Agents receive calls on a rotational basis where Call 1 goes to Agent A, Call 2 goes to Agent B, Call 3 Goes to Agent C (ideal for sales teams/to prevent overburdened agents)
Least Occupied Routing: The agent who has gone the longest without speaking to a customer receives the call (ideal for optimized employee productivity)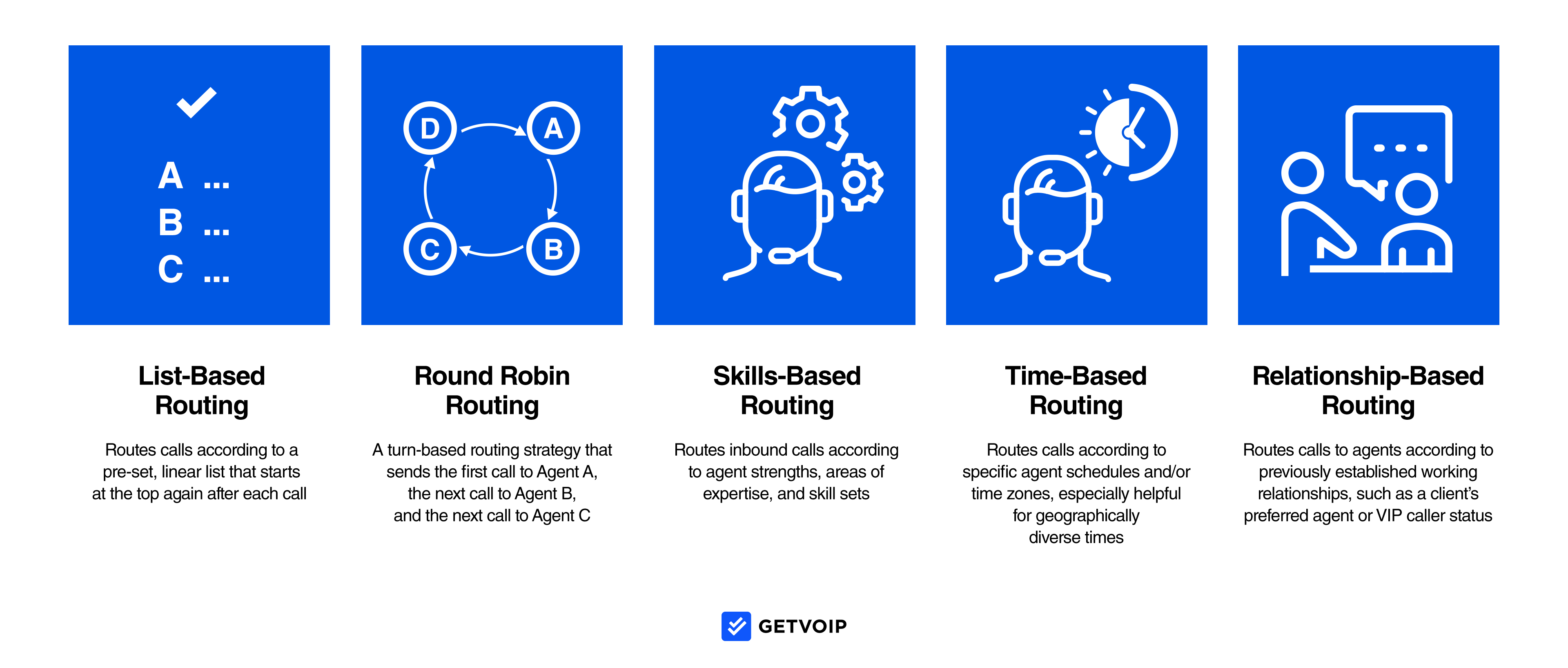 5. (Optional) Advanced Call Handling
Though we'll speak more about advanced call handling when discussing call queue tips and tricks, advanced call handling allows you to further specify the way calls are managed.
It includes options like:
IVR/multi-level IVR
Simultaneous ringing
Shared voicemail
External number forwarding
Call park/hot desking
6. (Optional) Monitoring Real-Time and Historical Call Queue Analytics
Managers have a lot to learn from both real-time and historical call queue analytics.
Live views provide insight into the number of callers in the queue, average hold time, the number of agents currently speaking to a customer, available agents, and even queueing data by department.
This makes it easy to optimize queues in the moment to reduce waiting times and prevent agents from getting overburdened.
The below image shows the kind of data that live call queue monitoring can provide.
Historical call queue analytics help managers understand peak times, recurring issues, and allow for better agent allocation. Managers can also evaluate agent productivity and performance and identify communication trends using these analytics.
What Is Call Queue Management and Why Does It Matter?
Call queue management consists of the steps you take to improve call flow, reduce customer wait time, and improve your business's current call queue strategy.
Call queue management also refers to the consistent monitoring and analysis of overall and departmental call queues to discover effective ways to optimize them.
But why is call queue management important?
Minimizes Customer Wait Times
Given that roughly ⅔ of customers will only wait on hold for a maximum of 2 minutes, it's imperative to take the opportunity to minimize wait times proper queue management provides.
Customer wait times have wider-reaching consequences than customer frustration alone.
Optimizing queues decreases average call handling time (AHT) so your agents can spend more of their day selling and providing customer service — which increases your revenue and customer satisfaction rates.
Over 70% of consumers say their number-one frustration with businesses is when a company wastes their time. Show your clients you value theirs with queue management.
Improves First Call Resolution Rates
First call resolution rates (FCR) refer to the rate at which customer issues are solved during the first direct communication with agents.
The faster you can get a customer connected to a qualified, knowledgeable, and available agent? The higher your FCR will be.
But why does FCR matter?
First, it goes a long way towards improving customer loyalty. Studies show that nearly 70% of customers who left a business would have stayed if agents had been able to resolve their issue on first contact.
A higher FCR trate also lowers operational costs while increasing overall CSAT rates. Studies show that a 1% increase in FCR correlates to a 1% increase in CSAT and a 1% decrease in operating costs.
Finally, increased FCR rates can increase customer spending by up to 11% and create up to a 20% increase in cross-selling profits.
Lowers Call Abandonment Rate
Call Abandonment Rate measures the rate at which callers hang up while waiting to speak with an agent or during a phone call with an agent before their issue is resolved.
Lengthy IVR menus, unhelpful agents, and most of all, long hold times, are the top reasons for a high CAR.
If you think customers will simply call back after hanging up — think again. About 30% of customers that abandon calls will never bother to contact your business again.
The faster that customers can connect with not just any agent, but the agent that can quickly assist them with their unique issue, the less likely it is that the customer will hang up the phone. This means more chances to close deals, faster resolution rates, and improved customer satisfaction.
Increases Employee Productivity and Satisfaction
Just like proper call queue management decreases customer churn, it also decreases employee turnover.
An optimized call queue process means agents won't have to constantly deal with angry customers frustrated that the agent they connected with doesn't have the skills to assist them.
Plus, agents will have time to provide more detailed customer service, deliver fine-tuned sales pitches, and work on the parts of their job they enjoy the most. This all adds up to higher productivity levels, employee satisfaction, and employee retention rates.
What Causes Long Call Queues?
Though it's easy to see the benefits of an improved call queue strategy, it's sometimes much harder to determine the cause of lengthy call queues and long customer wait times.
Popular causes of long call queues include:
Outdated software
Understaffed departments
Poor management skills
A lack of customer self-service options
Poor staff training
Poor agent allocation/workforce management
A lack of accessible customer information, order history, and details on previous customer interactions
Let's examine some of the main reasons why your call queues are out of control in more detail below.
Poorly Trained Staff
Understaffed and overworked departments can easily increase call queue length.
Unfortunately, managers tend to overlook one of the main reasons for long call queues: uninformed, poorly-trained, or unskilled staff members.
Creating training webinars, providing detailed internal wikis for agents to access during calls, and taking advantage of free training courses from your business software providers all empower team members with the knowledge they need to give customers quality assistance.
A Lack of Customer Self-Service
Customer self-service is an essential part of the overall customer experience — and it's an option that roughly 40% of your customers prefer to conversations with live agents.
Your IVR system can certainly provide callers with the chance to pay bills over the phone and get answers to basic questions, but self-service is bigger than IVR alone.
If callers can get the information they need from your online knowledge databases, tutorials, chatbots, or even videos, they won't need to call for additional support.
In addition to providing convenience for customers, self-service also means your agents are free to connect with callers that really do need detailed assistance. Your agents will no longer need to lose valuable hours answering the same questions over and over.
Peak Call Seasons
Even if you're doing everything right, you can still be caught off guard by unexpected high call volumes — especially during peak call seasons.
Evaluate consumer behavior to identify times of the year and even times of the day/week when the number of inbound calls consistently outpaces your current number of agents.
Note that hiring more agents doesn't have to be your first line of defense when call queues are extended by a sudden influx of calls.
Popular solutions include providing a higher level of self-service via IVR or other communication channels like chatbots, automating routine tasks to free up more agents, or provide agents with detailed call scripts and internal knowledge bases so they can assist other departments if needed.
How To Improve Call Queue Management
The good news is that the problems we mentioned above don't require drastic overhauls or major investments like hiring additional employees or outsourcing customer service.
If you follow the tips and tricks below, you'll see your call queue times decrease and your customer satisfaction levels soar.
Use Different Routing Strategies 
Earlier in this post, we covered some of the most popular call routing strategies.
But to really improve call queues, don't just use one strategy for all of your business phone numbers/extensions. Instead, use multiple routing options not just for different departments, but also based on current call volume, agent schedules, VIP customer status, and more.
Study which routing strategies seem to be most effective for specific situations, and make sure to switch up these strategies often to keep pace with business growth and evolving customer expectations.
For example, while skills-based routing is a great strategy for customer service departments, time-based routing will be more effective for a billing department, as all billings agents have the training to help customers make payments over the phone.
Create Call Groups
Call groups (often called ring groups) are groups of agent phone numbers/extensions pre-configured to ring based on preconfigured settings.
Call groups are especially helpful for larger companies or departments, as you can set specific agents to take specific types of calls based on things like the time of day, the agent's strongest skills, or even agent preference.
Admins can configure call groups so that all phone numbers in the group ring simultaneously or one after the other, and can even set the specific number of rings before the caller is sent to the next group member.
The goal is to make it more likely that the caller will connect with a live agent on their first call.
Offer Automated Callbacks and Virtual Queueing
Automated customer callbacks aren't just a way to shorten call queues — they're also a great way to make your customers love you.
Instead of having to wait on hold for an unspecified or especially lengthy amount of time, callbacks let customers choose when to receive a callback based on what works for them.
This puts the power in the hands of the consumer, making them feel that your business values their time as much as they do.
You should also offer virtual queues, which are similar to customer callbacks except that customers will get a callback as soon as an agent is available, not at the customer's preferred time.
Both options allow the customer to continue their days as normal instead of being tied to their phones all day.
Take Advantage of IVR
Though Interactive Voice Response (IVR) provides self-service options that often prevent the caller from needing to speak with a live agent, it does much more than that.
IVR also lets customers clearly explain the reason for their call by responding to questions/prompts via their phone dial pad or by speaking their responses into the phone.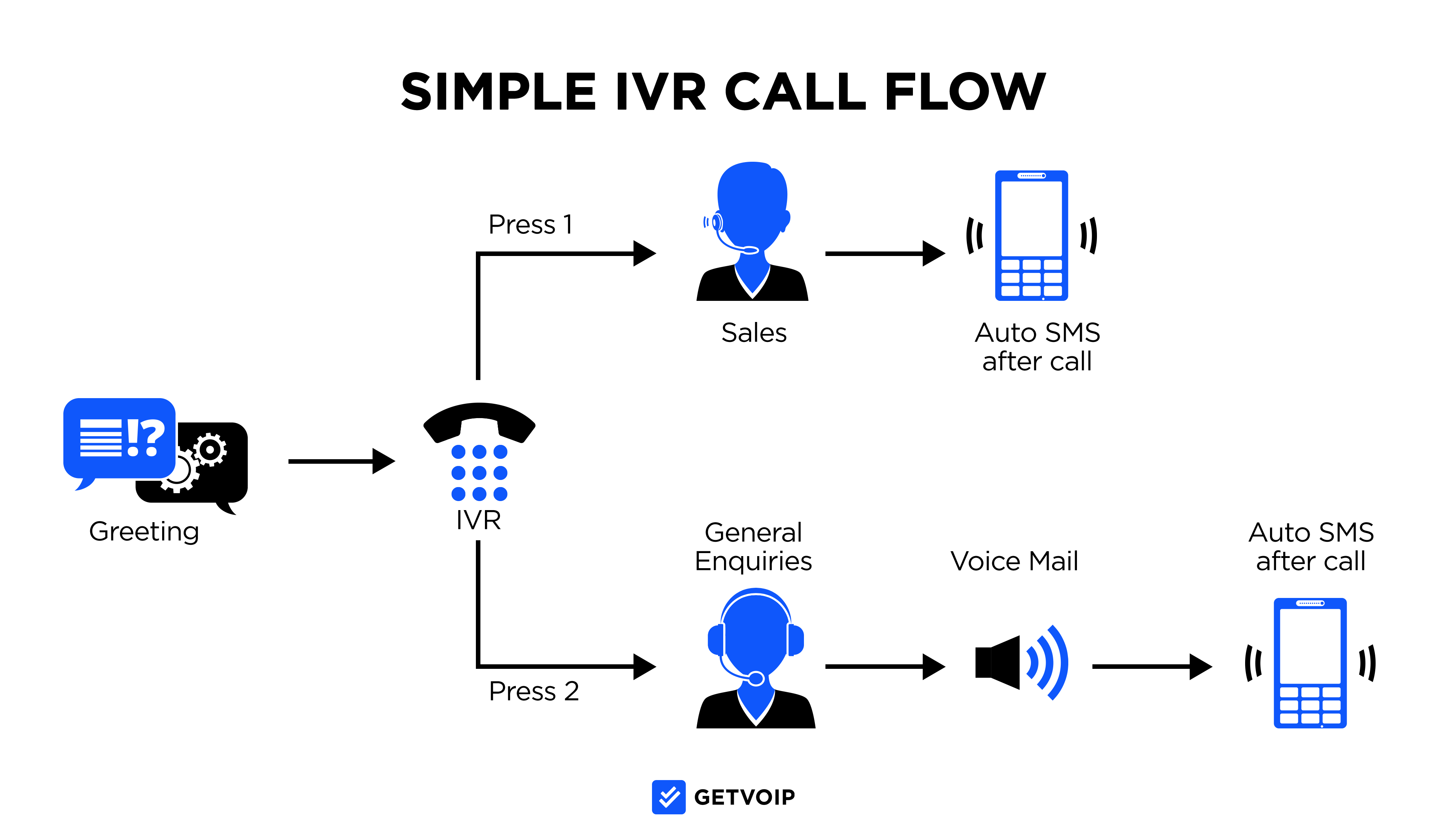 In addition to cutting down on the amount of time callers have to waste listening to long pre-recorded messages, IVR provides valuable "pre-call" information to agents.
The automated IVR menu collects data like caller identification and contact information, the department the caller wants to speak with, and the basic reason for their call. This means the agent will be ready to go the moment they connect with the customer in real-time, since they already know a lot about the customer's issue. Agents can even use integrated CRM tools to examine customer history.
Plus, callers will no longer need to repeat the same information to multiple agents, eliminating a serious source of customer frustration.
Optimize Staff With Workforce Management (WFM) Tools
Workforce Management tools streamline employee workflow and business processes, increasing productivity and preventing workflow bottlenecks through better organization.
WFM platforms are especially helpful when it comes to call queue management as they ensure that there is always a sufficient amount of agents in each department and/or with each skill set available throughout the workday.
These tools simplify the scheduling process and make sure that you're able to provide a high level of customer service consistently, so no matter when callers contact your company or why, the right help is always available.
Remember earlier in this post when we mentioned a lack of available agents and a failure to identify and prepare for peak call times as reasons for long call queues?
Workflow Management software works to prevent those exact issues through forecasting, agent scheduling, and real-time agent allocation.
Upgrade Business Communication Software To Optimize Call Queue Management
To drastically improve your call queue management strategy quickly, upgrade to the right business communication software and stop relying on outdated tools that no longer meet your customer's needs.
Advanced VoIP and call center platforms offer queue management features like automated callbacks, remote call forwarding, and CRM integration that speed up the resolution process and optimize call queues.
To learn more about the features you need, which providers have them, and available pricing and plans, check out our big-picture comparison tables of top business VoIP software and popular call center solutions.