Contact center agents juggle customer queues, multichannel support ticket inboxes, CRM data entry, internal team conversations, order status updates, and more throughout the workday.
Lackluster contact center software prolongs these routine business processes, gives agents little support, and offers minimal insight into the customer experience.
When agents aren't supported, everyone pays the price–administrators, supervisors, and worst of all, customers.
The solution? An omnichannel platform like Genesys Cloud CX.
This article outlines Genesys Cloud CX, its features, pricing, pros and cons, alternatives, and which businesses will get the most out of it.
Jump to ↓
What Is Genesys Cloud CX?
Genesys Cloud CX is a feature-rich omnichannel contact center software that unifies voice and text-based communication channels into one platform for sales and customer support.
Accessible on desktop and mobile, the software app includes inbound and outbound VoIP calling, email, web chat, SMS, and messaging apps.
In addition to these telecommunications channels, Genesys features advanced workforce management tools, call distribution and queueing, team collaboration, AI and automation, analytics and insights, and customer self-service.
Because Genesys CX (formerly Genesys PureCloud) is an API contact center platform, users can further customize the interface with third-party communication and analytics APIs from providers like CRM platforms, phone systems, and databases.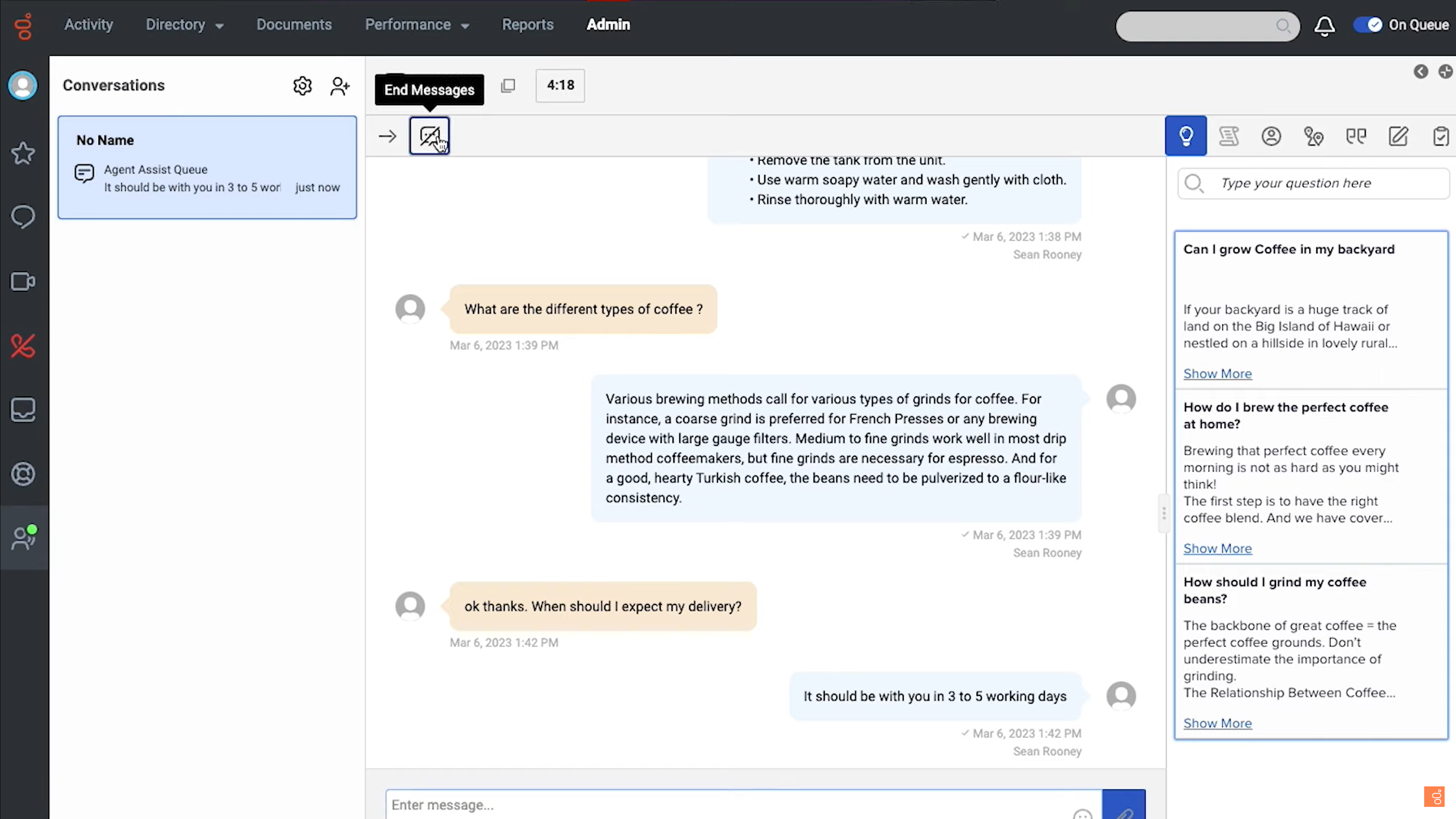 Genesys Cloud CX Pricing & Plans
Genesys Cloud CX offers 5 pricing plans from $75 to $155/user/month, including voice-only, digital-only, and mixed-channel options:
Cloud CX 1, Voice Only ($75 monthly): A voice-only contact center with intelligent routing, a drag-and-drop IVR flow builder, automatic callbacks, real-time and historical reporting, open-API architecture, and an employee workspace.
Cloud CX 2, Digital Only ($95 monthly): Digital-only contact center with email, chat messaging, SMS, and messaging apps like WhatsApp and Facebook Messenger.  Includes an agent interface with conversation context, customer self-service tools, a customizable knowledge base, plus conversational analytics and insights.
Cloud CX 2, Digital + Voice ($115 monthly): Combines the channels and features in CX 1 and CX 2 Digital
Cloud CX 3, Digital + Workforce Management ($135 monthly): Digital channels only. Adds an employee digital dashboard with leaderboards and KPI trackers, AI-powered scheduling and forecasting, AI-powered speech and text analytics with trend and sentiment detection, employee mobile app for shift trading, built-in coaching modules.
Cloud CX 3, Voice + Digital + Workforce Management ($155 monthly): Adds Voice to the features from Cloud CX 3
Genesys Cloud CX Key Features
Here are the Genesys Cloud CX standout features:
Communication Channels
Genesys Cloud CX supports the following communication channels, unified in an omnichannel interface for easy agent management:
Voice calling via VoIP telephony
Email
Live web chat
Social media
Self-service (chatbot, voice bot, IVR)
Voice
Make calls in countries around the world using the Internet, right from the agent workspace, with Genesys' cloud-based phone system.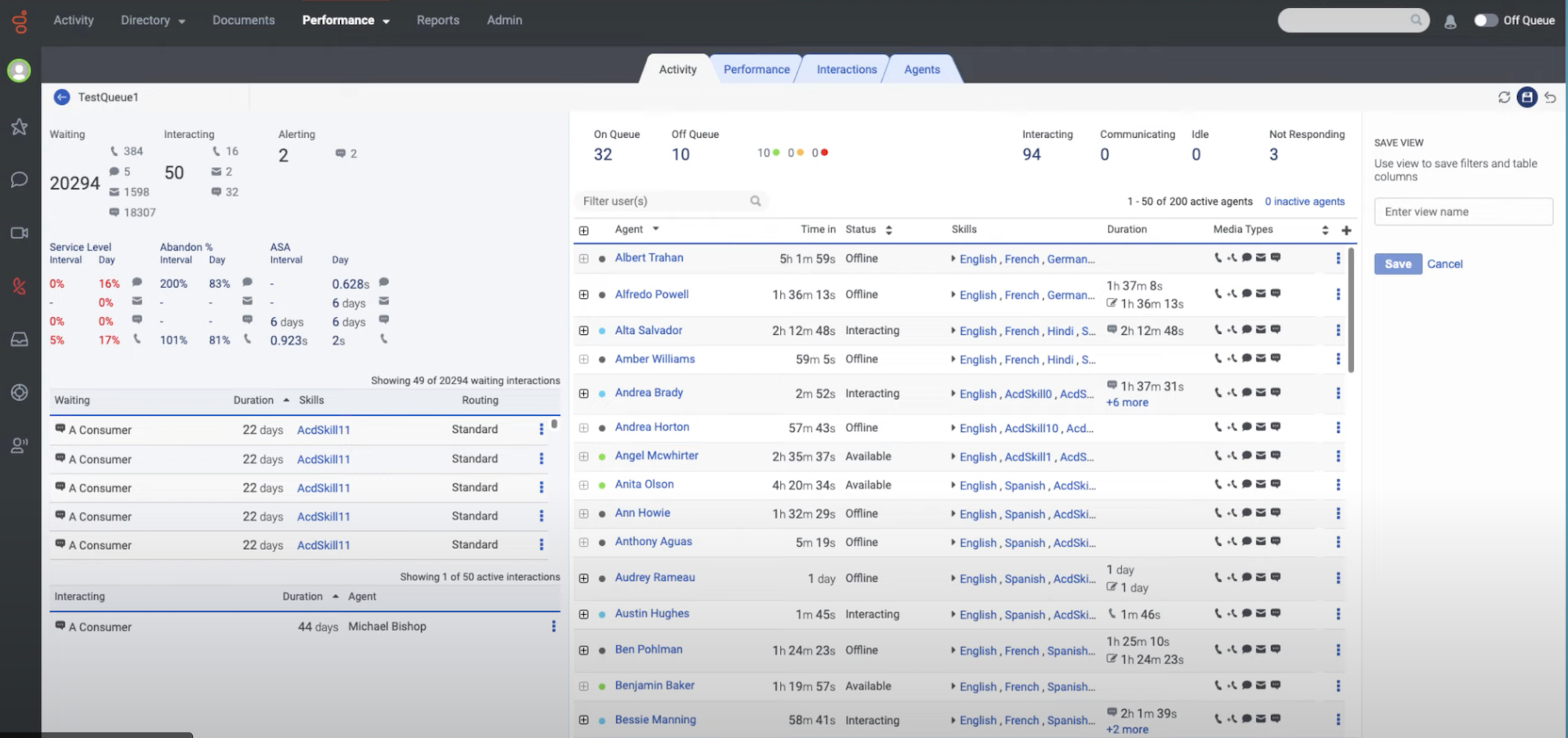 Voice tools:
Virtual Business Phone Numbers: Purchase local and toll-free numbers from area codes all around the world, for a local presence with international customers
Mobile App: The Genesys Cloud Communicate iOS and Android mobile app lets agents make voice calls from their business phone number on their smartphones via softphone interface
Outbound Dialers: Auto dialers like predictive and preview dialing modes help manage a high outbound call volume and boost sales efficiency
Live Web Chat
Embed webchat widgets into your app or website to provide customer support via live agent or self-service chatbot.
When chatbots transition conversations to live agents, agents have full context into the customer journey. Team members can review customer conversation transcripts, web pages visited, time spent per page, and website visitor actions.
Agents can share URLs and documents, switch communication channels, or initiate the escalation matrix one click. Customers can step away from a conversation and pick up right where they left off upon return.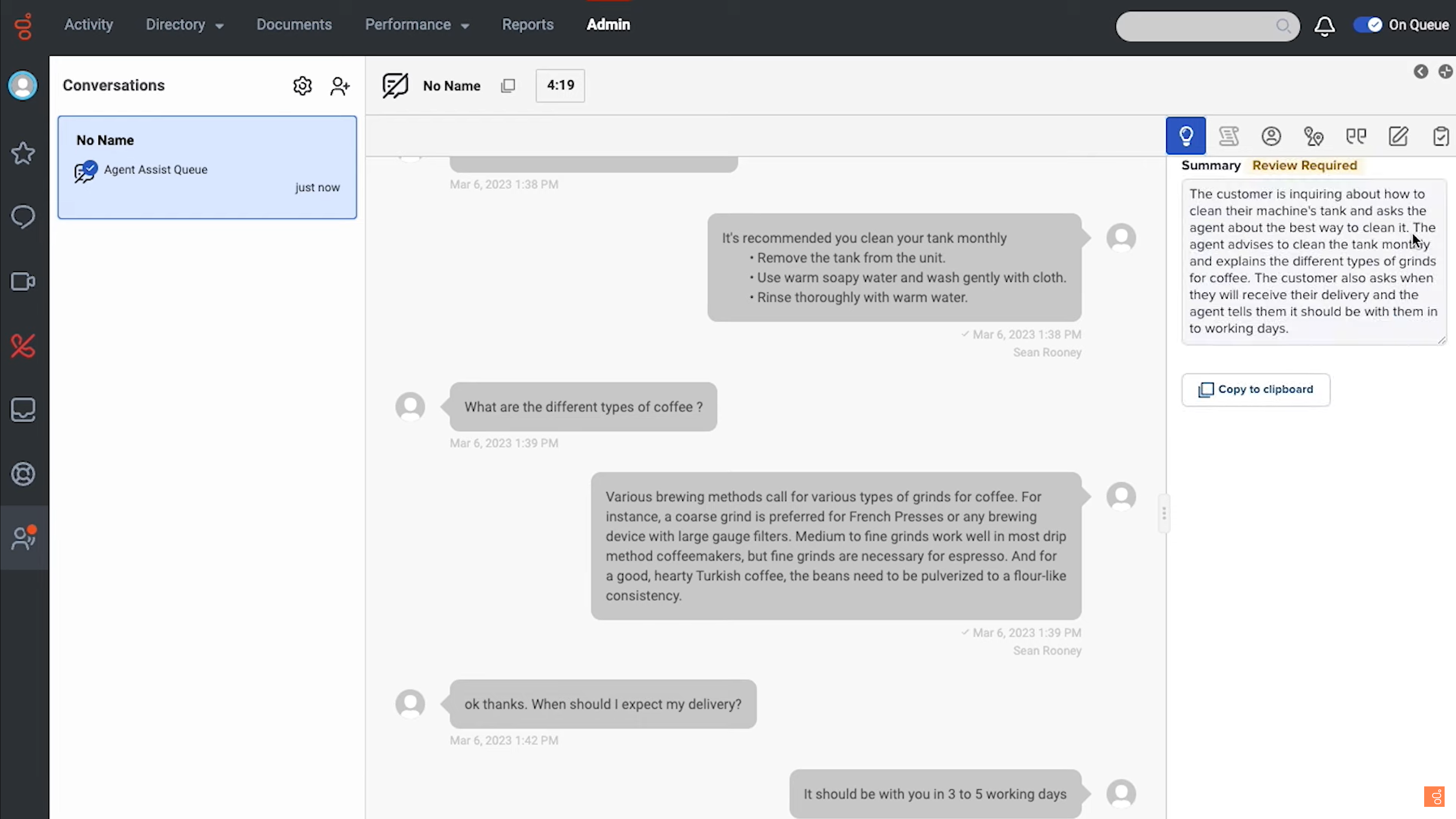 Email
Send bulk emails for marketing purposes, or use one-on-one email functionality to provide personalized customer support.
Email tools:
Website-Embedded: Include a website link to your customer contact email address or use Genesys' pre-built web forms to let customers submit contact requests via email
Email Queue: A log organizing an agent's inbound emails, with key information about each query. Agents can click on any email for an overview and to take quick action
Multiview Interface: Agents can reply to emails in the left-hand column while viewing other tickets and relevant customer support tools like CRM information, canned responses, and grammar suggestions
Email Workflows: AI and Natural Language Understanding (NLU) determine a customer's email issue, sending automated responses to simple email queries, or suggesting templates for agents to use (More complex issues are forwarded to agents for individual responses)
Email Classification/Prioritization: Automatically classify and prioritize emails based on keywords and sender significance, managing large email workloads
SMS
Send inbound and outbound SMS text messages in bulk or one-on-one–or feature SMS as part of an automated marketing campaign.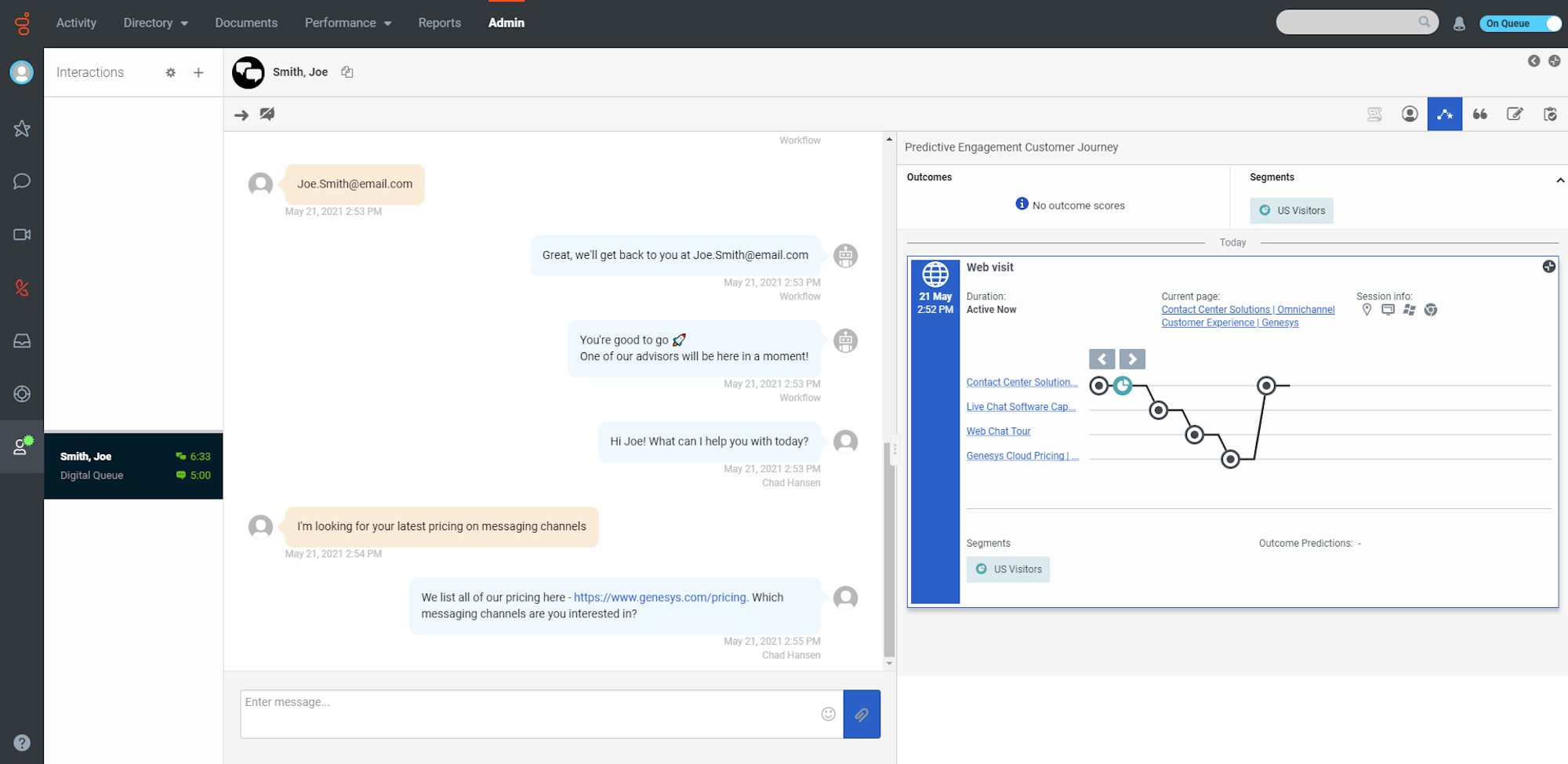 Use SMS APIs alongside CRM software like Salesforce, marketing, scheduling, and contact center tools for a variety of rich messaging services and automation:
Bulk texting
Appointment reminders
Abandoned-cart follow-up
Announcements
Surveys
Social Media Messaging
Chat with customers and provide social media customer service on WhatsApp, Facebook, Facebook Messenger, and Twitter within the agent inbox–or escalate social media tickets to voice, message, or email.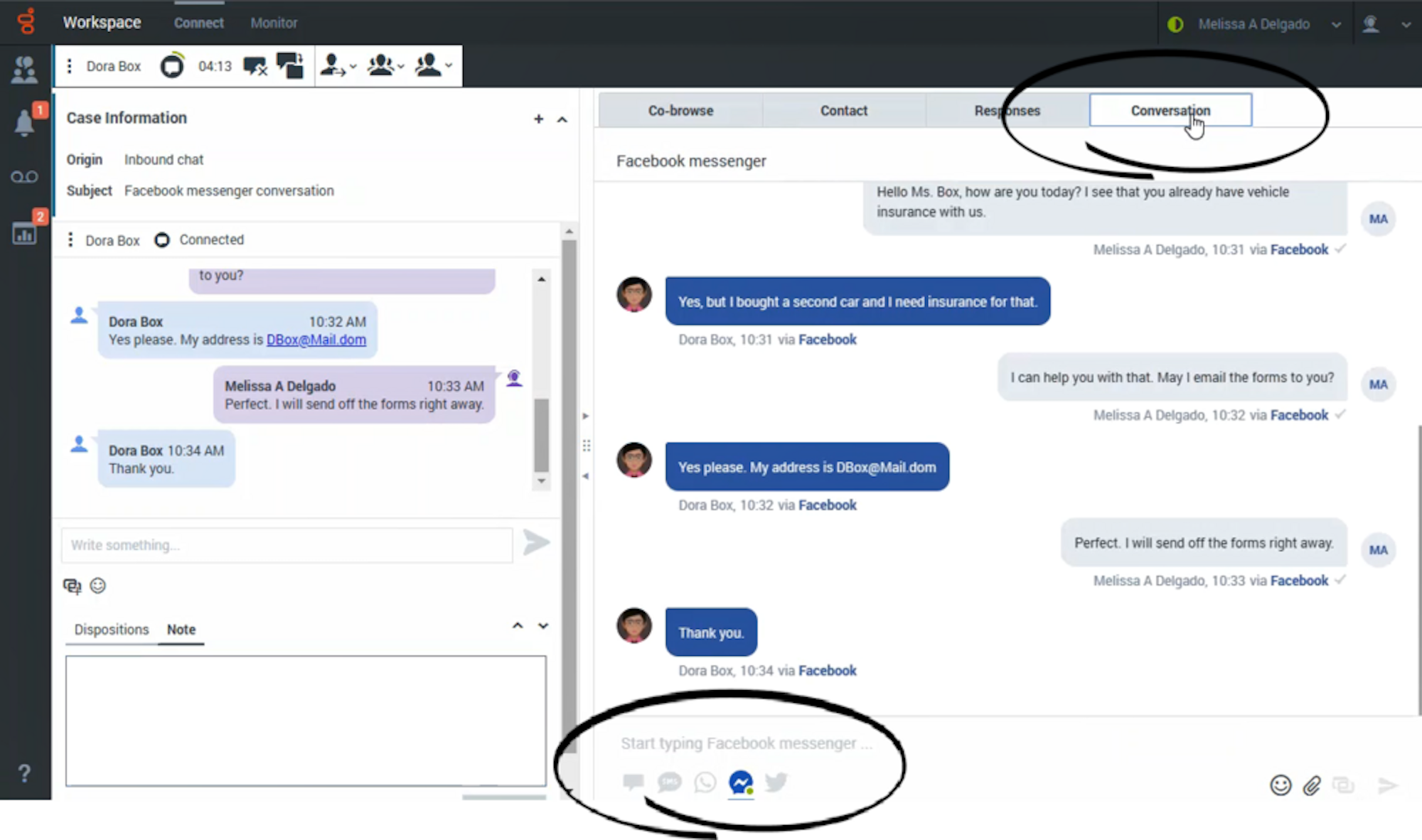 Social media tools include:
Sentiment Analysis: Genesys AI identifies the most urgent social media mentions and cases, prompting quick agent action where it's most needed
Optimized Routing: Automatically route inbound tickets to the optimal agent by conversation keywords, language, and agent skills
Integrated Reporting: Social media activity, trends, and keywords are included in reports and analytics
Channel Escalation: With one click, agents can switch social media messaging to other channels, like SMS or voice conversations
Call Deflection: Deflect customer service calls from the IVR menu to social media channels to shorten call queues and reduce call hold time
Automation And AI Tools
The following AI tools streamline ticket routing, customer journey tracking, and agent support:
Automatic Call Distribution (ACD)
Route tickets to the first available agent or customize Automatic Call Distribution (ACD) options like:
Virtual Agent Groups: Group agents based on cohort, company role, location, and expertise, to share responsibility for relevant inbound calls. Choose how you want these ring groups to be notified–simultaneous ring, round-robin ring, or routed to the first available agent
Skills-Based Routing: Route incoming tickets to the best-suited agent, based on agent expertise and specialty
Predictive Engagement
When configuring marketing actions and sequences–like product promotion campaigns, major announcements, or new outbound offers–Genesys CX predictive engagement estimates the impact on your contact center resources and recommends adjustments to your routing and other contact center resources.
In anticipation of marketing changes, predictive engagement can:
Estimate how each marketing action will impact contact center traffic and available resources (bots, agents, teams)
Recommend changes to maximize AI and live agent efforts
Align customer engagement goals and strategies across all channels, tools, and automations
Complete predictive lead scoring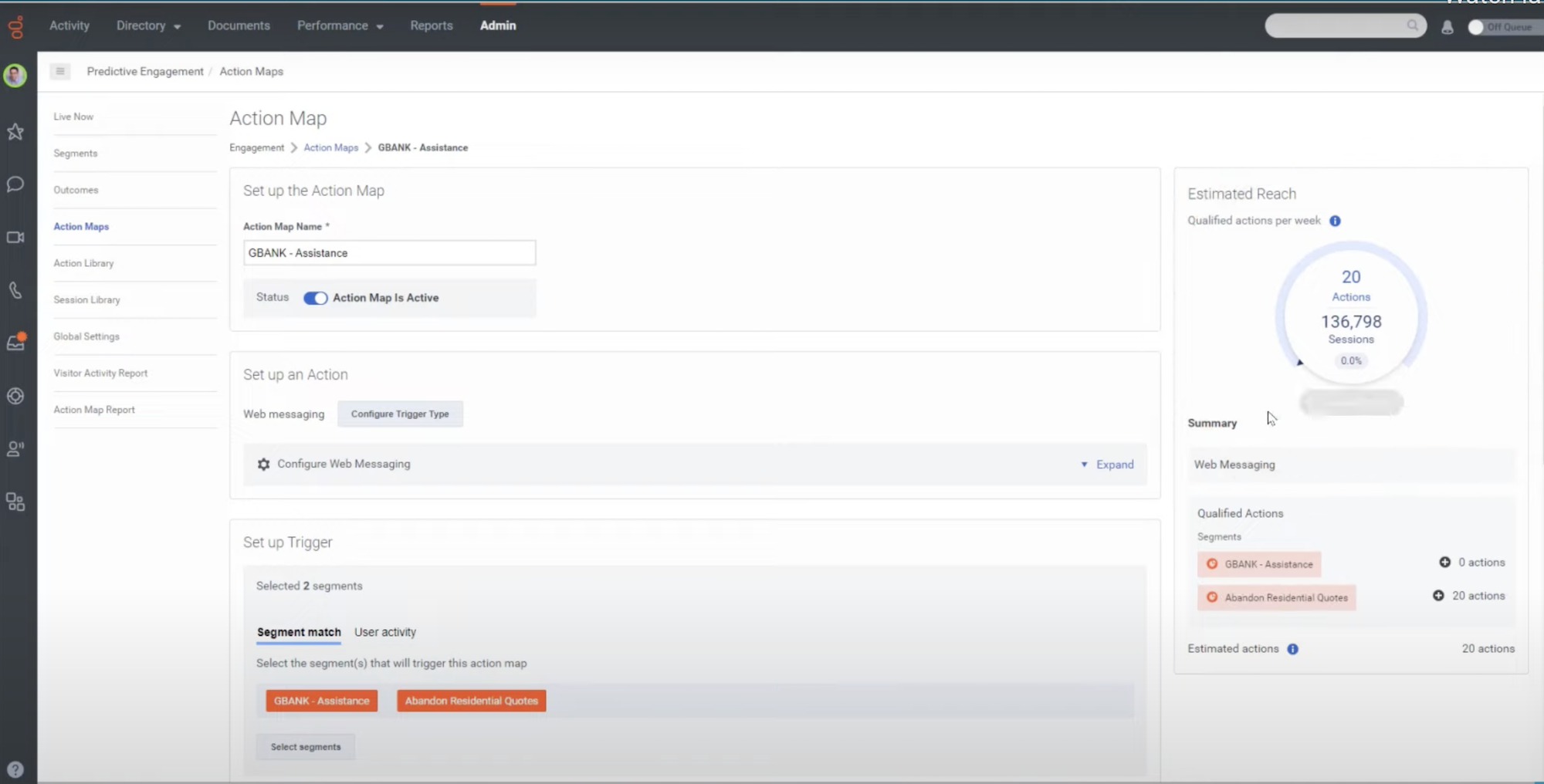 Predictive Routing
Genesys' predictive routing AI strengthens queueing and routing by evaluating the optimization potential of each queue in your system, testing alternative options for KPI improvements, and offering specific suggestions for how admin can achieve improved KPIs.
Simple KPI Comparison Tests: An administrator identifies critical KPIs and initiates a 14-day comparison test, after which Genesys recommends queue and routing adjustments to optimize those KPIs
Predictive Scheduling
Genesys AI also takes into account customer demand and workforce estimates to assist with scheduling:
Predict Future Staffing Needs: Suggestions about hiring needs for each position
Build Schedules: View and overlay agent schedules by day or month, with hour-by-hour breakdowns to anticipate which contact center needs will need extra support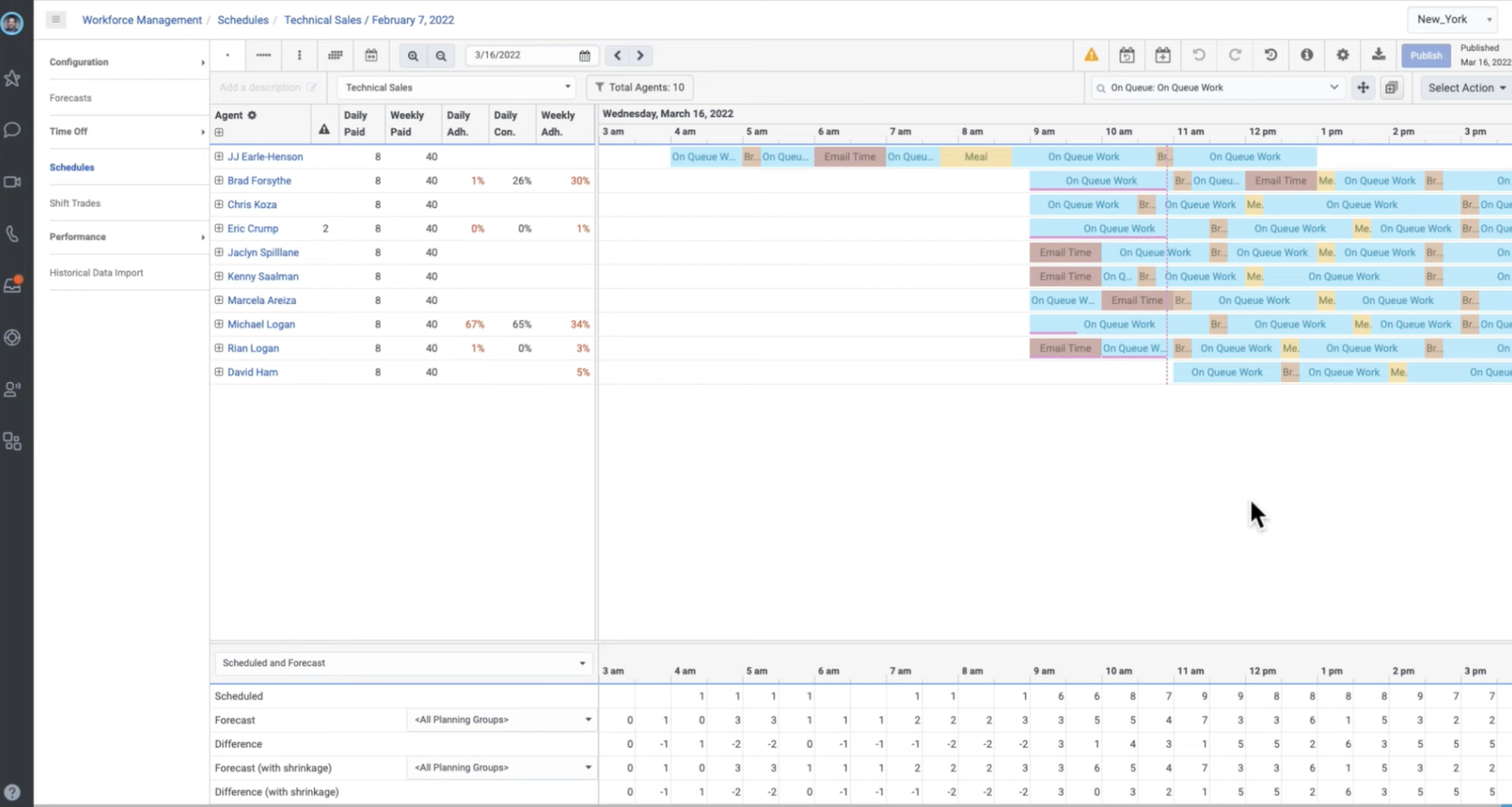 Automated Outbound Campaigns
Create multichannel marketing campaigns, configuring automated flows, outreach sequences, and agent workloads.
Automated outbound marketing tools include:
Proactive Notifications: Trigger outbound messages based on customer actions–like new sign-ups, abandoned carts, product order confirmations, and customer service surveys–using each customer's preferred channel
Advanced List Management: Sort customers into lists based on: preferred contact channel, priority status, sign-up date and "new customer" status, location, company size, and more. Choose unique engagement strategies, sequences, and contact methods for each group
Self-Service Tools
Genesys Cloud CX contact center solution offers three primary self-service tools, available 24/7 across channels, apps, and websites:
IVR (auto-attendant)
Voicebots
Chatbots
Architect Bot Flow Builder
This low-code, drag-and-drop flow building tool configures automated customer conversations for Interactive Voice Response (IVR), chatbots, and voicebots. Create an unlimited number of bots across touchpoints, then assign them to different numbers/webpages or swap them to adjust to current call volumes or highlight new features.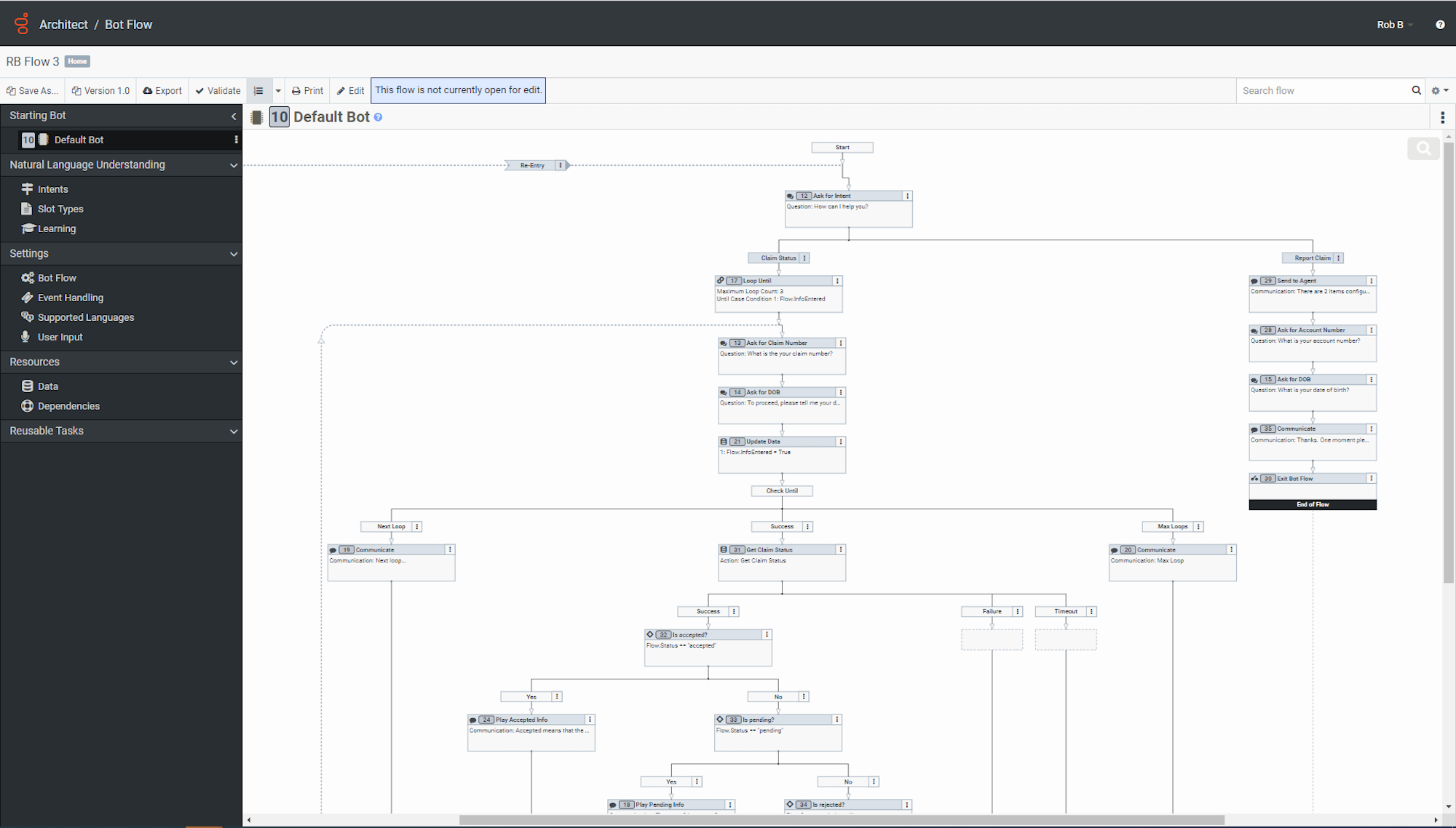 Genesys Bot Flow Builder tools:
RCS-Integrative: Integrate all of your company's outbound marketing tools and rich communication services (RCS) options into your bot or IVR flow, like surveys, carousel messages, links, coupons, announcements
Diverse Capabilities: Let bots automate simple customer service actions, including collecting customer information, verifying identity, and booking appointments
Import bots: Import any voice bots built using outside NLU providers like Amazon, Google Cloud, or Microsoft
Deploy Across Multiple Channels: Once you create a bot conversation flow, assign it across multiple numbers and digital channel touchpoints
Adaptive/Personalized Flows: Create in-flow menu options that adapt to each customer's journey and sentiment. Genesys AI tracks customer journey and sentiment before and during bot interaction, allowing AI to serve unique transactions, menu, and service options to customers with particular journey data
Business Controls: Define controls like business hours, holidays, and emergency messages, without disrupting menu flow
Customer Recognition: AI uses a customer's IP address and login information to identify them, adding the IVR conversation to their customer journey, so they don't have to repeat themselves down the line
Utterance Predictions: Improve IVR and voice bots' natural language understanding (NLU) by inputting a list of expected customer responses (Bots also compile lists of common responses to strengthen utterance recognition)
Bot Templates: Use Genesys-created bot templates, or create your own from scratch
IVR (Auto-Attendant)
Create an auto-attendant voice menu, attached to a company phone number, that provides customers with routing options to navigate using their voice or dual-tone multi-frequency (DTMF) selections.
Voicebots And Chatbots
Voice bots and chatbots are speech-recognizing and text-recognizing automated menus that understand customer queries and provide basic services, like:
Answering basic questions
Handling transactions
Verifying customer identity
Booking appointments
Routing the customer to the right agent+providing agents with bot interaction transcripts and context
Agent Support Tools
The following Genesys CX tools reduce agent workload, improve the overall agent experience, and make it easier for agents to improve customer relationships with better, more personalized support.
Agent Scoring For Customer Matching
Predictive engagement analyzes agent strengths, scoring each agent based on their ability to help incoming customers based on each customer's needs.
Once a high-scoring agent matches with a customer, the ticket appears in the agent's Conversations tab.
Conversations Tab For Multichannel Ticket Management 
The Conversations Tab, where agents can accept and easily click between dozens of conversations at once, houses all of an agent's tickets across channels.
When an agent clicks on a conversation, the central panel displays the most recent conversation and a chat box, as the menu's right-hand side updates with the customer's information, insights, and an interaction toolbox.
Interaction Toolbox
During customer interactions on any channel, the agents' right-hand menu provides a toolbox of customer data, relevant analytics, suggestions, scripts, and other tools like:
Customer Information: Customer name, address, email, phone number, social media, and any notes left by other agents. Agents can click on the customer's image to open up a complete customer profile.
Customer Journey: Customer journey mapping of most recent business website activity, including time spent on any page, AI actions taken, offers received, and more
Predictive Web Engagement: AI analyzes conversations to determine each customer's progress toward achieving your company's goal (purchase a product, sign up for a subscription, mark their issue resolved, etc.)
Quick Actions: One-click options for agents to customer ticket actions, like canceling or confirming an appointment, escalating to a voice call, rescheduling, or transferring
Conversation History: A customer's previous conversations across channels, both automated and in-person
Screen Sharing: With one-click screen sharing, agents can share their screen to show customers a demonstration, article, or document
Canned Response Suggestions: From Agent Assist, explained further below
Agent Assist
Agent Assist uses AI and NLU to analyze conversations in real-time, combining with each customer's data and journey to generate agent scripts, suggested actions, and canned responses.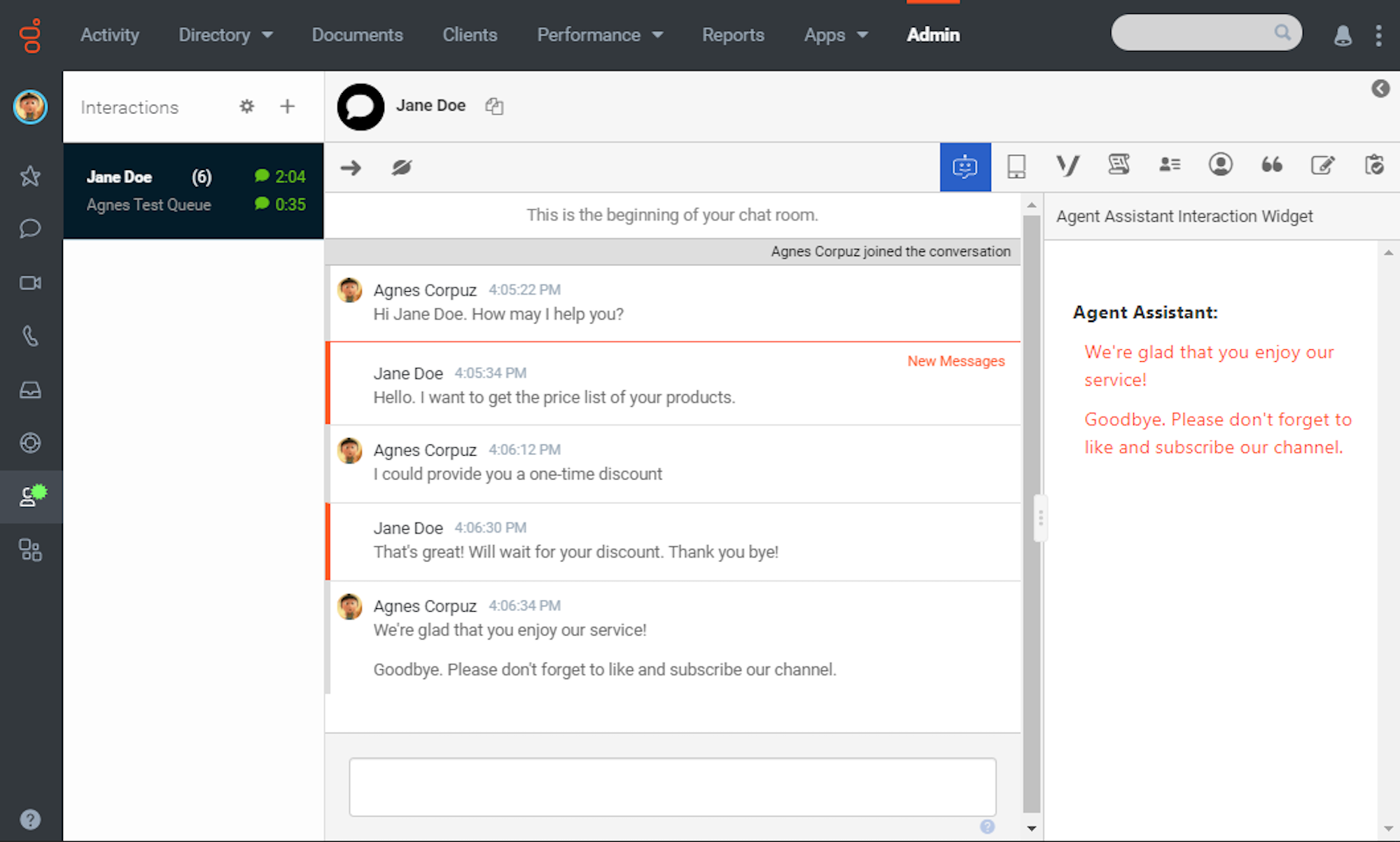 Agent Assist provides agents:
Knowledge base answers to customer questions
Action or offer suggestions, like discounts or coupons
Canned responses and support scripts
Agent Assist reduces average handle time, increases customer satisfaction (CSAT) scores, and helps new agents learn customer interaction skills quickly.
Personalized Employee Hub
The Genesys CX Employee Hub's personalized dashboard aggregates everything an employee needs to manage daily tasks, complete training, monitor feedback and evaluations, improve skills, and grow in their career.
Employee Hub dashboards include:
Daily Schedule: Color-coded by task type and broken down to the minute
Quality Management Evaluations: Information about the evaluator, date, and score–along with evaluation summaries by week or month
Performance Scores and Trends: Tracks best daily, weekly, and monthly performance scores
Assigned Learning Content and Coaching Sessions: Lists all assigned training materials with summary and deadline date
Gamification: Agents can view their performance in comparison with other employees based on punctuality or important KPIs, like average hold time and calls-transferred ratio
Recent Customer Session Summaries/Data: Featuring the session recording, transcript, statistics like the ratio of customer talk to agent talk, session length, start time, and end time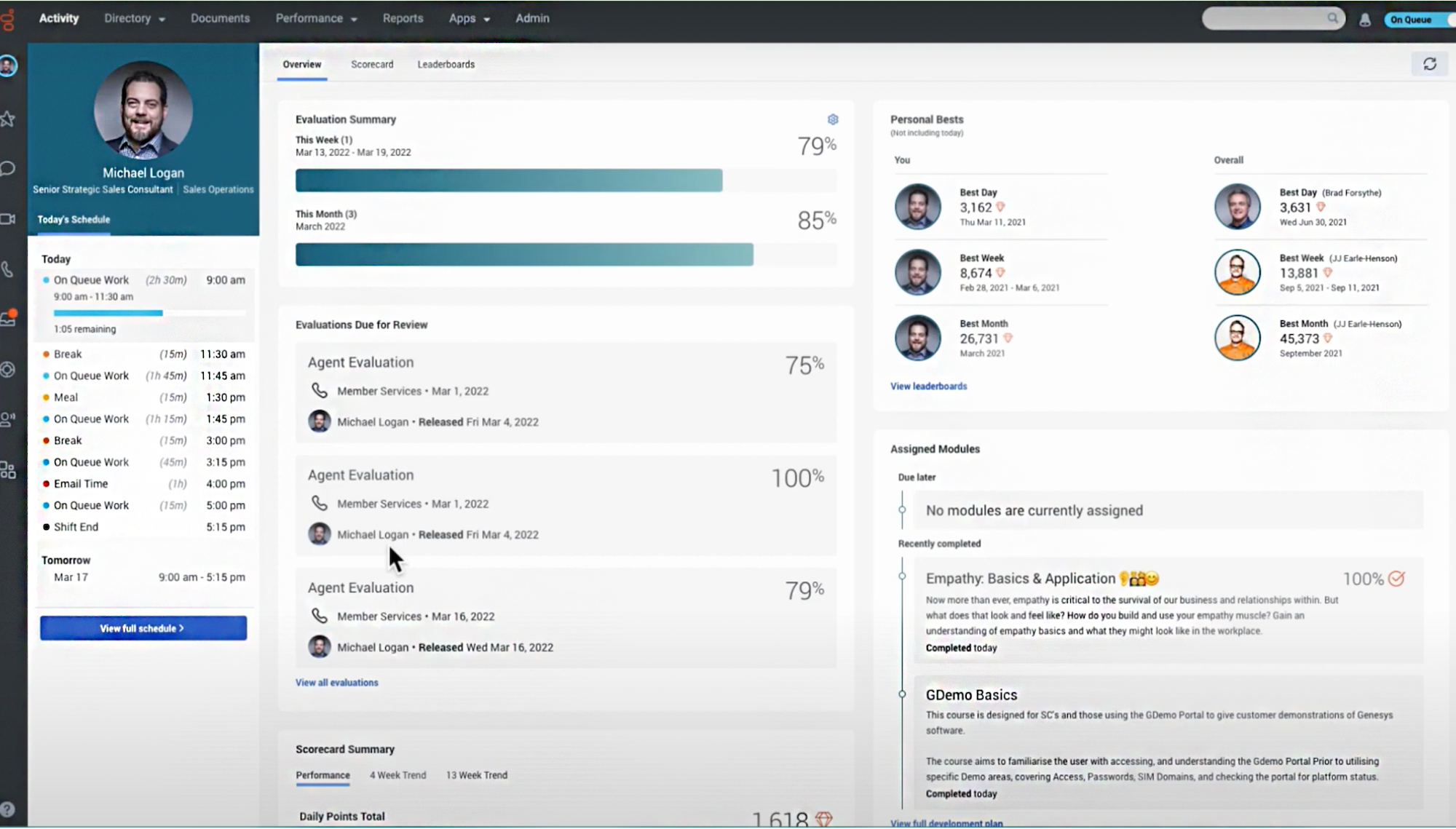 Mobile Schedule Management
In the Genesys Tempo Mobile app, agents can:
Access Work Schedule and Calendar: View and set daily schedules, access work and personal events within a shared calendar, and log into their Genesys dashboard directly from the app's calendar or daily timesheet
Make Schedule Requests: Manage break timing, request PTO, call in sick, request to switch shifts, and set future schedule preferences
Analytics, Reporting, and Insights
Genesys Cloud CX provides dozens of customizable analytics dashboards, reports, and viewing options for complete contact center oversight.
Use these analytics and reports for real-time channel monitoring, departments, and agents. Track changes over time with historical reports to anticipate demands and identify weak points in customer service or sales pipelines.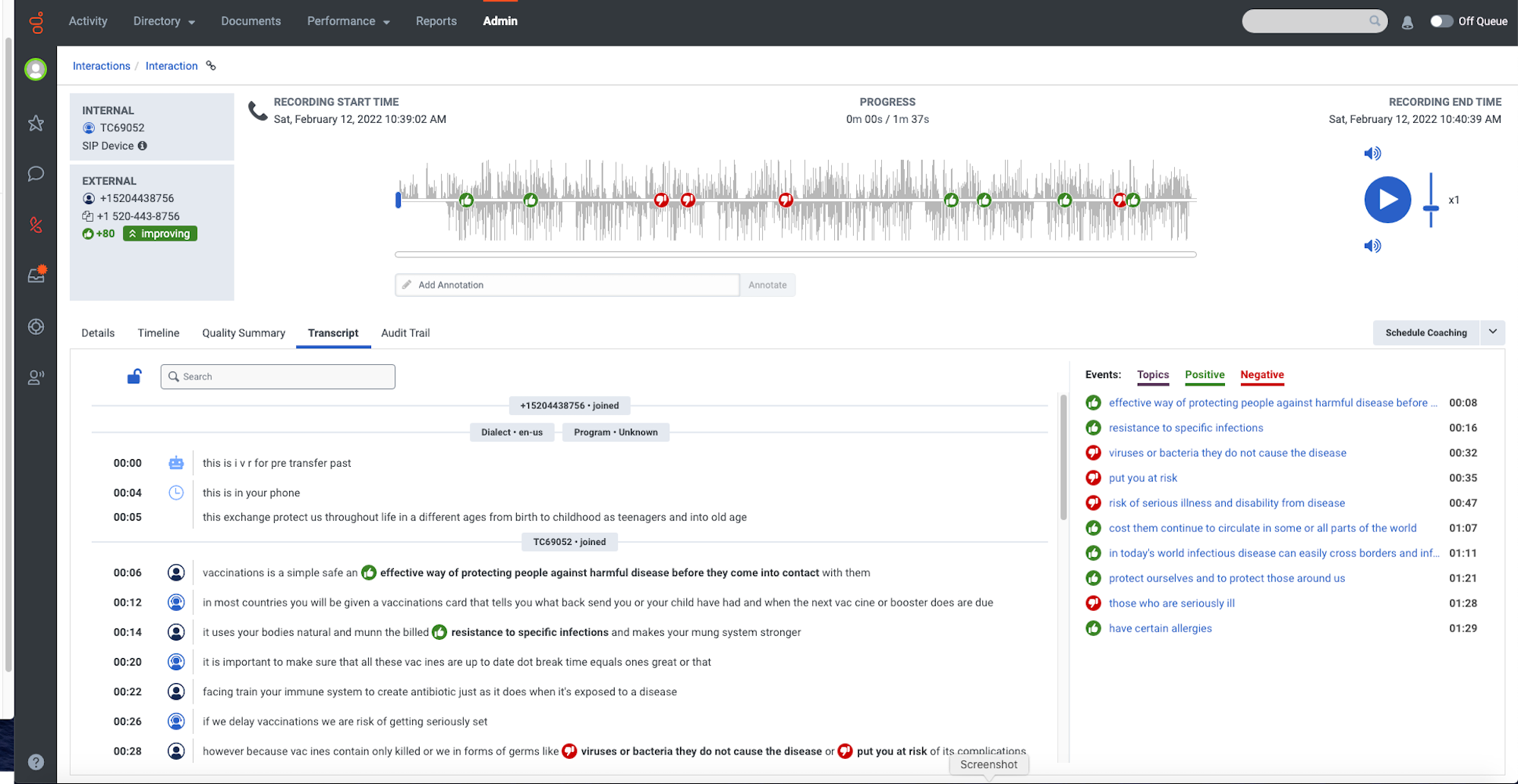 Real-Time Call Center and Session Monitoring
View real-time reports to manage the contact center and individual tickets, gaining insights into performance over hours, days, months, or years.
Contact center KPIs include:
Customer sentiment scores and % change
Logs of all customer sessions
Total time spent in sessions
Active agents
Active tickets
Ticket successes, failures, and success rate
Hold time
Queue length, and more
Conversational analytics, generated in real-time during each session, support agent growth and feedback, as administrators can refer to specific analytics–like quotations or fluctuations in customer sentiment–during evaluations.
Conversational AI insights for each ticket:
Full call recording and transcription
Positive and negative events
Agent behavior trends
Shifts in customer sentiment
Quality summary
Automations Insights
View metrics about the performance of routing tools, bot flows, and other automations:
Routing KPIs: Queuing KPIs like average handle time, transfer rates, and routing path activity–across all channels
Routing Suggestions: Genesys AI identifies teams or departments with the most potential for improvement, then tests alternatives and offers improved call routing options, estimating the KPI gains with each implemented improvement
IVR and Bot Flow Performance: Identify navigational or transactional customer issues within your bot flows using metrics like navigation success rate, common customer paths, and most commonly used automated menus
Collaboration Tools
The Collaboration menu tab provides an interface for agents to navigate and manage all internal communication with team members. 
Direct Messages and Groups: Send one-on-one messages or create group chats for projects, departments, or social relations
One-Click Call and Video: One-click internal voice or video calling inside the chat interface
Information: Open up team members' profiles to view availability, company title, specialties, skills, and hobbies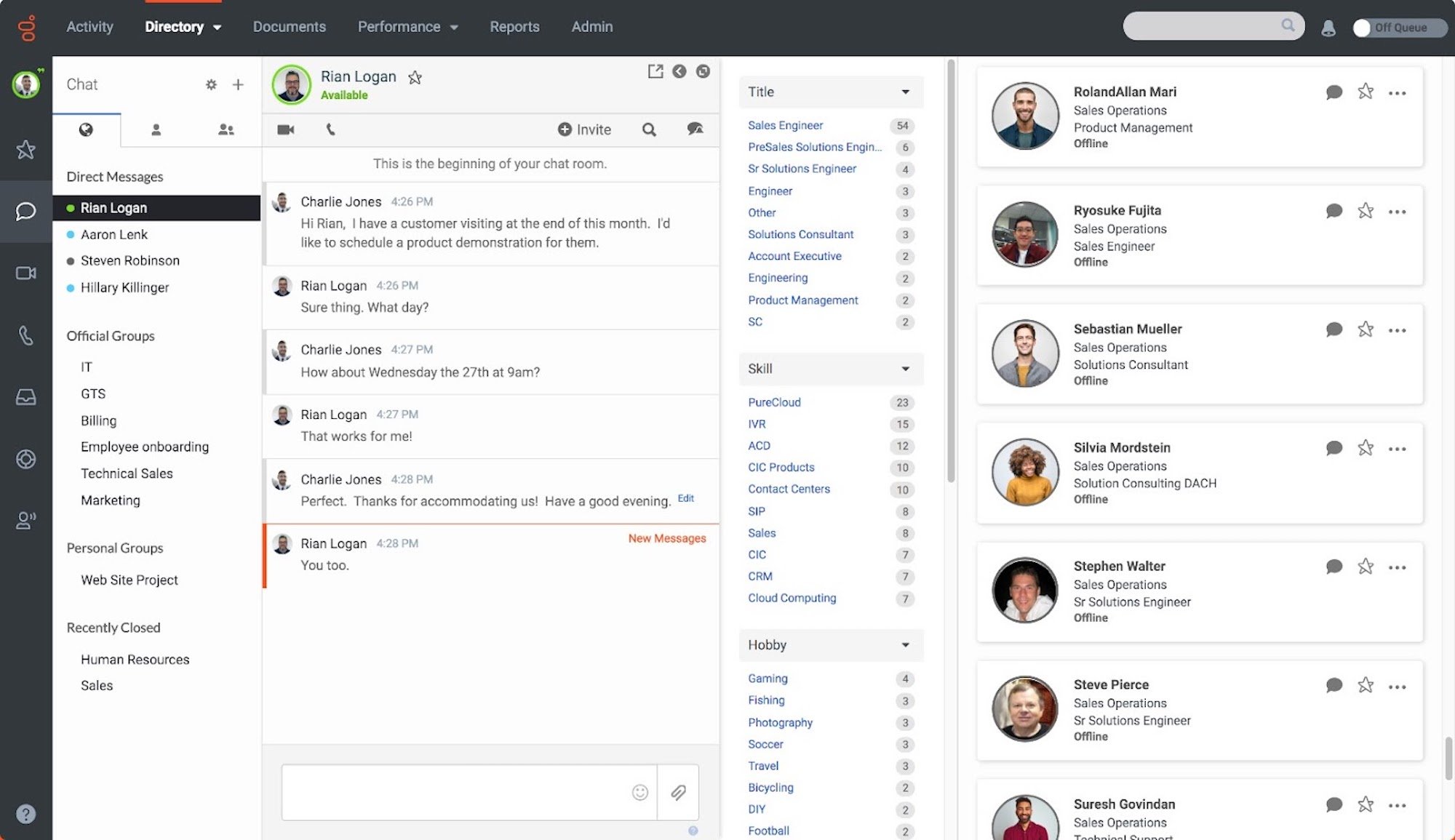 Genesys Cloud CX Benefits
Here's how your contact or call center can benefit from Genesys Cloud CX:
Flexibility for customers
Fast and personalized customer service
Simplified agent experience
Insights to guide business decisions
Flexibility for Customers
Customers can contact your company through live channels–VoIP calling, email, SMS texting, web chat, and social media–or use self-service options like IVR, chatbots, or voice bots. Agents can easily switch between channels during sessions while maintaining contact with the customer.
All customer omnichannel interactions are recorded, transcribed, and logged, so other agents can access the data needed to provide contextualized customer service.
Fast and Personalized Customer Service
Configure channel-based routing rules and self-service conversation flow maps.
Customize personalized customer journeys across channels by leveraging key data like sentiment, goals, and account status.
In outbound marketing, group leads and customers by variables like location, preferred contact method, and contact time.
Simplified Agent Experience
The Cloud CX interface includes multiple features that simplify the agent's work experience.
The app's agent workspace leverages one-click channel switching, abundant customer data, and AI-supported intelligence like canned responses to help agents provide smooth support.
Collaboration tools like instant chat messaging with user presence (status) updates, @ mentions, and direct messaging keep agents on top of internal communications.
Real-time and historical performance reports record, transcribe, and identify conversation trends and insights for each customer session, helping employees identify and improve upon their own counterproductive behaviors.
Insights to Guide Business Decisions
Genesys AI tracks all sorts of call center KPIs and trends, including channel usage, bot flow efficiency, customer keywords sorted by channel, and the most popular routing paths. These insights help administrators make more informed business decisions, and help coaching provide more customized support for agents on the team.
Genesys Cloud CX Pros & Cons
Below are the top Genesyss pros and cons according to our hands-on experience and user reviews:
Genesys Cloud CX Pros
Automated self-service tools across all communication channels
User-friendly agent interface with interaction context and high ease of use
Many employee-support tools, like shift trading and automatic scheduling
Digital-only and voice-only pricing options provide scalability most competitors don't
CX 1 and CX 2 offer basic call centers at a great value, below $100
Genesys Cloud CX Cons
Employee scheduling tools can have a steep learning curve and lead to employee confusion
Manager portal UI feels confusing to navigate, not as intuitive as competitors
Reports and analytics can be difficult to use
Salesforce integration is lackluster
Speech recognition and transcription can be unreliable
Genesys Cloud CX Alternatives
The below call center software and contact center providers are some of the best Genesys alternatives.
Provider
Pricing
Contact Center Channels
Standout Features
Best For
Five9
5 plans from $149 to $229 monthly per user
-Voice

-Email

-Webchat

-SMS

-Video

-Social media

-Workforce management forecasts and schedules

-Omnichannel self-service flows

Agent productivity and support
Talkdesk
3 plans from $75 to $125 monthly per user
-Voice

-Email

-Webchat

-SMS

-Social media

-AI-derived insights about customer friction points

-Agent Assist offers quick-answer suggestions

AI support at budget prices
Dialpad
2 plans with custom pricing quotes
-Voice

-Webchat

-SMS

-Social Media

-Real-time coaching enables supervisors to monitor and provide live agent feedback

-Real-time speech analysis and agent feedback

Real-time agent support during calls
Twilio Flex
1 plan at $150 monthly per user, or $1 per active user hour
-Voice

-Email

-Webchat

-SMS

-Social Media

-Drag-and-drop analytics reports

-AI-generated business insights

Companies planning on using APIs to build on contact center
Who Should Consider Genesys Cloud CX?
Genesys Cloud CX is best for teams looking to better support their agents with staffing tools, analytics, and a user-friendly omnichannel interface. The call center also makes a good option for companies seeking to provide their customers with self-service tools, as Genesys includes automations across all channels.
Finally, Genesys is a good fit for teams that want a digital-only CCaaS solution, perhaps in addition to an existing business phone system. While many alternatives don't offer digital-only options, Genesys includes basic and advanced plans customized for teams that only want to use text-based channels.