A business phone number gives your company credibility, increases brand recognition, and allows you and your team members to keep personal phone numbers private. It makes it easier for customers to find — and remember — how to contact you, and also increases consumer trust and differentiates you from your competitors.
In this article we'll take a closer look at what a business phone number is, its types, key features, and how to get a business phone number.
Compare business phone numbers from
top providers
Quick Links:
What is a Business Phone Number?
A business phone number, or direct inward dialing (DID) number, is a telephone number that isn't tied to a specific phone system.
This means you can use the same business phone number on different devices and in different locations — even while on the go — via the provider's app.
Business phone numbers are easy to set up, as all you have to do is download the number provider app, select your desired phone number and plan, and pay (generally on a monthly basis). The entire process takes less than a day, and often less than an hour, to complete.
A business phone number can cost from $10 to $30 per user per month. The price will vary depending on the number of lines, usage, features you choose, type of number, etc.
The Different Types of Business Phone Numbers
Not all business phone numbers are created equal, and the type you choose for your business is a key consideration.
The main types of virtual business phone numbers are:
Local Phone Numbers: For Establishing a Local Presence
A local phone number is tied to a specific location/area code, giving your business a more trusted local presence.
Note that you can choose local phone numbers in area codes other than the physical location of your business. In fact, many businesses purchase multiple local phone numbers to have a local presence throughout the country.
Local phone numbers can be claimed for free with tools like Google Voice and can be purchased for $10.00/line per month or less. Setup is fast and simple.
Toll-Free Phone Numbers: For Affordable Professionalism
Toll-free numbers (sometimes called "800 numbers") begin with number prefixes like 800, 888, 877, 866, etc.
These numbers are free for customers to dial, and are not tied to any specific location as local phone numbers are. You can set up toll-free numbers through your phone service provider or have numbers forwarded to existing lines.
With an average cost of $10.00/number per month, these numbers are an affordable option that makes your business seem more nationwide as opposed to just local.
Vanity Phone Numbers: For Better Name Recognition
A vanity phone number is a customizable personalized toll-free number that lets you spell out relevant words or phrases. (1-800-FLOWERS is perhaps the best-known example of a vanity number.)
Vanity phone numbers are an excellent way to boost not only name recognition, but also number memory. So, even if someone who hears or sees your vanity number doesn't need what your business sells now, they'll know who to call when they do.
The major downside here is that many vanity numbers are already taken, so be prepared to get a bit creative. Vanity numbers are slightly more expensive than standard toll-free numbers, ranging in price from $10.00-$50.00/number per month.
VoIP Phone Numbers: For Businesses Needing Advanced Features
A VoIP phone number is assigned to you when signing up for a business VoIP service, allowing you to make/receive calls over the Internet (including WiFi.)
With an average cost of between $20.00-$50.00/user per month, this type of number is more expensive than the other options here — but comes with scalability and additional features not available on all number types.
Plus, you won't need to pay an extra fee to connect the VoIP number to your phone line.
Why You Need a Business Phone Number
Having a business phone number offers several benefits over traditional landline and even smartphone numbers.
Aside from a more professional appearance, we'll outline some of the other reasons why you need a virtual business phone number number below.
Multi-Device Access
First, you'll be able to use a business phone number on the device of your choosing, whether that's your standard desk phone, a laptop or desktop computer, your smartphone, or even a tablet.
These numbers offer excellent portability and flexibility, so you'll no longer be constantly tied to your landline waiting for that all-important call.
Plus, basic features like call forwarding mean that if you miss a call on one of your devices or phone numbers, it will be forwarded to another. For example, if a customer calls your business phone number but doesn't get an answer, the call will be forwarded to your personal cell phone number.
Additional Communication Channels
Though virtual phone numbers are best known for voice conversations, many providers offer additional communication channels, namely SMS texting and online faxing.
Virtual faxing allows you to send customers important files like contracts or project documents without all the bulky equipment — and without tying up your business phone line, since you can make/receive calls with online faxing.
SMS and MMS business texting lets you instantly respond to simple customer questions or tell them when you'll be able to speak via phone if you miss a call while in a meeting.
Advanced Features For Better Call Management
Though virtual business phone numbers don't have all the advanced features of VoIP business phone systems, their capabilities still streamline call management better than standard landlines.
For example, Call Screening (Caller ID) lets you know who is calling, making it easy to decide whether or not to take the call and ensuring you're better prepared for the conversation if you do pick up.
Real-time notifications for missed calls and voicemail messages, along with call logs, prevent you from failing to return calls in a timely manner (or from forgetting to return calls at all.)
Many virtual phone number providers also offer voicemail transcription, so you can read, not listen to, voicemail messages. This saves time and allows for better callback prioritization.
We'll outline more key business phone features to look for later in this post.
How to Get a Business Phone Number
The easiest and most reliable way to get a business phone number is through a VoIP provider.
One or more virtual numbers are included in each available plan, providing access to scalable business phone number solutions with only the features you need.
Here are the 6 best business phone number providers.
RingCentral MVP (Message, Phone, Video) Business Communications is a leading business phone system bringing messaging, video and phone together in a single VoIP software application.
In addition to the impressive functionality offered by RingCentral, each plan offers a business phone number. When you sign up for a plan, you'll be asked to choose one of the following types of business numbers — toll-free, local, international, or vanity.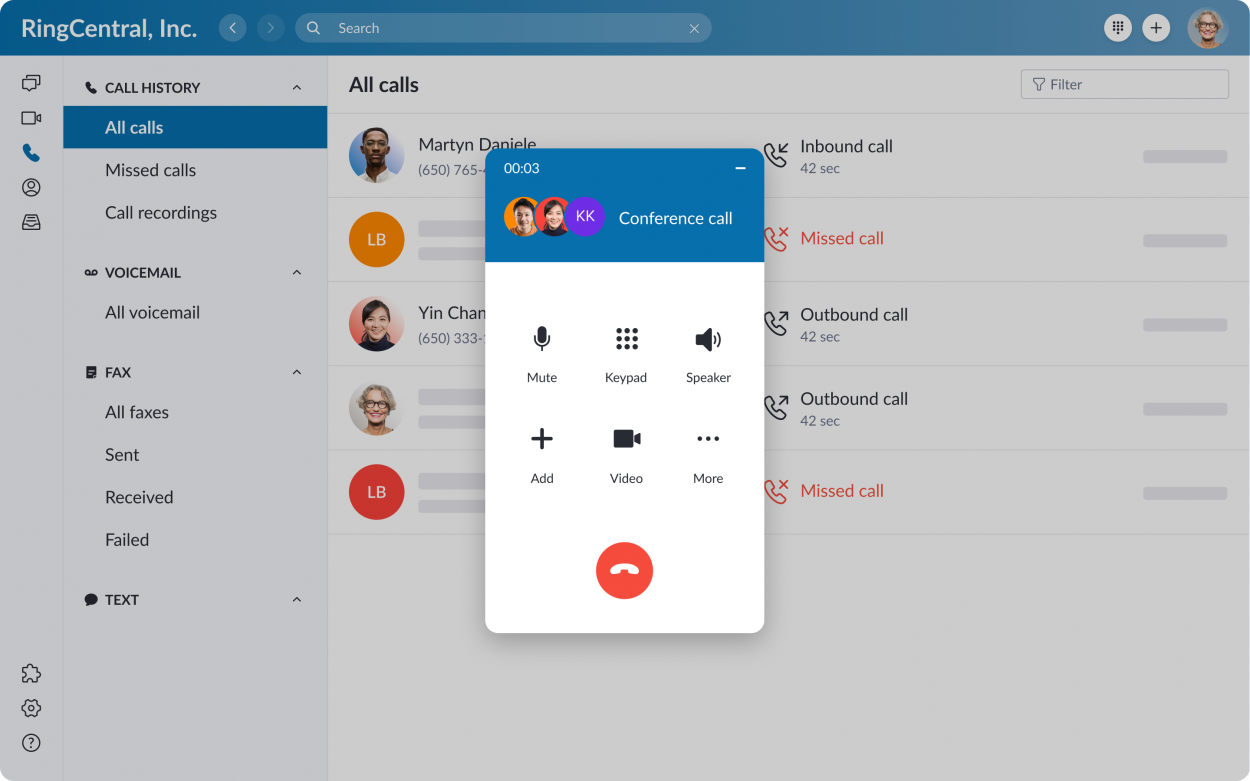 RingCentral ensures that your calls are protected by encryption. The provider offers features such as call forwarding, call routing, caller ID, call screening, and more to manage every call that comes in.
Below is the pricing for each of the available RingCentral plan. Note that pricing depends on the number of users.
Core 
Advanced
Ultra
Pricing
From
$20.00
/user/mo
From
$25.00
/user/mo
From
$35.00
/user/mo
Visual Voicemail 
✓
 ✓
✓
Business and Toll-Free Phone Numbers
✓
In over 100 countries
In over 100 countries plus up to 8-digit extensions
Unlimited Calls in the US and Canada
✓
✓
✓
Toll-Free Minutes/Month
100
1,000
10,000
Call Recording
X
On-Demand and Automatic
On-Demand and Automatic
Multi-Level Auto-Attendant 
X
✓
✓
Call Barge, Call Whisper, Advanced Call Monitoring
X
✓
✓
Enhanced Business SMS & MMS
25/users/mo
100/users/mo
10,000/users/mo
Grasshopper is a virtual phone system geared toward small business owners, designed to help its users save money and look more professional.
Their plans offer a dedicated business number to ensure that you can keep work and your personal life separate.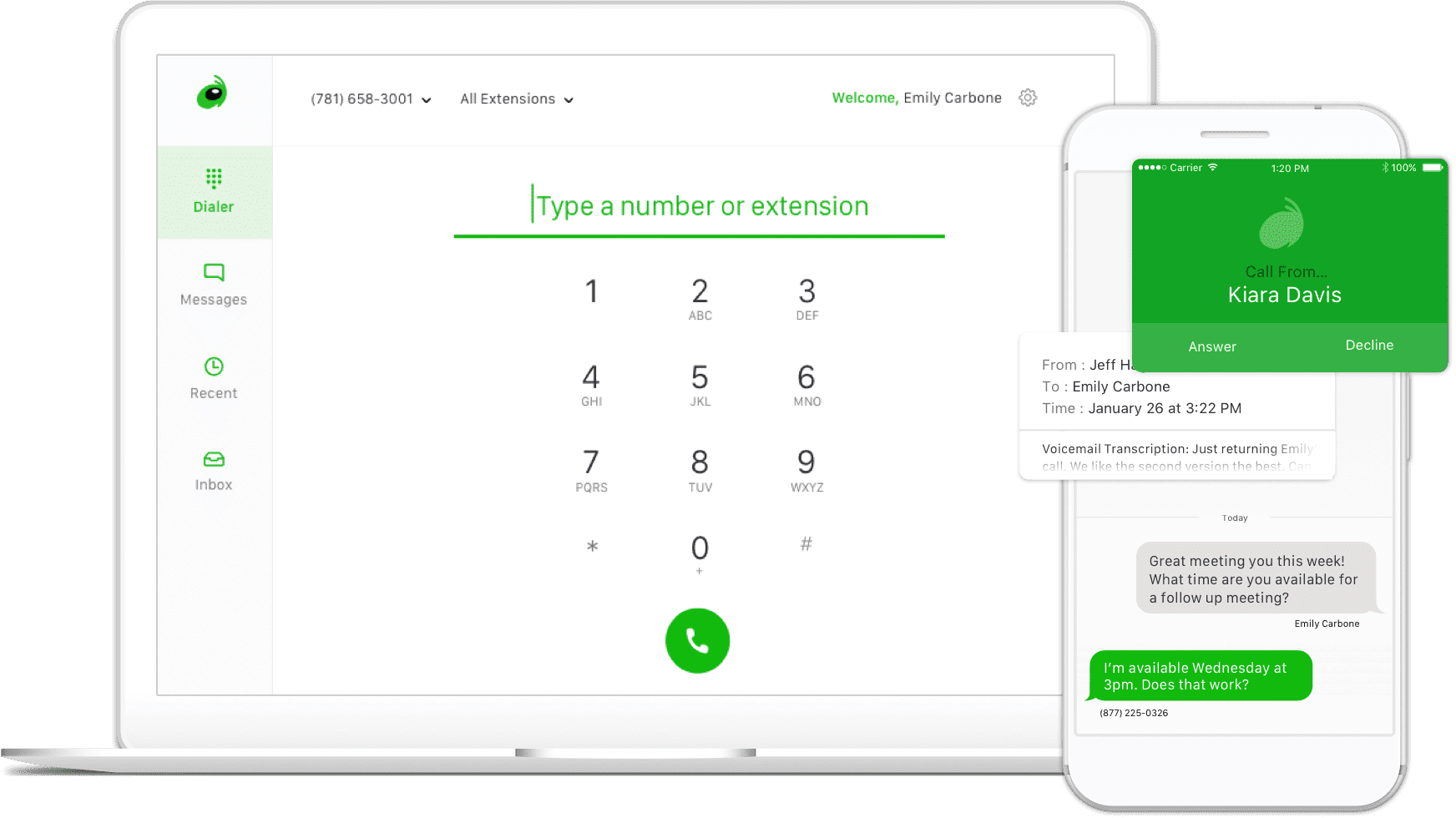 Grasshopper offers multiple types of business numbers, including toll-free number prefixes like 833, 844, 855, 866, 877, 888, and true 800 numbers. You can also choose from a vanity number, a local number, or port your existing business or virtual number to Grasshopper.
The Grasshopper pricing and plans below are each geared toward a different type of small business.
| | | |
| --- | --- | --- |
| Solo | Partner | Small Business |
| $28/mo billed annually | $46/mo billed annually | $80/mo billed annually |
| 1 Phone Number | 3 Phone Numbers* | 5 Phone Numbers* |
| 3 Extensions | 6 Extensions |  Unlimited Extensions |
All Grasshopper plans include:
Mobile + Desktop Apps
Business Phone Number*
Business Texting
Call Forwarding
VoIP + WiFi Calling
Virtual Fax
Voicemail
Read Your Voicemail
Extensions
Instant Response
Custom Greetings
Call Transfers
Simultaneous Call Handling
Incoming Call Control
Reporting
​​8×8 is designed to help you work from anywhere. They have multiple plans to ensure businesses of every kind can have their needs met in the most cost-effective way possible.
8×8 earned a spot as a leader on Gartner's Magic Quadrant for Unified Communications for 9 years in a row.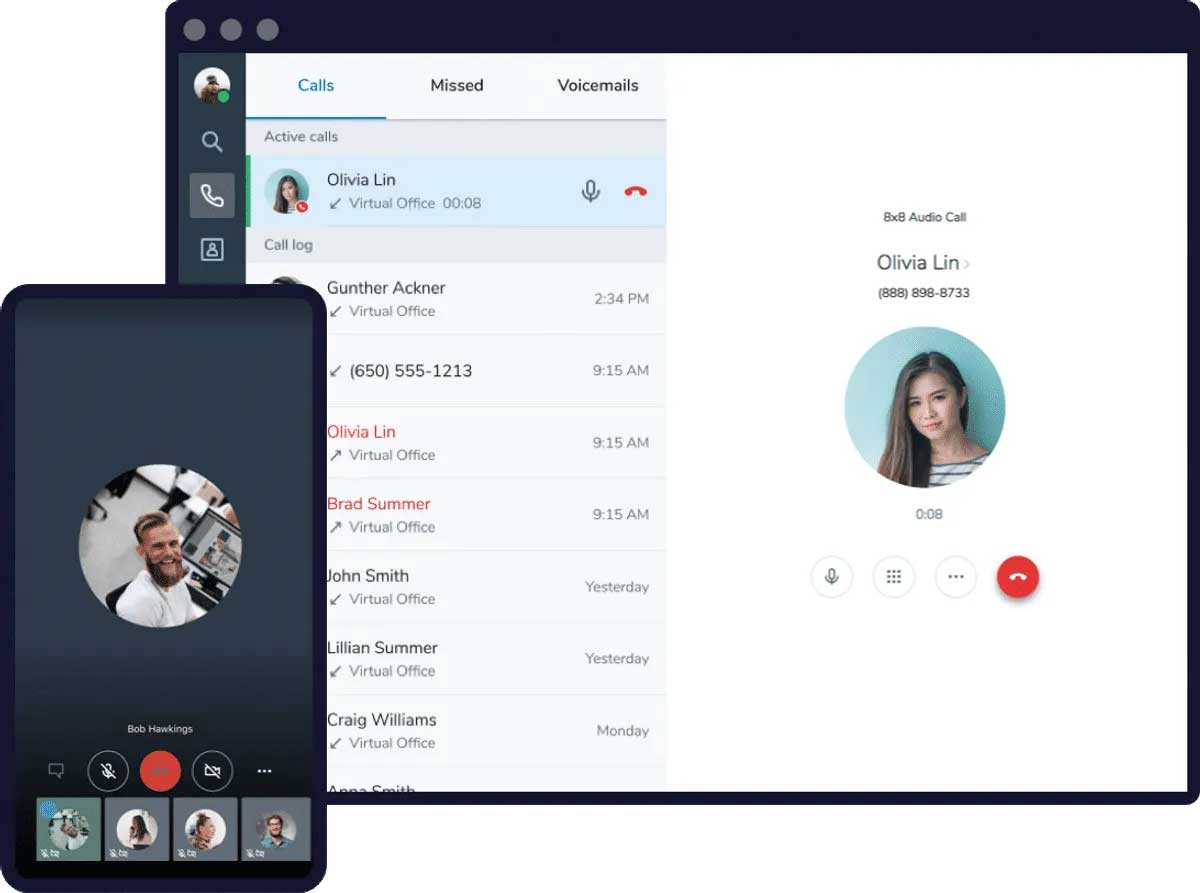 The business phone provider offers three different plans, each with its own specific focus. Each of the three plans offers business numbers with features that allow you to get the most out of your business communications.
Here's a look at each of 8×8's plans.
| | |
| --- | --- |
| X2 | X4 |
| Quote-based pricing | Quote-based pricing |
| All-in-one voice, video and chat for larger teams | Advanced call handling and analytics |
| Unlimited voice calling to 14 countries | Unlimited voice calling to 48 countries |
| HD video & audio conferencing for up to 500 active participants | 8×8 Frontdesk for receptionists and operators |
| Team Chat | Supervisor analytics |
| Microsoft Teams integration and more | Monitor, whisper and barge |
Nextiva allows you to connect your phone system with business apps, AI, and automation all on one platform. With its cloud-based VoIP service and 99.999% uptime, the service provider was rated the best business phone service by U.S. News.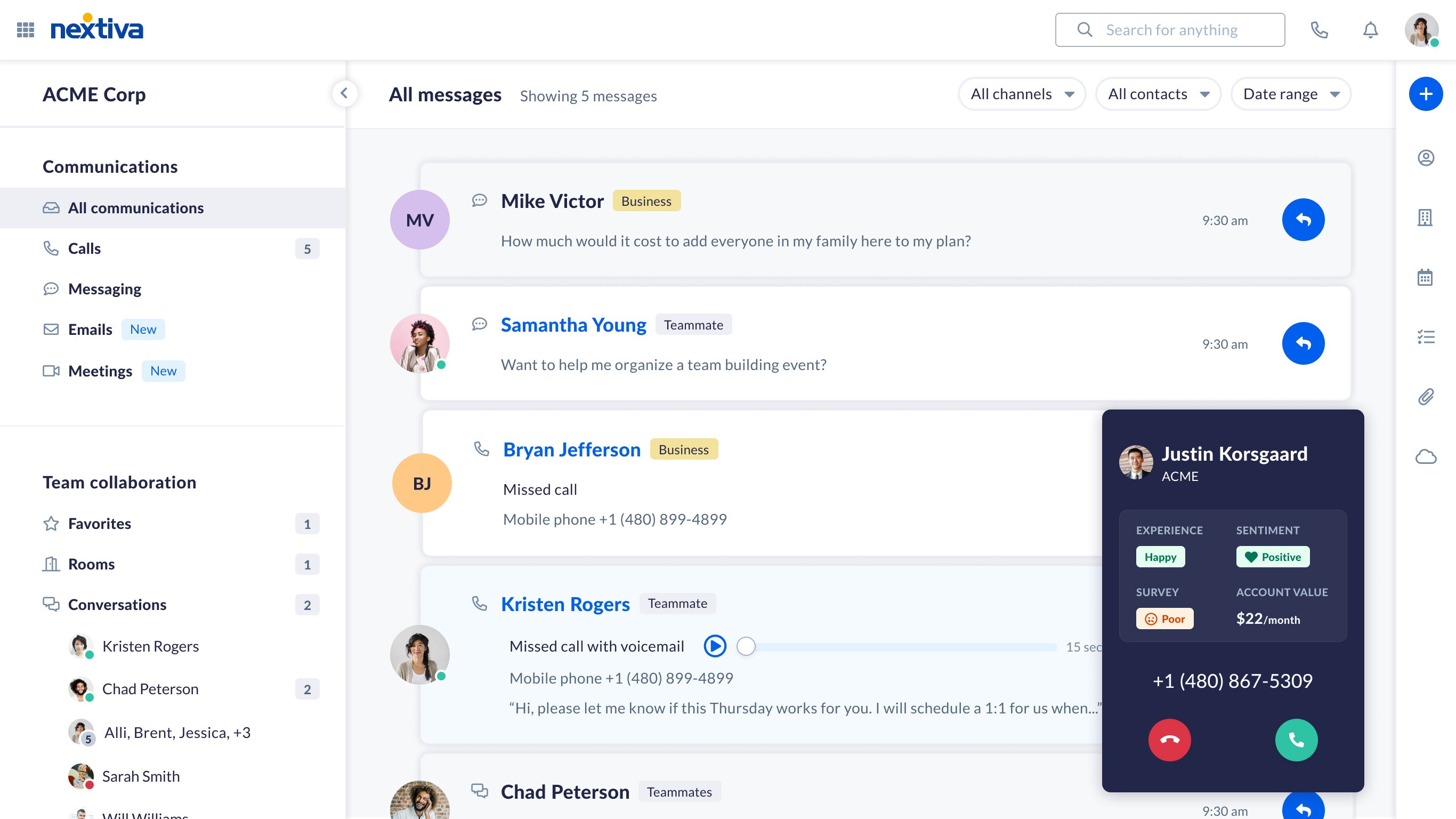 Nextiva boasts being the largest local business virtual phone provider in each country. The phone provider offers local VoIP numbers in many major cities in most states. Nextiva offers area codes in every state across the US as well.
Nextiva pricing and plans include a free local and toll-free number and are outlined in the image below.
Essential
Professional
Enterprise
From $17.95
/user/mo
From
$21.95
/user/mo
From
$31.95
/user/mo
Unlimited voice & video calling
Everything in Essential, Plus
Everything in Professional, Plus
Voicemail
Unlimited conference calls, 40 participants
Unlimited participants on voice & video conferencing
Toll-free numbers
Unlimited video conferencing
Call recording
Outlook/Google Contacts Integrations
Screensharing
Unlimited video conference recording
Unlimited internet fax
Auto attendant (multi-level)
Voicemail transcription
Mobile and Desktop SMS/MMS
Microsoft Teams/Custom Integrations
Salesforce/HubSpot Integrations
Single Sign On
Vonage makes communications more flexible, intelligent, and personal in order to help their 100,000+ customers stay ahead. They boast major businesses among the ranks of their customers, such as Allstate, Dominos, and The Princeton Review.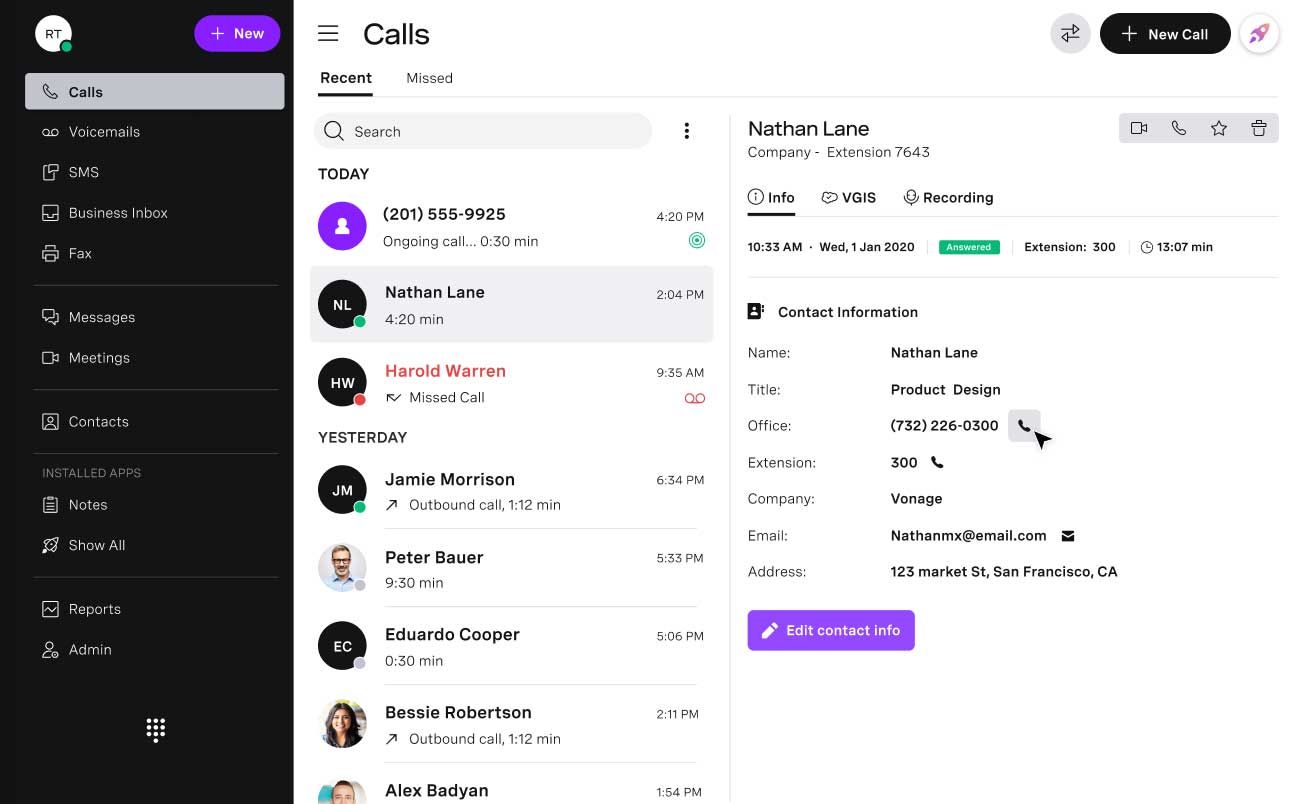 Vonage offers three different packages for its customers. Their Mobile plan is more focused on calls. The Premium plan enables users to take their communication to the next level with calls, messaging, and video.
The Advanced plan offers elevated features and is available for IP phones. Each of Vonage's plans comes with a business number. You'll be prompted to select a local or toll-free number when you pick out your plan.
Here's a breakdown of Vonage pricing and plans.
Mobile
Premium
Advanced
$19.99

per month/per line
plus taxes & fees

$29.99

per month/per line
plus taxes & fees

$39.99

per month/per line
plus taxes & fees

Features:
All Mobile Plan features PLUS:
All Premium Plan features PLUS:
Mobile and desktop apps
Unlimited meetings for up to 100
Call Recording: on-demand (15 hours)
Unlimited Calls and SMS1
Multi-level auto attendant
Call Group
Vonage App Center2
CRM Integration3
Visual Voicemail
Unlimited Team Messaging
IP desk phone capability
1Reasonable and acceptable usage applies for unlimited calls and unlimited SMS. Mobile data charges may apply. SMS is not available in Mexico.
2Vonage App Center includes over 20 third party integrations.
3CRM Integration includes Bullhorn, G-Suite, Hubspot, Office 365, Salesforce, Sugar CRM, Zendesk, Clio, Connectwise, JobDiva, Microsoft Dynamics & Zoho.
Ooma has features specifically curated for small businesses. With the coronavirus pandemic forcing so many businesses to work from home, Ooma has created a communications experience for those who are running their businesses from home.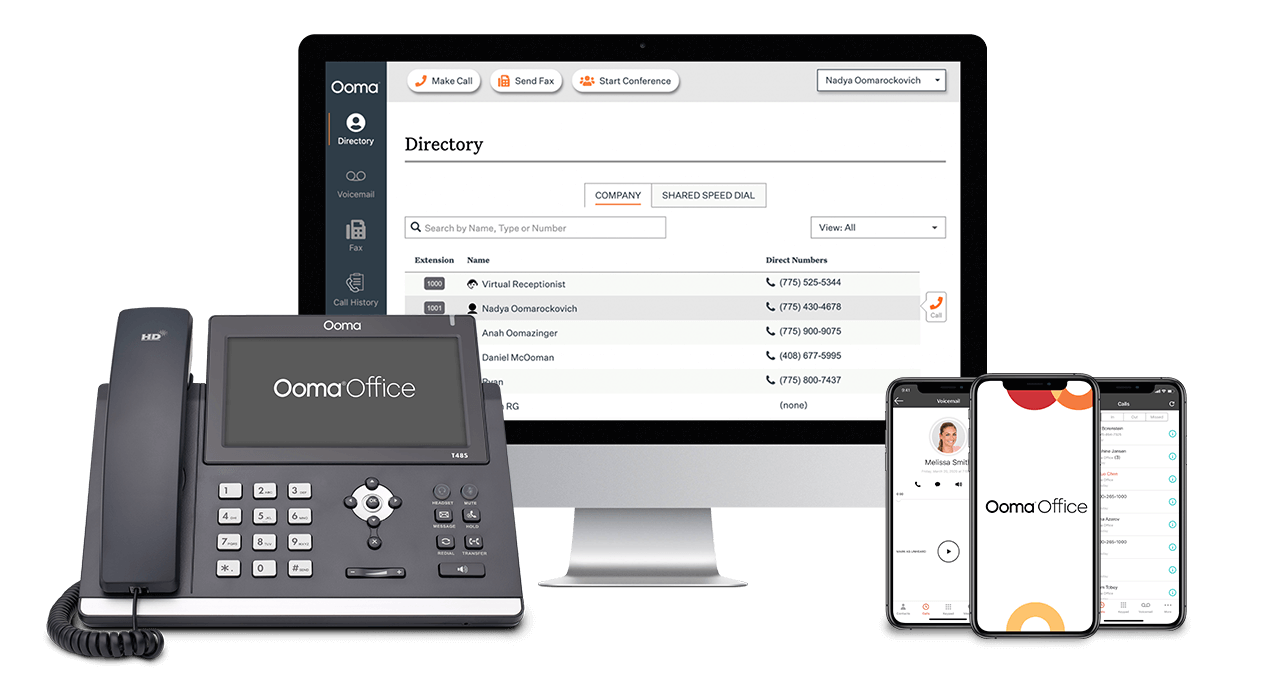 The phone service provider is designed to cut its customers' phone bills in half, as its website states that users save an average of 50% on each bill. Their cost-saving plans also include a free business number.
You can sign up for your number right on the website. The website prompts you to select your country, state, city, and area code. You can choose if you want a default, repeating, or vanity number and pick the specific number you want.
Ooma offers two business plans — Ooma Office and Ooma Office Pro. Here's a breakdown of Ooma pricing and plans.
Price
Billing Frequency
Ooma Office Essentials

Includes a user extension, a local phone number, and unlimited calling to the US, Canada, Mexico, and Puerto Rico

$19.95
Monthly
Ooma Office Pro

Includes all standard Ooma Office features, plus Ooma Meetings, Call Recording, enhanced call blocking, Voicemail Transcriptions, and more

$24.95
Monthly
Ooma Office Pro Plus

Includes all standard Ooma Office and Ooma Office Pro features, plus Hotdesking, Call Queues, CRM integration, and more

$29.95
Monthly
Capacity
User extension

Includes Virtual Fax and a local phone number

$19.95 Base
$24.95 Pro
Monthly
Local phone number
$9.95
Monthly
Toll free phone number

Includes 500 minutes, 3.4¢ per additional minute

$9.95
Monthly
Conference bridge

Includes phone number

Free
N/A
Ring groups
Free
N/A
Virtual receptionist
Free
N/A
Services
Number porting
Free*
N/A
Toll-free calling plan

Includes 1,500 minutes, 2.9¢ per additional minute

$15.00
Monthly
Toll-free calling plan

Includes 3,000 minutes, 2.4¢ per additional minute

$30.00
Monthly
International calling
Varies by use
Deducted from prepaid account after each call
Hardware
Grandstream HT812 ATA
$69.99
One-time
Grandstream HT814 ATA
$119.99
One-time
Expansion Base Station
$99.99
One-time
Ooma Linx
$49.99
One-time
Ooma IP phones
Starting at $59.99
One-time
Ooma DP1 desk phone
$89.99
One-time
Yealink IP phones
Starting at $99.99
One-time
Yealink Conference IP phone
$399.99
One-time
Overview of Business Phone Number Providers
Below is a side-by-side comparison of providers offering business phone numbers
Provider
Best For
Feature Highlights
RingCentral
Companies with customers and employees around the world

Unlimited calls
Toll-free minutes
Unlimited business SMS

Grasshopper
Small businesses

Business texting
Call forwarding
Custom greetings

8×8
Organizations looking to quickly scale their operations

Virtual extensions
Unlimited internet fax
1GB Media Store

Nextiva
Businesses heavily focused on analytics

Free number porting
Call recording
Voice analytics

Vonage
Enterprise-level organizations

Three-way calling
Bandwidth saver
Call return

Ooma
Smaller companies on a budget

Virtual receptionist
Mobile app
When to Get a Business Phone Number
The best time to get a virtual business phone number is when you start your business, even if it's before you think you "need" one.
Doing so prevents competitors from claiming the best/most relevant phone numbers for your business and makes your company look much more established than it currently is.
If your business has been open for a while and you still haven't gotten a virtual number, the sooner you do so, the better.
Common signs you need a virtual business number include:
Customers say they have trouble finding how to reach you
Personal phone calls often interrupt business calls, or vice versa
You're no longer a solopreneur, but now have either full-time or part-time employees
Your daily call volume has increased
You have trouble managing voicemails and callbacks
You need advanced features like call forwarding, voicemail transcription, call recording, and other capabilities that your current phone number provider doesn't offer
You need to increase the legitimacy of your business in the eyes of consumers
You need a scalable phone number service to keep pace with your growing business
Must-Have Business Phone Number Features
​​Your virtual business phone app will only be of service if you find one with the features that will best serve your unique business needs.
Mobile App: A mobile application is one of the most important features to consider in your phone service. It allows you to take your conversations with colleagues and customers on the go.
Call Forwarding: This feature gives you the flexibility to direct your calls to any other number that you need them to go to.
Auto Attendant: Auto attendants are automated menus that use a voice prompt to navigate your customers' calls to the right department. These are a great way to manage calls and ensure your customers don't have to be on hold for too long.
Voicemail Transcription: Finding a VoIP service that offers voicemail-to-email or voicemail-to-text would be a benefit to your business, since it would automatically provide you with notes from any voicemail.
Call Recording: While voicemail transcription offers a hard copy of your voicemail, call recording will make sure you don't forget a thing from any outgoing or incoming calls. Be sure to follow applicable call recording laws.
Call Parking: This feature will allow you to put a caller on hold in the cloud and enable any employee to pick the call back up. That way, the most qualified person can handle the call without having customers on hold for too long.
Analytics: This will give you all the data you need to make sure that your employees are as effective as possible on their calls.
Best Practices For Choosing a Business Phone Number
The final step of getting a virtual number is making the right choice when it comes to the number itself.
First, consider what you want to use the number for.
Customer service is best tied to a toll-free 800 number, as consumers don't want to be charged when getting assistance for issues they feel your business "caused." Sales calls should be assigned to local numbers, as people are more likely to answer calls from familiar area codes. Vanity numbers, given how easy they are to remember, are best for general business phone numbers with IVR menus to direct calls. They're also a smart option to use for ad campaigns.
The size and location of your business — as well as your plans to expand — also influences the number you'll choose.
Small teams or brick-and-mortar stores usually opt for local numbers, as the majority of their business comes from shoppers close to their physical location. Nationwide companies with online and/or brick-and-mortar stores in multiple locations usually choose 1-800 numbers, as they benefit customers and increase the brand's credibility. Enterprise-level companies with a high daily call volume, as well as those that heavily advertise their products/services, should go for a vanity number.
Finally, consider the features your business number needs and if you're better off going with a complete VoIP phone system as opposed to a number provider.
For more information on VoIP solutions, check out our guide to the top business VoIP providers.