RingCentral is a cloud UCaaS, CCaaS, and video conferencing provider consistently named as a Gartner Magic Quadrant Leader and trusted by over 400,000 businesses across the globe.
The highly scalable solution gives remote and in-house teams access to a powerful business phone system, a CX-focused contact center, webinar and video conferencing applications, and AI-powered analytics and sales tools.
This post outlines RingCentral products, pricing and plans, available integrations, top features, available communication channels, and more.
An Overview of RingCentral Products
RingCentral offers 4 core products: 
RingCentral MVP Intelligent Phone Solutions: A VoIP phone system and UCaaS platform combining voice calling, video conferencing with RingCentral Video Pro, team chat messaging and collaboration tools, SMS/MMS, and online faxing into a unified interface
RingCentral Intelligent Meetings: Standalone or MVP-integrated free and paid video conferencing tool (RingCentral Video Pro), RingCentral Webinar for interactive online events, and RingCentral Rooms with custom hardware to unite virtual and in-house teams in a physical conference room
RingCX Intelligent Contact Center: Omnichannel CCaaS platform with inbound/outbound voice and 30+ digital channels, auto dialer, IVA, Workforce Engagement and Quality Management tools, customer surveys, customer journey analytics, AI Agent Assist, and more
RingSense for Sales: Conversational AI tool for sales teams with agent coaching, interaction monitoring, performance analytics, call scoring, and more
We'll give a quick overview of each of these products, highlight key features and integrations, discuss platform security and customer support. We'll also evaluate each tool's overall user experience and ideal user base
RingCentral MVP Intelligent Phone Solutions
RingCentral MVP (formerly RingCentral Office) is an all-in-one unified communications solution streamlining team chat messaging, VoIP calling, Enhanced SMS texting, and RingCentral Video web conferencing into a single platform.
Accessible via the downloadable RingCentral App,  directly in-browser on desktop computers, or by using Apple iOS and Android mobile devices, MVP  eliminates app switching and syncs all call center activity in real-time.
RingCentral MVP Pricing and Plans
RingCentral MVP offers a 14-day free trial and three paid plans from $20-$35+/user/month with annual pricing. Volume discounts are available for teams with 50+ users, with annual billing saving users up to 33% off month-to-month pricing.
All RingCentral MVP Plans include:
Basic Voice Calling Features: Unlimited end-to-end encrypted domestic calling within the US/Canada, HD audio and AI-noise cancellation, local and toll-free numbers in 200 area codes, E911, visual voicemail/voicemail-to-email, on-demand call recording, call flip, call forwarding, call screening, Caller ID, call park, intercom, hardware/equipment rentals
Call Management Features: Interactive Voice Response (IVR) and Automatic Call Distribution (ACD) with up to 250 menus/submenus per account, drag-and-drop call flow editing, custom business hours and answering rules, basic call queues, shared lines, HUD, and more
Unified Communications Features: Team chat messaging with file sharing, unlimited audio conferencing for up to 1,000 attendees, iOS and Android RingCentral mobile app access
Video Calling Features: HD Video conferencing for 100 participants, in-meeting chat and whiteboard with content sharing and annotations,  AI Meeting Insights and Live Transcription, unlimited video call recording with up to 1 year of cloud recording retention, collaborative notes, breakout rooms, screen sharing/remote desktop control
Integrations: Microsoft Teams Phone, Slack, Microsoft 365, Google Workspace, and API access
Analytics: Basic call log reports and live QoS alerts
Security and Customer Support: 99.999% uptime, SSO, 24/7 chat and phone support
The table below outlines RingCentral MVP pricing and plans:
| | | | |
| --- | --- | --- | --- |
| Plan | Core Plan | Advanced Plan | Ultra Plan |
| Annual Pricing | $20/user/month | $25/user/month | $35/user/month |
| Monthly Pricing | $30/user/month | $35/user/month | $45/user/month |
| Included Toll-Free Minutes | 100 minutes/month | 1,000 minutes/month | 10,000 minutes/month |
| Included Enhanced Business SMS Texts | 25 texts/user/month | 100 texts/user/month | 200 texts/user/month |
| Call Queueing | Basic | Advanced call routing strategies and call flow rules, hot desking | Same as Advanced Plan |
| Call Recording and Monitoring | On-demand call recording only | Automatic and on-demand recording, advanced call monitoring with call barge and call whisper | Same as Advanced Plan |
| Team Chat Messaging | Team chat with Instant messaging with limited storage | Same as Core Plan | Unlimited storage for messages, recordings, and files |
| Video Calling/Collaboration Tools | E2EE video conferencing for 100 video call participants with breakout rooms, screen sharing with remote control, whiteboards/annotations, AI Meeting Insights/Live Transcription, collaborative notes, unlimited video recording | 100 video call participants, adds unlimited online faxing | Up to 200 video call participants, same features as Advanced Plan |
| Integrations | APIs, Teams Phone, Google Workspace, Slack, Microsoft 365 | Adds Archiver App, CRM integrations, and industry-specific integrations | Same as Advanced Plan |
| Analytics  | Call log reports, QoS live alerts | Adds adoption analytics and Business Analytics Essentials | Adds device alerts/analytics and Business Analytics Pro |
| Customer Support | 99.999% uptime and 24/7 customer support | Adds cost center management, multi-site management, and custom roles/permissions | Same as Advanced Plan |
Paid add-ons for RingCentral MVP include:
RingCentral Webinar from $40/host/month
Additional Phone Numbers: Additional toll-free or local number for $4.99/month, $5.99/user/month per international number, $14.99/month+ one-time $25 fee per international toll-free number, $30 one-time fee per vanity number
High Volume SMS from $0.0085 per sent/received message
RingCentral Rooms license from $49/room/month
RingSense Conversation Intelligence for Sales (quote-based pricing)
Large Meeting add-on for up to 500 participants
Top RingCentral MVP Features
Because RingCentral Video is available as a standalone product in addition to being included with all MVP packages, we'll discuss video conferencing capabilities in the Video Solutions section.
The most important RingCentral MVP features and functionalities.
RingCentral MVP Team Messaging and Collaboration Tools
Chat Messaging
RingCentral MVP's Team Messaging App is a chat interface enabling instant messaging, file sharing and editing, task management, one-click video meetings and voice calls, user presence updates, and more.
Real-time file and message syncing prevents miscommunications and ensures everyone is working with the same up-to-date–information.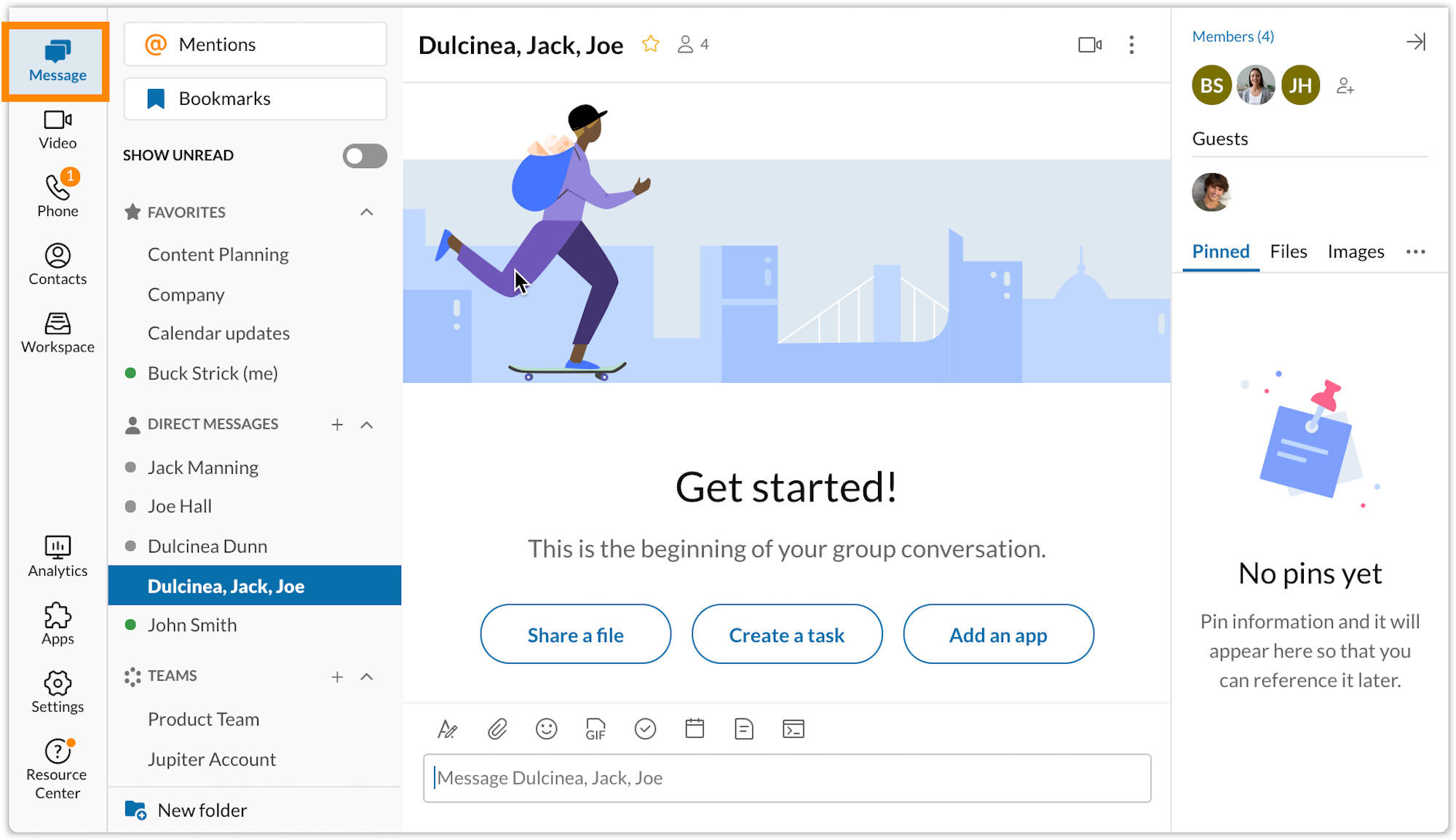 Within the Messaging applications, users choose from one-on-one Direct Messaging, casual and admin-less Group Conversations, or project/department-specific Team Conversations managed by admins. Team Conversations can be set to public or private, and external users can be added to a Team Conversation.
The Conversation Details Tab organizes conversation tabs into the sidebar, giving users easy access to pinned messages, files and images, tasks, links, notes, events, and integrations.
Within the chat interface, users can bookmark messages, favorite contacts/conversations, use direct reply or message threading, react to messages with emojis, and @mention/tag users. Users can take quick meetings via the always-on Huddle Room, enable desktop/mobile push notifications, search and filter messages, mark messages as unread, and view Team or Conversation member lists and profile information.
Team Collaboration 
The Messaging interface is also home to team collaboration capabilities like file sharing, task management, and notes.
Users can share documents, images, and videos of up to 5 MB each directly within the team file repository or as a message attachment.  These files can be uploaded from a user's desktop or via a third-party storage app like Dropbox and Box, OneDrive, SharePoint, and Google Drive.
Real-time file commenting with replies enables a seamless editing process. Files can be downloaded, stored in the searchable cloud, shared, or deleted.
Users can also create individual or collaborative notes within chat conversations–and any team or group member can access and edit them. Notes-taking features include rich text formatting, the ability to upload files, tables, images, and code snippets, and note titling.
The Task Management tool lets users assign tasks to themselves or singular/multiple users, add task titles/descriptions/categories, set due dates and times, enable recurring tasks, turn on task dependencies, attach files to tasks, and update task status. Tasks can be color-coded, and users can comment and reply to tasks diretly to avoid communication silos.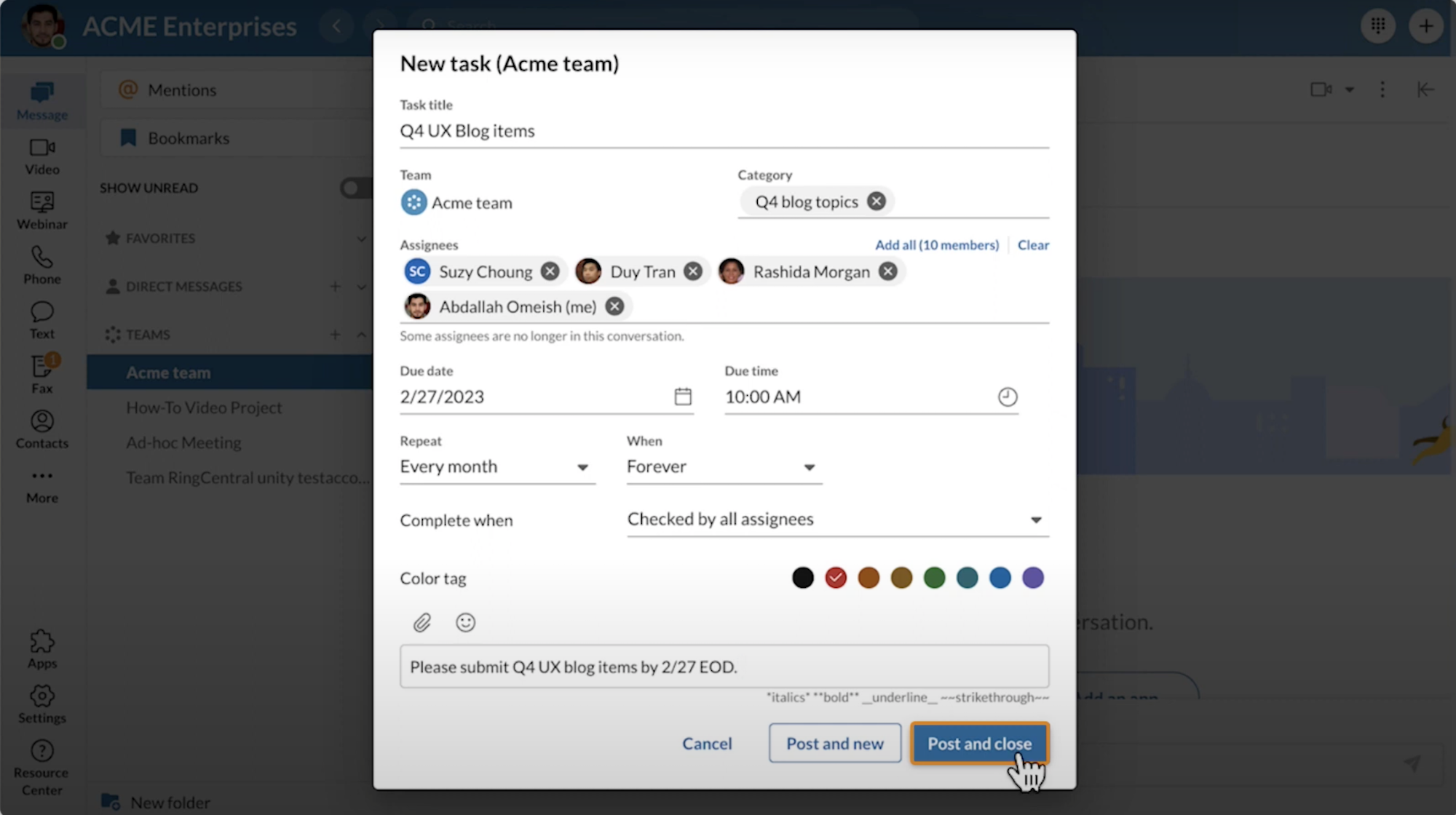 RingCentral MVP Business Phone System
RingCentral's cloud-based phone system offers unlimited local VoIP calling on desktop and mobile devices and robust call management features.
Users can enable number porting or choose from local phone numbers in over 200 area codes to create a local presence, or opt for toll-free, vanity, or international numbers in over 100 countries.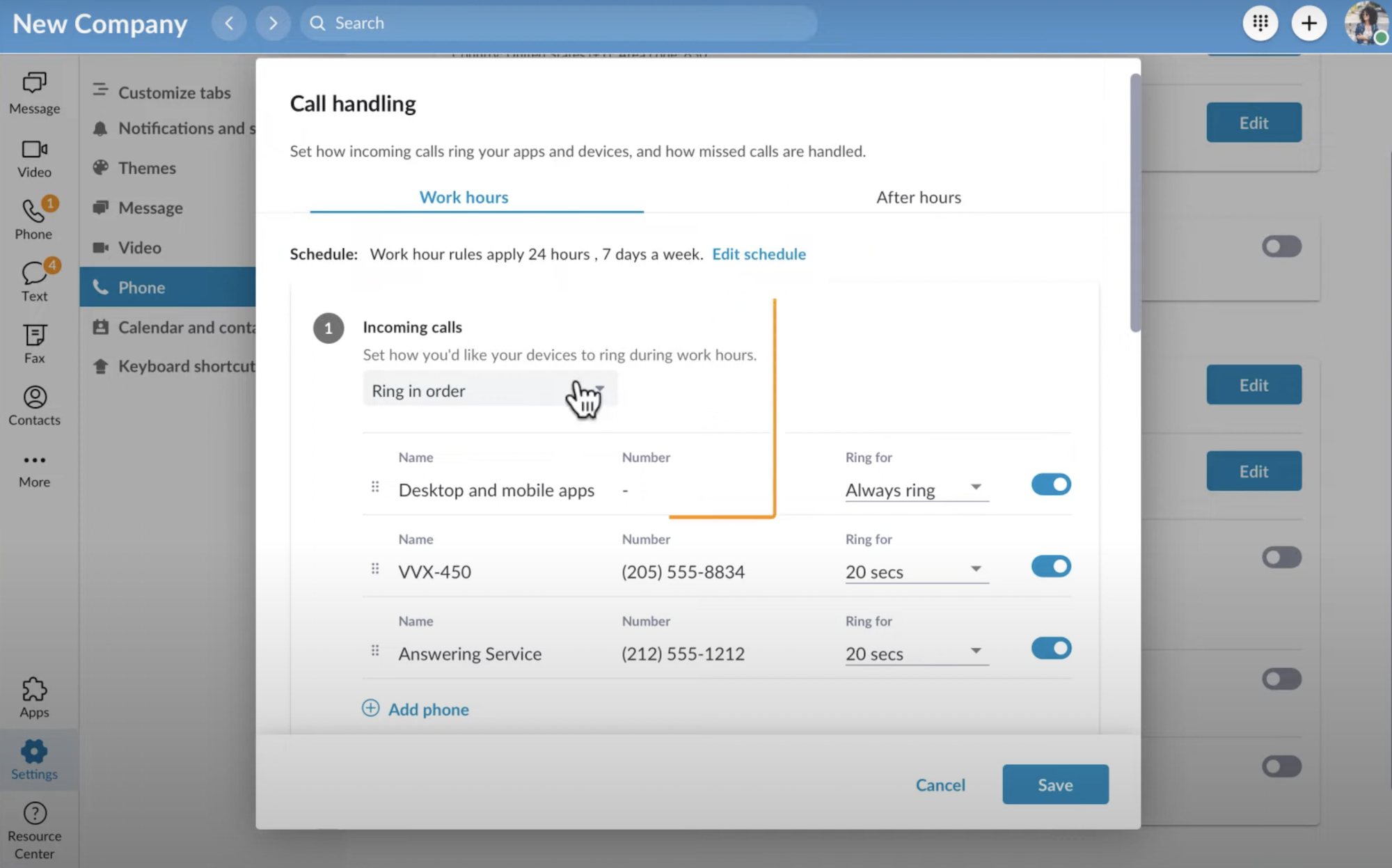 Call routing is one of the most important RingCentral cloud PBX features, allowing admins to create basic call flows for inbound calls, set ring groups and business hours, direct calls to individual agents, or enable multi-level IVR with pre-set call rules for customer self-service.
Admins can choose from skills-based routing, priority routing, simultaneous ringing, round-robin routing, time-based routing, or list/fixed order routing. Call queueing for up to 25 calls, sequentual and simultaenous routing to ring groups, custom wait times, and built-in after-call-work further streamline business processes and free up agents.
User Presence helps team members know who is available with manual or automatic agent status updates. Custom or pre-set status updates alongside  cross-device presence monitoring increases first call resolution rates and shortens call hold times.
More advanced IVA, AI-powered automations, and call flow design options are available with the RingCentral Contact Center solution, as MVP serves as a more basic business phone system.
RingCentral Business SMS 
MVP also includes Enhanced Business SMS and MMS texting capabilities via the same RingCentral phone number used for voice calls and faxes.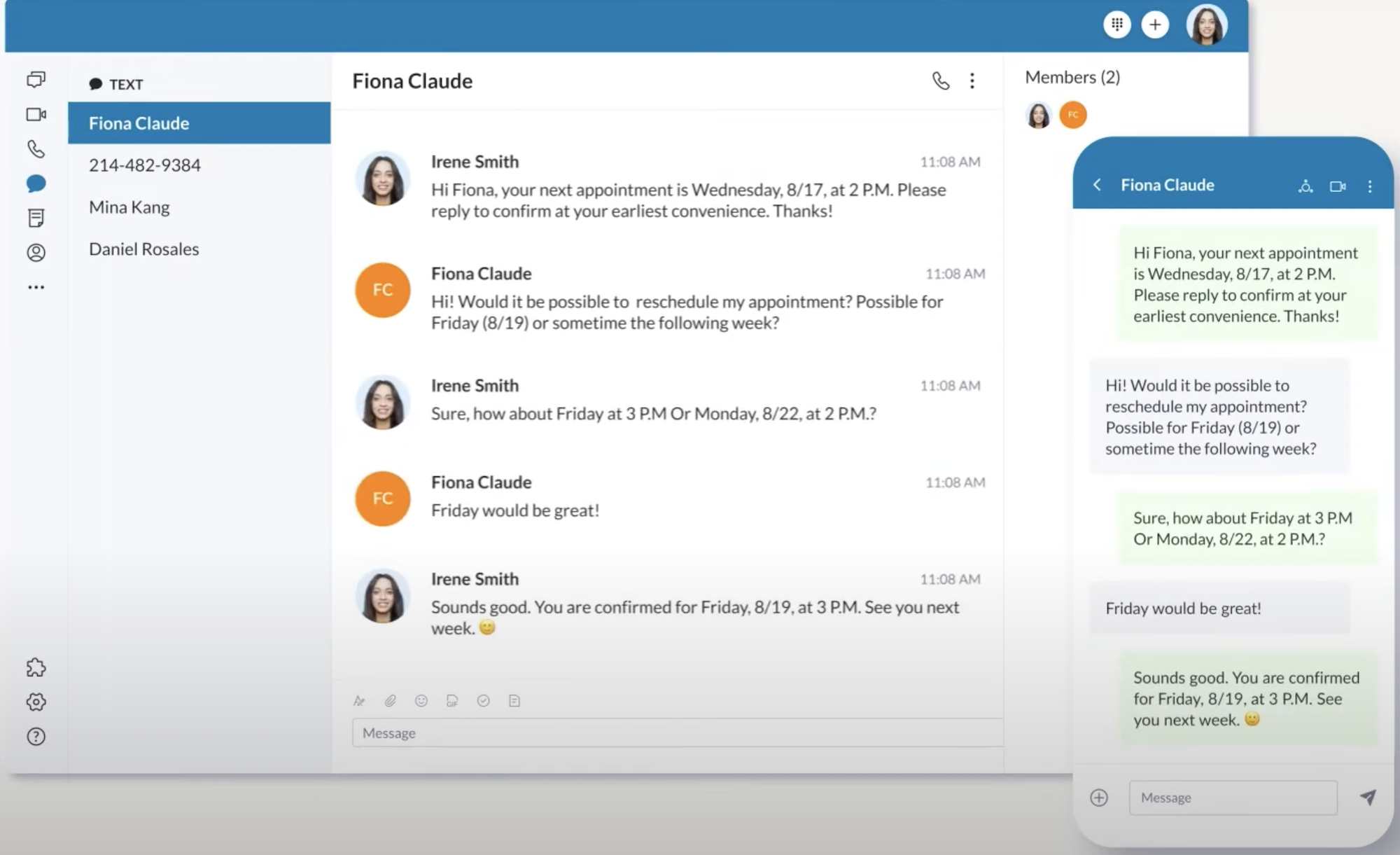 Team members can message internal users and external clients via the RingCentral softphone desktop app or mobile devices. Users can send/receive texts, images, audio files, videos, attachments, website links, and even one-click audio conference and video conference access links.
Individual and group texting is available, while spam blacklisting and number blocking keeps communication secure. Additional texting features include a search function, a 1,000 character limit for local messaging, and bulk texting up to 100 recipients.
Integrate existing third-party tools to send out automated appointment reminders, customer surveys, order confirmations, and more.
RingCentral MVP Analytics
The RingCentral Analytics Portal provides MVP users with real-time and historical insight into customer, agent, and team/department activity via interactive reporting.
Reports provide a summary of RingCentral activity for the past day, calendar week, work week, and month. Customized date ranges are also available, and data can be drilled down by department, ring group, or agent. Reports can be shared automatically at preset intervals or manually.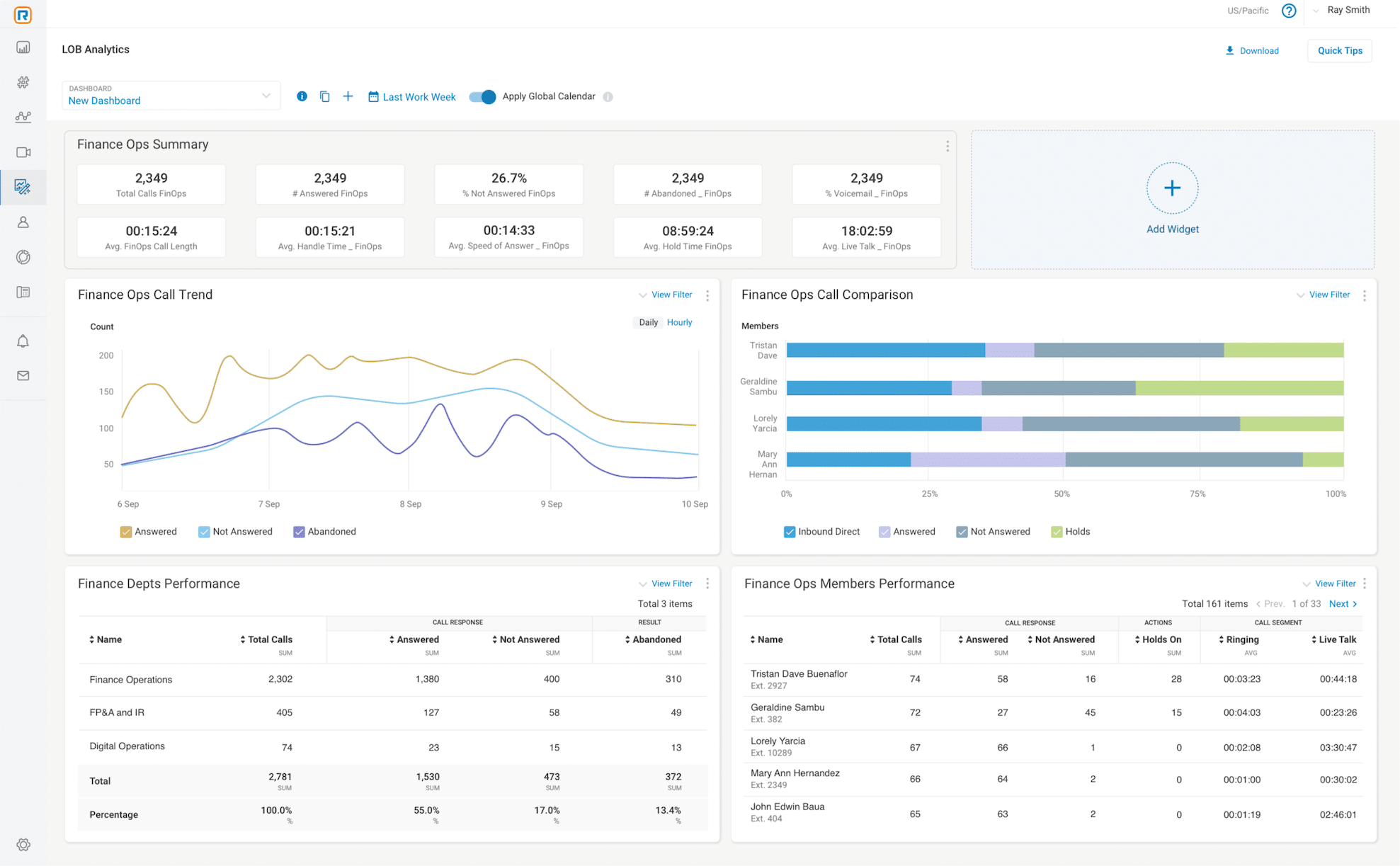 RingCentral MVP measures over 30 key metrics and KPIs, offers pre-made reporting templates, and lets admins create custom reporting dashboards with drag-and-drop widgets.
Available pre-made report topics include:
Adoption and Usage: Data on how your team uses RingCentral
Company Numbers: Percentage of answered calls, percentage of calls sent to voicemail, percentage of missed calls, average call duration and call handle time, and the number of transferred, abandoned, or put on hold.
Live Reports: Real-time data of user activity with over 30 available metrics
Performance Reports: User performance, predictive analytics, KPI trends, call data per agent/department, meeting attendees and meeting performance
Quality of Service Reports: Monitor and manage user escalation, identify potential problems, view call/meeting quality
RingCentral Intelligent Meetings
RingCentral offers 3 video meeting solutions: RingCentral Video, RingCentral Webinar, and RingCentral Rooms.
RingCentral Video Pro is a free video calling tool that's also included in RingCentral MVP. Anyone can download RingCentral Pro for free–they do not need to have a paid RingCentral account. This enables teams to make/receive video calls from external clients and partners who don't have a paid account.
RingCentral Pro Video+, available for is a paid upgrade best serving current Video Pro users that don't need additional RingCentral software. It offers features, like CRM integrations and analytics, already available to MVP users.
RingCentral Webinar is an online event platform available as a standalone tool or add-on to another RingCentral product.
RingCentral Rooms provides equipment and hardware (to purchase or rent) that lets teams create customized physical conference rooms powered by RingCentral's video calling tools.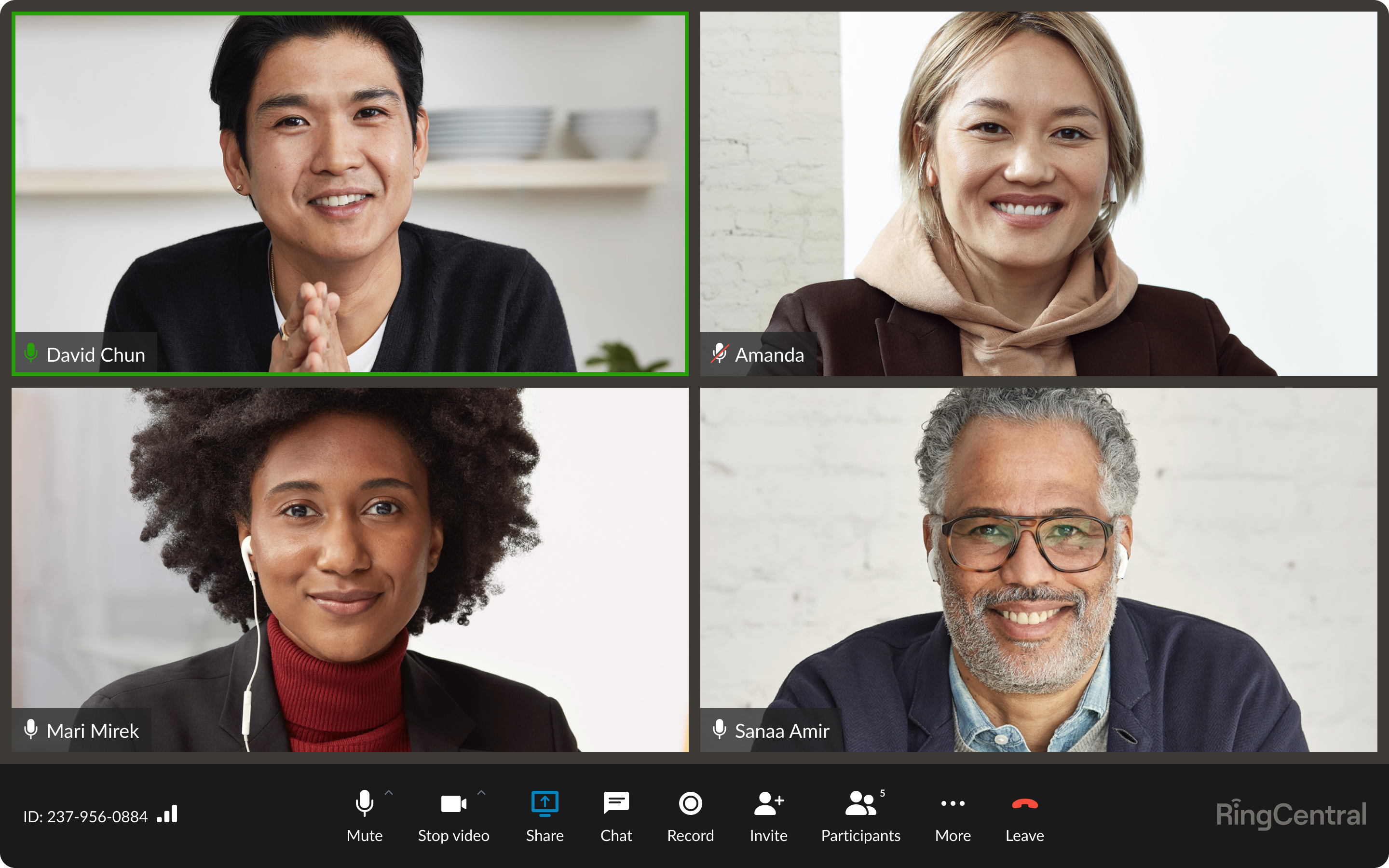 RingCentral Intelligent Meetings Pricing+Plans
RingCentral offers four video conferencing plans: 1 free and 1 paid version of RingCentral Video, the RingCentral Webinar platform, and the RingCentral Rooms conference room solution. As with MVP, annual and monthly pricing options are available.
RingCentral Video and Webinar can be purchased as standalone products or as paid add-ons to MVP.
The free RingCentral Video Pro Plan includes:
Desktop and mobile 50-minute HD video calls for 100 participants
Unlimited audio conferencing
Meeting recording with 10 hours of cloud recording retention
Meeting waiting room
AI Noise Cancellation, AI Meeting Summary, and AI Live Transcription/closed captioning
In-meeting chat with file sharing, breakout rooms, collaborative notes, whiteboard/annotations, screen sharing, and remote desktop control
The paid RingCentral Video Pro+ Plan ($10/user/month with annual pricing) adds:
200-participant with a 24-hour meeting duration
100 hours of cloud recording retention
End-to-end encryption for video calls/team chat
Meeting call-in and call out access with 500 included monthly minutes
Delegate scheduling, user management, access control, custom message retention policies, SSO
Video meeting analytics
Third-party integrations, APIs, presence updates from Outlook Calendar and Google Calendar
RingCentral Webinar (from $30/host/month with annual pricing) is an online event platform for 500-10,000 attendees, and includes: 
1 RingCentral MVP Core license
Unlimited monthly webinars and unlimited webinar cloud recording storage
No-downbload attendee access
Webinar management/scheduling in the RingCentral APp
Custom branded webinar registration forms/emails
Backstage prep/debrief sessions, attendee list exporting
Social sharing links with tracking, automated follow-up and reminder emails, marketing platform integrations
Live-streaming, in-meeting chat, polls, Q&A
RingCentral Rooms for physical conference rooms offers pricing options from $39/room/month when paid annually, and includes:
One-click/touchless meeting join capabilities
Dual screen support and wireless proximity sharing
Devices as a Service hardware from Poly, Logitech, Jabra, and Yealink
Ability to join third-party meetings
Voice-activated control, mobile-to-room meeting switch, smartphone meeting controls
Top RingCentral Video Pro and Pro+ Features
RingCentral Video Pro is a downloadable or browser-based web conferencing tool available as a standalone free desktop and mobile app or as a part of RingCentral MVP.
Free Pro users can host up to 100 participants for a meeting duration of 24 hours, while paid Pro+ plans can host 200 participants. All users have access to MVP's team collaboration and in-meeting team chat messaging.
Video Pro is accessible on desktop and mobile devices, and users can switch between devices during a meeting.
Hosts can schedule meetings, select meeting topics, set a meeting duration, and create recurring meetings. Invitations can be sent via link sharing, a calendar invite, email, SMS, chat, or via the "Call Me" feature.
In-meeting participant control features (mute, remove participant, enable/disable participant cameras, etc) are available, as are meeting passwords and waiting rooms for added security.
Video meetings also have essential team collaboration features like screen sharing, remote control, and whiteboarding. Users can share entire screens, individual applications, or singular files on desktop and mobile devices, and can annotate shared screens.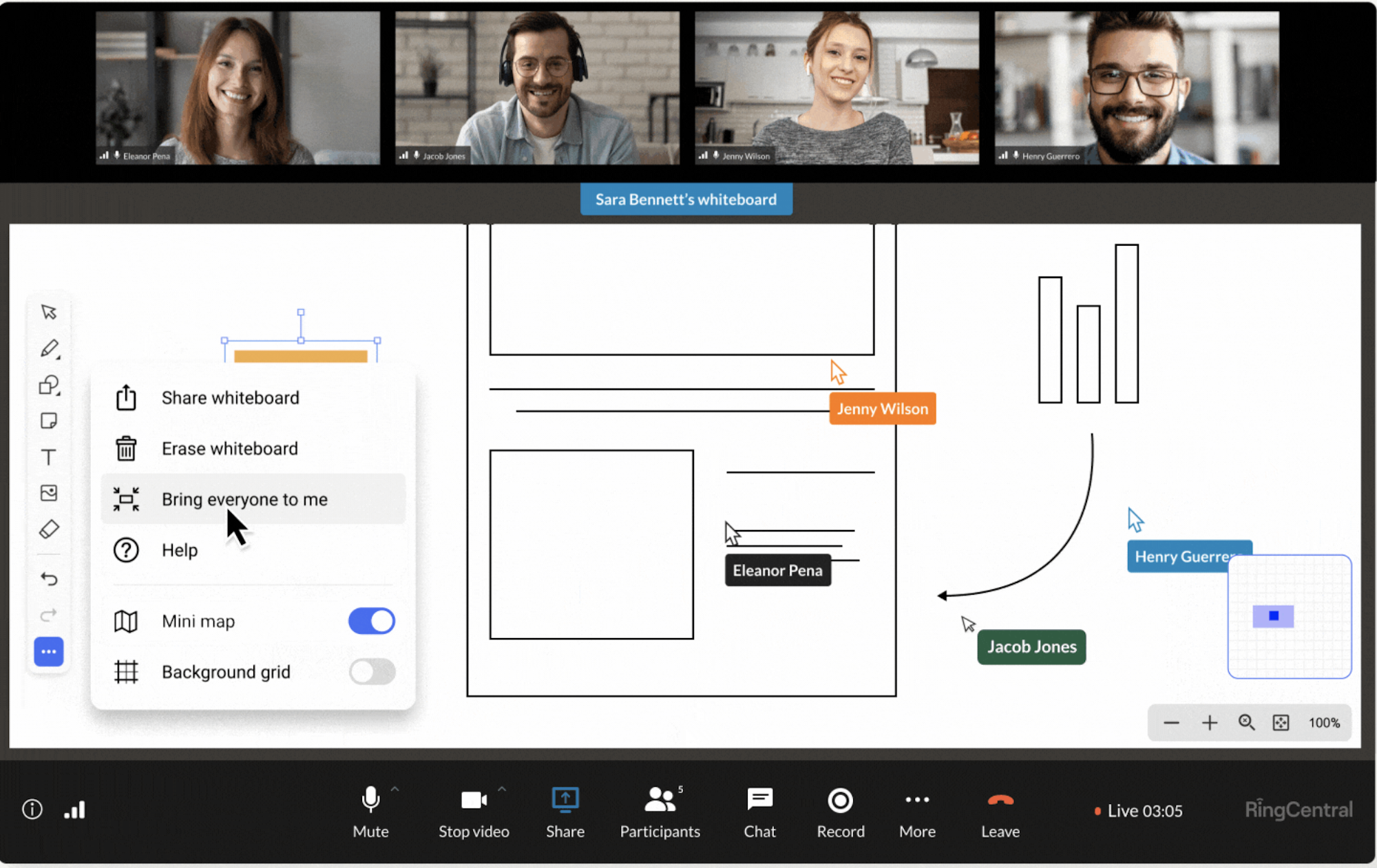 The Whiteboarding tool is a digital version of the traditional office whiteboard, letting users add images, pre-configured shapes, text, freehand drawing, sticky notes, and more. The whiteboard offers a nearly infinite canvas, but users can quickly scroll larger boards using the mini-map to find what they need. The "Bring Everyone to Me" feature automatically centers whiteboard collaborators' screens to a pinpointed location.
Users can share and export whiteboards, switch between multiple whiteboards, and access whiteboards on mobile devices.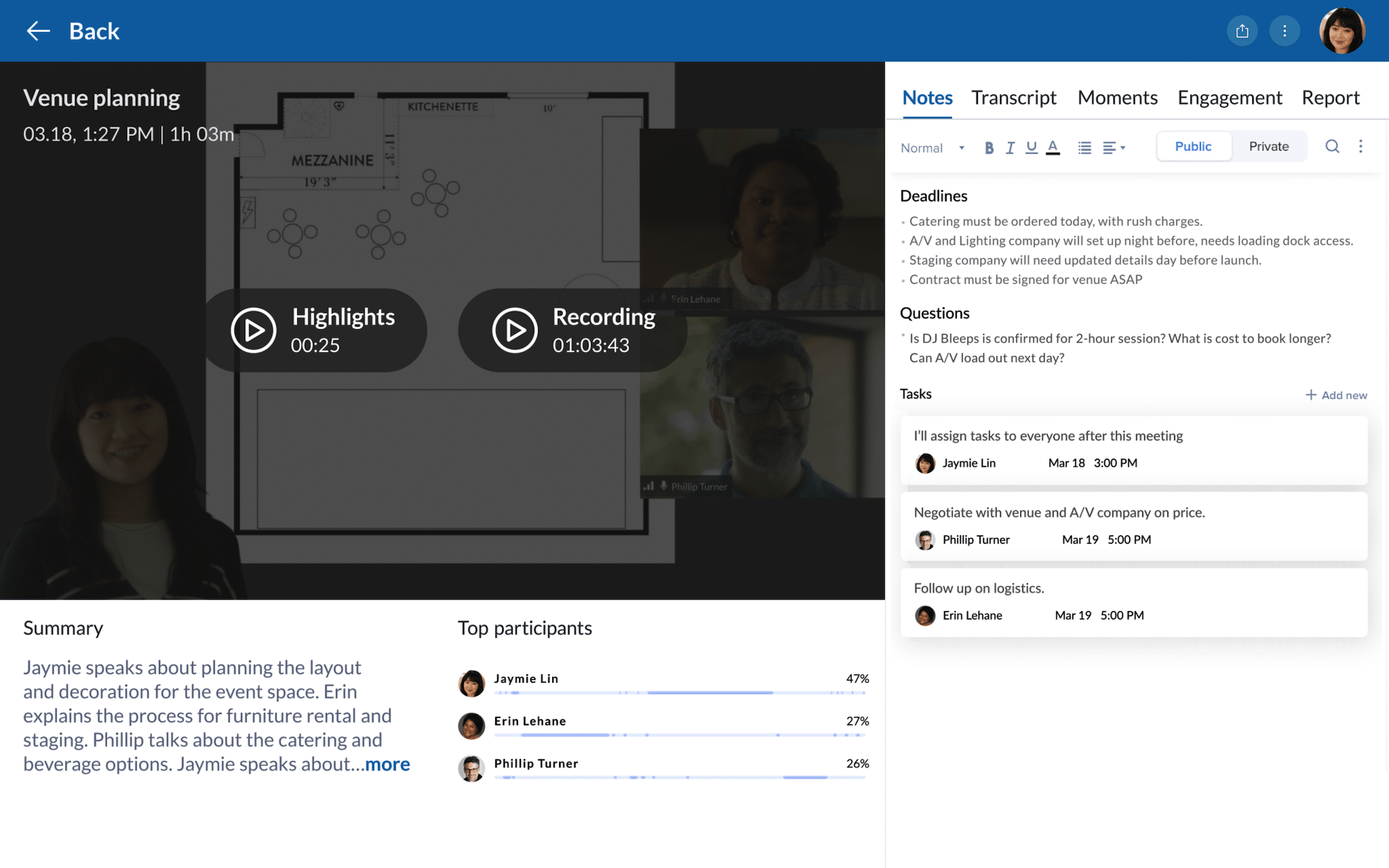 AI Meeting Insights, powered by Conversational Intelligence, create and share with participants an automated meeting summary of all video calls. This includes a written summary, video highlight reel, keywords, and a complete meeting transcription searchable by speaker, topic, or keyword. Users can even filter meeting recordings by specific speakers or access time-stamped URLs.
Top RingCentral Webinar Features
RingCentral Webinar, still a relatively new product, lets teams host webinars and virtual events for up to 10,000 attendees (a paid RingCentral MVP or Video Pro+ account is required to access the Webinar platform.)
All attendees–whether RingCentral users are not–can join webinars via desktop and mobile devices in-browser or via the RingCentral App.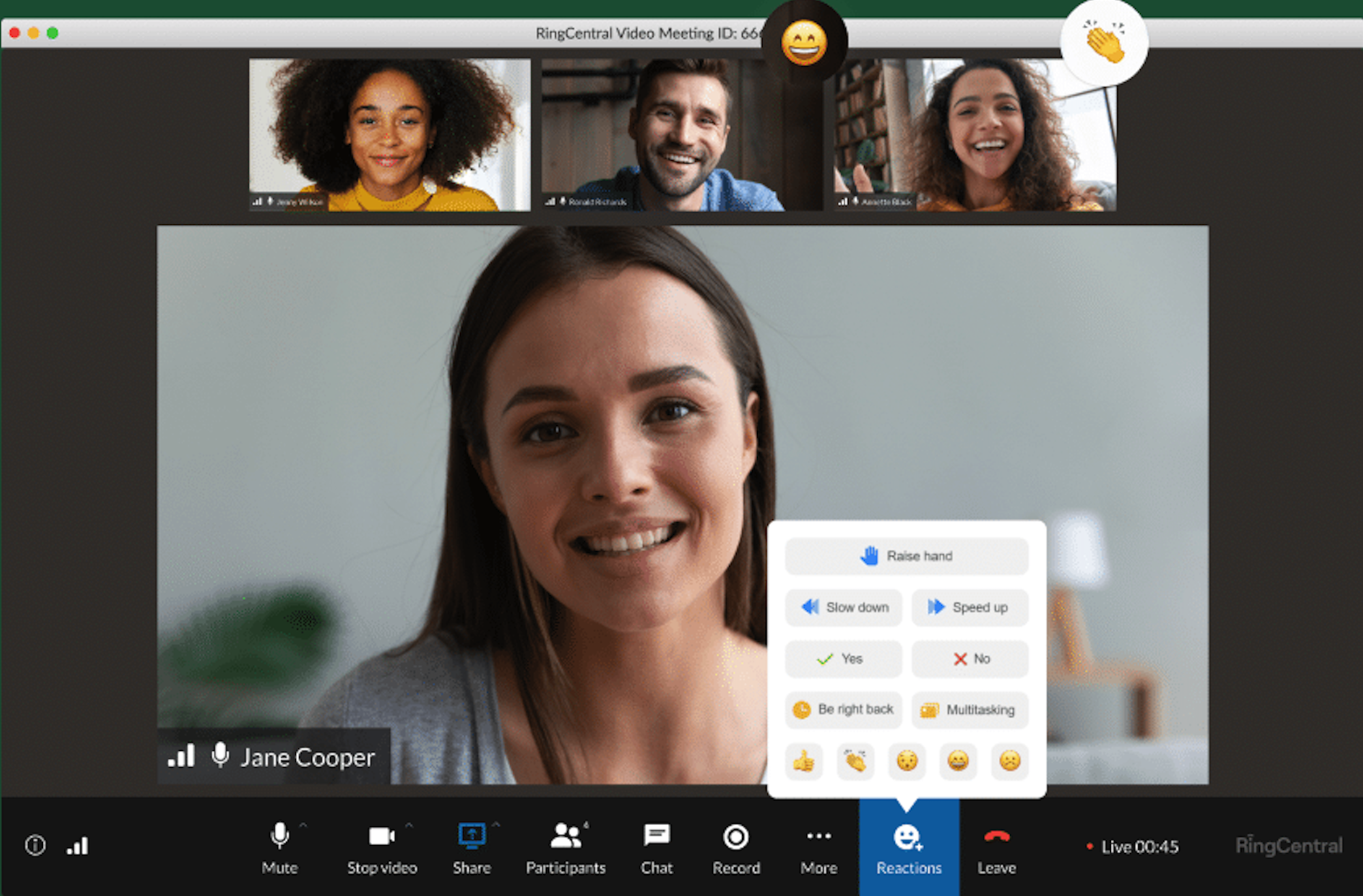 Hosts can decide to run webinars with or without attendee registration. Without is ideal for company-wide events or town halls, while enabling registration is better for employee training, sales/marketing events, or other external webinars.)
Hosts can add up to 100 co-hosts or panelists, start and pause webinar recordings, and share recording links without restriction once the event is complete. To ensure panelists are fully prepared for the event, they can run pre-webinar practice sessions. Post-webinar debrief sessions with hosts, co-hosts, and panelists are also available.
During a webinar, panelists (not attendees) can access virtual hand raising, update their status, react with an emoji, or offer quick feedback (yes, no, slow down, speed up.)
The Presentation Mode automatically displays the host overlaid across slide presentations, uploaded meeting content, or other preset backgrounds to ensure attendee engagement.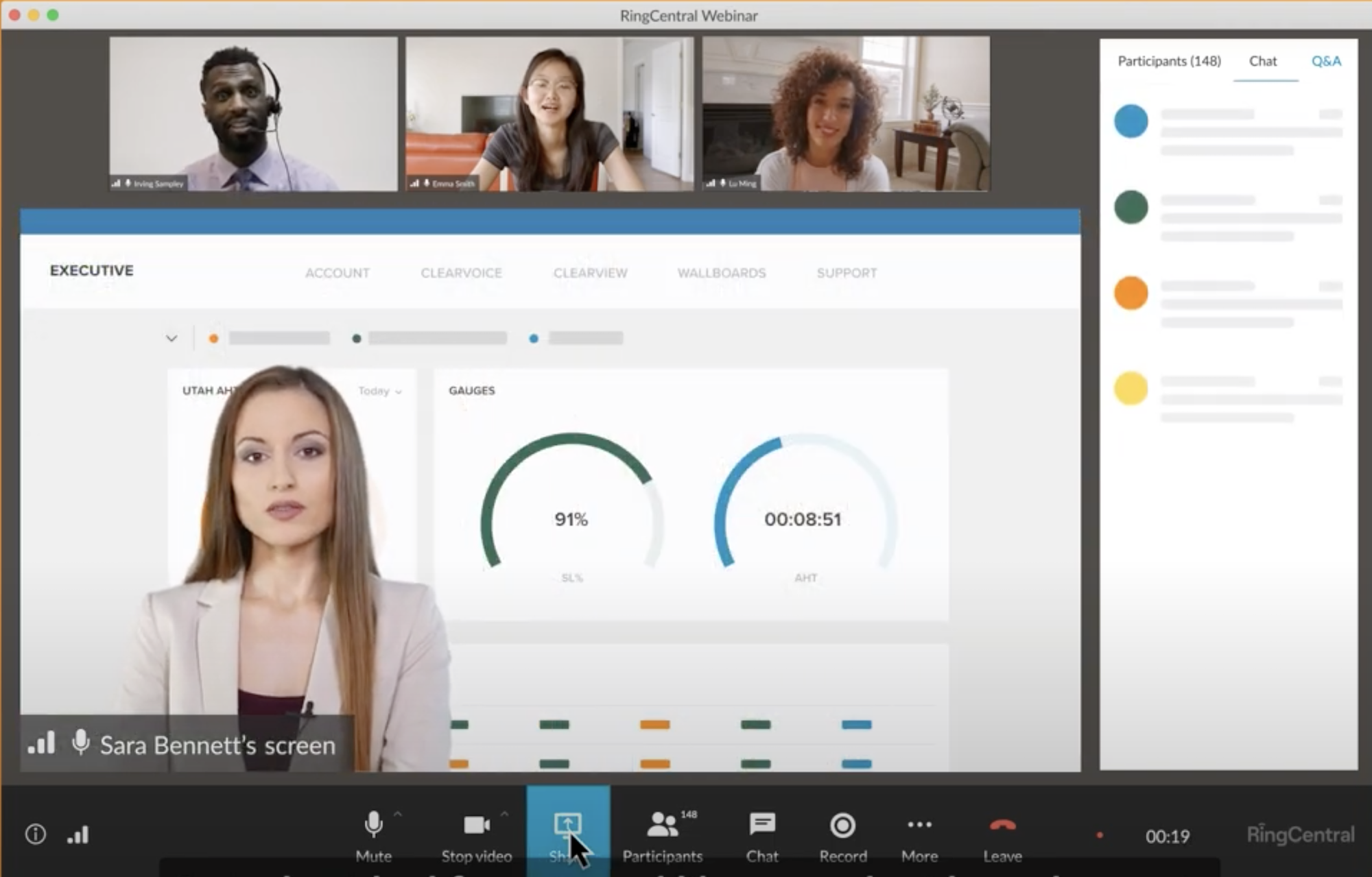 Additional webinar features include: 
Pre-configured polls
Live Q&As
Attendee security controls
Third-party integrations
Active speaker view, Spotlight view, Gallery View
In-event chat with attendees or co hosts only
Webinar attendee report and post-event poll/Q&A results
RingCentral Contact Center
RingCentral Contact Center is an inbound/outbound omnichannel cloud contact center and UCaaS tool designed to improve customer service, agent productivity and performance, and the overall customer experience.
It includes access to over 30 voice and digital channels, quality and performance management tools, AI-powered self-service, WFO tools, and more. RingCentral Contact Center offers four quote-based plans.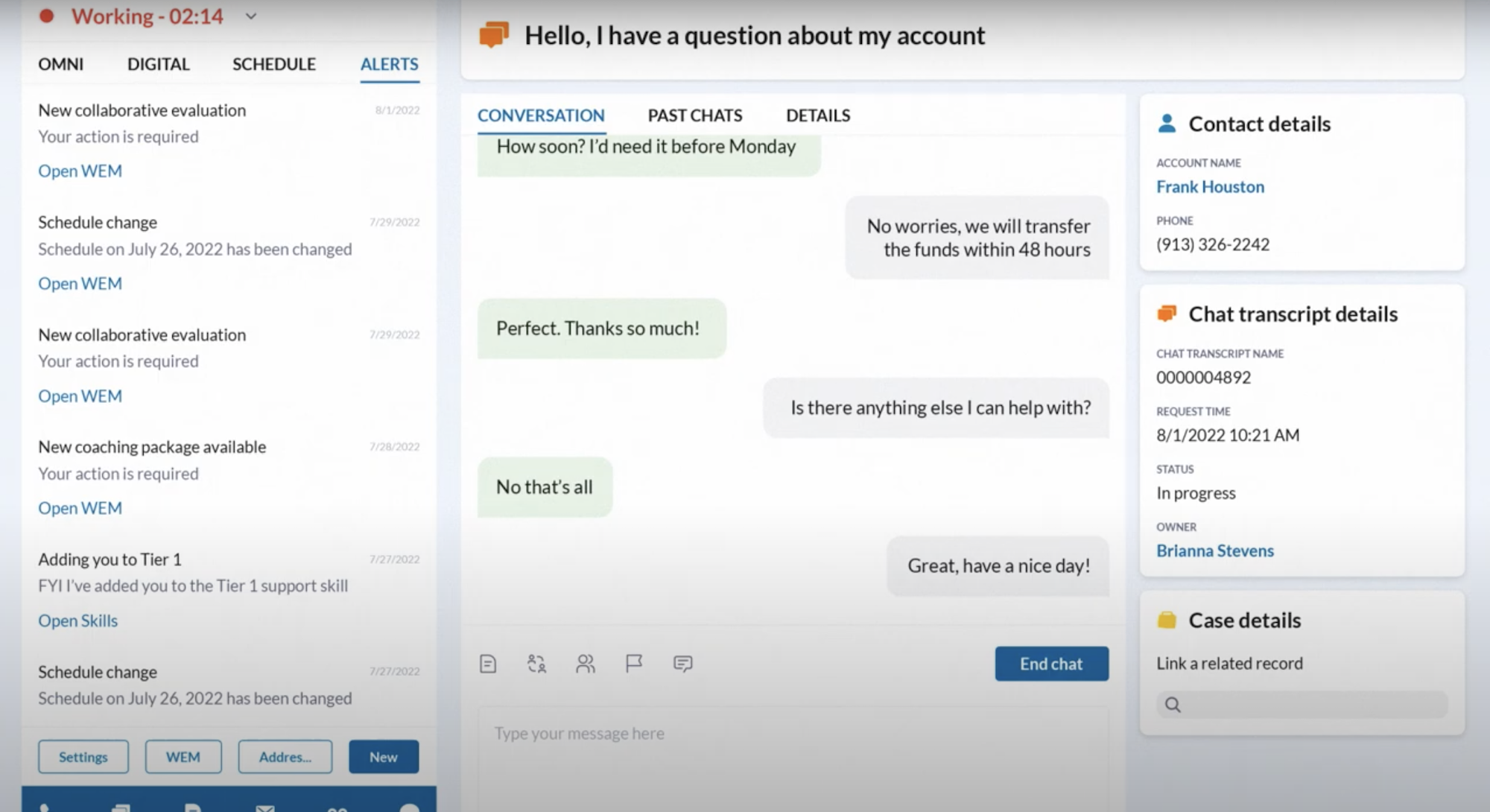 RingCentral Contact Center Pricing and Plans
RingCentral offers two quote-based paid plans: RingCX Intelligent Contact Center and RingCentral Contact Center Enterprise.
The RingCX Plan includes: 
Inbound/outbound voice calling with Predictive, Preview, and Progressive outbound dialing modes
20+ digital channels
Workforce Engagement features like AI Agent Assist, workforce management, Customer surveys, AI Conversation Analysis/AIR Quality Management with RingSense
IVR Voice Interaction Designer, call recording, AI Call Transcriptions+Summary
Digital Intelligent Virtual Agent (IVA)
CRM adapters (Salesforce, Zendesk, etc.)
Live and historical reports
Integrated native unified communications
The Enterprise Plan adds: 
Omnichannel interaction designer with IVA/IVR for voice and 30+ digital channels
Call, screen, and digital interaction recording
Additional Workforce Engagement capabilities like performance management, advanced QM and Interaction Analysis, advanced surveys, advanced AI Agent Assist
Proactive outbound outreach, customer journey analytics, knowledge management, and guided customer journeys
Additional CRM adapters for Dynamics, ServiceNow, Oracle, etc.
RingCentral Contact Center Top Features
RingCentral Contact Center streamlines over 30 voice and digital channels into one agent interface, including:
Inbound and outbound voice calling
Live website chat messaging
Email
Social media interaction tracking and messaging for WhatsApp, Instagram, Facebook Messenger, Twitter, YouTube, etc.
Google Play and Google My Business Reviews (track and respond to comments)
SMS/MMS
In-app messaging
SDK channel connectors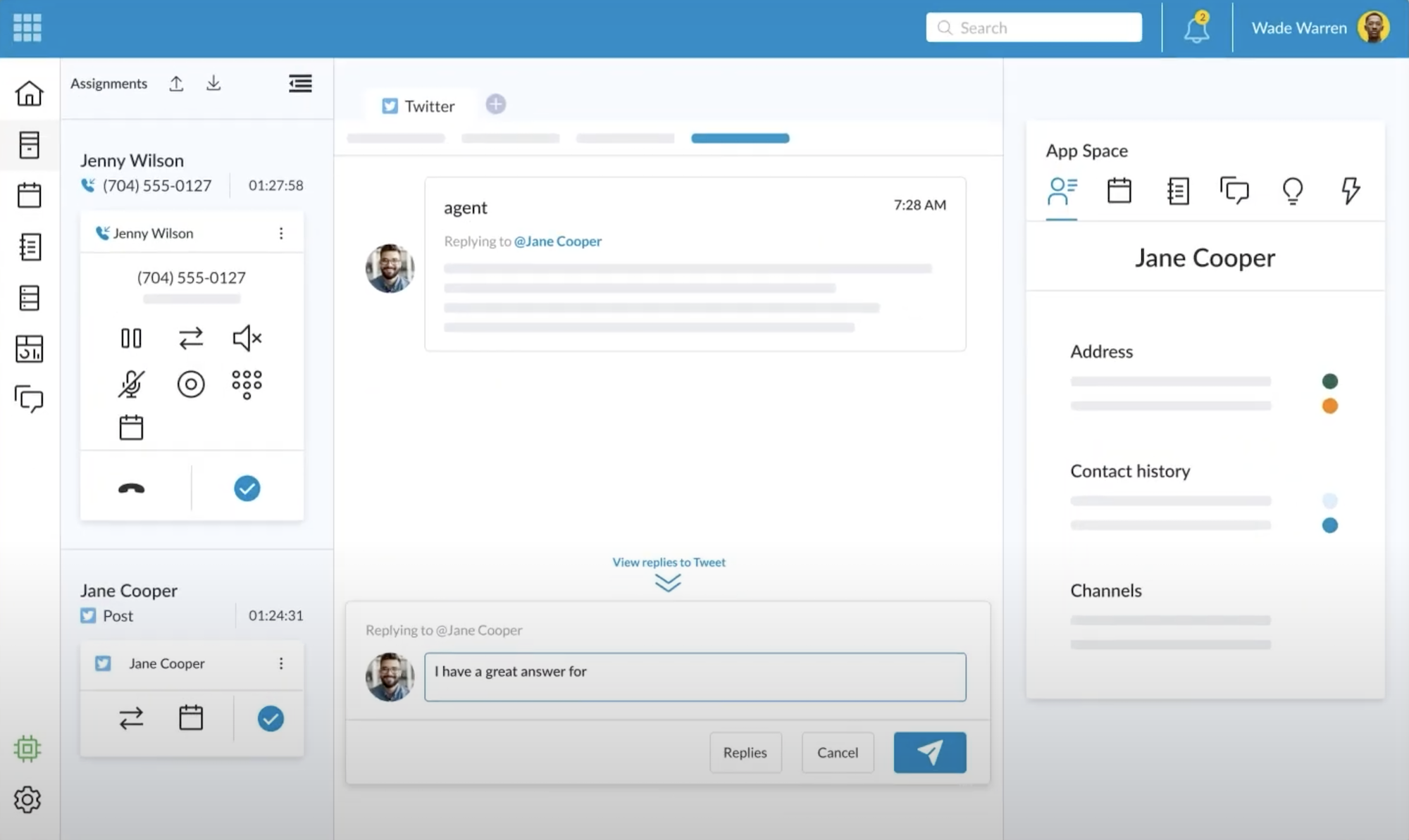 Within the single pane of glass agent interface, team members can view omnichannel conversation history, access agent scripts/canned responses/dynamic replies/custom workflows, review CRM CTI screen pops, receive AI Agent Assistance, and transfer/escalate calls. Agents benefit from additional features like real-time interaction and behavioral coaching, customer co-browsing, and more.
Contact Center automation features include customer callback, IVR deflection and voicebots for customer self-service in 72 languages, and predictive analytics with agent scheduling.
Outbound auto dialing modes (progressive, predictive, proactive) with campaign management, compliance risk mitigation, and list management
AI Intelligent Routing recognizes message intent, type, text semantics, and customer intent, and more provides data-driven automated routing to increase first contact resolution rates. Skills-based routing, relationship-based routing, omnichannel routing, and voicemail routing are available.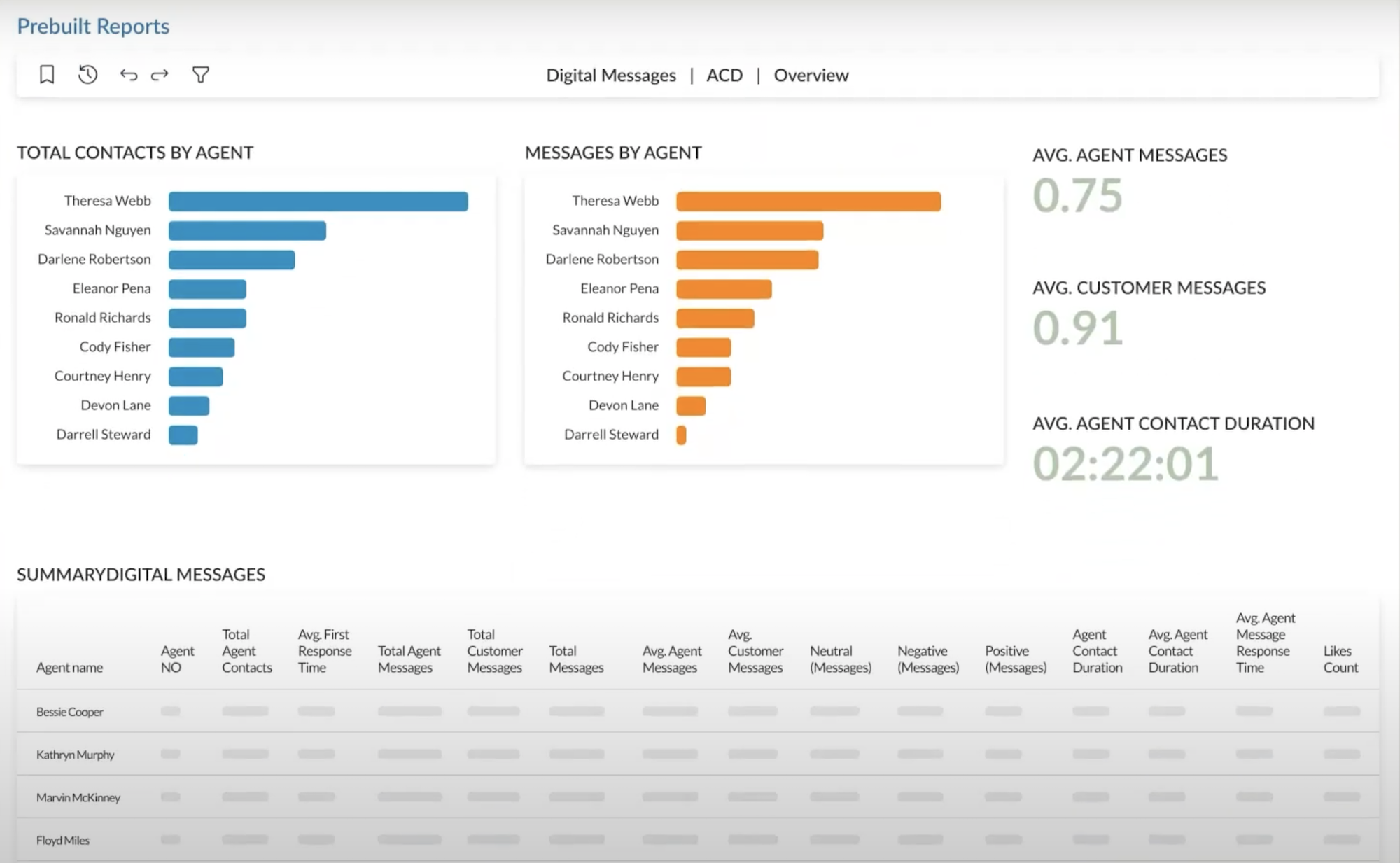 RingCentral Contact Center offers MVP Analytics access in addition to more thorough reporting with its Feedback Management Application.
The Feedback Management tool is used to review CSAT (Customer Satisfaction) levels, discover customer service and agent performance trends, identify brand ambassadors and detractors, provide peer benchmarking, and develop personalized coaching plans.
NPS and Customer Effort scoring analyzes responses to customer surveys, while omnichannel analytics provide even more insight into customer and agent behavior. WEM features like performance gamification boost agent engagement, provide an opportunity for employee recognition, and decrease agent turnover.
The Contact Center also offers high-level agent coaching opportunities–far beyond just call monitoring and recording.
Conversational Intelligence: RingSense For Sales
The newest RingCentral product is its Conversational Intelligence platform, RingSense for Sales.
Powered by Natural Language Processing and machine learning, RingSense analyzes unstructured conversation data to provide next-level customer insight, implements AI-powered automation to streamline business processes, and uses revenue intelligence to accelerate the sales pipeline and improve agent performance.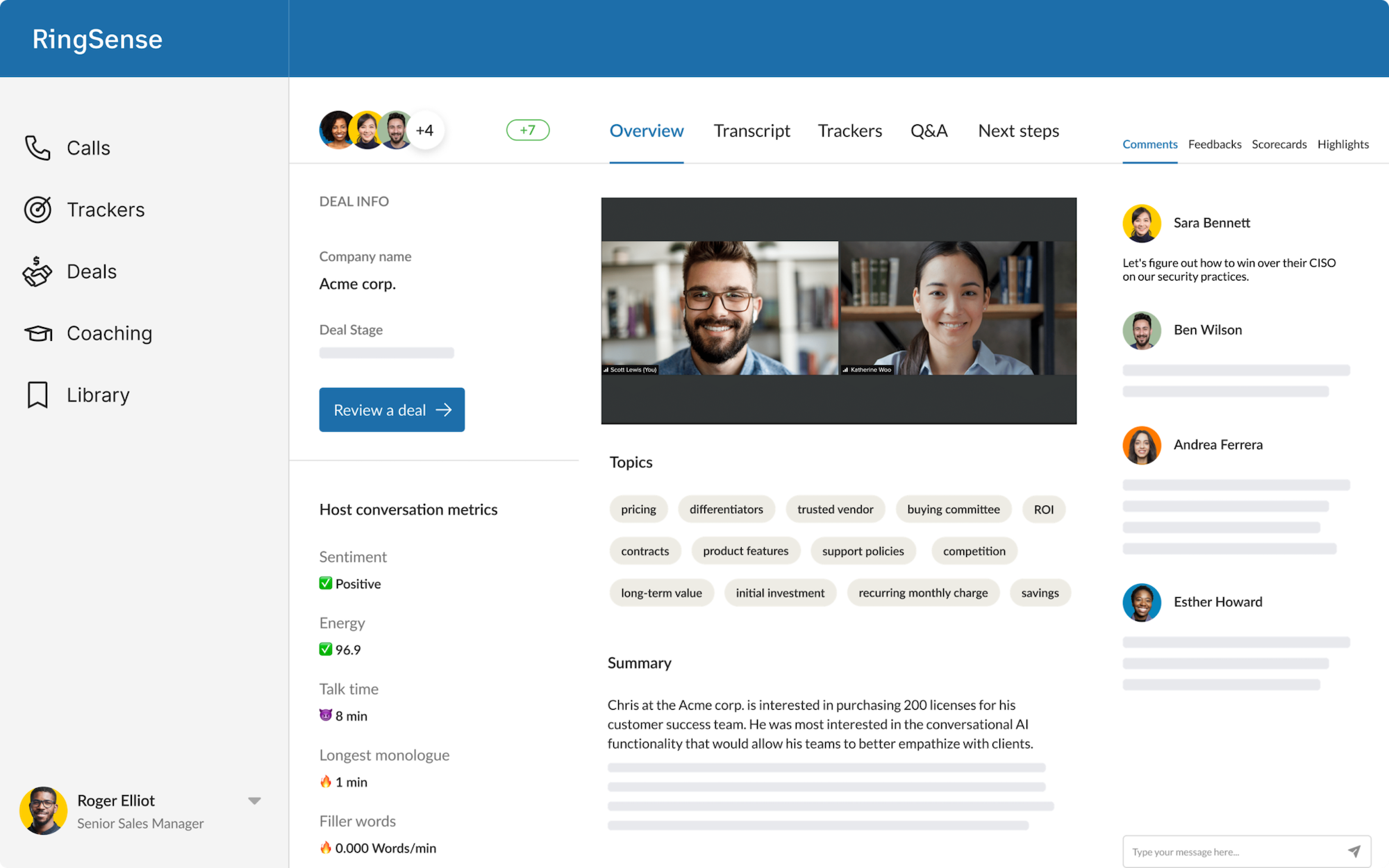 RingSense For Sales Pricing and Plans
RingSense for Sales is an AI add-on for MVP, and included in both Contact Center plans. Pricing is quote-based, and the singular plan includes:
Conversational AI analytics with interaction filtering and search r
Agent coaching and performance analysis
Call scoring and advanced deal management with intelligent tracking
CRM and collaboration tool integrations
Automated interaction highlights and summaries
RingSense For Sales Top Features
Because the platform is so new, there's not extensive information available yet about its exact capabilities (aside from those listed in the pricing table above.
As of this writing, RingSense Conversational analytic capabilities can only track customer-agent conversations across emails, voice calling, and video meetings–not yet messaging. All data is instantly synced with your CRM system.
Conversational analytics then allows managers to create playbooks and training manuals directly from recorded conversation highlights–so future agents have clear examples of positive (or negative) customer interactions.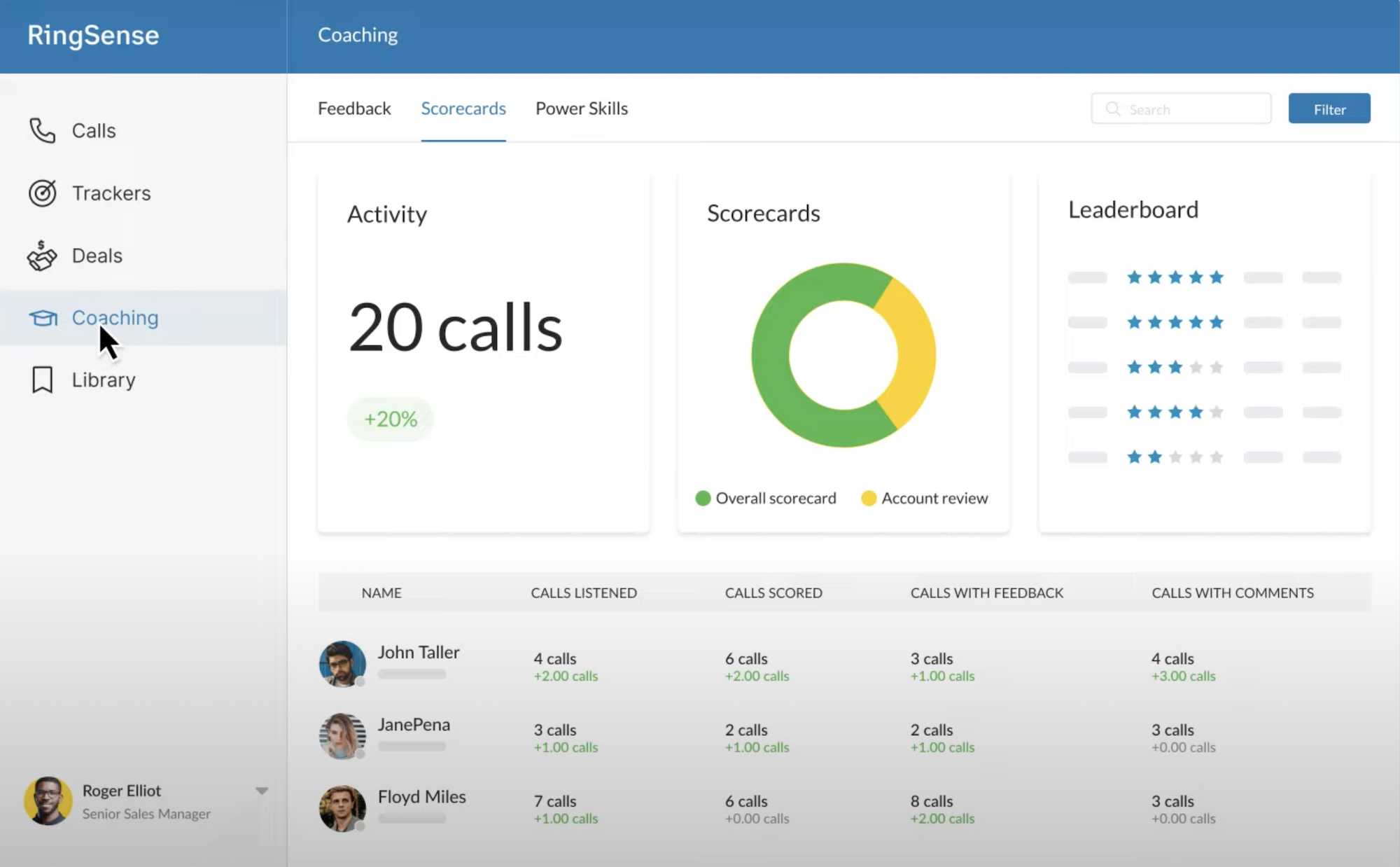 In addition to creating automated conversation summaries, RingSense offers custom agent scorecards with soft skill scoring, conversation highlights, suggested follow-up actions, and trend forecasting. It also analyzes agent talk time, longest monologue time, engagement/energy levels, and customer sentiment.
RingCentral Pros and Cons
The table below outlines the most consistent RingCentral user experience based on current RingCentral reviews from users and the overall quality and capabilities of its product line.
| | |
| --- | --- |
| What RingCentral Users Like | What RingCentral Users Dislike |
| 24/7 phone and live chat support is available for all customers, regardless of the specific plan they choose | Integrations with key software like Salesforce, Zendesk, and more are available only on two most expensive RingCentral MVP plans |
| Advanced native team collaboration features, including team chat, whiteboarding, task management, and live file-sharing/editing | Maximum of 200 video conference attendees, meaning that larger-scale webinars aren't possible without a paid webinar add-on or third-party integration |
| Overall ease of use: navigation and interface are intuitive, user-friendly, and uncrowded | Frequent updates (many users say too frequent) interfere with the ability to use the software as the app is updating |
RingCentral Integrations
All RingCentral software users have access to third-party integrations via the RingCentral App Gallery, which adds essential business communications and collaboration tools into the RingCentral interface.
Top integrations include:
Salesforce
Microsoft Teams
G Suite and Gmail
Microsoft 365 and Microsoft Outlook
Google Chrome Extension
Slack
Asana
Google Workspace
HubSpot
Zoho CRM
Zendesk
Google Drive
EverNote
OneDrive
Box
Dropbox
Developers can also build their own apps via the RingCentral API Center, which includes a Developers Support Forum, Developer Guide, and Developer Community of GameChangers.
Developer SDK libraries are available in many coding languages, including C#, Java, Python, Javascript, and PHP.
RingCentral Security
RingCentral offers a 99.999% uptime, 24/7 platform monitoring, and 15 global points of presence for network redundancy.
Additional Security features include: 
SOC 2, SOC 3, PCI, and GDPR compliance
HIPAA and HITRUST certification
ISO 27001- and ISO 27017-18 certification
TLS and SRTP encryption
Real-time system status alerts
Firewalls and session border controls
Fraud analytics
Disaster recovery plans
SSO and multi-factor authentication
RingCentral Customer Support
All RingCentral users have access to unlimited 24/7 chat and phone support, the online knowledge base and support portal, and on-demand video tutorials and webinars.
The fee-based RingCentral Professional Services provides personalized implementation support including data migration, integration with existing apps, team training, API workflow customization, and more.
Ongoing Advanced Enterprise and Contact Support are also available, which include additional prioritized customer support including a dedicated account manager and 24/7 live phone, web, and chat support.
Who Should Use RingCentral?
RingCentral's array of products mean there are solutions for both small businesses and enterprise-level contact centers.
Teams looking for an all-in-one contact solution for geographically diverse remote or blended teams will likely get the most out of RingCentral. Though the native team collaboration solutions are ideal for a flexible remote work environment, they likely won't be as useful to traditional, in-office teams.
RingCentral is also a good option for businesses that prefer a software provider that offers hardware, webinar tools, standalone video calling, and contact center solutions because of the scalability of having a wide array of products to choose from.
That said, while RingCentral's Contact Center solution may work for smaller omnichannel contact centers, the lack of included AI-powered analytics, outbound dialers, automations, and WFO tools means it can't yet compete with other cloud contact center providers that offer these features even in their most basic plans.
RingCentral is also popular in the below industries:
Healthcare: Useful for telehealth visits, medical research teams, and healthcare insurance providers
Retail: Used by food/drug merchants to chat with shoppers in real-time, provide pickup/delivery/refill/substitution alerts, and restaurants for taking reservations and booking events
E-Commerce: Used to provide shipping and delivery updates, SMS sale alerts, access customer order history, and connect with vendors
Education: Used to offer virtual classrooms, distribute and collect assignments, collaborate with students one-on-one with digital whiteboard
Nonprofit: Used for fundraising management, event planning, connecting with communities and volunteers, and collaborating on funding proposals, etc.
Government: Stream community events/meetings, review and develop budget proposals, phone system to support citizens
If RingCentral isn't the right fit for your company, there are plenty of other VoIP business phone systems and call center software to choose from. Popular RingCentral alternatives include Nextiva, 8×8, Zoom Phone, GoTo Connect, Dialpad, and Talkdesk.
RingCentral FAQs
Below, we've answered some of the top RingCentral FAQs.