Quality customer service isn't just about the level of expertise and assistance agents provide–it's also about how quickly support issues are resolved.
If your business is still using an outdated traditional business phone system, then even your most skilled agents just can't provide the kind of service that meets today's sky-high customer expectations.
Upgrading to virtual call center software helps to streamline business processes, lower hold times, and boost first call resolution rates–but only if you choose the right provider.
In this post, we'll outline key virtual call center solution features, top providers, and explain how call center solutions benefit both agents and customers.
What is a Virtual Call Center Software?
Virtual call center software is a cloud-based business communication platform that facilitates and optimizes inbound/outbound voice communications between customers and agents.
Virtual call center solutions eliminate the need for expensive and bulky on-premise equipment like landlines and copper wiring, allowing for greater mobility and flexibility while keeping operating costs low.
Note that most call center software includes digital communication channels like website chat. social media messaging, and video calling and in addition to VoIP voice calling and business SMS.
A unified omnichannel agent interface with real-time syncing combines all voice and digital channels–alongside one-click feature access–within a single dashboard. This also ensures all agents are working with the identical, and most current, support ticket and customer interaction updates.
Many virtual call center platforms rely on AI-powered automation, IVR (Interactive Voice Response), and CRM screen pops to streamline business processes, optimize call flow paths, and evaluate caller input.
Finally, some call center platforms include basic UCaaS (Unified Communications as a Service) features like team chat messaging, collaboration tools like whiteboarding and file sharing, and web conferencing to improve internal communications.
How Does a Virtual Call Center Work?
A virtual call center works by using Voice over Internet Protocol (VoIP) technology to make/receive telephone calls over the Internet instead of the wired PSTN (Public Switched Telephone Network.)
When you make a call, VoIP phone systems immediately break up your voice audio (speech) into numerous tiny digital data packets. These digital data packets then travel to their destination–the call recipient's phone line–via a broadband Internet connection.
Once they've arrived at their destination, the digital data packets reassemble and reorder themselves, delivering HD voice audio to the person you're calling. This process repeats itself back and forth throughout the VoIP phone call.
On the other hand, traditional analog phones (landlines) require a physical connection to the PSTN to be able to make and receive calls, via either copper wiring or fiber-optic cabling.
This means traditional call centers can only be accessed within the building where they're installed–leaving agents tied to their desks throughout the workday and unable to connect with customers outside of the office unless they give them their personal cell phone numbers.
Below, we'll take a quick look at additional differences between virtual call centers and traditional call centers.
Virtual Call Centers vs Traditional Call Centers
The table below outlines the key differences between VoIP vs landline call centers–further illustrating why most call centers have already switched to cloud platforms.
Virtual Call Center
Traditional Call Centers
Facilitates Calling Via
Internet-powered VoIP (In-browser or via downloadable softphone application for desktop and mobile devices)
The wired PSTN
Compatible Devices
– IP phones

– Desktop and laptop computers

– Smartphones, tablets, and other mobile devices

– Traditional analog phones only
Flexible and Mobile
Yes. Providers off tier-based, scalable monthly pricing and plans and agents can access their virtual phone system anywhere with a working Internet connection
No. Adding additional phone lines requires expensive and lengthy physical installation, and calls can only be made at the address the landline is linked to.
Maintenance/Upgrades Handled By
The cloud call center software provider
The business/end user
Available Communication Channels
VoIP telephony, SMS/MMS, Email, Chat Messaging, Video Calling, Social Media Messaging (Available channels depend on your chosen provider and plan)
Voice calling only
Equipment Required
– All desk phones

– Routers, wiring, and cabling

– On-premise server

– Splitters and modems

– Circuit capacity

– Outlets and wall jacks

– Internet access

– Ethernet cord and router

– Headsets, backup power supply, IP phones (Optional)

Average Cost
Hardware: Can use existing devices

Software Licensing Costs: Bundled plans from $50.00-$300/month, annual and pay-as-you-go pricing with volume discounts available

– Hardware for 15-20 users: Up to $9,000

– Installation/Setup: $1500+

– Maintenance Costs: $3,000+/year

– Additional Costs (Long-distance calls, etc.):$1500+/month
Note that virtual call center software is still compatible with IP Phones, which are traditional desk phones that connect to the Internet to make and receive incoming calls and outgoing calls.
Some enterprise-level call centers, or businesses that want to continue to use their existing equipment, may choose a hosted or on-premise PBX system–a private local telephone network that manages all internal and external communication.
The Benefits of Virtual Call Center Software
The most well-known benefit of virtual call center software is the cost savings it offers compared to a traditional business phone system/call center.
A recent 8×8 study found that switching to virtual call center software can cut transaction costs by an astounding 75%.
But there are many more benefits to call center software than just savings.
Additional virtual call center software benefits include: 
Advanced customer self-service capabilities like IVR, ACD, Conversational AI voicebots and chatbots, customizable call routing strategies, automated callbacks, etc.
Increased agent productivity thanks to outbound auto dialers, automatic post-call summaries, automated scheduling, and additional Workforce Management (WFM) and Workforce Optimization (WFO) features
Increased first call resolution rates, shorter customer journeys, and a higher overall customer experience
Deeper insights into call center agent performance metrics and customer preferences with Quality Management features like in-call coaching, real-time agent activity alerts, forecasting, agent wallboards and performance gamification, post-call surveys, etc.
Third-party software integration streamlines all your preferred business communication/collaboration tools in a single interface, allowing for advanced CRM screen pops, better team collaboration, and more
Higher CSAT (Customer Satisfaction) rates, increased customer loyalty/higher customer retention rates, decreased call center agent turnover rates
Best Virtual Call Center Software Providers
In determining which providers to include in our list of virtual call center software, we considered factors such as:
Onboarding support, new customer training, and customer support
Available native communication channels
Pricing (structure, transparency, contracts, costs, etc.)
Available third-party integrations, especially CRM systems
AI and Automation capabilities
Overall ease of use, especially regarding call flow design and editing
The below table shows a brief overview of the top virtual contact center and call center solution providers, which we'll review in more detail in the following sections.
Provider
Pricing
Top Features
Best For
Five9
4 monthly plans from $149.00-$229.00+/month
Agent Assist, Engagement Workflow
Midsize-to-enterprise-level call centers with a high daily outbound call volume and advanced workforce optimization needs
Talkdesk
– 3 monthly plans from $75.00-$125.00/user/month

– Custom quote-basedExperience Cloud packages

AppConnect, Talkdesk Workspace
Remote teams or blended automation-first call centers heavily reliant on AI with a high-level integration needs
NICE CXOne
4 quote-based plans
MAX Agent Inbox, Enlighten AI
Enterprise-level omnichannel contact centers that reach out to customers on industry-specific channels, social media, or pre-existing applications
CloudTalk
– 3 paid plans from $25.00-$50.00/user/month

– Custom quote-based packages available

Smart Dialer, Real-time Customer Card
New or small call centers that don't need omnichannel communication
Genesys
5 paid plans from $75.00-$150+/month
Agent Workspace, Voice and Message-based IVAs
Mostly remote, high-volume blended call centers that want to automate outbound dialing and customer self-service
Dialpad
– 2 quote-based plans
Dialpad Vi, AI Sales
 Call centers that prioritize AI over everything else and need to automate both outbound and inbound calling
Five9
Five9 is an inbound/outbound call center software also offering digital engagement tools, workforce management features, and AI-powered virtual agents across channels.
Best Features
One of Five9's best-known features is its Engagement Workflow, an omnichannel communication tool streamlining live agent:customer and customer self-service interactions across voice, email, chat, SMS, and social media messaging in one interface.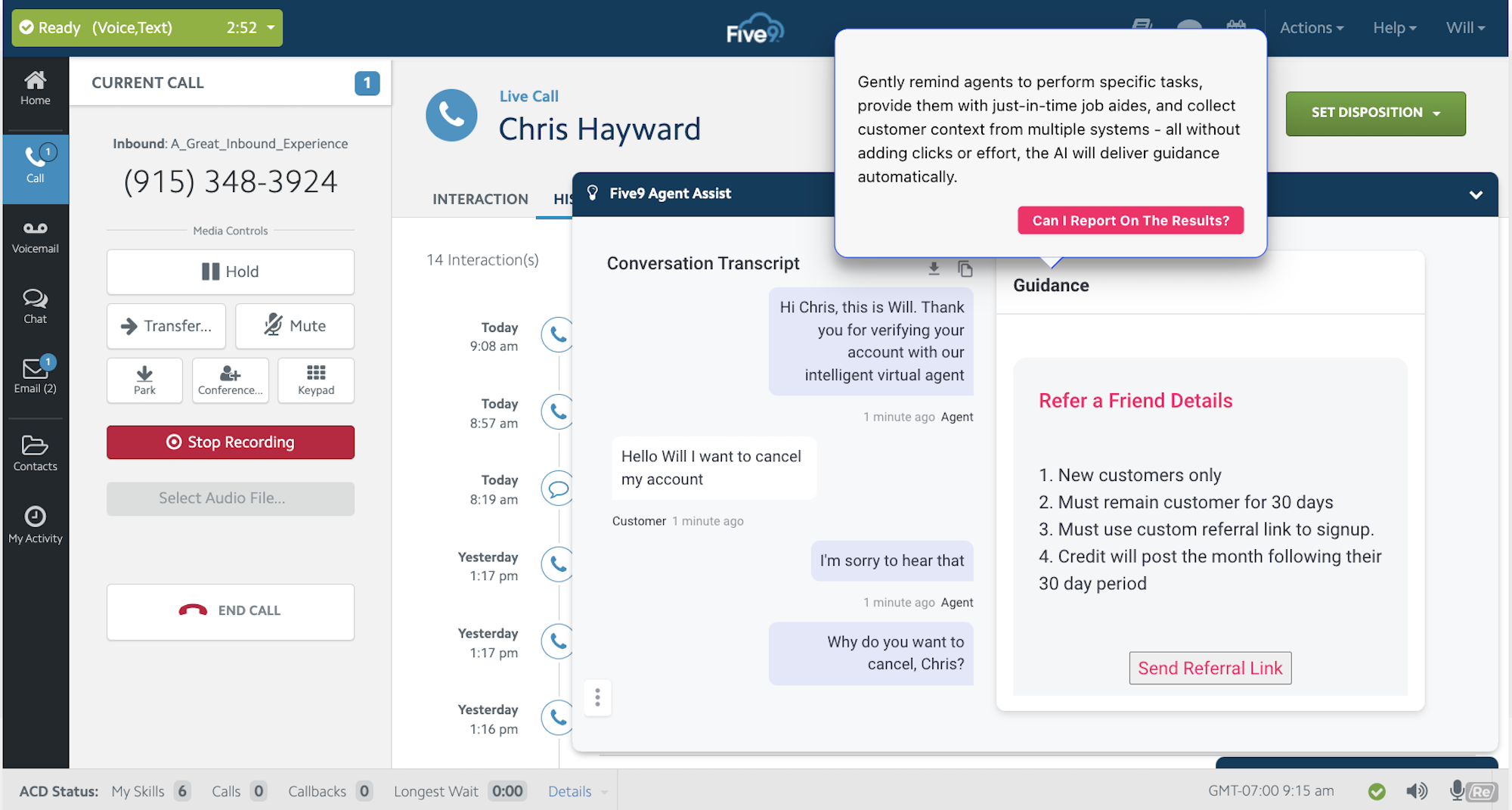 Agents and managers use the Engagement Workflow to build, deploy, and optimize routing paths, call flows, the escalation matrix, IVAs, and agent workloads across channels.
Using customer data from self-service input, unstructured data, call transcripts, and integrated CRM systems, the Engagement Workflow analyzes customer intent and customer sentiment to offer AI-powered customer support. It automates routine support tasks like shipping updates, appointment scheduling/confirmation, customer surveys, and billing.
If a customer needs to connect to a live agent, the Engagement Workflow uses intelligent call routing strategies to send callers to the best available agent.
Best of all, the Engagement Workflow provides real-time, in-conversation agent guidance via its Agent Assist tool. Agent Assist offers real-time call transcription, automated agent coaching via insights from integrated CRM systems, helpdesk tools, and internal knowledge bases. Once the call ends, Agent Assist automatically generates a Call Summary, which it uploads to the company CRM system and customer database.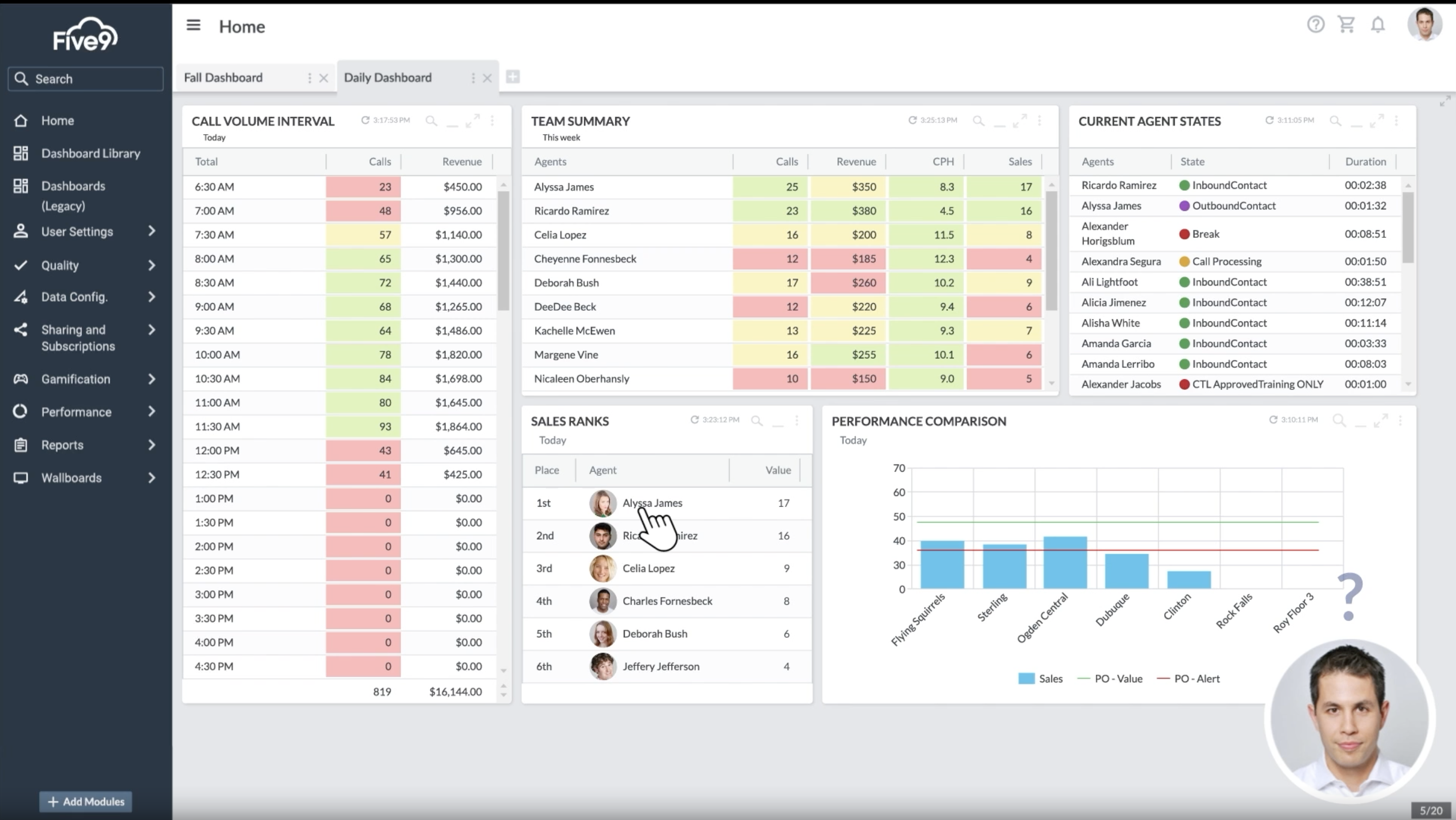 Other essential Five9 features include: 
Voice Calling: Call recording, agent scripts, post-call surveys, automated callbacks, call monitoring/barge/whisper, call queuing, Five9 Outbound Auto Dialer with Predictive, Power, Progressive, and Preview Dialing Modes, ACD, IVR/IVA, multiple call routing strategies
Productivity: Workflow Automation, CTI screen pops, text-to-speech, call tagging, Quality Management, automated employee scheduling, trend forecasting, agent performance gamification
Analytics: 120+ real-time and historical reporting templates (filter/search/share reports)
Customer Support: 24/7 chat and phone support, onboarding support, premium support options
Security: 24/7 Network Monitoring, Geo Redundancy, SSO, ISO 27001/002-Certified, SOC 2 Type 2 Certified, Encryption
Pricing and Plans
Five9 offers 4 bundled paid plans: the Core Plan for $149/month, the Premium Plan for $169/month, the Optimum Plan for $199/month, and the Ultimate Plan for $299/month.
Additional Five9 pricing details are shown below.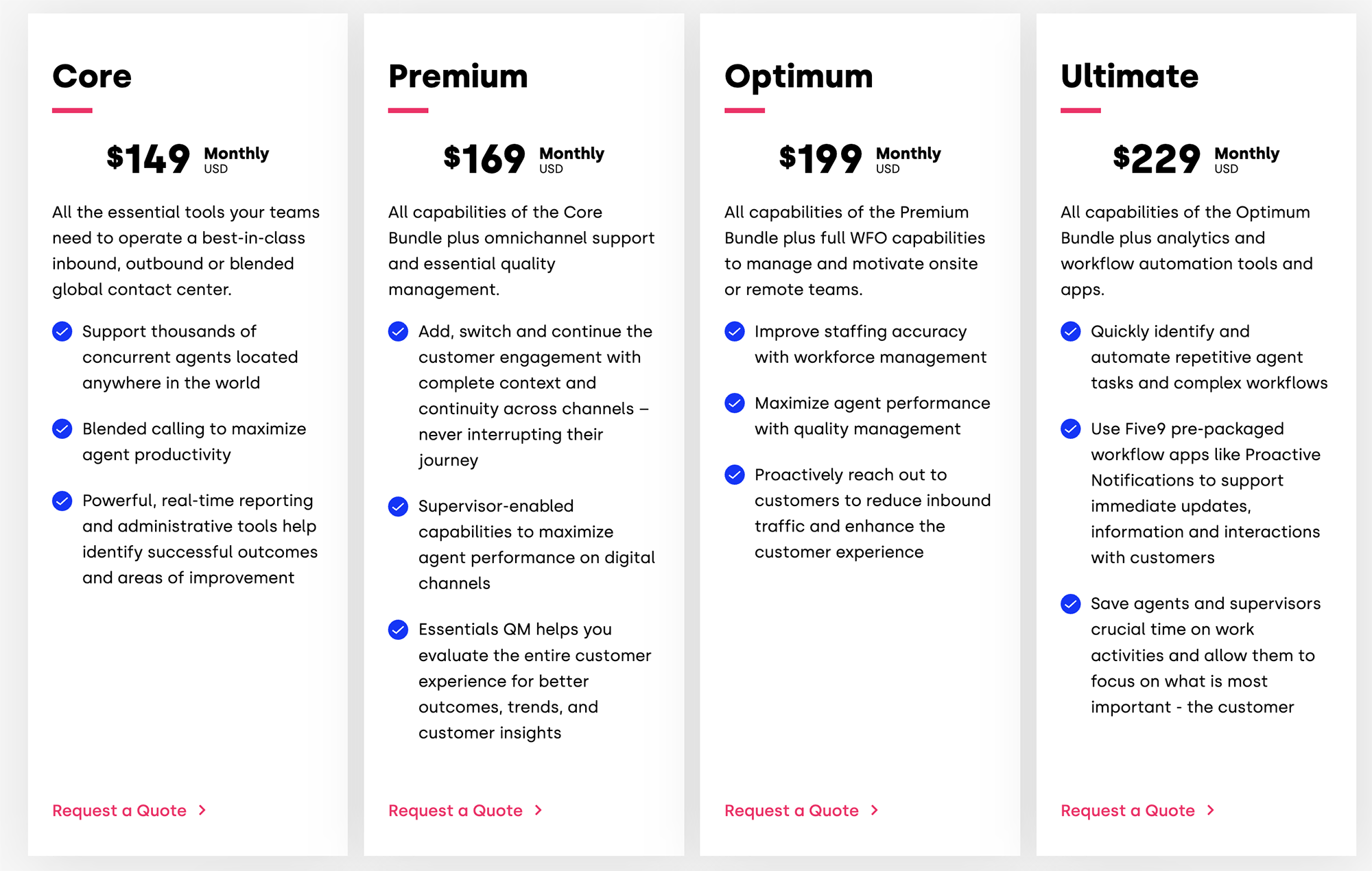 Best For
Five9 is best for enterprise-level inbound/outbound call centers with a high daily call volume focused on workforce optimization and omnichannel, AI-powered support.
Talkdesk
Talkdesk is a call center software primarily focused on improving the overall customer experience with its Omnichannel Engagement Suite for voice calling, website chat, email, SMS, and social media.
Best Features
One of Talkdesk's top features is its AppConnect tool, which contains 60 pre-built integrations (called "Connections.") Top integrations include Slack, Zoom, Microsoft365, Google GSuite, Zendesk, Salesforce, Zoho, and Jabra. It also offers numerous industry-specific integrations unavailable on competitor platforms.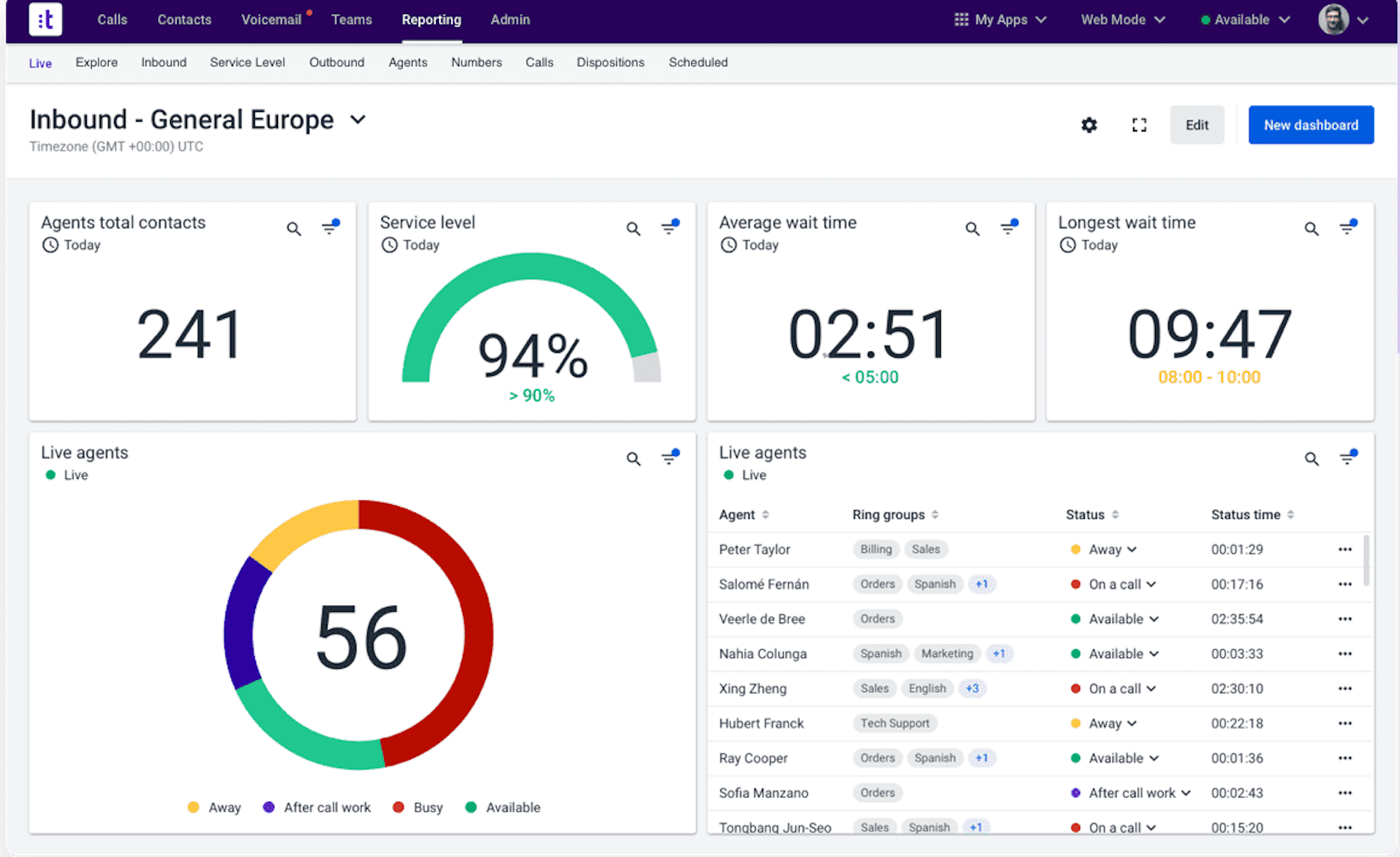 All these integrations, in addition to other native features, are available in a single dashboard– Talkdesk Workspace.
The Talkdesk Workspace interface is completely customizable to configure on a per-agent basis, and includes pre-made Workspace templates ideal for defined roles, departments, and responsibilities. Within the Workspace, reps, and other users can access omnichannel inbound and outbound Conversations, review and resolve assignments, update ring groups, connect with customers in real-time, filter interactions by channel, review and set customer dispositions, complete after-call work, share files, and more.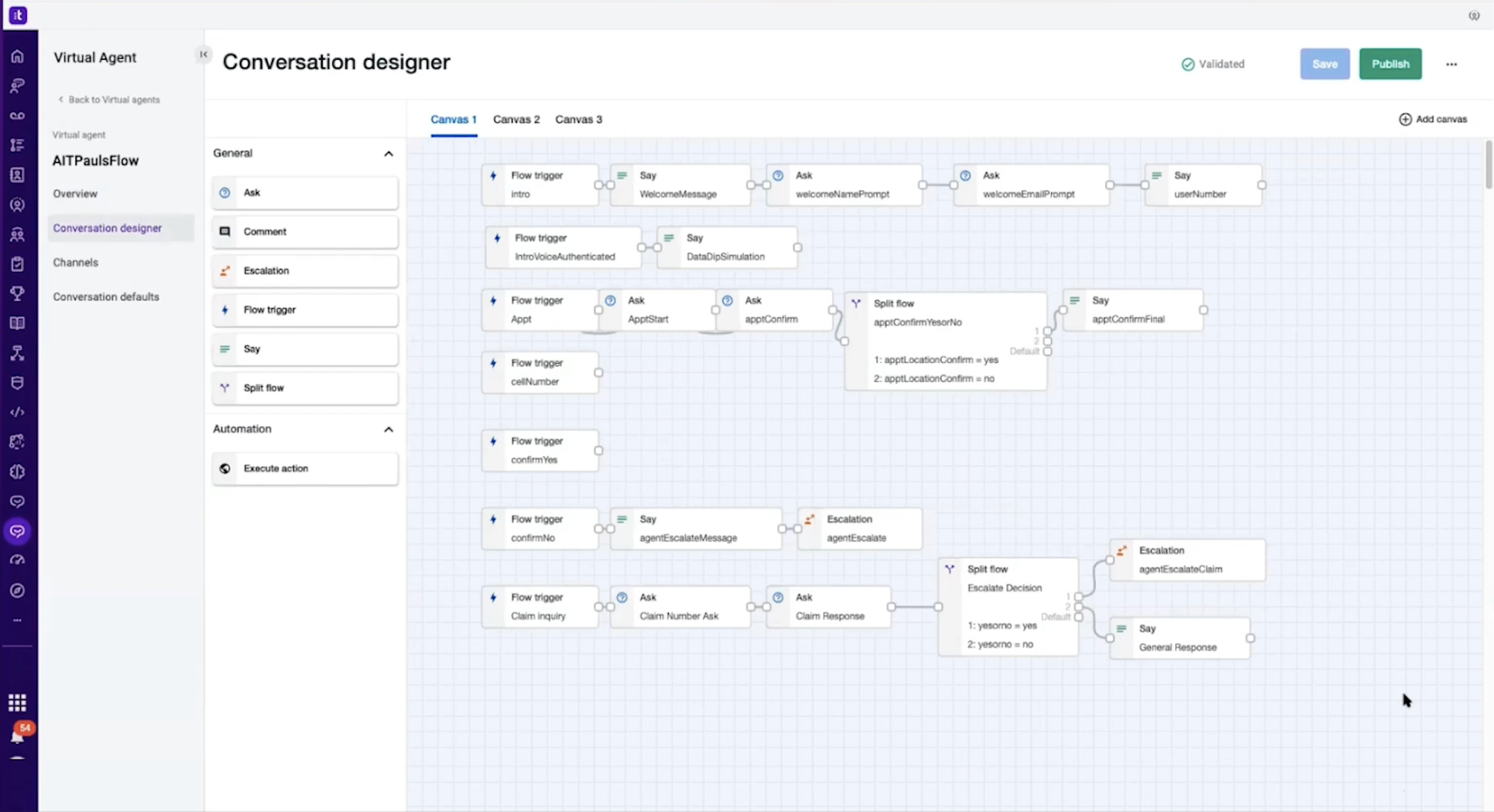 Additional Talkdesk features include:
Voice Calling: Call recording, call forwarding, ring groups, call queueing, automated callbacks, call routing (calendar-based, skills-based, time-based, relationship-based), intelligent call handling,
Workforce Management Suite: Schedule updates, omnichannel forecasting, real-time analytics, resource management, agent performance evaluation, agent coaching, etc.
Talkdesk Studio: Drag-and-drop IVR and call flow designer
Conversation Designer: No-code IVA designer for voice and digital channels
Agent Assist: Real-time in-conversation agent assistance from CRM nd internal knowledge base, scripts
Proactive Omnichannel Outbound Engagement, including Preview, Power, and Predictive Dialing
Analytics: Real-time and historical analytics, feedback analytics, performance management and gamification, AI-powered interaction analytics
Pricing and Plans
Talkdesk offers four plans: CX Cloud Essentials for $75/user/month, CX Cloud Elevate for $95/user/month, CX Cloud Elite for $125.00/user/month, and custom quote-based Experience Cloud packages. 
Talkdesk pricing is further outlined in the image below.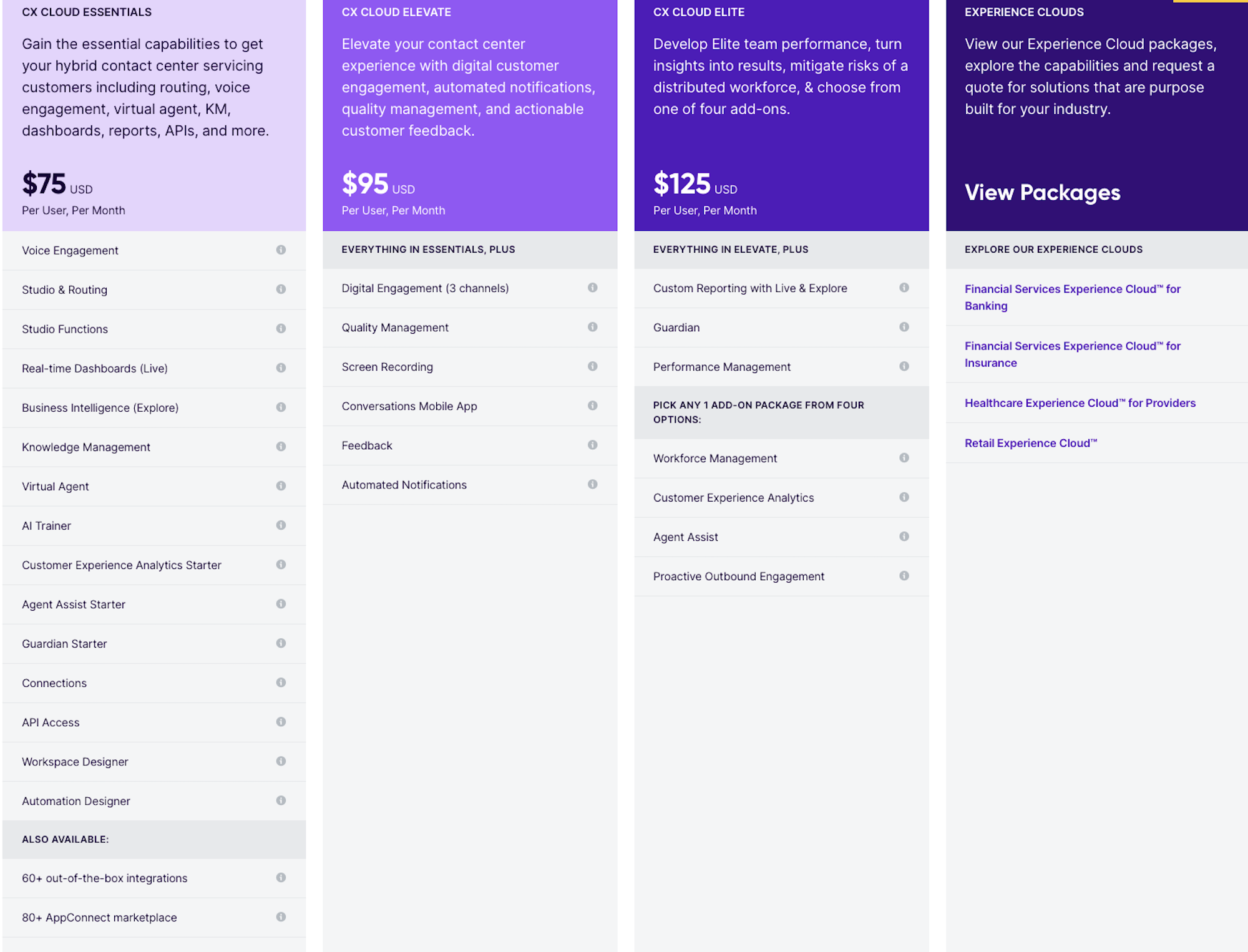 Best For
Talkdesk is best for call centers looking for automation-first solutions with high-level integration needs, especially regarding CRM platforms.
NICE CXOne
NICE CXOne is a customer-centric call center software that uses advanced AI to streamline and enhance the customer experience across over 30 voice and digital channels.
Best Features
NICE CXOne is known for its intuitive agent interface, MAX (My Agent eXperience.) MAX is an asynchronous voice and digital inbox containing customer interaction and account history, sentiment analysis, smart routing, and interaction queues.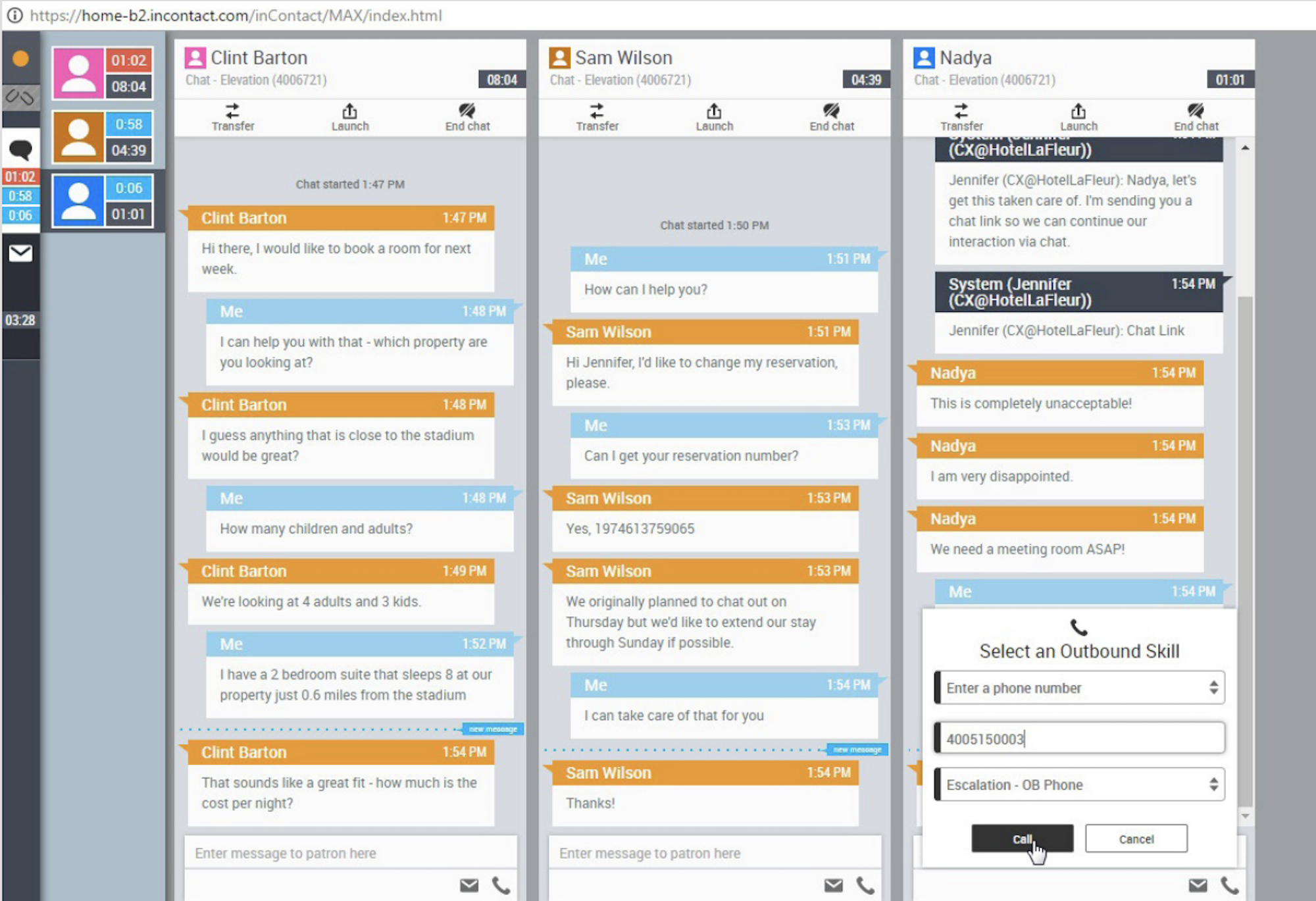 Within MAX, virtual call center agents can be assigned single-channel, multi-channel, or omnichannel interactions, update case status, reassign cases, move between channels, send quick replies, access IVAs, set customer dispositions, send conversation transcripts, and review Customer Cards.
Its Enlighten AI customer self-service tool measures 100% of customer interactions in real-time to create self-service scripts and call flows, manage customer complaints, make sales processes more effective, and automate agent soft skill scoring, coaching, and feedback.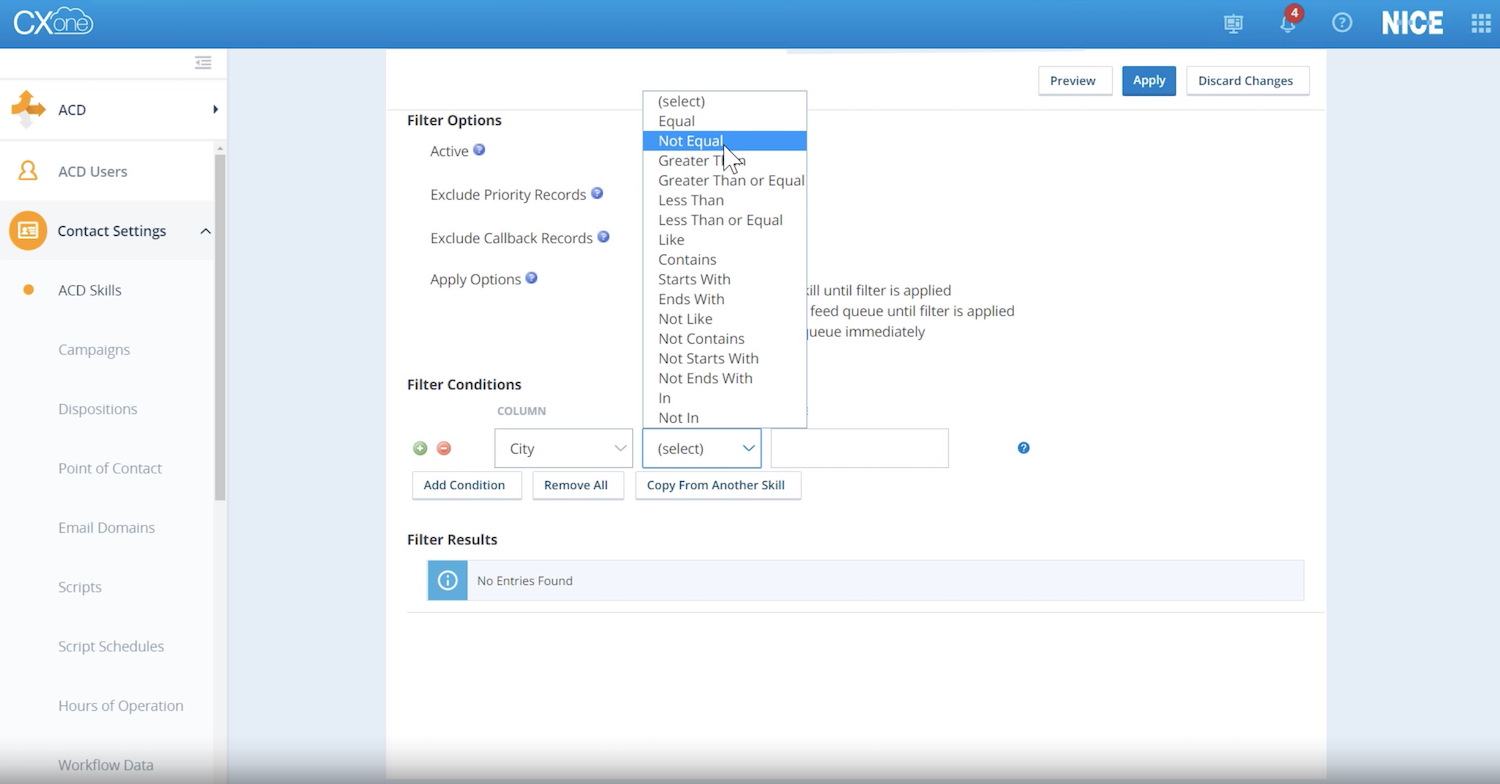 Additional NICE CXOne features include: 
Interaction Channels: SMS/MMS, inbound/outbound voice, live and automated website chat, voicebots, BYOC (Bring Your Own Channel), social media messaging
Voice Calling: Call routing (AI Behavioral, skills-based, and analytics-based routing), ACD, IVR, Voice Authentication, automated callbacks, omnichannel queue, CTI screen pops, Phone Number Verification
CXOne Guide: Chatbot or live messaging support, Custom IVAs, customer engagement analytics, etc.
Workforce Engagement: AI forecasting, agent coaching, performance gamification, agent scorecards, 250+omnichannel analytics, agent scheduling, 90+ reporting templates
CXone Recording: HIPAA-compliant voice, digital, and screen recording
Pricing and Plans
Though NICE CXOne offers four pay-as-you-go tiered plans, pricing is available only on a quote basis.
Users can choose from four scalable bundled plans: Customer Engagement, Contact Center Essentials, Contact Center Advanced, and Contact Center Complete. The differences between these plans are outlined in the image below.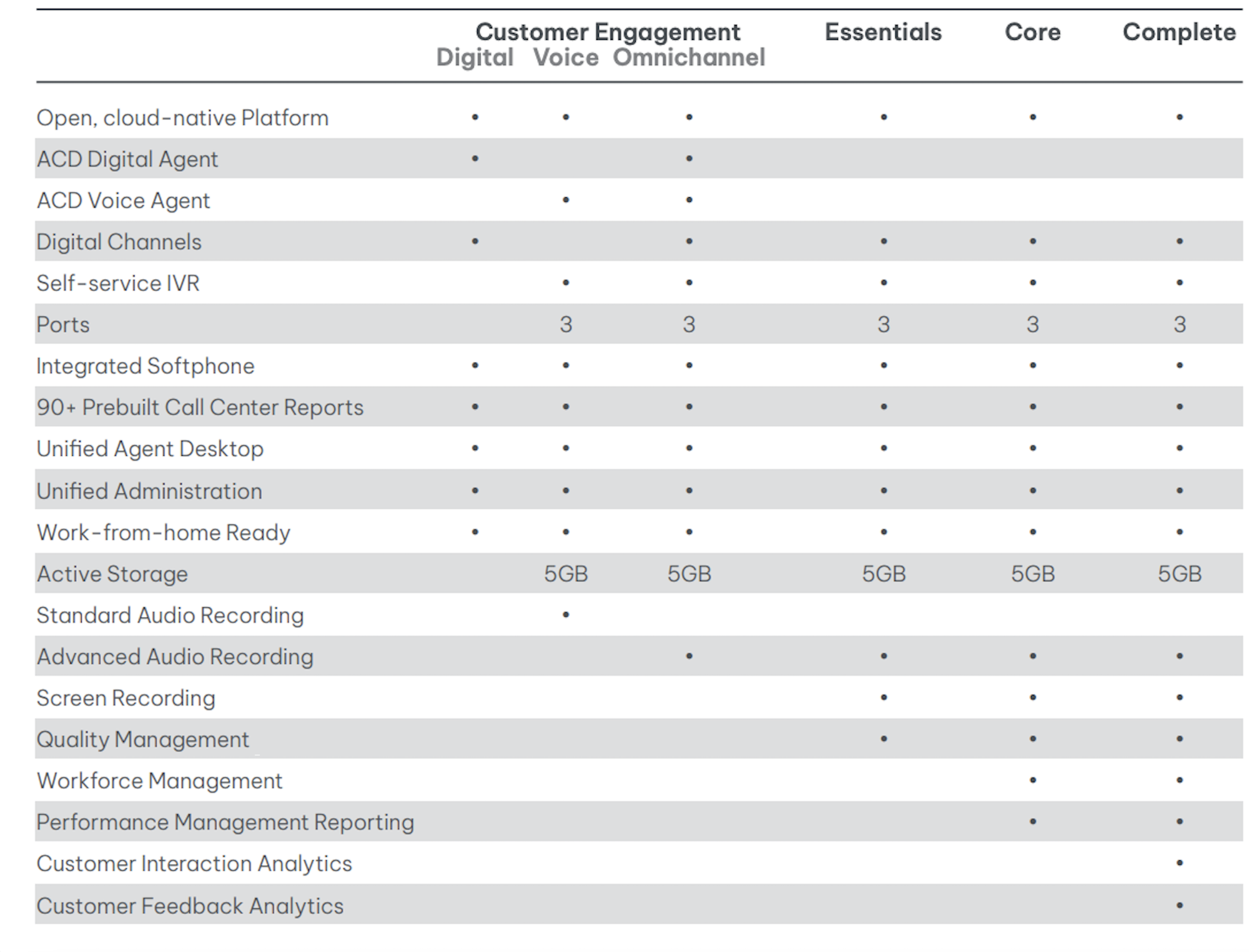 Best For
NICE CXOne is best for enterprise-level that, like Talkdesk users, have a variety of industry-specific integrations they must access within their call center software. It's also a good fit for contact centers with customers and agents in multiple time zones, with equal customer engagement across several voice and digital channels, especially within the healthcare and financial sectors.
CloudTalk
CloudTalk is an inbound/outbound support and sales call center solution designed for relatively new and expanding businesses.
Best Features
CloudTalk focuses almost exclusively on inbound and outbound voice calling, so all its features relate only to VoIP Calling, SMS, and MMS (integrations are available for additional channels and workflow management functionalities.)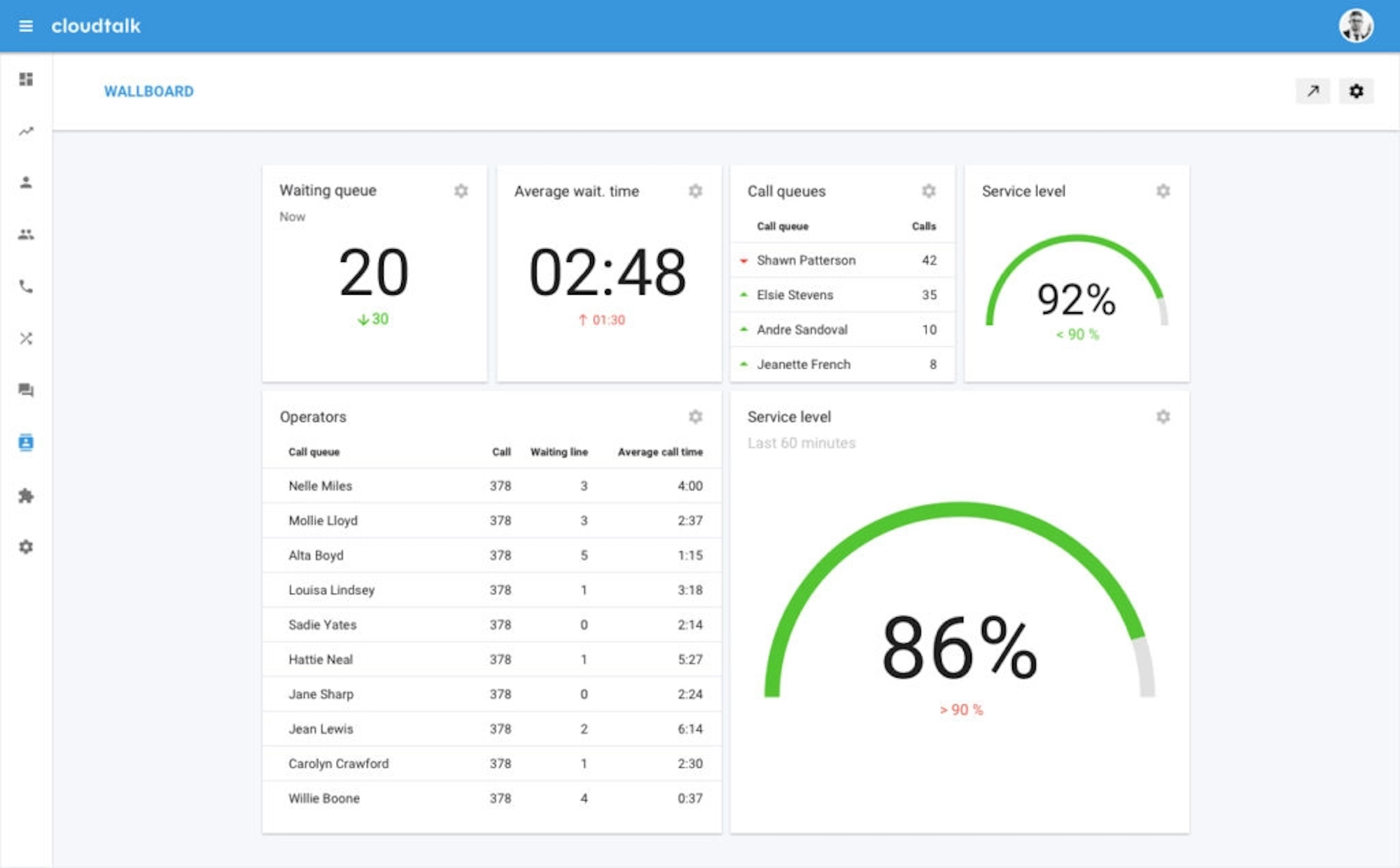 Its Real-Time Customer Card tool, which provides caller details like one-click access to recordings of past calls, current and past orders, previous and open support tickets, omnichannel communication history, and notes/comments from previous call center agents. Users can also update the Customer Card or create new support tickets from the card interface during a phone call. All Customer Card data is available in the CloudTalk dashboard or within CRM integrated software like Salesforce, Zapier, Zendesk Sell, and Pipedrive.
CloudTalk's Smart Dialer feature eliminates the need for users to manually add prospects to call lists. Instead, it scans a website the user selects, creates a queued list of phone numbers, and lets users make automated outbound calls with one click. Before they start calling the numbers in the queue, agents can re-order the list and select which phone number they want to make the call from, allowing for local presence. Users can pause the call queue at any time, adjust dialing speed, and automatically reschedule calls that went to voicemail or that weren't answered.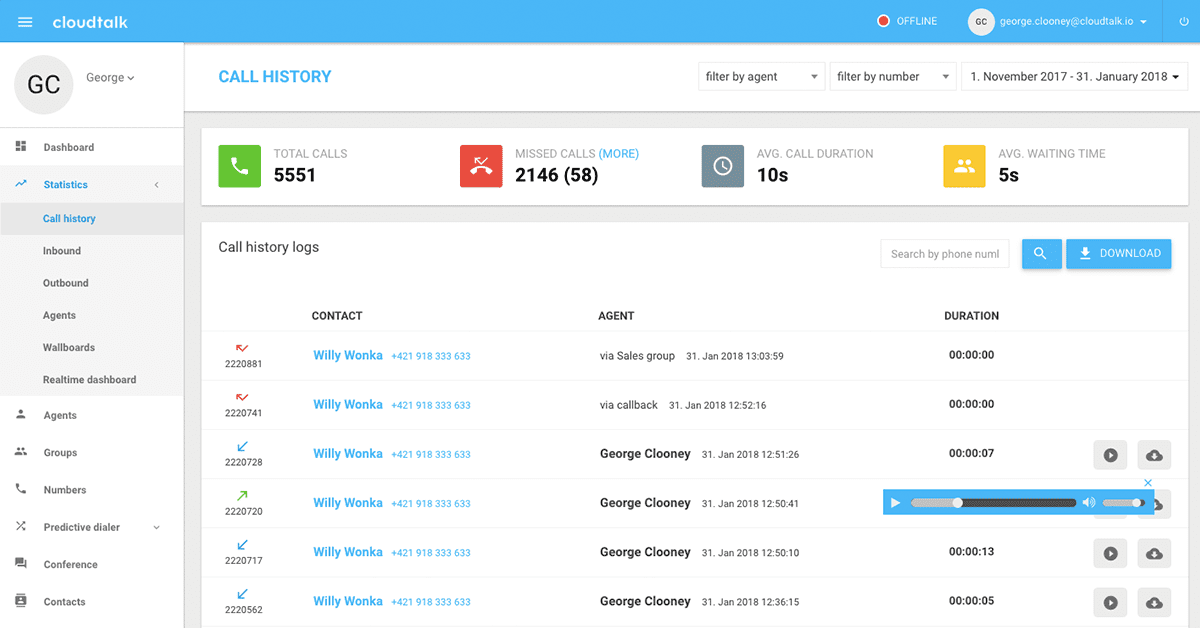 Additional CloudTalk features include:
Voice Calling Management: Call queuing, call recording, individual in-house or remote agents extensions, personal/group voicemail boxes, business hour setting, personalized greetings, call forwarding, ring groups, conferencing calling, caller ID
SMS and MMS texting
Call Flow Design
Skills-based and preferred agent call routing
Productivity: Automated callback, call notes, call tagging, real-time customer card, After Call Work, speech-to-text, outbound campaigns, warm transfer
Pricing and Plans
CloudTalk offers four paid plans: The Starter Plan for $25.00/user/month, the Essential Plan for $30.00/user/month, the Expert Plan for $50.00/user/month, and a Custom quote-based plan.
Additional CloudTalk pricing is outlined in the below image.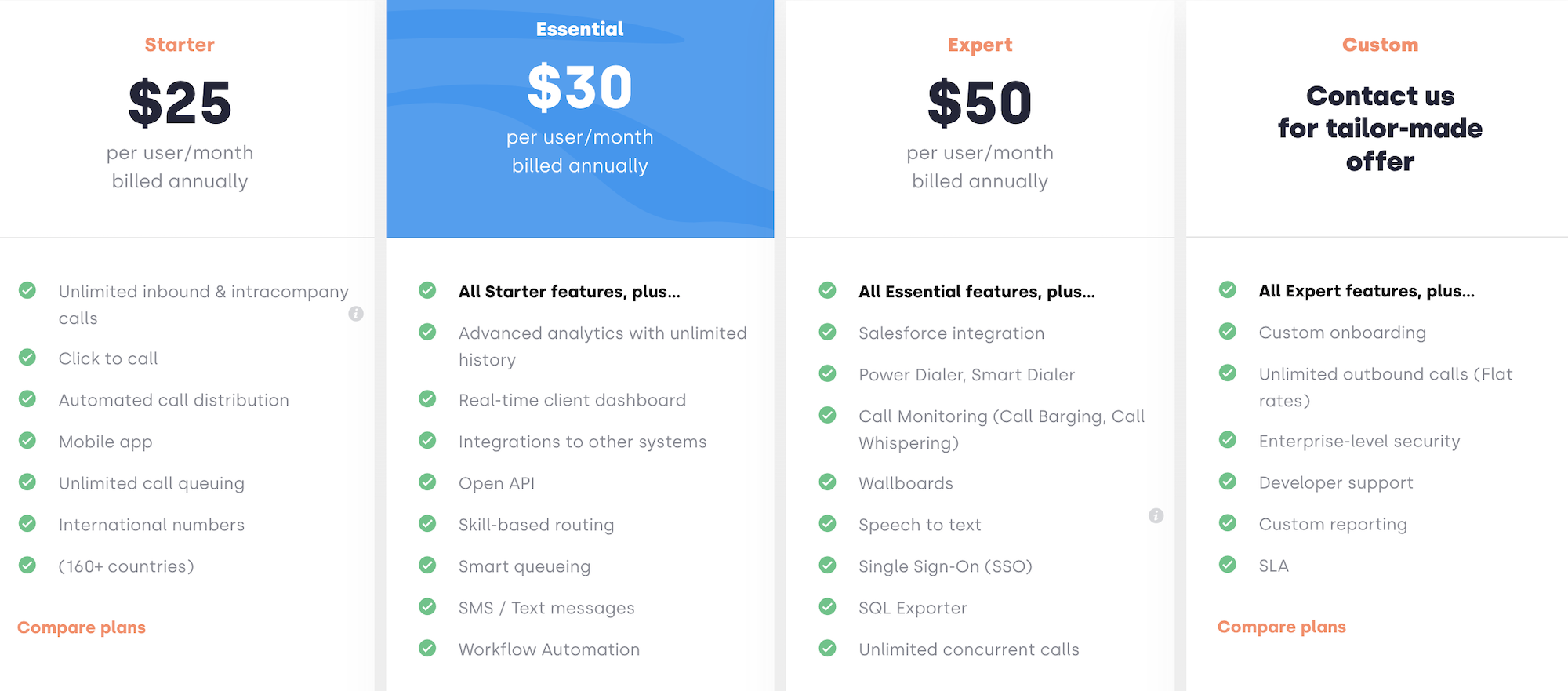 Best For
CloudTalk is best for new or small businesses that don't need omnichannel communication, as most of their customer service and support is managed via phone. These teams don't need extensive AI or automated features, but they do need an intuitive, uncomplicated platform with excellent outbound call capabilities.
Genesys
Genesys is a CcaaS platform designed for high-level, omnichannel customer self-service across voice calling, SMS, chat, email, and social media messaging.
Best Features
Genesys Voice and Message-based IVAs are among its most competitive features. These IVAs use voice analytics and Predictive Engagement tools to offer real-time agent assistance and proactively engage with customers at the most optimal part of the customer journey.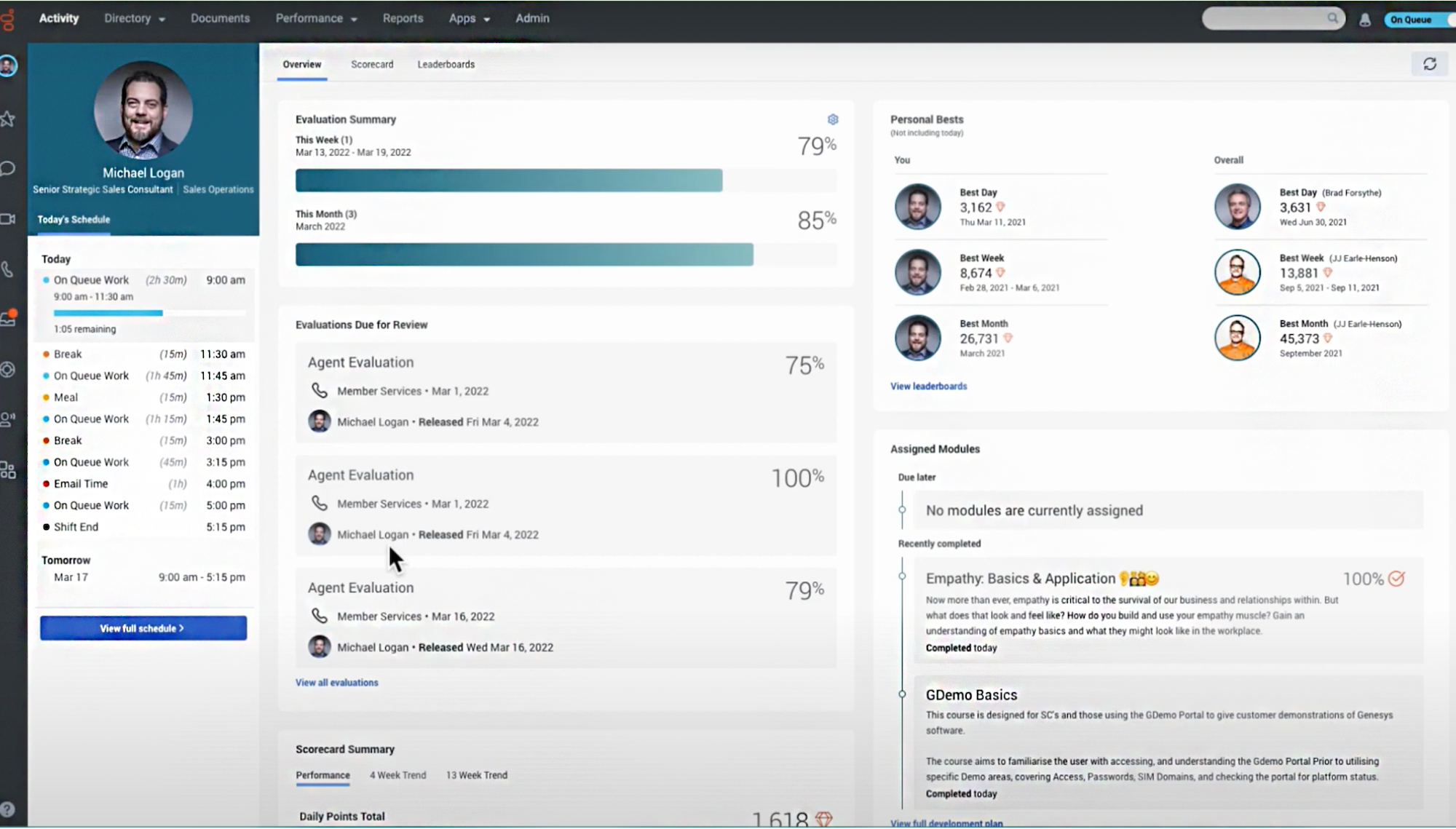 Admins can use the drag-and-drop bot designer and call flow design update to create, update, and deploy voice and chatbots across channels.
The Genesys Agent Workspace is a user-friendly, intuitive agent dashboard that provides key omnichannel engagement and support tools with one click. Within the Workspace, agents can view relevant customer analytics, conversation histories, customer contact information and account data, and see customer journey maps of recent interaction data.  Reps can share their screens with callers, access canned responses, and take one-click actions (support ticket generation, callback scheduling, etc.) right from within the Workspace.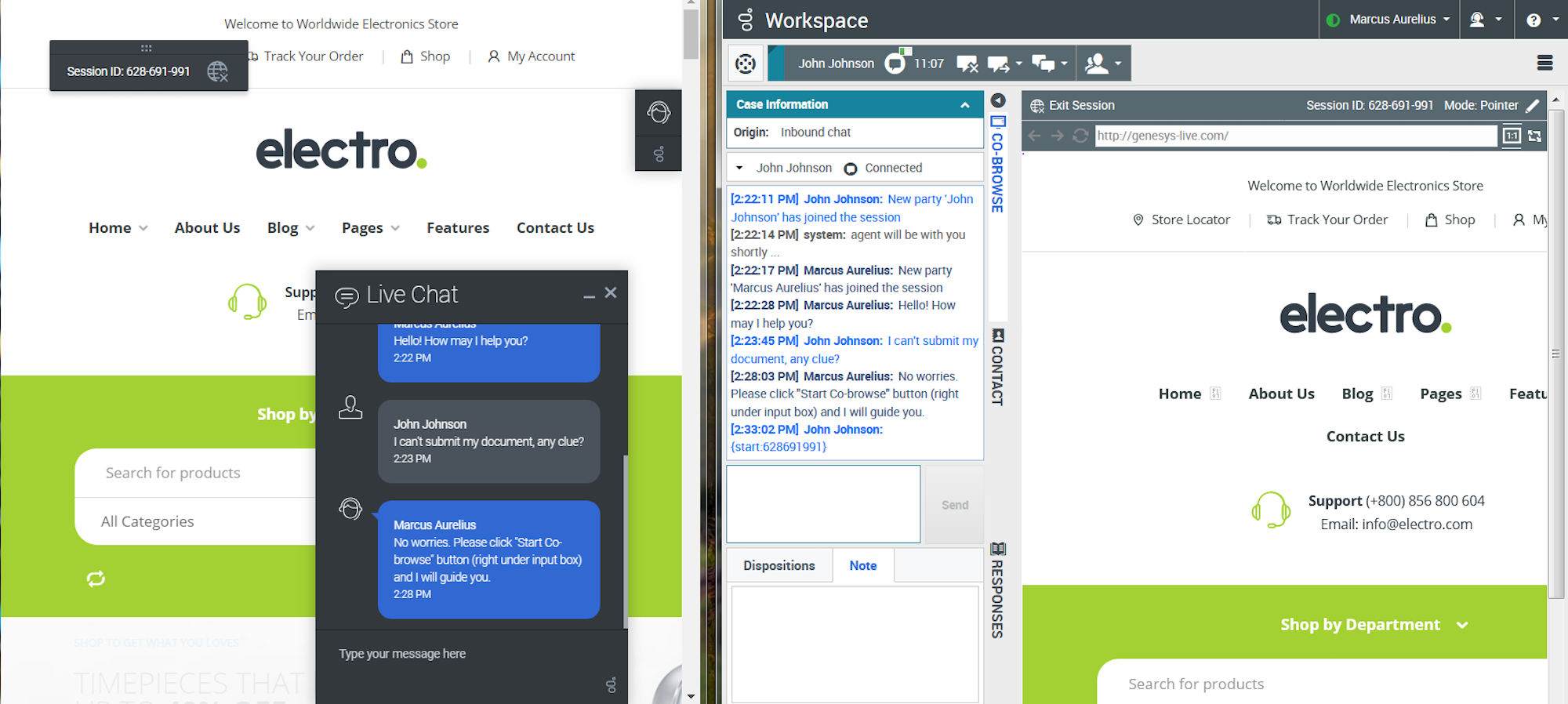 Additional Genesys features include:
Outbound Dialing: Preview, Predictive, Progressive, Power, Agentless dialing modes, call pacing adjustments, outbound intelligent voice recognition
Voice Calling: Visual IVR, ACD, auto attendant, skills-based and workforce routing , call recording, call flow monitoring and design, Customer Verification, predictive and speech analytics, CTI screen pops
Workforce Optimization: Forecasting, drag-and-drop scheduling, in-call and custom training, performance management
UCaaS: Company directory, team chat, video meetings, file sharing
Pricing and Plans
Genesys offers 5 paid plans: The Cloud CX 1 Plan for $75/00/month, the Cloud CX 2 Digital Plan for $90.00, the Cloud CX 2 Digital and Voice plan for $110.00/month, the Cloud CX 3 Digital+WEM Plan for $130.00/month, and the Cloud CX 3 Digital+WEM+Voice Plan for $150.00/month. 
Additional Genesys pricing details are outlined in the image below.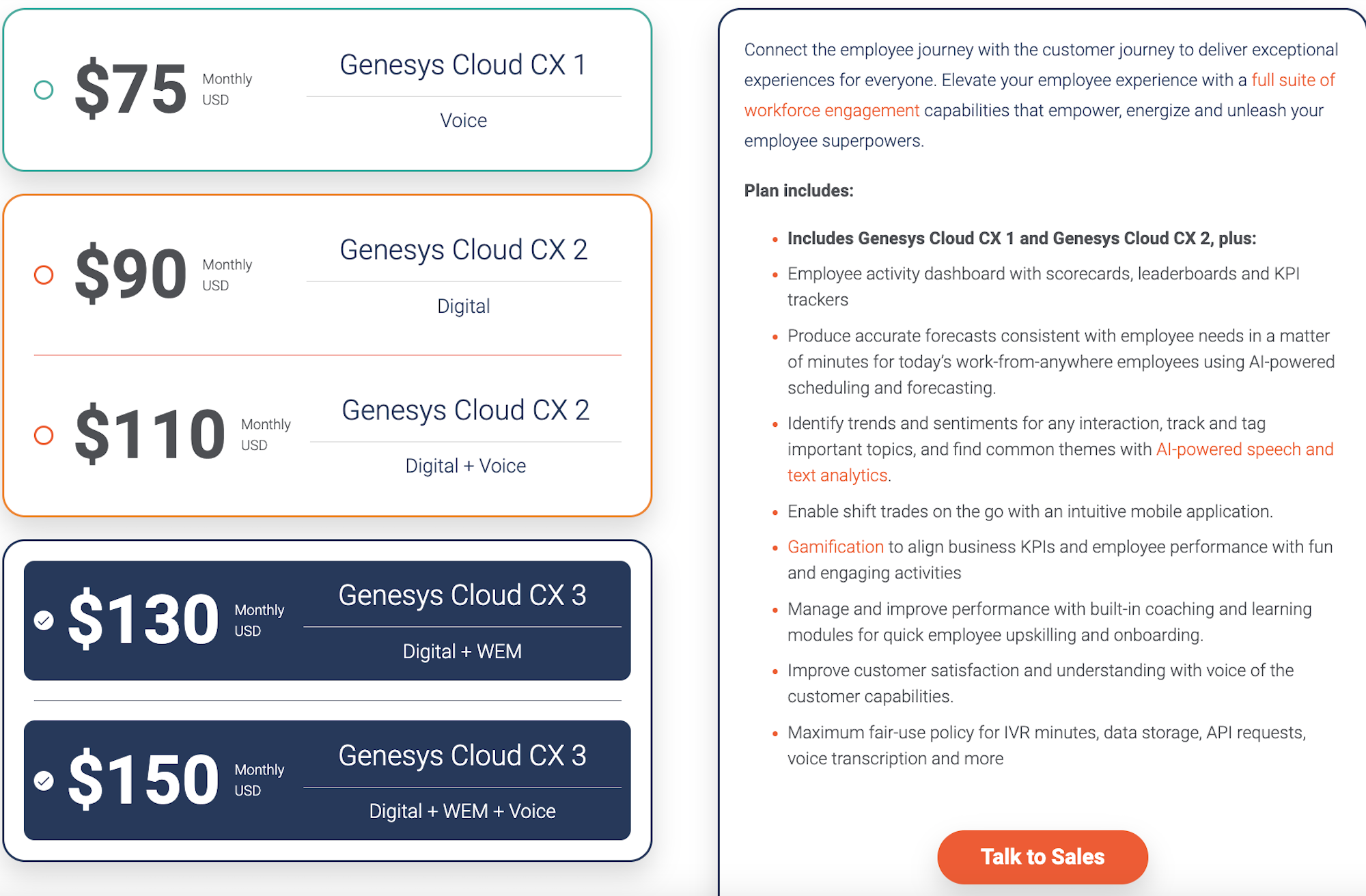 Best For
Genesys is best for a blended remote call center with a high daily call volume that needs to automate outbound dialing for more efficient prospecting. Genesys users are also looking for highly scalable plans that can evolve alongside their call center.
Dialpad
Dialpad is an AI-powered omnichannel cloud contact center system offering voice calling, SMS, social media messaging, and internal video calls via Dialpad AI Meetings.
Best Features
Dialpad's VI (Voice Intelligence) feature is powered by Dialpad AI's Automatic Speech Recognition (ASR) and Natural Language Processing (NLP). VI can create real-time call transcripts, differentiate between speakers, detect customer sentiment, automatically take call notes, create auto call summaries, and offer in-call coaching and Agent Assistance.
Vi even identifies "action" words and phrases, automatically highlighting follow-up or key moments within call summaries.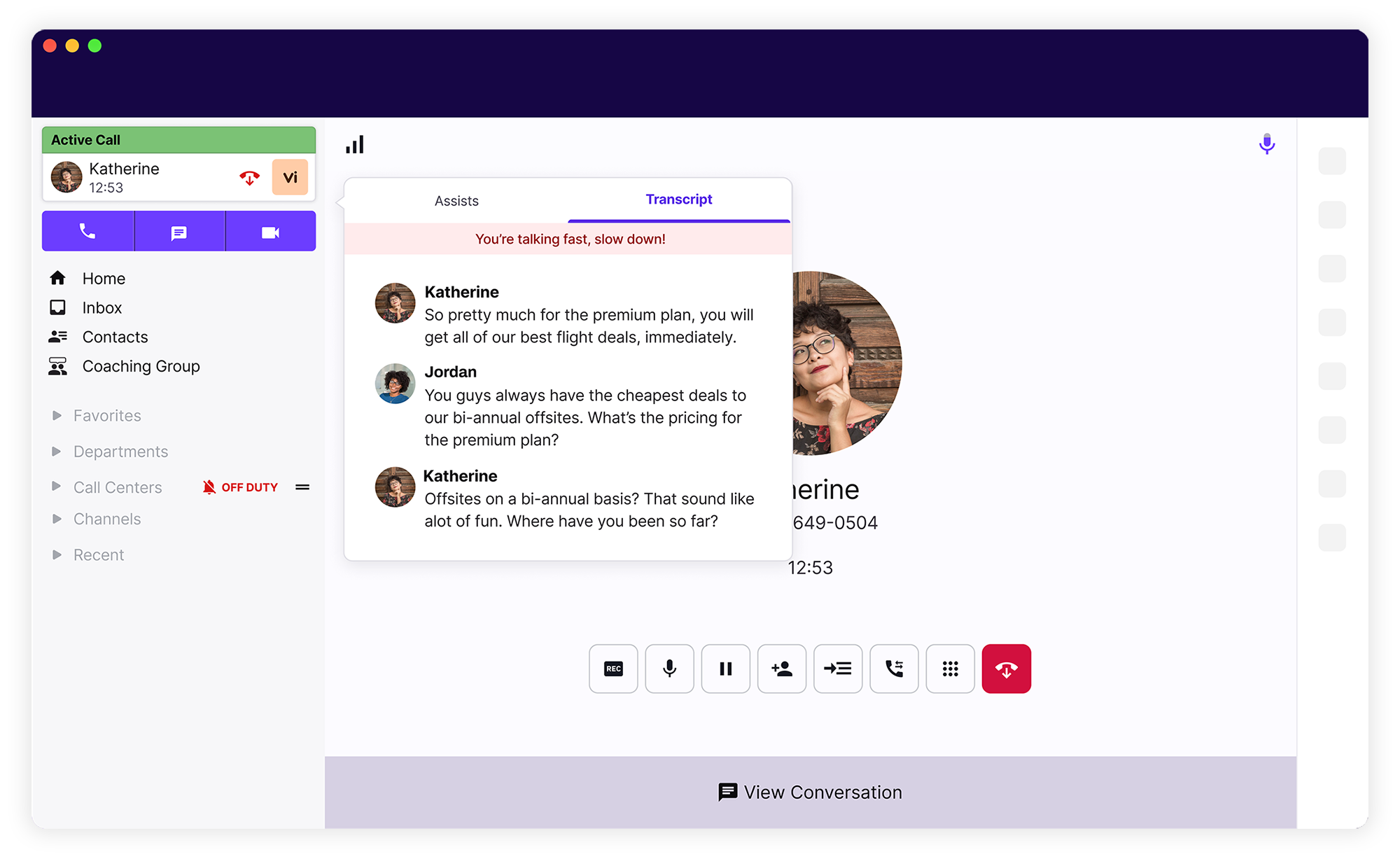 Dialpad's A Sales tool (available as an add-on to the AI Contact Center software) provides outbound calling solutions with AI-powered coaching, CRM integrations, outbound SMS/MMS, and voicemail drop. The Sales package also offers real-time manager and admin alerts, speech coaching, call monitoring/call barge, individual and group agent coaching, call transcriptions, and Salesforce Powerdialer integrations.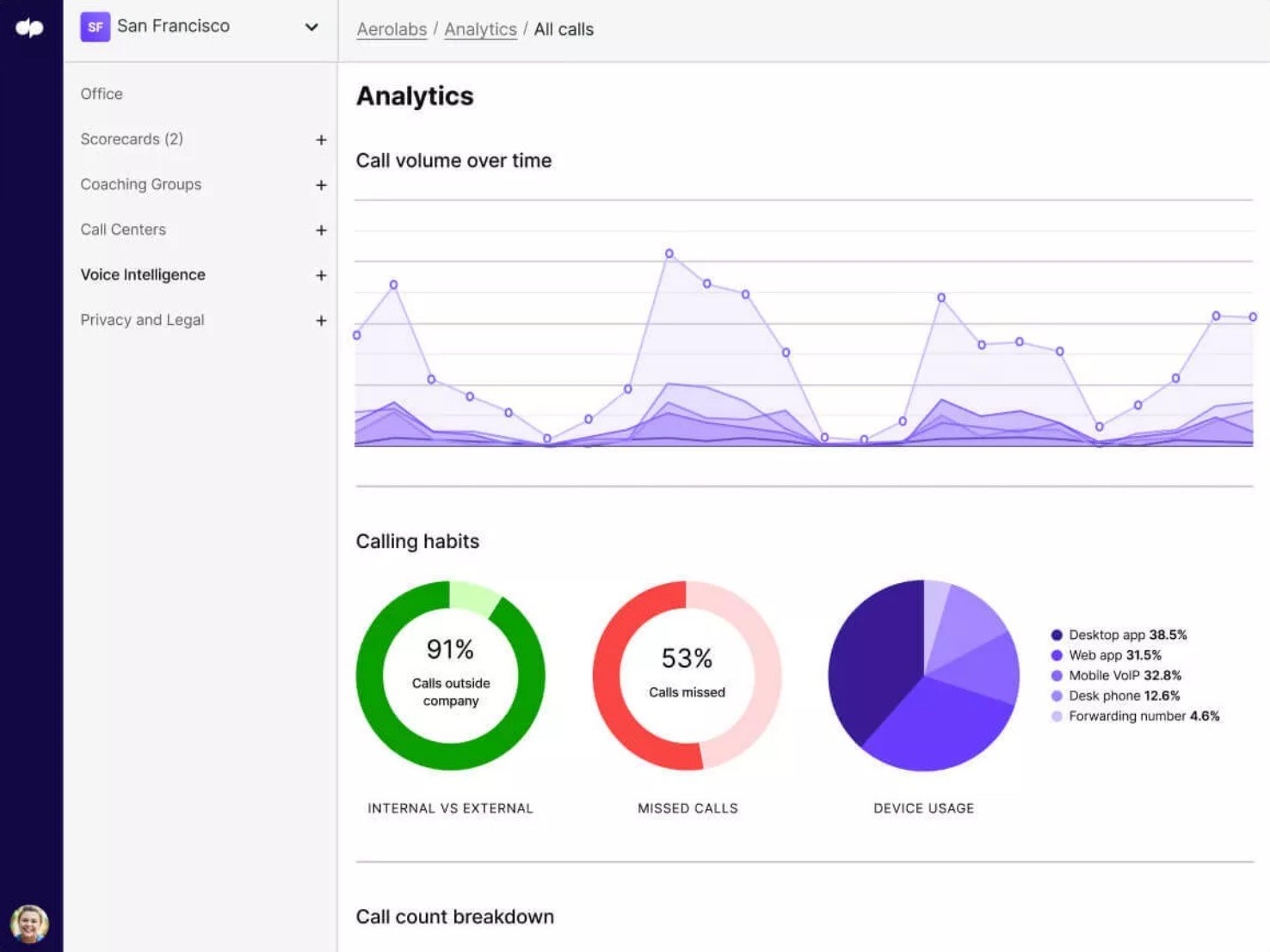 Additional Dialpad features include:
Voice Calling: Call recording, call forwarding, multi-level auto attendant, spam detection, custom routing, voicemail transcription, user extensions, call hold, call queueing
SMS/MMS
Integrations: Microsoft Teams, HubSpot, ServiceNow, Salesfroce, Slack, Zendesk, SSO
Team Collaboration: like Dialpad meeting video calling, team chat and file sharing, user presence, automated post-meeting summaries
Workforce Management: Real-time and historical custom analytics, manager alerts, sentiment tracking, agent scheduling, agent scoring
Pricing and Plans
Dialpad offers several scalable products and plans. While its Business Communication packages ($15.00-$25.00+/user/month) are ideal for UCaaS and small-scale call centers (under 10 employees) most call centers will opt for Dialpad's AI Contact Center and AI Sales tools. 
Pricing for both is quote-based, but the below image shows the differences between the Pro and Enterprise AI Contact Center plans.
Additional Dialpad pricing details are shown in the image below.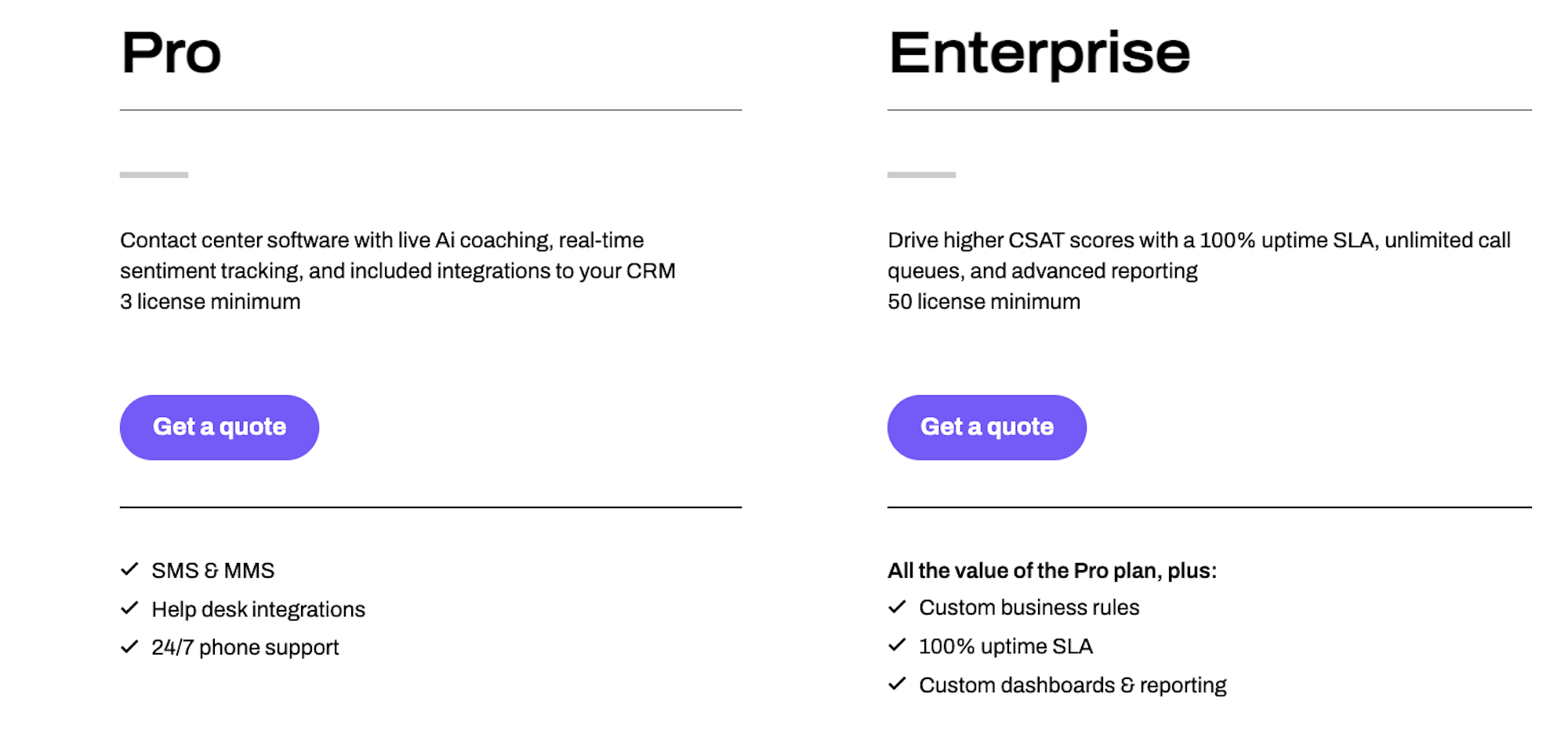 Best For
Dialpad is best for midsize and Enterprise-level call centers that prioritize best-in-class AI and automation for inbound and outbound customer communication. Dialpad users also need a platform with native team collaboration tools, especially internal chat messaging and web conferencing.
Choosing the Right Virtual Call Center Software
Though all the call center software we've mentioned here are among the best, that doesn't mean that all of them are a good fit for your business.
When evaluating which call center technology to use, be sure to consider factors like:
Ease and speed of installation and setup
Overall ease of use
Quality and level of customer support team (Onboarding assistance, dedicated customer success manager, on-demand or custom agent and manager training, support hours, available support channels
Compatible third-party integrations and APIs, alongside existing hardware compatibility
Included or available communication channels
Maximum concurrent call volume, call limits, the minimum number of users required per plan
Which features are included in the plan you're considering, and which are add-ons with extra fees
Virtual Call Center Software FAQs
Below, we've answered virtual call center software Frequently Asked Questions.
Common equipment needed for a virtual call center includes:
Desktop computers, mobile devices, hard phones (BYOD supported)
Agent headsets
Internet connection (DSL/Cable preferred)
Bandwidth between 90-156 kbps 
Virtual call center software costs an average of $50.00/user per month to $300.00/user per month and up. 
Costs will vary by the features and provider selected. 
Top factors influencing call center software costs include: 
Choosing cloud-based or on-premise software
Number of agents 
Whether you opt for a monthly or annual payment plan
The number of add-on features you select
Hardware costs 
Virtual call center software allows agents to work remotely from the location of their choice while remaining connected within the software's interface.
For example, virtual call center team members can:
Make and receive calls to customers
Collaborate with one another
Schedule shifts
Access/edit IVR menus, call queues, call routing strategies, call scripts
Write call notes and update support ticket status
Monitor agents during calls