As a customer-centric business owner, your top priority should be to provide your customers with quality customer service by connecting them to knowledgeable agents with the skills and tools to resolve the issue quickly.
But even your best agents can't do that if an inefficient, outdated business phone system is slowing them down and causing frustrating miscommunications with customers.
Without call center software, your agents will constantly miss calls, lose valuable time to manual dialing and routine tasks, and face angry customers tired of being kept on hold and having to repeat themselves to multiple agents.
To fix this, you need to upgrade to virtual call center software.
Here, we'll cover how top virtual call center software and advanced call management features improve agent productivity, streamline customer communication, and drastically improve first call resolution rates.
Jump to ↓
What is a Virtual Call Center Software?
A virtual call center software is a cloud-based business communication platform allowing customer service agents, sales representatives, and other team members to work remotely as opposed to in a physical call center.
Team members can work with each other and with customers across different time zones, locations, and devices within the software's unified digital interface.
Thanks to flexibility-focused software features like real-time data syncing, support ticket notifications, and integrations with CRM tools, agents all have access to the same information regardless of when and where they're working.
How Does a Virtual Call Center Work?
Virtual call centers work by using Voice Over Internet Protocol (VoIP) technology to make/receive telephone calls over the Internet as opposed to the standard PSTN network.
Because VoIP calls take place virtually, users aren't bound to a traditional landline/desk phone. In addition to desk phones, VoIP users can make/receive calls from devices like desktop computers, smartphones, laptops, and even tablets, allowing for even greater flexibility for any call canter (not to mention major savings on hardware.)
With a virtual call center, agents no longer have to work in a singular location.
The majority of virtual call centers today are cloud-based, meaning the software is hosted on the provider's server as opposed to onsite. With cloud-based hosting, your business doesn't need to worry about maintenance, updates, and hardware installation. The provider handles all of that.
On-premise call center software is also available, as an alternative to virtual call center software.
On-premise solutions require a dedicated in-house IT team, enough physical space for the hardware, and mean that your business is responsible for all the hardware maintenance, installation, and accompanying costs. (The good news is that most providers offer paid installation/support plans for on-premise software.)
To get an even better sense of what sets virtual call center software apart from traditional business phone systems, let's look at what these platforms can do.
Best Virtual Call Center Software Providers
In determining which providers to include in our list of virtual call center software, we considered factors such as:
Onboarding support, new customer training, and customer support
Available native communication channels
Transparency of pricing structure and inclusion of a free trial
Ability to integrate with third-party apps, especially CRM systems
AI and Automation capabilities
Ease of call flow design and editing
The below table shows a brief overview of the top contact center solution providers, what they cost, who should use them, and which of their features stand out.
Then, read on for a more detailed review of individual providers.
Provider
Pricing
Best Features
Best For

CloudTalk

– Free 14-Day Trial

– 4 Paid Plans from $20.00/user per month to $40.00+/user per month

Customer Card, Contact Tagging

SMBs of 20+ employees that need a feature-rich call center solution, especially regarding lead generation

Five9

– Free Trial Upon Request

– Four Available Paid Bundles from $100.00/user per month (contact Five9 for a custom quote)

Engagement Workflow, Outbound Dialer

Businesses of any size (Five9 has specific, tailored solutions from small businesses to enterprise-level corporations) with a high daily omnichannel contact volume that need AI/automation to simplify workflow

NICE in Contact

– Free 60-Day Trial

– From $100.00/user per month, quote-based (contact NICE in Contact for a quote)

CXOne Virtual Agent Hub, Personal Connection Dialer

Companies that need to be able to reach customers on numerous channels (CXOne offers 30+ channels) and that rely on highly personalized customer interactions and automation

TalkDesk

– Free Trial Upon Request

– Three Paid Plans from $65.00/user per month and up, contact Talkdesk for a custom quote)

Talkdesk Workspace, Talkdesk On The Go

Remote/mobile teams that can take advantage of Talkdesk Mobile Agent, Businesses that primarily communicate over the telephone (as omnichannel communication is a paid add-on and not a standard feature)

8×8

– Three Paid Plans from $87.00-$146.00+/user per month

Quality Management Tool, Speech Analytics

Medium to large businesses that rely heavily on analytics to evaluate the quality of customer service and agent performance, as well as companies needing a highly scalable solution

Aircall

– Five-Day Free Trial

– 3 Paid Plans from $30.00-$50.00+/user per month

Live Feed, After Call Work

SMBs and startups that need an intuitive, affordable, and easy-to-use call center with voice communications only (though businesses may choose to add other channels later via third-party integration)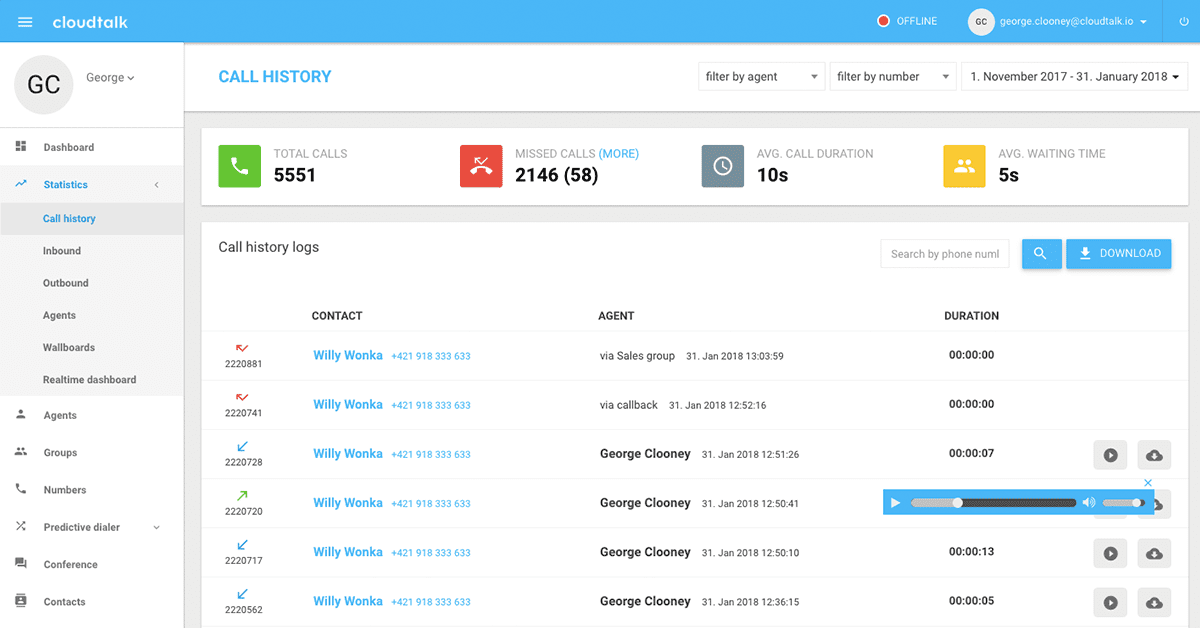 CloudTalk is an inbound/outbound support and sales call center solution trusted by over 2,500 current users.
One of the best of CloudTalk's over 50 advanced calling features is its Real-Time Customer Card tool, which provides caller details like one-click access to recordings of past calls, current and past orders, previous and open support tickets, omnichannel communication history, and notes/comments from previous call center agents. Users can also update the Customer Card or create new support tickets from the card interface during a phone call.
All Customer Card data is available without the need to integrate existing CRM software, though CloudTalk also has a robust set of third-party integrations like Salesforce, Zapier, Zendesk Sell, and Pipedrive.
Features like contact tagging make creating customer groups easy. For example, users can create a contact category for top clients, according to age demographics, by location, or by the urgency of their current support request. Mandatory call tagging, which requires all agents to sort calls into a contact group after every call, is also available.
CloudTalk's Smart Dialer feature eliminates the need for users to manually add prospects to call lists. Instead, it scans a website the user selects, creates a queued list of phone numbers, and lets users make automated outbound calls with one click. Before they start calling the numbers in the queue, agents can re-order the list and select which phone number they want to make the call from, allowing for local presence. Users can pause the call queue at any time, adjust dialing speed, and automatically reschedule calls that went to voicemail or that weren't answered.
The table below provides additional information about CloudTalk.
| | |
| --- | --- |
| CloudTalk | Feature Capabilities  |
| Voice Calls | Call Recording, Call Queuing, International and Toll-Free Phone Numbers, Short Codes, Voicemail Notifications/Voicemail-to-Email, Automated Callback, Call Blocking, Call Scripts, Unlimited Concurrent Calls |
| Call Routing | Call Flow Designer, ACD, IVR, Skills-Based Routing, Preferred Agent, VIP Queues, Ring Groups, Round Robin Routing  |
| Productivity | Click-to-Call, Call Tagging, Call Notes, Customer Card, Speech-to-Text, Smart Dialer, Predictive Dialer, Power Dialer, Agent Status, Warm Transfer |
| Statistics and Monitoring | Call Monitoring, Call Data, Agent Reporting, Sentiment and Emotion Analytics, Wallboard live 360-degree view of entire contact center |
| Native Communication Channels | Voice, SMS Texting, Virtual Faxing (Other channels, such as video, require integration) |
| Security | 24/7 Monitoring, ISO 27001/02-compliant, PCI/DSS/GDPR-compliant, TLS encryption, SSO and 2FA |
| Customer Support | API Developer Support, Onboarding Coach and Dedicated Account Manager, 24/7 Email and Phone Support, Online Help Center |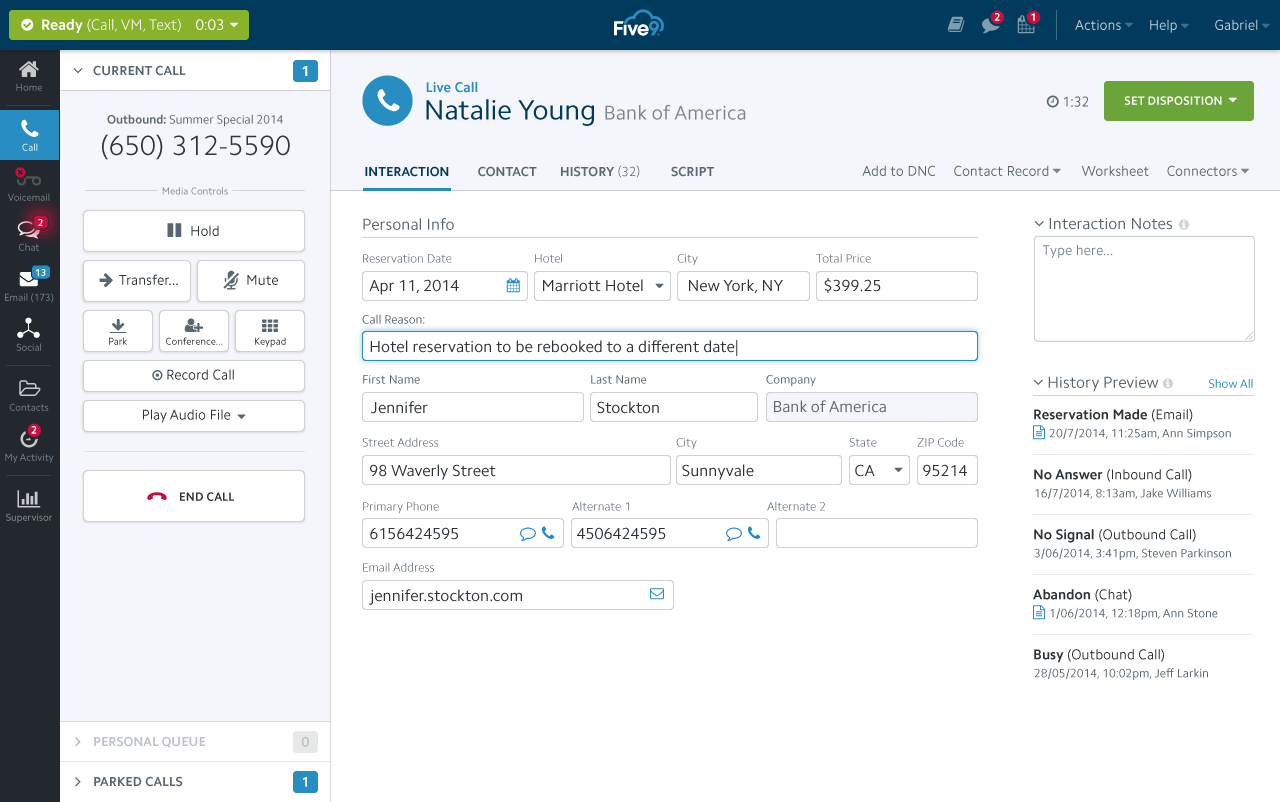 Five9 is an inbound/outbound digital-first cloud omnichannel contact and call center solution. It is designed to improve caller insights at every stage of the customer journey.
It is especially known for its Engagement Workflow, which allows for omnichannel communication and escalation across channels like voice, email, chat, SMS, and social media.
The Engagement Workflow is also designed to offer a high level of customer self-service through the use of Artificial Intelligence (AI) capabilities like Natural Language Processing (NLP) and automation to interpret user intent and provide relevant solutions. Customers can schedule/reschedule appointments, receive shipping updates, take customer surveys, pay bills, and receive outage notifications via a virtual agent, without ever needing to connect to a live one.
Its unique Agent Assist tool not only offers real-time call transcription but also provides live agent coaching and pulls relevant information from the agent knowledge base in real-time, allowing the help desk to better assist the caller. Once the call is finished, Agent Assist automatically generates a Call Summary and uploads it into the company CRM system or customer database.
Five9's Outbound Dialer integrates with top CRM tools, screens out unanswered calls, do not call phone numbers, and hang-ups to increase agent talk time by up to 300% per hour. In addition to TCPA compliance, the Dialer offers predictive, power, progressive, and preview dialing.
The table below provides additional information about Five9 features, and you can read our complete Five9 Review for even more details.
| | |
| --- | --- |
| Five9 | Feature Capabilities |
| Voice Calls | Call Recording, Blended Calling, Agent Scripts, Post-Call Surveys, Local and Toll-Free Phone Numbers, Automated Callbacks, Call Monitor, Call Whisper, Call Barge, Conference Calling, Call Queuing  |
| Call Routing | ACD, IVR, Skills-Based Routing, Behavior-Based Routing, Customer-Profile Routing, Intelligent Omnichannel Routing |
| Productivity | Workflow Automation, CTI Screen Pops, Text-To-Speech, Customizable Dialing Rules, Call Tagging, Predictive, Preview, Progressive, and Power Dialing,  |
| Statistics and Monitoring | 120+ Historical and Real-Time Report Templates, Exportable Reports, Filter/Search Reports, Select Time Period  |
| Native Communication Channels | Voice, SMS/Text, Five9 Video, Email, Chat, Social Media |
| Security | 24/7 Network Monitoring, Geo Redundancy, SSO, ISO 27001/002-Certified, SOC 2 Type 2 Certified,  Encryption |
| Customer Support | 24/7 Online Chat and Phone Support, Online Knowledge Base, Premium Support Available with Dedicated Technical Account Manager, Developer Program, Onboarding Support |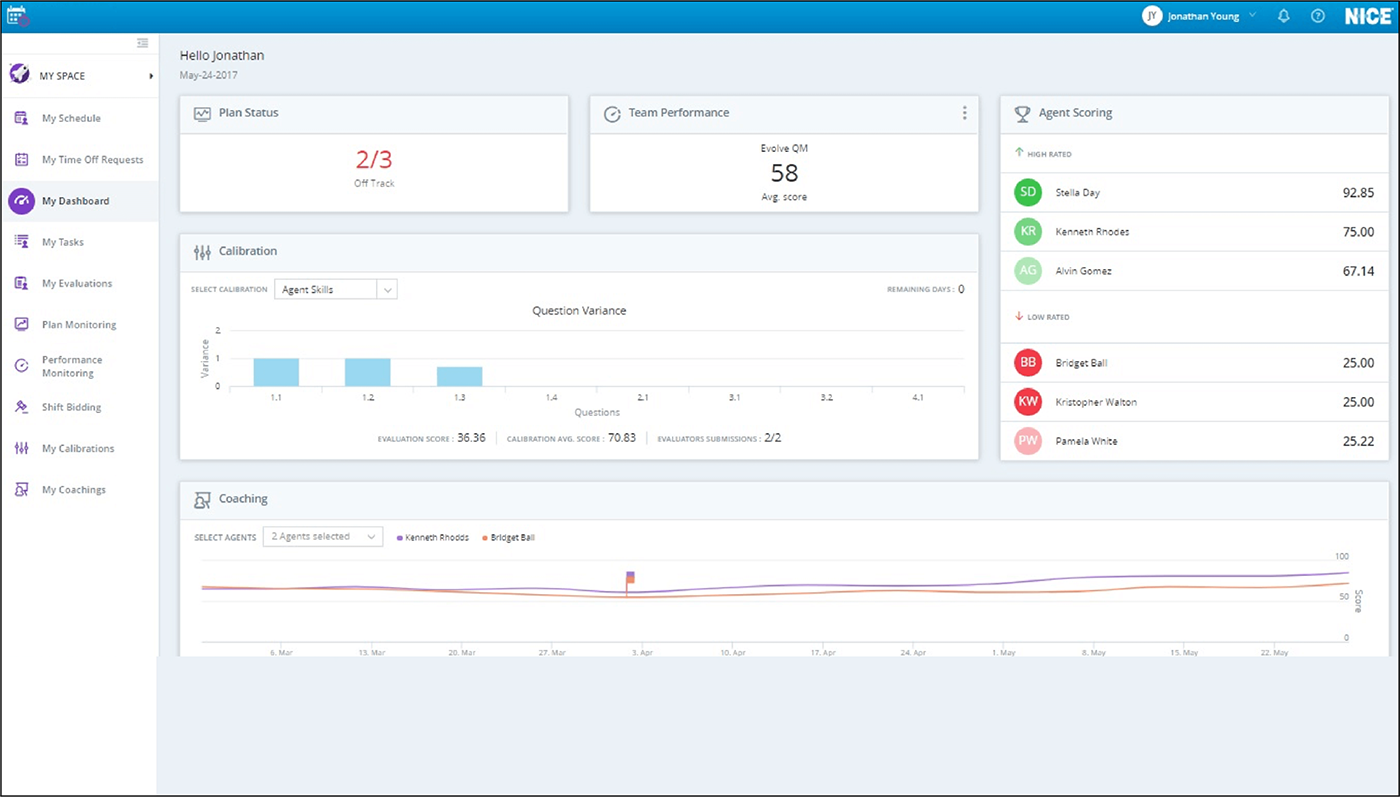 NICE inContact CXOne is an open-cloud virtual call center solution with over 430,000 worldwide users, including 85 Fortune 500 companies.
With over 30 communication channels, it's ideal for companies that need to be able to reach customers no matter where they are.
One of its best features is its Virtual Agent Hub, which is packed with omnichannel self-service AI voicebots, automated texts, and AI-powered chatbots.
It leverages the power of conversational IVR, machine learning, and NLP to keep agents free and to allow callers to speak naturally. Callers can escalate to a live agent at any time, and all of the previous conversation histories will instantly transfer to the agent for context. Automation paths can be created or edited at any time in a drag-and-drop interface.
Another standout functionality is CXOne's Personal Connection feature, which is a no-pause outbound dialer with, predictive, preview, proficient, and progressive dialing modes. It even offers agentless and non-telephony dialing, meaning agents can send outbound messages to leads on channels like SMS texting. The Personal Connection tool adjusts dialing speeds and lists in real-time.
NICE inContact's Workforce Engagement and Optimization tool offers features like workflow forecasting, workload management, shift and schedule adjustment, "what if" planning, and much more.
NICE inContact integrates with key CRM and SaaS tools like Salesforce, Zoom, RingCentral, Zendesk, GSuite, Microsoft Teams, Oracle, and more.
Additional NICE inContact details can be found in the table below, or by reading our NICE inContact review.
| | |
| --- | --- |
| NICE CXOne | FeaturesCapabilities |
| Voice Calls | Call Recording, Customer Data Screen Pops, Phone Number Verification, Universal Queue, Automated Callbacks, Toll-Free and Local Phone Numbers, Voice Authentication |
| Call Routing | ACD, IVR, Analytics-Based Routing, Skills-Based Routing, AI-Powered Behavioral Routing |
| Productivity | Automation, Agent-Customer Co-Browsing, Workforce Engagement and Optimization Tool, Screen Recording,  |
| Statistics and Monitoring | 90 pre-built reports with over 200 KPIs, customer surveys, customizable live and historical reporting, individual agent and department-wide data, automate data to third-party systems |
| Native Communication Channels | Chat, Email, Voice, Text/SMS, Social Media Monitoring, Social Messaging, Video |
| Security | PCI/DSS, SOC2, GDPR, HITRUST compliant, 24/7 monitoring, 99.99% uptime |
| Customer Support | 24/7/365 omnichannel support, Customer Community self-service tools, onboarding support, eLearning training courses, add-on CXsuccess Service Package for priority case management and designated success advisor |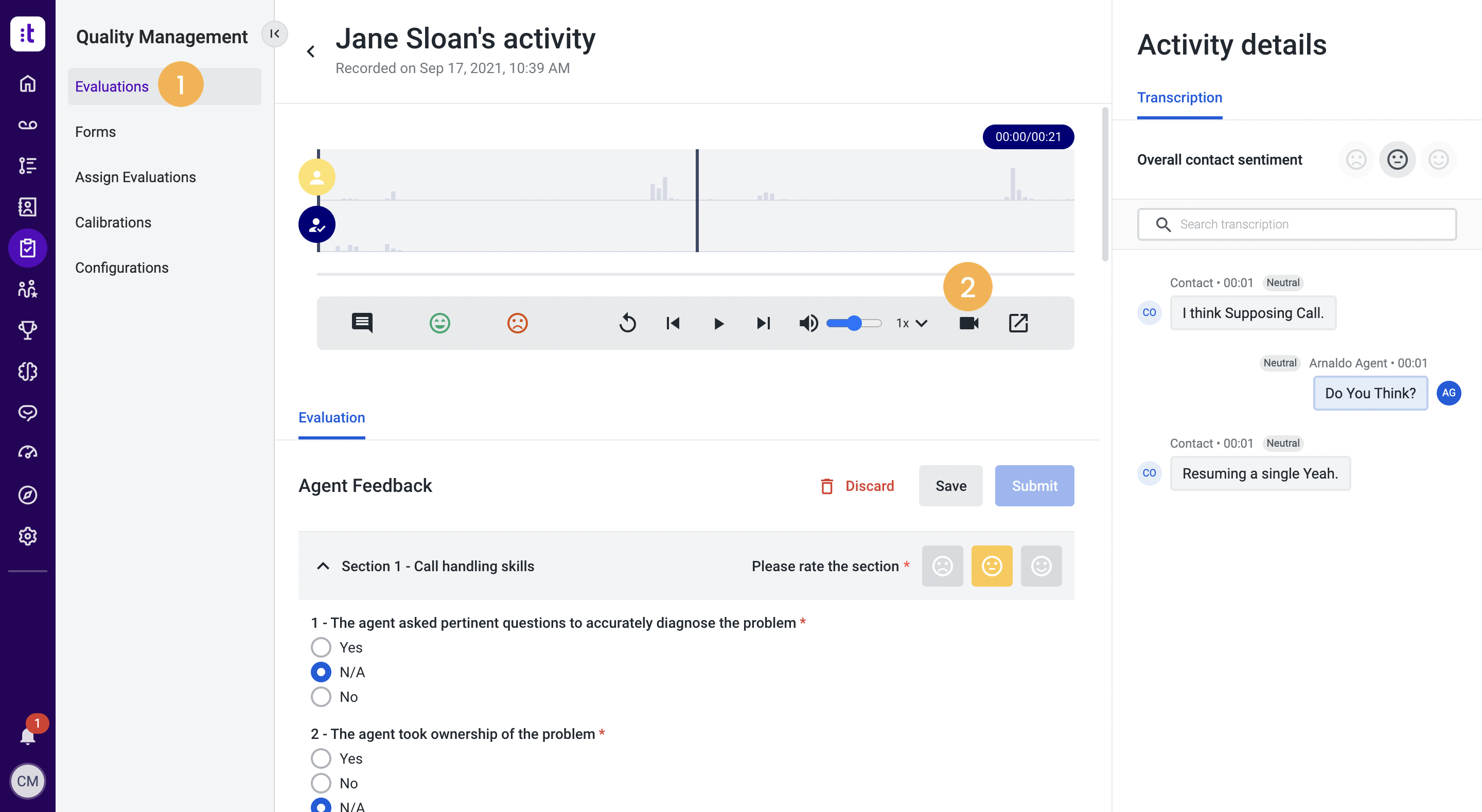 Talkdesk CX Cloud is a call center solution with a 97% CSAT score designed for end-to-end customer experiences.
The new Talkdesk Workspace is a unified and highly personalized interface that shows all an agent's CX apps, integrations, and current data in one dashboard, eliminating the need to switch between tabs and applications constantly. It also includes a language selector and notification stream, alerting team members to relevant and important events or updates. Users can access the Workspace in their preferred web browser, on a mobile device, or via a downloadable softphone application.
The Workspace is enhanced by Talkdesk's over 80 AppConnect partnerships. Designed to bypass the lengthy third-party app integration process, AppConnect provides one-click access to pre-integrated agent productivity tools, automation, and more. This allows for a high level of scalability and customization and ensures agents can access any app with a single click from their Workspace.
Additionally, Talkdesk integrates with over 60 third-party communication and collaboration tools, including Slack, Microsoft Teams, Salesforce, Microsoft Dynamics, Zendesk, Zoom, and more.
Talkdesk also offers Talkdesk On The Go, a mobile workforce solution that connects geographically diverse and remote employees while providing a mobile-first customer experience. Available for Apple and Android devices, teams can access voice-activated personal assistants, make/receive calls, access CRM data and client information, it replicates the in-office experience from anywhere.
Note that, although Talkdesk does have omnichannel communication capabilities, they're available only as a paid add-on feature.
The table below provides more information on Talkdesk, and be sure to read our complete Talkdesk Review for additional details, or take a look at the comprehensive list of Talkdesk alternatives.
| | |
| --- | --- |
| Talkdesk | Feature Capabilities |
| Voice Calls | Call Recording, Click-to-Call, Call Queue, Call Disposition Codes, International, Local, and Toll-Free Numbers, Voicemail Transcription, Voicemail-to-Email, Talkdesk Predictive Dialer, NLP, Call Scripts, Call Barge, Call Monitoring, Customer Callback |
| Call Routing | ACD, IVR, Intelligent Reconnect, Round Robin Routing, Skills-Based Routing, VIP Routing |
| Productivity | Automated Workflows, Talkdesk Studio Call Flow Design, Advanced Queue Management, AI Agent Assist and 24/7 Virtual Agent for Customer Support, Workforce Management  |
| Statistics and Monitoring | CSAT SMS Surveys, Talkdesk Explore Analytics, Customizable Real-Time and Historical Reports,  IVR Optimization Recommendations,  |
| Native Communication Channels | Voice, Omnichannel Paid Add-On Includes SMS, Live Chat, Email, Social Media Messaging |
| Security | SOC II Type 2 Certification, ISO27001/002 and HIPAA Compliant, PCI-DSS Compliant, 100% Uptime SLA, Cloud Security Alliance |
| Customer Support | 24 Hour Implementation Process, Real-Time Status Page, Online Knowledge Base, Implementation and Custom Software Support, Talkdesk Academy Training and Courses, Talkdesk Community Forum, Talkdesk Support Panel and Portal, Developer Support |
8×8 is a cloud contact center solution that, unlike many systems on this list, has its own Native CRM system in addition to third-party CRM integrations.
Agents can view order and interaction history, include attachments, schedule follow-ups, categorize support requests and contacts, and much more from a singular interface. Even if teams still want to use an existing CRM system, they can do so directly from Avaya's dashboard by importing third-party data into the Avaya native CRM application.
Another excellent feature is 8×8's Quality Management tool, which makes it easy for new or struggling agents to learn from top-performing reps.
Admins and managers can highlight and share effective interaction moments from call transcripts using the Conversation Highlighter, or offer suggestions to under-performing reps by tagging specific moments in interaction recordings. Search by agent or customer name, transaction codes, call length, and even custom fields to locate calls quickly. Managers can also create their own Call Evaluation Templates.
The Quality Management tool is especially effective thanks to 8×8's Speech Analytics, which provides annotated call transcripts and lets admins search audio data.
Speech Analytics also has an emotion detection capacity, which analyzes both speaker tone and text-based sentiment to get an even deeper understanding of caller sentiment. It also states what percentage of the cell resulted in Overtalk, where both the caller and the agent are speaking simultaneously (and therefore without clarity.) The Speech Center helps to identify common categories, phrases, and topics within interactions, allowing for easy, drilled-down data.
More information can be found in the table below or by reading our 8×8 Review.
| | |
| --- | --- |
| 8×8 | Feature Capabilities  |
| Voice Calls | Outbound Dialer, Virtual Agent, Call Recording, Call Monitoring Call Queues, 3-Way Calling and Conference Calling, Call Monitoring, Directory Assistance, Ring Group, VIsual Voicemail, Local Numbers and DID Numbers |
| Call Routing | ACD, IVR, Skills-Based Routing, Time and Location-Based Routing, Least Occupied Routing, Data-Directed/Smart Routing |
| Productivity | Workforce Management and Quality Management Tools, Team Video Chat, Agent Assist |
| Statistics and Monitoring | CSAT Surveys, Speech Sentiment Analysis, Custom Real-Time and Historical Report Dashboards, Call Quality Reporting |
| Native Communication Channels | Voice, SMS Text, Chat, Email, Social Media |
| Security | Over 20 Security Certifications including PCI DSS, GDPR, HIPAA, Full Redundancy, 99.9999% Uptime |
| Customer Support | Phone Support Monday-Saturday, 6:00 AM-6:00 PM, Live Chat, Otto AI Virtual Assistant, Support Ticket Form, Online Knowledge Base, Professional Implementation Services (Guided, Fully Managed, Rapid Deployment)  |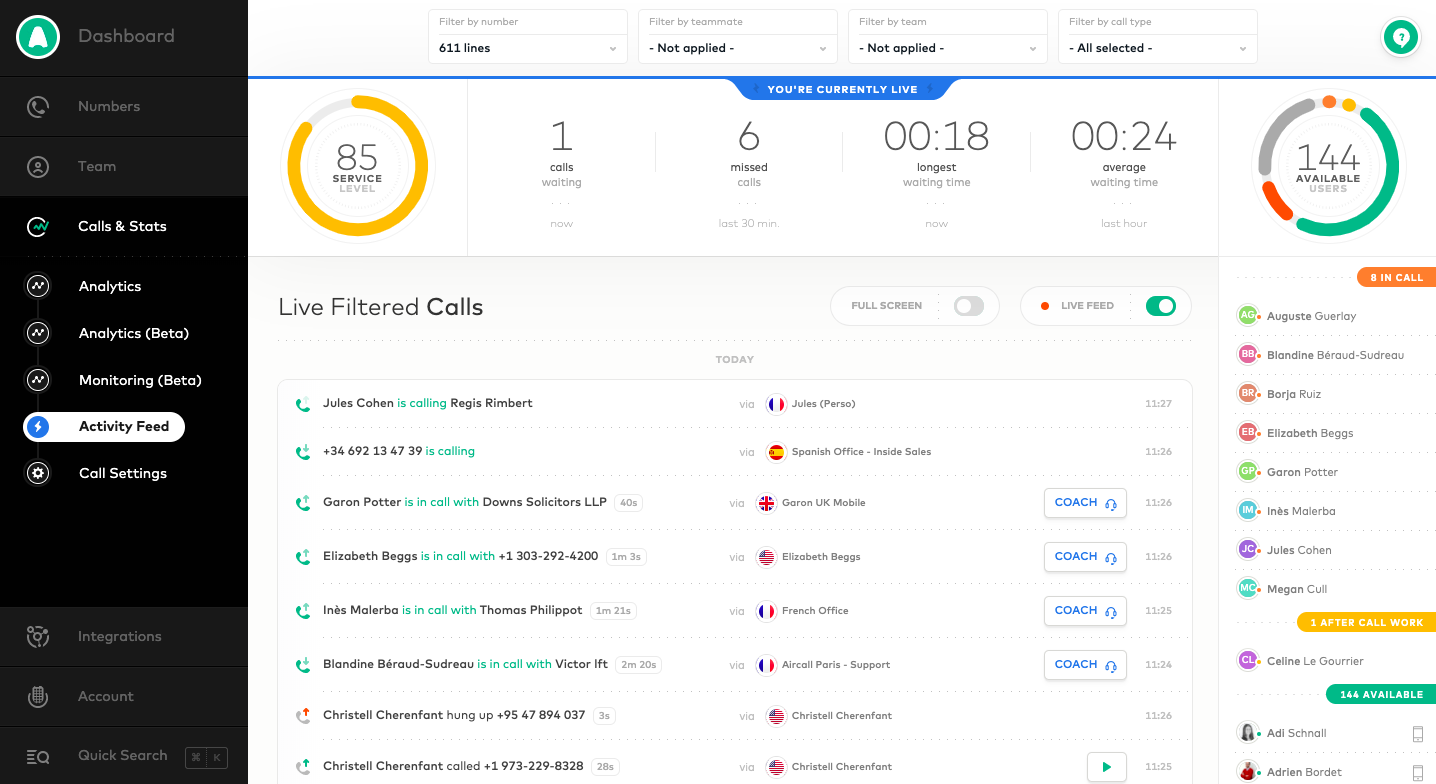 Aircall is a call center software provider known for its user-friendly interface and refreshingly simple setup process.
One of its top features is its "Live Feed" feature, which is especially helpful for small businesses with few agents but a higher call volume. The Live Feed makes it easy to optimize available agent time by providing a complete view of current call center activity. Users can see the number of calls in the queue, the current average speed of answer, the number of calls missed in the past half hour, which customer has the longest current wait time, and current agent status/availability.
Another standout feature is Aircall's After Call Work tool, which lets agents using an outbound dialer add notes, tag/categorize calls, comment on the interaction, or assign any follow-up calls before it begins dialing the next number. The time for After Call Work is automatically built into any call lasting more than 5 seconds and can be adjusted to last anywhere from 30 seconds to five minutes.
Each user has an individual PBX number or extension for smoother call management, while shared inboxes and shared contacts make assigning work to other agents and collaboration on tasks simple.
It also offers numerous third-party app integrations in its App Marketplace, including Salesforce, Zendesk, HubSpot CRM, Microsoft Teams, HelpScout, and more.
| | |
| --- | --- |
| Aircall | Feature Capabilities  |
| Voice Calls | Local, International, and Toll-Free Numbers, Unlimited Calling in US and Canada, Voicemail-to-Email, Queue Callback, Call Queuing, Ring Groups, Shared Call Inbox, Call Recording, Conference Calling, Call Whisper, Power Dialer, Call Flow Design |
| Call Routing | IVR, Time-Based Routing, Simultaneous Ringing, Random User Call Assignment, Custom Rules-Based Call Routing |
| Productivity | Call Assignment and Call Commenting, Call Tagging, Click-to-Call, Warm Transfer, User Presence |
| Statistics and Monitoring | Team and Individual KPI Tracking, Live/Historical Analytics, Filter By Team, Date Range, Call Tags, and more |
| Native Communication Channels | Voice, SMS Beta, All Other Communication Channels Require Third-Party Integration |
| Security | AES-256 Encryption, SOC2, PCI/DSS, ISO-27001 Certification, Redundancy, Live System Staus Page  |
| Customer Support | API Developer Support, Custom Onboarding Support, Live Group Onboarding Sessions, VIP Support Hotline, Dedicated Account Manager, Phone and Email Support, Help Center Access  |
Essential Virtual Call Center Software Features
Features like unlimited calling in the United States and Canada, call queuing, and call hold are all standard for both standard small business phone systems and call centers.
However, certain capabilities that are more like "added bonuses" for VoIP telephony are essential for larger virtual contact centers that have to manage high daily call volumes and an enormous amount of customer data.
Below, we've outlined the virtual call center software features that users can't do without.
IVR and ACD
Interactive Voice Response (IVR) and Automatic Call Distribution (ACD) allow inbound callers to respond to pre-recorded prompts by speaking their answers or using their phone's dial tones to enter a response.
IVR provides a high level of customer self-service by offering solutions to common problems or by letting customers complete actions like bill paying, leaving a voicemail message for a particular agent, or getting shipping/order updates without ever having to speak to a live agent.
Admins can create their own unique, fully customizable call path to ensure that callers reach the agent most qualified to help them based on their needs, allowing for higher first call resolution rates and improved customer satisfaction.
Automation and AI
Artificial Intelligence (AI) and automation, like IVR, help keep agents free from basic, repetitive customer service or sales tasks so they can respond to more urgent issues in real-time.
Call center automation can, for example, automatically log call details such as call length, caller contact information, or even schedule a follow-up call so the agent doesn't have to. It can also automatically dial phone numbers or trigger pre-determined workflows when certain conditions are met.
AI bots can collect customer information, like their phone or account numbers, the reason for their call, and even determine customer sentiment (mood/satisfaction levels) through Natural Language Processing (NLP.)
Third-Party Integrations
Customer Relationship Management (CRM) integration is essential for any contact center.
It enables CTI screen pops that provide key client/caller information while agents are on a call or preparing for one, lets agents take notes and make changes to stored caller data, and automatically syncs any new post-call information to both the CRM system and call center solution.
Other popular integrations can include video calling solutions, team chat messaging and other team collaboration tools, project management apps, and more.
Call Routing and Call Forwarding
Call forwarding protects agent privacy and increases the likelihood that a caller will be connected to the agent by automatically sending calls to additional phone numbers if there's no answer at the agent's primary phone number.
Callers will not need to dial another number to be transferred. Instead, they are automatically transferred.
A common call forwarding path is, for example:
Office Phone → Smartphone → Home Phone → Additional Agent → Shared Voicemail
Call routing helps decide how inbound calls are distributed among agents. This keeps things fair and prevents certain agents from becoming overworked.
There are numerous routing methods, including skills-based, which transfers callers to agents based on the skillsets they have to best assist the caller, and most-idle routing, which transfers inbound callers to the agent that has gone the longest without receiving a phone call.
Outbound Dialer Modes
Call centers don't just receive incoming calls — they make outbound calls, too.
Automated outbound call center dialing modes speed up lead list penetration and prevent agents from losing time on disconnected numbers, unanswered calls, or voice mailboxes. These dialers automatically dial the next phone number on the list while an agent is finishing up their previous call to prevent excessive downtime, and will only transfer the call to the live agent when there's another person connected and ready to talk on the end of the line. Dialing speeds and modes can be adjusted, as well.
Analytics and Reporting
Quality virtual call center analytics offer both real-time and historical data regarding KPIs and other metrics.
Reports can be entirely customized or built using a premade report template and can be run manually or automatically at a set time.
Common call center analytics to evaluate include:
First call resolution rate
Daily call volume
Number of calls per agent/group/department
Percentage of calls that went to voicemail
Call abandonment rate and call transfer rate
Average call length
Popular call tags
CSAT (Customer Satisfaction) score
Cost per call
The Benefits of Virtual Call Center Software
The most well-known benefit of virtual call center software is the cost savings it offers when compared to a traditional business phone system/call center.
A recent 8×8 study found that switching to virtual call center software can cut transaction costs by an astounding 75%.
But there are many more benefits to call center software than just savings.
They include:
Providing a higher level of customer self-service
Increased agent productivity
Increased first call resolution rates
Ease of installation and ease of use
Increased employee flexibility and satisfaction, meaning lower turnover rates
Deeper insights and analytics into call center agent performance and customer preferences, trends, etc.
Third-party software integration means you can access all preferred business communication/collaboration tools from a single interface
Higher CSAT rates
Choosing the Right Virtual Call Center Software
Though all the contact center software we've mentioned here are among the best, that doesn't mean that all of them are a good fit for your business.
When evaluating which call center technology to use, be sure to consider factors like:
Ease of length of transition to new software
Types of new user training available (one-on-one, virtual classes, etc.)
Option for a dedicated customer success/tech support manager or support teams
Whether or not the solution integrates with your required third-party software
Included communication channels
Maximum concurrent call volume, call limits, the minimum number of users required per plan
Which features are included in the plan you're considering, and which ones must be added on for an extra fee
Virtual Call Center Software FAQs
Common equipment needed for a virtual call center includes:
Desktop computers, mobile devices, hard phones (BYOD supported)
Agent headsets
Internet connection (DSL/Cable preferred)
Bandwidth between 90-156 kbps 
Virtual call center software costs an average of $50.00/user per month to $300.00/user per month and up. 
Costs will vary by the features and provider selected. 
Top factors influencing call center software costs include: 
Choosing cloud-based or on-premise software
Number of agents 
Whether you opt for a monthly or annual payment plan
The number of add-on features you select
Hardware costs 
Virtual call center software allows agents to work remotely from the location of their choice while remaining connected within the software's interface.
For example, virtual call center team members can:
Make and receive calls to customers
Collaborate with one another
Schedule shifts
Access/edit IVR menus, call queues, call routing strategies, call scripts
Write call notes and update support ticket status
Monitor agents during calls