Provider

Glip

Asana

Wrike

Slack

Redbooth

Microsoft Teams

User Reviews
Read Reviews
Read Reviews
Read Reviews
Read Reviews
Read Reviews
Read Reviews
More Details
Provider Overview
Headquarters
Belmont, CA
San Francisco, CA
Mountain View, CA
Vancouver, Canada
Redwood City, CA
Redmond, WA
Year Founded
2013
2008
2006
2009
2008
1975
Service Location Availability
Worldwide
Worldwide
Worldwide
Worldwide
Worldwide
Worldwide
Language Availability
English
English
English, French, German, Italian, Japanese, Portuguese (Brazilian), Russian, Spanish, and Turkish.
English
English, Spanish
English (US), Chinese (Simple and Traditional), Spanish, French, German, Italian, Russian, Portuguese (BR), Japanese, Korean, Dutch, Danish, Swedish, Finnish, Norwegian, Turkish, Czech, and Polish.
Types of Services Offered
Team Collaboration
Project Management, Team collaboration
Collaboration, Project Management
Chat App
Collaboration, Project Management, Remote Team Management, Screen Sharing Software
Project Management, Team Collaboration
Most Popular Plan
Basic
Premium
Business
Standard
Business
Office 365 Business Essentials
Monthly Cost of Popular Plan
$5 per user per month
$8.33 per user per month
$24.80 per user
$6.67 per active user per month
$15 per user
$5 per user per month
Money Back Guarantee
No
No
No
No
No
No
Free Version
Yes
Yes
Yes
Yes
Yes
No
Free Trial
No
No, can use Free Version to try out
No
No
No
Yes
Month to Month Option
Yes
No
No
Yes
No
Yes
Annual Prepay Discount
No
No
No
Yes
No
Yes
Mobile App
Yes
Yes
Yes
Yes
Yes
Yes
Desktop App
Yes
Yes
Yes
Yes
No
Yes
Web Browser Access
Yes
No
Yes
Yes
Yes
Yes
More Details
All Available Features, & Pricing
Best Practice Templates
Calander Integration
Contact Management
Customizable Dashboards
Dashboards
Data Exports
Data Imports
Document Uploads
Email Intergration
Feedback in Context
File Collaboration
File Storage Limit
Unlimited
2GB free/5GB Professional/50 GB Business/100gb Enterprise
File Previews
Group Calendars
Group Messaging
Guest Access
Instant Chat/Messaging
Organized workspaces
Project Management
Push Notifications
Task Management
User and Content Permissions
Video Conferencing
Skype Integration
More Details
Support
Hours & Location
24/7 for Basic/Pro Plans
NA
24/7
NA
NA
NA
Email Support
Instant Chat
FAQs Section
Video Tutorials
E-Guides
Online Ticket Submissions
More Details
What is Team Collaboration Software:
Team collaboration software is just about any type of web tool that helps two or more people coordinate, manage, and track their efforts on a given project or task. From conferencing software to calendar sharing, team collaboration software make it easier to keep a team working tightly together, even when some or all members are working remotely or in different locations. In practice, team collaboration Software is the name used for integrated solutions which bring together a suite of such tools in one product. Most modern solutions involve web or app-based portals with synched mobile options to keep people cooperating smoothly even on the go.
Team collaboration software provides a way to streamline communication and the most sophisticated options make it possible to keep all relevant files, correspondence, tasks and to-do lists in one place, providing a one-stop solution for managing and tracking the progress of even complex projects.
Key Benefits & Features of Team Collaboration Solutions:
Unified communications –

between emails, IMs, text messages, group chats, and virtual meetings, it's really easy to lose the thread of who said what when, miss an important message, or spend countless hours trying to track down one specific email. Good team collaboration software pulls everything into one searchable location.

Calendar integration –

no more manually inputting meetings, tasks, todos or deadlines, so there's less confusion, less room for error or conflict, and less excuses.

Activity streams –

keep tabs on who's working on what, so that you know that no balls are being dropped.

Remote file access –

cloud-based file storage makes working from home or on the road simple, with the ability to open a document anywhere, any time.

File versioning control –

the days of attachments flying back and forth and trying to remember who has the most recent iteration are over. A robust versioning feature cuts out all the questions. Often changes can even be made live in-document, with a reliable tracking "papertrail".

Conferencing –

solutions which provide conferencing tools go one step further towards integrating all project communication.

Screen sharing –

whether used for training, presentations or customer service, the ability to jump into someone's screen from wherever you happen to be really streamlines explanations, saving everyone time.
What to Look for in a Team Collaboration Solution:
Ease of Use – If it's too complicated, people won't use it, and your team collaboration software will just add more noise and one more place to lose track of conversation. Look for an intuitive UI, and just focus on the features you actually need. Too many bells and whistles isn't always a benefit.
Integrations – This is a related point. We're all close to "app overload" these days, and the last thing you want is for the tool to become just "one more thing" busy employees have to check. The ability to holistically integrate the solution with the tools you're already using is a big plus.
Integrated and Targeted Messaging – While the ability to store all project conversations centrally is one of the most important parts of a team collaboration tool, it's even more useful if that commenting is integrated with the files themselves. It's also helpful to have the ability to directly tag contributors, with an @mention, for example, which will notify them for a quick response.
Mobile – Since one of the main benefits of team collaboration software is its ability to connect an increasingly mobile workforce, it only makes sense that the tool should work well with mobile devices. Since most products are now cloud-based web applications, they will often come with natively-written mobile apps. This, along with robust syncing, is one of the most important attributes of any good Team Collaboration Tool.
Types of Use Cases For Team Collaboration Solutions
Use Case #1: Managing Team Tasks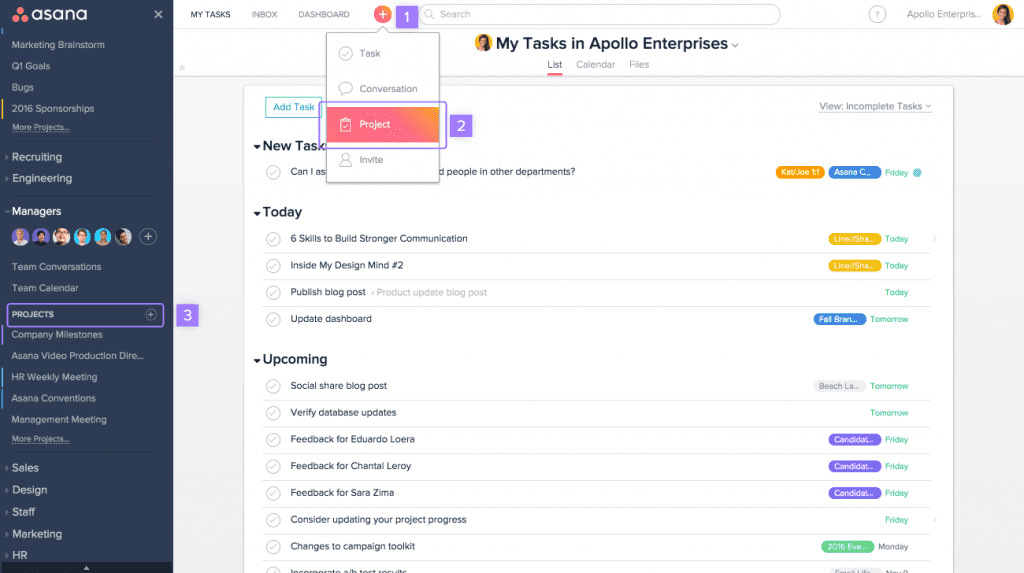 A department supervisor has a series of tasks to divide between different team members. They need the ability to track the progress of the project as they finish each task. Here's what they hope to accomplish with the help of the right team collaboration software:
They need the ability to set the tasks up individually for tracking it's status.
The task visibility to each team member should be limited to their own tasks or to the entire project team, and those rules can be set as desired by the team/project leader.
The supervisor wants to watch the progress of each task individually in one dashboard.
Employees should be able to check off each task individually as they complete them, with notifications sent to who is needed to be notified of that task status.
Asana helps companies facilitate communication among teams in a number of different industries. The software allows for real-time collaboration and integrates with many cloud file-sharing apps like Dropbox and Google Drive. Tasks can be assigned to multiple people and tracked with ease using the task management assignment feature.
Use Case #2: Tracking A Project from Start to Finish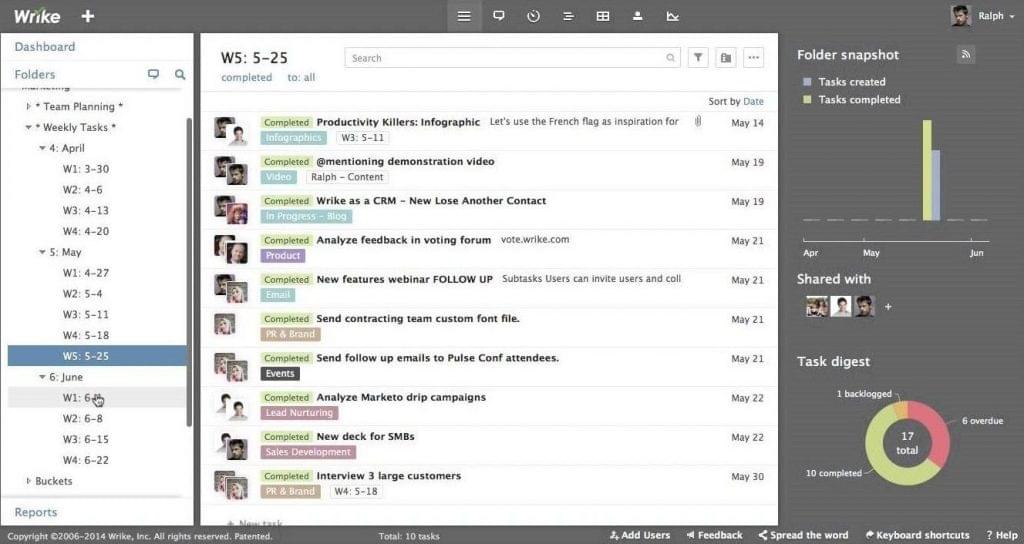 A project manager wants to keep up with the latest progress of several micro tasks dependant on an overall project. Each team needs to be able to add documentation and provide updates on the portion of the project they have responsibility for. The right software solution needs to allow for the following actions:
The project manager should be able to set up each project component individually and assign it to a specific team member(s).
Each sub-task should have its own timeline to track its start date and completion milestones.
Teams with relevant documentation need to be able to add it and make it viewable to everyone attached to the project.
Everyone should be able to message each other in real-time with questions or clarifications about any piece of the project being worked on.
The project manager needs to see a status moving timeline updating them on the progress of each team at any point.
That manager also needs the ability to report out the status of the project to upper management at any time.
Wrike is optimized for end-to-end tracking of waterfall and agile projects. It covers you from the time you come up with a project concept to delivery. You're able to communicate updates and reports to every interested stakeholder. Everyone gets a 360-degree view of what's happening during each phase.
Use Case #3: Messaging with Team Members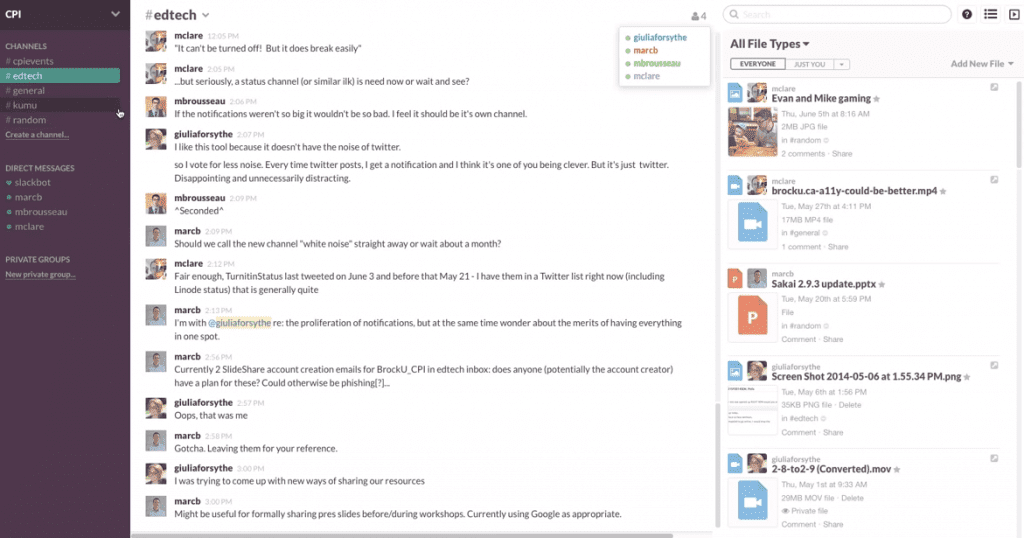 An associate has been tasked with putting together an event for their area. Some of the team works remotely and only come into the office occasionally. So the associate needs software that lets them accomplish the following:
Invite all members of their department into a virtual chatroom.
Share their screen with co-workers so that everyone can see the same information at one time.
Allow all invitees to add attachments or privately message other members if they need to have a sidebar about an issue.
Allow the associate to create a log of the chat to review later.
Slack allows users to contact other team members in real time. Users can share screens and preserve sessions for future reference.
Use Case #4: Team Collaborations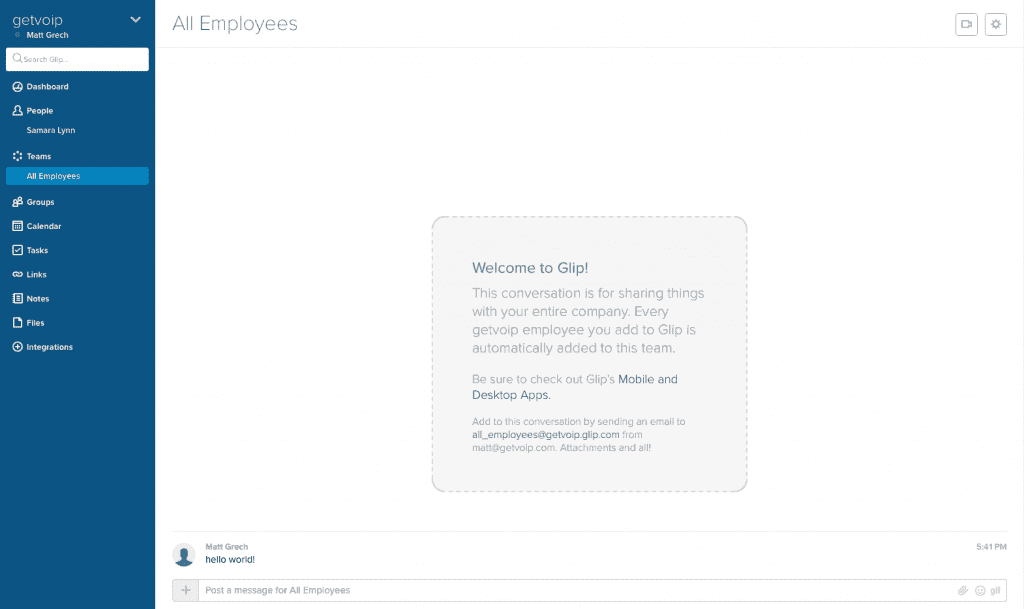 A team receives a last-minute change to a project they're working on. They need to brainstorm quickly, but one team member is out of the office and only has access to their phone at the moment. The users need the ability to manage this situation by:
Allowing the absent team member to access a workspace from a mobile device.
Letting team members share documents relating to the project.
Sharing screens in order to walk through a process together.
Glip flows just as well on your phone as it does on a laptop. It allows you to share and collaborate with anyone at any time.
Market Trends to Understand:
Mobile mobile and more mobile:  We've already touched on the usefulness of tools that are fully compatible with a range of devices. BYOD and virtual workspaces are still rocketing upwards in popularity, with no sign of slowing. Most market leaders already offer mobile versions of their web-based applications, but as mobilization continues to rise, you'll see a shift towards the mobile apps as the flagship products.
A blend of public and private use: As everything moves to the cloud, collaboration tools aren't just for internal use: they are frequently invaluable conduits for client input and cooperation. Letting customers in on the project is helpful in many ways, but that doesn't mean they need to see all the debate and chatter throughout the process. The same is true of other external collaborators, such as contractors. Some companies deal with this by using separate solutions for internal and external use, but more and more you'll see software offering hierarchies of access and the opportunity to have a public face and private workspace in one tool.
Executive adoption: For a long time, team collaboration software was the province of the feet on the ground, but as the products mature, corporations continue to flatten and C-level executives become ever more engaged with the day-to-day, the use of this technology will spread upwards. The ability to manage even global teams and customer bases virtually will provide a strong incentive towards adoption at the highest levels of a corporation.
Final Thoughts to Shoppers:

Good team collaboration software can give you an edge throughout the entire lifecycle of a project, from planning and strategy to implementation and follow up. It cuts down on the kind of common problems that plague any project: miscommunication, scattered email trails, and file versioning.
Before making your final choice, canvass those who will be most affected by the decision: your employees. Without full buy-in from the actual team, even the best team collaboration software will be a failure. Ask them about the features they'd like to see, what seems like a waste of time, and any potential roadblocks to adoption.
Team Collaboration Solutions -
Additional Resources