Provider

Features

Reviews

More Details

Slack

Use channels to oragnize conversations, files, tools and people

Connect and collaborate with teams from other companies
Create short audio, video and screen recordings with Slack Clips
Automate routine actions and communication

11 Reviews

Zoom

Zoom One - Team Chat, Collaboration, Phone, Whiteboard, Meetings & More!

Collaboration Tools for a Hybrid World with Seamless Cross-Platform Integrations
Conversation Intelligence - Rich Analytics to Improve Efficiency and Productivity
Meetings of up to 1000, Webinars of up to 50,000, Chat Channels of up to 10,000
Spend more time making connections, less time making the technology work

99 Reviews

Asana

Keep discussions about projects and to-do lists in one place

Break work into manageable tasks and subtasks for you and your team
Create forms that are directly connected to projects
Reporting on goals, milestones, portfolios and statuses

23 Reviews

Trello

Manage projects, create workflows and collaborate in real time

Every single part of your task can be managed, tracked, and shared
Built-in automation can be used for scheduling, list creation, and more
Hundreds of add-ons and third party integrations

No Reviews

Smartsheet

Use attachments, @mentions, and more to keep teams unified

Enterprise-grade security and HIPAA compliant with 24-7 support
Granular control and visibility over access, data, and security
Rich set of views including workflows, reports, and dashboards

No Reviews

Zoho

Zoho Projects combines project management with team collaboration

Immediately shows any deviations between planned and actual progress.
Switch between different color themes or dark and light modes
Native iOS, Android, and iPad apps for Zoho Projects

No Reviews

Podio

Collaborate with activity streams, shared calendars and file-sharing

Communicate with employees and external parties on one platform
Reliable service and rigorous security with 99.99% uptime
Unlimited storage, integrated chat, full customization

No Reviews

Monday.com

Easy-to-use automations and real-time notifications

Collaborate and communicate directly on your files
Connect with apps like Photoshop, InDesign, Acrobat DC, and more
Organize every iteration of a file in a coherent timeline

No Reviews

Clickup

Real-time chat with the ability to tag teammates, assign tasks, and more

Track progress and connect tasks to goals
20+ views including list, workflow, board and calendar
Real-time reporting on team performance with customizable dashboards

No Reviews

Basecamp

Real-time group chat with file sharing and project management

Automatically poll teammates at regular intervals
Use "Pings" to ad-hoc chat one-on-one or in small groups
Control what channels people can use to reach you and at what times

No Reviews

Airtable

Create a single source of truth with real-time data pulled from different sources

Create interfaces for every teammate with customized info
Pre-made templates and intuitive drag-n-drop interface
Expansion toolkits and deep integrations

No Reviews
What Is Team Collaboration Software?
Team collaboration software is a suite of business tools that makes it easier for geographically diverse teams to work together on collaborative workspace projects–often in real-time–thanks to features like file sharing and co-editing, chat messaging, multi-view task and project management, automation, and whiteboarding.
Collaboration software clearly defines individual and team roles and responsibilities within a project, while real-time file syncing guarantees everyone is working on the most current version of a file or task.
Team collaboration software tools have three main goals:
To prevent miscommunications that delay projects and decrease productivity
To streamline communication between team members working on the same project
To optimize the overall business workflow through increased team collaboration
The Benefits Of Collaboration Software
The biggest benefit of collaboration software tools is that it gives internal and external collaborators one unified interface to manage, assign, share, edit, and discuss everything related to their common project.
Team collaboration software is helpful at every project stage, from the initial brainstorming session to the moment the final task is completed.
Additional benefits include:
Increased Productivity
Team collaboration software eliminates the main causes of lost productivity like:
Constant app switching
Excessive emails
Repeated work from outdated/inconsistent file versioning
Forgotten, overlooked, or unclear task assignments
File databases organize all project-related files in one place, searchable chat message logs make it easy to locate past conversations, and real-time push alerts notify users about project updates, deadlines, and other key changes.
Collaboration tools identify workflow bottlenecks so project managers can address them immediately, preventing minor issues from becoming major delays.
Stronger Communication
Collaboration tools empowers team communication across multiple channels: chat messaging, one-click voice calling and video conferencing, and SMS texting.
Smaller chat channels, direct messaging, user tagging, in-file/in-task commenting, screen sharing, meeting notes, and whiteboards offer avenues for more specific communication.
Collaboration software prevents team members from clogging up larger communication channels with information only relevant to some collaborators. Real-time instant messaging across multiple time zones, locations, and devices mean less time lost waiting for clarifications.
Because responsibilities, deadlines, and roles are clearly assigned, meetings are shorter and more efficient.
Best of all, team collaboration software tools keep clients, stakeholders, and others outside your organization informed about project progress–so managers aren't constantly fielding calls from customers wanting an update.
Improved Workflow Management
Team collaboration software doesn't just benefit employees–it also offers managers invaluable, data-driven insights into workflow optimization strategies.
Collaboration analytics generate reports from KPIs including deadlines, time tracking, workloads, chat messages, video meetings, employee engagement, and productivity.
This means more accurate project timelines, a deeper understanding of employee strengths/weaknesses, more balanced workloads, and more efficient smaller teams.
Higher Employee Morale
A sense of "teamwork" is tough to build in remote workplaces.
Collaboration tools fosters camaraderie and trust among team members regardless of their location or expertise. Task dependencies and deadlines remind employees their teammates are depending on them, while chat and video meetings create a workspace community.
Team collaboration software give employees the chance to recognize each other's work, share ideas, and learn from one another.
Typical Features Of Team Collaboration Software
Typical team collaboration software features include:
Project Planning Tools
Project planning provides a "big picture" overview of all the steps and resources needed to take a project from beginning to end.
It involves defining deliverables, setting project budgets and deadlines, assigning team roles, and determining key tasks.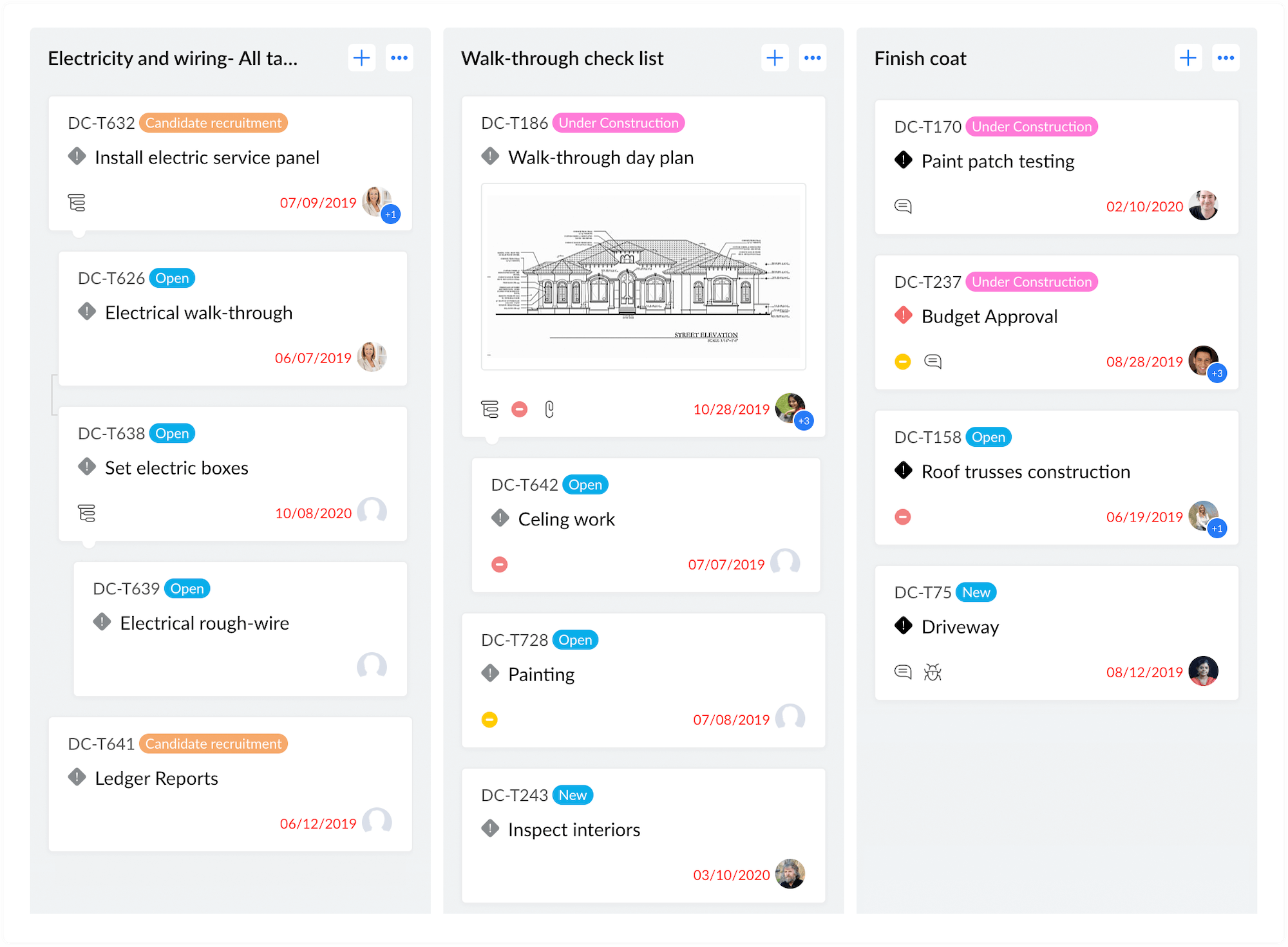 Top project planning features include:
Multiple project views (timeline, calendar, Gantt charts, Kanban boards, etc.)
Workflow automation
Resource management
User groups
Project templates
Project goals and milestones
Mind/concept mapping
Note-taking
Task Management
Task Management focuses on developing, assigning, and monitoring the smaller tasks that make up an entire project.
For example, a project could be to create a new marketing report, containing relevant tasks like consumer polling and report graphic design.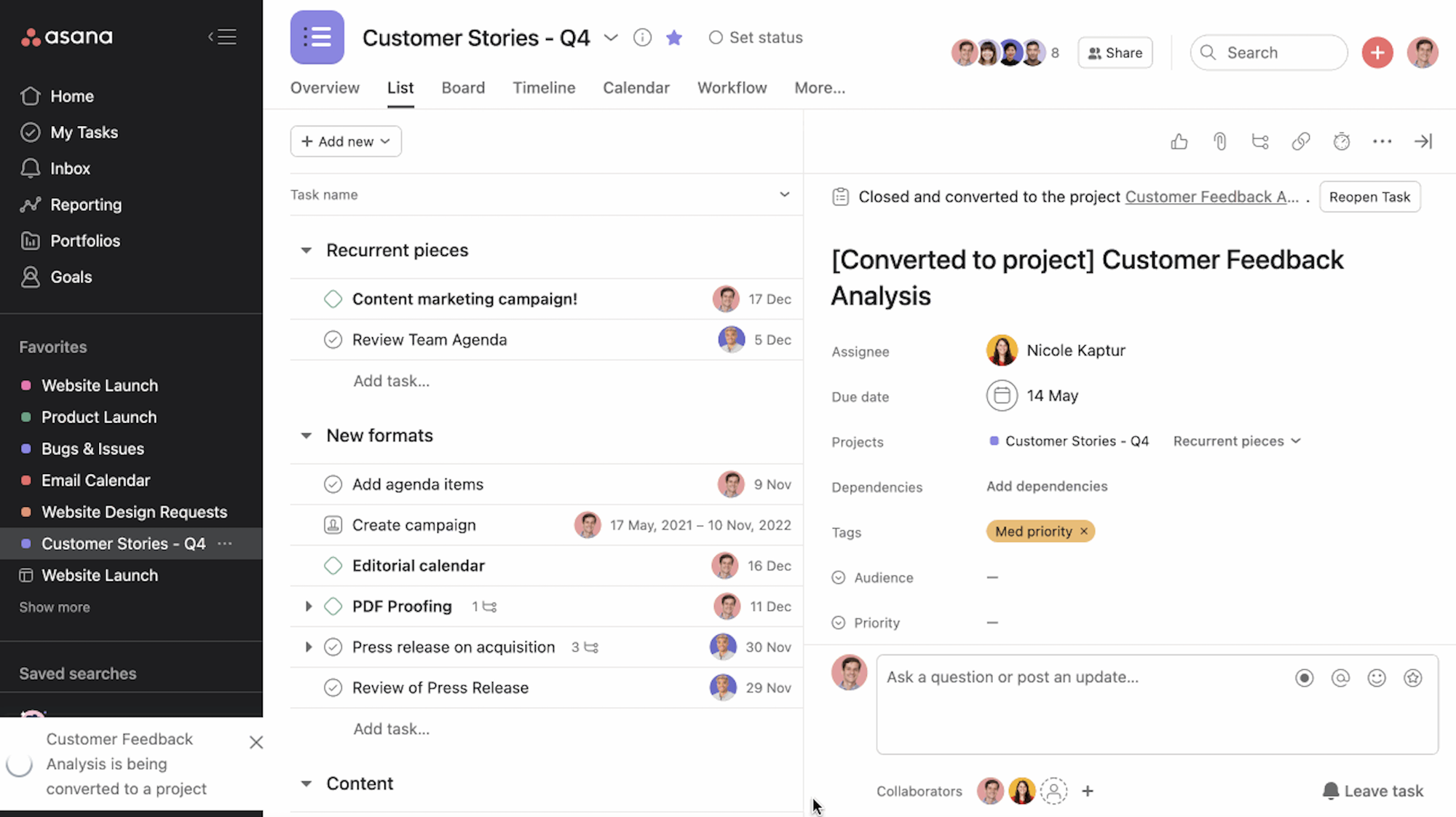 Task management features include:
Task and subtask creation, descriptions, assignments, deadlines
Attaching files/adding task comments tasks
Tagging/mentioning users within tasks
Task dependencies
Task status (in progress/on hold/completed, etc.)
Task boards/charts
Real-time task notifications/alerts
Task prioritization
Internal and External Communication
Internal collaboration connects team members in real-time, providing quick answers to time-sensitive questions, video meetings, project planning, and file co-editing.
The most popular collaboration communication channel is instant chat messaging, though often voice/video calling and SMS texting are available.
In chats, users create public or private channels for specific departments, projects, tasks, or brainstorming sessions.
Within chat channels, users can:
Transition to an audio/video call
Share screens/applications
Share files
Integrate third-party tools
Tag other users
Format messages (bold, italics, bullets, numbering)
Delete/edit messages
Search message history
React via GIFs and emojis
Create/respond to polls
External communication gives those outside your organization access to all (or admin-limited) communication tools and collaboration features like project timelines, files, chat channels, and video meetings.
Integrations

Integrations let users access third-party software like video calling apps, calendars, email, cloud storage, CRM systems, VoIP phones, and industry-specific tools directly within the collaboration software interface.
File Sharing and Co-Editing
Users can create, edit, and share files directly on boards, in chats, or elsewhere in the workspace.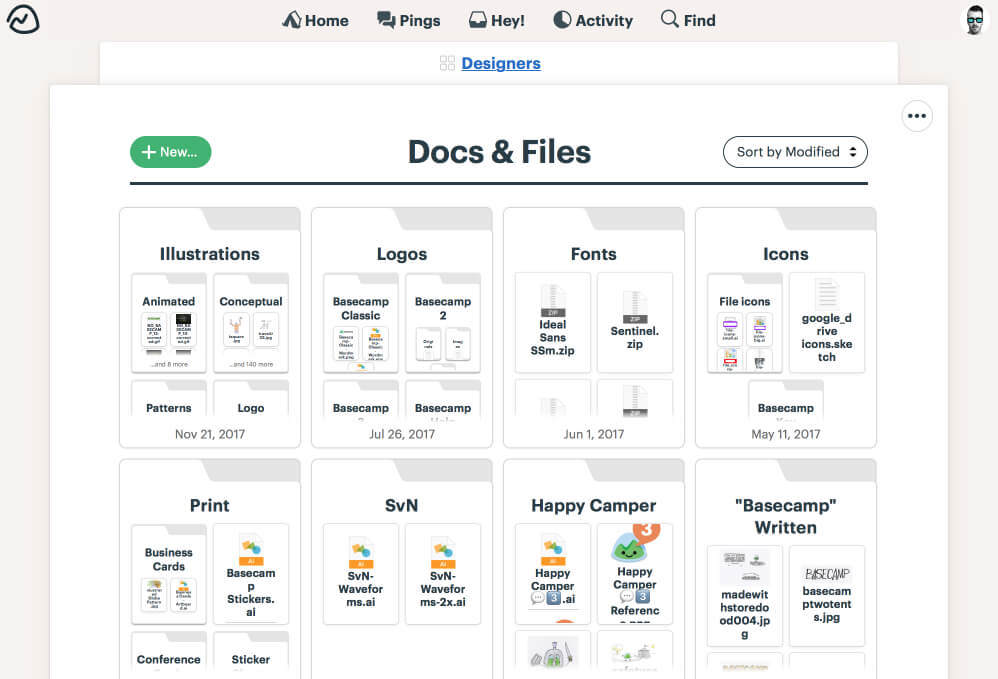 Real-time co-editing lets multiple people simultaneously edit files. Versioning ensures everyone is working from the same collaborative file version, letting them review new changes or previous drafts.
User tagging, commenting, edit rejection/acceptance, file searching, and third-party cloud-based file storage integration let everyone offer input and access key project files from anywhere.
Reporting and Dashboards
Collaboration analytics drill down essential collaboration KPIs, concisely presenting them on interactive reporting dashboards that display live and historical analytics as graphs, charts, tables, percentages, and other forms of data visualization.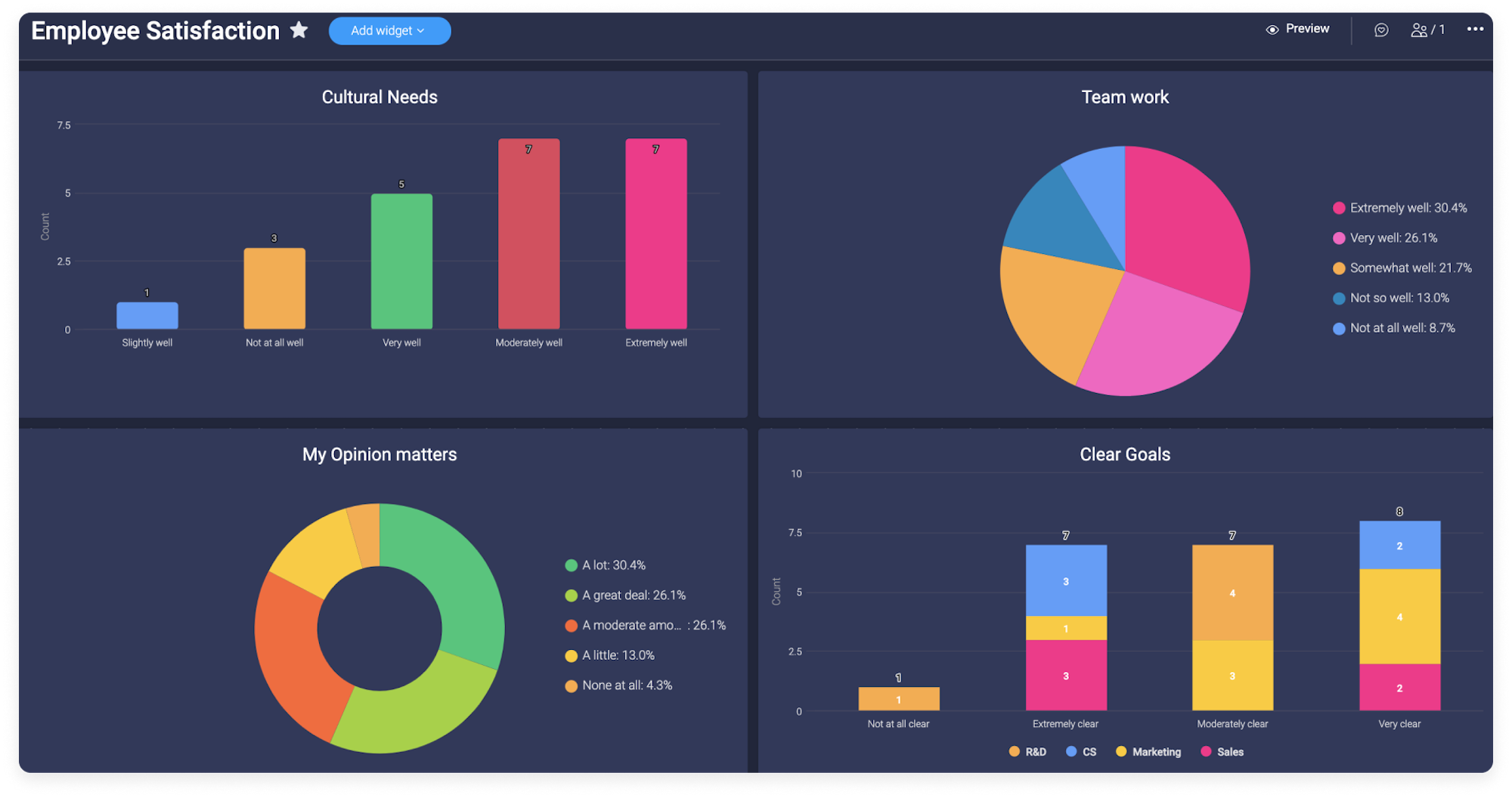 Dashboard business insights from customizable and premade templates include:
Percentage of projects/tasks completed on time/late/early
Budget tracking
Employee time tracking
Project timelines
Employee workload
Project/assignment history
Activity logs
Upcoming deadlines
The Best Team Collaboration Software For Ultimate Productivity
Based on available features and integrations, ease of use, and our hands-on research, we've determined the best team collaboration software tools are:
Slack is an instant chat messaging application with additional features like voice and video calling, file sharing, and group channels.
Key Features
Public and Private Channels: Slack channels combine multiple team members into a public or private group chat for streamlined collaboration. Channels are often organized by department, project teams, or topic. Users can create an unlimited number of channels of up to 1,000 members each. Channel search bars and push notifications keep everyone up-to-date with new channel activity and messages.
Collaboration Tools: within a Slack channel, users can share files, mention/tag users, react/reply to messages, create message threads, format messages, transition from a chat to an ad hoc or scheduled video call, record/share audio messages, join audio-only Huddles.
Integrations: Integrations from the Slack App directory lets users access bots for polling, task management, and more–and share files from third-party tools like Dropbox, Google Docs, and Google Drive.
User Presence: User Presence enables user status updates so team members know each other's availability and activities. In addition to standard statuses like, "Active" and "Away," users can write custom statuses, add status emojis, pause notifications, or choose from preset workplace statuses like "In a Meeting" or "On Vacation." Slack also integrates with calendar tools, automatically updating user presence accordingly.
Slack Pricing
Slack's free plan includes:
File sharing
Public/private channels
10,000 searchable messages
Up to 10 third-party integrations
5GB of storage 5GB
1:1 voice/video calls
Personalized notifications
2-person Huddles
All paid plans include:
Unlimited message history and app integrations
50-person Huddle
Audio/video clips
15-participant voice/video calls
24/7 support
Screen sharing
Custom file and message retention policies
Individual guest accounts
Slack Connect for external team collaboration
Slack paid plans are outlined below.
| | | | |
| --- | --- | --- | --- |
| | Pro | Business+ | Enterprise Grid  |
| Pricing | $6.67/month | $12.50/month | Quote-based |
| File Storage | 10GB/team member | 20GB/team member | 1TB/team member |
| Multiple Workspaces | X | X | ✓ |
| Four-Hour First Response Support Time | X | ✓ | ✓+Priority Support |
| 99.99% Uptime SLA | X | ✓ | ✓ |
| Single Sign-On (SSO) | X | ✓ | ✓ |
Why Slack Is A Good Team Collaboration Software
Slack is a good collaboration software because it:
Eliminates endless emails
Offers in-app integrations for voice/video calling
Has an intuitive interface and a low learning curve
Asana is a task management tool known for its "to-do list" interface, though it also offers timeline, board, calendar, forms, and progress chart views.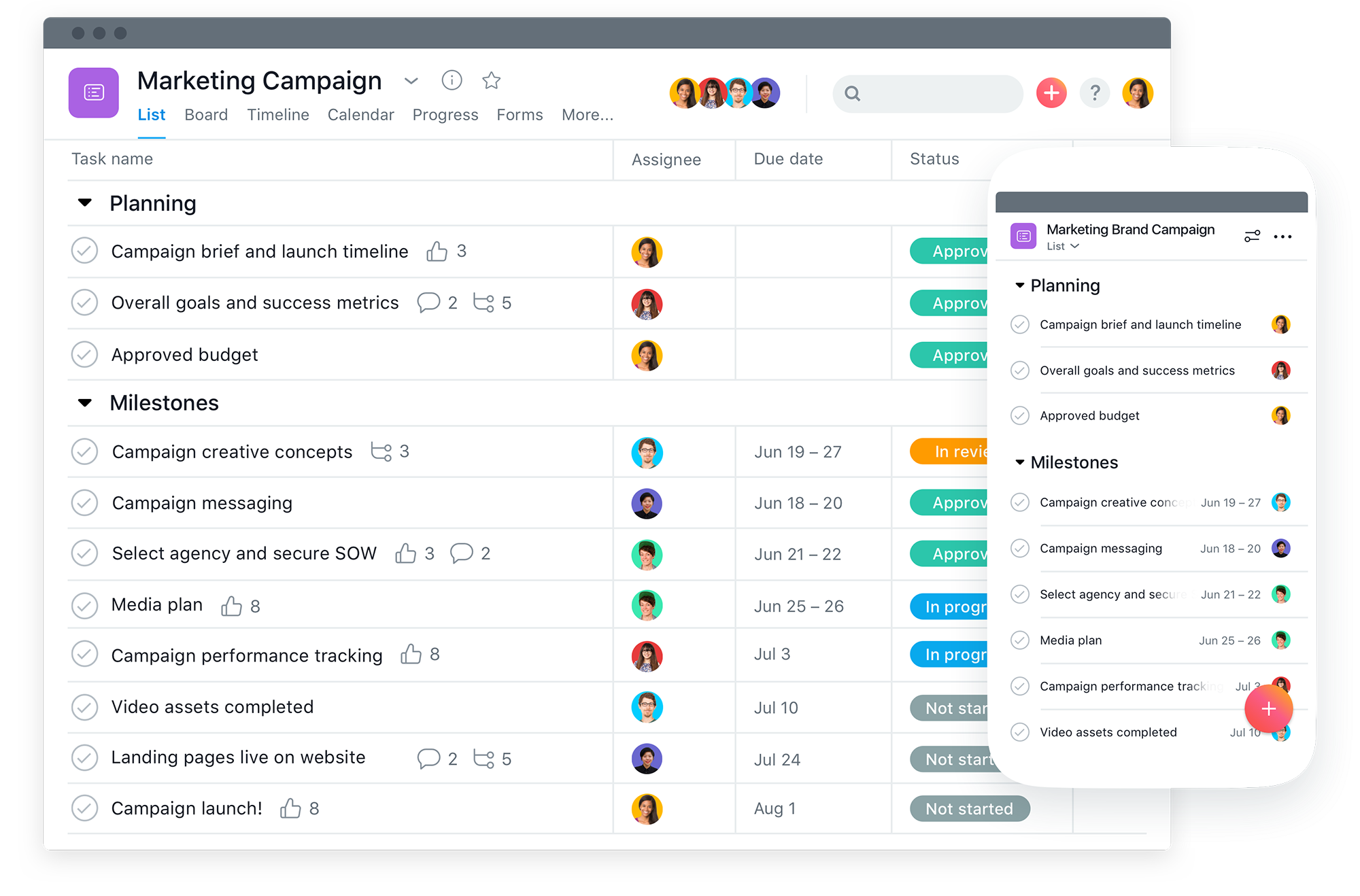 Key Features
Tasks and Subtasks: Asana's list view gives users access to a to-do list of all their assigned tasks divided into upcoming, overdue, and completed columns. Though only one user can be assigned a task, multiple users can be added as collaborators that can add comments, tag other users, manage deadlines, upload files, and more. Task prioritization, categorization, subtasks, descriptions, status updates, deletions, duplications, and dependencies are also available.
Automated Process Management: Asana's automation-based Rules simplify and automate custom reusable project templates, work request submission forms, deadline adjustments, task/file/project approvals, task assignment and routing.
Asana Pricing
Asana offers a free version for up to 15 users and includes:
Unlimited projects, tasks, comments, activity logs, storage up to 100MB/file, assignees, due dates, messages
List, board, calendar views
Integrations with 100+ third-party apps
Time tracking with integrations
Status updates
Multi-factor authentication
All Asana paid plans offer:
Unlimited users and projects
Free guests reporting dashboards
Timeline views
Preset rules and unlimited rules actions
Custom templates
Start dates/times
Task dependencies
Workflow Builder
Custom reporting fields, charts, template library
Project milestones
Data deletion, private projects/teams, admin console
Asana's paid plans are outlined below:
| | | | |
| --- | --- | --- | --- |
| | Premium | Business  | Enterprise |
| Pricing | $10.99/user/month | $24.99/user/month | Quote-based |
| Goals/Portfolio Views | X | ✓ | ✓ |
| Proofing/Approvals | X | ✓ | ✓ |
| Custom Rules | X | ✓ | ✓ |
| Goals/Portfolio/Workload Reporting | X | ✓ | ✓ |
| Advanced Privacy/Security | X | ✓ | ✓ |
| 24/7 Support | X | X | ✓ |
Why Asana Is A Good Team Collaboration Software
Asana is a good collaboration software because it offers:
Task assignment with clear due dates, subtasks, and collaborators in one workflow
Long-term project planning tools like custom or pre-made templates, goals, milestones, task automation, and project status monitoring
Individual user inbox to streamline recent task assignments, updates, comments, tags, and more
Trello is Kanban-based visual work management and team collaboration tool with four main components:
Boards for overall project planning
Cards with pinned tasks, notes, and files
Lists to organize workflows and track progress
A Board Menu to manage power-ups, automations, and permissions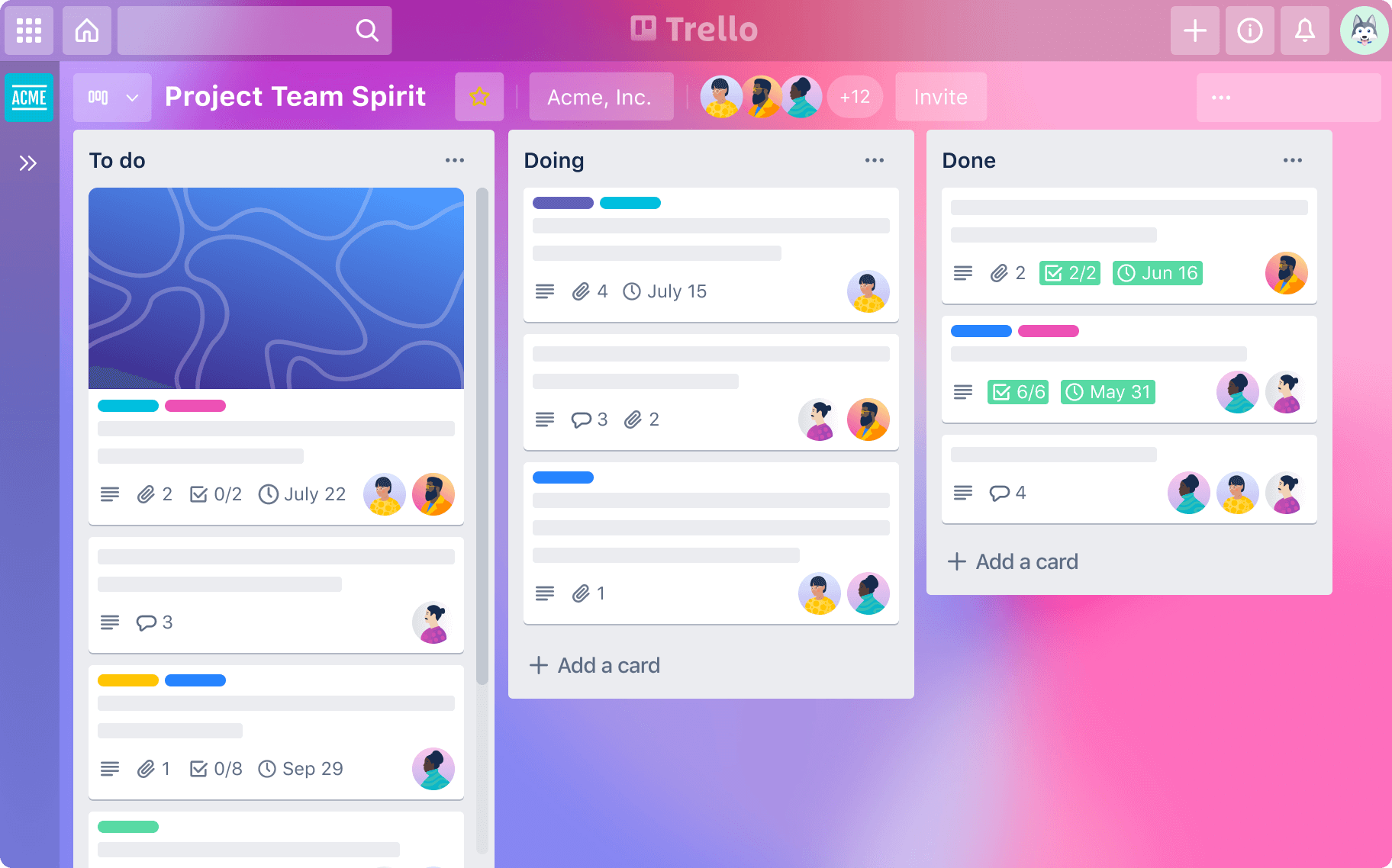 Key Features
Power-Ups: Power-ups are third-party apps and native bots that give boards more advanced features. They prevent app switching, streamlining project details in one well-organized space. Third-party, API user-made, and Made by Trello power-ups can be added to individual and multiple boards. Popular Made By Trello power-ups include Card Aging to view/manage inactive cards, Card Repeater to create card templates, and Card Snooze to place tasks "on hold." Google Drive, EverNote, JIRA, and Twitter power-ups are also popular.
Butler: Butler is Trello's no-code automation tool that lets users build:

Rules: If/then automations that, when triggered, run an individual or series of actions
Card and Board Buttons: Build specific buttons that, when clicked, initiate an individual action or series of actions across entire boards or cards
Due Date Commands: A series of automations set to run before, on, and after due dates
Calendar Commands: Automate recurring tasks like updating boards or adding new tasks on specific calendar dates or days of the week.
Trello Pricing
Trello offers a free plan and 3 paid plans. All plans include:
Unlimited power-ups, storage, cards, and activity logs
Built-in no-code automation
Desktop and iOS/Android mobile apps
Assignees and due dates
Trello Templates
Two-factor authentication
Custom backgrounds/stickers
Trello's paid plans are outlined below.
| | | | |
| --- | --- | --- | --- |
| | Standard | Premium | Enterprise |
| Pricing | $5.00/user/month | $10.00/user/month | $17.50/user/month for 25 users |
| Unlimited Boards, Advanced Checklists, Custom Fields | ✓ | ✓ | ✓ |
| Dashboard, Calendar, Timeline, Workspace Table, Workspace Calendar, and Map Views  | X | ✓ | ✓ |
| Workspace Command Runs/Month | 1,000 | Unlimited | Unlimited |
| Board Collections | X | ✓ | ✓ |
| Advanced Admin/Security Features | X | ✓ | ✓+ FreeSSO |
| Priority Support (Questions Answered Within 1 Business Day) | X | ✓ | ✓ |
Why Trello Is A Good Team Collaboration Software
Trello is a good collaboration software because it offers:
AI-suggested and customizable automations
Numerous third-party integrations
Map views with interactive, location-based updates
Smartsheet is a grid-based collaboration, workflow, and project planning tool that uses "Sheets" to organize and contextualize project data into rows and columns (Gantt, Card, and Calendar views are also available.)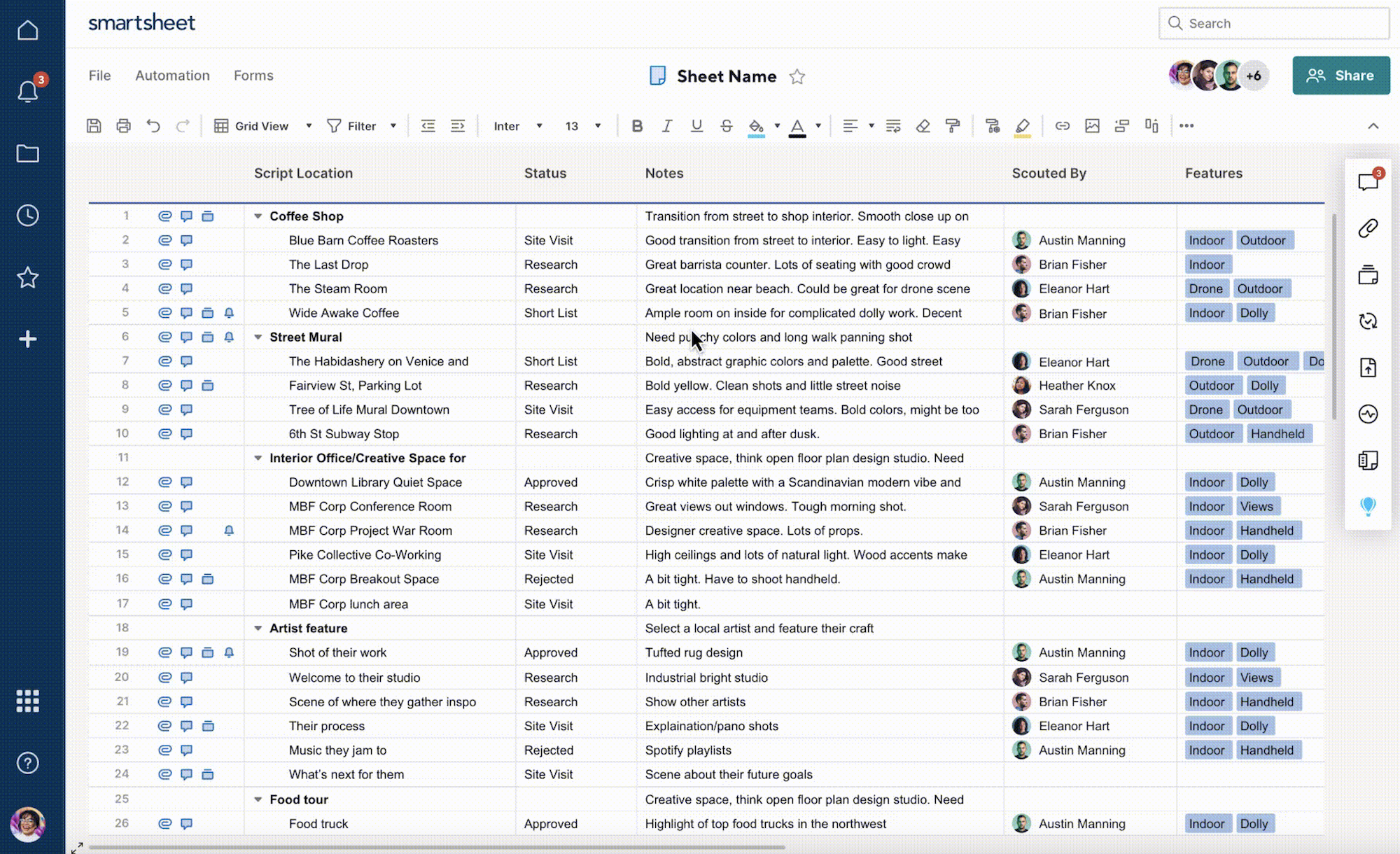 Content proofing, pinned annotations, automated or manual approvals, and in-sheet document generation streamline collaboration.
Key Features
Sheet Summary: Sheet Summaries provide an overview of the most important parts, or "Field Types" of a project. Field Types include relevant project: text descriptions, contact lists/roles, deadlines/dates, checkbox (to-dos), calculations/metrics, custom visual symbols, custom dropdown lists for further details.
Conversations: Conversations let team members comment and collaborate directly in Sheets, rows, or cards for ultra-specific, in-context communication. Conversations are expanded into a larger panel where multiple users can read, make, and reply directly to all comments. Employees can tag each other, attach files to, print, email, delete, and edit comments and conversations.
Smartsheet Pricing
All 3 Smartsheet paid plans include:
Unlimited Sheets, Dashboard, Reports, Forms, Viewers
Basic integrations
Gantt, Grid, Calendar, Card Views
Templates
Mobile app
Private sheets/reporting
Exportable sheets
Column types, cell/column/cross-sheet formulas
Dependencies, Filters, Conditional Formatting
Cell history and linking
Task Assignment
In-sheet conversations/comments
Automated alerts, reminders, approval/update requests, assignments, etc.
Plan differences are outlined below.
Pro
Business
Enterprise
Pricing
$7.00/user/month
$25.00/user/month
Quote-Based
Widgets per Dashboard
10
Unlimited
Unlimited
Sheets per Report/Conditional Form Logic
1
Unlimited
Unlimited
Template Sets
X
✓
✓
Baselines, Activity Log, API Calls, Document Builder, Custom Colors/Logos 
X
✓
✓
File Storage
20GB (30MB/attachment)
1TB (250MB/attachment)
Unlimited

(250MB/attachment)

File Editors
10
Unlimited
Unlimited
Image/Video Proofing
X
✓
✓
Advanced Security Features
X
✓
✓
Advanced Integrations
X
✓
✓
Advanced Support
X
Paid add-ons available
✓
Why Smartsheet Is A Good Team Collaboration Software
Smartsheet is a good collaboration software because if offers:
Integrations with familiar third-party video and chat apps (Slack, Google Workspace, Microsoft 365)
Multi-step, cross-platform automations
No-code WorkApps allow users to build and scale in-sheet apps for custom/advanced features
Zoho Projects is an online collaboration and project management software that works as a standalone app or alongside other Zoho tools like Zoho CRM, Meetings, and Zoho Voice.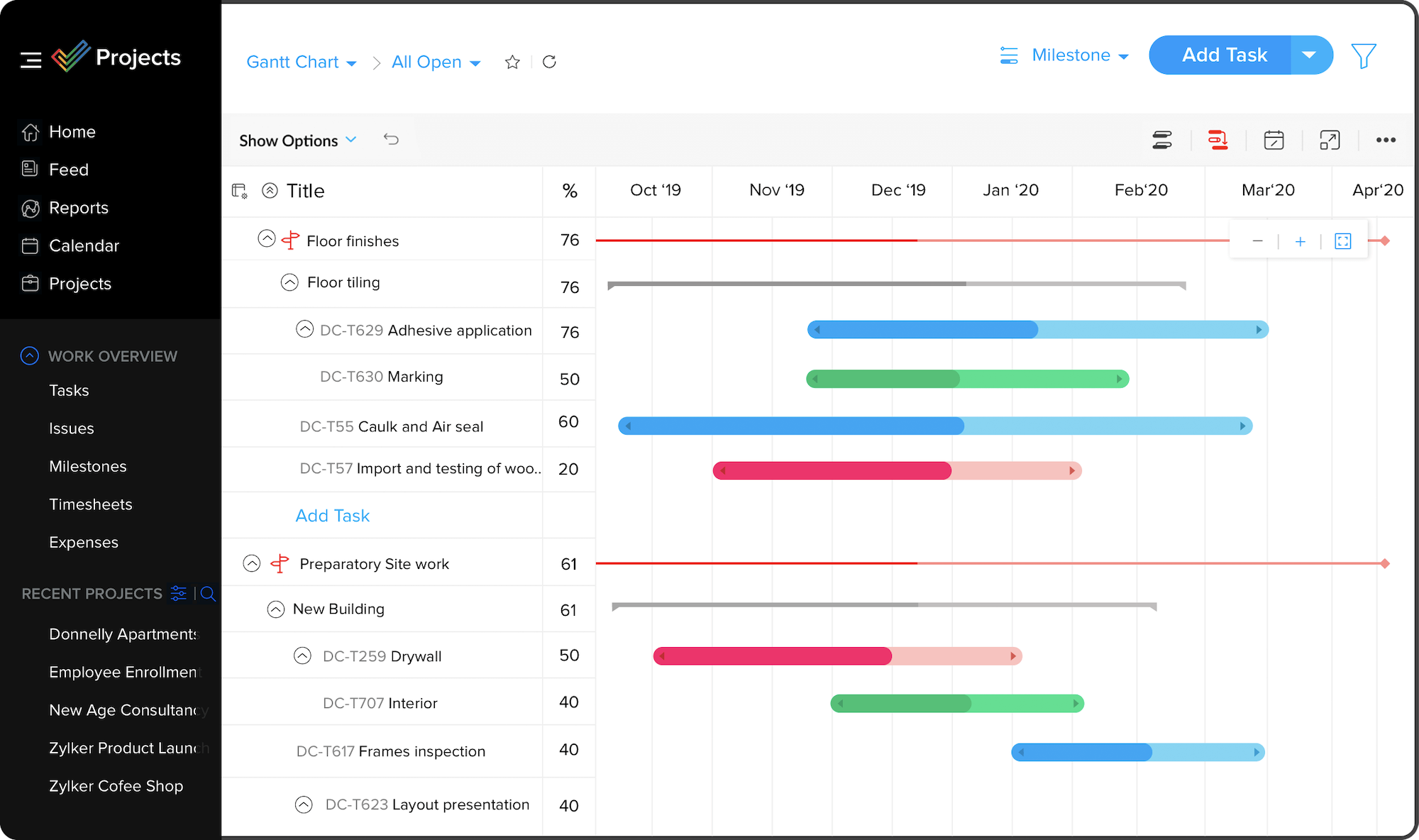 It offers numerous features, including:
Task, Issue, Time, and Document Management
Automations and Customizations
Chat Messaging and Integrations
Charts and Reporting
Key Features
Collaboration Suite: Zoho Projects has an incredibly robust set of online collaboration tools especially ideal for remote workers, including:

Interactive Project Feeds: Project status updates, assignees, comments, descriptions, and attachments, in a dedicated project inbox
Native Chat Messaging: Real-time, channel-based chat messaging with reactions, user tags, file uploads, meeting scheduling/one-click ad hoc online meetings, etc.
Forums: Detail-oriented, ongoing discussions organized by folders and tags to keep real-time communication efficient and focused
Pages: Interactive knowledge database/project reference materials
Documents: Real-time documents/spreadsheet/presentation creation, collaboration, editing

Time Tracking: Time Tracking creates employee timesheets for individual projects to better understand team activity and create more accurate future project schedules. Users can set and pause automatic manual timers, turn timesheets into invoices, approve/reject timesheets, create reports from timesheets, and compare the planned vs. actual time spent on tasks and projects.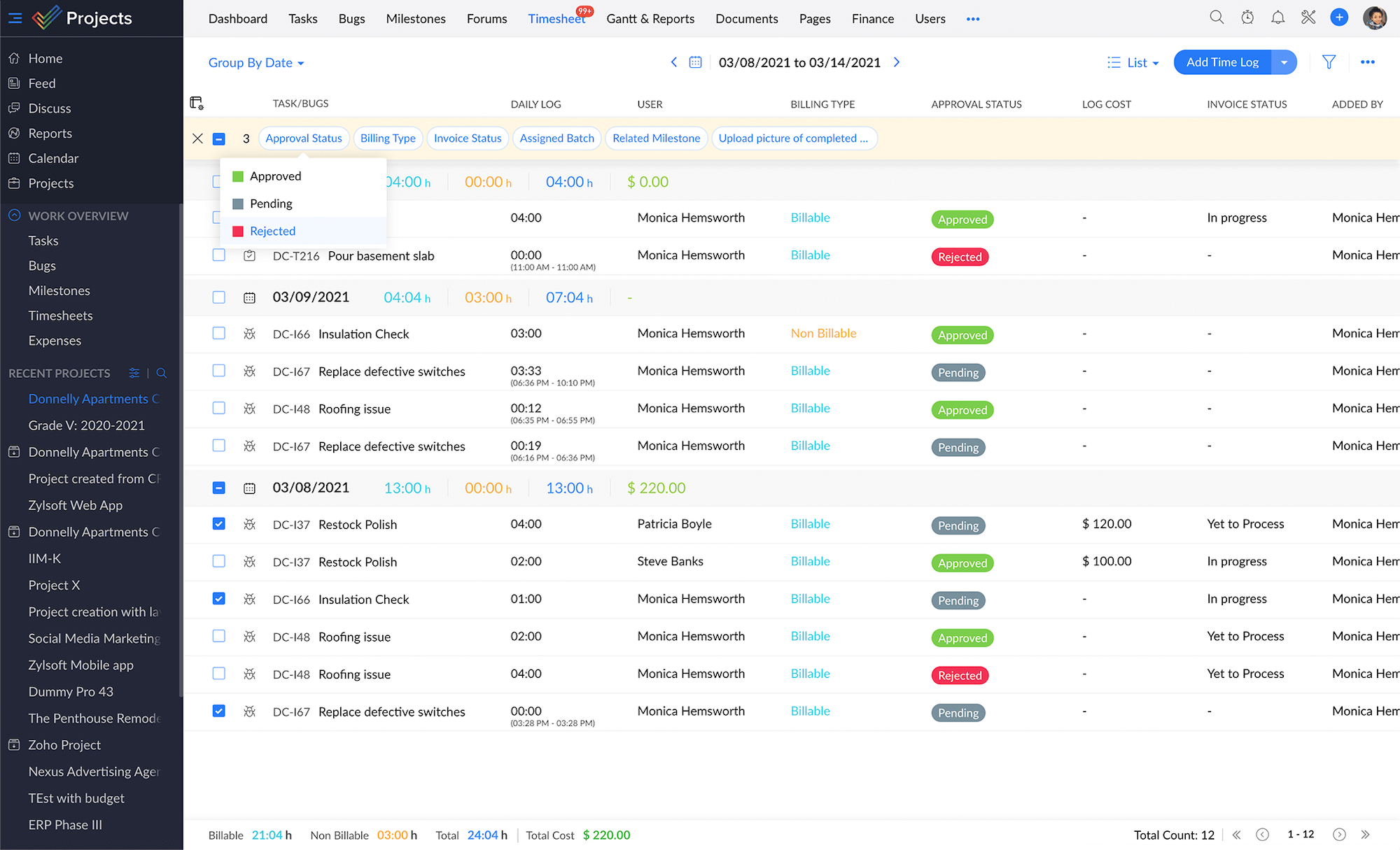 Zoho Projects Pricing
Zoho Projects offers 1 free plan for up to 3 users which includes:
Tags, Project Feeds, Task management
Document Sharing
Calendar and Forums
Google Apps and Zoho Integrations
Project, Task, and Milestone Custom Status
Import Issues into IssueTracker
All paid plans include:
Unlimited Projects
Pages and Chat across all projects
Advanced Task/Issue Reports
Subtasks, task duration and reminders, Google task syncing
Gantt and Custom Views
Project Budget
Work Hours Planned vs Actual Report
Work during business hours, weekends/holidays
Earned value management
Task rollup
Time tracking, timesheet approval
Time Log restriction
Task and milestone layouts
Blueprint for Tasks
Zia-powered AI chatbot
Export projects
Advanced integrations
Add issues to IssueTracker via email/web
IssueTracker notifications, Business Rules
Link Issues, Web to Issue Form
Differences in paid plans are outlined below:
| | | |
| --- | --- | --- |
| | Premium | Enterprise |
| Pricing | $4.00/user/month (50 users max.) | $9.00/user/month (Unlimited users) |
| Storage Space | 100GB | 120GB |
| Project Templates | 20 | 30 |
| Task Dependencies | Within projects | Across projects |
| Milestone and Chronology Gantt Charts, Resource Utilization Chart | Within projects | Across projects |
| Project Layout  | X | ✓ |
| Flexible Work Hours, Task Layout Rules, Workflow Rules | X | ✓ |
| Baseline, Multiple Baseline Support, Critical Path | X | ✓ |
| Milestone Custom Fields | X | ✓ |
| Custom Fields | X | 155 Project Custom Fields, 225 Task Custom Fields, 120 Issue Custom Fields, 22 Timesheet Custom Fields |
| Custom Domain, Web Tab, Teams, Custom Profiles/Roles | X | ✓ |
| Advanced IssueTracker  | X | ✓ |
Why Zoho Projects Is A Good Team Collaboration Software
Zoho Projects is a good collaboration software because it offers:
High-level custom layouts, views, fields, status, templates, tags, functions)
Blueprint drag-and-drop task automations
IssueTracker to import or manually track, prioritize, update status about, and view work hours dedicated to fixing bugs, workflow bottlenecks, task delays, etc.
Podio is a team collaboration software and project management tool focused on distilling essential project updates and information into a single "Item," (page) with expandable fields for more details. Open, private, and employee/email domain-based workspaces contain Apps, files, templates, comments, tasks, built-in meetings and chats, and more.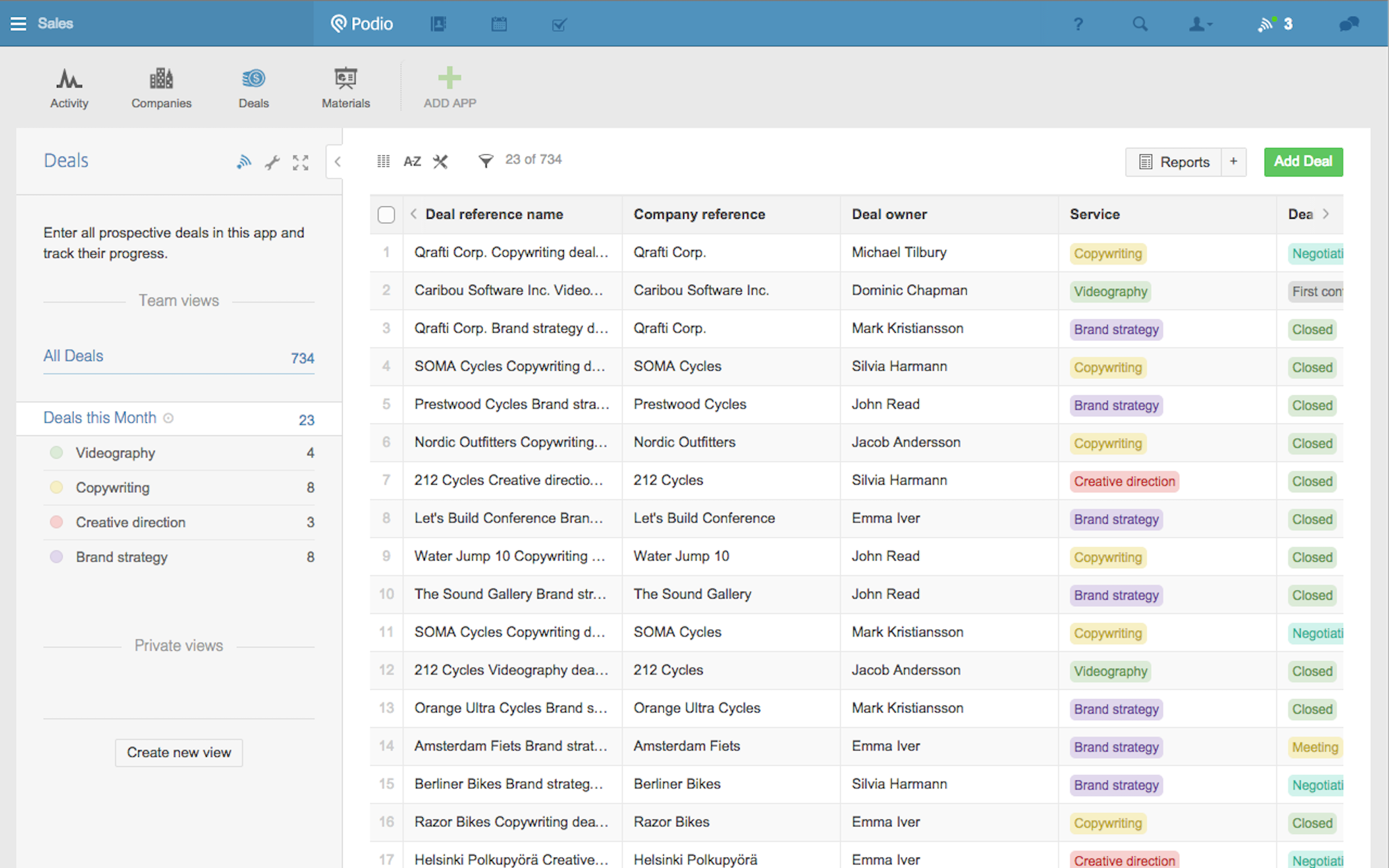 Key Features
Podio Apps: Podio Apps are customizable project or workflow components–actions, functions, fields, categories– that let users build a unique workspace template according to personal preference or project and team needs. Apps can be created from scratch or made from templates and can be customized with app icons, app views, descriptions, items, field types, tasks, and more. Apps can be added to workspaces to create business workflows, automations, manage tasks, monitor project progress, and more.
Activity Streams: Podio Home Activity Streams are individual workflow feeds that display all updates from Workspaces a user belongs to. They can be customized with tiles like tasks, calendars, apps, contacts, reports, and more. Workspace Activity Streams provide project-wide update feeds visible to all collaborators, and can be customized with the above tiles as well as images, custom text boxes, links, app snapshots, workspace views, and files. Users can like and comment on updates within an activity stream and turn individual updates into tasks.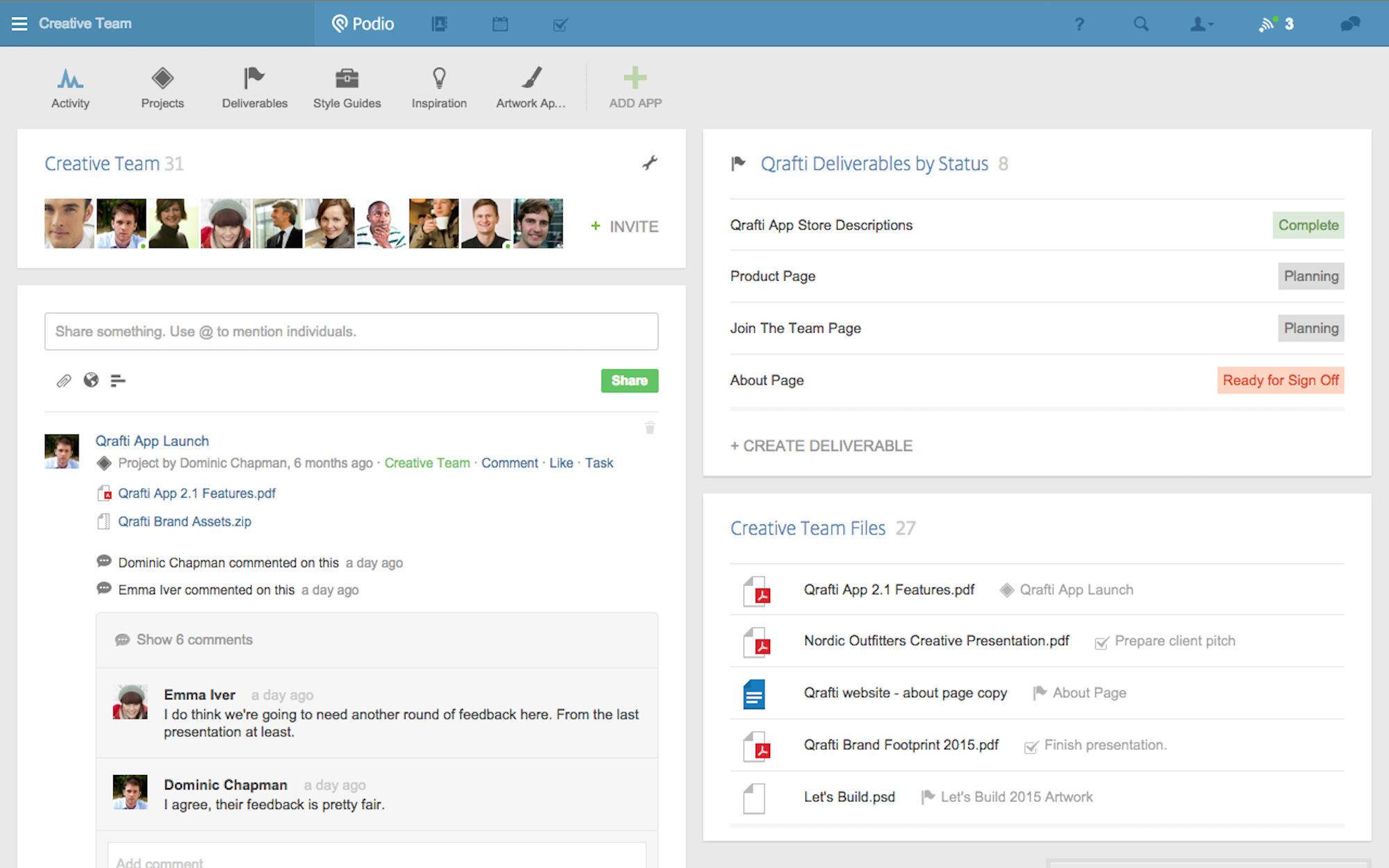 Podio Pricing
Podio offers a free plan with task management, apps, and workspaces for up to 5 employees.
Its three paid plans are outlined below.
| | | | |
| --- | --- | --- | --- |
| | Basic | Plus | Premium |
| Pricing | $7.20/month | $11.20/month | $19.20/month |
| Task Management, Workspaces, Apps, and Unlimited Items | ✓ | ✓ | ✓ |
| User Management | ✓ | ✓ | ✓ |
| Unlimited External Users | ✓ | ✓ | ✓ |
| Light User Role | X | ✓ | ✓ |
| Automated Workflows | X | ✓ | ✓ +Advanced Workflow Automation |
| Visual Reports | X | X | ✓ |
| Interactive Sales Dashboards | X | X | ✓ |
Why Podio Is A Good Team Collaboration Software
Podio is a good collaboration software because it offers:
Podio Chat for instant 1:1 and group chat messaging/file sharing with built-in GoToMeeting video calls
Calendaring tool displays company-wide, personal, and workspace calendars that can be customized to show only long-term projects, meetings/tasks in the next few days, upcoming deadlines, or events from calendar integrations
Real-time, interactive sales dashboard powered by Plecto
monday.com is a board-based collaborative Work Operating System focused on project management, task automation, and workflow design. With monday.com users can customize boards with 8 views, 200 workflow templates, and 30+ drag-and-drop columns.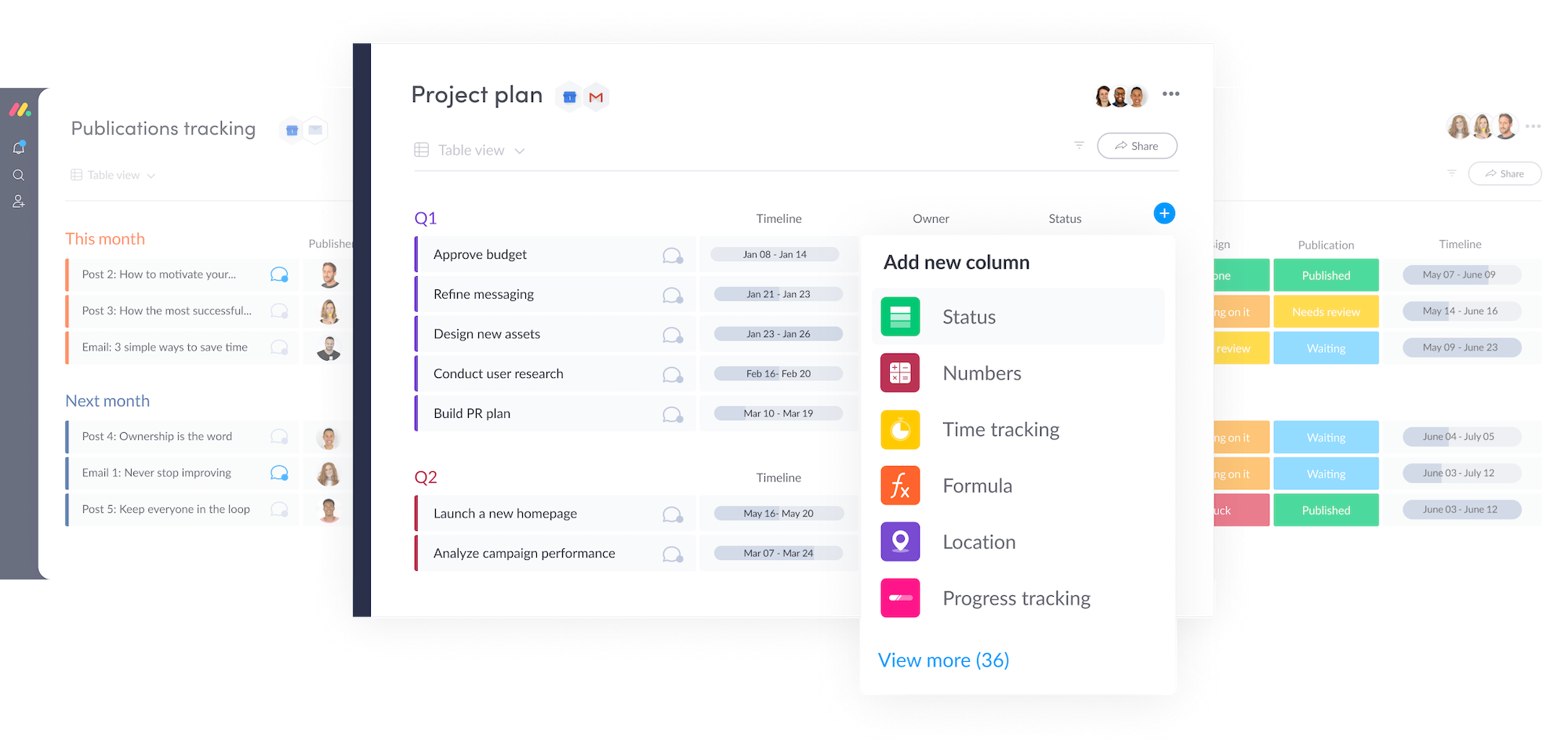 Key Features
Boards: Boards are the foundation of monday.com's approach to collaboration management, and are available in Kanban, Table, Calendar, Gantt, Form, Chart, Cards, and File views. Users can create main boards (visible to all), shareable boards (to share with external collaborators), and private boards. Boards are customized with columns like task assignment, project status updates, budget, due dates, project prioritization, and checklists.
Dashboards: Dashboards provide a bird's-eye view of overall project progress and analytics. Each dashboard provides data for multiple project boards and can be customized with data visualization widgets like Time Tracking, Battery, and Workload.
Automation: monday.com's automation feature lets users create reusable automated workflows based on triggers, conditions, and actions. If/then automation triggers lead to corresponding conditions, which then lead to Actions.
monday.com Pricing
monday.com offers 1 Free Plan for up to 2 users and includes:
Kanban view
Unlimited boards/docs
1-week activity log
iOS/Android mobile apps
Custom notifications
Shareable forms
Whiteboarding
Embedded documents
500 MB of storage
24/7 customer support
Two-factor authentication
SOC 2 Type II Compliance
The table below breaks down the differences between the 4 paid plans.
| | | | | |
| --- | --- | --- | --- | --- |
| | Basic | Standard | Pro | Enterprise |
| Pricing | $8.00/seat/month | $10.00/seat/month | $16.00/seat/month | Quote-based |
| Unlimited Items, Boards, Docs, Free Viewers | ✓ | ✓ | ✓ | ✓ |
| File Storage | 5GB | 20GB | 100GB | 1000GB |
| Activity Log | 1 week | 6 months | 1 year | 5 years |
| Zoom Integration | X | ✓ | ✓ | ✓ |
| Guest Access | X | 4 guests billed as 1 seat | Unlimited | Unlimited |
| Integrations | X | 250 actions/month | 25,000 actions/month | 250,000 actions/month+Premium Integrations |
| Time Tracking, Formula/Dependency Columns | X | X | ✓ | ✓ |
| Dashboards | 1 board/dashboard | Combine 5 boards | Combine 20 boards | Combine 50 boards |
| Workload and Chart Views | X | X | ✓ | ✓ |
| Timeline, Calendar, Map Views | X | ✓ | ✓ | ✓ |
| Private Boards/Docs | X | X | ✓ | ✓ |
| 99.9% Uptime, Dedicated Customer Success Manager, HIPAA Compliance and SSO | X | X | X | `✓ |
| Work Performance Insights, Pivot Analytics and Reports | X | X | X | ✓ |
| Dashboard Email Notifications | X | X | X | ✓ |
Why monday.com Is A Good Team Collaboration Software
Monday.com is a good collaboration tool because it offers:
High-level board customization
Activity Log showing board history and team member actions
Advanced integrations with popular tools (Gmail, Slack, Zoom, Dropbox, etc.)
ClickUp is designed to replace your existing project management and team collaboration software by offering the functionalities of them all in a single application.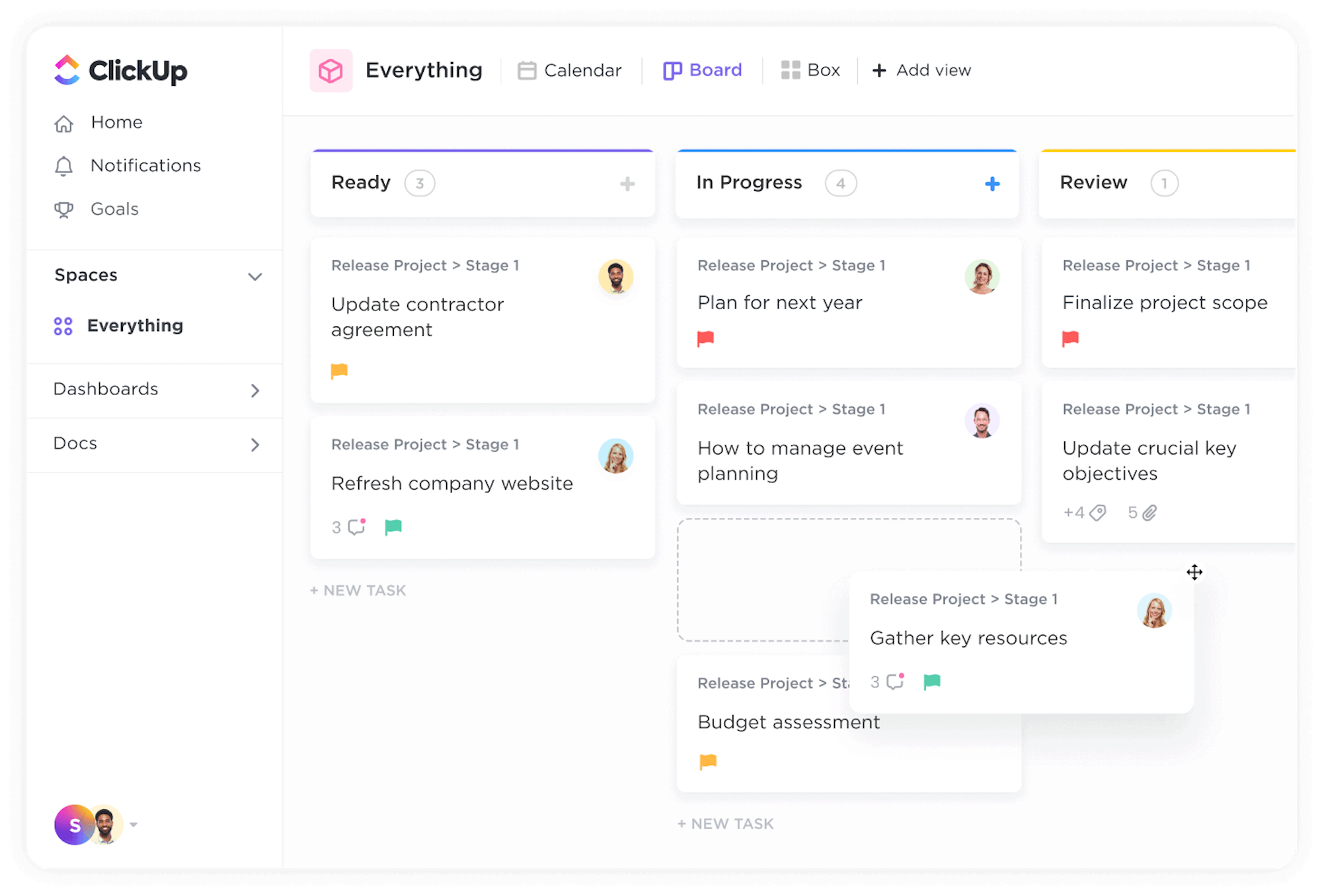 Teams are organized according to the ClickUp Hierarchy, designed to provide both big-picture and detailed views.
The Hierarchy is made up of:
Workspaces: Your company and everyone in it
Everything View: An overview of all workspace activity and projects
Spaces: Team or project "home bases"
Folders: Groups of specific tasks/files/other details for different aspects of projects
Lists: Lists of customized and organized project tasks and their fields, statuses, and views
Tasks, Subtasks, Nested Subtasks: General and ultra-specific assigned tasks within lists and folders
Checklists: Task "to-do" lists
Key Features
Sprints: Sprints, a ClickApp for agile project management, lets users break down larger production cycles into multiple, more manageable blocks of time (iterations.) Each sprint has a specific goal, timeline, and relevant tasks. Sprint lists and folders can be turned into sprints, tasks can be automated, and sprint spillover makes it easy to move one unfinished sprint task to the next sprint.
Whiteboard: ClickUp's virtual whiteboard is a real-time collaboration tool used to develop and plan projects. Whiteboards help teams visualize four project management phases: Brainstorming, Strategy, Mapping, and Agile Workflows. Within a whiteboard, users can:

Write sticky notes
Draw/markup boards, add shapes,
Add images/files
Add or convert objects into tasks
Connect tasks
Create Mindmaps
Tag other users
Use views to organize whiteboards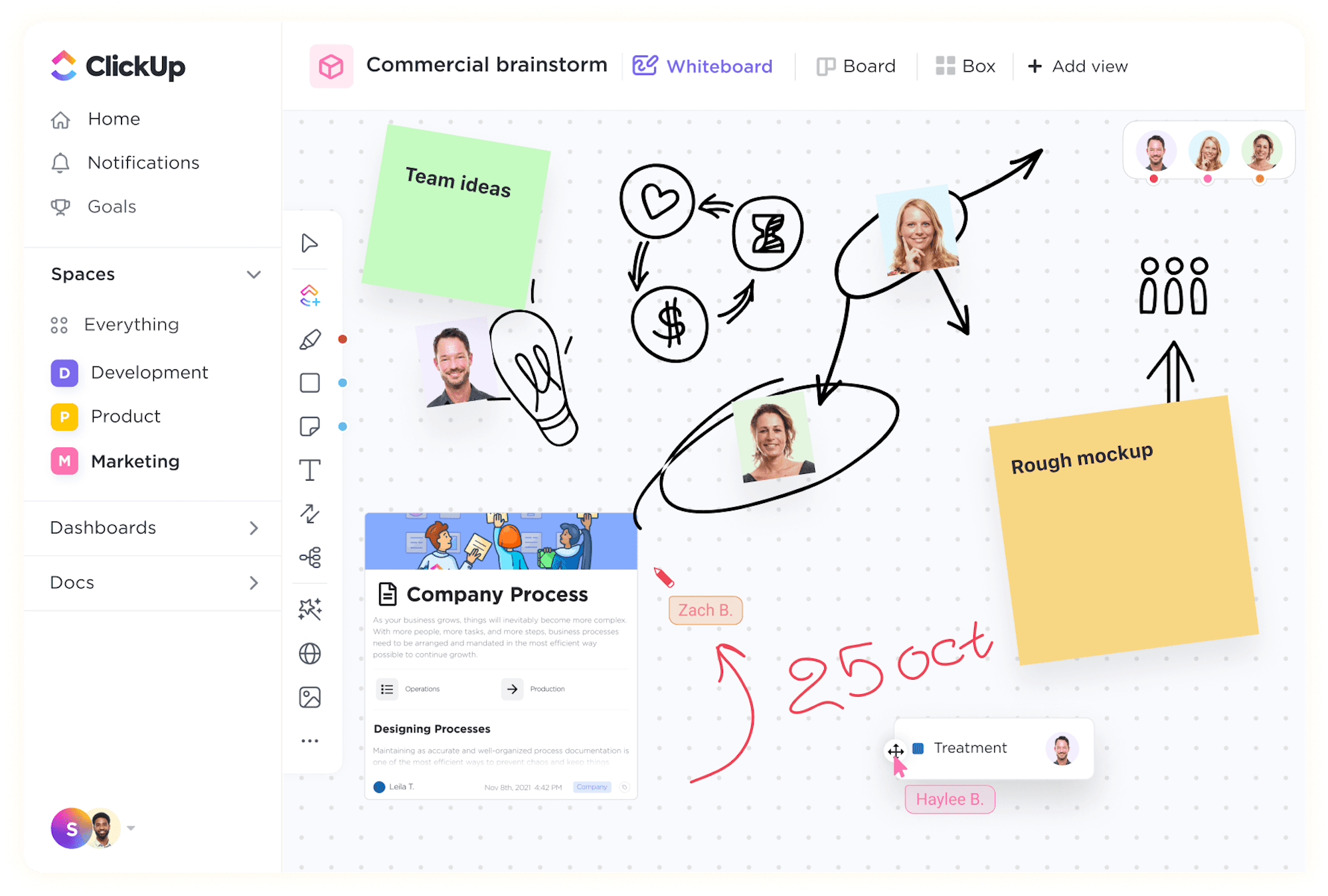 ClickUp Pricing
ClickUp has 1 free plan and 4 paid plans, all plans include:
Unlimited tasks, custom views
400 folders per space
List, Board, Table, Doc, Form, Embed, and Calendar views
Templates
Custom task statuses and multiple assignees per task
Task checklist, dependences, bulk action toolbar, tags, relationships, and prioritizations
In-app video recording
Comment assignment
Smart notifications and Natural Language Processing
Time Tracking and Sprints
Two-Factor Authentication
50+ integrations
Workload, Home, and Scheduling analytics
24/7 support
Paid plans are outlined below.
| | | | | |
| --- | --- | --- | --- | --- |
| | Unlimited | Business | Business+ | Enterprise |
| Pricing | $5.00/member/month | $12.00/member/month | $19.00/member/month | Quote-Based |
| Spaces | Unlimited, 400 lists/space | Unlimited, 400 lists/space | Unlimited, 400 lists/space | Unlimited, 400 lists/space |
| Storage | Unlimited | Unlimited | Unlimited | Unlimited |
| Guest Access | ✓ | ✓ | ✓ | ✓ |
| Custom Fields | ✓ | ✓ | ✓ | ✓ |
| Box, Gantt, Map, Form Views | ✓ | ✓ | ✓ | ✓ |
| Activity, Workload, Timeline Views | 7-Day Activity view, 100 Timeline/Workload view uses | ✓ | ✓ | ✓ |
| Mind Maps | 100 uses | ✓ | ✓ | ✓ |
| Whiteboards | 3 Whiteboards | 10 Whiteboards | Unlimited | Unlimited |
| Custom Task IDs | X | X | ✓ | ✓ |
| Automations | 1,000/month | 10,000/month+Multiple Conditions/Actions | 25,000/month+Multiple Conditions/Actions | 250,00/month+Multiple Conditions/Actions |
| Recurring Calendar Tasks  | ✓ | ✓ | ✓ | ✓ |
| Column Calculations | ✓ | ✓ | ✓ | ✓ |
| API Calls | 100/minute | 100/minute | 1,000/minute | 10,000/minute |
| Email, Private Docs, Cloud Storage, Delegate Reminders, Guest Visibility  | ✓ | ✓ | ✓ | ✓ |
| Proofing | 100 uses | ✓ | ✓ | ✓ |
| Teams | 1 | ✓ | ✓+Team Sharing | ✓+Team Sharing |
| Advanced Sprints and Reporting | ✓ | ✓ | ✓ | ✓ |
| Advanced Integrations | ✓ | ✓ | ✓ | ✓ |
| Priority Support | x | X | ✓ | ✓ |
| Advanced Security | X | X | ✓ | ✓ |
Why ClickUp Is A Good Team Collaboration Software
ClickUp is a good collaboration software because it offers:
Native time tracking and integrations with third-party time trackers like Harvest, Everhour, and Toggl
Extensive workspace collaboration tools like chat, automation, whiteboarding, numerous views and templates, etc.
Goal feature with task, number, monetary, true/false, and descriptive targets
Basecamp is a project management and remote team communication app with a card-based interface.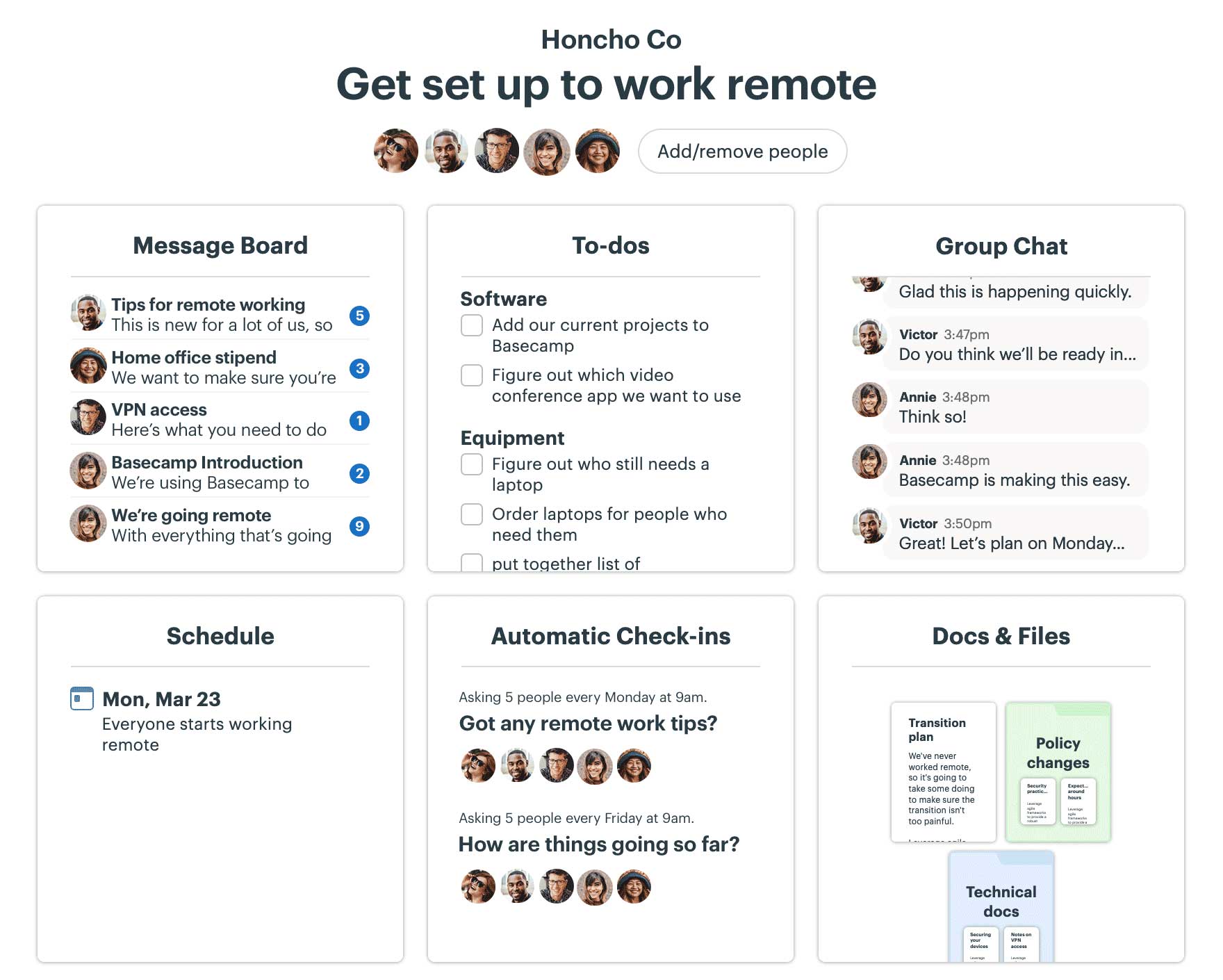 Within project cards, users can share:
To-do lists with attached notes, files, comments
Topic/task-specific message boards
Project schedules
Document and file storage
Real-time group chat messaging
Check-in-questions
Key Features
Automatic Check-Ins: Automatic Check-Ins eliminate constant meetings and excessive emails by sending everyone working on a project automated questions about task status, project updates, or anything else. Questions can be posed to individuals or teams, made recurring, and scheduled according to preset intervals and times of day. All team members can answer and view each other's responses directly on the check-in card, keeping everyone in the loop. Check-in questions can be edited, deleted, bookmarked, paused, and copied.
My Stuff: Basecamp's My Stuff feature is an individual inbox that displays a team member's current to-dos, tasks, drafts, bookmarks, notifications, recent activity, schedule, and more in one place. Employees can also check on tasks they've assigned to others, view their Boosts (emoji-like comment reactions), and navigate to messages, files, or other collaboration spaces.
Basecamp Pricing
Basecamp plans are outlined below.
| | | |
| --- | --- | --- |
| | Personal | Business |
| Pricing | Free | $90.00/month |
| Number of Users | 3 | Unlimited |
| Number of Projects | 20 | Unlimited |
| Storage Space | 1GB | 500GB |
| Client Collaboration | X | Unlimited, advanced client/external user access |
| Project Templates | X | ✓ |
| Priority Support | X | ✓ |
Why Basecamp Is A Good Team Collaboration Software
Basecamp is a good collaboration software because it offers:
Just two plans, free or paid, to simplify the buying process
Unique Hill Charts to better visualize project progress and to-dos
Advanced features without a crowded, intimidating interface
Airtable is a workflow management and team collaboration software designed to help teams transition away from spreadsheets and move to interactive tables with more details, data syncing, and better organization.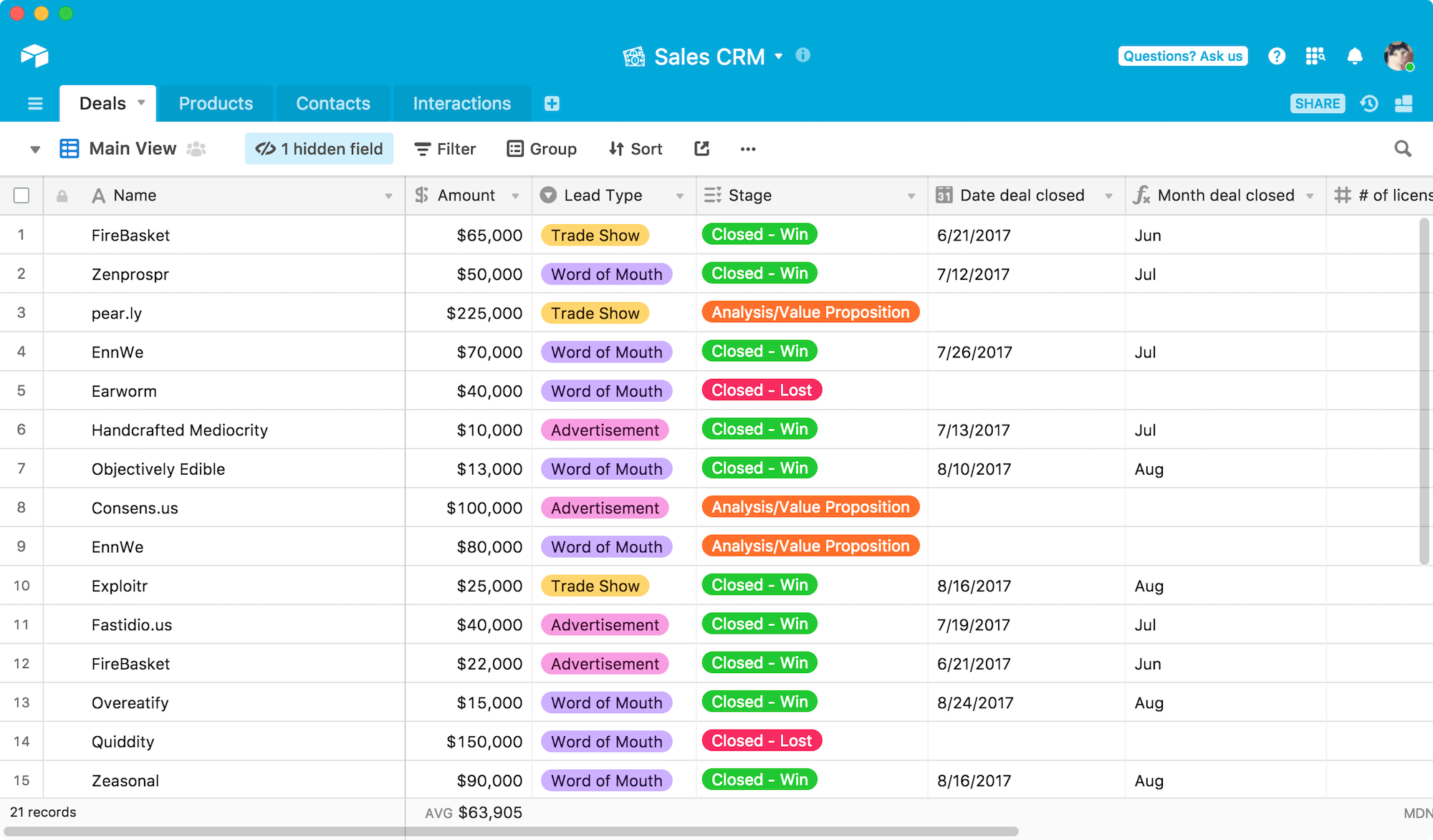 Key Features
Bases, Tables, Records, Fields: An Airtable Workspace is made up of 4 main components:

Bases: Project planning hubs that can be imported from CSV/Excel, built from scratch, or created via Airtable with user-generated templates
Tables: Tables organize specific aspects of larger Base projects–mimicking Excel spreadsheets, but offering more views
Records: Individual rows within a table/grid, often used for organizing tasks
Fields: Three key columns–Names, Notes, and Attachments–to add/pin specific task details, files, etc.

Formulas: Airtable Formulas let users make calculations directly within a table (for example, a project budget calculation.) "Fields" are equation components (like overhead costs), while the formula specifies the type of calculation Airtable should automatically calculate.
Airtable Pricing
Airtable plans are outlined below.
Free
Plus
Pro
Enterprise
Pricing
Free
$10/seat/month
$20/seat/month
Quote-based
Bases
Unlimited
Unlimited
Unlimited
Unlimited
Records per Base/Table 
1,200
5,000
50,000
250,000/base

100,000/table

Attachment Space per Base
2GB
5GB
20GB
1,000GB
Grid, Calendar, Form, Kanban, Gallery Views
✓
✓
✓
✓
Gantt, Timeline, Personal, Section Views
X
X
✓
✓
Interface Designer
✓
✓
✓
✓
Revision/Snapshot History
2 weeks
6 months
1 year
3 years
Extensions per Base
1
3
10
Unlimited
Automated Integrations
✓

2-week run history, 100 runs/month

✓

6-month run history, 5,000 runs/month

✓

1-year run history, 50,000/runs/month

✓

3-year run history, 500,000 runs/month

Sync
1 table/base
1 table/base, Automatic Syncing, 3 integrations
10 tables/base, Automatic and Multi-Source Syncing, 7 integrations
20 tables/base

Automatic and Multi-Source Syncing, Unlimited integrations

Customization
X
Custom branded forms
Custom branded forms, advanced color, formatting, and calendar features
Custom branded forms, advanced color, formatting, and calendar features
Advanced Admin Options
X
X
X
✓
Priority Support, Ongoing Customer Success Program, Professional Services 
X
X
X
✓
Why Airtable Is A Good Team Collaboration Software
Airtable is a good collaboration software because it offers:
Pre-built Airtable analytics extensions like records search, data visualizations,  and org charts
Unique image-based Gallery view ideal for design/creative teams
Superior workflow templates like Event Planning, Product Roadmap, Inventory Tracking, Content Calendar
What To Look For In Team Collaboration Tools
Picking the right team collaboration software is about much more than available plans and pricing.
Consider the free trial length, guaranteed uptime, security and compliance standards, cross-platform compatibility, integrations, and overall ease of use.
How long will it take your team to learn the software? What onboarding support or user training is offered? If a provider claims to offer "24/7 support," make sure you know which channels are actually available 24/7–and study the quality of self-help knowledge bases.
Feeling overwhelmed?
Don't be.
Our in-depth provider reviews, head-to-head comparisons, and industry experts have done the hard work so it's easy for you to find the perfect team collaboration software–and explore other SaaS options.
Team Collaboration Software FAQs
Below, we've answered collaboration software FAQs.
The main uses of collaboration software are to provide a central location for team collaboration, to increase productivity with project management features, and to improve a business's overall workflow by providing insights into team and project activity.
The biggest advantages of collaborative software are increased productivity, fewer miscommunications, improved workflow management, and higher employee morale.
Any business can benefit from collaboration software. However, it's especially helpful for remote or hybrid teams and companies that often collaborate with external clients.
Collaboration software provides a unified workspace with real-time communication, file syncing, and project management features like: - Task management - File sharing/co-editing - Chat, video, and voice communications - Whiteboarding - Project Views - Analytics/reporting