A PBX (Private Branch Exchange) phone system provides businesses with their own private phone network, offering additional features for calling and business communication that optimize your team's workflow.
But what does PBX mean, how does it work, and which type–and provider–is right for your company? Read on to find out.
Jump to ↓
What is a PBX?
A Private Branch Exchange (PBX) is a private local telephone network that allows businesses to make internal and external voice calls.
PBX essentially creates a miniature phone network that's owned and operated by the business using it, meaning all internal communication between in-network users and devices is free.
With PBX, businesses can limit or avoid purchasing additional phone telephone lines from third-party providers, opting instead for in-network business phone numbers and/or extensions.
How Does A PBX Phone System Work?
A PBX phone system works by connecting, switching, and routing phone calls to their destinations while providing advanced business communication features not available with traditional landlines or residential phones.
Depending on the type of PBX service you choose, outgoing and incoming calls are managed via SIP Trunking, the PSTN (Public Switched Telephone Network), or VoIP (Voice over Internet Protocol.) Both premises-based (on-site) and cloud PBX are available, as is a combination of the two.
Types of PBX Phone Systems
The below table provided a quick overview of the 4 different types of PBX phone systems:
Analog PBX
On-Premises PBX
Hosted PBX
Hybrid PBX
Hosted/Maintained By
The business/end user
The business/end user, in-house IT teams
The VoIP provider offsite, in the cloud
The end user/business, in-house IT staff, limited SIP TRunk provider support
Required Equipment/Hardware
– Space for analog system

– Analog phones

-Wall jacks

– Outlets

– Wiring/cabling

– On-site server

– IP Phones, desktop/mobile calling devices

– Backup power supply

– Routers

– Modems

– Routers

– Desktop/mobile calling devices

– Broadband Internet Connection

– SIP Trunks

– Existing analog PBX hardware

– VoIP equipment

Calling Facilitated Via 
The PSTN/POTS
IP PBX System
VoIP
SIP Trunking
Best For
-Micro-businesses, solopreneurs, home-based businesses

– Teams that don't plan to offer voice calling as a communication channel

– Enterprise-level companies and large-scale call centers

– Businesses that need to host their own phone systems on-site, for security/compliance reasons

– Businesses  that don't want/can't afford to hire in-house IT teams

– Businesses looking for scalable, affordable monthly plans

– Businesses needing access to advanced features/more communication channels

– Businesses of any size that want to continue to use their existing PBX equipment

– Traditional PBX users that want the advanced features of VoIP telephony
Analog PBX
Analog PBX relies on the traditional copper wiring of the PSTN–the same network landlines use–to facilitate calls via the POTS (Plain Old Telephone System.)
Because they can't make calls over the Internet, their features will be limited compared with the other options on this list. Expect little more than voicemail, call transfer, call hold, and basic call forwarding.
Analog PBX was designed to make internal calling between employees free, and works only with landlines and desk phones. As the hardware/equipment must be housed in the office building/location where your employees work, no mobility is offered.
Adding phone lines is a lengthy, expensive process requiring physically installing new wiring, wall jacks, and sometimes outlets–which is why most teams just upgrade to a hosted PBX or SIP trunk provider.
Analog PBX systems are expected to be obsolete within ten years, so if you don't currently use one, it's likely not worth investing in now.
Hosted PBX
Also known as cloud or virtual PBX, hosted PBX is a cloud-based, offsite VoIP phone system hosted by a third-party provider.
Because virtual PBX manages calls via VoIP, it works with any device( laptop, smartphone, desktop computer, VoIP phone, tablet, etc.) with a working Internet connection.
This frees up teams to access their business telephone system anywhere, any time–a level of flexibility and mobility impossible with analog PBX.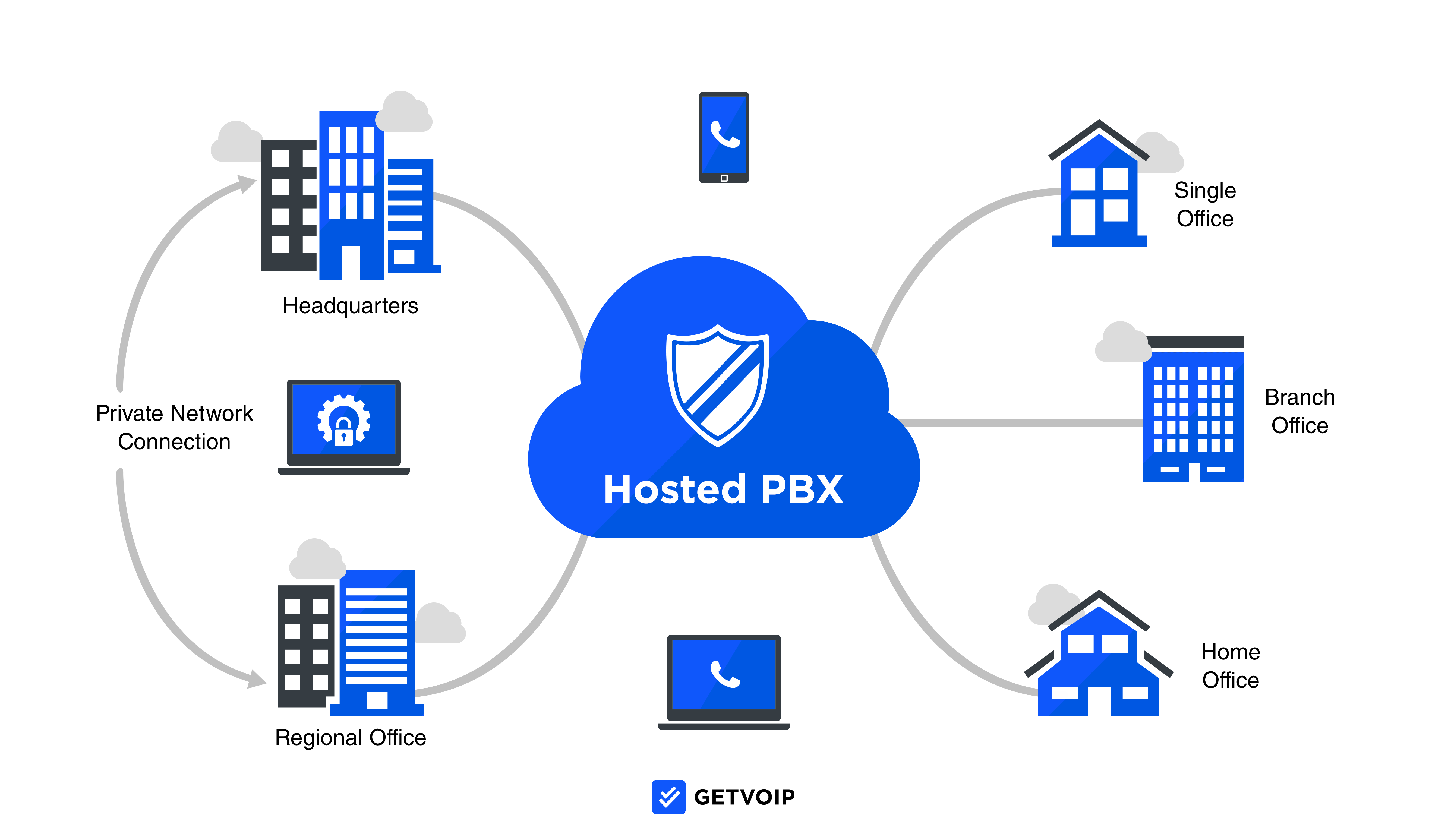 Cloud-based PBX is compatible with existing equipment, has a quick and easy setup process business owners can usually manage on their own, and doesn't require on-site maintenance or in-house IT teams. This leads to significant cost savings alongside access to advanced VoIP features and new telecommunications channels, like:
Web Conferencing and Video Calling
SMS Texting
Team Chat Messaging
Collaboration Tools (Whiteboarding, File Sharing and Co-Editing, etc.)
Visual Voicemail, Voicemail-to-Email
ACD and IVR
Auto Attendants
Call Routing and Ring Groups
Call Forwarding
Music on Hold
Call Park, Call Flip, Call Screening, Caller ID
Conference Calling
Call Queues
Call Monitoring, Call Barge, Call Whisper, Call Recording
Most VoIP PBX providers offer several bundled/tiered monthly plans with higher user limits and advanced features for scalability.
On-Premises PBX
On-premises PBX systems provide teams with not only their own private telephone network but also their own in-house phone system.
The good news?
On-premises systems today use VoIP to facilitate calling, which lowers calling costs and empowers teams with new calling features. Premise-based PBX users will need to invest in the space for an on-site server, internal data center, additional hardware, and often, an in-house IT team to manage it all.
The major benefit here?
Teams with an on-premises PBX will always be priority one for support requests, can customize their entire business phone system, and can rest easy knowing their servers are secure and monitored.
That said, premise-based PBX isn't cost-effective for most SMBs and doesn't offer the mobility of cloud PBX.
Hybrid PBX
Hybrid PBX, as the name implies, is a combination of traditional PBX and VoIP–allowing businesses to use their existing, on-premise PBX hardware to access a cloud-based phone system.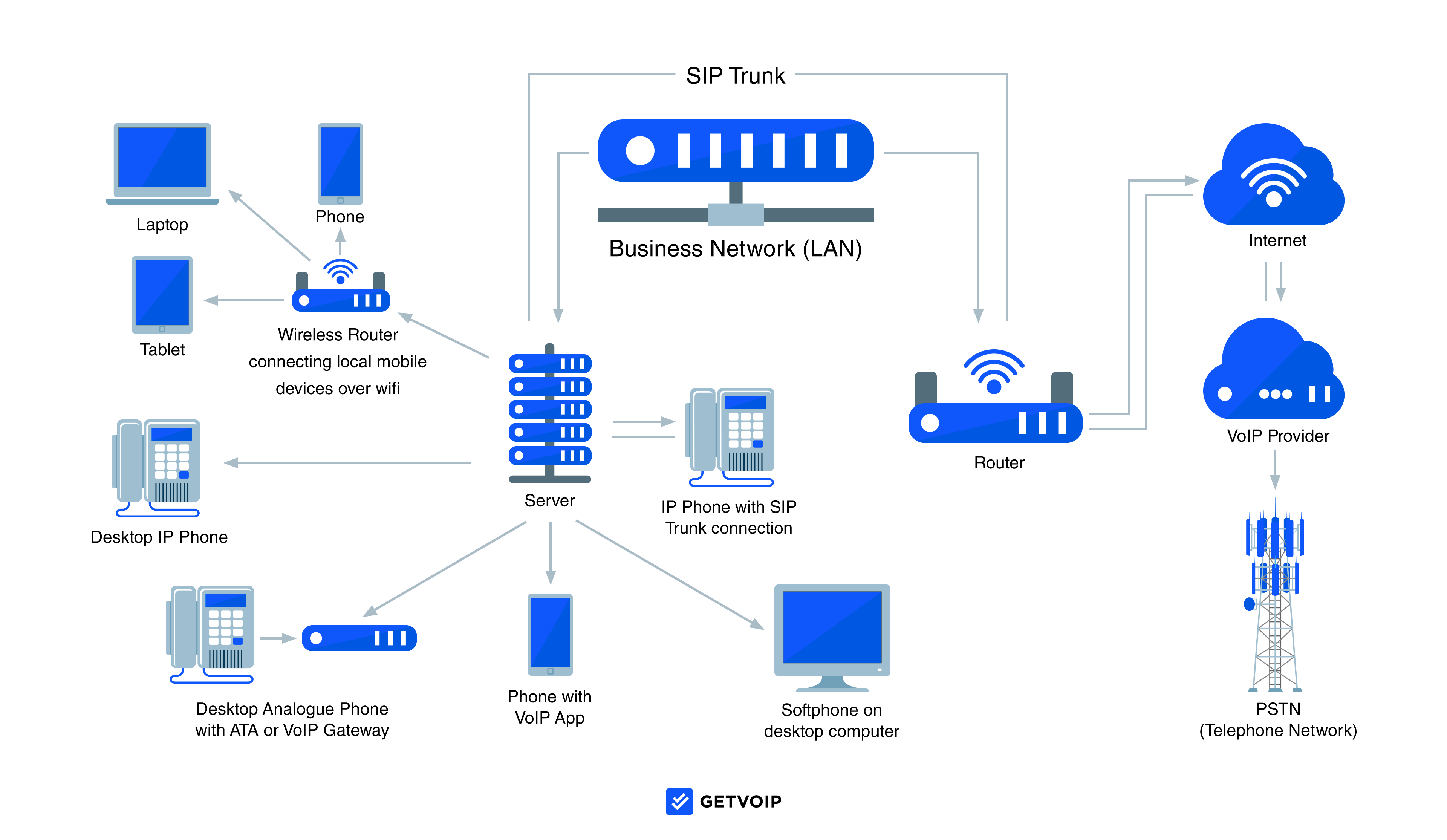 A process called SIP Trunking creates a kind of virtual link between the PSTN and VoIP technology and all the features it offers. Each SIP (Session Initiation Protocol) Trunk acts as its own phone line.
However, the businesses themselves–not the SIP Trunk provider–must install, upgrade, and maintain their own in-house PBX phone solution.
What's The Difference Between PBX And VoIP?
The main difference between PBX and VoIP is that PBX is a type of business phone system, while VoIP is the technology that facilitates voice calling over the Internet.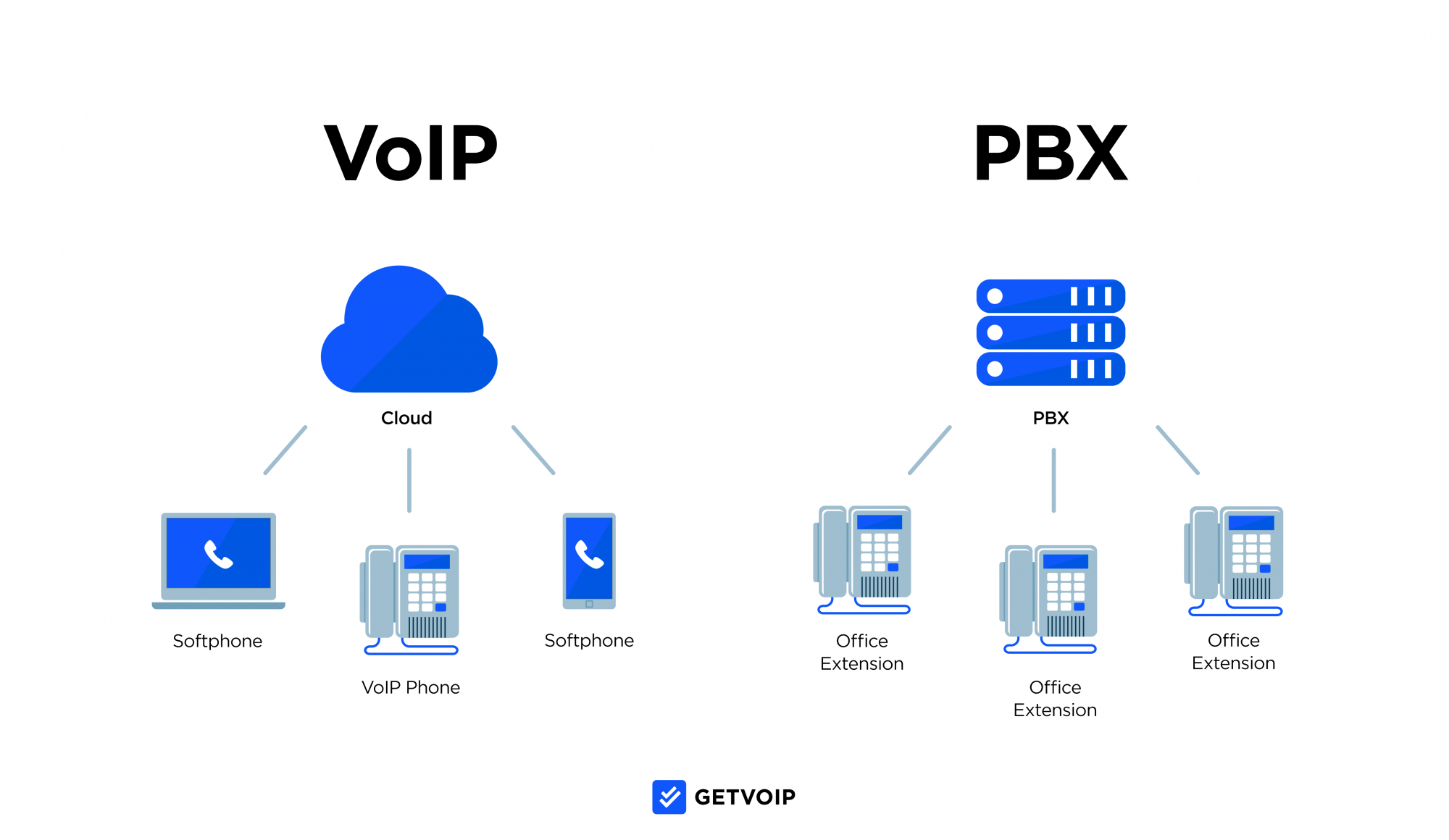 PBX uses VoIP technology, SIP Trunking, and the PSTN to create an interconnected, internal telephone network encompassing all your business' calling devices.  (Depending on the type of PBX solution you choose, these "phones" can be desktop computers, mobile devices, and/or desk phones.)
While today's PBX providers usually offer VoIP calling (and vice versa), VoIP phone systems do not require PBX to function.
While VoIP and hosted (cloud-based) PBX are somewhat similar, there are vast differences between premise-based PBX vs VoIP phone systems, outlined below:
| | | |
| --- | --- | --- |
| | On-Premises PBX | VoIP |
| Hosting/Maintenance | Managed by business/end users | Managed by VoIP provider |
| Communication Channels | Voice calling | Voice and video calling, SMS, team chat, collaboration tools, advanced features/integrations |
| Scalability | Requires physical installation of new lines/upgrading PBX system | Highly scalable, add new numbers/lines or upgrade to higher tier online in minutes |
Benefits of a PBX Phone System 
Below, we'll explore the top 5 benefits of PBX.
1. Cost Savings
Hosted PBX in particular provides significant cost savings when compared to traditional PSTN phone systems.
VoIP calling significantly cuts down on long-distance calling costs, offering free unlimited calling in the United States/Canada.
Premise-based PBX requires businesses to purchase equipment, servers, and software licensing, pay upfront installation/setup fees, and handle maintenance costs–all of which can easily cost $10,000+ for just 20 users.
In contrast, hosted PBX systems are maintained offsite by the third-party provider (no in-house IT team or expensive onsite equipment needed.) Plus, VoIP is compatible with existing devices, so there's no need to buy lots of new hardware.
Monthly service plans for hosted PBX range from $25.00-$50.00/user/month, and often have volume or committed use discounts.
2. Access to Additional VoIP Features
Access to advanced voice over IP features offers numerous benefits like:
Real-time and historical analytics and employee data to refine workflows and improve the customer experience
Increased first call resolution rates
More customer self-service options
User management and advanced admin options
Improved employee collaboration, increased productivity, fewer miscommunications
3. Increased Mobility
Whether your team is fully remote, hybrid, or works in-office, a PBX cloud phone system offers an unmatched level of mobility–especially for geographically diverse teams working across time zones.
This flexibility allows you to hire the best possible employees regardless of their location and increases employee morale, keeping turnover rates low. Teams can switch between devices during active calls, take video calls from anywhere, and access essential client data during offsite meetings.
4. Scalability 
PBX providers offer a level of scalability that ensures small businesses and enterprises have the features and channels they need at prices they can afford.
It's easy to increase user limits, add-on new features as needed, and purchase extras like higher video meeting participant limits and additional storage space. Teams avoid paying for features they don't need, can customize their PBX system, and move to a higher tier at any time.
PBX grows alongside your business, and providers constantly add features to keep up with customer expectations.
5. Ease of Use
Despite the plethora of advanced features they offer, PBX platforms are surprisingly user-friendly.
Multiple communication channels are streamlined in one unified interface, users can customize their dashboards and layouts, and real-time push notifications remind employees of key meetings and deadlines.
Convenient features like one-click video calling, drag-and-drop call flow path editing, and online support knowledge bases simplify the process further. Many providers also provide on-demand or in-person training to further acclimate teams.
How To Choose A PBX System For Business 
When choosing a PBX system for your business, consider:
On-premises vs offsite/hosted service
Total cost/budget (monthly service fee, setup/installation fee, costs of equipment/hardware, international and long-distance dialing fees, add-on features, etc.)
Available features and communication channels
Available phone number types (Local, international, toll-free, vanity numbers)
Pricing structure (pay-as-you-go, bundled minutes, monthly plans, annual contracts, etc.
Ease of use, user training, and customer support
Guaranteed uptime of at least 99.9%, network monitoring, security certifications
Top PBX Phone System Providers 
Based on our research and hands-on experience, alongside input from user reviews, we've determined the best PBX phone system providers are:
Provider
Pricing
Top Features
Best For

Nextiva

$25.95-$40.95/user/month
– Call Pop

– Native CRM tools

Remote and blended teams with a high daily call volume requiring agent efficiency

RingCentral

$19.99-$59.99/user/mo
– Intelligent Call Routing

– 200+ integrations

Teams needing a unified communications system with team chat, video conferencing, and VoIP calling

8×8

$15.00-$44.00/user/month
– High video meeting capacity

– International calling to 48 countries

Businesses with an international customer base that need a highly customized calling tool with high video meeting limits

Dialpad

$23.00-$35.00+/user/month
– Voice Recognition

– Real-Time Assists

– Live Call Sentiment Analysis

Call centers and businesses needing AI-powered features, automation, and analytics

Vonage

$14.99/line/month-$34.99/line/month
– Never Miss A Call Strategy

– Unified Business Inbox

SMBs needing a highly scalable solution that lets admins add advanced features as needed, a-la-carte
PBX Systems FAQs
Below, we've answered the top FAQs about PBX Systems.
Yes, PBX systems are still used–but most businesses switch from analog and on-premise PBX phone systems to cloud-based/hosted PBX. This way, they get the benefits, advanced features, and cost savings of VoIP telephony and SIP Trunking without having to maintain and upgrade their own in-house phone systems.

No–although the terms are sometimes used interchangeably, PBX and VoIP are not the same. VoIP is an Internet-powered calling technology accessible–but not required–by SIP Trunking and PBX. PBX refers to a business's private, internal telephone network that can be premise-based, cloud-based, or a hybrid of the two.

VoIP and hosted PBX both facilitate cloud-based virtual calling, but the difference is that hosted PBX is a phone system managed by an offsite third party, whereas VoIP is the technology that hosted PBX systems use to make calls.

The difference between PABX and PBX is that PABX (Private Automatic Branch Exchange) lets businesses add numerous extensions to one main phone number with fewer PSTN connections, whereas a traditional PBX system relies on the PSTN and the wired POTS to facilitate calling.