UCaaS combines multiple business communication and collaboration tools into a single, unified platform, offering businesses easy and cost-effective scalability and flexibility.
Read on to learn what a UCaaS system is, how it works, its features, and the benefits your team will get from using a UCaaS platform.
Compare
top UCaaS providers
What is UCaaS?
Unified Communications as a Service (UCaaS) is a scalable cloud business software that streamlines team communication channels and collaboration tools into one asynchronous interface with one-click access to voice and video calling, SMS and instant messaging, screen and file sharing, analytics, third-party integrations, and more.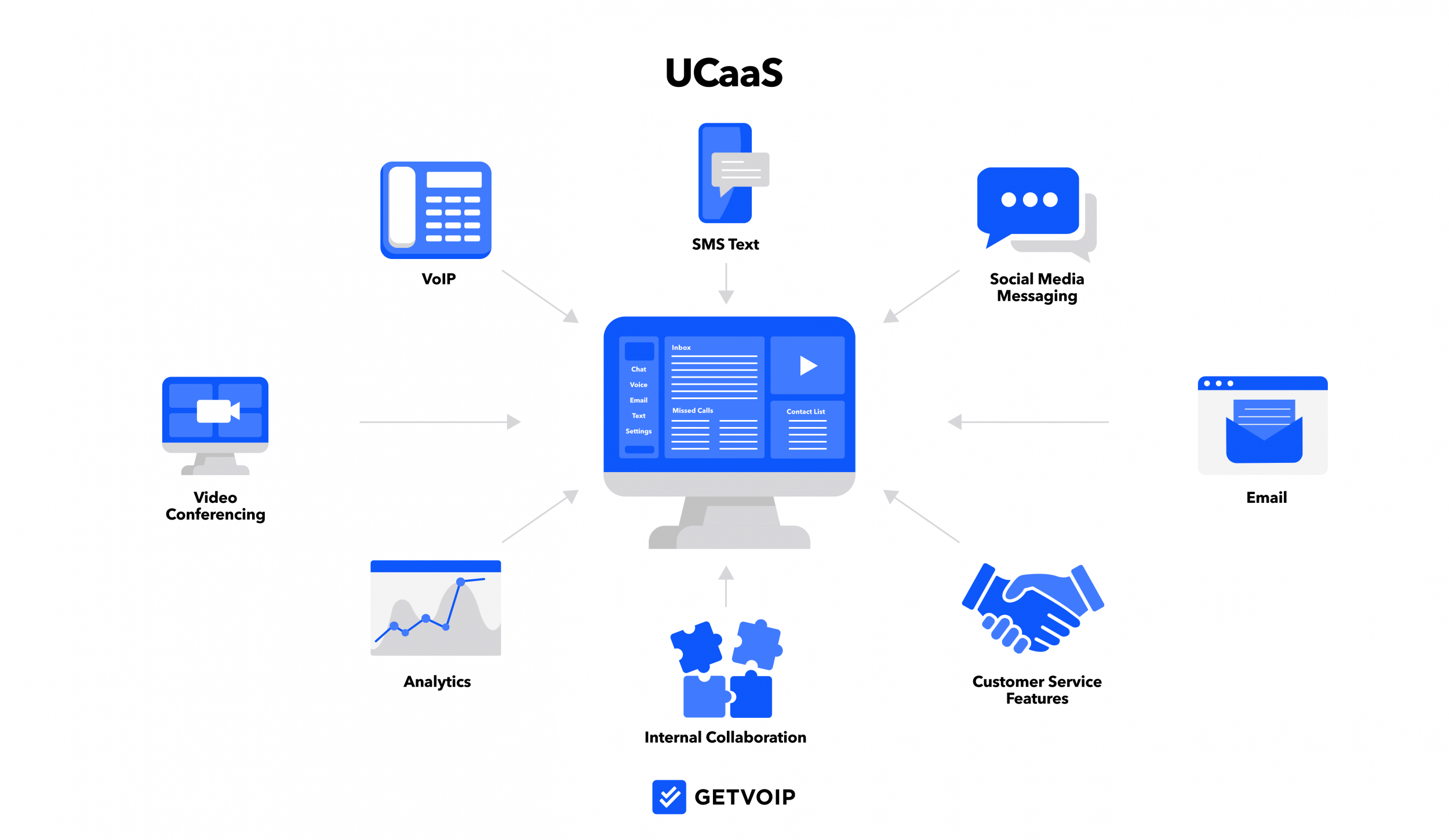 UCaaS is primarily designed to optimize internal communication by allowing agents to connect across multiple channels in real-time, regardless of their selected device or geographic location.
Omnichannel syncing, push notifications, and customizable agent desktops keep conversations consistent, while features like live file co-editing and online whiteboards create virtual collaboration spaces that replicate the in-person meeting experience.
Quality UC solutions will include:
VoIP telephony, unlimited extensions, business phone numbers with local presence
Video meetings with in-meeting chat, host controls, screen sharing
Persistent team chat messaging with @mentions, channels, user presence, file sharing
Basic business text messaging (SMS/MMS)
Third-party integrations with CRM software, chat apps, storage solutions, etc.
Interactive real-time and historical analytics on performance, usage, activity, etc.
Collaboration tools (whiteboards, task management, file co-editing/version control, etc.)
How Does UCaaS Work?
UCaaS works by allowing businesses to access unified communication features via a third-party provider offering them "as a Service," meaning the end users are not responsible for hosting the software onsite, handling maintenance and upgrades, or purchasing expensive compatible hardware.
Instead, the UCaaS provider hosts and maintains the software offsite in the cloud, on a secure server with multiple global points of presence and 24/7 monitoring.
Technically speaking, when businesses purchase a cloud-based UCaaS platform, what they're actually buying is the ability (and the infrastructure) to access and use the provider's UCaaS system, which is delivered via broadband Internet.
This cloud deployment method also provides businesses with unprecedented scalability and subscription-based pricing models. Businesses pay only for the features and functionalities they currently need, while retaining the ability to purchase more advanced capabilities in the future, as their business grows. These advanced features are available a la carte as individual add-ons, or as part of a scalable, bundled pricing tier. Most UCaaS solutions offer both monthly and annual payments, with committed use and volume discounts.  Custom pricing and plans are also available.
Essential Features of a UCaaS Provider
Though the specifics of what's included in a UCasS system will vary by provider and plan, there are a few essentials that any quality provider should absolutely include.
Key UCaaS features are outlined briefly below.
VoIP Calling
VoIP (Voice over Internet Protocol) telephony lets users make unlimited inbound/outbound calls within the United States and Canada via the Internet as opposed to the standard wired phone network, offering incredible cost savings and access to advanced features.
With VoIP, users can choose local, toll-free, vanity, and even international phone numbers to create a trusted local presence in multiple areas.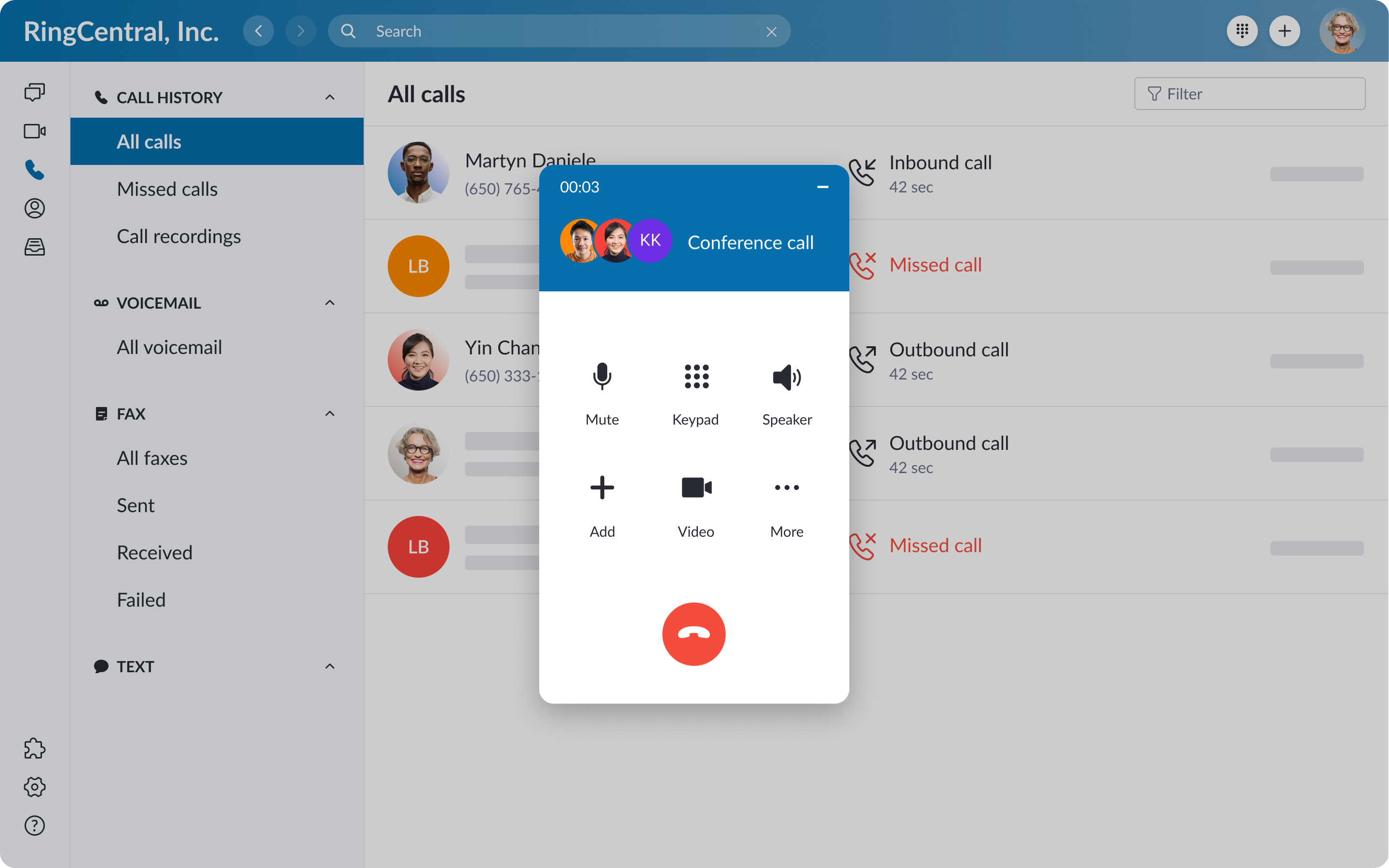 VoIP business phone systems are accessible on both mobile and desktop devices via a softphone interface–offering increased flexibility ideal for remote work and the blended teams that exploded in popularity during the COVID-19 pandemic.
VoIP features include:
Call Forwarding: Forward calls to multiple agent phone numbers without disconnection
Interactive Voice Response (IVR): A customer self-service feature where callers respond to pre-recorded menu prompts to provide information, direct their own calls, or complete basic interactions like bill payment or appointment confirmation without connecting to a live agent
Call Routing: Call handling strategy where calls are sent to the best qualified available agent for the specific issue at hand; call routing options include skills-based, relationship-based, time-based, most idle, list-based, etc.
Call Monitoring: Automatic or on-demand call recording and transcription, call whisper, call barge, etc.
Voicemail Transcription: Automatically transcribes voicemail messages and sends transcriptions/audio files to agent email or dashboard, allowing agents to read+respond to messages faster and prioritize callbacks
Ring Groups: Premade groups of agents with similar skill sets, departments, schedules, etc. that receive relevant inbound calls simultaneously or via pre-set call rules
Video Conferencing
Unified Communications platforms also offer on-demand or scheduled video conferencing for face-to-face communication via webcam. Users can set virtual backgrounds, enable automatic lighting adjustments, add filters, and choose from multiple views like gallery, active speaker, or pinned participants.
The number of participants varies by plan and provider, but generally ranges from 5-300+. Meeting length also varies, but most providers offer a minimum meeting length of 40 minutes.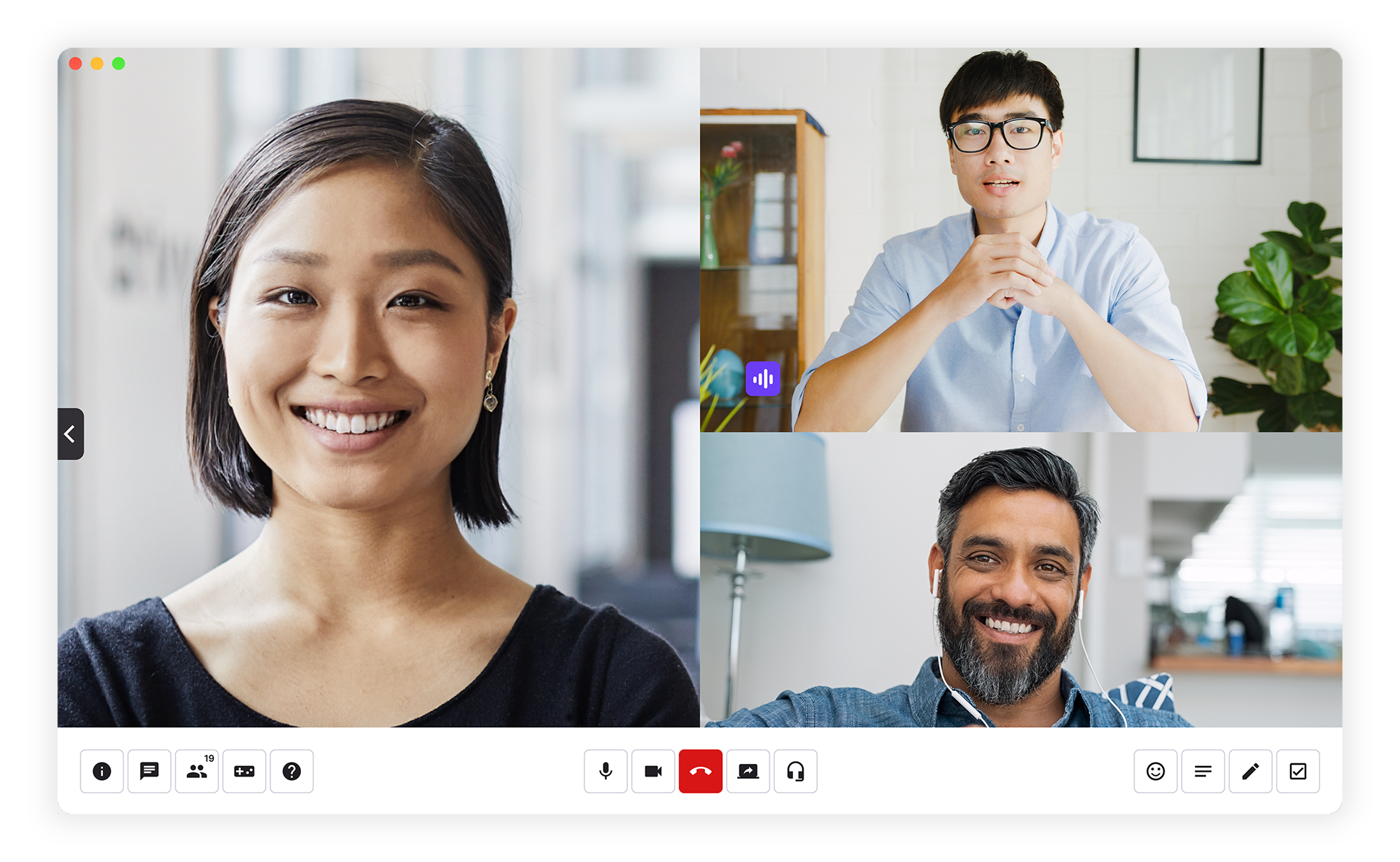 Meetings can have one or multiple hosts who admit waiting room participants, mute/unmute speakers, turn video feeds on and off, remove and block users, and start and end meetings. In-meeting features like emoji reactions, file and video sharing, filters, virtual hand-raising, polling, Q&A, and pass presenter keep attendees engaged.
In-meeting instant messaging is another essential in-meeting feature where users ask and answer questions, message all participants or just the host, or direct message each other. Chat can be enabled/disabled by the host.
Recently, UCaaS providers have started including AI-powered features to automate routine and distracting in-meeting and post-meeting tasks.
For example, smart note-taking uses machine learning to identify key meeting moments, potential action items, and issues requiring follow-up. These meeting summaries are often made available to all participants immediately post-meeting, and may include suggested task lists or reminders.
Breakout Rooms, another essential video conferencing capability, lets hosts create pre-set or randomized small groups of meeting participants. Ideal for in-meeting brainstorming, department or project updates, or online learning, these smaller rooms allow for greater collaboration and boost attendee engagement. Once the breakout session timer has ended, all participants automatically rejoin the main meeting, where they can present their findings to the larger group.
Additional web conferencing features usually include: 
Meeting recording, transcription with speaker differentiation, pause/resume recording
Meeting analytics
Screen sharing and whiteboarding (more below)
Dial-in access
Third-party calendar integrations (Google Calendar, Microsoft 365, etc.)
Live closed captioning
Set recurring meetings
Meeting live streaming to YouTube or preferred social media platform
Always-on "drop-in" meeting room
Individual meeting room ID
One-click escalation from chat message to video call
Team Chat Messaging
Team chat messaging enables real-time instant messaging via one-on-one direct messaging and group messaging in public, private, and company-wide channels.
Users can create channels according to project, team or department, specific interests, or any other criteria. Within these channels, users can @mention (tag) each other, create message threads or directly reply to individual messages, share a variety of file formats, and of course, react to messages via emojis.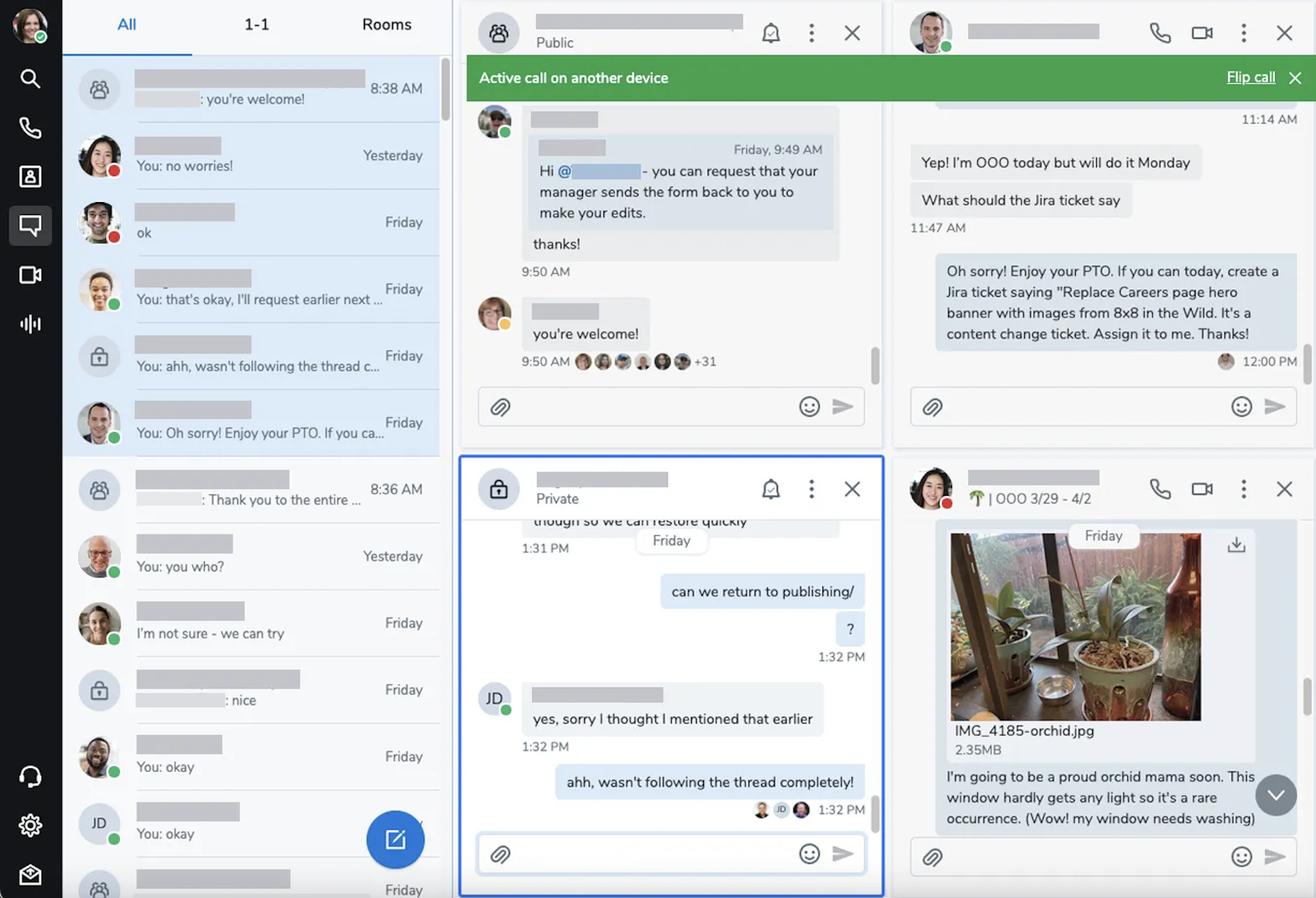 Team chat lets users get quick answers to simple questions, conduct polls or do team check-ins, ask for opinions, get project or task approvals, or simply engage in water cooler talk.
User profiles let employees provide "fast facts" to each other regarding their schedules, location, time zone, job title, and most importantly, their current status by updating their User Presence. Users can set custom statuses, or choose from pre-set options like "Do Not Disturb," "Available," or "In A Meeting." Automated status updates with calendar-syncing are available.
Additional chat messaging features include:
Searchable chat history and auto-deletion settings
Third-party integrations with calendar, task management, and project planning tools
Message editing
Shortcuts
Mark messages as unread
Favorite contacts and star messages
Push notifications across devices
Rich text formatting
GIF reactions
Screen Sharing
Screen sharing is a remote team collaboration feature that lets users share their screens, a web page, or a specific application with other meeting participants in real-time.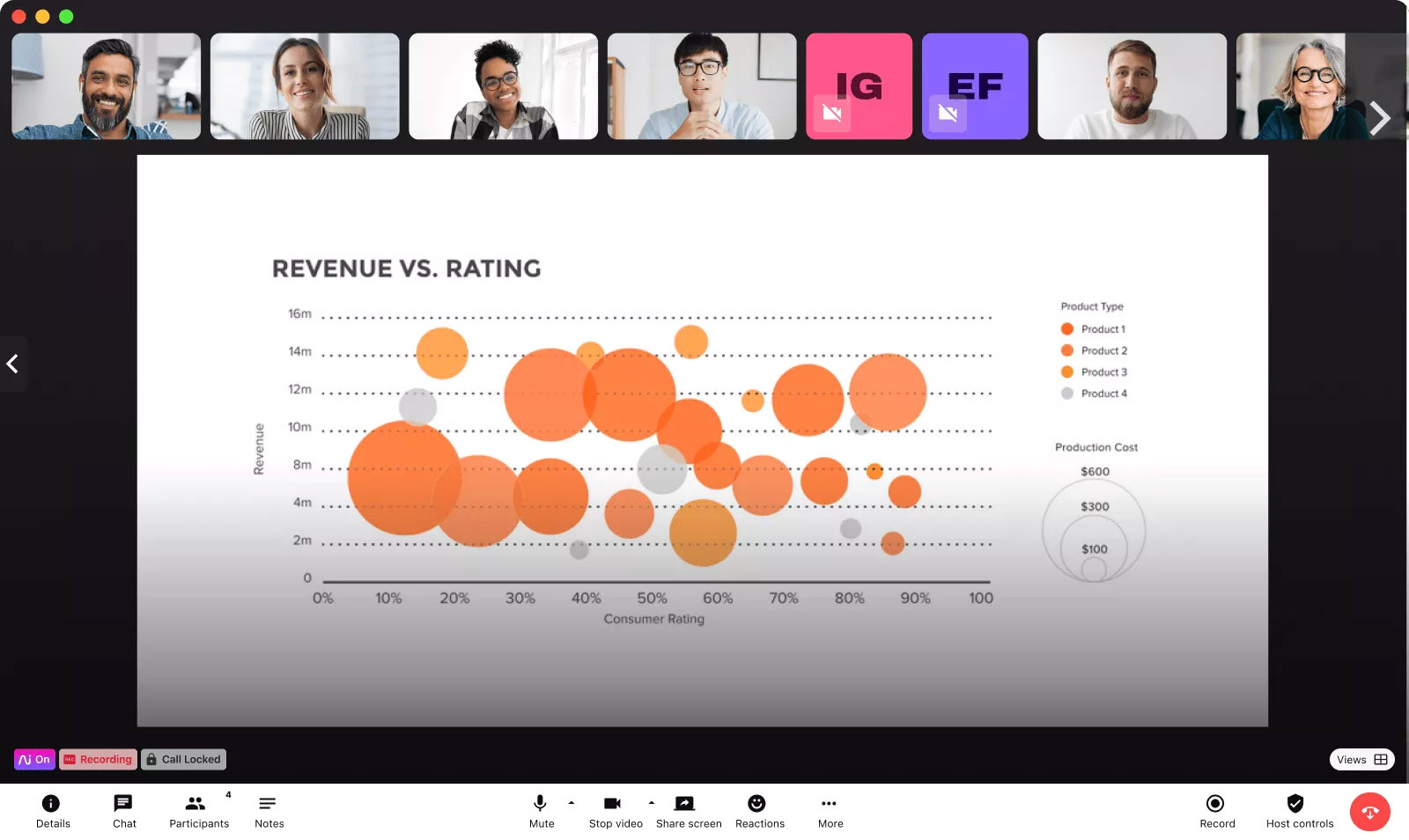 Co-annotation tools let attendees add notes, edits, or drawings to the shared screen, while remote screen control allows the presenter to give another user temporary control of their screen.
Screen sharing is a popular method for giving slide presentations, diagnosing technical problems, teaching agents how to use new software, presenting products, and more.
File Sharing and Co-Editing
Users can share multiple file formats (documents, images, videos) within a video conference, via team chat messaging, in personal or project-specific file repositories, or via integration with a third-party file storage application like Dropbox or Google Drive.
Automatic syncing and version control ensure everyone collaborating on the file is working with the same (and most up-to-date) version of each file. To further streamline collaboration and make it easier to track edits, features like color-coded user cursors, file commenting and user tagging, and direct or suggested edits are usually included.
Users and/or admin can control file access, enable file auto-deletion after a set period, search file repositories, and view previous versions of files.
Business Inbox
The Business Inbox is an automatically synced, collaborative omnichannel inbox that lets agents review and respond to customer and co-worker requests across channels like email, social media messaging, and SMS.
In addition to providing an overview of all business communication across channels, the Business Inbox may:
Serve as a file, recording, and transcript repository
Display push notifications
Allow employees to customize their dashboards
Display agent training materials or individual performance metrics
Provide access to the internal knowledge base or help desk
Allow reps to manage schedules, view assigned tasks, and access voicemail messages
Virtual Whiteboards
Online whiteboards enable real-time collaboration between team members by creating a virtual blank space where users can write notes, upload images and files, comment and tag each other, add virtual sticky notes, access freehand drawing tools, and add shapes to boards.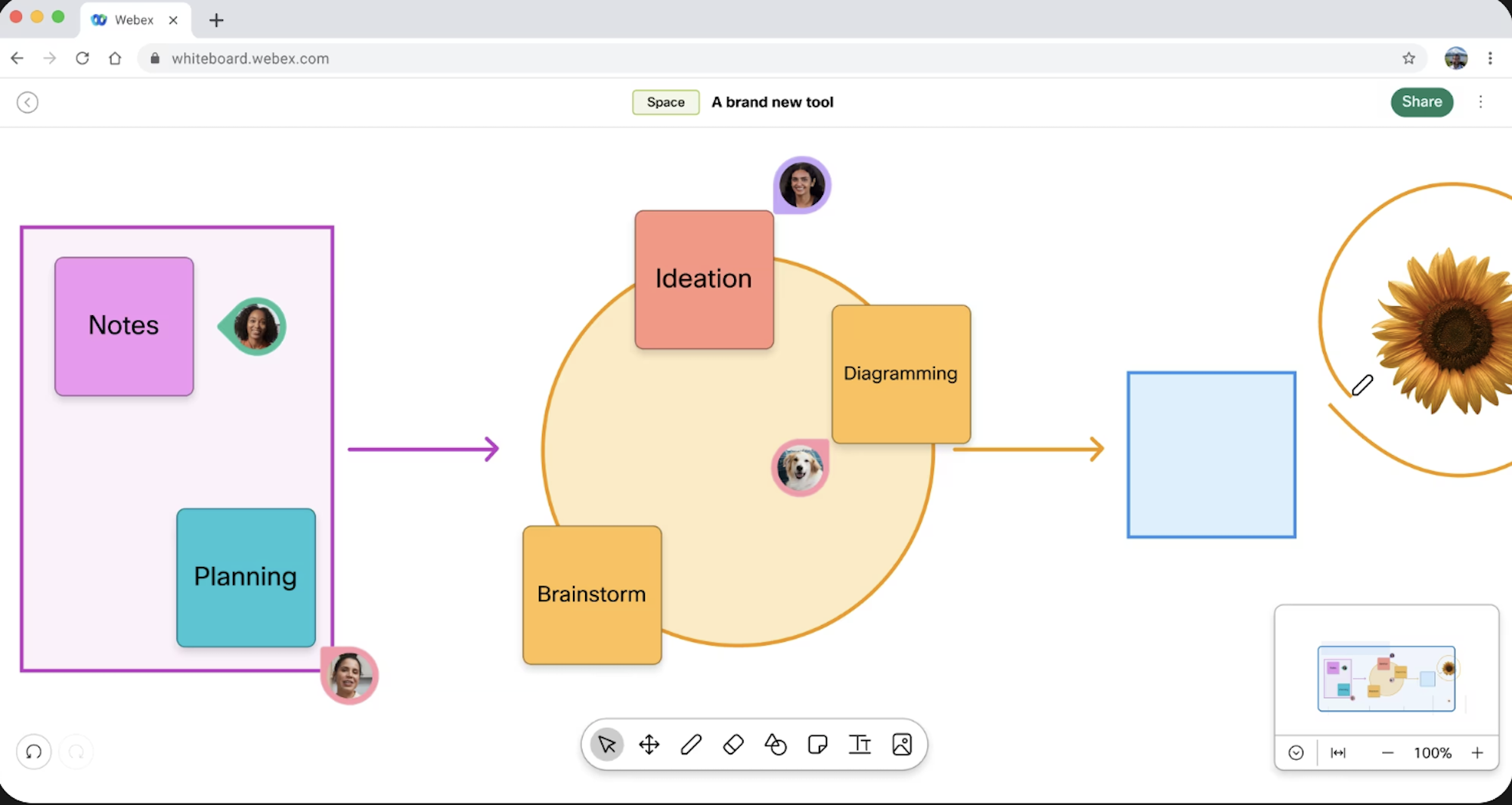 Virtual whiteboards are ideal for brainstorming sessions, event planning, and initial project stages.
Additional whiteboard tools include: 
Whiteboard saving, sharing, and editing
Color-coding
Pre-made whiteboard templates
Virtual laser pointers
Link sharing
Task Management Features
In an effort to condense the number of required third-party integrations, many systems in the UCaaS market now offer native task management features. Users can create, set deadlines for, attach files to, and add collaborators to individual tasks or large-scale projects.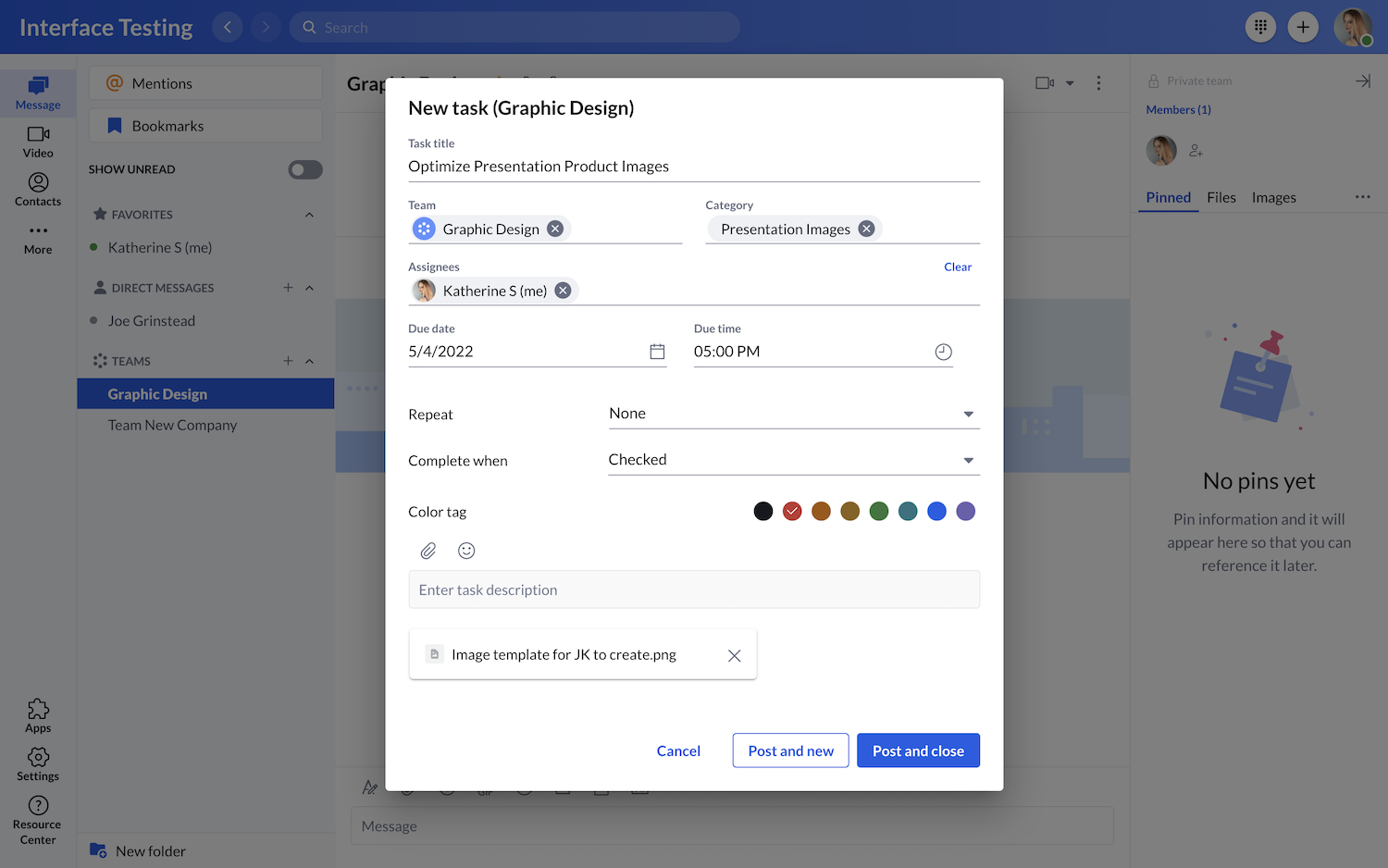 Additional task management features include: 
Subtasks
Update task status (in-progress, complete, not started, etc.)
Kanban, Gantt, Calendar, or to-do list views
Time tracking and project timeline estimates
Task commenting with user tagging
Set task dependencies
Create recurring tasks
UCaaS vs VoIP vs CCaaS vs CPaaS
UCaaS, VoIP, CCaaS, and CPaaS do share a few similarities in that they all enable communication across multiple channels, provide flexible pricing models, and are all key players in the cloud communications market.
However, there are major differences between them, which we've outlined in the table below.
UCaaS
VoIP
CCaaS
CPaaS
Stands For
Unified Communications as a Service
Voice over Internet Protocol
Contact Center as a Service
Communications Platform as a Service
Communication Channels
– Voice Calling

– Video Calling

– Team Chat Messaging

– Voice Calling

– SMS

– Voice Calling

– SMS

– Chat (internal and web-based external)

– Email

– Social Media Messaging

– Voice Calling

– Video Calling

– SMS

– Chat Messaging

Key Features
– Video meetings

– Team chat messaging

– Team collaboration tools like screen sharing, whiteboarding, and task management

– Call routing

– Voicemail transcription

– IVR

– Call recording

– Outbound automated dialer

– Intelligent Virtual Agents

– Workforce Management and Workforce Optimization tools

– Custom APIs including individual communication channels, user authentication and verification, carrier lookups
Average Monthly Cost
$20-$70/user/month
$15-$30/user/month
$60-$200/user/month
$35-$45/user/month
UCaaS vs VoIP
When comparing UCaaS vs VoIP, it's important to understand that while all UCaaS platforms include VoIP features, not all VoIP platforms also include UCaaS capabilities.
VoIP is the protocol that enables virtual, Internet-powered voice calling. For example, when you purchase a business phone system, you're purchasing a PBX system from a VoIP provider.
VoIP is generally used to refer to inbound/outbound voice calling and SMS text messaging only, and powers both internal and external communication.
UCaaS, on the other hand, powers multiple communication channels, one of which is VoIP voice calling.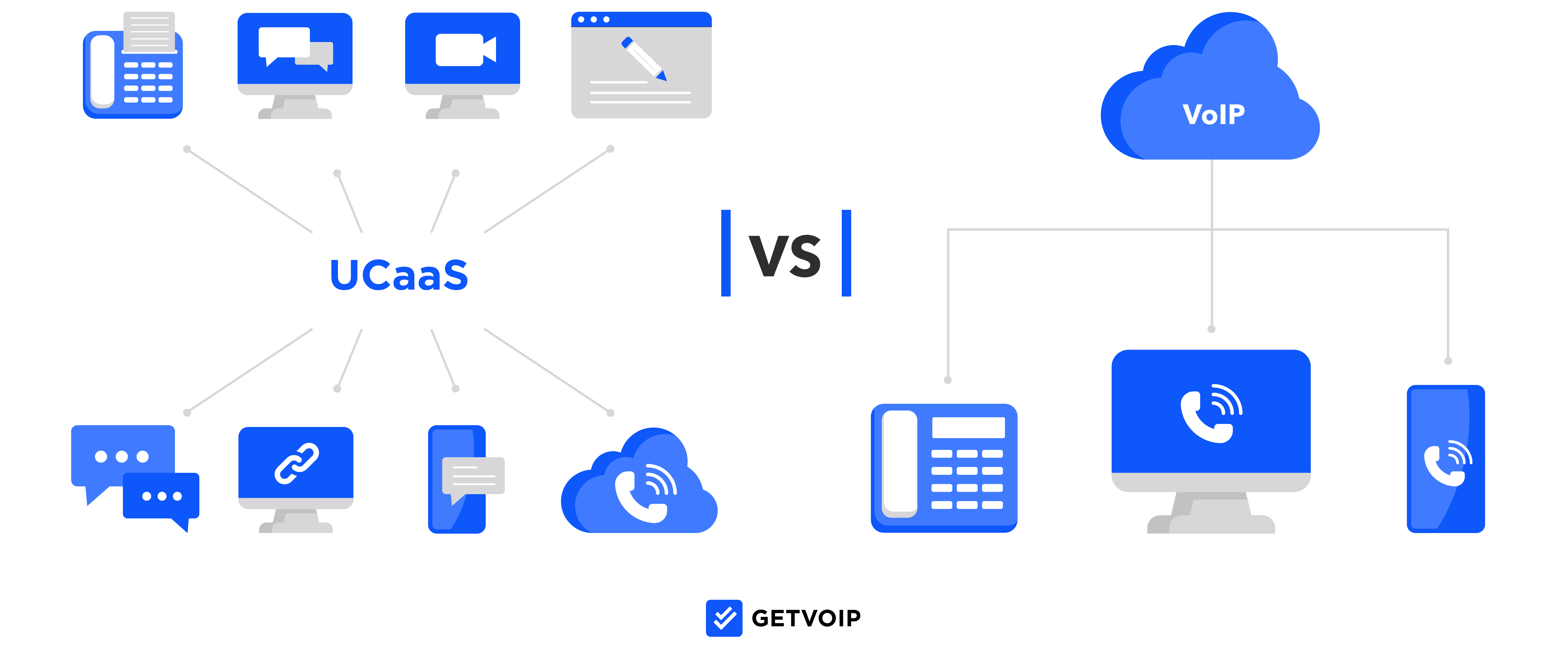 UCaaS vs CCaaS
The differences between UCaaS vs CCaaS aren't so much in the available features, but are more focused on the intended use cases and end users.
UCaaS solutions, which are mostly concerned with optimizing internal communication, are ideal for all types of businesses (since everyone benefits from better team communication and collaboration.)
As a cloud service solution, CCaaS (Contact Center as a Service) is specifically built for blended call centers and inbound/outbound contact centers, meaning it prioritizes outbound communication and automation.
CCaaS includes tools designed to streamline:
The Customer Support and Ticketing Process, with features like IVAs, website chatbots, agent scripts, and omnichannel routing
The Sales Process, with features like outbound auto dialers, campaign management, and lead list scrubbing
The Workforce Optimization Process, with features like schedule adherence monitoring and forecasting, agent leaderboards, and live agent coaching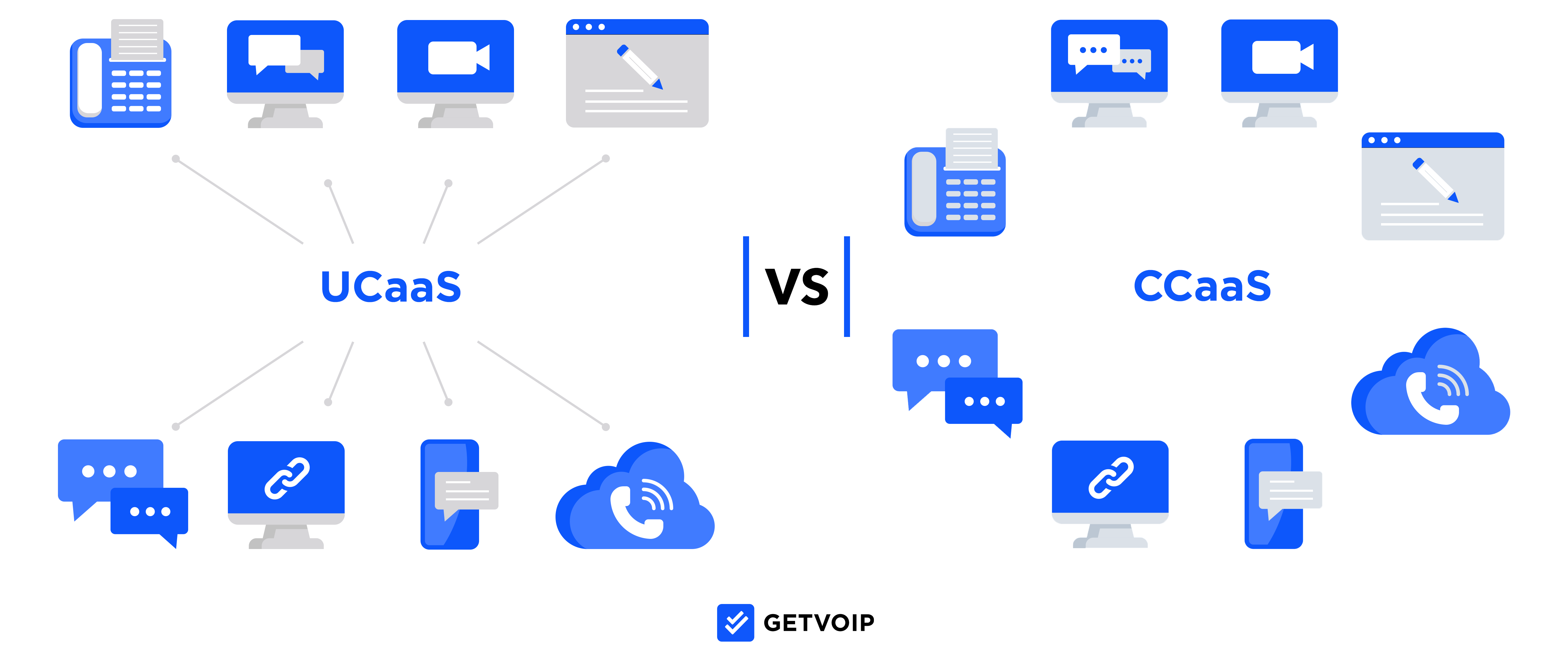 UCaaS vs CPaaS
The main difference between UCaas vs CPaaS is that while UCaaS is a pre-built, out-of-the-box communications platform, CPaaS provides individual APIs that add new features, like additional communication channels or user authentication tools, to existing applications.
UCaaS software generally does not require an in-house IT and development team, as it arrives ready-to-use, pre-loaded with all the communication channels and features included in your selected plan.
CPaaS requires a higher comfort level with coding and building applications, meaning most companies using it already have an in-house development and IT team or plan to hire one. A familiar CPaaS use case is adding a chat messaging function to a food delivery application that allows delivery drivers and customers to communicate exclusively within the app, without exchanging personal information.
Other popular CPaaS APIs include mass texting, carrier lookup, call recording, or social media automated messaging.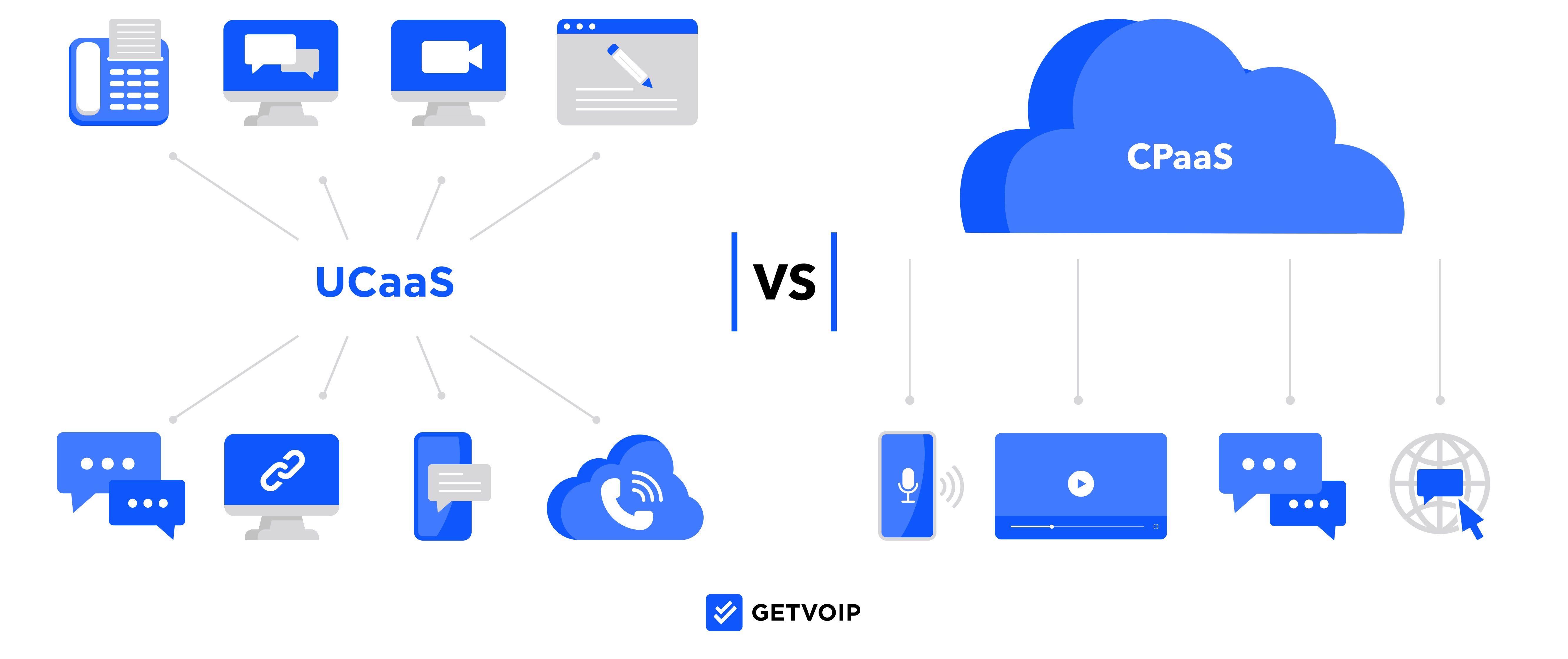 What Are the Benefits of UCaaS Systems?
The main benefits of UCaaS systems are:
A Consolidated Platform
So many communication errors happen because team members are constantly switching between channels, between apps, between file versions, and between time zones.
It's easy to accidentally overlook key notifications, major project changes, or even important conversations.
UCaaS systems eliminate these communication silos by consolidating your communication channels, analytics, collaboration tools, and integrations into a single unified platform.
Cost-Savings
In addition to improved business continuity, it's impossible to ignore the huge cost-savings UCaaS solutions bring to businesses.
First, the cloud-based nature of the software means instant savings on hardware, on-site setup, maintenance, and constant upgrades. Instead, your team members can connect on the devices they're already using–and prefer to. You'll also benefit from the savings on transportation and office space costs.
Unlimited, bundled tiered pricing means you'll avoid paying for features and user seats you don't need–and that you'll be able to eliminate several of those costly third-party tools that your UCaaS software makes redundant. Plus, VoIP unlimited calling means no long-distance calling fees.
In addition to cost-savings, UCaaS also frees up team members to spend more time working sales leads, developing new products, and bringing in revenue.
Increased Productivity
In addition to eliminating the costs of communication mistakes, UCaaS also saves you the time lost to repairing them.
Increased productivity is another huge benefit of UCaaS software.
Managers can learn from analytics, create more balanced workloads, use automation to free up employee bandwidth, and foster a sense of collaboration and teamwork that makes employees feel valued.
In addition to increased employee engagement, features like whiteboarding and task management tools make responsibilities, deadlines, and employee expectations clear–and let managers monitor project progress, identify workflow bottlenecks, and work with teams to eliminate them.
Mobility
Because UCaaS solutions are accessible from any location and on any desktop or mobile device, they're ideal for remote, blended, or even in-house teams that are frequently on-the-go.
Customers and employees can connect on their own schedules, team members are no longer tied to their desks waiting for important calls to come in, and it's easy to provide quick answers in team chats in time-sensitive situations.
This mobility–especially when combined with the flexibility of being able to connect on their preferred channels–keeps employee and customer satisfaction high.
Plus, it allows corporate leaders and small business owners to choose from a hiring pool of competitive applicants–ones that aren't limited by your company's physical location.
What to Look at When Choosing a UCaaS Provider
To learn how to choose a UCaaS provider, you'll need to evaluate the most important aspects of each potential solution, accounting for both general quality and how well each platform fits with your specific business needs.
Essential factors to consider when choosing a UCaaS solution are:
Network Reliability and Security
All UCaaS providers should have multiple points of presence with global data centers, a 24/7 network monitoring policy, and a guaranteed minimum uptime of 99.9%.
Any platform you're considering should also have strong security standards in place, including:
Third-party security testing
SSO and 2FA
End-to-end encryption
ISO/IEC 27001 certification
PCI, GDPR, SOC 2 Type 2 compliance
GDPR compliance
Depending on the industry your business operates within, your UCaaS provider may need to meet additional regulatory standards, including HIPAA certification, FedRAMP compliance, or FINRA compliance.
Customer Support
While many UCaaS providers claim to offer "24/7 support," it's important to investigate what that phrase truly means. Is customer support available 24/7 via phone call or website chat with a live agent? Or does that "24/7 availability" only refer to an online chatbot that isn't equipped to handle more complex issues?
Customer support accessibility varies by plan tier, so be certain about what's included with yours.
Always note guaranteed response and resolution times, available support channels and hours, and if the provider offers custom or priority support add-ons.
Overall Value
While the cost of your UCaaS service certainly matters, don't forget to take a look at the bigger picture and see the overall value for money offered.
Is it actually a better deal to choose another provider with more expensive–but more feature-rich–plans?
Does the potential UCaaS solution integrate with your existing third-party software, like your CRM system or note-taking apps, or will you be unable to use them when you make the switch? If not, does it offer a better, native CRM tool as a replacement?
If you already have existing on-premises equipment, double-check hardware compatibility to ensure it will work with your new system.
Available Features and Communication Channels
The UCaaS solution you choose should offer the capabilities and communication channels you need as native features.
Consider not only the UCaaS features you need now, but also the ones you'd consider adding on in the future. The goal is to avoid having to constantly switch providers, forcing team members to learn and adapt to new software as a result.
It's an especially smart idea to consider UCaaS platforms that offer additional business software you could add to your tech stack later, such as call center solutions or webinar tools.
Ease of Use
Don't overlook the importance of ease of use–because even the best UCaaS tool is useless if your team members can't learn how it works. Consider user experience factors like dashboard intuitiveness, available methods of agent training like on-demand webinars, and if the provider offers additional onboarding assistance.
One of the best ways to understand what a quality unified communications solution should look like is to familiarize yourself with top UCaaS providers like RingCentral, Microsoft Teams, Nextiva, Vonage, 8×8, Cisco WebEx, and GoTo Connect. Read user reviews, watch video product tutorials, and visit online knowledge bases to explore each provider's ease of use, standard feature set, popular use cases, and available pricing models.
UCaaS FAQs
Below, we've answered the top UCaaS FAQs.