Call center and contact center software ensures your agents are able to meet or exceed ever-evolving customer expectations.
But which solution should you choose?
Your current business software isn't enough to meet customer expectations — expectations that are over 50% higher than they were a year ago.
In this post, we'll explain the differences between call center and contact center to help you determine which option will best serve your agents and customers.
We'll also highlight the main types of call and contact centers, fill you in on the most important features to look for, and let you know the pros and cons of each option.
Table of Contents
Contact Center vs Call Center: Key Differences
The difference between call center and contact center is that a call center allows communication by voice or SMS texting only, while contact center offers communication across several channels such as voice, SMS, live chat, email, video etc.
Let's take a look at a more detailed overview of the differences between call centers and contact centers.
Call Center
Contact Center
Communication Channels
– Voice Calling/VoIP Telephony

– SMS Text Messaging

– Voice Calling

– SMS Texting

– Live Chat Messaging

– Email

– Video Communication

– Social Media Messaging

Types of Solutions
– Inbound

– Outbound

– Blended

– In-House

– Virtual

– Automated

– Omnichannel

– Multichannel

– Premise-Based

– Cloud-Based

– Inbound

– Outbound

– Blended

Essential Feature
Interactive Voice Response (IVR)
Real-time Omnichannel Communication
Main Goal
To optimize inbound and outbound telephone communication by providing IVR self-service options, outbound dialing modes, and call routing
To allow customers to communicate with agents on their preferred communication channel, not just over the telephone
Average Monthly Cost
$50.00-$100.00+/agent per month
$60.00-$150+/agent per month
Popular With
Telemarketing Firms, Collection Agencies, Nonprofits, Political Campaigns, Retail Customer Service
Healthcare Providers/Health Insurance Agencies,  eCommerce Sites, Financial Services, Service-Based Businesses
What Is A Call Center?
A call center is an in-house or virtual business communication solution allowing agents to make and receive telephone calls from existing or potential customers.
Call center software may be premises-based (physically located in an office and managed in-house by the business using it) or cloud-based (managed/hosted by the software provider in the offsite virtual cloud.)
Call centers can exclusively make outbound calls, only receive inbound calls, or do both as a blended call center. A business call center can be made up of remote, in-office, or even outsourced third-party agents.
The most important thing to remember is that call centers, as the name implies, primarily focus on facilitating and managing telephone calls between a business and its consumer base.
That communication can be related to customer service and support, sales calls and prospecting, reminders/notifications, and bill payment (among other topics.)
How Does Call Center Software Work?
Call center software works by using key features like Interactive Voice Response (IVR), Outbound Dialers, and CRM Integrations to optimize and handle communication between call center agents and callers.
They focus exclusively on one communication channel — inbound and outbound audio voice calling (though some call center solutions may also offer SMS texting.)
Call centers help businesses more efficiently manage inbound and outbound call flows, reducing the amount of time a customer spends on hold and increasing first call resolution rates.
But call centers don't just make life easier for the inbound or outbound callers. These platforms also help agents easily find the information they need to quickly resolve the callers' reason for calling — whether that's internal knowledge about the products/services they offer or customer interaction history.
Call center software also helps to:
Connect callers to relevant, informed agents that are qualified to help them with their specific issue
Prevent callers from having to repeat themselves to multiple agents
Prevent some agents from becoming overburdened with calls while others are underused
Keep track of voicemail messages and missed calls through notifications/reminders
Allow admins and call center managers to understand common customer issues, assess customer satisfaction rates and customer sentiment, evaluate current agent performance and adequacy of training materials
Use automation to save both agents and customers time
Note that the specific features and functionalities of a call center depend on its type. Below, we'll cover the different types of call centers to help you determine which option fits your business and customer needs.
Types Of Call Center Software
The below table outlines the main purpose of every call center type, its key features, and how businesses most often use it.
Inbound Call Center
Outbound Call Center
In-House Call Center
Virtual Call Center
Blended Call Center
Automated Call Center
Purpose/Definition
To receive incoming calls from existing customers or anyone the business has had previous contact with
To make outgoing calls to either existing or potential customers
A premise-based physical call center tied to a specific location
A cloud-based call center software that lets agents work from anywhere on any device (desktop, laptop, smartphone, tablet, etc.)
Agents can make/receive inbound/outbound calls according to current call volume/business needs
Cut down on the need for callers to speak with a live agent/increase call center productivity by using automation to send pre-recorded messages and IVR menus to callers with routine messages/alerts
Used For/By

Providing Customer Service /Technical Support

Bill payment/appointment scheduling

Making Sales Calls/Customer Callbacks
Appointment/bill payment reminders
Market Research/Customer Feedback

Smaller businesses with in-house support and sales teams
Businesses with existing call center hardware/equipment

Fully remote/blended call centers that prioritize flexibility/mobility
Geographically diverse teams

Smaller teams that don't have a high number of available agents at all times
Call centers with a high daily contact volume

Sending automated, pre-recorded voice messages
Sending appointment/payment reminders

Key Features

Skills-based, team-based, round-robin call routing
CRM Integration

Outbound Dialers with multiple dialing modes
Call Scripts

On-site servers
Compatibility with existing equipment
Call monitoring, call barge, call whisper, call takeover

Time-based and hours-based routing

Call transfer
Internal wiki

Interactive IVR with Voice Recognition/NLP
Advanced analytics and recording tools
Inbound Call Centers
Inbound call centers receive incoming calls and inquiries primarily from existing customers and prospects.
Most often, these calls are related to customer service and customer support. Inbound call centers usually provide one or several toll-free numbers for customers to reach out to them free of charge.
Features like call routing ensure that callers are connected to the best available agent as quickly as possible, while tools like IVR self-service let customers pay bills, view account statements, and verify appointments without needing to speak to a live agent.
Outbound Call Centers
Outbound call centers make outgoing calls, primarily for the purposes of selling, prospecting, and callbacks.
These calls may be to upsell existing clients, get new ones, or conduct market research through customer surveys.
Outbound Dialers with dialing modes like Predictive, Progressive, and Preview improve lead list penetration and help agents to avoid wasting time on things like voicemail boxes or out-of-service phone numbers.
Premise-Based/In-House Call Centers
Premise-based (in-house) traditional call centers are physically located on the property of the business using the call center software.
This means the business itself will be responsible for installing, maintaining, and upgrading the equipment and hardware. They'll also need to have their own in-house IT staff. Employees of the call center must work on-site where the server/equipment is hosted.
Premise-based call centers are expensive upfront but can help businesses save money in the long term. They also allow businesses to have greater control over their call center software.
Virtual Call Centers
Cloud-based virtual call centers are hosted and maintained by the software provider, not by the company using it.
This means the provider handles any troubleshooting and updates with their own IT team. The server is housed offsite, and usually, multiple servers are located across different locations to provide geographic redundancy.
Virtual call centers are more affordable than premise-based ones and allow for greater team flexibility/mobility, as employees are not tied to a single location.
Blended Call Centers
Blended call centers make/receive inbound and outbound phone calls relating to customer service/support and sales.
This allows businesses to assign agents to specific departments/tasks based on current trends, call flow and call volume, time of year, and more.
Automated Call Centers
Automated call centers make outbound calls that automatically play pre-recorded messages and/or IVR systems to facilitate interactions between consumers and businesses without the need for a live agent.
Automated call centers allow businesses to make a large number of outbound phone calls per day Often, these calls are related to political campaigns, bill payment, updating/confirming contact information, automated customer/market surveys, or appointment/billing reminders.
Note that automated call centers must still follow FCC laws regarding robocalls.
Essential Call Center Software Features
Below, we'll take a look at some of the most important call center software features that any quality provider will offer.
IVR/ACD
Call Center IVR (Interactive Voice Response) and ACD (Automatic Call Distributor) are the most important call center features.
They allow for a high level of customer self-service by directing inbound calls based on the answers the caller provides to pre-recorded prompts and questions. (For example, "To be connected to the billing department, press 1.")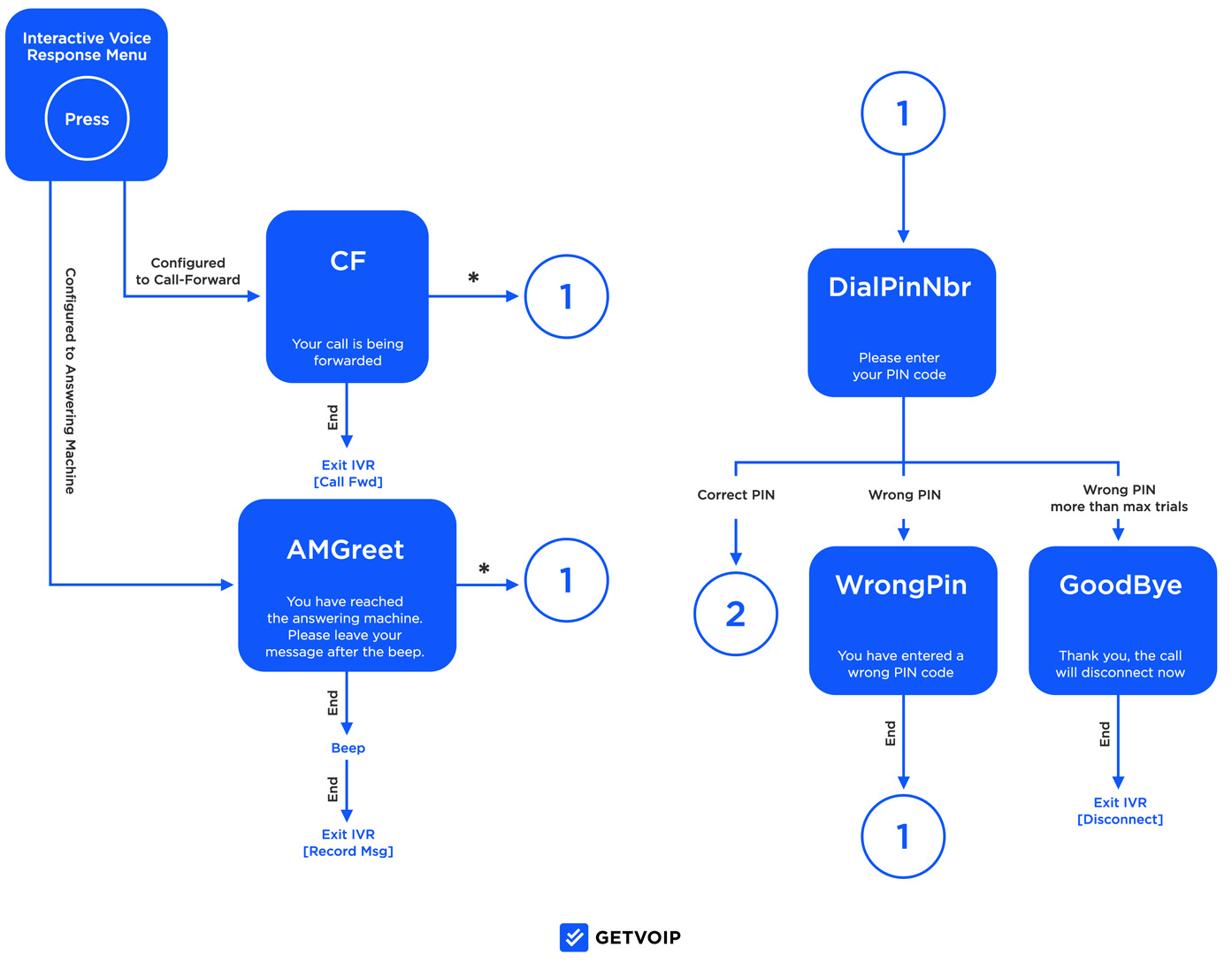 Callers can respond to these questions via touch-tone keys or by speaking their responses. IVR uses voice recognition, AI, and natural language processing to evaluate what the caller is saying and direct their call accordingly.
IVR initiates preset call routing or call path sequences and lets agents review important caller information before answering so that when they do get on the call, they'll be well ready to assist.
Call Routing
Call routing analyzes caller intent according to the specific phone number dialed or from information collected from the IVR system, then forwards calls to the appropriate agent or department based.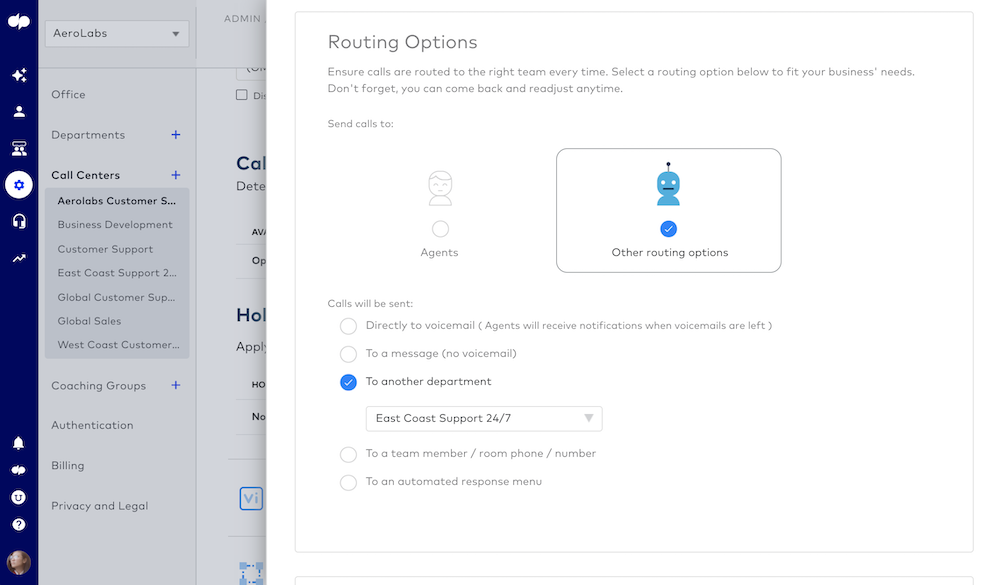 Call routing's goals are to prevent the need for customer callbacks and to help ensure that the caller is able to speak with a live agent. Call routing is especially helpful for managing a high call volume.
Common call routing strategies include:
Skills-based
Round Robin Routing
Time-Based
Hours-Based
List-Based
VIP Routing
Call Forwarding
Call forwarding is a key part of team flexibility and mobility, especially for remote employees.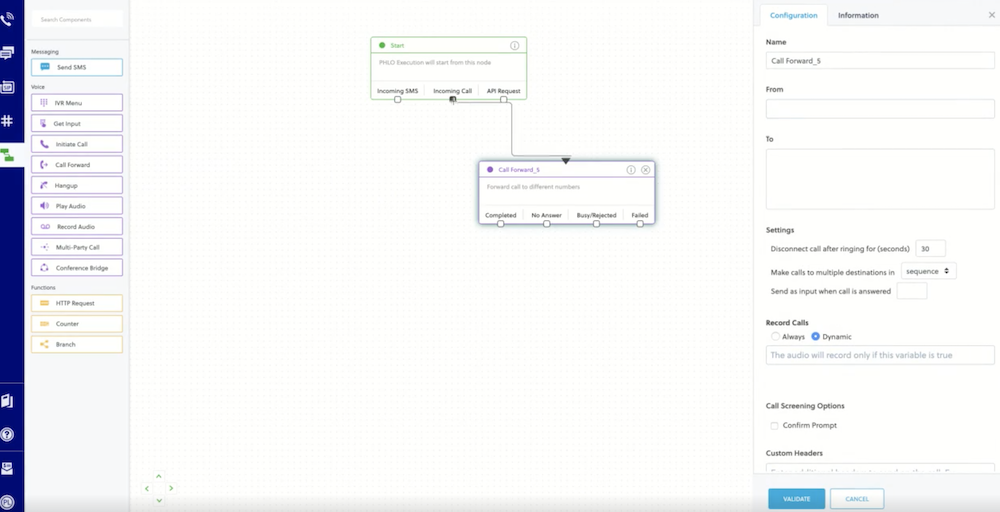 Instead of transferring the call if the initial representative doesn't pick up, call forwarding automatically sends the call to another phone number the agent has on file. For example, if the agent doesn't answer their desk phone, the call will be sent to their cell phone, then their home phone, then to their voicemail, or to another available agent.
CRM Integration
Customer Relationship Management (CRM) software collects customer contact information, provides detailed notes on customer history and previous interactions, and even gives agents tips about customer personality.
When your CRM system integrates with your call center software, agents receive an automatic CTI screen pop that displays relevant customer information from the CRM software when connecting with a caller (seen below.)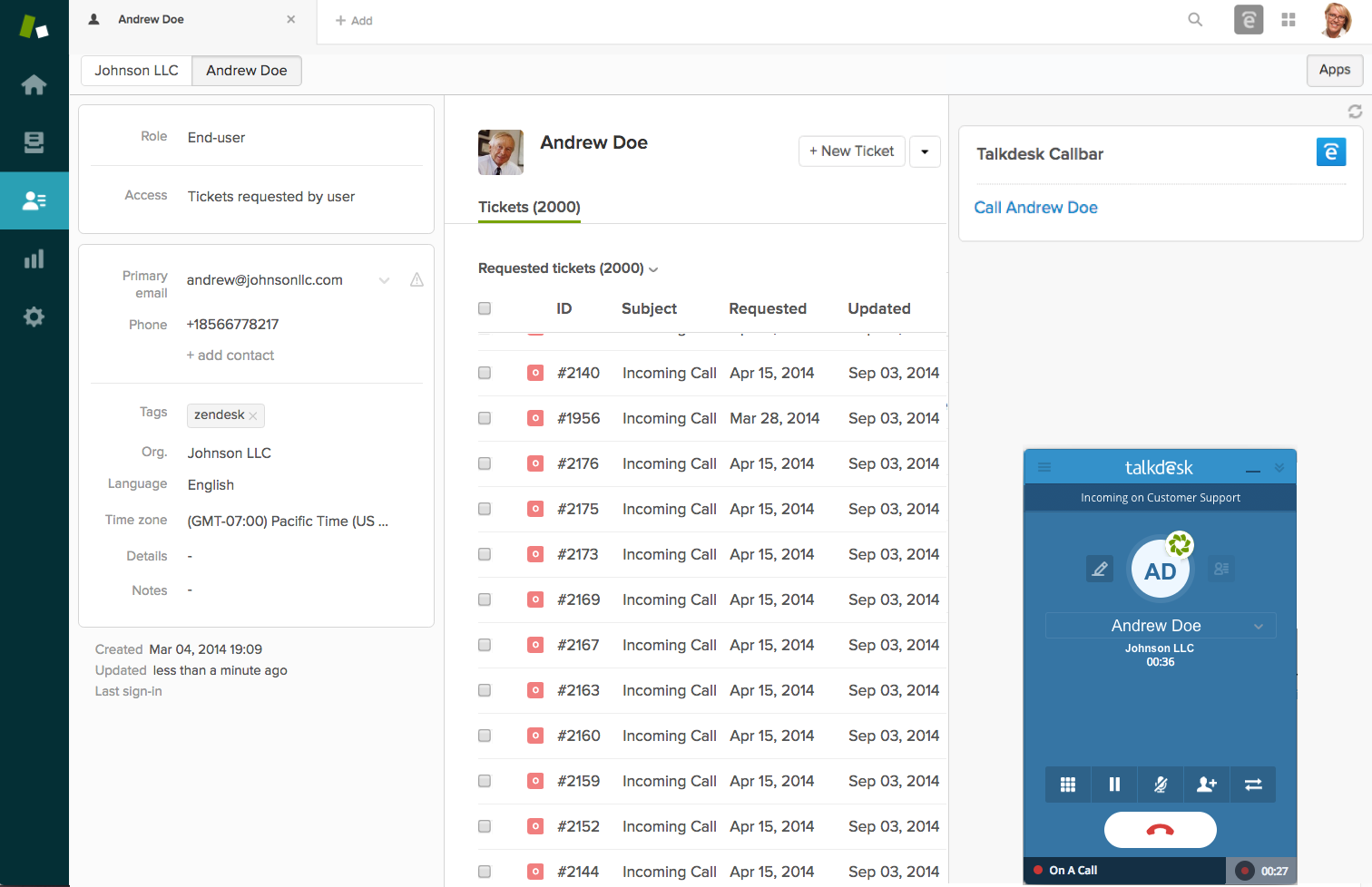 CRM tools are invaluable when it comes to preventing customers from having to repeat the same issue to multiple agents when they call in. Instead, agents can see past orders, understand the likely reason for their current call, and see notes from other agents who have worked on their support ticket.
Visual Voicemail
Visual voicemail takes standard voicemail to the next level through tools like voicemail-to-text and voicemail to email.
Instead of having to listen to an entire voice message, agents can read a voicemail transcription. This makes it easy to better prioritize callbacks or send quick SMS responses ("I'm in a meeting, I'll call in ten minutes.")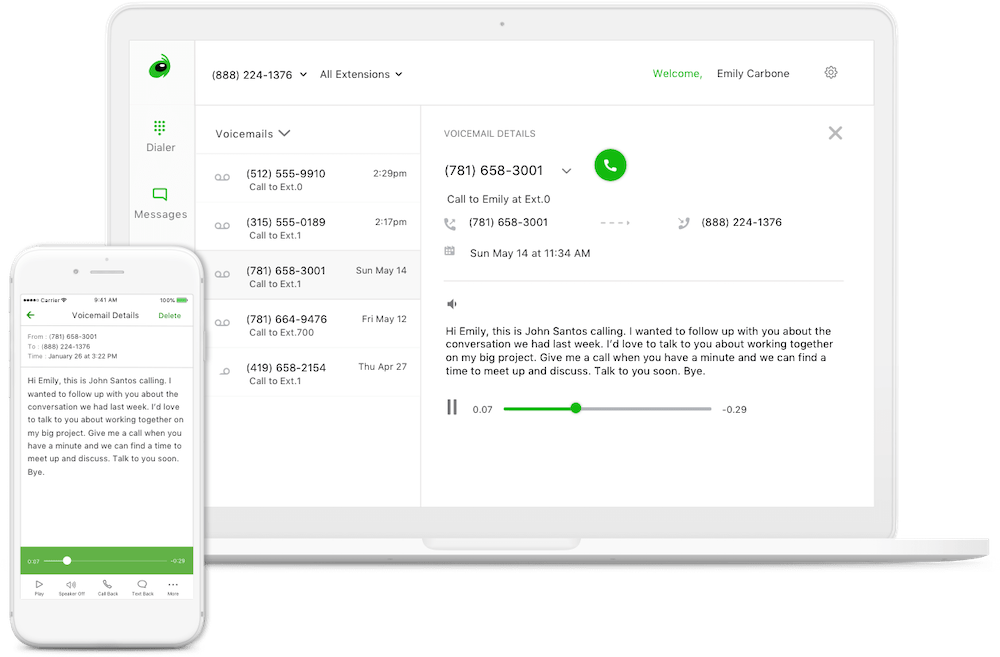 These voicemail transcriptions are automatically stored, allowing for later admin analysis, and agents receive a notification via SMS, directly in the call center interface, or in their email inboxes with an audio file and transcription of the voice message.
Outbound Dialers
Outbound call center dialers automate parts of the outgoing dialing process so agents can get through lead lists faster and connect with people who are actively on the other line and ready to talk instead of getting stuck with dial tones.
There are several outbound dialing modes to choose from (with an example of an outbound dialing interface seen below.)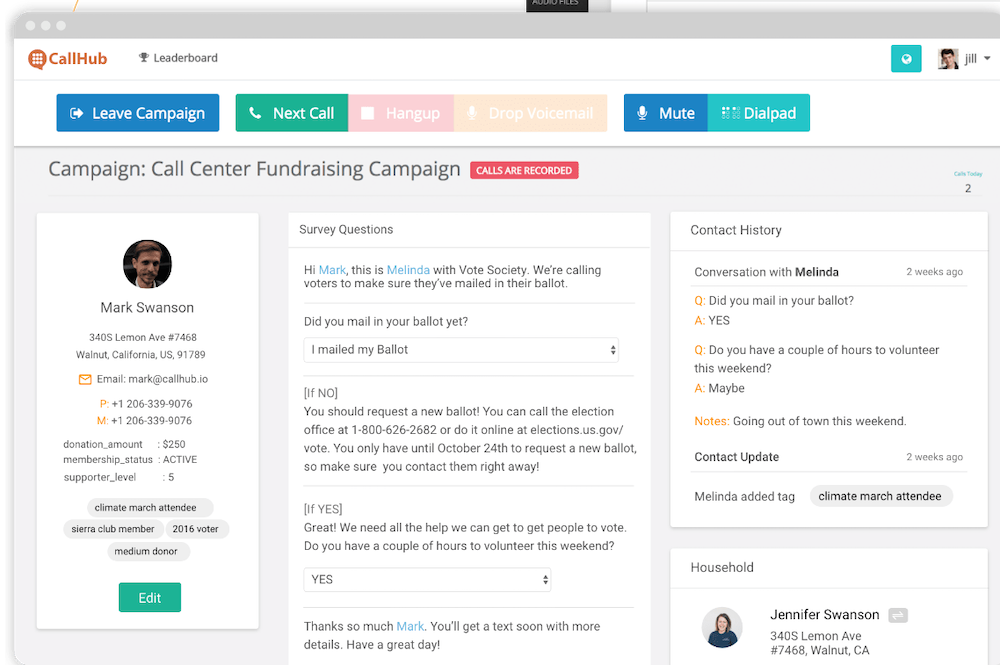 Power dialing automatically calls leads and only connects with a live agent when there is someone waiting in line to speak with them.
Preview dialing shows agents relevant lead/customer information and gives them time to review it before automatically dialing the call. However, the agent may be connected to a busy/disconnected signal.
Progressive dialing makes outbound calls when an agent indicates they are ready. As in preview dialing, the agent will receive relevant information, but here the number is automatically dialed immediately after the information is provided. It adjusts its pacing according to the number of available agents and call abandonment rates, and only connects agents when a live person is ready to speak.
Predictive dialers make simultaneous automatic outbound calls based on the number of agents. It also screens out voicemails, busy signals, and disconnected lines, only connecting the agent when a lead is available to talk. The dialing speed can be manually or automatically adjusted based on agent need.
Analytics/Reporting
Customized or pre-made template analytics and reporting tools for call centers allow managers/admins to understand how well the call center and its agents are functioning on a historical or real-time basis.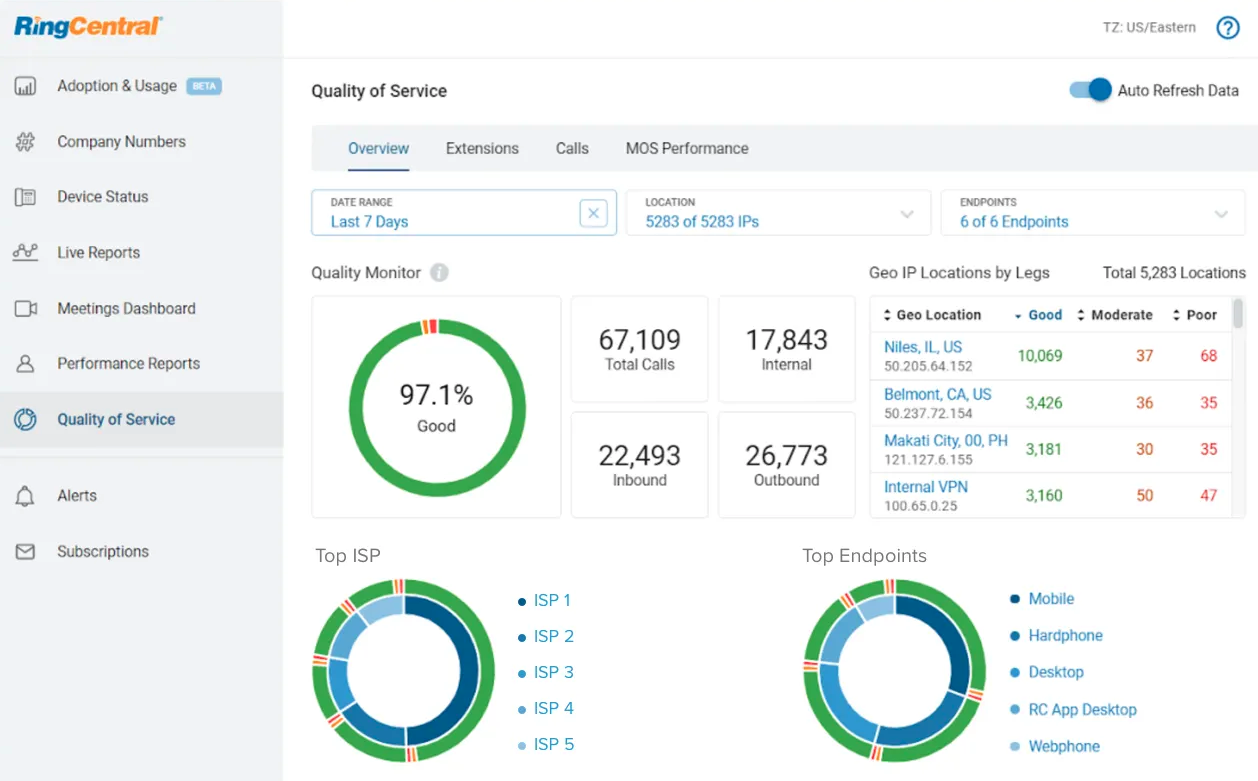 These tools can identify customer trends, analyze individual agent or department-wide productivity, alert managers to recurring call center problems, and better understand each agent's skill set.
In short?
Analytics give managers a bird's-eye-view into what agents and callers are talking about and spending their time doing.
Call Center KPIs (Key Performance Indicators) include:
Average Call Duration
Average Hold Times
Average Call Volume per day/week/month
Customer Satisfaction Rates (CSAT)
Number of daily calls handled per agent/department
Number of call transfers, missed calls, voicemail messages
Call Monitoring
Call monitoring lets admins listen to telephone conversations between employees and callers in real-time. They can simply monitor the call, (listen without interruption) initiate a call barge, (take over the call in the event of a serious issue) or use call whisper to coach the agent without the customer hearing.
VoIP call recording can be initiated automatically or on-demand, allowing admins and agents to listen to previous phone calls and often, view call recording transcriptions. These recordings provide excellent opportunities for service/support quality checks and employee training/evaluation.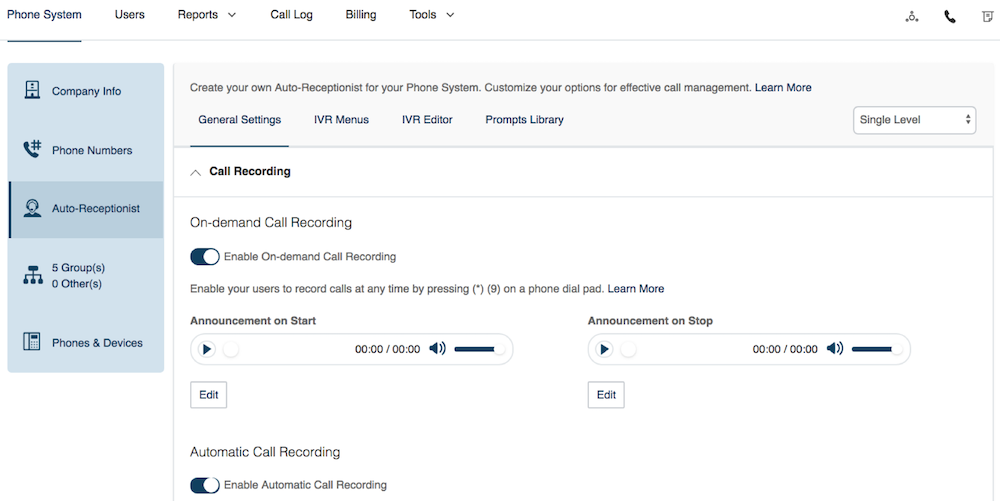 If needed, these recordings can also help a company correct the record or protect themselves/their employees from false allegations or simple confusion.
Call Queuing and Automated Callbacks
Call queuing shows the number of callers currently "inline" to speak to an agent. This lets admins quickly adjust agent roles if needed and ensure that VIP clients are pushed to the front of the line.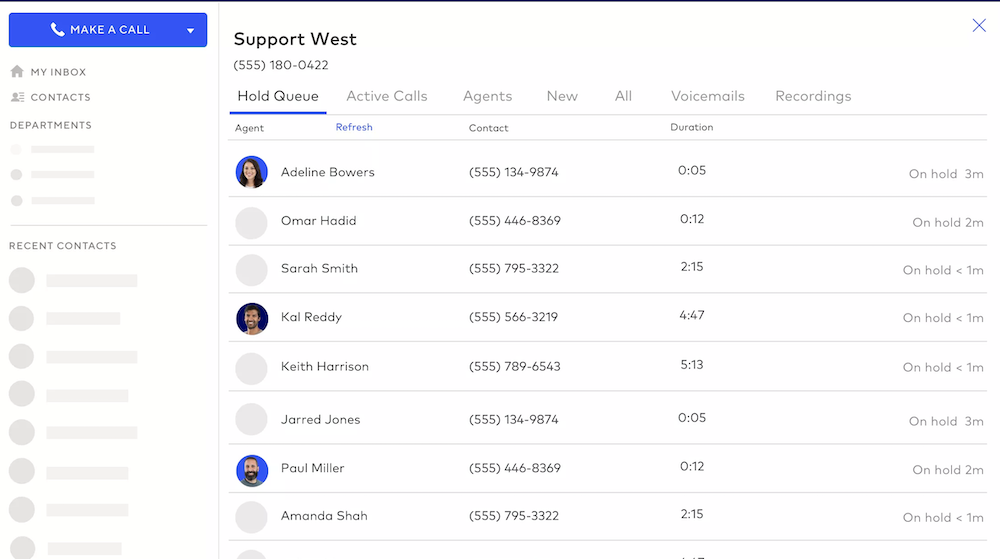 Automated callbacks drastically reduce queue length and hold times (not to mention, increase customer satisfaction) by letting the customer choose when to receive an agent callback.
This way, customers avoid long wait times and can choose the best possible time for them to be reached — saving everyone time and frustration.
What Is A Contact Center?
A contact center is a premise or cloud-based business software that streamlines agent and customer communication across several channels. This is different from a call center, which allows communication only via voice calling.
Contact centers usually operate on a digital-first communication basis.
As with call centers, contact centers can focus on inbound, outbound, and blended communication.
Popular contact center communication channels include:
VoIP Voice Calling
SMS Texting
Email
Live Chat Messaging (Website Chat)
Social Media (Facebook Messenger, Twitter Messaging, Instagram Messenger, WhatsApp, etc.)
Online faxing
Note that offering additional communication channels isn't the only thing separating call centers from contact centers. Contact centers also have workforce management and optimization features that let admins evaluate, automate, and adjust agent activity in real-time accordingly.
In most cases, contact center solutions also place a greater focus on internal communication than call centers. This includes native tools like real-time team chat messaging with user presence, team collaboration tools like screen sharing, whiteboarding, and file sharing, and detailed internal wikis.
While it's certainly possible to get access to internal communication and collaboration tools with call centers software, it usually requires integration with third-party platforms.
While some contact center software has native CRM features, their limited nature still means that most contact center users integrated third-party CRM systems into the contact center interface.
The main goals of contact centers are to simplify and optimize business processes, to give customers choices regarding how to connect with a business, and to streamline all agent and customer data into a single, unified interface.
How Does A Contact Center Work?
Contact center platforms work by automatically syncing customer and agent interactions into one unified interface/platform in real-time.
This means that no matter which channel the communication began on, the conversation can pick up right where it left off, even if another agent takes over the interaction on a different channel.
For example, let's say a customer direct messages your business Facebook page with a question about how to operate your product.
First, a chatbot replies with an automated message, usually confirming that their message has been received and that someone will be with them shortly. The message may also provide a customer support phone number. In most cases, the automated chatbot collects customer information like contact details, the reason the customer reached out, or what product/service they purchased.
The customer then decides to call the customer support phone number.
When an agent answers, their customer support interface will automatically display the conversation between the chatbot and the client, giving them the details they need to best assist the customer.
Contact Center solutions also:
Automate routine business processes (data entry, task approval, etc.)
Simplify the employee scheduling process and optimize the workforce
Provide automated customer support through chatbots, automated SMS responses, IVR, and more
Offer omnichannel routing to ensure that, regardless of the channel the customer reaches out on, they're still connected to the most relevant agent
Allow for a higher level of team flexibility
Help admins and marketing teams analyze the success of current campaigns and automate marketing messaging
Provide cross-channel analytics and trend forecasting to help admins understand customer channel preferences, evaluate employee training quality, prepare for peak contact times, and more
Types of Contact Centers
The below table provides a quick overview and definition of the main contact center types, their key features, and what they're most often used for.
Note that, although inbound and outbound contact center solutions exist, they are not nearly as popular as the options listed below. Inbound/outbound contact centers function in much the same way as inbound/outbound call centers, except that they provide omnichannel customer service, sales, and support.
Omnichannel Contact Center
Multichannel Contact Center
Premise-Based Contact Center
Cloud-Based Contact Center
Purpose/Definition
Automatically syncs agent/customer communications/interactions into one unified interface, even if the conversation took place across multiple channels
Provides communication across multiple channels, but often not as many as omnichannel options. Communication is not synced and combined into a singular interface, and communication is often siloed according to channel
Premise-based (legacy) contact center solution hosted onsite by the user, not the software provider. The user is responsible for all hardware, equipment, installations, updates, and repairs
Virtual cloud-hosted contact center software for remote, blended, or in-house teams. Software updates, hosting, and security are the responsibility of the provider, not the user
Used For/By
– Sales/customer service teams that want to connect with consumers across channels and provide customers with a choice about how they reach out

– Businesses where multiple agents are likely to assist a customer with one interaction

– Small to midsize teams that want to offer customers multiple channels to connect with their business, but that don't require an especially high number of communication channels

– Businesses that want to silo communication channels

– Companies that want to continue using existing hardware/equipment (desk phones, etc.)

– Small to midsize teams that prioritize stable service and high call quality that is not dependent on a strong Internet connection

– Businesses that don't require third-party integrations

– Geographically diverse remote/blended teams that prioritize scalability

– Managers looking for scalable/tiered solutions that allow for the addition of users, communication channels, and functionalities that grow alongside the business

Key Features
– At least 3-4 communication channels

– Scalability and flexibility across devices

– Voice calling, online faxing, SMS texting

– Tiered pricing and

– Compatible with any existing hardware/equipment

– Business usually has in-house IT staff

– Workforce Management/Workforce Optimization tools

– Advanced AI/Automation features
Omnichannel Contact Centers
Omnichannel contact centers automatically sync customer-agent interactions across multiple channels in real-time.
All recent information and conversation history, regardless of current and past communication channels used, is shown and can continue within an agent's central, unified interface.
The goal of omnichannel communication is to create seamless cross-channel communication transitions for customers and agents.
Customers avoid having to repeat themselves to multiple agents when switching between communication channels, and agents have access to the most recent customer interaction history regardless of the channels conversations have taken place on.
In omnichannel contact centers, conversations and transactions can easily take place across channels with a much lower risk of miscommunication.
Multichannel Contact Centers
Multichannel contact centers are similar to omnichannel contact centers in that they also provide customers and agents with the ability to communicate across different channels.
The biggest difference is that multichannel platforms don't usually combine communications across channels into one unified interface. Instead, communications may be siloed according to the channel. The image below provides a visual explanation: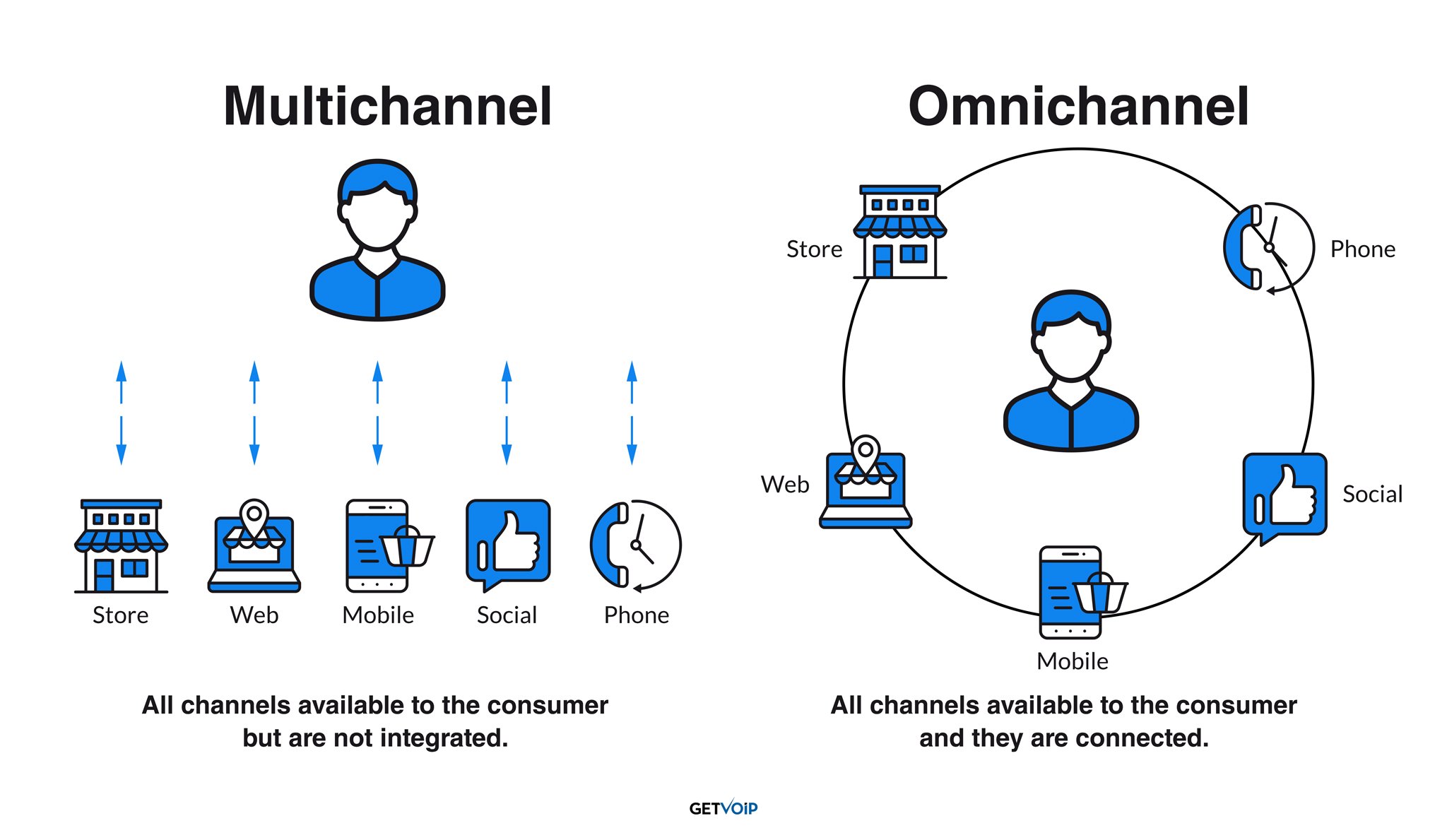 Additionally, multichannel contact centers generally do not offer the same number of communication channels that omnichannel solutions do — especially when it comes to digital channels.
For example, they may offer voice calling, online faxing, and SMS texting, but not video calling or email.
Premise-Based Contact Centers
Premise-based contact centers (often called legacy contact centers) can be multichannel or omnichannel, inbound or outbound.
The main point here is that, as with premise-based call centers, the physical server must be located in the same brick-and-mortar building as the business using it. The user, not the software provider, is responsible for upgrades, maintenance, repairs, installation, and self-hosting.
Most teams using premise-based contact center solutions already have the equipment they want to continue using but want to switch contact center providers. They'll need to ensure all existing equipment is compatible with the new provider before they switch. These businesses typically have an in-house IT team that is responsible for issues like outages, software bugs, and other problems.
Businesses with legacy contact centers don't require many, if any, third-party software integrations, and want a service that provides high-quality calling and steady service not dependent on an Internet connection.
Note that legacy contact centers will require a high upfront cost and a longer installation/setup time of 1-3 months.
Cloud-Based Contact Centers
Cloud contact centers are hosted over the Internet by the software provider in the cloud servers, which are located offsite in several locations around the globe to ensure quality service. They can be inbound, outbound, omnichannel, or multichannel (though the vast majority are omnichannel.)
Cloud-based contact centers are affordable because no serious hardware/equipment is required. Instead, users can make/receive contact on their existing smartphones, laptops, desktop computers, or tablets thanks to Bring Your Own Device (BYOD) solutions.
Unlike legacy contact centers, cloud contact center services take little time to install and set up (1-3 weeks maximum.) Businesses can transfer any existing business phone numbers to the new provider through number portability.
These systems are much more scalable and offer tiered pricing/plans that allow users to add on new channels and features on an as-needed, pay-as-you-go basis.
Essential Contact Center Features
Below, we'll outline some of the most important modern contact center features.
Essential Communication Channels
The best way to judge which contact center software solution is right for your business is to examine the different communication channels it offers.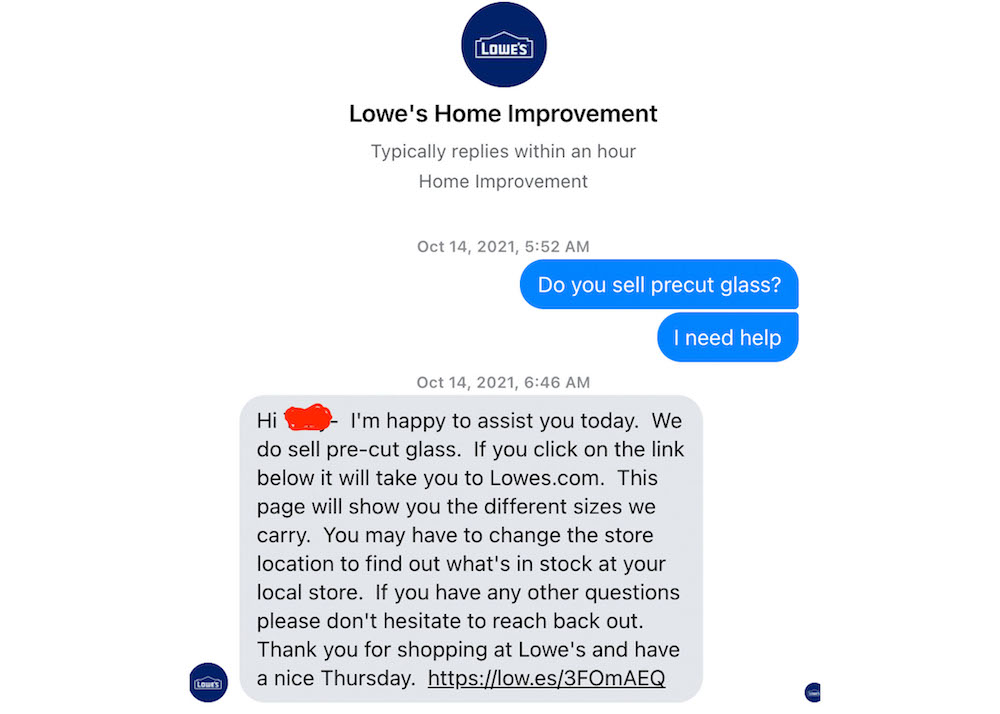 Let's examine some common contact center use cases by channel across different industries.
Video Calling: HIPAA compliant video calling allows for remote patient monitoring and telehealth appointments in the healthcare industry
VoIP Phone Calling: Collection agencies often use automated outbound IVR to make calls to debtors and to collect payments over the phone without ever involving a live agent
Social Media Messaging: eCommerce retailers can automatically let customers know their direct message has been received, direct them to the online help portal, let them set up a live agent talk time, and use AI chatbots to provide instant social media customer service
Live Website Chat: Customer service agents can provide product recommendations in real-time, use bots to gather customer information to prepare for a later phone call, give order updates, or answer common questions via automation
SMS Text Messaging: If a sales rep is in a meeting and receives a call, they can automatically send the caller a text message reading, "In a meeting, will call in 10 minutes." Many contact center solutions also offer mass marketing outbound SMS messaging so retailers can text customers coupon codes, send customer surveys, or alert shoppers to sales
Remember to avoid the temptation to turn on all available communication channels. Instead, do your research and focus on optimizing the channels your customers use the most.
Tiered Pricing
Contact center software should offer several different bundled service plans so users avoid paying for features and communication channels they don't need but still have the option to upgrade their plans as their business expands.
Below is an example of tiered contact center pricing from popular provider 8×8.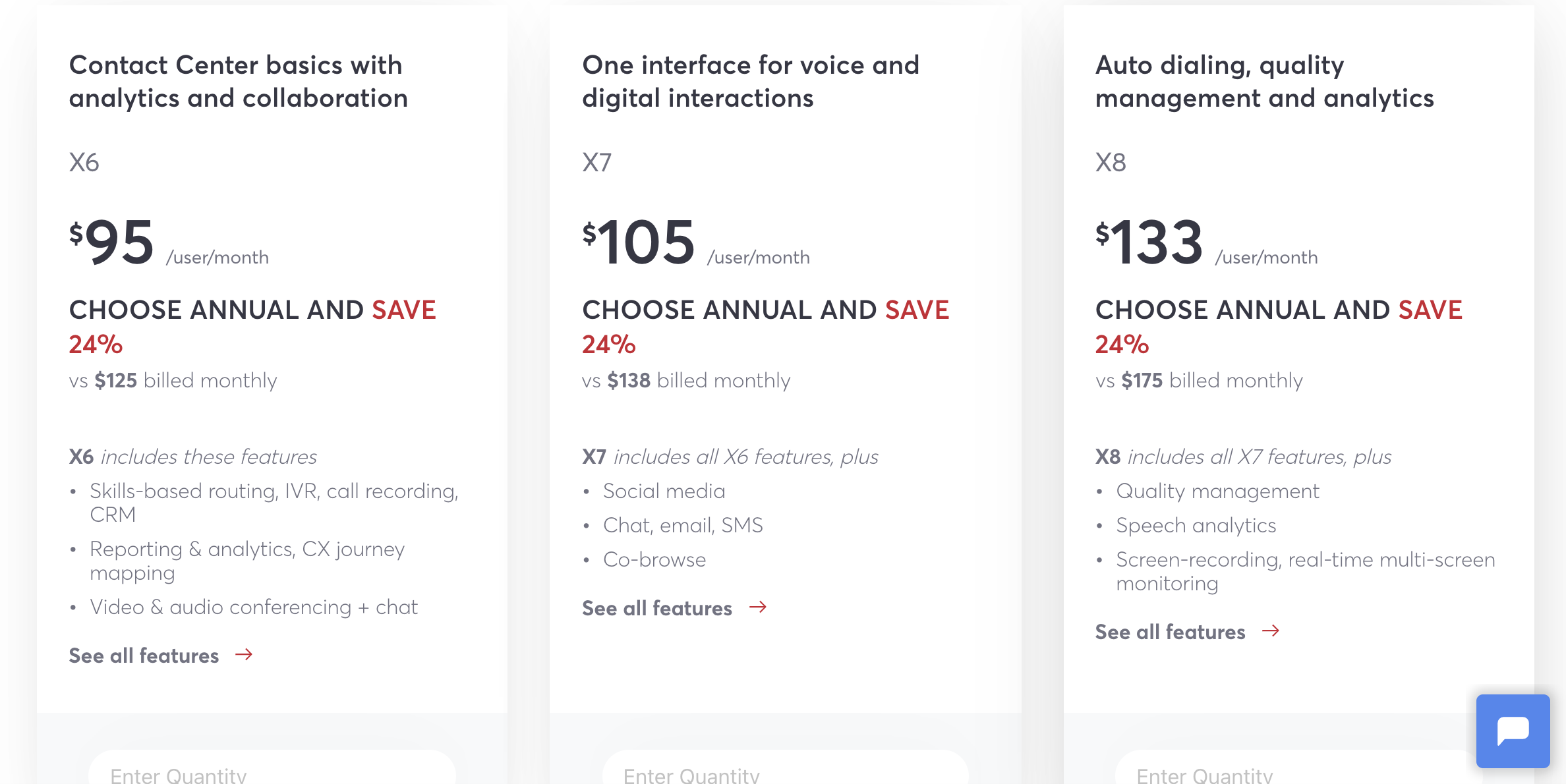 Note that the majority of contact center software does not list prices publicly, but still allows customers to select from several tiers on a quote basis. Users can choose to scale up to the next bundled level of service, or in many cases, simply purchase add-ons for a la carte functionalities.
Customized solutions are also available.
Customizable Agent Interface
Because agents communicate across multiple channels in a contact center, they need a central interface that shows all recent/ongoing interactions and available tools in one place.
This unified interface is the hallmark of contact center solutions. It's designed to eliminate the need for agents to switch in between apps when dealing with customers (or other agents) in real-time.
Though pre-made interface templates are available, most providers allow agents to customize their interface to ensure that the most relevant and important information is available up top.
The below image displays what a unified omnichannel contact center interface can look like.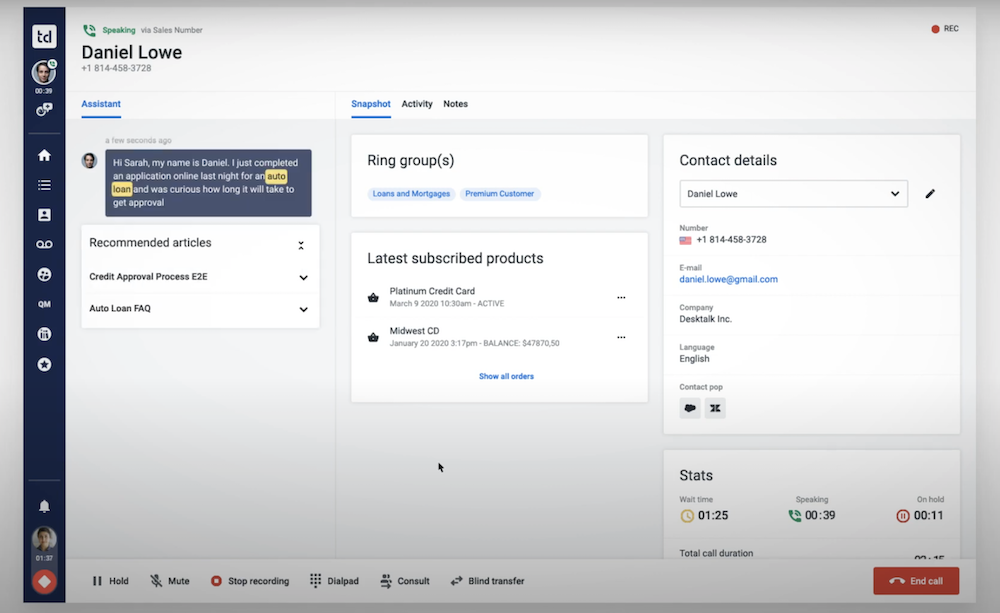 As you'll notice, some key updates, buttons, or metrics displayed within the agent interface include:
Agent presence/status (Do Not Disturb, Away, On A Call, At Lunch, In Meeting, Av available, etc.)
Real-time notifications for key channels like chat, SMS, VoIP calling, social media messaging, etc.)
Agent voicemail messages, including searchable archive or recorded voice messages/message transcriptions
Contact directory
Agent and staffing scheduling
Task assignments/updates
Internal team chat
Internal wiki links
Live personal call/contact queue
Icons for integrated third-party tools
Omnichannel Routing
Though call center routing offers numerous routing strategies, they're all limited to one channel: voice calls. Contact center software offers omnichannel routing meaning all customer-agent interactions can be sent across channels in real-time based on customer preferences and agent availability.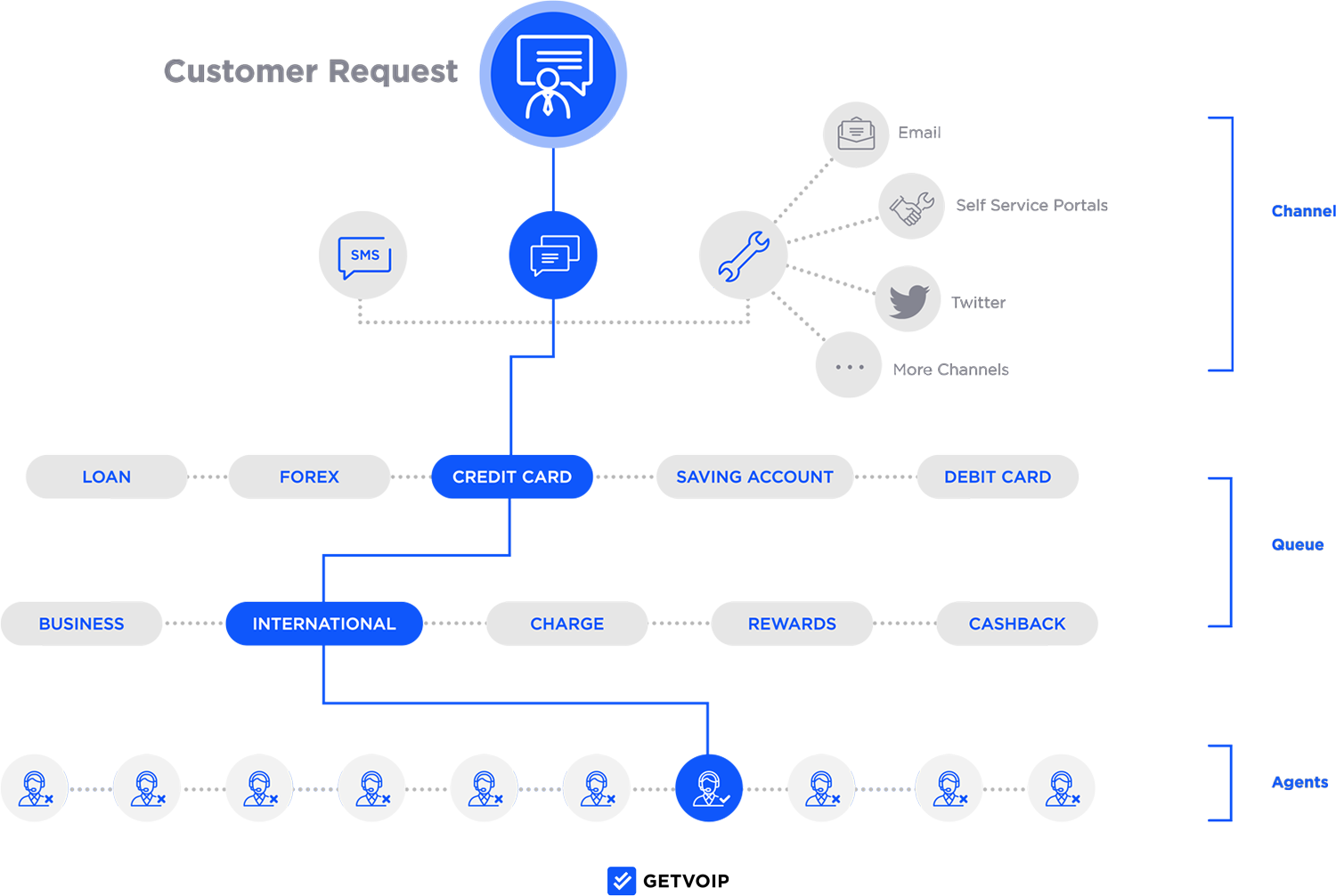 Omnichannel routing also uses historical KPIs and analytics to provide personalized, effective agent-customer connections based on past customer behavior, agent skills and training, preferred agent, and even AI-powered omnichannel routing.
Plus, agents will be able to handle all interactions routed to them within their unified interface — regardless of the channel the customer is using to connect with them.
Team Collaboration Tools
Because contact centers have so many more moving parts than call center solutions, most will include native team collaboration tools like real-time team chat messaging, file sharing and co-editing, whiteboarding, and screen sharing.
Users can opt to integrate their compatible third-party team collaboration software.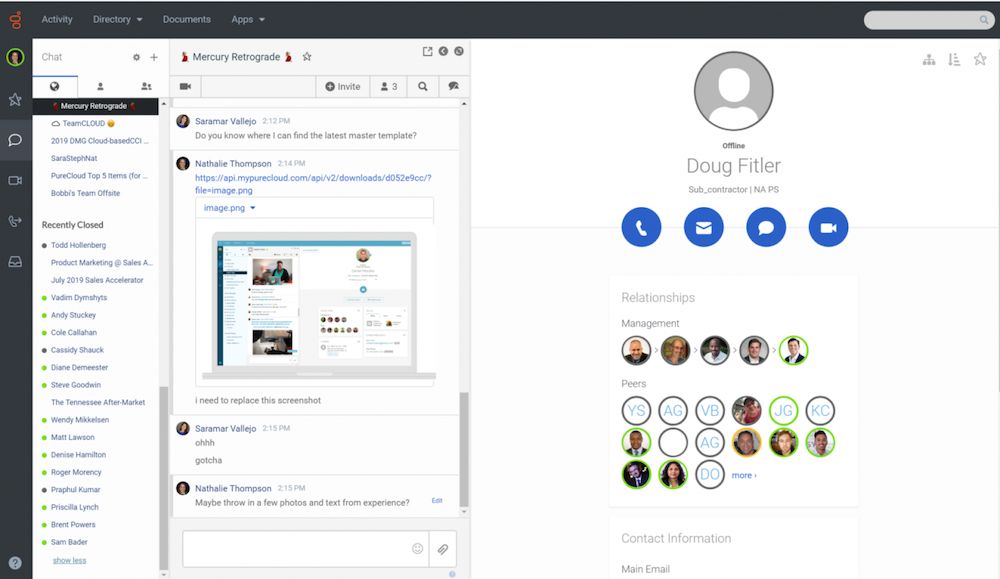 Internal team collaboration tools provide a way for contact center agents to get quick answers while speaking with a customer without having to end the call and call back. This increases overall first call resolution rates, team productivity, and best of all, helps to avoid lengthy meetings.
If more detailed, face-to-face internal communication is required, users can instantly transition a chat message into a video call. Video meetings can also be pre-scheduled or made recurring meetings.
Workforce Management and Optimization
Workforce Management (WFM) and Optimization tools help to prevent agents from getting overburdened, simplify the agent scheduling process, provide instant access to internal HR documents, and evaluate the quality of the overall customer experience.
Contact center WFM and quality management go far beyond just reviewing phone call recordings and transcriptions to study the customer journey.
In terms of quality management, WFM tools provide detailed insight into customer satisfaction rates, the quality of current training materials, individual agent performance, customer preferences, and how well current contact volumes are being managed.
The image below shows an automated survey collected from a customer, visible within an admin interface.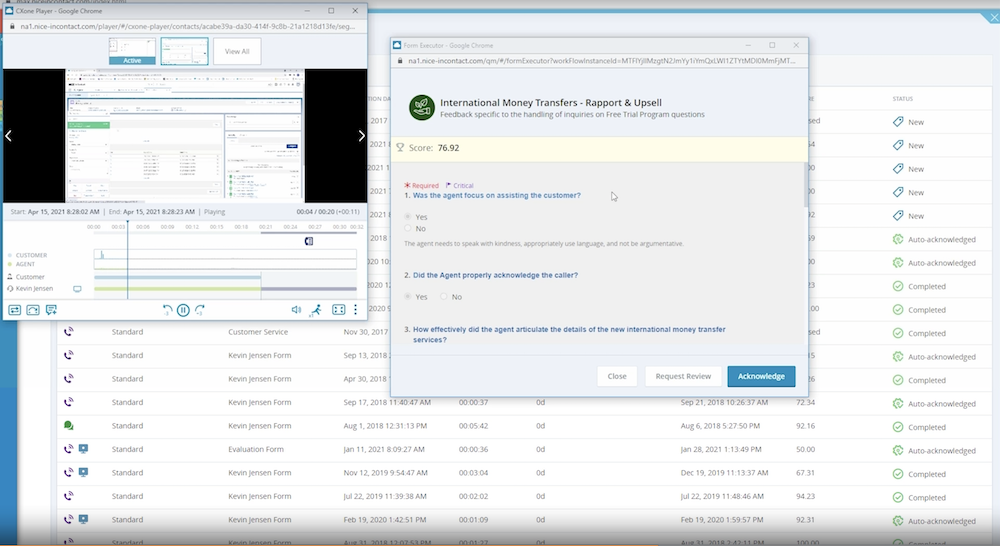 Other key Workforce Management features include:
Trend and demand forecasting
Real-time schedule adjustments
"What-If" scenarios
Automatic PTO approval and better overall employee self-service
Omnichannel Analytics
More ways to communicate with customers also means more ways to analyze customer and agent behavior.
As with call center solutions, contact center analytics provide real-time and historical data that can be broken down by agent, customer, data range, department, and more. An example of the types of reports available is shown in the image below.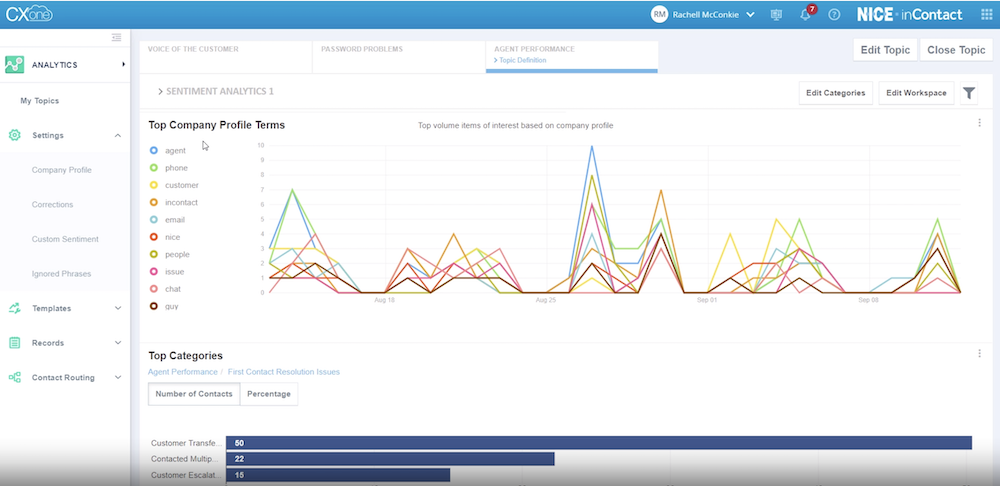 Because you're getting data from different channels, you'll have a much more complete understanding of what's working and what isn't than you would with just phone channel analytics. This is especially true when CRM software is integrated.
Common contact center KPIs include:
The ratio of outbound: inbound contact
Contact abandonment rates
Average Handling Time (AHT) and first contact resolution rate
The number of interactions per channel (inbound vs outbound, call vs messaging, etc.)
Quality Analysis
Agent Turnover Rate
Cost Per Contact
Call Center and Contact Center Benefits
The below table highlights the pros and cons of call center software and contact center software.
Call Center
Contact Center
Biggest Benefits

More affordable than contact center software

Optimizes call center agents and increases productivity without overwhelming teams with complex features

Features like call routing, automatic callback, and self-service IVR increase customer satisfaction rates and boost team productivity

Allows agents and customers to connect across numerous communication channels

Automatic synching lets the conversion pick up where it left off, regardless of channel

Advanced features like workforce management/optimization and campaign analysis/management

Potential Downsides

Limits customer interactions to a single communication channel

Lacks more advanced native contact center software features like workforce management, task management, etc.

May require numerous third-party integrations, which can get expensive

More expensive than call center software

Adding too many communication channels means some may get overlooked or that agents may be overwhelmed

Often requires a lengthy employee training process to teach team members how to use the software; while frequent updates may confuse teams even more
Call Center vs Contact Center: Which One to Choose?
The information in this post should have made it much easier to determine if your business would benefit more from a call center or a contact center.
To summarize:
You Should Use A Contact Center Software If:
You want to foster omnichannel communication with customers and prospects to increase overall engagement levels with your business
Market research shows that your customer base prefers other communication channels to voice calling
You have enough staff to manage communications across multiple channels
Your agents are getting overwhelmed with phone calls, especially regarding topics that could easily be answered via automated chatbots
You Should Use A Call Center Software If:
VoIP audio calling is your primary communication channel
Your business has grown to where you need a better way to manage calling, but don't want to overwhelm a limited staff with too many communication channels
You want an affordable, scalable communication platform that still allows for employee flexibility and mobility