Call centers and contact centers are two communication platforms that enable businesses to connect with customers for support, sales, and many other use cases.
While the two solution types share many capabilities–like voice calling, routing, and queueing–they differ in features, channels, and capabilities.
This article will compare contact center vs call center solutions, outlining key differences, features, types, and when to use each.
Call and contact center software
from top providers
Contact Center vs Call Center: Key Differences
The main difference between a contact center and a call center is that a contact center includes multiple communication channels–voice, SMS, instant chat, video, social media, and email–while call centers focus on voice telephony only.
Contact center software not only unifies multiple communication channels in one interface, but hundreds of unified communications features: file sharing, whiteboards, AI-based transcription and agent guidance, analytics, and workflow automations.
VoIP-based call centers include advanced phone-system features only, which are also included with a contact center: live call transcription, call queues, ring groups, and call center monitoring.
Call Center
Contact Center
Communication Channels

Voice calling/VoIP telephony
SMS

Voice calling
SMS
Live chat messaging
Email
Video communication
Social media messaging

Types of Solutions

Inbound
Outbound
Blended
In-House
Virtual
Automated

Omnichannel
Multichannel
Premise-based
Cloud-based
Inbound
Outbound
Blended

Essential Feature
Interactive voice response (IVR)
Real-time omnichannel communication
Main Goal
Optimize inbound and outbound telephone communication by providing IVR self-service options, outbound dialing modes, and call routing
Allow customers to communicate with agents on their preferred communication channel, not just over the telephone
Average Monthly Cost
$50.00-$100.00+/agent per month
$60.00-$150+/agent per month
Popular With
Telemarketing firms, collection agencies, nonprofits, political campaigns, retail customer service
Healthcare providers,  eCommerce, finances, service-based businesses
Jump to ↓
What is a Call Center?
A call center is an on-premises or virtual business communication solution where agents connect with customers by phone–VoIP or landline telephony–providing customer support, sales outreach, and other use cases.
Call center software may be housed on-premises, or cloud-based and managed remotely by the VoIP (voice over internet protocol) software provider.
Call centers may support either one-way inbound and outbound calling or a blended solution with both. A business call center can be made up of remote, in-office, or even outsourced third-party agents.
The bottom line is that call centers, as the name implies, focus on telephone calls between a business and its consumer base.
How Does Call Center Software Work?
Call center software works by providing business users–agents and supervisors–with an application dashboard that houses all necessary functionality and features: routing tools like Interactive Voice Response (IVR), auto dialers for sales outreach, call queues to organize inbound calls, and call-center monitoring tools to help managers oversee call center functioning.
The call-center software provider–such as Five9 or Twilio–handles call delivery and uptime, directing VoIP data in real time through a global network of data centers utilizing both VoIP and the PSTN. Many call center providers offer 99.99% uptime and HD-voice audio quality.
Phone system routing tools–like skills-based routing and self-service IVR–automatically send inbound calls to the optimal agent. While on call, agents have a variety of features and automations at their disposal to improve customer support. A live-call dashboard typically includes a contact profile, customer journey history, live access to a knowledge base, CRM integrations for caller info, a call log, and live controls like call parking, forwarding, and transfer.
Types of Call Center Software
The below table outlines call center types, key features, and how businesses use each.
Call Center Type
Purpose/Definition
Used For/By
Key Features
Virtual Call Center
A cloud-based call center software that lets agents work from anywhere on any device (desktop, laptop, smartphone, tablet, etc.)

Remote or mobile call centers
Geographically dispersed teams

Auto attendant or IVR
Call center monitoring
Call analytics

Inbound Call Center
To receive incoming calls from customers and contacts

Customer service and support

Bill payment/appointment scheduling

Skills-based, team-based, round-robin call routing
CRM Integration

Outbound Call Center
To make outgoing calls to customers and leads

Sales outreach
Appointment and payment reminders
Market research

Outbound auto dialers with multiple dialing modes
Call scripts

Blended Call Center
Agents can make/receive inbound/outbound calls according to current call volume/business needs

Smaller teams that don't have a high number of available agents at all times
Call centers with a high daily contact volume

Call transfer
Internal wiki
Virtual Call Centers
Cloud-based virtual call centers are hosted and maintained by the software provider, not by the company using it.
Usually priced on a monthly per-user subscription, virtual call centers are more affordable than premise-based ones and allow for greater agent flexibility and mobility.
Inbound Call Centers
Inbound call centers receive incoming calls and inquiries primarily from existing customers and prospects–typically for customer support use cases at a toll-free number.
Features like call routing ensure that callers are connected to the best available agent as quickly as possible, while tools like IVR self-service let customers pay bills, view account statements, and verify appointments without needing to speak to a live agent.
Outbound Call Centers
Outbound call centers make outgoing calls only, primarily for the purposes of selling, prospecting, and callbacks. These platforms typically utilize auto dialers to maximize outbound efficiency.
Call Center Software Features
Below, we outline the most important call center software features.
IVR and ACD
Call Center IVR (Interactive Voice Response) and ACD (Automatic Call Distributor) both facilitate automated call center routing, a critical component of call center functionality.
These features facilitate customer self-service by directing inbound calls to specific users, messages, or voicemails based on the answers the caller provides to pre-recorded menu options, such as "To be connected to the billing department, press 1." Based on the caller's input, IVR and ACD systems route the call to agents based on skills and availability.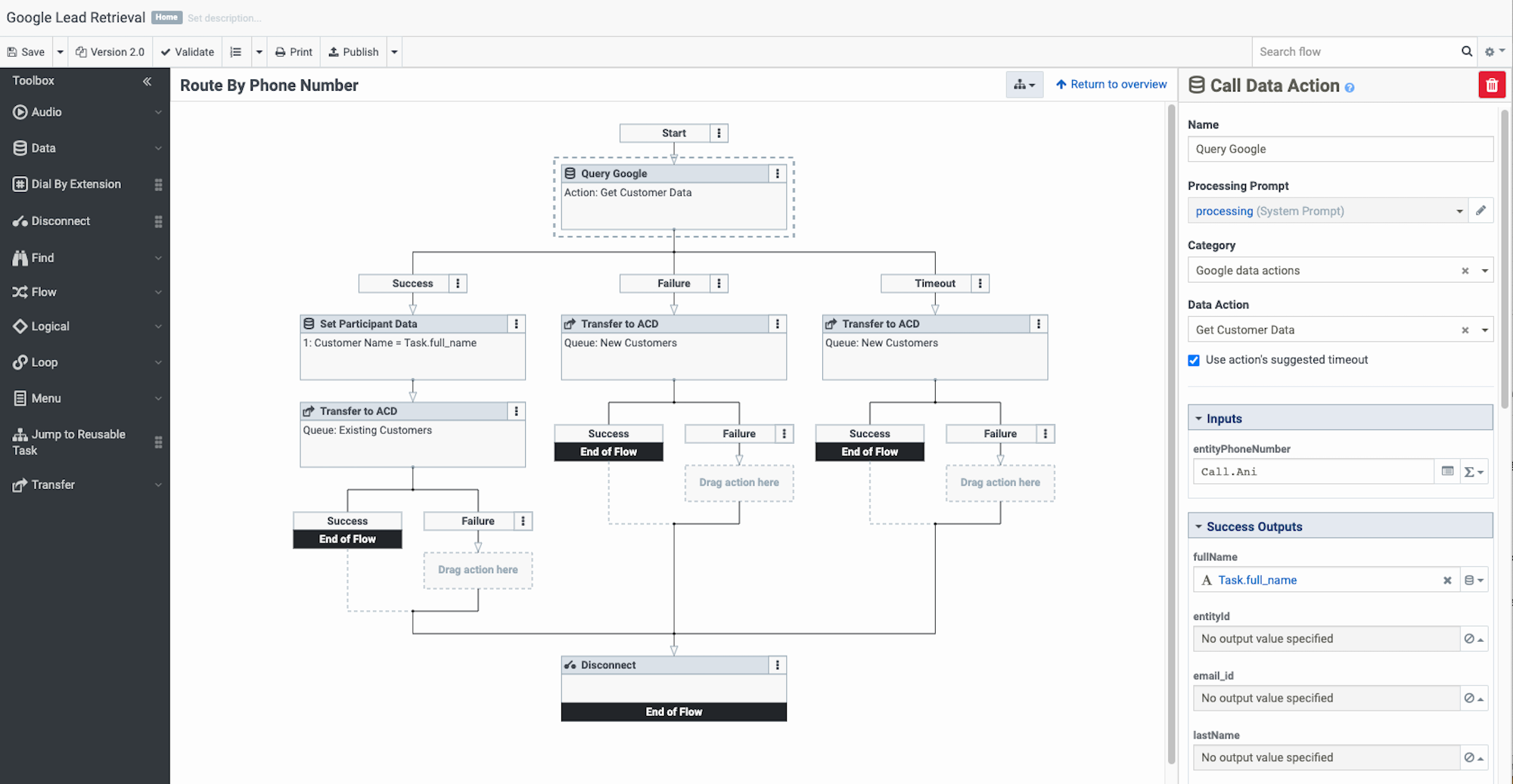 Call Routing
Call routing analyzes caller intent based on the customer's profile or IVR menu selection, then forwards the call to the optimal agent or queue, considering each queue's wait time.
Most call center software supports multiple routing styles. The most common routing styles include skills-based routing, round-robin routing, time-based routing, and relationship-based routing.
Call routing helps resolve issues as soon as possible by matching customers with the optimal agent, thereby expediting first call resolution rate.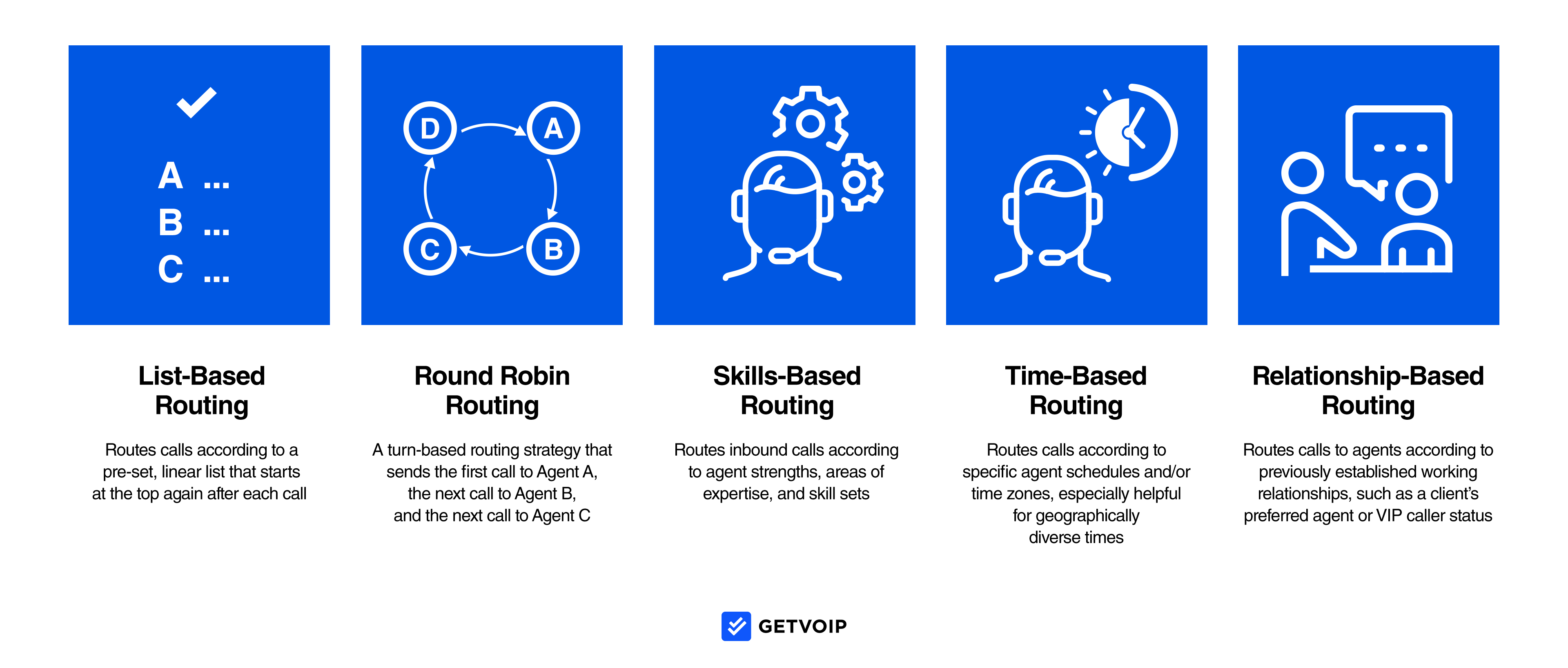 Call Forwarding
Call forwarding allows an agent to transfer the call to another phone number or agent. Agents can set up automatic forwarding if they're busy or unavailable, and companies can set up automatic forwarding coordinated with business hours or IVR menus.
CRM Integrations
CRM software collects customer contact information, customer journey history, and customer sentiment. Many call center software solutions integrate directly with popular CRM systems–like Salesforce and Hubspot–using CRM data to inform dynamic customer profiles and real-time agent recommendations.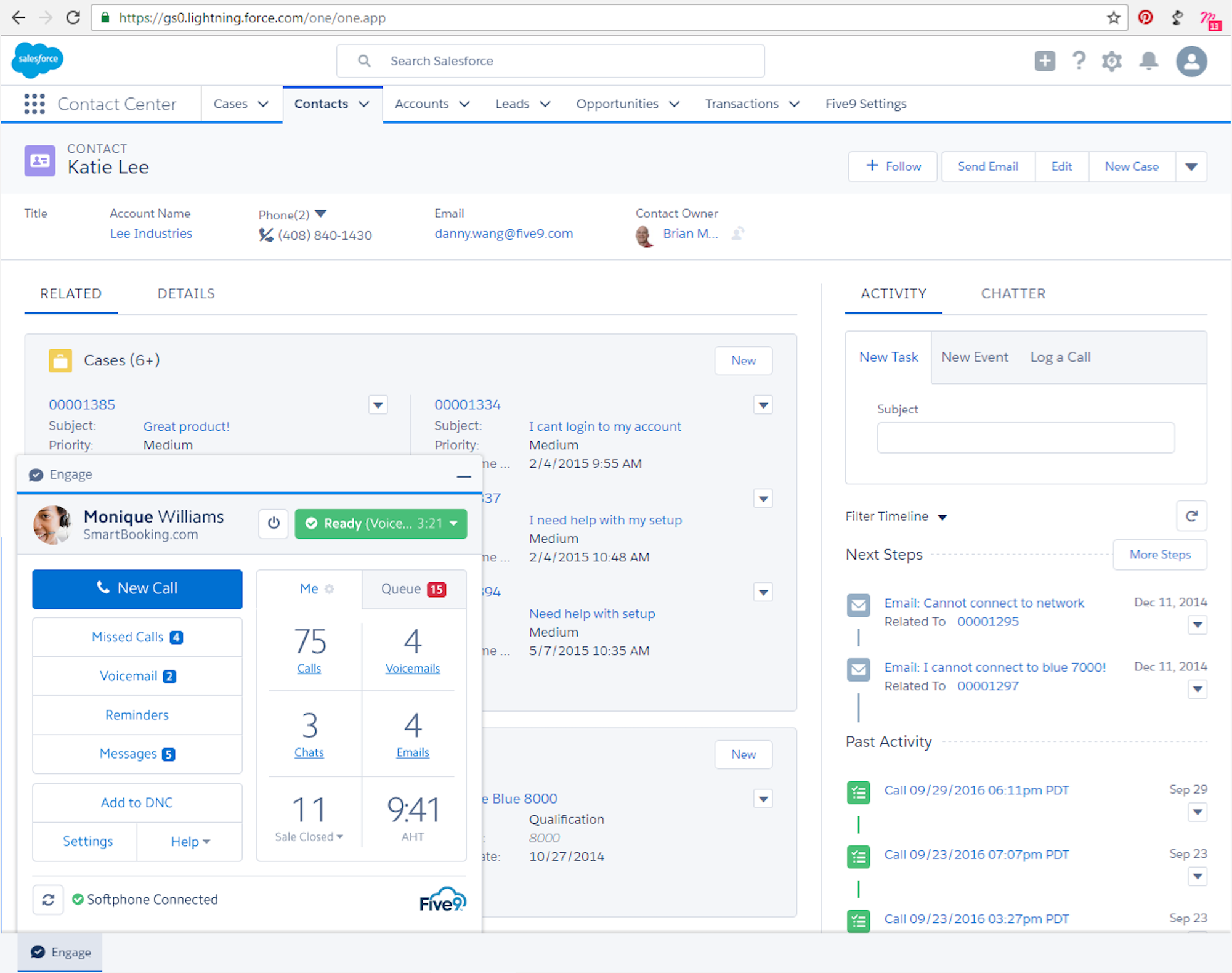 Visual Voicemail
Visual voicemail displays an organized voicemail log–featuring voicemail transcription, audio playback, caller and call log information, and device-forwarding capabilities like voicemail-to-text and voicemail-to-email.
Agents can quickly read voicemails across devices and prioritize certain voicemails over others.
Outbound Auto Dialers
Outbound auto dialers automatically dial recipients from a list, detecting voicemails and non-answers and only connecting agents once a live recipient has answered the call. If the auto dialer reaches a voicemail or busy signal, it leaves a message or hangs up.
By wading through ring tones, busy signals, and voicemails, auto dialers save call center agents a lot of time.
Call center software may feature several auto dialer types:
Power dialers enable one agent to rapidly speed through a recipient list by immediately initiating a new call once the prior call hangs up.
Progressive dialers make outbound calls one by one, as new call center agents become available.
Predictive dialers make calls while call center agents are still active, anticipating the odds of a recipient answering along with when the next agent's call is expected to end.
Preview dialers prepare agents for a connected call by providing agents with a customer "preview"–a snapshot of critical information, typically pulled from the CRM.
Analytics/Reporting
Analytics display historical and real-time call center metrics, KPIs, and reports. These statistics and visuals cover categories including channel activity, agent performance, call center activity by time of day and day of the week, call quality, queue activity, and more.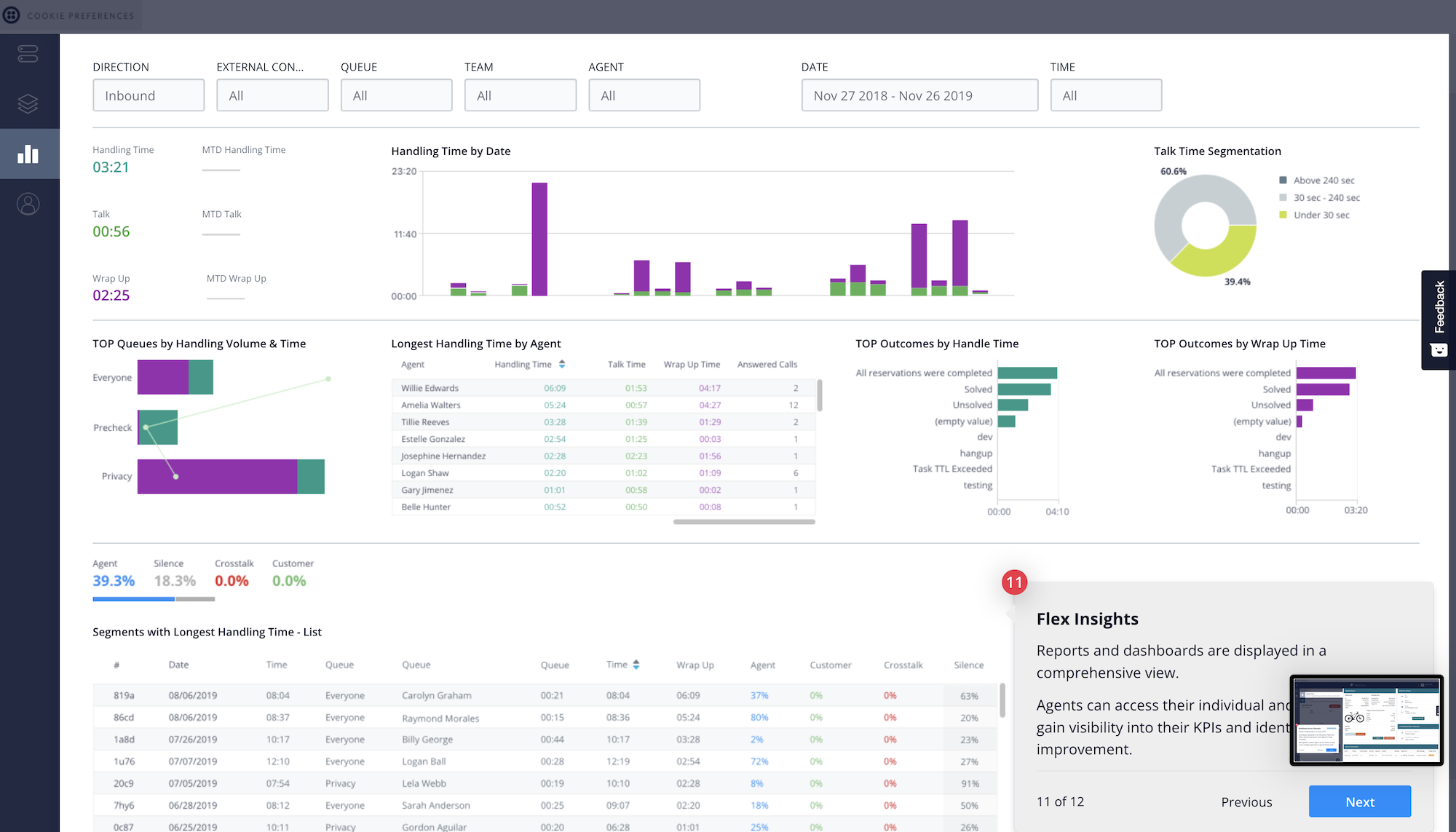 Call Monitoring
Call monitoring lets admins listen to telephone conversations between employees and callers in real time. Supervisors can silently listen in and monitor the call, whisper private guidance to the agent, barge in to join the conversation, or take the conversation over.
Call Queuing and Automated Callbacks
Call queueing organizes inbound calls into queues, which are call-waiting groups that place callers on hold in the order they called. Many companies group certain agents together to form queues for categories or departments like sales, customer support, technical support, billing, and more.
Call center software dashboards allow agents to view their queues in a visual log, displaying the number of calls in the queue and the estimated wait time. Agents can select which calls from the queue they wish to answer and can make one-click callbacks if a customer needs to hang up.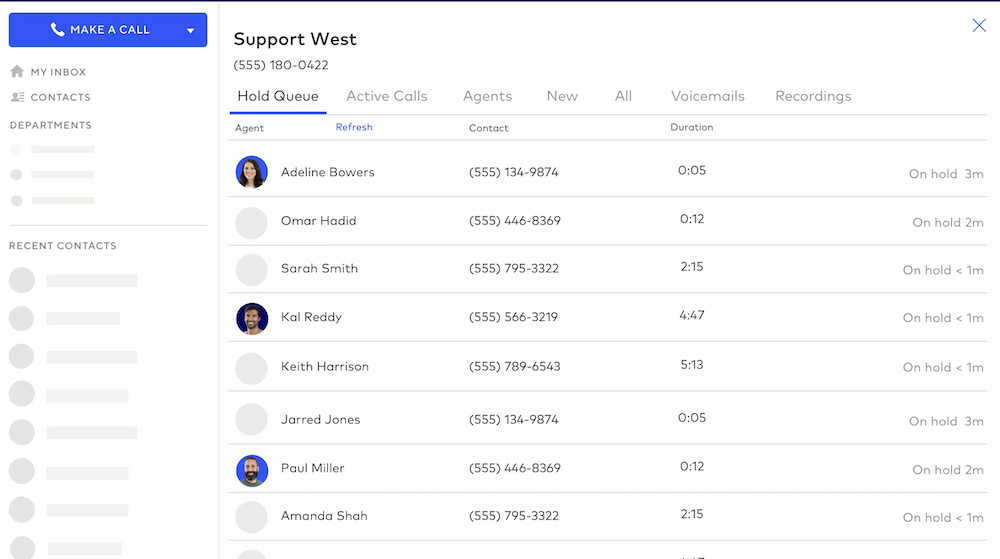 What is a Contact Center?
A contact center is a business software that communicates with customers and contacts through a variety of communication channels–not just voice.
While a call center supports voice only, modern contact center software supports a ton of other channels–including digital channels like email, SMS, webchat, social media, and video–typically integrated into one app and user interface
Popular contact center communication channels:
VoIP telephony
SMS texting
Video calling
Email
Live chat messaging (Website Chat)
Social media (Facebook Messenger, Twitter Messaging, Instagram Messenger, WhatsApp, etc.)
Online faxing
Contact centers also have workforce management features that let admins evaluate, automate, and adjust agent activity and schedules.
Generally, contact center solutions place a greater focus on internal communication than call centers. This includes native tools like real-time team chat messaging with user presence, and team collaboration tools like screen sharing, whiteboarding, and file sharing.
How Does a Contact Center Work?
Contact center solutions work by unifying all of a company's customer-facing communication channels–including voice, webchat, SMS, email, video, and more–into one application, where an agent can manage them on an omnichannel or multichannel dashboard.
Often abbreviated as CCaaS, contact-center-as-a-service platforms are typically software programs that agents and supervisors use on their desktops to manage all features associated with multichannel communication. Contact centers include the same routing, queueing, analytics, and monitoring features as call centers–but adapt them for digital multichannel communications.
In addition to unifying multichannel communication, CCaaS platforms do the following:
Automate routine business processes like training, task management, and streamlining tasks from one employee to another
Simplify supervisor tasks like monitoring and evaluating agent performance
Provide self-service customer support through chatbots, automated SMS responses, IVR, and more
Offer omnichannel routing to ensure that, regardless of the channel the customer reaches out on, they're still connected to the most relevant agent
Help admins and marketing teams analyze campaign success and automate marketing messaging
Provide cross-channel analytics and trend forecasting
Types of Contact Centers
The below table outlines the main contact center types, their key features, and what they're most often used for.
Contact Center Type
Purpose/Definition
Used For/By
Key Features
Omnichannel Contact Center
Syncs all conversations–even across channels–into one unified interface, allowing agents to transition seamlessly between communication channels.

Customer service teams that want to connect with consumers across channels, giving customers a choice
Businesses where multiple agents are likely to assist a customer with one interaction

At least 3-4 communication channels
Omnichannel user dashboard

Multichannel Contact Center
Provides communication across multiple channels, though usually fewer channels than omnichannel. Communication channels are not synced and combined into a singular interface

Small to midsize teams that want to offer multiple channels, but don't require an especially high number of them
Businesses that want to silo communication channels

Voice calling, SMS texting, instant chat
Analytics

Premise-Based Contact Center
Contact center hardware hosted onsite by the user, not the software provider

Companies that want to continue using existing hardware
Small teams using a landline phone system
Businesses that don't require third-party integrations

Compatible with existing hardware
Requires in-house IT staff

Cloud-Based Contact Center
Virtual contact center cloud-hosted by your provider, requiring no onsite hardware

Remote and scaling teams
Teams that plan to add new features, geographical service areas, and communication channels in the future

Workforce management tools
AI support and automations
The two most common types of contact centers are omnichannel and multichannel contact centers.
Omnichannel Contact Centers
Omnichannel contact centers sync customer-agent interactions across multiple channels in real-time, allowing agents to jump between channels while retaining a cohesive conversation view. Customer information and conversation history update live in the agent's central, unified dashboard.
The goal of omnichannel communication is to create seamless cross-channel transitions for customers and agents.
Customers avoid having to repeat themselves to multiple agents when switching between communication channels, and agents have access to the most recent customer interaction history regardless of the channels conversations have taken place on.
Multichannel Contact Centers
Multichannel contact centers are similar to omnichannel contact centers in that they also provide multiple communication channels–but the difference is that multichannel communication channels often provide fewer channels, and they are kept in separate interfaces rather than united into a single dashboard or conversation.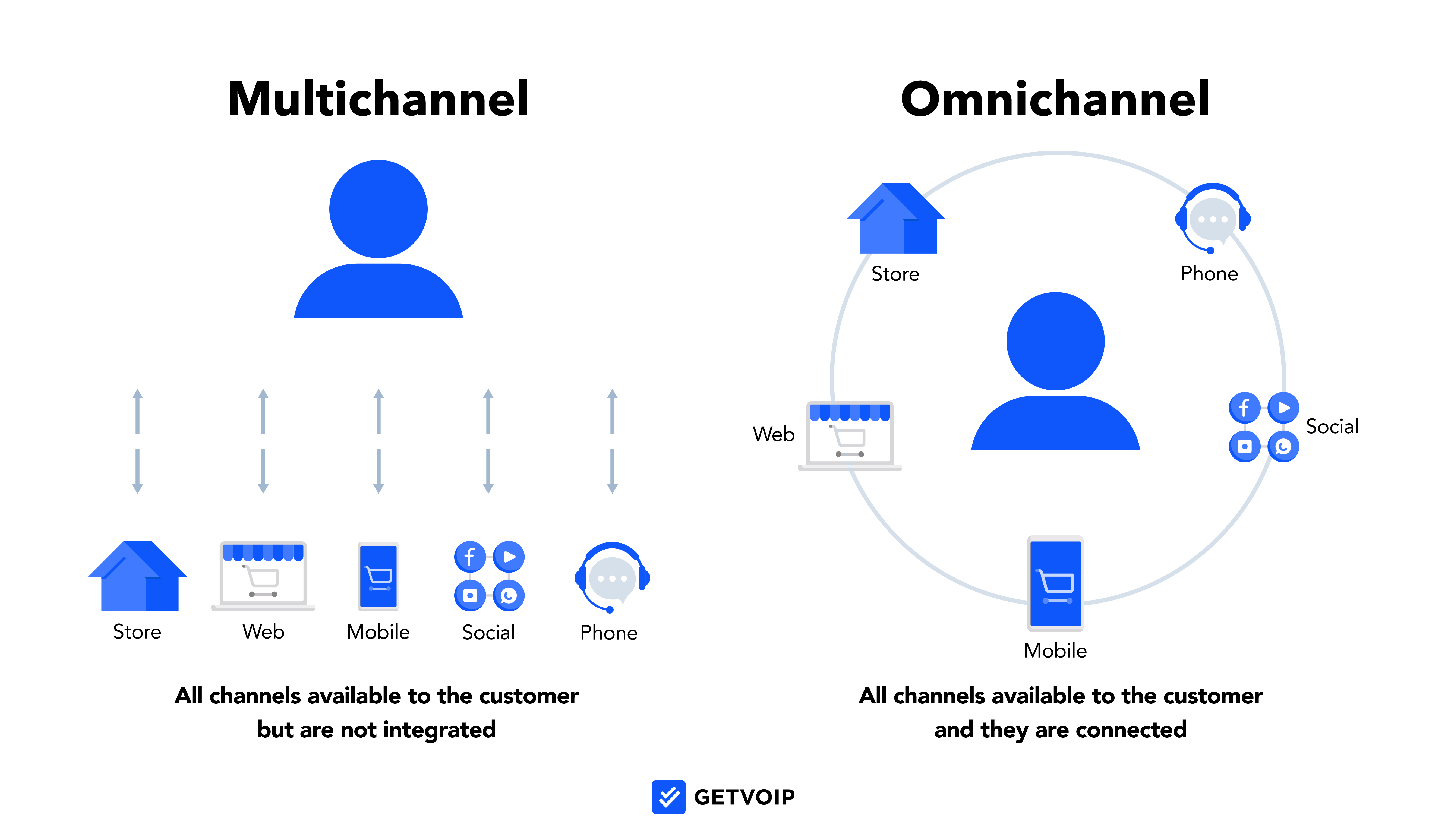 Contact Center Software Features
Below, we'll outline some of the most important contact center features.
Multiple Communication Channels
Omnichannel and multichannel contact center software typically includes the following communication channels:
Video calling: Live video conferencing and meetings which typically last up to 24 hours, hosting 1:1 meetings or up to 200 participants.
VoIP phone: With the same call center functionality and features–routing, queueing, analytics, monitoring
Social media messaging: Conversational or bot-based messaging via social media platform messaging
Social media monitoring and posting: The ability to track your social media engagement, monitor all posts and mentions, and make posts or respond to other users on social media platforms
Live website chat: 1:1 or automated chat functionality built into your website or mobile app. Webchat often serves as the medium for automated chatbots, with customizable conversation scripts.
SMS Text Messaging: Have conversational SMS interactions with customers, or send bulk and automated messages that link with CRM and customer databases for a variety of use cases–account updates, order confirmations, promotions, user authentication, and more.
Customizable Agent Interface
Contact center software offers agents a customizable and dynamic agent dashboard, enabling agents to manage all tasks and live interactions–across all communication channels–at once.
The dashboard enables agents to monitor queues and virtual messaging inboxes. The live interaction display gives agents to all available communication channels, customer profile, journey history, CRM information, and even the ability to take live action in databases–such as altering an order or applying a discount.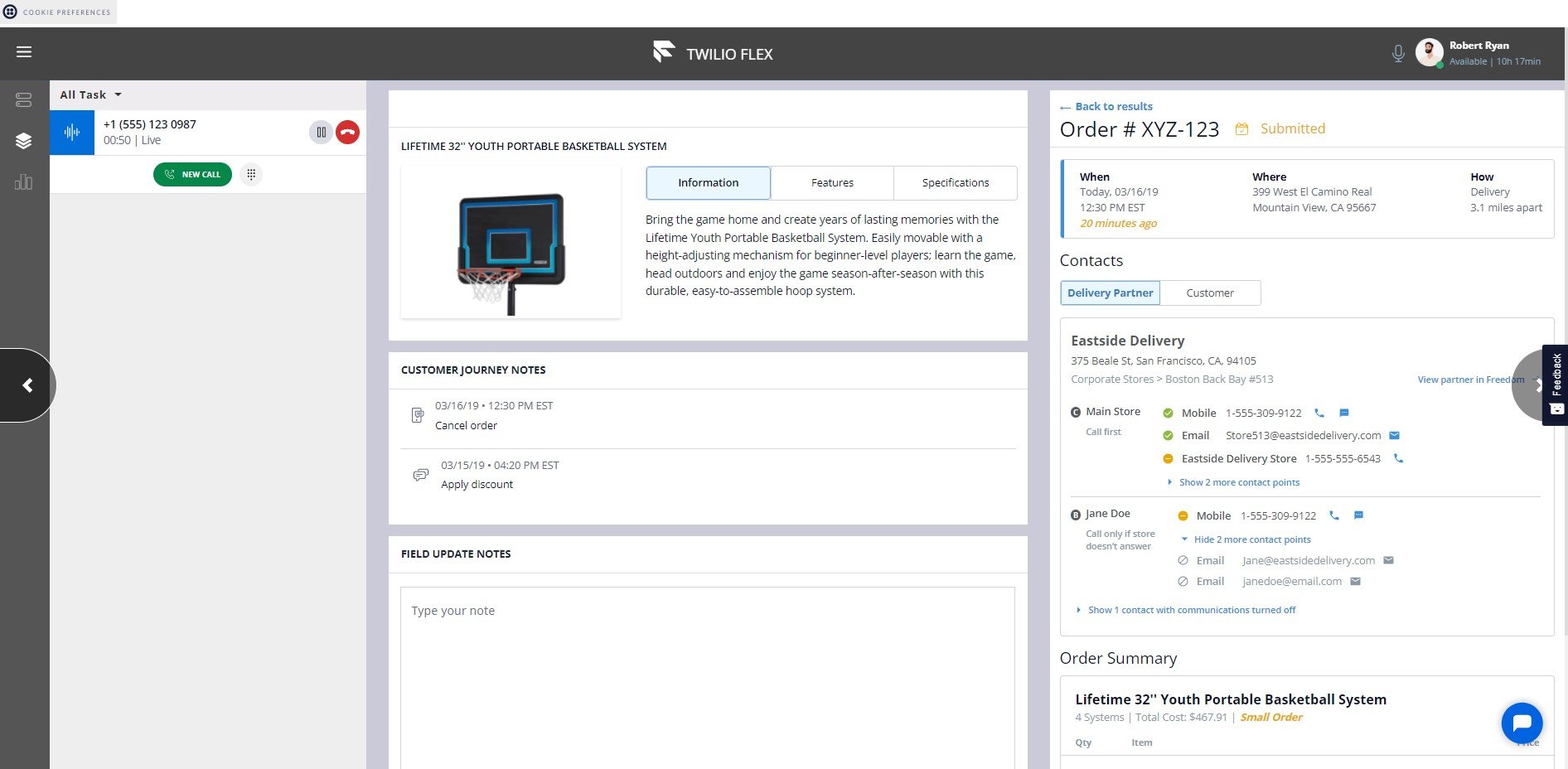 Omnichannel Routing
Omnichannel routing analyzes all inbound contact center queries–across all channels–and routes them to the correct agent, where they appear in the agent's inbox.
Similar to call center routing, omnichannel routing uses several metrics–such as the contact's channel, background, and self-service menu selections–to route the query to the agent best-suited and most available to help.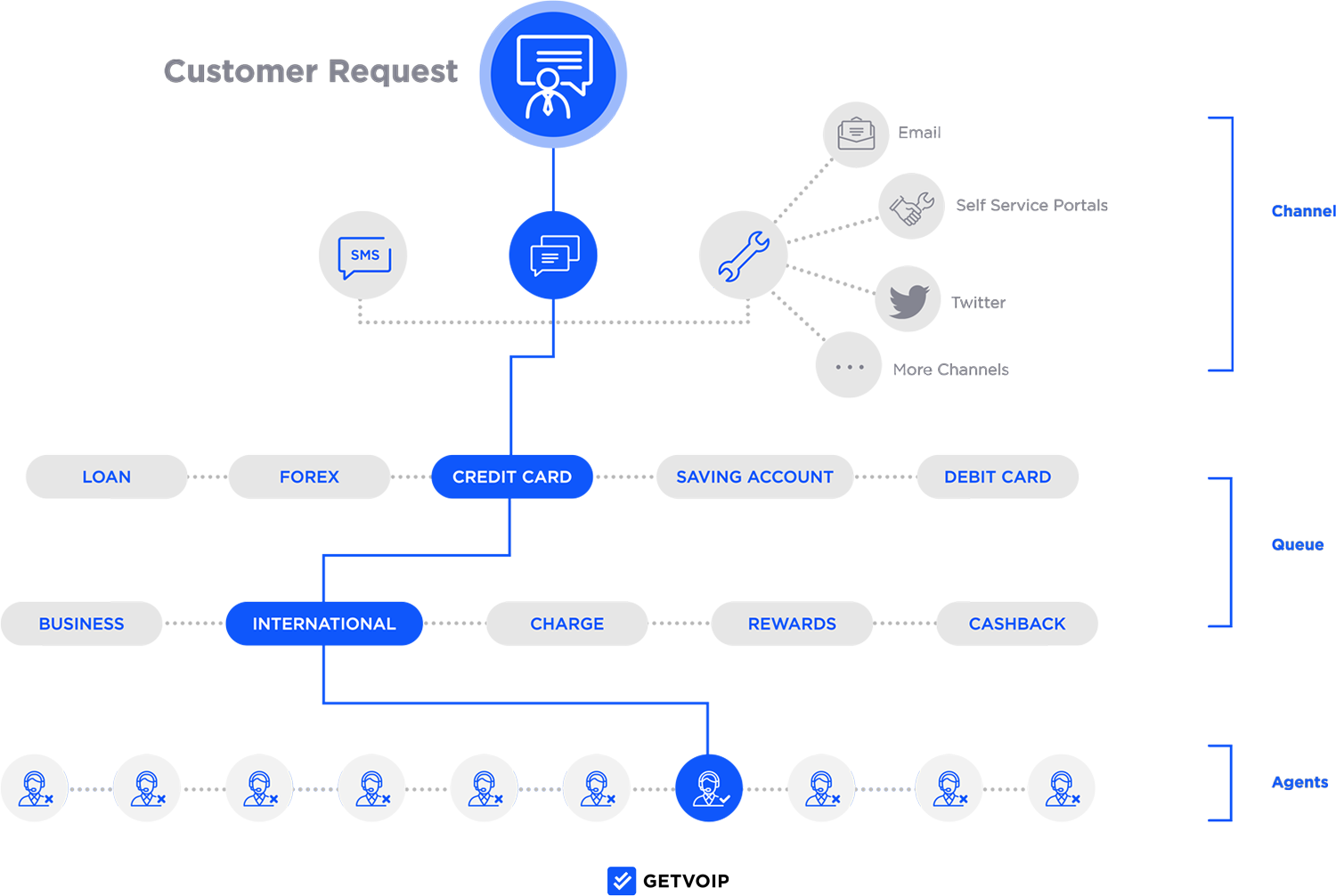 Team Collaboration Tools
Most call center solutions include built-in team collaboration tools like real-time team chat messaging, file sharing and co-editing, plus whiteboarding and screen sharing during video meetings.
CCaaS platforms are also compatible with UCaaS applications and team collaboration software.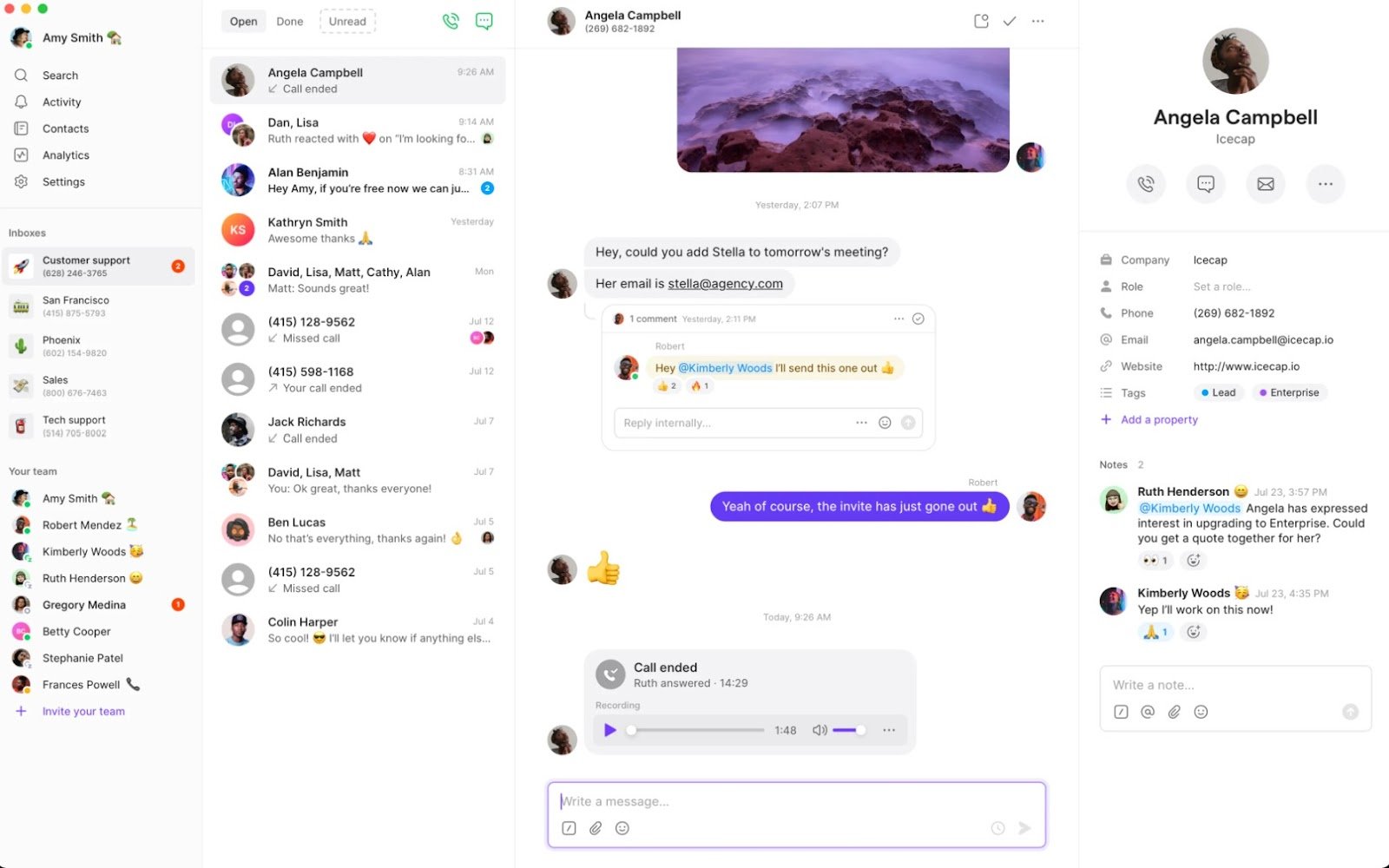 Workforce Management and Optimization
Workforce Management (WFM) tools automate supervisor tasks like scheduling, forecasting, and evaluating agents.
Built-in AI engines track channel activity and agent FTEs to forecast schedules, populating these shifts in agent dashboards, allowing agents to request changes, and enabling agents to trade shifts. Supervisors can view live queues, read transcripts, make timestamped written comments for in-depth feedback, and create evaluation templates for expedited evaluation.
Workflow Automations
Contact center solutions include built-in AI support that automates many agent and supervisor workflows.
Natural language detection (NLT) software provides live call transcripts, analyzing conversations live to give agents a variety of insights. Agents have access to live to-do lists, customer sentiment, canned responses, and recommended knowledge base articles.
AI automates workflows like task assignment, notifying relevant parties when their attention is needed, following up interactions with surveys, and more.
Omnichannel Analytics
Omnichannel analytics track and display metrics for all activity within the contact center, organizing these KPIs into real-time and historical dashboards that can be sorted by time, date, user, queue, department, channel, and reporting category.
Common Contact Center KPIs:
Channel usage by time of day and weekday
Agent performance
Average Handling Time (AHT) and first contact resolution rate
Agent Turnover Rate
Cost Per Contact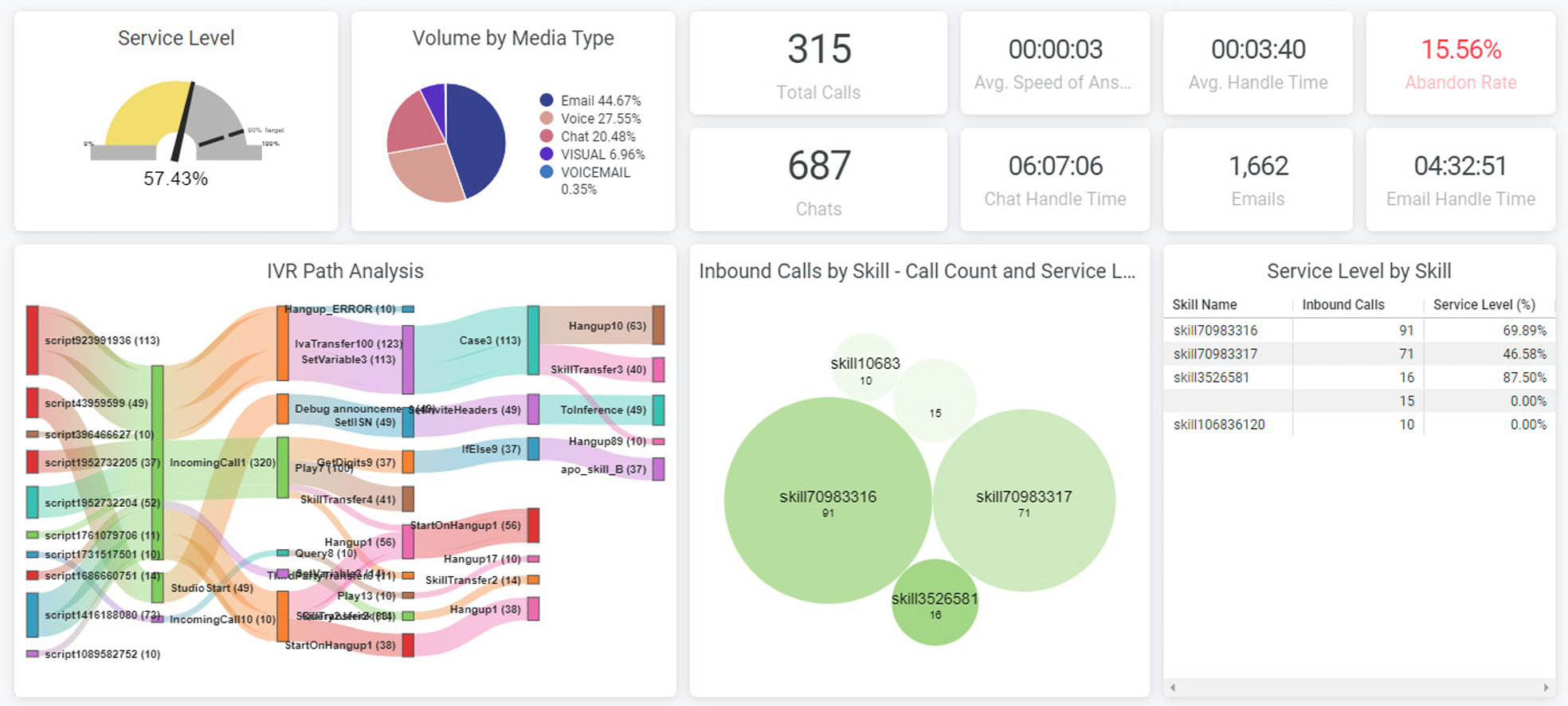 Contact Center and Call Center Pros and Cons
The below table highlights the pros and cons of call center software and contact center software.
Pros
Cons
Contact center

Provides multiple customer contact methods

Easy for the agent to manage a wide variety of tasks and channels

Advanced features like workforce management and workflow automations

Pricier than call center software

Too many channels can feel overwhelming and require extensive training
Some channels may be unused or wasted

Call center

Efficient functionality and easy-to-use interface for voice-only

Effective routing, queueing, and auto dialer features

Limits interactions to one channel

Lacks advanced features like workforce management and AI support

3rd party integrations can become expensive
Contact Center vs Call Center: Which One to Choose?
Between a call center and a contact center, the best fit for your business depends on your communication goals and the ways you want to contact your customers.
If you mainly deal with customers via phone, especially for outbound-only or inbound-only use cases, a call center's queueing, routing, and auto dialing functionality will provide plenty of support at an affordable and efficient price.
On the other hand, if you provide an app or service that prompts your customers to contact you through a variety of channels–such as through your app or website, via email, and via social media–an omnichannel contact center would enable you to provide a higher degree of customer service.