Today's call center software providers need to offer seamless omnichannel communication, leverage Artificial Intelligence to elevate customer self-service options, and include competitive workforce optimization and analytics tools.
Cloud contact center platform Five9 has continually met the challenges of increasing customer and business owner expectations–but is it right for your team?
In this complete Five9 review, we'll outline Five9 pricing and plans, available features, user experience, and more.
What is Five9? 
Five9 is an intelligent cloud-based contact center and Customer Experience (CX) software combining inbound/outbound voice calling, digital engagement tools, workforce management, and quality management into an omnichannel interface. 
The Five9 platform provides:  
Inbound, outbound, and blended call center suites
Digital Engagement across chat, email, SMS, social media messaging, video chat
AI-powered virtual agents, workflow automation, and agent assistance
Omnichannel analytics and metrics
 Employee Engagement tools like workforce and performance management, workforce optimization, gamification, and interaction analytics
Five9 Pricing and Plans
Five9 offers 5 bundled paid plans: the Digital Plan for $149/month, the Core Plan for $149/month, the Premium Plan for $169/month, the Optimum Plan for $199/month, and the Ultimate Plan for $299/month.
The Digital Plan ($149 / month) focuses on all digital channels except for Voice. It gives your team access to Chat, Email, SMS/MMS, and Social Messaging.
The Core Plan ($149 / month) focuses primarily on inbound, outbound, and blended call center features–and therefore does not include the channels from the Digital plan. It also lacks workforce optimization and workflow automation–so it's not ideal for any business looking for a feature-rich, truly omnichannel contact center. However, it does provide excellent value for money for call centers.
The Premium Plan ($169 / month) gives users access to Five9's Digital Engagement features in addition to voice calling, so agents can connect with customers on both chat and email channels. Though no workflow automation tools are available, it does include essential quality management features.
The Optimum Plan ($199 / month) includes all Core and Premium features, but provides enterprise-level quality and workforce management capabilities. Users also get access to basic proactive workflow notifications.
The Ultimate Plan($229 / month) is the top-tier Five9 plan, and includes all Core, Premium, and Optimum features alongside all advanced Workforce Optimization tools. It's the perfect plan for enterprise-level corporations that want a full-fledged contact center tool.
Complete breakdown of Five9 pricing plans is shown in the image below.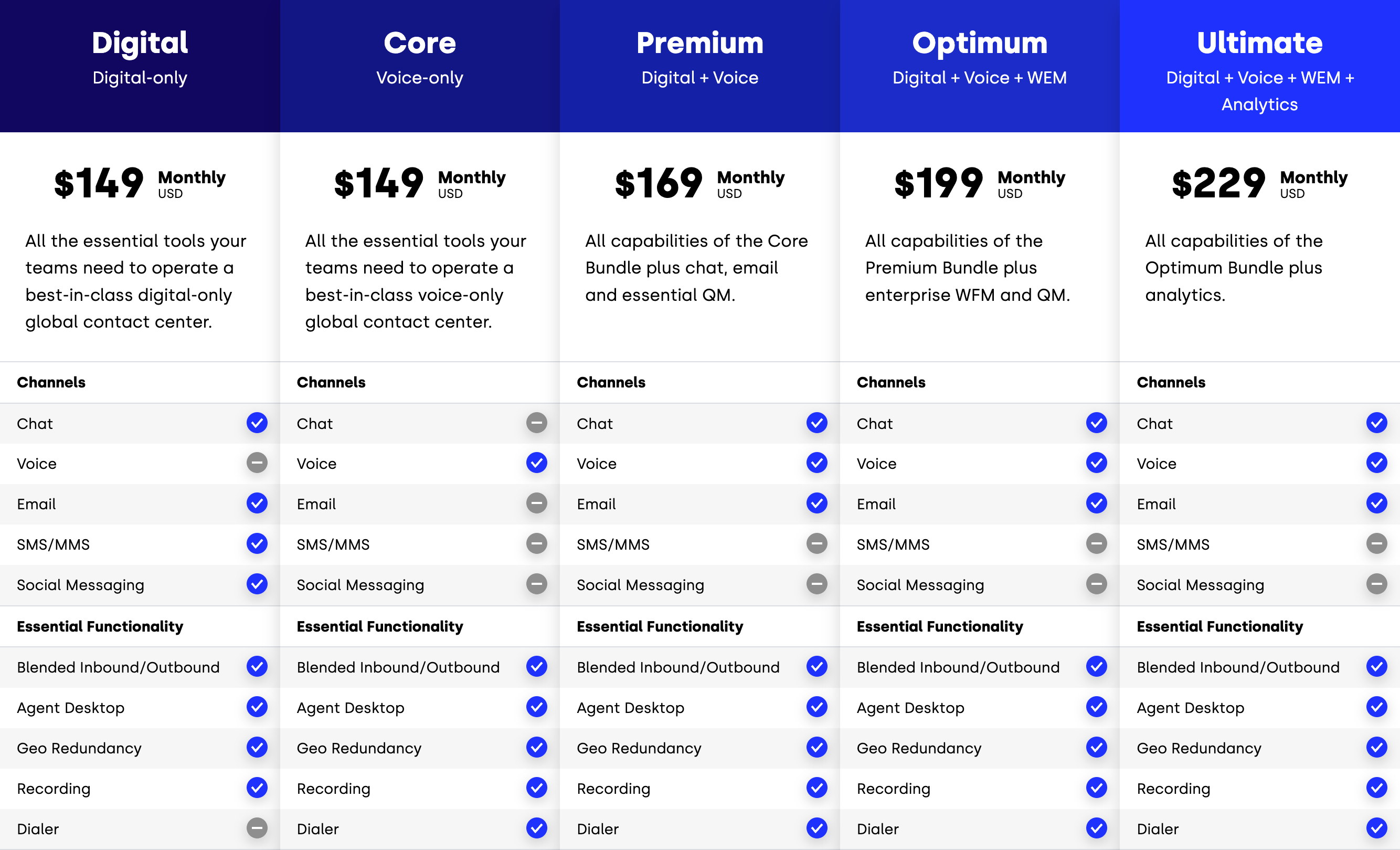 Top Five9 Features
Though Five9 offers a competitive set of features, we've outlined the cloud platform's top functionalities below.
Inbound Voice Calling
The Five9 inbound VoIP call center combines advanced ACD and IVR capabilities to decrease call hold time, ensure agents are ready for live customer calls, and optimize the call routing process.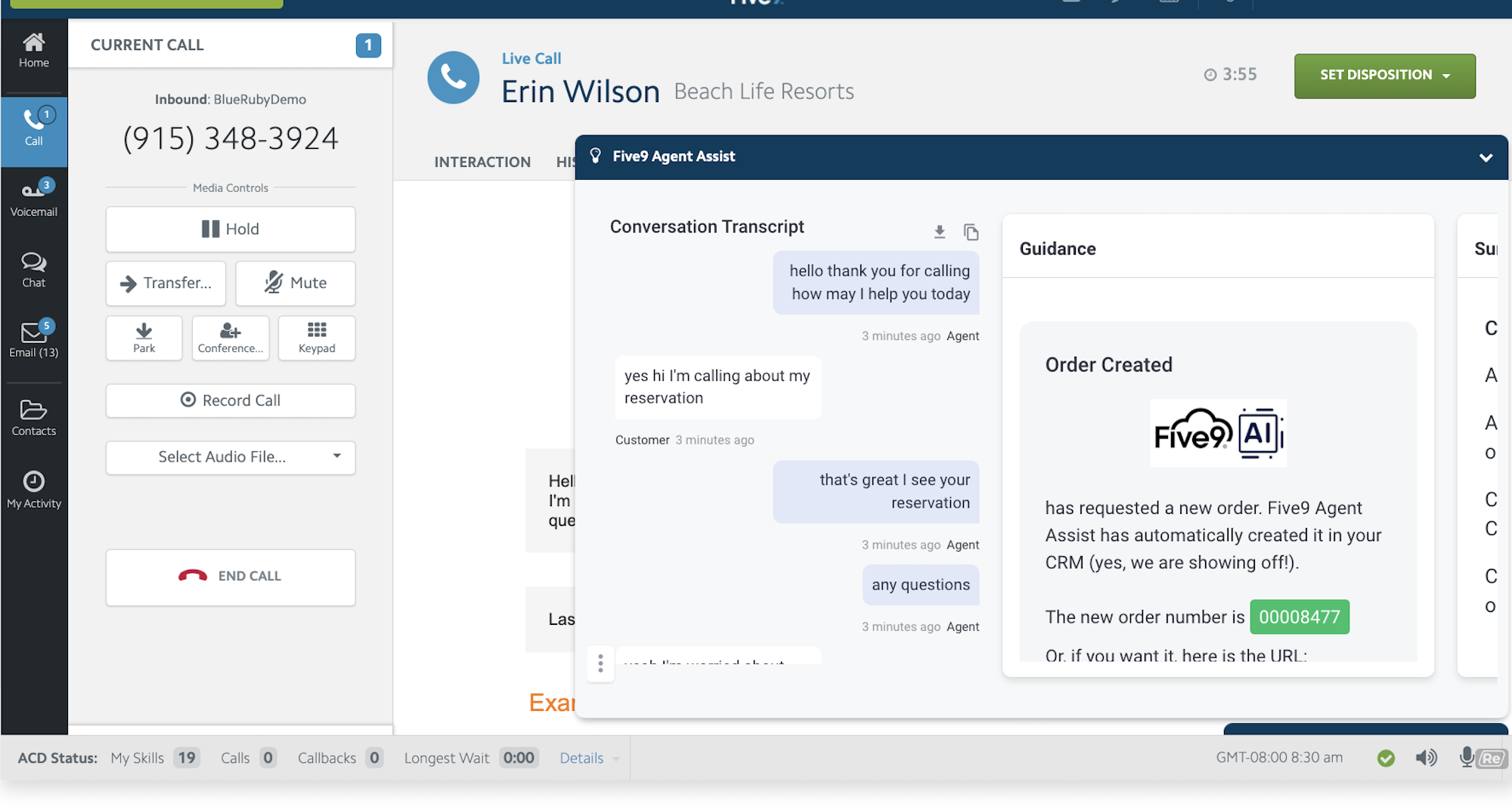 When an agent receives an incoming call, the Five9 Automatic Call Distribution (ACD) system automatically pulls all relevant customer information from omnichannel contact histories and integrated CRM tools to create a data-rich screen pop. These screen pops display information about customer order history, current customer support tickets, notes from other agents, client location, and more.
Customers with more basic issues can take advantage of speech-enabled hosted IVR (interactive voice response) on standard desk phones or use visual IVR on mobile devices for self-service.
If customers need to speak with a representative but don't want to wait on hold, call scheduling, estimated wait times, and the number of callers in front of them in the queue provides incoming callers with better options.
They can opt to receive an automatic web callback when the right agent is free, schedule a callback at a time that works best for their schedule, or leave a voicemail.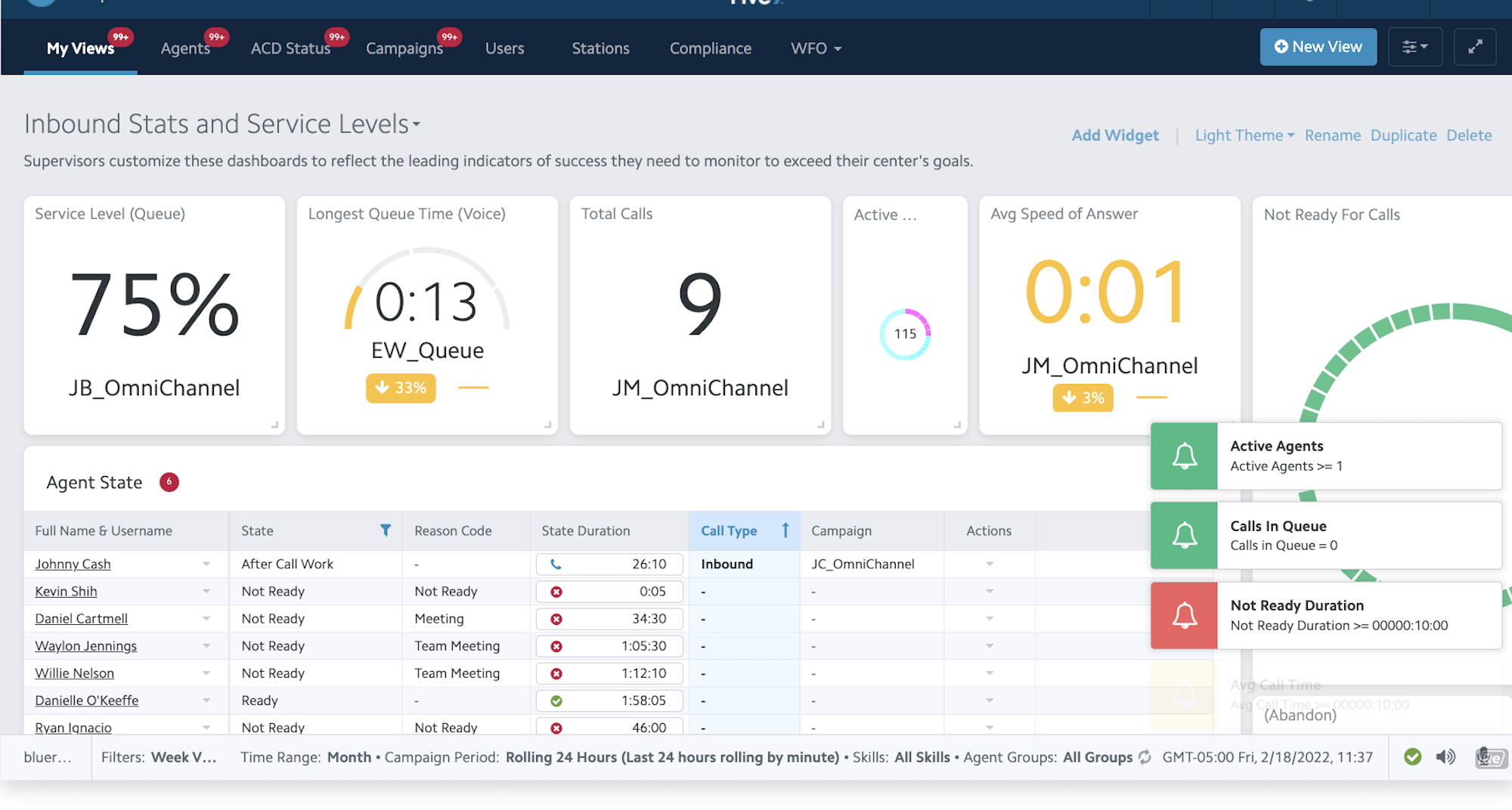 The inbound call system provides additional call routing and IVR features like:
Call Recording
Skills-based routing
Priority routing
Time-of-day routing
Voicemail routing
Post-call customer care surveys
Agent call scripting, drag-and-drop script-building tools
Real-time reporting
Toll-free numbers
Incoming call whisper
Inbound call analytics
Softphone capabilities
Outbound Dialer 
The Five9 Dialer offers automated outbound calling for maximum lead list penetration and minimal agent downtime between calls. Preview, Predictive, Power, and Progressive dialing modes are available.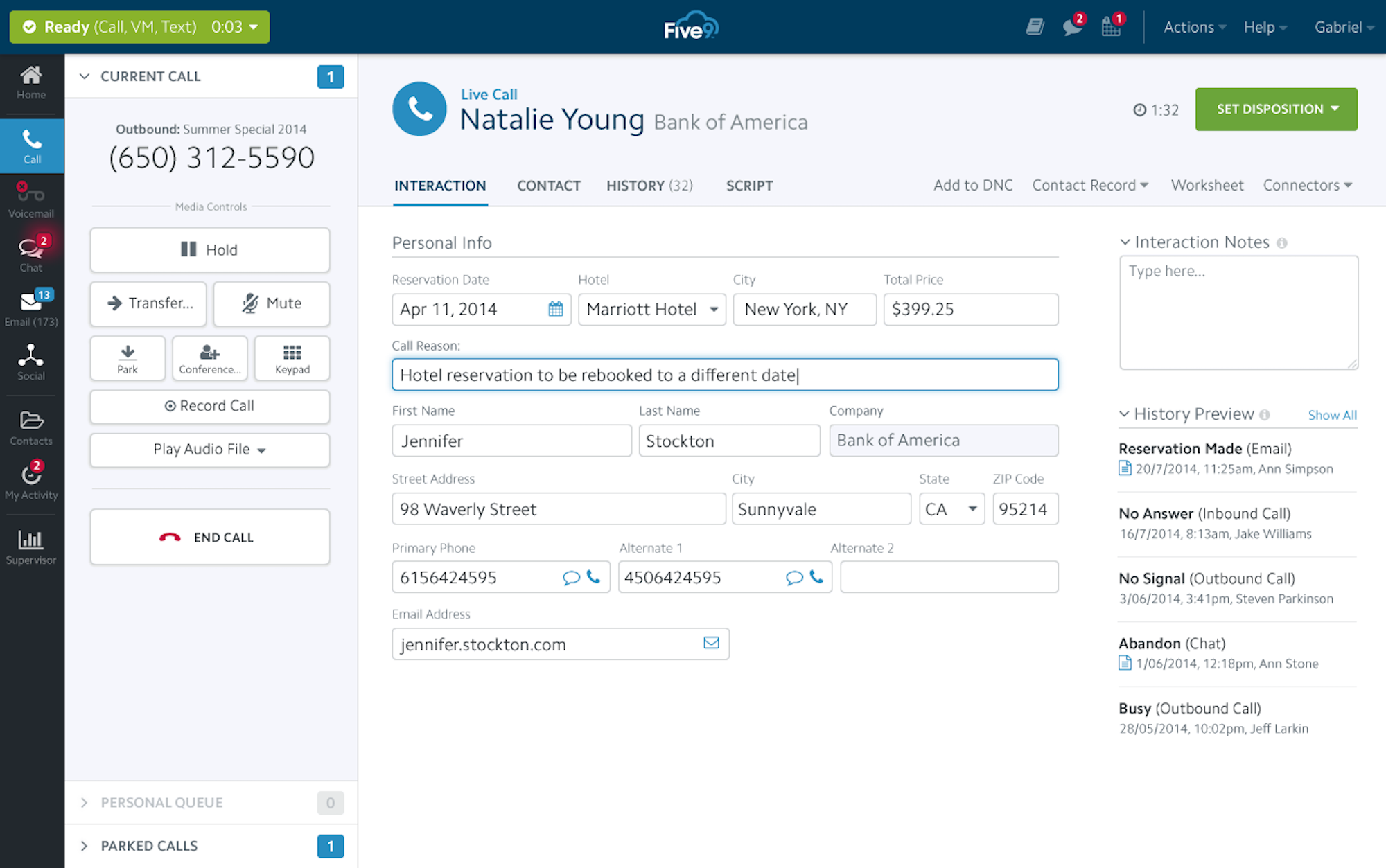 Predictive Dialer
The predictive dial feature uses an algorithm to estimate when agents will be available based on current call rates, call lengths, and more. Then, it automatically adjusts its outgoing telephone calling rate accordingly.
Predictive calling allows agents to avoid losing time on busy signals, disconnected numbers, or unanswered calls, ensuring instead that they connect with a caller from their specific list that is ready to talk.
Data on the provider's website shows that the average agent increased their hourly talk time from 15 minutes to 48 minutes.
Power Dialer
Especially if you've paid for an expensive lead list, you want to see a high ROI as soon as possible.
While Five9's CRM integrations and predictive calling features can help, agents still lose valuable time physically putting in the numbers.
The Power Dialer eliminates that issue, instead automatically calling the numbers on a lead list. It also initiates the auto dialer feature for the next number as soon as an agent becomes available.
Progressive Dialer
While predictive dialing bases outgoing calls on a predetermined ratio, progressive calling connects agents to prospects only when they have picked up the line.
As soon as an agent indicates they are available to speak with a lead, the progressive dialer auto dials the numbers on a list. This increases productivity while ensuring that, when a lead answers a call, they are automatically connected to a representative.
Preview Dialer
While Screen Pops show incoming callers' customer history, a preview dialer provides agents with contact records for outgoing phone calls.
This allows agents to be as prepared as possible for an upcoming sales call.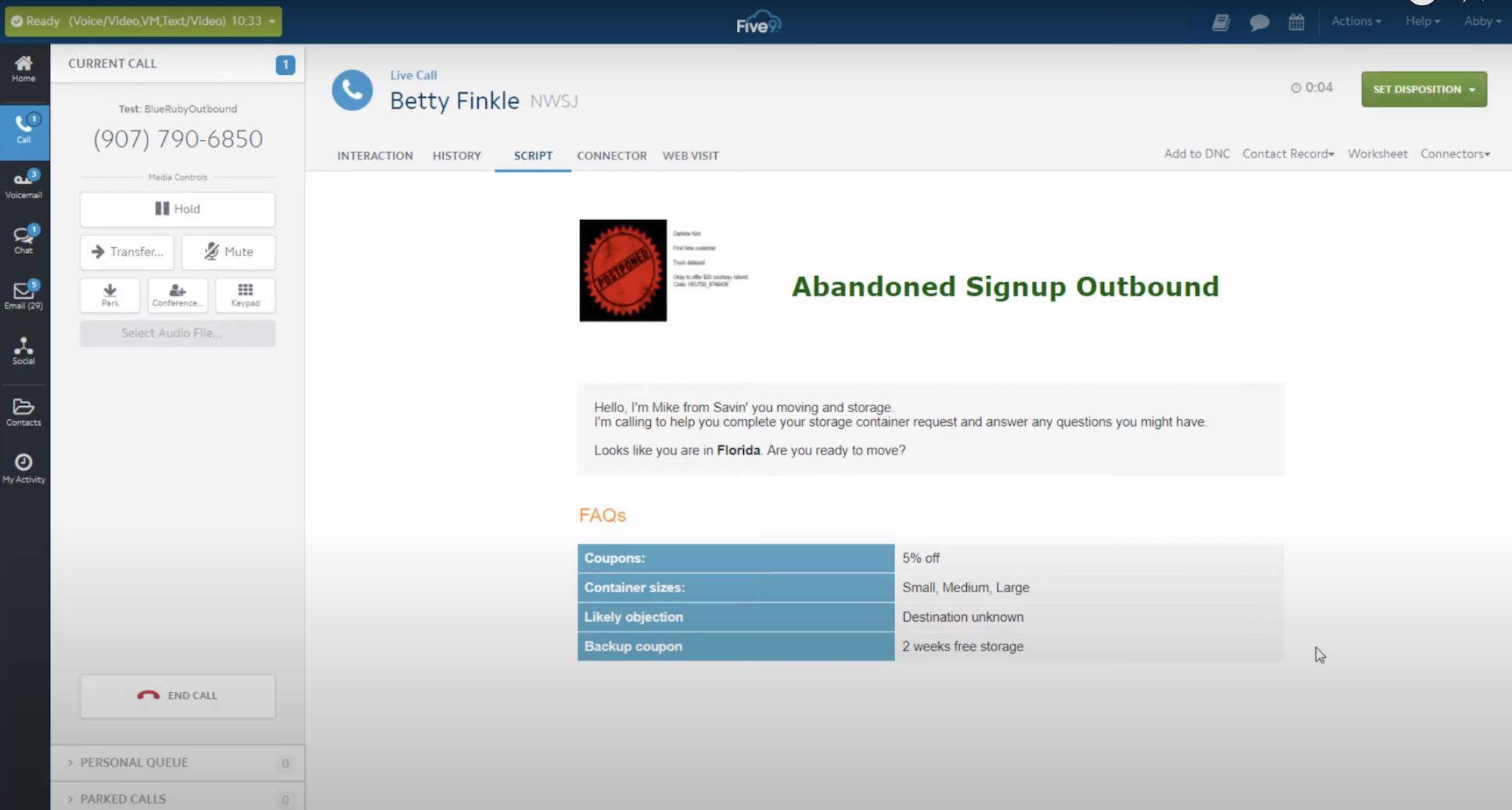 TCPA Compliance
The Telephone Consumer Protection Act (TCPA) created by the FTC and FTC places restrictions and regulations on robocalls, autodialing, and Do Not Call lists.
Five9's  Manual Touch Mode ensures TCPA compliance by requiring agents to manually initiate a call from a separate server.
By working with third-party legal counselors and TCPA experts, Five9 ensures DNC compliance and FCC regulations will not hinder your agents' productivity or put your business at risk.
Always ensure you're familiar with call recording laws in your state to avoid regulatory complications.
Additional outgoing call features include:
Vertical calling mode
Local caller ID
Timezone call rules
Voice recording
Call quality monitoring
List penetration dial tool
Automatic voicemail
Outgoing phone call priority
Disposition timers
FTP data importing
AI-Powered Agent Assist
AI-powered Agent Assist from Five9 provides in-conversation agent guidance via live call transcription, internal knowledge base integration, CTI screen pops, and machine learning technology.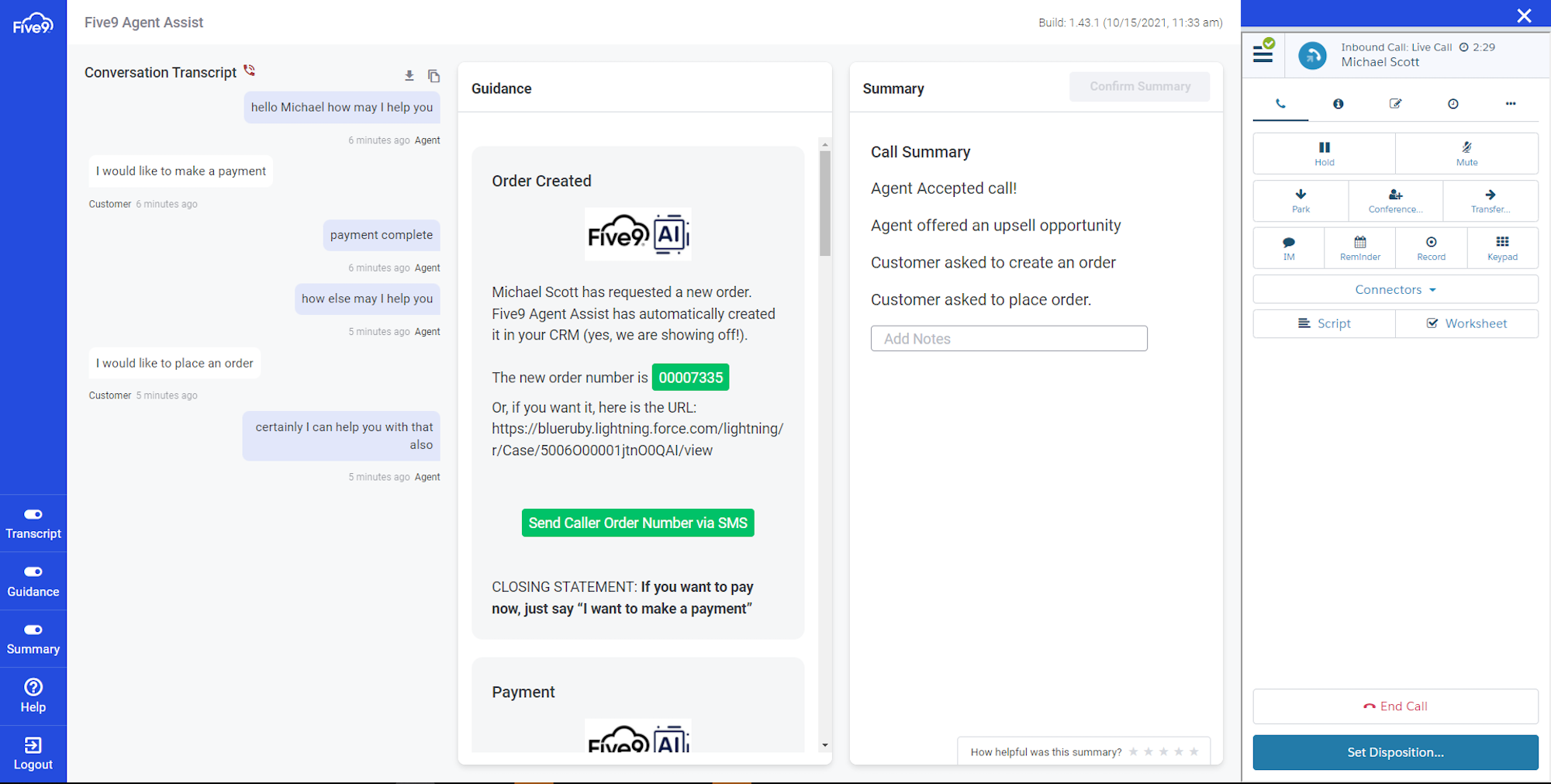 Using AI, Agent Assist evaluates the context of the conversation, identifying "trigger" words and phrases like "make a payment" or "lost order." It then automatically searches your company's internal knowledge base to find relevant resources like call scripts, step-by-step issue resolution instructions, conversation checklists, or compliance reminders.
Because Agent Assist also integrates with your CRM system, agents can also access detailed customer information while on a call–eliminating the need for customers to repeat themselves or go searching for past order details.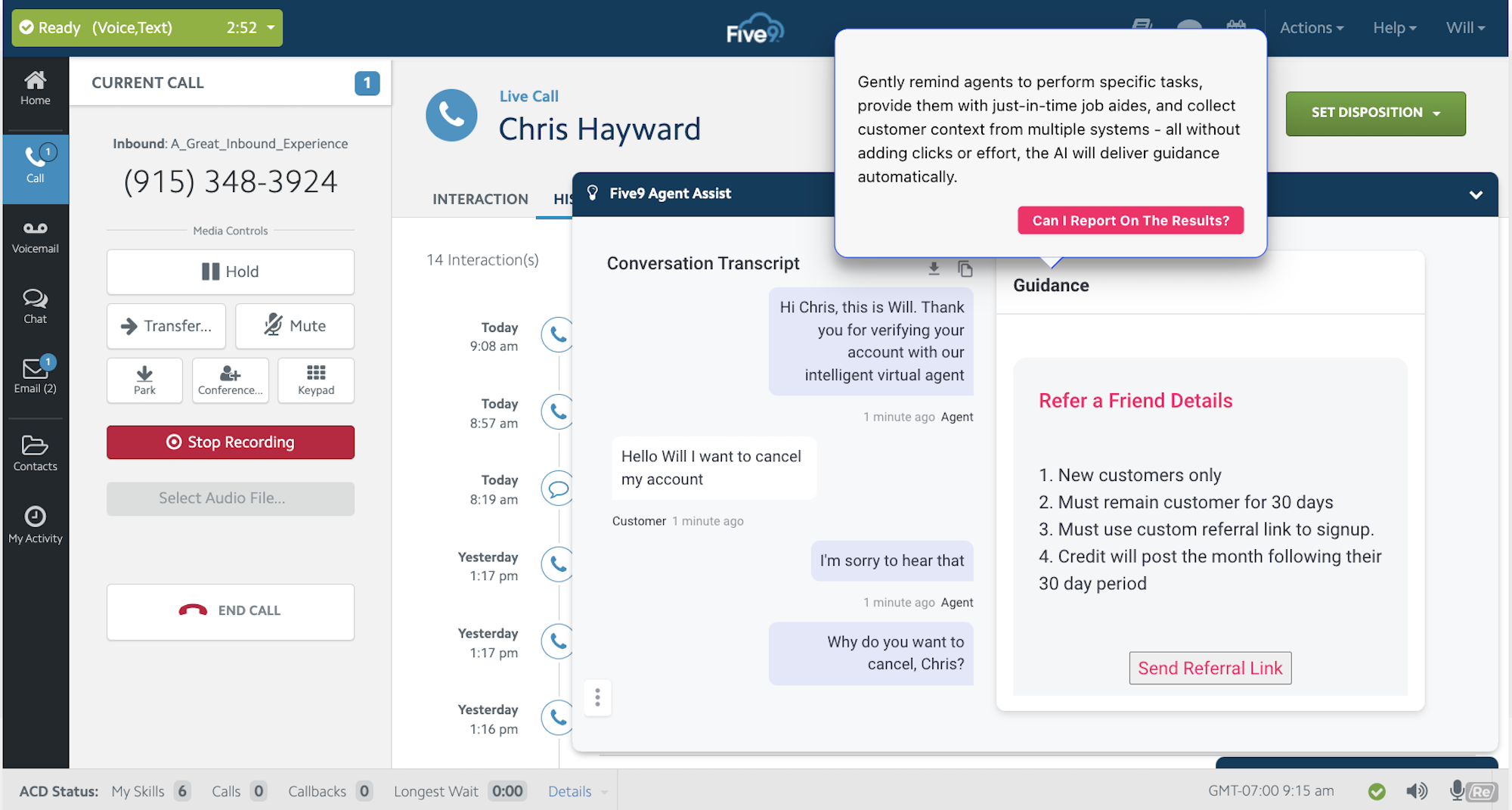 In addition to complete call transcripts, Agent Assist summarizes calls in real-time, making note of conversation highlights as well as all actions taken by the agent/customer during the call. Once the call is completed, AI Agent Assist automatically uploads the call summary and a complete, searchable call transcript to your preferred CRM tool.
Agent Assist eliminates manual agent note-taking, decreases after-call work, shortens Average Handle Time (AHT), and increases First Call Resolution rates. It also improves the quality management and performance review processes, boosts customer satisfaction,  and ensures any agents that work with the customer in the future have a complete, accurate record of past interactions.
Five9 Intelligent Virtual Agents (IVAs)
Five9 IVAs (Intelligent Virtual Agents) provide 24/7 automated customer self-service across digital and voice channels by guiding customers through pre-recorded call menus, chatbot interactions, or optimized call flow paths.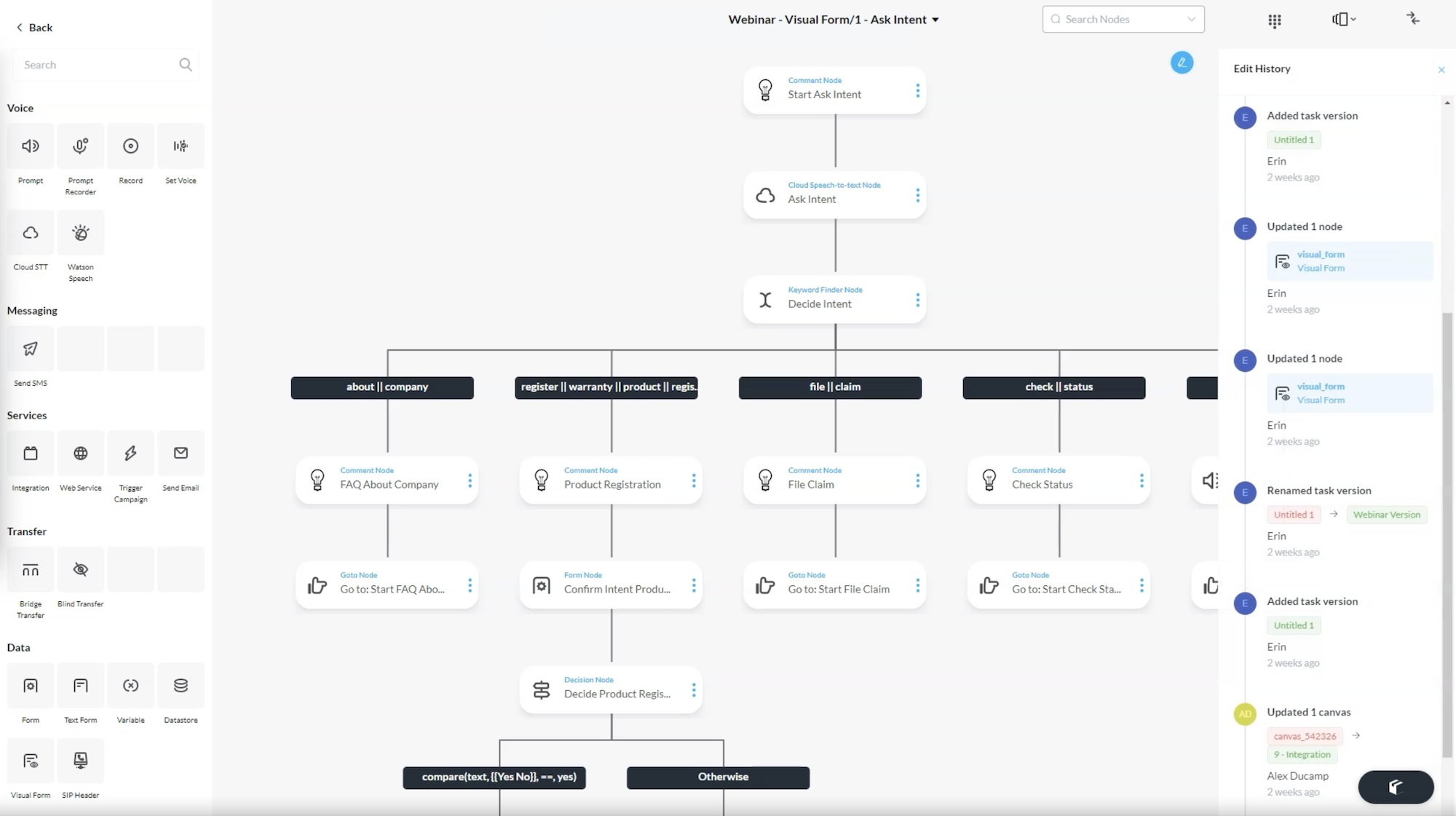 These IVAs either automatically handle a customer's support request from start-to-finish (eliminating the need to connect to a live agent) or connect customers to the best available live agent to assist them with their specific issue.
Five9's IVAs use Natural Language Understanding (NLU), Conversational AI, and speech recognition to evaluate customer intent, understand complex sentences, identify key words/phrases, and communicate with customers in natural-sounding language.
Because Five9 provides 25 different voice avatars, custom branded voices, and speech-to-text technology, customers never feel like they're speaking to a robot.
IVA paths for voicebots, chatbots, and automated SMS can be created, managed, and edited in the click-not-code, drag-and-drop Five9 Studio interface.
Additional IVA and Studio features include:
Multi-lingual support
Call flow/digital interaction flow templates
Intelligent interaction routing
Sentiment analysis
IVA performance reporting
Because Five9 IVAs integrate with your CRM system, they provide customer-specific, specialized support that could previously only be handled by speaking to a live agent.
Five9 IVAs automate numerous business processes, including:
Appointment scheduling, reminders, cancellations, updates
Shipping, delivery, or order updates
Account information updates
Balance inquiries/bill payment
Basic customer support requests
Password reset
Though most IVAs will completely resolve the customer support request on their own, if a live agent does need to get involved, they can first review all the information the IVA collected before connecting to the customer–keeping the support process effectively and efficiently for all.
Five9 Digital Engagement
The Five9 Digital Engagement tool takes a digital-first approach to omnichannel customer service, empowering agent:customer communication and self-service across:
Inbound and outbound voice calling
Chat messaging
Social media messaging (Facebook Messenger, WhatsApp, Twitter DMs, etc.)
Email
Five9 Video
Smartphone and mobile apps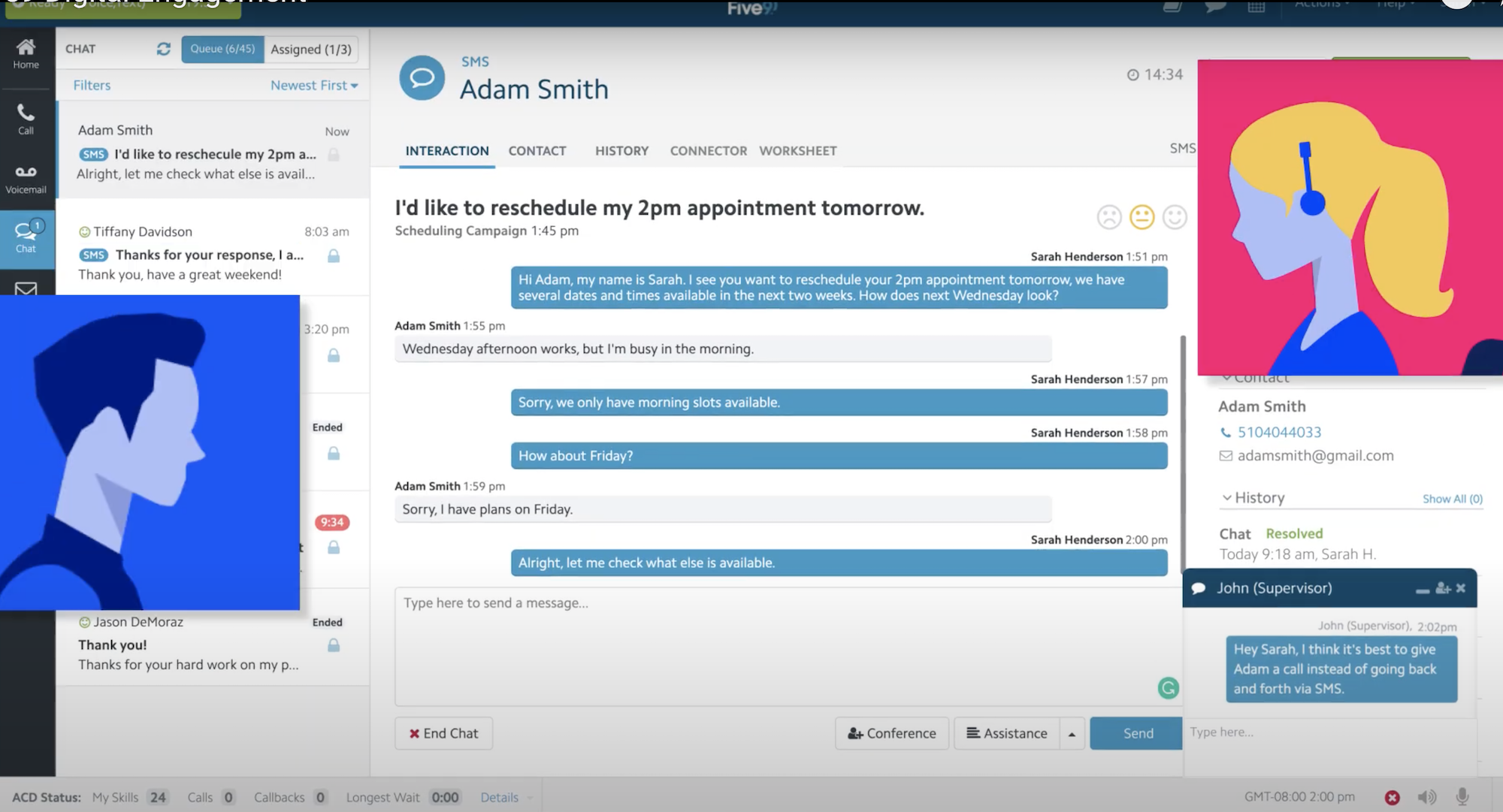 The Digital Engagement tool provides a single, unified interface for communication across all of the above channels, while CRM integrations and screen pops provide essential customer details in an instant.
Five9 Messaging makes it easy for customers and agents to chat in real-time directly on your business website, via social media, or through texting. The messaging interface is the same regardless of the specific channel or social media platform, so there's no need to switch between multiple apps throughout an interaction.
Popular Messaging features include: 
Automated, IVA-powered chatbots
Customized/branded messaging portals
Text-to-speech messaging
Customer forms and surveys
Skills-based cross-channel routing
Concurrent messaging sessions
Five9 Messaging API for third-party messaging tool integrations
Send/receive attachments
Location sharing
Send emojis, GIFS, links, direct replies
Button answers
Live agent transfer/escalation
AI-powered email spam detection
Multichannel workflow automation
Intelligent email routing
Auto-reply feature on all digital channels
Five9 Video allows customers to escalate their digital or voice-based interactions to a live agent video chat.
Customers can share their screens with agents on desktop or mobile devices, and agents can annotate customer's screens to provide better assistance. More advanced in-video features like ID and barcode scanning, file and photo sharing, and rich communications are also available.
Face-to-face, personalized communication makes quick support resolutions possible, while video call recording lets agents evaluate their own performances and identify ways to improve.
Workforce Management
Workforce Management is designed to improve call center efficiency by identifying current and future contract volume trends, ensuring that there are always enough available agents to respond to calls during busier times.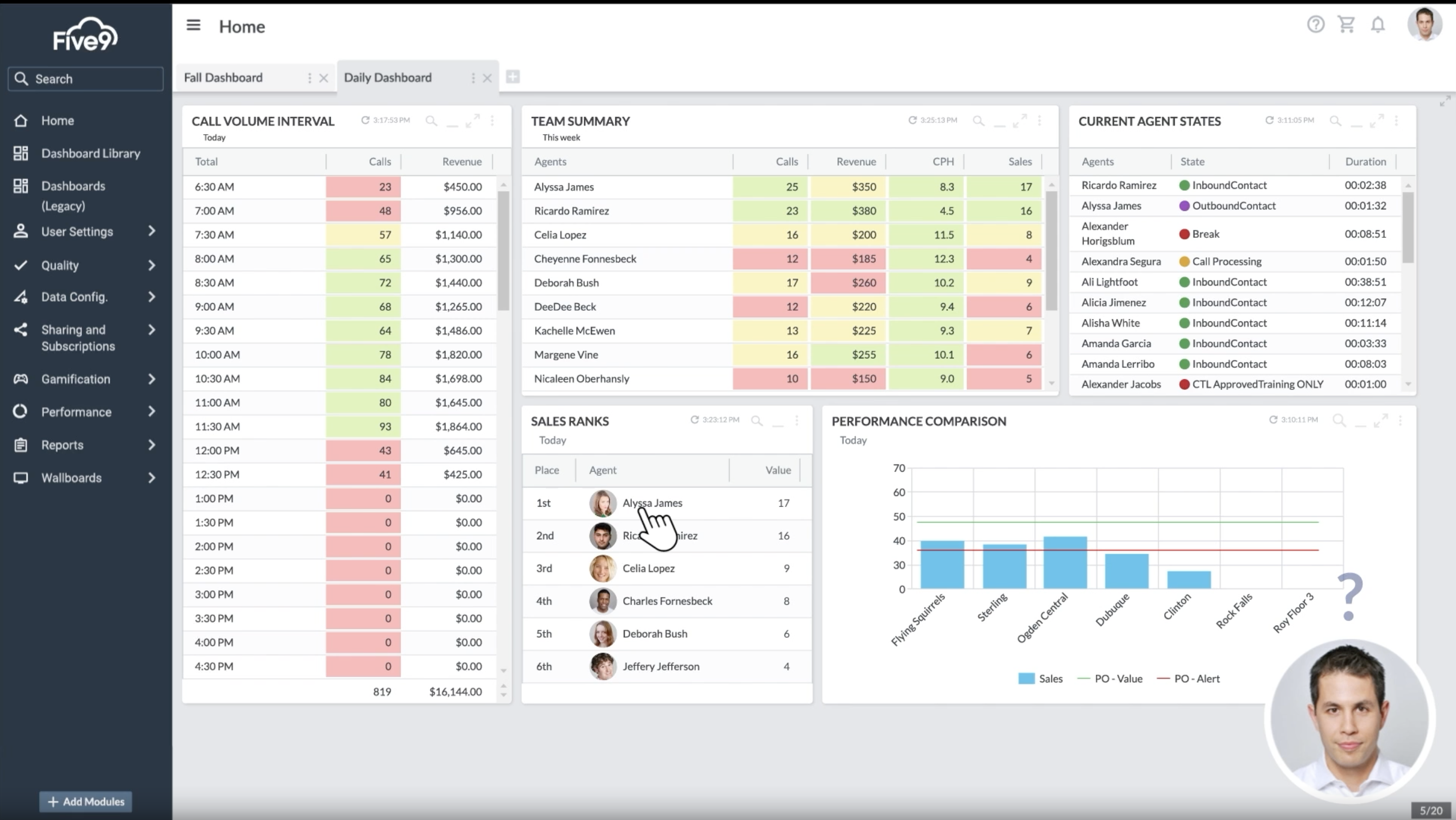 By creating agent schedules based on employee headcount and call volume, companies can decrease overtime hours, lower call abandonment rates, and ensure that agents with the required skill levels are available for priority clients.
Five9 automatically adjusts agent schedules and allows managers to monitor schedule adherence in real-time.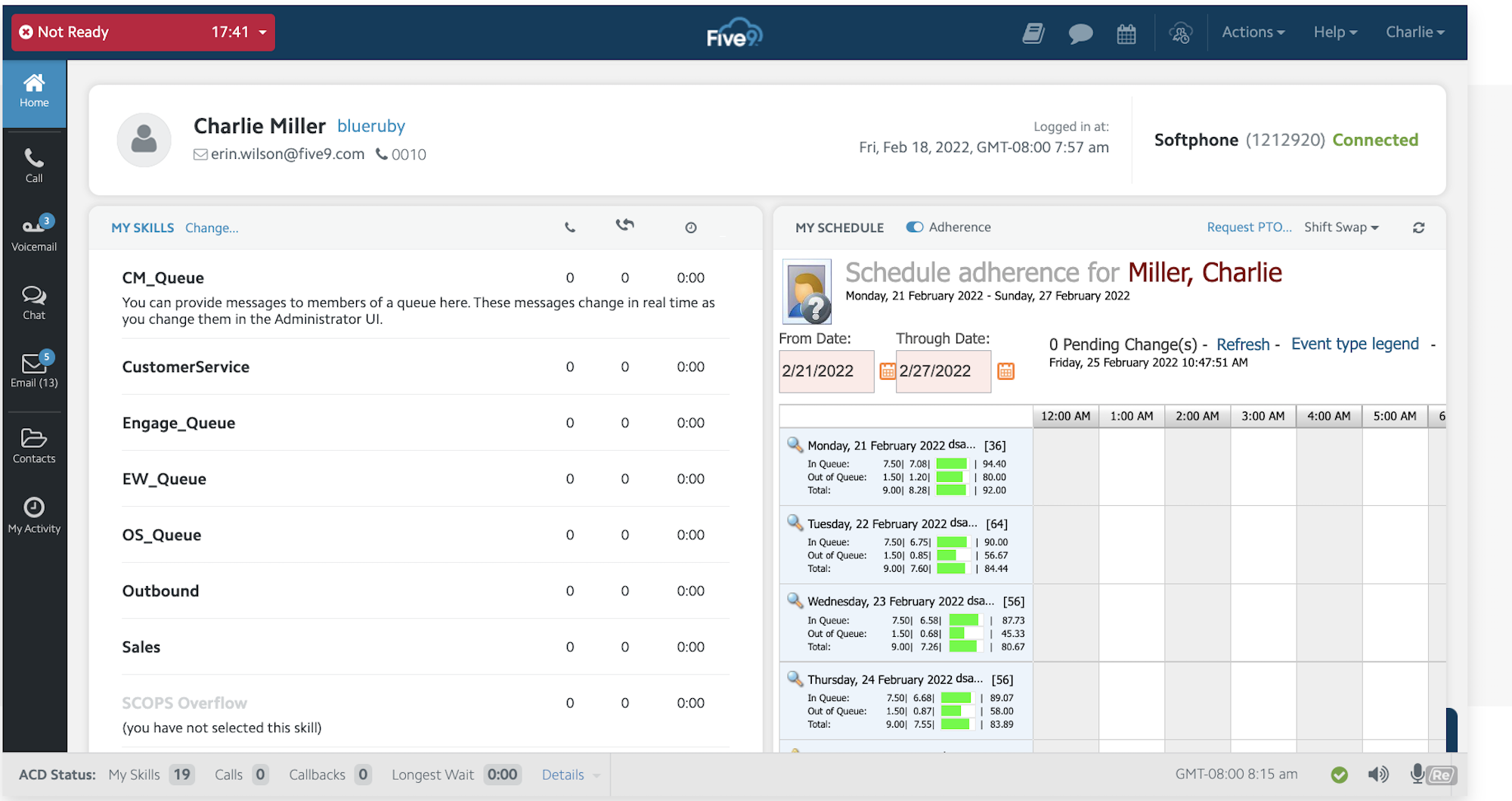 Additional workforce management features in the Five9 call center solution include:
Agent preference scheduling models
Cost of schedule analysis
Event and vacation management tools
"What if" forecasting scenarios
Quality Management
The Quality Management System allows for the monitoring and review of recordings of phone, chat, email, and more customer interactions stored within the cloud contact center.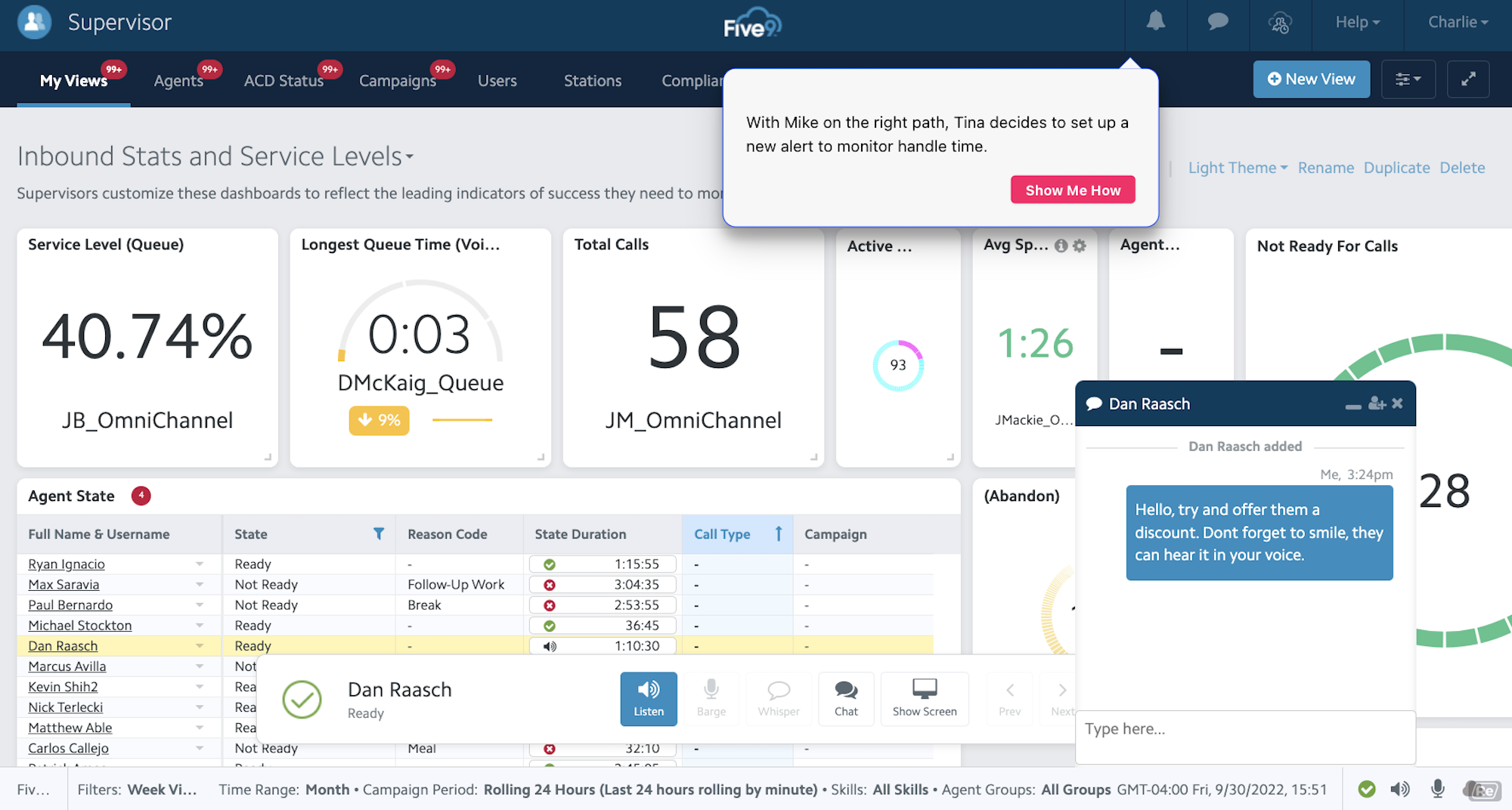 By importing these recordings and relevant metadata into the interface, managers have the capability to search for specific interactions, score them, and send them to upper management for additional review.
Managers can also scan for agents who need assistance in real-time, see live agent activity on multiple screens, and create unlimited evaluation forms. Agents will have the opportunity to see and respond to these evaluations, allowing for better communication and faster resolution of problems.
Additional features include:
Real-time privacy controls
Scalable recording storage
Analytics on call flow, customer feedback, speech, screen content, and more
Gamification
Five9's Call Center Gamification tool identifies and creates a reward system for positive agent work habits and greater employee personalization at work.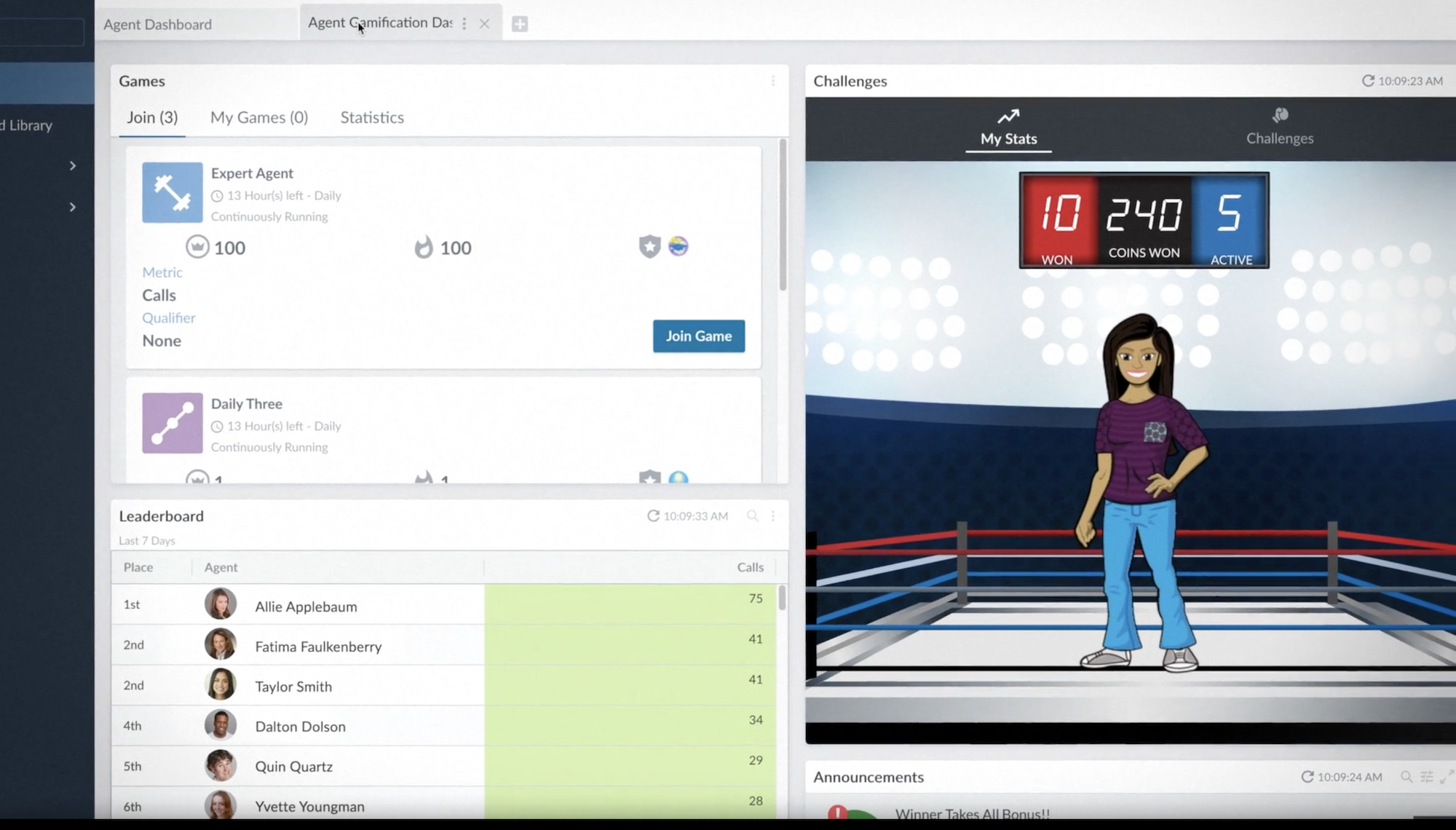 Employees can choose from rewards in the provider's Marketplace, which offers digital and experience-based rewards like concert tickets and gift certificates. Agents can compete against each other to improve team collaboration and increase motivation.
Five9 Integrations
Though Five9 does not have a native CRM tool, integrations allow users to condense CRM and team collaboration tools into a singular platform.
Cloud APIs allow for further customization and advanced integrations specifically designed to suit the needs of a company.
Top Five9 integrations include:
Salesforce
Netsuite Oracle
Microsoft 365
Zendesk
Zoho
Zoom
ServiceNow
ValidSoft
Tethr
Streem
Fuze
Five9 Pros and Cons
The below pros and cons table outlines the Five9 user experience.
| | |
| --- | --- |
| Five9 Pros | Five9 Cons |
| 24/7 phone, email, online portal customer support on all plans, alongside a searchable online knowledge base with FAQs, on-demand, and custom training courses | Most affordable plan starts at $149/month per concurrent user–expensive considering the cheapest plan offers no chat, email, workforce optimization, nor workflow automation features |
| Five9 Studio's overall ease of use is high, thanks to its no-code interface for designing/optimizing IVA flow paths. Multiple admins can simultaneously collaborate on automation/IVA design in real-time | Video chat features limited compared to competitors, despite Five9 marketing itself as a digital-first platform |
| 99.999% guaranteed uptime with 24/7 network monitoring and intrusion detection | Even with recent interface update, end user dashboard can look/feel dated and less intuitive than competitors |
| Transparent pricing models and 4 available bundled plans–a rarity among most contact center software | Frequent customer complaints of dropped calls |
Who Should Use Five9? 
Five9 is best for medium-to-enterprise-level contact centers reliant on automated, IVA-powered customer self-service tools across digital and voice channels.
Five9 is also an excellent option for business owners focused on workforce optimization and quality management. Workforce management features like schedule forecasting, real-time adherence monitoring, live agent shift bidding, and "what if" forecasting scenarios simplify the agent scheduling process–especially for mostly remote teams.
Quality management tools like live agent coaching and performance gamification keep employee engagement high and turnover rates low.
Businesses using Five9 have a high daily call volume, and while they likely have a high number of contact center agents, they still count on self-service options to manage the majority of customer support requests.
Though most popular in the sales and telemarketing industries, popular Five9 is also used in the education and healthcare sectors, collections agencies and other financial services, and in business process outsourcing.
In most cases, new or small businesses won't need all the advanced features Five9 offers.
Top Five9 Alternatives 
Popular Five9 alternatives include the below contact center software providers:
| | | |
| --- | --- | --- |
| Provider | Pricing | Best For |
| Genesys | 5 plans from $75.00-$150.00+/month | Mid-size to Enterprise-level contact centers needing workflow automation tools and omnichannel customer self-service |
| Talkdesk | 4 plans from $75.00-$125+/user/month | Remote contact centers requiring a feature-rich and flexible platform offering team collaboration alongside high-level automations |
| NICE CXOne | 4 plans with quote-based pricing | Contact centers that communicate with customers across a high number of different channels daily |
| Nextiva | 4 plans with quote-based pricing | Teams looking for scalable, customizable contact center solutions |