First Call Resolution (also referred to as a "First Contact Resolution") is an essential performance metric to include in routine call center audits.
In this article we'll cover what first call resolution is, discuss an acceptable FCR rate, and what steps you can take now to improve FCR in your contact center.
Read on to find out how–and why–to make first call resolution a part of your data sets.
Compare call center software from
top providers
Jump to ↓
What is First Call Resolution?
First Call Resolution (FCR) is a call center KPI that measures the percentage of support requests that are entirely resolved–meaning no follow-up is required–within the first interaction between customers and live agents/automated support bots.
First Call Resolution refers exclusively to phone-based customer service interactions, while First Contact Resolution refers to interactions that happen via phone call and additional communication channels like website chat or social media messaging. (Note that in this post, we use the terms "First Call Resolution" and "First Contact Resolution" interchangeably.)
Your business's FCR rate is a strong indicator of:
Customer service and customer support quality
The effectiveness of your agent training methods and materials
Customer satisfaction levels outside of calculated CSAT scores
How agent staffing/scheduling strategies align with current contact center or call volume
The quality and effectiveness of current Interactive Voice Response (IVR) call menus, chatbots, IVAs, and other customer-facing support tools like online knowledge bases
Average support resolution times
Overall customer experience
What is a Good First Call Resolution Rate?
Generally speaking, the industry standard FCR rate is between 70-75%–but like most call center metrics, a "one-number-fits-all" solution rarely applies.
Remember: a good FCR rate is never more important than good customer service. If an agent needs to get confirmation or assistance from a manager to give accurate and genuinely helpful advice, scheduling a follow-up takes precedence over FCR performance.
Additionally, your business's target first contact resolution rate may be influenced by:
Average daily contact volume
Average inbound: outbound contact ratio
The number of available agents
The industry your business is in
The size of your customer base
Your available communication channels
How To Calculate First Call Resolution  
The standard formula for calculating FCR is:
FCR = (Total Resolved Cases ➗  Total Number of Cases) x 100
So, if you've resolved 750 cases out of 1,000 total cases, your first contact resolution rate would be 75%.

Defining FCR In Your Call Center
Accurately calculating FCR–and setting realistic FCR benchmarks for your call center–heavily depends on your business's specific definitions of the terms "first contact" and "resolution."
First, a hard truth:
Regardless of how you as a business owner define FCR, the reality is that only your customers can truly decide when an interaction is completely resolved to their satisfaction.
That said, team leaders can identify the factors with the highest influence on customer satisfaction and agent productivity, and use them to create a customized FCR definition that provides accurate, insightful results.
An Example of Standard FCR 
Most businesses follow the "dictionary definition" of FCR:
A customer contacts your business with a support question
They connect to a live agent, either directly or via your automated system (IVR, chatbot, etc.)
The agent understands the issue at hand and provides relevant support that completely resolves the customer's problem by, for example:

Processing a refund for a lost order
Answering specific questions about a product/service
Scheduling a service appointment or taking a product order
Offering step-by-step technical support that fixes the issue

The agent gets verbal/written confirmation from the customer that their service/support request has been completely resolved by asking, for example:

"Is there anything else I can help you with today?"
"Have I taken care of everything for you?"
"Do you have any other questions for me?"

"Can I mark this issue as resolved?"
Factors Influencing Your FCR Definition 
When developing your specific definition of FCR, perhaps the biggest decision to make is whether you'll calculate only live agent: customer interactions, or if you'll also include automated interactions via IVA, IVR, chatbots, etc.
You'll also need to set a specific contact window that sets the maximum amount of time that can pass in between interactions before it can no longer be considered within the first contact resolution range.
More of the most common factors influencing how businesses define "First Contact" include:
Business Hours: If a customer first contacts your company outside of normal business operating hours, you may count the first follow-up interaction as the true "first contact"
Specific Channels: Which channels are included in your FCR calculations (Voice only, Voice+Digital, etc.)
Call Transfers, Call Queues, and Escalations: When customers are transferred, routed, or placed in a call queue to connect with the best available agent, does this negate the possibility of first contact resolution? Does hold time impact these decisions? If the escalation matrix is initiated, will this negate the possibility of FCR?
Voicemails and Callbacks: If a customer leaves a voicemail message or requests an automated callback, does the "first contact" begin when the customer is followed up with, or when they contact your business for the first time regardless of the outcome?
Call Abandonment: Will abandoned customer calls (when callers hang up before being connected to a live agent or auto attendant) Be included in your FCR calculations?
The Benefits of First Call Resolution
The data below shows the biggest benefits to improving your FCR, including higher employee and customer retention rates, decreased operating expenses, and improved employee performance.

Decreased Customer Churn, Increased Customer Satisfaction
While many businesses focus on "delighting" shoppers, creating attention-grabbing social media content, or providing cutting-edge products, consumers consistently say the best companies are those that respect their customers' time.
Nothing communicates that as well as a support issue that takes just one interaction to fix.
Over 90% of consumers expect an immediate response to all customer service inquiries–meaning a prompt resolution is priority one to the majority of your market.
Almost 70% of customers that left a business cite the company's failure to completely resolve their issue upon first contact as their reason for leaving.
It's no wonder then, that every 1% increase in first contact resolution correlates to a 1% increase in CSAT levels.
Lower Operating Costs, Higher Profits
Higher employee retention rates offer a huge cost savings, given employee turnover costs companies roughly 33% of the lost employee's salary annually.
For every 1% increase in first contact resolution rate, employee satisfaction increases by up to 5%.
Research from Frost & Sullivan found even just a 15% improvement in FCR reduces repeat calls by 57%, providing major savings considering CPC can reach up to $1.00/minute.
Given that only 5% of call centers in the world are currently operating with an FCR of 80% or higher, it's easy to see why consumers are much more likely to do business with productive teams.
But you won't just boost customer retention and satisfaction rate by increasing FCR: you'll also get more from your current customers.
According to SQM research, higher FCR increases customer acceptance of cross-selling offers by 20%.
Just measuring FCR has its benefits: 60% of businesses that monitor FCR for at least a year see company performance increase by 30%.
How to Improve First Call Resolution Rates
Below, we've outlined the top 5 call resolution best practices.
Always Get Resolution Confirmation 
To secure a high FCR rate, instruct support agents to get written and verbal resolution confirmation from the customer at the end of every interaction to ensure that the issue has truly been resolved to the customer's content.
Agents may also want to confirm that this is the first time the customer has reached out about the issue by asking, "Have you contacted anyone else on our team about this problem, and if so, when?"
Offer Effective Customer Self-Service Options
Customer self-service tools like IVR, IVAs, chatbots, online knowledge databases, FAQs, and on-demand training webinars, and detailed product information don't just improve FCR–they also boost customer satisfaction.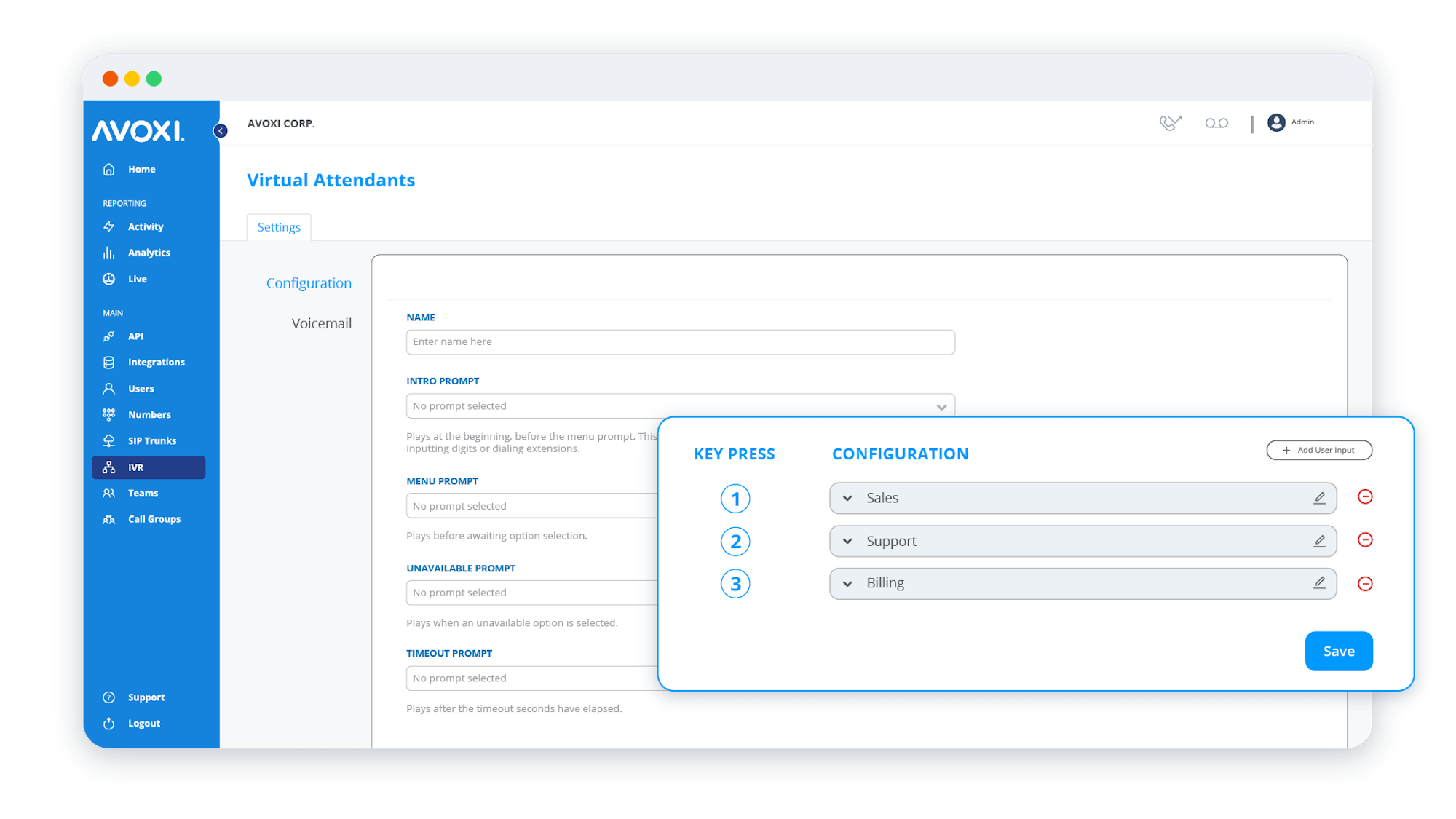 Constantly monitoring and updating automated call flow paths, optimizing omnichannel routing strategies and call menu options, and using machine learning and AI to improve customer self-service over time are essential to keeping FCR rates high.
Plus, quality 24/7 self-service lets customers independently resolve their common issues on their own schedule and preferred communication channel, keeping agents free to assist with more difficult support team requests.
Collect and Act On Customer Feedback
Implementing and reviewing automated omnichannel customer surveys offers invaluable and highly specific feedback about the successes and failures of your customer experience strategy.
In addition to identifying causes of dissatisfied customers and areas for improvement, collecting a high number of customer surveys highlights what customers think about your business. Customer journey analytics, Net Promoter Score, CSAT rates, common customer issues, your most popular channels, and whether or not customers feel agents have the necessary skills to assist them are all key FCR metrics to monitor.
Improve Agent Training and Support Materials 
Often, FCR is a result of insufficient or outdated call center agent training and internal support materials.
Features like call monitoring, call recording, in-call agent coaching, and agent performance gamification can help managers identify and ameliorate gaps in agent training.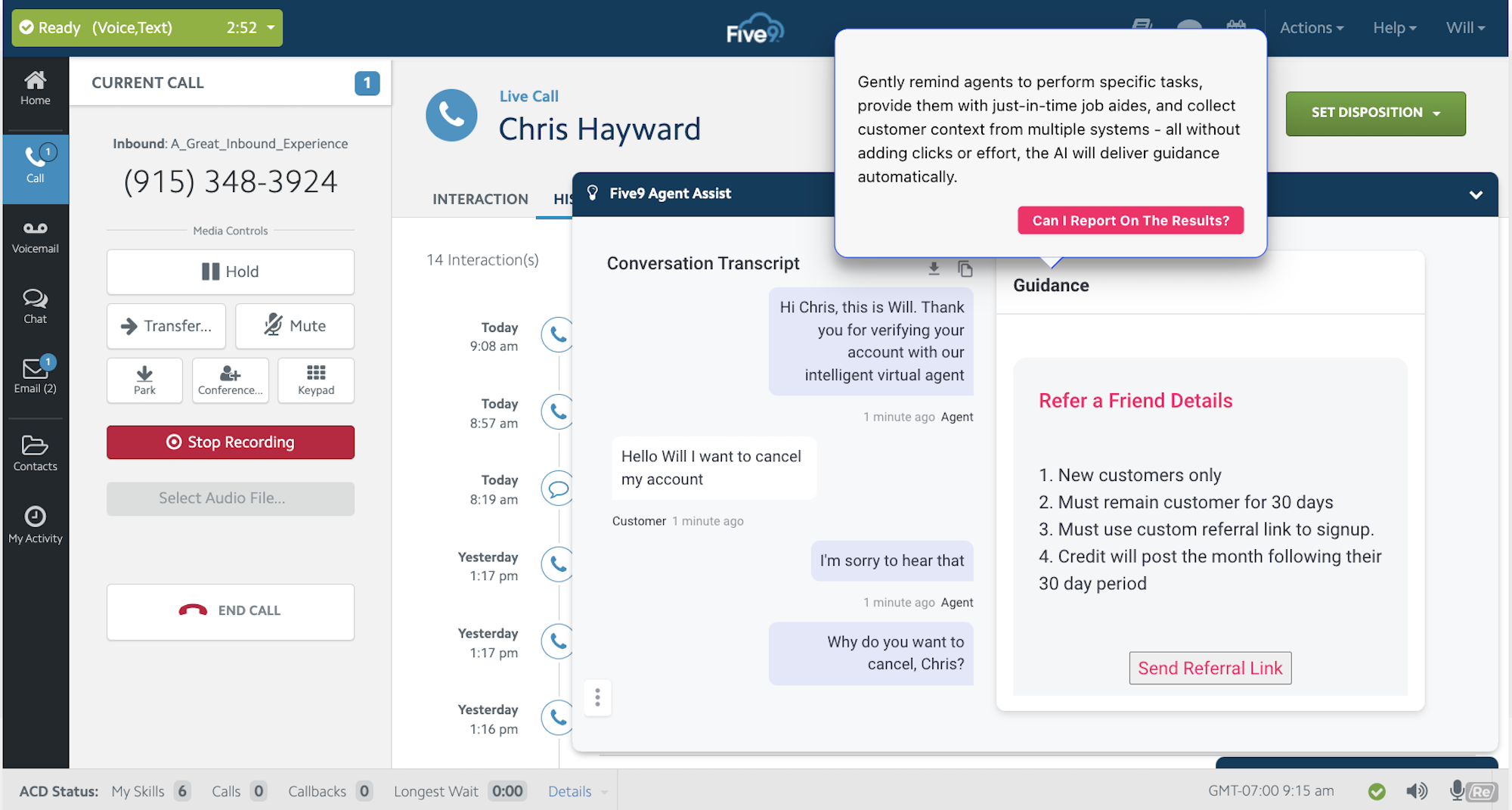 Internal knowledge bases and help desk tools should include organized, up-to-date resources like:
Canned responses
Agent scripts
Customer service wikis
Customer Relationship Management (CRM) CTI screen pops
AI agent assistance
Consistently Monitor FCR
Real-time and historical analytics provide insight into fluctuating FCR metrics over time, making it much easier to manage issues before they spiral out of control.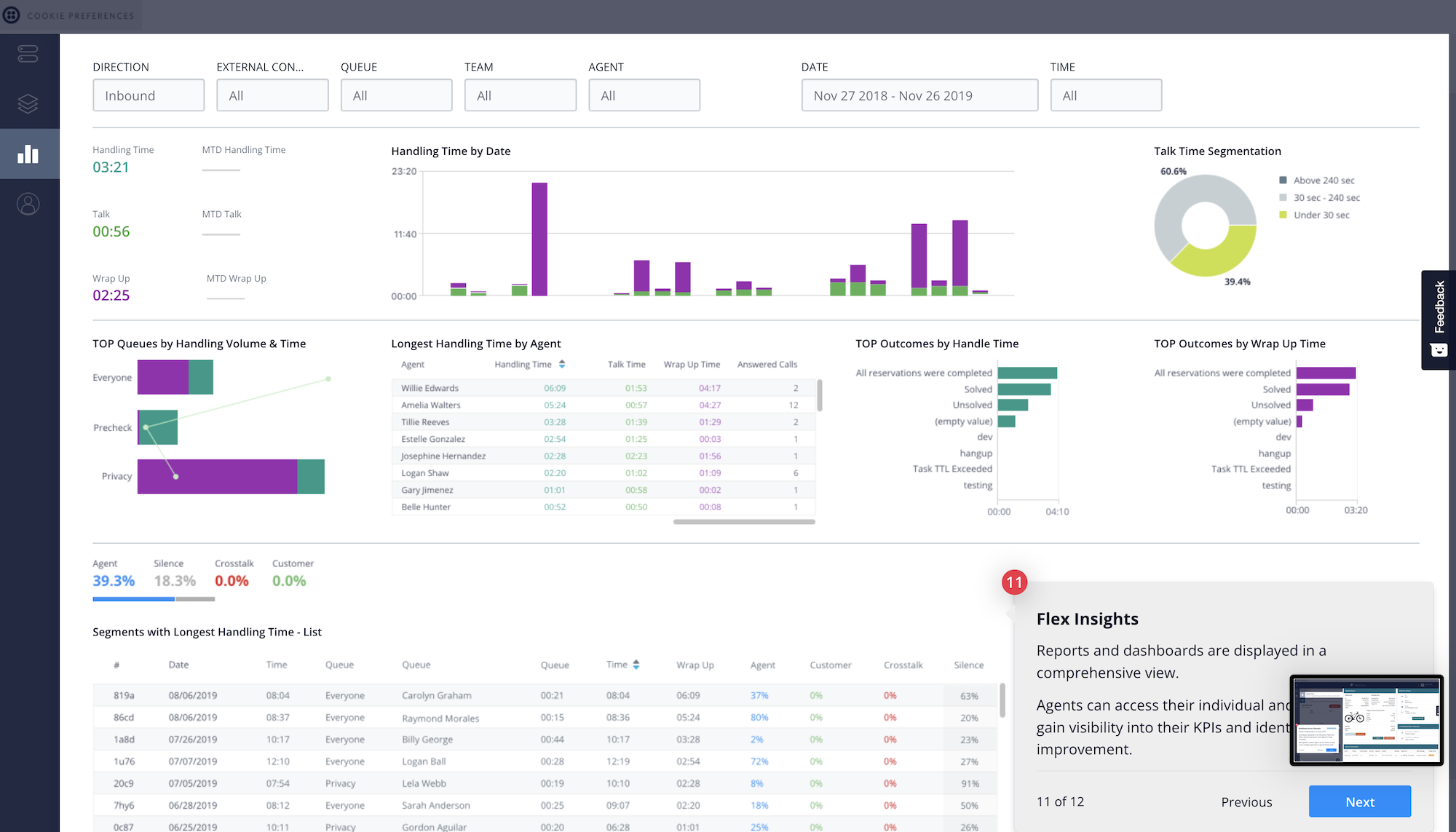 When you notice a drop in FCR, see if it's related to a lack of available agents, a sudden increase in call volume, a specific incident like a product recall or a major sale, or any other factor you can address to prevent FCR from dropping in the future.
Also examine important metrics that influence FCR, like call abandonment rate, agent schedule adherence monitoring, average call wait times and handling times, and call queue lengths.
The Right Call Center Software Instantly Improves FCR
While implementing the above best practices will improve FCR rates, choosing the right call or contact center software has an equal impact.
Call center solution features positively impacting FCR include: 
CTI screen pops powered by CRM integrations
Customer self-service options
Advanced call routing options
Call forwarding
Call barge
Agent scripting
Agent Assist
These features don't just influence FCR, but also other metrics like call hold times, Net Promoter Score, cost per call, and average call length.
First Call Resolution FAQs
Below, we've answered the top FCR FAQs.
First call resolution is important because it offers insight into your current customer service and experience strategies, the quality of agent training, and the effectiveness of current staffing volumes. Knowing your current FCR rate helps contact centers decrease agent turnover rates, increase customer retention rates, boost productivity levels, and lower the average cost per call.

Measure First Call Resolution rates by dividing the number of calls (or messages, emails, etc.) resolved on the first contact by the total number of calls your business receives.
For example, if your team resolved 8,000 calls out of 10,000 total calls, your current FCR rate is 8,000 ➗10,000, which equals 80%.
Factors affecting First Call Resolution rates include: 
Daily call volume

Number of agents

Quality of agent training and knowledge databases

Quality of customer self-help tools

Overall team productivity levels

The routing options your business Interactive Voice Response (IVR) system provides

The complexity of the call itself, your company's product/service, your billing solutions, and even your overall work environment

Average call hold times

Platform/channel of contact

Level of pre-call information an agent receives from the IVR system before picking up a support call (customer contact information, the reason for the call, etc.)
A good First Call Resolution rate is roughly 74%, while an FCR of 90% or higher is considered excellent. An FCR of 40% of below indicates a serious issue with your customer service team, business processes, and customer self-service tools.

Top ways to improve your First Call Resolution rates include: 
Evaluate and strengthen your current agent knowledge base

Use Workflow Management Software to better balance agent workloads

Use analytics/metrics to determine which support agents are underperforming

Update employee training materials

Use an IVR system to offer a higher level of customer self-service, freeing up agents for more pressing issues

Use trend forecasting tools to anticipate upcoming high call volumes, common customer needs, etc.