First call resolution is a call center metric that measures an ability to resolve a customer's problem within the first interaction, with no follow-up. It is essential to improving customer experience, monitoring a contact center efficiency, and boosting agent productivity.
In this post, we'll explore how first call resolution supports business growth, and what you can do to get your customers the answers they need during their first interaction with support agents.
Jump to ↓
What is First Call Resolution?
First call resolution (FCR) or first contact resolution is the percentage of support requests on any channel that are resolved during the first interaction with customer service team. These calls (or emails, chat messages, etc.) do not require any follow-up, escalation, or any other additional action.
For example, a customer calls into your customer service department to inquire about their current account balance. The first time they connect with a live agent or interact with your IVR call menu, they're able to provide their account number, learn their current account balance, and, if needed, pay the bill over the telephone.
Note that whether or not a request is truly "solved" usually depends on the customer's opinion.
In other words, it's your customers, not your agents, who determine if they were able to get the answers they needed and a satisfactory call resolution during the first interaction.
First contact resolution helps you to evaluate your overall customer satisfaction rate as well as the quality and efficiency of your support department.
An ideal first call resolution rate is anywhere between 70-75%, but your call center's target rating will depend on exactly how you define first contact resolution.
Additionally, remember that a "good" first call resolution rate is not more important than quality customer service or balanced average talk and handling times. No customer wants to have to spend half an hour on hold or receive unhelpful advice just so your business can improve its first call resolution rate.
How is First Call Resolution Calculated?
Here is the industry standard formula to measure first call resolution:
FCR = (Total Resolved Cases ➗  Total Number of Cases) x 100
So, if you've resolved 750 cases out of 1,000 total cases, your first contact resolution rate would be 75% (congratulations, you're on the money!)
Several factors influence your company's definition of first call resolution.
Ask yourself what channels you'll use to measure FCR — will you count social media messaging, email, and website chat along with telephony, or business phone calls alone?
Will call abandonment rates caused by long customer hold times, call escalation, or standard callbacks automatically negate the possibility of a first call resolution? What about if the customer accidentally contacts the wrong department? How will you define repeat calls?
Additionally, define a clear contact window that states how much time can pass in between calls before it can no longer be counted within the first call resolution range. Make sure you also decide if the contact window applies to business hours only, and that it gives the customer enough time to try the solution customer service reps presented.
For example, let's say a customer calls your office at 2:00 PM on a Wednesday, and you have a 24-hour contact window (business hours only.) If the customer calls back Thursday at 9:00 AM regarding the same issue, and issue resolution is achieved on the second call, it will still be counted in your FCR window.
Having a clear and specific definition of what first contact means for your business will give you a much more accurate rating. Once you've set your parameters, use the basic FCR formula to evaluate your rating.
Why Improving First Call Resolution is Important
A high first call resolution rate doesn't just improve customer satisfaction — it actively lowers your operating costs and increases your revenue.
The data below proves how first contact resolution boosts employee retention rates, eliminates over half of expected customer churn, and improves customer service agent performance while saving and making you money in the process.
First Call Resolution Decreases Customer Churn by 67%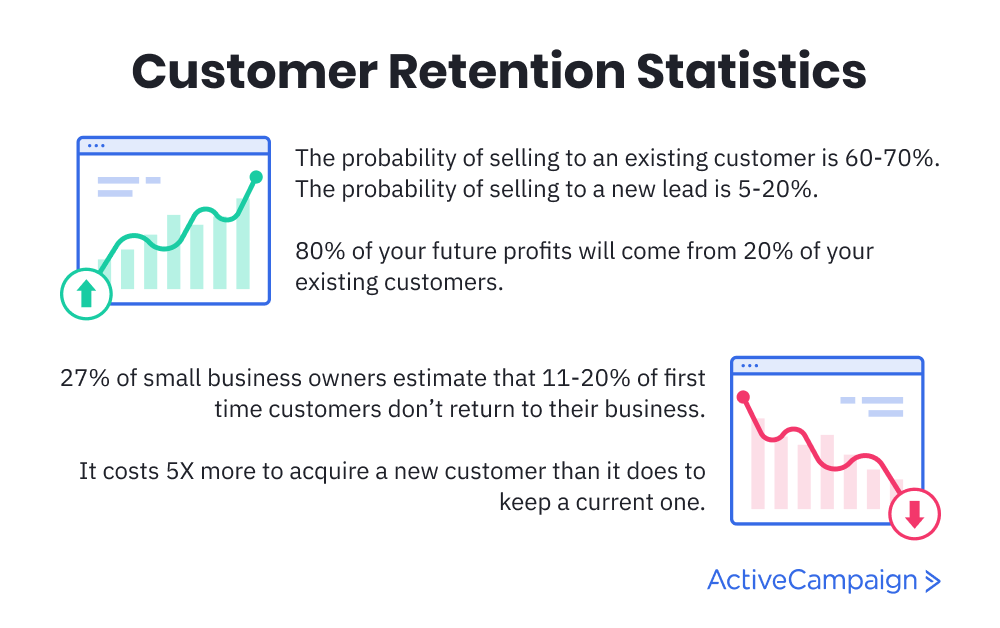 Avoidable customer churn costs American businesses roughly $136 billion annually — and the majority of customer churn is a consequence of bad customer service.
In fact, 66% of consumers terminate their relationship with a company because of a poor customer experience.
What constitutes a poor customer service?
More than anything else, over 65% of consumers say, it's when a company clearly does not respect a customer's time. So, it makes sense that first call resolution has a direct impact on a company's overall customer churn rates.
Studies show that 67% of customers would have stayed with a company if that business had been able to resolve their customer service issues on the first interaction.
It's no secret that a high customer satisfaction rate leads to increased customer loyalty and higher overall customer retention rates.
FCR does wonders for the customer experience. In fact, for every 1% increase in first contact resolution, companies see a 1% increase in CSAT levels.
An ICMI study shows that 75% of companies with an improved annual FCR rate reported that they also benefited from increased CSAT rates.
This makes sense, as no caller wants to have to play phone tag with an agent to get answers to pressing customer support issues. Given that over 90% of today's customers expect an immediate response to customer service inquiries, a prompt resolution is essential to keeping customers happy.
1% Increase in FCR Correlates to a 1% Decrease in Operating Costs 
For every percentage increase in first contact resolution rates, your business's operations costs will decrease by 1%.
This means that improving your first call resolution rate by 15% can save your business up to 15% — and that's on operating costs alone.
A study from Freshdesk found that even a 1% improvement in FCR rates decreases annual operating costs by roughly $276,000.
That's money you can invest in employee training, hiring additional agents, or upgrading your contact center software.
Plus, you'll also see cost savings associated with decreased inbound customer service calls.
Even just a 15% improvement in first call resolution reduces repeat calls by 57%, which correlates to major savings when you consider costs per inbound call can range as high as $1.00 per minute.
One study showed that even just reducing repeat calls by 5% can save companies as much as $389,120 every year.
First Call Resolution Increases Cross-Selling Acceptance Rates by 20%
Studies show that effective cross-selling can increase the average overall customer spend by over 11% and lead to a nearly 20% increase in profits per customer.
Plus, cross-selling is much more cost-effective than selling to new customers, given that it's five times more expensive to sell to a new customer than an existing one.
According to an SQM study, FCR increases customer acceptance of a product or service offered via cross-selling by 20%.
It's easy to see why — customers want to continue to do business with companies that not only prioritize their current clients but also prove that they are capable of resolving customer support issues in a timely manner.
Measuring FCR for Over a Year Can Improve Your Company's Performance by 30% 
The top benefits of measuring FCR include a better understanding of your customers, increased revenue,  identification and promotion of your strongest agents, and best of all, decreased overall call volumes.
Knowing your FCR also allows you to improve your business process and customer satisfaction levels as a whole.
FCR offers a fast-track to the kind of important metrics and business performance KPIs that usually take years to achieve.
Interestingly, companies that measured — not even set a goal to improve by a specific percentage, but simply measured — annual FCR rates saw a drastic improvement in overall performance.
A study by the Ascent Group showed that 60% of businesses that measure FCR for a year or more report up to a 30% increase in company performance.
Even just making your team members aware that you are now measuring first call resolution rates can have a serious impact.
Makes Employees 5 Times More Satisfied 
Employee turnover rates cost companies roughly 33% of the lost employee's salary every year.
If your employee turnover rate is especially high, those numbers can quickly start to chip away at your profits.
The truth is that your employees don't like to have to make and receive repeat calls about a customer's issue any more than your customers do.
In fact, current contact center employee satisfaction rates are at just 31% — one of the lowest rates in several years. Though understandably, a lower salary and fewer job growth opportunities play a role, the third biggest reason for this high level of dissatisfaction is the repetitive nature of the work.
Studies have found that for every 1% increase in first contact resolution rate, employee satisfaction increases by up to 5%.
Places Your Company In The Top 5% Of Call Centers 
You have big dreams for your contact center — but you also have big competitors.
One way to beat them?
Improve your first call resolution.
Studies show that only 5% of call centers in the world are currently operating with an FCR of 80% or higher.
How to Improve First Call Resolution Rates
Now that you know the numbers behind first call resolution rates, let's cover some of the best practices to help you improve your FCR — and by extension, your overall customer service.
Have Agents Get Resolution Confirmation
It might sound obvious, but one of the best ways to know for certain if a support ticket or question has been truly "resolved" is to just ask.
Once your support team member has provided the necessary information and assistance, have them ask customers clear questions that provide them with the opportunity to seek help further if needed, like:
Is there anything else I can assist you with today?
Have I resolved your issue?
Have you contacted customer support about this issue, and when if so?
Before I hang up, is there anything else I can help you with?
This isn't just good customer service — it's also confirmation from the customer that their issue has been fully resolved.
Create Follow-Up Surveys
Customer CSAT surveys provide invaluable insight and customer feedback into the effectiveness of your current support processes.
Discovering what's working and what isn't provides you with the chance to improve your FCR by strengthening your support channels. You'll also be able to ensure that the issues were actually resolved, and not that the customer simply chose not to call back for additional support.
Experts suggest sending the customer survey within the first 24 hours after the interaction, but ideally, you'd automatically send out a customer satisfaction survey immediately after the interaction has finished, in order to increase completion rates.
Implement Strong IVR and ACD Systems
Interactive Voice Response (IVR) and Automatic Call Distribution (ACD) systems are two essential factors in improving first contact resolution.
IVR provides a higher level of customer self-service, so much so that in many cases, customers may not need to connect to a live support agent at all.
Not only does this mean customers can immediately get the information they need and solve their issues, but it also frees up support agents. Proper IVR ensures contact center agents are available for more complex and personalized customer service requests, as opposed to continuing to answer common questions or provide solutions customers could have easily handled on their own.
A higher number of support agents means a higher FCR.
ACD systems route customer service calls to the best possible agents and departments, as opposed to simply the "first available" agent who may or may not have the training to support the caller.
Call forwarding to personal phone numbers and predetermined set call paths improve a caller's chance of connecting with a live agent — therefore increasing the chances of a first call resolution.
Strengthen Internal Support Resources
Optimized internal support documentation ensures that your reps have all the information they need on hand to support customers, regardless of the specific problem they're contacting customer service about.
Strong internal resources like wikis, knowledge bases, and even call scripts also make it possible for agents from different departments to assist with a myriad of customers' problems. In other words, callers no longer need to wait on hold, be transferred to another agent, or schedule a callback with a product or service specialist.
Make sure customer service wikis and standard responses are up-to-date and searchable, allowing agents to find essential information with ease to improve FCR.
Use Your CRM System to Track and Monitor Support Metrics
Your CRM software provides current and historical client data that gives agents a better chance at handling support requests during an initial contact.
Agents will be able to see information like order and shipment status, past purchases, notes from additional representatives, and even conversation histories from multiple channels. When agents have all the information they need on hand when they pick up the phone, they'll be able to provide better support.
Customer relationship management (CRM) systems like Salesforce or Zoho CRM also provide essential call center metrics like call abandonment rate, average daily call volume and the number of customers that call in daily, the number of transferred calls, average wait time, and response rate.
It also provides a bird's-eye view of all open and resolved customer support tickets, making it much easier to get an accurate FCR rating.
Record and Review Support Interactions
Especially if your current FCR rating is far below the average benchmark for success, monitoring and recording support interactions across channels will provide essential insight into why.
If you decide to implement additional call monitoring like call barge and call whisper, admins and department heads can give live agents advice and key support information while they're on the phone with customers — without having to schedule another call.
How Call Center Software Influences First Call Resolution Rates
While the above best practices will improve your FCR, much of your ability to provide exemplary and fast customer service depends on the contact center software you choose.
Features like CTI customer screen pops, advanced call routing options, IVR systems, and the number of available communication channels can make a huge difference when it comes to improving your FCR. The right analytics from contact center solutions also help you to accurately measure first call resolution.
To ensure you make the right choice, use our interactive vendor comparison table of the best call center solutions for your business.
First Call Resolution FAQs
FCR is important because it provides insight into the success or failure of your current customer service strategy, the quality of your support agent training, and even if the current number of agents you have can adequately manage your daily call volume. 
Knowing your current FCR rates helps you to retain your top agents, keep more of your customers, increase productivity, and achieve higher cost savings.
Measure First Call Resolution rates by dividing the number of calls (or messages, emails, etc.) resolved on the first contact by the total number of calls your business receives.
For example, if your team resolved 8,000 calls out of 10,000 total calls, your current FCR rate is 8,000 ➗10,000. 
Therefore, your FCR rate is equal to 80% - well above the average.
There are numerous factors affecting First Call Resolution rates, including: 
Daily call volume
Number of agents
Quality of agent training and knowledge databases
Quality of customer self-help tools
Overall team productivity levels
The routing options your business IVR system provides
The complexity of the call itself, your company's product/service, your billing solutions, and even your overall work environment
Average call hold times
Platform/channel of contact
Level of pre-call information an agent receives from the IVR system before picking up a support call (customer contact information, the reason for the call, etc.)
A good First Call Resolution rate is roughly 74%, which is the average FCR for call centers. An FCR of 90% or higher is considered excellent, while one that 40% or below is cause for concern and indicates a serious issue with your customer service team, daily call volume, and more.

Top ways to improve your First Call Resolution rates include: 
Evaluate and strengthen your current agent knowledge base
Use Workflow Management Software to better balance agent workloads
Use analytics/metrics to determine which agents are underperforming
Update employee training materials
Use an IVR system to offer a higher level of customer self-service, freeing up agents for more pressing issues
Use trend forecasting tools to anticipate upcoming high call volumes, common customer needs, etc.