Getting a virtual phone number is a simple and cost-effective way for your business to establish a local presence, save on long-distance calling, and benefit from the flexibility of a VoIP phone system.
Virtual phone numbers make and receive voice calls via the Internet, offering HD call quality, mobility, advanced features, and additional conveniences that traditional phones don't have.
In this guide, we'll take a look at what a virtual number is, how it works, its types, and how you can get one.
Get virtual phone numbers from
top providers
What is a Virtual Phone Number?
A virtual phone number is a cloud-based telephone number that enables voice calling over the Internet via VoIP. While traditional phone numbers are linked to a specific address via landline cable, virtual numbers are assigned to users remotely and are not bound to any physical location.
Users, departments, branches, and teams of agents can access their virtual numbers from anywhere in the world, on any device with Internet access, via softphone interface. While traditional business numbers typically have to make calls from a physical phone, virtual phone numbers can make calls through their VoIP app on computers, cell phones, tablets, or IP desk phones.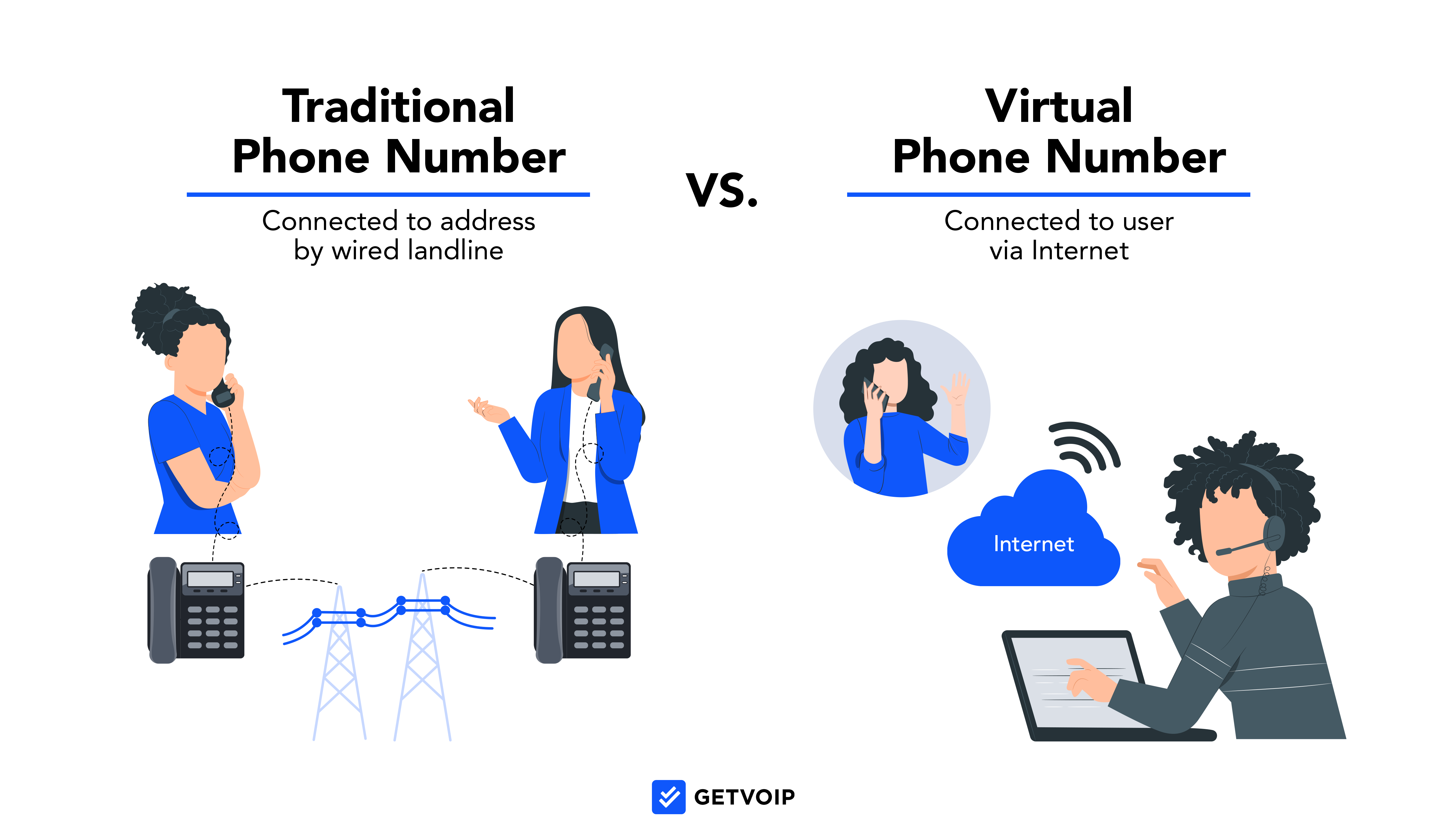 Sometimes called VoIP numbers, virtual phone numbers are also much more scalable than traditional analog phones. Businesses can purchase unlimited virtual numbers and extensions from their provider–including local, toll-free, and vanity numbers. Purchasing and assigning virtual numbers takes just a few minutes through the VoIP app.
Virtual numbers also come with more advanced VoIP features than landlines, including:
Call routing
Call forwarding
Call recording and transcription
Visual voicemail
Call blocking and Caller ID
Ring groups
Call queuing
Call park, call flip, call hold, call transfer
Business text messaging (SMS and MMS)
Automatic Call Distribution (ACD)
Auto-attendant
Interactive Voice Response (IVR)
Third-party integrations
Virtual Phone Numbers vs Regular Phone Numbers
The main difference between a virtual phone number and a regular phone number is that a virtual phone number is not tied to a landline phone system but instead to an internet-based VoIP account.
The table below outlines the differences between virtual and regular phone numbers:
| | | |
| --- | --- | --- |
| Feature | Virtual Phone Numbers | Traditional Phone Numbers |
| Connection | Wireless (Internet) | Wired (PSTN Landline) |
| Portability | Can be used anywhere in the world with Internet access | Stuck to a physical street address |
| Accessible Devices | Physical phone, mobile device, laptop, tablet | Physical phone |
| Simultaneous users | Unlimited agents can use them simultaneously | One agent can use the phone line at a time |
| Privacy | Can purchase a new number for business | Cannot separate business and personal phone numbers |
| Hardware Cost and Maintenance | Provider maintains phone system and new hardware is optional | Must manually maintain hardware, and buy more for expansion |
| Call Routing | Can route to any number 24/7 | Limited call routing options and global coverage |
Different Types of Virtual Phone Numbers
There are four main types of business virtual phone numbers:
Local Numbers: Local phone numbers are normal virtual phone numbers, based in your chosen area code anywhere in the country or the world
Toll-Free Numbers: Toll-free numbers are US-based phone numbers that charge calling costs to businesses, not consumers. These numbers begin with a unique three-digit prefix beginning with 8, such as 800, 833, or 888.
Vanity Numbers: Vanity numbers are toll-free numbers that spell out words or phrases that are easy to remember. For example, 1-800-DOG-FOOD or 1-887-GET-KALE.
International Numbers: International numbers are local numbers based outside of your domestic country. International numbers typically cost more than regular numbers and are charged at the international country's rates.
Ported numbers: If you already have a business phone number you'd like to continue using, your VoIP service provider uses number porting to transfer your current landline number to your new account with them
How to Get a Virtual Phone Number
Get a virtual number by signing up with a VoIP provider, selecting a phone number or porting in your pre-existing numbers, and assigning these numbers to agents. After this, users can begin making and receiving phone calls from their virtual numbers, in addition to texting and all the other features listed above.
Here are the steps to get a virtual phone number:
Sign up with a VoIP provider: A VoIP provider will offer you the phone system, application, and network in order to use your virtual phone number. Providers like RingCentral and Nextiva offer several pricing plans, which can get users signed up in minutes.
Select or port numbers: Once you sign up, you can purchase virtual numbers from your VoIP provider or port in the numbers you already use. Administrators can purchase virtual numbers within the VoIP app, choosing from a variety of area codes, cities, and countries that the provider has available. To port pre-existing numbers to your VoIP phone system, your provider will give you a form to send to your previous phone provider. The process usually takes a few weeks.
Assign numbers to agents: From the administrator portal, navigate to Users, where you can manage and add users from within the company. Here, you can also assign your account's virtual numbers to agents. You can also assign virtual numbers to IVR call flows.
Begin making and receiving calls: Once your account's users have their numbers, all they need to do is log in to the VoIP app from your provider. Agents can begin taking and making calls from mobile or desktop devices.
Set up routing and queueing: Once users are set up with their phone numbers, you can begin setting up a more intricate business phone system. The administrator can use drag-and-drop design tools to set up IVR, build call queues, and create ring groups.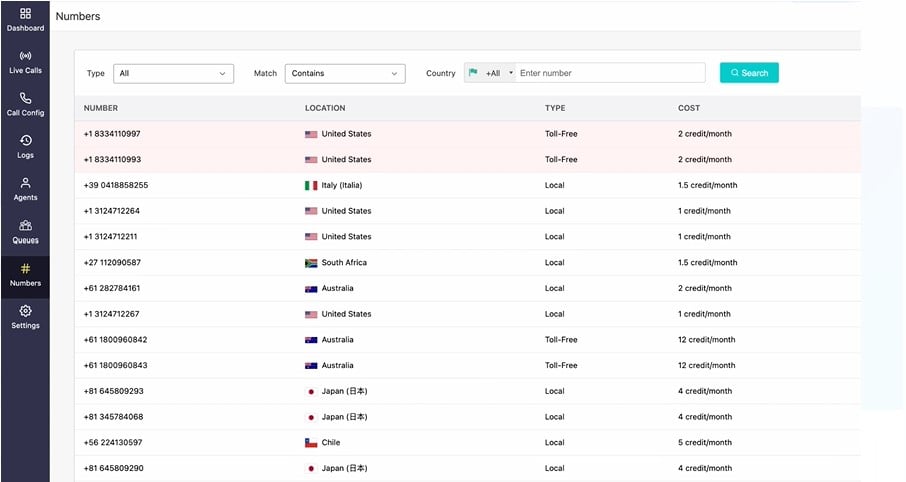 How Does a Virtual Phone Number Work?
A virtual phone number works by breaking up outbound voice audio into data packets that travel to their call destination via the Internet. When the data leaves the caller's local WiFi network, the VoIP provider sends it from one data center to the next, until it reaches the recipient's network. Once these data packets arrive at the recipient's device, they reassemble into crystal-clear voice audio.

All you need to use a virtual number is a router, an Ethernet cord, and a VoIP device like a cell phone, computer, or tablet. Additional VoIP equipment, like VoIP-enabled desk phones, headsets, speakers, and microphones are all optional. Virtual phone numbers come ready with HD audio functionality and include features like noise cancellation, background noise suppression, and adjustable audio levels.
Virtual Phone Number Features
Virtual phone numbers are included with a cloud-based phone system and offer dozens of features that provide an advantage over regular phone systems.
Look for a provider that offers the following features along with your virtual phone number:
Call Routing and IVR
A virtual phone system usually includes built-in routing tools like automatic call distribution and interactive voice response (IVR). These tools help incoming calls reach the right agent, improving customer service.
With IVR, also called auto attendant, create a self-service menu with custom greetings where customers can select paths to navigate to an agent, department, or message.
Call Queuing and Ring Groups
Call queueing enables you to create hold queues for agents and departments so that inbound callers remain organized if all agents are busy. Agents and supervisors can monitor queue wait times through the VoIP app, and agents can call customers back with one click.
With ring groups, link agent phone numbers so that they all receive inbound calls at once until someone answers.
Call Monitoring
Call monitoring enables supervisors to keep a closer eye on agents, with a live view of agent call activity through a supervisor dashboard. Supervisors can listen in on calls silently, whisper private guidance to agents, or join the call for support.
Call Analytics
Call analytics track key metrics and KPIs about agent activity, call volume, and overall call center performance. Administrators can track a variety of real-time and historical insights, for the whole phone system or individual agents.
Key KPIs include:
Average talk time
Daily and hourly call volume
Average answer speed
Handle time
Number of answers vs missed calls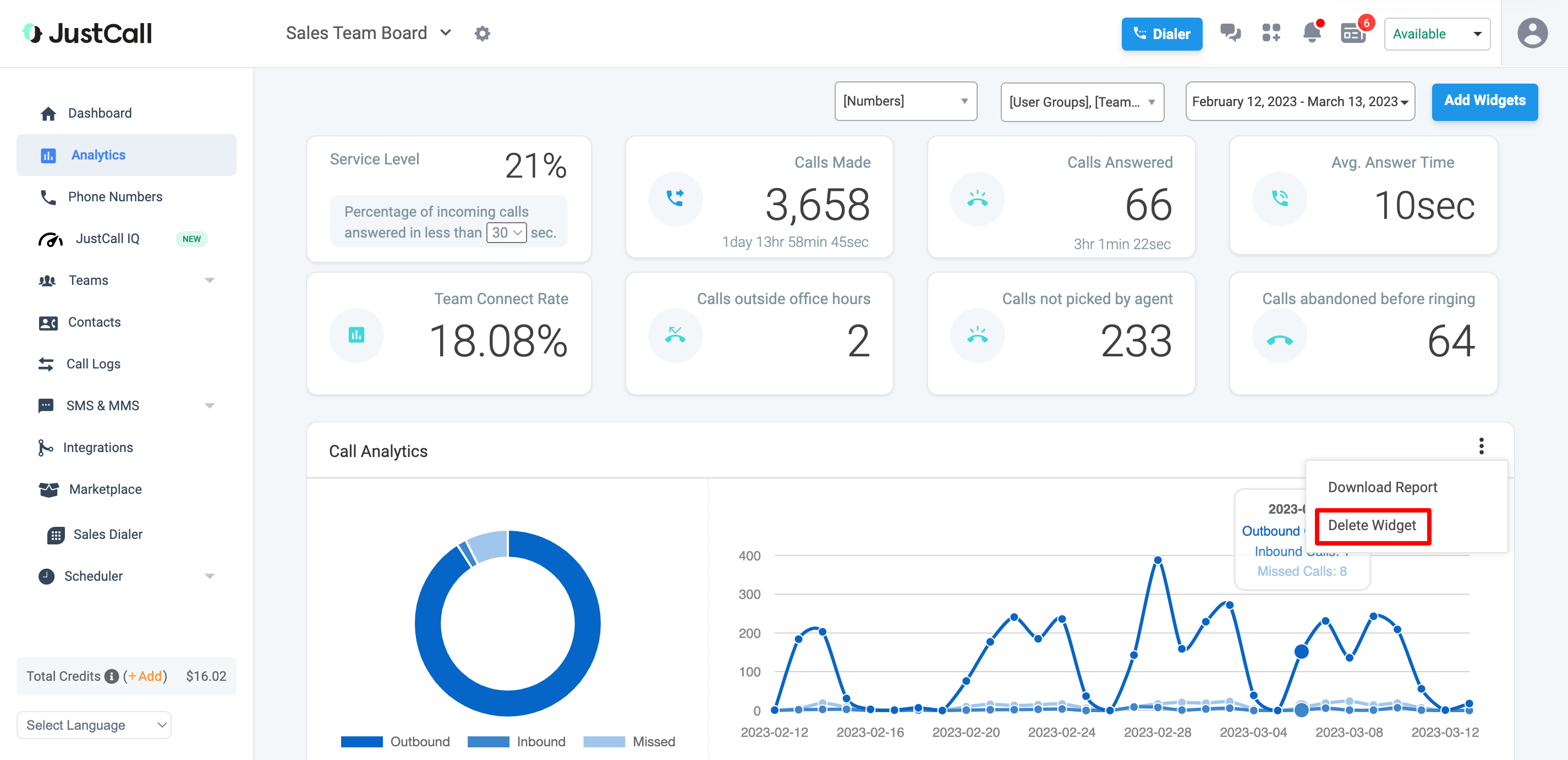 Third-Party Software Integrations
Since virtual numbers and VoIP telephony are software-based, most platforms offer a library of integrations with popular third-party applications. These integrations automate functionality and data transfer across apps, simplifying workflows and providing agents with easier communication and more context.
Popular integrations with virtual phone numbers:
CRM systems: Link customer data and journey history with apps like Salesforce and HubSpot
Call centers: Sync your virtual number with call center tools like outbound auto dialers and workforce management, through apps like Zoho CRM, Google Voice, and Five9
Workflow apps: Integrate your virtual phone service with customer management and workflow automation tools like Zendesk and ServiceNow
Benefits of a Virtual Phone Number
Here are the top benefits of using a virtual business phone number, instead of a traditional phone number:
Ease of Use
Virtual phone numbers are easy to purchase, assign, and use. Administrators can purchase toll-free, vanity, and local VoIP numbers in minutes and assign them instantly to agents.
From the agent dashboard in your desktop or mobile app, agents have easy access to dozens of capabilities while using their virtual number:
One-click calling: Answer and make calls from their virtual number with one click
Call controls: View caller ID, transfer, forward, place calls on hold, and view their queue from one dashboard
SMS texting: Send and receive texts from the VoIP dashboard
Customer profiles: The VoIP dashboard displays customer information like contact details, recent activity, and notes left by teammates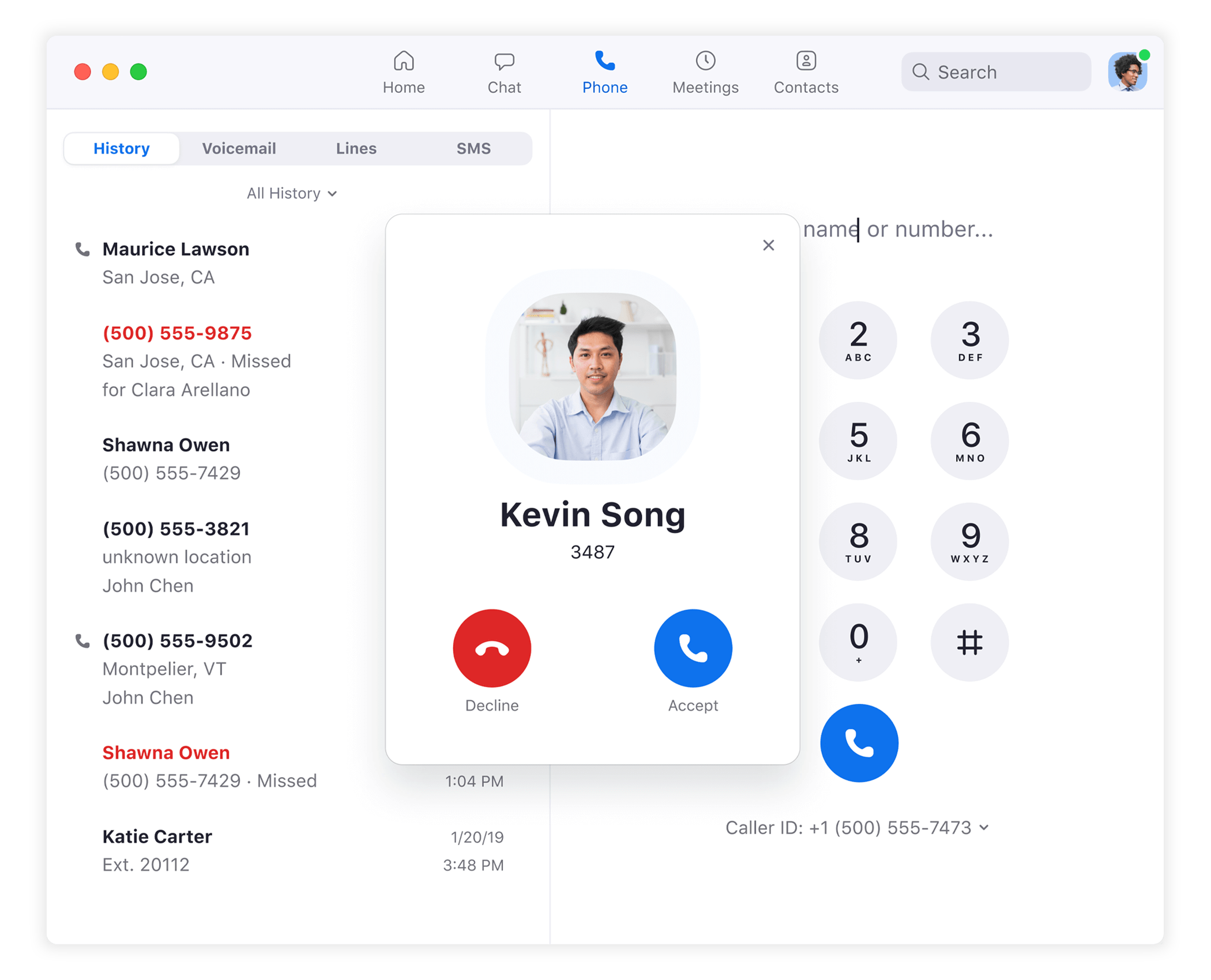 Call Center and UCaaS Capabilities
Many virtual phone number providers embed cloud-based numbers within advanced phone systems, which offer unified communications and call center features.
The following features are often integrated into a unified VoIP interface alongside your virtual numbers:
Call routing and IVR: Create menus and call-distribution systems that navigate incoming calls to the right agent, depending on agent skills and business hours
Multiple communication channels: Use your VoIP application to send SMS texts, initiate video meetings, and chat internally with teammates
Collaboration tools: With advanced VoIP phone systems, team members can share files, co-edit documents
Call recording and transcription: Record calls automatically or on-demand, with live AI-generated transcriptions for advanced VoIP phone systems
If your cloud-based phone system doesn't include some of these features built-in, most VoIP solutions integrate with dozens of call center and UCaaS platforms to provide these features.
Unify Business Locations with One Phone Number
With a virtual phone number, several business locations around the globe can use a single, centralized number or area code to answer inbound calls.
Call routing strategies can be location-based or time-based, meaning customers will instantly be connected to an available agent regardless of when they call–and even if the initial contact number is located hundreds of miles from the agent taking the call. You can also route calls based on agent skills like languages spoken, improving customer support.
Support a Remote or Flexible Workforce
Virtual phone numbers deliver more flexibility for remote and blended team members–and even in-office employees that need to make business calls on the go–because they're accessible from any desktop or mobile phone.
An agent can forward unanswered calls to a different device or phone number, and ring groups link multiple agents together to ensure that someone is available to answer the call.
Users can make calls and access all their VoIP features anywhere they have an internet connection–even around the globe.
Establish an International Presence
Virtual phone numbers aren't limited to US and Canada area codes and 800 numbers. You can also purchase international numbers from some providers, making it easy for your foreign customers to reach you at local area codes around the world. Customers in these locations get the impression that you're a local company, and they don't have to pay long-distance charges.
This allows your business to provide a strong customer service experience to foreign consumers without needing to open local call centers.
Insights and Analytics
Virtual numbers provide detailed, interactive 24/7 performance monitoring, analytics, and reporting.
VoIP phone system analytics track KPIs and metrics in real-time and over historical time frames, for particular users and the call center as a whole. Administrators gain insights into call volume, agent performance, and queue status, which can drive future business decisions.
Supervisors have a live view of agent activity, with a queue dashboard displaying availability and active call status. Supervisors can listen in quietly, whisper private guidance to an agent, or join a call.
Top Virtual Phone Number Providers
The table below provides an overview of five top VoIP providers that offer toll-free, local, and vanity virtual phone numbers in their plans.
Provider
Pricing and Plans
Notable Features
International Numbers
Best For
Grasshopper
3 plans ranging from $28 to $80 monthly per account

Unlimited extensions and users
Simultaneous call handling
SMS texting

No
A simple and local phone system with VoIP and SMS
RingCentral
3 plans from $20 to $35 monthly per user

SMS, video, and team chat
Call monitoring
Call queues

Yes
A large-team collaboration platform
GoTo Connect
2 plans at $24 and $29 monthly per user

SMS, video, and team chat
50+ country unlimited calling area
Real-time analytics

Yes
Teams with high international call volume
Nextiva
3 plans from $18.95 to $32.95 monthly per user

SMS, video, and team chat
Multi-level auto attendant
File sharing

No
A low-cost business communications platform for US-based companies
Dialpad
3 plans from $15 to over $25 monthly per user

SMS, video, and team chat
Live call transcription and AI support
International SMS

Yes
A collaboration platform for small businesses
Virtual Phone Number FAQs
Yes. Since VoIP data is encrypted, virtual phone numbers are safe from interception. VoIP accounts are password-protected, meaning only assigned users can access the virtual number.

No, but most VoIP providers include a virtual number with each paid plan. Add-on virtual phone numbers typically cost around $5 monthly, but some VoIP providers may offer a short-term free trial with a free virtual phone number.

Most VoIP phone system providers offer virtual numbers included with their plans. Choose the best VoIP provider for your company by comparing their features and pricing options, keeping in mind your business needs.