Getting a virtual phone number is a simple and cost-effective way for your business to establish a local presence, save on long-distance calling, and benefit from the flexibility of VoIP.
Virtual business phone numbers let users make and receive voice calls via the Internet, they offer HD call quality, mobility, advanced features, and additional conveniences that traditional phones don't have.
In this guide we'll take a look at what a virtual number is, how it works, its types, and how you can get one for your business.
Jump to ↓
What is a Virtual Phone Number?
A virtual phone number is a cloud-based telephone number that is not tied to a specific location or address. It enables voice calling via the Internet instead of a physical connection to the wired Public Switched Telephone Network (PSTN.)
Virtual phone numbers (sometimes called VoIP numbers) facilitate internal and external business communications without depending on a traditional analog network. They use broadband or wireless Internet to establish a virtual connection to phone networks.
Instead of being linked to a physical address, virtual phone numbers are assigned to individuals, departments, branches, or even specific groups of agents (called a shared line.)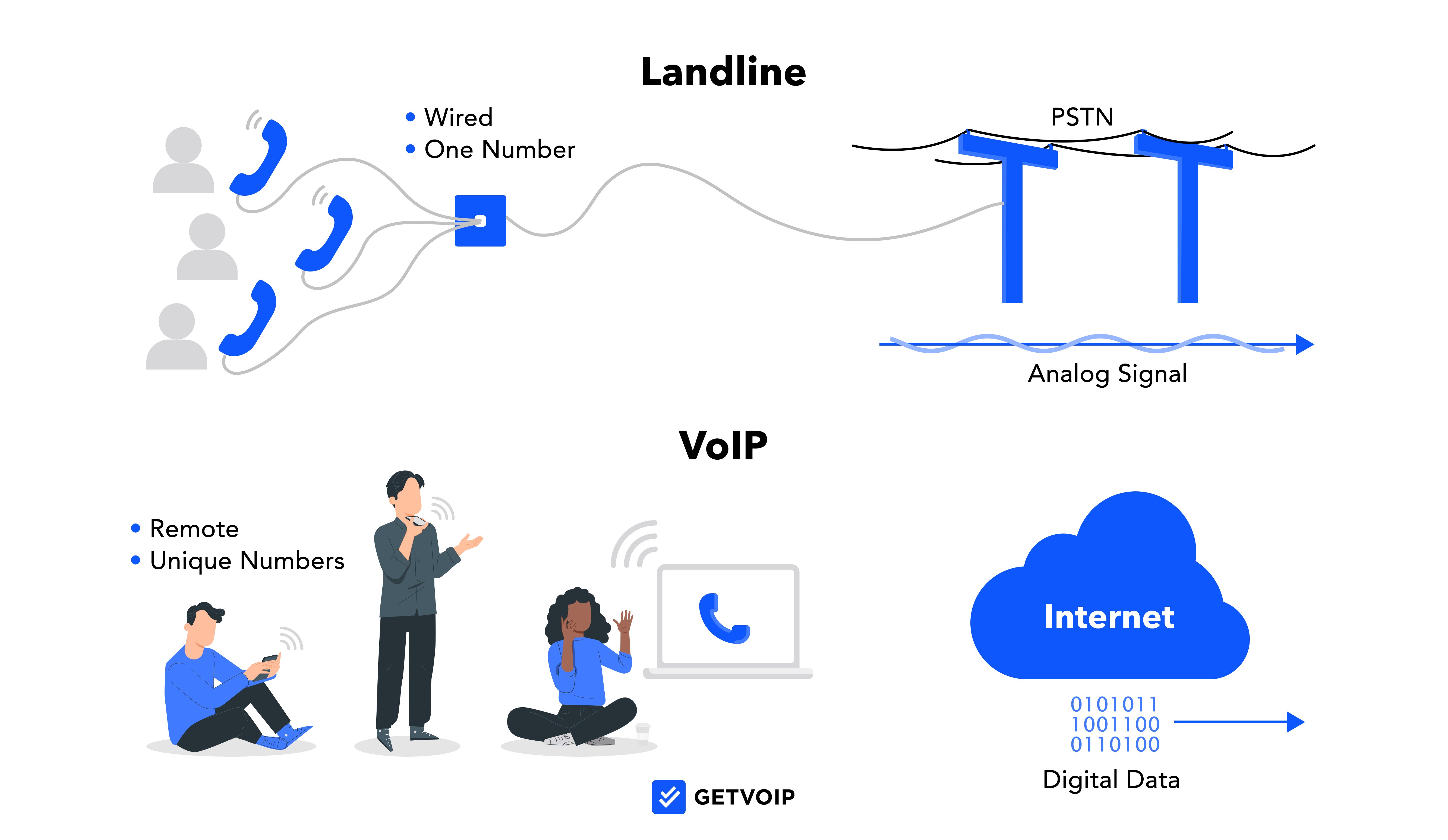 This virtual connection also means users can access their virtual number from anywhere in the world, on any device with Internet access, via softphone interface. These devices can include desktop and laptop computers, cell phones, tablets, and even IP desk phones. VoIP facilitates voice calling via a mobile softphone application that's accessible on multiple devices simultaneously.
Virtual phone numbers are also much more scalable than traditional analog phones.
Businesses can choose as many virtual numbers as they need–and access unlimited extensions–directly from the VoIP service provider admin portal. The processing of adding a new phone number to your account takes just a few minutes, and several types of virtual numbers (local, toll-free, international, vanity) are available.
Virtual numbers also come with more advanced VoIP features than landlines, including:
Call routing
Call forwarding
On-demand/automatic call recording and transcription
Visual voicemail
Call blocking and Caller ID
Ring groups
Call waiting and call queuing
Call park, call flip, call hold, call transfer
Business text messaging (SMS and MMS)
Automatic Call Distribution (ACD)
Auto-attendant
Interactive Voice Response (IVR)
Third-party integrations
The below table compares virtual phone numbers and traditional phone numbers.
| | | |
| --- | --- | --- |
| Feature | Virtual Phone Numbers | Traditional Phone Numbers |
| Connection | Wireless (Internet) | Wired (PSTN Landline) |
| Portability | Yes, can be used anywhere in the world with Internet access | No–stuck to a physical street address |
| Accessible Devices | Physical phone, mobile device, laptop, tablet | Physical phone |
| Simultaneous users | Unlimited agents can use simultaneously | One agent can use the line at a time |
| Privacy | Can purchase a new number for business | Cannot separate business and personal phone numbers |
| Hardware Cost and Maintenance | Provider maintains phone system, and new hardware is optional | Must manually maintain hardware, and buy more for expansion |
| Call Routing | Can route to any number 24/7 | Limited call routing options and global coverage |
How Does a Virtual Phone Number Work?
A virtual phone number works by breaking up outbound voice audio into tiny data packets that travel to their call destination via the Internet. Once these data packets have arrived at the recipient's device, they reassemble into crystal-clear voice audio.

A stable, high-speed Internet connection with a minimum bandwidth of 100kbps is the most important aspect of quality of VoIP communication. Some businesses may need to upgrade their Internet speed before switching to virtual telephony, and should contact their ISP to do so.
Once you have sufficient bandwidth for your business needs, all you'll need to use a virtual number is a VoIP router, an Ethernet cord, and your preferred calling device. Keep in mind that you can use your existing equipment and keep your current phone number when switching to VolP business phone system.
Additional VoIP equipment, like VoIP-enabled desk phones, headsets, speakers, and microphones are all optional. Virtual phone numbers come ready with HD audio functionality and include features like noise cancellation, background noise suppression, and adjustable audio levels.
Benefits of a Virtual Phone Number
Virtual phone numbers offer numerous benefits to businesses of all sizes and across all industries.
Smaller businesses can avoid giving out their personal phone number while appearing more established and legitimate to customers. Plus, they can keep their existing equipment and enjoy unlimited monthly local and long-distance calling to help keep operating expenses low.
Larger companies will benefit from the advanced features, incoming call flow management, scalability, and compliance regulations virtual phone numbers provide.
Below, we'll explore additional virtual phone system benefits.
Link Business Locations with One Phone Number
With a virtual phone number, several business locations around the globe can use a single, centralized number to answer inbound calls.
If a customer in a particular timezone needs help, they'll be connected with an agent that's in their timezone–so customer support isn't limited to the company's business hours within just one geographic location.
Call routing strategies can be location-based or time-based, meaning customers will instantly be connected to an available agent regardless of when they call–and even if the initial contact number is located hundreds of miles from the specific extension.
Multiple language menu options and language-based routing are also available, so there's no need for international customers to dial a separate phone number or sit through endless IVR menus.
Receive Calls Anywhere
Virtual phone numbers deliver more flexibility for remote and blended team members–and even in-office employees that need to make business calls on-the-go, and from any desktop device or mobile phone.
Call forwarding lets agents receive calls on multiple phone numbers–without requiring the customer to hang up and redial another number. Call forwarding also lets agents protect their personal numbers.
Unanswered calls to an office phone number can automatically be forwarded to an agent's smartphone, a ring group, a home phone number, or a voicemail box after a predetermined amount of time or number of rings.
Corresponding VoIP number mobile apps let agents manage voicemails, make/receive calls, join audio conferences, and even update call settings from anywhere with Internet access.
This level of mobility and the ability to forward calls eliminates the frustration of having to wait by the phone in one place, increases both customer satisfaction and employee morale, and boosts first call resolution rates.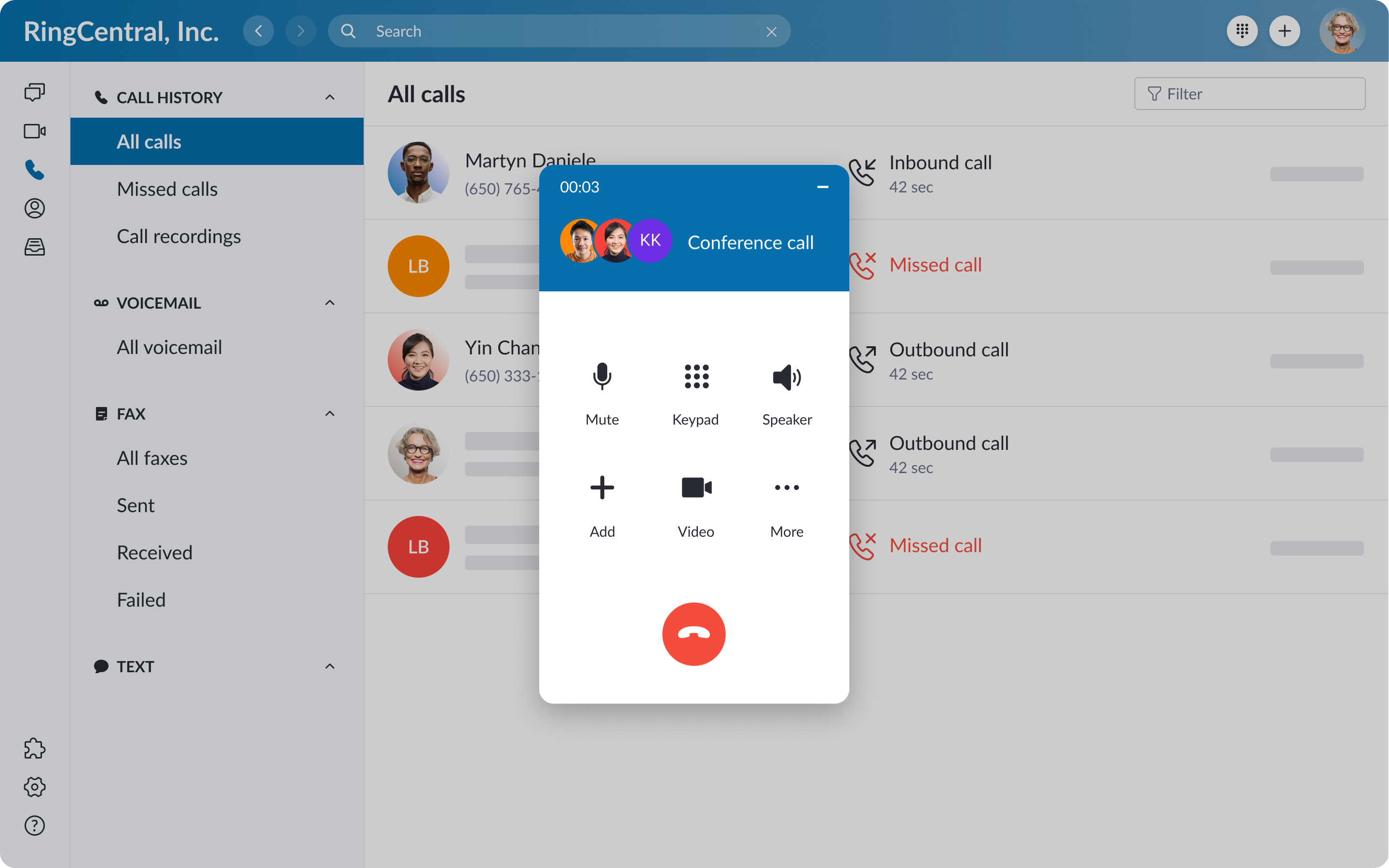 Provide Dial-in Numbers for International Markets
Some products thrive overseas, and one of the best ways to expand into foreign markets is by providing customers with a local number to reach your organization.
Virtual phone numbers aren't limited to U.S. area codes and 800 numbers. You can also purchase international numbers from some providers, making it easy for your foreign customers to reach you.
With a virtual phone number, it's easy to set up a call center in a region like Nova Scotia and receive calls from customers based in foreign markets like Italy.
The caller won't have to dial long distance, and there's no indication they're dialing out of the country. International coworkers and clients can even access audio conference calling with ease.
This allows your business to provide a strong customer service experience to foreign consumers without needing to open local call centers.
Measure Performance of Sales and Marketing
Virtual numbers provide detailed, interactive 24/7 performance monitoring and reporting.
You'll be able to designate and keep track of essential KPIs, identify workflow bottlenecks, gain a greater insight into your customers, and more accurately evaluate support quality.It's also possible to link specific phone numbers with certain marketing campaigns, instead of using your main phone number. This helps you to more effectively measure the performance and conversion rates of those campaigns.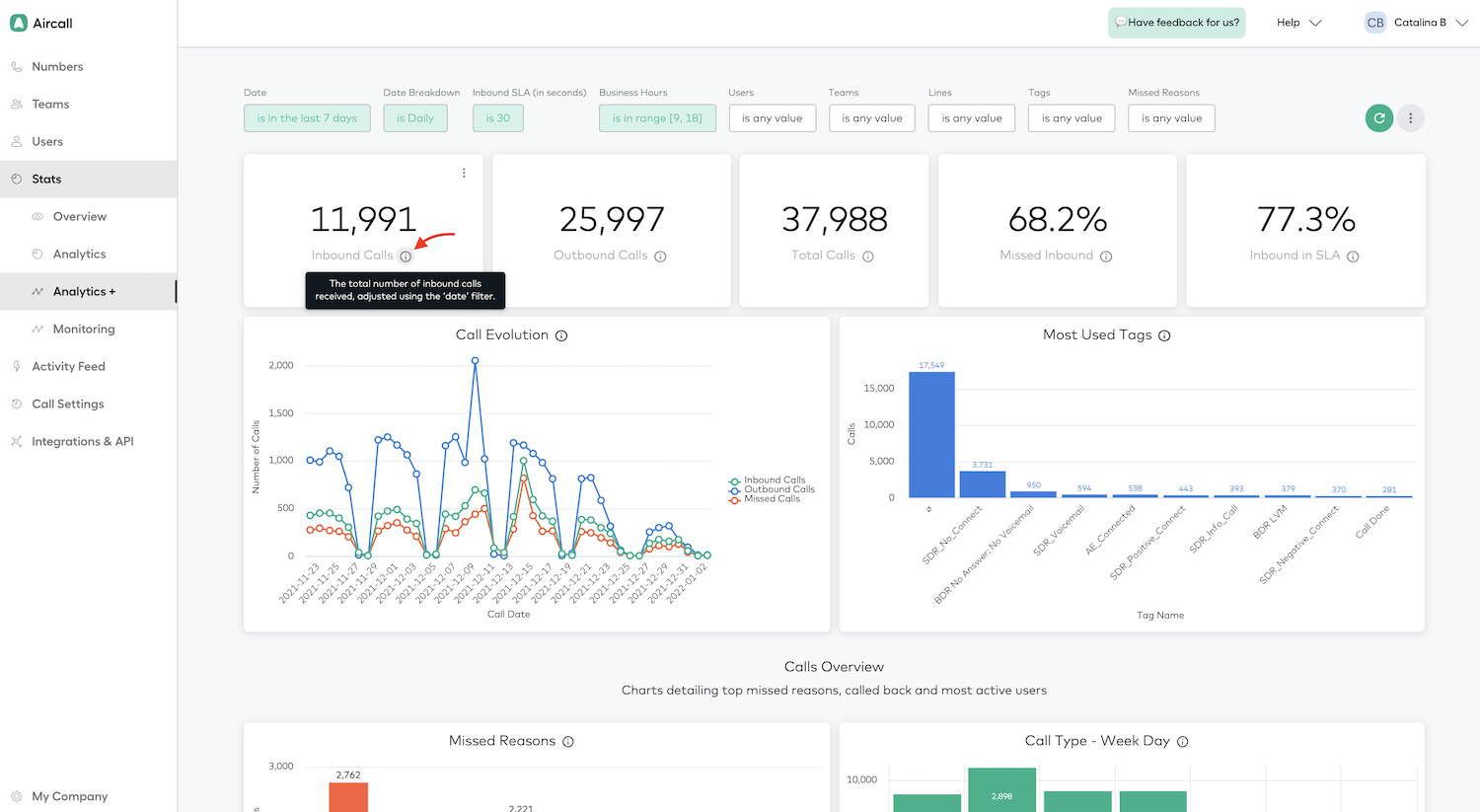 You can even automate and export reports from pre-made and customizable templates, as well as set real-time alerts for when performance metrics are close to dipping below minimum standards.
In short?
A birds-eye-view of all your voice calling activity is always available at your fingertips.
How to Get a Virtual Phone Number
To get a virtual phone number, all you need to do is sign up with a VoIP provider, check to see if your desired virtual number is available, choose a number type, and select from a list of available numbers.
Then, enter your payment method, create your account, and begin calling–the whole process only takes a few minutes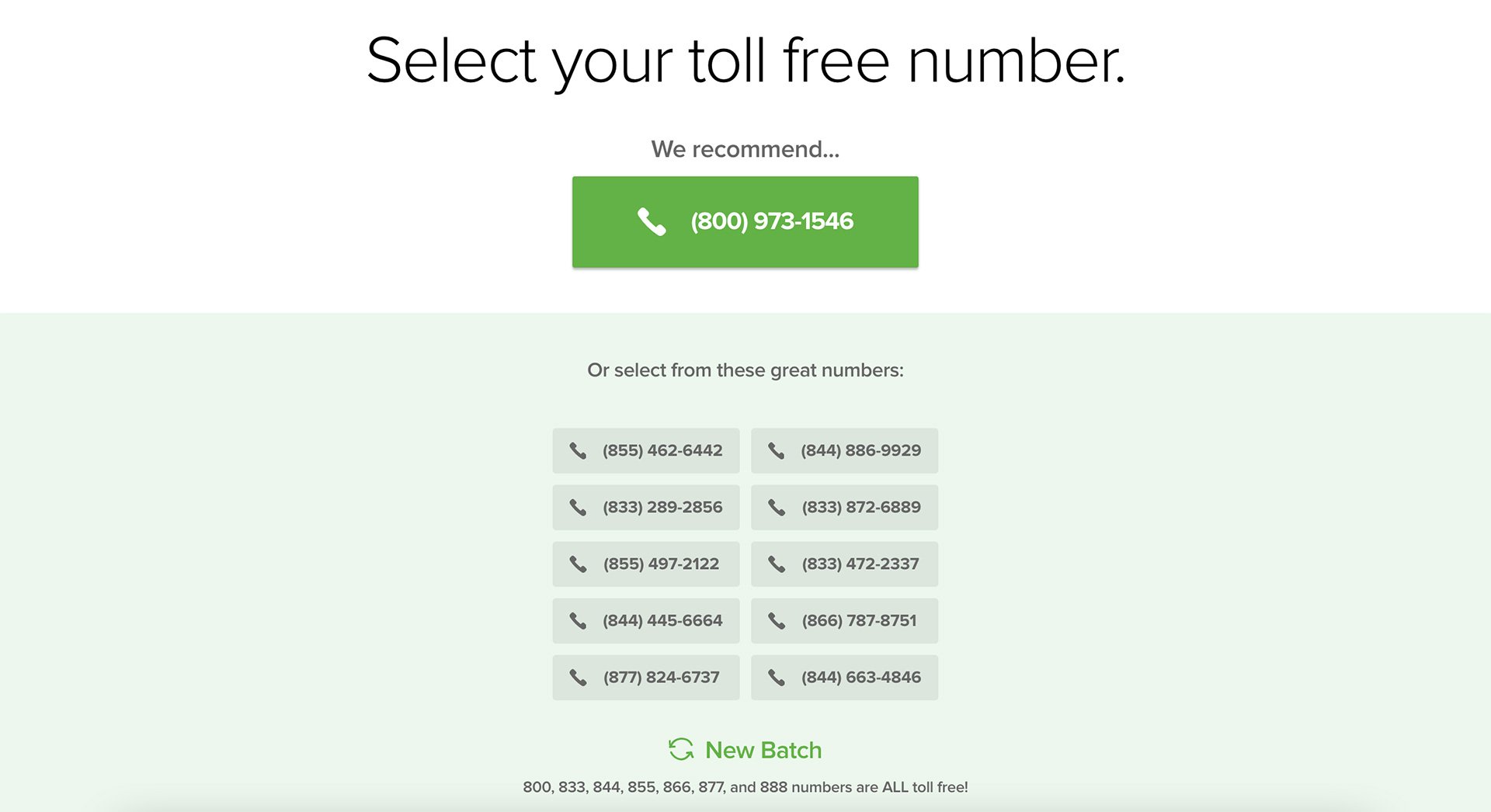 Note that, while there are free virtual phone number providers, many don't offer the options of unlimited calling or the ability to connect to multiple users. When you want customer calls routed to the right place without restrictions, a subscription service is the way to go.
Different Types of Virtual Phone Numbers
There are four main types of virtual phone numbers businesses use:
Local Numbers: Local phone numbers give businesses a local presence, regardless of their physical location, by providing virtual phone numbers with local area codes and number prefixes. Customers are more likely to take phone calls from a familiar area code, increasing consumer trust in your business.
Toll-Free Numbers: Toll-free numbers are national phone numbers that charge calling costs to businesses, not consumers. This way, customers can reach a brand from anywhere without incurring long-distance fees. Toll-free numbers also help your business appear more established.
Vanity Numbers: Vanity numbers are toll-free numbers that end in catchy alphanumeric phrases or numbers that are easy to remember and help consumers understand what your business does. Example: 1-800-DOG-FOOD or 1-887-GET-KALE
International Numbers: Similarly to local numbers, local international numbers make a business appear local to foreign/international markets. Calling costs are charged at the local country rates.
If you already have an existing business phone number you'd like to continue to use, your VoIP provider uses number porting to transfer your current landline number to your new account with them. Number porting is typically free or carries a one-time porting fee.
Overview of Virtual Phone Number Providers
The table below provides an overview of the five providers that offer toll-free, local, and vanity virtual phone numbers in their plans.
Provider
Pricing and Plans
Available Number Prefixes
Vanity, Local, Toll-Free Numbers Available 
International Numbers Available 
Grasshopper
– Basic: $28/account/month

– Premium: $44/account/month

– Platinum: $80/account/month

800, 833, 844, 855, 866, 877, 888
Yes
No
RingCentral
–Essentials: $20/user/month

– Standard: $25/user/month

– Premium: $35/user/month

800, 844, 855, 866, 877, 888
Yes
Yes
GoTo Connect
Pricing for 2-10 Users: 

– Basic: $24/user/month

– Standard: $29/user/month

800, 844, 855, 866, 877, 888
Yes
Yes
Nextiva
– Essentials: $18.95/user/month

– Professional: $22.95/user/month

– Enterprise: $32.95/user/month

800, 833, 844, 855, 866, 877, 888
Yes
No
UniTel Voice
– Start-Up: $9.99/month for 1 user

– Unlimited: $24.99 for unlimited monthly users and minutes

– Office: $29.99/month for 3 users

– Office-Plus: $49.99/month for 3 users

800, 833, 844, 855, 866, 877, 888
Yes
No
Virtual Phone Number FAQs
Below, we've answered some of the top FAQs about virtual phone numbers.
To set up a virtual phone number once you've chosen your provider, number type, and specific number, it's best to refer to each provider's individual guides, usually found in the provider's online knowledge base. The process is simple and often takes less than 24-48 hours, but if you need assistance, we suggest watching video tutorials or contacting the provider directly for support. More complex business phone systems offer onsite installation and setup support and training. 
The setup process includes:
Porting existing numbers

Assigning phone numbers/user extensions
Provisioning any equipment
Recording greetings
Creating call routing/call flow paths with call forward, Find Me, Follow Me, etc.
Setting up voicemail 
You should use a virtual phone number because of advantages like: 
Ease of setup and use

Low operating costs
Establish a professional, local presence
Create a memorable business phone number
Better call management through more advanced VoIP phone features
Stronger phone call security
A greater understanding of your customer base and agent behavior
Yes, you can have multiple virtual phone numbers of both the same and different number types. Keep in mind that additional phone numbers will accrue additional monthly charges per number, often about $5.00/line per month.