As an eight-time Gartner Magic Quadrant leader in the CCaaS space, NICE CXone from NICE inContact certainly has a strong record of reliability and innovation.
But is its five-pillar approach to customer experience the right fit for your contact center?
This in-depth NICE CXone pricing review outlines the cloud customer experience platform's advanced features and functionalities, user experience, plans structure, and more.
Learn more about NICE CXone
pricing & plans
What Is NICE CXone?
NICE CXone is an open cloud contact center software designed to create a frictionless customer experience across voice and digital channels.
NICE CXone optimizes all Customer eXperience interactions (CXi) thanks to Enlighten AI-powered customer self-service and in-conversation agent assistance, workforce management and workflow optimization tools, and detailed live and historical monitoring.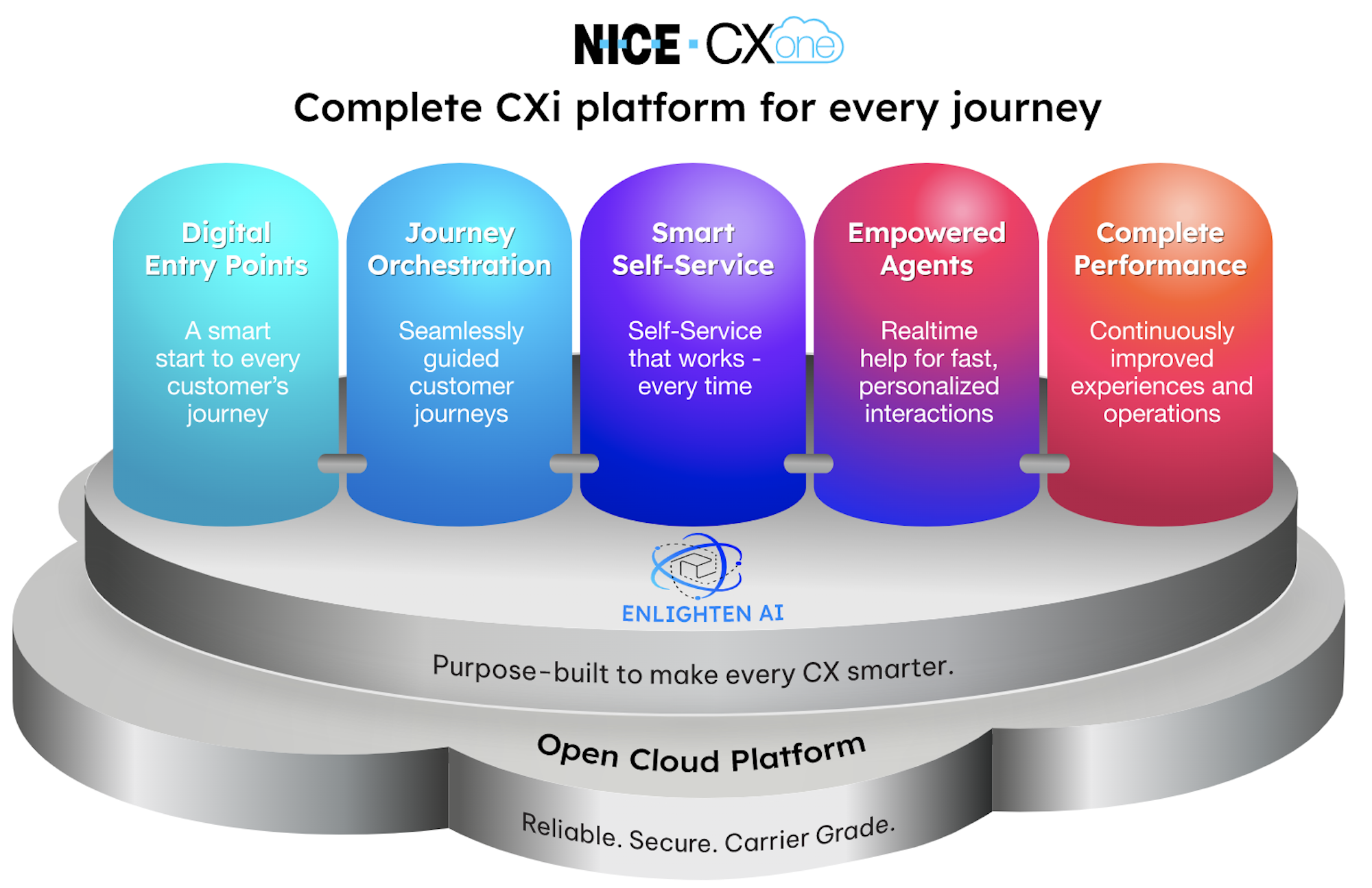 NICE CXone takes a five-pillar approach to business process efficiency and streamlined CX:
Digital Entry Points: A digital-first, proactive approach to omnichannel customer service via 40+channels including desktop/mobile website chat, social media messaging, SMS texting, email, and inbound/outbound voice calling
Smart Self-Service: CXone Enlighten XO offers a data-driven approach to customer self-service by leveraging conversational AI and machine learning to optimize voice/digital contact flows. In addition to manually updating automated conversation flows within the Virtual Agent Hub, CXone users can bring their own bots, configure CXone Smart Assist, or build their own virtual agents in the CXone BotBuilder
Journey Orchestration: Allows agents and customers to seamlessly move between all native and integrated third-party communication channels during a single customer interaction or throughout the entire customer journey. The CXone Studio interface lets admins create and optimize conversation flow paths via advanced digital and call routing strategies, standard IVR, pre-built "if-then" actions, and more. Agents can manage simultaneous omnichannel conversations, access customer history to provide a personalized customer experience, use omnichannel routing features, and more.
Empowered Agents: The NICE CXone Agent Assist Hub provides automated in-conversation Agent Assistance by pulling data from integrated CRM software and internal knowledge bases. In-conversation personalized coaching, call monitoring, and call barge are also available. Real-time customer sentiment analysis, guidance scoring, and recommended phrases are included. CXone mobile Employee Engagement Manager provides shift bidding, PTO with auto-approvals, contact center gamification, and other tools to decrease employee turnover rates.
Complete Performance: CXone Quality Management features like searchable omnichannel recordings, Interaction Analytics, and automated evaluation scoring provide high-level insight into agent performance. Smart coaching assignments, live contact center activity dashboards, dynamic filtering, and topic clustering help admins identify the root cause of issues. AI-powered trend and customer sentiment analysis, schedule adherence monitoring, forecasting, Feedback Management, and more are also included.
NICE CXone Pricing and Plans
NICE Cxone offers six contact center plans that range from $71 to $209 monthly per user. Each higher-tier plan builds on the features and functionality of the tiers below it.
Basic Channel Plans
Digital Agent ($71 monthly per user): A digital-only package with 30+ channels including SMS, email, live chat, social messaging apps like WhatsApp, and social media. Includes a dedicated agent and supervisor workspace on desktop and mobile, data visualization dashboards and analytics, and inbound routing across all channels.
Voice Agent ($94 monthly per user): Voice-only package with desktop and mobile apps featuring admin and agent interface. Universal queue with interaction handline, self-service IVR with no-code configuration, data analytics dashboard, and voice recording.
Omnichannel Agent ($110 monthly per user): Combines digital and voice channels with universal queueing across channels
Plans with Optimization, Automations, and Analytics
Essential Suite ($135 monthly per user): Adds quality management features. Screen recording for agent desktop, quality management workflows for coaching and evaluation, supervisor workspace for real-time monitoring, and analytics with agent performance reports.
Core Suite ($169 monthly per user): Adds workforce management and performance reporting. Omnichannel AI staffing forecasting and scheduling, agent mobile scheduling app, adherence insights, and enhanced performance insights with an in-depth view of agent KPIs and metrics.
Complete Suite ($209 monthly per user): Adds analytics and voice of the customer (VOC) analytics. AI-driven omnichannel analytics across all interactions, which identify insights and customer sentiment. Contextual and conversational customer feedback.
Top NICE CXone Features 
Because NICE CXone is designed to maintain a seamless customer journey across channels, its automation, AI, recording, analytics, routing, and agent experience tools work together to create a universal experience for customers and team members alike.
Below, we'll examine these core NICE CXone features and highlight a few additional standouts.
Interaction Channels 
NICE CXone offers over 30 native and integrated third-party business communication channels, including:
CXone Voice as a Service (VaaS) in 130+ countries Inbound/outbound voice calling, voicemail, Interactive Voice Response (IVR)
Social media platforms like Facebook, Twitter, Instagram, WhatsApp, YouTube, LinkedIn
Bring Your Own Channel (BYOC) functionality to integrate your custom business app or more targeted/industry-specific communication channels
SMS and MMS messaging
Live website chat messaging and automated chatbots
Email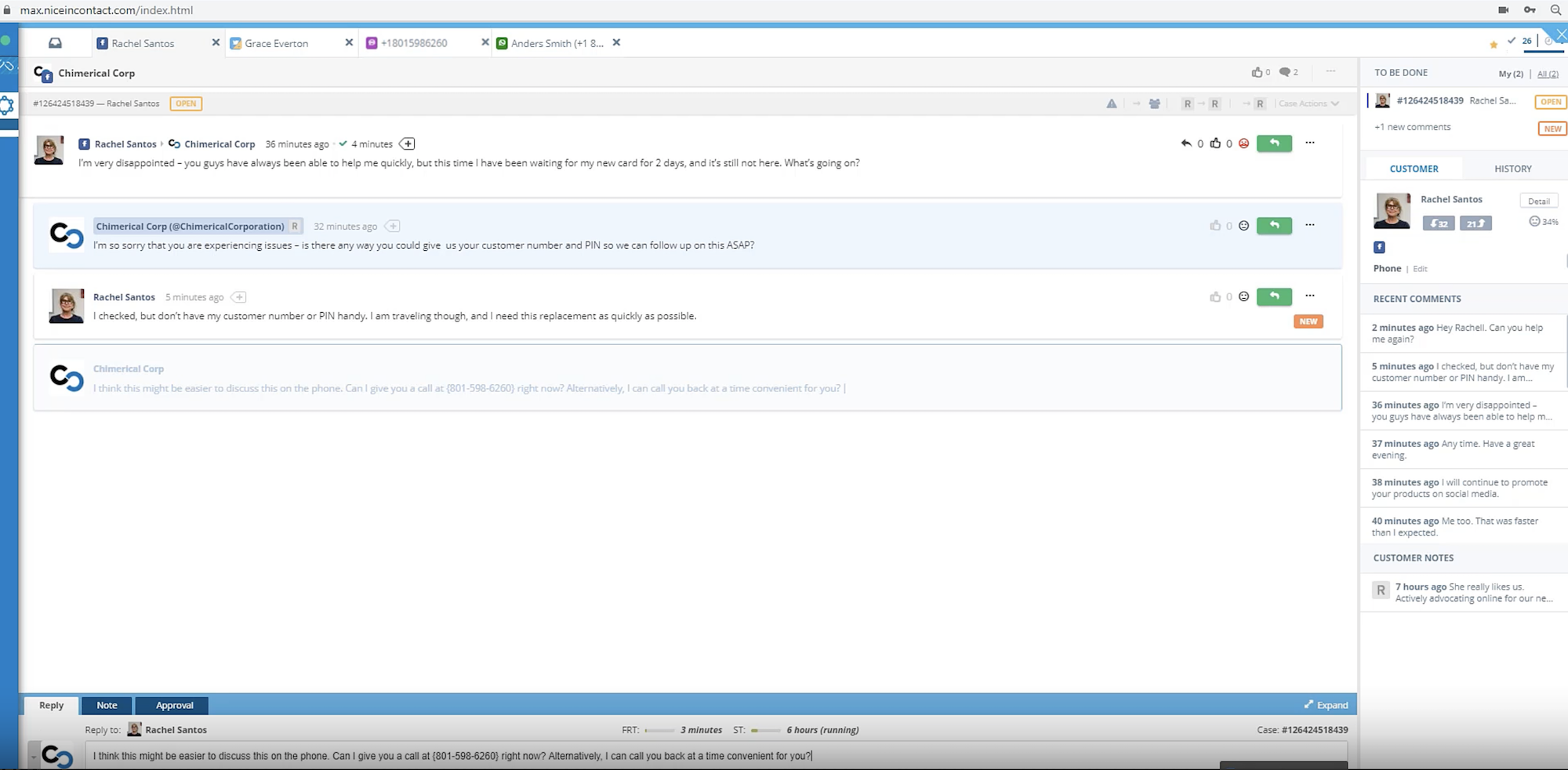 CXone's asynchronous digital inbox, My Agent eXperience (MAX) facilitates personalized, friction-free cross-channel communication. MAX provides agents with interaction history, CRM customer data, customer sentiment analysis, and consolidated smart routing for every interaction.
Agents are automatically assigned cases within their digital inbox queue, which allows for:
Single Channel Handling: Agents manage interactions on a case-by-case basis, one at a time
Multichannel Handling: Agents manage multiple interactions simultaneously, but all within the same chanel
True Omnichannel Handling: Agents manage multiple interactions simultaneously across multiple channels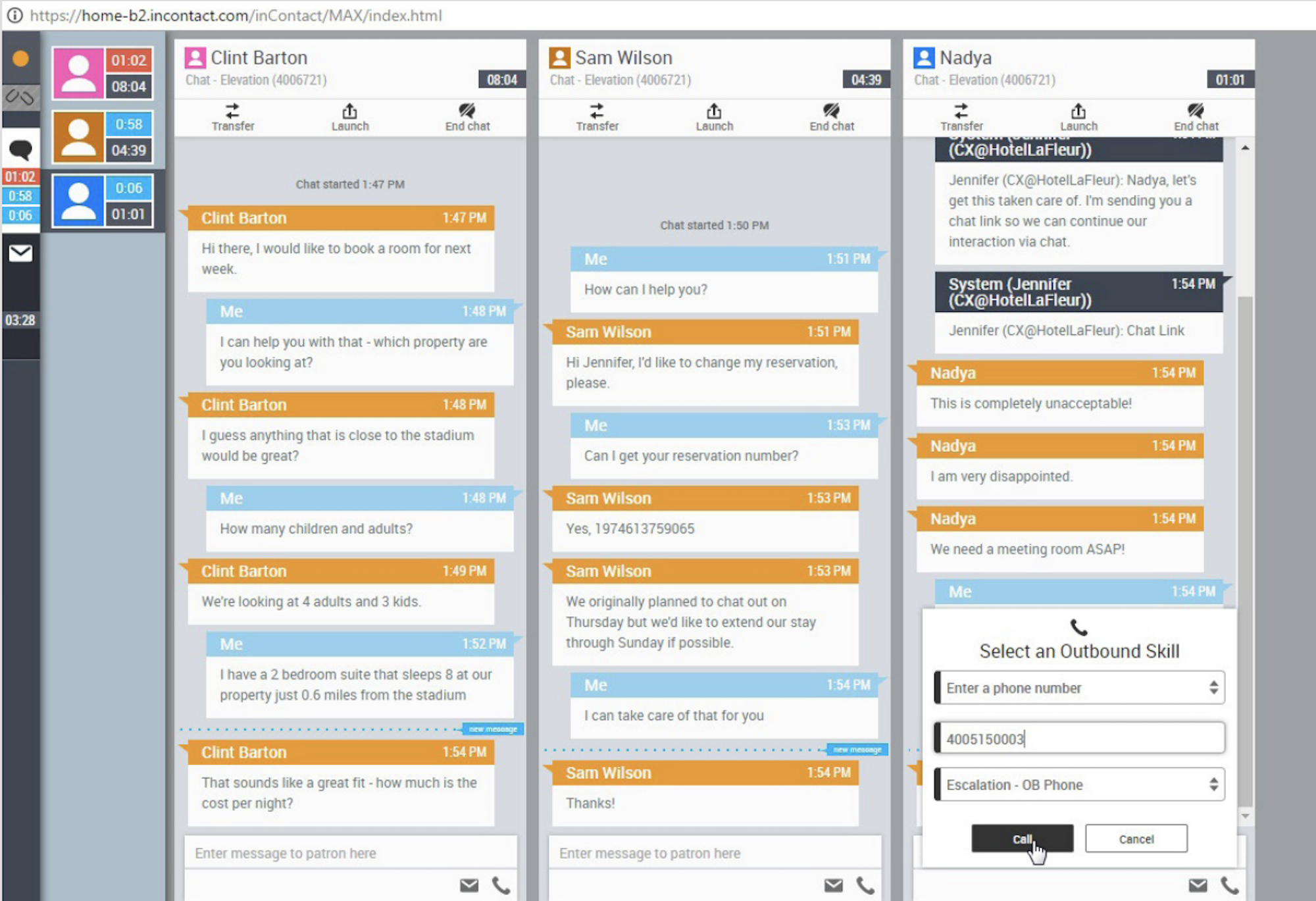 Cases are automatically assigned according to customized digital routing rules like data-driving routing, skills-based routing, agent proficiency routing, or via current agent presence (status.)
Within the MAX interface and digital inbox, agents can:
Update case status (resolved, pending, etc.)
Unassign and reassign cases
Transition a digital interaction to a voice call, switch between channels
View and send quick replies
Set customer disposition
Access AI-powered Agent Assist IVAs
Initiate the escalation matrix
Send conversation transcripts to customers
Review Customer Card (customer contact information, prior cases and interactions, customer sentiment and CSAT scores, account history, agent notes, etc.)
NICE CXone Enlighten AI Customer Self-Service
CXone offers a variety of omnichannel self-service tools options, all powered by Enlighten AI, the platform's customer engagement conversational AI solution.
Enlighten AI measures 100% of customer interactions in real time, providing prescriptive and predictive insights into both consumer and agent behavior.
In other words?
It makes it easier than ever to identify what your agents are or aren't doing well, learn what your customers like and dislike about your sales and customer support processes, optimize omnichannel routing strategies, and give agents access to in-conversation assistance powered by Artificial Intelligence.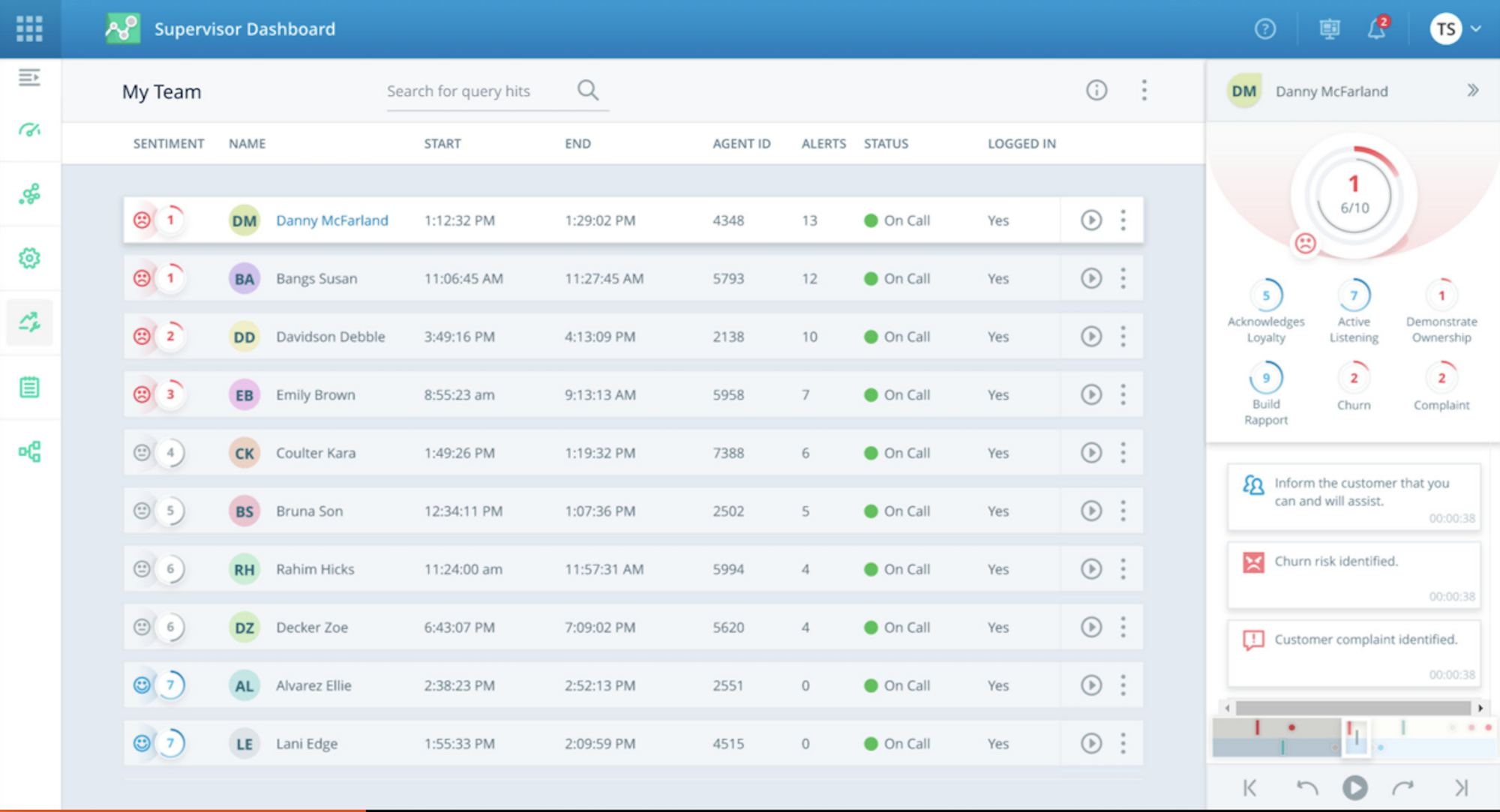 Enlighten AI focuses on:
Customer Satisfaction: Automated soft skill scoring, instant feedback, coaching suggestions, etc.) Softskill
Sales Effectiveness: Automated intelligent routing, in-conversation agent assistance, proactive chatbot and outbound auto dialer tools
Complaint Management: Uses automation to identify risks, report compliance status, recognize agent behavior and actions that lead to frequent complaints
Enlighten XO 
Enlighten XO is an AI-powered customer service solution that analyzes past voice and text conversation data to recognize future automation opportunities. It then automatically generates self-service scripts and menu options accordingly, relying on intent analysis and machine learning to continually improve over time.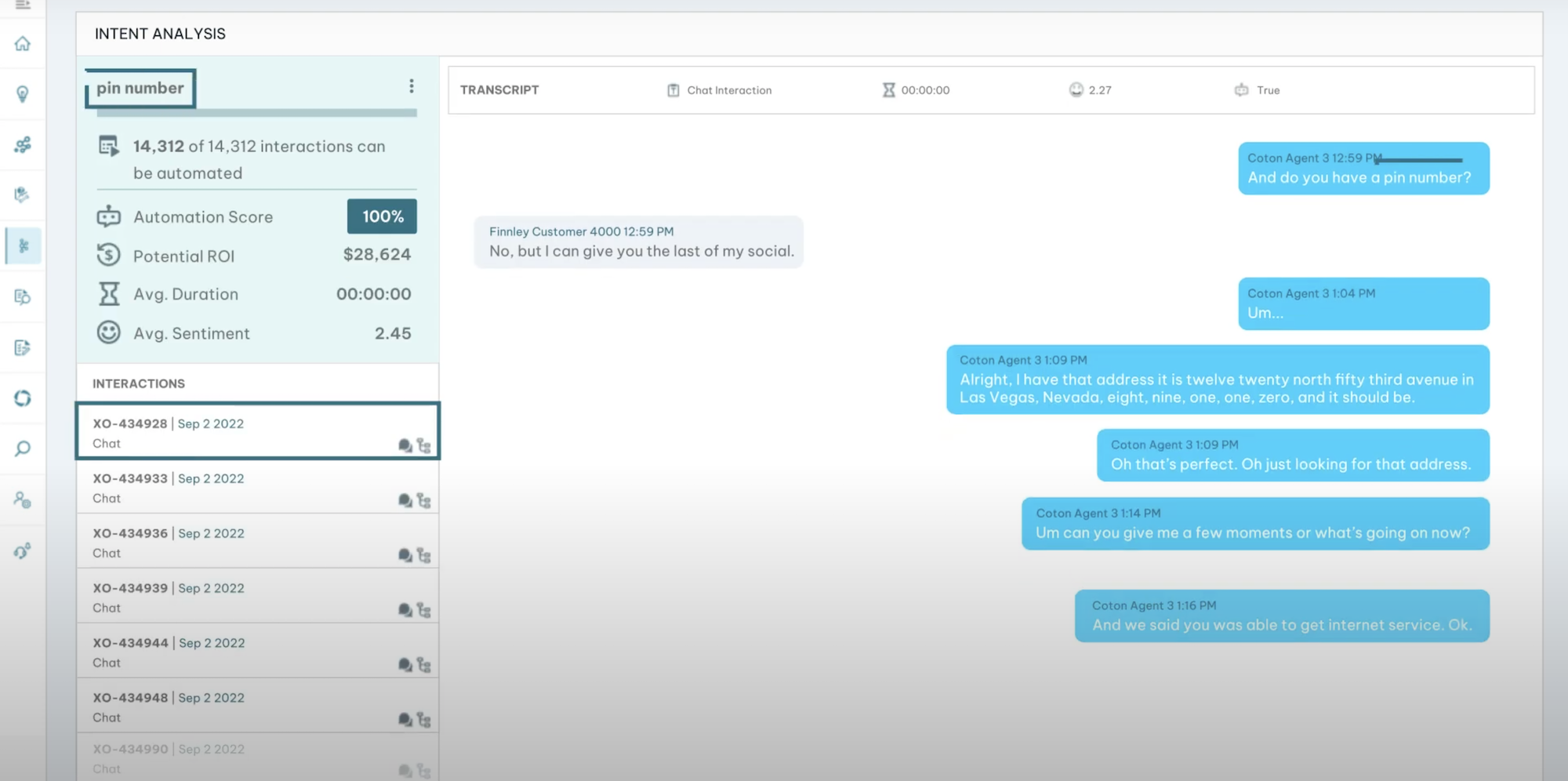 Enlighten XO anticipates customer questions based on predictive algorithms, then routes customers to the best possible digital or voice automated menu.
This optimizes chatbot and IVR menu interactions and automated conversation flows, keeping them brief and to the point.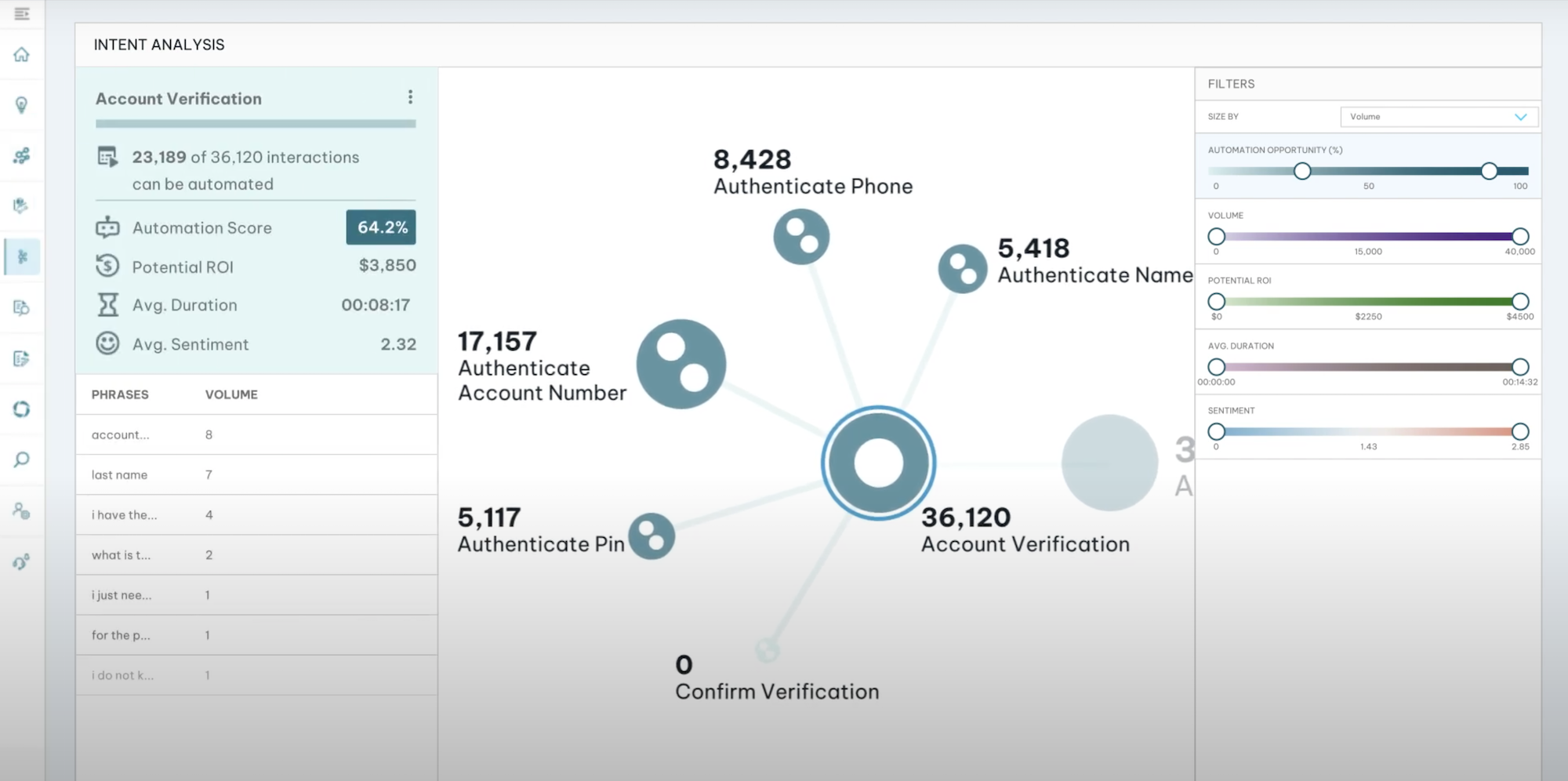 Enlighten XO automates numerous business processes and customer service actions, such as:
Account verification and authentication
Escalation matrix initiation
Bill payment
Account maintenance
Service outage updates
Order updates/processing
Complaint management
CXone Guide
CXone Guide is a digital self-service feature that provides proactive real-time customer service via IVA-powered or live agent chat and messaging support across web-based and mobile digital applications.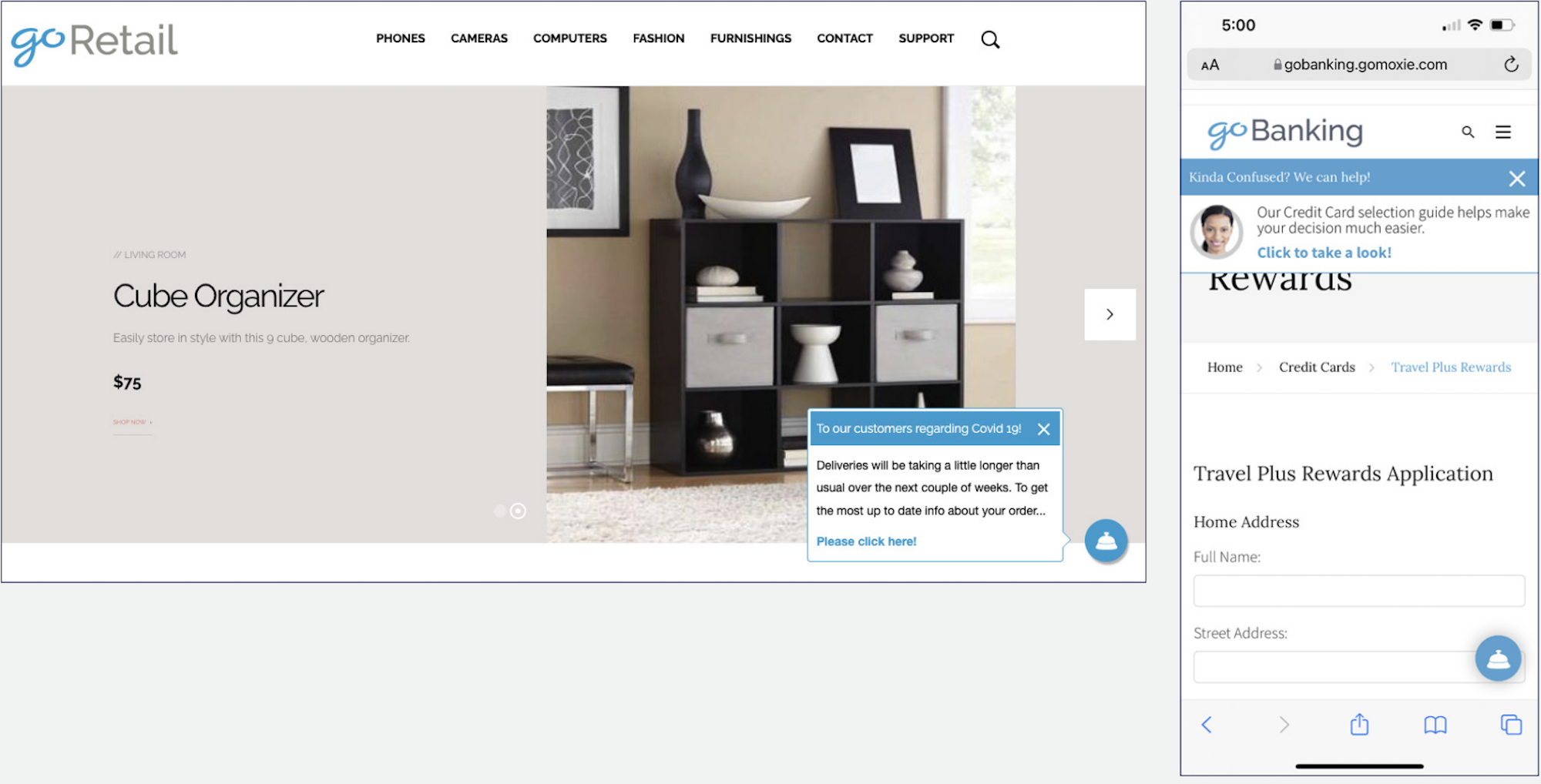 It uses machine learning and AI to engage at the best possible point of the customer journey, proactively sharing live chat invitations, email messages, automated chatbot conversations, knowledge base articles, and relevant links with customers.
 Guide is a no-code application that uses CXone's patented Engagement Manager to:
Conduct engagement and customer journey mapping
Re-engage customers at multiple key touchpoints
Evaluate customer data, customer behavior/engagement across digital channels, customer forms, campaign data, etc.
Conduct A/B testing
Display relevant KPIs and interactive performance/engagement reports
Self-Service Analytics 
CXone self-service analytics help managers identify blocks in the self-service journey, making optimizing call flows, chatbots, and automated support options stronger.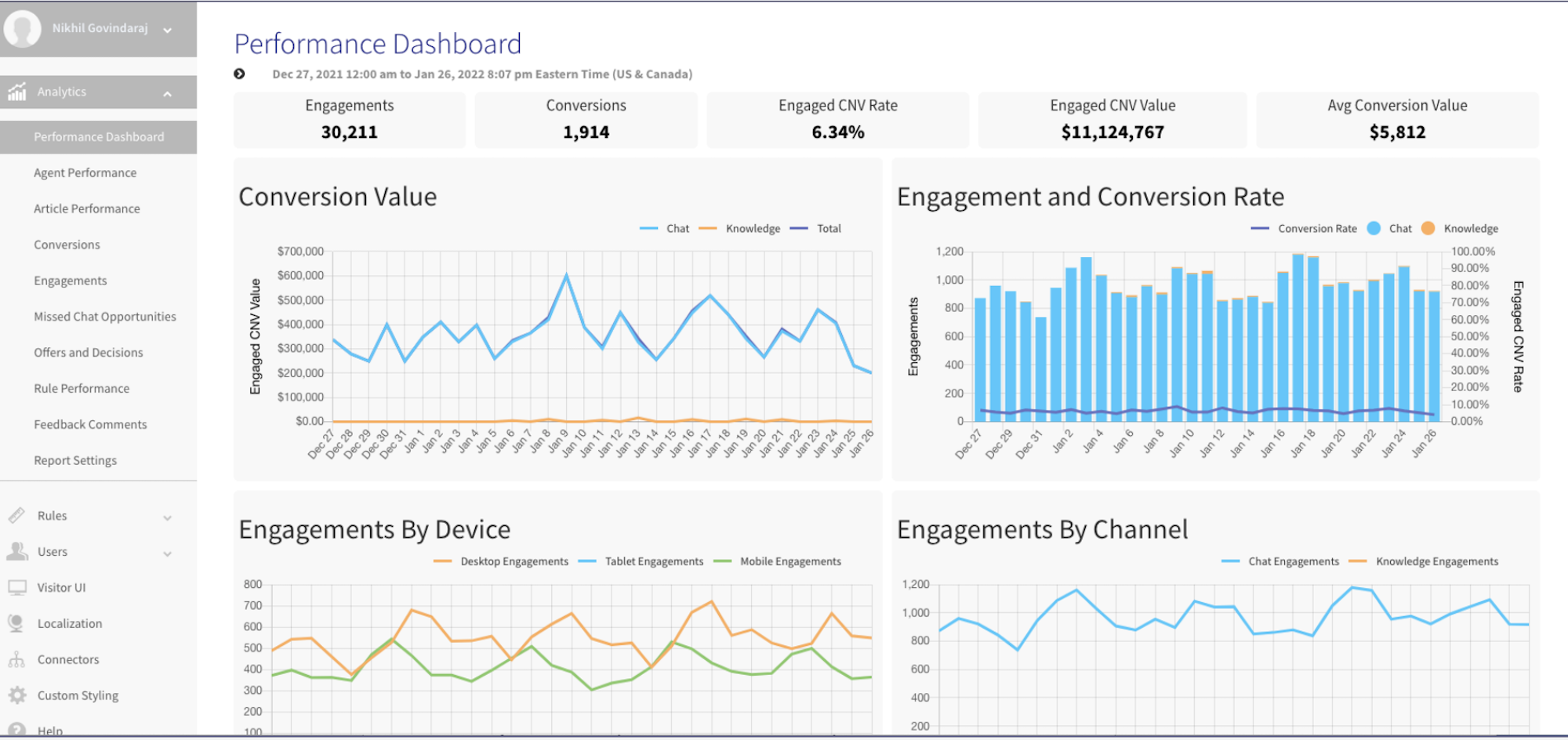 It alerts admins to common points in self-service interactions when customers ask to be transferred to a live agent. It also shows the most and least popular IVR and auto attendant menu options, and identifies common opt-outs/abandonment points.
Self-service analytics also monitor call duration, the percentage of calls transferred to live agents, omnichannel routing paths, and CSAT scores specifically related to agent-free interactions.
Workforce Engagement Suite
The CXone Workforce Engagement Suite is made up of several key components: 
Workforce Management and Workforce Optimization
Quality Management
Interaction and Screen Recording
Performance Management
AI forecasting
Performance gamification
Learning and coaching
Quality Management
Quality Management features rely on custom omnichannel KPIs and analytics, agent leaderboards and gamification, real-time coaching and feedback, performance scorecards, and dashboards to increase employee engagement while providing maximum transparency into contact center activity.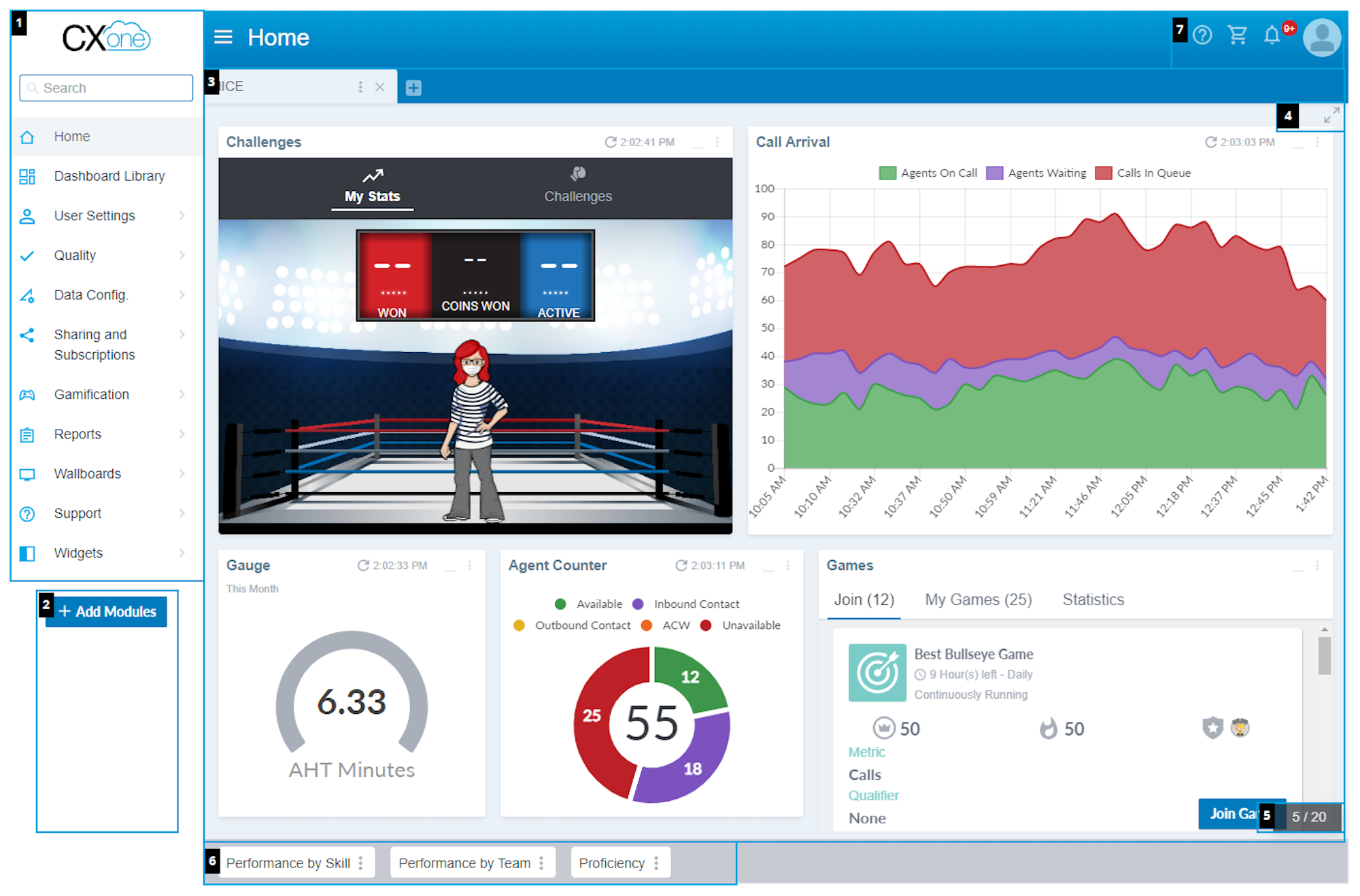 Admins can set performance management objectives and receive alerts when agent performance dips below a certain threshold.
Customizable quality management dashboards contain key analytics and performance optimization tools ("modules") like coaching options or agent status updates on a single pane of glass.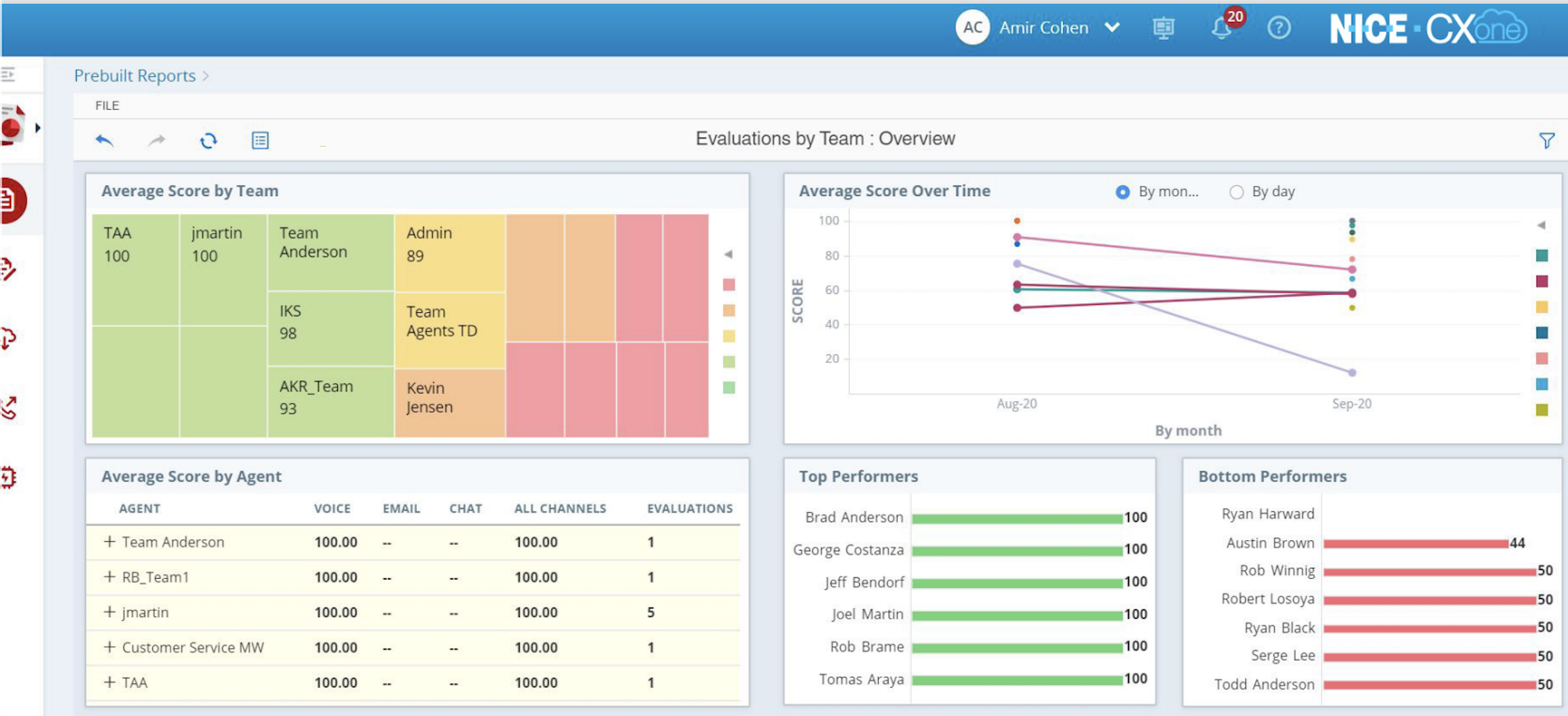 Modules and dashboards display analytics and employee resources related to: 
Agent coaching sessions, agent proficiencies, and agent scorecards
Real-time and historical agent/group performance metrics (AHT, average customer sentiment, seconds saved per call, average call volume, etc.)
Employee surveys and responses
Admins can also access over 250 omnichannel analytics, completely customizing their reports or choosing from one of the 90+ pre-made reporting templates. These reports can be filtered by date, keyword, topic, agent, agent group, contact duration, and more.
Workforce Management
CXone Workforce Management (WFM) leverages AI, machine learning, and 40 unique algorithms to provide unparalleled omnichannel forecasting and a fully optimized agent scheduling process.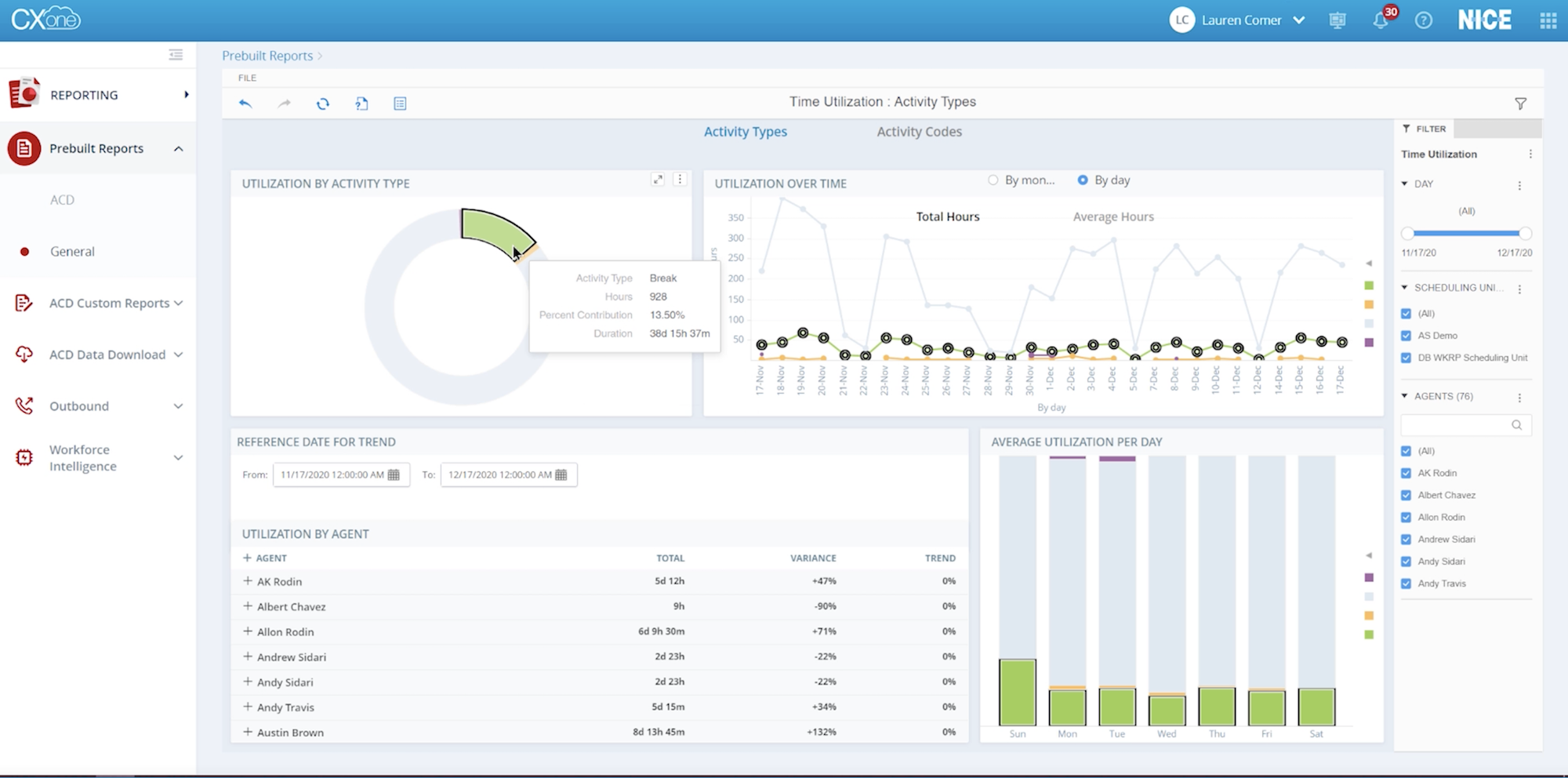 Automated schedule adjustments take the headache out of the scheduling process, while multi-criteria schedule assignments ensure a variety of agent skill sets and qualifications are represented every shift. Best Pick technology examines historical data to automatically select the best possible scheduling plan according to current agent availability, and real-time adherence monitoring keeps agents accountable.
Agents can also initiate their own schedule changes, trade shifts with each other, bid on shifts, and request PTO with automatic approval. Time Utilization Reports provide high-level insights into agent workday activity, helping managers address performance or staffing issues.
CXone Recording
CXone Recording is another important component of WFM and performance optimization–and it's even HIPAA, GDPR, and PCI compliant.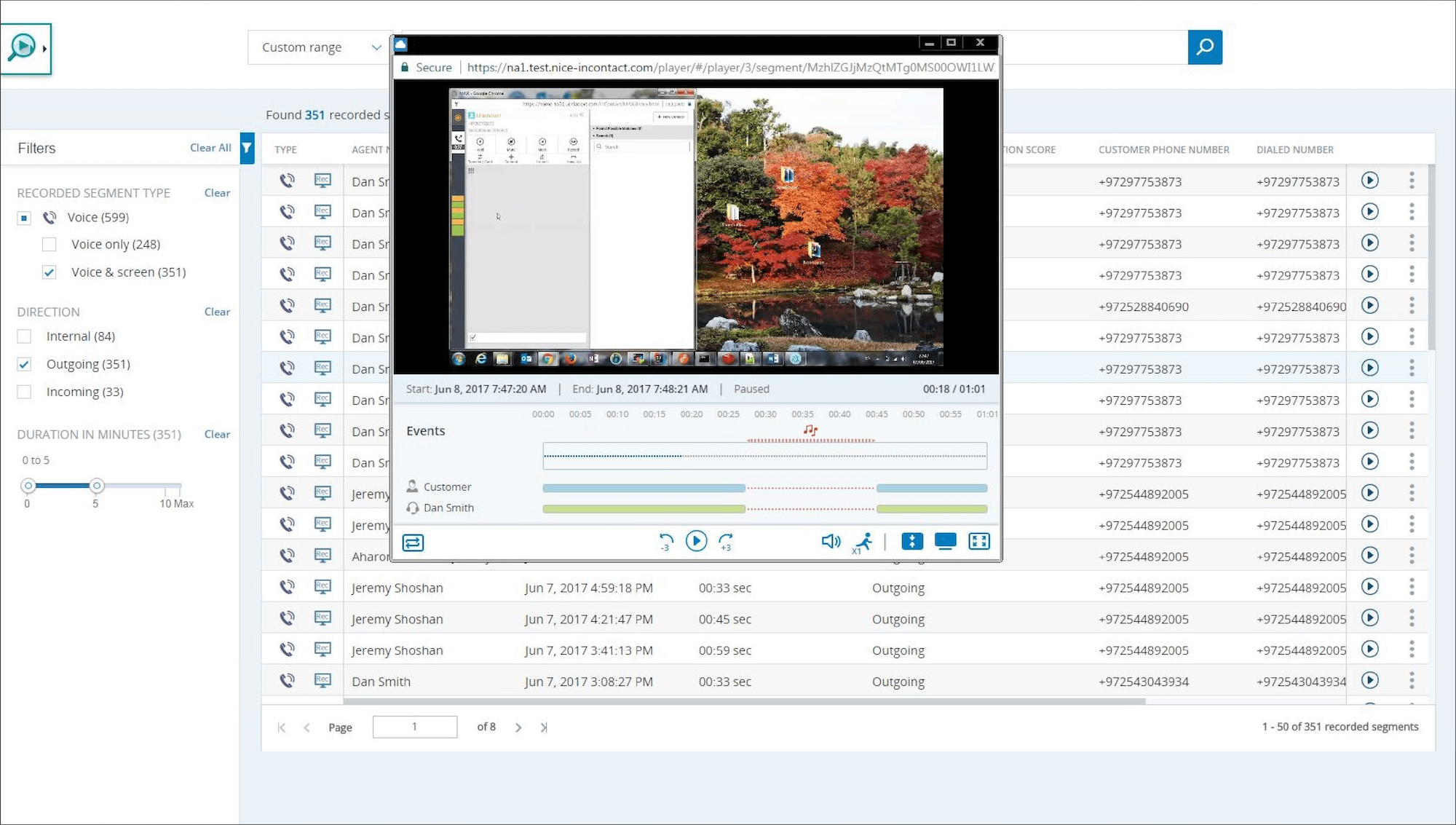 Admins can record omnichannel conversations and agent screens for a more holistic view of customer interactions, agent performance and process adherence, and customer satisfaction levels. Recording rules, custom data retention policies, and user permissions keep recordings private and secure. Agents and admins alike can share recordings via email, download or export recording files, annotate, tag, and add virtual sticky notes to call recordings for more detailed analysis and review.
CXone Integrations
NICE CXone offers a variety of pre-built CRM (Customer Relationship Management) integrations alongside RESTful APIs, SDKs, and an open platform–making it easy to customize your contact center.
Top UCaaS and CRM integrations include:
Salesforce
Microsoft Teams
LogMeIn (GoToConnect, etc.)
Microsoft365
Zendesk
Sugar CRM
ServiceNow
Bullhorn
Oracle
NetSuite
Fuze
CXOne Security and Reliability 
NICE CXone has high-level security and compliance standards befitting its enterprise, international corporation-level clientele.
CXone security standards and certifications include: 
99.99% uptime with full redundancy via data centers in North America, Europe, and Australia
HIPAA, TCPA, IRAP, FedRAMP, GDPR, and AICPA SOC 2 TYPE 2+HITRUST compliance
Annual SOX auditing
Cyber Essentials Certification
CCPA compliance
24/7/365 network monitoring
PCI DSS Compliance (Levels I and II)
Regular automated data/system backups
Disaster Recovery Plans with failover strategies
NICE CXone User Experience 
The below table outlines the top NICE CXone pros and cons.
| | |
| --- | --- |
| NICE CXone Pros | NICE CXone Cons |
| A variety of AI-powered customer self-service options, alongside in-conversation AI Agent Assist, dramatically increase first contact resolution rates and lower average contact duration | Because agent interface allows for simultaneous cross-channel interaction management, it's easy for agent desktops to get over-cluttered and crowded quickly |
| Access to over 40 voice and digital channels, including numerous social media platforms, industry-specific applications, and integration with existing business apps, provide unprecedented options for customers to choose their ideal communication channel | Does not offer native team communication and collaboration tools, such as web conferencing and team chat messaging. Though available via integration, CXone is such a feature-rich platform, their absence stands out |
| Pre-built user friendly CRM and UCaaS integrations, alongside SDKs and APIs, make it easy to customize your contact center from the ground up–while allowing you to access insights from integrated tools in-conversation with customers | High learning curve/lower ease of use made more complex by constant feature name changes and disorganized, inconsistent, and outdated content  within the CXone online knowledge base |
| Advanced, high-level features with constant upgrades and innovation, especially regarding AI and automation to streamline business processes | Pricing is quote-based, and many of the best features require users to purchase advanced license or add-on packages in addition to core bundles |
Who Should Use NICE CXone?
Though new or small businesses can get excellent customer insights from the NICE CXone, it's best suited for enterprise-level companies with a high daily call volume or heavy contact across multiple channels.
Common use cases include telemarketing, healthcare providers, financial services, and government agencies.
Healthcare providers use the software to automatically collect patient billing information, send automated appointment reminders, and manage EHRs.
Lending companies and banks use it to contact customers in the event of potential credit card theft, provide account balance updates, and collect customer loan qualification information.
Within the government sector, NICE inContact reviews and user ratings say the tool is ideal for fundraising, campaign phone banking, and communicating with constituents on the channel of their preference.
NICE CXone Alternatives 
The following contact center solutions and call center software providers are some of the most popular NICE CXone alternatives:
| | | |
| --- | --- | --- |
| Provider | Pricing | Best For |
| Genesys Cloud CX | 5 paid plans from $75-$150+ per month | High-volume contact centers with advanced real-time analytics needs, and teams heavily reliant on custom automated chatbots |
| Five9 | 4 paid plans from $149-$229+/month | Mid-enterprise-level remote contact centers reliant on automated outbound dialers for lead generation and sales, and teams prioritizing robust WFO tools |
| Talkdesk | 4 paid plans from $75-$125+/user/month | Motley remote contact centers needing high-level automations and advanced native team collaboration tools |
| Nextiva | 4 paid contact center plans with quote-based pricing |  Teams prioritizing CCaaS scalability and flexibility |