Automatic Call Distribution (ACD) improves call center functionality by guiding callers to the right agent on their first call-in. This capability improves customer interactions, balances agent workload, and boosts call center metrics.
This article outlines automatic call distribution, discussing how it works, its different styles, benefits, and top providers.
Compare call center software
from top providers
Jump to ↓
What is Automatic Call Distribution?
Automatic Call Distribution (ACD) is a virtual phone system feature that automatically routes calls to a predetermined agent or business department.
ACD is designed to eliminate unnecessary call transfers, prevent extended customer hold times, and increases first call resolution rates by automatically connecting customers to the agent most qualified to assist them with their specific issue.
How Automatic Call Distribution Works
Call distribution works by identifying the caller's identity and reason for calling, determining the agent best suited to help, then routing the caller to that agent or queue.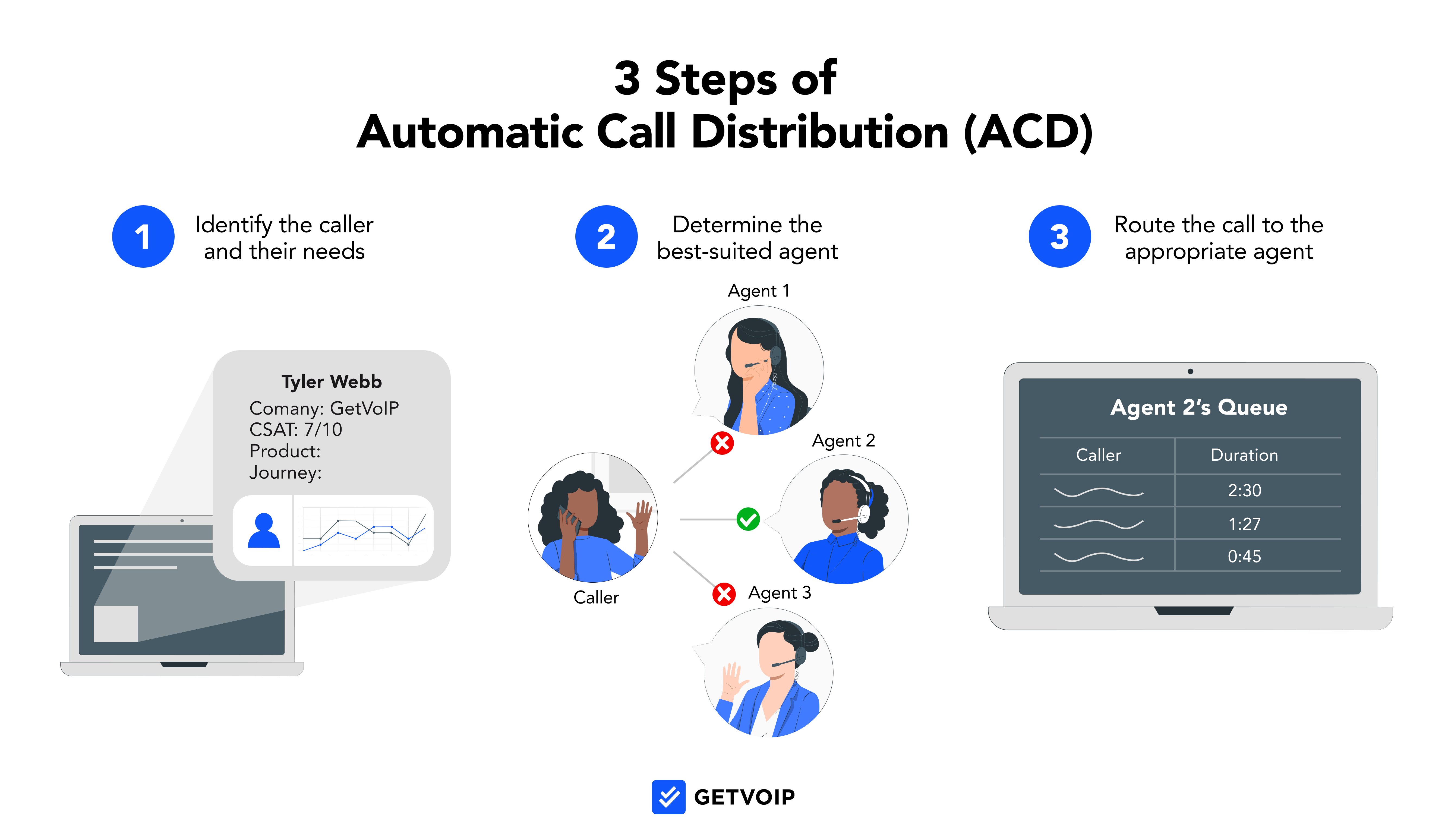 Three Primary ACD Steps:
1. Identify the caller and their needs
2. Determine the best-suited agent, queue, or department
3. Route customer calls to the appropriate agent or queue
Step 1: Identify the Inbound Caller and Their Needs
Most virtual phone system providers, contact center (CCaaS) platforms, and unified communications systems offer various features and systems to identify an inbound caller's needs.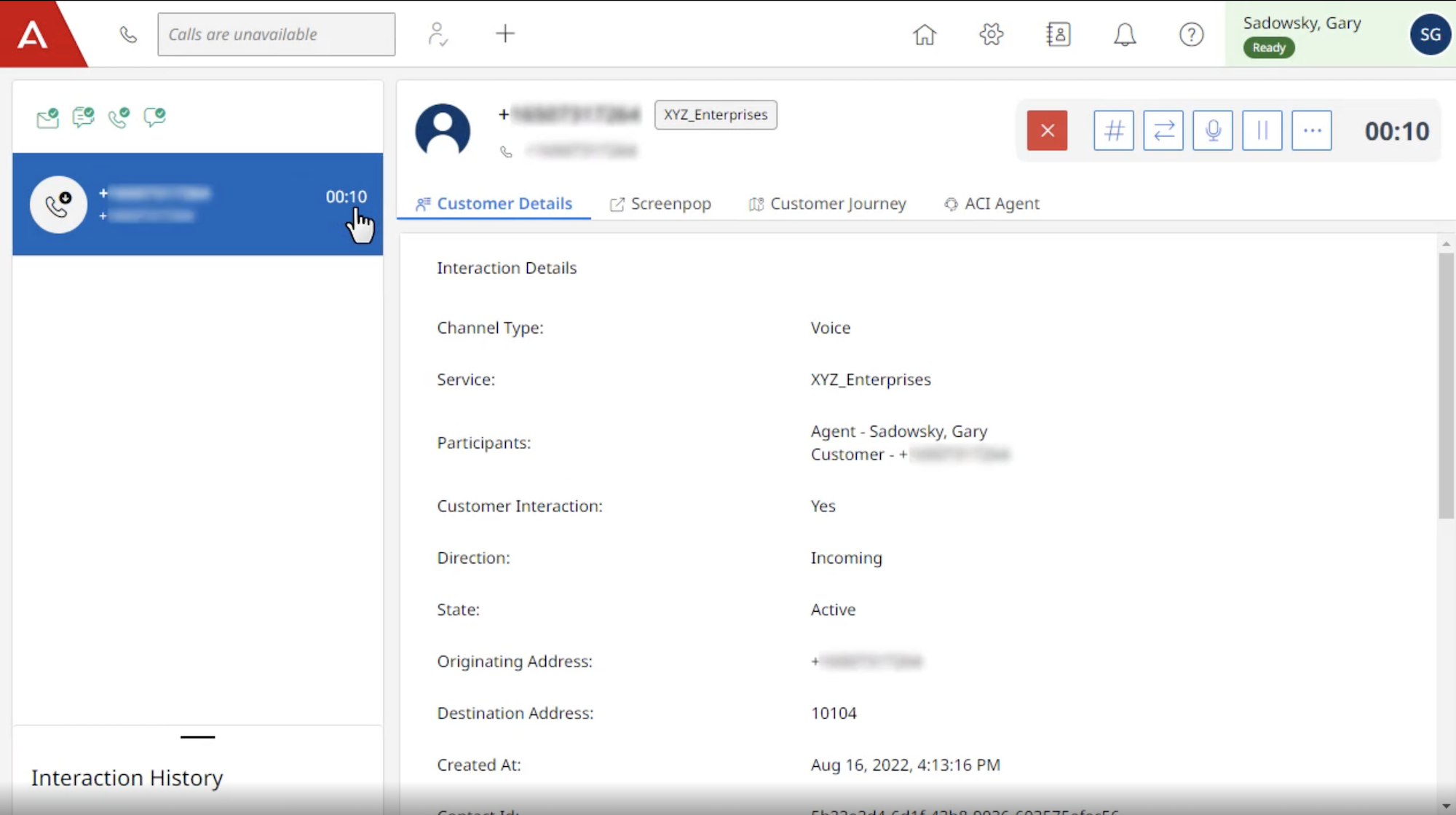 Common Caller Identification Methods:
Caller ID: The phone system identifies the caller's phone number, name, and location. This information suggests the caller's language and may help determine a location, service, or product near them.
Phone number dialed: The number a caller dialed provides critical information about their location and which department or user they intend to reach
Caller profile and history: The caller's profile gives important information about their company, role, location, VIP status, communication channel preferences, and more
CRM information: CRM systems provide an elaborated customer profile, including information like recent purchases, company interaction history and the agents that helped them, and recent sentiment scores
IVR menu selections: IVR or IVA menu selections such as "Billing" or "Customer Service," provide critical information about which department or user the caller wants to reach
The time of day: This affects which call center locations are active, or have the most available agents
Step 2: Determine the Best-Suited Agent, Queue, or Department
After identifying the inbound caller's information, the ACD software determines where to route the call–the agent or queue that best matches the caller's needs. This decision is uniquely suited to each business phone system because each phone system has distinct departments, locations, agents, ring groups, and queues.
Cloud-based phone system providers offer a variety of agent-categorization tools and methods:
Departments: Sort agents into virtual departments by function–such as Billing, Customer Support, Technical Support, or Sales–assigning each department a unique phone number or extension
Ring groups: Also known as hunt groups or call groups, ring groups bundle agents together to receive calls as a group, either simultaneously or one at a time
Queues: When a busy agent group of agents receives an inbound call, the call gets placed in a virtual waiting list–called a queue–based on the order in which they called. Agents can view their queue, and callers get notified about the expected wait time. Set a queue "threshold" or limit, at which point inbound callers get redirected to a more available queue.
Availability status and location: Agents can set availability hours, and mark themselves as available or unavailable. The phone system will only route calls to available agents.
Agent skills and specialities: Administrators can evaluate and rank agents based on hundreds of custom skills and proficiencies. Rank agents according to their spoken languages, best communication channels, personality and qualities, and other custom options.
Considering the caller's information and needs, the phone system routes them to the queue or agent that is best prepared–and most available–to help.
Step 3: Route Customer Calls to the Appropriate Agent or Queue
When an agent receives a virtual inbound call, integrated CRM systems trigger CTI  (Computer Telephony Integration) screen pops with relevant customer information such as interaction and order history.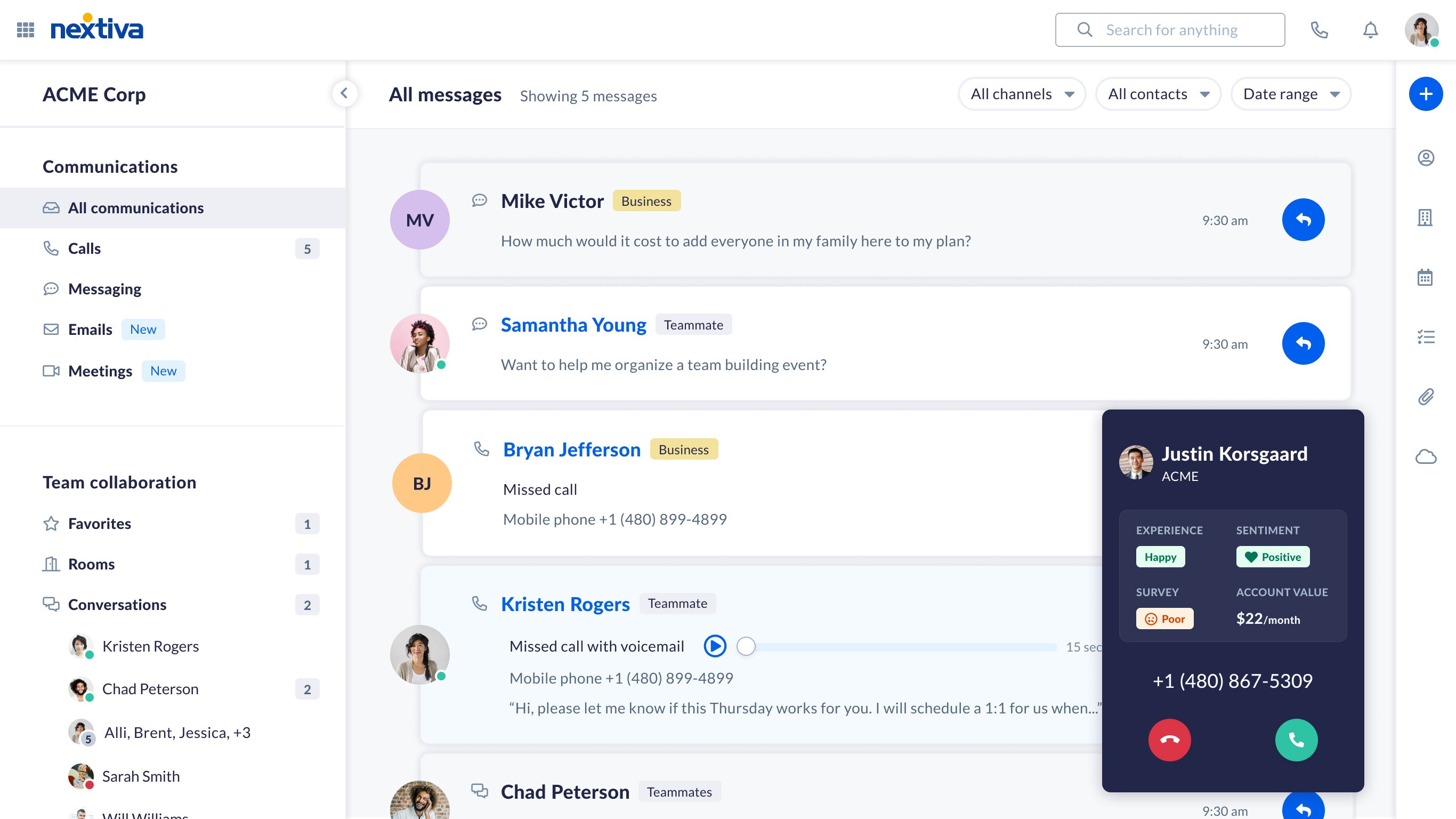 Before the agent picks up the phone to speak with the customer, they can review the client's order information displayed in the CTI screen pop, helping them approach the caller with fuller context.
ACD vs. IVR
The difference between ACD and IVR is that ACD is a general telephony routing system, while an IVR menu is a particular feature that assists with call routing. In other words, ACD is a routing system while IVR is a routing feature.
In fact, interactive voice response (IVR) menus are part of a company's ACD system. IVR menus provide a self-service tool where customers can indicate why they called. With this information, the ACD system decides where to route the caller.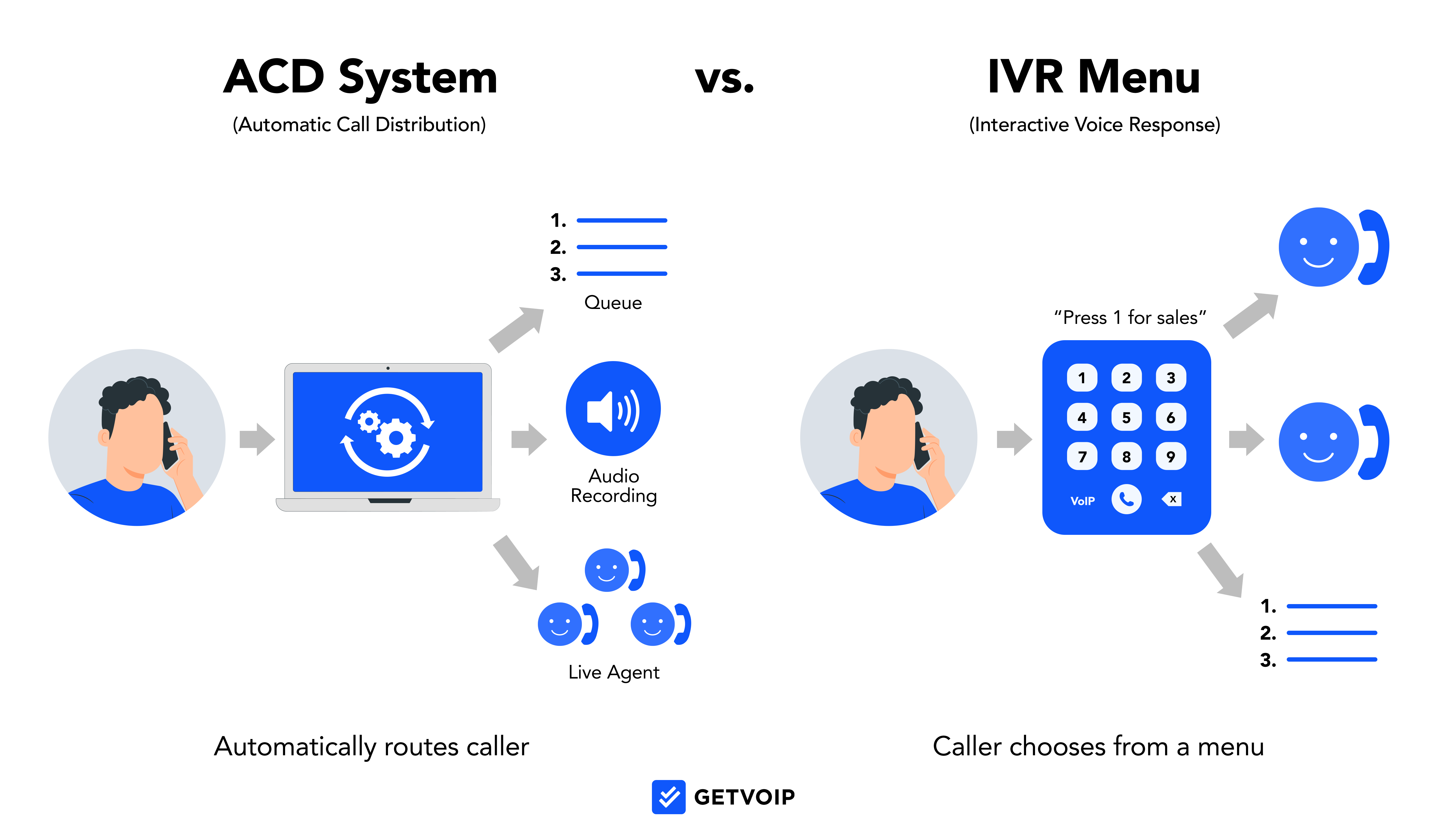 How ACD Uses IVR
In order to determine where to route an inbound call, your ACD utilizes multiple tools: IVR menus, analytics, skills-based routing, queue length, and more. However, ACD generally prioritizes IVR over all the other routing tools.
IVR prompts inbound callers with a self-service menu to indicate why they called and where they want to go. With IVR, customers can select their language and destination–for example, Press 1 for Customer Service, Press 2 for Sales, etc. Via IVR, the customer tells the ACD system where to route them.
Here's a quick breakdown of the difference between ACD and IVR.
| | |
| --- | --- |
| Automatic Call Distribution (ACD) | Interactive Voice Response |
| Call distribution system | Call distribution feature |
| Routes callers | Provides a self-service menu |
| Chooses the call's routing destination | Lets customers pick where they want to route |
| Operates in the background | Customer-facing |
What Are The Different Types of Call Distribution?
The way an automatic call distributor chooses how and where to route a cell depends on the call distribution methods and ACD routing style you've selected for your phone system.
Most virtual phone system providers, UCaaS platforms, and CCaaS solutions offer some of the following ACD styles:
Skills-based: Skills-based routing connects callers to agents according to agent qualifications as they relate to the caller's issues
Fixed order: Also called linear distribution or round robin, fixed order phone calls are routed to agents according to a predetermined agent order
Idle time: Calls are routed according to which agent has been idle (has not taken a call) for the longest amount of time
Simultaneous: All call center agents within a set ring group are sent the same inbound call at the same time, until one agent answers
Time-based: Calls are routed according to agent and caller time zones and agent availability. Admins can also set calls to be distributed based on available business hours to avoid returning to a high number of voicemail messages.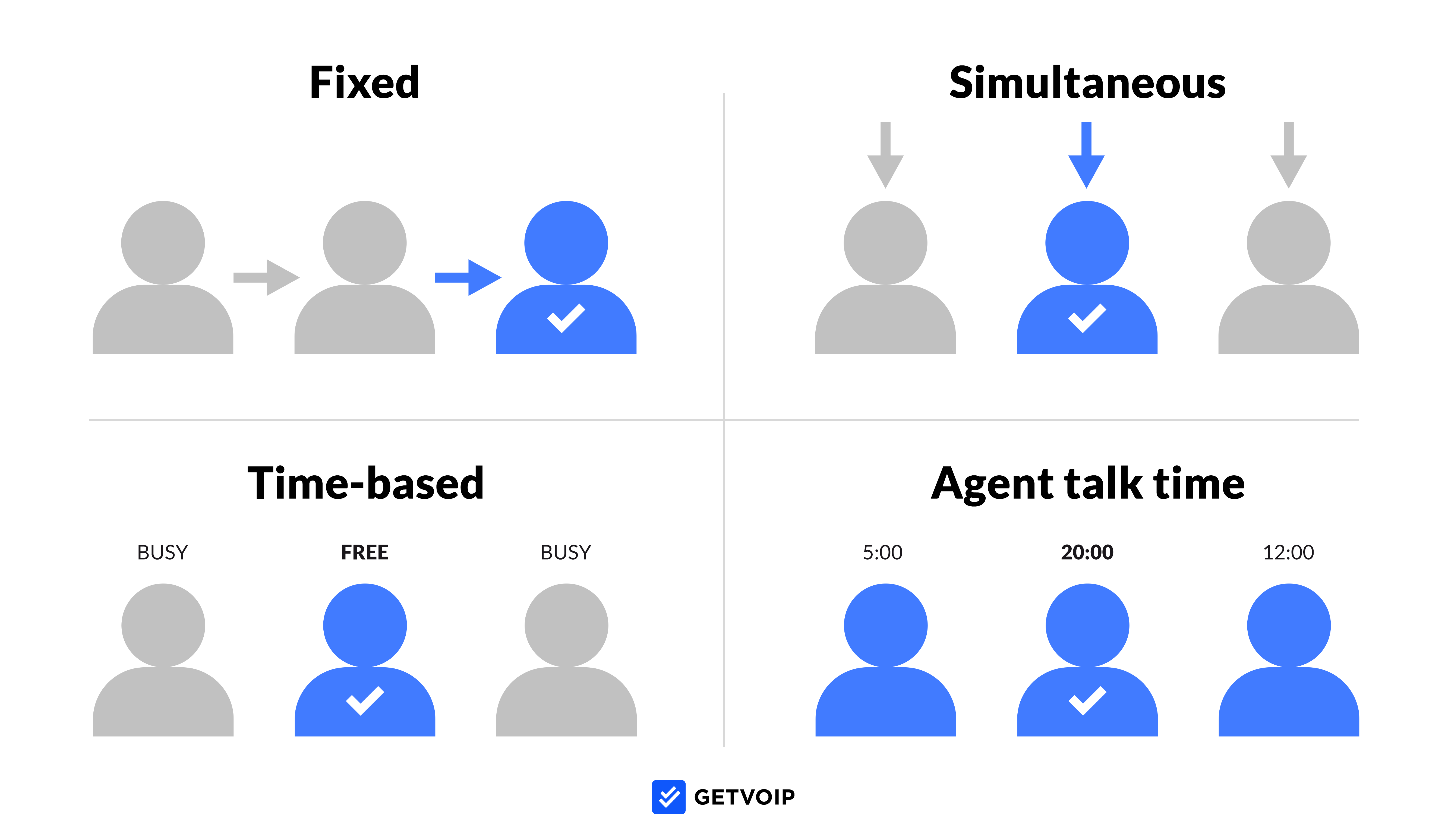 The Benefits of Automatic Call Distribution
Automatic call distribution improves customer experience, leads to faster first-call resolution, and makes agent time and effort more efficient.
Additional automatic call distribution benefits include:
Streamlines communication
Higher first-agent resolution rates
Lowers operating costs
Improves customer relationships and higher customer satisfaction rates
Fully optimizes workforce
Faster customer resolution times
Fewer lost customer support tickets and requests
Shorter hold times for customers
Increases employee flexibility
Better customer experience thanks to CRM integration
Essential Features of Automatic Call Distribution Systems
In addition to IVR and the advanced routing strategies mentioned above, consider these important ACD-related features:
Automatic callbacks
Virtual voicemail
Call queueing
Call monitoring
Analytics and reports
Omnichannel routing
Third-party integrations
Automatic Callbacks
Automatic callbacks enable customers to hang up the phone but keep their place in line, receiving an automatic agent callback when it's their turn. Many call center software systems will inform an inbound caller about the duration of the expected wait. When the customer's turn arrives, agents can initiate a callback from the virtual dashboard with one click.
Callbacks spare customers from having to wait around listening to hold music, and this freedom improves the customer experience.
Virtual Voicemail
A virtual voicemail box gathers and organizes an agent's inbound messages–typically with a transcript–in case the customer opts not to wait in a queue or accidentally gets routed to an agent's voicemail.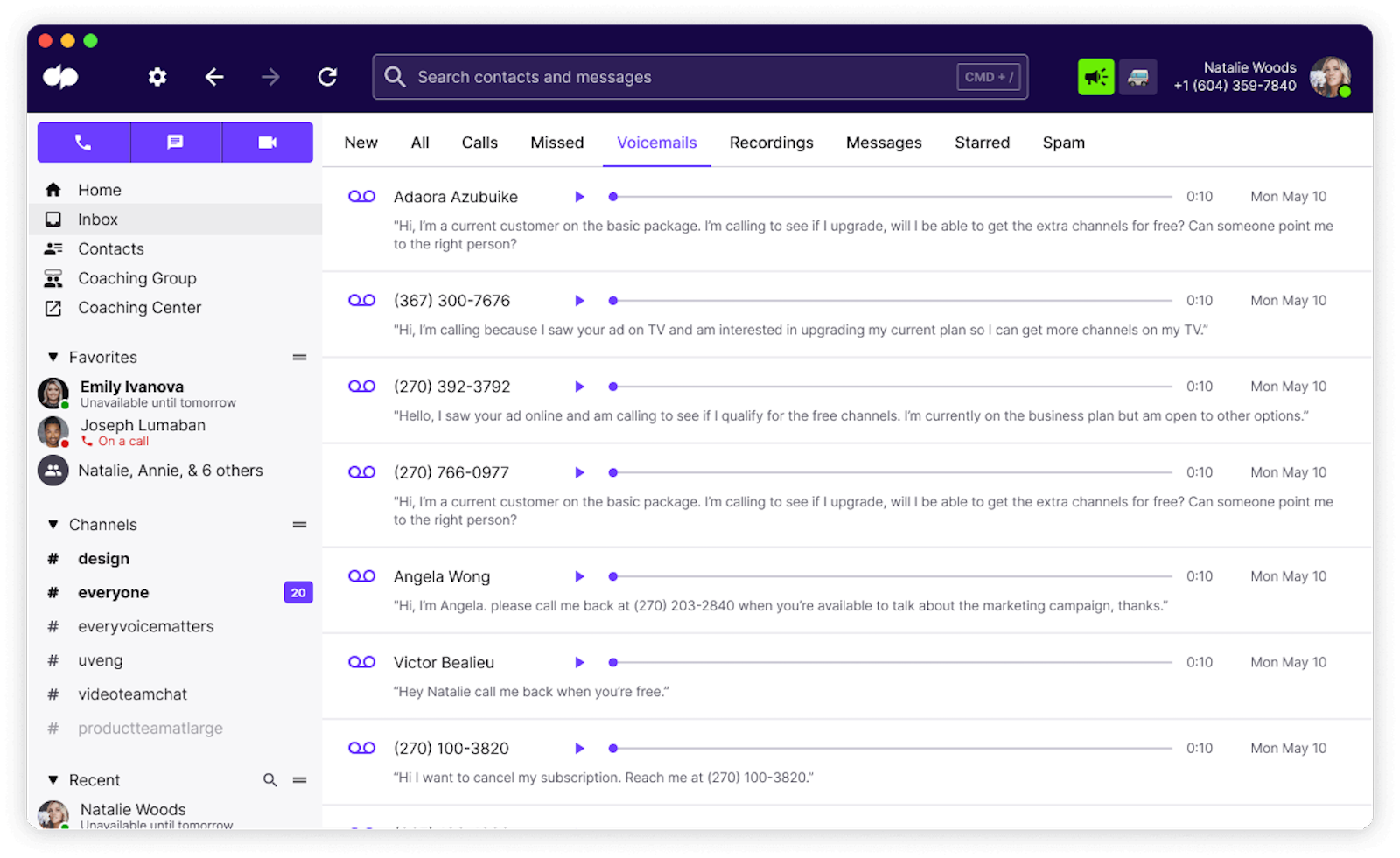 Features like voicemail notifications, voicemail-to-text, and voicemail-to-email ensure that agents stay up-to-date on all voicemail activity.
Call Queuing
Call queues manage and display the order in which customers reached your phone system, informing the agents of who to call next. Create multiple queues within a call center–for different purposes or departments–assigning distinct phone numbers and specific agents to each queue.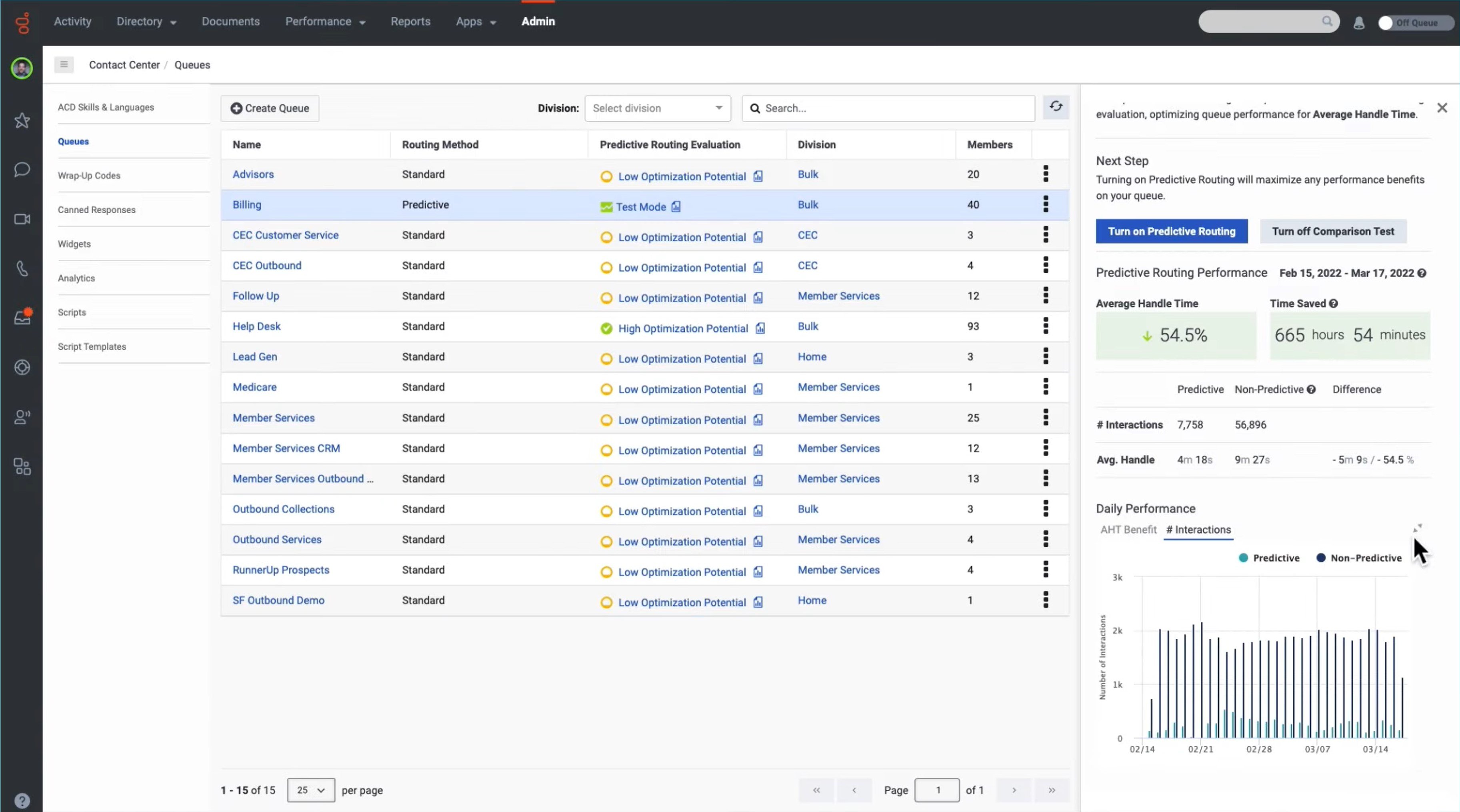 Admins, supervisors, and agents can view and manage queues live, with real-time and historical queue analytics. Live queue dashboards display queue activity, with each caller's wait time and agent performance. Historical queue dashboards display each queue's activity and call volume over time, with averages by custom timeframe.
Call Monitoring
Call center monitoring allows supervisors to observe and track each call via a live dashboard, plus the ability to quietly listen in on calls. Supervisors can see which agents are available and who is on call along with live transcripts, talk time, call recordings, and customer sentiment scores when available.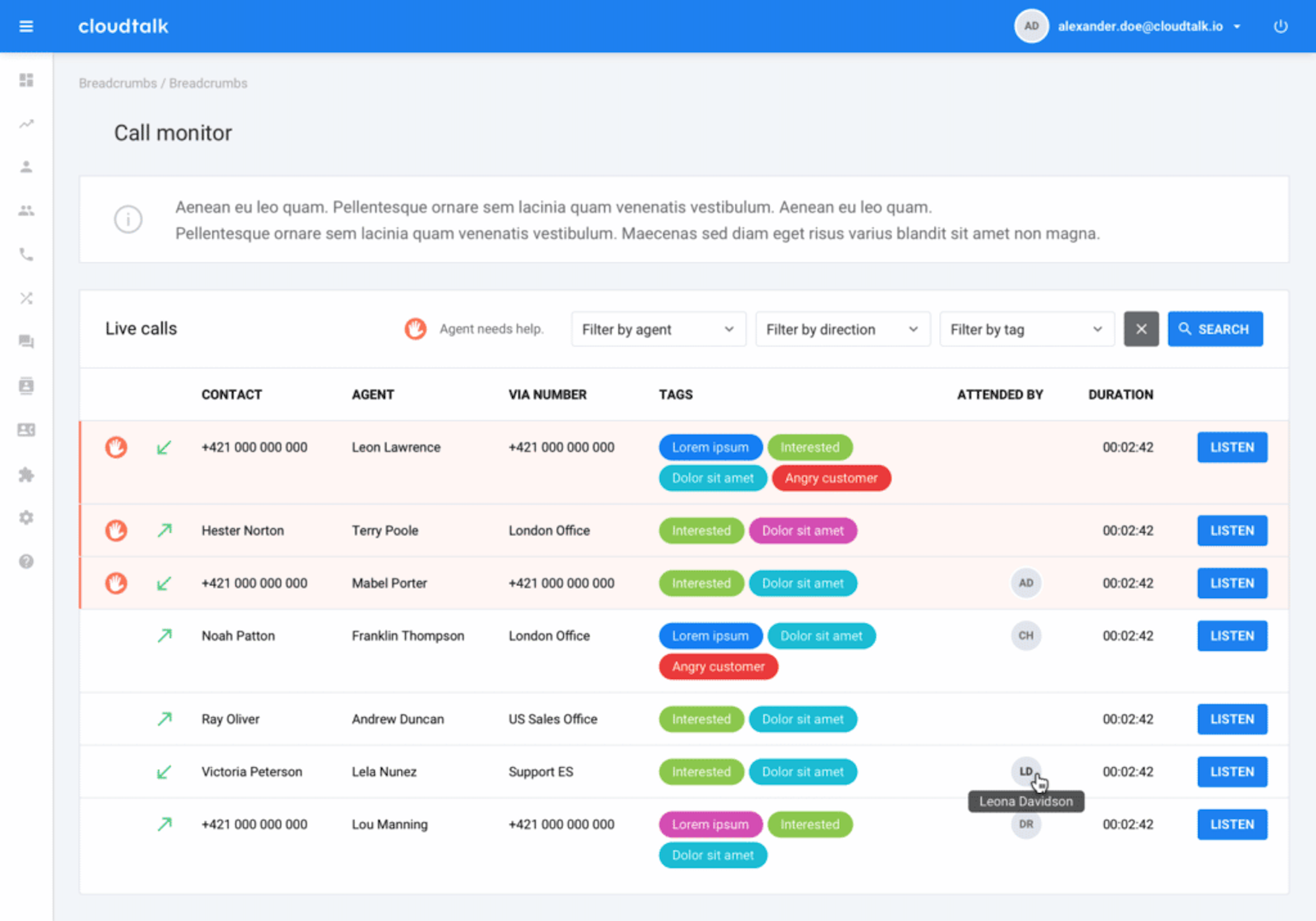 Supervisors can set notifications when certain queue wait times or sentiment-score thresholds are reached. With one click, supervisors can listen in privately, whisper live guidance to agents, join the call as a third party, or take over the call entirely.
Analytics and Reports
Call center analytics provide dashboards with metrics and KPIs that display critical information about call center activity, agent performance, and channel usage. These reports convey insights regarding how popular your queues are at certain times of day, how long the average queue time is, how quickly each agent handles a caller, and much more.
This information helps administrators evaluate contact center agents, make hiring decisions, and decide how to split queues and staff.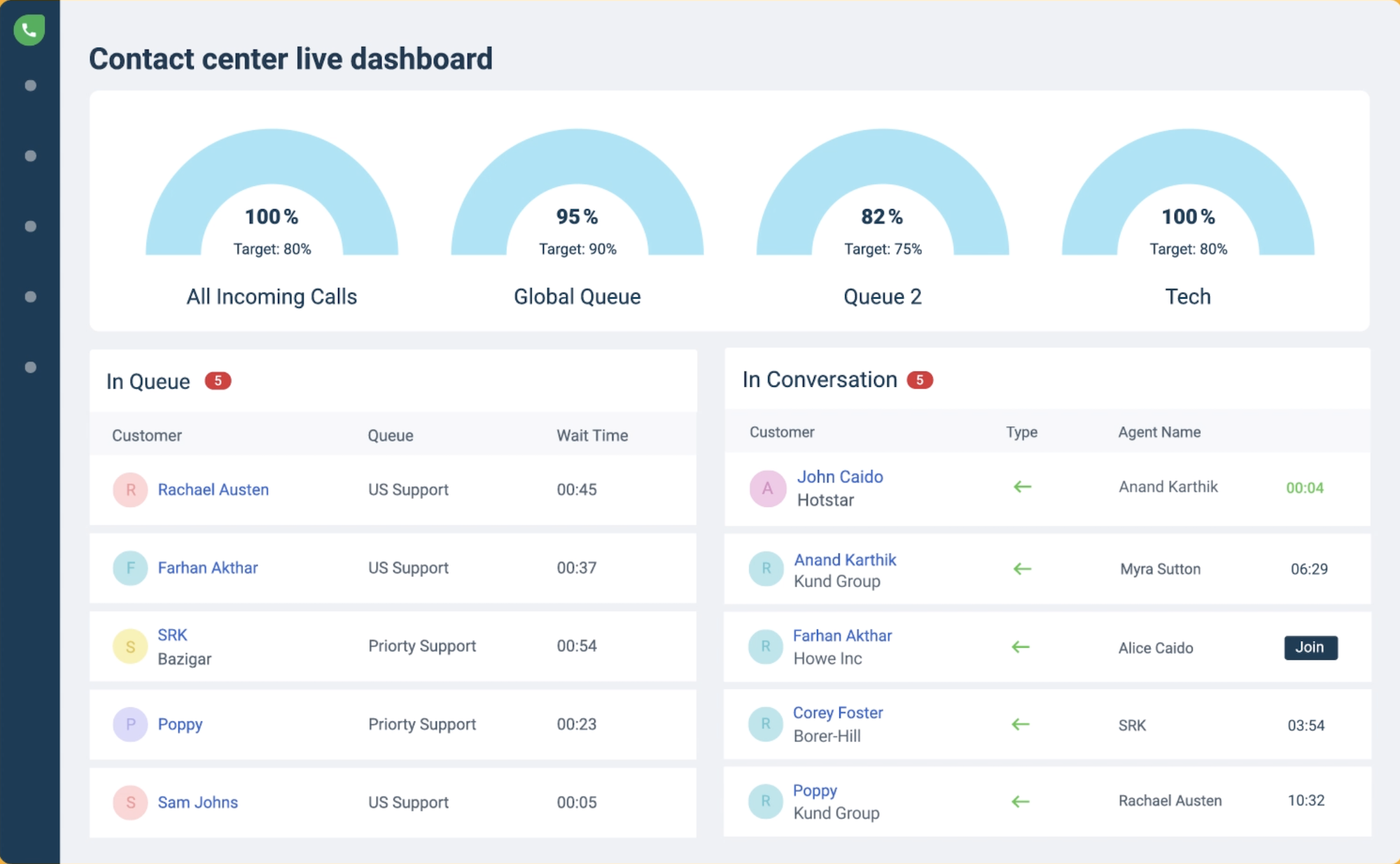 Omnichannel Routing
Omnichannel routing is similar to ACD but applied to all contact center communication channels–not just VoIP calls. An omnichannel routing system receives SMS texts, webchat messages, emails, and social media messages–routing each of these to the appropriate agent, using one of the skills-based, round-robin, or simultaneous call distribution styles outlined above.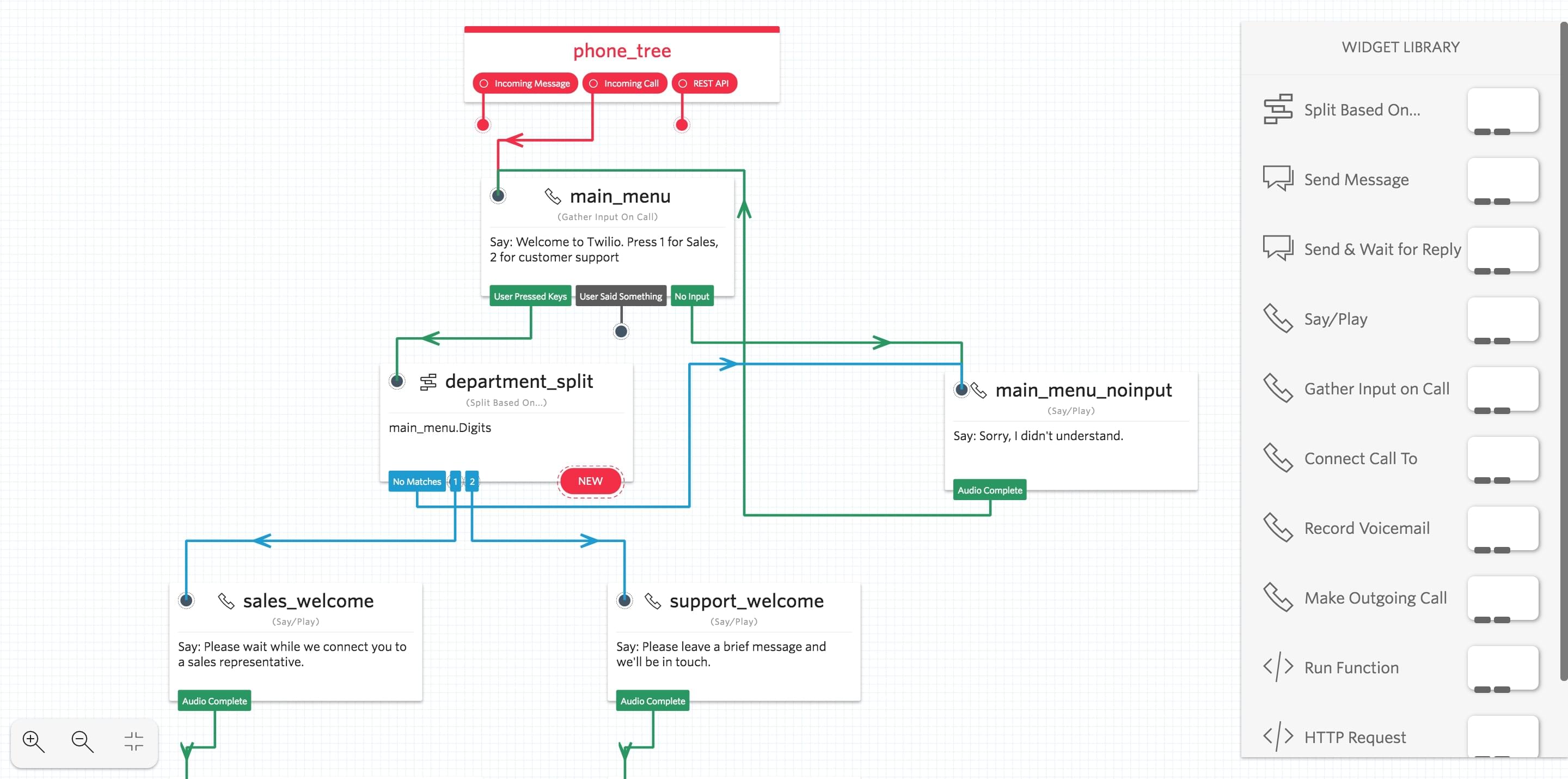 Omnichannel and multichannel contact centers provide greater communicative flexibility by allowing your customers to choose how they contact you, unlocking new self-service options and communication opportunities.
Third-Party Software Integrations
Many cloud-based phone systems–including CCaaS and UCaaS platforms–integrate with hundreds of popular applications like CRM platforms, databases, communication tools, and even alternative phone systems.
These tools each enhance your ACD solution in unique ways. For example, a CRM platform provides fuller and more detailed customer profiles, for more accurate identification and needs-based routing. Databases provide information about a caller's purchase history and the products they bought, allowing agents to make live order updates and approach interactions better prepared.
Best Automatic Call Distribution Software
Here are the contact center solutions with the best automatic call distribution systems:
RingCentral
RingCentral offers a contact center platform, as well as a UCaaS platform called RingCentral MVP. While both RingCentral products include advanced IVR and call queueing, only the contact center includes ACD with skills-based routing automation. Further, both products offer more integration capabilities than a majority of competitors.
RingCentral offers a user-friendly interface, within an app accessible to agents on desktop and mobile.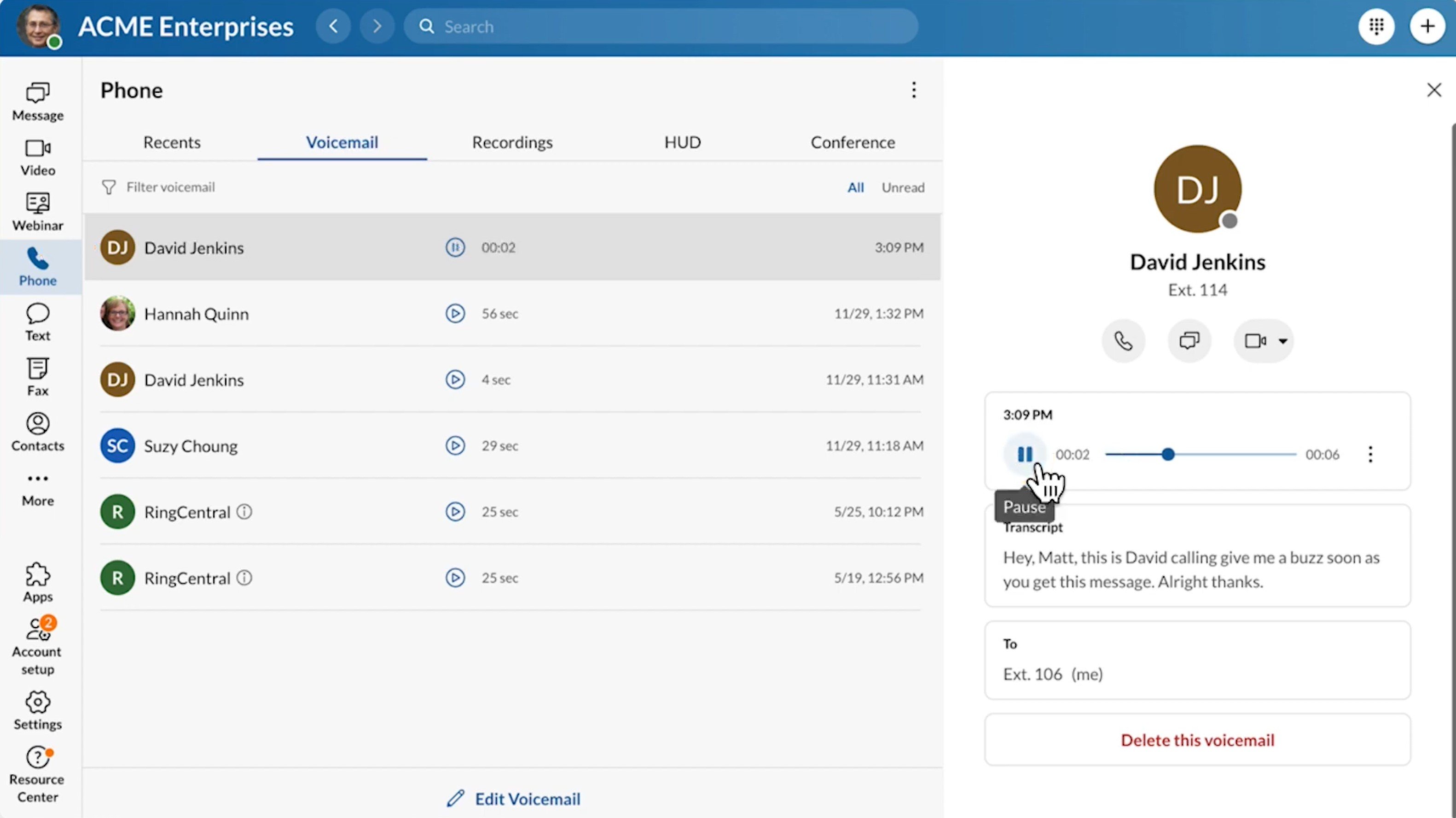 Best For
RingCentral is best for teams that want not only automatic call distribution features and queueing, but internal collaboration features like file sharing, video meetings, and internal messaging. It essentially combines its UCaaS platform into its CCaaS platform, which is unique.
Talkdesk
Talkdesk is a cloud-based contact center with advanced routing features–including ACD, IVR, call center monitoring, call forwarding across all of an agent's devices, and automatic forwarding between agents.
Build a step-by-step routing system, with embedded reporting and ring groups, using Talkdesk's drag-and-drop ACD designer. The system routes to agents based on customer data, agent skill set, IVR menu choices, and business hours. Call center monitoring includes a live supervisor dashboard with visual displays, plus monitoring and barging tools.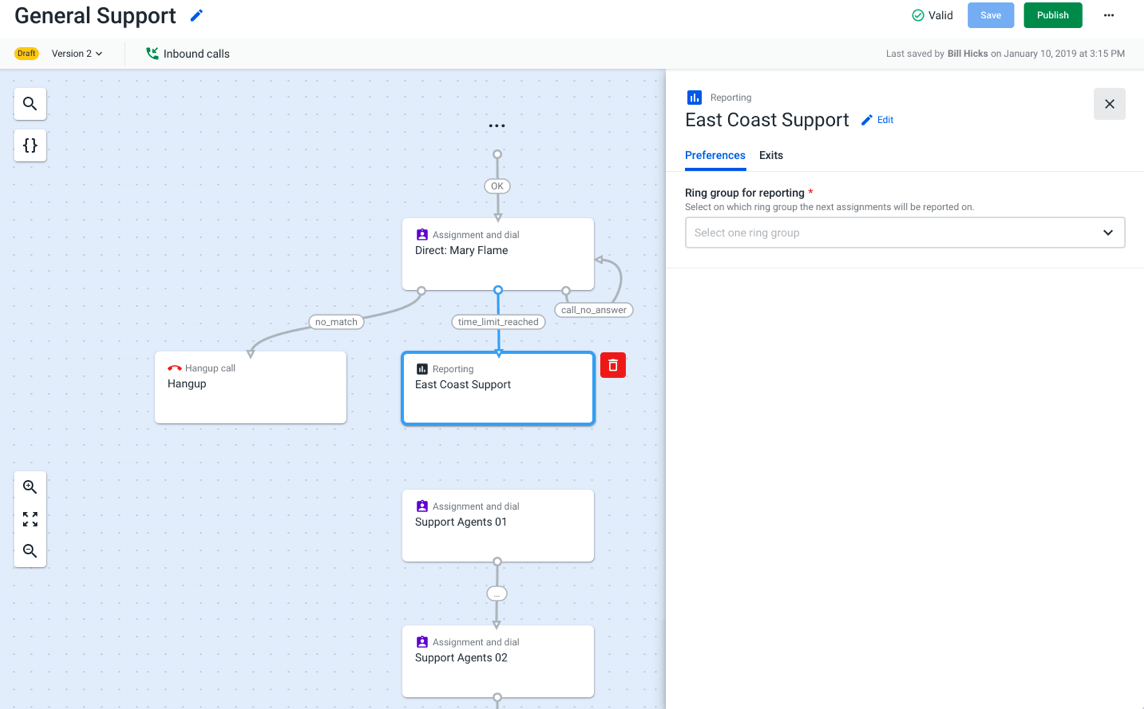 Best For
Talkdesk is best for companies that want to prioritize call center monitoring, as all plans include real-time dashboards that display agent performance and queue activity.
Genesys Cloud CX
Genesys Cloud CX is a contact center platform that offers voice-only, digital-only, and blended plans with voice, email, SMS, webchat, and social messaging apps.
All Genesys pricing plans include an intelligent ACD system that automatically groups agents based on their profiles and assigned proficiencies. Genesys builds in-depth customer profiles with customer journey information, a visual display of recent company interactions, detailed tags, and predictive analytics such as the customer's likelihood to make a purchase, and more. The agent dashboard includes live AI support tools like canned responses and knowledge base recommendations.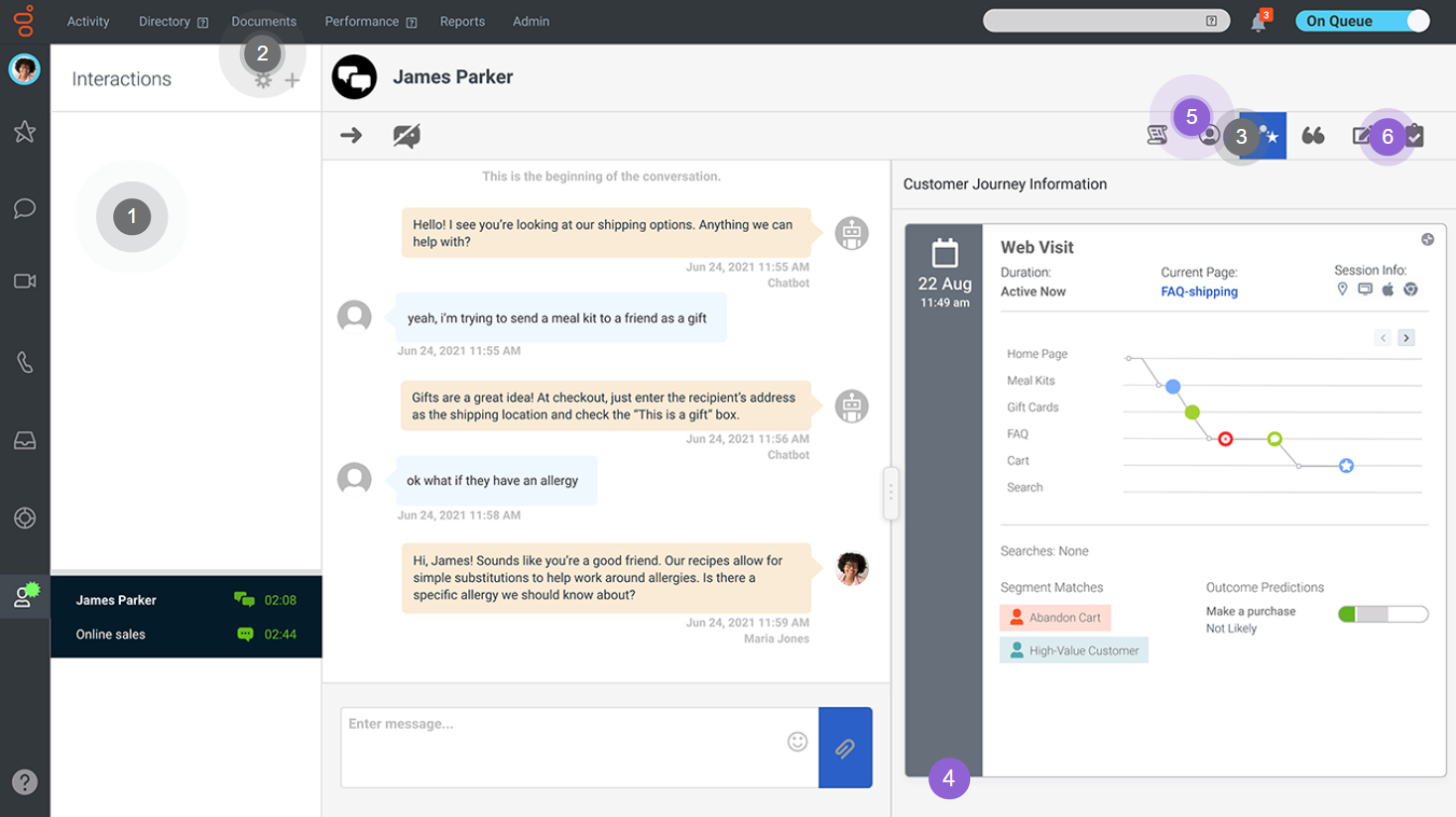 Best For
Genesys' contact center is best for companies prioritizing live agent support via AI and advanced customer profiles. While having a CRM platform helps via integration, Genesys' contact profiles offer some CRM-type functionality.
NICE CXone
NICE CXone is a CCaaS software that includes VoIP, SMS, webchat, email, social media, and social monitoring that enables your agents to stay up-to-date on your company's social media presence.
The CXone Automatic Contact Distributor routes omnichannel inbound tasks, using a data-based routing engine to direct calls to the optimal agent no matter the channel. CXone includes highly capable self-service chatbots and IVR, plus natural language processing (NLP) that matches customers with the ideal agent based on agent skills, evaluated proficiency levels, AI-created customer behavioral profiles, and live analytics.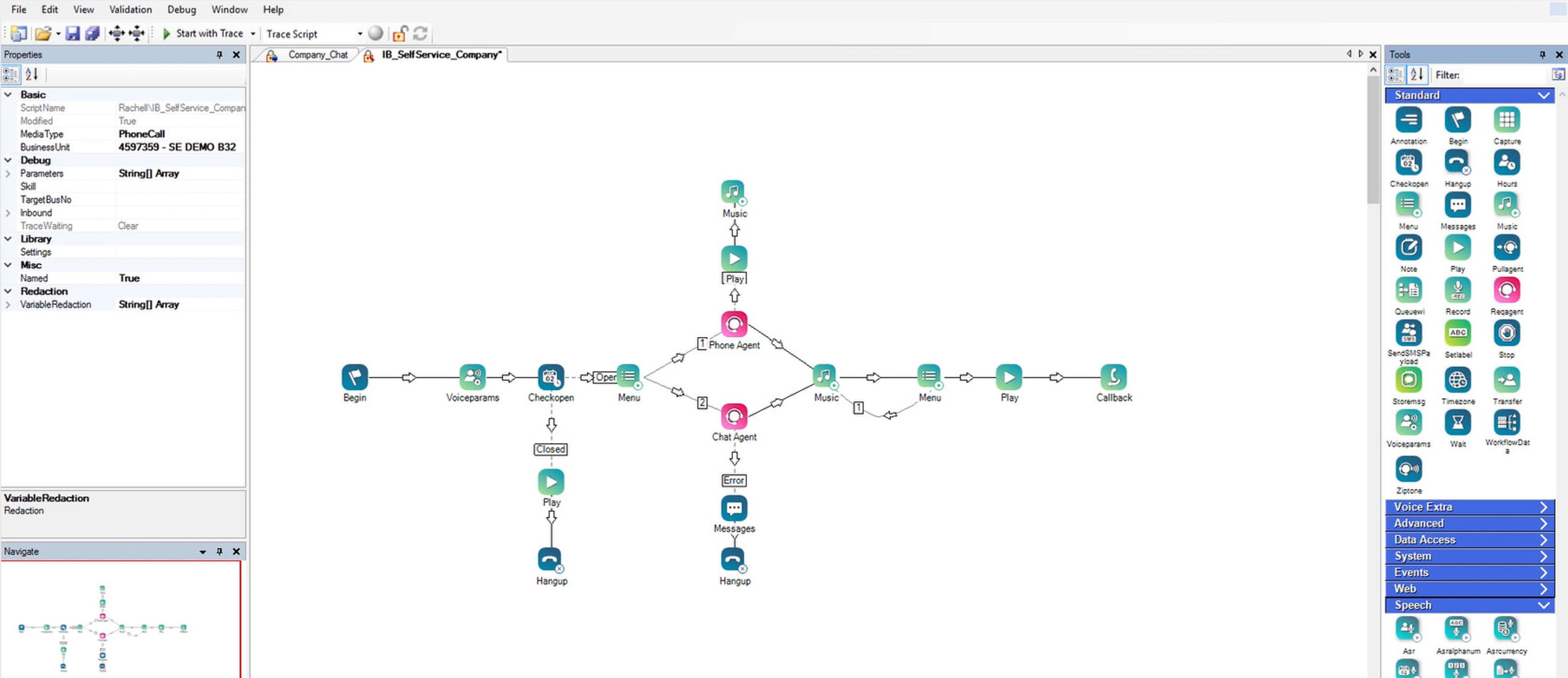 Best For
NICE CXone is best for contact centers of any size that primarily communicate via digital channels, especially social media, due to its unique social monitoring offering. It also makes a great CCaaS platform for companies that prioritize IVR, as it includes highly conversational speech recognition.
Five9
Five9's contact center software includes VoIP, SMS, webchat, and email–with an omnichannel routing system, intelligent IVR, and ACD with built-in distribution algorithms.
Set up priority routing, build an IVR system with custom schedules and an intuitive script designer. Route calls by agent skills, caller and agent priority, time of day, and set up queues with an estimated wait time. Five9 includes a built-in contact database, plus CRM integrations. The dashboard is easy for agents to use, with incoming call screen pops for agents to have full contact when they accept a call.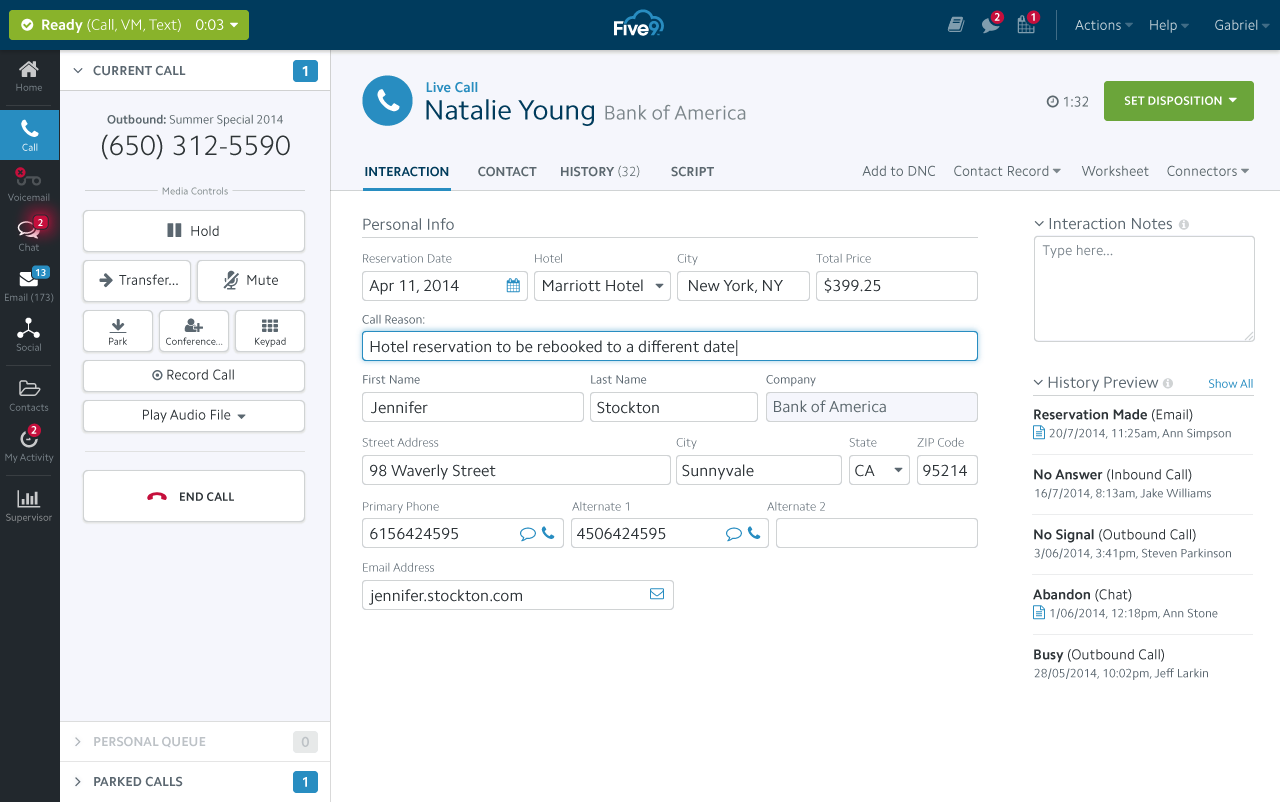 Best For
Five9 works well for teams that want voice-only or digital-only contact centers, since their two most affordable plans both offer a wide variety of outbound and inbound features–incuding ACD–applied to digital or voice-focused contact centers.
Twilio Flex
Twilio Flex is Twilio's omnichannel contact center–with VoIP, SMS, WhatsApp, video, Facebook Messenger, and webchat–plus intelligent omnichannel routing, IVR, and advanced analytics.
Twilio TaskRouter is an omnichannel skills-based routing system that considers agent proficiencies, priorities, and workflows before routing each task. Agents compile task queues and can easily complete or transfer tasks from the Flex interface. Use Twilio Studio's drag-and-drop designer to build an ACD flow, with custom worker ordering, automatic skipping, task lifecycle management, automatic timeout, automatic callbacks, and more.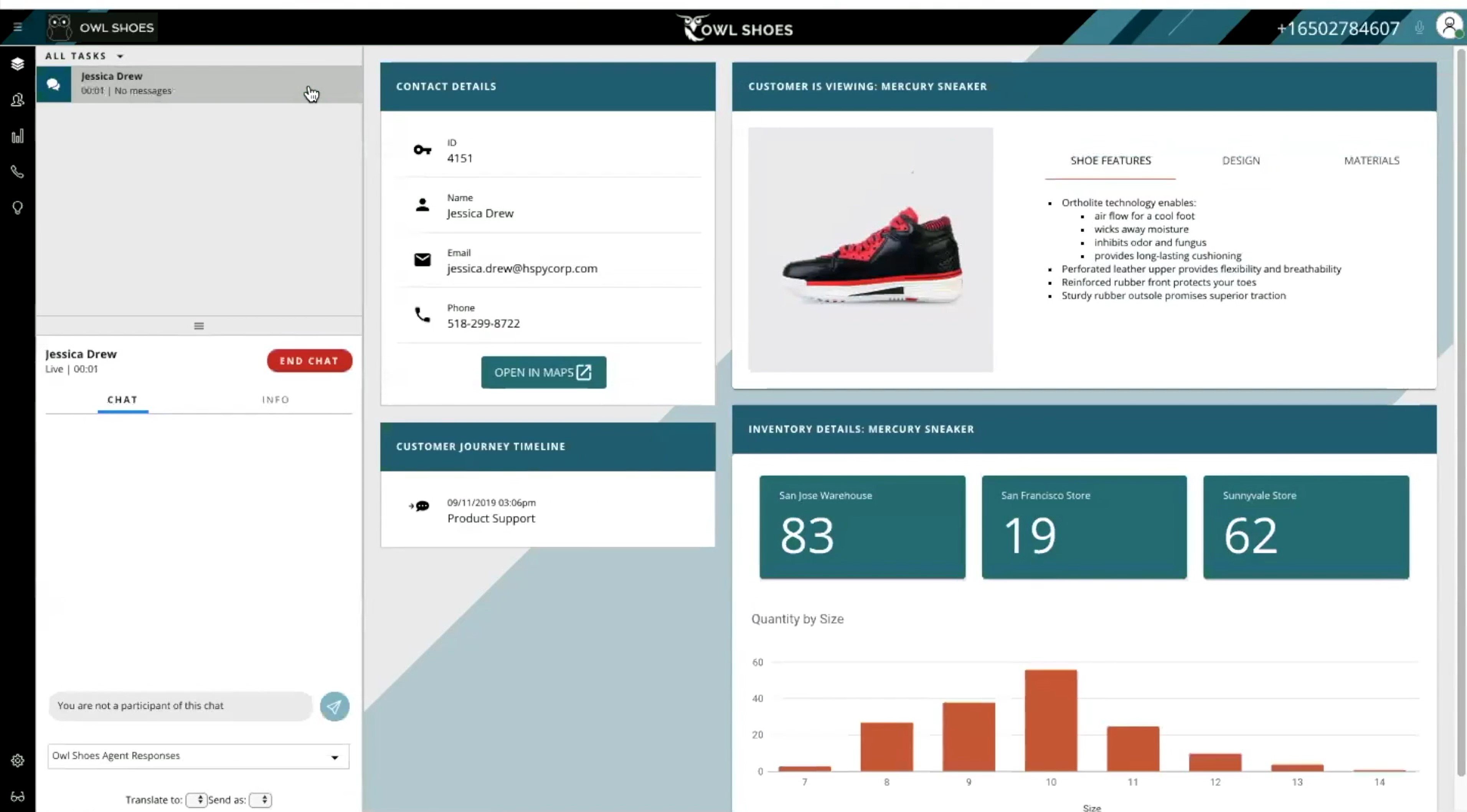 Best For
Twilio Flex is best for teams with skilled developers and a bank of APIs and tools that you already use. Flex is the most programmable contact center platform, which means you can customize nearly everything about it–the agent dashboard, the workflows, and the functionality–but this requires experienced in-house programmers.
Automatic Call Distribution FAQs
Below, we've answered some of the most commonly asked questions about automatic call distribution.