Automatic Call Distribution (ACD) is a VoIP feature that makes it much more likely for callers to connect with a live agent, ensures they get the best quality of customer support, and evenly distributes the workload among your agents.
Let's take a look at how automatic call distribution works, how it optimizes call routing, its benefits, and top providers
Jump to ↓
What is Automatic Call Distribution?
Automatic Call Distribution (ACD) is a virtual phone system feature that automatically routes calls to a predetermined individual agent or business department.
ACD is designed to eliminate unnecessary call transfers, prevent extended customer hold times, increase first call resolution rates, by automatically connecting customers to the agent most qualified to assist them with their specific issue.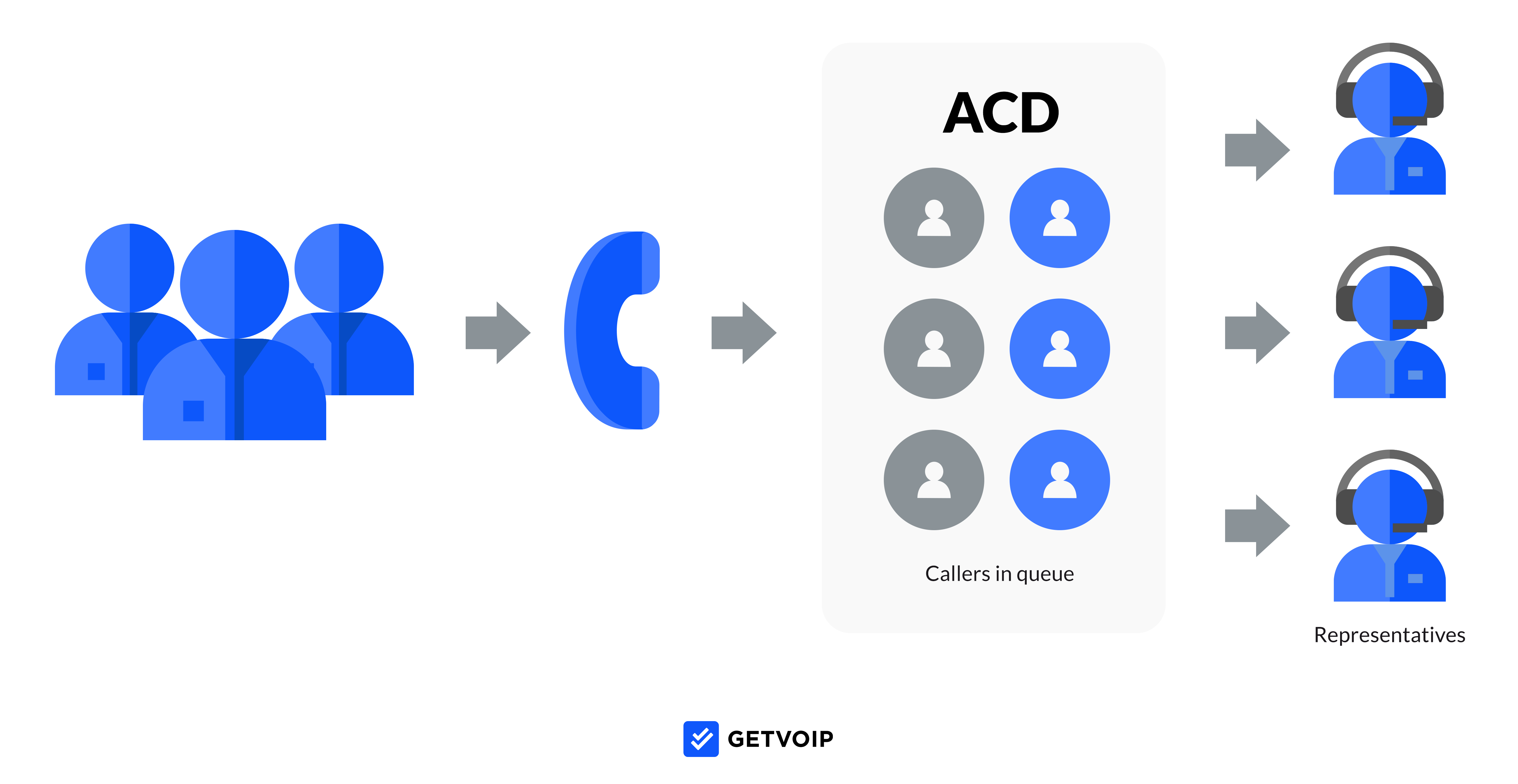 VoIP telephone features like Interactive Voice Response (IVR) and Natural Language Processing (NLP) guide customers through set call paths by asking them questions about their reasons for calling. Based on the answers a customer provides by speaking or by entering data into the keypad, the ACD system follows call routing rules and directs the caller to the appropriate representative.
Once the caller has been connected to the ideal agent, integrated CRM systems provide CTI  (Computer Telephony Integration) screen pops that automatically display relevant customer information such as interaction and order history.
For example, a customer calls into an ecommerce clothing shop's support department because they need to make a return.
The caller is first connected to the IVR system, where they can punch in their order number or briefly state their reasons for calling. The IVR system has "learned" the customer should be connected to the returns department, and routes the call to an available agent that has been trained in processing returns.
Before the agent picks up the phone to speak with the customer, they can review the client's order information displayed in the CTI screen pop.
Now, the agent knows what the customer purchased, when it was shipped, how much it costs, and can view their entire order history to make better sizing or product suggestions. Because the agent has all relevant and essential data, the client has a much higher chance of solving their problem and making their return on their first interaction.
ACD vs. IVR
Many people make the mistake of conflating IVR (Interactive Voice Response) with ACD (Automatic Call Distribution), and though they are both designed to improve the customer service experience, there are differences between them.
IVR is more focused on providing customer self-service opportunities — in many cases, to prevent the need for callers to connect with a representative altogether. Given that over 70% of customers want to at least attempt to solve support issues on their own, a strong self-service IVR menu is essential.
ACD, on the other hand, is designed to connect callers with customer service representatives — but only those who have the qualifications to assist them.
IVR systems allow callers to solve their own issues over the phone.
For example, an IVR call menu may prompt you to enter your credit card number to get account information, allow you to pay bills online, or read information from the customer service help database out loud.
Your automatic call distribution (ACD) system may use an IVR system to collect necessary information to ensure that the caller is connected to the right agent. For example, you've likely "Pressed the pound key" to be connected with a sales department representative.
The ACD system can't provide "solutions" like the IVR system can. Instead, the ACD call path follows set rules and routing strategies for distribution methods to the agent who can.
How Automatic Call Distribution Works
The call distribution paths initiated by the ACD system consist of three main steps:
Identifying the callers according to predetermined parameters
Sorting callers into call queues
Routing customer calls to agents/departments
How the callers are identified and sorted depends on the specific routing algorithm your business has developed.
Common influencing factors for proper caller identification and routing include:
The specific business phone number dialed (if companies have separate phone numbers/extensions for departments or agents)
Information like area codes and other caller data collected via Direct Inward Dialing (DID), Caller ID, Dialed Number Identification Service (DNIS)
The time of day
The caller's preferred language
Whether or not the caller has been designated as a VIP client
Which, if any, IVR options the caller selected
Once the caller has been identified and sorted, they'll need to be placed in the call queue.
Their position in the call queue is based on many of the above factors, as well as their overall wait time, the number of available agents, current call queue volume, and average daily call volume.
Once it's the customer's turn in the call queue, (or if there is no wait time) they are routed to the best available agent.
Below, let's explore some of the most popular types of call distribution.
What Are The Different Types of Call Distribution?
The agent that a caller is connected to differs according to the mode of call distribution and routing you've selected.
Popular call distribution types include: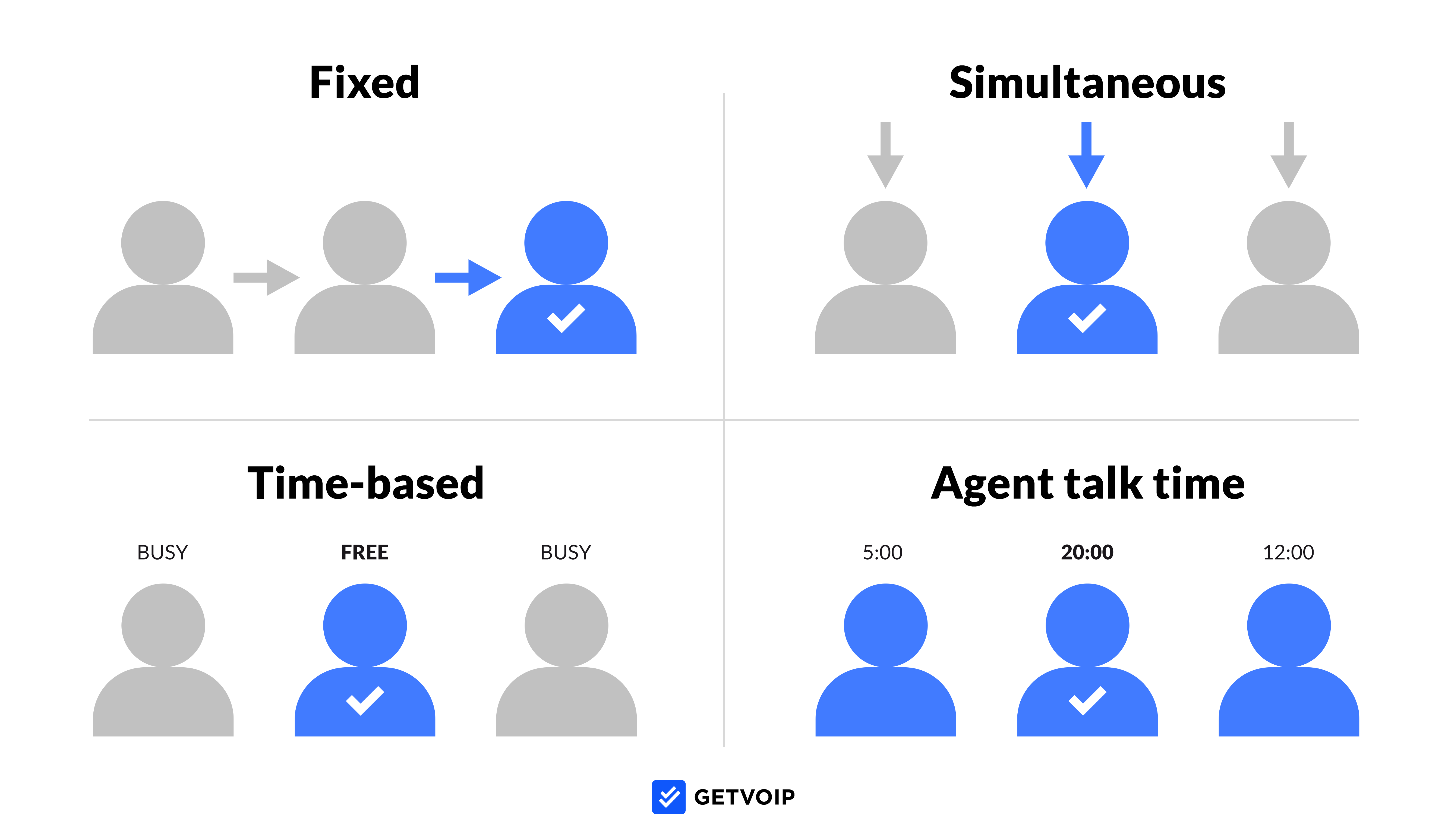 Skills-Based Distribution
Skills-based routing connects callers to agents according to agent qualifications as they relate to the caller's issues.
For example, let's say Agent A is in the billing department, while Agent B is in the technical support department. Callers with billing questions will be routed to Agent A, while callers needing assistance with technical issues will be routed to Caller B.
Note that skills-based routing can also be developed by other metrics, such as agent language proficiency, where callers that prefer to speak in Spanish are routed to the native Spanish speaker on staff.
Skills-based distribution is heavily influenced by the responses a customer provides in the IVR system.
Fixed Order Distribution
Also called linear distribution, fixed order phone calls are routed to agents according to a predetermined agent order.
For example, let's say a call center's current fixed order distribution list is made up of agents A, B, and C.
Agent A is always first in line to take calls, regardless of how many calls they've already taken that day. Agent B answers calls only when Agent A is busy, and Agent C answers calls when Agents B and C are busy.
For every new inbound call, the fixed order distribution list always begins again with Agent A.
Idle Time Distribution
Here, calls are routed according to which agent has been idle (has not taken a call) for the longest amount of time.
This helps to evenly distribute workloads and prevents agents from getting overwhelmed by calls. It also ensures that you're getting the most out of every call center agent you've hired.
Round Robin Distribution
Round robin routing is especially popular in sales team scenarios, as it ensures that each agent has an equal chance at making sales off of an inbound caller.
Here, agents will "take turns" answering incoming calls.
In our Agent A, Agent B, and Agent C scenario, the first inbound call will go to Agent A. Whether or not Agent A makes a sale, the next inbound call will go Agent B, and the next one to Agent C. The cycle then repeats, giving everyone a fair shake.
Simultaneous Distribution
Simultaneous distribution is right for call centers that are primarily concerned with decreasing customer wait time.
Here, all agents within a set ring group are sent the same inbound call at the same time, increasing the chance of a live agent pickup. The first agent that answers the phone will work with the customer.
All agents again receive the next inbound call simultaneously.
Time-Based Distribution
Time-based routing is an excellent option for companies that have remote employees across multiple geographic areas and time zones.
Here, calls are routed according to agent and caller time zones and agent availability. Admins can also set calls to be distributed based on available business hours to avoid returning to a high number of voicemail messages.
For example, let's say Agent A is located in the United States, and Agent B is located in Australia. If a caller from the United States calls in, they'll be directed to Agent A to avoid calling Agent B in the middle of the night when they're unavailable, and vice-versa.
Time-based distribution also allows inbound calls to be routed directly to voice mailboxes if no agents are available.
The Benefits of Automatic Call Distribution 
Having highly customizable call paths and call routing options doesn't just help to prevent call center agent burnout and increase efficiency.
Additional automatic call distribution benefits include:
Streamlines communication
Higher first call resolution rates
Lowers operating costs
Improves customer experience and higher customer satisfaction rates
Fully optimizes workforce
Faster customer resolution times
Fewer lost customer support tickets and requests
Shorter hold times for customers
Increases employee flexibility/empowered remote workforce
More personalized customer experience thanks to CRM integration
Essential Features of Automatic Call Distribution Systems
In addition to IVR, the advanced routing, and distribution options mentioned earlier in this post, there are several other key features to look for when evaluating ACD providers.
The below features manage what happens if no agents are available to take a call, allow you to combine your business communication tools, make it possible to monitor your contact center agents, and much more.
Callbacks
Over 60% of customers say they're not willing to wait on hold for even one minute, and the majority of customers who hang up the phone after being kept on hold for too long never bother to call back.
But long hold times don't just mean lost customers — they also mean higher operating costs.
Automated callbacks, arguably the most important feature of ACD software, eliminate the need for clients to wait on hold while ensuring they get the best quality help available.
With callback software, customers can elect to be called back instead of waiting on hold when there are no agents available to assist them. They are also often able to select a preferred date and time for their callback.
Best of all?
Even if callers opt for a callback, they won't lose their current place in the queue — one of the main reasons why so many people choose to remain on hold.
Since some clients will choose to stay on hold, make sure you have features like hold music, updates on their current position in the queue, and best of all, automated messages telling them about special offers and new services playing.
Voicemail
Although automatic call distribution is designed to increase a customer's chances of connecting with a live agent, studies still show that roughly 60% of telephone calls are still sent to voicemail.
Features like voicemail notifications, voicemail-to-text, and voicemail-to-email ensure that these messages don't get lost.
Call Queuing
Call queues manage the order in which customers reached out to your agents, akin to a physical line at a store's register.
Admins can view current and past queue levels to improve workflow management, add agents from other departments to longer queues, and improve their overall call flow.
Features like VIP call queuing allow you to prioritize your most important clients, allowing them to skip to the front of the queue or be automatically routed to your top agents.
Additionally, ACD software provides a blacklist feature that blocks numbers agents have marked as spam.
Call Monitoring
Especially if you have a high employee turnover rate or if you've noticed consistent dissatisfaction regarding your company's level of customer service, call monitoring can improve the agent training process and allow managers to assist agents in real-time.
In addition to being able to listen in on calls, managers can also take advantage of the call whisper feature. This allows managers to coach agents while they are on the phone with customers, without the customer hearing the advice the manager is giving the agent. This allows for instant support and a higher level of customer assistance.
In addition to coaching, the call barge feature lets managers or anyone supervising the call immediately take over if it's clear the agent is in over their heads.
Omnichannel Routing
Though voice calls are certainly the first channel people associate with ACD tools, remember that today's consumers use multiple communication channels per interaction.
Research from Harvard Business Review shows that over 70% of customers shop on multiple channels, while additional studies say that over 80% of consumers begin an interaction on one device but complete it on another.
In other words?
To resolve support issues and close more deals, you need automatic call distribution software that provides contact routing rules across multiple channels.
Popular communication channels include:
Voice calling
SMS text messaging
Email
Social media messaging
Website chat
Video conferencing
You don't need to offer all of these channels, but you do need to ensure the channels your customer base prefers.
Third-Party Software Integrations
By the end of 2020, over 70% of enterprise-level companies will operate almost entirely via SaaS platforms.
This means chances are high that your company uses multiple business software programs in your everyday operations. Though call center software providers do offer robust native communication features, you'll likely still want to use some of your communication tools.
By ensuring that your current third-party software solutions, especially your CRM platforms, integrate with your ACD system and business phone system, you'll prevent employees from having to learn new systems and be able to keep working with your highest-performing tools.
Best Automatic Call Distribution Software
Here are the contact center solutions with the highest quality automatic call distribution systems: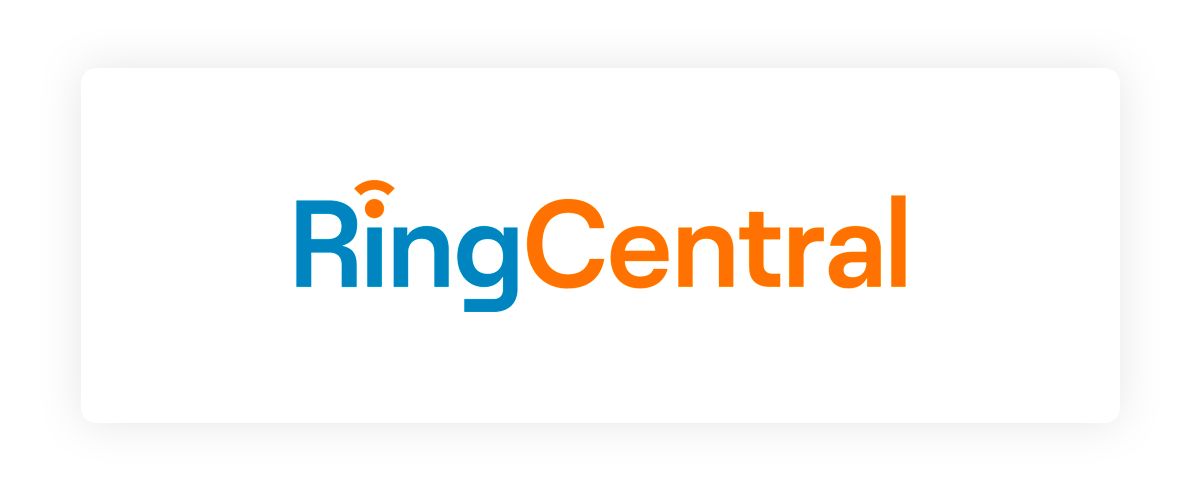 RingCentral is a cloud-based business communications platform that supports phone, video conferencing, team messaging, and integrated contact center solutions.
Its ACD software is designed primarily to increase first call resolution rates for single location, multi-site, and remote call centers.
It allows for multi-channel communication with consumers via:
IVR self-service
Chat messaging
Email
Fax
Click-to-dial telephone calls
Social media messaging
It also makes prioritizing high-value clients easy by automatically moving them to the front of the queue, assigned to specific agents, or routed to the best available agent every time they call in.
Additional features include:
Automatic callback functionality
Predictive, preview, and progressive dialing modes
Skills-based routing
Team messaging and file sharing
Inbound/Outbound call blending
Advanced queue management capabilities
Weighted routing
Visual voicemail and voicemail-to-email
Call recording with white noise for PCI compliance with recording laws
Call barging, monitoring, and coaching
CRM integration
Our RingCentral review provides a detailed breakdown of available RingCentral products, pricing, and plans.
Best For:
RingCentral is best for primarily remote, large-scale contact centers that communicate with customers across multiple channels and are searching for a highly scalable solution. It will also work well for call centers that often have multiple agents handling the same customer service issue, since it automatically syncs multi-channel communications and provides excellent internal team collaboration features.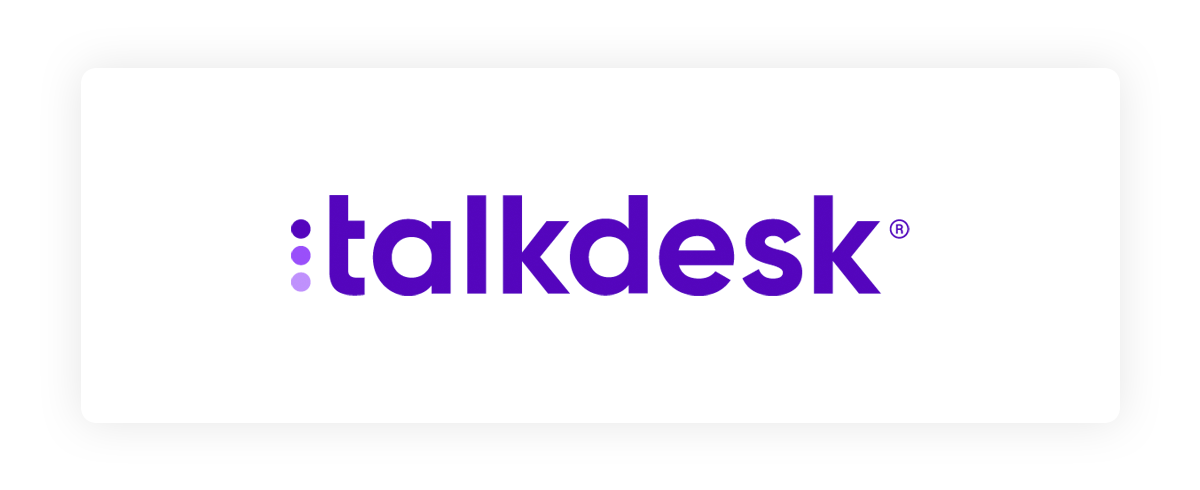 Talkdesk automatic call distribution software is a cloud-based solution focused on providing a highly customizable caller feedback experience.
Talkdesk uses advanced speech analytics through Artificial Intelligence to offer excellent customer sentiment and topic/intent analysis, NLP call-to-text searchable transcriptions, and even Agent Assist capabilities that provide reps with actionable call scripts based on the current conversation. Advanced customer satisfaction surveys are automatically sent to callers on their preferred channel immediately after the interaction is complete.
Users can add on specific communication channels on a scalable basis, meaning you won't end up paying for channels your business isn't currently using. This makes expanding your channels easier and more affordable, as well.
Additional features include:
Over 60 third-party integrations
CSAT SMS surveys
PCI payment
Callback scheduling
Advanced call routing and VIP call queuing options
AI-powered customer knowledge base
Analytics on trending topis, current queued contacts, agent availability/activity, and more
Customizable agent dashboards
Real-time alerts based on predetermined triggers
Call barging, whispering, and monitoring
Call recording
Read our comprehensive review of Talkdesk to learn more about additional features, pricing, and plans.
Best For:
Talkdesk is best for SMBs with a moderate daily call volume interested in an automatic call distribution system software that provides detailed historical and live analytics that will help to improve overall call center operations and efficiency. It's a good fit for businesses that want to avoid having to outsource customer service by adding advanced call management features in in-house software.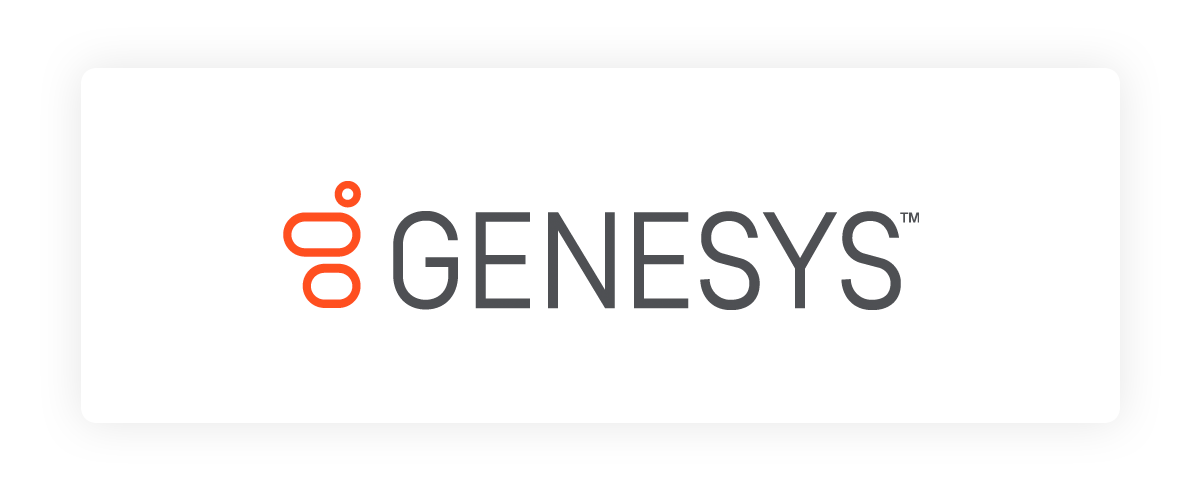 Genesys ACD software is an all-in-one platform offering not only ACD and IVR capabilities, but also outbound calling, quality management, and workforce management tools. It's designed to provide all essential contact center features within a single interface.
Automatic call distribution features work for both digital and voice communications, even allowing users to transition social media comments and emails into a one-on-one conversation with agents.
It offers numerous routing options, including first available, skill set-based, idle time, and even AI-powered routing.
AI and machine learning are a staple of Genesys, as it uses past customer data to create effective automated responses. Genesys captures customer intent through predictive engagement, provides real-time suggestions to agents via the Agent Assist tool, and passes off callers to automated virtual assistants if needed. It also unifies bots from Genesys and third-party tools to improve the customer experience, as well as performing customer interaction analysis and short-term forecasting.
Additional features include:
Callback scheduling
Predictive routing and predictive dialing
Live website chat
Call monitoring and recording
Integrated social media interactions and social routing
Relationship-based routing
Drag-and-drop call flow
Call recording
Video calling, SMS texting, email, phone, and social media omnichannel communication
Click here to learn more about pricing, customer reviews, and features within Genesys contact center solutions.
Best For:
Genesys is best for enterprise-level contact centers that are especially interested in leveraging the power of AI to improve customer experience. Omnichannel contact centers with a high daily call volume that want to improve customer self-service options and cut down on call resolution times through the use of chatbots and automation will also benefit from Genesys.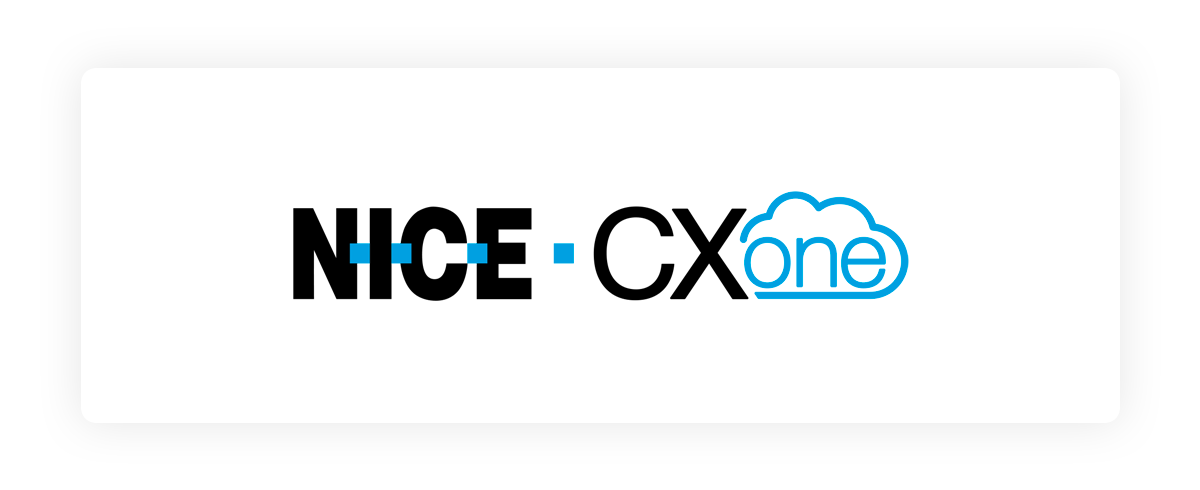 NICE inContact's ACD software is a unified cloud-based program offering advanced omnichannel routing, workforce management, and a unified agent interface.
It's designed as a digital-first solution that prioritizes customer self-service within its Universal Queue. The Universal Queue allows customers to connect with agents via email, SMS text messaging, voice calling, and team chat messaging.
One of its most recognizable features is the Customer Card, which is an automatic CTI screen pop that shows detailed customer information like past agent notes and interaction history, contact information, order status, and more. The Customer Card also displays additional information from third-party CRM software.
Omnichannel message handling also means that customers and callers can seamlessly switch between communication channels over the course of a single conversation.
Additional features include:
Natural Language Processing
Automatic callbacks
Blended voice calling
Live website chat
Support chat via Facebook, Instagram, WhatsApp, and Twitter Direct Messages
Live call list updates
Call recording and transcription
Customer sentiment analysis
Word clouds of top customer keywords
90 pre-built reporting templates
Customizable dialing speeds
Read our editor's review of NICE inContact to learn more about ACD pricing and plans for VoIP PBX and additional products and services.
Best For:
NICE inContact is best for contact centers of any size that primarily communicate via digital channels, especially social media.  It is also a popular option for healthcare professionals, financial advisors, and debt collection agencies looking to automate routine tasks.
Find the Right CRM to Compliment Your ACD System
While a strong ACD system is essential, it won't be nearly as effective as it could be without the right business tools to integrate with it.
Having the right Customer Relationship Management (CRM) software directly influences the accuracy, amount, and overall quality of customer data your support agents will have when they connect with callers via your automatic call distribution system.
Choosing the right CRM solution is an essential aspect of successful business communication.
Automatic Call Distribution FAQs
Below, we've answered some of the most common frequently-asked questions regarding automatic call distributors.
ACD and IVR are usually standard features of any contact center solution or business phone system. 
This means that the price will vary based on vendor, number of users, add-on features, and more. 
In general, however, you should expect to pay anywhere from $50.00-$100.00 per agent. Our guide to call center software pricing provides additional details and cost comparisons of top platforms. 
Deciding whether to use a live receptionist or ACD depends on your daily call volume and the number of agents you have available. 
Generally speaking, smaller offices with fewer than 25 employees and a lower number of calls every day will benefit more from a live receptionist than ACD software. Small businesses especially focused on providing a personal touch will also likely favor receptionists. 
Larger, enterprise-level corporations and call centers are often most associated with ACD solutions, as they provide a high level of customer self-service, increasing agent availability. But note that businesses of any size, but with a high number of calls each day or a disproportionate number of daily calls to available agents, will benefit from ACD.
In truth, there are very few downsides to using ACD. However, if you have a small business, you may end up paying for features you don't need with an ACD tool. Consider providers that offer tiered, scalable pricing so that you can add on features you may need in the future as your company expands. 
Additionally, some users find the interface and set-up process of call rules and routing paths challenging. While there is a bit of a learning curve, most providers now offer drag-and-drop call routing path design tools, making it a bit easier. 
Finally, depending on the size and type of your business, some customers may feel that ACD software and pre-recorded IVR options are a bit impersonal. Some customers also express frustration at having to listen to long recordings. To counter this, allow callers to switch to a live representative with the push of a button. 
The specific communication channels you offer to consumers depend on numerous factors, including: 
Average customer demographic

Data-backed customer communication preferences

The available communication channels within your preferred contact center solution

The main reasons customers contact support

Your contact center's number of agents

The products/services you offer
Avoid the temptation to add more communication channels than you can keep up with, as this leads to longer ticket times, miscommunications, and lost support requests.