Provider

Features

Reviews

More Details

Five9

2020 Gartner Leader Cloud Contact Center Software

Increase Efficiency with Real-time Analytics & Dashboards

Top Rated 24/7 Live Phone & Chat Support

Inbound, Outbound, Blended & Omnichannel with Your CRM

Limited Time Offer for New Customers - $100/mo/user

Best-in-Class Intelligent Virtual Assistant, by Inference

Guaranteed to Make Your Agents 300% More Productive

Read Reviews

Twilio

Twilio Flex: A Programmable Cloud Contact Center Platform

Instantly Deploy Out-of-the-box, Customize What You Need

Omni-channel, Contextual Conversations in a Single Interface.

Native WFO, Integrations with Any CRM or Data Source

Read Reviews

NICE inContact

Industry-Leading Cloud Contact Center Software

Omnichannel Routing and IVR Self-Service

The Only No-Pause Predictive Dialer on the Market

Workforce Optimization & Management

Read Reviews

Dialpad

Easy-to-Use Cloud Contact Center Software

Cloud-based, Get Up and Running in Minutes

Intuitive, Easy-to-use for Agents, Managers, Supervisors

Out of the Box Dashboards, Reporting, & Native Integrations

Read Reviews

Genesys

PureCloud by Genesys. All-in-One Cloud Contact Center

Deliver World Class Omnichannel Customer Service

Empower Your Team with a 360-degree View of the Customer

Deploy in Minutes with a modern user experience

See a 571% ROI with the Fastest Growing SaaS Call Center

Read Reviews

Talkdesk

Enterprise Cloud Contact Center Software

Powerfully Simple and Endlessly Adaptable

Highest-Rated Cloud Contact Center in the Industry

IVR, Call Recording, Omnichannel Routing, Dialer, AI

Integrations with SFDC, Zendesk, and 50 Others

Read Reviews

Aspect

Cloud Contact & Workforce Optimization Solution

Behavior & Mobile Location Fraud Detection

World-class Service Level Agreement (SLA)

Self-service Channels such as IVR, SMS and Mobile App

No Reviews

ChaseData

Outbound, Inbound, Blended Call Center Software in the Cloud

Customized Industry Specific Solutions

Agentless, Predictive, Progressive, and Preview Dialing

Single Click Fully Customized Call Dispositions

Read Reviews
Call Center Software Reviews from Users:
We rely on Talkdesk to manage customer...

We rely on Talkdesk to manage customer communication and provide visibility into agent metrics. We use Talkdesk ...

More Reviews

Talkdesk is one of the best...

Talkdesk is one of the best telephony/click-to-dial software out there. We integrate TD with our double digit...

More Reviews

Talkdesk has been amazing for our...

Talkdesk has been amazing for our Support Team and being able to transfer calls across different departments....

More Reviews
Comparing Software Providers: What to Look for:
Call center solutions provide benefits to both customers and staff at your company. It ensures that your most vital call center metrics and KPIs are achieved while ensuring that your customer journey keeps re-routing clients through your desired funnels. The features and characteristics of any efficient solution should include the following features.
Reliability and Uptime – No other metric is as important as reliability. If your center's service goes down for even a minute, you could be losing lots of money. Your cloud-based software should have at least 99.99% reliability. You can get that percentage of uptime from a company like Five9. Unlike on-premise solutions, hosted contact center solutions are geographically redundant to improve dependability.
Ease of Use –  The best features in the world are useless if the agent ends up writing everything down on a piece of scrap paper, because the software is hard to use, and provides for a poor user experience. Make sure the complex features of your potential software are still easy enough to learn and use. With simple dashboards and admin portal access, it's easier than ever to record data and stay organized.
360-Degree View of Customers – Your software needs to pull information about a customer from several sources and put that information in front of the agent, so the agent can better serve the customer. Knowing the customer's past actions and present concerns will help predict their future needs, allowing you to put customer satisfaction first. Here's what an enhanced 360 degree view looks like: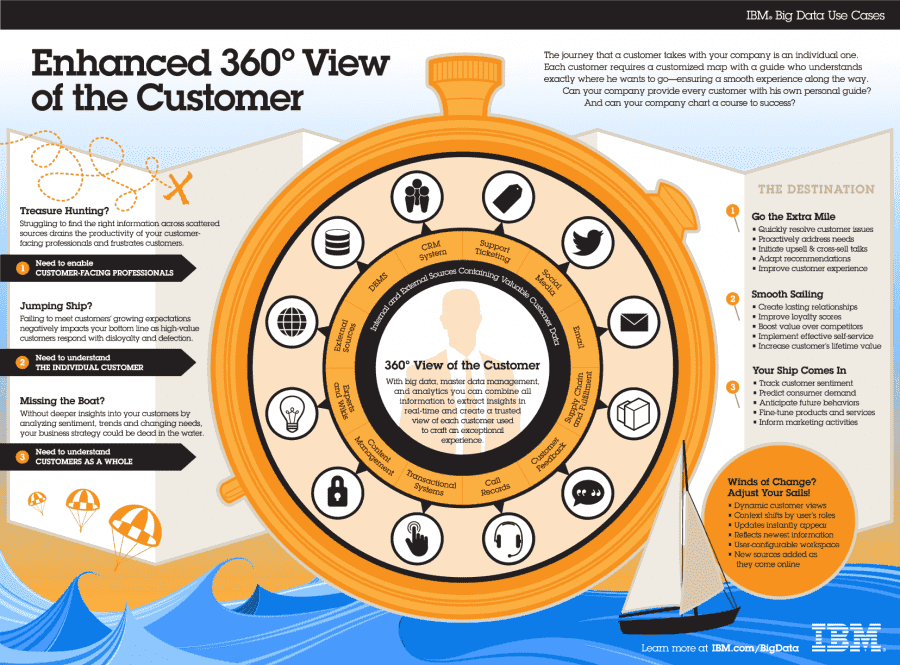 Customer Self-Service – Let your agents and service teams do the important work while repetitive tasks can be done for you. Your software should have strong automation options integrated with customer self-service features. The best calling software will streamline communication, and make the most of your customers' and your agents' time. Self-service solutions allow include predictive dialing solutions. By requesting minimal customer engagement, they route calls to the team they're looking for quickly. Learn more about self-service here.
Security Measures – Encryption, HIPPA, and More – In today's age of identity theft and leaked emails, you need the proper amount of encryption to keep your data safe. If you work in the financial and medical sectors, you know that communications and data can be tightly regulated. Be sure that your customers will feel safe giving private information to your agents with the help of secure software.
Value – Most contact center solutions are priced by quote by leading providers like Zendesk, Talkdesk, or LiveAgent. However, starting prices are also based on tiers. These tiers address the amount of support that you need and the size of your business. Enterprise-level plans will allow for unlimited queues, omnichannel interactivity, advanced call analytics, tools for monitoring social media activity, and even conferencing that includes agents and your IVR. Every dollar you spend should improve customer experiences with your help desk or sales team.
Types of Contact Center Platforms
1. Traditional Cloud-based Software
When most people think about software for call centers, they are likely thinking about an inclusive call handling platform that provides inbound, outbound, and blended calling. They expect several features useful to contact centers such as agent efficiency, agent reporting, analytics, IVR, call recording, and voicemail transcription.
Although most providers will bundle their features up with voice service or a PBX system, cloud call center providers that offer stand-alone services that can integrate with existing VoIP services.
With traditional software, you get everything you need right away. This convenience also means that you get the quality customer service you need without having an expensive IT staff.
The downside is that it's not customizable or flexible. Cloud software providers have monthly fees for their tools based on the number of users or the amount of data you use. If you take up a lot of file space, your organization can struggle to budget and scale for your call center.
2. Open Source Software
Open source platforms allows users to integrate all of the elements of a system, usually with the help of their IT department.
For example, call tracking software, call recording software, softphones, and autodialers can be purchased separately and put together into a completely customized platform. Open source call center software has emerged as a way for call centers to customize and modify their systems and functions, integrating their tool with a system compatible with their VoIP provider. They also get the chance to integrate them into the systems they're already using to bring everything together.
Purchasing all of the elements separately and putting them together yourself may seem inconvenient and expensive but that's only true in the short-term.  In the long run, open-source software is far less expensive than traditional platforms. It's even more convenient.
While many open-source tools can be sourced directly through dedicated providers, the problem is that this can often add extra and recurring costs.
Pros: Only pay for what you need.  Customized solution that works with the way your center is already working.  Cheaper in the long run. Easy to scale.
Cons: Large upfront costs.  The initial setup will take time and require a team of experts.
3. Call Center Automations
Call center automations are the latest trend for call centers to save time, increase efficiency, and improve customer satisfaction.  Call center automations handle repetitive and tedious tasks, freeing agents to can focus more on conversations and best serving their clients.
Typical automations include interactions such as chatbots, forecasting, workflow automation, automated agent guidance, sales automation, and scheduling automation.
4. Contact Center Software
Contact center software generally includes additional features to enable different avenues of customer contact and agent management.  This type of software is more of an omnichannel solution that integrates the call center service with web chat, email, and social media.
Auto Dialers to Consider for Outbound Call Centers
One of the easiest ways to ensure a high level of productivity and efficiency with outbound calling is through the use of automatic dialers. These systems remove the burden of manually dialing out each call from your agents, putting in place automated systems to handle lead and call management.
Look out for these systems when comparing providers, as some companies may not package them with the rest of your features.
Preview Dialers
Preview dialers make calls from a predetermined list of leads for your agents. They quickly provide an overview of the current caller's information before placing that call. This allows agents to see any previous calls, sales, or account information relevant to build context around the call.
These systems sequentially dial out from this list to continue a steady stream of calls.
Predictive Dialers
Predictive dialer software is designed to place the maximum number of calls possible in the shortest period. They collect data such as average call length, the number of agents available, and the average number of calls it takes to successfully connect with a contact.
These tools utilize statistical algorithms to reduce agent downtime. They help by reducing the time that agents would normally spend weeding unsuccessful calls before they reach a live person.
Power Dialers
Power dialers are simple a simple tool offering a significant boost to productivity. Power dialers only dial out to a new call when an agent has finished their previous call and is available to move on to the next.
When placing their calls, power dialers consider the priority and skill of all agents. They can look toward alternative departments to see who is available to help determine the efficient match.
Progressive Dialers
Progressive dialers combine the functions of both power and preview dialers into one solution.
They automatically call out from a list of leads one after the other to help maintain a constant flow of agent productivity. They reduce the downtime in between calls and provide relevant call information and history to the agent.
With CRM integrations, customer information is displayed while the call is being dialed.
Important Inbound Call Center System Features:
With inbound call centers, improving productivity and efficiency requires proper call routing sending incoming calls to the agent best suited for the scenario.
In the past, calls had to be manually routed to agents or were simply dropped to the next available agent regardless of skill or priority. Now, with the adoption of contact center software solutions, you can ensure your company has an automated system in place to ensure callers will get the right agent, every time.
These tools put an end to blind call shuffles. Instead, contact center software offers skills-based routing and automated attendants to help guide your caller. Auto attendants and targeted routing ensures that calls are properly redirected, getting callers to the department they need on the first try.
Your agents won't be bouncing callers around and your center won't take the heat that comes with it.
1. Automatic Call Distributor (ACD)
Commonly utilized by contact centers that handle a high volume of inbound calls, Automatic Call Distribution systems redirect and route calls to the proper agent. Routing is based on either specific skill sets or call priority.
These systems take into account information such as the caller's menu selection, telephone number or even the time of day. Automatic Call Distributors are one of the most important aspects of maintaining efficiency in an inbound contact center. Check out our guide to ACD systems to learn more.
2. Interactive Voice Response System (IVR)
The benefits gained by an ACD are boosted when they're combined with an Interactive Voice Response system. IVR ensures your callers will always receive the proper agent, department or assistance that they need.
IVR systems ask callers a series of questions to decide where they would like to have their calls routed. These can also allow agents to manage custom menus, greetings, and prompts to direct and inform callers.
3. Skills-based Routing
When used in conjunction with the above features, skills-based routing will help your ACD and IVR systems to properly direct callers to the department or priority level they need or have specified.
Skills-based routing directs callers to the most appropriate agent for the situation based on the caller's selection, the agent's skill set, and the priority level. It can also take into account the caller's interaction history with your company. This feature even takes into account other factors like language or geographical location.
4. Customized Call Queues
Even with all these systems in place, call centers that face high or low volume will still experience call queues. It is important to manage these queues properly so that your company ensures minimal wait time and high-quality customer service.
Customize your queue with hold music, personalized greetings, separate queues for each department, and a set maximum queue size. Through this feature, you'll minimize caller wait time. Some queuing tools even allow the option for an agent to callback instead of waiting on hold.
5. Dedicated Numbers/Extensions
Dedicated phone numbers or extensions allow your contact center to break up its call queues and departments. With dedicated numbers or extensions given out to specific departments and your most highly skilled managers, your agents can be better organized.
Dedicated numbers allow your system to make the most of skills-based routing and automatic call distribution systems. With direct lines, your callers can also bypass the IVR if they know exactly who they need to speak to.
6. Agent Voicemails
In combination with dedicated phone numbers, voicemail systems can help maintain a high level of efficiency and professionalism. Voicemail can be given to specific agents or a department-wide voicemail can be created to allow all of your agents to work together.
If an agent is unavailable because of a current call or another priority, you can provide your callers with an option to leave a voicemail so they can be dialed back when the agent becomes available again. This will also allow customer interactions to occur during off-hours, leaving a message to get priority once operating hours begin.
7. Real-Time Metrics and Call Monitoring
With a real-time dashboard in place to monitor your agent's activity and data, managers can make quick decisions and priority shifts based on concrete analytics.
To ensure the highest level of efficiency and productivity real-time call monitoring and metrics can be used to measure satisfaction for inbound callers. Managers can monitor information such as average wait time, average handle time for each call, the longest wait time, and the number of agents available for the optimal performance of their call center.
8. Historical Reporting
Real-time statistics can be helpful for short term changes, but empowering your contact center with historical reports will allow managers to collect vital long-term data.
It's important to understand how your contact center operates over a long period to make major changes to your customer experience. Historical reporting allows you to monitor campaigns, priorities, tactics, and department performance to develop a deep understanding of the strengths and weaknesses of your contact center.
Use our QuoteMatch tool to get started with call center software.
Instantly compare bottom line quotes from award-winning providers.