Provider

Features

Reviews

More Details

Five9

Increase Efficiency with Robust Outbound Capabilities
Top Rated 24/7 Live Phone & Chat Support
Inbound, Outbound, Blended & Omnichannel with Your CRM
Guaranteed to Make Your Agents 300% More Productive
Limited Time Offer for New Customers - $100/mo/user

38 Reviews

Get Pricing

Gartner Leader Intelligent Cloud Contact Center Software →

Talkdesk

Powerfully Simple and Endlessly Adaptable
Highest-Rated Cloud Contact Center in the Industry
IVR, Call Recording, Omnichannel Routing, Dialer, AI
Integrations with SFDC, Zendesk, and 50 Others

218 Reviews

Get Pricing

Enterprise Cloud Contact Center Software →

Twilio

Instantly Deploy Out-of-the-box, Customize What You Need
Omni-channel, Contextual Conversations in a Single Interface.
Native WFO, Integrations with Any CRM or Data Source

15 Reviews

Get Pricing

Twilio Flex: Programmable Cloud Contact Center Platform →

NICE CXone

Omnichannel Routing and IVR Self-Service
The Only No-Pause Predictive Dialer on the Market
Best-in-Class Workforce Optimization & Management
AI-powered Self-service Chatbots, IVAs and IVR

57 Reviews

Get Pricing

2022 Forrester Wave & Gartner Leader - NICE CXone →

Nextiva

Complete Cloud-based, Omni-channel Solution
Integrated with Nextiva Unified Communications System
Improves Productivity and Efficiency for Businesses of All Sizes
Manage, Track and Analyze Every Customer Interaction

2994 Reviews

Get Pricing

Call Center Software Powered by Five9 + Award-Winning UCaaS →

Dialpad

Cloud-based, Get Up and Running in Minutes
Intuitive, Easy-to-use for Agents, Managers, Supervisors
Out of the Box Dashboards, Reporting, & Native Integrations

264 Reviews

Get Pricing

Easy-to-Use Cloud Contact Center Software →

Genesys

Deliver World Class Omnichannel Customer Service
Empower Your Team with a 360-degree View of the Customer
Deploy in Minutes with a modern user experience
See a 571% ROI with the Fastest Growing SaaS Call Center

53 Reviews
PureCloud by Genesys. All-in-One Cloud Contact Center →

RingCentral

Predictive Dialers, Intelligent ACD, IVR Systems
Toll-free, Local, & Vanity Numbers + Extensions
Guaranteed White Glove Implementation Service

508 Reviews
All-Inclusive Inbound, Outbound, Blended, Multi-Channel →

Zendesk Talk

Unlimited Inbound and Outbound Calling w/ One Number
Turns Calls/Voicemails into tickets for Issue Resolution
Toll-free or Local Phone Number for Text Support

2 Reviews
Cloud Call Center Software within Zendesk Ticketing

Freshdesk

Intent-based routing with speech-enabled IVRS
Team inbox that automatically creates contacts from queries
Set up, operations, and scaling can be achieved in a few clicks
Advanced voice artificial intelligence (AI) capabilities

4 Reviews
Field Service Management With Scheduling, Tracking, And More

Aircall

Mandatory after call work with note-taking features.
Shared teamwide inbox with shared contacts and to-do lists.
Integrates with CRM systems, Helpdesk solutions, and more.
Monitor individual and team metrics in real-time

22 Reviews
Customizable Call Routing Based On Fit, Availability, And More

8×8 Inc.

Built-in customer contact and case management tools
Intelligent routing across all channels
Proactive, AI-powered self-service options
Customizable contact center analytics reports

667 Reviews
Timely Feedback and Intelligent Coaching for Agents

ChaseData

Robust features such as skills-based inbound call routing
Calls are logged, recorded, and transcribed automatically
Mobile KPI Portal allows secure access to KPIs and reports
Create rich, multi-threaded scripts with embedded forms

2 Reviews
Unlimited Agents Supported On a Single Cloud Cluster

Convoso

Increases Contact Rates by 3X with the Fastest Dialer
Improves Call Center Profitability and Agent Efficiency
Predictive Dialer, Power Dialer, IVR, CallerID Management
Award-winning Customer Success and Onboarding Team

26 Reviews
Top Rated Predictive Dialer for Outbound Call Centers

Vonage Business

99.99% Uptime Service Level Agreement (SLA)
Seamless 2-way Communications and Real-time Analytics
24/7 US Based IT support is Included
Integrated CRM. Track and Optimize Customer First-Call Resolutions

173 Reviews
Vonage Contact Center (VCC) Full Featured Omni-channel Solution

Cloudtalk

Native integrations with popular CRMs, Helpdesks, and more
Advanced analytics to measure and improve communication
High-quality calls with guaranteed latency and minimal jitter.

9 Reviews
Maintain Local Presence With an International Phone Number
Call center software streamlines the operations of your sales and support teams, improves customer experience, and provides valuable insights into customer behavior and satisfaction levels. The right solution will improve the efficiency of your call center and lead to an increase of the business's bottom line.
In this guide we'll review the most popular call and contact center software, essential features, benefits, and what to look at when choosing a call center solution.
Jump to ↓
What is Call Center Software?
Call center software is a cloud-based business communication software that improves call volume management through features that optimize call flows, allow customers to get better and faster assistance, and automate business processes.
There are three main types of call center software: Inbound, Outbound, and Blended.
Inbound call centers receive incoming calls from current or potential customers. They most often provide customer service and support, make product recommendations, take orders or make appointments, collect account payments, or assist with account management.
Outbound call centers make outgoing calls to current or potential customers, most often in the form of sales, surveys, fundraising, or even raising awareness about a political campaign. When you think of telemarketing, you're thinking of an outbound call center.
Blended call centers make and receive inbound/outbound calls for all of the above reasons and any additional business processes.
Call Center Software vs Contact Center Software
Though often used interchangeably, call center software and contact center software are slightly different.
Contact centers are omnichannel, meaning agents can connect with inbound/outbound callers across a variety of communication channels like voice calling, website chat, SMS, email, or social media.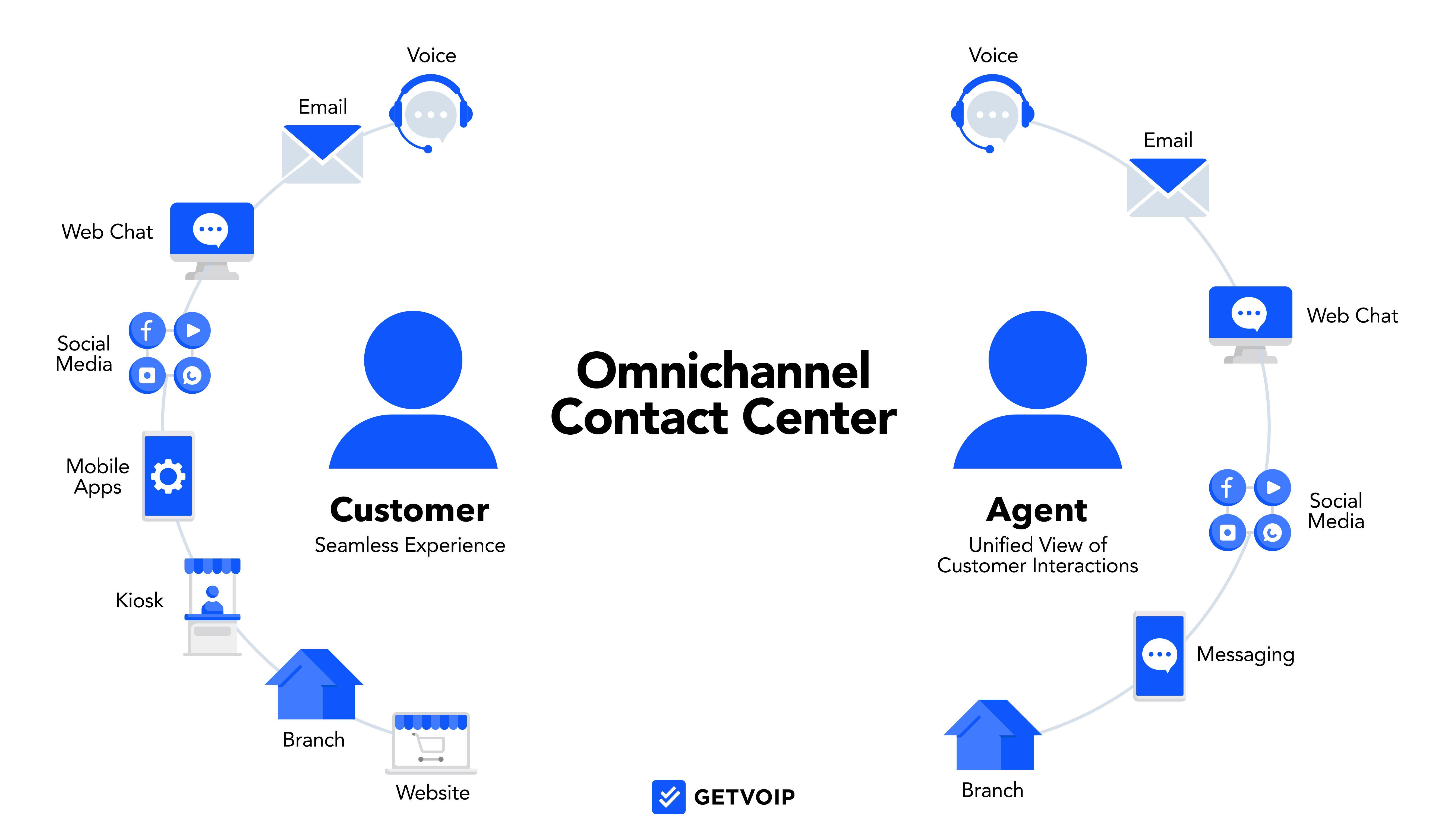 Call center solutions, as the name suggests, communicate via voice calls.
Though many cloud based call center software today offer multi-channel communication, like voice calls and SMS or voice and video calls, they may still use the term "call center software" to describe their products as the majority of the focus is on the business telephone system. Additionally, cloud call center software often integrates with third-party software that provides another communication channel.
Call Center Software Essential Features
The below features are essential to quality call center solutions. Though the majority of these features are standard, depending on the provider, you may need to purchase them as add-ons or scale up to a higher-tiered plan.
1. Interactive Voice Response (IVR) 
Interactive Voice Response (IVR) is a self-service feature consisting of pre-recorded call menu options that customers interact with via touch-tone or speech. These customers provide information about the reason for their call and help them connect with the right agent/department.
IVR automates numerous business processes like bill payment and checking/updating account information. IVR menus also help agents to be better prepared for customer calls, as they can opt for "warm transfers" that allow them to listen to or get information about a customer's interaction with the IVR system before speaking to the caller.
Above all, these menus help make sure that the person the caller speaks to is someone who is qualified to assist them, or directs them to pre-recorded specific sub-menus where the customer can resolve the issue on their own.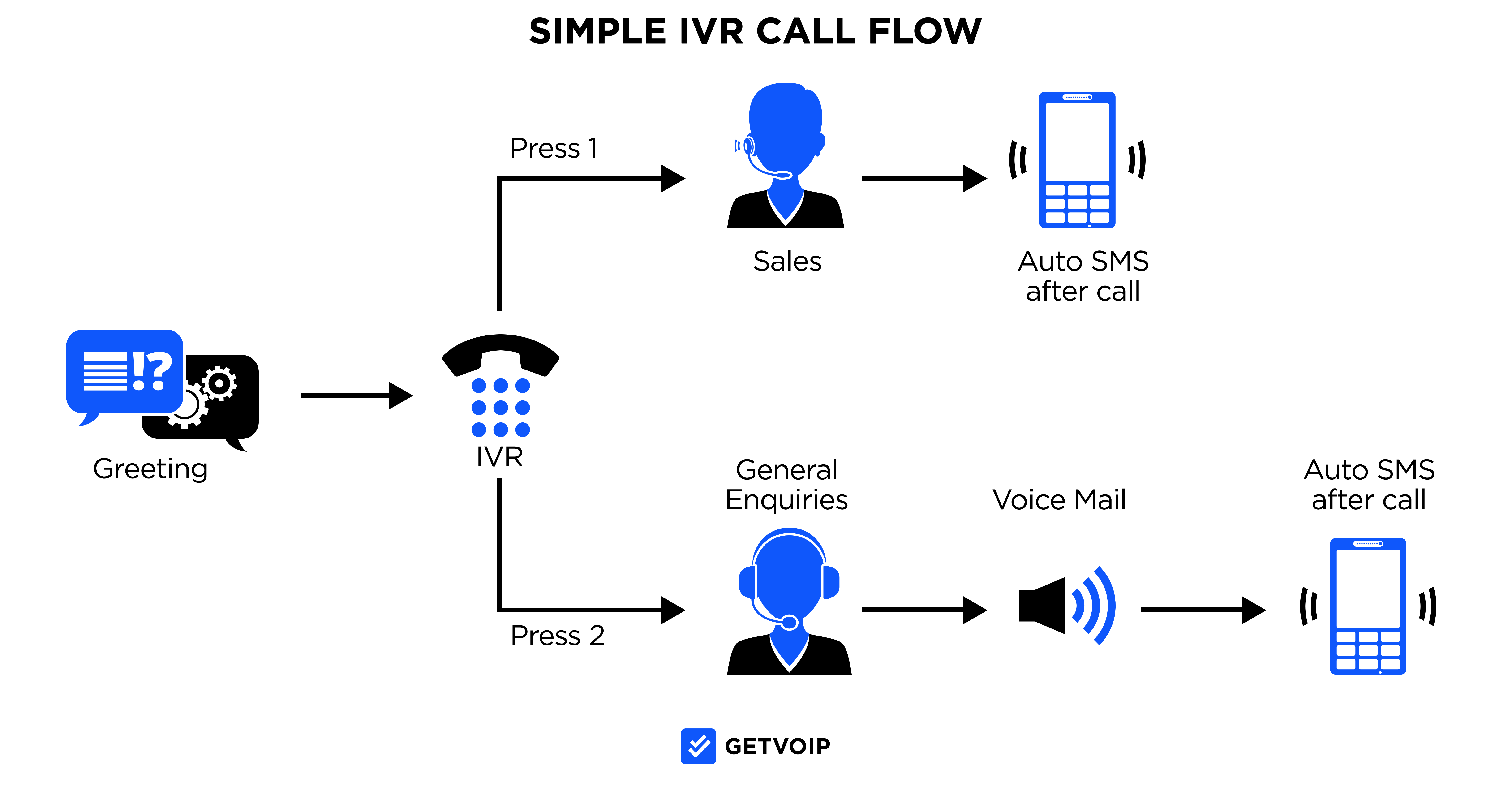 2. Automatic Call Distribution and Call Routing
Automatic Call Distribution (ACD) automatically routes callers according to pre-set call routing strategies.
Often associated with IVR, ACD is designed to increase call center productivity by eliminating the need for manual call transfers.
Call routing strategies are the ways in which calls are routed to agents in order to maximize productivity, prevent agents from becoming overburdened with calls, and increase the chances of first call resolution.
Popular call routing strategies include:
List-Based Routing: Agent A is first on the list, then Agent B, then Agent C. The next inbound call is again sent to Caller A.
Round-Robin Routing: Popular among sales agents, round-robin routing ensures each agent gets their "turn." Agent A takes the first call, Agent B takes the next call, and Agent C takes a third. The list does not "start over" with Agent A after each call.
Skills-Based Routing: Calls are directed to agents according to how well an agent's skillset matches with the needs of the caller. This is common in customer service settings.
Simultaneous Ringing: Here, an inbound call is sent to a group of agents with the same/similar skill sets simultaneously. The first agent to answer is the one who "gets" the call.
3. CRM Integration
Customer Relationship Management (CRM) integration allows users to connect third-party CRM tools to their call center software, eliminating the need for agents to juggle between apps to access key customer data.
Computer Telephony Integration (CTI) Screen Pops automatically pull a current caller/customer's information from your CRM system and display it on the agent's screen.
This helps the agent to be fully prepared for the call and prevents callers from having to repeat themselves.
4. Automated Callbacks
Automated callbacks eliminate the need for callers to wait on hold for extended periods of time, dramatically increasing customer satisfaction.
Instead, callers can schedule a time they'd like to receive a callback from an available agent based on their preferred time and date.
5. Auto Dialers 
Automated dialing modes improve lead list penetration and help to prevent time lost between making calls through manual dialing.
Most call center solutions will offer multiple dialing modes, including:
Power Dialer: Power Dialing mode automatically queues up and dials the next outbound call on the lead list as the agent is finishing up the previous call. This way, the agent only speaks to someone who is on the phone and ready to talk.
Progressive Dialer: Progressive Dialers make calls at a slower speed, waiting until an agent is free to speak to dial the number.
Predictive Dialer: Predictive Dialers help agents place the highest number of calls in the shortest amount of time by filtering out busy signals, voicemail messages, disconnected phone lines, and more.
Preview Dialer: The Preview dialing mode allows the agent to choose from a list of past contacts and view key information about previous calls, any accounts they have or had, and prior sales.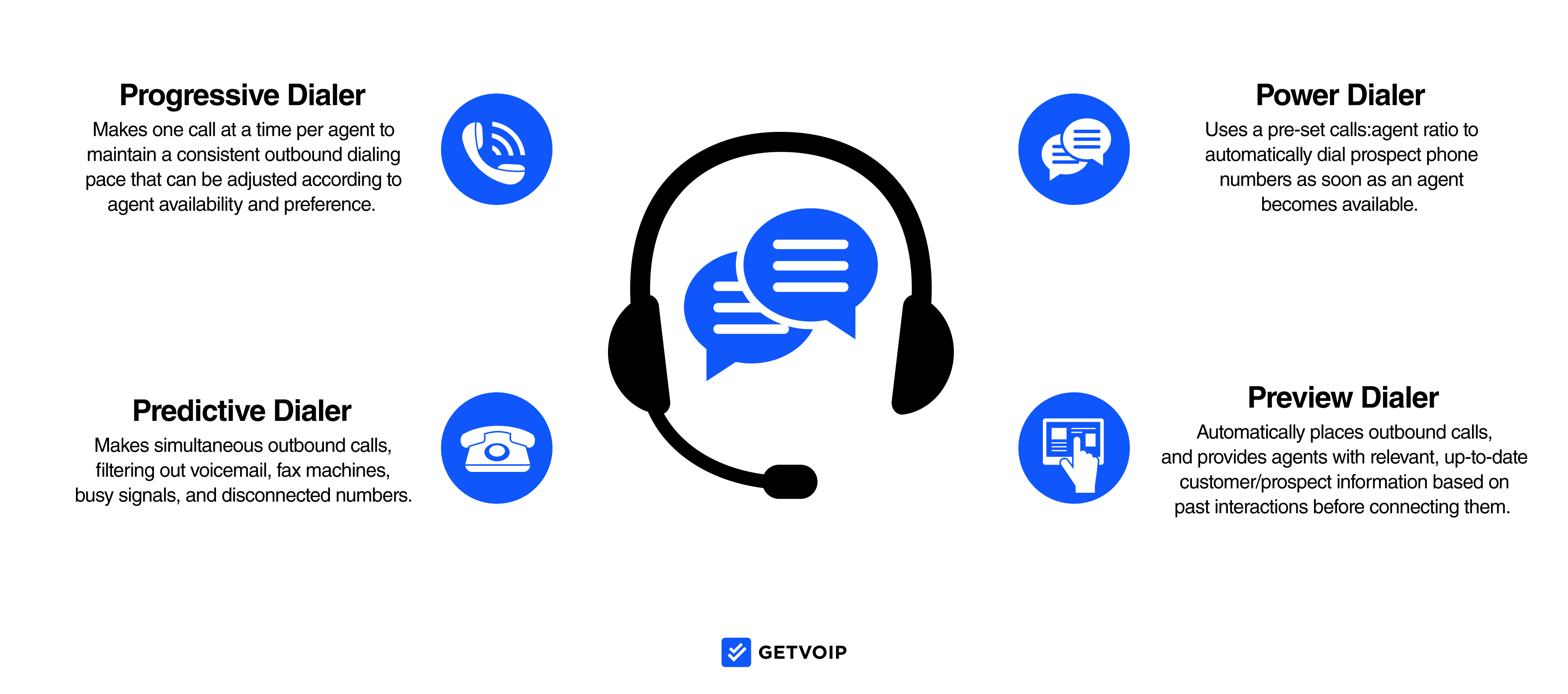 6. Call Queueing 
Call queuing allows multiple callers to wait on hold until an available agent is free to assist them.
It's important to provide callers with estimated wait times or update them as to their place in the queue. Call queues can be sequential, VIP-based, need-based, etc. Call queuing helps to reduce the number of customer callbacks.
7. Call Recording
Call recording records agent and customer calls either automatically or on-demand. These recordings are then stored in the cloud where both agents and supervisors can review them to assess customer service standards, agent efficiency, and more. Often, providers offer call recording transcriptions.
8. Reporting and Analytics
Real-time and historical analytics provide detailed insight into call center activity and efficiency through tracking KPIs. Reports can be completely customized, or admins can choose from a variety of pre-made report templates. Users can elect to automatically receive analytics and reports at preset intervals, and reports can be generated on both individual agents and entire departments.
Key call center metrics include:
First call resolution rates
Average talk time and average handle time
Average hold time
Percent of calls sent to voicemail
Speed of answer
Current call queue information
Call abandonment rates
Cost-per-call
Customer satisfaction rate
Customer churn rate
9. Call Monitoring 
Call monitoring allows another person to listen in on a live call. It's often used to supervise new agents to provide better training, monitor individual agent performance, or better understand customer needs.
Call monitoring also allows for call coaching in the form of call whisper. Here, a manager can listen in on and provide real-time advice or answers to an agent on a call, without the caller hearing them.
Call barge allows the person monitoring the call to "take over" the agent's current call if they clearly need to step in.
10. Omnichannel Routing 
Omnichannel routing automatically syncs the most recent customer-agent interactions and conversations across channels.
Therefore, when multiple communication channels are used throughout a customer interaction, everyone can pick up right where they left off — even if another agent takes over.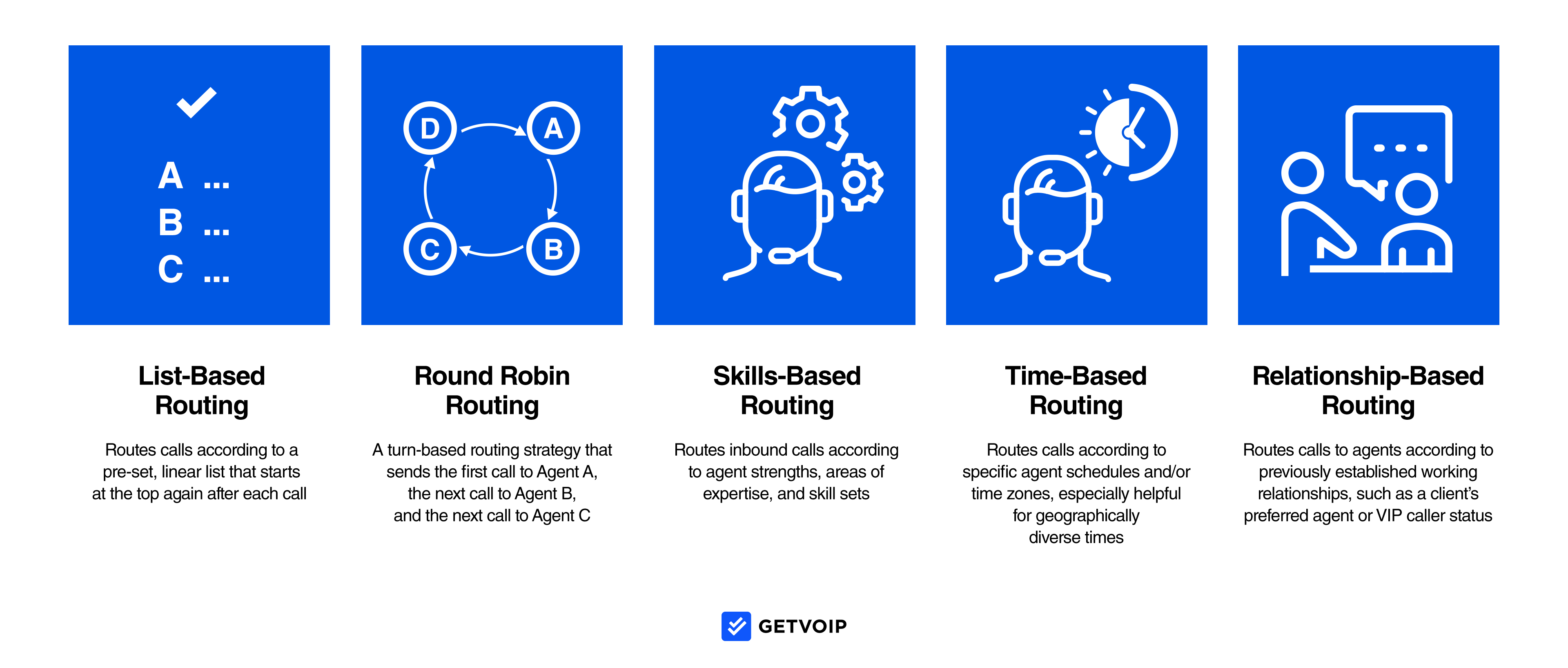 11. Caller ID
Caller ID displays the name and contact information of an inbound caller, allowing agents to better prioritize their calls and to prepare to assist the customer before they speak with them.
Benefits of Call Center Software
Call center software offers countless obvious benefits like 24/7 customer self-service, higher first call resolution rates, and a deeper understanding of customer:agent interactions via analytics.
However, the biggest call center software benefits are the long-term changes that fundamentally improve the way you do business and have a positive impact on the way customers view your company as a whole.
Increased Customer Satisfaction and Loyalty 
When customers are satisfied with your company's service, they're much more likely to keep doing business with you–and recommend your products and services to friends.
Call center software allows your business to provide personalized customer support, anticipate customer needs, and give consumers more control over how, when, and why they connect with your company.
What's more, cloud call center features like IVR and automation, third-party CRM integrations, intelligent call routing, and customer callbacks eliminate many of the most common customer frustrations by:
Decreasing hold times via optimized call queueing and automated customer callbacks
Using CTI screen pops, asynchronous shared agent inboxes, and call notes to prevent callers from having to repeat the same information to multiple agents
Using IVR data collection, warm transfers, and native/integrated CRM tools to properly prepare agents for each customer interaction and provide personalized service and support
Creating ring groups, customizable call routing strategies, and preset call rules to connect customers to the agents with the skills and availability needed to best assist customers
Consistently reviewing real-time and historical analytics (especially AI-powered conversational analytics) to better understand customer expectations, needs, frustrations, and suggestions
Call center solutions provide a high level of convenience, make quality customer support more accessible, and ensure customers feel valued–all factors that have a positive impact on customer loyalty.
Decreased Call Center Agent Turnover
Call center software services don't just help with customer retention–they also reduce call center agent turnover.
High-level automations for routine tasks like data entry, manual dialing, and scheduling customer callbacks reduce the number of repetitive and mundane activities that cause agent burnout.
Additional features like call forwarding, real-time AI agent assist, CRM screen pops, and access to canned responses and call scripts make an agent's job much easier.
In-conversation call coaching, data-backed agent evaluations, optimized training materials, and performance gamification boost employee engagement, recognize top performers for their hard work, and clarify expectations.
IVR and IVAs answer many of the most common customer questions and guide customers through routine process processing like bill payment and appointment rescheduling without involving a live agent. This means live agents no longer have to constantly answer the same handful of customer queries, and can focus instead on more engaging workplace tasks.
Workforce Optimization and Workforce Management features give agents greater control over their own schedules and use forecasting to create balanced workloads that don't overburden agents.
Plus, because cloud call center tools are accessible on any device and in any location with a working Internet connection, agents can work remotely or while on-the-go with ease.
Finally, because call center software improves customer satisfaction rates and streamlines the overall support process, agents are far less likely to be yelled at and abused by customers–one of the main reasons call center agents leave their jobs.
Lower Operating Costs
Cloud call center platforms lower your operating costs in a variety of ways–and both startups and enterprise-level companies equally benefit from these cost savings.
First, call center capabilities like IVR and call flow design, improved agent scheduling, omnichannel dashboards, and in-app third-party integrations optimize the agents you already have on staff–eliminating the need to hire additional employees.
Automated customer self-support, blended calling, and push notifications keep productivity levels high and reduce the margin of human error.
Real-time analytics give supervisors a birds-eye-view into current call center activity, making it easy to quickly adjust call queues, routing strategies, and agent assignments to respond to current call volumes. 
Scalable pricing options, pay-as-you-go plans, and a la carte add-ons prevent businesses from paying for features they don't need while keeping them accessible for the future.
Finally, because call center software can be hosted offsite in the cloud–and can be accessed on existing desktop and mobile devices–there's no need to purchase expensive premises-based equipment.
Agents can use their personal devices, and call centers can use existing desktop computers and hard phones. This flexibility also means that, if desired, your business can avoid renting out a physical office space altogether.
Higher Revenue
Call center software boosts revenue as much as it lowers operating costs–especially thanks to outbound auto dialing modes that increase lead list penetration and remind agents to follow-up with high-level prospects.
Especially in telemarketing, success in sales is often a numbers game: the more calls agents make, the higher the likelihood of a sale.
While business process automation and customer self-service certainly gives agents additional time for sales calls, outbound dialing modes really make a difference.
Auto dialers eliminate manual dialing, place simultaneous outbound calls, adjust call pacing ratios, and let admins place time limits on after-call work. Campaign management features make it easy to segment and customize lead lists by key demographics and previous call outcomes, ensuring they're pitched the products and services they're the most likely to purchase. Because outbound dialers integrate with CRM systems and give agents access to prior interaction notes, it's easy to create personalized pitches that encourage upselling and lead to more closed deals.
Best Call Center Software Solutions
Through our hands-on testing, feedback from user customer reviews, and in-depth product research, we've compiled a list of the best call center software.
We evaluated each provider according to key factors like:
Pricing, Plans, and Overall Value
Ease of Use
Available Features
Customer Service and Support
Here are our picks for best call center phone systems:
1. Five9
Five9 is an Intelligent cloud-based contact center software offering omnichannel communication across voice and digital channels, high-level WFO solutions, AI-powered analytics and automation, and a user-friendly Engagement Workflow.
Five9 is known for leveraging machine learning to optimize Employee Engagement and Workforce Management, 24/7 customer support for all users, and (as its name suggests) a 99.999% guaranteed uptime.
WFM features like multiple forecasting methods, live agent shift bidding, cost of schedule analysis, and real-time adherence monitoring eliminate workflow bottlenecks and optimize available agents. Employee Engagement capabilities, especially in-call agent coaching and performance gamification, improve support quality and keep agent turnover rates low.
That said, Five9's high price tag, lack of video calling and complete digital channels across plans, and crowded agent interface are potential drawbacks.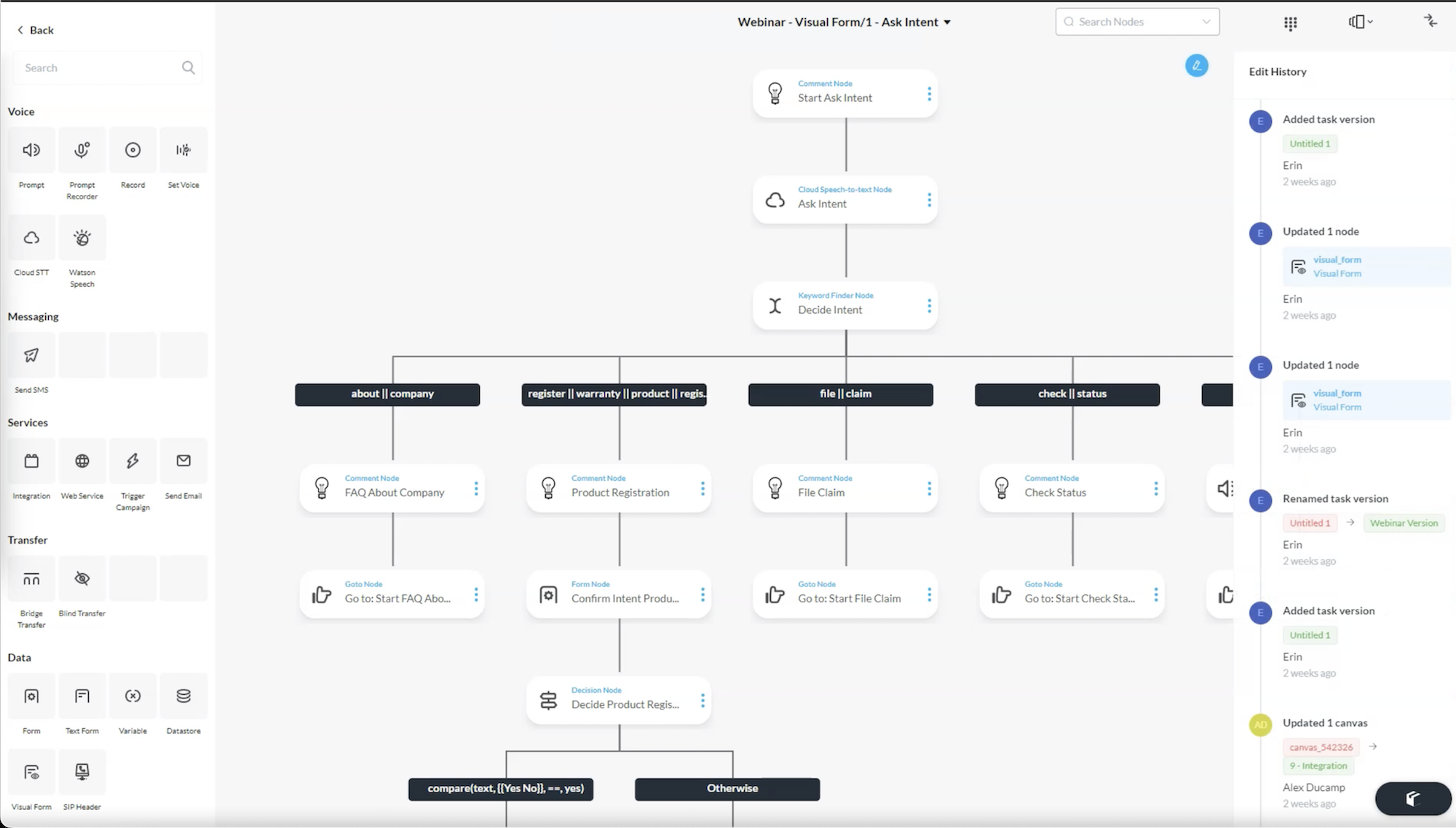 Additional Five9 features include:
Five9 Dialer: Outbound auto dialer with Power, Progressive, Preview, and Predictive dialing modes alongside real-time DNC list management, disposition times, and CRM integration
Five9 Intelligent Virtual Agent (IVA): Omnichannel customer self-service bots with conversational AI, sentiment analysis, Natural Language Understanding, speech recognition, intelligent interaction routing, a no-code interaction flow design tool, and 25 natural-sounding voices to choose from
Five9 Digital Engagement: Designed for digital-first live and AI-powered customer interactions across inbound/outbound voice, email, chat, SMS, social media messaging, and video. Agents can receive real-time, in-conversation AI Agent Assistance, access WFO tools, move between channels, and manage simultaneous interactions within the Agent Desktop interface
Five9 Pricing
Five9 offers five paid plans from $149/month to $229+/month:
Digital Plan ($149/user/month): Digital-only contact center (chat, email, SMS/MMS, social media messaging)
Core Plan ($149/user/month): Voice-only contact center (no digital channels included), outbound auto dialer included
Premium Plan ($169/user/month): Chat, voice calling, and email (no included SMS/social media messaging) plus Workforce Engagement Essentials
Optimum Plan ($199/user/month): Chat, voice, email (no included SMS/social media) plus Enterprise WFM and Quality Management
Ultimate Plan ($299/user/month): Chat, voice, email (no included SMS/social media), Enterprise QM+WFM, plus Interaction Analytics
Best For
Five9 is best for enterprise-level contact centers with a high outbound daily call volume and predominantly digital-first inbound interactions heavily reliant on automation and customer self-service.
2. Talkdesk
Talkdesk is a CX-focused omnichannel cloud contact center software known for its advanced Analytics Suite, intuitive Workspace interface, AI-powered self-service tools, and over 60 ready-made integrations.
Talkdesk has been a consistent leader in AI developments in the CCaaS space, making it an ideal platform for enterprise-level companies heavily reliant on customer self-service and proactive outbound engagement powered by Conversational AI.
The Guardian Security Suite, which includes 30+ third-party security certifications, threat detection, and compliance management, uses AI to identify suspicious activity and alert managers in real-time. This makes Talkdesk a popular choice within heavily-regulated industries like finance and healthcare. That said, Talkdesk's pricing structure leaves much to be desired. Even on the most expensive plan, users still pay add-on fees for features (like Agent Assist or Workforce Management) that come standard with other platforms. Plus, the complete versions of Talkdesk's top features, like Guardian and omnichannel analytics, are only available on the most expensive plans.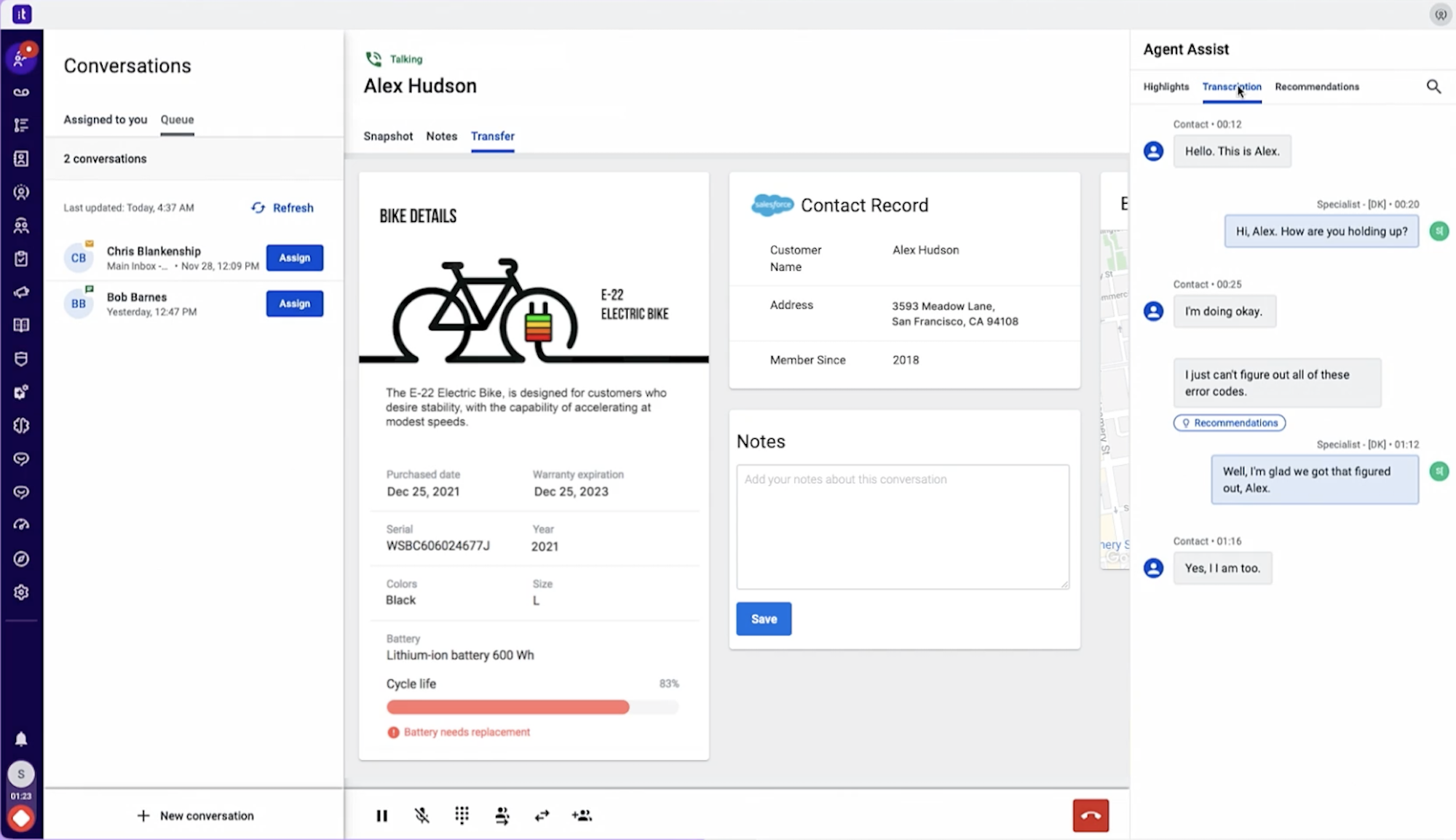 Additional Talkdesk features include: 
Customer Experience Analytics Suite: Five-prong analytics suite with Talkdesk Explore (900+ historical KPIs), Talkdesk Live (real-time reporting with 17 pre-made dashboards), Talkdesk Feedback (CSAT/NPS analytics based on omnichannel customer feedback, Talkdesk Performance Management (agent leaderboards/quality management), and Talkdesk Interaction Analytics (AI-powered omnichannel analytics)
Talkdesk Workspace: Custom agent/admin desktop and mobile app with one-click access to all communication channels, key functionalities, and integrations alongside real-time notifications, a choice of roles-based, pre-configured Workspace templates, all agent assignments and assignment statuses, scheduling info, and performance evaluations
Conversation Designer: Drag-and-drop configuration tool for omnichannel IVR/IVAs, allows admins to pre-program questions, comments, split flows, triggers and resulting actions, and when to escalate customers to a live agent
Talkdesk Pricing
Talkdesk offers three plans $75-$125+/user/month and quote-based, industry-specific plans:
Cloud CX Essentials ($75/user/month): Voice-only call center with routing, IVA, and Basic versions of key Talkdesk features like Agent Assist and Guardian
Cloud CX Elevate: ($95/user/month): Essentials+Digital Engagement, screen recording, and customer feedback
Cloud CX Elite ($125/user/month): Elevate+custom real-time and historical AI analytics, performance management, full Guardian capabilities, and lets users choose from 1 of 4 add-ons to include in their package (Workforce Management, Customer Experience Analytics, Agent Assist, Proactive Outbound Engagement)
Experience Clouds (Quote-based pricing):Custom-built, industry-specific solutions for healthcare, retail, banking, insurance, and more
Best For
Talkdesk is best for midsize remote/blended call centers taking an automation-first approach to customer service, as well as businesses looking for a truly scalable contact center solution with advanced WFO, analytics, and proactive outbound engagement add-ons.
3. Twilio Flex
Twilio Flex is a programmable contact center solution built on the Twilio cloud communications platform. Unlike other providers on this list, Twilio Flex can be completely customized from the ground up via Twilio APIs, integrations with pre-existing software, SDKs, and workflow building tools.
While this level of customization is ideal for businesses with existing applications (or those within highly-specific customer communication and support needs), smaller businesses without an in-house IT department or development team will likely be unable to successfully leverage Twilio Flex due to the level of coding knowledge and experience it requires.
That said, flexing per-user or per-hour pricing models, an omnichannel agent interface with CRM integrations and custom notifications, and the celebrated Twilio Studio interaction designer tool make the complex setup process worthwhile for many.
It's also ideal for businesses of any size that connect with customers across an unusually high number of communication channels. Users can add on APIs for mass marketing and 1:1 email, voice calling, SMS/WhatsApp/social media/live chat messaging, video calling, and more. Functionality-based APIs like IoT connectivity, shortcodes, user verification, and market segmentation are also available.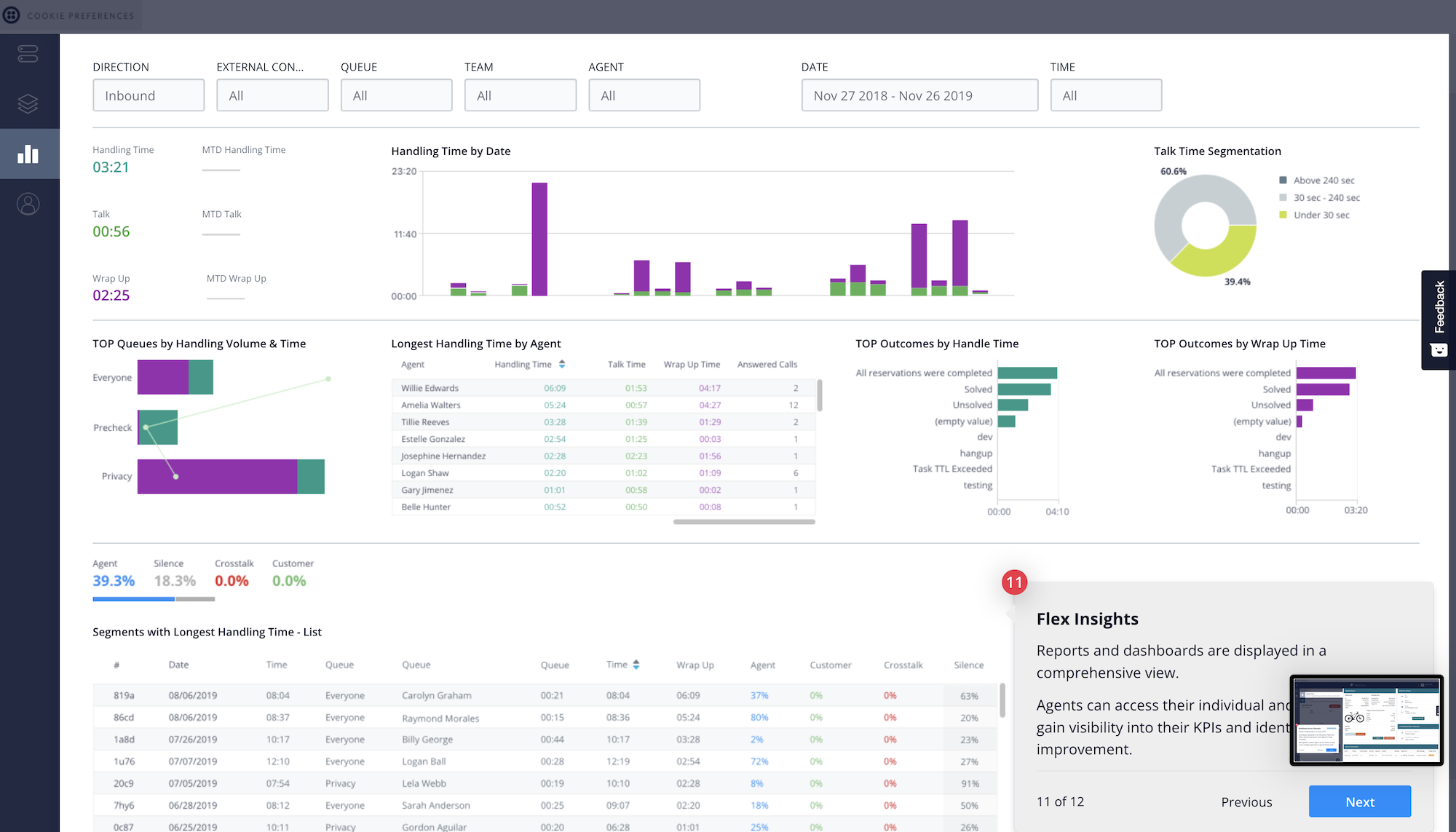 Additional Twilio Flex features include: 
Flex Insights: Interactive omnichannel analytics portal with roles-based, conversation-based, and relationship-based data sets for call center KPIs (call queues, handle time, call abandonment rate, agent performance, etc.)
Multichannel Task Handling: Single-pane-of-glass for all Twilio communication APIs (voice, real-time chat messaging and chatbots, SMS, social media messaging, self-service IVR call flows, video, etc.) and omnichannel agent task/to-do lists
Customer UI: Customizable agent interface with task lists, omnichannel customer interactions, CRM data and customer information, agent assistance, past order details, routing rules, automated workflows, etc.
Twilio Flex Pricing 
Twilio Flex offers 5,000 free active user hours as a part of its free trial (but without insights or self-hosted UI.) Afterwards, users can choose from per-hour pricing from $1/active user hour or per-user pricing for a flat rate of $150/user/month.
Best For
Twilio Flex is best for contact centers of any size needing a completely customizable CCaaS solution designed to meet and evolve alongside the specific needs of a business's customers, agents, and admins. Because of its high-level SDK and API integrations, it's best for teams with an in-house development team.
4. NICE CXOne
NICE CXOne  is a robust contact center platform with over 40 communication channels, data-driven automated self-service, omnichannel Quality Management and Employee Engagement tools, and features for advanced customer journey optimization.
NICE CXone leverages its Enlighten AI tool, which measures 100% of omnichannel customer interactions in real-time, to reduce Call Abandonment, identify upselling/cross selling opportunities, and boost agent engagement with gamification and real-time coaching and feedback.
CXone automatically generates self-service scripts and menu options based on these insights, and proactively engages/re-engages customers at key touch points across the customer journey.
The downside is CXone's lack of native UCaaS team collaboration and communication features–an absence made even more notable by the platform's extensive capabilities as a whole. Users should also prepare for the high learning curve accompanying CXone's robust set of AI capabilities and analytics.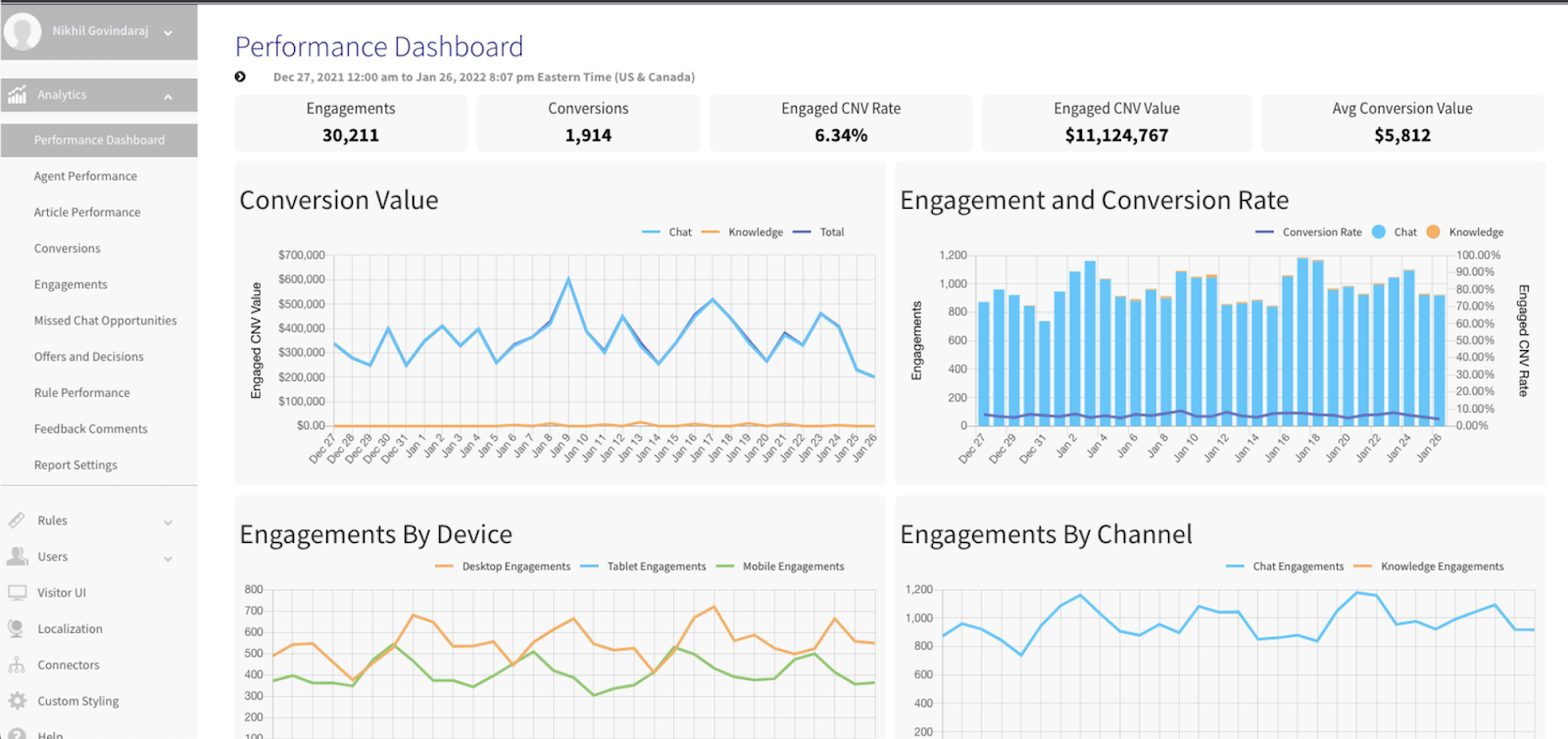 Additional NICE CXOne features include:
Interaction Channels: Integrated, industry-specific, and native communication channels include BYOC (Bring Your Own Channel), social media messaging, SMS/MMS, voice calling in 130 countries, email, website chat (live and chatbots)
My Agent Assist (MAX): Agent interface containing CRM data, customer sentiment analysis, smart interaction routing, and agent inbox allowing for multichannel, single channel, and omnichannel queues
Enlighten AI: Omnichannel conversational AI tool providing automated in-conversation assistance, omnichannel routing, prescriptive and predictive insights, complaint management, soft skill scoring, proactive engagement
NICE CXOne Pricing
NICE CXOne is only available via a customized pricing quotation and includes four bundled plans:
Customer Engagement Plan: Users can choose from voice-only, digital-only, or omnichannel versions of the Customer Engagement plan with varying features according to channel.
Essentials Plan: Voice and Digital omnichannel communication, plus, audio and screen recording, and quality management
Core Plan: All Essentials omnichannel features, plus Workforce Management and Performance Management
Complete Plan: All Core omnichannel features, plus customer feedback and interaction analytics
Best For
NICE CXOne is best for high-volume omnichannel contact centers that connect with customers across at least 10 voice or digital channels on a daily basis, as well as teams needing advanced AI-powered WFO and analytics tools.
5. Dialpad
Dialpad is an omnichannel contact center software known for having some of the most advanced and cutting-edge AI features on the market today, including built-in real-time sentiment analysis, live agent coaching, and real-time CSAT analysis.
It also offers a full UCaaS suite with team chat, SMS, video calling via Dialpad AI Meetings, file co-editing.
Dialpad offers a 100% uptime guarantee, 24/7 live customer support across all plans, and advanced AI features like live customer sentiment analysis, built-in digital deflection, in-conversation Agent Assist, and automated post-call notes for all users. While Dialpad's native team communication and collaboration features make it standout in the CCaaS space, its lack of pricing transparency makes it difficult to estimate its overall value. Plus, while the outbound Sales AI suite is only available via paid add-on, it includes only standard, limited features (even in the Enterprise Sales AI plan.)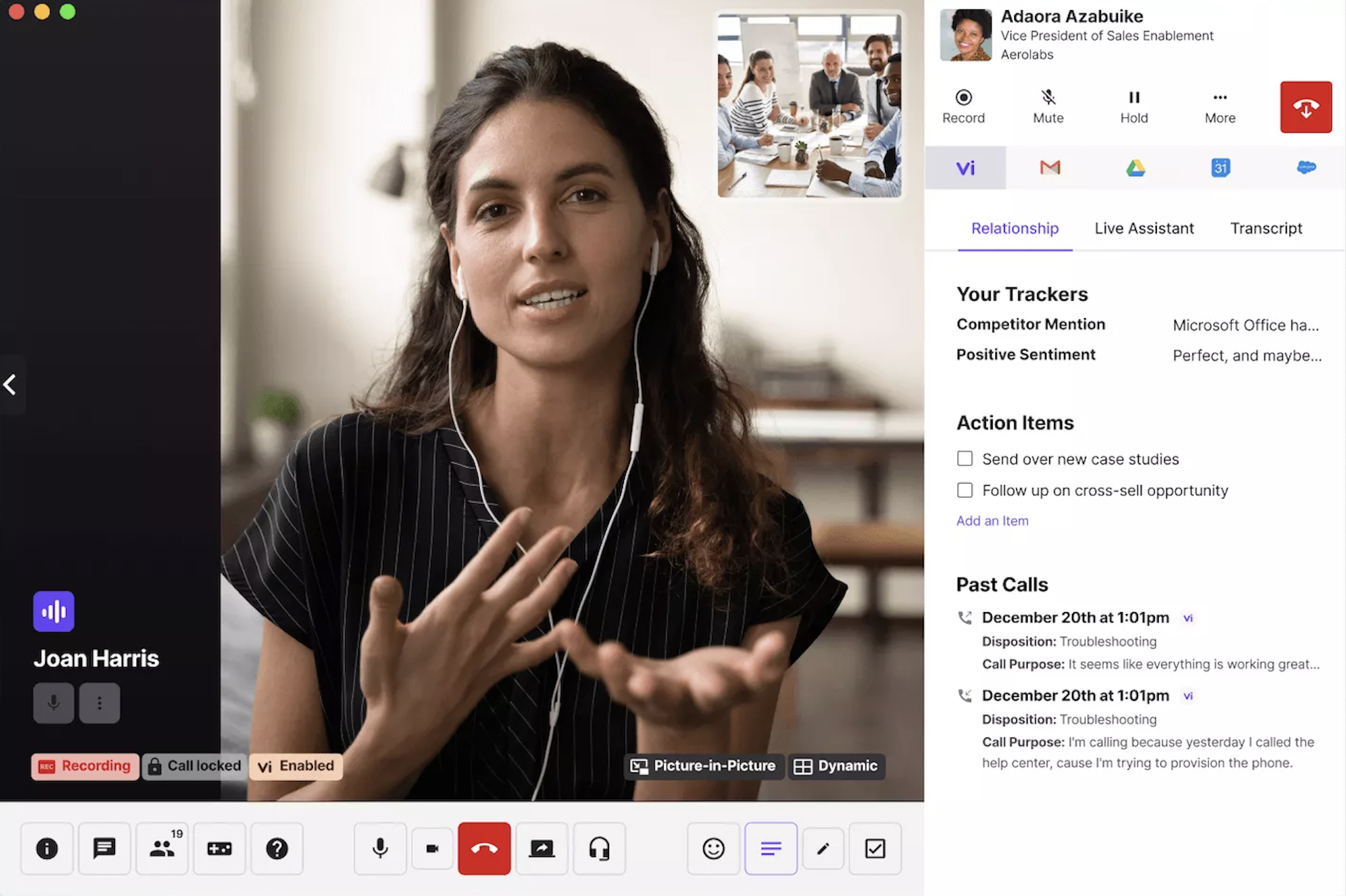 Additional Dialpad features include: 
Dialpad AI: Conversational AI for digital deflection, intelligent omnichannel routing, post-call summaries with real-time call transcripts, automated note taking, action item creation, and knowledge base integration for in-call agent assistance
AI Sales: Add-on providing outbound auto dialing with CRM integration, custom reports, voicemail drop, automated post-call notes, online video meetings via Dialpad Meetings, local presence dialing, real-time agent recommendations (full scripts and next-best actions), rep call coaching, call monitoring/barge/recording, rep leaderboards
AI CSAT: Automatically collects and analyzes 100% of conversations in real-time to provide AI-powered CSAT scores and updates, predictive analytics, automated real-time Agent Assist, agent performance reports, and post-interaction SMS surveys
Dialpad Pricing
Dialpad AI Contact Center, and the corresponding AI Sales add-on, are both available in Pro and Enterprise versions via quote-based pricing only. 
All AI Contact Center plans include Dialpad's Business Communications Suite, a UCaaS and call center software with voice calling, SMS, video meetings, and collaboration features like file sharing and team chat messaging.
The differences in the Pro and Enterprise pricing plans are:
Pro Contact Center Plan (3 License Minimum): Voice and Digital omnichannel contact center with multi-level IVA/IVR, live agent coaching, Dialpad Video Meetings, 24/7 support, AI automations and analytics
Enterprise Contact Center Plan (50 License Minimum): Pro+plus 100% uptime SLA, advanced reporting, unlimited call queues
AI Sales Pro Plan (3 License Minimum): Automated outbound dialer, leaderboards, automatic call recording, outbound SMS/MMS, agent coaching, real-time agent recommendations, speed coaching
AI Sales Enterprise Plan (100 License Minimum): AI Sales Pro+APIs, custom reporting, Enterprise SLA
Best For 
Dialpad is best for enterprise-level call centers needing best-in-class automation for both internal and external business communications, especially regarding agent training and performance evaluations.
6. Nextiva
Nextiva Contact Center is an omnichannel inbound/outbound call center solution best known for its native CRM tools, robust VoIP features, and superior team collaboration suite. Customers and reps can connect via social media messaging, website chat, voice calling, SMS, and email.
The biggest downside to Nextiva Contact Center is that it still requires an initial purchase of the Nextiva Business Communication software–so contact center capabilities are seen more as an "add-on" than a unique product. What's more, complete workflow automation tools and AI interactions analytics (two of the most essential WFO and WFM features) are only available on the most expensive Ultimate Contact Center Plan.
That said, Nextiva has always billed itself primarily as a business phone system provider, not an omnichannel contact center platform like NICE CXone or Genesys. This makes Nextiva's Contact Center add-on the most ideal for current Nextiva Business Communications users that want highly scalable native CCaaS capabilities, but that will likely never need enterprise-level features offered from exclusively contact center platforms.
Additional Nextiva Contact Center features include: 
Customer Service and Sales CRM: Customer experience score, business analytics, SmartTopics, CRM call pops, sentiment analysis, chat directory, call and account history, custom case status/priority, customer journey mapping, trend analysis, etc.
Cospace: Internal team collaboration tools with video meetings, team chat, a central file sharing repository, omnichannel dashboard for internal email, SMS, chat, and voice communications, screen sharing, task management, etc.
Automated Intelligence: Customized or template-based Conversational AI for automated customer surveys and onboarding, marketing campaigns, agent assist, follow-ups, escalation, lead generation, appointment scheduling, task reminders, etc.
Nextiva Pricing 
Nextiva Contact Center offers four quote-based plans as scalable add-ons to their Business Communication software (which ranges from $18.95-$32.95+/user/month):
Core Plan: Voice-only contact center with 24/7 customer support
Premium Plan: Voice and digital (SMS, email, chat) contact center with Essential Quality Management features
Optimum Plan: Voice+Digital contact center plus proactive notifications, Enterprise Workforce Management, and Enterprise QM
Ultimate Plan:Optimum Plan+interaction analytics and complete automation suite
Best For
Nextiva Contact Center is best for medium-to-enterprise-level omnichannel call centers that need a platform with native, built-in CRM features like in-conversation call pops, historical customer analytics and customer journey mapping, and agent assistance. It's also ideal for teams looking to scale up from a VoIP platform to a full-scale contact center over time.
7. Genesys
Genesys Cloud CX is an omnichannel customer self-service and call center platform with 350+ pre-built integrations, voice and digital IVAs, and Predictive Engagement analytics.
Genesys has a robust analytics suite, high-level integrations, and omnichannel communication features like customer-agent co-browsing, email routing, concurrent chat messaging, and typing indicators to improve the customer experience.
Genesys delivers personalized customer interactions–even when completely automated via voicebot or chatbot–via Conversational AI.
That said, its contact center lacks video conferencing, has a challenging agent and manager interface, and limited recording retention policies.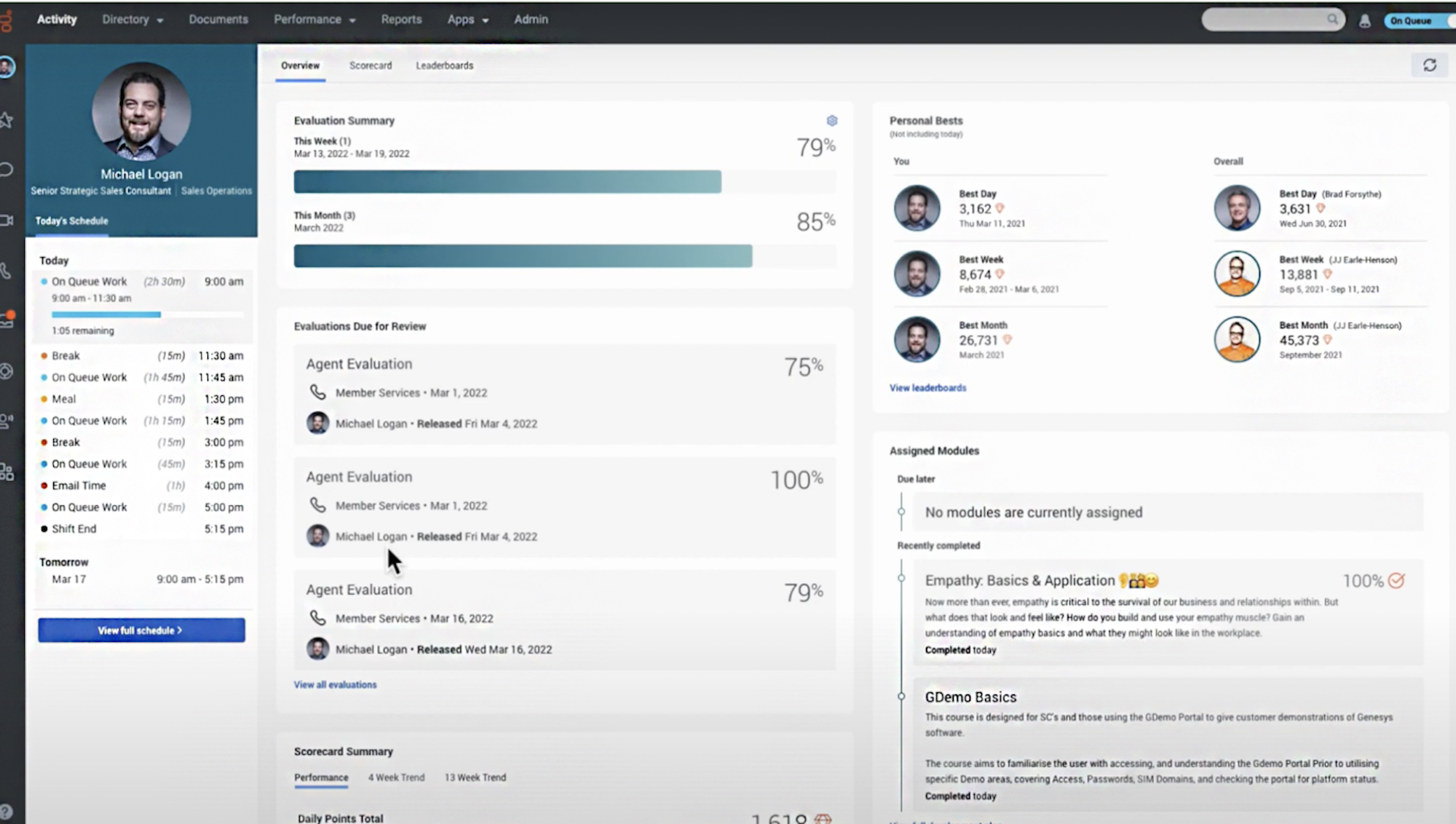 Additional Genesys features include: 
Voice and Digital IVAs: SMS, voice, chat, social media messaging, and email automated customer interactions/self-service tools that can access customer histories, automate outbound customer engagement, drag-and-drop call flow builder, agent scripting, and behavioral segmentation
Workforce Optimization (WFO): Trend forecasting, drag-and-drop agent scheduling, customizable training modules, employee monitoring, personal bests, post-call agent evaluations, and real-time status monitoring
Outbound Dialers: Power, Agentless, Progressive, Predictive, and Preview dialing modes included, alongside outbound IVR and adjustable call pacing
Genesys Pricing
Genesys offers five paid plans payable by concurrent user, by the hour, or named user options:
Cloud CX1 ($75/month): Inbound/outbound voice-only contact center
Cloud CX2 Digital ($90/month): Digital-only contact center (social media messaging, email, web chat, SMS, etc.)
Cloud CX2 Digital+Voice ($110/month): Digital and voice omnichannel contact center
Cloud CX3 Digital+WFM ($130/month): Digital contact center+Workforce Management (UCaaS, Basic QM, Speech and text analytics)
Cloud CX3 Digital+Voice+WFM ($150/month): Digital+Voice contact Center+Workforce Management, leaderboards and gamification, forecasting, sentiment analysis
Best For
Genesys is best for mostly remote high-volume inbound/outbound call centers that need to automate outbound dialing and provide omnichannel customer self-service via voice and digital IVAs.
8. RingCentral
RingCentral Contact Center is an omnichannel customer experience platform combining Workforce Engagement, UCaaS, AI-powered automation and analytics, inbound/outbound calling, and over 30 digital channels into a single easy-to-use interface.
The Contact Center includes access to RingCentral MVP, one of the most popular UCaaS and business phone system platforms on the market today. Users enjoy video meetings, team chat messaging, voice calling, and 24/7 customer support. The biggest drawback to RingCentral Contact Center is that AI capabilities (Interaction Analytics, Feedback Management, and outbound auto dialers) and even CRM integrations are available only via paid add-ons. Much like the Nextiva Contact Center, this makes it difficult to justify upgrading from RingCentral MVP to the Contact Center unless your team only requires basic omnichannel features.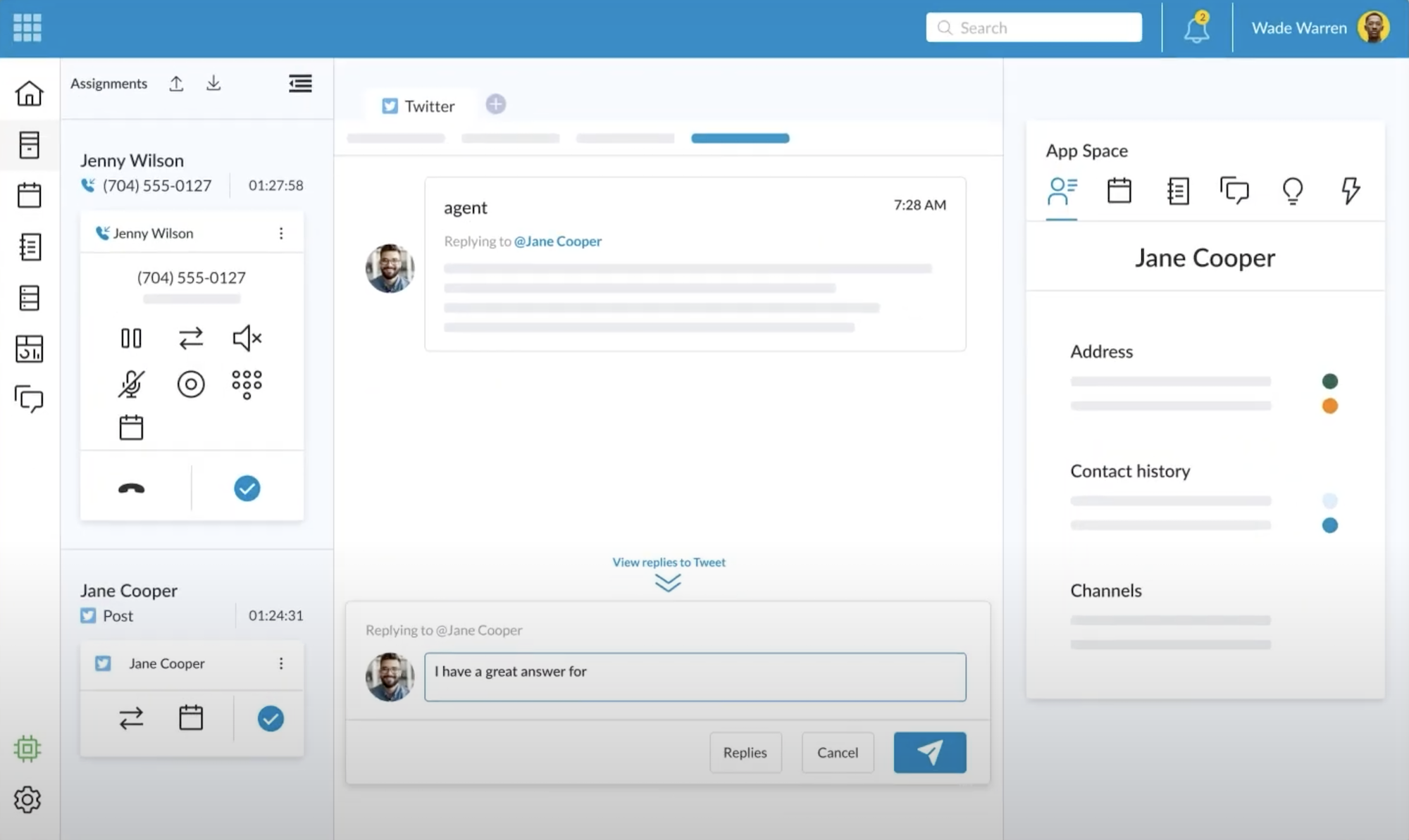 Additional RingCentral features include:
Workforce Engagement Management: Feedback and in-call coaching, interaction analytics, performance gamification, automatic scheduling, call and screen recording, customer feedback, performance reviews
Outbound Dialing Tool: Includes preview, manual, progressive, and predictive dialing with agent scripting, list management features, call blending, call disposition, and DNC list compliance
SmartAssist: Conversational AI tool for voice and chat channels with sentiment analysis, machine learning, 50 pre-built integrations, natural language understanding, escalate to live agent, context switching, and multi-threaded responses
RingCentral Pricing
RingCentral offers four quote-based Contact Center Plans, all of which include RingCentral MVP:
Essentials Plan: Voice-only contact center with basic analytics, basic voice recording,  300+ APIs/integrations
Standard Plan: Voice and 30+ digital channels plus advanced recording
Premium Plan: Voice+digital contact center plus Quality Management and screen recording
Ultimate Plan: All Premium features plus WFM and Performance Management
Outbound auto dialers, interaction analytics, feedback management, and CRM integrations require paid add-ons
Best For
RingCentral is best for omnichannel contact centers with geographically diverse, mostly remote teams prioritizing asynchronous communication, team collaboration, and conversational AI-powered customer self-service.
9. Zendesk
Zendesk is a customer service and sales CRM platform providing scalable omnichannel communication between customers and agents. It boosts collaboration between team members, offers knowledge base access, and optimizes omnichannel routing strategies.
Because Zendesk is first and foremost a ticketing, CRM, and knowledge management software–not exclusively a contact center software–its capabilities are more focused on creating and optimizing internal and customer knowledge bases, community forums, help centers, and ticketing assignment strategies alongside analyzing and engaging with website visitors.
Zendesk empowers omnichannel customer service and support that is primarily live-agent–based (though robust customer self-service and self-help tools are available.)
Therefore, teams focused on nearly exclusively automated self-service–or businesses that need a true CCaaS platform–likely won't opt for Zendesk.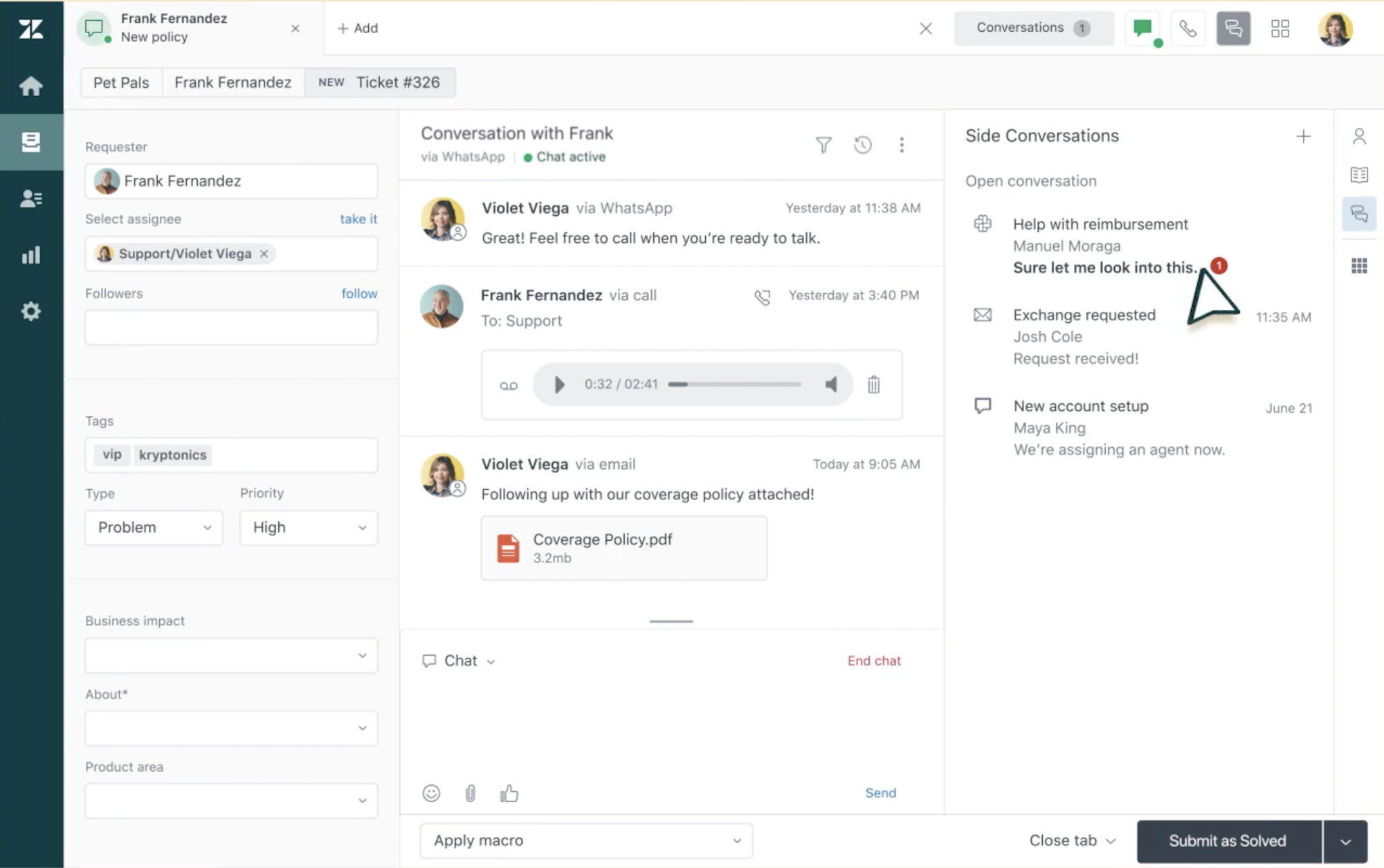 Additional Zendesk features include:
Agent Workspace: Lets agents manage interactions across up to 8 channels at once, access canned response templates and in-conversation automated Agent Suggestions, tag other agents, collaborate with team members, access customer history, etc.
Ticketing Systems: If-then automated triggers, omnichannel workflow routing, automated ticket macro responses, side conversations, file sharing, and ticket linking across third-party platforms
Omnichannel Support: Connect with customers across email, live chat, VoIP voice calling, SMS, automated chatbots, IVR and IVA bots, and social media
Zendesk Pricing
Zendesk offers 5 plans from $49.00-$99.00/agent/month, all of which include a 30-day free trial:
Suite Team ($49/agent/month): Voice and digital messaging and live chat support, ticketing system, 50 AI automated answers, prebuilt analytics, basic routing, 1000+APIs/integrations, help center
Suite Growth ($79/agent/month): Suite Team+multiple help centers, up to 100 automations, customer self-service portal, custom ticketing, SLA management, AI knowledge management
Suite Professional ($99/agent/month): Suite Growth+Sunshine Conversation Designer, private conversations, community forums, advanced voice capabilities, HIPAA compliance, live agent activity dashboard
Suite Enterprise ($150/agent/month): Suite Professional+AI-powered triage and conversion insights, data and dashboard sharing, customizable live agent monitoring and analytics, custom branding, custom agent workspaces, advanced knowledge management 
Custom Plans from $215/agent/month
Best For
Zendesk is best for contact centers that communicate with customers across a high number of different channels and therefore need to streamline the ticket resolution process in an omnichannel interface.
Zendesk users are looking for a help desk and ticketing support software, not necessarily a complete contact center solution. They're especially concerned with improving the customer experience based on customer feedback and actionable insights from high-powered analytics. eCommerce retailers that manage a high volume of daily order tracking and management requests will get the most from Zendesk.
10. Freshdesk
Freshdesk (formerly Freshcaller) is an AI-powered, service desk and omnichannel contact center tool designed for telephony-first customer interactions.
Though Freshdesk is best known for its Support Desk product, it also offers Freshdesk Contact Center with a scalable Omnichannel Suite upgrade to add voice and digital communications. This makes Freshdesk an extremely scalable solution, but means pricing and value are difficult to determine.
Without the Omnichannel upgrade, the Freshdesk Contact Center is really a call center platform–albeit a robust one.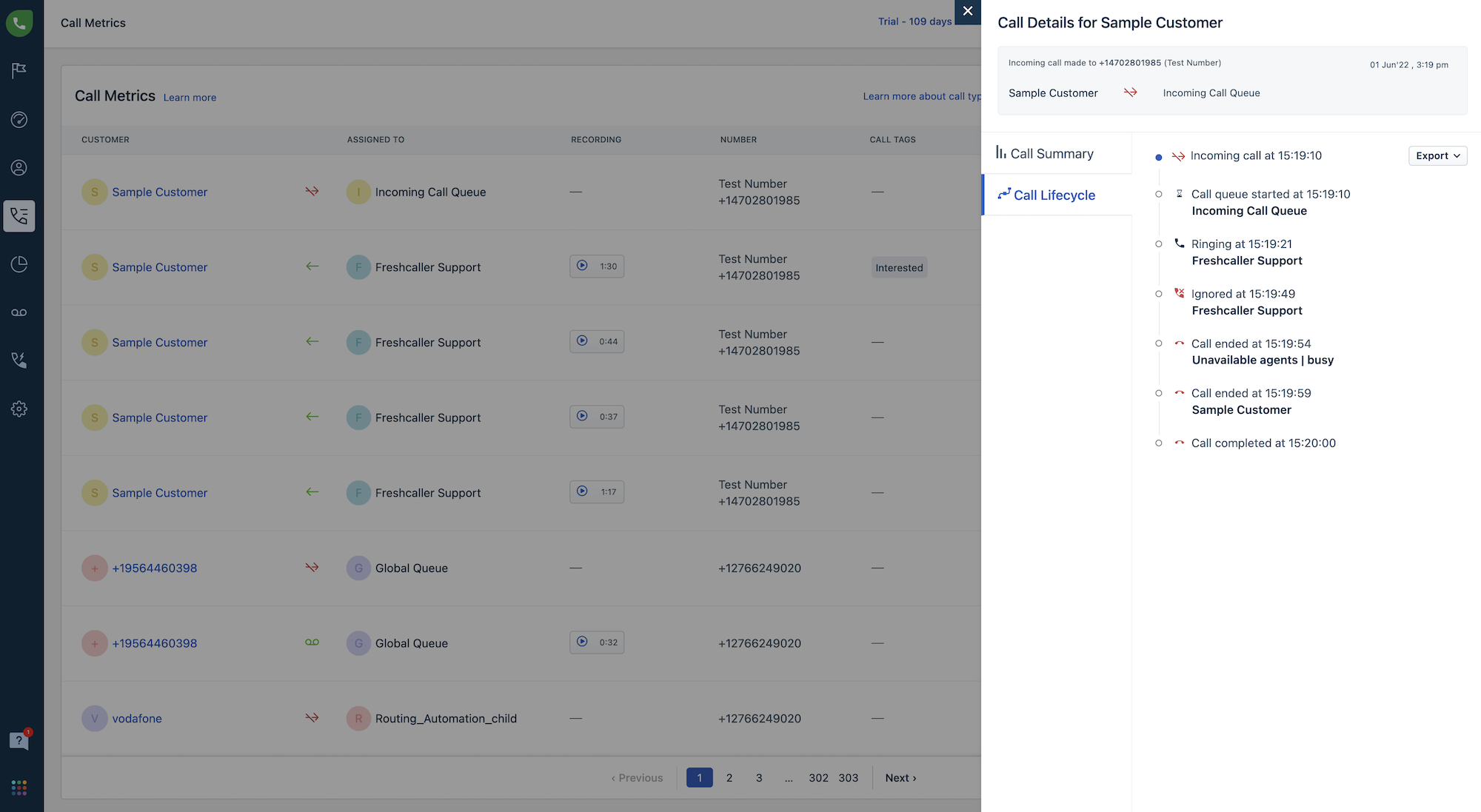 Additional Freshdesk features include:
Freddy AI: AI powered in-conversation agent assist, automatic ticket field suggestions (category, routing oath, priority levels.), article suggester, canned response suggester, thank you detector for ticket resolution confirmation, social media monitoring
Smart Escalations: Nested call flow routing paths and call queues, set and update fallback rules, offer automated callbacks, direct to IVR menus, send calls to voicemail or additional agents/ring group, etc.
Call Lifecycles: Provides a granular, step-by-step view of the overall customer journey by showing up to 50 related call events (call handle time, agent who managed the call, call duration/transfers, queue hold time, follow-up calls, etc.)
Freshdesk Pricing
Freshdesk Contact Center has two pricing plans: the Contact Center product (which is really a call center), and the Omnichannel Contact Center.
Note that the Support Desk features can be added on to the standard Contact Center plan.
All Omnichannel Suite plans also include access to all Freshdesk Support Desk, Freshchat, and Freshdesk Contact Center features, providing a 50% savings compared to the cost of purchasing these products separately.
The four Freshdesk Contact Center pricing options are: 
Free Plan (Not truly free): Unlimited agents with pay-per-minute calling billed annually or monthly, users can purchase toll-free, local, or vanity numbers, and access basic features like inbound/outbound calling, call blocking, inbound Caller ID, call notes, customizable greetings, standard call logs
Growth Plan ($15/agent/month plus pay-per-minute): Free plan plus 2,000 monthly inbound minutes, call masking, call hold with music, call forwarding, voicemail drop, click-to-call, parallel calling, basic call queues and wait queues, team and business hours routing, voicemail, call recording, expanded call reporting, third-party integrations
Pro Plan ($39/user/month plus pay-per-minute): Growth+BYOC capability, 3,000 free incoming minutes/month, call staffing and after-call work, power dialer, conference calling, callbacks, IVR and advanced routing, Smart Escalations, pause call recordings, call barge and call monitor, custom reporting
Enterprise Plan ($69/user/month plus pay-per-minute): Pro+5,000 monthly inbound minutes, voicebot and call transcriptions, speech-enabled IVR, SLA monitoring
The three Freshdesk Omnichannel add-on pricing options are:
Growth Plan ($29/agent/month plus pay-per-minute): Email, SMS, social media messaging, website chat, voice calling with 2000 Freddy AI chatbot sessions/month, knowledge base integration, customer community forums and FAQs, custom inbox views, omnichannel analytics, ticket and field status
Pro Plan ($59/agent/month plus pay-per-minute): Growth+custom analytics, Omniroute, multilingual customer support, 3000 Freddy chatbot sessions/month and 3000 Freddy local inbound voicebot sessions/month, omnichannel customer knowledge base and customer timeline, co-browsing, multiple ticket firms with parent-child ticketing, custom apps, CSAT reporting
Enterprise Plan: ($99/agent/month plus pay-per-minute): Pro+custom ticket objects, 5000 chatbot and voicebot sessions/month, auto-triage, skills-based ticket assignment, AI socials, article suggester, custom metrics and report sharing
Best For
Freshdesk is best for mostly inbound call centers with a complicated task and ticketing management process. Freshdesk users aren't especially concerned with analytics or SMS texting capabilities, but need to be able to prioritize specific tasks and automate ticket assignment.
Like Zendesk, Freshdesk is first and foremost known as a help desk and customer support tool–which means it isn't ideal for teams looking for a true contact center solution (especially as omnichannel capabilities require an expensive add-on.)
Freshdesk also offers Field Service Management features for service appointment scheduling, progress tracking, and dispatch management, making it ideal for service-based businesses like plumbers, contractors, surveyors, painters, etc.
11. Aircall
Aircall is a basic VoIP inbound/outbound call center solution designed to provide insight into call center activity, streamline business processes, and improve the customer experience.
Omnichannel communication is available via integrated third-party tools, but is not a native Aircall feature.
This makes Aircall an ideal solution for small or new call centers that don't want to replace existing third-party CRM, video calling, chat, UCaaS, or contact center solutions.
Aircall does offer a few team collaboration features like call tagging, shared contact lists, and business texting, but is primarily focused on call management and handling features. It's a great software for teams that want a basic, no-frills phone system that offers more features than bare-bones options like Grasshopper. They don't need AI analytics, advanced automations, or detailed provider customer support.
However, omnichannel contact centers or large-scale companies will not get the level of functionality–or user capacities–needed from Aircall.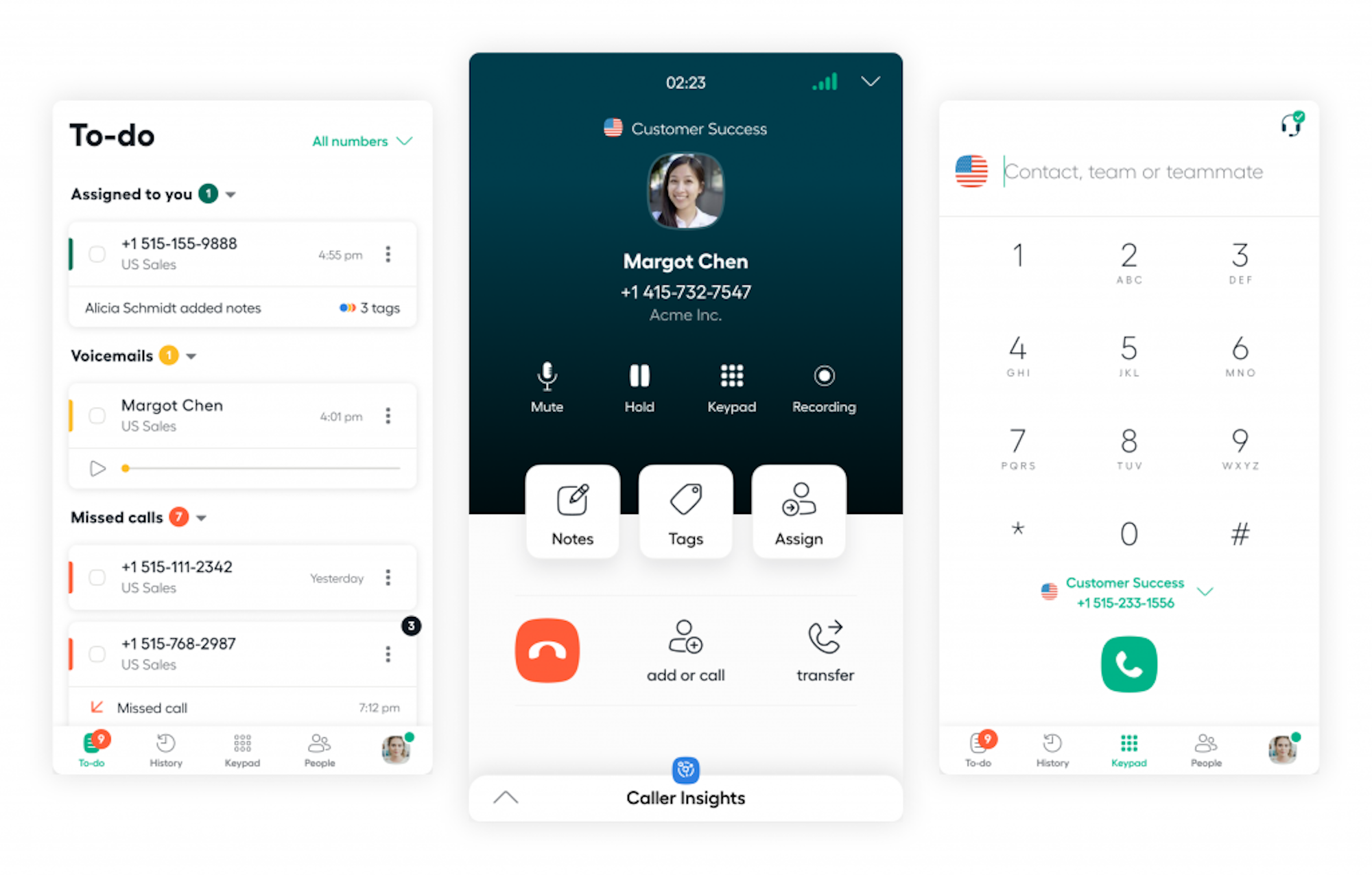 Additional Aircall features include:
Live Activity Feed: Real-time call center activity overview with interactive and visual data regarding KPIs like call queues, number of missed and active calls, average call wait time, average service level, current agent status, etc.
Power Dialer: Stores up to 1,000 numbers per list, integrates with CRM tools, includes after-call work time, Chrome Extension captures lead information from websites
Shared Call Inbox: Company-wide or team-wide voicemail box accessible to multiple agents  simultaneously, lets agents view and respond to follow-up calls, update outstanding tickets, share call notes, comment on calls, assign calls, and use call tagging feature
Aircall Pricing
Aircall offers three plans from $30/user/month:
Essentials Plan ($30/user/month): Unlimited calling in US/Canada, custom greetings, business hour settings, call queues, IVR, ring groups, call forwarding, call recording, after-call work, call assignment and commenting
Professional Plan ($50/user/month): Essentials plan+mandatory call tags, Salesforce integration, auto dialer, live activity feed, automated callbacks
Custom Plan:Quote-based, custom analytics+onboarding, SLA, SSO, unlimited worldwide calls
Best For
Aircall is best for in-house small teams of no more than 20 that don't need omnichannel communication features, preferring to focus almost exclusively on voice calling. Aircall users may have existing third-party tools they'd like to integrate into a business phone system, but value ease-of-use above all else.
12. CloudTalk
CloudTalk is a blended call center software for small or new sales and support teams that need to boost agent productivity and shorten the resolution process–without heavily relying on complicated, AI-powered features.
Note that CloudTalk is exclusively a voice calling platform (with SMS texting included in all plans except Starter), meaning additional communication channels are available only via third-party integrations or API.
While CloudTalk offers basic automation features, like Resolved Smart Call Detection and CTI screen pops, it's not for teams that need to completely automate customer interactions. Instead, it gives agents the tools they need to operate more efficiently and provide a more personalized customer experience.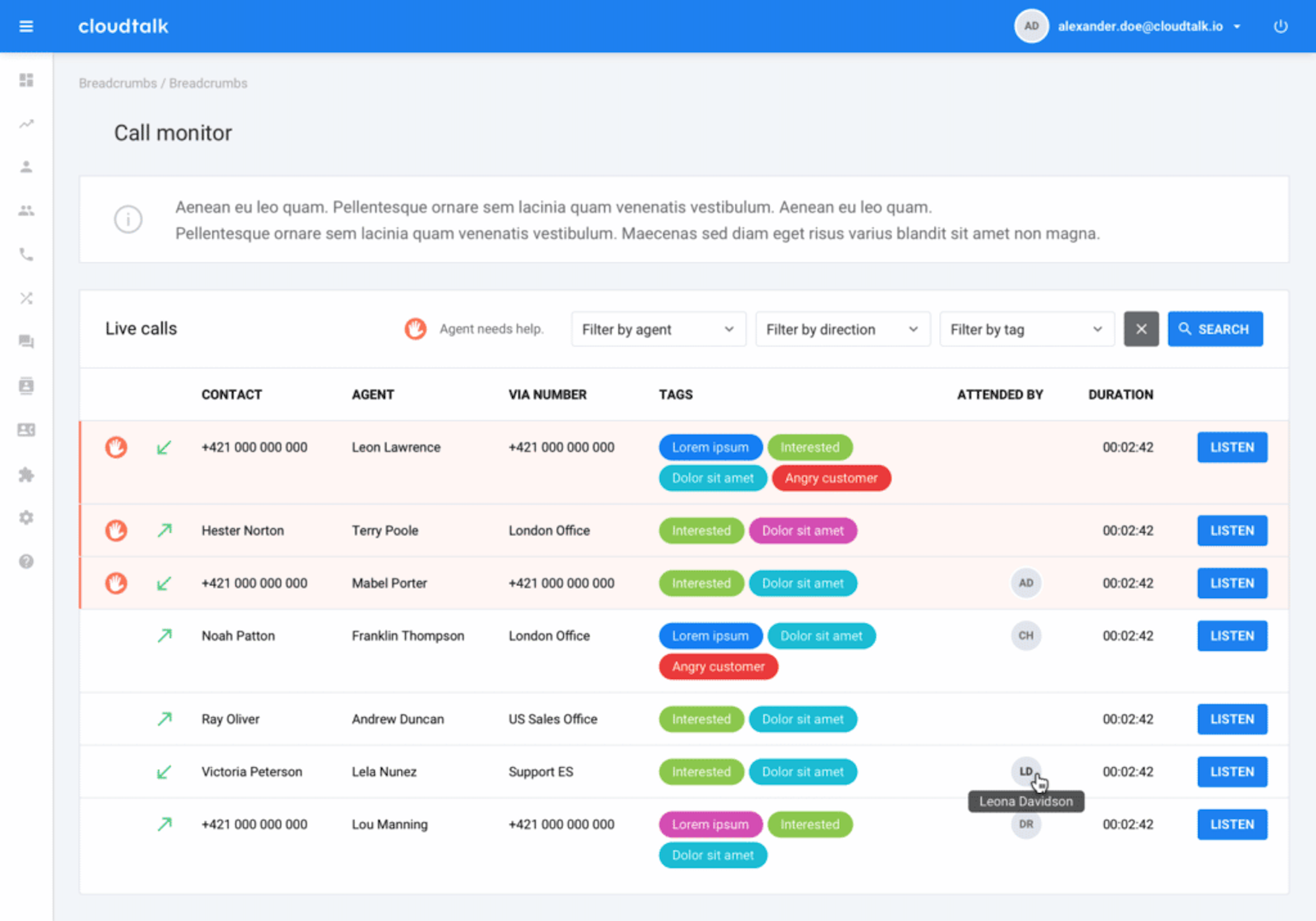 Additional CloudTalk features include:
Smart Dialer: Outbound power and predictive dialer and lead list generator that collects lead contact information from relevant websites, creates call lists, provides adjustable calling speeds, provides voicemail detection, etc.
Real-Time Customer Card: In-call customer information card including access to native or integrated call recordings, past orders, prior and current support tickets, omnichannel conversation history, agent comments/notes, etc.
VoIP Call Management: After-call work, call tagging, warm transfer, outbound campaigns, call queueing, personal and shared voicemail boxes, ring groups, call forwarding
CloudTalk Pricing
CloudTalk offers a 14-day free trial, three plans from $25.00-$50.00+/user/month, and a quote-based custom plan:
Starter Plan ($25/user/month): Unlimited users, unlimited callers in queue, free inbound calling (outbound calls pay-per-minute), call recording with 1 month of storage, voicemail, month storage recording, ACD, and international numbers in 160+ countries 
Essential Plan ($30/user/month: Starter+SMS (pay-per-message), business hour and skills-based routing, conference calls, advanced analytics with unlimited history, standard third-party integrations and open API, smart queuing, basic workflow automation  
Expert Plan ($50/user/month): Essential+Salesforce/CRM integration, power and smart outbound dialer, wallboardings, text-to-speech, SSO, unlimited concurrent calling, call monitoring with call barge
Custom Plan: Expert+custom onboarding, unlimited outbound calling, custom reporting, SLA guarantee, developer support
Best For
CloudTalk is best for smaller or newer businesses that aren't looking for omnichannel contact center features, but are instead focused on optimizing inbound and outbound voice calling for customer service and sales. It is ideal for both in-house and remote teams that need to speed up basic business processes like After-Call Work and call routing, but handle nearly all customer interactions via live agent phone calls.
13. JustCall
JustCall is a cloud phone system for inbound/outbound call centers–especially remote teams—known for its SMS marketing features, high-level integrations, and auto dialers.
While JustCall has solid inbound calling features like call queues, skills-based routing, and call recording, it really shines as an outbound marketing platform.
Users can automate sales follow-ups, send appointment or purchase reminders, initiate drip campaigns, and build website chatbots to qualify leads or manage basic support requests.
JustCall's outbound Sales Dialer creates campaigns from uploaded lead lists, includes a voicemail drop feature, and lets users choose from predictive dialing, a standard auto dialer, or dynamic dialing that's managed by a team of agents to speed up list penetration.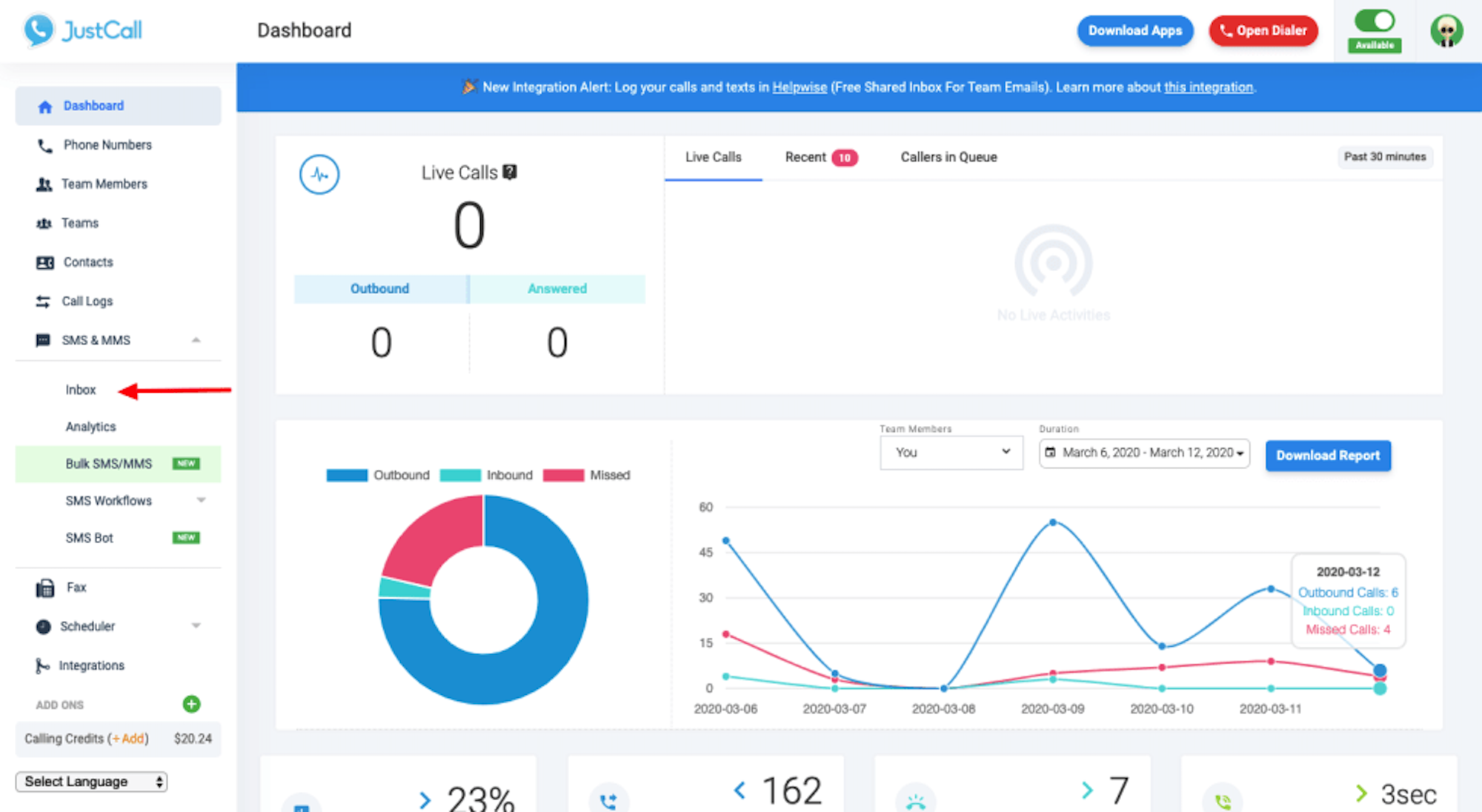 Additional JustCall features include:
Integrations: Over 100 pre-built integrations with key platforms like Slack, Zapier, HubSpot, Pipedrive, Zoho, Salesforce, and more
Conversation Intelligence: Provides real-time agent assist, call scoring, objection handling, sentiment analysis, call transcription, call recording, script compliance, and real-time guidance/coaching
SMS Automations: Segmented/scheduled SMS campaigns, group, and 1:1 texting for personalized offers, automated replies, information gathering, follow-up messages, and more. Integrates with CRM systems, offers SMS routing, and has local/international SMS
JustCall Pricing
JustCall offers two paid plans: the Standard Plan for $24.00/user/month, and the Premium Plan for $48.00/user/month. Users can also create a quote-based, entirely customized plan.
Differences between JustCall plans are: 
Standard Plan ($24/user/month, 2-user minimum): Unlimited inbound minutes, click-to-dial, call tracking and recording, call forwarding, IVR, business hours routing, SMS/MMS Inbox, ring groups, automated callbacks, voicemail drop,100+integrations, appointment scheduler, call notes and ratings, basic analytics, cold and warm call transfer
Premium Plan ($48/user/month, 2-user minimum): Standard+live call monitoring, outbound sales/predictive dialer, SMS bots/automation and bulk SMS, call monitoring/barge/whisper, post-call surveys, multi-level IVR, Salesforce and advanced integrations, custom workflows, priority support with a dedicated account manager.
Custom Plan (Quote-based, 10-user minimum): Premium+unlimited outbound calls, agent coaching/scoring, Agent Assist, Call Sentiment Analytics, SSO, 99.99% uptime, personalized onboarding, dedicated account manager and tech support, custom analytics and reporting
Standard and Premium users can purchase add-on features for capabilities like AI-powered Agent Coaching, Group SMS Texting, and Call/Voicemail Transcription.
Best For
JustCall is best for inbound/outbound remote call centers prioritizing SMS bulk marketing, better lead list penetration, and robust third-party integrations that all work together to speed up the sales cycle and increase revenue.
This makes JustCall a popular option for digital marketing, telemarketing, healthcare, financial services, and other businesses in a growth phase.
JustCall users either don't need digital channels like live chat or social media messaging, or have preferred third-party tools they'd like to integrate into their calling platform.
14. 8×8
8×8 XCaaS is a highly customizable CCaaS and UCaaS cloud platform focused on scalability, value, and ease of use for remote teams.
Available communication channels vary by plan (or can be added individually via API) and include inbound/outbound calling, email, chat, SMS, social media messaging, messaging applications, and video conferencing with agent-customer co-browsing.
8×8 also offers superior customer support, with 24/7/365 global support available in 10 languages via email, chat, and phone. 99.999% uptime is an SLA guarantee.
As a UCaaS provider, expect superior team communication and collaboration tools from 8×8, especially via its Team Chat tool. Here, users can share and co-edit files, switch to a video call, and update user presence within a Universal Messaging platform (meaning users can still chat in real-time regardless of their preferred chat app.)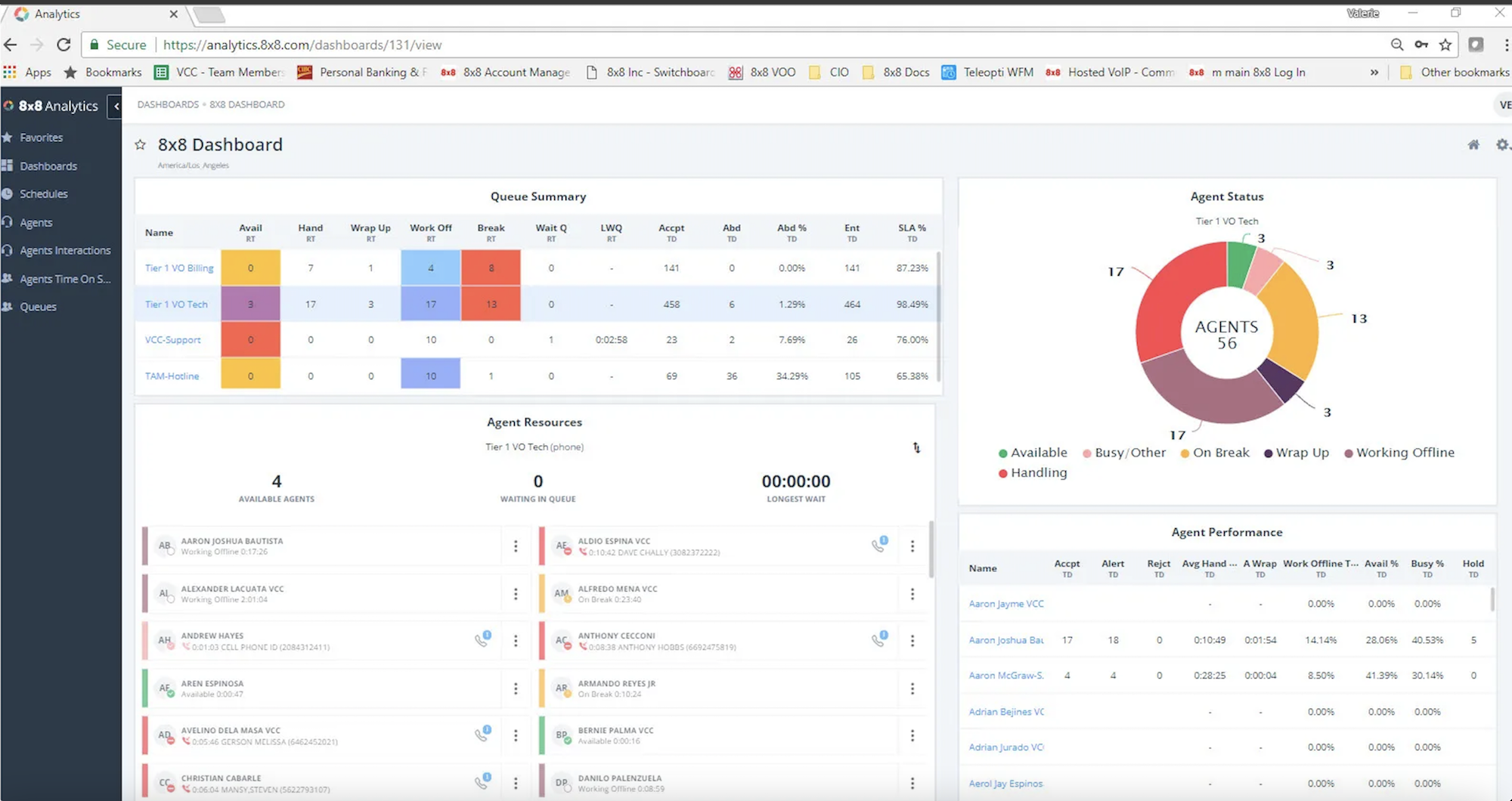 Additional 8×8 features include:
Advanced Call Routing Strategies: Skills-based, most idle, simultaneous ringing , time-based, schedule-based, list-based, relationship-based, and intelligent routing
Quality and Workforce Management Tools: Advanced agent evaluation, agent onboarding and ongoing training, customer surveys, agent scorecards, time spent per task, filter agent interactions, agent skill progression
Conversational IQ: Speech Analytics tool that transcribes all agent-customer interactions, allowing managers to search by keyword/phrase, topic, and more
8×8 Pricing
Contact Center capabilities begin at the 8×8 X6 plan, which means the standard Business Communications (X2 and X4) plans are included in all Contact Center bundles.
8×8 offers three complete contact center plans as a part of its xCaaS series, ranging in price from $85-$140/user/month: 
X6 Plan ($85/user/month): Voice Calling only, 8×8 Agent Workspace, skills-based call routing, CRM integrations, unlimited call recording and media storage, call monitor/barge/whisper, basic call and supervisor analytics, call queues and automated callbacks, post-call survey, 8×8 UCaaS Work app with universal messaging, 24/7 support
X7 Plan ($110/user/month): X6+Digital omnichannel communication (Voice, Chat, Email, Social Media, Messaging Apps, SMS), co-browsing, advanced video meeting host controls, higher security and compliance standards
X8 Plan ($140/user/month):  X7+Preview, Progressive, Predictive auto dialer, Quality Management, Speech Analytics (all available as add-on features for lower-tier plans)
Available add-ons include:
Outbound auto dialer (preview, progressive, predictive)
Quality management
Speech Analytics
8×8 Secure Pay
IIVR
8×8 for Microsoft Teams integration
Best For
8×8 is best for mostly remote inbound, customer service-focused call centers that usually handle customer interactions via a live, 1:1 phone call as opposed to complete automation.
These teams need advanced inbound call flow management features alongside high-level team collaboration tools for near-constant team communication.
15. ChaseData
ChaseData is a call center platform offering more basic inbound and outbound voice calling, SMS, and email features designed to fit a variety of industry needs. Like JustCall, ChaseData is primarily an outbound dialing and sales/marketing platform, with standard inbound call center features. All plans include preview, progressive, and injection dialing alongside a visual drag-and-drop script builder.
However, integrations are somewhat limited, as Salesforce, Zoho, Oracle, and other Native API and CRM integrations are only available with a custom plan. Additionally, voicemail drop, agentless dialing, and skills-based routing require the custom plan, which makes estimating ChaseData's overall value difficult.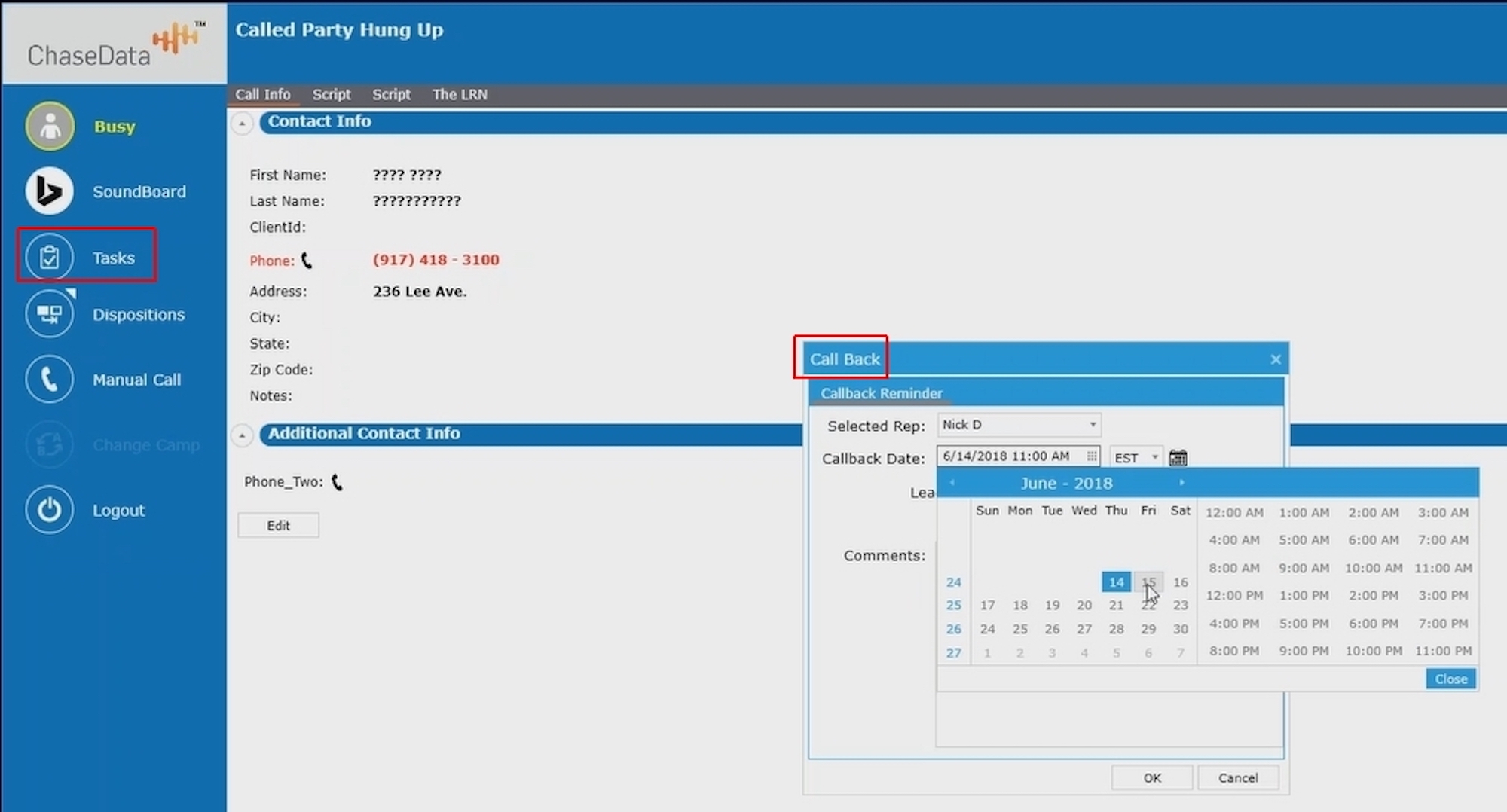 Additional ChaseData features include:
Outbound Dialer: ChaseData offers numerous auto dialing modes, including Predictive, Power, Progressive, Preview, Agentless, Injection, and Agent Availability-based dialing alongside DNC list compliance
Inbound Call Management: ACD, IVR, Skills-based and source-based routing, call transfer, call handling
Training Mode: Designed to help train new agents and managers with screen sharing, monitoring, in-call coaching, call recording and playback, and more
ChaseData Pricing
ChaseData offers a free trial and three paid plans from $89-$169/agent/month:
Free Trial: 1,000 minutes/agent, auto attendant, IVR, hold music, call monitoring and coaching, predictive, preview, and progressive dialing modes, call recording, Zapier integration, toll-free and nationwide DIDs
Small Business Plan ($89/agent/month): Free Trial+3,000 minutes/agent/month, preview and injection dialing, basic reporting, personal voicemails, visual script builder, mobile data portal
Professional Plan ($139/agent/month): Small Business+5,000 minutes/agent/month Enhanced Caller ID, advanced Predictive Dialer strategies, Power Dialing, Progressive Dialing, spam detection, agent screen monitoring, trainee mode for new agents
Enterprise Plan ($169/agent/month): Professional+7,000 minutes/agent/month, blended/inbound/outbound calling with agent skill prioritization, skills-based inbound routing, DNC list integration, Salesforce and native API integration, agentless dialing, voicemail drop
Best For
ChaseData is best for outbound call centers with 100+agents that need to automate outbound calling, efficiently train agents, and access more standard inbound call features without the AI-powered bells and whistles.
ChaseData users primarily communicate via phone, but may reach out to customers via email and SMS. Users are focused on efficient lead management, list penetration, TCPA compliance, and list penetration, and tools like performance gamification that incentivize agents to make more outbound calls.
16. Convoso
Convoso is an automated outbound dialer tool with preview, predictive, progressive, and power dialing modes alongside outbound SMS and email marketing.
While not a contact center platform, it is an ideal tool for campaign management, lead list penetration, and mass SMS or email-based marketing strategies. Skills-based routing and dynamic scripting increase the chances of closing a sale, while IVAs with machine learning and advanced speech recognition automate lead qualification. Convoso is especially popular within the telemarketing, financial, and eCommerce industries, but is also often used for political campaigns and nonprofit fundraisers.
Additional Convoso features include: 
Click-to-Comply Dialer: TCPA compliance feature requiring agents to manually initiate all calls with one click
Speed To Lead: Helps beat out competitors when dialing shared/public lead lists by automatically prioritizing quality leads to the front of queue, and by setting rules-based calling triggers (when lead opens email, completes online form, etc.)
Automated Email Marketing: Trigger-based outbound mass/drip email campaigns, email templates, custom dynamic fields, personalization, custom monetary data calculations
Convoso Pricing
Convoso pricing is entirely quote-based and requires interested businesses to contact them directly to set up a demo and develop customized plans and pricing.
Best For
Convoso is best for outbound contact centers with 20+ agents that need to automate as much of the lead list penetration process as possible to avoid hiring new agents, increase conversions, and to filter quality leads. They don't need an omnichannel contact center, and make more outbound calls per day than the number of daily inbound calls they handle.
Convoso users may also rely on outbound automated email or SMS marketing campaigns to improve lead generation.
17. Vonage
Vonage Contact Center (VCC) is a cloud solution known for its advanced integrations, AI-powered virtual assistants, and Agent UX suite.
The biggest issue is that online chat messaging is not natively available without the purchase of the Web and Mobile Chat add-on. The digital channels required for true omnichannel communication are only available for Salesforce Omni-Channel users who choose to integrate their existing software into the Vonage interface.
Vonage does offer several communication APIs for video, social media messaging, SMS, and email for customers that want a more scalable, customized contact center.
However, without the Web and Mobile Chat add-on, it's difficult to classify Vonage Contact Center as truly "omnichannel" instead of a call center software.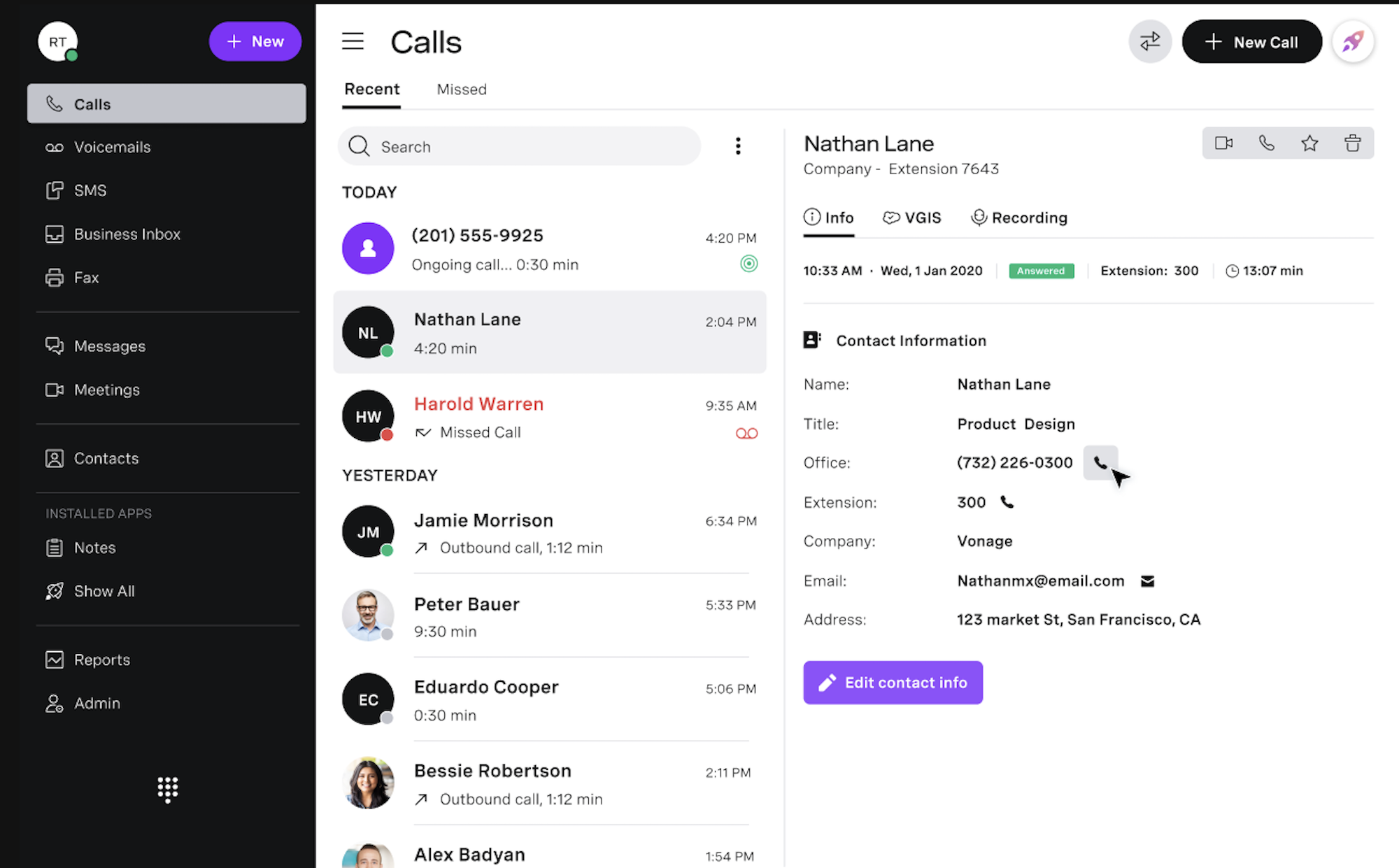 Additional Vonage Contact Center features include:
Conversation Analyzer: Standalone or CRM integrated AI speech analytics tool for inbound/outbound calling showing key KPIs, agent and customer talk time comparisons, complete call recordings and transcripts, automated categorizations for agent effectiveness, communication skills, compliance, and politeness, etc.
Dynamic Routing: Automated routing tool that integrates with your CRM data to create optimized IVR relationship-based, skills-based, priority-based, and other  routing strategies
Agent UX Suite: Omnichannel agent interface with CRM screen pops, click-to-call, case assignment/update notifications, voicemail drop, whisper coaching, agent status updates, etc.
Vonage Contact Center Pricing
Vonage Contact Center offers two quote-based bundled plans as well as several add-on options like CRM integrations, APIs, gamification, and workforce management tools.
Vonage Contact Center Pricing options are: 
Priority Plan: Inbound/outbound voice calling with call queue announcements, screen pop, call recording, IVR, skills-based routing, priority call handling, SSO, basic analytics
Premium Plans: Dynamic call routed with queued callbacks, whisper coaching, post-call surveys, multilingual announcements, APIs for user authentication/reporting/agent availability
Available Add-ons: Speech Analytics, Virtual Assistant, Workforce Management, Post-Call Surveys, Gamification, Visual Engagement, Screen Recording, Integrated UC/CC Experience, Website and Mobile Chat, CRM Integrations, Vonage APIs
Best For
Vonage Contact Center is best for medium-sized teams that need to connect with customers primarily via voice calling–but would like the option to add-on communication channels via individual APIs or upgrade via add-ons at a later date.
Businesses with existing CRM tools that require high-level call center software integrations to leverage data and optimize call flow paths are additional ideal Vonage Contact Center customers.
18. GoTo Contact Center
GoTo Contact, available only as an add-on to GoTo Connect, is an omnichannel cloud contact center solution and UCaaS platform for inbound/outbound voice, SMS, video calling, chat messaging, and social media.
As of this writing, GoTo Contact Center is not available as a standalone product. In addition to the Contact Center add-on, GoTo users can also purchase the Customer Engagement add-on, ideal for mass outbound voice and message-based campaigns.
GoTo Contact Center doesn't offer the advanced AI-powered Workforce Engagement and Workforce Management tools that other competitors on this list do, as it's designed for small and medium-sized contact centers only.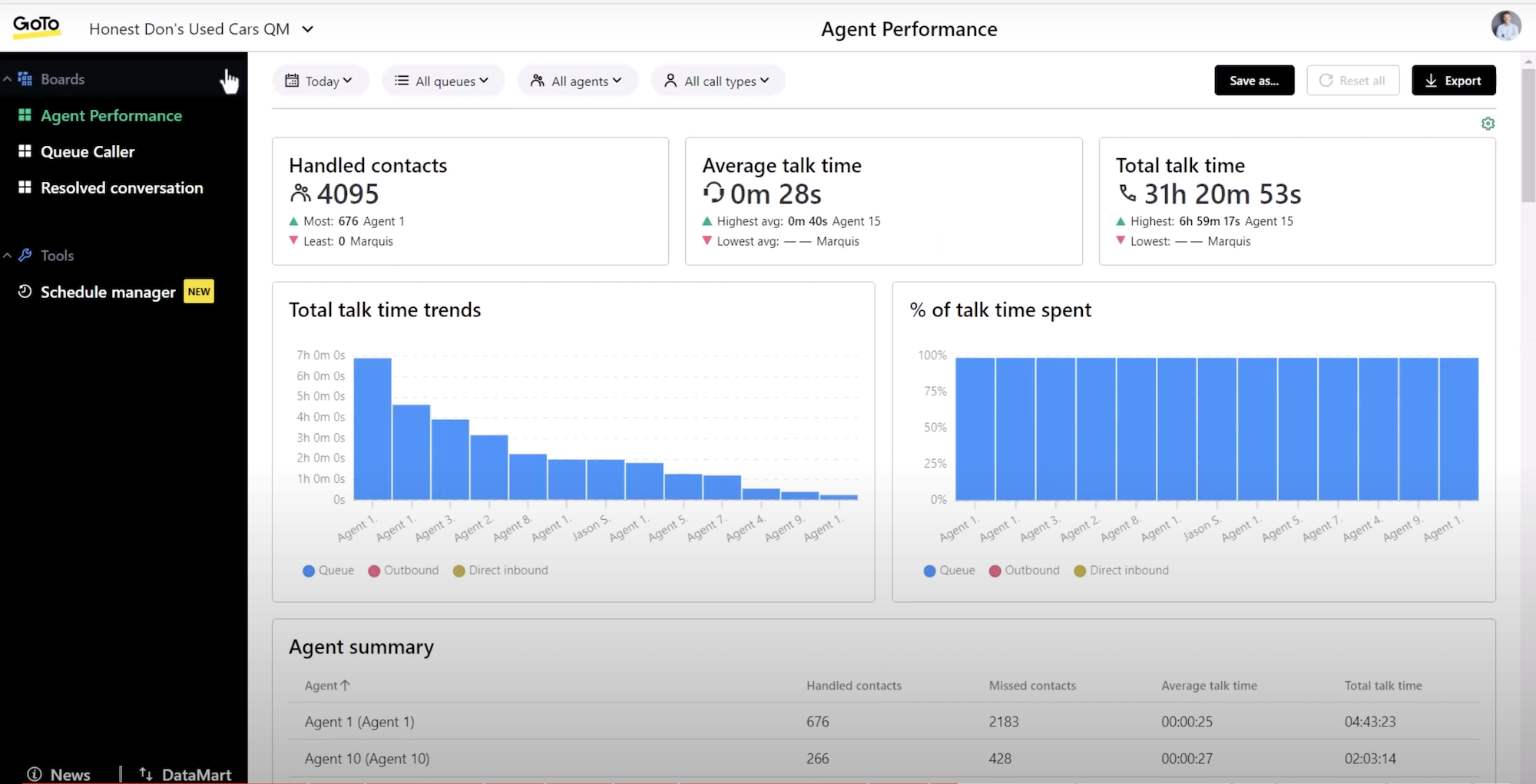 Additional GoTo Contact Center features include:
ICR (intelligent Call Routing): Configure automated skills-based routing strategies for inbound/outbound call and chat queues, then assign agent groups to specific call queues, dial plans, campaigns, etc,
Contact Center Analytics: Real-time and historical custom and searchable analytics include performance wallboards, agent activity and performance monitoring, call queue activity, and historical resolved conversations
Campaigns: Basic or intelligent call routing-powered outbound voice call campaigns with custom specifications for caller ID, agent timeout and after-call work time, recording rules, assigned agents and supervisors, language, a view of logged-in agents, etc.
GoTo Contact Pricing
GoTo Contact is available only as an add-on to GoTo Connect, and we were told that pricing for GoTo Contact requires a meeting with a specialist to determine specific business needs.
The Contact Center add-on is available for GoTo Connect Basic ($24/user/month) and Standard ($29/user/month) plans, which are both unified communications solutions only.
Best For 
GoTo Contact Center is best for SMBs that need more basic contact center capabilities, and that are scaling up from GoTo Connect's standard call center software. GoTo Contact users don't need heavy automation of WFO capabilities, but still need access to multiple communication channels.
These users are looking for SaaS providers that offer all the tools needed to optimize business processes, campaign management, and customer engagement as different products for added flexibility and scalability. GoTo users likely don't want to use many third-party integrations, preferring a platform offering native capabilities across channels and business stages.
What to Look for in Call Center Software
In addition to the above features, the best call center software will also offer strong security, Service Level Agreements, guaranteed uptimes, and excellent overall network reliability.
Security 
Though no provider can guarantee to prevent all security breaches and data hacks, the right security standards can make them far less likely to happen.
Call center software security standards should include:
Two-factor authentication (2FA)
End-to-end encryption
GDPR, PCI, and HIPAA compliance
SRTP, TLS, and AES encryption
Frequent third-party security audits
Third-party security certifications like ISO-27001 and SOC2 compliance
Service Level Agreement (SLA)
A Service Level Agreement (SLA) is a contract between the service provider and customer that protects both parties by clearly outlining the expected service and guarantees.
Common information included in the SLA is:
Guaranteed uptime
The features/functionalities the software must provide to the customer
Penalties if guarantees in the SLA are not met
Security and compliance details
Billing details, contract length, and other costs
Any exclusions that exempt the provider from penalties
A Guaranteed Uptime of Over 99.9%
Uptime is the amount of time that the call center software is functional and able to provide the services outlined in the SLA. It's an indication of how much downtime you could experience per year without the provider incurring a penalty.
If a provider doesn't offer a minimum guaranteed uptime of over 99%, walk away immediately.
Let's take a look at how much downtime you will get with each uptime guarantee:
99% uptime guarantee gives you 3 days, 15 hours, 39 minutes, and 29 seconds of downtime a year
99.9% uptime guarantee gives you 8 hours, 45 minutes, and 56 seconds of downtime a year
99.99% uptime guarantee gives you 52 minutes and 35 seconds of downtime a year
99.999% uptime guarantee gives you 5 minutes and 15 seconds of downtime a year
Network Reliability 
High network reliability directly contributes to guaranteed uptime and outlines how the provider ensures their system remains up and running over 99% of the time.
The biggest thing to look for here is network redundancy, meaning that the provider has data centers in multiple geographic locations. This ensures that even if one server goes offline, others can still keep the service functional.
Call Center Software FAQs
Call centers use inbound, outbound, or blended call center software to better manage call volume and agent efficiency, provide self-service to callers, and improve the overall customer experience. 
Some call centers may also use contact center software, a streamlined and synced omnichannel business communications platform offering multiple channels like voice calling, SMS texting, live chat, social media messaging, email, and more. 
Call centers will also often use CRM software to store and locate key customer information.
The best call center software for your business will depend on factors like your industry, your current and future number of agents, your proposed call center type, the features you do (and don't) need, and of course, your budget. 
We suggest using this page to get a basic sense of which providers may be a good fit, then relying on our in-depth provider comparisons to help you narrow down then finalize your choice.
CRM (Customer Relationship Management) in a call center is a tool providing agents with important, up-to-date, and relevant customer information in real-time. Among other things, CRM systems store data like order history, contact information, account details, and notes on previous customer interactions. CRM improves the overall customer experience by giving agents immediate access to the information they need to best assist the customer, speeding up the overall resolution process and providing more personalized service. 
Your preferred third-party CRM software can be integrated with your call center software, or you can opt to use native CRM features.
To start your own call center, first determine if you'd like to open an entirely remote virtual call center or a brick-and-mortar, physical location. 
Then, choose if you'd like an inbound (receives customer support calls, takes orders) outbound (makes outgoing sales calls, sets up appointments) or blended (can make/receive all types of calls) call center. 
Next, choose your proposed industry, keeping in mind that healthcare, financial services, customer/tech support, and business process outsourcing are especially popular call center operations. 
Choose the number, location, and types of agents you'd like to hire, set attainable goals, determine hours, etc. Before you have an idea of these basics, you should not attempt to purchase call center software or a business phone system in general. 
Once you've chosen your software and implemented a training program for your team members, you're ready to open. 
Use our QuoteMatch to get started with call center software.
Bottom line quotes from top-winning providers.
"GetVoIP's comparison guides made it easy to summarize services and make an informed and cost-effective decision."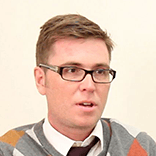 Richard J.
Founder & CEO, Fanology Social