To meet the needs of today's workforce, business phone systems must be accessible from anywhere, offer real-time data syncing across devices, and provide in-call access to key customer information.
Softphone functionality caters to remote, on-the-go teams through business process automation, in-app access to advanced VoIP calling features, and high-level flexibility.
Read on to discover what a softphone is, how it works, business benefits, and which SaaS providers offer top softphone solutions.
Compare
top softphone systems
What is a Softphone?
A softphone is a VoIP application giving users instant access to their complete business phone system from any Internet-enabled device and location via a virtual telephone interface.
Softphones are compatible with a variety of operating systems (MacOS, Windows, Android, iOS), are available as downloadable desktop or mobile apps, and can be accessed directly in a web browser (Chrome, Firefox, etc.)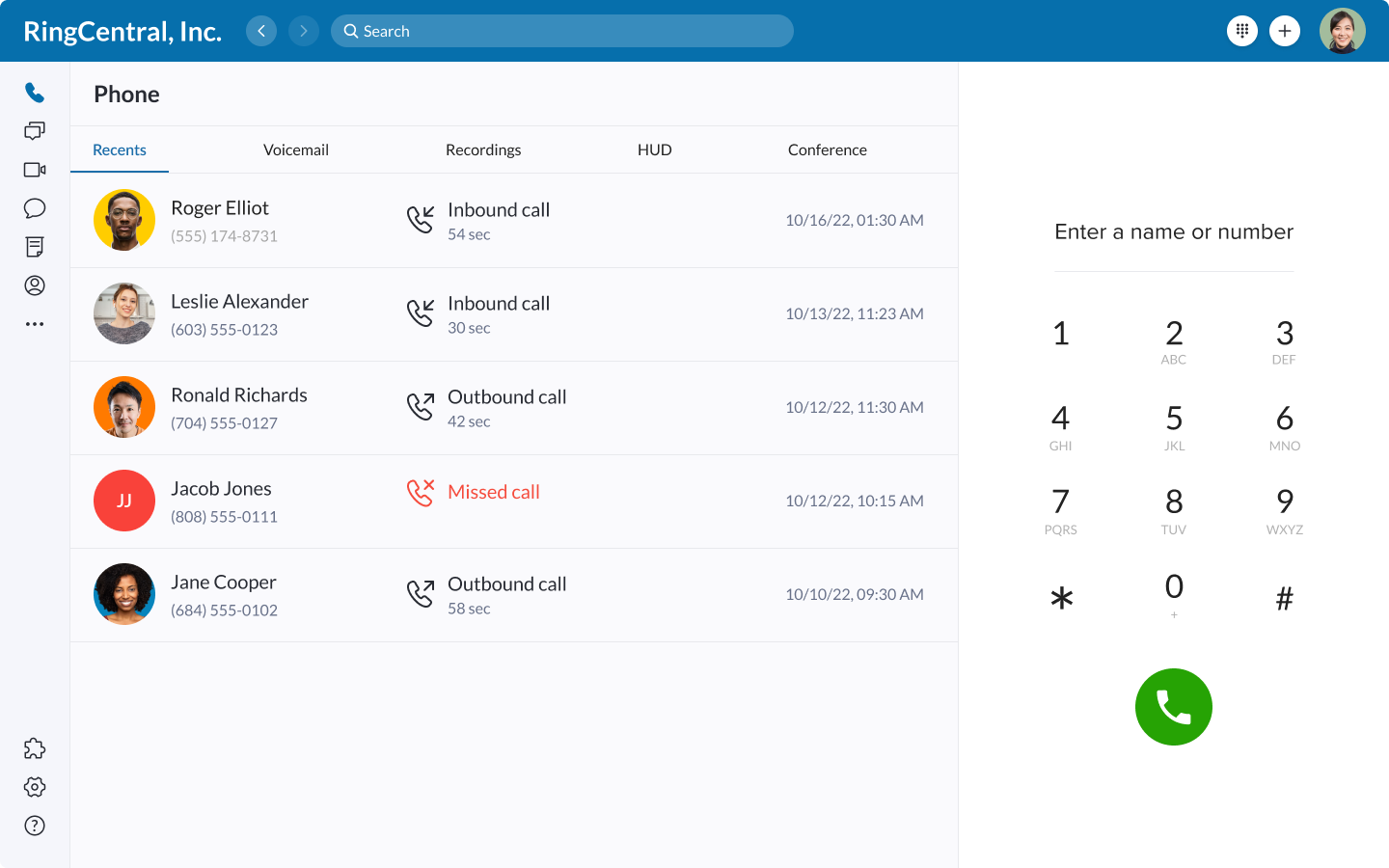 Because VoIP calls take place over the Internet and not the traditional wired PSTN network, softphones expand when, where, and how businesses communicate–enabling phone system access across smartphones, desktop computers, laptops, and tablets as opposed to limiting phone calls to traditional phones.
Since softphones work with existing desktop and mobile devices, businesses can avoid buying additional hardware and equipment.
While the softphone interface looks like a standard telephone dial pad, it connects to your VoIP phone system to offer far more advanced features and functionalities than hard phones ever could.
Advanced features like Interactive Voice Response (IVR), call routing, SMS text messaging, and more are all accessible within one unified interface, eliminating app switching.
Softphones also integrate with popular third-party business tools, meaning users can also access their  CRM software, video calling platforms, team collaboration tools, and more within one dashboard.
How Does a Softphone System Work?
Softphones work by using Voice over Internet Protocol (VoIP) technology to send/receive calls via an Internet connection.
A Session Initiation Protocol (SIP) server initiates real-time Voice over IP sessions, converting analog voice signals into digital signals via the Internet connection. This eliminates the need for on-premises PBX, paving the way for cloud-based PBX.

Softphones are cloud-based and don't require a physical on-site connection–meaning users are not restricted to a single location when accessing their business phone system. Instead of an on-site server, softphone users only need a wireless or high-speed broadband Internet connection, a router or modem, an Ethernet cable, and their preferred device.
Some users may purchase additional VoIP equipment like microphones, webcams, compatible desk phones, a backup power supply, and headsets, but doing so is optional.
Note that softphones can connect to another device only when both the caller and receiver have a minimum of one codec in common and the same Voice over IP Protocols
Top Softphone Features
When evaluating potential business communications providers, there are several key VoIP features to look for to improve remote communications.
The top softphone features include:
User Presence
The user presence feature enables real-time, team-wide user status updates to improve collaboration and speed up task resolution.
Popular statuses include, "Online," "Away," "Do Not Disturb," "On A Call," "Available," "In A Meeting," etc.
Call Hold and Call Waiting
Call waiting alerts agents currently on a phone call when there is another inbound caller on the line, ensuring agents don't miss priority calls.
Agents can transfer the current caller to another available representative before accepting the new call.
Features like automated customer callbacks, call queueing, and warm transfers prevent long hold times.
Instant Chat Messaging
Instant messaging allows for real-time communication and collaboration between team members, eliminating time-consuming email threads and limiting miscommunications.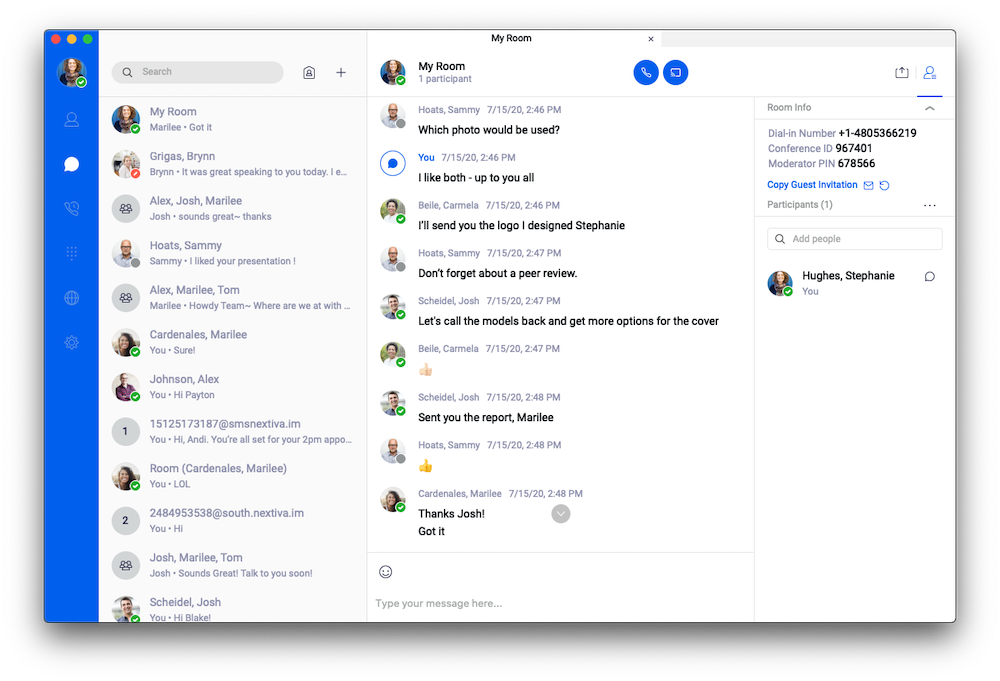 Key team chat messaging features include:
Public and private chat channels
One-click voice or video calling
User tagging/mentions
User presence updates
Third-party integrations/unified inbox with other team collaboration/chat apps (Slack, Asana, etc.)
File sharing and editing
Searchable message history
Pin messages
Real-time message push notifications across devices
Emoji reactions
Audio Conferencing and Call Bridge
Audio-only conferencing gives softphone users access to conference call services without the confusion of syncing numerous desk phones.
Usually, anywhere from 10-50 desktop, mobile, or VoIP phone users can attend via shared link, dial-in access, or the "Call Me" feature to receive an inbound call that connects them to the conference.
An instant call bridge is another way for multiple participants to join a conference call from anywhere, as it's a phone line that links participants together.
Video Calling and Screen Sharing
Video conferencing may not always be a native softphone feature, but third-party integrations with popular video calling tools like Zoom or Microsoft Teams are common.
Whether the provider offers native or integrated video calling, key features include:
Ad hoc (on-demand) or scheduled meetings
Recurring meetings
In-meeting chat
Whiteboarding
Breakout rooms
File sharing/co-editing
Meeting recording
Meeting co-hosts
Screen sharing and remote screen control
Multiple views (Active Speaker, Gallery, etc.)
Host controls like meeting waiting rooms, mute, remote participant, etc.
Virtual backgrounds
Call Recording and Transcription
Admins can automatically or manually (on-demand) record voice or video calls and share them with other team members if desired.
Searchable and editable recording transcriptions provide insight into customer service needs, support quality, agent performance, and more.
Study up on the call recording laws in your state to avoid legal issues.
Remote Call Forwarding
Call forwarding automatically forwards unanswered calls to additional phone numbers in a predetermined order without ending the initial call.
For example, calls can be forwarded from an agent's desk phone to their personal cell phone, from their cell phone to their home phone number, then to their voicemail box or a department queue.
Forwarding calls increases the caller's chance of connecting to a live agent and boosts first call resolution rates.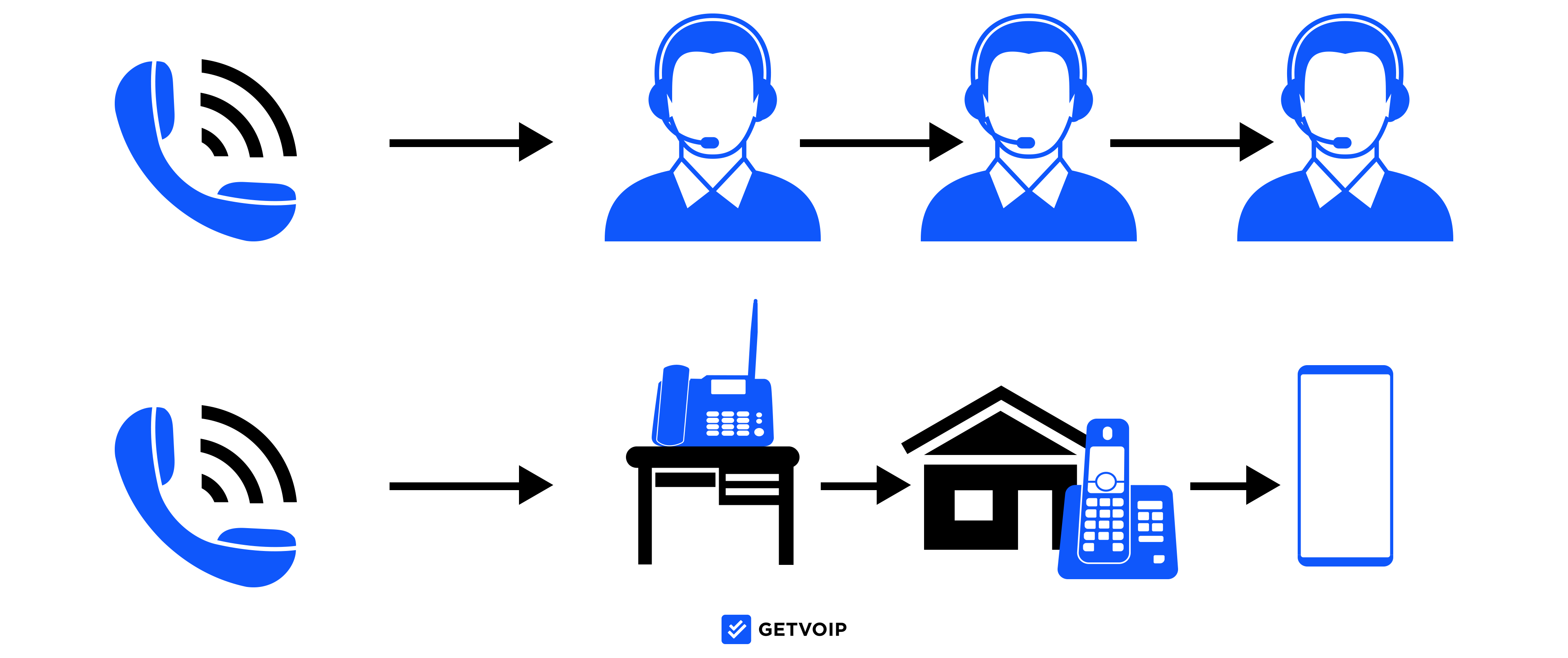 Visual Voicemail
Visual Voicemail transcribes voicemail messages into text, eliminating the need for agents to manually listen to voicemail messages.
In addition to being stored in the agent interface, visual voicemails can be sent to an agent's email (voicemail-to-email).
This feature allows agents to prioritize callbacks, save time, and better prepare for the callback.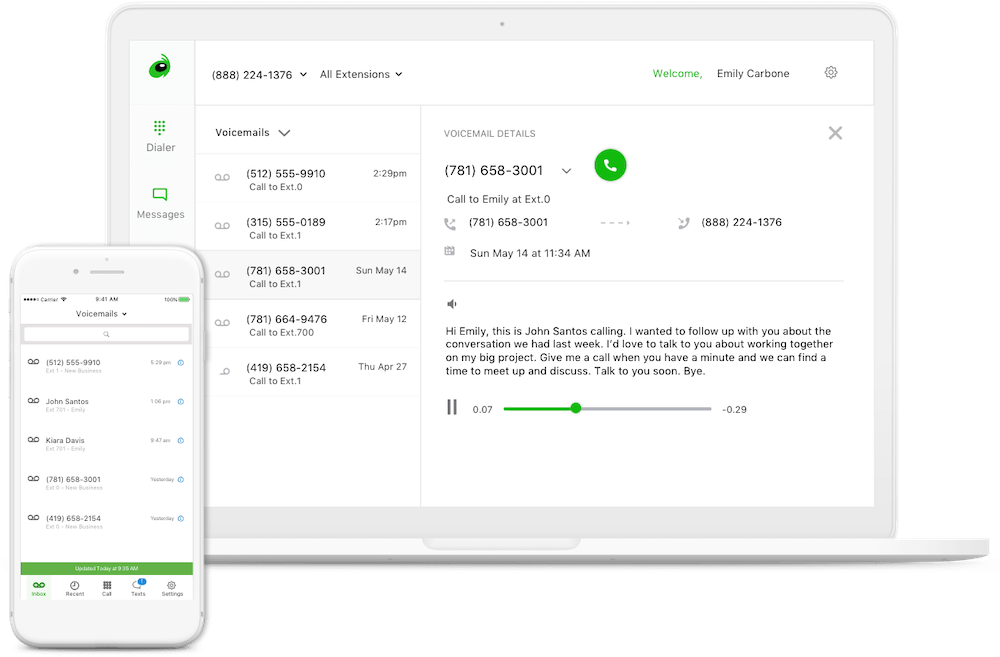 Caller ID
Caller ID displays the name and phone number of the current caller, helping agents to avoid spam calls as well as prioritize the calls they answer.
Call Routing
Call routing sends inbound calls to the ideal agent based on pre-set criteria, IVR input, and call flow paths.
Routing ensures callers connect to an agent with the right training, skill sets, and schedule to best assist the customer.  It also cuts down on caller wait time and prevents individual agents from getting overloaded with calls while other agents barely speak to anyone.
Popular call routing methods include:
List-based routing (Fixed order routing)
Round Robin routing
Most Idle routing
Skills-Based routing
Relationship-based routing (VIP routing)
Time-based routing
Language-based routing
Ring Groups and Call Blasting
Admins can create ring groups – groups of agent or department phone numbers with similar skill sets – to ensure inbound calls are answered ASAP.
Ring group members' phone numbers simultaneously ring (call blasting) and the first person to answer the call takes it.
CRM Integration
Third-party CRM integrations connect your preferred CRM software (Salesforce, Zoho CRM, Sugar CRM, etc.) to your softphone software application, meaning all key customer data and CRM information is accessible in a united interface.
The CTI Call Pop feature automatically displays incoming caller CRM data on the agent screen without requiring app switching.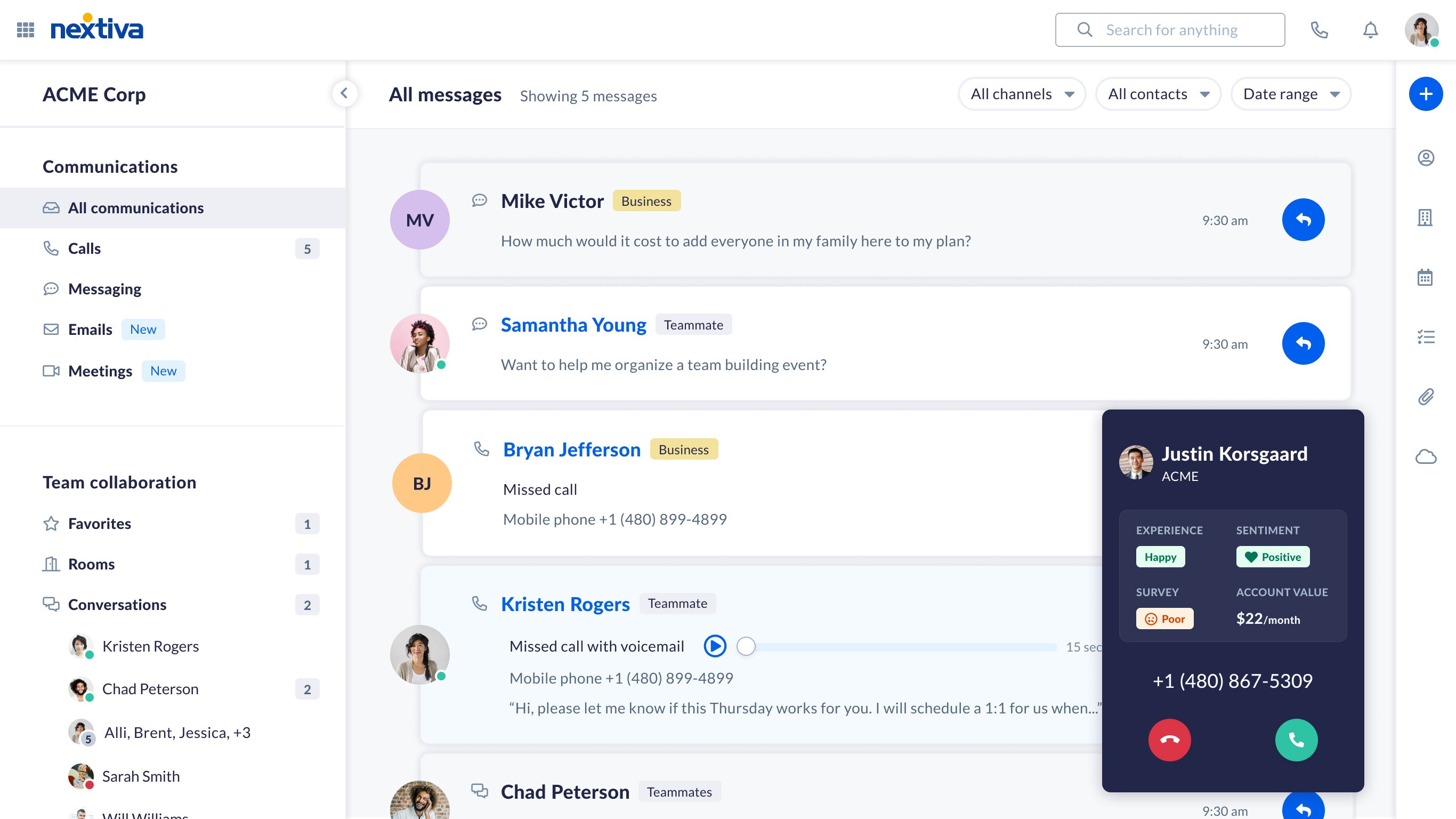 Contact List Sharing and One-Click Calling
Contact list sharing allows agents to share their contact lists with each other, add and edit contacts with one click, and subscribe to the company directory to access all client contact information.
To initiate one-click calling, all users have to do is click on the contact name they need to reach.
Call Monitoring
Call monitoring lets admins/managers listen in on real-time calls between agents and customers.
These admins can also use a call barge to take over the call or call whisper to guide the agent without the caller hearing.
Automated Outbound Dialing Modes
Some softphone systems (especially those connected to call center software) may provide automatic outbound dialers that speed up list penetration and prevent agents from losing time between making outbound calls.
Popular outbound dialing modes include predictive, preview, progressive, and power dialers.
Auto-Attendant and IVR
IVR (Interactive Voice Response) is an automated call handling feature that lets inbound callers direct their own calls by responding to pre-recorded menu prompts via speech or touch tone keypad.
IVR provides 24/7 customer self-service and often completely resolves the customer issue without having to involve a live agent.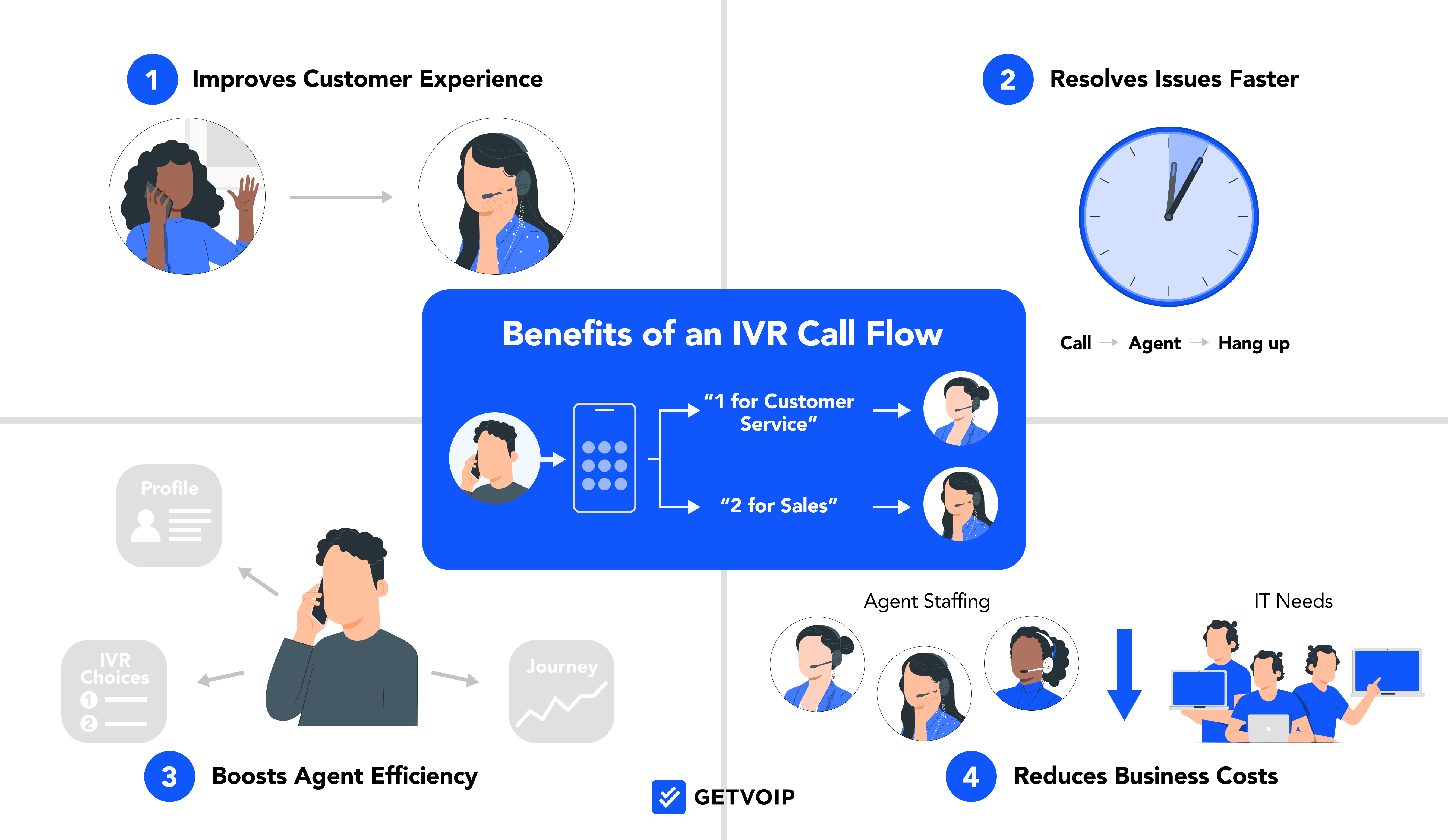 Call Transfer
Drag-and-drop call transfer makes it easy for agents to send calls to one another in a single click, eliminating the need for customers to wait on hold for extended periods.
Call transfers can be blind (directly passed onto another rep) or announced/warm (the new agent is automatically provided with key caller information like IVR input, or speaks to the first rep before accepting the call.)
The Biggest VoIP Softphone Benefits
Softphone technology increases workforce mobility, flexibility, and productivity while improving the customer experience and lowering operating costs.
The top softphone benefits are:
Significant Cost Savings
Voice over IP providers offer softphone access as a standard feature, meaning it's included with the cheapest VoIP monthly pricing tier.
Standalone, basic softphone apps (like Google Voice or Line2) are either free or have plans for between $5.00-$10.00/month, making them a cost-effective phone service.
Because VoIP calls take place over the Internet, long-distance and international calls are much more affordable than with a traditional landline.
Most phone system solutions offer free unlimited calling within the United States and Canada and usually include bundled long-distance and toll-free minutes that increase with each pricing tier.
Because audio and even video conferencing are included with softphone access, businesses will no longer need to purchase additional video calling applications or conference room hardware.
Portability and Mobility
Softphones provide an unmatched level of portability, allowing remote, blended, and mobile sales and support teams to access advanced small business phone system features anywhere with Internet access.
This flexibility lowers missed call rates, shortens call handle times, and increases agent retention rates and employee satisfaction.
Softphone technology means team members are always available, because business owners can hire a geographically diverse workforce to cater to clients across time zones (and often, language barriers.)
Because softphone technology makes team members reachable anytime, anywhere, this level of service makes customers feel like a priority, increasing customer satisfaction rates and customer loyalty.
Unified Communications
Unified Communications streamline the business communication process by combining multiple communication channels and collaboration tools into a single interface.
Whether customers and agents connect via voice call, SMS messaging, or even email, agents can respond directly from a single unified interface. This prevents customers from having to repeat themselves and lets consumers choose their preferred communication channel.
Many softphone interfaces are customizable, allowing every agent to design their ideal inbox and sidebar.
Improved Team Collaboration and Efficiency
In today's highly remote working environment, it is imperative to know when team members are online or offline.
User presence capabilities provide company-wide real-time agent status updates automatically or manually, so co-workers always know who is available to assist them.
Along with presence, softphone systems make it easier to host video calls and audio-only meetings while leveraging features like drag-and-drop call transfers, visual voicemail, voicemail-to-email configuration, and incoming call notifications.
Stronger Privacy
Today's employees use their own smartphones and computers for both professional and personal calls–especially given the cost savings to employers.
While convenient, doing so also presents a potential privacy problem, forcing team members to give out their personal phone numbers to clients and making it more difficult for managers to monitor employee activity and keep customer data secure.
Softphones allow agents to make/receive calls from their business telephone number, not their personal one, even on their own devices. Custom Caller ID options can provide further privacy.
Providers also adhere to strict compliance regulations and security measures, offering HIPAA, GDPR, and PCI compliance, end-to-end encryption, 24/7 account activity monitoring, Single Sign-On, Multi-Factor Authentication, and more.
Ease Of Use And Fast Setup
Business communication software can have a complicated and lengthy setup/installation process.
However, softphone users can start making calls as soon as they have selected a phone number and preferred plan. Lack of required hardware virtually eliminates equipment installation time.
Plus, since the softphone interface mimics a standard smartphone calling screen (with chat and video calling interfaces mimicking those of familiar tools like Slack and Zoom) users can get going ASAP.
Softphone Drawbacks
Though softphones provide clear advantages over hard phone technology, there are a few potential drawbacks to consider when comparing hard phones vs softphones:
Dependent on Internet Connection: Poor Internet connection quality caused by storms, power outages, or insufficient bandwidth impact audio quality/overall VoIP service functionality
High Learning Curve: Understanding the virtual interface, learning how to use new features, and optimizing call flow paths VoIP takes time and may require paid employee training
Level of Provider Control: Available features, privacy and security, and pricing are all entirely controlled by the provider, not the end user
Costly Setup Process: Although VoIP lowers overall long-term business operating expenses, activation fees, setup and installation fees, phone number cots, and bundled plan pricing options is a larger initial expense
How To Choose A Softphone Provider For Business 
When evaluating potential softphone providers, consider essential factors like:
Scalability: Will the service provider be able to scale alongside your business, differences between pricing tiers, single add-on features vs feature bundles, available communication channels, additional SaaS options like Contact Center, CRM, Webinar, UCaaS platforms, etc.
Available Features: Does the provider offer all the features your business needs now and in the future, which features are native to the platform and which are accessible only via third-party integration, etc.
Pricing Options: Instead of shopping by price alone, consider the overall value provided and how well the platform fits into your current budget (Volume discounts, paid add-ons, monthly vs annual pricing, contract length/cancellation fees, etc.)
Compatible Integrations: Pre-built integrations, custom APIs, quality of current developer community, available integrations with each plan, etc.
Network Reliability: 99.99% minimum guaranteed uptime, 24/7 network monitoring, global points of presence for network redundancy, average response time for service interruptions, etc.
Customer Support Options: Customer support hours and channels, paid vs included support options, onboarding/installation setup, on-demand training webinars/video tutorials, quality of online knowledge base, etc.
User Experience: Overall ease of use, intuitiveness of interface, insight from current user reviews
Security: Compliance certifications, third-party security audits, SSO/2FA, E2EE, password protection and access control, etc.
Which VoIP Providers Have the Best Softphone Systems?
The below table outlines the top VoIP providers with softphone technology, pricing, and available features.
Provider
Pricing
Available Communication Channels
Top Features
Best For
RingCentral
3 plans from $20-$35+/user/month
– Voice Calling

– SMS/MMS

– Team Chat Messaging

– Video Conferencing

– RingCentral Video Pro

– Enhanced Business SMS

– Advanced analytics portal

Remote teams looking for a scalable call center software with team collaboration and UCaaS features
Google Voice
Free softphone app, 4 Google Workspace plans from $6-$18+/user/month
– Voice Calling

– SMS/MMS

– With Google Workspace add-ons Only: Email, Video Calling, Team Chat Messaging

– Visual Voicemail

– Integration with Google Workspace Suite

– Spam Blocking

Current Google Workspace users or businesses with under 5 employees that need a business phone number to appear more established
Grasshopper
3 plans from $28-80+/month
– Voice Calling

– SMS/MMS

– Instant Call Response via SMS

– Voicemail-to-Email

– Ruby Virtual Receptionist

Teams needing a basic business phone system offering user-based pricing
JustCall
2 plans from $24-$48+/user/month, custom plans available
– Voice Calling

– SMS/MMS

– Power and Predictive auto dialer

– Automated SMS bulk/2-way messaging

– Appointment Scheduler

Remote or in-house SMBs focused on voice and SMS outbound marketing automation
Dialpad
3 plans from $15-$25+/user/month
– Voice Calling

– SMS/MMS

– Team Chat Messaging

– Video Conferencing

– Live Call Sentiment Analysis

– Voice Recognition

– Real-time Agent Assist

Newer companies or startups that prioritize low-cost virtual telephony options.
Nextiva
3 plans from $18.95-$32.95+/user/month
– Voice Calling

– SMS/MMS

– Team Chat Messaging

– Video Conferencing

– Native CRM tools

– Live speech coaching

– Automated post-call summary

Medium-Sized businesses with a high daily call volume and team members across multiple locations
GoTo Connect
2 plans from $24-$29+/user/month, custom plans available
– Voice Calling

– SMS/MMS

– Team Chat Messaging

– Video Conferencing

– Unlimited Auto Attendants

– Automated routing

– Dial Plan Editor

Small to midsize companies that need a phone system offering superior video communications
FAQs
Check out our list of the common softphone FAQs below.
A softphone is a VoIP technology allowing users to make and receive calls over the Internet using existing desktop and mobile devices, instead of requiring users to purchase new designated physical hardware. 
VoIP functionalities like audio calling, web conferencing, and team chat are all available in a single unified softphone interface.
Softphone technology is available through VoIP and UCaaS applications that can be installed on any compatible Internet-connected device. Users simply open the app and dial the number they wish to call.

Just as with your mobile phone, you can download an application to a desktop or laptop computer to make calls. The application will have a username and password, allowing users  to connect accounts across multiple devices.

Many VoIP providers offer softphones as part of their overall service, although some can be individually purchased. Some providers offer softphones for free, while others including advanced features can cost around $19.99/user per month.

Your VoIP provider provides you with a compatible desktop or mobile application you can launch on your preferred device. You just install the desktop app on your computer, or download it from the Apple App Store or Android Google Play Store.