Today's increasingly mobile teams need a VoIP solution that allows for employee flexibility without sacrificing their overall availability.
Remote and blended teams don't want to be tied to a single physical location all day, waiting for that important call to come in. Instead, they want to access key VoIP calling features like IVR, call routing, and automated outbound dialers from any device – regardless of where they're working that day.
This is where a VoIP softphone comes into play.
Jump to ↓
What is a Softphone?
A softphone is a downloadable, device-agnostic application with a virtual phone interface, allowing users to make outbound and receive inbound VoIP telephone calls anytime, from anywhere.
Because these phone calls take place over the Internet and not the traditional PSTN network, users can access the softphone system on their preferred device – not exclusively on traditional landline desk phones.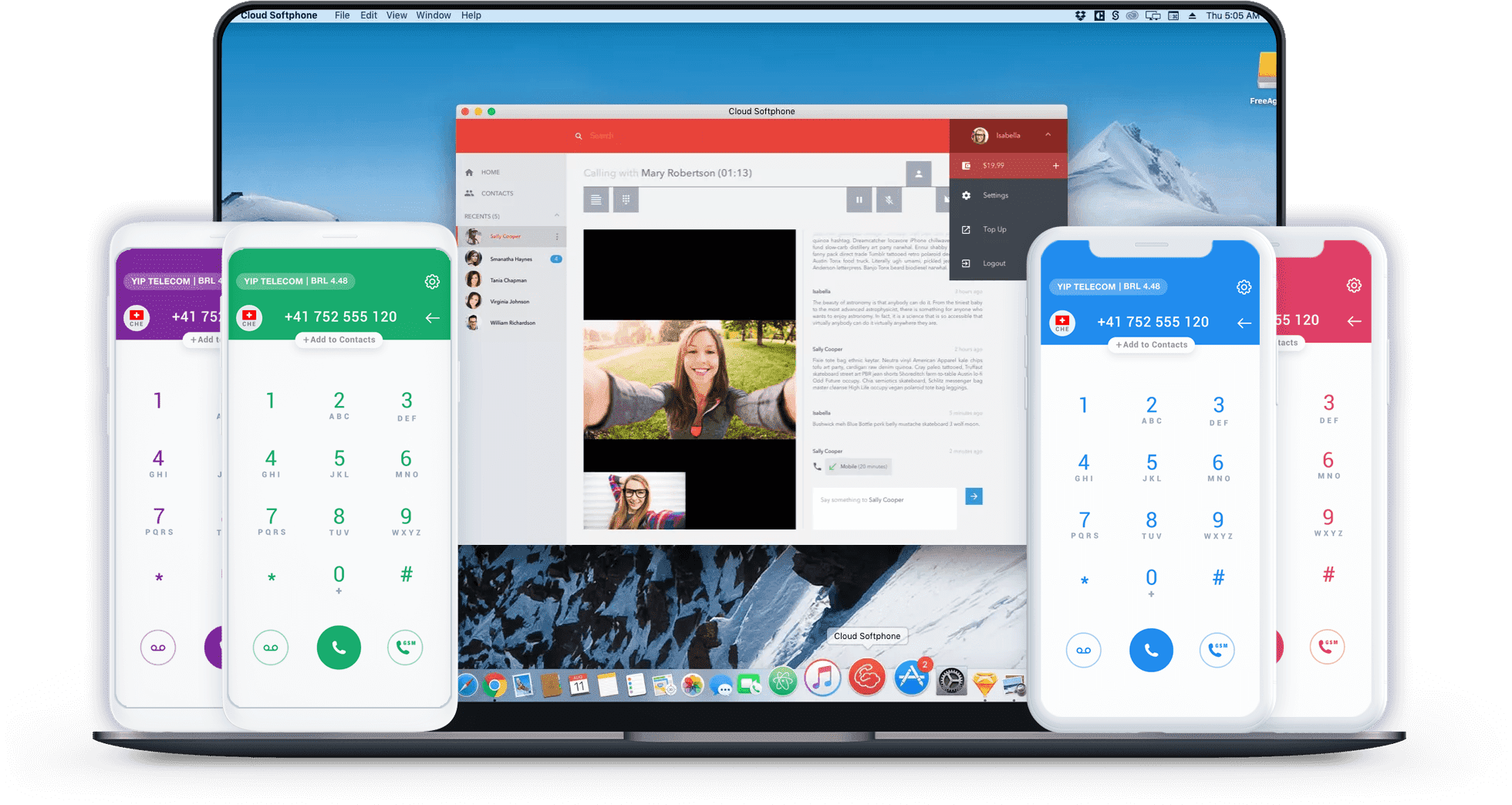 As you can see from the example image above, softphones typically look like the familiar telephone dial pad.
However, softphones come with far more features and functionalities than their hard phone counterparts, because they're directly connected to your chosen business VoIP phone system or UCaaS platform. They offer one-click calling for internal and external contacts, real-time call notifications with automated customer data pops from integrated CRM tools, call queuing, call forwarding, and much more.
In addition to voice calling functions, softphone systems provide instant, easy access to other business communication channels included in the VoIP service package. This means users can make/receive video calls, send business SMS text messages, connect via instant team chat messaging, or even send/receive virtual faxes.
All of these functionalities (as well as others like analytics and team collaboration tools) are accessible within one united interface, eliminating the need for employees to constantly switch between their favorite business applications.
A VoIP softphone is not a standalone product, and using one does not mean you're no longer able to make/receive calls using a standard desk phone. Instead, a softphone system gives you more ways to communicate and for many, eliminates the need for businesses to purchase any additional hardware at all.
Softphones are accessible within the provider's desktop or mobile applications.
Most have solutions for macOS and Microsoft Windows operating systems, as well as Apple iOS and Android devices. Teams can also access the softphone directly from popular web browsers like Google Chrome, Firefox, and Safari.
How Does a Softphone System Work?
Softphone systems operate using voice over internet protocol (VoIP) technology.
This means you'll need a wireless or high-speed broadband Internet connection, a router or modem, and any device that has Internet access, a speaker, and a microphone (some users opt to purchase additional equipment, but most just work with the hardware they already have. A Session Initiation Protocol (SIP) server initiates real-time Voice over IP sessions, converting analog voice signals into digital signals via the Internet connection. This eliminates the need for on-premises PBX, paving the way for cloud-based PBX.
Just download your VoIP provider's softphone app onto the devices of your choice, follow basic setup instructions, and start making and receiving calls.
Note that softphones can connect to another device only when both the caller and receiver have a minimum of one codec in common and the same Voice over IP Protocols.
Top Softphone Features
When evaluating potential business communications providers, there are several key VoIP features to look for to improve remote communications.
The top softphone features include:
User Presence
Real-time, team-wide user status updates to improve collaboration and speed up task resolution.
Popular statuses include, "Online," "Away," "Do Not Disturb," "On A Call," "Available," "In A Meeting," etc.
Call Hold and Call Waiting
Call waiting lets agents know when they're receiving an inbound call while already on a call with someone else. It's a quick alert that helps keep agents from missing important or prioritized calls.
If an agent needs to take the second call, they can put the caller on a brief hold while they transfer them to another available agent. Callers may also be placed on hold when waiting for an agent to answer their initial phone call.
In order to avoid keeping callers on hold for too long, consider additional features like automated customer callbacks or call queueing.
Instant Chat Messaging
Instant team chat messaging tools allow for real-time communication and collaboration for smaller issues that can be answered quickly, without the need for email.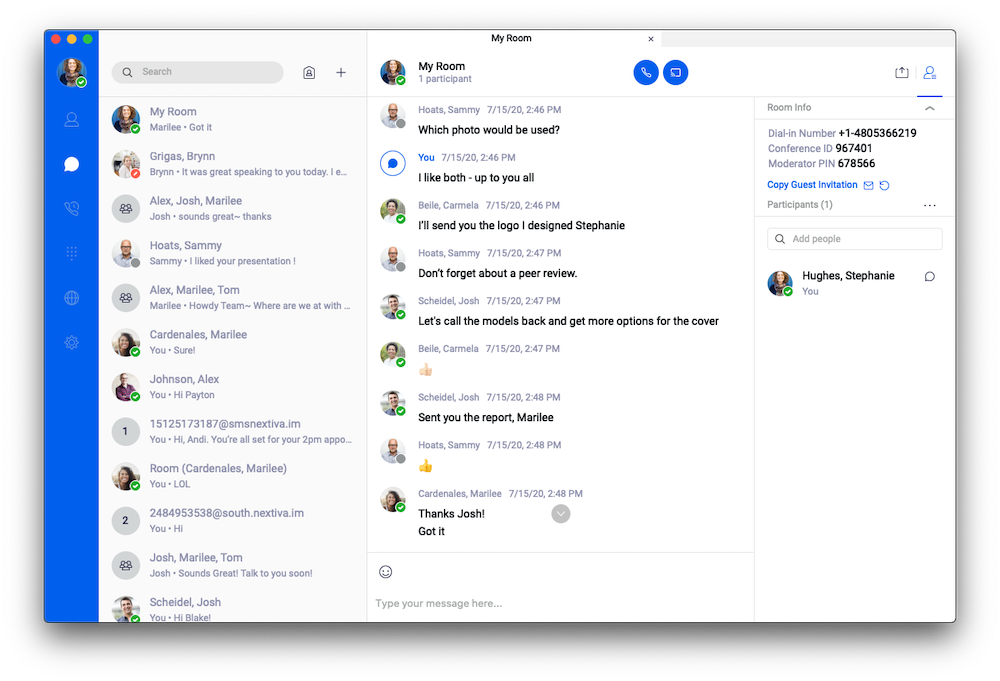 Private or public chat channels can be organized by team, skillset, department, project, etc. for more in-depth discussions. Users should be able to instantly transition from a chat message to an audio or video call in one click.
Most team chat messaging tools also include basic collaboration functionalities like whiteboarding, file sharing, user tagging/mentions, and real-time push notifications.
Note that not all VoIP softphones will offer built-in, native team chat messaging, so some users may need to integrate popular third-party solutions like Slack.
Audio Conferencing and Call Bridge
Audio-only conferencing gives softphone users access to conference call services without the confusion of syncing up numerous desk phones. Usually, anywhere from 10-40 users can join a single session by clicking on a link, dialing in a phone number, or via "Call Me" (where attendees receive an inbound call on their device, connecting them to the conference.)
Since a softphone is available on desktop and mobile devices, attendees can join from anywhere, even if physically away from their standard office space.
An instant call bridge is another way for multiple participants to join a conference call from anywhere, as it's a phone line that links participants together.
Video Calling and Screen Sharing
Video conferencing may not always be a native softphone feature, but third-party integrations with popular video calling tools like Zoom or Microsoft Teams are common.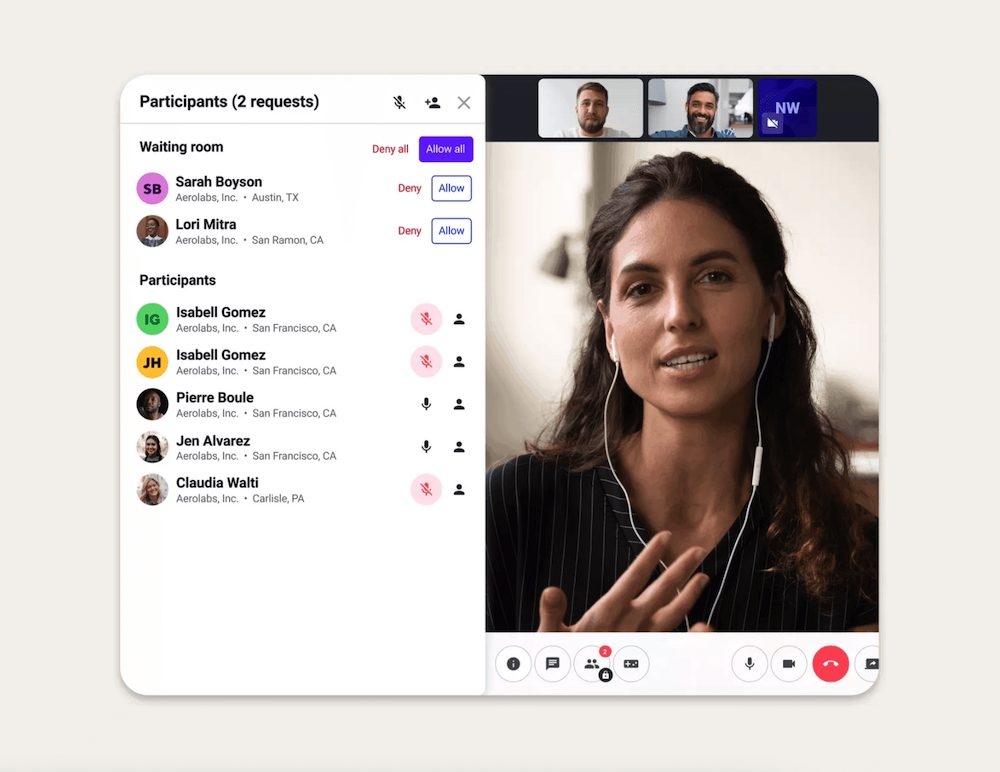 This feature lets internal and external users meet face-to-face in real time from anywhere in the world. Team members can use tools like screen sharing, virtual whiteboarding, in-meeting chat, and even remote screen control to improve collaboration.
Call Recording and Transcription
This feature lets admins automatically on manually (on-demand) record voice calls. These recordings, which are also available for video conferences with screen recording, can then be shared with other users if desired.
Call transcriptions of these recordings can be searched, shared, edited, and used to condense meeting information into a quick summary. Make sure to study up on the call recording laws in your state to avoid legal issues.
Remote Call Forwarding
Call forwarding extends the flexibility of softphone systems by automatically forwarding calls to multiple phone numbers if the first number is not answered.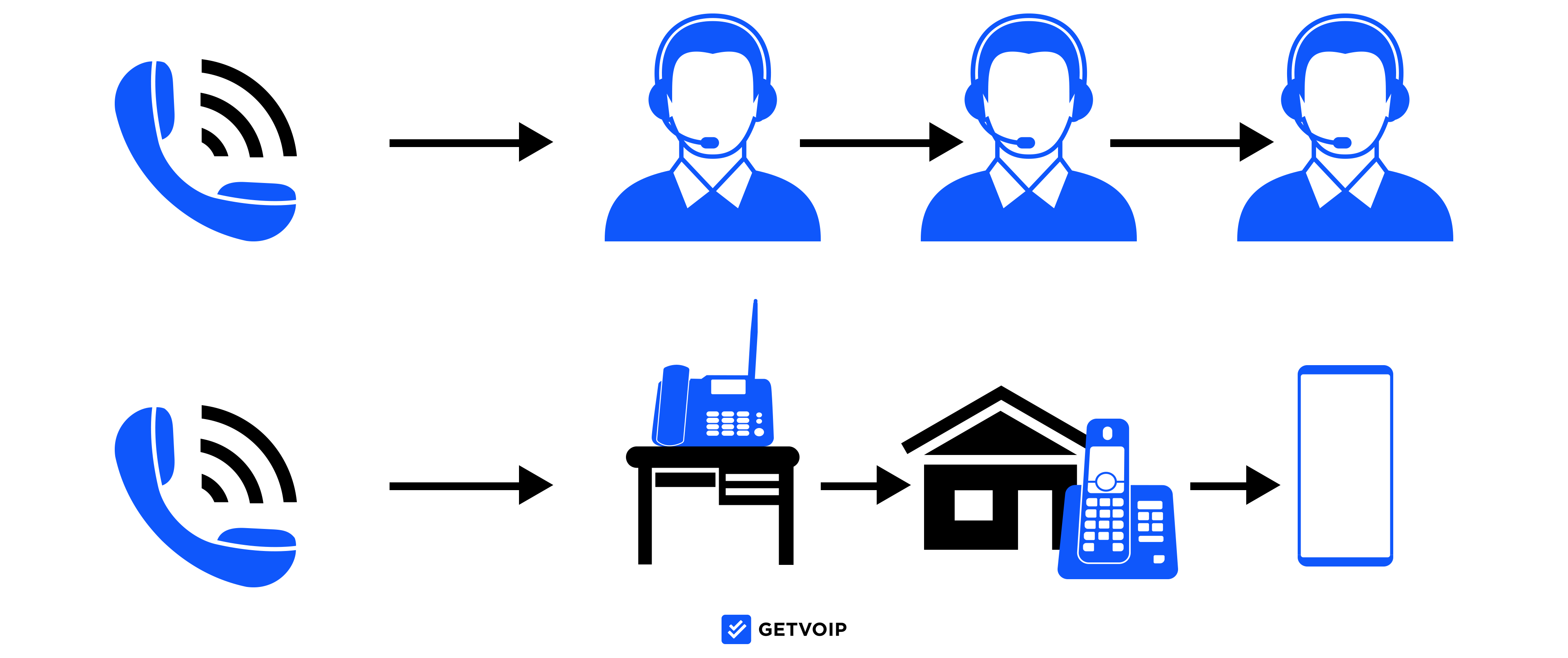 Calls can be forwarded, for example, from an agent's desk phone, to their personal cell phone, to their home phone number, and then either to their voicemail box or to the department queue to connect them with an available agent.
Visual Voicemail
Visual Voicemail transcribes voicemail messages and displays the text in the softphone interface, eliminating the need for agents to manually listen to voicemail messages.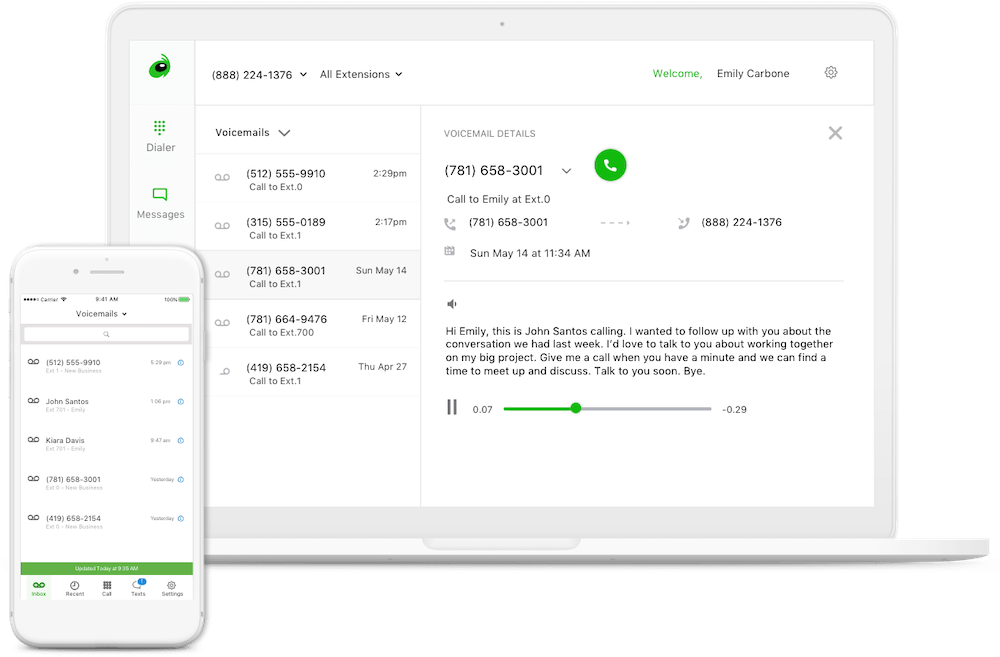 Visual voicemails can also be sent to an agent's email and allow agents to prioritize callbacks and save time.
Caller ID
Caller ID displays the name and phone number of the current caller, helping agents to avoid spam calls as well as prioritize the calls they answer.
Call Routing
Call routing sends inbound calls to the ideal agent based on pre-set criteria and call flow paths. It's what ensures callers connect with an agent who has the training and knowledge to actually help them get what they need. It also cuts down on caller wait time and prevents individual agents from getting overloaded with calls while other agents barely speak to anyone.
Popular call routing methods include:
List-Based Routing
Round Robin Routing
Skills-Based Routing
Relationship-Based Routing
Time-Based Routing
Ring Groups and Call Blasting
Admins can designate ring groups – groups of agent or department phone numbers all with similar skillsets – to ensure inbound calls are answered ASAP.
Ring group members' phone numbers simultaneously ring (call blasting) and the first person to answer the call takes it.
CRM Integration
Third-party CRM integrations connect your preferred CRM software (Salesforce, Zoho CRM, Sugar CRM, etc.) to your softphone application, meaning all key customer data and CRM information is accessible in a united interface.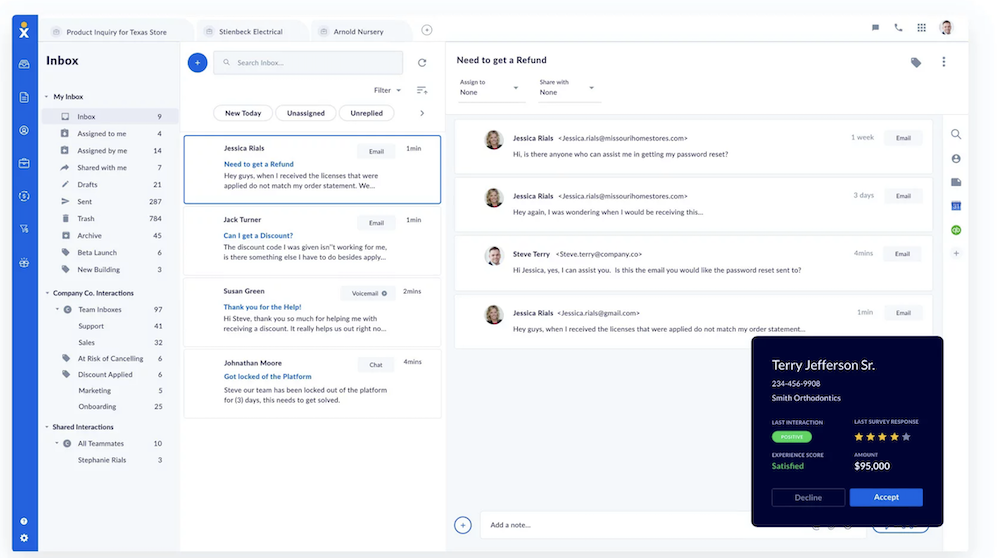 The popular CRM Call Pop feature (seen above) automatically makes the inbound caller's client profile and other key CRM data "pop up" in the softphone interface for immediate access without switching apps.
Contact List Sharing and One-Click Calling
Contact list sharing makes accessing internal contact information and adding/updating new contacts easier than ever.
Team members can subscribe to company directory contact lists to automatically receive contact information updates, and can share their own contact lists with one another.
To initiate one-click calling, all users have to do is click on the contact name they need to reach.
Call Monitoring
Call monitoring lets admins/managers listen in on real-time calls between agents and customers. These admins can also use call barge to take over the call, or call whisper to guide the agent without the caller hearing the advice the rep is getting.
Automated Outbound Dialing Modes
Some softphone systems (especially those connected to call center software) may provide automatic outbound dialers that speed up list penetration and prevent agents from losing time between making outbound calls.
Popular outbound dialing modes include predictive, progressive, and power dialers.
Auto-Attendant and IVR
IVR (Interactive Voice Response) is an interactive call menu that plays automatically when a business phone number receives an inbound call.
Its goal is to direct calls to the correct agent based on caller answers to pre-recorded questions. (AKA, "Press 2 to be connected to the Sales Department.)
Callers can respond to IVR prompts by speech or via a touchtone dialpad.
Call Transfer
Drag-and-drop call transfer makes it easy for agents to send calls to one another in a single click, eliminating the need for customers to wait on hold for extended periods.
These call transfers can be blind or announced (meaning the new call recipient hears key information about the caller and their needs before accepting the call.
The Biggest VoIP Softphone Benefits
Softphone technology offers increased workforce mobility and flexibility when it comes to agent location and preferred devices. These simple tools also increase productivity, improve the customer experience, and lower operating costs.
Let's take a closer look at some of the top softphone benefits below.
Significant Cost Savings
Especially if you already have a Voice over IP provider, adding a softphone to your plan (if not already included) is very inexpensive.
More basic softphone apps (like Google Voice or Line2) are either free or have plans for between $5.00-$10.00/month.
Because you're making telephone calls over the Internet, international and long-distance phone calls are also much more affordable than with a traditional landline. Many VoIP softphone providers offer  free unlimited calling within the United States and Canada, as well as a set number of long-distance or toll-free minutes per month as a part of a paid plan.
Plus, because softphones are equipped to handle audio conference calls and, in many cases, video conferencing, you'll no longer need to pay for expensive conference room hardware and add-ons features. Instead, teams can just continue to use their existing equipment.
Portability and Mobility
Perhaps the most valuable benefit, softphones allow users to take their business communications wherever they go – something that matters now more than ever given the rise of remote and blended workforces.
Users can take calls on their laptop, make an outbound call from a tablet, or send a team chat message on their smartphone.
This level of portability cuts down on the tedious games of phone tag between coworkers and clients. It also increases productivity, as users can work on other tasks, attend meetings, or even leave their desks without worrying about missing a call.
Because softphone technology makes team members reachable anytime, anywhere, the customer experience will dramatically improve. Now, clients will feel like a priority and trust that their calls will be answered in a timely manner.
Especially in fields like healthcare, hospitality management, and sales, this makes all the difference.
Unified Communications
Unified Communications within a softphone application simplifies and streamlines the entire business communication process by combining major communication channels and collaboration tools into a single interface.
In other words?
Everything that team members need for effective communication can be found without needing to toggle between apps or have countless browser tabs open at the same time.
Plus, softphone interfaces can sometimes be customizable, so each user can adjust their menus and sidebars according to what works best for them.
Improved Team Collaboration and Efficiency
In today's highly remote working environment it is imperative to know when team members are online or offline.
Presence capabilities let users know when a co-worker is available to respond to a query or if that request needs to be sent elsewhere. Along with presence, softphone systems make it easier to host video calls and meetings while leveraging features such drag-and-drop call transfers, visual voicemails, voicemail-to-email configuration, and incoming call notifications.
Stronger Privacy
It's fairly normal today for employees to use personal smartphones and other devices for professional and personal calls – especially given the cost savings to employers.
However, this can present a problem, as it forces team members to give out personal phone numbers to cell phones and home phones, allowing all – not just VIP – customers to contact them at any time.
Plus, some users may not want business contacts knowing their personal number.
Softphones offer a way to communicate on personal smartphones and devices without revealing personal phone numbers on Caller ID screens or forcing team members to give them out. Instead, the business phone number is shown and shared, keeping personal information secure.
Ease Of Use And Fast Setup
It's no secret that business communication software often comes with a complicated, sometimes lengthy, setup and installation process.
The same can't be said of softphones, which allow users to start using them as soon as they have selected a phone number and paid for their preferred plan.
The lack of required hardware virtually eliminates equipment installation time.
Plus, since the softphone interface mimics a standard smartphone calling screen (and since chat and video calling interfaces look quite similar to popular, familiar tools like Slack and Zoom) users will be able to get going ASAP.
Softphone Cons
Though softphones provide clear advantages over hard phone technology, there are a few potential drawbacks to consider when comparing hard phones vs softphones.
The biggest issue is that your ability to make and receive incoming and outbound calls depends entirely on the strength of your Internet connection.
So, things like power outages, storms, or simply insufficient  bandwidth limitations impact audio quality and overall service availability.
For this reason, you may want to have a backup traditional phone system in your office, though you can also rely on your mobile device to make outgoing calls. Some businesses even opt for a backup power supply that automatically switches on in the event of an outage.
Additionally, though basic, affordable softphone apps  like Google Voice or Bria by CounterPath provide standard  calling features, in order to get enterprise-level softphone functionalities, you'll need to purchase business or enterprise VoIP software.
When evaluating unified communications service providers, you'll discover that most Voice over Internet Protocol providers offer softphone capabilities as a part of their overall package. Still, this means an additional upfront expense.
Finally, be prepared for softphones to require a bit of employee training and expect a learning curve. Though most are intuitive and easy-to-use, learning how softphones work can take a few weeks to master.
However, as previously mentioned, virtual telephony will lower overall business operating expenses in the long-term.
Which VoIP Providers Have the Best Softphone Systems?
Now that you know more about what softphones are, how they work, and the features and benefits they offer, it's time to start researching which provider is right for your business.
First, decide on the  specific features you need, and how much you're willing to pay to get them. If you don't need some of the advanced capabilities we mentioned in this post, then selecting a more basic, but scalable, plan makes the most sense.
Also ensure the provider integrates with your third-party tools, operating system, and hardware.
Not sure where to start?
The below table outlines the top VoIP providers with softphone technology, pricing, and available features.
| | | | | | | | |
| --- | --- | --- | --- | --- | --- | --- | --- |
| | RingCentral Softphone | 3CX Softphone | 8×8 Softphone  | Cisco Jabber Softphone  | Nextiva | Dialpad | GotoConnect |
| Price | From $19.99/user per month | Free plan available, paid plan from $250/year | From $12/user per month | Individual quote | From $19.95/user per month | From $15/user per month | From $29.95 for up to 4 users per month |
| Presence | ✓ | ✓ | ✓ | ✓ | ✓ | ✓ | ✓ |
| Call Forwarding and Routing | ✓ | ✓ | ✓ | ✓ | ✓ | ✓ | ✓ |
| Instant Chat | ✓ | ✓ | ✓ | ✓ | ✓ | ✓ | ✓ |
| CRM Integration | ✓ | Paid Plan | Add-on feature | Via Tray Platform Add-on | ✓ | ✓ | ✓ |
| Video Conferencing  | ✓ | Paid plan | ✓ | ✓ | ✓ | Add-on | ✓ |
| Call Recording | ✓ | ✓ | ✓ | ✓ | ✓ | ✓ | ✓ |
| Audio Conferencing  | ✓ | ✓ | ✓ | ✓ | ✓ | ✓ | ✓ |
Softphone FAQs
Check out our list of the common softphone FAQs below.
A softphone is a VoIP technology allowing users to make and receive calls over the Internet using existing desktop and mobile devices, instead of requiring users to purchase new designated physical hardware. 
VoIP functionalities like audio calling, web conferencing, and team chat are all available in a single unified softphone interface.
Softphone technology is available through VoIP and UCaaS applications that can be installed on any compatible Internet-connected device. Users simply open the app and dial the number they wish to call.

Just as with your mobile phone, you can download an application to a desktop or laptop computer to make calls. The application will have a username and password, allowing users  to connect accounts across multiple devices.

Many VoIP providers offer softphones as part of their overall service, although some can be individually purchased. Some providers offer softphones for free, while others including advanced features can cost around $19.99/user per month.

Your VoIP provider provides you with a compatible desktop or mobile application you can launch on your preferred device. You just install the desktop app on your computer, or download it from the Apple App Store or Android Google Play Store.