Provider

Features

Reviews

More Details

Five9

IVR Speech Recognition - Provides Touch-tone (DTMF) or Speech Input

Easy-to-Configure Confirmations and Error Prompts
Provide Options for Bill Payment, Locations, Debt Collections and More
Smoothly Transition from the IVR System to an ACD System
Increase Efficiency with Real-time Analytics & Dashboards

39 Reviews

Twilio

Modern and Scalable IVR That is Easy to Build, Deploy, and Iterate

Integrate Your Data Sources and Business Processes to the IVR using APIs
Optimize Your IVR in Real-time with AI to Tailor The Caller Experience
Autopilot Platform to Build Voice Assistant Guides for Self-service
Omni-channel, Contextual Conversations in a Single Interface.

15 Reviews

Talkdesk

IVR Studio Provides a Clear Data Visual of the Customer Journey

Interactive Flow Designer Lets You Visualize IVR Flow Structure & Outcome
Out-of-the-box Components that Trigger Call Flow Actions such as Callbacks
Real-time Error Flagging, Advanced IVR Metrics and AI-driven Insights

218 Reviews

Genesys

Self-Service Conversational IVR with Natural Language Understanding

Verify Caller's Identity Automatically Reducing Customer Frustration
Secured Self-service Touch Tone Payment Transactions to Enhance Privacy
Visual IVR Touchscreen Navigation Available for Customer Convenience

53 Reviews

Nextiva

Build Complex Call Handling and Messaging Solutions

Conversational AI automated call routing
Machine Learning improves your system with every call
Natural Language call steering, queue callback, and more

2997 Reviews

NICE CXone

Single Platform: Centralized IVR System with CXone ACD

Automatic Callbacks Across Multiple Contact Centers & Departments
Out-of-the-box CRM Integrations with Existing Customer Data
Simplified Menu-driven Interface for Easy Updates

57 Reviews

Plum Voice

IVR Platform + Development Tools Power a Range of Voice Applications

Latest Text-to-Speech and Advanced Speech Recognition Technology
Purpose-built For Voice Using Tier 1 Telecom and End-to-end Redundancy
100% Uptime Guarantee in Service Level Agreements (SLAs)

1 Reviews

8×8 Inc.

Self-Service Options That Use the Latest Conversational AI technology

Built in reporting and analytics tools to analyze the customer journey
Build or edit any IVR path using a graphical, intuitive drag-and-drop
Intelligently route calls to the most qualified agent

678 Reviews

Aircall

Easily Set Up Fully Customized Interactive Voice Response Flows

Direct callers to separate, specialized teams within a department
Choose from a curated selection of waiting music or upload your own
Set business hours and create customized ring groups

22 Reviews

Dialpad

IVR Platform is Fully Integrated, and Built In-House

Route calls and change pre-set rules easily on your own
Built-in analytics tell you which menu options are being used the most
Set up IVR greetings in Spanish, Chinese, French, and more.

264 Reviews
IVR Reviews From Our Community
8X8 has a great support team and they always resolve my concerns in a timely manner. Also, the support agents are knowledgeable, polite and very...

Be very careful with their contract. They will auto renew for 3 years. If you call the day of the renewal it is too late to not renew. When you try to...

8×8 is an excellent VOIP product. The price is very affordable for our small business and reaching a customer service is quick. I like the fact...

We love 8×8 so much, that it's not only the sole UCaaS provider that we recommend to our clients, but we use it internally as well! And our...
How Does an IVR System Work?

 
IVR works by acting as a virtual assistant for your business, by providing callers with easy and efficient self-service options.
In fact, IVR systems and human assistants do much of the same work, such as:
Collecting caller contact information
Determining the reason for the call
Deciding which agent or department to direct the call to
Forwarding the call to the appropriate agent/department
The main difference between human assistants and IVR systems is the way they collect, process, and act on the information provided. 
Human assistants must do all of this manually, while IVR systems rely on Artificial Intelligence (AI), DTMF tones, speech recognition, and automation to manage calls.
Let's quickly define these terms and explain how they relate to IVR.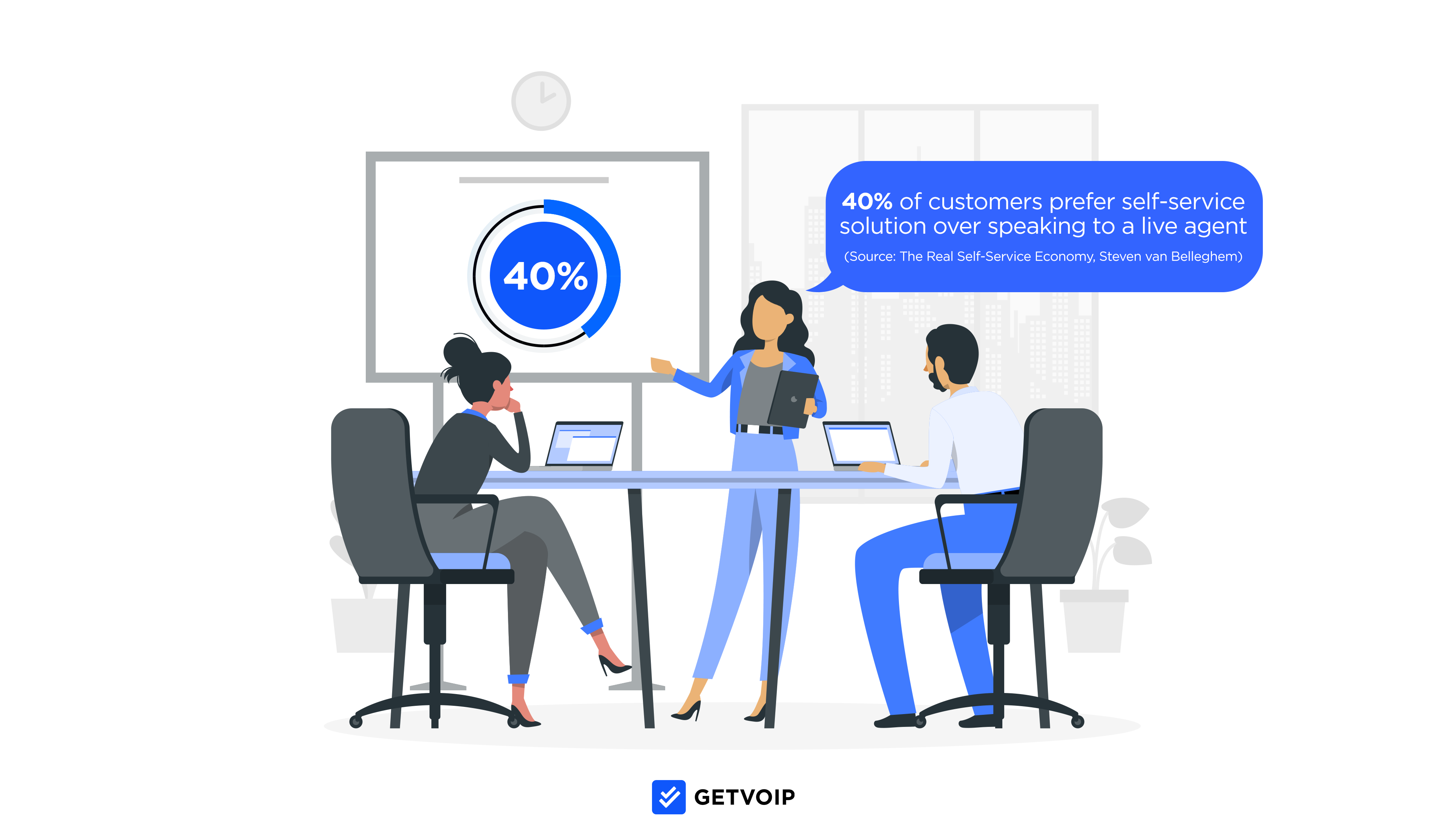 DTMF Tones
DTMF tones, also called touch tones, are the number and letter keys the caller uses to enter in their answers to pre-recorded IVR prompts. Each tone has a specific pitch that the IVR system "understands" and processes accordingly.
DTMF tones are often used to get answers to more basic questions, such as language preference, credit card number, account number, or desired department.
An example of IVR data collection via DTMF tones is, "To continue in English, please press 1."
Speech Recognition
Speech Recognition (sometimes called Voice Recognition) is another way IVR systems collect information from callers.
However, instead of manually keying in their answers as with DTMF tones, callers actually speak their answers directly into the phone.
Speech recognition is often used to collect more specific information, such as the reason for the call or to get a description of the problem the customer is having.
For example, if the IVR prompt says, "Please briefly state the reason for your call," the caller may respond, "I can't pay my bill online" or "I need to reset my password."
But how does the IVR system actually process the caller's response? That's where AI and automation come in.
Artificial Intelligence (AI)
Artificial Intelligence (AI) uses Natural Language Processing (NLP) to identify key words and phrases in caller responses to pre-recorded call menu prompts.
NLP and speech recognition work together to get the caller the correct help as quickly as possible, often eliminating the need for callers to navigate through multiple submenus to get what they need.
For example, let's say the caller responded to the pre-recorded menu question, "Please briefly state the reason for your call" with "I need to access my account balance."
NLP instantly identifies "account balance" as the key phrase, and then automatically responds with, for example, "Your available account balance is $1,524." If more security measures are needed to access that account information, the IVR system can automatically ask and process the answers to them as well.
In short?
AI helps callers to get the information they need faster and with fewer headaches.
Automation
Automation is the final step in the IVR process.
Automation is what directs the caller through the preset call path, allowing them to either connect with an agent or access desired information.
Based on the information provided via DTMF tones or speech, as well as the intent of the call as understood by AI and call processing, the call is automatically forwarded to the right place. This automation eliminates the need for a live agent to manually forward calls, place callers on hold, or even take down messages.
The IVR system handles all of that — and more.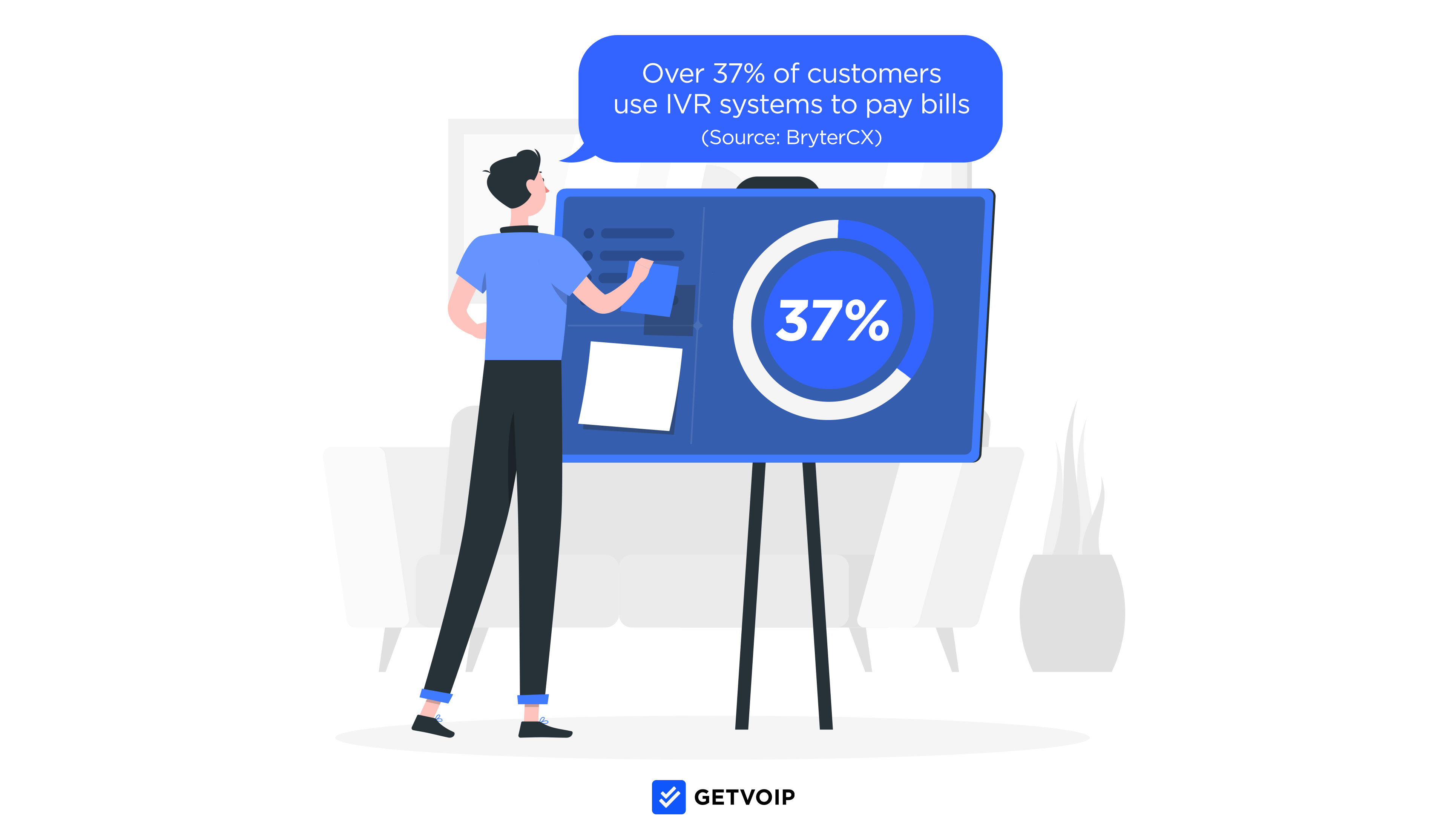 How IVR Systems Improve Customer Experience
Customer experience is the way a customer feels about your business based on each of their past interactions with your company across all parts of their customer journey.
The customer experience is a reflection of the quality and type of relationship your business has with the customer.
So, how do IVR systems improve the customer experience?
First, it gives your business the opportunity to provide 24/7 assistance to customers, regardless of their location or the location of your business. Customers know they can call into your company at any time, with any kind of question, and completely resolve their issue through IVR, connect with a live agent, or schedule a time to speak with a live agent.
IVR software also gives the customers more power by providing better opportunities for customer self-service. Customers — just like your agents — want to be able to get the information or take the action they need as quickly as possible, and often without having to speak to a "real person." IVR system let customers make payments, schedule or cancel appointments, reset passwords, and so much more on their own at their convenience.
When customers do need to speak to an agent, they can rest easy knowing that the agent they connect to will be qualified to help them, from the correct department, and that the help itself will be much more personalized because of the information the agent can get from the IVR system.
The customer won't have to repeat themselves to multiple agents, and in most cases, they'll probably be able to resolve the issue on first contact.
IVR offers a much higher overall quality of customer service, support, and even sales — leading to happy, satisfied customers that keep coming back.
Top 5 Benefits of IVR
In addition to increased customer satisfaction rates, IVR systems offer even more benefits to consumers and agents.
Let's take a closer look at the top 5 benefits of IVR for your business.

1. More Informed Agents
IVR systems automatically collect a customer's intentions and motivations for calling your business through pre-recorded prompts and call paths.
But they also collect more specific, detailed information on the customer's unique issues and needs thanks to speech recognition and AI. This information does much more than just properly direct calls. It provides agents with additional key context — and even insight into the customer's current frustration level and mood — before they even connect with the caller.
Your IVR system can play a customer's recorded IVR responses to the agent before they speak to the customer. This way, the agent can pull up any relevant information, ensuring they provide the best assistance and advice the moment they get on the call.
2. Improved Agent Efficiency and Productivity
Whether your agents work in customer service or sales, IVR software will save them lots of time — and even more frustration.
Agents no longer have to worry about receiving calls from customers they don't have the skillset to assist or losing time to redirecting these calls themselves.
Instead, agents will deal only with specific issues and types of callers. This means each agent has the chance to become an expert in their department, as they'll quickly memorize answers and the most effective solutions for common customer queries.
Thanks to interactive voice response, your agents also no longer have to spend so much time answering the same routine questions or doing dull data entry. They'll now have more time to devote to making additional outbound sales calls, developing new skill sets, fine-tuning call scripts, and even uncovering more efficient business processes and new ideas.
As a result, your business won't just see an increase in productivity and revenue. You'll also see a boost in employee satisfaction and employee retention rates.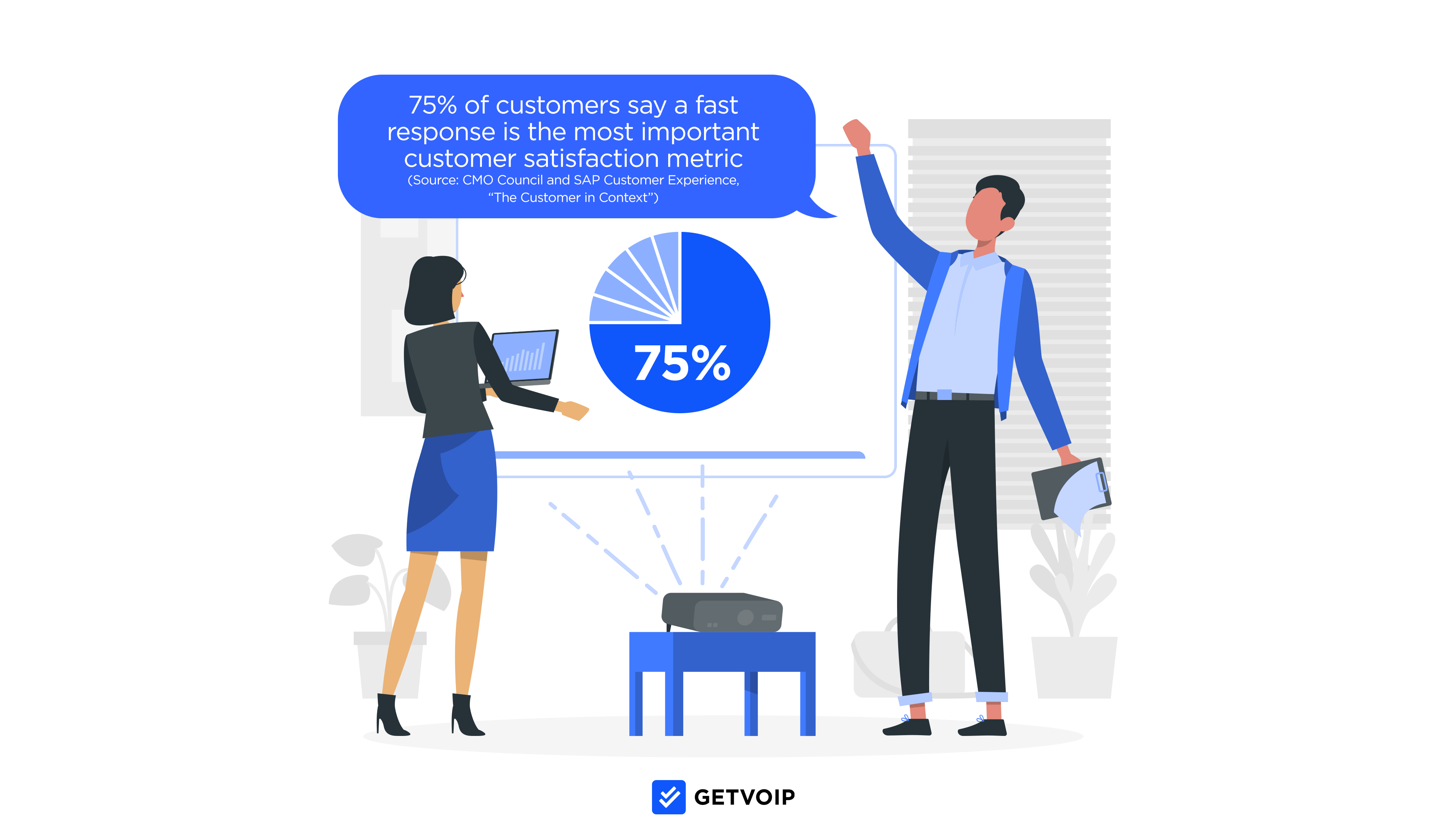 3. Call Prioritization
The information collected by an IVR system doesn't just offer agents the chance to be more informed before getting on the phone with a customer. It also lets them prioritize which calls to take when.
For example, a long-term customer who needs immediate assistance with data recovery is likely a bit more important than someone who calls in asking for information that's publicly available on your company's website. Because the IVR system can tell agents who is calling, why they're calling, and who they want to contact, it's easier than ever to identify VIPs or high-priority calls that really do require a live agent to step in.
Even better?
IVR systems provide automated assistance and information to ensure those customers calling in with lower priority issues still get help — without tying up essential, high-performing agents.
4. Cost Savings
Though interactive voice response does require an up-front investment, it offers numerous long-term cost savings.
First, businesses will likely no longer need to hire a live receptionist (whether remote or in-house) as IVR systems easily and efficiently direct and manage calls. This can save businesses between $40,000 and $60,000 in potential salary and hiring costs.
Plus, because IVR keeps more agents free and automates several business processes (especially bill payment and data collection) you may find that you don't need to hire additional agents. There's another huge cost savings.
Remember too that IVR solutions offer advanced self-service options and high-quality, personalized  support: two things that can seriously improve customer retention rates. This means you'll avoid costs associated with not only signing on new customers, but also the expenses of issuing at least some refunds furious customers often demand.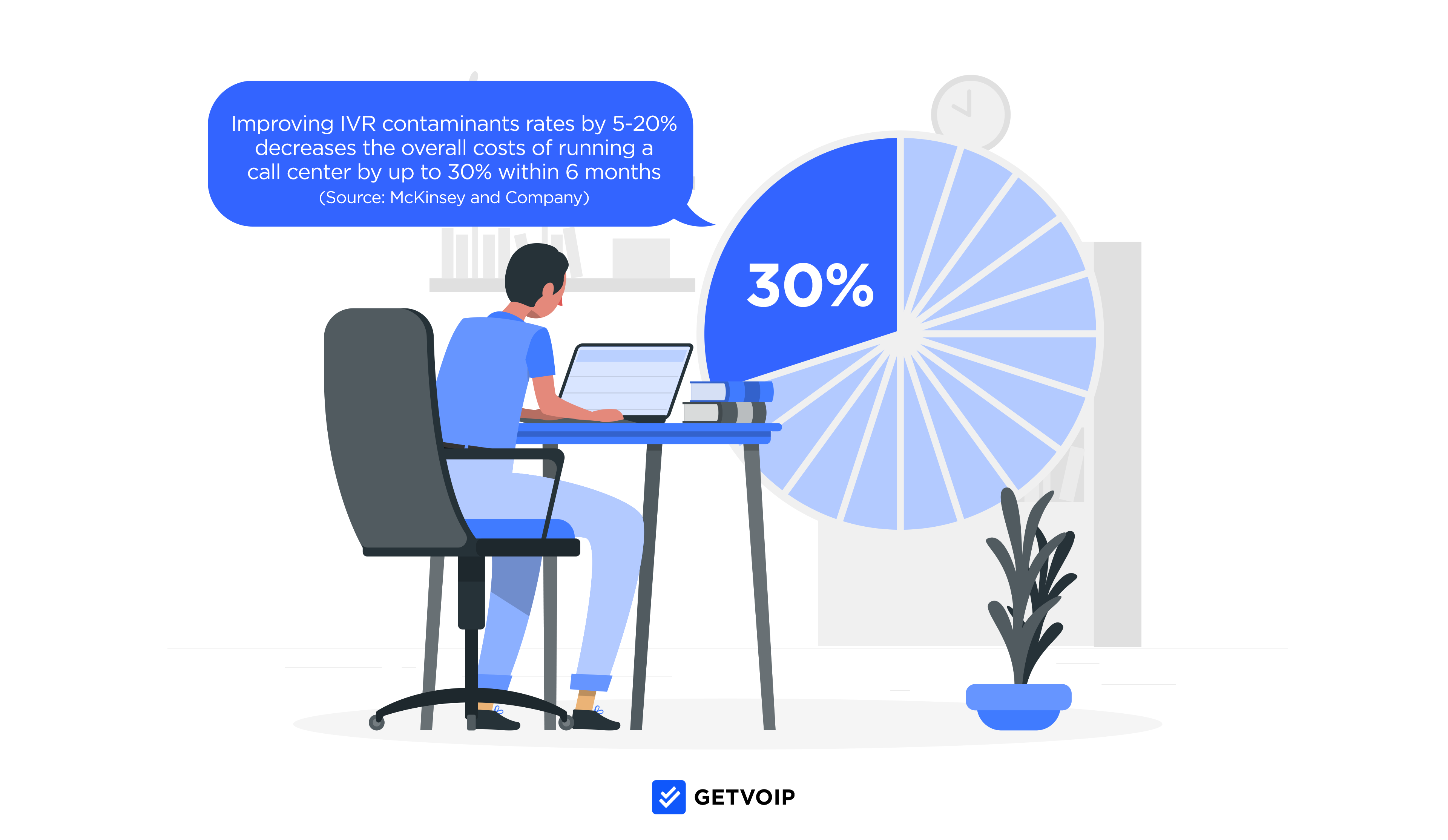 5. Increased First Call Resolution Rates
IVR majorly increases first call resolution rates, the rate at which customer problems are completely resolved during the first contact with a customer regarding a specific issue.
IVR systems decrease the need for customer callbacks by offering automated self-help options, and ensures that customers speak to live agents that are completely qualified to help them.
IVR also routes calls more effectively, decreasing the chances of long customer hold times (a common cause of call abandonment) and increasing the chances that the caller will get to speak with a live agent if needed.
How To Set Up An IVR System: Best Practices
To make sure both customers and agents reap the benefits of your IVR system, follow the below IVR setup best practices:
Keep pre-recorded call prompts and menus brief
Ensure prompts are clear and easy to understand (hire a voice professional if needed)
Provide an option to switch to a live agent at any point during the IVR interaction
Frequently update call menus and IVR scripts to keep information current
Integrate third-party CRM tools for instant, easy access to customer data
Let customers schedule automated callbacks instead of waiting on hold
Have several alternative routing options in place in case desired agent is unavailable
Set/study automatic analytics/recordings to ensure effective menus/announcements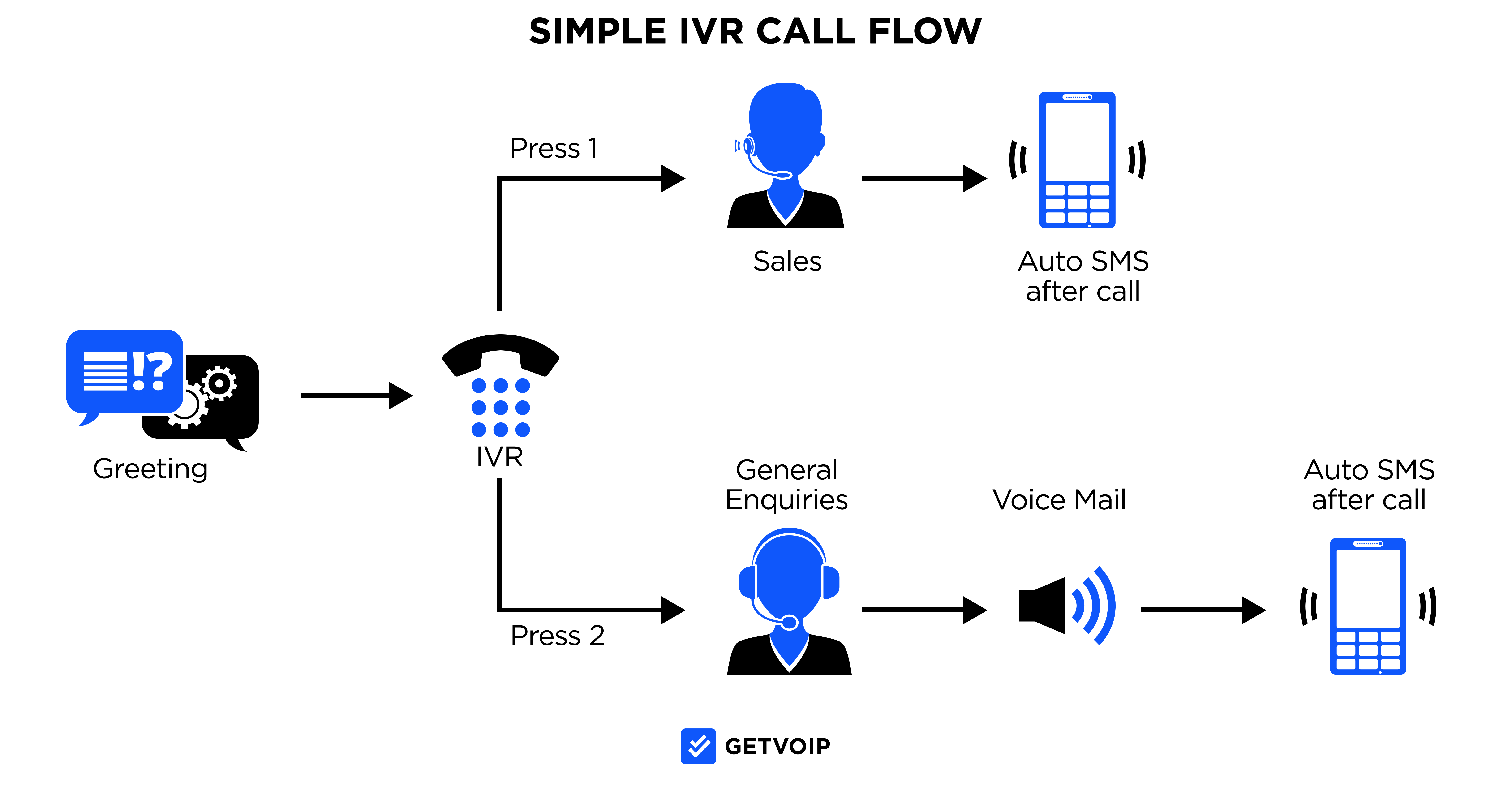 Key IVR Features To Look For
The below features are the most critical aspects of IVR.
Understanding what these features do and how they benefit your business and customers helps you make an informed decision when choosing your IVR solution.
Drag-and-Drop Call Flow Design
Drag-and-drop call flow (call path) design allows admins to easily update and edit call paths within the IVR system.
This simplifies the call flow design process and strategy by allowing admins to make edits like adding new agents, new phone numbers, or new pre-recorded menu options easily and without having to write complicated code or create lengthy if-then scenarios.
Call Forwarding
Call forwarding sends inbound calls to the same agent across multiple phone numbers/devices without the caller having to hang up and dial different numbers separately.
For example, if the agent doesn't answer their desk phone, the call is forwarded to their smartphone, then to their home phone, then to their voicemail box or another agent.
Call forwarding especially empowers remote teams, while offering greater flexibility and mobility to all agents.
Call Routing
Call routing strategies offer different ways to route calls based on predefined criteria.
Types of call routing your IVR system should offer include:
Skills-Based Routing: Routes callers to the best available agent with expertise and training relating to the caller's specific issue.
Time-Based Routing: Routes calls according to agent/caller geographic location, current time, and agent schedule. Ensures the caller can speak to a live rep who is scheduled to work at the time of their call, even if the agent and caller are in different time zones.
Relationship-Based Routing: Routes calls based on existing relationships between agents and callers/clients, and ensures VIPs are pushed to the front of the call queue/prioritized.
Round Robin Routing: Agents A, B, and C all have a "fair shake" at handling calls and work is equally divided to prevent overburdening agents. The first call goes to Agent A, the next one to Agent B, and so forth until all agents have had their "turn."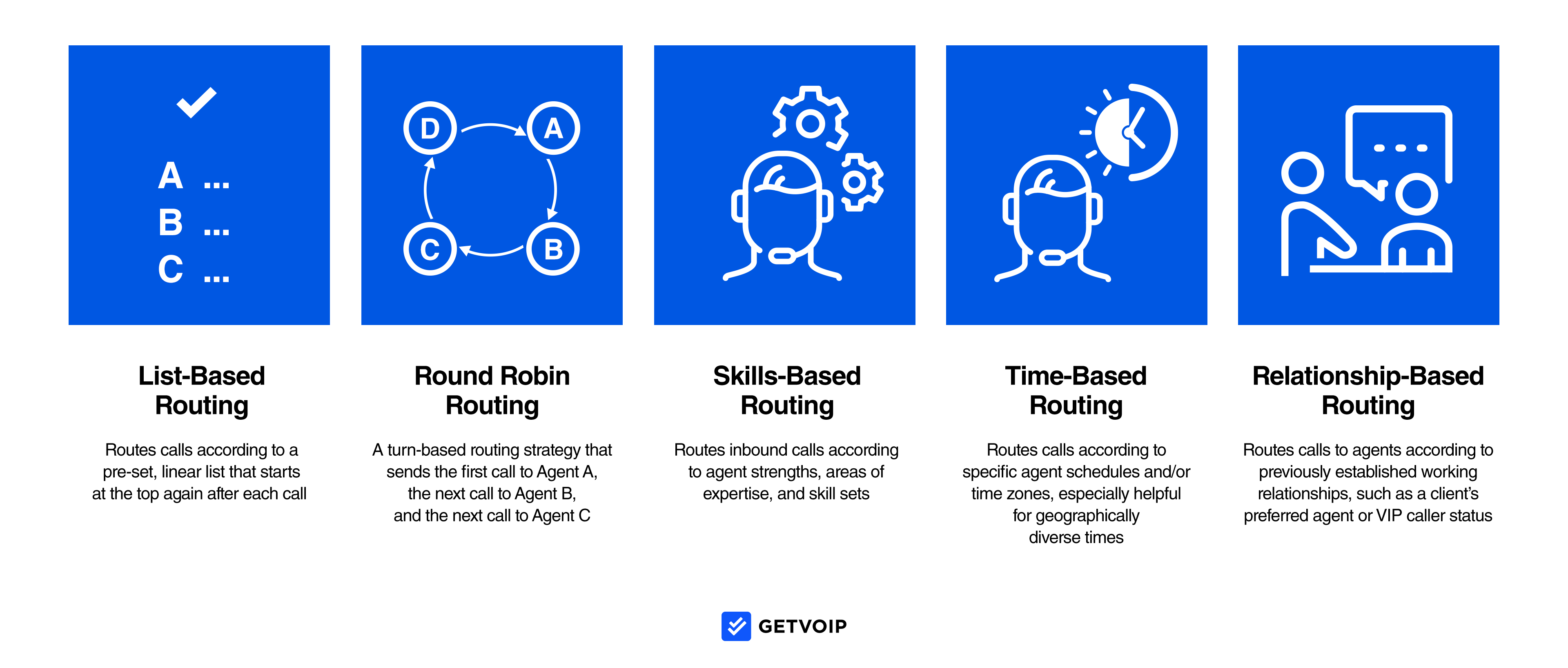 CRM Integrations
Third-party CRM solutions provide essential caller and customer information, as well as insight into the overall history of each customer and their relationship with your business.
By integrating existing CRM tools into your IVR system, agents can have instant access to caller information through automated CRM call pops, which "pop up" instantly when a customer contacts your business.
These call pops display key details like:
Date of last contact
Purchase history
Notes from other agents
Contact information
Order information
Call Recording and Transcription
Call recording helps admins and supervisors to evaluate not only the quality of assistance individual agents provide customers, but also the quality and effectiveness of their current IVR menus and call paths.
Admins can automatically record calls, or do so on an on-demand basis.
Call transcriptions provide searchable, written transcriptions of these call recordings, so admins or automated analytic tools can look for common patterns, recurring words/phrases, and more.
This makes optimizing IVR systems easier than ever.
Call Scripting and Internal Wikis
Call scripting is the process of writing and recording preset IVR menu options.
You'll need easy access to intuitive call scripting tools that make it easy to save, record, and replace existing menu options. As with call flow design, call scripting tools should offer drag-and-drop configuration.
Call scripts also refer to pre-written "scripts" individual agents can follow when interacting with customers according to specific issues or needs. Internal script databases let agents from other departments jump in and assist team members when call queues or call volume becomes especially high.
Internal wikis provide a searchable database of key company, product, and/or service information (sometimes, but not always, of a technical nature.) Agents can quickly search these wikis while on the phone with a customer to ensure they provide them with the best possible assistance quickly, without the need for a callback.
Call Queuing and Ring Groups
Call queues keep your business organized and better manage daily call volume by sending callers to specific groups of departments and agents.
These agents and departments are grouped together according to their skills, training, and roles within your business to ensure that customers will get the help they need without having to wait too long in the queue
Call queues should provide updates such as the caller's current place in line and/or estimated caller wait time every few minutes.
Ring groups are groups of related agent phone numbers that simultaneously ring when a caller dials a single phone number or extension. The call goes to the first agent that picks up the phone.
These ring groups increase the chances that a caller will speak to a live agent.
Automated Queue Callbacks
If callers don't want to wait on hold in lengthy call queues, they can use the automated callback feature to schedule a time of their choosing to receive a callback when an agent becomes available.
Inbound and Outbound Support
Contrary to popular belief,  today's IVR systems offer not only inbound call management and routing, but also support for outbound calls.
For example, outbound IVR can dial out and play pre-recorded messages to callers, giving them the chance to interact with the IVR system proactively.
This is popular with things like appointment scheduling and confirmations, surveys, and political campaigns, to name a few.
How To Evaluate an IVR System
The IVR systems we've outlined on this page offer the above features, a variety of scalable pricing and plans, and have consistently strong user reviews.
But to figure out which one is the best option for your business, there are a few other key points to consider.
Decide if you need a standalone IVR system, or if your business is ready for a complete call or contact center system that offers interactive voice response as one of many bundled features. Make sure the platform you choose integrates with your existing business software and any hardware you wish to keep. Consider the kind of installation and setup assistance, as well as long-term support and customer service, the provider offers.
IVR systems are now seen as an essential business communications tool, but not all of them are created equal. Our blog offers more in-depth information on the providers listed above and includes head-to-head comparisons to help make your choice even easier.
IVR System FAQs
We've answered some of the most common IVR FAQs below.
The purpose of IVR is to automatically collect essential caller information and direct these calls accordingly without the need for a live assistant to manually manage calls.
IVR is designed to increase first call resolution rates, to improve the customer experience, and to prevent live agents from losing time to activities that could easily be automated. IVR is especially focused on providing excellent customer self-service.
IVR is used within a variety of industries and for many different reasons, such as: 
By call centers and contact centers to provide customer service or accept sales 

By debt collectors and banks to accept payments over the phone

By retailers to accept orders or provide order updates 

By service providers to schedule and manage appointments 

By brick-and-mortar stores or other spaces to provide location and hours information
IVR systems costs vary greatly depending on whether you're purchasing a standalone IVR software, or if you're purchasing call center or contact center software that includes IVR as a feature. 
Call and contact centers with IVR as a feature can range in price from $20.00/user per month to $150.00+/user per month depending on additional features and the specific provider. 
IVR solutions on their own can range in price from $800.00+ for one hosted phone line to $1,500 and up for an in-house line.
IVR call flow is a predetermined call forwarding and routing path that automatically directs callers to relevant, available agents based on the caller's responses to pre-recorded IVR prompts. 
For example, IVR call flow ensures that callers with questions about their account statement are directed to the billing department, and not the sales or HR department.
There are several possible call path options if there is not an available agent to assist a caller. 
Admins can set the call flow to automatically end the call with a message like, "There are no available representatives to take your call. Please hang up and try your call again later, goodbye." 
But simply ending the call is, of course, not preferable if other options are available. 
Admins may opt to have unanswered calls automatically forwarded to voice mailboxes, forwarded to another agent, or even forwarded back to the main IVR menu for additional options.
Instantly compare call center software.
Bottom line quotes from vetted providers.
"GetVoIP's comparison guides made it easy to summarize services and make an informed and cost-effective decision."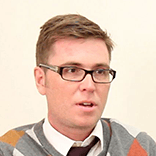 Richard J.
Founder & CEO, Fanology Social