Provider

Features

Money Back

Reviews

More Details

Twilio

Instant Provisioning and Pay-as-you-go Pricing
Redundant Tier 1 Carrier Connections
Get Voice and SMS on The Same Phone Number
Phone Numbers in 100+ Countries

Cancel Anytime, No Fees
Read Reviews

Nextiva

Unlimited Nationwide Calling
Works With Any PBX System
No Setup Fees & Free Number Porting
8 Carrier-Grade Data Centers

30-Days

Read Reviews

Alliance Phones

One of Highest User Reviews & Ratings
Nationwide coverage, Instant Number Provisioning
Geo Redundant Servers, Automatic Failover

Cancel Anytime, No Fees

Read Reviews

Bandwidth

Fully Compliant Voice & SMS in 65+ High-Value Markets
Instant Global Coverage via a Single SIP Connection
One Contract, Flexible Pricing & Scaling Discounts

Cancel Anytime, No Fees

Read Reviews

8×8 Inc.

Easily Deployable & Unlimited Extensions
99.997% Uptime Guarantee + Real-time Call Analytics
Integrate Into Existing System

30-Days

Read Reviews

Plivo

Outbound Calling in 195 countries + Inbound in 70+
Direct, Tier 1 Carriers Connections Globally
Pay-as-you go Pricing - No Minimum Commitment

Cancel Anytime

Read Reviews
Instant Provisioning and Easy, 5-minute Set-up →
Jump to ↓
What Is SIP Trunking?
SIP Trunking is an application layer protocol that creates a virtual connection between the traditional Public Switched Telephone Network (PSTN) and cloud-based VoIP communications.
Put simply: SIP trunking is what gives standard, premise-based business phone systems access to the advanced features and benefits of VoIP.
Plain Old Telephone Service (POTS) relies on copper wiring – a physical connection to the circuit-powered PSTN – to make and receive telephone calls. SIP Trunking, however, uses the Internet to virtually connect to the PSTN, digitally transmitting data over existing IP networks.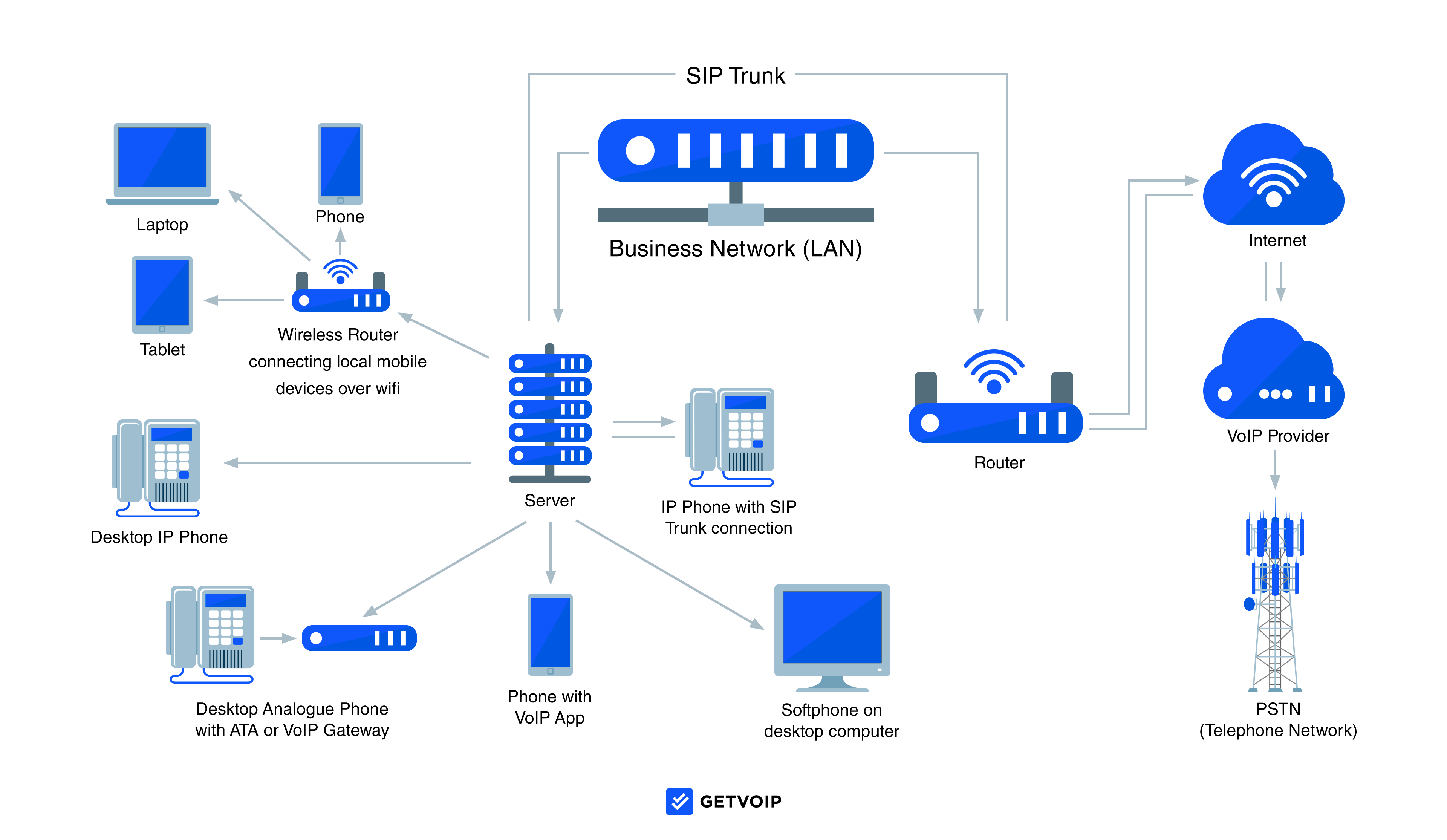 Each SIP Trunk is essentially the virtual equivalent of one traditional phone line – but SIP Trunking allows for much more than just VoIP voice calling.
A single SIP Trunk gives users access to multiple communication channels like voice calling, SMS texting, instant chat messaging, and even video conferencing all on the same virtual phone line. Though it might seem complicated, the way SIP works is really all in its name. "SIP" stands for "Session Initiation Protocol," meaning that SIP Trunks initiate a virtual communication session over an existing Internet Protocol (IP) network.
How SIP Trunking Works
SIP Trunking works by providing existing IP PBX or legacy PBX (Private Branch Exchange) systems with advanced cloud-based VoIP communications, eliminating the need for landlines except as a backup solution.
A PBX system is an internal business phone network allowing businesses to run their own private, company-wide phone system. This way, businesses avoid paying phone companies a premium price for additional phone lines.
There are three primary PBX system configurations: cloud-hosted PBX, onsite IP PBX, and the outdated legacy PBX. Each one requires SIP Trunking to enable VoIP and UCaaS communications, but the SIP hardware configuration and setup vary depending on what type of PBX system you're using.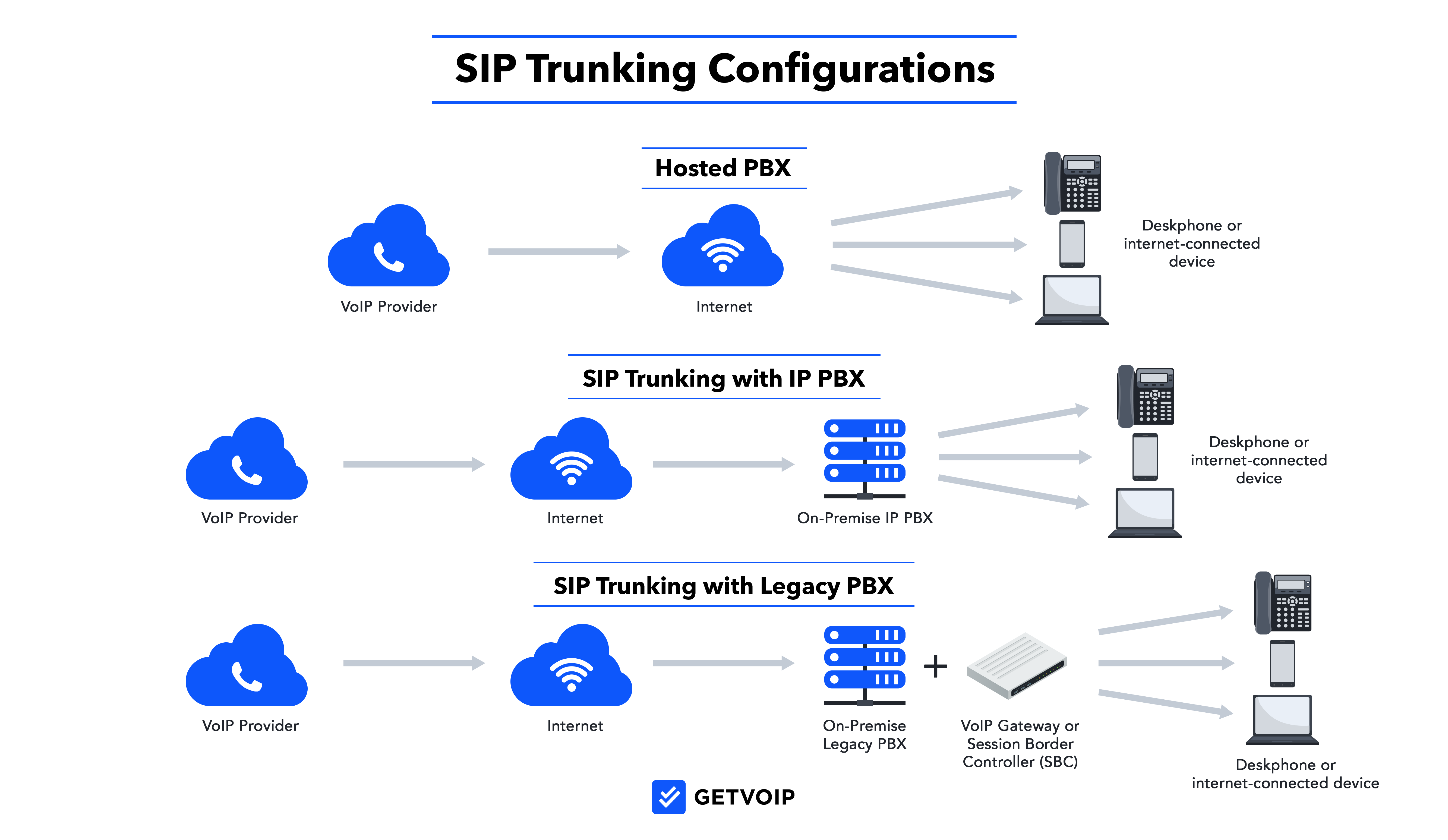 SIP Trunking with Cloud-Hosted PBX
With a cloud-hosted PBX system, your VoIP provider–such as RingCentral or Nextiva–hosts the IP PBX system and SIP trunks on their premises. In other words, your provider trunks between the internet and the PSTN.
This means that your company doesn't have to install or manage any PBX or SIP Trunking hardware, but you can still enjoy the benefits of SIP: VoIP or PSTN calls, multiple communication channels, and other advanced features.
SIP Trunking with an On-site IP PBX
An onsite IP PBX system utilizes a SIP-compatible PBX server, which you host and install on-premises, that connects your business phone system to the internet and the PSTN.
Adding a new SIP trunk line–and new users–is easy with onsite IP PBX: simply log into your PBX system's online portal, add a new SIP Trunk, choose the phone number, and register the new SIP trunk with a SIP provider. One onsite IP PBX system can support your company's remote users all over the globe.
While on-site IP PBX and cloud-hosted PBX both utilize IP PBX systems, the key difference comes down to where the IP PBX is hosted: on your business premises or on your provider's.
SIP Trunking with Legacy PBX
While legacy PBX systems typically connect only to the PSTN via copper-cable PRIs, you can use SIP trunking to connect your legacy PBX to the internet and facilitate VoIP.
However, SIP trunking with a legacy PBX system is somewhat painstaking and requires some additional hardware: either a VoIP gateway or a session border controller, either of which enables secure data-packet transmission between your local network and the greater internet.
SIP vs VoIP: What's The Difference?
SIP is an internet-based protocol that establishes and facilitates the live transmission of multimedia data such as VoIP packets, while VoIP refers to internet-based voice calling. Comparing the two technologies is sort of like comparing apples and oranges, because they have different functions and usually go together: SIP protocols enable VoIP data transfer.
In other words, SIP is one protocol that enables VoIP to occur.
"VoIP" stands for "Voice Over Internet Protocol," meaning that it relates only to voice (telephone) calls made over the Internet.

While VoIP calling is a part of SIP, SIP also enables additional methods of communication, meaning it is not limited to voice calling alone. As we mentioned earlier in this post, SIP users can communicate via voice, SMS texting, video communication, and instant messaging with file sharing.
While all SIP services will include VoIP, not all VoIP services will allow for the additional communication channels that SIP provides.This is why SIP is now commonly seen as the backbone of Unified Communications platforms, whereas the term "VoIP" is traditionally used when discussing voice calling only.
For more information, read our detailed comparison of SIP vs VoIP or use the below table as a quick reference.
SIP
VoIP
Unified Communications (UCaaS)
Business Phone Service (Business VoIP)
– Voice Calling

– SMS Text Messaging

– Video Conferencing

– Instant Chat Messaging

– Voice Calling

– Some providers offer SMS Texting

Always includes VoIP
Does not always include SIP
SIP Trunking Pros and Cons
The below table outlines basic SIP Trunking Pros and Cons:
SIP Trunking Pros
SIP Trunking Cons
– Cost-effective, especially when compared to traditional phone systems

– Scalable pricing structure offers pay-as-you-go or bundled payment options

– May incur additional unforeseen costs if current bandwidth is too low or if current hardware isn't SIP compatible
– Increased mobility and flexibility ideal for the remote/geographically diverse workforce
– Mobility means a greater risk of security breaches, hacks, etc.
– Offers multiple communication channels like voice, SMS texting, instant chat messaging, video calling
– If opting for bundled plans, may end up paying for communication channels you don't currently need
– Grants access to advanced VoIP features unavailable with traditional phone service

– Gives even small businesses the same resources of a larger company, establishing an authoritative presence

– New features mean a higher learning curve that may take time for team members to understand and be able to take advantage of
– Excellent call quality with HD voice, background noise suppression, echo cancellation, etc.
– Internet connectivity issues will impact call quality
Now, let's explore some of the biggest SIP Trunk benefits in more detail, as well as the potential drawbacks.
SIP Trunking Cost Savings
The cost savings, especially when compared to standard phone systems, are easily the most well-known SIP Trunking benefit.
SIP Trunks offer numerous ways to cut business communication costs by anywhere from 50% to 70%. SIP Trunks are also more than 25% cheaper than PRI (Primary Rate Interface) Trunks.
First, you'll no longer need to worry about the costs of expensive hardware and equipment like servers, hard phones, and monthly maintenance fees and installation expenses. Plus, SIP can easily handle 20+ simultaneous calls per trunk, so you'll no longer need to pay exorbitant fees and setup costs for additional phone lines.
Because SIP calls take place over the Internet, they're designated as local calls, not long-distance ones. This allows businesses to avoid the expense of long-distance calling costs, as well as to make entirely free calls to other VoIP users.
Finally, SIP Trunking offers scalable, flexible pricing structures that simply aren't possible with traditional phone systems. SIP users can choose between bundled tiered plans with unlimited monthly minutes, or opt for pay-as-you-go pricing. It's easy to upgrade – or scale down – your plan as needed.
Potential Drawbacks:
Not all existing phone systems are compatible with SIP Trunking, meaning it is possible to lose access to existing hardware or be forced to upgrade your current equipment for a higher upfront cost than expected.
Additionally, some providers may charge hefty service fees or require long-term commitments for bundled plans. Always ask providers for a pricing breakdown.
Finally, be aware that you may need to pay to upgrade your bandwidth or Internet Service Provider altogether, as SIP Trunking requires a minimum speed of 27 kbps per call.
Mobility and Flexibility 
Today's increasingly remote and blended workforce needs the mobility and flexibility SIP Trunking provides.
Because VoIP communication takes place over the Internet, agents are not bound to specific locations (AKA, tied to their desks all day) waiting for important calls.
Instead, their business phone system is accessible from anywhere – and on any device – that has Internet access. Agents can send/receive calls on desk phones, desktop or laptop computers, tablets, and smartphones.
To add even more mobility, call forwarding features automatically send calls to multiple agent telephone numbers without disconnecting the call.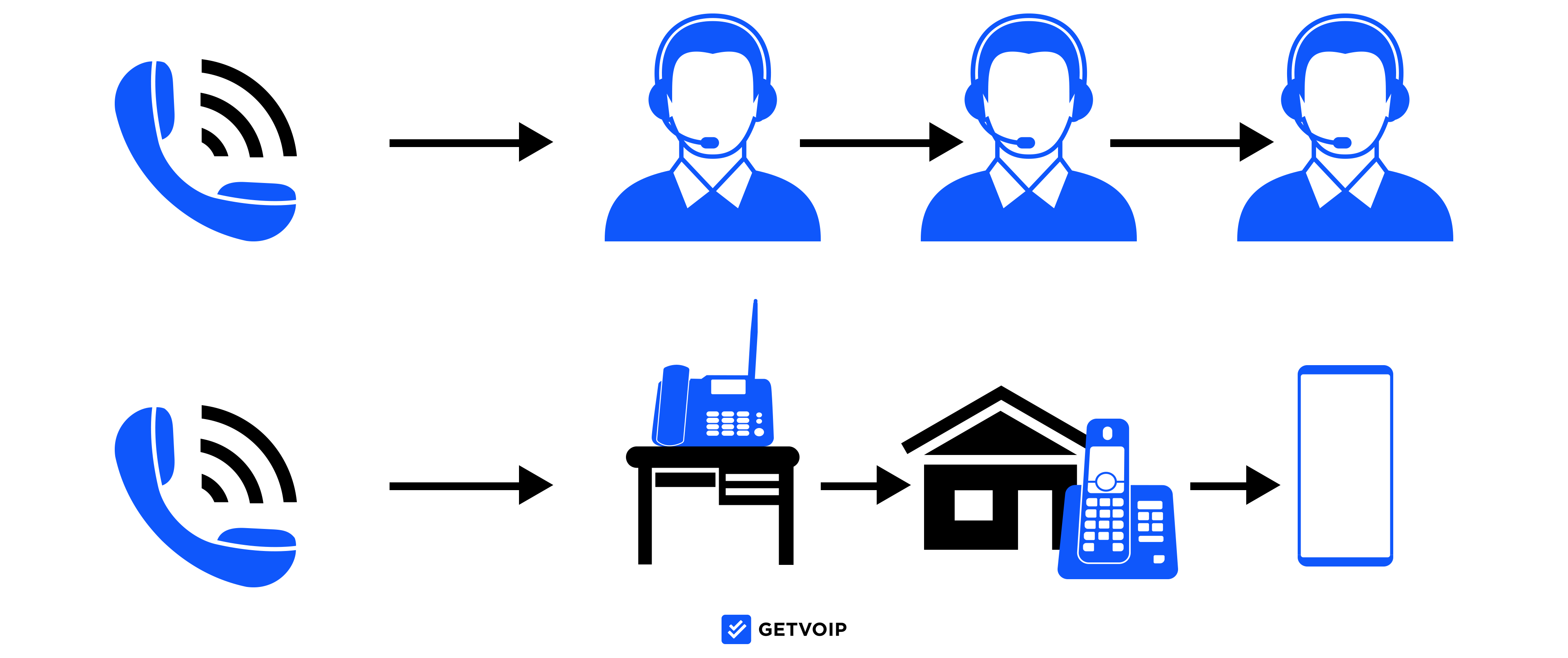 For example, if the agent doesn't answer their office phone, the call is forwarded to their smartphone after a set number of rings. If the agent doesn't answer their smartphone, the call is sent to their home phone number, then to their voicemail or back to another agent.
Potential Drawbacks: 
Whenever business communication or sensitive data leaves a physical office, there's always a higher potential for a security breach of some kind.
This is especially true if users access their communication tools on unsecured or public WiFi networks. Educate your team members on proper VoIP security protocols and requirements, and always ensure the SIP provider offers end-to-end encryption, has third-party  security standard certifications, and conducts regular vulnerability testing.
Though Internet connectivity issues can occasionally cause service interruptions like dropped calls or latency, VoIP technology automatically routes calls to stronger "backup" networks to keep service as reliable as possible.
Advanced VoIP Features
Traditional phone systems offer only basic calling features like voicemail, call hold/call waiting, call blocking, and caller ID.
While these features may be enough for newer businesses or solopreneurs, the reality is that today's business communications require much more.
SIP Trunks provide instant access to numerous standard or add-on VoIP features, such as:
IVR (Interactive Voice Response) and ACD (Automatic Call Distribution)
Call Routing and Call Forwarding
Call Monitoring, Call Recording, Call Transcription
Visual Voicemail and Voicemail-to-Email
Instant Team Chat Messaging and File Sharing
Call Analytics and Reporting
Third-Party Software Integrations (CRM Systems, Team Collaboration Tools, etc.)
Call Park, Call Transfer, Call Flip, Hot Desking
Call Queuing
These features empower even smaller or newer businesses with the same functionalities as their much-larger competitors.
Having these advanced capabilities helps businesses develop a more professional, established presence – and lets them deliver high-level customer service in the process.
Potential Drawbacks:
The only real downside of access to advanced VoIP features and additional communication channels is that it can come with a learning curve.
Especially if teams are used to communicating via traditional phone systems, it will take some time to adjust to managing phone calls on desktop computers or mobile devices. Planning call paths, learning new terminology, and understanding the insights presented by detailed analytics can be a challenge.
This is why it's important to evaluate the kind of customer support, onboarding, and team member training a SIP Trunk provider offers.
Each provider should have a detailed online user knowledge base packed with both written and video tutorials, as well as phone, email, video, and instant chat support.
How To Get Started With A SIP Trunking Provider
To properly set up a SIP Trunking System, you'll need:
A router and firewall setup with support for static port mappings and port address translations
A Fully Qualified Domain Name (FQDN) with a resolution to a static external IP
Adequate bandwidth (27-120 kbps per call)
Once you have the basics set up, you can move onto the actual installation.
Step One: Choose Your Provider
To establish a SIP Trunk, you'll first need to select a SIP-compatible business VoIP service provider.
We'll talk more about how to choose a quality provider in a moment, but you can also take a look at our list of top VoIP platforms.
Step Two: Conduct Firewall Testing
The firewall between your system and the VoIP provider may not be able to route traffic if the configuration isn't properly set up.
Test the firewall for compatibility with the SIP port and the audio port range. If needed, troubleshoot the firewall.
Step Three: Add Your VoIP Account
Next, it's time to configure the VoIP account into your system. You should see an option to add the SIP trunk settings in your user interface. Select the options appropriate to your geographic location and the numbers that are assigned to your new trunk.
Make a name for your VoIP account. Compare the details for your server hostname and outbound proxy with the details from your VoIP provider. Set the number of simultaneous calls that are allowed by your provider.
Set the authentication based on your registration details or your IP. Specify how the routing on your main number should be set up, and specify your DID numbers by adding the ones that are associated with your account. Set the number you want to show up on your caller ID – and don't forget to save your settings.
Step Four: Create Outbound SIP Call Routing Rules
Now you can decide which kinds of calls will be routed over your SIP trunk. Create the outbound rules based on your needs and the capacity of your infrastructure.
Keep in mind that you can route calls through either SIP trunks or gateways. You can base these rules on the group or individual that is making the call, the length of the number or the number that person is dialing.
Make sure that the names for the rules that you set up are intuitive enough to translate between departments. Specify the elements that will trigger each rule.
For instance, you can create rules only for numbers that have a certain prefix, calls that come from a certain range of extensions, calls that go to numbers with a certain length or calls from a specialized extension group.
Specify how these outbound calls will be routed. Each new gateway and your SIP trunk will be listed in the route dialog.
You may also be able to set alternative outbound rules that will step in when the first set of routes is not available. Strip the digits and use the prepend option for each of the routes to transform the number matched with the outbound rule.
Choosing The Right SIP Trunk Provider
When evaluating the quality of a SIP Trunk provider, there are a few key things to keep in mind.
First, ensure the provider is actually using their own network, not trying to sell you a rebranded SIP Trunking service hosted by a completely different provider – a huge red flag. Another sign of a shady provider is one that attempts to charge you to port your existing phone number to their platform. Any quality SIP solution will offer free number porting.
Additional questions to ask include:
Do you offer 24/7/365 support to all customers, or just to customers on higher cost plans? Do you offer paid priority support packages, onboarding assistance, and omnichannel support?
How long does it take you to respond to a service outage or other customer service request, and what is your standard resolution time?
Do you offer both pay-as-you-go and bundled pricing, and do you require a long-term commitment?
What third-party security certifications do you have, and do you offer network redundancy?
What communications equipment is your service interoperable with, and will it work with my existing hardware?
How many simultaneous calls can your service manage?
What communication channels besides voice calling do you offer?
While all of the providers mentioned on this page are the best in the industry, that doesn't mean they're all the right fit for your business.
SIP Trunking FAQs
Below, we've answered a few of the most frequently asked questions about SIP Trunking.
Though the exact number of simultaneous phone calls a SIP Trunk can handle depends on the specific provider, each SIP Trunk can manage at least 20 simultaneous calls.
Remember that each SIP Trunk is actually a bundle of phone lines and channels that all operate via a single SIP connection. Though technically, there's no limit to the number of channels available per SIP Trunk, consider how call quality may suffer if a Trunk is split into too many channels.
To operate a SIP Trunk, you'll need:
An Internet connection

A bandwidth speed of at least 27 kbps per call

A SIP-enabled network configuration

An IP-enabled PBX system or a SIP Gateway to convert a non-IP PBX system to a SIP-friendly system
SIP is a type of protocol that gives users access to VoIP communications, but not all VoIP communications tools are empowered with SIP. This is because SIP, unlike VoIP, is not limited to managing voice calling alone.
In addition to VoIP voice calling, SIP enables additional communication channels like video calling, SMS texting, and instant chat messaging.
SIP protocol works by initiating, maintaining, and ending any real-time IP communication, whether that communication takes place via a VoIP voice call, video meeting, or instant chat messaging session. 
SIP is a signaling protocol, meaning its only jobs are to:
S

end/receive SIP-powered communications to/from devices

C

ontrol/manage  interactive communication sessions
Use our QuoteMatch Tool to get started with SIP Trunking.
Instant quotes from top providers:
"GetVoIP's comparison guides made it easy to summarize services and make an informed and cost-effective decision."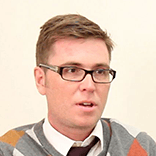 Richard J.
Founder & CEO, Fanology Social