What Can Auto Dialer Software Do?
Auto dialers streamline operations, allowing agents to spend more time per hour speaking directly with call targets. Here's what they accomplish:
Improved efficiency. Automatically dial targets, minimizing the amount of time agents spend connecting with contacts.
Enhanced data. Collects data on calls made and answered, length of call and sales made. This information can be used to find larger efficiencies and streamline operations.
Train employees. The collection of data can create a benchmark for new employees, providing managers with data on workers to help them improve performance.
Dialing Modes
Auto dialers come in four major types: predictive, progressive, preview and power.
Let's look at each one in more detail, as the type of dialer each business uses depends on their specific business function and dialing needs.
Predictive Dialer
Predictive dialers can dial multiple phone numbers at one time. These dialers use a pacing algorithm that can be timed to dial the following number when an agent nears the end of their script. Predictive dialing can be incredibly efficient but also requires an operator that can maintain the proper pace. Predictive dialers tend to be the most popular as they improve call volume and agent efficiency.
Predictive Dialer Pros:
Machine learning technologies allow for multiple calls made at the same time
There's less attrition when it comes to no answer results
Agents spend little idle time since so many calls get made at once
A manager may need fewer agents since predictive dialers provide simultaneous calls
Predictive Dialer Cons:
Since predictive dialers work so fast an agent may not always be available
Customers can hang up before connected with a representative
The transfer to a customer from the dialing system may feel impersonal
The sheer volume of calls may lead to some glitches
These systems do not leave voicemail, so they may call the same number multiple times
Best for:
Cold calling businesses who want to reach out to a larger population and generate more leads.
Power Dialer
Power dialers place the next call immediately once the current call has ended. This solution still provides enhanced efficiency, in order to connect with as many targets as possible.
Power dialing can use phone numbers from a wide range of sources. This includes publicly available numbers, such as those a business posts on Google or through a local directory like Yelp or Foursquare. Some power dialer solutions can scan the web and add this information to call ID contacts.
Power Dialer pros:
The dialer generates all the numbers for the power dialer, allowing the agent to leave voicemail messages and set callbacks with ease
The system pulls from a variety of sources and can even pull numbers from Google
Since the dialer does not control the dial rate, sales teams can gather notes or come up with strategies prior to each call
Agents lead the calls so there is no chance of voicemail issues since agents understand the difference between a recording and live person
Despite the human component, these dialers still feature automation and allow teams to make hundreds of calls per day
Agents can better collect caller information to provide future agents with enhanced context for each lead
Power Dialer cons:
The agent aspect of these products can sometimes negatively impact call volume
Since these dialers can be slightly slower, some call centers must implement regulations to help minimize agent downtime between calls
Organizations may need a larger staff since call volume may be lower per agent
Best for:
Businesses with large teams that still want to have personalized customer engagements.
Progressive Dialer
Progressive dialers work precisely the same as power dialers but go by a different name.
Preview Dialer
Preview dialers provide the operator with a little more leniency. Opposed to immediately dialing the next number, preview dialing allows the operator to delay or skip the next call along with using caller ID. This gives them time to prepare information for the call that is personalized or specific to that particular customer. Preview dialers typically are used when call centers want higher quality calls compared to volume.
Preview Dialer pros:
These provide a solid middle-ground between empowering agents while still maintaining a high call volume
An agent will almost always be available, lowering the abandonment rate.
Agents still have time to gather important information before the next call
These systems have a high call success rate, making them ideal for business-to-business operations
Preview Dialer cons:
Agents may get backed up with up to four calls in a distribution system to get to one live respondent
Agents may not have enough time between calls to gather information
Due to a pause in a respondent's answer, these dialers may cause an agent to leave a pre-recorded voicemail even when a live person answers
Best for:
Smaller organizations looking to make more meaningful calls and those that require agents to take comprehensive notes following an engagement.
Auto Dialer Software Key Features and Functions
Cloud-hosted auto dialers come with a wealth of features to help improve call center operations. These tools work in concert with providing owners improved efficiency, agent talk time and overall productivity.
Unproductive Number Detection
Auto dialers detect unproductive numbers, such as those with no answers, busy signals, voicemails or fax signals. The program will only help in routing live calls to an agent.
List Filtering
Businesses will pay heavy fines if they contact someone on the Do-Not-Call (DNC) or Do-Not-Disturb (DND) list. Auto dialers will filter these numbers, ensuring these lines do not receive calls and remain in compliance with federal and state regulations, in particular the The Telephone Consumer Protection Act of 1991, or TCPA.
CRM Integration
Customer relationship management systems help organize customer data and streamline customer interactions. Auto dialers integrate seamlessly with CRM systems through the cloud, providing agents with live customer information.
List Management
Auto dialers allow users to import telephone numbers from spreadsheets and databases through a list uploader. Once in the system, users can further manage existing customers and management features through the auto-dialing software.
Time Zone Management
The effectiveness of calls drops dramatically if not made at the proper time. Time zone management features ensure that a call's time fits within a reasonable window based on a contact's geographic location.
Call Transfer
Agents access these tools over the internet, so they can work remotely. These auto-dialing systems allow users to transfer calls from various devices, including mobile phones, office phones and softphones.
Dialing Rate
Users can create customized outbound systems with a speed that meets the precise needs of specific campaigns.
Message Broadcasting
With this tool, organizations can broadcast a variety of voice messages to a large number of customers.
Press 1 Campaigns
To help businesses collect customer information, businesses can use Press 1 campaigns that gather customer information. Customers can press a specific key after listening to a message. These tools help gather important data and generate leads.
Interactive Dashboards
Auto dialers can connect to interactive dashboards that provide real-time information on call success and campaigns. A manager can use this information to monitor activities and assess performance based on statistics.
The Benefits of Using Auto Dialers
Auto dialers provide customers with an expansive list of benefits, including improved efficiency, heightened morale and increased lead generation. Let's look at each of these benefits in more detail.
Improved Business Efficiency
Auto dialing eliminates dropped calls, long wait times, misdials and other call constraints that waste valuable call time as they put agents in touch with only connected calls, greatly improving the number of minutes they spend talking to targets each hour. Auto dialers improve the call connect ratio by filtering out things like non-serviceable numbers. These efficiencies ultimately help an organization's bottom line.
Improved Agency Efficiency
Agents that leverage auto dialers can spend 45 to 50 minutes each hour speaking directly with call targets. Thanks to a steady flow of calls, agents do not spend time dialing numbers, waiting for customers to answer, among other hurdles. Agents remain more engaged in their work and value the true skills they bring to the job.
Filter Out Unnecessary Numbers
Disconnected numbers, fax lines and numbers designated, "Do Not Disturb" can sop up valuable time. Auto dialers, however, can sync with existing customer relations management software. Once unproductive numbers have been identified, the platform can update the listing in the CRM to avoid future calls.
Increase Campaign Outcomes
Auto dialers offer the ability to manage both inbound and outbound calls simultaneously. They help agents handle both of these calls simultaneously, allowing them to spend almost all their time speaking to a customer. Transitioning between the two types of calls can be confusing for agents, decreasing productivity. Features built into these platforms such as call queuing and variable dial ratios can regulate the call flow's pace.
Real-Time Data
Auto dialers contribute enhanced data into business operations. Agents and managers can take immediate action to adjust behaviors to meet the desired outcomes using real-time dashboards. Data collections can significantly help new hires, showing them the standard that must be met and allowing managers to coach their performance as needed.
Ability to Shift Strategies
The Covid-19 pandemic has accentuated the need for businesses to be agile. Changes in the economy, legislation and even weather can force organizations to pivot their strategies. These solutions come ready with many of the tools required for a team to be successful, allowing for easy transitions or shifts when required.
Consistent Service Levels
Inconsistent service can hurt a business's overall brand and customer reputation. Auto dialing solutions help hold employees to a high standard thanks to keeping them speaking with customers. This helps maintain a quality level in customer experience and provides motivation for individual agents and supervisors.
Improved Lead Generation
Auto dialers help ensure agents spend their time efficiently. This improved speaking time elevates the volume of calls with prospects and customers, allowing to generate more leads. Many platforms feature a self-service option that asks potential customers relevant information about a service or product a company offers. These efforts can help identify future buyers, providing live agents with a list of interested leads and an improved lead conversion ratio.
Potential Issues With Auto Dialer Software
While auto dialers improve efficiency and business operations, they are not a solution for all organizations. Here are some potential concerns that buyers should consider before making a purchase.
A Large Enough Staff
These tools help improve time spent speaking on the phone, but the return on investment is only realized in organizations with enough call volume. Industry experts argue that businesses should have at least eight to 10 agents working to see benefits. The more agents use the system, the larger benefit organizations will ultimately see.
Answering Delay
Auto dialer software reacts to a live person on the line before transferring to an operator. There is a noticeable delay during the switch over, which presents an opportunity for the caller to disconnect before reaching an operator.
Reduced Calling Control
While auto dialers help dial calls quickly, agents do lose a measure of control. These platforms may not be ideal for certain campaigns where an organization wants to reach certain leads to ensure agents can prepare for every call in streamlined workflows.
Overserved Clients
Hosted dialers with multiple options offer advanced applications that can have steep per-agent prices. Depending on specific needs, a business may want to find a stand-alone system with a lower cost compared to hosted versions.
Regulatory Concerns
Auto dialers provide tremendous value for their customers, but their use comes under scrutiny from government organizations. For example, it is illegal in the United States to use them to call cell phones. Businesses that institute these systems must ensure that they meet all current regulations and that their provider can adjust to potential changes in the future.
The 10 Best Auto Dialer Software
Here are the 10 best auto dialer providers currently on the market.
RingCentral
RingCentral provides businesses with complete inbound, outbound and digital packages to optimize communication and customer interaction. This provider is regularly ranked among the best software providers in the world, including excellent products. The company offers a 99.999% uptime guarantee, custom campaigns and deep data integration among other services. RingCentral will provide prospective customers with a free quote.
Pros:
Supports integrations with all the major CRMs including Salesforce, Chorus.ai, Google, Office 365, and Zendesk
Cons:
Currently no support for Linux environments
Can't create customized conference call greetings
Perfect For:
Large organizations that need tried and tested solutions.
Pricing:
RingCentral offers customers a range of options based on the number of licenses. Large organizations with more than 100 agents can pay as low as $19.99 each month per seat.
Aircall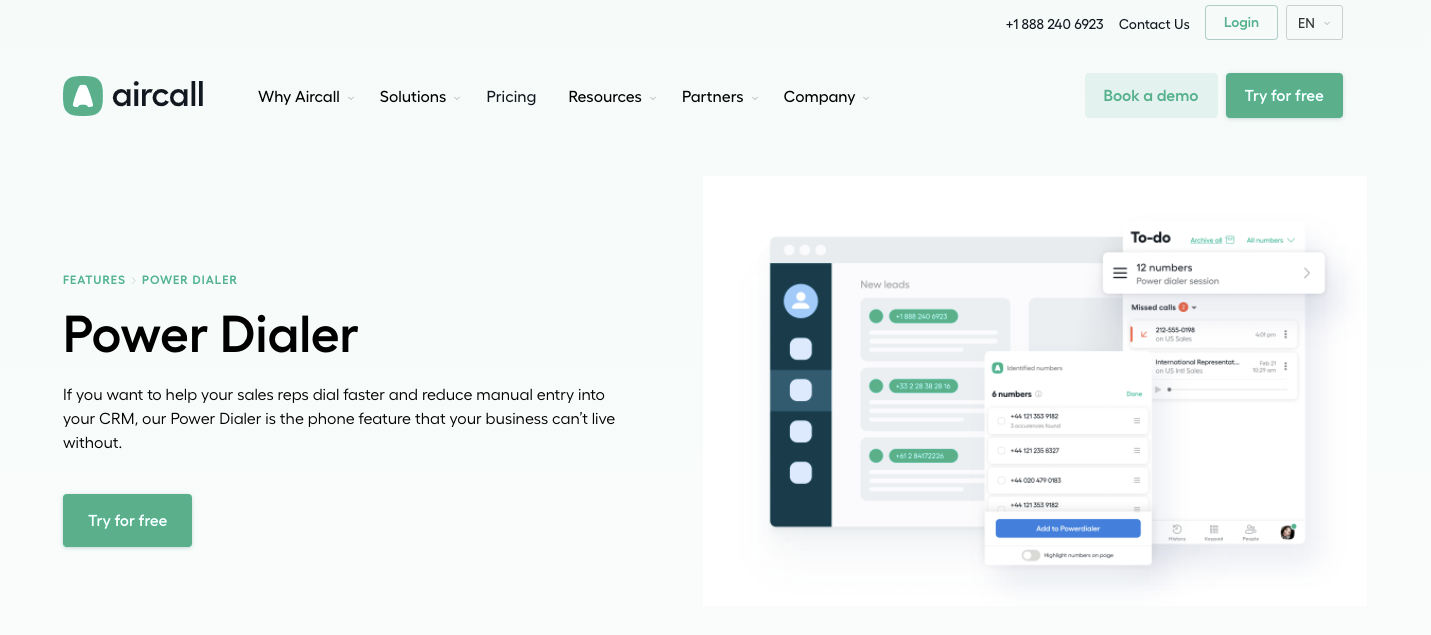 Easy to integrate with Salesforce, Aircall provides representatives with pop-up information about the prospect they are calling. Aircall is another budget powerhouse, providing services for as low as $19.99 per month for each user. It also integrates easily with third-party applications like Zendesk, Pipedrive and Slack, among others.
Pros:
This platform automatically identifies contact information on your prospect's website and adds them to the calling queue
Tight CRM integration can help save users up to two minutes per call
Cons:
Users are not able to use phone numbers to send or receive SMS messages
Perfect For:
Small and mid-sized businesses looking to quickly scale up call volume.
Pricing:
Starts at $30 per user per month.
VanillaSoft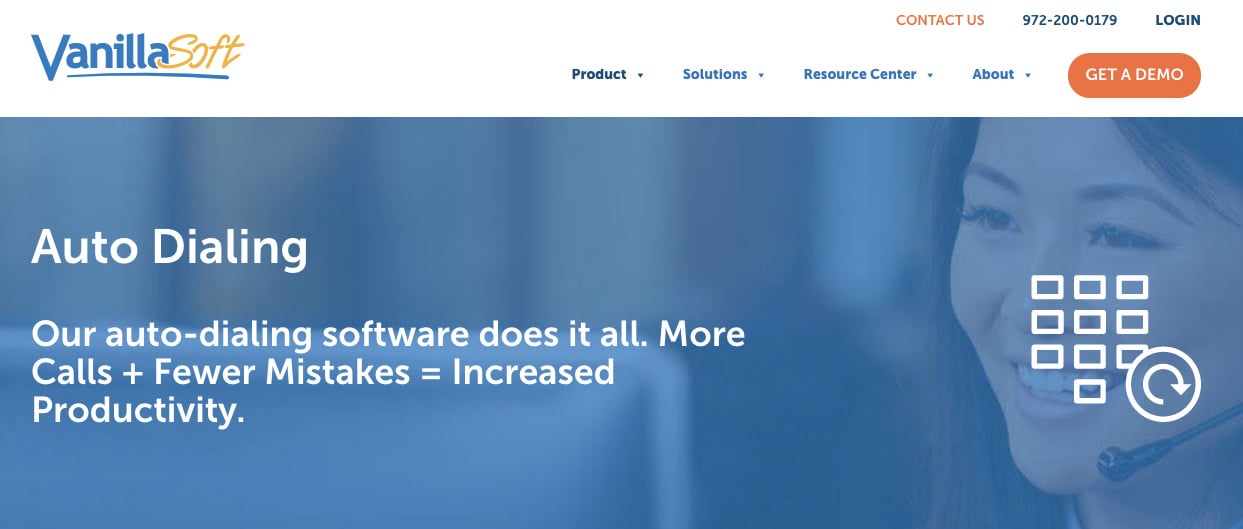 VanillaSoft provides flexible solutions that can integrate with existing operations. It includes many benefits, including the ability to manage dashboards and set up call recording for training purposes.
Pros:
The company promises a 296% increase in call activity
The system easily integrates with an existing phone system, including analog, PBX, VoIP and softphones
Cons:
Some online users have complained of lag or freezing
Perfect for:
Established businesses looking for increased efficiency.
Pricing:
$30 per user per month with an annual discount available.
Voicent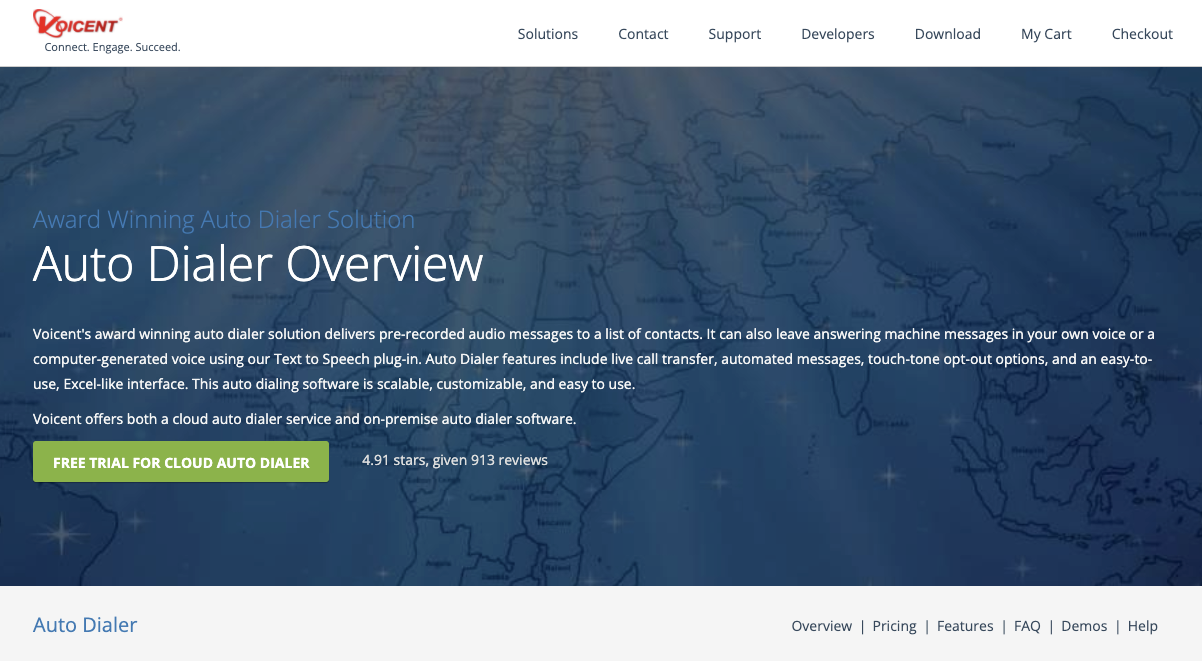 A solid budget option, Voicent offers an easy-to-use product that provides the right amount of functionality for a smaller operation. The company provides services to customers in more than 50 countries, including hundreds of businesses, government agencies and nonprofit organizations. All of Voicent's tools integrate with one another, making for easy integration.
Pros:
Easily delivers pre-recorded audio messages to contacts
Users can create a computer-generated voice using a Text to Speech plug-in
Cons:
Basic setup that may not be ideal for larger businesses
Perfect for:
Startups and small businesses looking for a cost-effective choice
Pricing:
Starts at $19 per month per agent and includes a 30-day free trial.
Five9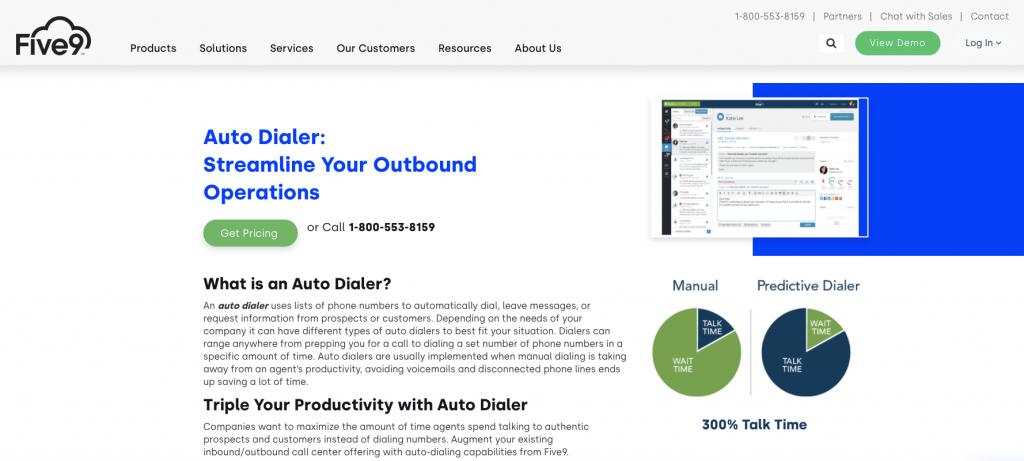 Five9 features a wide range of CRM integrations that combine efficiency with solid customer experience. The company provides cloud-based solutions to firms across the world with major clients including Lululemon, DoorDash and Anthem Blue Cross Blue Shield. Five9 has reportedly helped businesses see a 300% boost in connection rates. The company offers several different solutions and plans to work with customers as they scale.
Pros:
The company promises up to 300% improvement in agent productivity
Scalable solution able to be installed quickly
Cons:
Some customers have mentioned difficulty receiving timely support
Perfect for:
Large business operations looking for an enterprise solution.
Pricing:
Five9 costs between $150 and $200 per agent for organizations with 25 or less concurrent users. That price drops to $100 per agent for organizations with 75 concurrent users.
NICE InContact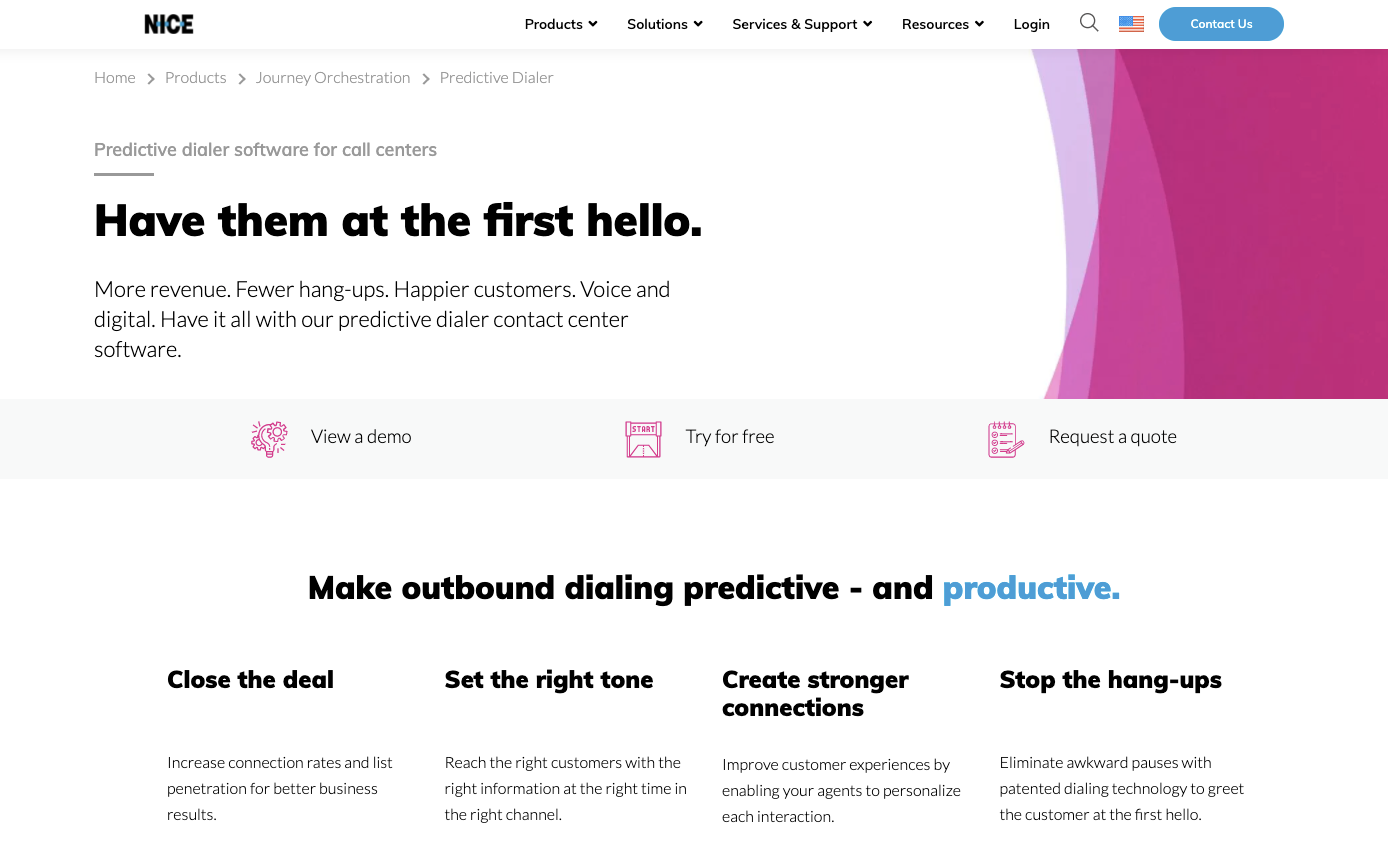 NICE InContact is an omnichannel product that brings together email, live chat social media and more to maximize productivity for agents. NICE InContact works with several large service providers and major brands with thousands of agents.
Pros:
Features an interactive tool for KPI benchmarking to see how organizations compare to competitors
Includes no-pause dialing, custom calling campaigns and higher agent productivity
Cons:
Only allows agents to be available or unavailable without other options
Perfect for:
Large enterprises who want a top-of-the-line system
Pricing:
Nice InContact offers a range of plans but does not advertise prices.
TalkDesk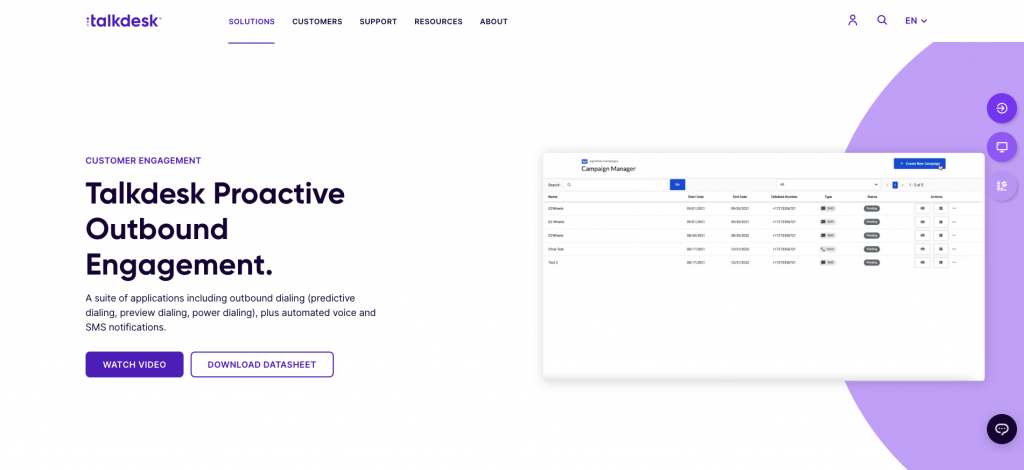 An end-to-end solution, TalkDesk features lots of different integrations and is seen as one of the more powerful tools on the market. The downside is the larger-than-average price tag. TalkDesk is recommended for large-volume businesses that require lots of features and may not be right for most operations. For those that need additional power, TalkDesk is an excellent choice.
Pros:
History of strong customer service and customer experience
Annually rated among the most innovative services
Cons:
Not compatible with all services, including Google Voice
Perfect for:
Companies with at least five agents.
Pricing:
You'll need to request a quote for pricing options.
Genesys Cloud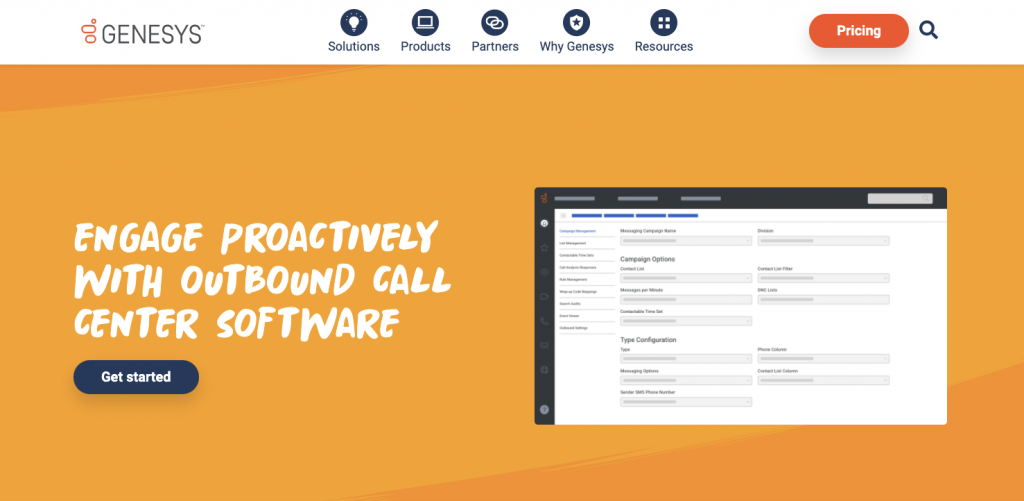 Built for business users, Genesys Cloud features simple compliance and integrated analytics to ensure firms always work within the rules. Genesys Cloud provides an all-in-one cloud contact center and auto dialing solution that helps make for a seamless experience. It is seen as a next-generation solution that focuses on innovation and improved forms of efficiency.
Pros:
Supports agent-assisted and automated outbound call campaigns
Works with existing CRMs to target companies and sectors
Offers interactive voice response solutions, sometimes known as IVR
Cons:
While seen as a solid option, the service has been known to have outages or glitches
Perfect for:
Growing organizations that want to upgrade from a budget solution and improve workflows.
Pricing:
Genesys has service offerings based on each user, running time or concurrent users based on company needs.
Nextiva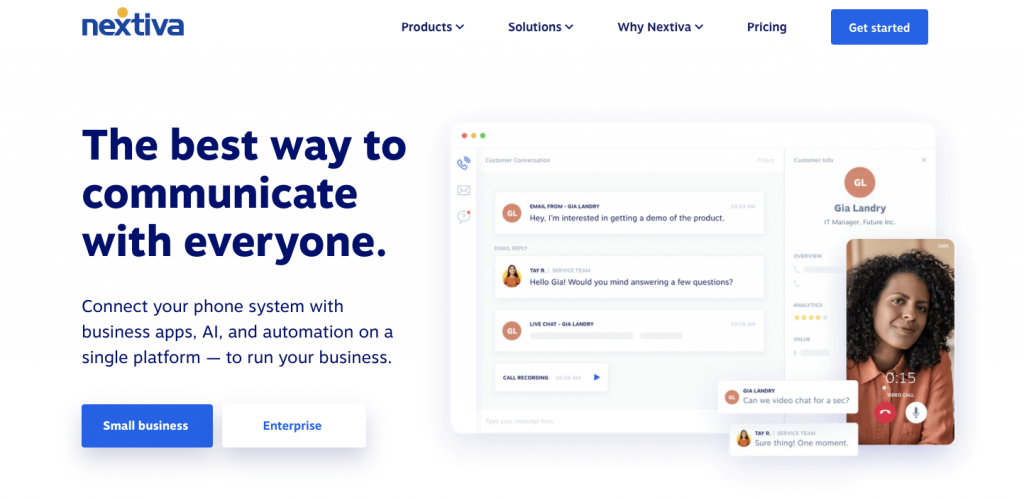 Nextiva seamlessly integrates with leading CRM solutions such as HubSpot, Salesforce, Zoho, Oracle Sales Cloud, and Zendesk, among others. Nextiva leverages the Go Integrator to bridge the gap between its auto dialing software and CRMs. This makes it possible to initiate calls directly from the CRM, making for an easy user experience.
Pros:
Offers a range of additional services and add ons, such as video meetings and Amazon Chime
Cons:
Customer service sometimes struggles to quickly solve lingering problems
Perfect for:
Businesses looking for a robust, secure and reliable enterprise system.
Pricing:
Nextiva plans start at $27.95 per agent and go down in price as the number of licenses increases.
ContactSPACE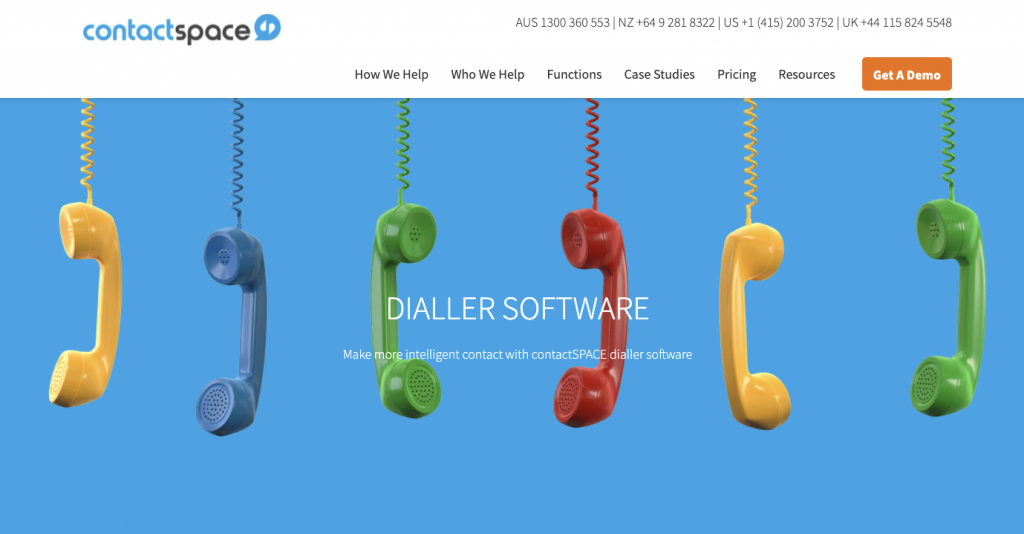 This solution leverages intelligent outbound calling to help organizations reach the right clients. ContactSPACE shines in its development, creating tailored solutions for specific clients. They create a comprehensive onboarding, training and implementation process to help customers quickly ramp up. The company also offers outstanding IT support to help customers continually optimize and refine the platform based on their needs.
Pros:
Works as part of the company's larger cloud tele fundraising solutions
Cons:
Perfect for:
Non-profits
Pricing:
The lowest tier of service costs $105 per user each month.
Auto Dialers FAQs:
Auto dialers are legal, but there are several restrictions that users must follow. Robocalls are allowed to all landlines, regardless if the target gave prior concept. At the same time, automated calls to cell phones are not legal or for people who have put their number on the national "do not call" list.
No. While many perform the same core functions, differences in amenities and customer support vary greatly from provider to provider. Decide what factors are most important to your company and find the provider whose service most aligns with those needs.
Efficiency. The best of these products can triple the productivity of your staff. Even a lower-performing product can provide a return-on-investment that more than covers the cost of purchase.
Instantly compare call center software.
Bottom line quotes from vetted providers.
"GetVoIP's comparison guides made it easy to summarize services and make an informed and cost-effective decision."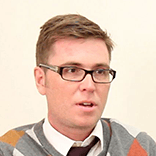 Richard J.
Founder & CEO, Fanology Social