The only thing more frustrating to customers than long call center hold times?
Waiting for what feels like hours only to be connected to an agent that lacks the training, product knowledge, or customer service skills needed to solve the problem.
While VoIP features like automated callbacks and customer self-service expedite phone-based customer support, call routing is an indispensable part of improving call center operations–and by extension, the customer experience.
Here, we'll provide a call routing definition, explore popular routing strategies, and outline best practices.
Compare call center software
from top providers
What Is Call Routing?
Call routing is a call management feature that automatically directs incoming calls to the optimal queues, departments, ring groups, or agents according to a variety of predefined rules and conditions.
Call routing rules can be based on factors like:
Current or predicted call volumes
The customer's specific issue and/or its priority level
Agent schedules and business hours
Customer and agent behavior
Current agent availability
Existing customer-agent relationships
The importance and value of the caller's account
The caller's preferred language
AI-powered algorithms
Call routing often eliminates the need to transfer callers or place them on hold, instantly connecting the customer to the best available agent instead.
However, the ultimate goal of call routing is to determine which representative is most likely–based on their availability, job title, and skillset–to provide the highest quality of customer support and, ideally, completely resolve the customer's issue on the first call.
How Does Call Routing Work?
Call routing works by determining caller intent, sending callers to the correct queues based on caller input, pre-established rules, and routing strategies, then directing those callers to the best available agent.
The call routing process consists of three main steps: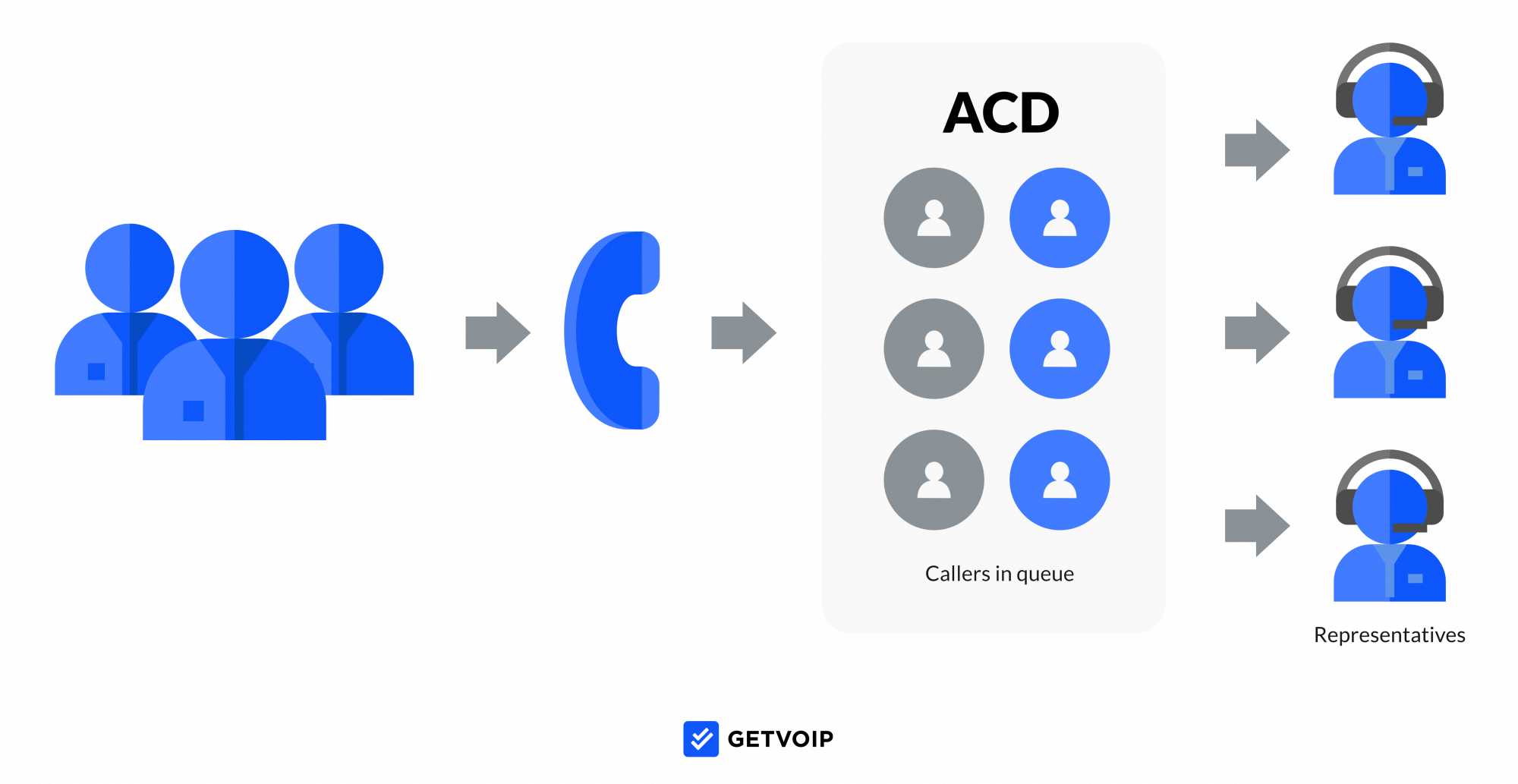 Step One: Call Qualification
The first step in routing business calls is to collect and analyze customer data to determine the caller's intent.
In some cases, the caller's intent is determined by the specific business phone number or extension dialed.
But most of the time, the reason for the customer's call–as well as additional key customer data–is determined based on the customer's input into the Interactive Voice Response (IVR) system.
The IVR system (sometimes called an auto attendant) automatically plays a series of pre-recorded prompts, greetings, and call menu options, which customers respond to via speech or dial pad input. Common examples of IVR prompts include "To report your card as lost or stolen, please press 2," or "To speak to the billing department, say 'billing.'"
Step Two: Call Queuing 
The next phase in the call routing process is the call queuing stage.
Here, Automatic Call Distribution (ACD) analyzes customer IVR input, contact information, and other key data, routing calls to the ideal queue based on pre-established rules and caller needs/intent.
IVR input can be analyzed via Speech Recognition, Natural Language Processing, or Conversational AI.
The Automatic Call Distributor routes calls to specific queues based on pre-set call rules, selected routing options, and criteria like call flow paths, agent availability, current call volumes, and more.
Step Three: Call Distribution
The Call Distribution phase, the last step of call routing service, directs calls from call queues to individual agents. 
As with the Call Queuing phase, call handling and distribution is determined by pre-established calling rules, agent availability and skill sets, and customer data stored in your CRM solution.
This ensures that the caller will be connected to the ideal agent for their unique issue.
Different Types of Call Routing
Implementing a variety of call routing strategies decreases hold times, increases first call resolution rates, and evenly distributes the workload among available agents. Most importantly, effective call routing ensures customers get accurate, current, and personalized support from the representative they speak to.
While popular call management features like simultaneous ringing, ring groups, and call forwarding increase the likelihood of connecting callers with a live agent, the below call routing strategies optimize the entire call queuing and distribution processes, leading to happier agents and customers.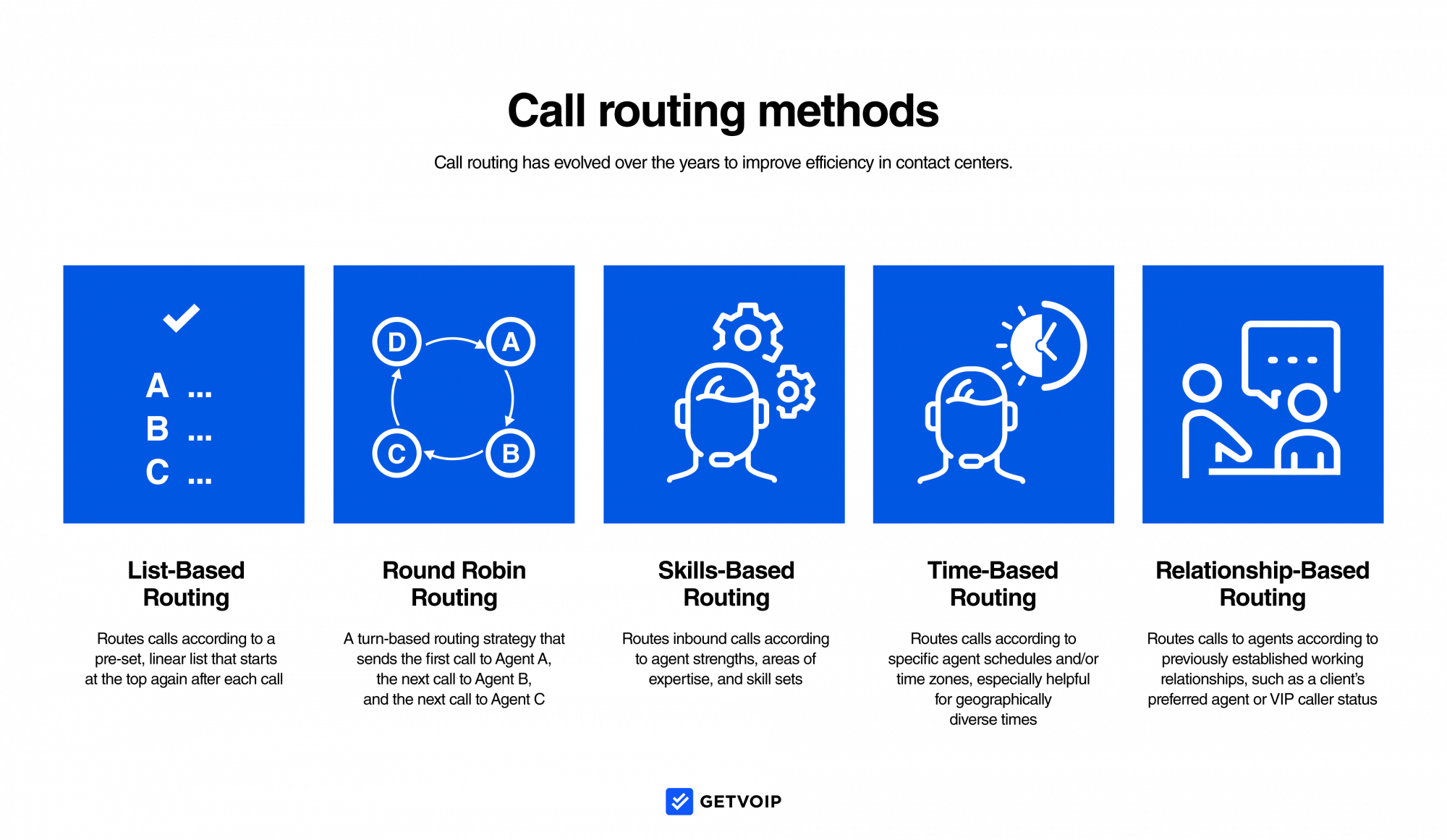 Skills-Based Routing
Skills-based routing uses information the customer provides the IVR system to connect them to agents with the relevant skill set, training, or qualifications to provide the best assistance.
For example, if a customer has a question about an unfamiliar account charge, skills-based routing ensures their call is routed to an agent in the billing department, not an HR representative without access to customer accounts.
Skills-based routing is also utilized in a sales environment. If leads click on a website ad for a specific product, then place a call to the sales department with further interest, skills-based routing can direct calls to the sales representative with the greatest knowledge of the particular product.
Least Occupied Routing
Least occupied routing, sometimes called most idle routing, connects an inbound call to the agent that has taken the fewest number of calls–or has the lowest talk time–that day.
This is especially helpful for customer service and support departments, as it prevents individual team members from getting overburdened with calls.
Round Robin Routing
Round robin routing evenly distributes inbound calls among agents. 
If agents A, B, and C are all on deck to answer calls, the first call goes to agent A. Once agent A has taken a call, the next call will go to agent B, and then agent C. This prevents agent A from being "first in line" to receive every call.
System administrators mostly use round robin routing to create a more equitable sales department.
Predictive Behavioral Routing
Predictive behavioral routing (also called intelligent call routing) uses live and historical call center data to connect the caller to not just the best available agent, but the best available agent that the caller is the most likely to prefer according to customer and agent behavioral analysis.
This routing strategy uses Artificial Intelligence (AI) to create a routing algorithm based on factors like the caller's account history, personality and communication preferences, prior support interactions, and more.
Time-Based Routing
Time-based routing (also called schedule-based or time of day routing) routes calls based on the agent's time-zone or business hours.
It's especially popular with global and geographically diverse call centers, as it prevents agents from receiving customer calls at 2:00 AM their time or outside their scheduled work hours.
Sequential Routing
Also called fixed order routing, sequential routing directs calls according to a list-based order that begins with the same agent, regardless of other agent activity or skill sets.
For example, if agents A, B, and C are all taking calls, agent A will accept the first call, but will also be the first responder for second, third, fourth, etc. calls. Agents B and C will only take calls if agent A is busy or if agent A transfers a call to them.
VIP Routing
VIP routing (also called relationship-based routing) lets businesses prioritize important, high-value clients by automatically pushing them to the front of the call queue.
Language-Based Routing
Language-based routing directs callers to agents that are fluent in their preferred language, an ideal option for international businesses.
The Benefits of Call Routing
Properly-executed call routing streamlines and simplifies business processes and workflows for callers, managers, and call center agents.
Some call routing benefits are obvious, like higher customer satisfaction levels, reduced customer wait times, and increased productivity thanks to agentless automation.
Additional call routing benefits for large and small businesses include:
A More Balanced Workload: Call routing strategies assess daily agent activity, schedules, current agent status, and more to evenly distribute calls among representatives. While this diffuses tension in sales teams, it also lowers agent turnover rates, boosts employee engagement, and improves the overall quality of customer service and support
A Stronger Customer Experience: Call routing improves CX by only connecting callers to qualified agents, increasing customer talk time while preventing customers from repeating themselves, providing 24/7 self-service via IVR and IVA, and integrating with CRM tools to provide a personalized support experience that makes customers feel like a priority
Lower Operating Costs: Call routing lowers the average cost per call, prevents business owners from having to hire additional agents to manage high call volumes, optimizes available agents, improves customer retention rates, and gives agents more time to dedicate to sales calls
Decreased Call Abandonment Rates: In addition to lower call abandonment rates, routing also decreases the number of missed calls, call transfers, and voicemails
Improved FCR: Because routing connects callers to both available and relevant, qualified agents, it's much more likely the customer's issue will be entirely resolved during the initial conversation–meaning higher First Call Resolution rates
Shorter AHT: Even though call routing may increase customer talk time, it still lowers overall Average Handle Time–the length of time it takes to completely resolve a customer issue from start to finish (including IVR interactions, callbacks, talk time, and after-call work)
Call Routing Best Practices
Essential call routing best practices to implement in your business phone system include:
Keep IVR prompts brief and straightforward, direct callers to additional IVR submenus as opposed to including unnecessary details in the call menu greeting
Provide callers with estimated wait times and queue position updates when placed on hold, enable customer callbacks
Continually optimize your call routing strategies by reviewing customer surveys and feedback, call center metrics and KPIs, current business needs, employee performance, and call recordings/transcripts
Always provide customers with the option to be transferred to a live agent when interacting with an IVR or IVA system
Use Workforce Optimization and Management features like trend forecasting, predictive analytics, and automated agent scheduling tools to prepare for busy seasons and peak call volume periods
Frequently update call menus to reflect holiday operating hours, annual sales or events, or even quality assurance/reputation management issues like product recalls
Consider creating standalone local or toll-free business phone numbers for your busiest departments
Invest in a CRM software that lets agents keep and access detailed customer account information, conversation history, agent notes, and more to personalize and improve customer service calls
Better Call Routing Strategies Improve The Customer Experience 
Implementing an effective call routing system ensures customers get quality assistance quickly, prevents agents from getting overwhelmed, and frees up time to focus on more pressing projects.
In addition to call routing, take advantage of other cloud-based contact center and call center software features designed to improve your call handling process, like push notifications, shared voicemail boxes, and AI-powered Agent Assistance.
Call Routing FAQs
Below, we've answered some of the most common call routing questions.
A phone call is routed based on preset calling rules that are followed based on the information the caller provides the auto-attendant with, the caller's identification, the time of their call, or additional criteria the system admin has chosen.
Once this information is provided, the caller is sent to a call queue, where the VoIP system processes their information and then directs their call to the appropriate agent. 
Custom call routing (CCR) replaces your automated attendant with an advanced call routing tree that provides far more specific ways for customers to select the reason for their call and the help they need than a standard IVR menu. 
With CCR, customers are able to access multi-level IVR menus and submenus, hear lengthy pre-recorded responses that provide detailed assistance, or be transferred to external phone numbers.
Call routing sends calls to specific agents or departments based on pre-set calling rules. 
Call forwarding forwards customer calls to multiple phone numbers for the same agent without the customer having to hang up and dial additional numbers. For example, if the agent doesn't answer their desk phone after a preset number of rings, the call will automatically be sent to their mobile number, then perhaps their home phone number, and finally, their voicemail box (or any other pre-programmed numbers.)
Call screening is the process of managing and responding to phone calls based on the caller's identity as displayed in the caller ID box.
Call routing is a top feature of VoIP phone systems, most of which will provide advanced real-time and historical analytics such as:
Average phone call length
Daily call volume
Number of missed or abandoned calls 
Agent-specific statistics
First call resolution rates 
Average call wait time
Customer sentiment
Percent of calls that ended in a sale
You should expect to pay anywhere from $75.00/user per month to $200+/user per month, depending on the software, pricing tier, and additional features you choose.