Virtual phone systems have been steadily replacing the Public Switched Telephone Network (PSTN) for the past several years.
Studies suggest that, by the end of 2021, more than 3 billion people worldwide will be using VoIP calling tools — and that the global virtual telephony market will be worth roughly $93.2 billion by 2024.
But what is VoIP –and more importantly, is it something your business communications strategy could benefit from?
Read on to learn more about why over 90% of IT experts will make the switch from on-premise phone systems to VoIP by the year's end.
Table of Contents
What is VoIP?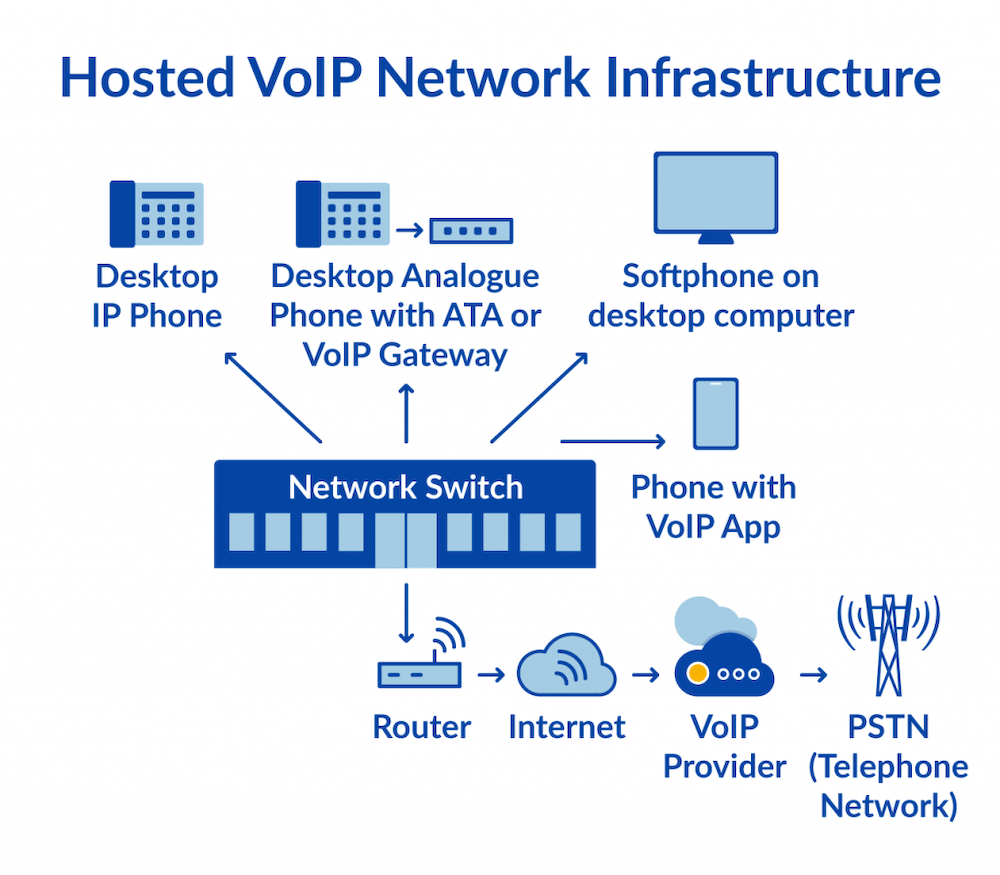 VoIP — short for Voice Over Internet Protocol — is internet-based calling technology that allows users to make and receive telephone calls over traditional telephones, desktop computers via softphone apps, laptops, tablets, and mobile devices.
VoIP makes calls over the Internet as opposed to the fiber optic cables or wiring of the traditional desk phone. Because calls are made over the Internet, users enjoy free unlimited local calls in the United States and Canada, as well as reduced costs when placing long-distance phone calls.
Internet telephony also offers much more advanced features than a standard landline, which only offers basic features like call holds and caller ID. Users enjoy capabilities like call screening, call recording, advanced call management, and often even video calling.
Additionally, online phone systems let companies select VoIP business phone numbers (sometimes called DID numbers.)
These numbers aren't associated with a specific device, but rather with a department, location, or agent. This means online phone calls can be forwarded to multiple representatives, IP addresses, and more. Popular phone number options include toll-free numbers, numbers that establish a local presence, and vanity numbers.
VoIP vs PSTN
The below table outlines the basic differences between VoIP phones and traditional landlines.
| | |
| --- | --- |
| VoIP Telephony | PSTN Telephony |
| Makes calls over the Internet | Makes calls via the local POTS telephone network  |
| Doesn't require a standard telephone, can make calls over computers and mobile devices | Requires a hard phone |
| Can communicate via phone, SMS text messages, video calls, and more | Audio-only communication |
| Long-distance calling costs are a part of a monthly plan | Long-distance calls charged by the minute |
| Short installation process | A complicated installation process that can't be completed in one day |
The History of VoIP
The history of VoIP began in 1925 when AT&T merged with the Western Electric Company to create the Bell Laboratory.
In 1938, Homer Dudley, an engineer at Bell Labs, built the first-ever electronic voice synthesizer, AKA the Vocoder. The Vocoder could analyze and repeat patterns of human speech — much like packet transmissions of digital signals today.
In 1969, the ARPANET, the first-ever packet-switching network, was invented. This meant that packets of data could now be sent over phone networks independently, without needing a continuous end-to-end connection. By 1973, the first voice signal data packet was transmitted.
IN 1975, CompuServe, the first large-scale Internet provider, was born — meaning regular civilians could now access the Internet. It created the first online chat instant messaging service and was acquired by AOL in 1997.
By 1991, the first VOIP application was released, followed by the first video calling system in 1993. VocalTech, the first for-profit VoIP platform, was created in 1995, and a year later, Virtual PBX  (an acronym for Private Branch Exchange) became the first hosted PBX solution.
The arrival of Skype in 2003 meant that the FCC needed to develop regulations for VOIP calling.
By 2010, Voice over IP and SIP (Session Initiation Protocol) trunking had fully entered the business communication lexicon, and haven't slowed down since.
What are the Pros and Cons of VoIP?
In addition to the obvious cost savings VoIP offers, the top benefits of choosing online calling tools include:
Increased employee flexibility (being able to make/receive calls from anywhere
Advanced features that improve productivity
Excellent way to improve customer satisfaction by faster resolution and more time speaking to a live agent in real-time
Takes up less physical space in an office
Simple installation process and user-friendly interface
Offers multiple communication channels in one dashboard
Recent studies on the cost savings associated with making the switch to VoIP found that:
Small businesses saved roughly 40% on local calling costs, and 90% on the costs of international calls
Companies with at least 30 employees using virtual phones save $1,200 per month
VoIP helps companies save over 75% on the costs of their overall business communications
That same study also helped to illustrate the time savings and increase and productivity offered by virtual calling platforms. It stated that:
Business see a 20% increase in office productivity when they switch to VoIP
Online calling saves agents an average of 32 call minutes per day
67% of small businesses say virtual phone features improve their overall call management strategy
Though VoIP is not without its downsides, the good news is that many of these issues are easily resolved.
The biggest con to using an Internet phone is that, if you lose access to the Internet or power, your phone system will lose power as well (unless you use a back-up battery.)
Additional common VoIP problems include jitter, in which dropped information packets are resent out of order, creating a jumbled and unintelligible conversation. Some users report voice echo, which can be solved by taking users off speakerphone or upgrading your current Internet connection. Dropped calls may also occur frequently with VoIP, especially if you have poor broadband Internet connectivity or Wi-Fi.
That being said, the benefits of online phone systems far outweigh the problems. Once you make the switch to VoIP, you'll likely wonder how you ever lived without out.
What Hardware is Needed for VoIP?
Though online calling solutions don't require as much equipment as traditional phones do, some basic VoIP hardware is still required.
This will depend on whether you choose on-premise software (meaning you host your own infrastructure or local server in your office building) or a hosted PBX option.
The latter choice means that a third-party will host your server in the cloud, eliminating the need for you to purchase your own physical server.
Analog telephone adapters (ATAs) mean you can use your standard office phone to make voice calls over a VoIP network. You'll also need an Ethernet cable to connect to the Internet, a PoE injector to physically power that cable, and a channel bank to convert analog signals to digital ones.
You'll also need a:
VoIP gateway to connect traditional phone system networks to computer networks
VoIP router to transfer data packets between networks
IP PBX server to route VoIP calls and connect to the Internet
Uninterruptible Power Supply (UPS) to act as a battery backup in case of an outage
In addition to the above equipment, some companies may elect to purchase additional hardware. Many providers offer compatible VoIP business telephones with features like LED color touchscreens, indicator lights, additional ports, Bluetooth, and more.
Call centers will likely also purchase compatible handsets and headsets for agents.
Especially if your company plans on making regular video calls via IP telephony or with a unified communications platform, you may also consider investing in video conferencing webcams that offer higher video resolution and image quality.
What to Look for in a VoIP Provider
With VoIP telephone services becoming the new normal for business communication, there are more business VoIP phone services to choose from than ever before.
The high volume of providers means companies can choose a VoIP system with the features, plans, and interfaces that will improve their unique workflows. Many platforms even offer customizable solutions and add-ons that make it possible to create a completely bespoke VoIP communications plan.
So, while there are several providers that receive consistently positive feedback and have advanced functionalities that other platforms do not, there is no one-size-fits-all "best" option.
Instead, consider the top decision-making factors like your:
Current communications budget
Desired contract length
Average daily call volume
Number of agents/employees
Industry regulations (HIPAA compliance, etc.)
Security needs
Future business growth
That being said, there are a few essential steps you should take before committing to a provider.
First, ensure that a Service Level Agreement (SLA) is in place. This outlines the length of the contract, pricing, guaranteed uptime, security standards, and the standards of service your phone service must meet.
Additionally, evaluate your Internet Service Provider (ISP) and ensure your current bandwidth levels are high enough to handle VoIP communications. You may need to switch Internet providers or upgrade your bandwidth.
Also consider factors like:
Ease of installation
Customer support availability and channels
Current user reviews
Compatible hardware
Call quality
Essential VoIP Features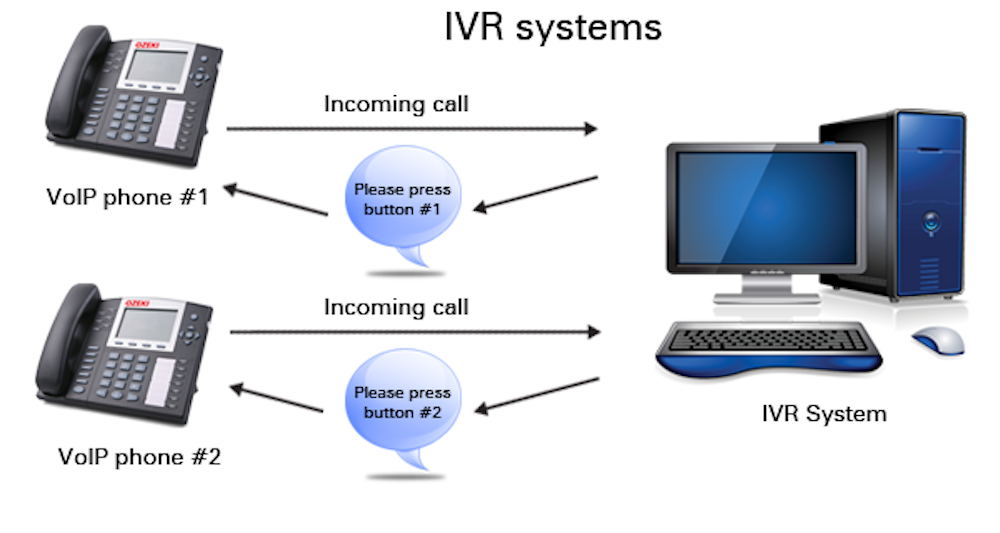 Though each provider's list of VoIP features will vary, there are a few standout capabilities that any calling tool should offer.
The below list defines the most important features to look for when you're choosing an office phone system.
Interactive Voice Response (IVR)
Multi-level IVR is an automated voice receptionist that allows for greater customer self-help and improves call flow.
By interacting with a series of pre-recorded phone tree messages, customers can direct themselves to the right agents, access information they need, and even complete transactions.
In many cases, IVR negates the need for a customer to speak with a live representative, freeing your team up to attend to more immediate issues.
Call Routing and Call Forwarding
Call routing and call forwarding help to increase customer talk time and boost first contact support resolution rates. Call forwarding allows agents to set up forwarding patterns that transfer calls to multiple phones when one isn't answered after a set number of rings.
For example, an agent could get an incoming call on their office phone that's then transferred to their cell phone, then home phone, and then finally to either their voice mailbox or another agent. This increases the chance that a customer won't have to leave a message and can immediately speak to someone on the phone when they call into your business.
Call routing sends calls to specific agents via skills-based routing, most-idle routing, round-robin routing, and more.
Call Analytics
Call analytics and reports track essential KPIs that help you to evaluate overall productivity levels, average talk time, customer wait time, and individual agent performance.
Look for tools with standardized pre-made report templates, as well as customizable reports, that can be exported via PDF for easier sharing with upper management.
Key metrics include:
The average number of daily calls
Number of calls per agent
Number of missed calls
Busiest departments
Agent talk time
First call resolution rates
Call abandonment rate
CSAT scores
Call transfer rate
The average speed of answer
Average hold time
Third-Party Integrations
Your phone solution will be far from the only software your team uses.
Therefore, the system you choose needs to integrate with popular third-party business communication tools like your CRM platform, video conferencing application, project management solutions, and more.
Popular integrations include:
Salesforce
G Suite
Microsoft Office 365
Monday, Basecamp, and Asana
Microsoft Teams
Voicemail Transcription
Voicemail-to-text transcribes voicemails and sends them to agents, often via email or text messages.
This means agents can manage voicemails while on other calls, pass the call off to another agent if needed, and keep better track of missed calls.
Call Recording and Storage
Call recording functionality provides a record of past calls and audio conferences and then stores those recordings in the cloud.
Most providers also offer cloud recording transcriptions, which can be searched and categorized by keyword.
These recordings and transcriptions help you to identity repeating problems, evaluate agent performance, and better understand your customers. Recordings can also be sent to those who were unable to make an audio conference, ensuring that they have all the essential information.
Users can set automatic call recording and often start and stop recordings at any time to maintain privacy. Make sure you fully understand call recording laws in your state before setting up your business phone system.
To learn more about virtual phone functionality, check out our guide to more than 80 VoIP phone features shaping internal and external telephone communications today.
How Much Does VoIP Cost?
The cost of VoIP services, just like the provider you decide to work with, depends entirely on the specific needs of your business and the features you require.
In addition to deciding between a month-to-month no-contract business phone plan and a contracted one, top factors influencing the cost of virtual telecommunications include:
The number of registered users/subscribers
Number of phone lines/extensions
Choice of business phone numbers (local, toll-free, vanity phone numbers, etc.)
International calling rates
Add-on features (extra cloud recording, more call participants, professional voicemail greeting, etc.)
Costs of hardware
Level of customer support (priority support tickets, multiple support channels, etc.)
The below table compares the costs of 5 top VoIP service providers for 20 users per month.
| | |
| --- | --- |
| Provider Name | Monthly Cost for 20 Users |
| RingCentral | From $19.99/user per month |
| Nextiva | From $18.95/user per month |
| Dialpad | From $15.00/user per month |
| Zoom | From $10.00/user per month |
| 8×8 | From $12.00/user per month |
Is VoIP Right For Your Business?
Though VoIP benefits like reduced call time and lower operating costs are helpful for all types of companies, some advantages are particularly useful to specific industries and business needs.
Telemarketing companies and call centers will see the biggest benefits to making the switch to VoIP, especially given advanced call routing options that help to cut down on customer wait time and features like power dialing that make long call lists easier to get through.
Additionally, businesses that provide customer support primarily over the phone as opposed to other communication channels, should opt for VoIP over standard POTS. This way, customers can take advantage of features like being able to schedule their own callback time and call paths that ensure they're connected to the right department.
Banks can use auto attendants to collect payments over the phone, while customers can check their account balances and transfer funds.
Doctor's offices and small businesses like salons can use VoIP features to let customers schedule appointments, and send out automated reminder notifications to patients and customers to ensure they don't miss their appointments.
For businesses of all stripes, VoIP is a smart investment for the future that offers immediate cost-savings and increases productivity in the office.
What Are The Top VoIP Solutions?
Some of the most popular Voice Over Internet Protocol providers to consider include:
Our detailed reviews of these platforms provide detailed information on overall user experience, pricing, available plans, features, and pros and cons.
Curious about how these tools stack up against each other?
Our guide to top business VoIP technology providers makes it easy to compare your options, ensuring you make the right choice for your company's business communication strategy.