8×8 provides a VoIP phone system integrated with unified communications and contact center plans. Agents can use 8×8 for video meetings, file sharing, and internal chat–while administrators can use it to supervise teams.
This article will outline 8×8's pricing and plans, discussing what each plan includes, key features, pros and cons, and alternatives.
VoIP services starting at
$10/mo
Jump to ↓
What is 8×8?
8×8 is a cloud-based phone system offering both unified communications and contact center products that bundle VoIP calling, team chat, SMS texting, and video conferencing.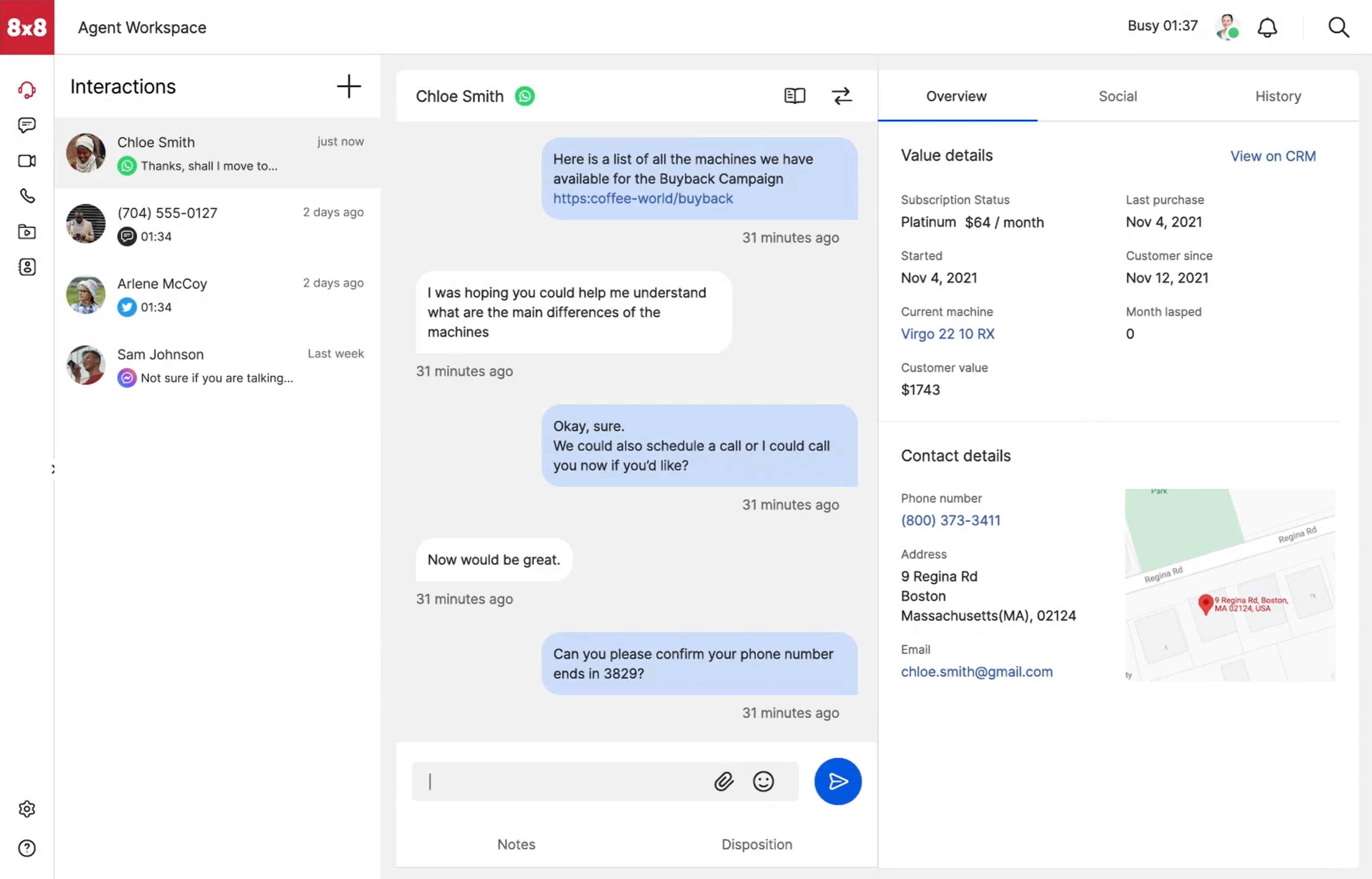 Available in pricing tiers ranging from $24 to over $100 monthly per user, 8×8's software applications support team collaboration, routing and queueing, analytics, AI support and automations, and integrations with hundreds of third-party platforms.
8×8 Pricing and Plans
8×8's offers two phone-system products: a unified communications (UCaaS) platform with two pricing tiers, and a contact center add-on with three pricing tiers. Each higher-tier plan adds new features to the ones before it. Companies can mix and match X-series plans for each user within an account.
Business Communication Plans
8×8's two Business Communications UCaaS plans include VoIP, team messaging, SMS, video conferencing, collaboration, routing, analytics, and more.
X2 Plan ($24 Monthly Per User)
The most basic plan, X2 supports unlimited users and includes all core communication channels. It facilitates team collaboration via file sharing, including unlimited auto attendants, has built-in AI support for live agents, and advanced analytics.
Notable Features:
Unlimited calling to 14 countries: Users can make unlimited calls to 14 countries, including the UK and Italy. While 8×8 doesn't allow you to call mobile numbers from many of these countries, the unlimited calling area is still impressively large.
Interactive video meetings: Host meetings with up to 500 people, with the option for Youtube live-streaming. Meetings include interactive features like polls, emoji reactions, and breakout rooms.
Conversation IQ: Live transcription for all voice calls, plus AI analysis that offers script suggestions, customer sentiment, and agent feedback
X4 Plan ($44 Monthly Per User)
The X4 plan is 8×8's higher-tier UCaaS software, with an expanded unlimited calling area and call center monitoring tools. The large price jump from X2 is mainly due to the fact that X4's unlimited calling area not only doubles the number of supported countries, but it allows calling to mobile numbers in many of the countries that the X2 plan doesn't.
Notable Features:
Unlimited calling to 48 countries: Users can call countries like China, Australia, and India–with the added ability to call mobile numbers in most of these countries
Call center monitoring: Supervisors can listen in on calls, whisper private guidance to agents, and take calls over
Call activity analytics: Supervisors can view call activity historically or in real-time, with the option to drill down into a call's particulars just by clicking on the call record
Contact Center Plans
8×8's three Contact Center pricing plans add email, an agent workspace, an auto dialer, omnichannel and skills-based routing, and more. These plans build upon the UCaaS plans, retaining the collaboration features listed above.
X6 Plan ($85 Monthly Per User)
Voice-focused contact center features–including surveys, intelligent call routing, plus an intuitive agent and supervisor workspace.
Notable Features:
Agent workspace: An agent view that unifies not only communication channels, but integrated data and customer contact information. Agents have fuller context and the ability to easily transfer calls, or communicate with coworkers while live on call.
Post-call surveys: Create telephone surveys to automatically administer to customers after phone calls
Skills-based routing: Route inbound calls to agents based on which agent's skillset best matches the customer's needs and channel
X7 Plan ($110 Monthly Per User)
An omnichannel contact center that adds email, multiple social media channels, and the ability to create chatbots. This plan also supports co-browsing, which enables agents to share the customer's screen for live support.
Notable Features:
Omnichannel routing: Route all inbound contacts to the best-suited agent, across all channels
Co-browsing: Agents can view a customer's screen during live interactions to gain a better understanding of the customer's experience
Intelligent Customer Assistant: Create a virtual chatbot that can support customers with everything from routing to processing payments. Chatbots can recommend knowledge base articles and have conversations across digital messaging channels.
X8 Plan ($140 Monthly Per User)
The X8 plan adds workforce- and quality-management features like volume forecasting, AI-generated schedules, and adherence monitoring. It also adds enhanced interaction analytics and an outbound auto dialer.
Notable Features:
Auto dialer: Preview, progressive, and predictive dialer technology that automatically dials customers from a list, before connecting live recipients to agents
Workforce management: AI algorithms track call volume and forecast staffing needs, creating schedules and delivering them to employees and supervisors. This algorithm also monitors employee adherence and notifies supervisors when an issue arises.
8×8 Key Features
Below, we review 8×8's most important features:
Business Phone System and SMS
All 8×8 applications feature a cloud PBX phone system that's scalable and easy to set up. The phone system includes routing features like multi-level auto attendants, custom call flows, call queues, and ring groups. Supervisors and agents can send unlimited SMS text messages,  record calls, use call monitoring, and access visual voicemail.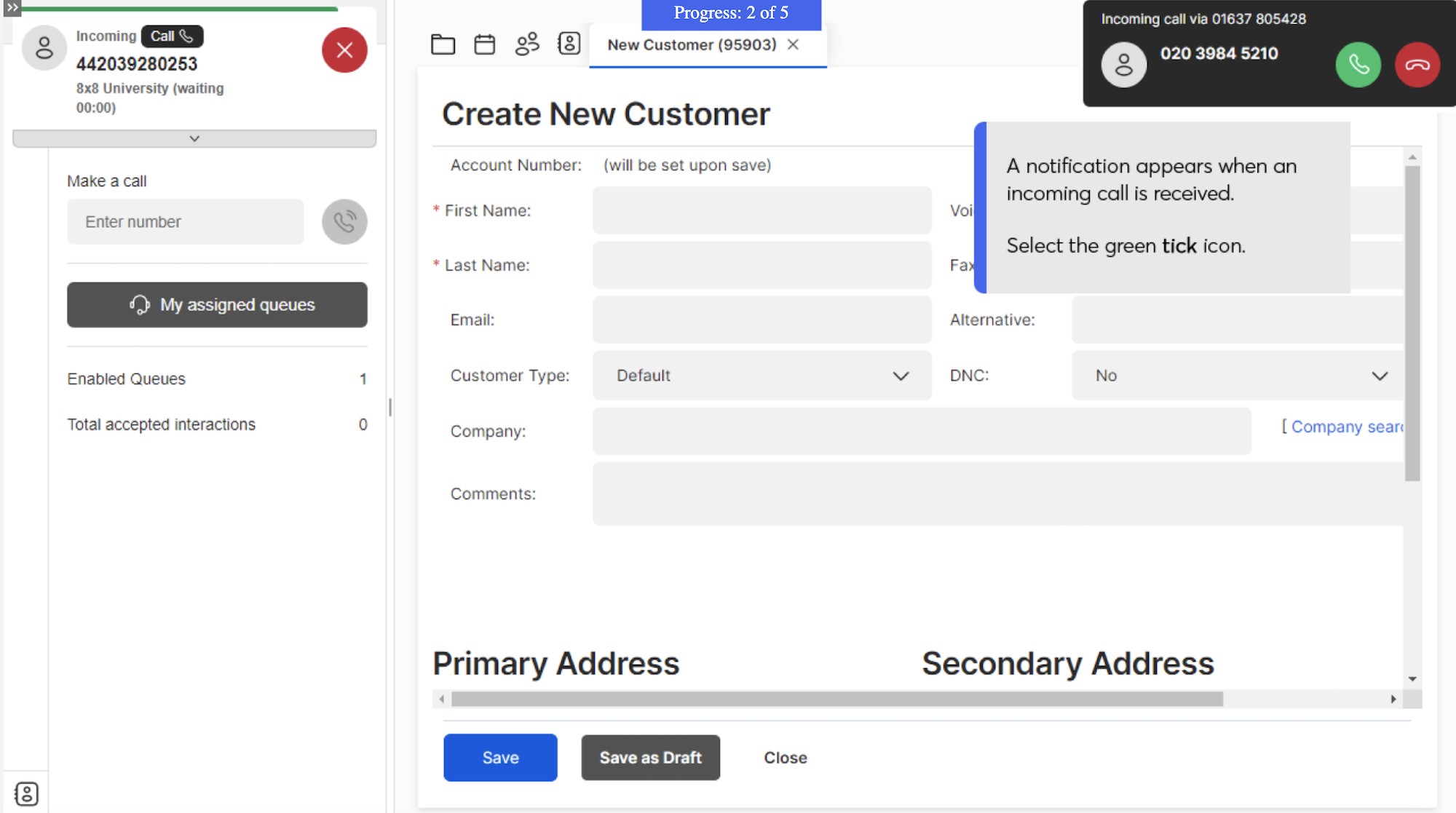 All plans included real-time call analytics and conversation IQ, which provides agents with live conversation support. Purchase local, toll-free, and vanity phone numbers from around the world, assigning them to agents in minutes for domestic or international VoIP calling.
8×8 Business Phone System Features:
Multi-level auto attendant: Create a self-service routing menu, attached to a phone number, that helps customers navigate to the queue or message best suited to help them. Build multiple IVR menus with custom call flow controls.
Ring groups: Group multiple agents and extensions together to share inbound call responsibility. Choose each group's ring pattern–simultaneous, cyclical that rotates down a user list, or a repetitive cycle that repeats with each new inbound call.
Call queues: Organize agents into groups or departments, each with its own queue for callers on hold. Link call queues to IVR and routing rules, with custom hold music and one-click callback options for agents. Each queue has its own voicemail box.
Call monitoring: Supervisors can listen in quietly to agent conversations to monitor and evaluate performance. They can "barge" in to join the agent's conversion, whisper private guidance, or take over the call entirely.
Call recording: Set up on-demand or automated call recording for any user or phone number. Recordings are saved, where users can review, download, and delete them.
Conversation IQ: Real-time AI support that transcribes each call live, creating a separate audio track for each party. The software tracks and categorizes keywords, evaluates and scores agents, provides response and script feedback, and powers in-depth analytics.
Unlimited Calling Area
8×8 offers a massive unlimited calling area that outperforms nearly all phone-system competitors.
The X2 plan includes unlimited calling to 14 countries, and the X4 plan includes unlimited phone service to 48 countries. The X4 plan also enables calling mobile numbers in a much larger number of countries. We've outlined popular destinations in the table below.
* indicates the unlimited calling excludes mobile and premium numbers
| | |
| --- | --- |
| X2 Plan Unlimited Calling | X4 Unlimited Calling |
| USA | Belgium |
| United Kingdom | China |
| Canada | France |
| Australia* | Germany |
| France* | Hong Kong |
| Germany* | Mexico |
| Italy* | Norway |
| Netherlands*, and more | Spain, and more |
Video Conferencing
All 8×8 plans support video conferencing with up to 500 participants and no time limit, for internal team use and customer support. Users can access HD video meetings from any device with no download, and agents can create meetings directly within the 8×8 app to invite participants.
All meetings are encrypted and have the option for password protection. Meeting hosts can delegate co-hosts, lock meetings, add a participant lobby, and set permissions for each participant. Attendees can call in toll-free for audio-only.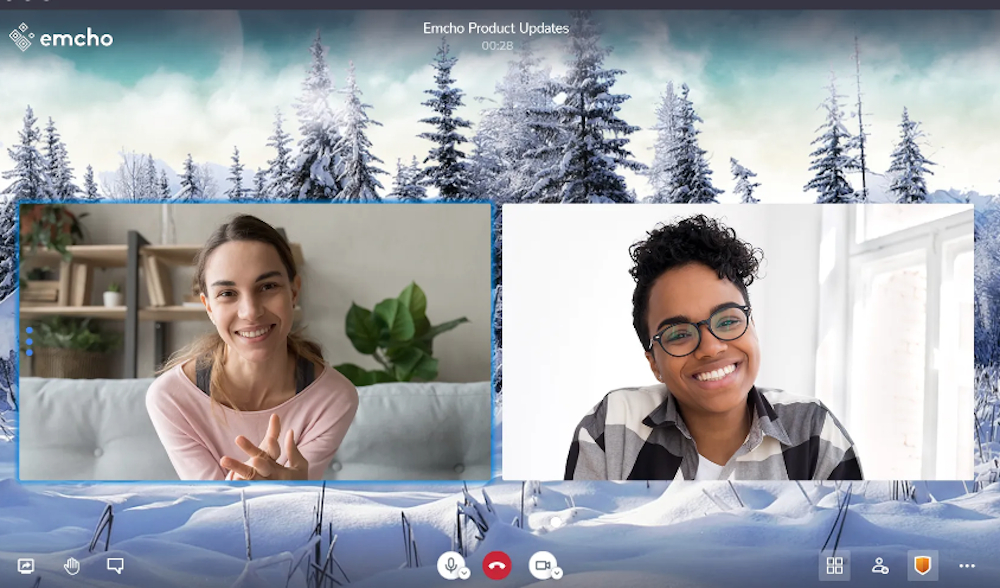 8×8 Video Meeting Features:
Calendar integrations: Sync meetings with 8×8 integrated calendar apps like Google Chrome and Microsoft Outlook
Meeting creation: Users can create an unlimited number of meetings, choosing a repetition schedule, time and date, location, and an invite note. Generate a passcode and invite link to email other users.
Screen sharing: Any user can share their screen or application window on any device–even mobile
Recording: Record meetings on-demand and save recordings
Live transcription and translation: All meetings have live captions, with the option to translate into 46 languages
Chat: During a meeting, users can message the entire group or other individual attendees
Live YouTube streaming: Stream live to Youtube, for larger audiences and webinars
Meeting analytics: Each meeting automatically gathers and archives analytics and data–start and end time, meeting link, and information about attendees
Virtual background: Users can blur their background or set an image as their background
Interactive features: Hand raising, polls, emoji reactions, and breakout rooms
Team Chat and Collaboration
8×8's desktop and mobile app supports team chat for 1:1 or large-group collaboration. Teams can create unlimited public or private rooms to share files.
All of a user's chats are organized in the application's left-hand menu, with notification pings for new activity.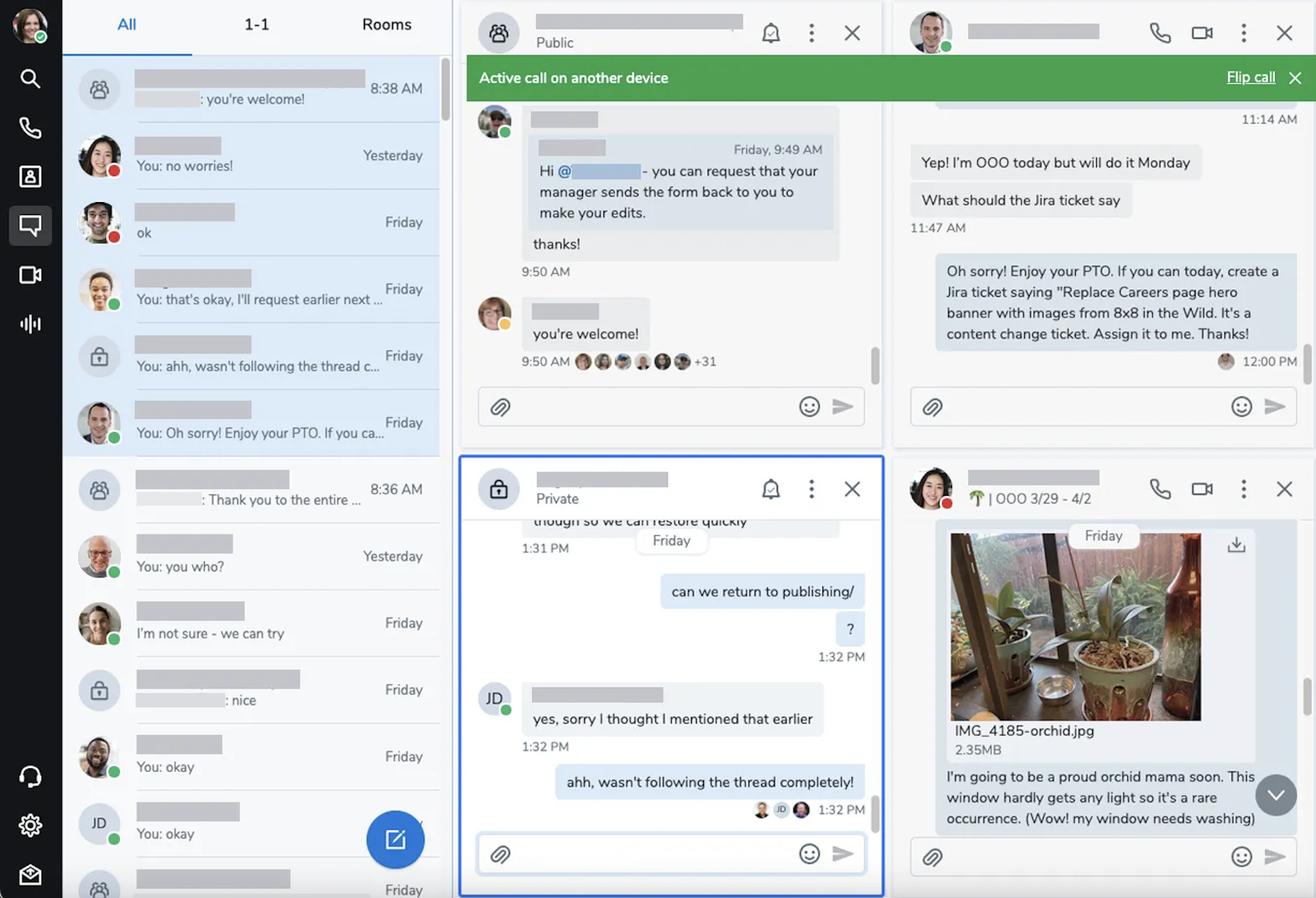 8×8 Team Chat Features:
File sharing: Share and store documents, images, and other file types
One-click audio and video calls: Users within a room can launch audio and video calls at any time with one click
Push notifications: The 8×8 Work mobile app enables users to respond to chat messages directly from the push notification, without opening the app
Add teammates: Easily add new teammates to chat from the company directory, by typing their name
Analytics
8×8 plans include a wide variety of customizable dashboards and reports, which display call center metrics and KPIs. Supervisor analytics track real-time and historical data insights and trends regarding agent performance, call activity, multichannel usage, connection quality, customer service, and contact history.
Reports are customizable and filterable, so supervisors can drill down into particular queues, agents, or calls. Sort data by a certain metric–like average handle time or queue wait time–or click on a particular interaction to view details like the audio recording, transcript, and any AI-generated notes.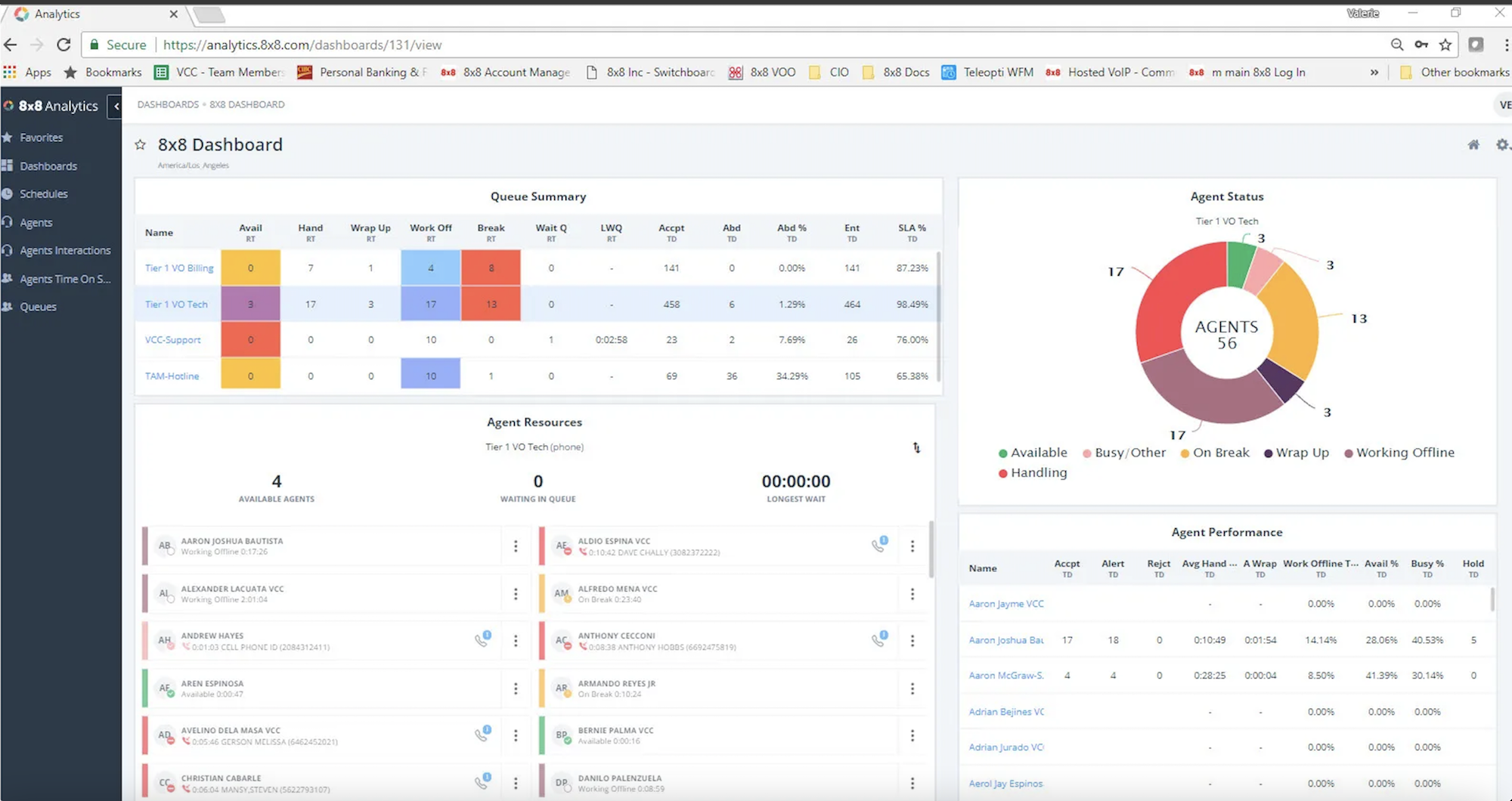 8×8 Analytics Reports and Features:
Call reports: Information about all calls, including the callers involved, date and time, call length, queue, and wait time. Supervisors can click on any call to revisit the audio and transcript.
Customer experience analytics: Live queue reports that monitor all calls and include current wait time, each agent's status, and customer satisfaction–arranged in color-coded visuals and reports
Call quality: Diagnostic reports for all calls and video meetings, about message delivery, call quality, and audio data transfer speed
Speech and sentiment analysis: AI records, transcribes, and analyzes customer sentiment for every call. This enables supervisors to click on interactions afterward, to revisit the audio, transcript, and sentiment.
Custom dashboards: Supervisors can combine users, KPIs, widgets, and visual displays like graphs and charts to create custom reports
Contact Center Features
8×8's X6, X7, and X8 plans add contact center functionality to the app, supporting your phone system with new channels, workflows, routing capabilities, and outbound customer-engagement tools.
8×8 Contact Center Channels:
Voice: With outbound auto dialer and inbound routing
Email: With prebuilt workflows and queues, with time-based processing and priority routing
Chat: Chatbots and up to 6 chat concurrent live-chat sessions per agent, embeddable into your website. Includes real-time translation.
SMS: One-way and two-way SMS, plus the ability to send links to knowledge-base articles
Social media: Facebook and Twitter DM, with scripting tools and skills-based routing based on the channel
Instant messaging apps: WhatsApp, Viber, and more
Co-browsing: Agents can join customers on your app, from the customer's view, in real-time
The contact center provides a new agent workspace that unifies customer context, team collaboration, and multichannel functionality. Agents can view each customer's journey, transfer customers to other agents, and view background information about customers and products using integrated CRM systems and databases. The CCaaS supervisor dashboard gives an overview of queue activity and agent status, with monitoring tools for administrators to jump into live calls.
Support customers with social media and email, intelligent chatbots, skills-based routing, an outbound auto dialer, follow-up surveys, and more.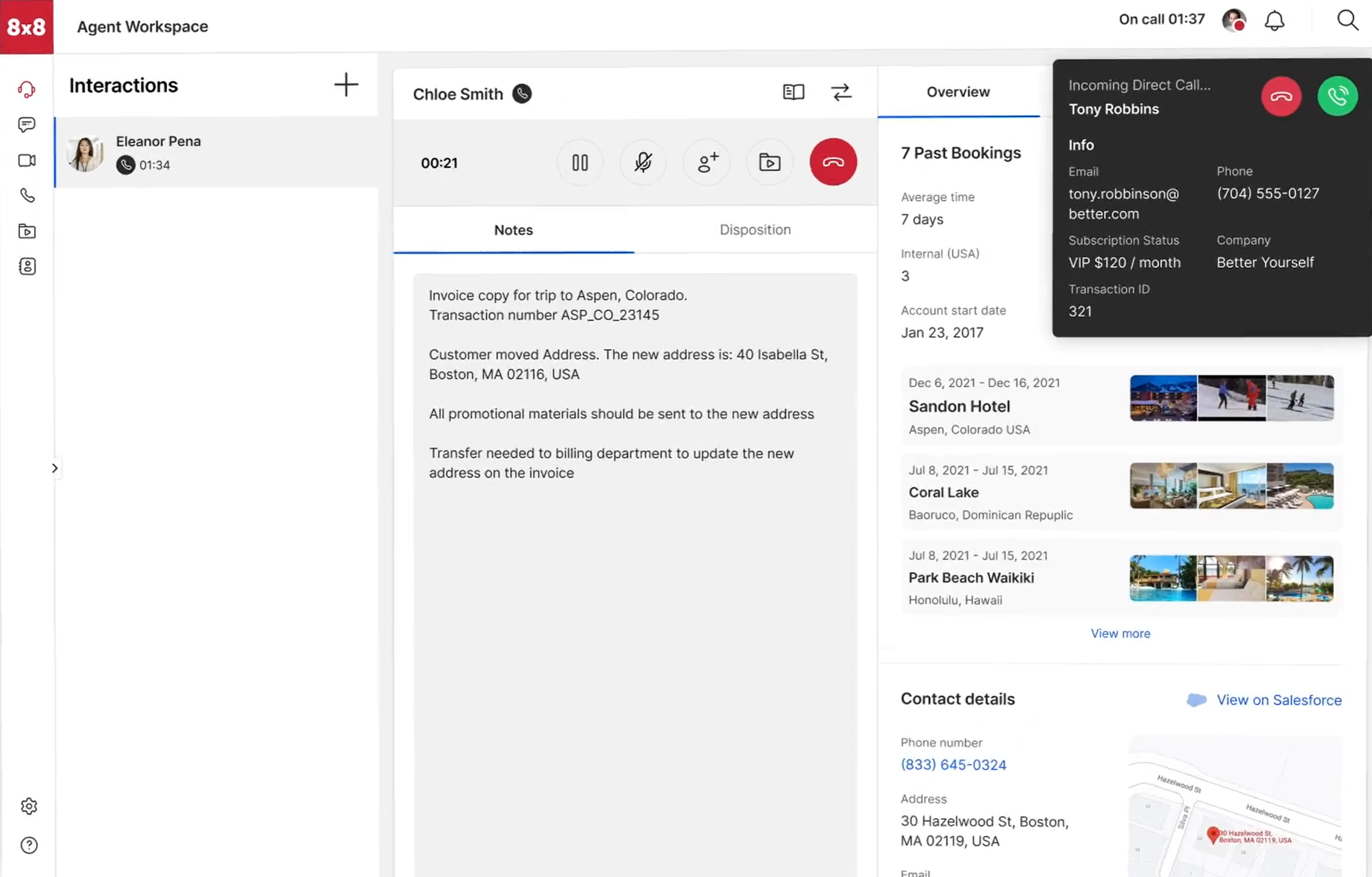 8×8 Contact Center Features:
Intelligent Customer Assistant: Create multichannel self-service chatbots using a drag-and-drop flow builder, connecting with a variety of integrations like CRM systems, Google Translate, ChatGPT, and more. Chatbots embed into your website and provide payment processing, routing, knowledge base information, and more.
Workforce management: Algorithms that track contact center activity to forecast volume and staffing needs across all channels. 8×8 WFM creates schedules, tracks employee schedule adherence, and automatically notifies involved parties when an issue occurs.
Auto dialer: Preview, progressive, and predictive dialers that automatically reach out to qualified leads, detect voicemail machines and busy signals, and connect live recipients with agents
Omnichannel routing: Receive inbound contacts across all contact center channels, routing each customer to the right agent or queue according to availability, channel, skills required, and customer VIP status
Customer surveys: Create and send automatic customer surveys after customer interactions, via voice or messaging channels
Integrations
All 8×8 plans support over 40 integrations with popular third-party applications: CRM integrations like HubSpot, workforce management tools, collaboration apps, and even other call center platforms like Zendesk.
Popular 8×8 Integrations:
Salesforce: Extract contact profile information and campaign lists from Salesforce, for auto dialer dialing lists and agent context during live interactions
Google Workspace: Schedule 8×8 video meetings in Google Workspace and Microsoft Outlook calendar
Microsoft Outlook: Integrate 8×8 contact center with Microsoft Teams for automated workflows, notifications, messaging, and calendars
Alvaria and Calabrio: Stream live and historical data from 8×8 into workforce management apps, like Alvaria and Calabrio, for analytics and automated workflows
8×8 Pros and Cons
8×8's main pros are that its plans include all core communication channels and powerful analytics, and it boasts a massive unlimited calling area. However, the main cons are that 8×8 offers a limited number of integrations, and the higher-tier plans can get pricy.
What We Like About 8×8 (Pros)
Multichannel offerings: All 8×8 plans offer VoIP, SMS, internal team chat, and video conferencing
Unlimited calling area: The X2 and X4 plans offer 14-country and 48-country unlimited voice areas, respectively. This is a significantly wider unlimited area than other VoIP providers
Video meeting capacity: 8×8 video meetings support up to 500 participants on all plans, which is over double what most competitors offer
Analytics and AI support: All 8×8 plans include real-time artificial intelligence and analytics. Competitors often reserve these advanced features for high-tier plans
What We Dislike About 8×8 (Cons)
Expensive high-tier plans: At $44, the X4 plan is on the pricier side for a UCaaS application
No whiteboards: Some competitors' video meetings include whiteboards–a feature that enhances remote collaboration
Unlimited calling area limitations: While 8×8 does support a large unlimited calling area, some of the destinations don't include calling to mobile numbers
Limited integrations: Some competitors offer over 200 integrated apps, while 8×8 offers only around 40
8×8 Alternatives
The table below outlines the top 8×8 alternatives, including both contact center (CCaaS) and unified communications (UCaaS) platforms.
Provider
Pricing
Key Features
Best For
RingCentral

3 UCaaS plans from $20 to $35 monthly per user
4 CCaaS plans with custom pricing

Advanced omnichannel analytics
Collaborative team chat, with task management
Conversational chatbots

Collaborative UCaaS platform for teams of all sizes
Dialpad

3 UCaaS plans from $15 to over $25 monthly per user
2 CCaaS plans with custom pricing

Live AI agent support
Automatic call transcripts
Post-meeting summaries

Small businesses seeking an AI-enhanced collaboration platform
Nextiva

3 UCaaS plans from $17.95 to $32.95 monthly per user
3 CCaaS plans with custom pricing

Agent screen pops with CRM contact information
Live-interaction analytics
Strategic workforce management planner

Affordable UCaaS platform for large teams
Five9

5 CCaaS plans from $149 to $229 monthly per user

Intelligent virtual assistant (IVA) builder with templates
Smart omnichannel routing
Task automation and workflows

Large contact centers with complex omnichannel routing needs
Talkdesk

4 CCaaS plans from $75 to over $125 monthly per user

AI-powered workforce management, with automatic scheduling
Agent screen recording for deeper supervisor evaluations
Automatic customer SMS notifications

An affordable contact center, with a voice-only option
Genesys Cloud CX

5 CCaaS plans from $75 to over $155 monthly per user

Built-in coaching and learning tools for employee onboarding
AI-powered speech analysis with trend identification
AI-powered schedule forecasting

Large teams where supervisors feel overwhelmed with scheduling or employee orientation
Twilio Flex

CCaaS pricing at $1 per active user hour, or $150 monthly per user

Click-to-dial and click-to-text integrations with many other apps
Agent interface that unifies data from many apps

Teams seeking to integrate contact center with several other apps
Use 8×8 for Internal Collaboration or Customer Support
8×8 provides UCaaS and CCaaS offerings, supporting teams of all sizes. The phone system makes a great option for teams with high international call volumes, or large teams planning to use video for demonstrations and webinars.
Artificial intelligence enables agent support and supervisor monitoring, while the contact center provides outbound customer engagement tools like outbound auto dialers and post-call surveys.