Upgrading your business communication software to a call center platform gives your team access to advanced call management capabilities, workflow optimization tools, analytics, and more.
Though the exact call center features your business needs will depend on your call center type, long and short-term goals, and customer base, the capabilities outlined in this post are considered essential.
Compare call center software
from top providers
Basic Call Management Features
The features listed below help call centers optimize available agents, improve everyday workflows, and, most importantly, speed up the customer service resolution process.
The most popular basic call management features for call centers are:
Call Forwarding
Call forwarding automatically forwards unanswered telephone calls to additional internal/external phone numbers (personal cell/home number, another agent, etc.) without disconnecting the call.
Call forwarding benefits include:
Increased mobility and device flexibility for agents
Decreased customer callbacks/follow-ups
Routes phone calls to different agents, ring groups, and different branch locations from one number
Interactive Voice Response (IVR)
Cloud IVR is a call center feature directing inbound callers by:
Playing pre-recorded customized menu prompts/greetings ("To speak to a sales team member, press 3 or say 'Agent'")
Using speech recognition (or DTMF tone analysis) to "understand" the caller's answer
Automatically directing the caller to the ideal available agent via ACD (Automatic Call Distribution)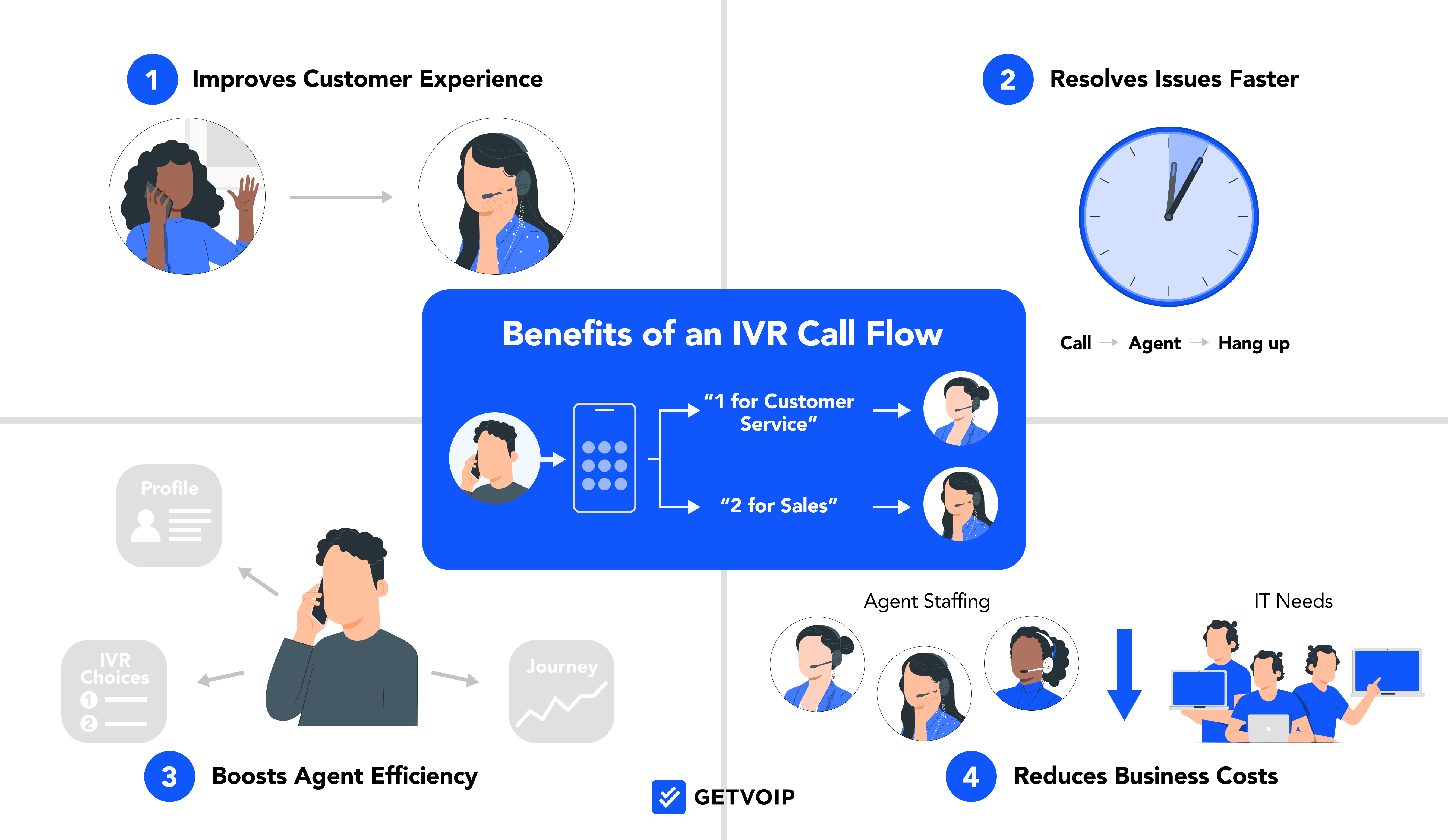 IVR can be single or multi-level, and more advanced IVR systems use Conversational AI to automate entire transactions instead of involving a live agent.
IVR benefits include:
24/7/365 customer self-service
Keeps live agents free to make outbound calls/provide personalized customer support
Automates routine business processes like bill payment, collecting customer contact information, appointment scheduling
Voicemail Transcription
Voicemail transcription creates an automatic transcript of voicemail messages, allowing agents to save time by reading them instead of listening to them. Voicemail transcripts can be sent to email as audio and text files via voicemail-to-email.
Voicemail transcription benefits include:
Increased productivity
Better callback prioritization
Allows agents to fully prepare for the callback and understand the issue at hand
Third-Party Integrations+APIs
Third-party integrations let admins integrate their existing business applications into their call center software, eliminating app switching by streamlining all third-party tools into one dashboard.
Though a bit of coding may be required, APIs allow users to add customized individual features of communication channels to existing software.
CTI Screen Pops automatically pull and display relevant information like call scripts and CRM data on an agent's screen.
Popular third-party integrations include:
CRM platforms
Helpdesk software
Video conferencing and team chat apps
Marketing software
Benefits of integrations, APIs, and screen pops include:
Agents are better prepared for calls
Makes it easier to provide personalized customer service
Speeds up AHT
Call Routing
Call routing automatically directs callers to the best available agent, department, ring group, etc. based on predetermined call flow paths and the caller's IVR input.
Popular call routing strategies include Most Idle, Round Robin, skills-based, language-based, schedule-based, relationship/VIP customer-based, and list-based.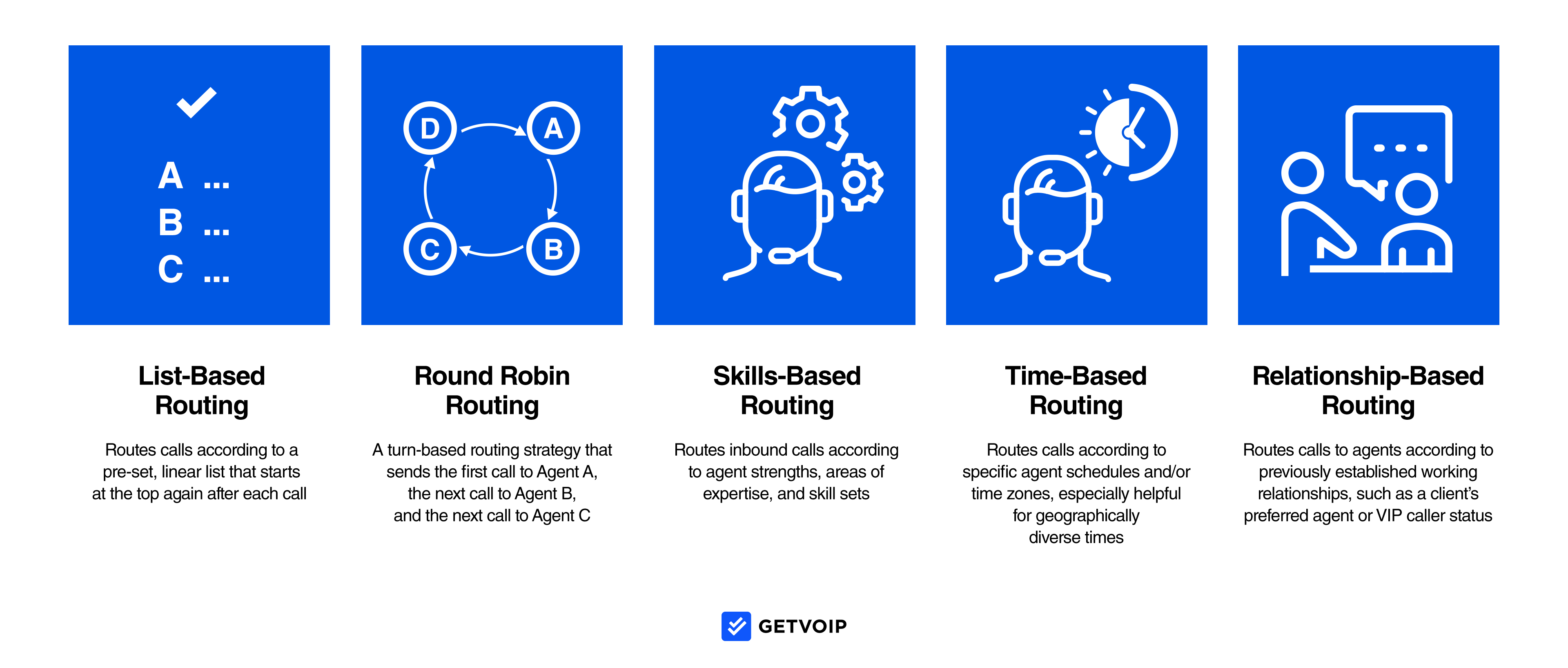 Call routing benefits include:
Decreased call hold times, shorter call queues
More balanced workload
Custom routing rules can be edited in real-time to optimize available agents
Call Queueing
Call queuing automatically places callers into appropriate call queues based on IVR input, the phone number dialed, and agent availability. Call center managers can add custom hold music or messages and give callers wait time updates.
If the wait time is excessive, callers may schedule an automated customer callback, which lets customers choose the ideal date/time to receive a callback instead of staying on hold.
Ring Groups
Also known as call groups, ring groups are groups of agents with common schedules, skill sets, departments, or any other customizable criteria. Ring groups are ideal destinations for inbound calls, as they can be configured to ring all members' phones simultaneously (simultaneous ring) to increase the caller's likelihood of reaching a live agent.
Call Transfer
Call transfer lets an agent forward an active call to an additional agent without disconnecting the call. Transfers can be cold (instant) or warm (the initial agent gives their colleague essential information about the caller's issue before transferring them.)
Caller ID
Inbound caller ID lets agents see who is calling, so they can transfer the call to a more qualified agent, prepare for the call and pull up customer data, or send the call to voicemail.
Customizable outbound caller ID is especially helpful when reaching out to new customers.
Outbound Calling and Sales Features
While the above inbound call management features streamline customer service and support processes, outbound calling functionality optimizes the sales process and helps agents close more deals.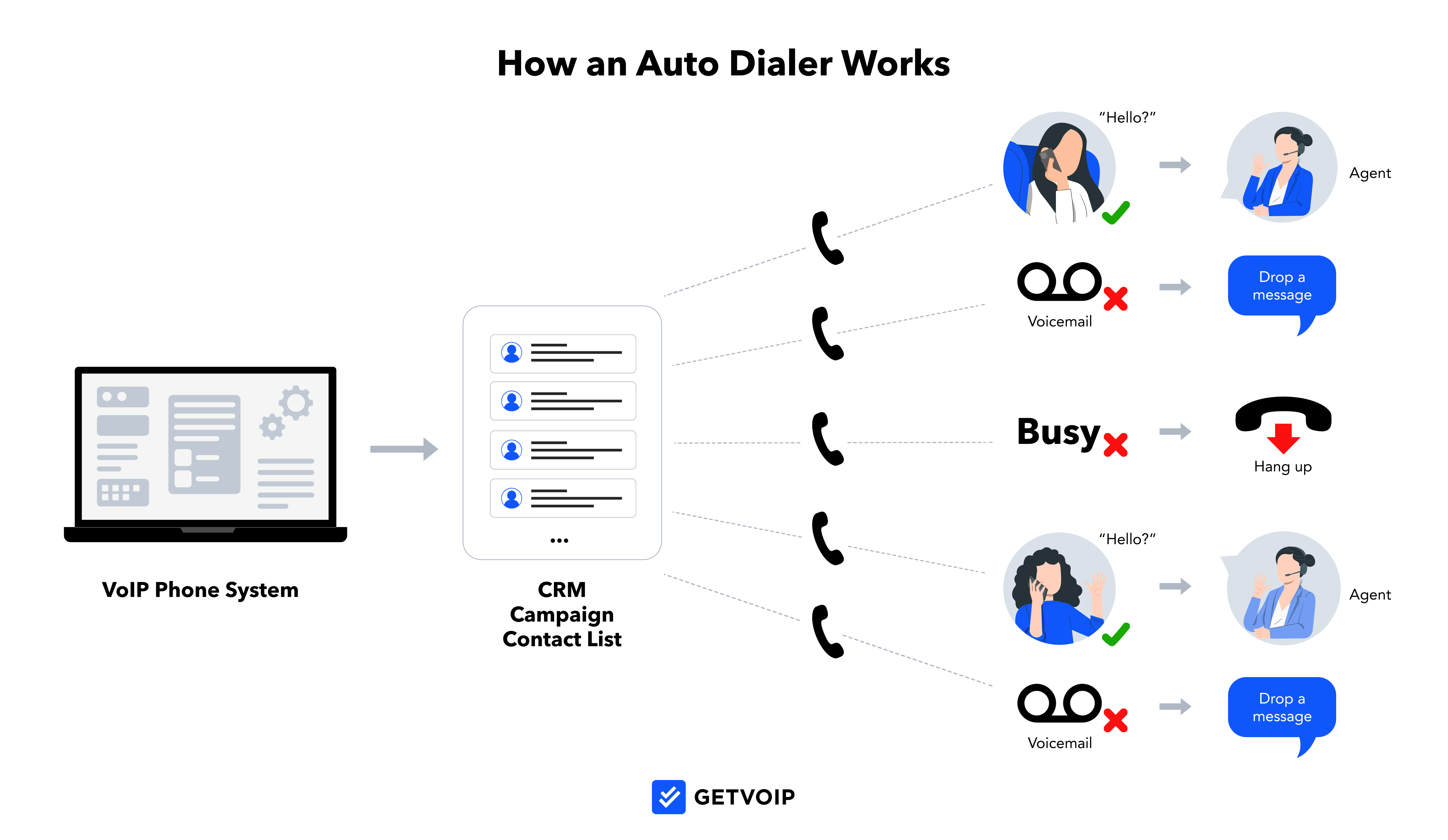 The top benefits of call center outbound calling and sales tools are:
Faster lead list penetration and improved productivity
Automated Do Not Call (DNC) list management
Increased sales and improved market segmentation
Common use cases for outbound calling/sales features are:
Product/service sales calls in telemarketing firms
Appointment reminders and payment reminders
Fundraising (non-profits, political campaigns, etc.)
Sending mass emergency alerts
The most popular call center auto dialing and sales features are:
Outbound Auto Dialers
Auto dialers eliminate the need for manual dialing and speed up after-call work time by letting admins choose from automated outbound dialing modes like:
Power Dialing: Automatically places outbound calls one right after another
Predictive Dialing: Uses a pacing algorithm to place several simultaneous outbound calls, only connecting agents to live prospects
Progressive Dialing: Automatically places the next call as the agent is wrapping up the current one
Preview Dialing: Automatically places outbound calls but lets agents review customer history/call notes before connecting them to the prospect
Campaign Management
Campaign and lead list management features include:
Automatic Do Not Call List updates
List scrubbing (removes disconnected, outdated, DNC numbers from call lists)
Campaign tracking and follow-up reminders
Voicemail drop
Call Scripting
Custom call scripts are uploaded to the company's internal knowledge base, where agents can access them during active sales (and support) calls.
Agents can search scripts by campaign or subject. AI-powered call centers use Natural Language Processing (NLP) and Speech Recognition to automatically display relevant scripts on the agent's screen.
Analytics and Monitoring Features
The top benefits of call center analytics and monitoring tools are:
Detailed insight into the customer experience
Improved quality management process, better agent performance, more effective workflows
Offer agents real-time, in-conversation feedback to eliminate callbacks/follow-ups
Identify common customer support topics, popular products/services, frequent problems, customer complaints, top performers
Collect information/evidence for dispute resolution or legal issues
Increased employee engagement and agent retention rates, decreased customer churn
Common use cases for call center performance monitoring and analytics are:
Compliance monitoring for highly regulated industries like finance and healthcare
Creating more effective agent training materials, call scripts, and IVR menus
Trend forecasting, optimizing agent schedules and workflows
The most popular call center analytics and monitoring features are:
Call Recording+Transcription
Call recording lets admins:
Enable automatic or on-demand call recording
Access real-time/post-call transcripts
Store/review call recordings within a searchable cloud-based storage dashboard
Create/edit custom call recording settings
Call Monitoring
Call monitoring lets managers:
Listen to active calls in real-time to monitor agent performance
Use call whisper to coach agents through live interactions without the customer's knowledge
Use call barge to take over an active call from a struggling agent
Real-Time and Historical Analytics
Both real-time and historical call center analytics offer custom KPIs and pre-made reporting templates. Admins can automatically generate and share reports at preset intervals and filter reports by custom date ranges, agent, department, tags, and topics.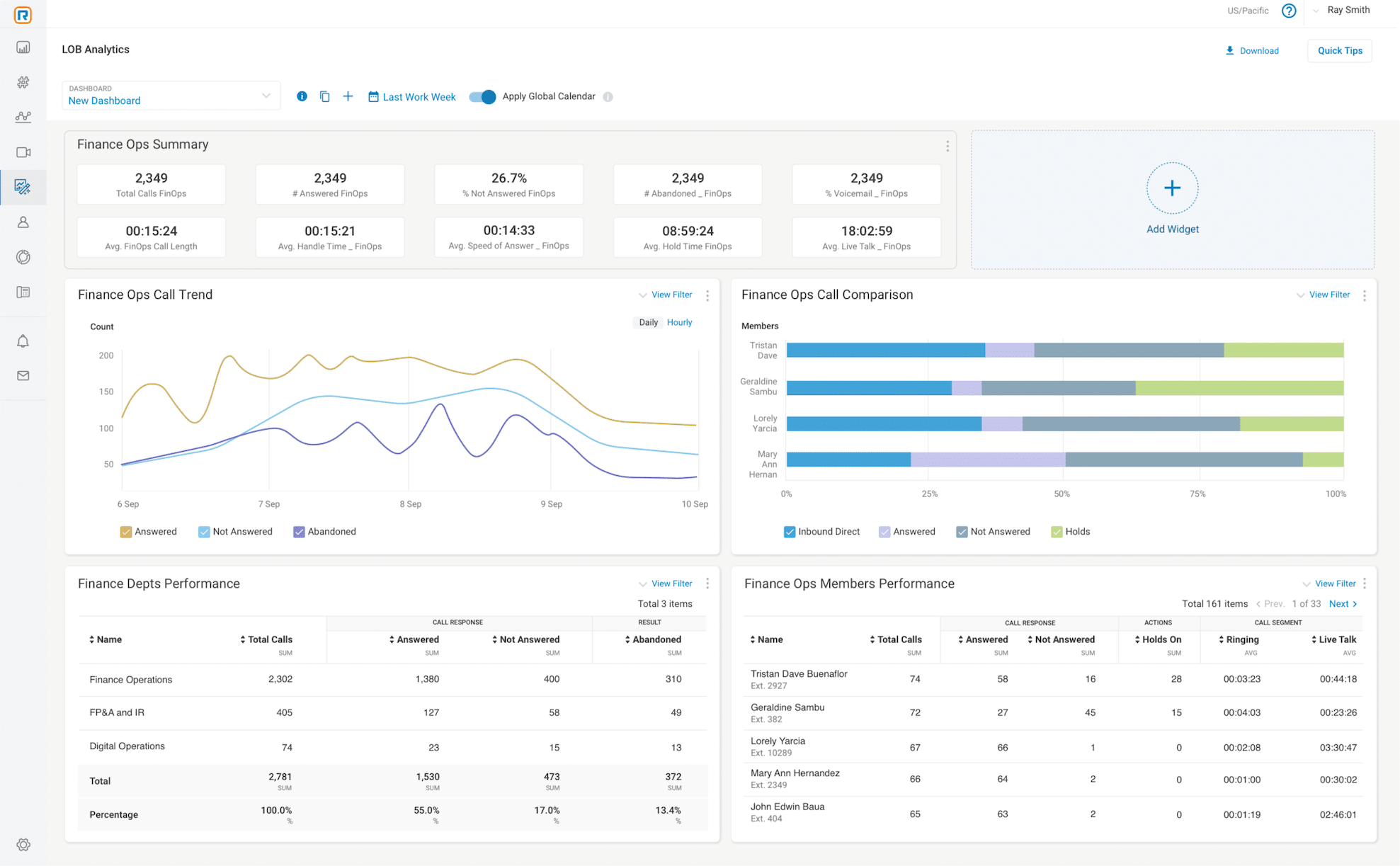 Popular real-time (live) KPIs include:
User presence monitoring (current agent status updates)
Current number of callers in queue
Current active calls
Daily/hourly missed call ratio or answered:unanswered call ratio
Daily/hourly average speed of answer and call length
Popular historical analytics include:
Call Abandonment Rate
Basic call logs
Cost Per Call (CPC)
Customer Satisfaction Score (CSAT)
Net Promoter Score (NPS)
Customer Surveys
Call center customer survey features include:
Survey templates and entirely customizable surveys
Formats like open-ended questions, ratings/rankings, multiple choice, true/false, etc.
Automatic post-call customer survey via email, phone, SMS, etc.
Detailed customer survey analytics
Agent Wallboards
Call center wallboards (sometimes called leaderboards) are live agent performance monitoring metrics that are visible to the entire team.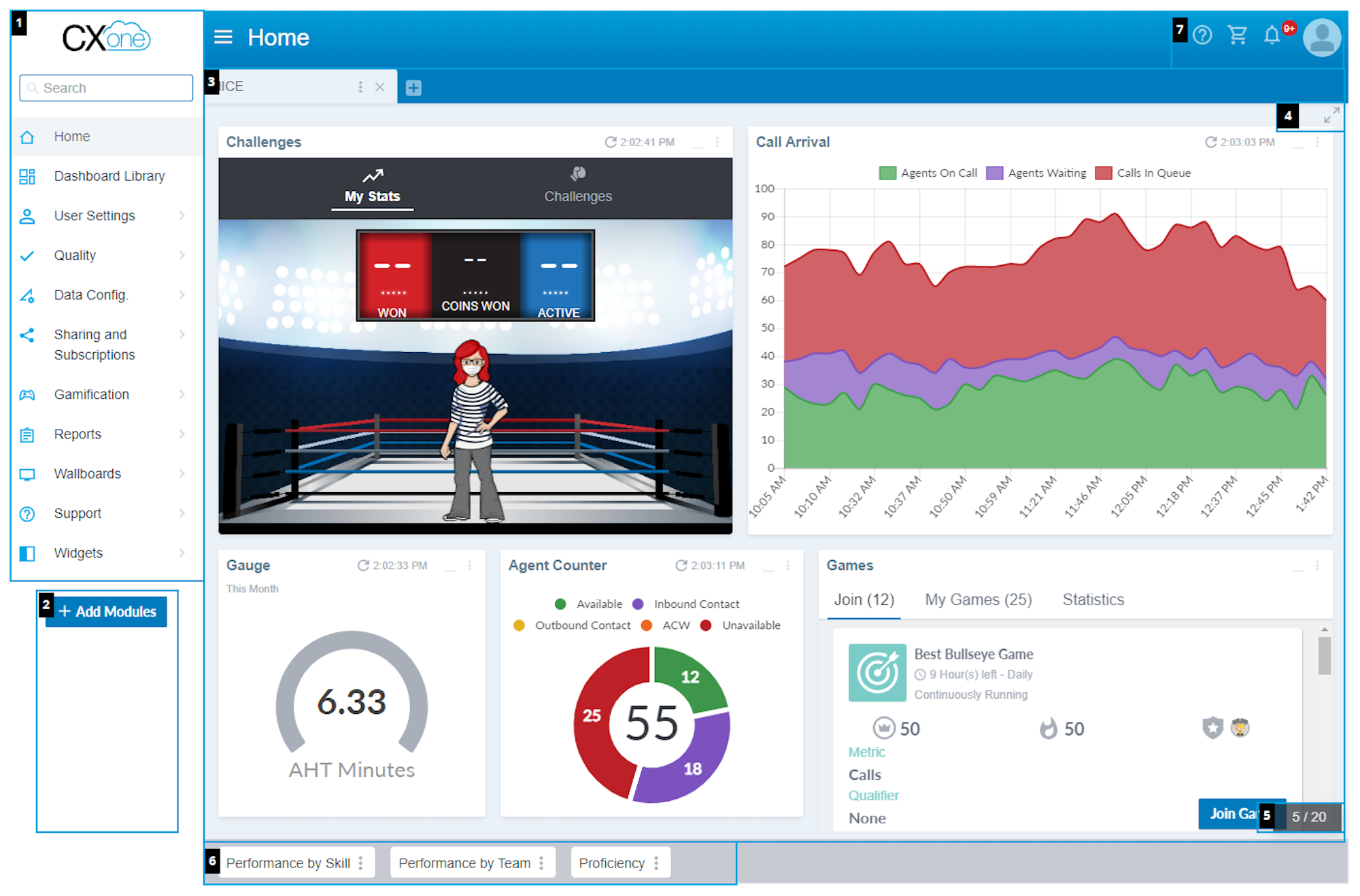 Designed to boost agent engagement, foster friendly competition, and create opportunities for employee recognition, wallboards include metrics like:
Number of calls made/accepted per agent
Dollar amount of sales made per agent
Average talk time/least idle time
First call resolution rate
Average wait time, maximum/minimum wait time
% of calls sent to voicemail or missed calls
Unified Communications Features
The top benefits of Unified Communications features are:
Fewer miscommunications and decreased workflow bottlenecks
Improved team collaboration and a more balanced workload
Ensure all team members are working on the same file version
Better real-time employee communication across locations, devices, and time zones
On-demand video meetings with internal/external users
Desktop and mobile access to essential workplace and call center data
Common use cases for UCaaS and team collaboration tools include:
Video employee training sessions, presentations, and ad-hoc team meetings
Department-specific or project-specific messaging channels
Customer:Agent screen sharing with remote screen control for complex support issues
Brainstorming and development sessions for new products/services, marketing campaigns, etc.
The most popular Unified Communications features are:
Team Chat Messaging
Team chat messaging enables real-time communication between agents, employees, managers, customers, and other internal/external users.
Team chat messaging includes features like:
Public/private custom channels
User mention/tagging
File sharing and co-editing
Emoji reactions
Favorite/pin messages
Message threading/replies
Messaging search bar
Task management
Video Conferencing
On-demand and scheduled video conferencing lets team members meet face-to-face in real time, regardless of their physical location.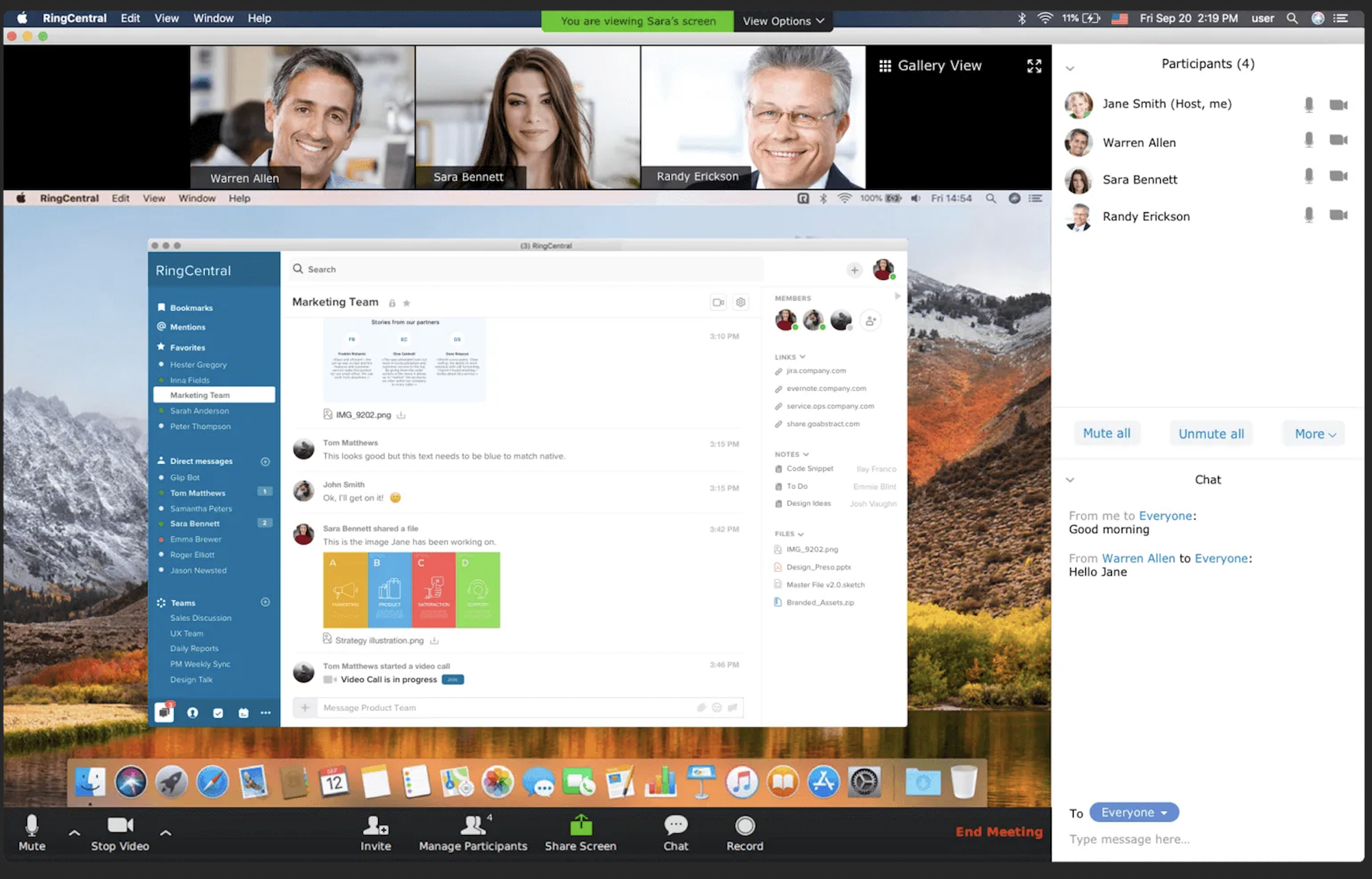 Video meeting features include:
Virtual whiteboards
Breakout rooms
Screen sharing and remote screen control
Multiple views (gallery, active speaker, etc.)
Virtual backgrounds
Meeting lock and meeting waiting room
Meeting host controls (mute/unmute, add co-host, etc.)
In-meeting chat
Meeting recording+transcription, live meeting captions
Softphone App
A call center softphone application lets team members access their business phone systems in any location, and from any desktop or mobile device, with a working Internet connection.
Within the softphone app, agents can:
Make/receive calls via click-to-call
Send/receive chat messages or SMS/MMS business texts
Attend video meetings
Review voicemail messages
Customize their dashboards
Enable custom push notifications
The Best Call Center Software Providers
The call center software providers below offer the essential features included in this post, scalable pricing, diverse use cases, and standout signature capabilities.
| | | | |
| --- | --- | --- | --- |
| Provider | Pricing | Best Features | Best For |
| RingCentral | 3 plans from $20-$35/user/month | Business Analytics with live call queue management | SMBs needing advanced unified communications and AI-powered sales capabilities like deal tracking, agent coaching, and post-call summaries |
| GoTo Connect | 2 plans from $27-$32/user/month | Unlimited ring groups, call queues, custom dial plans, and auto attendants | Small/new businesses needing a basic call center software with the chance to add GoTo native products for webinars, contact centers, and employee training |
| Nextiva | 3 plans from $18.95-$32.95/user/month | Voice Productivity suite with 500 shared contacts, call/contact notes, and conversion threads | Medium-sized blended teams prioritizing high-value call center platform with advanced team collaboration tools |
| Dialpad | 3 plans from $15-$25/user/month | Automated post-call summary with real-time call transcription | Growth-focused SMBs reliant on AI-powered automations for customer self-service and post-call management |
| Vonage | 3 plans from $13.99-$27.99/line/month | Pre-made and custom call tags and custom Smart Numbers | Mobile teams needing a scalable, custom phone system with individual add-ons like an AI virtual assistance, omnichannel messaging with customers, and call queueing |