WhatsApp has come a long way, from a social messaging application to valuable business tool WhatsApp for Business. The platform was initially founded as a messaging app that would show users the statuses of other people, indicating whether or not they were online.
People typically used it for social conversations. Within two years of the platform's founding in 2009, WhatsApp eventually worked its way up to become one of the top 20 apps at Apple's U.S. App Store in 2011.
Despite the fact that its founders Brian Acton and Jan Koum were previously denied jobs at Facebook, the tech giant acquired their app in 2014. To this day, WhatsApp remains Facebook's biggest acquisition. The messaging application made headlines once again in 2018 with the announcement of the WhatsApp Business app.
The tool was designed with the intention of connecting small business owners to their customers. WhatsApp's API can help larger businesses provide stellar customer service and deliver notifications to customers. In this article, we'll discuss how your business can best use this application to your advantage. Here are the sections we'll cover:
What is WhatsApp Business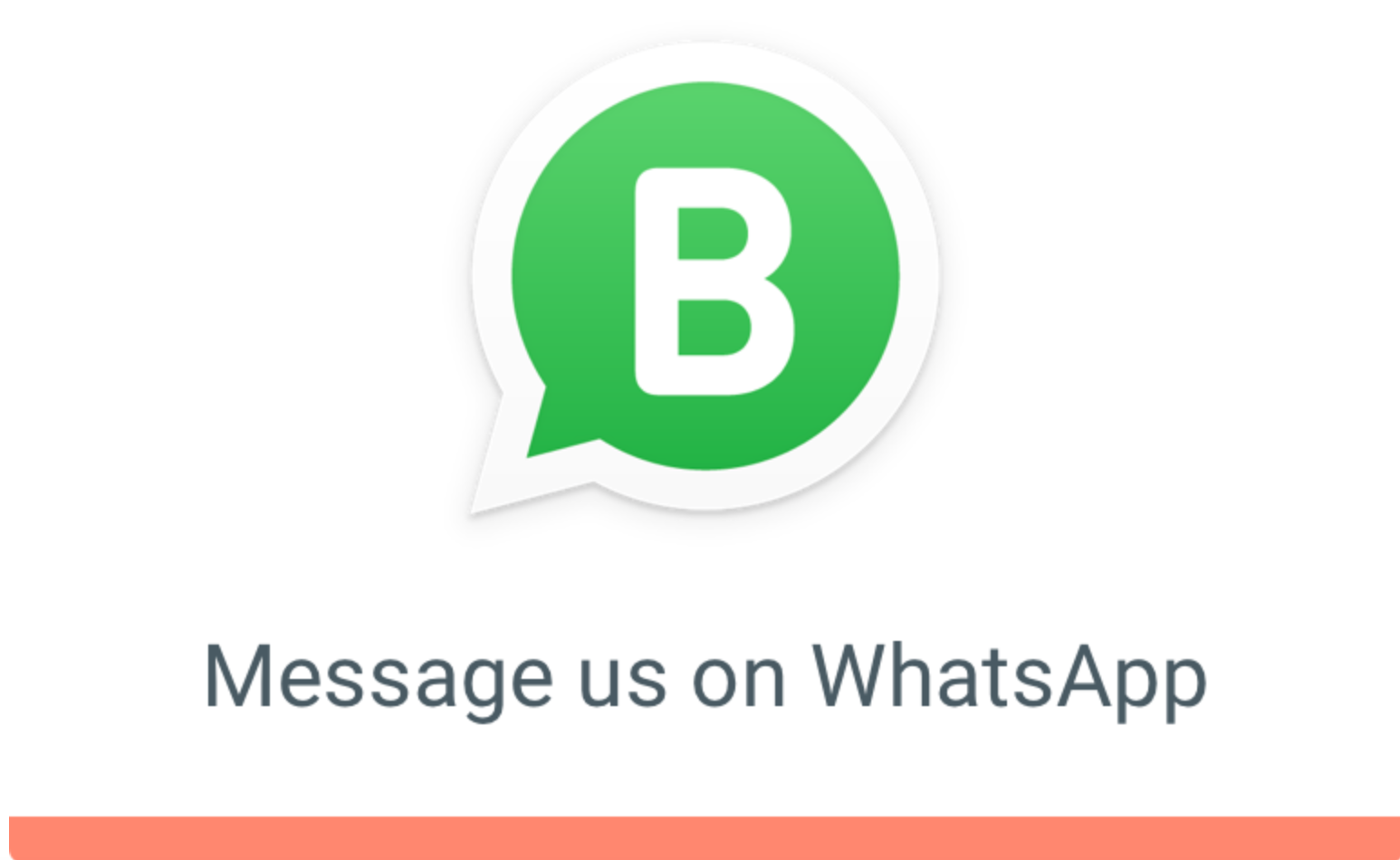 The business-focused solution is a completely separate entity from the original tool. The original WhatsApp was meant to connect friends and family to one another, whereas their business solution is meant to connect businesses with customers, no matter where they are. 
The original tool functions more like a social media platform and this offering is strictly for business purposes. But if you happen to have a separate business and personal phone, you can use each solution on the same device. Each account just needs to be registered to a separate phone number. 
This tool is meant to give users the ability to offer a concierge-like service to its users. Providing a business solution for WhatsApp users gives business owners of any size a personal touch when communicating with new and current customers. As COVID has moved many business transactions online, it's an incredibly valuable asset. That allows those businesses to stand apart from their competition. 
The platform keeps your customers' best interest in mind, as you cannot send them WhatsApp messages unless they sent the first correspondence or gave you their phone number and opted in to be contacted on WhatsApp by your business. This also keeps your customers' data completely protected. 
If those customers do initiate contact with you, that conversation will stay live for 24 hours after their last message, free of charge. The app also guarantees a spam-free experience for customers choosing to contact businesses on it, which will allow them to feel safe using it to communicate with your business.
Why use WhatsApp Business?
According to Oberlo, WhatsApp boasts about 2 billion users in 2020. Since 2018, that number has been growing at a rate of half a billion per year. The messaging application's users are spread around the world, with it being available in more than 180 countries and in 60 different languages. 
Simply put, WhatsApp is an increasingly popular app with users around the world. That popularity will lend itself to your customers easily adopting WhatsApp's solution for businesses. Here are some more reasons why your organization should use the tool.
As the numbers above demonstrate, WhatsApp is a very popular application all over the world. So naturally, your business should be where a large number of potential customers are. That, combined with the fact that WhatsApp is an incredibly user-friendly platform, will make it easier to bring existing customers onboard,
Using this platform for customer communications keeps those messages secure. Everything shared on WhatsApp is encrypted, meaning only those involved in the chat can see that data. That same level of security can be enjoyed by those who use the business solution.
So if a customer needs to share a piece of sensitive information, such as a credit card number, you can rest assured that the information cannot be hacked. 
The secure communication channel that the platform provides can benefit multiple teams within your organization. Your sales representatives can utilize the tool as the first point of contact and a way to send customers an invoice. Members of your marketing team can leverage its ability to send various media for personalized marketing efforts. The platform also provides a fast and convenient way for support teams to handle customer cases. 
You can also track the performance of those teams on the app. Those teams can also simultaneously log-on to WhatsApp from different devices. The application is also highly customizable, ensuring it meets your unique business needs.
The business messaging application also offers a number of integrations that will benefit your business. One prominent one is its ability to connect with CRMs. If you connect the two tools, conversations from WhatsApp will show up in your CRM. That means that any relevant data shared by customers will automatically show up in your CRM, which is where it would eventually need to go anyway
WhatsApp vs. WhatsApp Business vs. WhatsApp Business API
WhatsApp provides three distinct solutions under its umbrella. Here's a breakdown of each available tool and which one is right for you. Each WhatsApp solution is targeted toward a clear demographic with features that serve a specific purpose. 
WhatsApp
The platform's flagship solution is strictly for consumers and does not serve any kind of business purpose. The original product is simply a way for friends and family to easily remain connected with one another. 
As it sends messages over WiFi, people commonly use the application in place of calling or texting when loved ones are in another country. Users can also make and receive voice and video calls, ensuring that they stay connected to friends and family in whichever way is most convenient for them.
WhatsApp Business
This tool is a completely separate offering from the original tool but essentially works the same way, and it's available to both iPhone and Android users. As the original tool is so popular, they decided it would be beneficial to give businesses the opportunity to have a presence within the WhatsApp community.
This tool lets companies build a business profile, which lets you communicate easily with your customers and help to grow your business. It's a great tool for small businesses looking for an easy way to connect with and better serve their customers.
WhatsApp Business API
The final offering from the company is their API, which is geared toward mid-size and enterprise businesses. This solution actually exists outside of the mobile phone app.
It's ideal for companies with technical resources who experience a large influx of messages, as this API can connect to their existing front-end system or helpdesk software. The tool can integrate with a number of third-party solutions from your software stack, to ensure that agents can manage tickets from WhatsApp.
WhatsApp Business Features 
The business app allows users to manage customers' orders and respond to any questions or concerns regarding them. The tool makes responding to customers' messages easier than ever. One example of this is the software's ability to create templates to answer common questions. You can access these saved responses with a simple keyboard shortcut. This ensures that every customer's inquiry is handled in a timely manner. 
One of the business solution's most valuable offerings is its statistics feature. This gives users the ability to dig into their customers' level of engagement with them on the tool. You can see how many messages are sent, delivered, read, and received. This data provides insight that could dictate your strategy on the application, showing what works and what doesn't.
The tool offers the ability to sort messages and automate quick replies as well. With its ability to label chats with customers, you can stay organized and easily find them again to pick the conversation back up. You can also automate messages, such as a greeting message or an away message. That way, you can still provide customers with quick replies, even when you aren't available to help them directly. 
The tool also provides the ability for users to create a catalog within their business profile, so that you can show off your products and/or services. The platform allows you to flesh out your business profile with necessary information, such as your address, business description, email address, and website. 
Adding this information can help your company to become verified on the platform, proving to potential new customers that you are a reputable business. Verified businesses will have a green checkmark next to their name, signifying that an authentic brand operates the profile. Your company can also be labeled as a confirmed business with a grey checkmark, which signifies that the phone number on your profile matches the number for your actual business.
With WhatsApp Web, you can also access your conversations right on your Mac or PC computer. If you log onto web.whatsapp.com on your desktop, a QR code will appear. Scan that with your mobile phone and messages will be synced across both devices. It's a minor feature that doesn't have much impact on the product itself, but it does promote convenience for its users.
WhatsApp Business Pricing
WhatsApp previously cost 99 cents per year. But once Facebook acquired the messaging tool, it became free and also pledged to never have ads on its platform. To this day, the original product remains completely free.
The business solutions are a different story though. Up until very recently, the business solution was essentially free, minus occasional charges related to messaging customers 24 hours after their most recent correspondence to you. But on October 22, Facebook announced that it would begin charging businesses for using their platform. 
As reported by CNBC, the social media giant has yet to share with users exactly what aspects of the platform they'll charge for, how much it will cost, and how it will impact existing fees associated with the solution. Facebook claims that the revenue gained from these changes is what will allow them to continue to offer the flagship WhatsApp product for free.
WhatsApp's API has always charged customers on a different basis than their business tool. The API solution is only available to download from designated WhatsApp API Partners. The majority of these options are SMS messenger providers. Each partner offers the service at a fixed cost per message, but prices vary between all options. 
For example, Twilio is one of WhatsApp's partners. They provide a pay-as-you-go rate, depending on the destination country and type of message you're sending. Their price per message is $0.0135, which breaks down a $.0085 WhatsApp fee and a separate $.005 fee per message from Twilio. They offer the following discounts for specific bundles of messages:
| | |
| --- | --- |
| Messages Per Month | Price  |
| First 250,000 messages | $.0085/message |
| Next 750,000 messages | $.0083/message |
| Next 2 million messages | $.0080/message |
| Next 3 million messages | $.0073/message |
| Next 4 million messages | $.0065/message |
| More than 10 million messages | $.0058/message |
Conclusion: Offer a Personal Customer Experience with WhatsApp 
When they reach out to your business, customers want to feel like they're talking to a real person, not a robot. As Hubspot stated, customer-centric companies are 60% more profitable than companies that aren't. The business tool can allow you to offer that customer-centric approach. 
Consumers want to connect with businesses in the same way they do with family and friends. They want a channel that they are familiar and comfortable with — that typically means texting. Thanks to its worldwide popularity, WhatsApp allows you to deliver the personalized experience that your customers crave.
If you want to learn more about strengthening your customer support offering, take a look at this list of customer service statistics.