Multi-level interactive voice response (IVR) takes your inbound calling system to the next level. It's an automated system that improves call routing for your customers and your employees.
In this article, we share everything you need to know about multi-level IVR.
IVR systems from
top providers
Quick links:
What is Multi-Level IVR?
Multi-level IVR is an automated phone system that provides callers a self-service menu to reach their intended destination: an agent, queue, information, or action.
While a regular IVR system provides callers a single-level menu–with up to 9 choices–a multi-level IVR provides more specific service by offering multiple layers of menu choices. Each menu option in the IVR call flow leads to a submenu of more specific options, helping customers reach exactly the destination they want.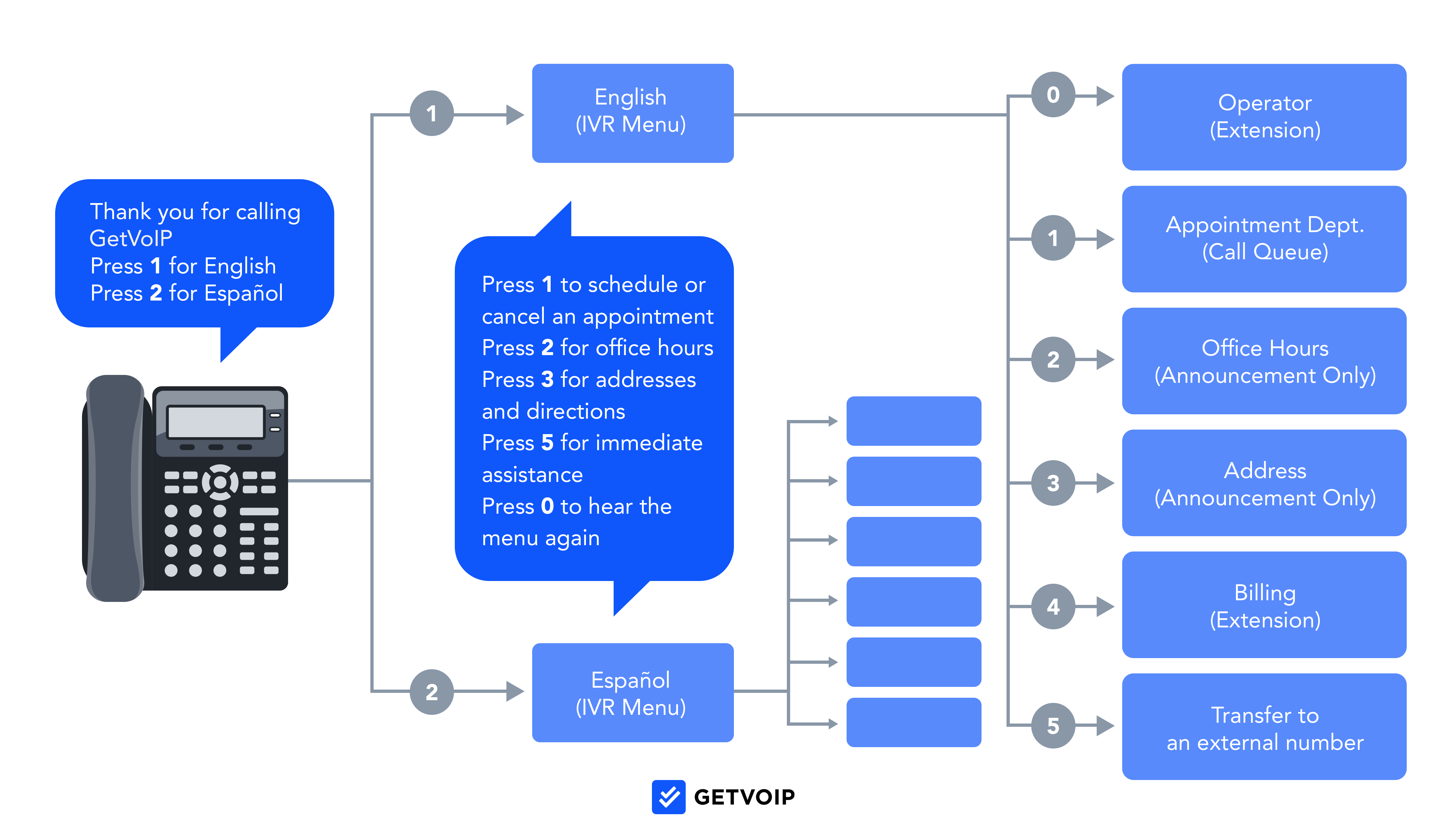 For example, when an inbound caller reaches your multi-level IVR, the automated system can guide them through multiple layers of menu options:
Layer 1: Greeting and language selection
Layer 2: General menu options–schedule an appointment, office hours, speak with a representative, customer service, etc.
Layer 3: More specific options within each layer 2 menu item
Multi-level IVR is ideal for large companies with multiple products and services. Since single-level IVR doesn't get as nuanced and dispersed as multi-level, single-level is a good fit for small businesses mainly focused on routing calls to a few departments or agents.
IVR vs Auto Attendant
Both single- and multi-level IVR systems have similar functions to an auto attendant–the difference is that an auto attendant focuses specifically on routing, while IVR also provides announcements and self-service capabilities. Therefore, all multi-level IVR systems are also auto attendants since both types of software are used to route incoming calls, but that is the limit of an auto attendant's capabilities.
IVR is more advanced than an auto attendant. Not only do IVR menus route calls, but they can interact with customers via speech, process and store contact information, initiate texts and emails, and more. In short, IVR is better suited for businesses that offer the ability to complete self-service tasks over the phone.
What are the Benefits of Multi-Level IVR?
Multi-level IVR can offer a host of benefits for your customers, agents, and business as a whole:
Saves time for agents and customers
Self-service
Accurate routing
Fuller customer context
Around-the-clock availability
Saves Time for Agents and Customers
Implementing multi-level IVR into your contact center, VoIP phone system, or unified communications platform will act as a huge timesaver for your team and its customers.
IVR menus route callers to the right department or voicemail inbox. So if someone calls hoping to speak to your sales team, they just have to press a series of buttons to get there. With these tools, human representatives no longer have to perform the tedious task of fielding and transferring calls.
Quicker calls lead to lower average handle times and higher customer satisfaction. Nearly 30% of customers would not wait on hold for more than one minute. With those holds typically come call transfers and customers having to repeat themselves to various agents. The more complex their issue, the more often they will probably have to do this. IVR omits those long wait times.
The IVR menus and sub-menus offered by these tools mean that customers can quickly find the answer to their questions. Customers value quick and effective responses, so this will improve their satisfaction with your business.
Self-Service
IVR's self-service features can meet a wide variety of customer needs without involving a live agent. By syncing your IVR system with app-based actions, third-party integrations like CRM systems, and by building conversational call flows that use AI to provide canned responses to customers, customers can solve issues independently. This saves company time and keeps customers happy.
Multi-level IVR self-service tools can accomplish the following:
Booking and canceling appointments
Retrieving account information, like passwords or records
Answering questions, with answers from a knowledge base or database
Authenticating users through verification questions
Accurate Routing
Multi-level IVR software integrates with your VoIP phone system's automatic call distribution (ACD) engine, providing accurate routing with a high chance of getting your customers to the right destination on the first try.
Customers can navigate multiple levels of the IVR to dictate exactly where they want to go. Meanwhile, they can use the IVR to indicate details like their location, language, and the reason for their call. This information can tell intelligent routing–like skills-based or geography-based routing–to help customers reach the agent optimally suited to provide support. Multi-level IVR cuts down on misrouted calls, which saves agent time and improves first-call resolution–an important customer service metric.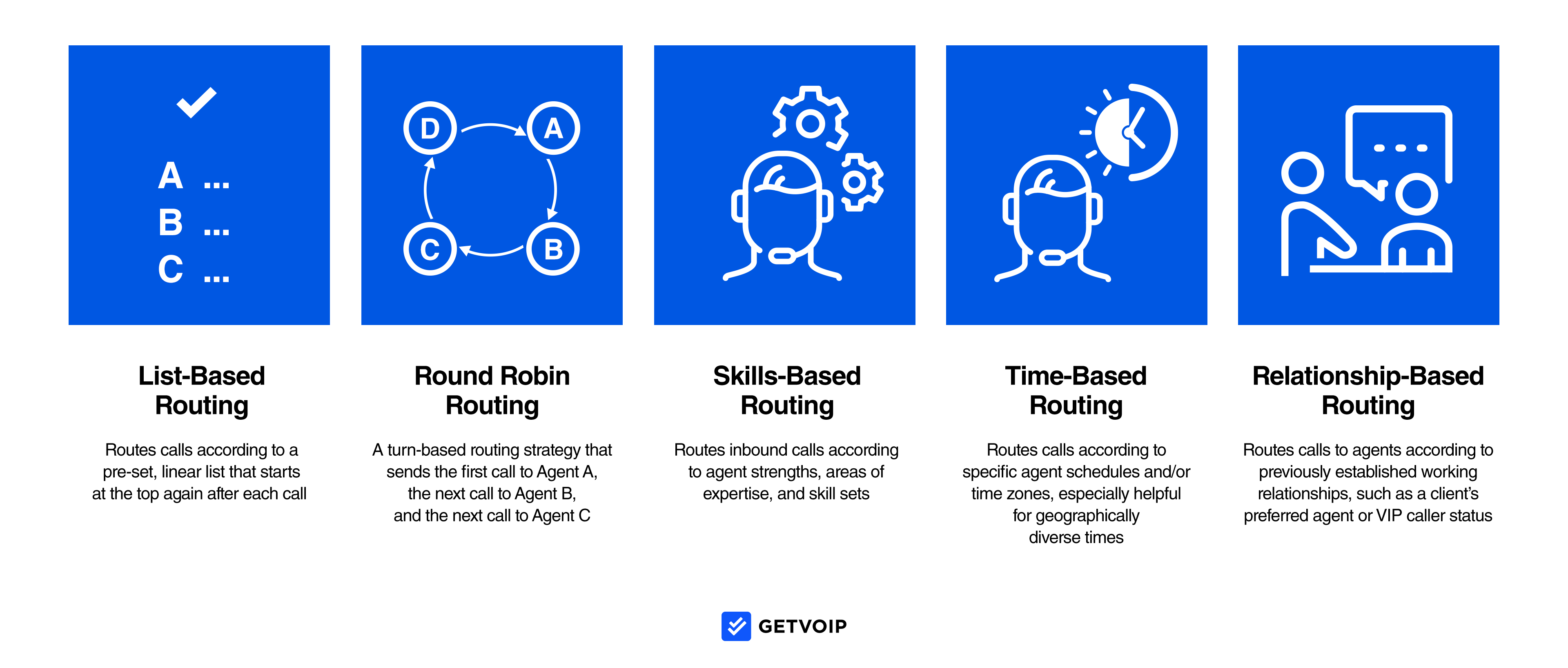 Fuller Customer Context
As a customer progresses through a multi-level IVR system, the software logs their choices as data.
IVR choices can inform multiple types of data analytics about each customer:
Language and communication channel preferences
Journey history
Sentiment scores
Reasons for calling, and more
This information helps your business in a variety of ways. A customer's sentiment lets you know where the pain points are in your IVR system or call flow, giving your feedback about potential IVR mistakes. Over time, this information helps supervisors better understand not only specific customers but your general audience's user experience.
When an agent receives the caller routed from an IVR menu, their IVR menu choices give an agent critical information to serve the customer more quickly. For example, if the customer inputs their language preferences and the product they're calling about, the agent doesn't have to ask the customer to repeat this information. This cuts down on handle time and improves customer relationships.
Around-the-Clock Availability
This is possible because IVR is available 24/7. By implementing this software, you can offer your customers support at any time without having to hire an additional team. If a customer is experiencing an issue with your product, they can call whenever to attempt to solve that problem with the self-service offerings that this software provides. If they cannot solve the question on their own, they can leave a message for the next available representative.
Top Multi-Level IVR Providers
Here's a list of VoIP providers that offer multi-level IVR within their platforms:
Provider
Price
Key IVR Features
Best For
RingCentral
– 3 UCaaS plans from $20-$35 monthly per user
– 4 contact center plans with custom pricing
– ACD with skills-based routing
– Visual IVR designer
– Call recording
– CRM integrations
UCaaS collaboration features and call center functionality
Talkdesk
4 contact center plans from $75 to $125 monthly per user
– Customer experience analytics
– Drag-drop IVR builder
– Multichannel visual IVR
AI live-agent assistance tools
Cloudtalk
3 contact center plans from $25 to $50 monthly per user
– Unlimited call queueing
– Skills-based routing
– Salesforce integration
Phone-focused contact center at a budget price
Five9
5 contact center plans from $149 to $229 monthly per user
– Skills-based, priority, and time-of-day routing
– Omnichannel drag-and-drop routing-designer
– Agent screen pop
Large companies with a wide variety of IVR-based self-service and queue options
Genesys
5 contact center plans from $75 to $155 monthly per user
– IVR analytics and monitoring dashboard
– Adaptive IVR that identifies the customer's journey state
– Intelligent dialogue with natural language understanding (NLU)
Data-based companies that plan to use analytics to refine IVR experience
PlumVoice
A variety of voice and visual IVR packages at custom pricing
– Intuitive drag-and-drop designer
– Conversational AI that understands a wide array of customer speech
– IVR analytics and insights
Companies that already have a virtual phone system or call center and want to add IVR
NICE CXone
3 contact center plans with custom pricing
– AI-powered intelligent routing
– Skills-based and sentiment-based routing
– CRM and database integrations
Companies whose customers call for a wide variety of specific reasons
Enhance Your Customer Experience with IVR
Multi-level IVR software is a simple way to revolutionize your business. If you have customers and employees around the globe, this tool is a great way to ensure your business provides top-tier service. It will save you time, money and make it easier to route an influx of inbound calls.