You're ready to upgrade your business phone system, and you're looking for a provider that's affordable, scalable, and easy to use.
Ooma Office might be the perfect fit. With its clean and simple interface, competitive standard feature set, and monthly pricing starting at $20 per user, Ooma is an excellent option for small businesses that are switching to VoIP for the first time.
In this complete review of Ooma Office, we'll outline available Ooma features, pricing and plans, user experience, and the types of businesses Ooma Office is right for.
What Is Ooma Office? 
Ooma Office is a basic small business VoIP phone system for remote/blended teams of 25 or less.
Business owners looking to cut down on monthly communication costs and get access to features to help streamline business processes–not overhaul them completely–will appreciate Ooma Office's ease of use, cost-effectiveness, HD voice call quality, and over 50 standard call management features.
Ooma is a beginner-friendly cloud phone system, especially popular among newer businesses or those making the switch from analog phones (landlines) to VoIP for the first time.
Ooma Office Pricing
Ooma Office offers three plans: the Essentials Plan for $19.95/user/month, the Pro Plan (Ooma's most popular) for $24.95/user/month, and the Pro Plus Plan for $29.95/user/month.
Unlike most cloud phone providers, Ooma Office does not require a contract.
Each plan comes with a free local or toll-free business phone number, 50+ standard VoIP features, and unlimited calling in the United States, Canada, and Mexico.
The Essentials Plan is best for small businesses that need a more basic phone system to manage a relatively low daily call volume.
Essentials users already have third-party team collaboration and video calling tools they want to continue to use outside of Ooma Office, and prefer their agents to take live phone calls with customers instead of using an auto attendant to provide support.
The Pro Plan is best for SMBs that need to manage more complex customer support and service requests, and that have a moderate-to-high daily call volume.
Pro users are willing to pay more for features like video conferencing, call recording, voicemail transcription, and Caller Info Match.
The Office Pro Plus Plan is best for businesses that have a high daily call volume or that don't have enough live agents to handle the number of inbound customer calls.  As such, Pro Plus users need access to advanced automation and call management features exclusively available on Ooma's top-tier plan. With Pro Plus, users gain access to CRM integration, call queueing, hot desking, and the ability to set up and switch between multiple call flow paths.
The below image outlines additional differences between the three Ooma Office plans: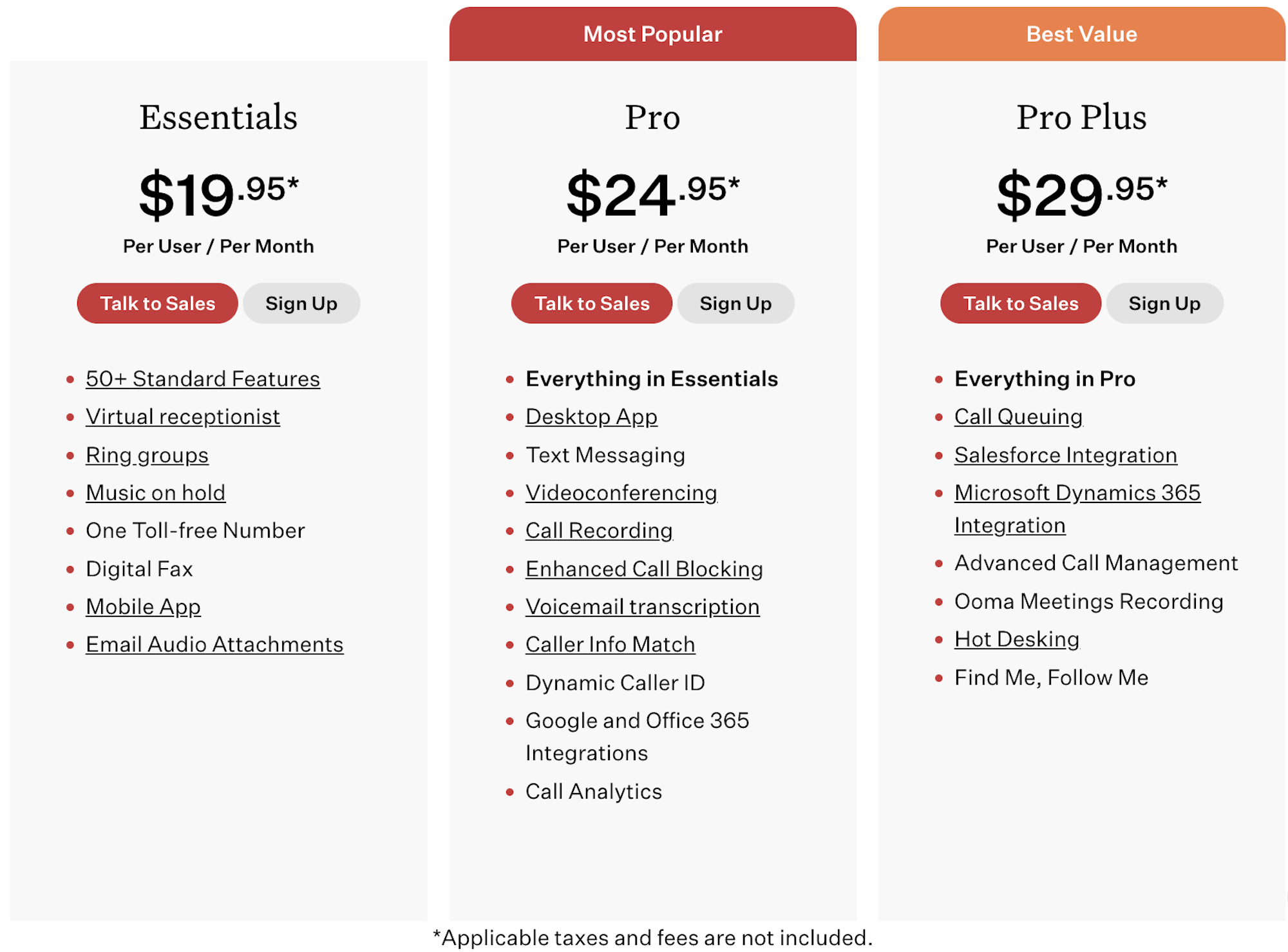 Ooma also offers a UCaaS solution, Ooma Enterprise, ideal for large-scale contact centers and call centers. Standout Enterprise features include 24/7 customer support, enhanced SMS text messaging, skills-based call routing, and real-time wallboards and analytics. There are three Ooma Enterprise plans starting from $19.99/user/month.
Ooma Office: Top Features
Ooma Office is available on desktop computers via a downloadable softphone application, on Apple iOS and Android mobile devices like tablets and cell phones, and in your web browser with the Ooma Chrome Extension.
All Ooma Office plans include:
Unlimited calling in the US, Canada, and Mexico
Call park, call transfer, call flip, call forwarding, call hold
Simultaneous ringing and ring groups
Virtual Receptionist
Call hold/transfer music
Voicemail-to-email (audio attachment only)
Basic call blocking
Intercom
Plug-and-play overhead paging (integrates with your existing paging system)
User extensions and extension dialing
Company Directory
Basic call logs
Virtual faxing
Audio-only conference calling for up to 10 participants (via conference bridge)
3-way calling
Advanced features available only on Ooma Office Pro and Ooma Office Pro Plus Plans include: 
Call recording
Advanced ring groups
Video Conferencing on any device with an Internet connection
Caller Info Match
Dynamic Caller ID
Hot desking
Enhanced call blocking
Voicemail transcription
Call analytics
Salesforce integration
Find Me, Follow Me
Below, we'll take a look at some of the top Ooma Office features in more detail.
Virtual Receptionist 
Ooma's Virtual Receptionist is an auto attendant tool that automatically directs inbound calls to the right department or agent via a pre-recorded menu option, eliminating the need for callers to speak with a live agent.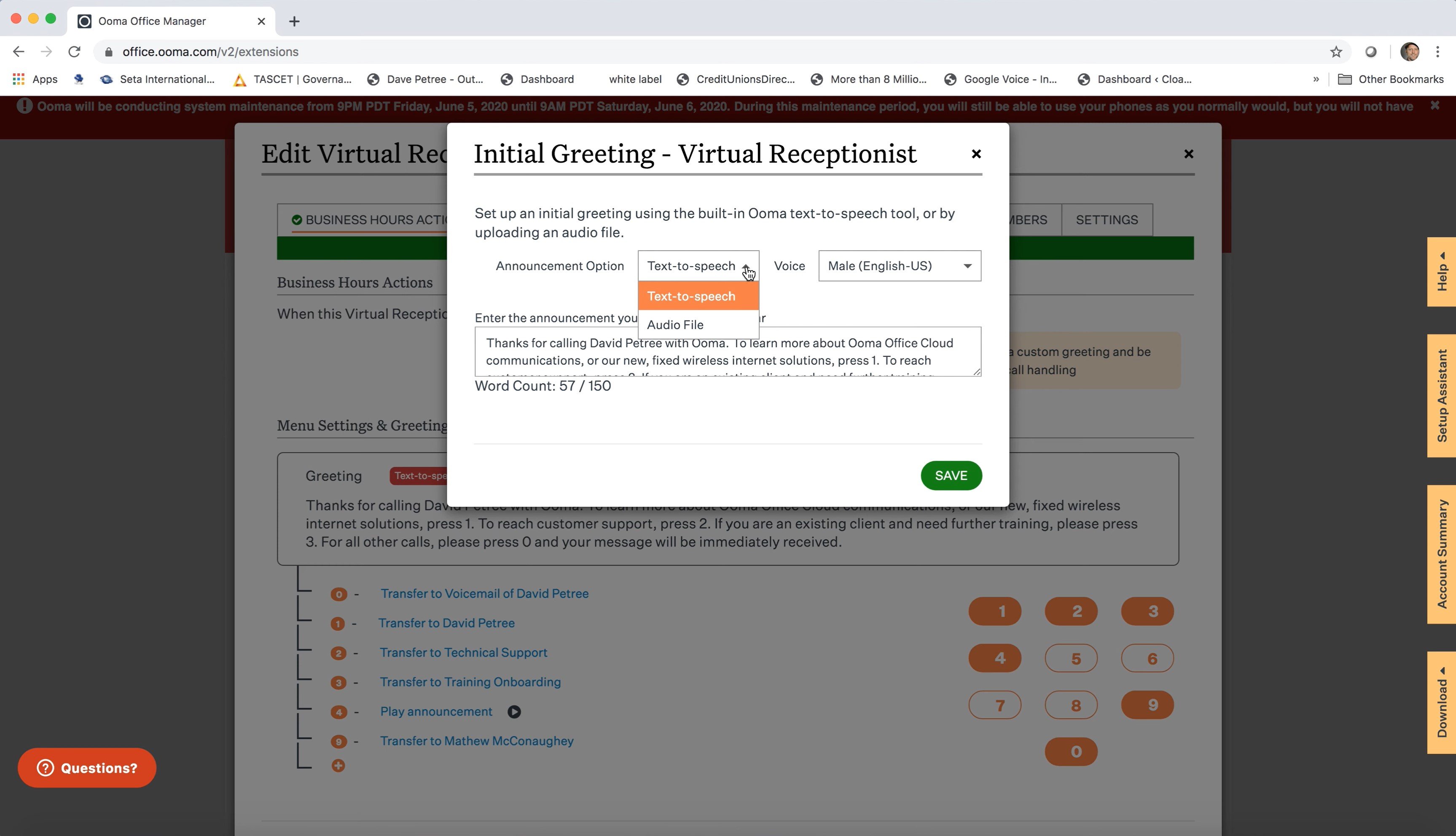 Callers can either speak their responses to multi-level IVR menu prompts and greetings into the phone to have their calls directed using Natural Language Processing, (NLP) or respond via touchtone.
The Ooma Virtual Receptionist assists callers with things like:
Directing calls to the proper agent, department, ring group, voice mailbox, or extension
Finding an agent via a dial-by-name directory
Getting information about business hours, locations, holiday schedules, and more via custom pre-recorded messages
Selecting their preferred language (English, Spanish, French available)
After-hours assistance
Ooma Meetings 
Ooma Meetings is an online video conferencing tool for up to 100 participants to meet in real-time, face-to-face, for a maximum of 12 hours. Meetings are available only on the Ooma Pro and Pro Plus plans, with the Pro plan allowing for a maximum of 25 participants.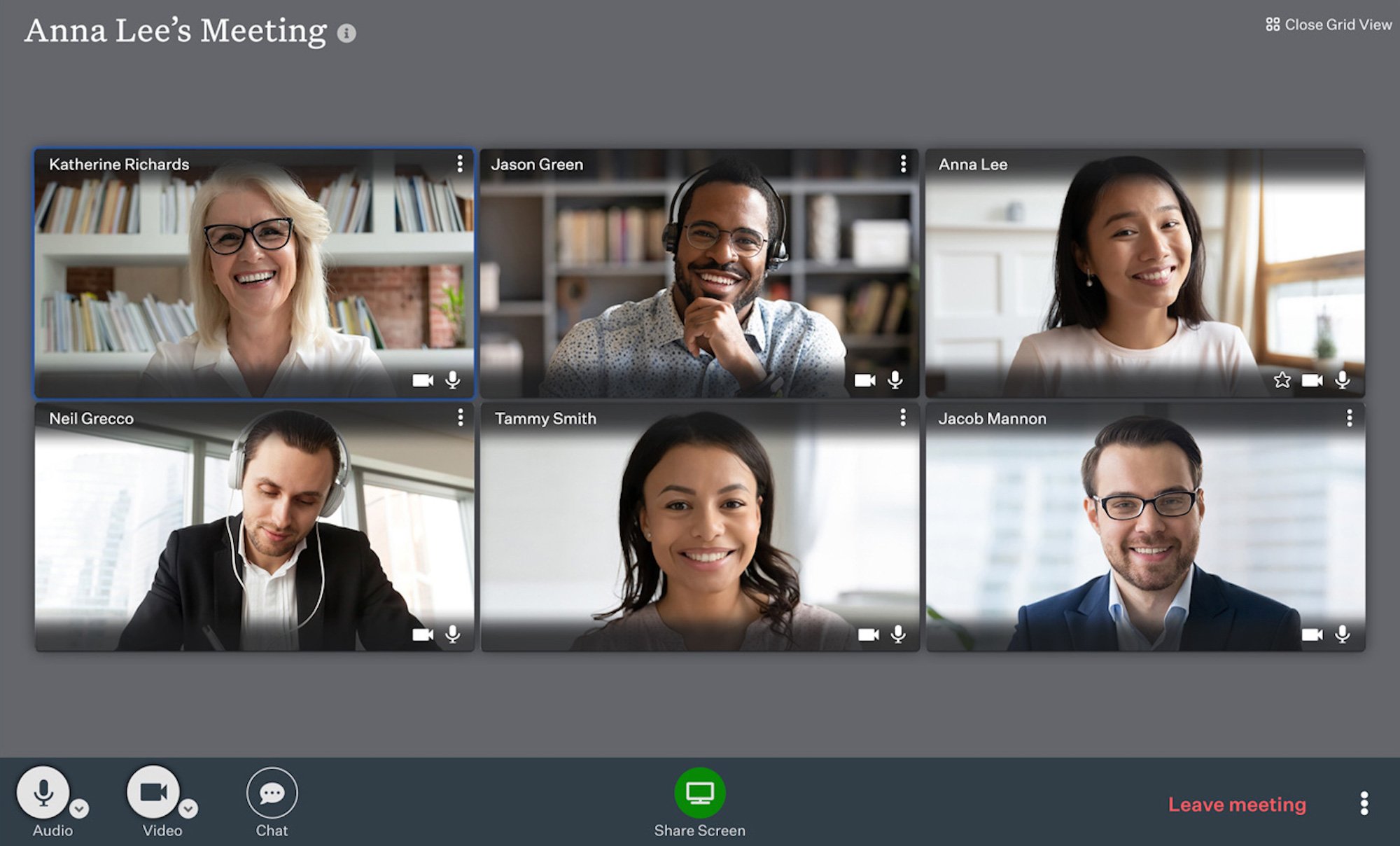 Users can schedule an upcoming web conference or meet instantly within the Meetings Dashboard, as well as invite additional participants with a shareable meeting link. One-time and recurring meetings are available, and the Meeting search bar makes finding meeting links quick and easy.
For simpler scheduling, Meetings integrates with Google and Outlook Calendar apps. Dial-in and mobile app access are also available.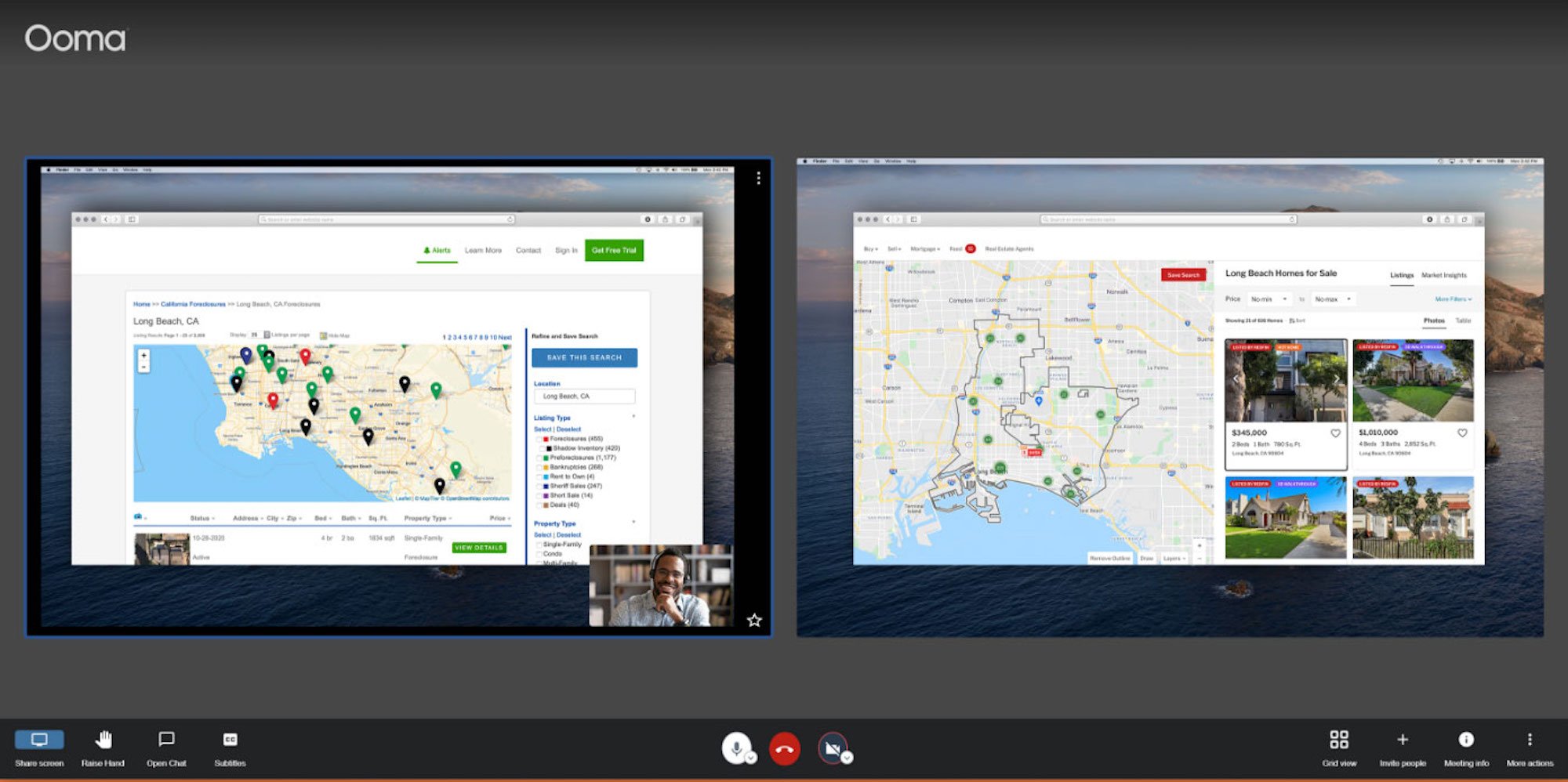 Ooma's video calling tool is unique in that, in addition to the whole screen, web browser tab, and application sharing, it allows simultaneous screen sharing between two or more meeting attendees. This is especially ideal for sharing side-by-side design options, showing multiple slide presentations, collaborating on notes, reviewing client account information, and more.
Additional Ooma Meetings functionality includes:
Personal meeting rooms with unique user IDs
View meeting logs via meeting type and date
Active in-meeting invitations for additional participants
Pin/unpin users
Meeting participant list
Virtual hand raising
Video backgrounds (blur, upload custom photos, etc.)
Grid and Active Speaker views
Mute/unmute and remove participants, make participants hosts
In-meeting chat (meeting-wide and private messages)
Speaker statistics
Remote control
Advanced Ring Groups 
Ooma Office ring groups let admins create groups of agents based on skillset schedule, or other custom criteria. 
When an incoming call arrives, all the phone numbers within each ring group will simultaneously ring, increasing first call resolution rates and reducing hold times.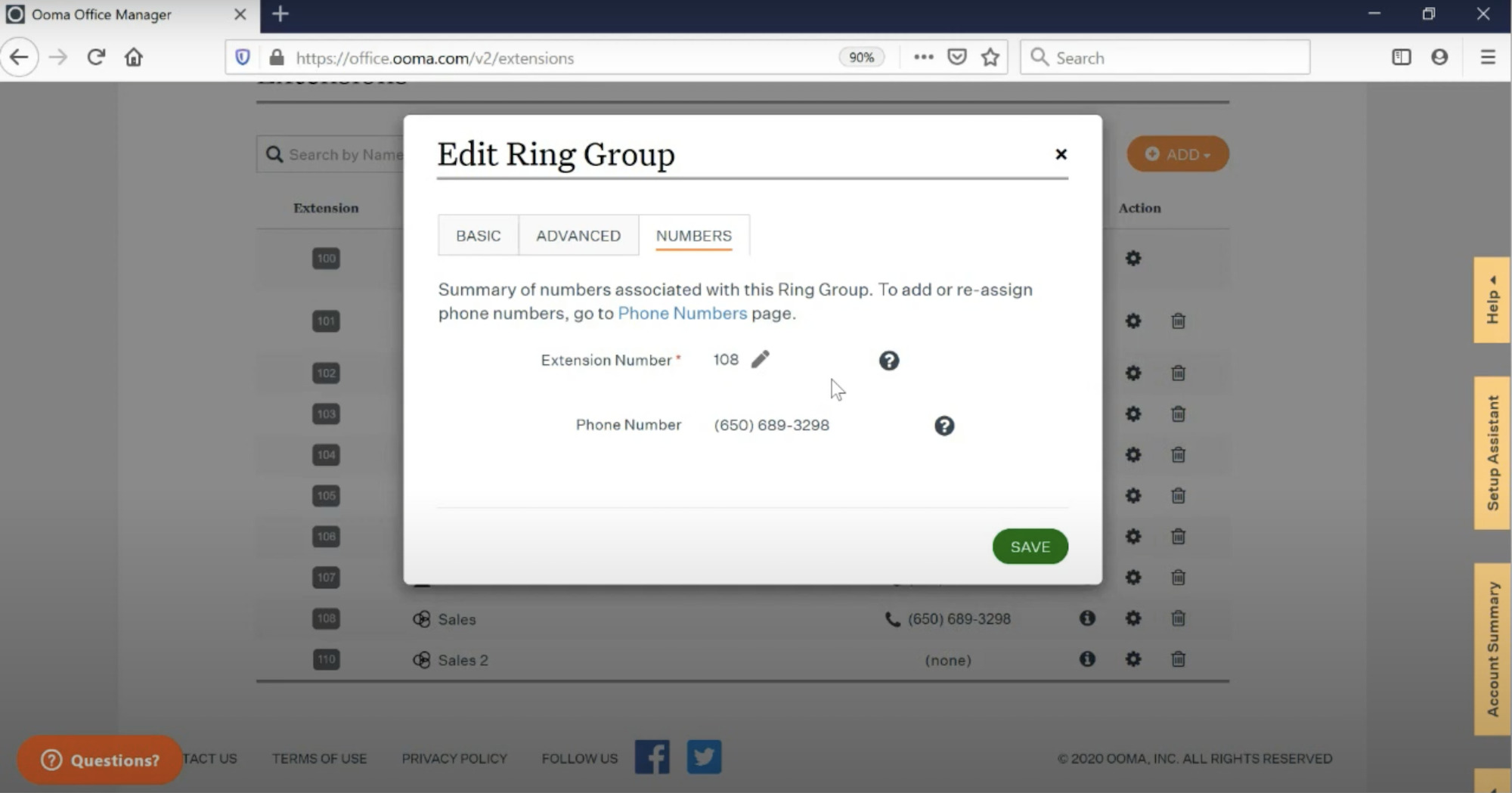 In addition to simultaneous ringing, admins can opt for sequential ringing or hybrid ring groups, which ring multiple ring groups sequentially until the call is answered.
Admins can update or reorder ring groups at any time, set maximum ring times before the call is forwarded to the next agent or sent to voicemail, set call forwarding and transfer rules for ring groups, and add new extensions to the group.
Call Recording 
Ooma Office offers persistent and on-demand call recording for all Pro and Pro Plus users.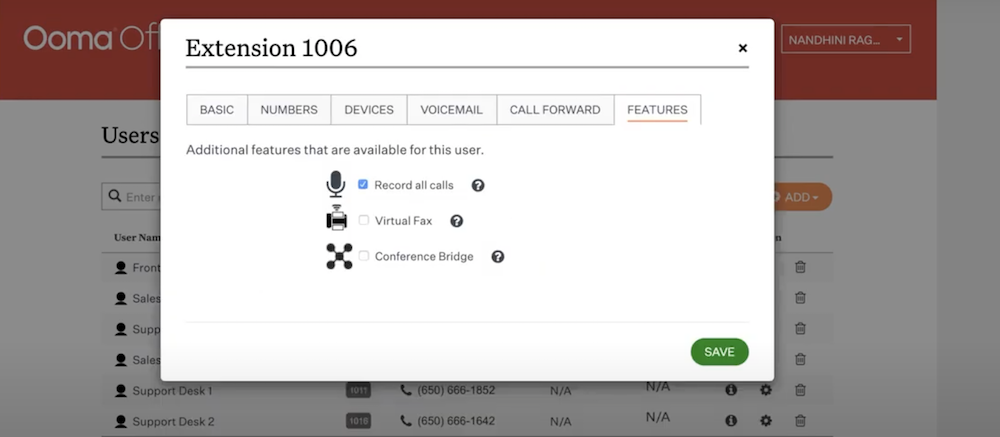 Admins can review recordings in the Call Log dashboard via the playback feature, or download them to analyze in more detail later. Recordings are stored in the Call Log dashboard in the desktop app for up to 30 days.
Users can also stop and start recordings on a live call at any time.
The downside here is that, as of this writing, Ooma Office does not offer call recording transcriptions.
Enhanced Call Blocking 
Though all Ooma Office plans allow users to block specific phone numbers, the Pro and Enterprise plans offer Enhanced Call Blocking.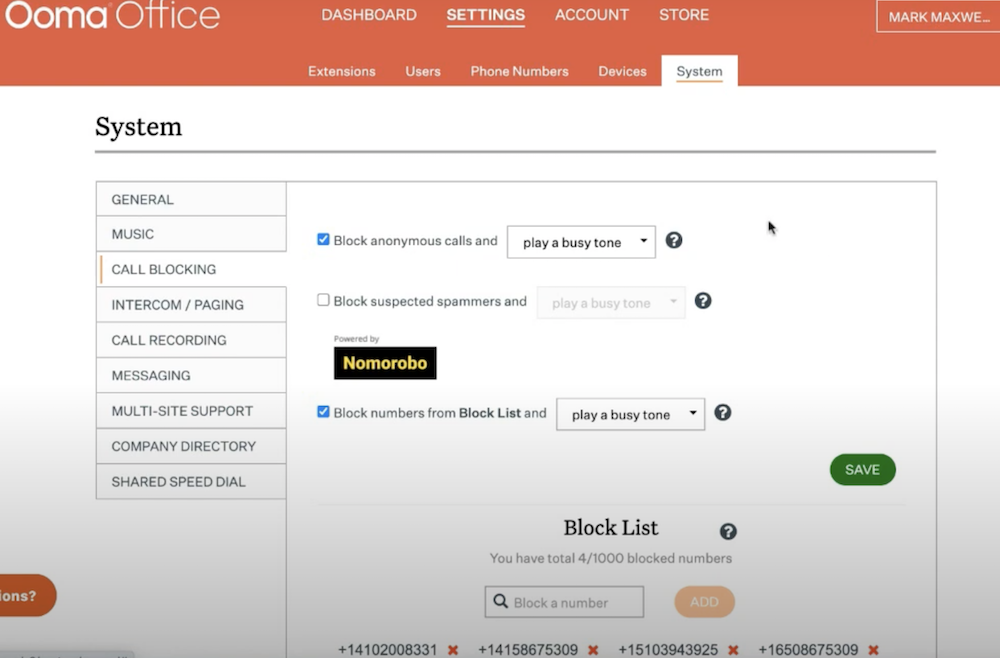 All users are able to block up to 100 numbers, and anyone on the blocked list will hear a busy signal when they attempt to reach the business. Users can add and remove blocked numbers at any time, and any calls from these numbers will not appear in the call log.
Pro and Enterprise users can automatically block calls from anonymous phone numbers, enable contacts-only calling, or automatically block numbers on the Community Blacklist (known spam numbers.)
Caller Info Match
Caller Info Match is an Ooma Office Pro and Enterprise plan feature best described as a combination between Caller ID and CRM Call Pops.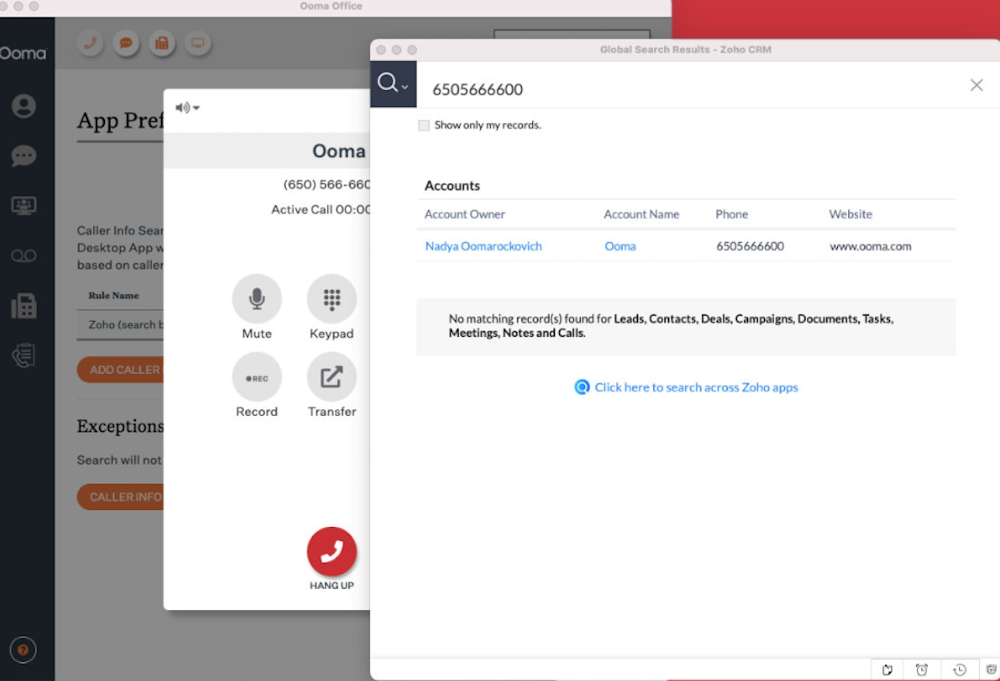 In addition to displaying caller names, users can opt to integrate their CRM systems into their Ooma business phone service so that customer information automatically pops up when engaging in business communications with customers.
Caller Info Match also lets users automatically pull public information from websites like Facebook, LinkedIn, and Google that possibly relate to the caller.
Text Messaging
SMS business text messaging allows all Ooma Office users to send and receive text messages via the mobile app (Office Pro users can also text with the desktop app.)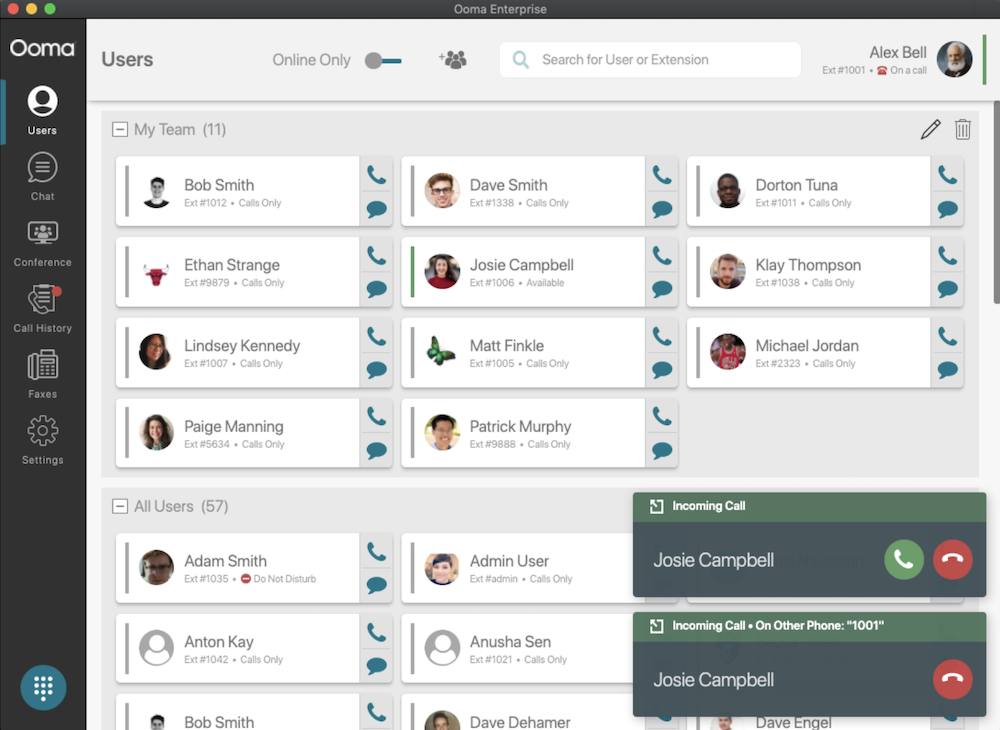 This provides an alternative multichannel method of contacting customers. Setting up appointments, confirming information from your customers, and answering questions is a much simpler process with texting.
As of this writing, Ooma Office text messages have a 2,048 character limit for outbound messages, but users can send and receive as many messages as they'd like. Additionally, Ooma Office does not offer SMS shortcodes, nor can users text to/from Ooma Office toll-free phone numbers.
Ooma Office: User Experience 
The below Ooma Office pros and cons table offers more insight into the user experience.
| | |
| --- | --- |
| Ooma Office Pros | Ooma Office Cons |
| All plans come with a free local phone number with unlimited calling, and a free toll-free number with 500 inbound minutes/month | Essentials Plan doesn't include call recording, voicemail transcription, or integration with essential third-party tools like Google Workspace and Microsoft365 |
| Does not require a contract, so users can cancel plans any time | Find Me, Follow Me (a standard feature for most providers) is only available on the most expensive Ooma Office Plan |
| Ooms offers compatible and affordable Yealink desk phone and Ooma IP phones, and base station equipment, all of which includes a 30-day money-back guarantee | Does not offer 24/7 customer phone support on any plan, and chat support, though allegedly available 24/7, is not live and requires a form submission |
| Fast setup process (under 1 hour for most), user-friendly, low learning curve, convenient mobile phone app | Salesforce integration is only available on the most expensive Ooma Office plan,  and difficult to find information about what other software Ooma Office integrates with outside of Microsoft 365, Salesforce, and Google Workspace |
Who Should Use Ooma Office? 
Ooma Office is best for newer or smaller businesses that need a basic and affordable cloud phone system that offers all the key features team members need to streamline workflows and improve the customer experience.
Ooma Office users don't want to pay for advanced capabilities they don't need across multiple channels they either won't use or already have a preferred software for.
Businesses using Ooma Office likely don't conduct the majority of their business over the phone. Instead, they prefer eCommerce shops, business websites, or even brick-and-mortar locations to sell their products and services. However, they do have some customers that frequently reach out via the office phone number.
Therefore, they need a tool that's easy to use and offers features like call forwarding, visual voicemail, and ring groups that cut down on missed calls and miscommunications.
While teams using Ooma may have a bi-weekly video meeting or check-in, they don't work in heavily collaborative environments.
While Ooma Office does have its drawbacks, including a lack of information about customer support and limited integrations, it offers something that seems to be getting harder and harder to find within the cloud communications space: simplicity.
If your business needs a different business VoIP provider, check out our post on top Ooma alternatives.
Ooma Office FAQs
Below, we've answered frequently asked questions about Ooma Office.
If your company has more advanced business communication needs, especially when it comes to high call volume management, consider Ooma's UCaaS software Ooma Enterprise Call Center.  With plans starting from $49.99/user per month, (contract required) the Enterprise Call Center offers features like:  - Graphic IVR and Call Flow Builder - Queue-based estimated wait times for inbound callers - Queue position information for inbound callers - Time-based routing - Abandoned Call Counter - Advanced Reporting
As of this writing, top available Ooma integrations include: - Salesforce - Zoho CRM - Microsoft Teams - G Suite - Microsoft 365 - Microsoft Dynamics - Zendesk - Service Now
Ooma Office use cases include:  - Retail Stores use Ooma Office to anticipate peak volume times, provide "always-on" communication to customers, send notifications to staff, allow customers to check on order status or pay bills, and to send out automated appointment reminders.  - Professional Service Providers use Ooma Office to communicate with customers and access key customer information from their mobile phones, provide a higher level of customer self-service for appointment booking and payments, assist with scheduling, and create a local business presence.  - Hospitality Services use Ooma Office to manage reservations, properly route guest calls to things like Room Service, Maid Service, or the Concierge Desk, streamline communication during the event planning process, provide wake-up calls, and more - Financial Services use Ooma Office to stay compliant with industry regulations, connect customers directly to their specific financial advisor with extension dialing, allow customers to check balances, send out account alerts, and more.
Ooma has E911 services, which automatically collect your company's address, phone number, and other key information and send it to emergency response teams if anyone in your office dials 911. Ooma also provides a landline backup so that, in the event of a power outage, 911 calls can still be made over a landline.