Nextiva's business VoIP platform offers tons of useful features, like video conferencing, call queuing, auto-attendants, and more. However, depending on your company's goals and communication needs, you might find one of Nextiva's competitors a better fit.
Many alternative business VoIP providers boast unique strengths–like popular integrations, video conferencing features, and internal collaboration tools–that distinguish them from Nextiva and each other.
This article outlines our favorite Nextiva alternatives, comparing their strengths, pricing, plans, and standout features.
The Top Nextiva Alternatives
Review our selection of top Nextiva alternatives listed below, and choose the one that aligns best with your specific business requirements.
Provider

Reviews

More Details

GoTo Connect

Unlimited IVR, queues, and ring groups
50+ country unlimited calling area
Up to 250 video-meeting participants

138 Reviews

8×8 Inc.

14- and 48-country unlimited calling areas
500 video-meeting participants
Real-time analytics on all plans

678 Reviews

RingCentral

Customizable analytics
Over 300 integrated apps
File sharing and task management features

533 Reviews

Vonage Business

Multichannel inbox add-on
Answer calls on any device
Unlimited texting in the US

183 Reviews

Dialpad

AI-supported video meetings
Business phone numbers in 70+ countries
Highly affordable plans

264 Reviews

Zoom

Call monitoring and distribution on all plans
Unique metered and global calling plans
Integrates seamlessly with Zoom products

99 Reviews

Grasshopper

Unlimited SMS in the US
User-friendly interface
Whole-account pricing plans

2 Reviews

Avaya

VoIP, SMS, chat, and video on all plans
File sharing and document management
Real-time anaytics

45 Reviews

Aircall

PowerDialer for outbound sales
Shared call inboxes for collaboration
Automatic queue callbacks

22 Reviews

Ooma

Option for mobile-only plans
Interactive bulk texting
Analytics with user leaderboard

36 Reviews
1. GoTo Connect: Best for Calling Features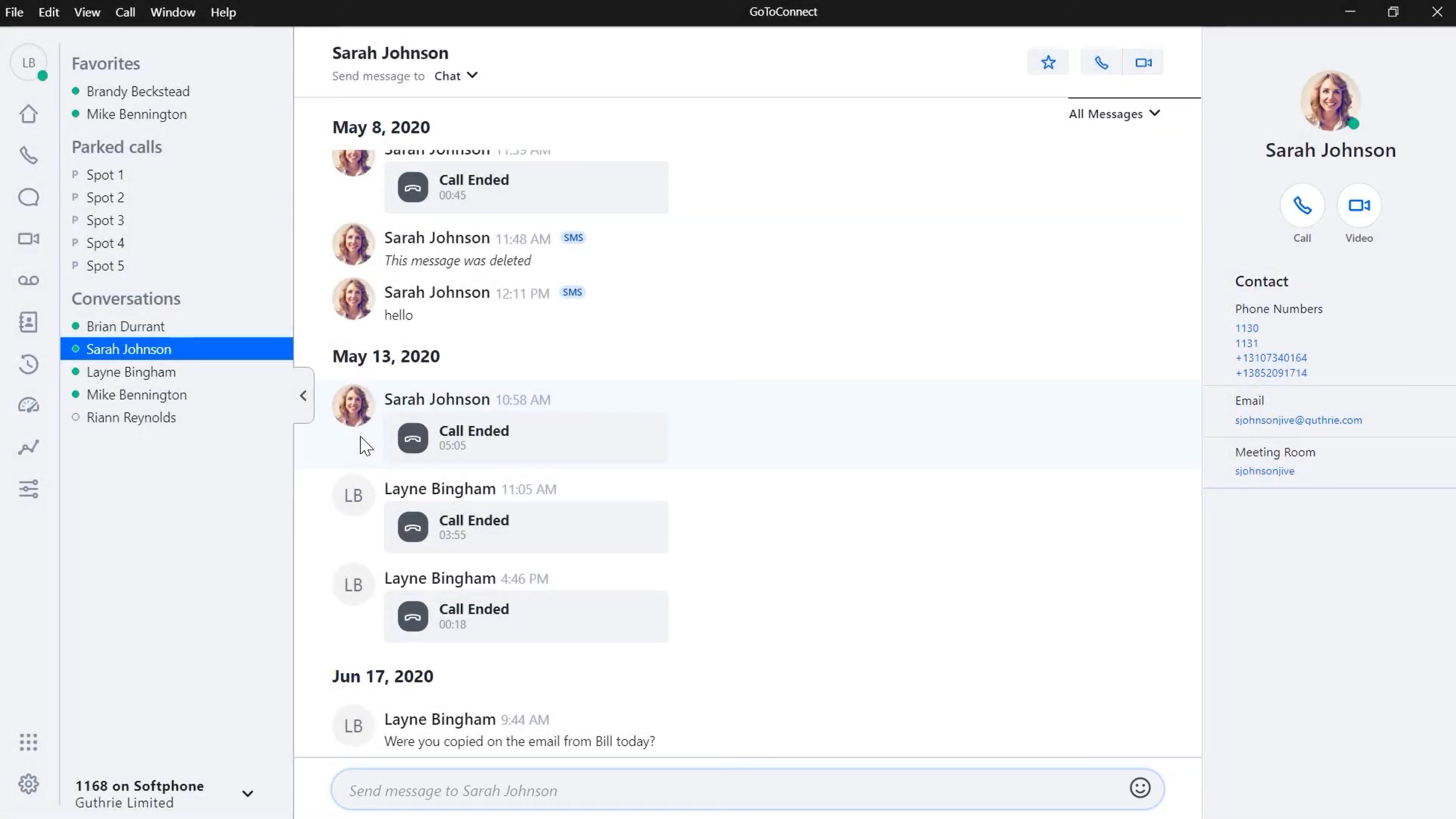 GoTo Connect provides a flexible cloud phone system, built-in team meetings, messaging, and video conferencing on both of its plans. Each plan includes a comprehensive suite of calling features–like call queues and auto attendants–that other providers reserve for more expensive plans. While slightly pricier than Nextiva, GoTo Connect is compatible with over 180 desk phone models and serves as a strong Nextiva alternative.
GoTo Connect is a Good Nextiva Alternative if You:

Make frequent international calls: The Standard plan's 50+ country international calling area is the largest of any on this list, at an affordable rate
Have a large team with many departments: The Standard plan also includes unlimited ring groups and call queues, making a great value for large teams with complex calling needs
GoTo Connect Pricing and Plans
GoTo Connect offers two unified communications plans:
Basic ($24 monthly): Includes VoIP, team chat, 4-participant video conferencing, and 40 SMS monthly per user, plus one of each phone-system feature–ring group, auto attendant, call queue, and dial plan. This plan has a 20-user maximum.
Standard ($29 monthly): Expands to 80 monthly SMS credits, unlimited calling to 50+ countries, 250-participant video meetings, unlimited access to phone-system features, and adds 1000 monthly toll-free minutes per account.
Standout Features
Here are some of our favorite GoTo Connect features:
Unlimited calling area: While the Basic plan supports unlimited calling within the US and Canada, the Standard plan boasts a 50-country unlimited calling area that outmatches all industry competitors
IVR with dial plan: Use a drag-and-drop editor to design IVR call flows that link users, ring groups, announcements, and commands like hang up. Customize dial plans by user availability and business hours
One-click video conferencing: Jump from a chat or call into a video meeting, schedule routine team or customer meetings, generate invite links, and collaborate with screen sharing and virtual hand raising.
Real-time call analytics: For individual extensions or the entire call center, view advanced KPIs and metrics sorted by day, week, or month, to predict staffing needs. Gain insights like IVR selections, channel usage, user activity, and more.
Virtual voicemail and voicemail-to-email: Each voicemail is logged in the cloud as a separate audio file with accompanying text transcription. Agents can read or listen to their voicemail messages whenever and wherever they want, in any order.
Why We Picked GoTo Connect
Unlimited calling: GoTo Connect's Standard plan offers a 50-country unlimited calling area for just $29 monthly per user, providing excellent value for companies with high international calling volumes
Customizable routing features: GoTo allows users complete control over their inbound routing, with features like a drag-and-drop IVR designer, call queues, and ring groups with a custom ring sequence.
Where GoTo Connect Falls Short
SMS limitations: GoTo's Basic and Standard plans include 40 and 80 SMS credits per month, respectively. For companies that plan to heavily utilize SMS texting, these limits may prevent full customer service, especially when some alternatives support unlimited texting.
Video capacity: The Basic plan only supports up to 4 users per video meeting. This forces large businesses to opt for the pricier Standard plan if they want whole-team video collaboration.
2. 8×8: Best for International Calling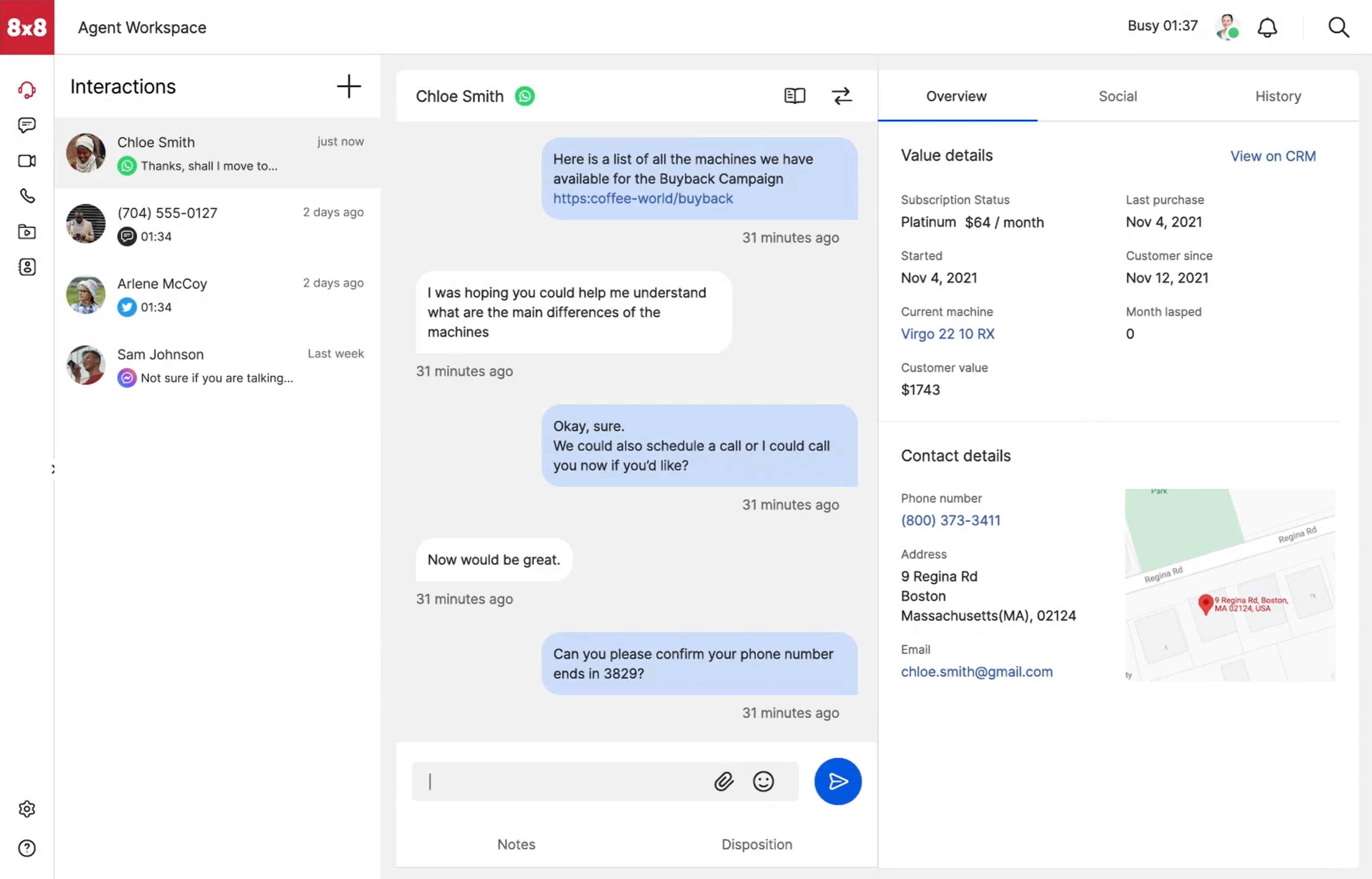 8×8 makes a great Nextiva alternative for small businesses that frequently make international calls, with unified communication plans offering 14-country and 48-country unlimited calling areas. The phone system includes basic features–like voice, video, external SMS texting, and internal chat–plus advanced features like AI support, interactive meeting features, and live streaming to YouTube.
8×8 is a Good Nextiva Alternative if You:
Frequently call particular international locations: 8×8's X2 and X4 plan offer 14 and 48-country unlimited calling areas, respectively. If you frequently call destinations included in either plan's list, you can choose a plan that provides great value for unlimited calling
Are considering a contact center: The X2 and X4 plans are unified communications platforms, but 8×8 also offers 3 contact center plans that directly build upon the UCaaS plans. If you're considering eventually switching from UCaaS to a full-on contact center, 8×8 is a good choice.
8×8 Pricing and Plans
8×8 offers two unified communications pricing plans:
X2 (custom pricing): Unlimited VoIP calling to 14 countries, 500-participant video meetings, unlimited SMS, team chat, auto attendant, live AI assistance, call activity analytics, call queues, and YouTube streaming
X4 (custom pricing): Expands to 48-country unlimited calling area, adds call monitoring and supervisor analytics
Standout Features
Here are some of our favorite 8×8 features:
Unlimited calling area: The X2 plan includes a 14-country unlimited calling area, and the X4 plan includes a 48-country unlimited calling area. Many countries on the X2 plan don't include mobile numbers, while the X4 plan supports mobile numbers in most included countries.
Conversation IQ: Live speech analytics like customer sentiment and real-time agent suggestions
Advanced video conferencing: On desktop and mobile, video conferencing supports 500 participants–more than any competitor. Meetings include virtual backgrounds, moderator controls like a lobby and mute, screen sharing, cloud recording, and calendar integrations for scheduling.
Live streaming to YouTube: Use 8×8 to stream video meetings live to YouTube, a unique feature that supports unlimited audiences and works well for webinars
Universal team messaging: Teams can share content–files, multimedia, documents, links–across integrated applications like Slack, Skype, Microsoft Teams, and HubSpot.
8×8 work app: The 8×8 Work application combines call, chat, and video functions in one place, allowing users to take their number anywhere and access collaboration and customer-facing features like video calls, chat, screen sharing, and call flipping.
Why We Picked 8×8
Unified experience: 8×8's mobile, web, and desktop apps unify extremely well, providing a seamless experience for users no matter where they do business. Users can quickly flip calls, access video meetings, and collaborate with teammates on any device.
Value: The software not only includes basic calling features–queues, IVR, voicemail transcription–but conversational AI capabilities like live agent support and sentiment detection. All this comes with the basic plan, a great value for $24 monthly.
Where 8×8 Falls Short
Unlimited calling area deceptions: While the X2 and X4 plans offer 14- and 48-country unlimited calling areas, respectively, most of the X2 plan's 14 countries don't support mobile numbers. The X4 plan does support mobile numbers in most destinations, but this plan is pricy at $20 extra.
3. RingCentral: Best for Collaboration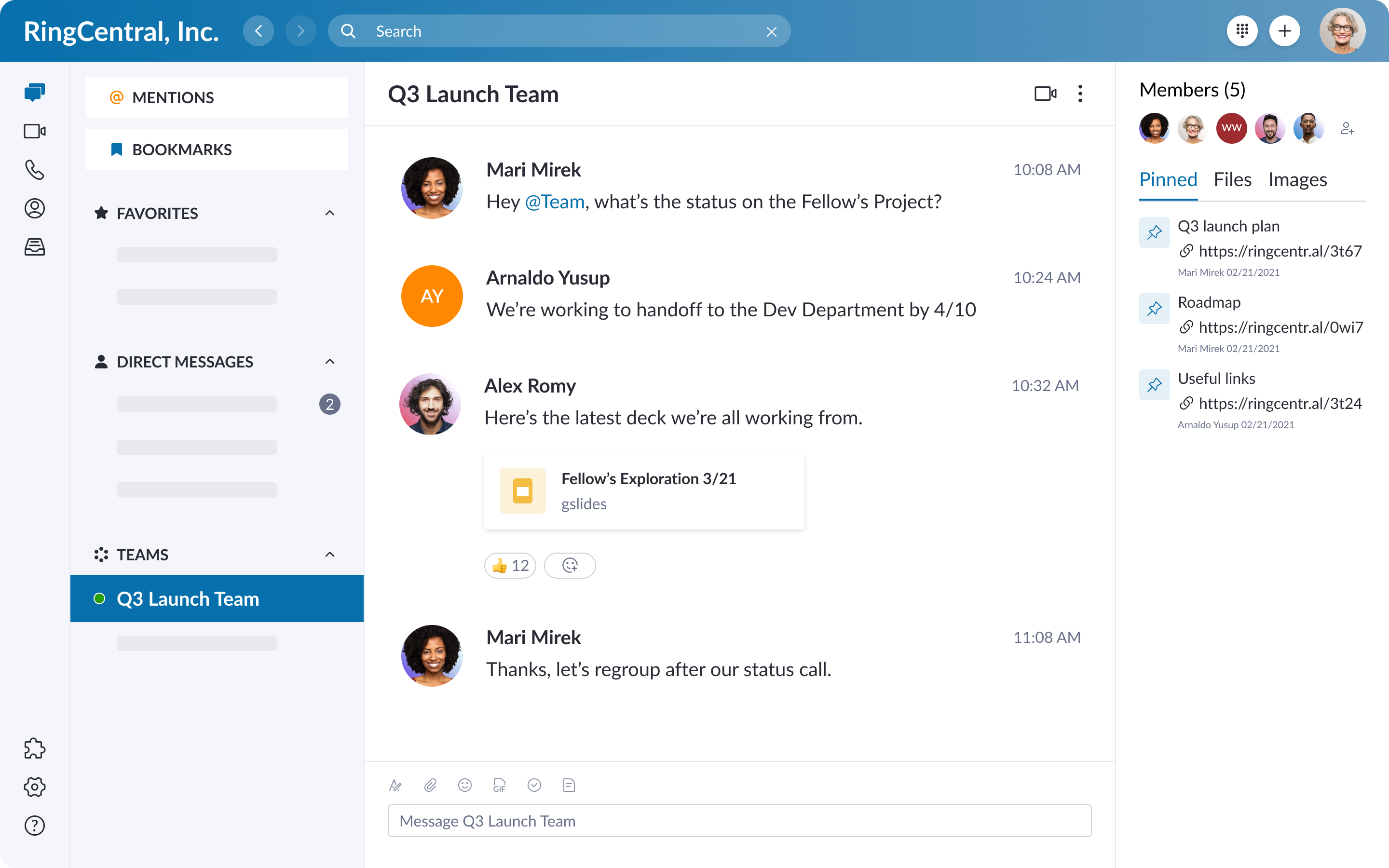 Ideal for companies prioritizing remote and hybrid team collaboration, RingCentral's MVP product (Messaging, Video, and Phone) combines a host of UCaaS features: document and file sharing, call queues, call recording, call monitoring, and multi-level IVR. Extremely well-rounded, RingCentral's app is user-friendly and integrates with an industry-leading 300 apps.
RingCentral is a Good Nextiva Alternative if You:
Want all communication channels on a budget: VoIP, video conferencing, team chat, and SMS come included with each RingCentral pricing plan

–including the $20 monthly Core plan

Prioritize call monitoring and supervision: Teams prioritizing agent supervision and feedback will appreciate RingCentral because it includes call monitoring and automatic call recording for as cheap as $25 monthly, plus custom call distribution rules
RingCentral MVP Plans and Pricing
RingCentral MVP offers three pricing plans:
Core ($20 monthly): Unlimited VoIP within the US and Canada, 25 monthly SMS per user, video conferencing with 100 participants, team messaging, basic call queues, IVR, call logs
Advanced ($25 monthly): Expands to 100 monthly texts per user, 1000 toll-free minutes per account, advanced call queue and routing rules, automatic call recording
Ultra ($35 monthly): Expands to 200 monthly texts per user, 10,000 toll-free minutes, 200-participant video meetings, and the Business Analytics Pro tool
Standout Features
Here are some of our favorite RingCentral features:
User dashboard: RingCentral's dashboard makes it easy to collaborate and manage multiple tasks–with different teams–at once. Users can view all internal and external messages and calls, create teams, share mutual to-do lists, stream live videos, and initiate instant video huddles.
Video AI support: RIngCentral's video meetings utilize AI for live insights–including summaries, highlight reels, and transcriptions
Interactive video features: Video meetings include breakout rooms, collaborative team notes, whiteboards, and recording
Collaborative rooms: RingCentral collaborative rooms not only support 1:1 chat and team threads, but users can jump into video huddles and conference calls with one click. Messaging also supports file sharing and task-management tools like assignment and due-date setting.
Advanced call management: Monitor, Whisper, Barge, and Takeover allows supervisors to listen in on agent calls, providing private feedback or suggestions to agents mid-call and even jumping in if necessary.
Why We Picked RingCentral
Top-tier team collaboration: RingCentral offers the most well-rounded team collaboration platform on this list. It includes unlimited team rooms with task-management tools, file sharing, and whiteboards–plus AI-supported video tools.
User-friendly: RingCentral's app is simple and intuitive, making it easy for hybrid and remote teams to transition from a traditional phone system to a unified communications software.
Where RingCentral Falls Short
Limited analytics: While the platform does include call logs and adoption analytics, their Business Analytics solution is still in beta–limiting the depth of analytics that supervisors can access.
SMS restrictions: RingCentral limits each user's monthly SMS allotment–25, 100, or 200, depending on the plan. For companies that frequently text customers, this may be a dealbreaker.
4. Vonage: Best for Add-on Features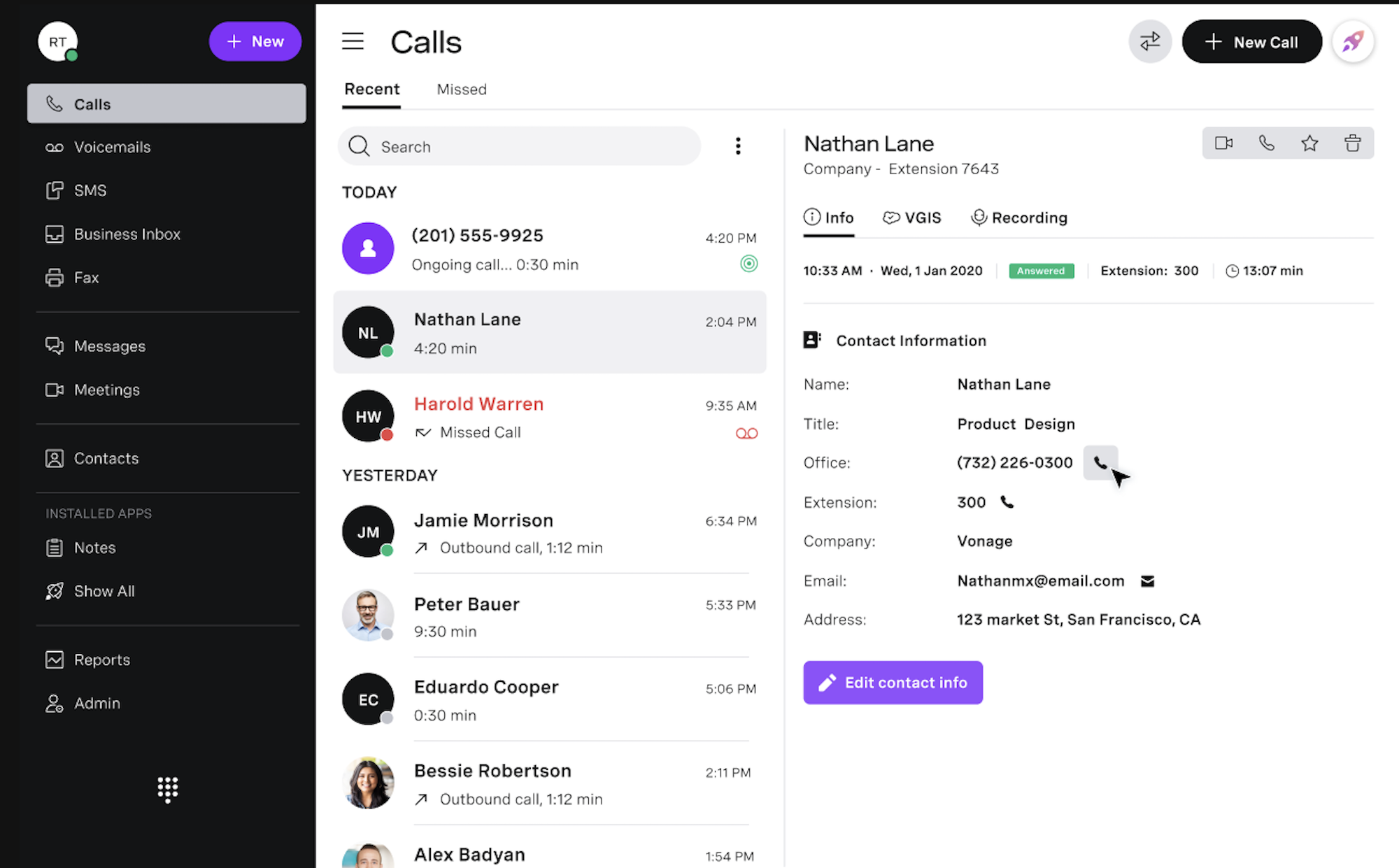 Vonage offers business VoIP service in an omnichannel solution with texting, calling, messaging, fax, and video in one dashboard, alongside tools like call logs and simultaneous ring.
The VoIP software supports unlimited calling in the US, Canada, and Mexico, with basic features like call queue and auto attendants. Vonage offers a-la-carte add-on features like a shared digital messaging inbox or an AI virtual assistant, making it a strong Nextiva alternative for companies seeking only certain advanced features.
Vonage is a Good Nextiva Alternative if You:
Frequently text within the US: Vonage plans support unlimited VoIP and SMS within the US. Many other alternatives put a limit on each user's monthly text allowance.
Don't need too many bells and whistles: Vonage includes basic call controls

–like call flipping, parking, forwarding, transfers, and click-to-call–but it doesn't include many advanced features, like queues or analytics. It makes an easy-to-use platform for those don't need advanced phone system features.
Vonage Pricing and Plans
Vonage Business Communications, the cloud-based phone system, comes in three pricing tiers:
Mobile ($19.99 monthly): Mobile and desktop apps, unlimited calls and SMS texts, team messaging, call queues, call parking and transfer, basic auto attendant
Premium ($29.99 monthly): Adds 100-participant video meetings, multi-level auto attendant, CRM integrations, and VoIP desk phone connectivity
Advanced ($39.99 monthly): Adds 15 hours of call recording, call groups and visual voicemail
Standout Features
Here are some noteworthy Vonage features:
Vonage meetings: Vonage's video collaboration tool, Meetings, lets users host video conferences with internal team members or customers, including whiteboard and screen-sharing features. Meetings sync with calendar systems for scheduling, and agents can flip meetings from call to video with one click.
Call parking: Included on all Vonage plans, call parking allows an agent to "park" a call on hold in a virtual shared lot, where other team members can retrieve it
Call queues: Organize callers in hold queues, when all agents are occupied. Agents can view their queues from the app dashboard.
Virtual phone numbers: Vonage offers business phone numbers and toll-free numbers from area codes throughout the globe, for an international business presence
Business inbox (add-on): The Business Inbox add-on stores all of a user's interactions in one log, including text, email, web chat, social media channels, and other communication apps. Agents can sort and read all messages in the browser, responding in the customer's preferred channel.
Admin portal: Administrators can customize the company's VoIP phone system and monitor account activity in real-time, including activity for all users and extensions
Why We Picked Vonage
Interface: Vonage's interface is intuitively structured and simple for users, making it a good platform for those just transitioning to unified communications
Phone number availability: Vonage has a large bank of available phone numbers throughout the US and the globe, providing more choices regarding where you can establish a business presence
Where Vonage Falls Short
Customer support: Some customers report feeling frustrated with Vonage's lack of real-human technical support at certain hours, both over the phone and via chat
Overpriced basic features: Vonage's pricing places some basic features–like call groups and visual voicemail–in their Advanced plan, which costs $40 monthly per user. Many alternatives offer these features with a basic plan that costs nearly half the amount.
5. Dialpad: Best For Small Teams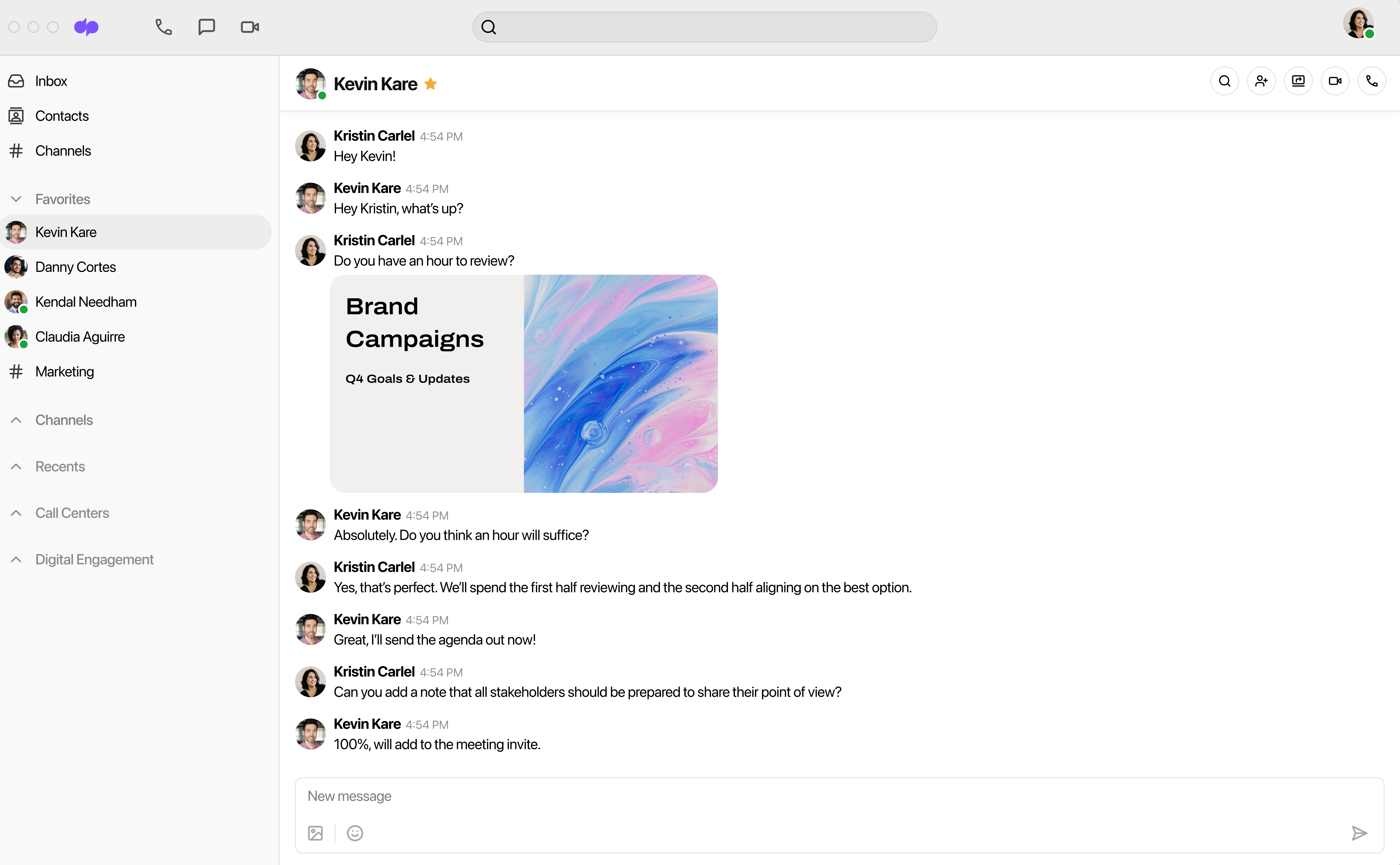 Dialpad offers some of the most affordable plans on the market, without compromising important features. All of their plans include SMS, calling, internal and external web chat, video, analytics, live speech coaching, voicemail, and live call transcriptions.
Dialpad video only supports ten users, so companies looking to utilize webinars, live streaming, and other virtual conference events should choose another provider. Still, the VoIP solution offers an affordable Nextiva alternative for small companies wanting all core communication channels with many advanced features.
Dialpad is a Good Nextiva Alternative if You:
Have a small team: Dialpad offers all communication channels on all plans, at a great value. The main drawback is Dialpad's small 10-participant meeting capacity. If you have a small team and don't mind the meeting participant limit, Dialpad offers tremendous value.
Want AI support: All Dialpad plans include real-time analytics, live call transcription, and automated meeting summaries. Most altnertaives don't offer these advanced features at all, and Dialpad includes them on the cost-effective $15 monthly Standard plan.
Dialpad Pricing and Plans
Dialpad offers three Business Communications pricing plans:
Standard ($15 monthly): Unlimited calling in the US and Canada, unlimited SMS, team chat, video conferencing with up to 10 users, AI-based call transcriptions, call recording, custom call routing, real-time call transcriptions and speech coaching, analytics
Pro ($25 monthly): Adds hold queues, international business numbers, 25 ring groups, multiple phone numbers per account, popular CRM integrations
Enterprise (custom pricing): Adds unlimited ring groups, unlimited office locations, SSO integrations, and guarantees 100% uptime
Standout Features
We think these features make Dialpad stand out:
Dialpad Meetings: HD video and audio with customized virtual backgrounds, layouts, hold music, and meeting room URLs. Users can join meetings from any device and use screen sharing, content sharing, and agendas.
Call management: Customize call routing rules to forward inbound calls to any number and set business hours that automatically route customers to voicemail
AI-powered features: Dialpad's software has built-in real-time AI features like call transcriptions, post-call summaries, and live coaching. These insights are easily visible during agent interactions.
Internal and external messaging: 1:1 instant messaging, group chats, team threads, and even calls or meetings–all within one dashboard. Conversations are archived and searchable by keyword, and users can dedicate channels to products, teams, or topics.
Collaboration and file sharing: Users can share files and emojis, tag teammates, or jump into an instant team-huddle video meeting
Analytics: All plans include Dialpad Analytics, which track insights for call volume, message volume, quaue statistics, service level, call length customer satisfaction, and more.
Why We Picked Dialpad
Value: Dialpad offers real-time analytics, transcription, and live-agent support. These advanced features come with the Standard plan, an exceptional value at $15 monthly
Flexible: Dialpad's software makes it easy for users to transfer and sync calls between devices and users
Where Dialpad Falls Short
Support for large teams: While Dialpad makes a great collaborative platform for small teams, its 10-person video capacity limits collaboration for remote large teams
Contact profiles: Dialpad's contact information is relatively shallow–with just name, phone numbers, company, email, and title
6. Zoom Phone: Best Value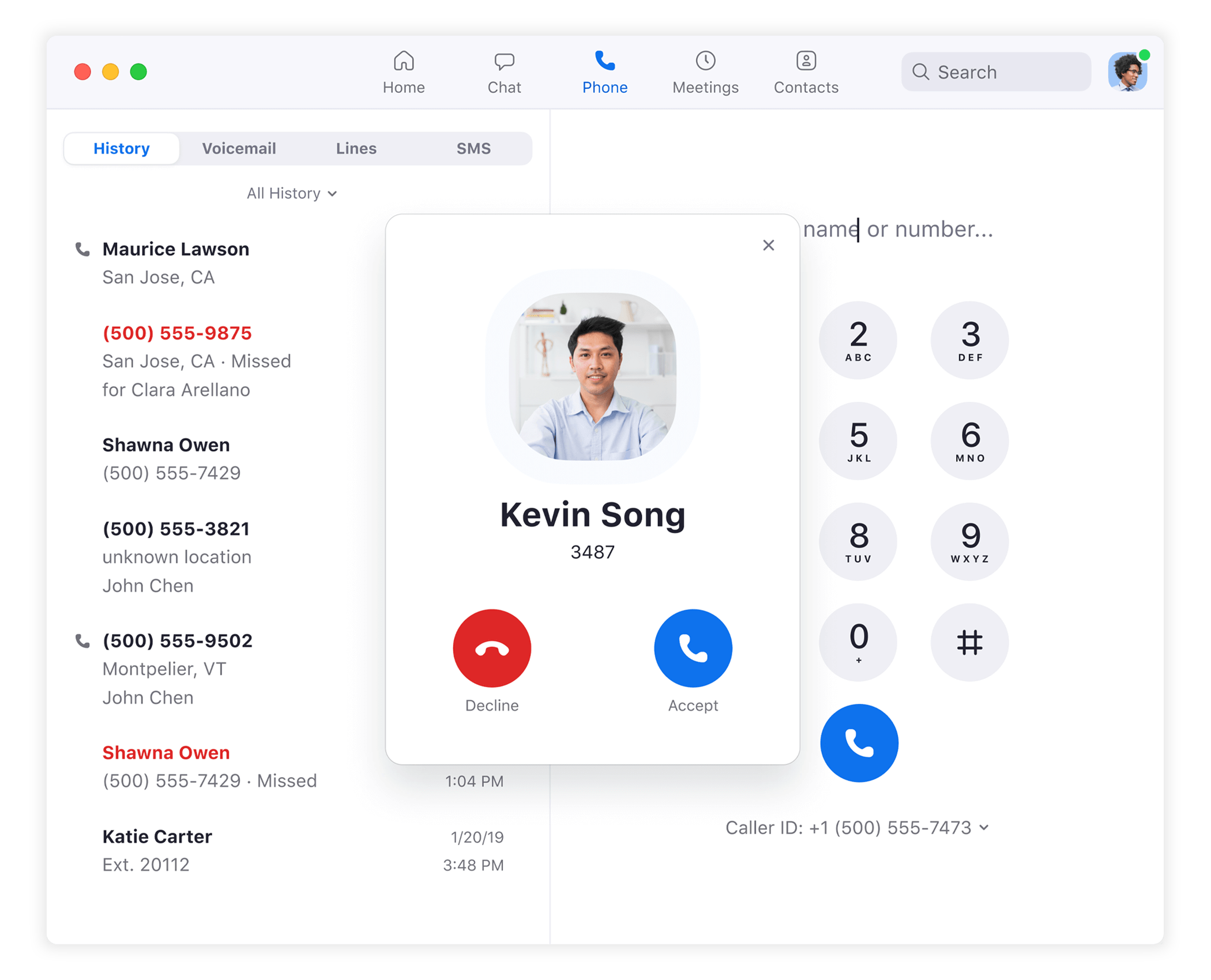 Zoom Phone offers HD business VoIP with unique calling-plan options: a free version, a metered version, a US-and-Canada-focused version, and a global version. While Zoom is already well-known for its dynamic video meetings, the provider also offers team chat and VoIP calling in its UCaa platform, Zoom One.
If users want a phone system and chat–without full access to Zoom's video meetings–Zoom Phone makes a great option. All Zoom Phone plans include IVR, voicemail transcription, and conference calls, and integrate easily with Zoom's other platforms–like Meetings.
Zoom is a Good Nextiva Alternative if You:
Have complex routing needs: All Zoom Phone plans include automatic call distribution, call queues, multi-level IVR, and call monitoring

–tools that unify and organize intricate inbound phone systems

Domestic calling outside the US: Zoom's Global Select plan supports unlimited domestic calling in one of forty countries outside the US. If your company mainly does business outside the US and you still want advanced phone system features, the Global Select is a good option
Zoom Pricing and Plans
Zoom Phone offers three pricing plans, which vary by domestic area and how calling is charged. All Zoom Phone pricing plans include the full suite of features: Team chat, call queuing, IVR, call monitoring, call recording, and more.
US & Canada Metered ($10 monthly): Pay-as-you-go per-minute pricing for all calls within the US and Canada, with a US or Canada number
US & Canada Unlimited ($15 monthly): Unlimited calling within the US and Canada, with a US or Canada number, optional add-on for unlimited calling to 19 countries
Pro Global Select ($20 monthly): Unlimited domestic calls in one of 40 countries outside the US, domestic number, optional add-on for unlimited calling to 19 countries
Standout Features
Here are some of our favorite Zoom Phone features:
Advanced voicemail management: The Voicemail tab allows users to search voicemail messages by listened/unlistened status or user name, search and read voicemail transcriptions, or initiate a callback, chat, text message, or video with the caller
Call queues: Administrators can assign user groups to numbers, choosing how calls are distributed among the group: simultaneous, sequential, rotating, or beginning with the longest idle.
Call monitoring: Administrators can listen in on calls, whisper, and barge–or take over the call entirely
Call recording: Both automatic and on-demand call recording are available
Real-time analytics dashboard (add-on): Users can customize their real-time analytics dashboard in a list or drag-and-drop wallboard format, selecting KPIs, color-coding graphs and visuals, and choosing live queue thresholds to trigger warning notifications
Why We Picked Zoom Phone
Easy to use: Zoom's interface is spacious and makes it easy for users to access all their features across phone, chat, and video. Video features integrate intuitively with Zoom Phone's dashboard.
Unique pricing and domestic flexibility: Zoom is the only VoIP provider on our list that offers a pay-as-you-go plan with a full suite of features. It's also the only software offering domestic calling plans based outside North America.
Where Zoom Phone Falls Short
Video limitations: Zoom Phone only includes Zoom's free video features, with limited participants and only a 45-minute time limit. Full Meetings access requires the pricier Zoom One platform.
Analytics not built-in: Zoom Phone's in-depth queue analytics package requires an add-on, while the product's regular plans only offer call logs
7. Grasshopper: Best for Voice Calling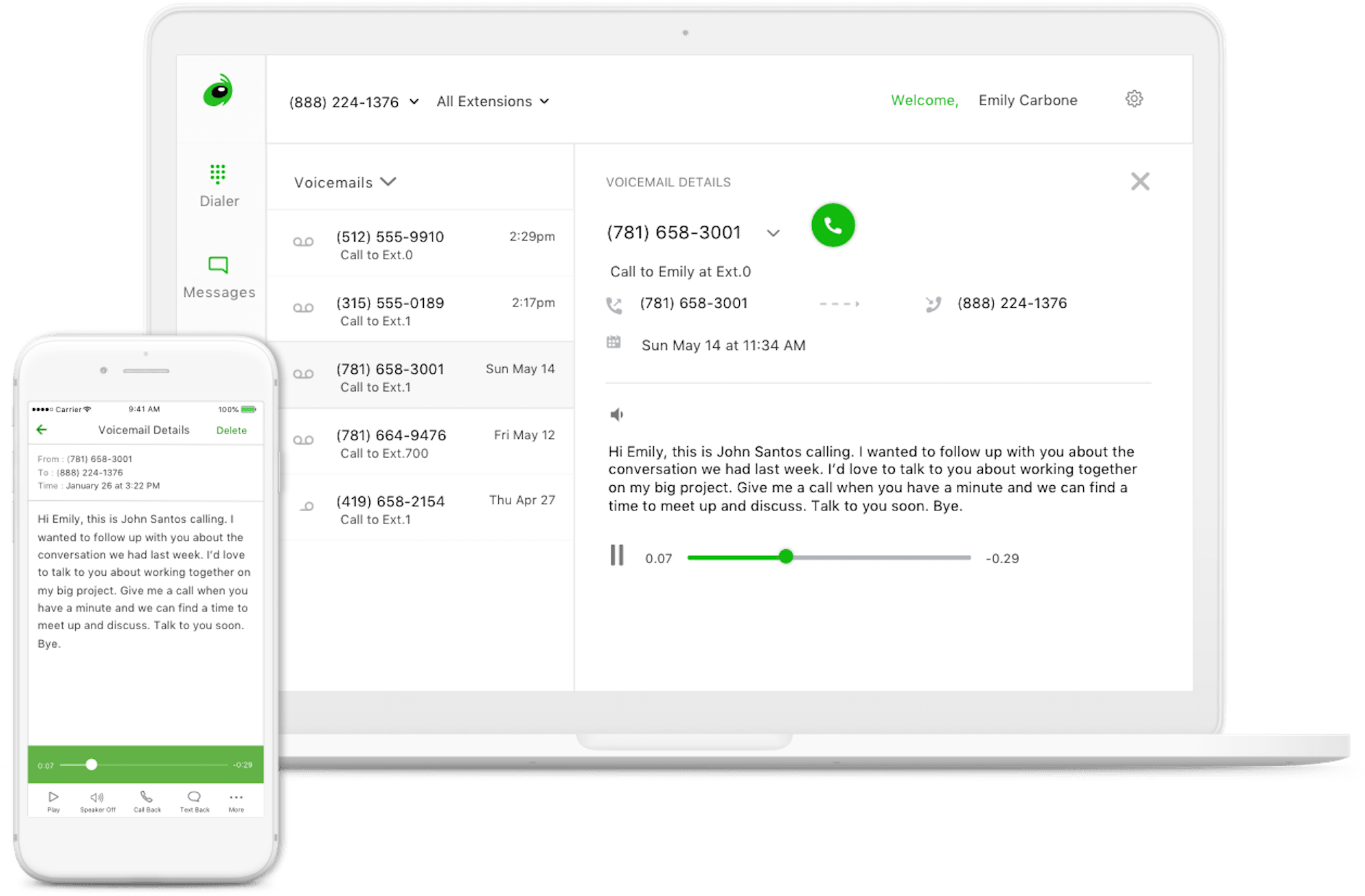 Grasshopper offers telephony-focused business phone system plans with just the essential voice features–no extras like internal team chat, video, or analytics. Intended for small businesses with 10-20 users maximum, Grasshopper's plans are charged by number bundle rather than by user.
For small companies and startups looking for a basic phone system without extra features or communication channels, Grasshopper makes a great budget alternative to Nextiva.
Grasshopper is a Good Nextiva Alternative if You:
Share phone numbers: If your team uses extensions to share phone numbers between multiple users, Grasshopper's account-based pricing style can be cost-effective
Only need calling and texting: Teams that don't want video or team chat will appreciate that Grasshopper offers unlimited VoIp and SMS in the US, built into a simple interface
Grasshopper Pricing and Plans
Grasshopper's virtual phone system offers three plans–priced by the number of included phone numbers and extensions. Each plan includes the same phone-system features: desktop and mobile apps, texting, call forwarding, voicemail, and more.
Solo ($28 monthly per account): 1 phone number, 3 extensions, and unlimited users
Partner ($46 monthly per account): 3 phone numbers, 6 extensions, and unlimited users
Small business ($80 per account): 5 phone numbers, unlimited extensions, unlimited users
Standout Features
Here are Grasshopper's standout features:
Business texting: Users can send unlimited texts from mobile or desktop, delivering picture messages, customer appointment reminders, and missed call responses
Simultaneous call handling: If an incoming call is not answered or reaches a busy signal, simultaneous call handling automatically forwards incoming calls to the next available number. The caller hears a continuous ringtone, so they stay on the line.
Voicemail transcription: Grasshopper automatically transcribes voicemails and organizes the transcriptions in a menu, searchable by keyword, phone number, or caller ID. Agents can read voicemails on their computer or mobile device and store them in CRM or lead-generation systems.
Phone numbers and extensions: Purchase phone numbers in area codes throughout the United States, with multiple extensions per number. Each extension can set its own forwarding rules.
Instant response: Automate a text response when agents are unable to answer the phone with a new caller
Why We Picked Grasshopper
Simple: Grasshopper's mobile and desktop apps only focus on essential phone features–voicemail, basic call forwarding and transfers, and texting. For companies that just want a phone system, Grasshopper makes a simple solution.
Shared numbers: Grasshopper's per-account pricing structure provides great value for companies that plan to share phone numbers among multiple users or extensions
Where Grasshopper Falls Short
Pricing flexibility: While Grasshopper can provide value with its account-based pricing structure, some companies might prefer a per-user VoIP subscription that allows more flexibility
Limited features: The phone system lacks some useful features, like team chat, video, IVR, and ring groups. This makes Grasshopper a poor fit for teams that have complex routing needs.
8. Avaya Cloud Office: Best for Scaling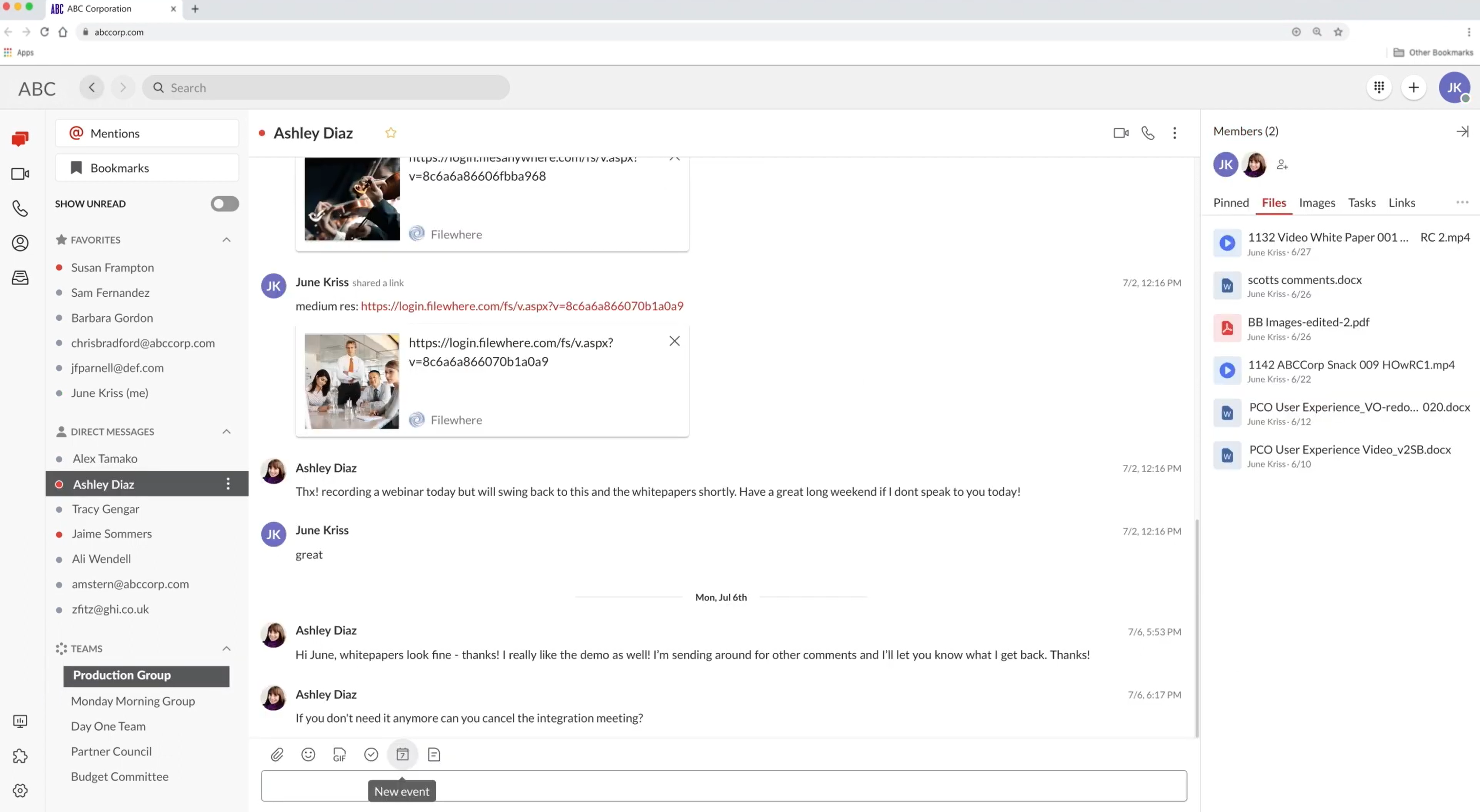 Avaya's unified communications solution, Avaya Cloud Office, combines RingCentral's unified communications as a service (UCaaS) platform with Avaya's services, phones, and user migration capabilities to create a platform with high-quality VoIP features, industry-leading hardware, strong collaboration capabilities, and high scalability.
With VoIP calling, team messaging, video conferencing, file sharing, and internal chat collaboration tools, Avaya Cloud Office offers seamless business communication across user devices in any location, while supporting over 200 integrations to leverage users' pre-existing technologies.
Avaya Cloud Office is a Good Nextiva Alternative if You:
Want top-quality audio: Avaya Cloud Office utilizes the Opus codec, a modern technology that delivers the highest-quality HD voice
Want well-rounded UCaaS features: Avaya includes a full suite of all the important VoIP and collaboration features and channels

–queues, IVR, real-time analytics, monitoring with whisper and barge, and file sharing. For its affordable price, Avaya offers a balanced UCaaS platform.
Avaya Cloud Office Pricing and Plans
Avaya Cloud Office offers three UCaaS plans:
Standard ($20 monthly): Unlimited VoIp in the US and Canada, unlimited domestic SMS, 100-participant video conferencing, team messaging, business phone numbers in over 100 countries, multi-level auto attendant, call queues
Premium ($25 monthly): Expands video meetings to 200 participants, adds 2500 toll-free minutes, automatic call recording, call monitoring, real-time analytics, and CRM integrations
Ultimate ($35 monthly): Expands to 10,000 toll-free minutes, adds unlimited file storage and device status reports
Standout Features
Here are some of our favorite Avaya features:
Real-time analytics: Included with Premium and Ultimate plans, Avaya's analytics provide visibility across all collaborative tools over any time period or in real-time. Utilize historical call center metrics in customizable dashboards to identify trends like seasonal change and business growth.
Team messaging rooms: Send 1:1 team chat messages or create team-messaging rooms–with file sharing, task assignment tools, and one-click video huddle
International business phone numbers: Avaya offers phone numbers in over 100 countries around the world, including toll-free numbers and a toll-free allotment with each pricing plan
Voicemail transcription: The CLoud Office interface Voicemail menu includes voicemail logs with audio playback and transcription, plus voicemail-to-email forwarding
Call monitoring: Supervisors can set queue overflow rules and listen in on agent conversations, whisper private guidance, join the call, or take it over entirely
Why We Picked Avaya Cloud Office
Affordable: Avaya Cloud Office all the must-have phone-system features like IVR and queueing–plus advanced features like monitoring and analytics–for a strong value, especially on the Premium plan
International phone numbers: For $14.99 each, Avaya offers international phone numbers in over 100 countries–a wider variety than any competitor in the industry
Where Avaya Cloud Office Falls Short
Video interactive features: Cloud Office's video meetings support chat and screen sharing–but lack the engaging features that some competitors provide, like breakout rooms and whiteboards
Unlimited calling area: Avaya's unlimited calling area includes just the US and Canada, and some competitors offer a larger unlimited area
9. Aircall: Most Advanced Calling Features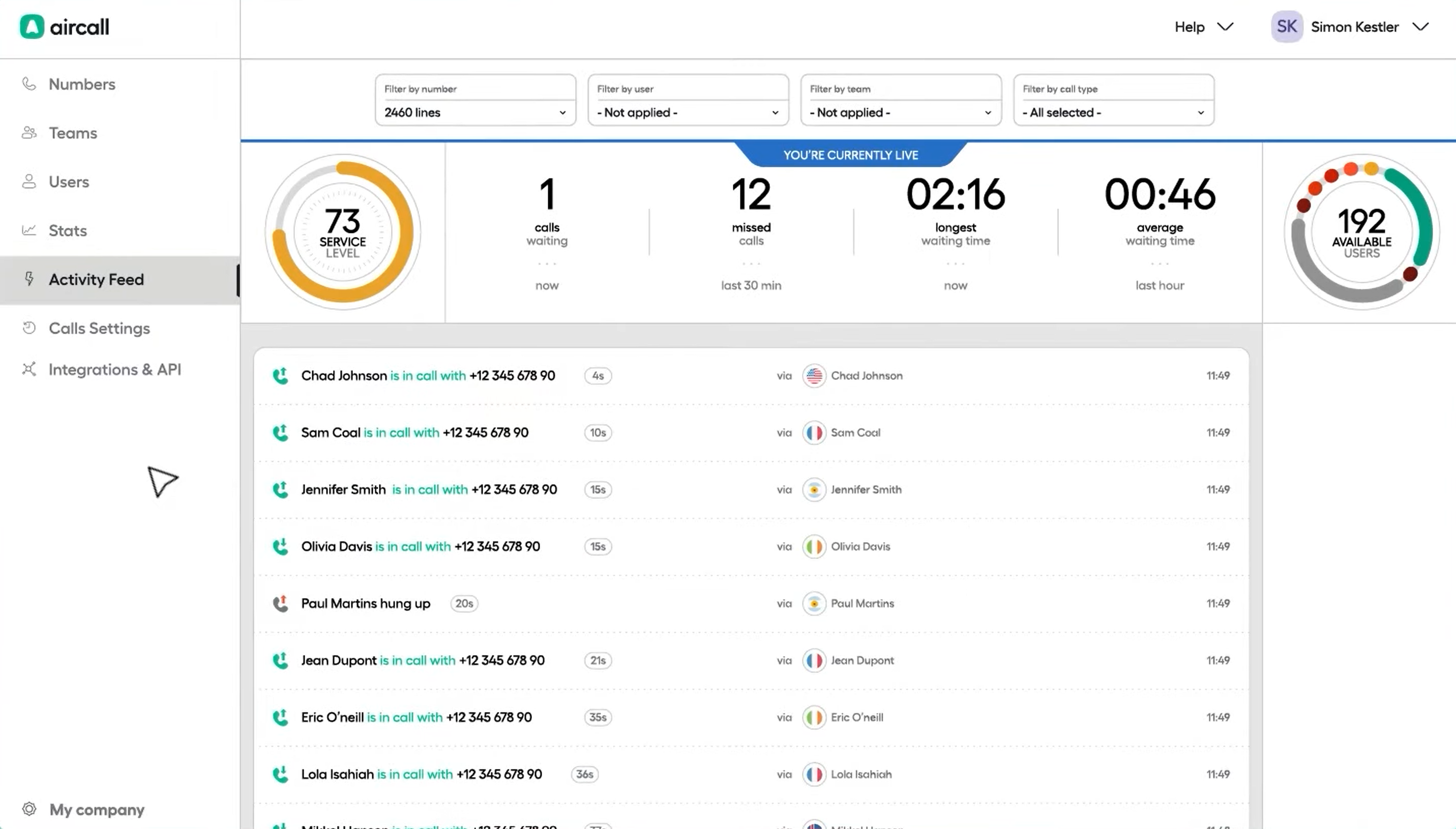 Aircall's VoIP system blurs the line between a phone system and call center. While it does not include video conferencing or team messaging, the software offers basic routing tools and call controls, plus an array of unique advanced inbound and outbound features: a shared call inbox, the ability to assign and comment on calls, agent to-do lists, live-feed analytics, an outbound power dialer, and more.
Aircall works best as a Nextiva alternative for teams that want their phone system to operate more like an inbound and outbound call center than a collaborative UCaaS platform.
Aircall is a Good Nextiva Alternative if You:
Frequently make outbound sales calls: Aircall is the only UCaaS provider on this list that includes an outbound PowerDialer. This feature, usually reserved for call centers, makes sales efforts more efficient by automating outbound dialing.
Prioritize collaboration on calls: Aircall's shared call inbox feature enables multiple agents to distribute responsibility for inbound calls, based on each agent's workload and availability. Users can assign and comment on calls, enabling remote team members to efficiently handle inbound task responsibility.
Aircall Pricing and Plans
Aircall's phone system offers three pricing plans:
Essentials ($30 monthly): Includes unlimited calling in the US and Canada, SMS, IVR, call recording, click-to-dial, call queues, ring groups, shared call inbox, flexible call distribution, and shared contacts. Maximum of 3 teams.
Professional ($50 monthly): Adds call monitoring, queue callbacks, advanced analytics, power dialer, and supports unlimited teams
Custom (quote-based): Adds custom features that can include unlimited calling worldwide, custom analytics, custom onboarding, and API developer support
Standout Features
Here are the standout Aircall features:
Analytics: Aircall analytics are easy to filter by user and timeframe, making it easy to drill down particular insights. Metrics include traditional insights like active agents, missed calls, hold-time length, and more–plus unique customer service insights
Shared numbers: Aircall users can make calls from any enabled company number, manage multiple numbers, switch between each number's inbox, and comment on tasks within each phone number.
Admin dashboard: Aircall's administrator dashboard provides an intuitive menu where supervisors can view phone numbers, monitor team and user statistics, view each agent's and team's activity, and assign tasks to users within the team
Power dialer: Connect a list of phone numbers or a CRM campaign, and the outbound power dialer will automatically call through the list, connecting agents with real recipients and discarding unanswered calls.
Shared call inbox: Multiple users can share one inbox with tasks and missed calls. Teams can track which calls haven't been addressed and archive completed tasks, to ensure that no missed calls slip through the cracks
Why We Picked Aircall
Usability: Aircall's interface is extremely easy to manage–from both an admin and agent perspective. Easily add and manage global phone numbers, customize each number's settings, assign tasks to agents, and group users into teams. The interface is simple and organized.
Shared workflows: The shared inbox, shared contacts, and task commenting features help teammates work together in responding to calls and providing optimal customer service
Where Aircall Falls Short
Expensive: Aircall's plans are more expensive than most other Nextiva alternatives listed here
No video or team chat: While Aircall offers unique and dynamic calling features, it lacks UCaaS features–like video, team chat, and file sharing–that some companies might prioritize
10. Ooma Office: Best for Companies with a Mobile Workforce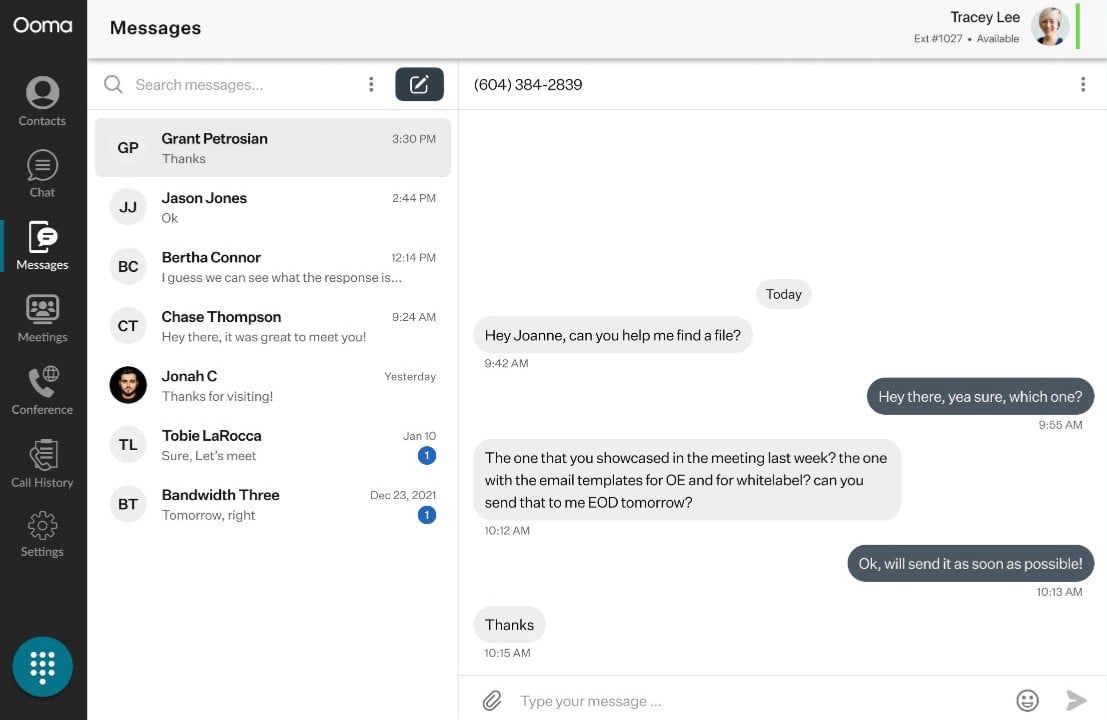 Ooma Office, Ooma's cloud-based phone system, offers a basic UCaaS platform available on desktop and mobile apps. The VoIP solution does not support team chat, but it does include other essential tools: video conferencing, SMS, IVR, ring groups, call recording, and call queues.
Ooma's unlimited calling area spans the US, Canada, and Mexico. The provider offers local and toll-free phone numbers based in area codes throughout the US. Each sign-up includes a free local number, plus one free toll-free number and 500 monthly inbound toll-free minutes per account.
Since Ooma offers a high-performing mobile app and reliable call flipping, the software is a good fit for companies with agents who work on the go.
Ooma Office is a Good Nextiva Alternative if You:
Frequently call Mexico: Ooma Office plans support unlimited calling in the US, Canada, and Mexico
Frequently text customers: Ooma offers unlimited SMS texting in the US, including one-to-many texting which allows you to send bulk texts to dozens of customers at once and receive yes/no responses
Ooma Office Pricing & Plans
Ooma Office offers three pricing plans:
Essentials ($19.95 monthly): Mobile app, unlimited calling in the US, Canada, and Mexico, SMS texting, multi-device ringing, ring groups, call parking, call logs, and a free toll-free number with 500 minutes per account
Pro ($24.95 monthly): Adds desktop app, video-conferencing with 25 participants, call recording, voicemail transcription, and analytics
Pro Plus ($29.95 monthly): Adds call queueing, CRM integrations, and shared voicemail boxes
Standout Features
Ooma Mobile App: The Ooma mobile app distinguishes incoming Ooma Office calls from users' personal calls, and enables users to access other business tools: dial extensions, create message groups, transfer calls, flip calls from desktop, and more.
Multi-Ring: Users can set multiple devices to ring when they receive an incoming call, giving them the option to answer on an analog phone, IP phone, or mobile device.
IVR: Create a menu that uses automated voice to interact with incoming calls and route them to various users, voicemails, or ring groups throughout the company. Users can provide up to 10 customer menu options, recorded or type-to-text messages in different languages, and after-hours menus.
Call queueing: Create agent groups with hold queues. Agents can monitor queue wait times from the desktop app. Real-time queue analytics display each queue's or agent's call count, abandon count, and average wait time–over custom timer frames
Video conferencing: Ooma's video meetings support screen sharing, chat, recording, and background noise cancellation. Create meetings and invite customers from the app, with invite links that require no download to join. Meetings integrate with Google and Microsoft Calendar.
Why We Picked Ooma Office
Mobile app: Ooma's mobile app syncs seamlessly with its desktop app while providing a surprising number of capabilities for a mobile app
Queue monitoring: Agents retain full visibility of their queue's activity, while agents can monitor each queue's performance in real-time
Where Ooma Office Falls Short
Outdated: Ooma's desktop dashboard feels outdated and old-fashioned, from the agent's and supervisor's perspective
Lack of collaboration options: Ooma lacks team chat and file sharing, plus the video meetings don't support some key collaborative features like whiteboards. This makes Ooma more of a basic phone system, and less of a unified communications platform
Choosing the Best Nextiva Alternative
Each service provider has individual pros and cons, and the best fit depends on your company's needs. If you have a small team, consider Dialpad. To focus exclusively on calling features, consider Grasshopper. Large companies that don't plan to further scale will benefit from Vonage's high user counts, while companies in the process of scaling will appreciate Avaya's ease of use and straightforward user management.
For video conferencing events like webinars or large demonstrations, GoTo Connect or RingCentral provide great tools.
For more information to help you decide on a Nextiva alternative, check out our list of business VoIP providers.
FAQs
Yes. Nextiva's unified communication services are HIPAA compliant.

Yes, Nextiva offers on-demand and automatic call recording.
Yes. Nextiva's Professional and Enterprise plans support SMS texting.