Increased remote work opportunities offer a host of benefits to employees and businesses owners alike: increased flexibility and mobility, decreased operating costs from saving on office space and travel expenses, and higher team morale.
Though remote/blended teams let small businesses hire the best applicant for the job regardless of their physical location, a geographically diverse workforce means more care must be paid to business communications.
Intermedia Unite is a cloud-based UCaaS software that unifies business communications, automatically syncs key file updates, and lets team members connect across multiple channels.
This in-depth review of Intermedia Unite pricing, available plans, top features, and overall user experience to learn if it's right for your team.
Quick links:
What is Intermedia Unite?
Intermedia Unite is a cloud Unified Communications as a Service (UCaaS) platform for SMBs that streamlines PBX voice calling, SMS texting, video conferencing, chat messaging, and additional team collaboration tools into a single application.
It's compatible with Windows and Mac desktop computers via the softphone Unite Desktop App, Apple iOS and Android mobile devices, pre-confiigured desk phones, and Google Chrome Extension.
With over 90 business communication features and 120,000 business customers, Intermedia Unite is especially known for proving a five-pillar Worry-Free Experience™, which includes:
24/7 Technical Support (3-Time J.D Power Award Winner for Excellence in Assisted Tech Support)
Cloud Concierge Onboarding
99.999% SLA Uptime
SecuriSync™ File Security and E2EE
Regulatory Compliance
The below image provides excellent insight into the Intermedia Unite interface and its key functionalities: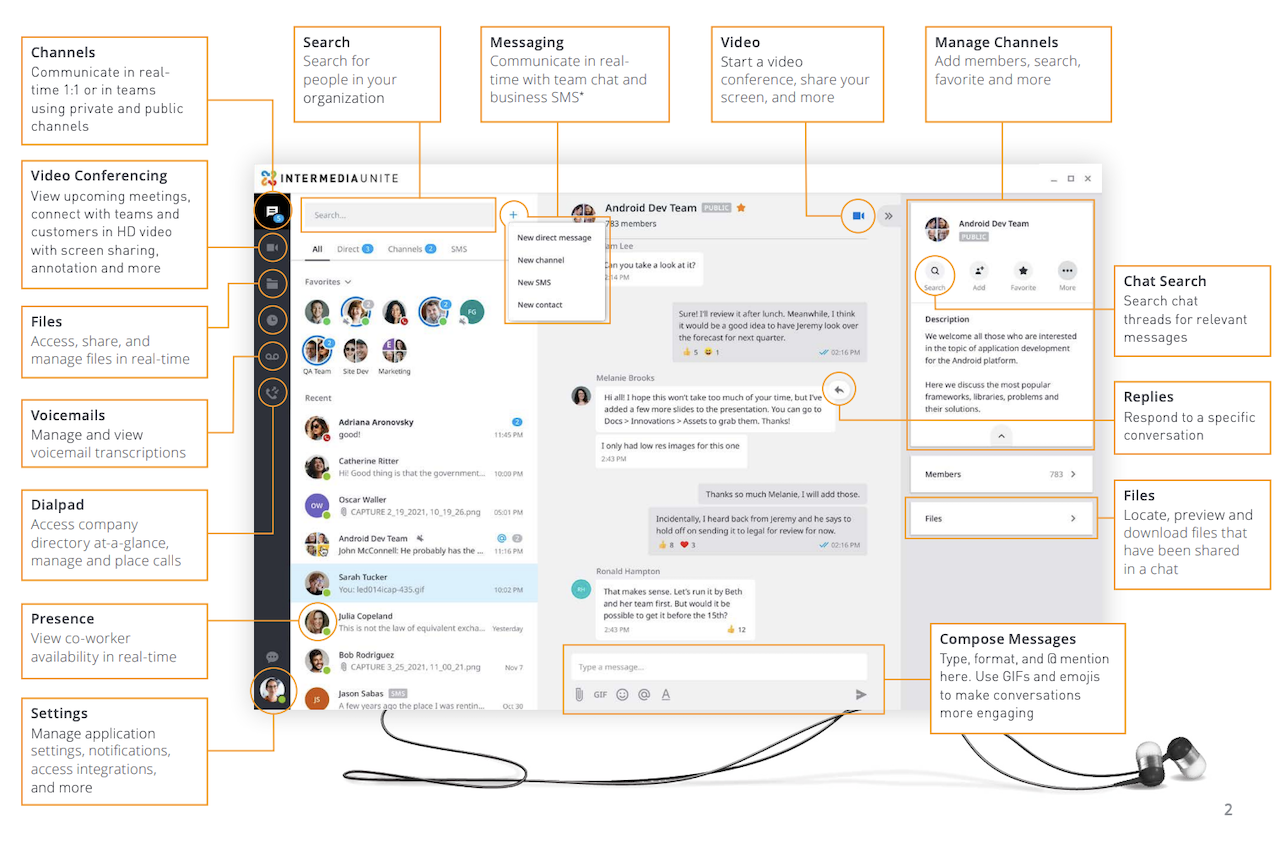 Intermedia Unite Pricing
As of this writing, Intermedia offers two paid plans: The Unite Pro plan for $27.99/per user per month and The Unite Enterprise Plan for $32.99/per user per month. Note that this is only the base pricing for Intermedia Unite, so interested parties should contact Intermedia directly for an individual quote.
A free 30-day trial is available.
In terms of value, although Intermedia Unite is a bit more expensive than other providers, it offers a robust feature set with functionalities usually available only on the most expensive competitor plans. Thus, Intermedia Unite offers a high level of value, especially considering that users aren't responsible for onsite equipment or maintenance.
Both Intermedia Unite plans include:
One free desk phone or device
Access to desktop and mobile apps
Unlimited voice calling with Caller ID
Auto Attendant, Call Parking, Call Hold, Call Transfer, Call Blocking, Call Recording
Visual Voicemail, Call Hunt Groups, Call Queueing, Call Greeting
Virtual Faxing, Business SMS Texting
Team Chat Messaging with User Presence
File backup, syncing, sharing, 10 GB file storage
Unite Envision Analytics
There are some differences in available video conferencing capabilities per plan, as seen in the image below from the Intermedia.net pricing page.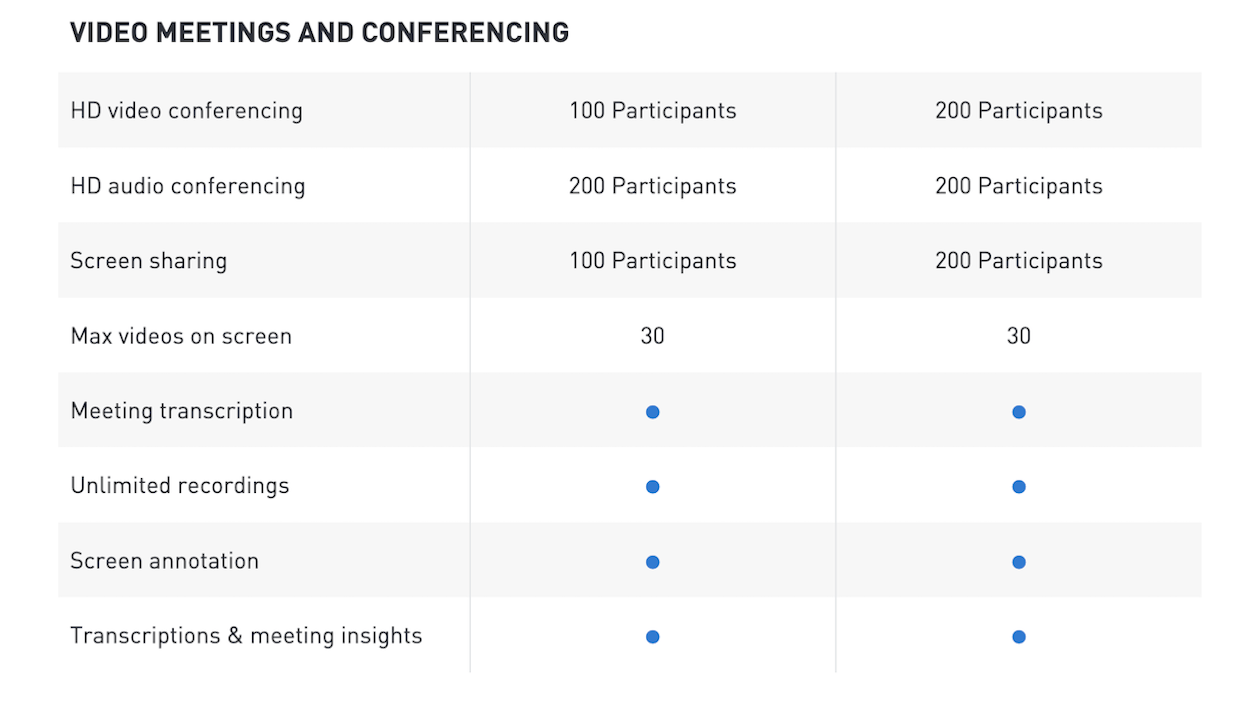 There are also differences between plans regarding third-party integrations, as seen in the image below: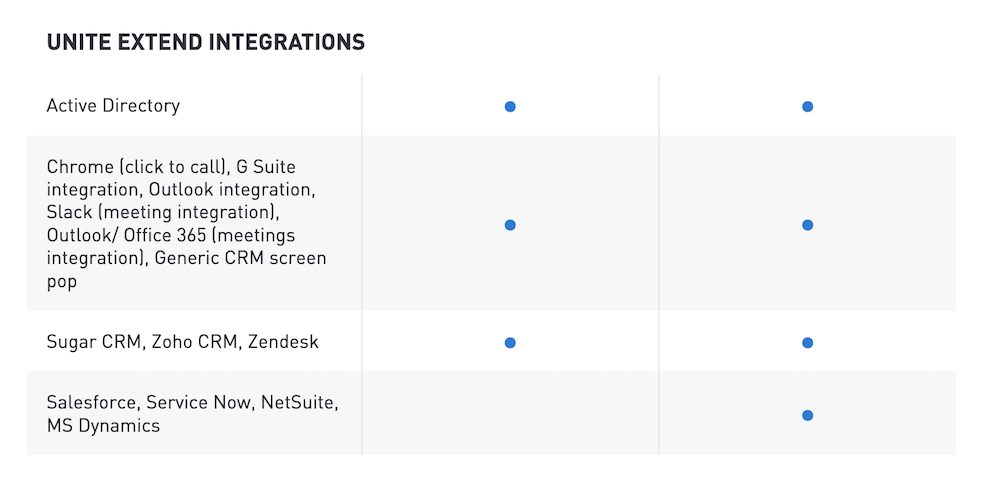 There are also differences between the two plans regarding contact center features, as seen in the below image: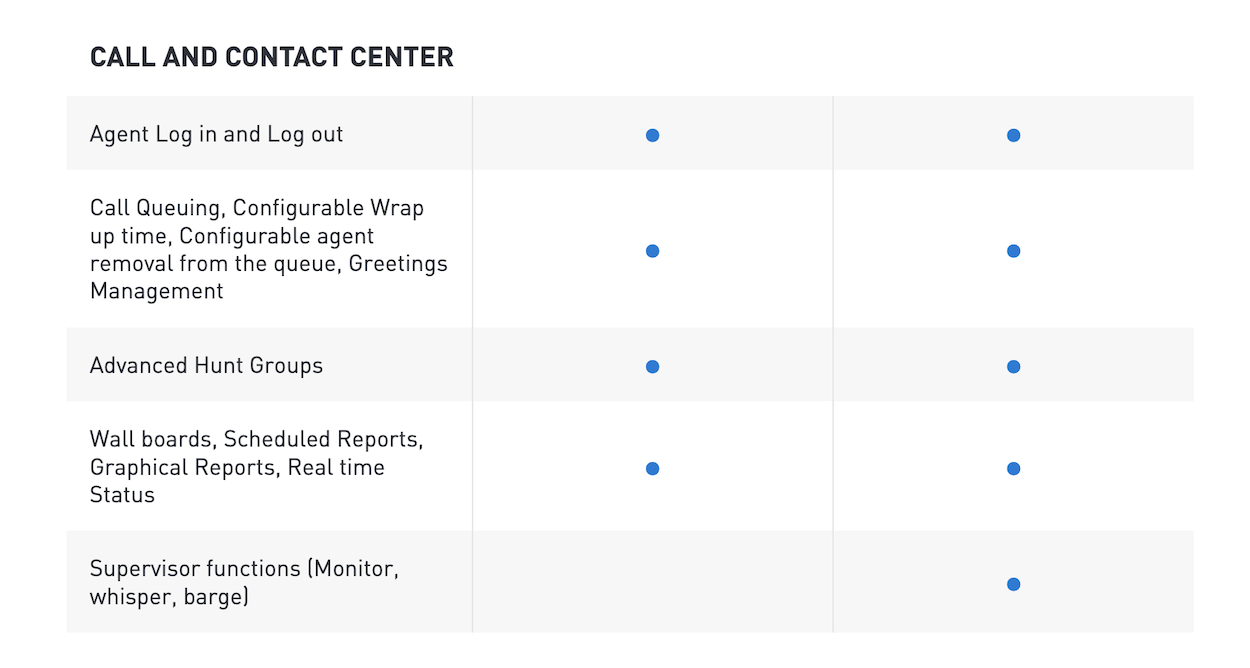 Finally, paid Intermedia Unite add-on features are shown in the below image:

The Top Intermedia Unite Features
In the below section, we'll explore the most important Intermedia Unite communication channels and features, which include:
PBX Virtual Phone System
Video Conferencing
SMS Texting
Chat Messages
PBX Virtual Phone
Unite's cloud PBX Virtual Phone System is the highlight of the software.
Users can bring their own devices with BYOD or purchase plug-and-play pre-configured desktop phones from Yealink, Logitech, and Poly.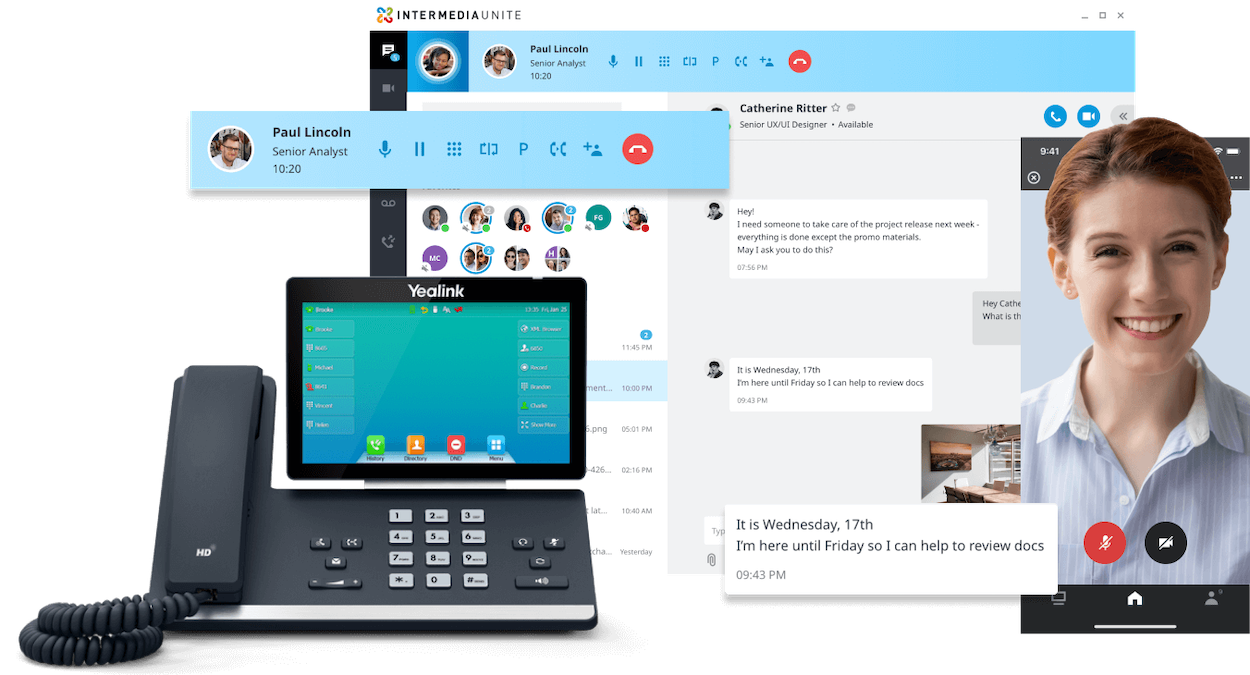 With HD voice quality, unlimited calling in the United States, Canada, and Puerto Rico, and spam caller protection, managing phone calls is easier than ever.
Presence indicators with an LED display light and in-portal status updates let users know when contacts are busy, available, away, or on the phone.
It also offers excellent voicemail capabilities, including customizable greetings, voice message PIN numbers, voicemail transcription, voice message to SMS and email, and autodelete capabilities. When emailed, users can elect to receive the message file and/or the transcription, and get live notifications when they have a voice message waiting.
Individual and group voicemail is available with unlimited storage, and all messages can be checked on desktop and mobile devices.
Additional features include:
Local phone number with a unique extension
Inbound and outbound Caller ID
DID phone number
Auto-attendant and IVR self-service
Up to 10 hunt groups
Active Directory integration
200 toll-free audio conferencing minutes per month
Call forwarding, call transfer, call flip, parking, hold, and call waiting
Intercom
Hold music
Do Not Disturb
Call queuing
Video Conferencing
Unite AnyMeeting lets up to 200 users join an HD video conference from their web browsers, meaning there is no need to download and install an app.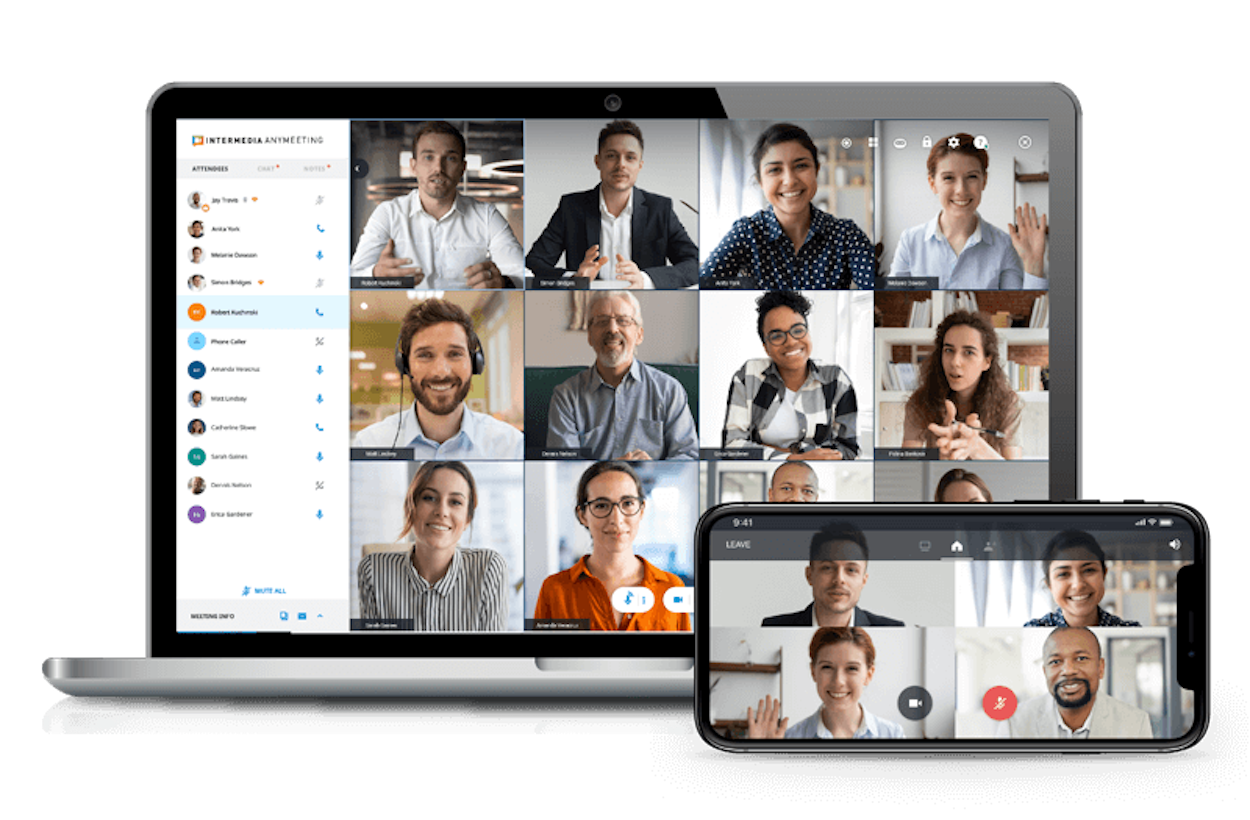 Dial-in meeting access and meeting link invitations make joining possible with just one click. Screen sharing and screen annotation with Intermedia AnyMeeting allow for more streamlined communication and make it easier to train employees or share documents with clients.
Additional video calling features include:
Meeting locks and passwords
Remove participants
Meeting transcription
Meeting notes
Remote desktop control
Meeting recording
Custom backgrounds
Active speaker indicator
In-meeting chat messages
Unlimited cloud recording storage
Meeting attendance records
Meet via Wi-Fi or smartphone data
SMS Text Messaging
The SMS business texting feature offers unlimited messages between internal teams and clients across multiple devices in the US and Canada.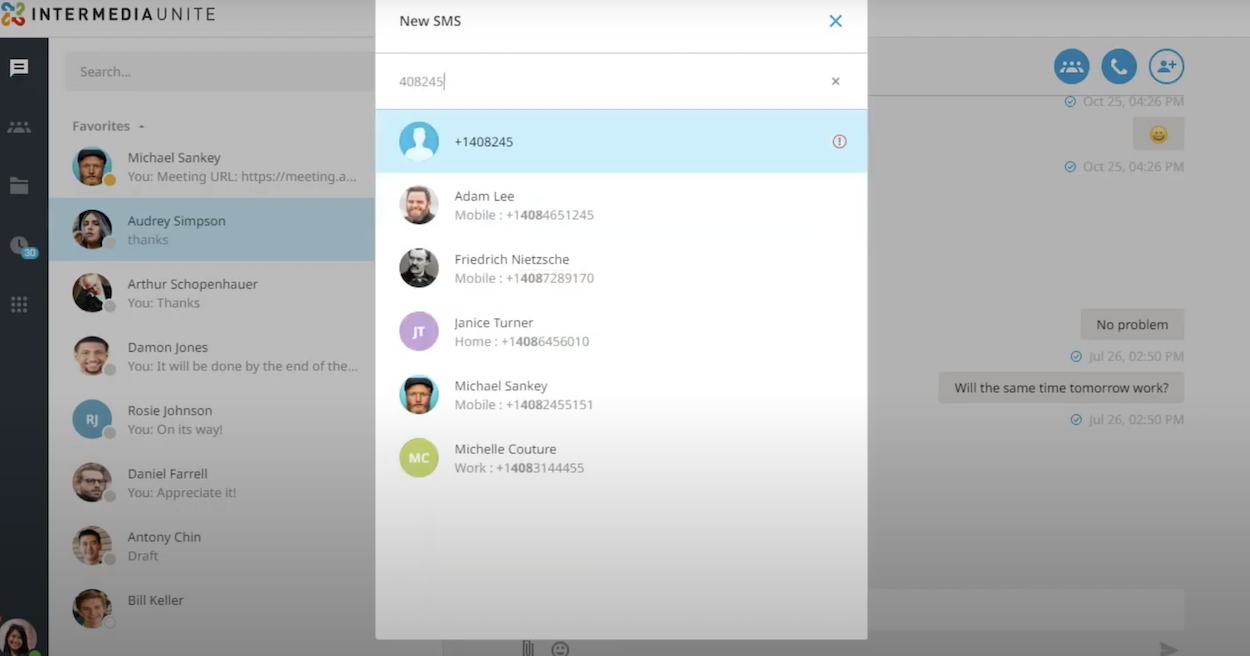 Automatic syncing between the Unite mobile app and the Intermedia Unite desktop apps means you'll never miss a message, and that you'll be able to see a complete conversation history no matter where you're texting from.
Users can easily sync contacts from third-party tools like Google and Microsoft 365, and all texts are end-to-end encrypted.
As of this writing, note that while links can be shared via text, MMS images are incompatible with Intermedia.
Chat Messaging
The team instant chat messaging feature eliminates the need for excessive emailing by allowing employees to send quick updates and messages and attachments to each other via multiple devices.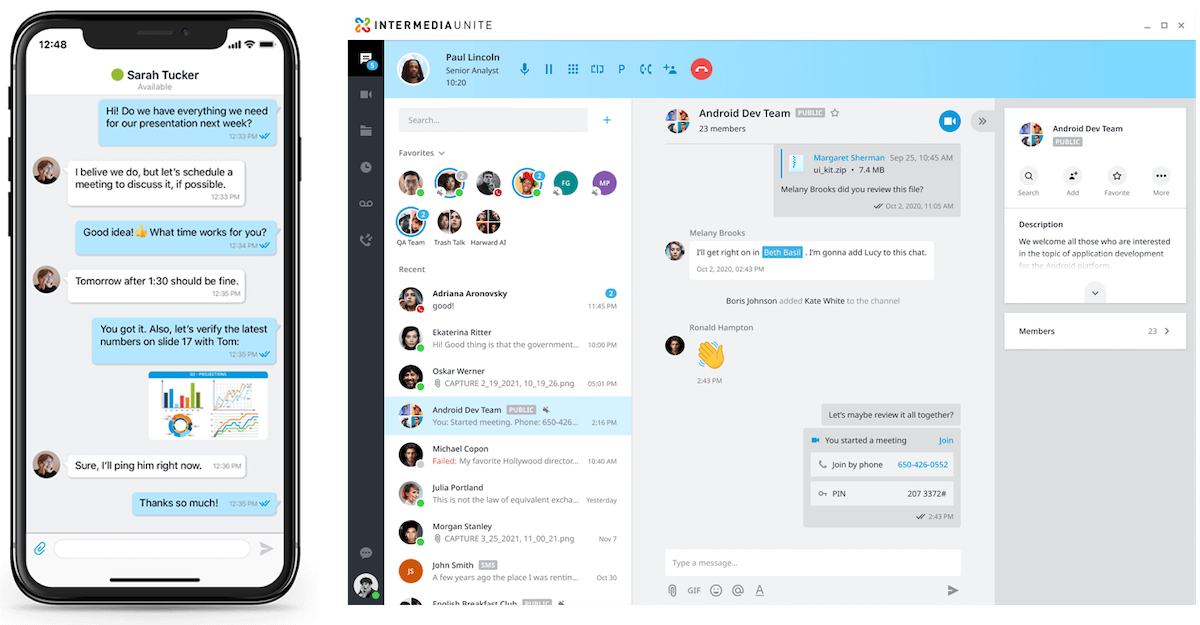 Chat message capabilities include:
Set and manage favorite contacts
Instant syncing between devices
Private, one-on-one chat and group messages
Mentions/user tagging
Search bar
User status updates (away, busy, free)
Complete chat history
10 GB file backup with SecuriSync
Real-time push notifications
One-click video meeting from chats
Unread messages indicator
Mute chats
Emojis and GIFs
In addition to file sharing, Unite's team collaboration tools let users edit documents in real-time within the chat interface.
All file changes are automatically synced across devices to ensure that all users are working with the same version, and admin controls allow you to set viewing and editing permissions.
Intermedia Unite Analytics and Integrations
Unite Envision provides real-time and historical analytics for employee productivity, outbound and incoming calls, and other essential KPIs and business phone system metrics.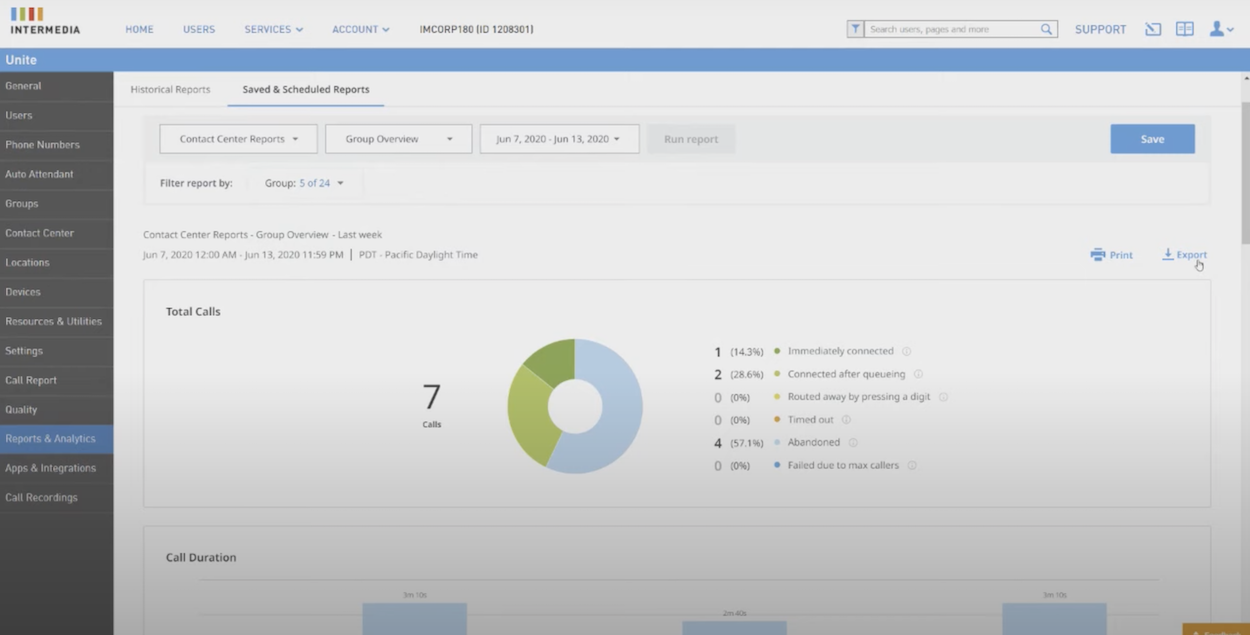 Pre-made templates and customizable reports are available on data such as:
QoS reports (VoIP call quality) on the past 24 hours, week, and month
Call quality issue alerts (packet loss, latency, jitter, etc.)
Call direction and type of call (video, VoIP voice call, etc.)
Call start time and duration
Basic Call history
Number of total calls per agent and department
Number of unanswered calls, call abandonment rate
Call routing data
Supervisor analytics
Unite integrates with several popular third-party CRM software and collaboration tools like Salesforce, Oracle, G Suite, Microsoft Office 365, and Slack.
This prevents users from having to abandon tools they're already comfortable with using and saves time by providing one interface for all business software and endpoints.
Intermedia Unite User Experience
We've compiled the below pros and cons list based on reviews from current Intermedia users.
| | |
| --- | --- |
| Intermedia Unite Pros | Intermedia Unite Cons |
| Intuitive interface, high ease of use | Limited video conference participants |
| 24/7 customer support and available customer training | Limited integrations |
| HIPAA, GDPR, and PCI Compliant | Historical call reporting data needs improvement |
| 99.999% Guaranteed Uptime Service Level Agreement (SLA) | Reliant on Internet connection, so may need to upgrade bandwidth/provider |
| Simple migration process | Occasionally need to reset file syncing feature |
Intermedia Unite Alternatives
The most popular Intermedia Alternatives are:
RingCentral Office
Zoom Phone
GoToConnect
Nextiva
RingCentral Office combines a VoIP contact center, SMS, audio and web conferencing, and team collaboration features into a single platform. Standout features include a 24-hour meeting limit, unlimited storage, unlimited SMS texts, and phone rental options.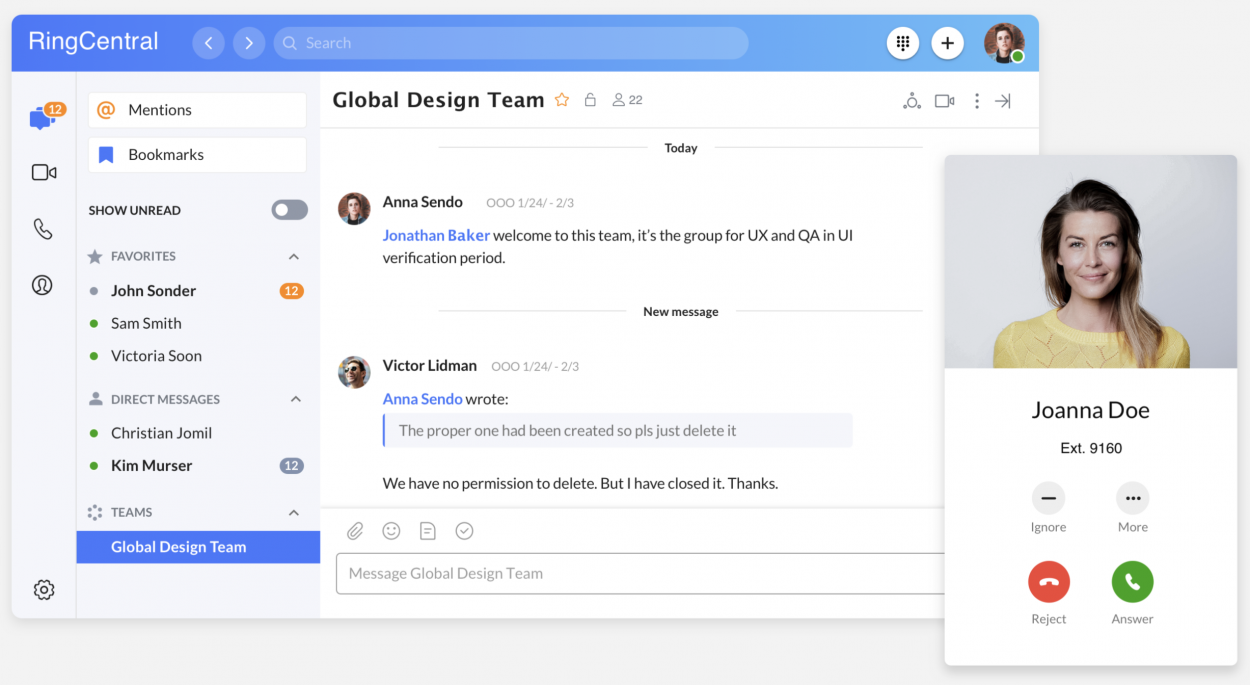 It best suits companies that rely heavily on internal team collaboration.
Available RingCentral Office plans range from $20/per user per month to $35/per user per month. Read our RingCentral review for additional information.
Zoom Phone is a unified video calling, chat message platform, and desk phone system with space for up to 300 web conference participants, live streaming to social media, and call transcripts.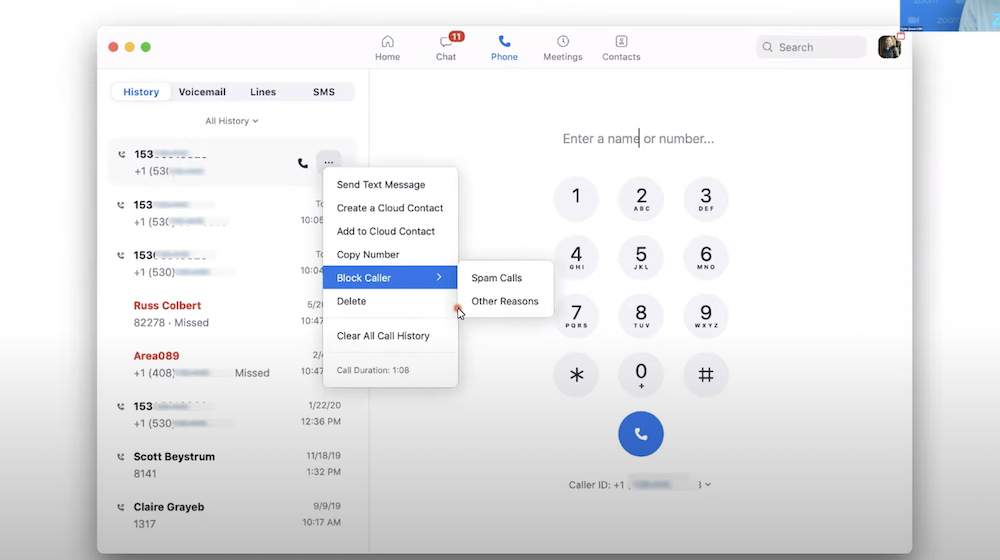 It's the right fit for companies that rely mostly on video conferencing, but that also need to have a robust business phone system for customer support or sales teams. Available Zoom Phone plans range in price from $10/month per user to $20/month per user.
GoToConnect is a unified phone and meeting software with features like personal meeting rooms, international calling, up to 50 simultaneous video call screens, and unlimited call queues.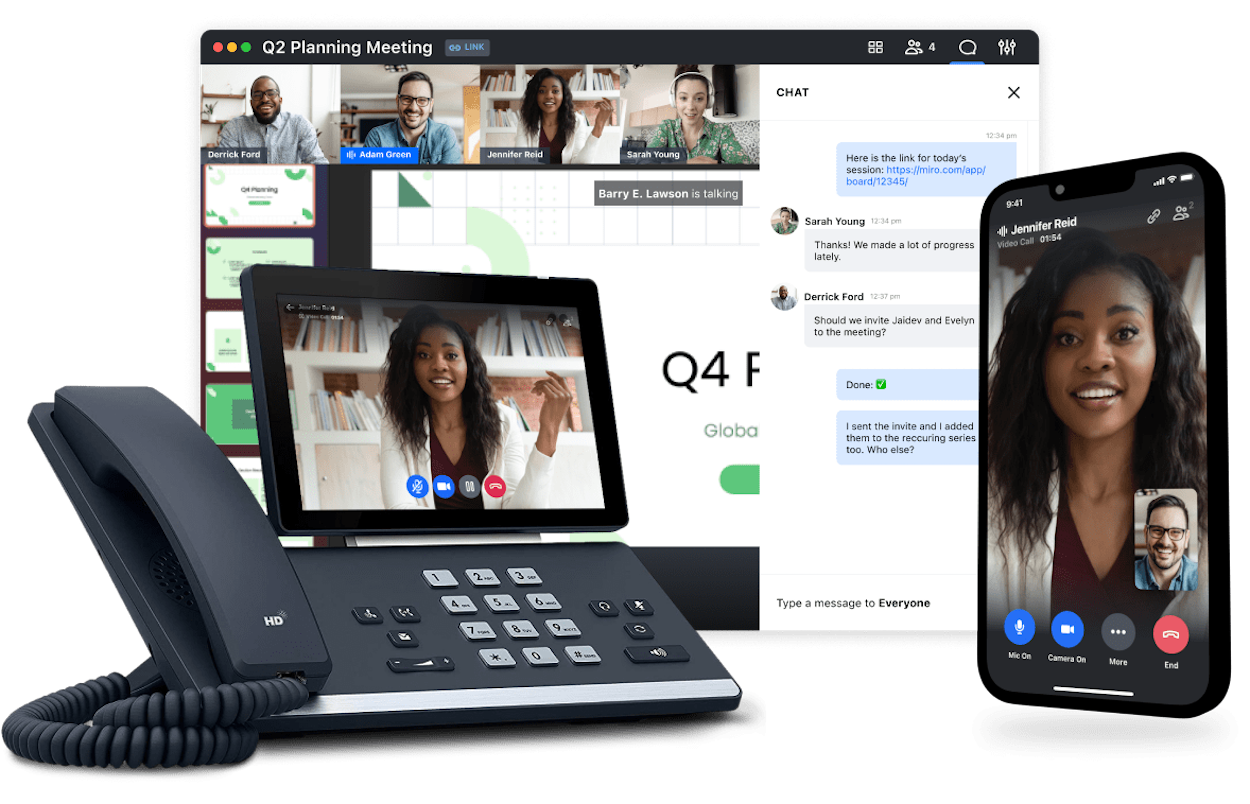 It is ideal for small businesses, midsize businesses, and startups that are in a phase where they still heavily rely on daily small teams collaboration and communication.
GoToConnect pricing ranges from $24/user per month to $29/user per month. Our GoTo Connect hands-on review provides more details.
Nextiva's Business Communication Suite is a UCaaS platform offering unlimited calling to the US and Canada, up to 10,000 monthly toll-free minutes, unlimited video calling, and voice analytics.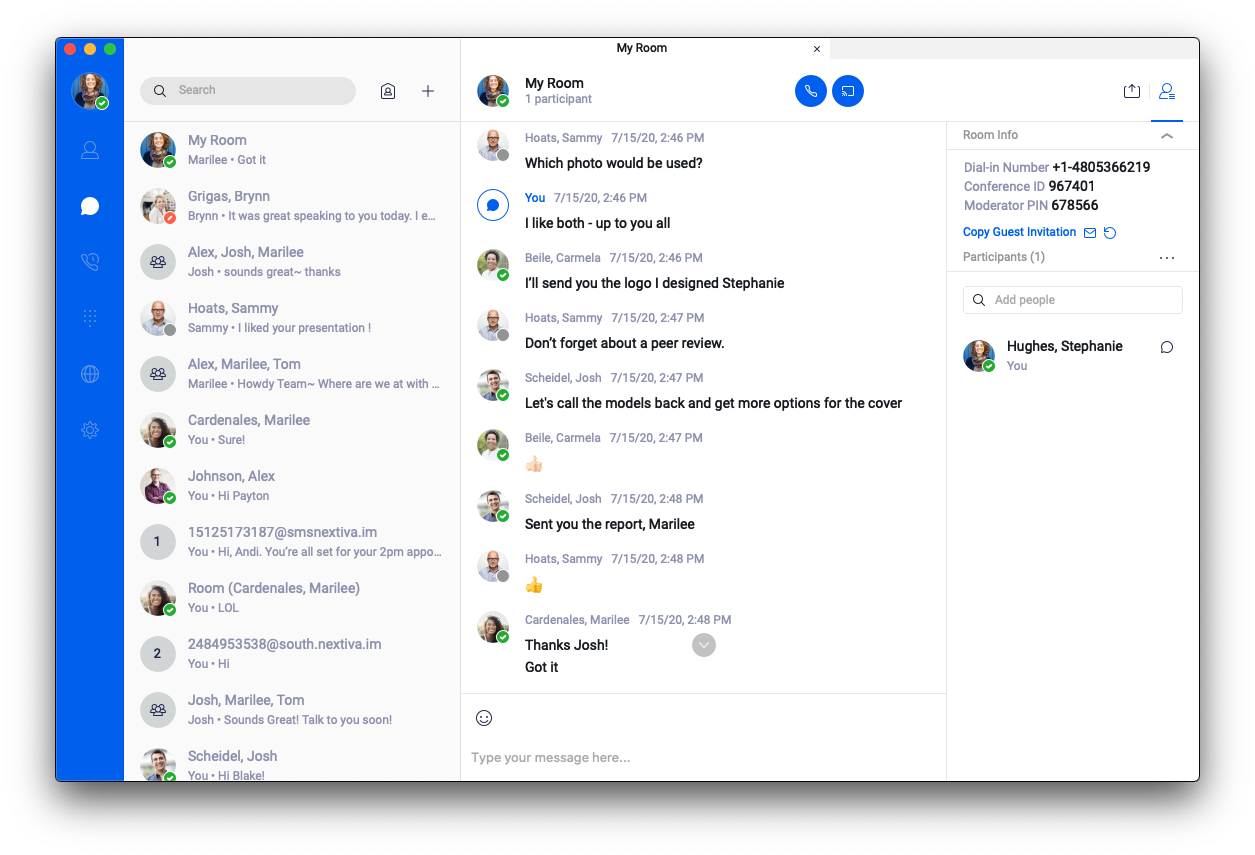 Available Nextiva plans range in price from $18.95/user per month to $32.95/user per month. Nextiva is an ideal platform for businesses with a high daily call volume, that have multiple locations/franchises, and that have lots of employees.
Our post on Nextiva pricing and plans explains more about features, lower-cost options, and user experience.
More Information on Unified Communications
Want to learn more about what to look for in a Unified Communications solution?
To understand the top questions to ask UC providers, the benefits of a unified platform, and more, check out our Ultimate Guide to Unified Communications.