OpenPhone is one of today's popular business VoIP providers, offering multichannel communication including phone, SMS texting, and internal team chat–plus basic analytics and inbound call management.
This article will outline OpenPhone's pricing and plans, including key features, pros, cons, and alternatives.
Learn more about
OpenPhone
Jump to ↓
What is OpenPhone?
OpenPhone is a cloud-based phone system and unified communications solution that combines phone, business SMS texting, and internal team chat.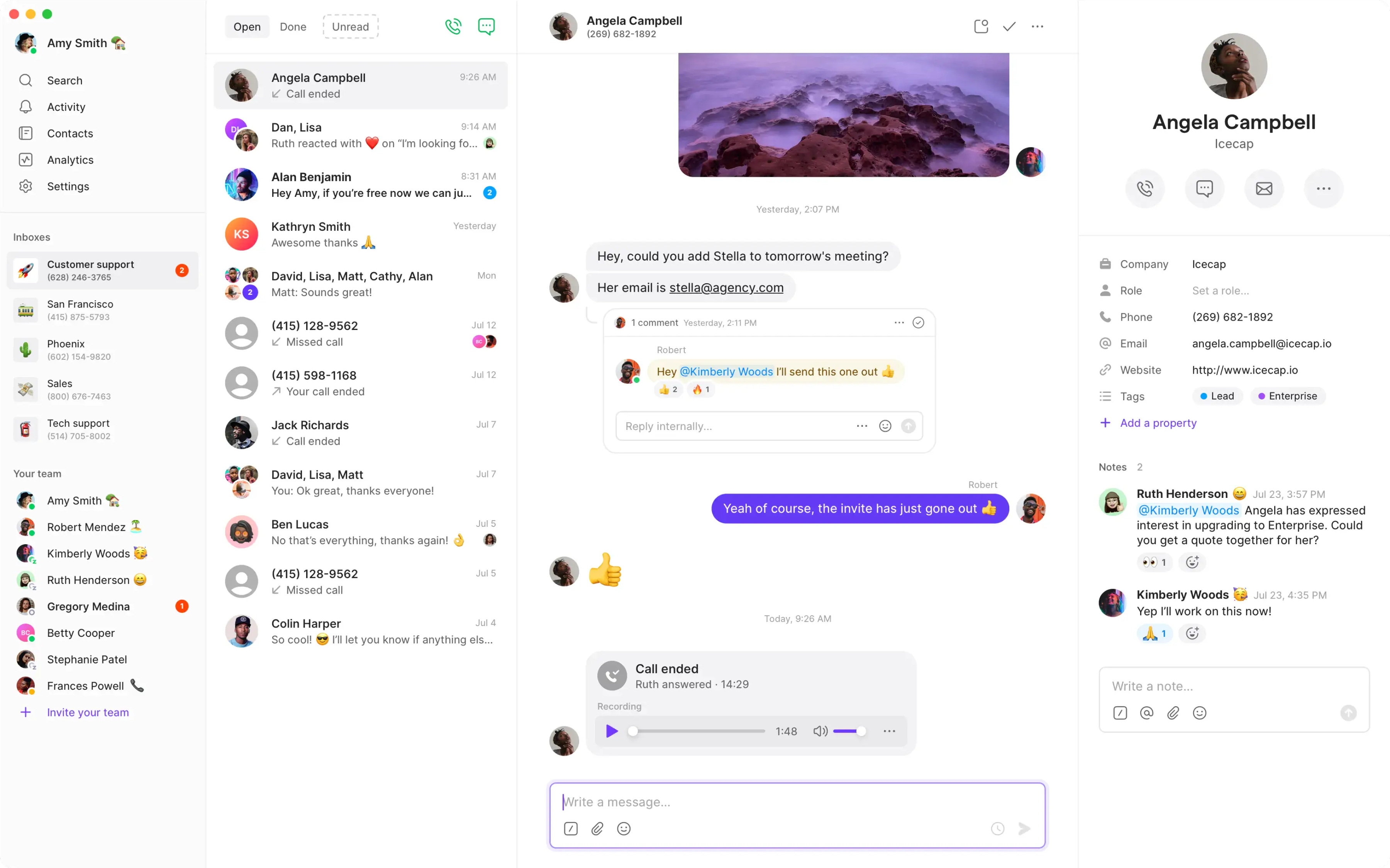 The OpenPhone app–accessible on desktop, browser, and mobile–supports multichannel internal and customer-facing communication, call routing features, call recording, analytics and reports, dynamic contact profiles, and third-party integrations with CRM and messaging applications.
OpenPhone offers virtual phone numbers around North America, with flexible number-sharing options that facilitate team collaboration.
OpenPhone Pricing and Plans Overview
OpenPhone offers 3 tiered plans–Standard, Premium, and custom Enterprise–plus a few individual add-on options.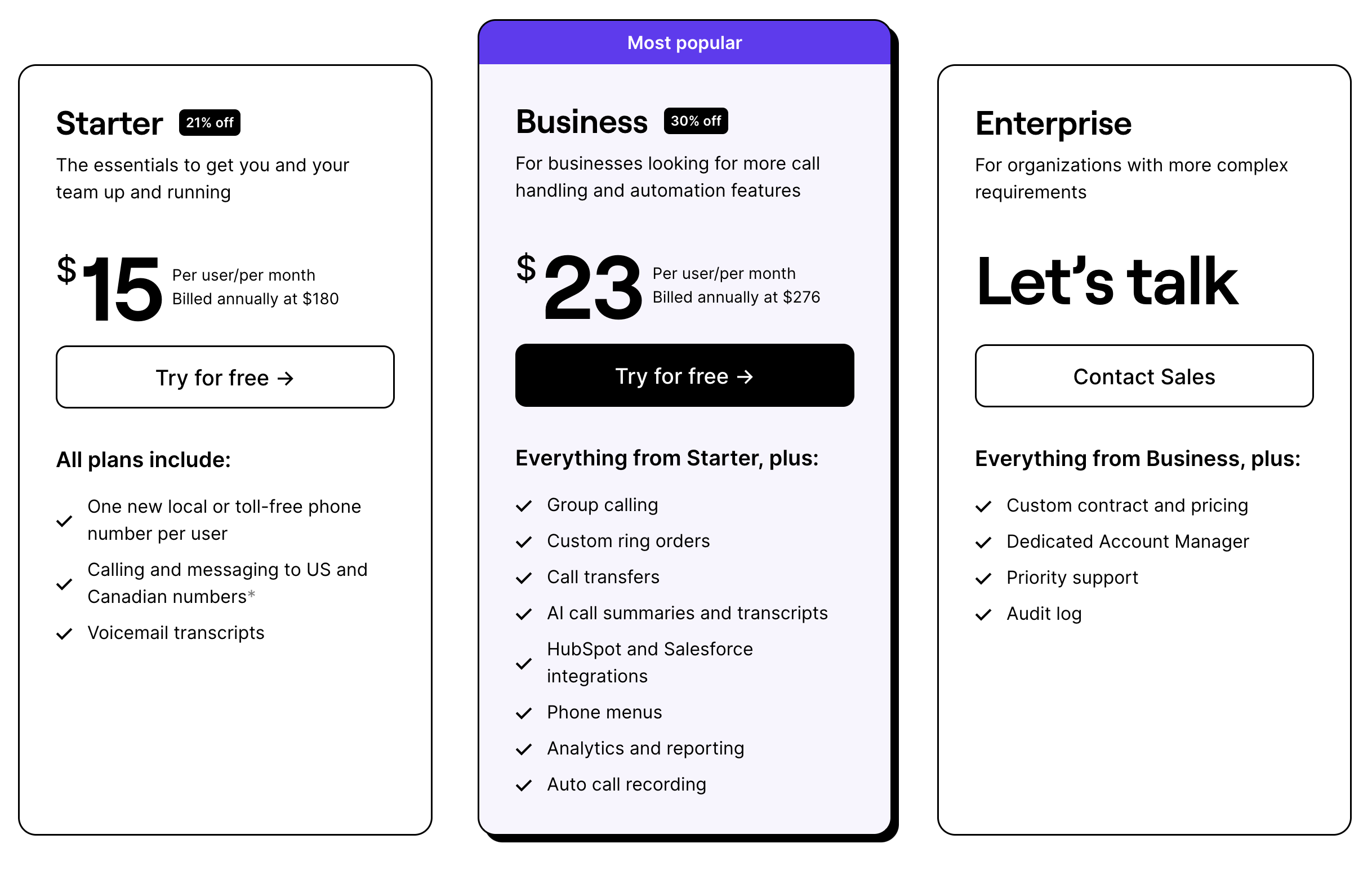 Standard Plan 
At $15 monthly per user, the Standard plan includes unlimited phone service within the US and Canada, one domestic number per user, SMS texting, team chat, unlimited user groups, and all built-in automations.
With a budget price that's hard to beat, this plan is only limited by the basic IVR and maximum of 10 shared users per phone number. It works best for small businesses with low call volumes and just a few basic departments–like sales and customer support.
Standout Features:
Unlimited phone and SMS in US and Canada
Call recording
Basic IVR
Contact profiles and notes
Email, Slack Zapier integrations
Premium Plan 
At $25 monthly per user, the Premium plan upgrades from basic to multi-level IVR and allows unlimited shared users for business phone numbers. Further, it allows call transfers and round-robin ring style for shared numbers.
Still a budget price at $20 monthly, this plan works well for those who require more complex routing systems–companies with many agents, multiple locations and departments, and high call volumes within North America.
Standout Upgrades:
Multi-level IVR
Unlimited shared users per phone number
HubSpot, Salesforce, and Gong integrations
Round-robin ring style
Enterprise Plan
The Enterprise plan is quote-based and you'll need to contact OpenPhone's Sales to get pricing. It adds priority support and a dedicated account manager from OpenPhone.
This plan works best for large companies with advanced phone system needs–such as those with many locations, departments, and users, or those with exceptionally high call volumes.
Individually Priced Features
OpenPhone offers the following features a la carte, to add onto any plan:
Zapier automated messages: $.01 per message
Additional phone numbers: $5 per number
International calls and messages: Billed per minute based on the destination
OpenPhone Features
Below, we've outlined OpenPhone's most notable features:
Phone System
OpenPhone uses VoIP to make phone calls globally, with unlimited calling inside the US and Canada. The app includes call center and call-management features like call recording, IVR, shared ring groups, voicemail transcription, and more.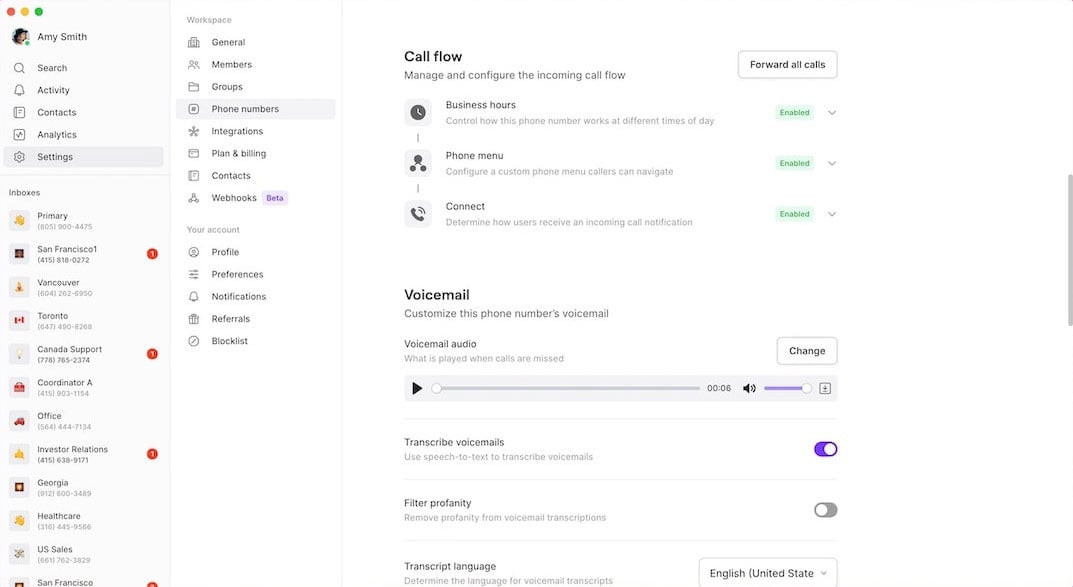 Agents can use the browser, desktop, or iOS and Android mobile app with softphone functionality.
An intuitive app display makes it easy for agents to manage internal and external conversations, with an organized left-hand menu for quick navigation, new activity pings, and multichannel conversation logs that aggregate calls, voicemails, and messages.
Purchase local and toll-free business phone numbers in area codes throughout the US, Canada, and North America–or port in the phone numbers you already have. OpenPhone offers flexible number assignment, allowing administrators to assign multiple agents to a single VoIP number and multiple numbers to one agent, so agents can jump between phone numbers as needed.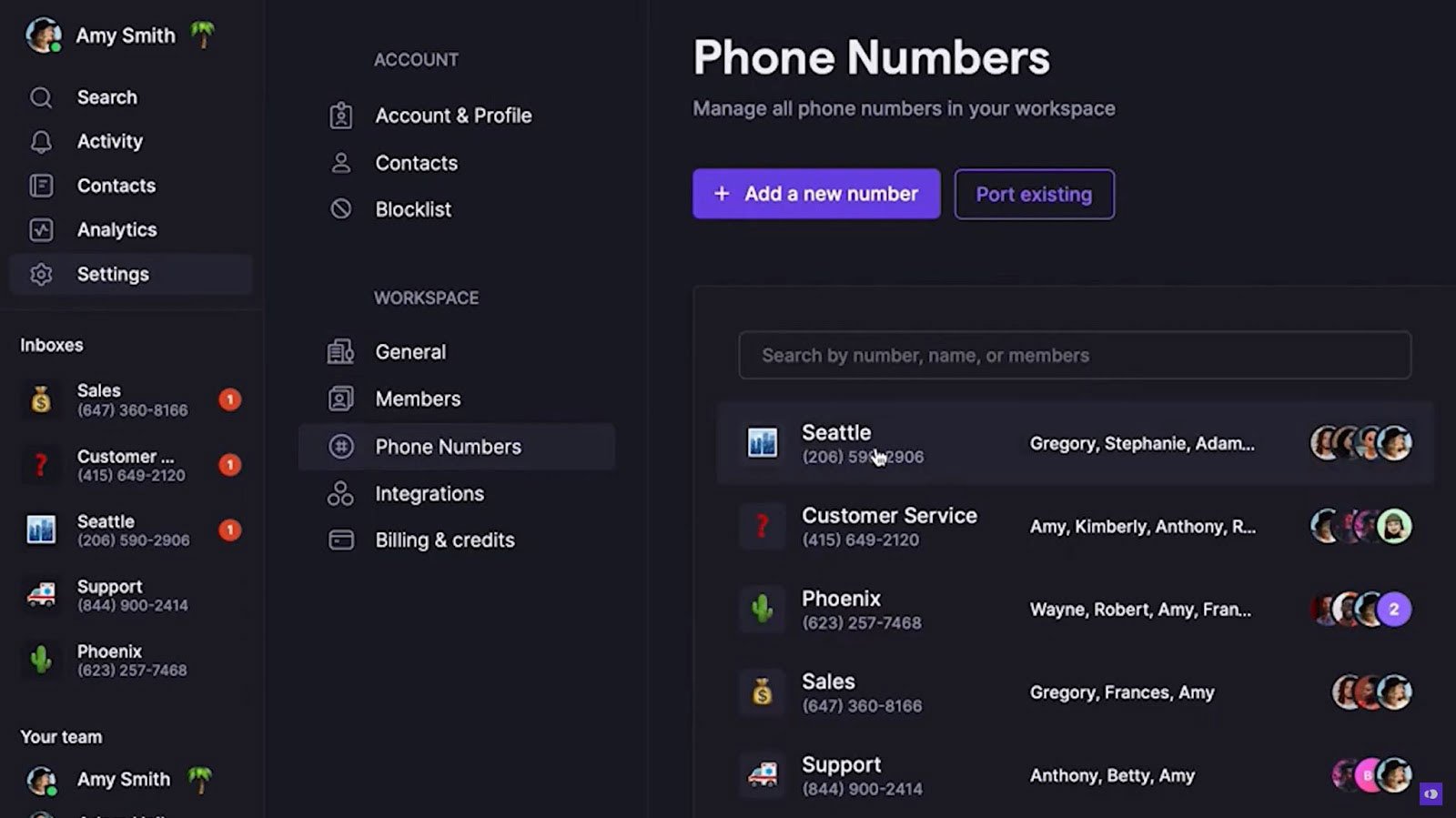 OpenPhone Routing and Call Management Features:
IVR: Design a self-service routing menu that navigates customers to a submenu, announcement, voicemail, or company phone number. Sync menus with business hours for custom routing options. Use type-to-talk or audio recording for menus and announcements.
Business hours: Customize business hours for each phone number, with unique menu options, voicemail, and forwarding settings depending on when customers call
Shared numbers: Share phone numbers between 10 users on the Standard plan and unlimited users on the Premium plan–creating departments or ring groups. When the number receives an inbound call, all assigned agents can answer it–with simultaneous or round-robin ring style.
Agent availability and preferences: Number blocking, muting, and Do Not Disturb mode
Call recording: Set automatic call recording, or record individual calls with one click
Voicemail transcription: Each voicemail appears in the multichannel conversation log for that particular number, along with audio playback and transcription
Voicemail-to-text and voicemail-to-email: Sync voicemail with email and SMS, to receive voicemail data and notifications across multiple touchpoints
Shared Multichannel Inboxes
All communication between an OpenPhone business number and an external number–such as a customer or prospect–are logged in that number's multichannel conversation log. This means that call records, voicemails, SMS texts, and internal team threads all appear in one conversation log, allowing agents to remain up to date on the customer's full journey and context.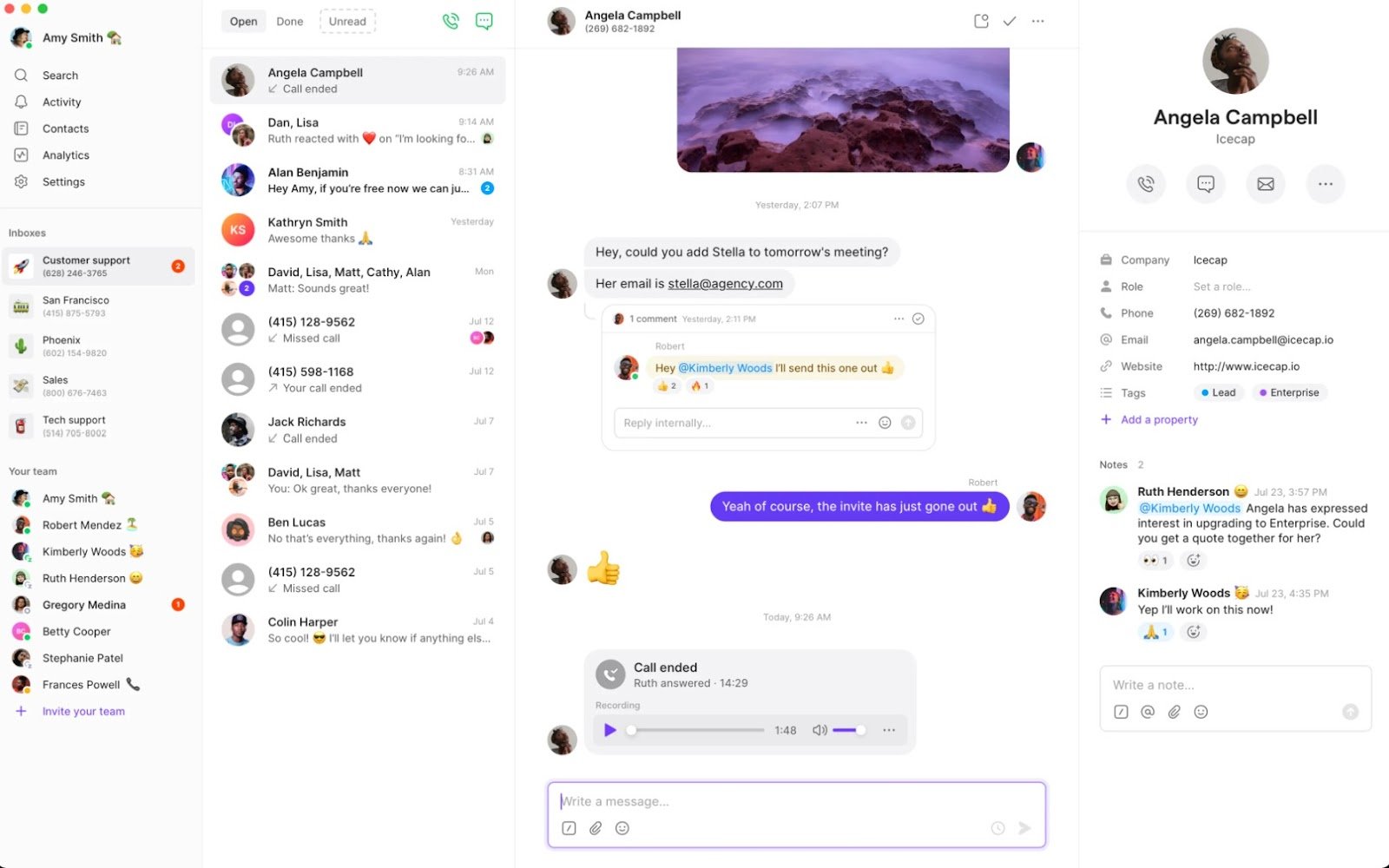 Dozens of teammates can send messages, make calls, and play voicemails–all at once, from the same business number. Within a shared conversation inbox, agents can start threads underneath conversation items to collaborate on task management.
Conversations are organized into three categories: Open, Done, and Unread.
SMS Texting
Communicate with customers via unlimited SMS and MMS, with video and file sharing, sent from the OpenPhone app on any device. Numbers outside North America incur international fees.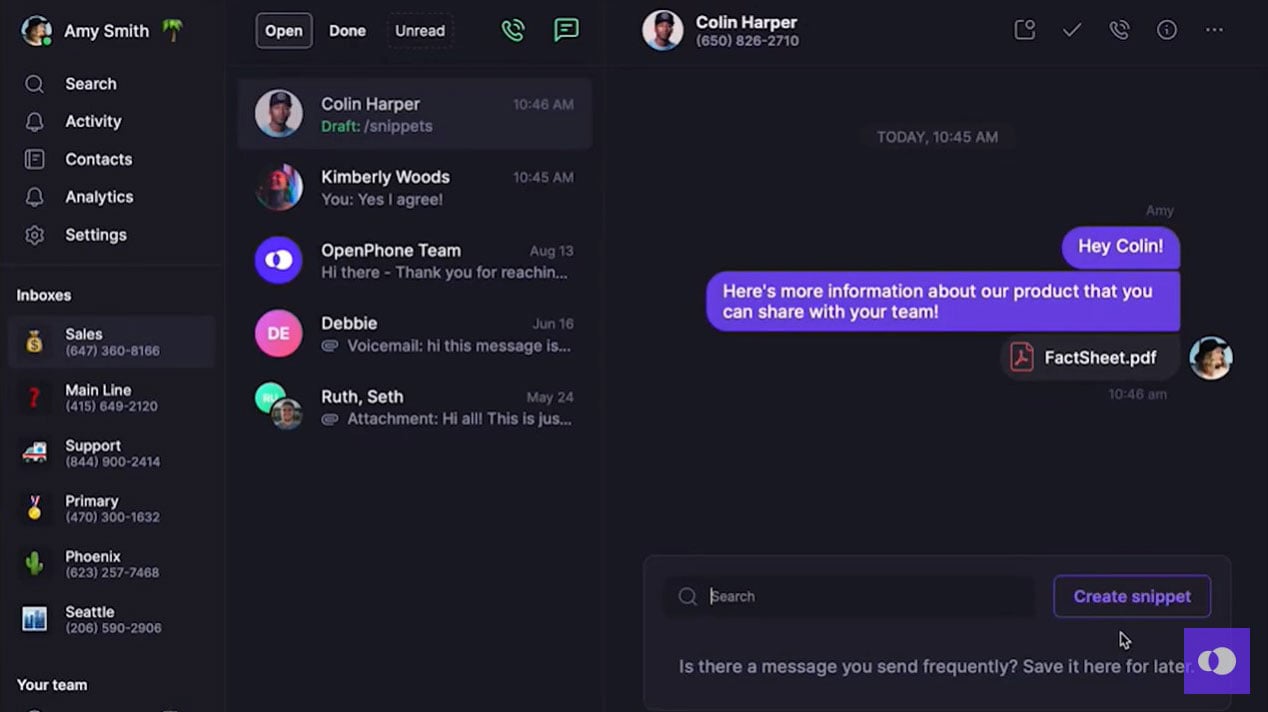 SMS text messages are stored alongside call logs and voicemails in the conversation inbox. Agents can see which teammate sent each message, to know who has handled the interaction thus far. Meanwhile, the customer interacts with a unified company number.
OpenPhone includes features that automate agent SMS workflows:
Snippets: Canned text-response templates that agents can easily save, share, and reuse with one click. Snippets work well for repeated situations, such as answering FAQs or following up a call with next steps.
Auto-replies: Set automatic SMS replies in response to customer texts, missed calls, voicemails, and business hours
Scheduled messages: Type a message and schedule it to send at a later time
Forwarding to email and Slack: Send message data to email, or use Slack to send and receive SMS
Team Messaging
OpenPhone supports 1:1 web chat and internal threads within conversation logs. OpenPhone does not offer group messaging.
Team Messaging Features:
Set availability: Users indicate and display availability status
One-click direct messaging: To send a 1:1 direct message, simply click on the teammate's name and select Send a message. Messaging conversations between teammates are logged for ongoing reference.
Collaborative threads: Agents assigned to a business number can initiate threads and tag teammates underneath any conversation item–messages, voicemails, or call records. Teammates can tag each other and respond via text or emoji reaction.
Reporting and Analytics
The Analytics dashboard displays call and messaging data, including usage and activity information. View charts and graphs for various KPIs and metrics, customizable by the day, week, month, and user.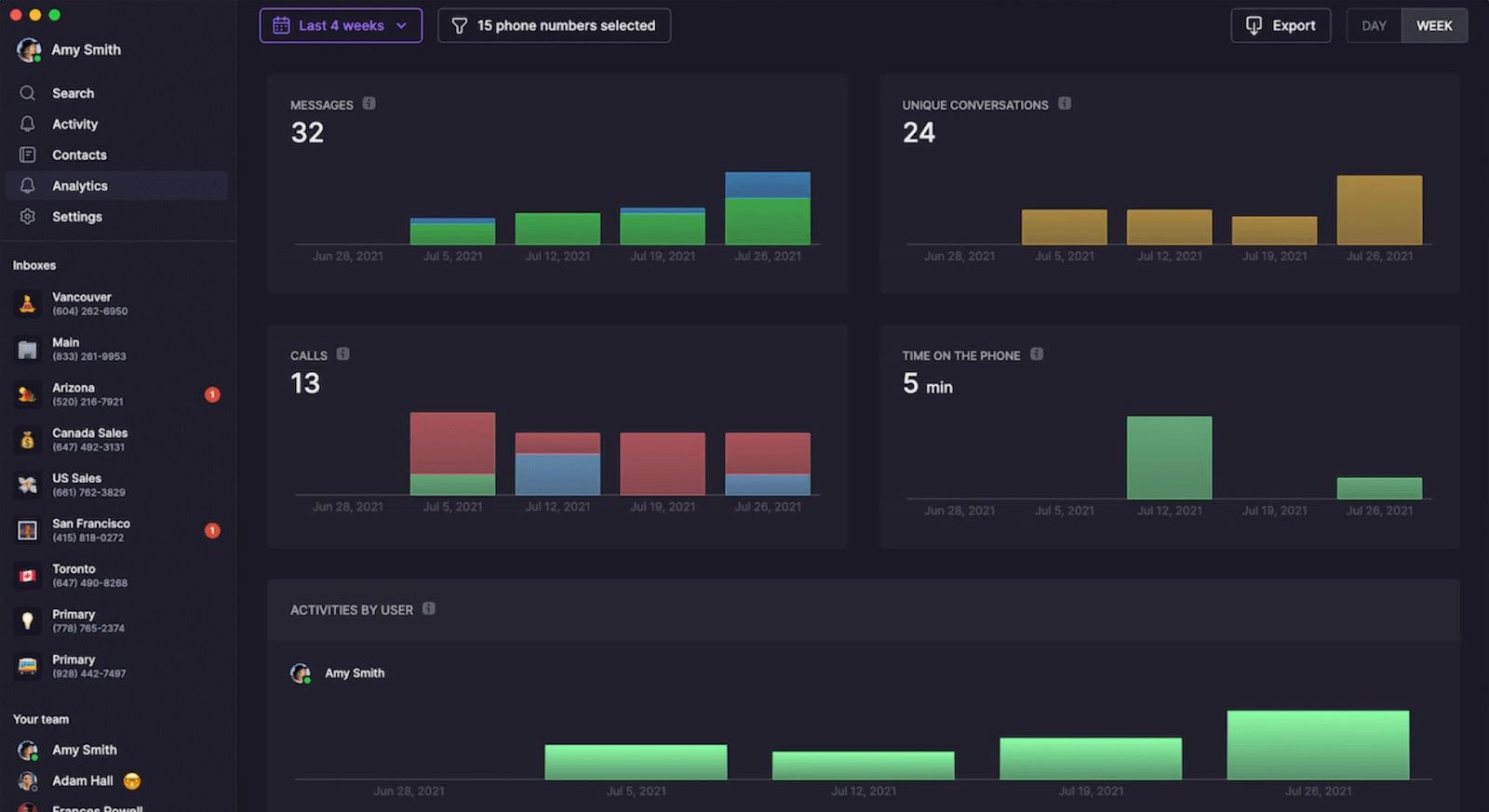 Analytics Dashboard Reports and KPIs:
Call data: Total number of calls (overall and per day), inbound vs outbound calls, total number of minutes spent on the phone, average conversation duration
Messaging data: Total number of incoming and outgoing messages, number of unique conversations
Activity: View each user's activity by weekday and date, including a breakdown of channels used. Heatmaps display call center activity by time of day, to identify the most popular times and weekdays.
Customer Profiles and Contact Management
The OpenPhone app features built-in customer and contact profiles, providing fuller context for agents.
When an agent views a conversation inbox, the customer's profile appears on the right-hand side. Profiles feature one-click contact options–phone, SMS, or email–plus key details like company, role, contact info, other custom properties, and notes that teammates can add.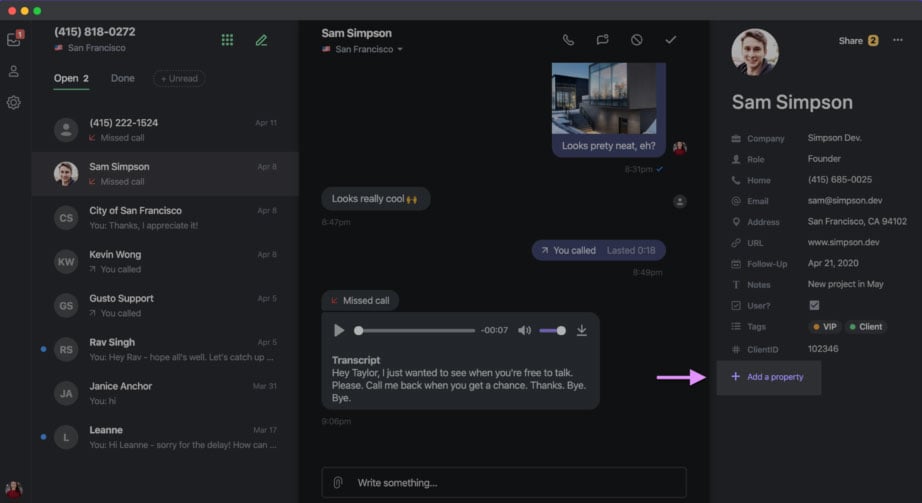 CRM integrations–like Salesforce, Gong, and HubSpot–strengthen customer profiles further, adding tickets and customer journey information for contacts.
Sync your Google Contacts with OpenPhone, import contacts from elsewhere via CSV. Teammates can share contacts throughout the organization, automatically avoiding duplicates within the same business number's contacts list.
OpenPhone Integrations
OpenPhone offers integrations with email and 6 popular apps: Salesforce, Gong, HubSpot, Slack, Google Contacts, and Zapier–which facilitates connections to thousands more integrations.
Salesforce: View Salesforce CRM information within a contact's profile in OpenPhone. Call and text customers or leads directly in Salesforce, and automatically log OpenPhone activity in Salesforce.
Gong: Automatically transcribe OpenPhone calls, use Gong AI to extract key call data like questions and action items, and share call recordings with teammates
HubSpot: Automatically log all OpenPhone activity in HubSpot–such as creating and resolving tickets, or adding notes. Sync HubSpot contacts with OpenPhone, and place calls and texts directly from HubSpot.
Slack: Receive and reply to OpenPhone activity notifications in Slack–for calls, texts, and voicemails
Zapier: Zapier connects tools between OpenPhone and over 5000 other applications. Use Zapier to trigger functions like sending an SMS at customer checkout or payment due date, or automatically updating contact profiles with new information.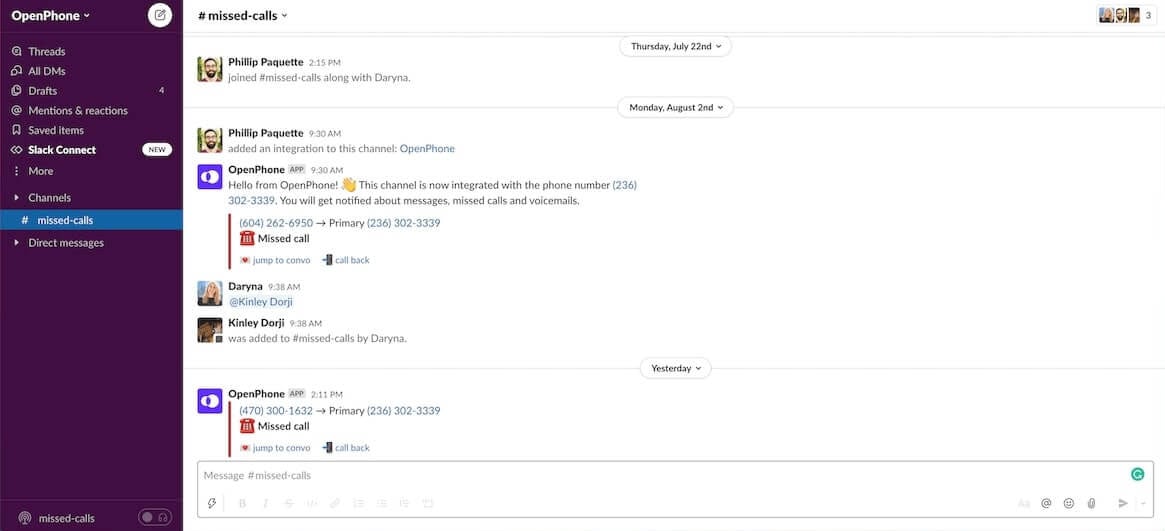 OpenPhone Pros and Cons
While users appreciate OpenPhone's number sharing and easy-to-monitor multichannel inboxes, we think their lack of hold queues is a major downside for companies with high call volumes.
Pros:
Flexible business phone numbers
Multichannel inboxes
Easy-to-use analytics
Cons:
Lacks video conferencing
No team-chat channels
No hold queues
Who is OpenPhone Best For?
OpenPhone is best for small companies whose agents handle multiple customer-facing duties–for example, both customer service and sales. OpenPhone's phone-number sharing, and the ease with which agents switch between numbers, means that individual agents can quickly switch between company phone numbers to manage customer communications.
However, OpenPhone works best for small companies that don't face overwhelming call volumes. Companies that frequently get overloaded with calls should look for an alternative that offers hold queues. Further, companies planning to use video conferencing for internal collaboration should consider an alternative, such as those listed below.
OpenPhone Alternatives to Consider
Here are the top OpenPhone alternatives.
Nextiva
Nextiva is a phone system and unified communications platform with VoIP, team messaging, SMS, and video conferencing with 250 participants. On all plans, their video conferencing includes collaboration features like screen sharing and in-video chat.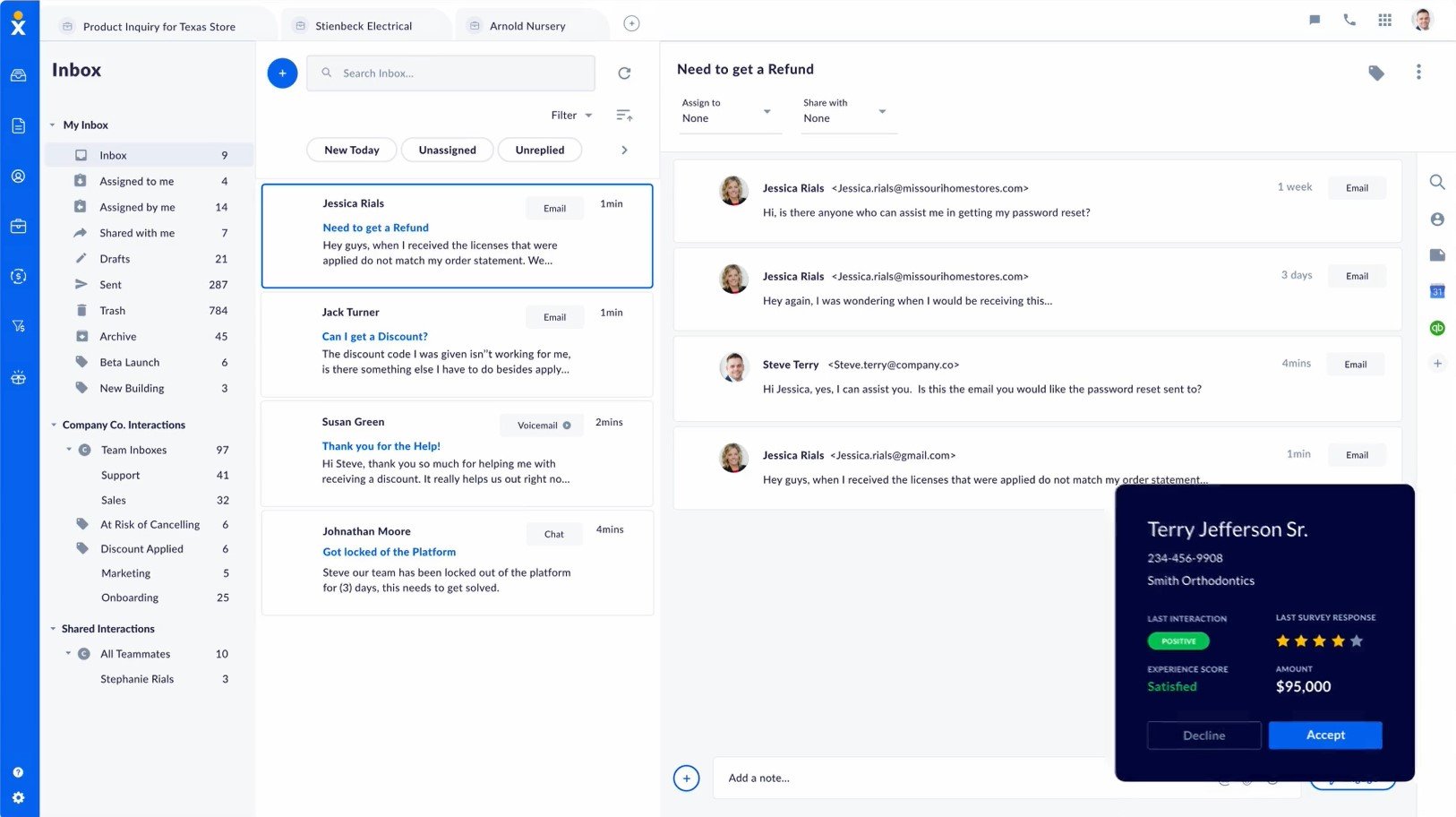 Dialpad
Dialpad is a virtual phone system and UCaaS platform combining VoIP calling, team chat, SMS, and video conferencing with 10 participants. A great option for small teams and startups, Dialpad plans include real-time call transcription, AI feedback, and live queue analytics.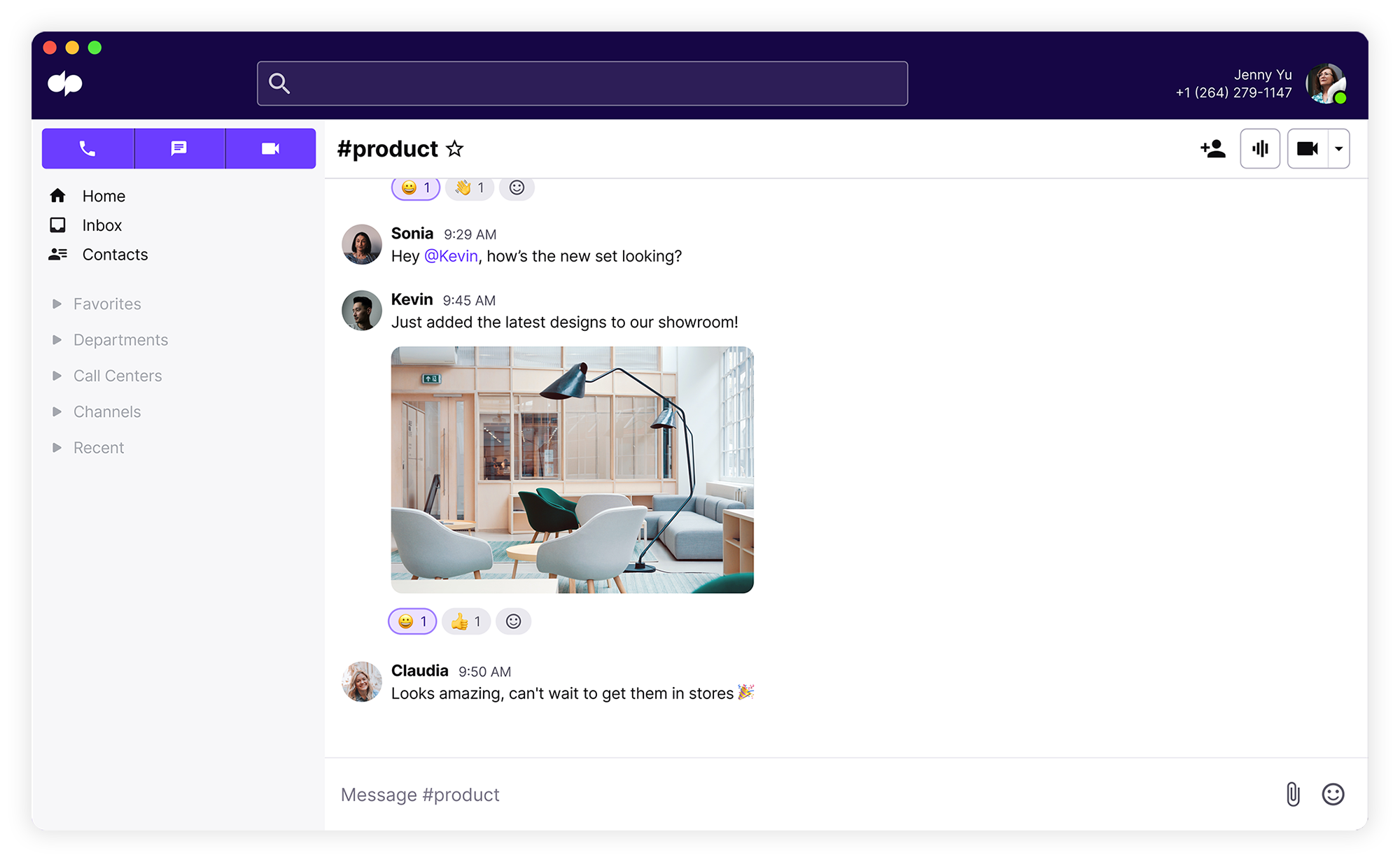 RingCentral
RingCentral's business communications platform includes VoIP calling, SMS texting, team chat, and video conferencing with up to 200 participants. RingCentral plans include team collaboration chat channels with file sharing, co-editing, and whiteboards.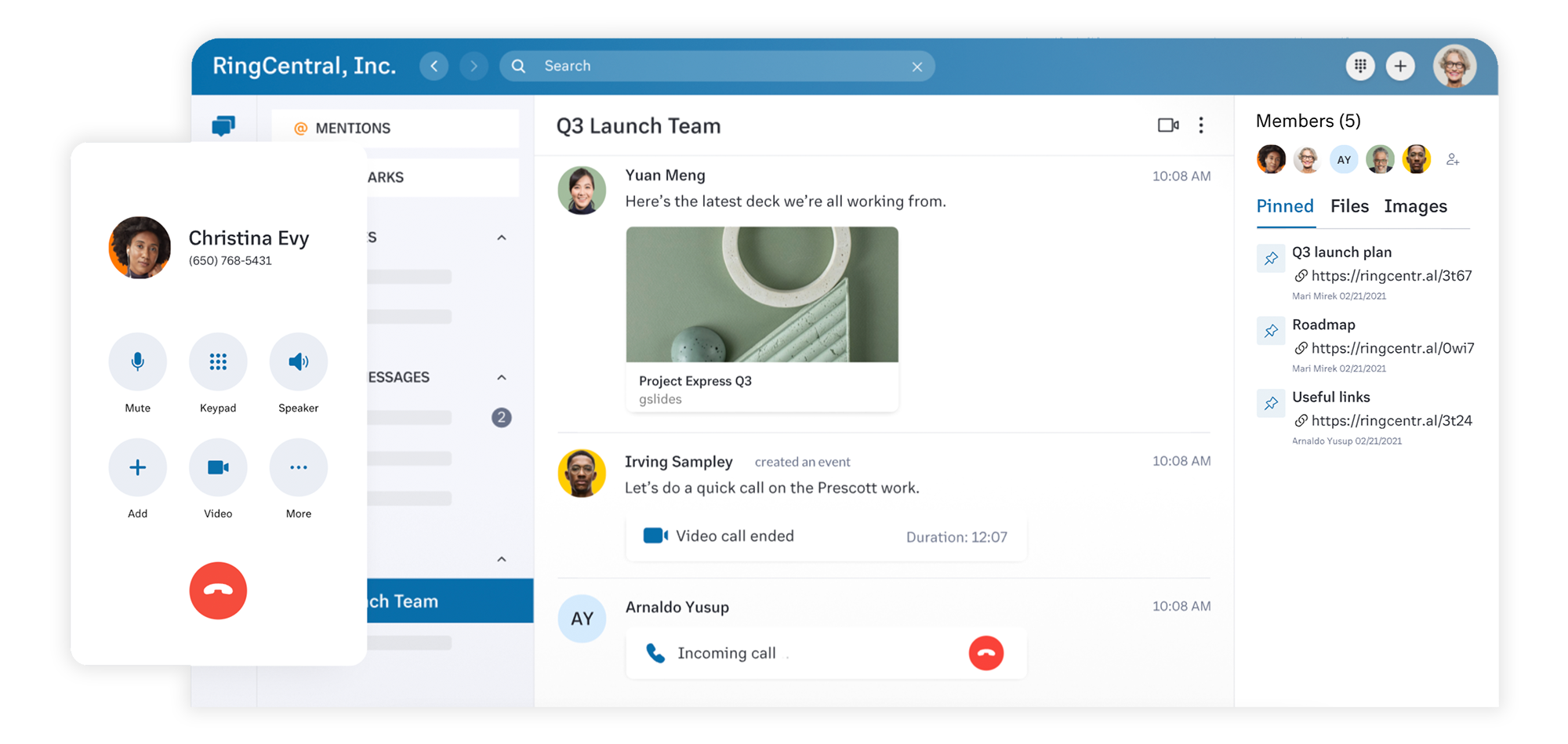 Vonage
Vonage's unified communications platform includes VoIP phone, team messaging, SMS, and video conferencing with 100 participants. On all plans, the Vonage app includes a business inbox that provides agents one place to handle all customer messages–on SMS, MMS, or Facebook Messenger.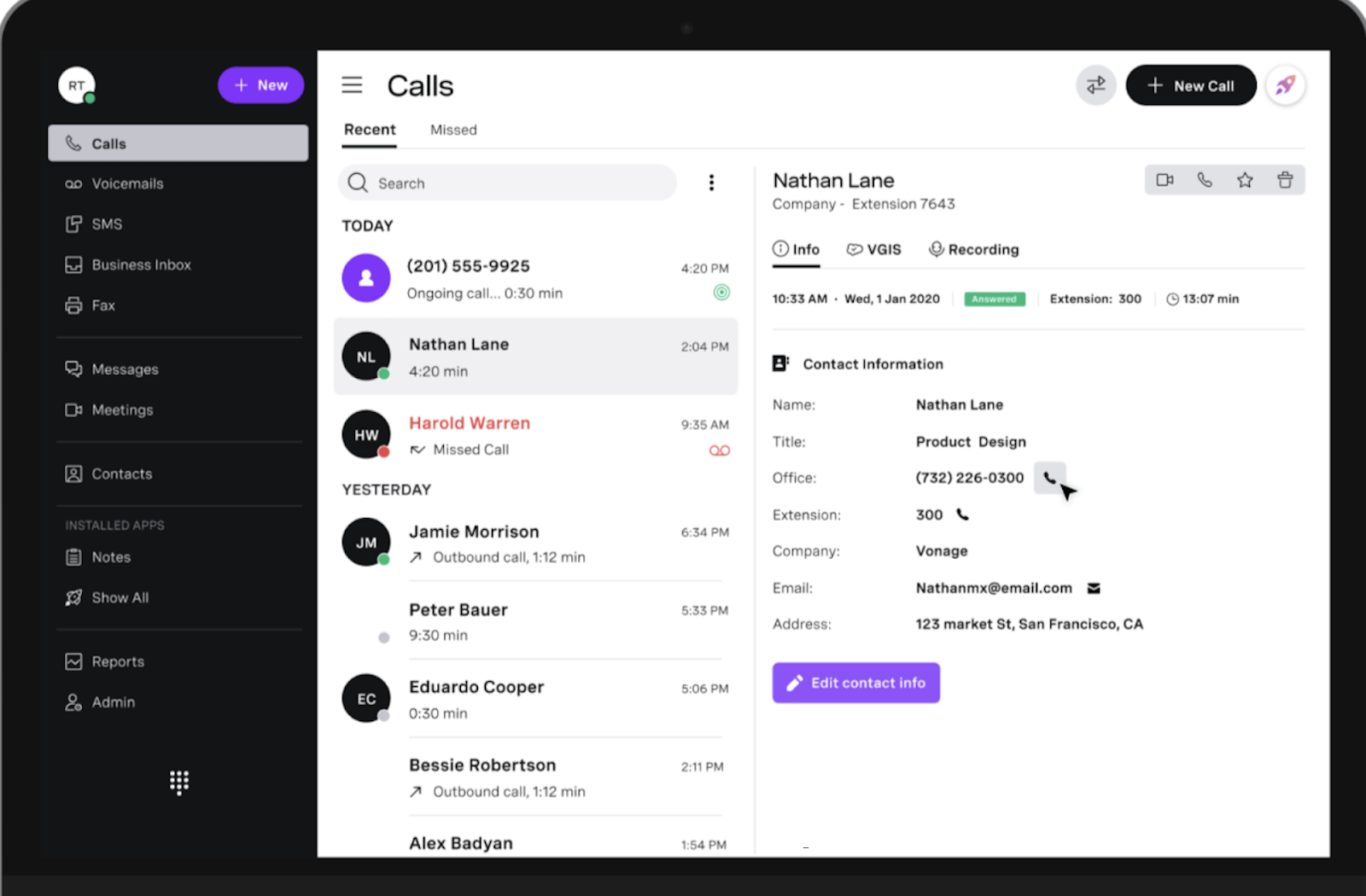 Ooma Office
Ooma Office is Ooma's business phone system, with three plans including VoIP calling, SMS texting, and video conferencing. Ooma includes over 50 basic phone features, plus call queueing, voicemail transcription, and analytics.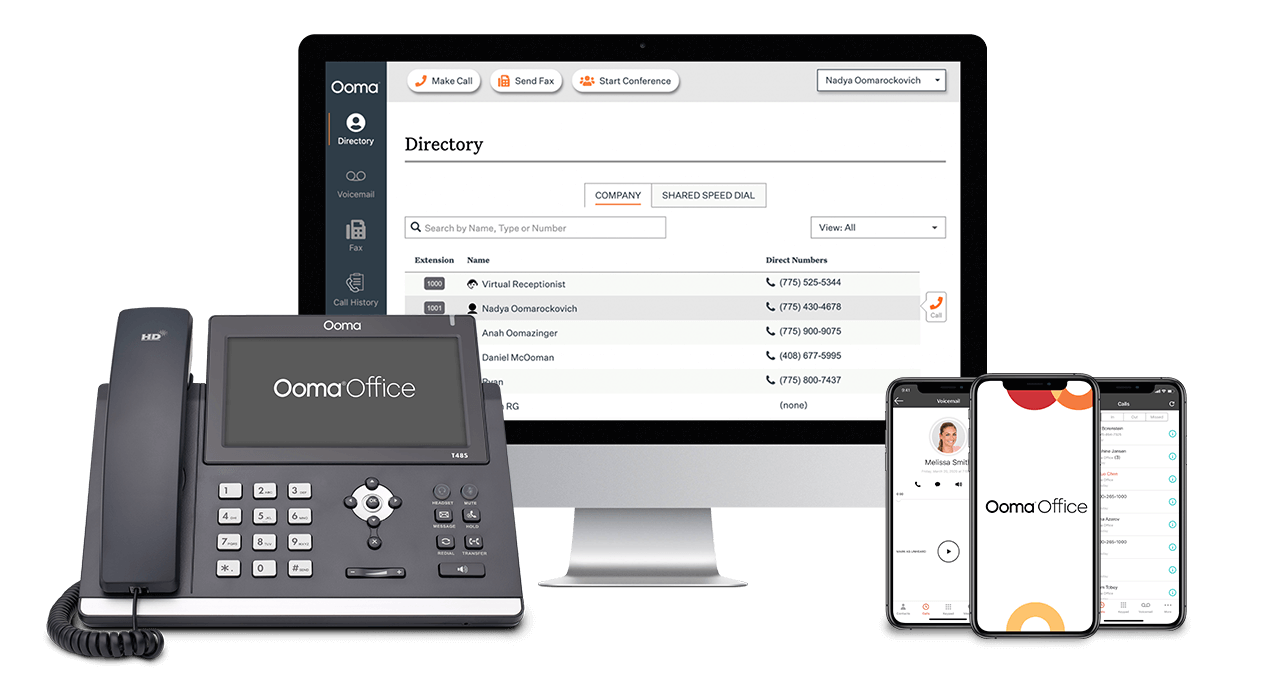 Should You Use OpenPhone?
If your company's agents jump between multiple numbers–or if multiple agents share the same number–OpenPhone's flexible number management meets these needs.
While companies prioritizing video conferencing should consider alternatives, small teams who only want phone, SMS, and team chat will appreciate OpenPhone's competitive pricing options.