NextivaONE combines a business VoIP phone system, video conferencing, and team chat into one software application. With an easy-to-use dashboard available on desktop and mobile, NextivaONE streamlines internal and customer-facing business communications.
In this article, we provide a complete overview of the NextivaONE app, including pricing, features, integrations, pros, and cons.
Learn more about
NextivaONE
Jump to:
What is NextivaONE?
NextivaONE is Nextiva's business communications app that unifies internal collaboration tools with VoIP calling, team messaging, SMS texting, and video conferencing. A software tool available on desktop, mobile phone, or browser, NextivaONE supports internal and external-facing communication channels and virtual features.
The app includes custom routing, engaging video features for unlimited participants, voicemail, contact management, built-in calendaring, and 19 integrations with popular applications.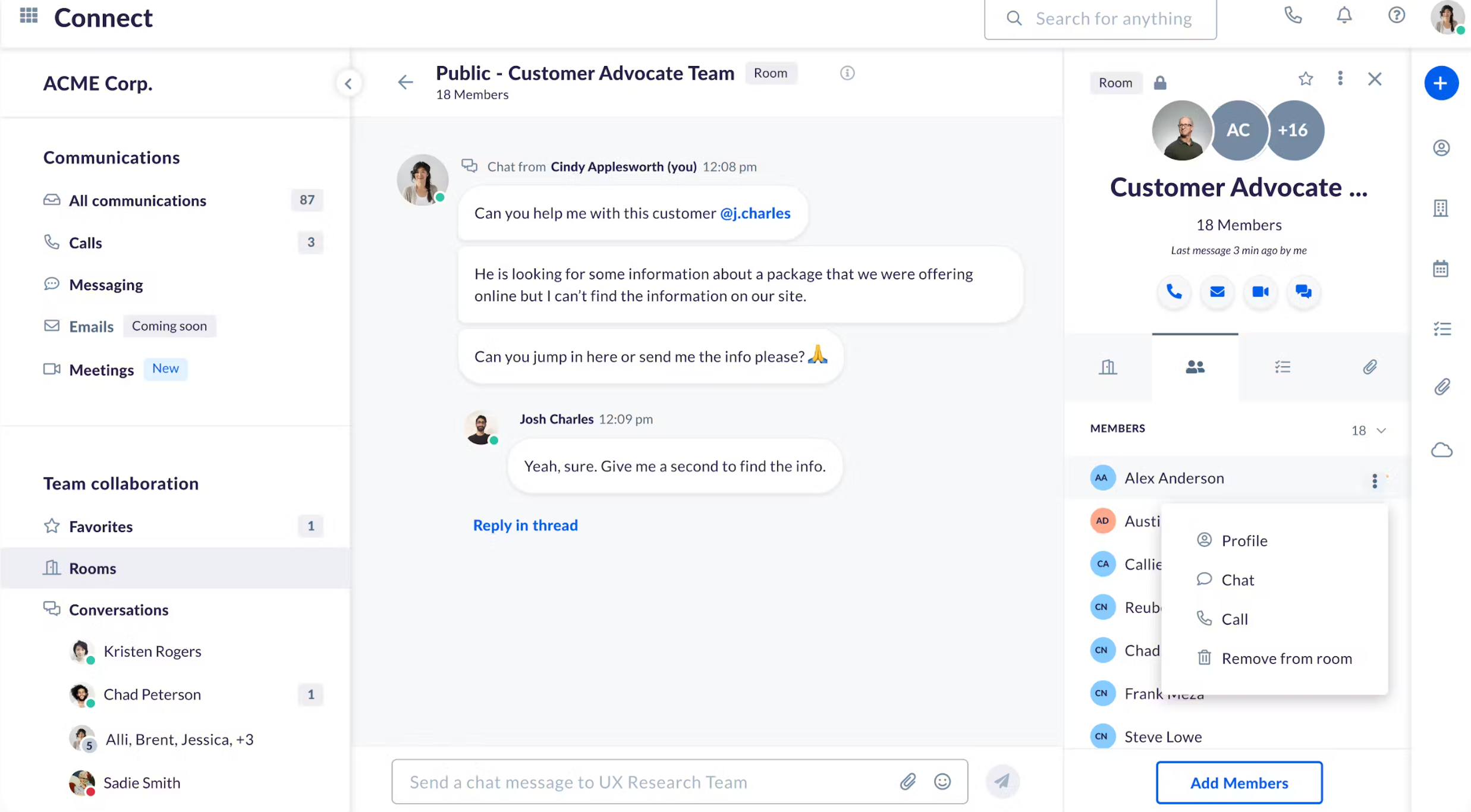 NextivaONE Pricing and Plans
NextivaONE offers three pricing plans, which range in cost from $18.95 to $32.95 monthly per user. Each plan includes unlimited calling inside the US and Canada.
Essential ($18.95 monthly): Nextiva desktop app and mobile app, a free local and toll-free number, 45-minute 1:1 video meetings, team chat with file sharing, contact notes and management, basic auto attendant, voicemail-to-email forwarding, call logs
Professional ($22.95 monthly): Expands video conferencing to 40 participants, adds 3000 monthly toll-free minutes per account, 1000 monthly SMS per user, advanced CRM integrations, and voicemail-to-SMS forwarding
Enterprise ($32.95 monthly per user): Expands to unlimited video meeting participants, 12,500 monthly toll-free minutes per account, and 2000 monthly SMS per user, adds call recording and voicemail transcription
NextivaONE Features
User Interface
The NextivaONE app's user interface organizes communication channels, calendars, and contact information into one interface on a mobile or desktop application. Whenever an agent takes a call, checks their voicemail, or clicks into a team room, the conversation or call controls take the center screen for intuitive use.
Multichannel functionality and contact management are available within a few clicks in the left-hand and right-hand menus, which provide ping notifications for agents to view all new activity.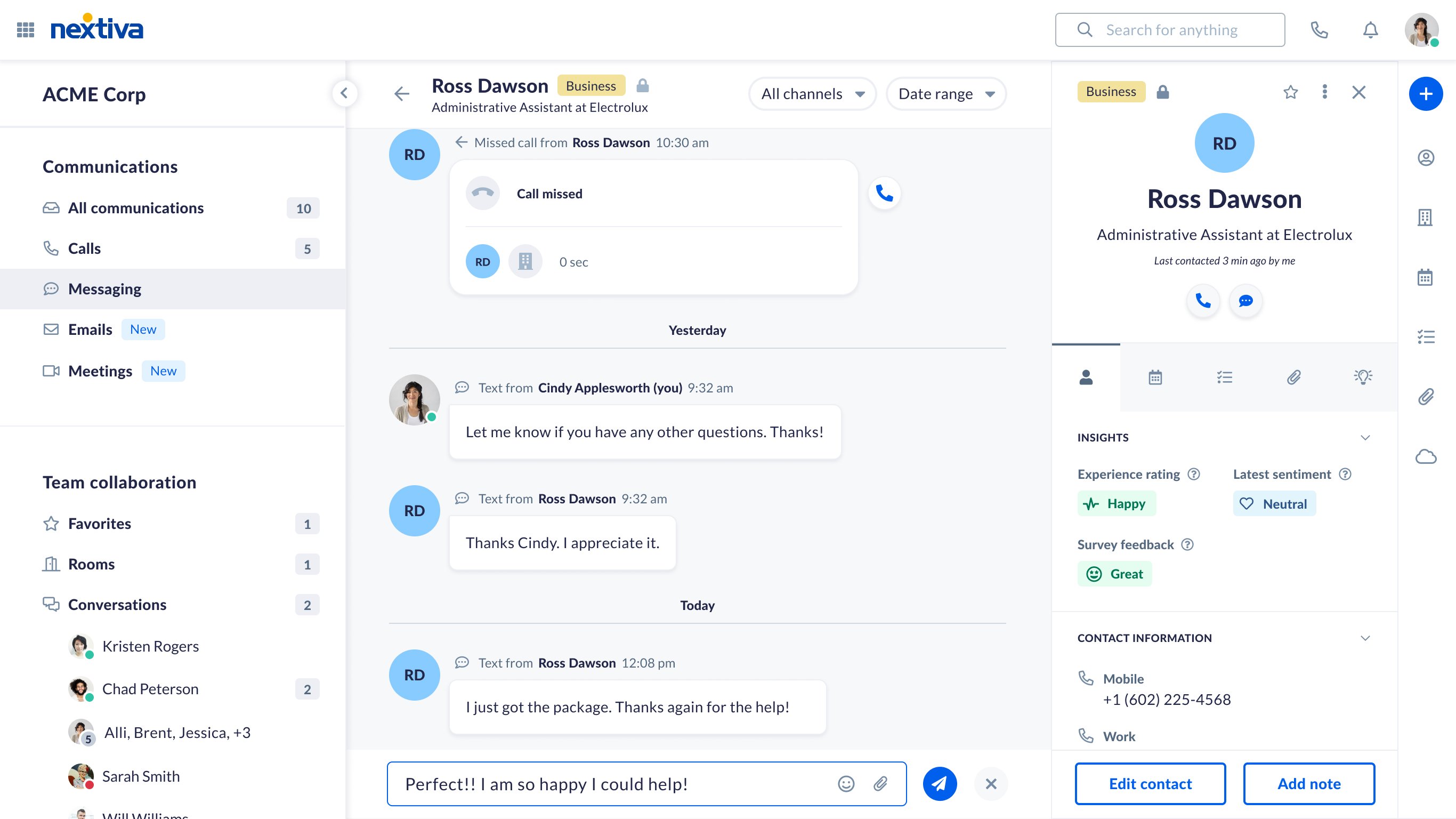 Left-hand menu:
All communications: A multichannel inbox that organizes all of an agent's communications across channels
Calls: A call log with inbound and outbound calls
Messaging: An agent's text messages, 1:1 chats with customers and teammates, and team chat rooms
Emails: Email history from customers or teammates, with the option for response directly within the app
Meetings: Create, join, and schedule video meetings
Team collaboration: A list of teammate contacts, including favorites, recent conversations, and active team rooms. Each teammate indicates their availability, and each conversation updates with notification pings.
Right-hand menu:
Contacts: View information and notes for all contacts, including contact details, recent insights and sentiment scores, survey feedback, and other information pulled from your CRM
Files: Sort through and share files, images, and audio recordings
Tasks: Check your to-do list, or assign action items and deadlines to other users
Calendars: View scheduled meetings or create a meeting right within the right-hand menu. Set the date, and recurrence, and invite users.
NextivaONE Phone System
The NextivaONE app has a built-in VoIP phone system with routing features, voicemail, conference calls, and call logs. All plans support unlimited calling within the US and Canada, with per-minute international calling. The business phone system can support unified communications or basic call centers.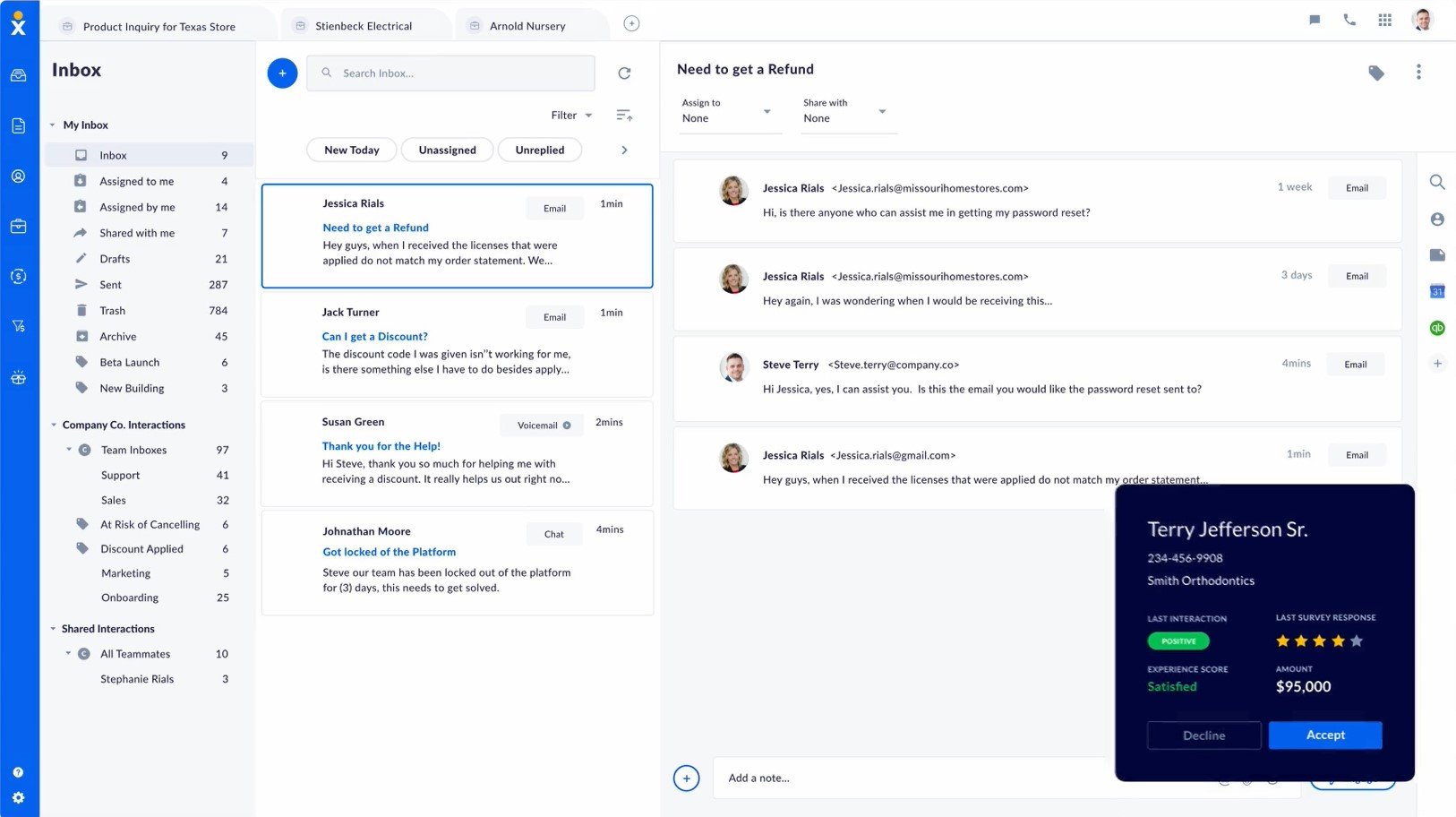 NextivaONE plans include the following voice features:
Local and toll-free numbers: Each plan includes one local or toll-free number, and users can purchase additional toll-free or local DID numbers from area codes in all 50 US States
Number porting: Your company can port in your pre-existing business phone numbers for free
Toll-free minutes: Each Nextiva plan includes a bundle of toll-free minutes for the account to share each month. The Essential plan supports 1500, the Professional supports 3000, and the Enterprise plan supports 12,500 monthly toll-free minutes per account.
Calls tab and call logs: Agents can view their inbound and outbound history in the left-hand menu Calls tab. Sort call history by date, user, or call type, with one-click options to call back any contact.
Voicemail: Each number has a virtual voicemail log, which includes new-activity notifications, voicemail audio, and caller information. All plans include automated voicemail-to-email forwarding, while voicemail-to-SMS is only included with the Professional and Enterprise plans. Voicemail transcription only comes with the Enterprise plan.
Conference calls: Nextiva's Essential plan does not support conference calls. However, the Professional plan supports 40-participant calls and the Enterprise plan supports unlimited conference-call participants.
Auto attendant: Create a self-service greeting and menu system that shares announcements and helps callers route themselves to the agent or ring group best suited to help them. The Essential plan supports a basic auto attendant while the Professional and Enterprise plans include a multi-level auto attendant with submenus.
Call groups: Link phone numbers together to share inbound call responsibility. Customize how ring group numbers receive calls–custom order, round robin, or simultaneously until someone answers.
Call controls: Call forwarding, call transfer, caller ID, call parking, call hold with hold music
Call notes: Create notes for each call or voicemail, which teammates can view when they click on the call. This helps organize collaboration for remote teams.
Team Messaging, Email, and SMS
The NextivaONE app supports internal team messaging, customer-facing chat, email, and SMS texting within the US. Agents can live chat with customers, send 1:1 chat messages to teammates, and create up to 3 concurrent team collaboration rooms.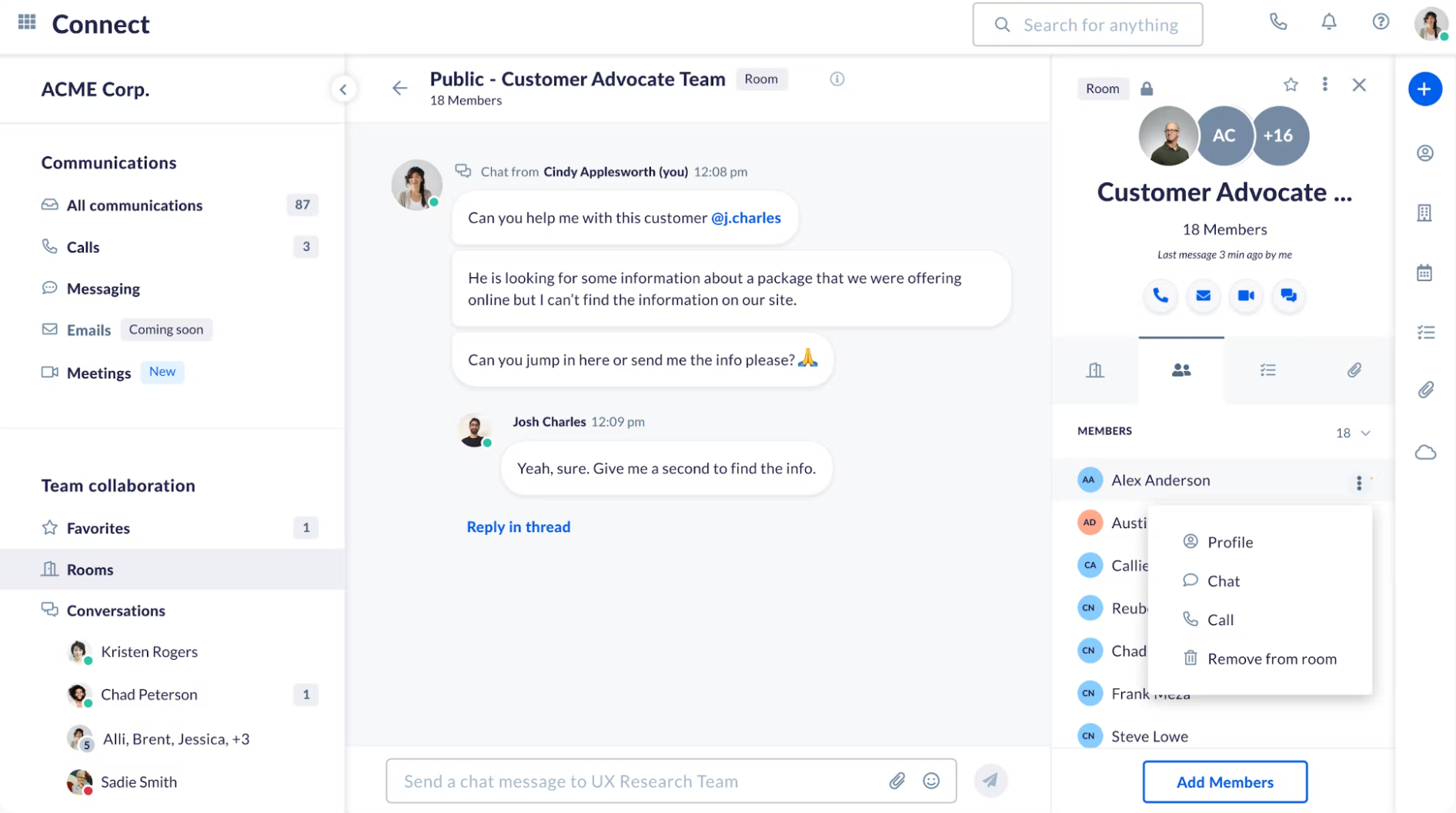 NextivaONE Team Messaging Features:
Team collaboration rooms: Create 3 concurrent rooms where departments or teams can message, create threads, and share files. Organize files into folders or jump into conference calls and video meetings with one-click buttons.
Task management: Team rooms support task-management features including to-do lists, assignees, and deadlines
1:1 messaging: Participate in an unlimited number of 1-on-1 chat messaging conversations with teammates, where users can share files
Email: The left-hand column's Email tab lets users manage and respond to emails directly in the NextivaONE app
SMS: Send and receive texts right from the NextivaONE app. While the Essential plan does not support SMS, the Professional plan supports 1000 monthly inbound and outbound texts per user, and the Enterprise plan supports 2000.
Video Conferencing
NextivaONE includes built-in video conferencing that supports an unlimited number of participants on the Enterprise plan. Each meeting lasts an average of 45 minutes. Users should note that the Essential plan only supports 1:1 video meetings, while the Professional plan has a 40-participant maximum. Schedule meetings and invite participants right within the app, and access digital collaboration features during video calls.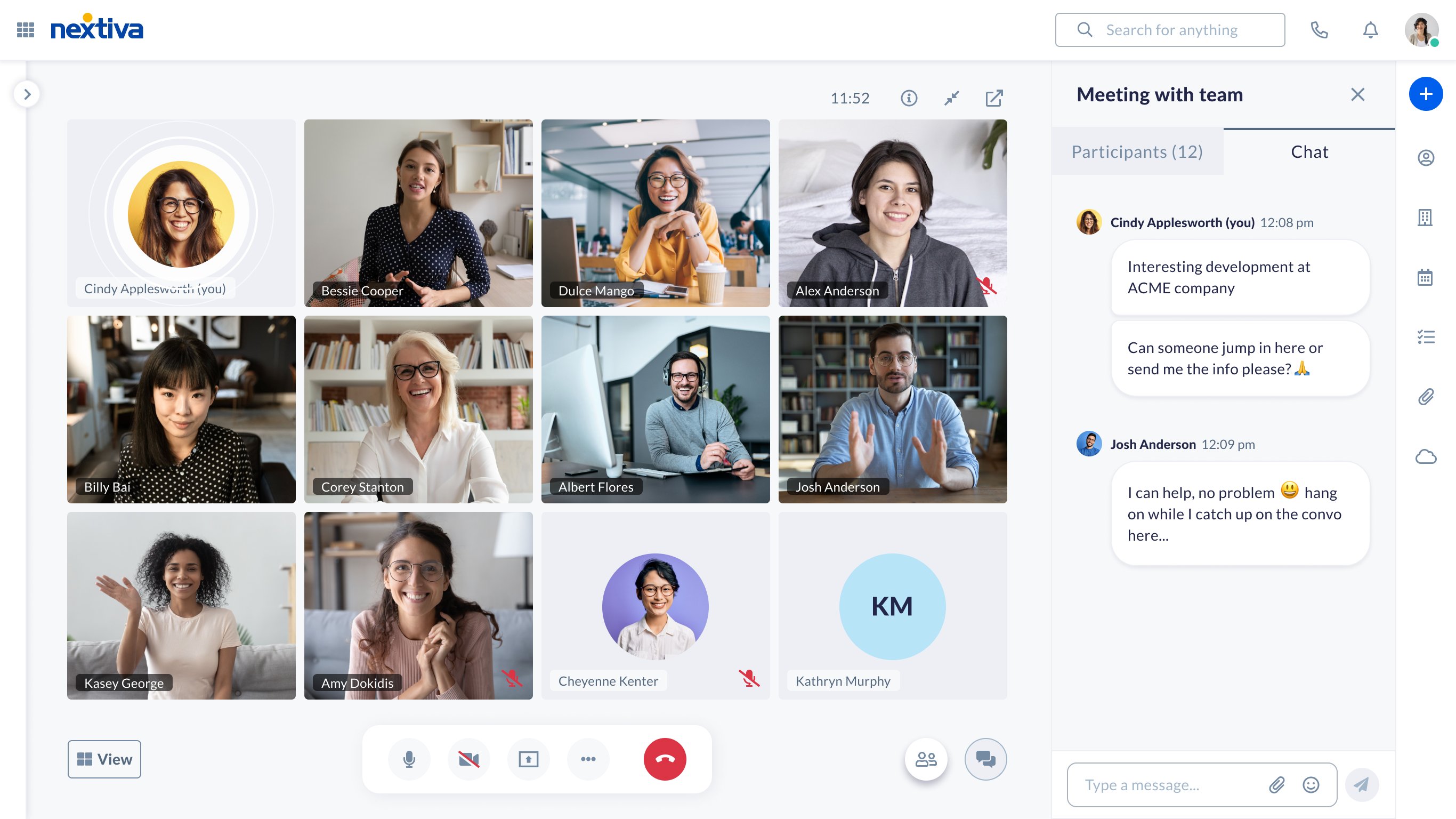 Video Conferencing Features:
Built-in calendaring: Create and schedule meetings within the app, and invite users. Sync meeting calendars with Google Workspace and Microsoft Outlook.
Easy invites and accessibility: Generate one-click invite links that you can email or text to participants. Participants can join meetings from any device, without needing to download anything.
Recording: Record video conferences on all plans
Screen sharing: Any user can share their screen during video meetings
Chat and file sharing: Participants can chat and share files during video conferences
Live streaming and webinars: Stream Nextiva video to third-party apps like YouTube and Facebook live for webinars and live streams
Productivity
The NextivaONE dashboard enhances team productivity with contact management, shared call notes, and team presence features that help agents collaborate to handle inbound calls.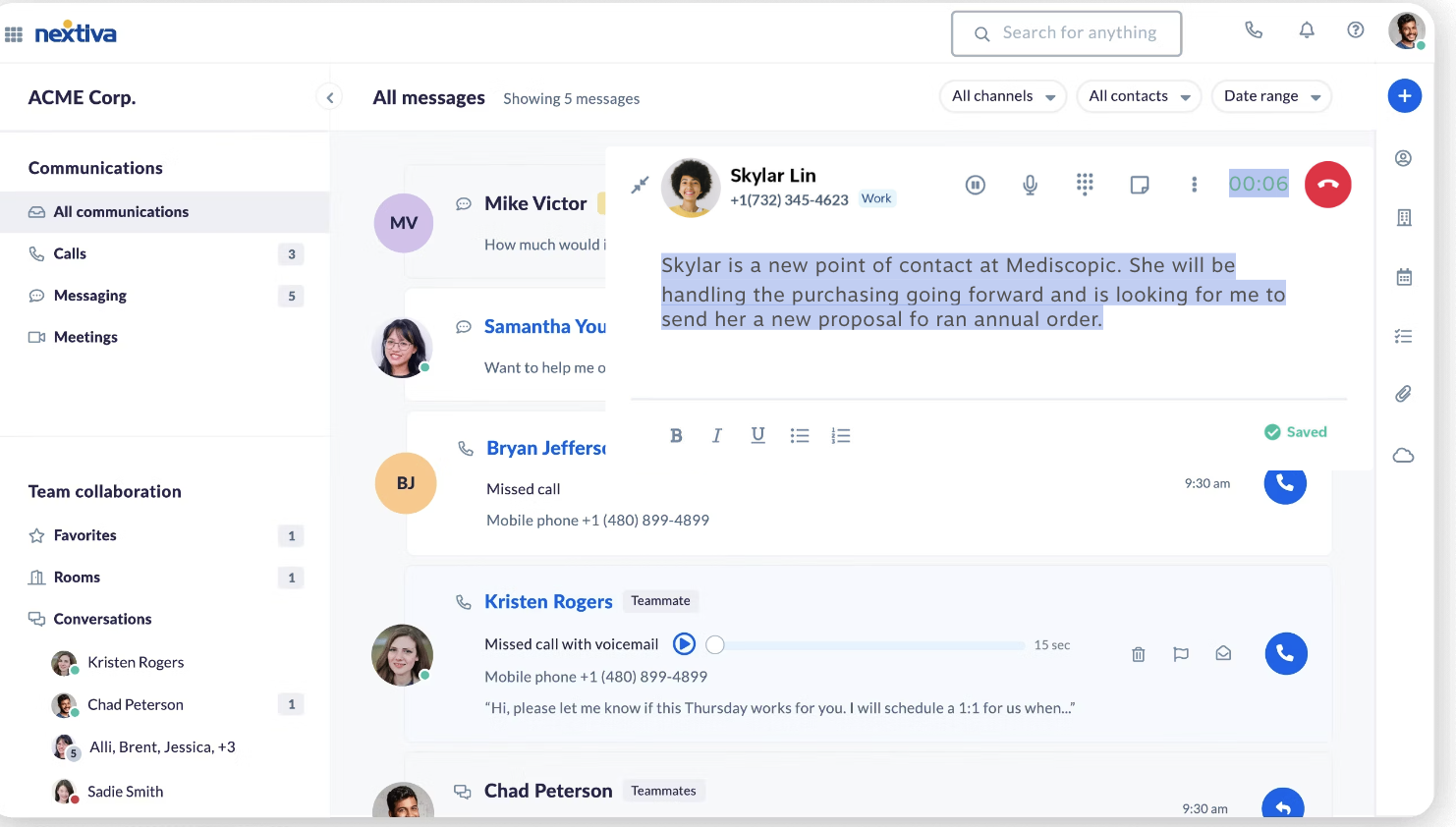 Productivity Features:
In-depth contact profiles: Each contact has a profile with an image, contact information, and CRM info such as recent sentiment scores and survey results. Import contacts from a CRM or other database.
Notes on contacts and calls: Team members can leave notes on contact profiles or calls themselves, communicating with future agents who click on the contact
Team presence availability: Each team member's profile has a green or red light indicating availability and presence, letting other teammates know when they're available for meetings, messaging, and call transfers
Add-Ons
NextivaONE's UCaaS interface also connects with several Nextiva software add-ons and plugins at an additional cost. This added software integrates into the NextivaONE interface for a seamless and omnichannel agent experience.
NextivaONE Add-Ons:
Customer experience
Contact center
Social media and reputation management
Customer Experience
Nextiva's Customer Experience add-on bundles automations and analytics to streamline customer service and provide insights about the customer journey and customer experience.
Customer Experience Features:
Automated surveys: Automatically email or text follow-up messages and surveys after interactions, using the results to strengthen customer profiles and drive business decisions
Call Pop: Upon inbound calls, Call Pop automatically delivers a pop-up on the agent's screen portraying critical information about the customer
Journey and sentiment: Track customer journeys and sentiment scores across your website and interactions with your company, using this information to strengthen each customer's profile
Call analytics: While NextivaONE just includes call logs, the Call Analytics add-on offers historical and real-time metrics and KPIs about agent activity and channel usage. Track inbound vs. outbound call volume by the day or month, monitor agent activity, and more. All insights are customizable by location, user, and historical timeframe.
Since these plugins have distinct and separate costs, contact Nextiva for an add-on quote.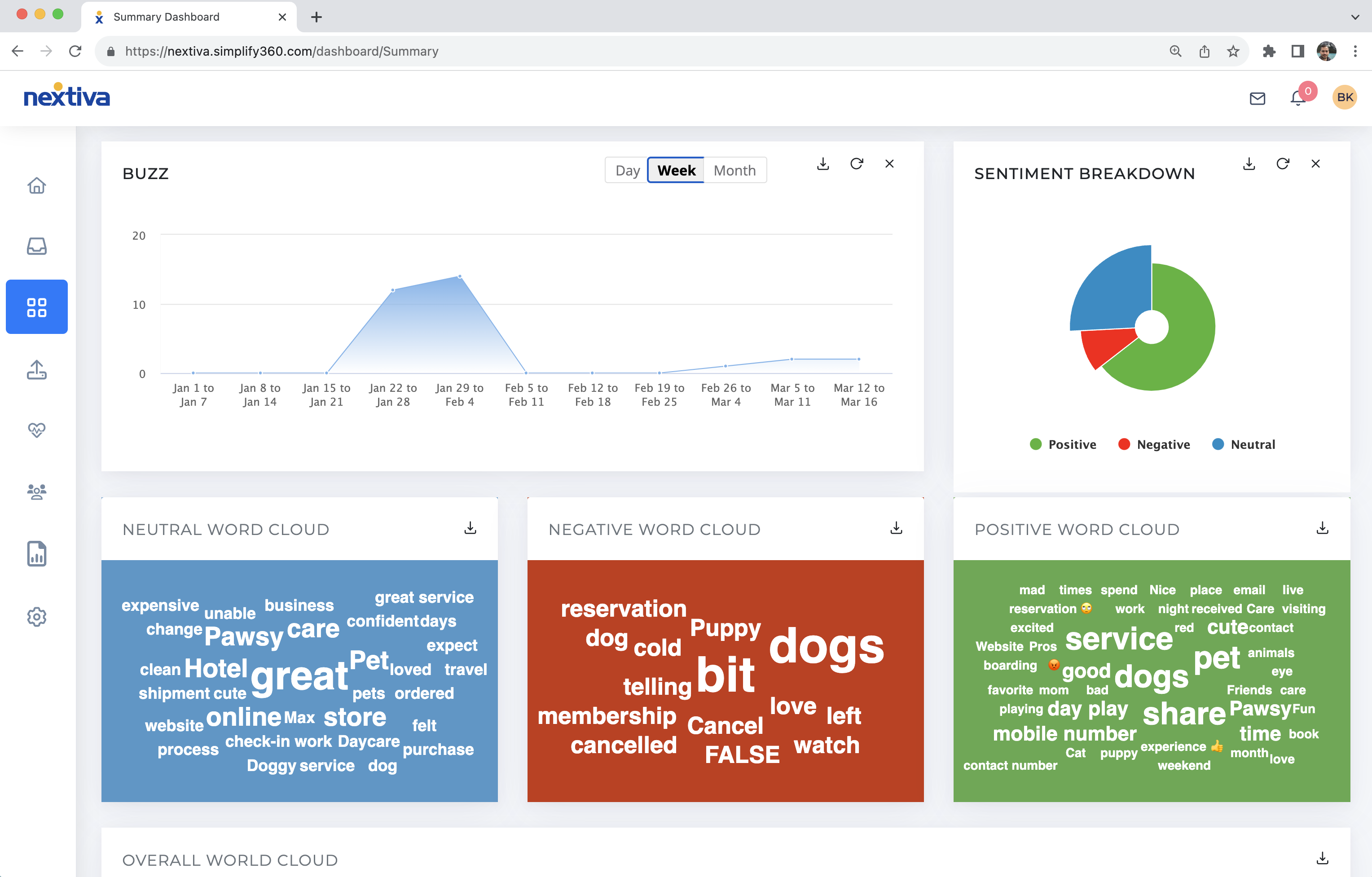 Social Media and Reputation Management
NextivaONE offers a social media add-on plan that allows you to track and manage your reputation and customer engagement across social platforms. Connect apps like Facebook, X (formerly Twitter), LinkedIn, Instagram, and YouTube, with several advanced interfaces, inboxes, and dashboards. Agents can access these views within the NextivaONE interface, responding to customers across channels.
The Social Media and Reputation Management add-on comes in three pricing tiers:
Standard ($149 monthly per user): Includes an all-in-one inbox for agents to respond across social media channels, social media post scheduling and publishing, inbound ticketing and helpdesk management, post and mention monitoring, post and channel analytics, and a performance dashboard
Growth ($229 monthly per user): Suggested and automated social replies, competitor analysis on three channels, custom routing, and a live chat communication channel
Custom (Quote-based): Adds custom integrations, queue management, and AI routing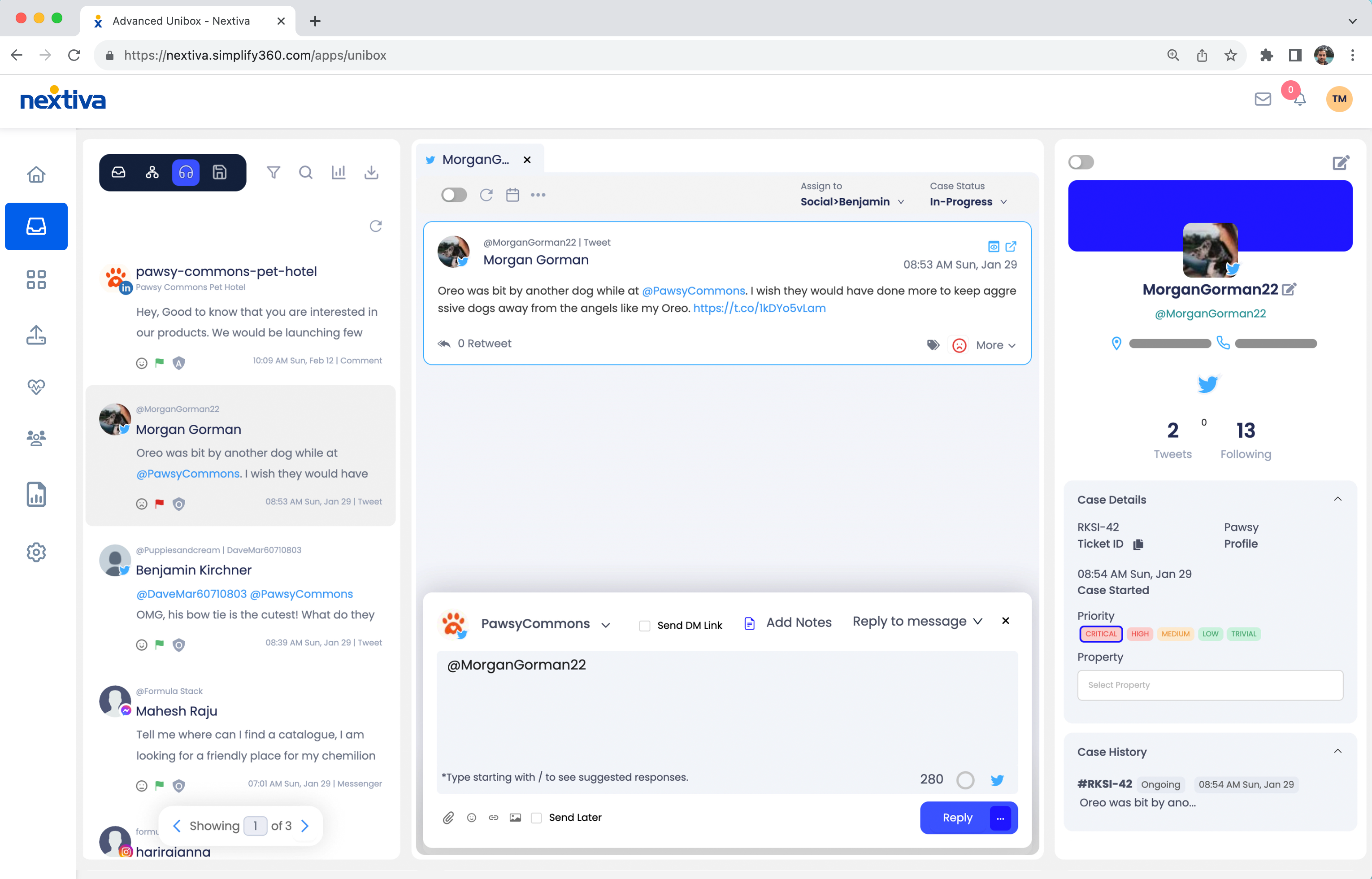 NextivaONE Integrations
NextivaONE integrates with 19 third-party software applications, linking functionality and workflows across these tools.
Popular Nextiva integrations include:
CRM Systems (Salesforce, HubSpot, Zoho): Extract customer information from your CRM system to create more in-depth customer profiles in Nextiva
Ticketing software (Zendesk, ServiceNow): Make and receive calls right from your ticketing software, and create tickets from Nextiva tasks
Calendar apps (Google Calendar, Microsoft Outlook): Sync calendars to schedule all video meetings and conference calls
Benefits of NextivaOne
Here's what we think stands out most about NextivaONE:
User-friendly: NextivaONE is easy to use, even for those unfamiliar with VoIP or UCaaS. The interface structure, with a left-hand menu and notifications, makes it easy for users to manage communication channels and inbound tasks
Omnichannel: Nextiva's dashboard and software provide agents with an omnichannel interface, so they can interact with customers and teammates across channels with just a few clicks. Agents can instantaneously jump between calls, texts, and video with customers.
Cost-Effective: Nextiva's lowest-tier plans–the Essential and Professional–offer highly competitive rates, with a variety of useful features like multi-level auto attendants and ring groups. Some alternatives place a higher price point on these capabilities.
Where NextivaONE Falls Short
Here are some of the downsides to NextivaONE:
Overpriced voicemail transcription: Only the Enterprise plan includes voicemail transcription while the lower-tier plans don't. At $32.95, we think this is too high a rate for what we consider a basic VoIP feature.
Video meetings shortcomings: While the video meetings support up to 250 users on the Enterprise plan, they only support 1:1 meetings on the Essential plan and just 40 participants on the Professional plan. Further, the meetings only last 45 minutes, which is shorter than many competitors offer.
Limited team room availability: While Nextiva's team chat rooms are full of useful collaboration features, each account only gets 3 concurrent team rooms. For large teams, this limit can feel restrictive.
NextivaONE is an advanced UCaaS platform with useful VoIP tools and collaboration options, with flexible pricing plans to meet a variety of budgets. While this software and its features make a great fit for many teams, the final decision about unified communications software comes down to your company's budget and business needs.