GoTo Connect is one of today's popular VoIP providers and UCaaS platforms. Their plans include key communication channels, routing and queueing features, call analytics, and a large unlimited calling area.
This article outlines GoTo Connect's pricing and plans, describing each plan in detail with key features, pros and cons, and alternative providers.
Jump to ↓
What is GoTo Connect?
GoTo Connect is a UCaaS platform and VoIP phone system with HD-voice calling, SMS texting, team chat messaging, and video conferencing with up to 250 participants.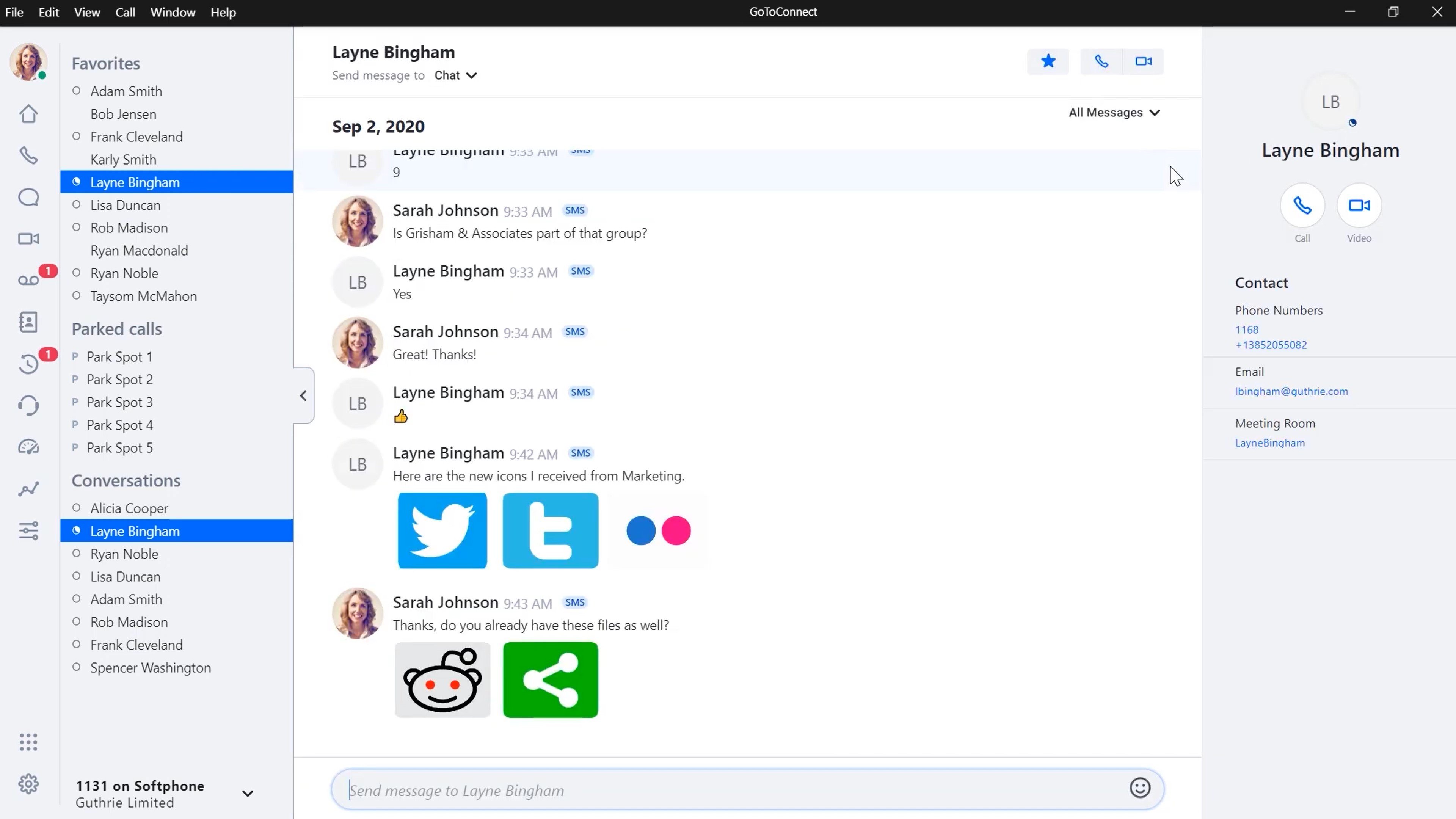 The cloud-based phone system includes call queues, ring groups, real-time analytics, call center monitoring, and routing features like IVR menus and custom ring orders. Use GoTo Connect for collaboration, with team chat features like file sharing, and video conferencing tools like screen sharing and drawing.
GoTo Connect also provides US-based virtual phone numbers, with a massive unlimited calling area spanning 50 countries.
GoTo Connect Pricing Plans
GoTo Connect offers 2 tiered pricing plans, which vary in the number of supported users, features, integrations, and unlimited calling area. Both GoTo Connect pricing plans include the full suite of communication channels: VoIP, SMS, team chat, and video meetings.
Plan
Price
Key Features
Best For
Basic
$24 monthly per user

20 users maximum
All core communication channels
One auto attendant, ring group, and call queue
Instant text response
4-user video capacity

Small teams seeking a phone system with multichannel collaboration
Standard
$29 monthly per user

50-country unlimited calling area
Unlimited auto attendant, ring group, call queues
Call recording
150-user video capacity

Large teams with intricate routing needs, particularly those who make international calls
Contact Center Add-On
Quote-based pricing tiers

Queue analytics
Skills-based routing
Outbound auto dialer

Companies with advanced routing and outbound campaign needs
Customer Engagement Add-On
Custom pricing

Digital surveys
Multichannel inbox
Shareable contacts and conversation history
Custom surveys

Companies focused on improving customer experience and relationships
Basic Plan  
Intended for small teams and priced at $24 monthly per user, the Basic plan has a 20-user limit and caps video meetings to 4 participants and 40 minutes. This plan offers restricted use of routing features–only one ring group, custom dial plan, auto attendant, and call queue–and does not offer other key calling features, like call recording, analytics, and queue reports.
This plan has metered calling, charging all calls per minute. It includes just two integrations: Microsoft Outlook and Google Workspace.
The Basic plan makes the best fit for small businesses with low call volumes and simple routing needs, who still want to use video meetings and team chat.
Key Features:
VoIP phone
SMS
Video conferencing
Team chat
Smart call routing and call forwarding
Microsoft Outlook and Google Workspace integrations
Standard Plan 
At $29 monthly, the Standard plan supports teams of all sizes, with uncapped feature use, unlimited users, and a massive unlimited calling area. A scalable option, the Standard plan supports video meetings with up to 150 participants and no time limit.
The Standard plan supports as many auto attendants, call queues, and ring groups as you want–plus other phone-system features like call recording, real-time analytics, and voicemail-to-email.
Perhaps most notably, it offers a 50-country unlimited calling area.
The Standard plan makes the best fit for teams of any size that want a UCaaS platform with unlimited global calling, routing, and queueing–but not contact center features.
Key Additions:
50-country unlimited calling area
150 participants in video meetings, with no time limit
Unlimited auto attendants, call queues, ring groups
Call recording
Real-time analytics
Popular integrations like Salesforce and Zoho
1000 shared toll-free minutes
GoTo Connect Add-Ons
In addition to the two UCaaS plans, GoTo Connect offers several add-ons, with unique capabilities for an additional cost.
Contact Center
The contact center add-on turns your UCaaS application into a contact center with the following added features:
Contact center analytics dashboards: Agent-specific and queue-specific dashboards with new stats like live talk time, wait time, and the percentage outcomes of each call. These dashboards help supervisors identify performance trends and boost center performance.
Sales and support features: Intelligent routing tools like skills-based routing, real-time agent feedback, and an outbound dialer for automated sales sequences
GoTo Connect integration: The contact center seamlessly and quickly integrates with GoTo COnnect to transform your UCaaS system into a CCaaS system
Customer Engagement
The customer engagement add-on includes a variety of capabilities for you to create and schedule multichannel campaigns for customer service and sales use cases.
Engage customers with the following features:
Shared contacts: The whole team can share any contacts and notes, for increased communication and context
Customer history: When any user takes over a customer conversation on any channel, they can see the customer's communication history
Campaign scheduling: Create and schedule SMS campaigns, using automated templates, calendars, and built-in customer opt-out
Multichannel inbox: All of a customer's digital communications–SMS, social media, surveys, and web chat–compile in one inbox, making it much easier for agents to gain a context of the conversation history
Surveys: Create customize SMS and web-based surveys, with custom questions and response styles to gather customer input at critical points–like after interactions or appointments. Track survey responses in your analytics tab.
GoTo Connect Features
Here are the key features that increase from GoTo Connect's Basic to Standard pricing tier:
Phone system
Team Messaging and SMS Texting
Video Conferencing
Reporting and Analytics
Integrations
Phone System
GoTo Connect's business phone system includes routing features, call queuing, and analytics. Make calls via softphone or desk phone from the GoTo Connect app–on desktop, browser, or iOS and Android mobile devices. Flip between devices while live on call.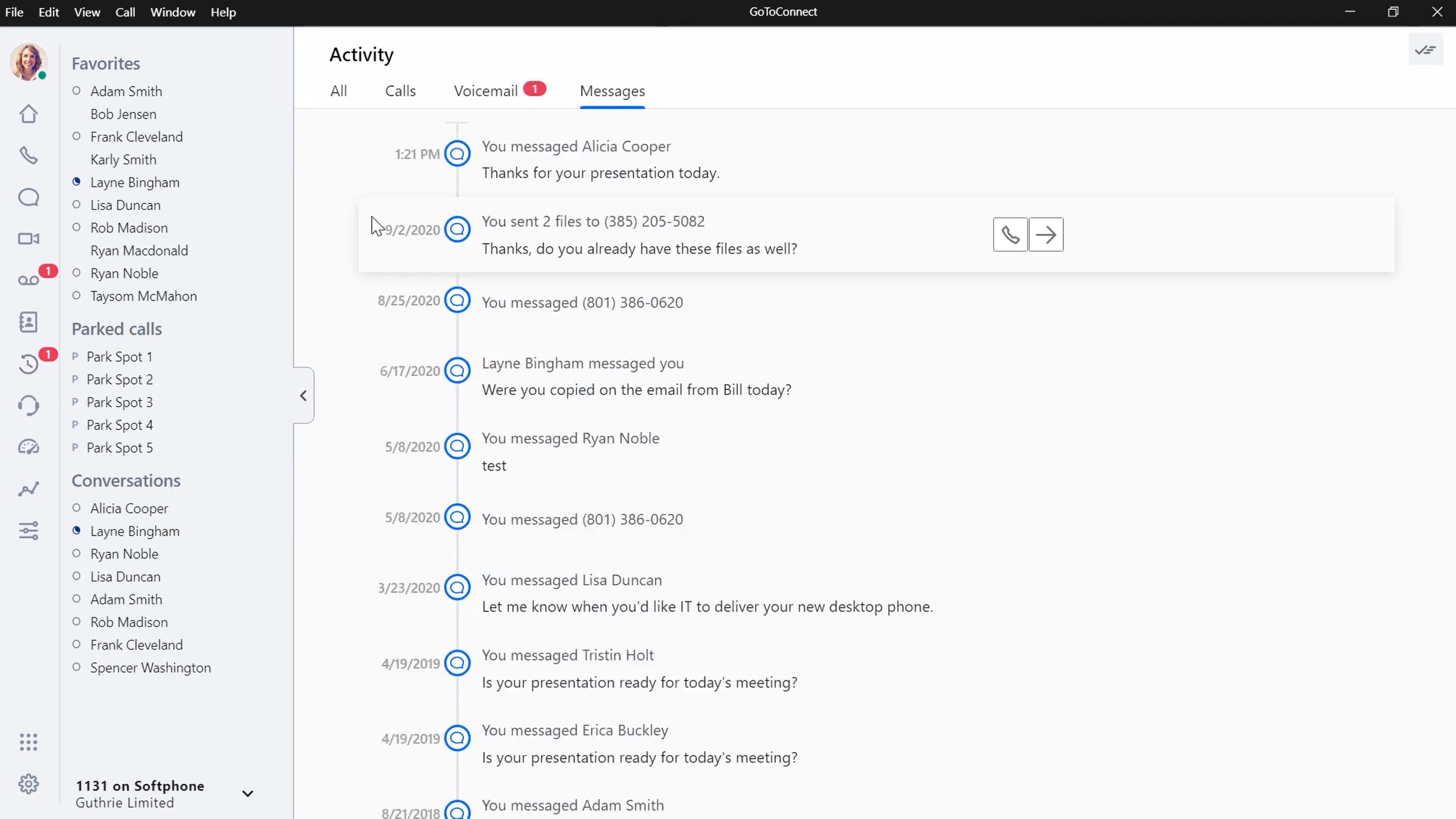 Purchase local, vanity, and toll-free numbers throughout the United States, or use number porting for those you already have. Each number includes unlimited extensions.
GoTo offers unlimited calling within the US and Canada on the Basic Plan, with per-minute rates for international calling. Alternatively, the Standard plan offers unlimited phone service within a 50-country area.
Popular Destinations in the Unlimited Calling Area:
China
France
Spain
Australia
UK
Italy
GoTo's Basic and Standard plans include routing and queuing features, while the Premium plan adds contact center features: call center monitoring, supervision, and analytics tools.
GoTo Connect Phone System Features on the Basic Plan:
Smart call routing: A drag-and-drop call-flow and dial-plan editor that links together many phone system features and functions–voicemail, dialing, user groups, set language, request password, modify caller ID, business hours, and more
Auto attendant: Create self-service IVR routing menus that navigate inbound callers to the appropriate agent, user, or voicemail
Ring groups: Group agents to receive calls simultaneously, with a custom ring order
Call queues: Create call-holding queues, for particular departments, ring groups, or users. Agents can view queued calls and choose which to answer.
Custom ring order: Choose how agents receive calls within a queue or ring group–simultaneous ring or custom order
Call parking: Any agent can park a call in the communal parking lot, where other agents can view and retrieve it
Features on the Standard Plan:
Unlimited auto attendants, ring groups, call queues, and dial plans
Real-time analytics: A visual overview of live queue metrics–the number of available agents, active and waiting calls, average and longest queue time, average speed of answer, and more
Voicemail to email: Read voicemails and their transcriptions in the app's virtual voicemail box, and forward the voicemail audio and transcription to email
Call recording: Record calls automatically, on demand, or for particular numbers and users
Team Messaging and SMS Texting
GoTo Connect users can send SMS text messages to any phone number, or send internal chats to team members.
The app's Messages tab organizes all of a user's internal and customer-facing conversations in the left-hand menu for easy access–with a dial pad, search bar, and text box. Internal team chat and SMS support emojis and file sharing.
Internal Team Chat
Send chat messages to any internal contact. Clicking a contact's name from the left-hand menu opens up the conversation history, alongside contact details and one-click buttons to jump into a phone call or video meeting. Even group chats can jump into a conference call or video conference.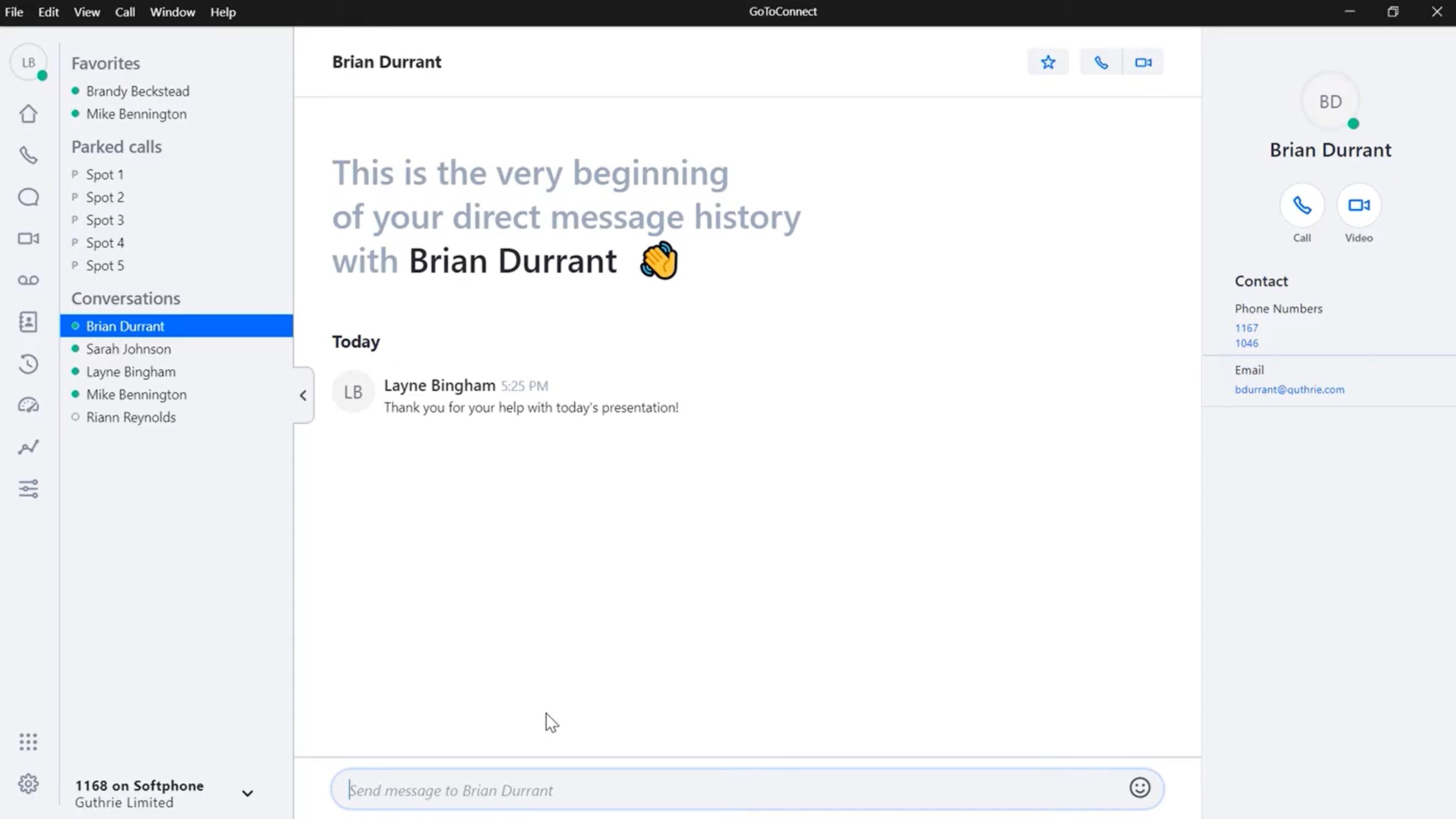 SMS Texting
Send SMS text messages to any US or Canada phone number. Dialing or clicking a contact's name displays the multichannel contact history–including all calls and messages sent–alongside contact details and a one-click button to initiate a call. Enter multiple numbers or contacts to create a group chat.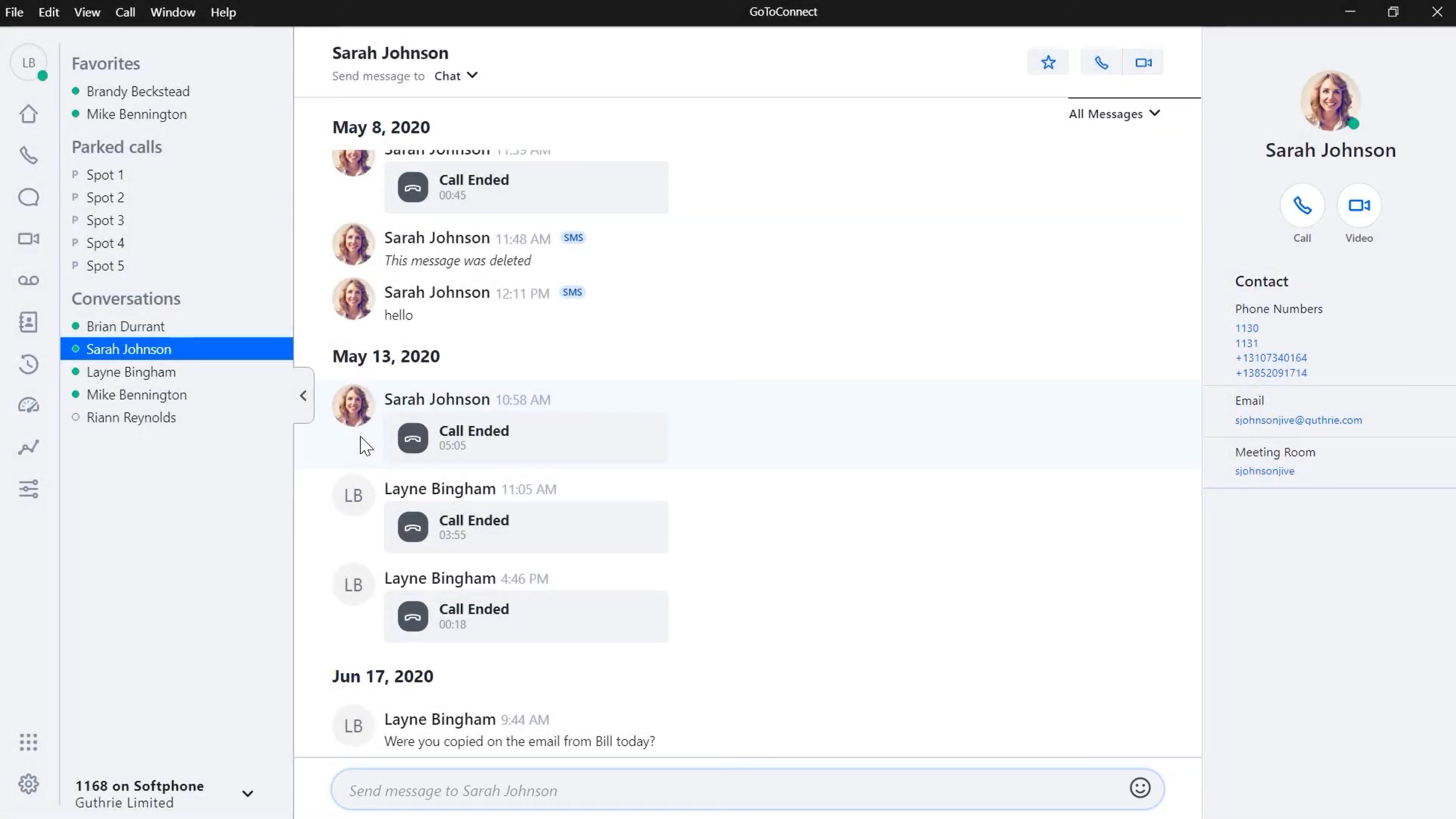 Video Conferencing
Create, schedule, and join video meetings on any device, with up to 250 participants and unlimited time duration.
Join HD-video meetings from the Video tab, or jump into meetings directly from chat conversations. Schedule meetings via integrated calendar apps like Google Calendar and Microsoft Outlook, and invite participants directly within the GoTo Connect app. Each GoTo meeting generates a unique invite code, and participants can join meetings via any web browser, with no download required.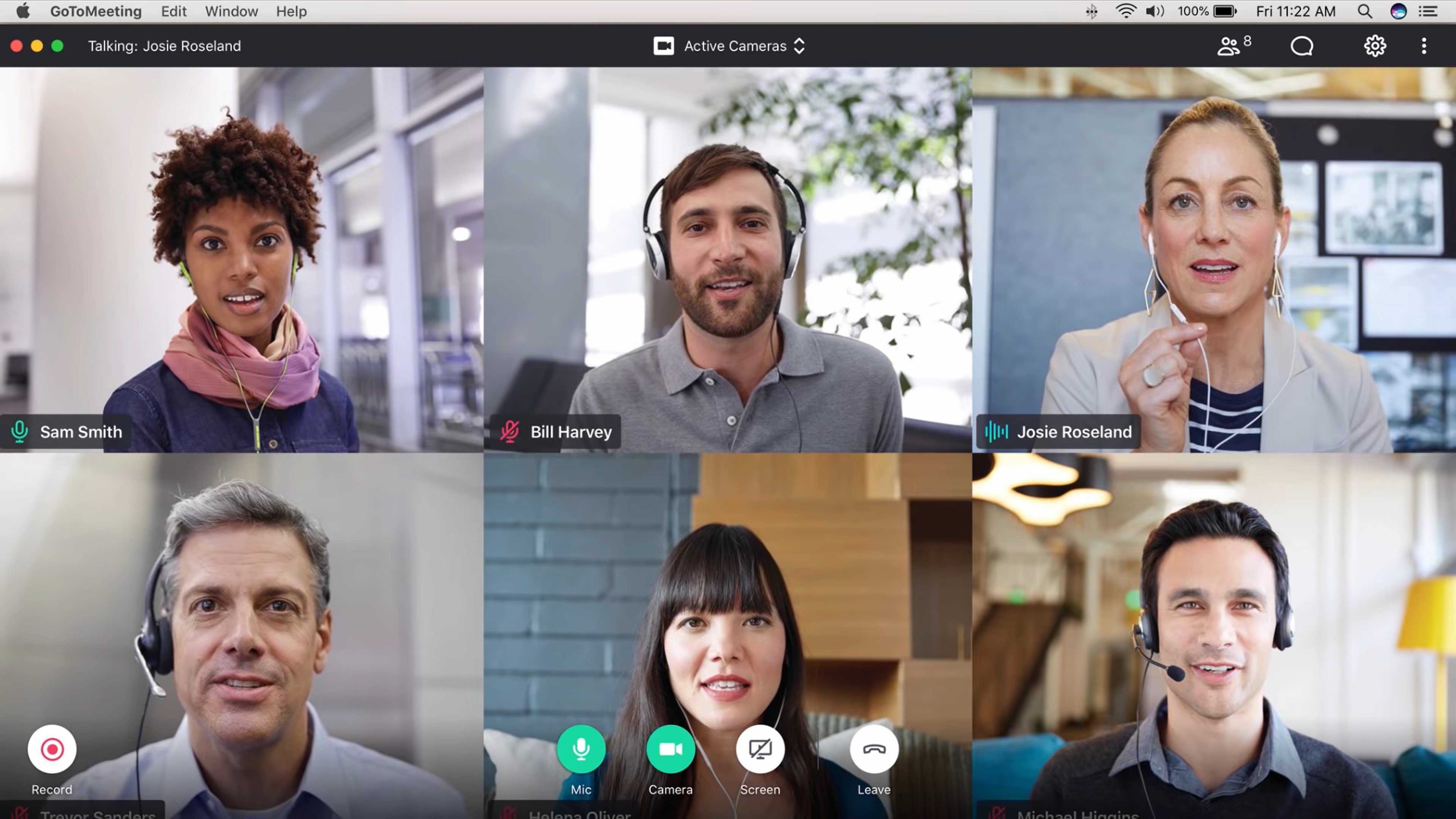 GoTo Connect Video Collaboration Tools:
Screen sharing: Any user can share their screen, a particular window, or an application–even on the mobile app
Drawing: Annotation tools for meeting participants to draw or mark up the screen, including shared screens and presentations. Tools include a pointer, pen, highlighter, spotlight, text, shapes, and a variety of colors.
Breakout rooms: Split the meeting's participants into smaller rooms, with custom or randomized grouping
Meeting transcription: Transcribe all meetings live, and access the transcriptions afterward to review and share. Transcriptions can be searched by keyword.
Reporting and Analytics
Supervisors and administrators have access to wallboards and dashboards displaying activity, queue, and usage metrics. Reports, statistics, and visuals show KPIs across channels and agents, viewable in real-time or over custom historical timeframes.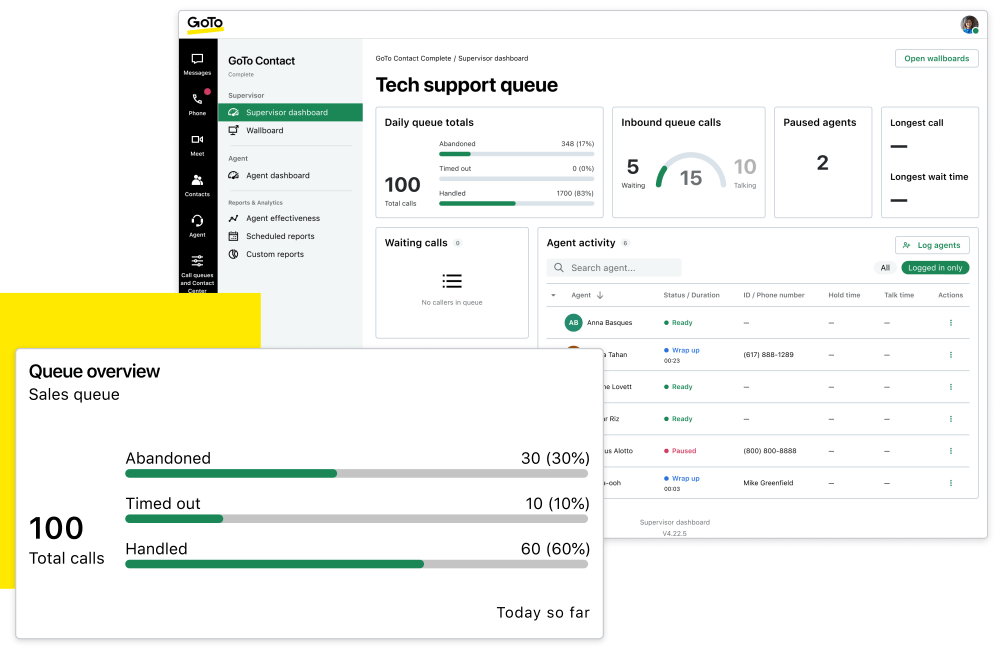 The Basic and Standard plans include real-time analytics and hold time reports, while the Premium plan includes the Supervisor Dashboard and live queue reports.
GoTo Connect Reports and Analytics:
Queue Caller board: Visualizes call traffic and busy times by date, day of the month, and weekday. KPIs include average time in queue, total number of calls per day and hour, average call duration, caller summary and details, and more.
Resolved Conversations board: Displays which channels–SMS, web chat, or social media–bring in the most customer conversations. Sort by agent and chat type.
Agent Performance dashboard: Shows key statistics for each agent, including total calls answered, calls resolved, calls transferred, pause time, total talk time, average call duration, percentage of calls answered, and more
Supervisor dashboard: Live queue-performance monitoring for any agent, department or queue. Get a real-time overview of active calls, calls in queue, agent activity, statistics like average handle time and answer time, and more.
Integrations
GoTo Connect offers over 60 integrations with popular apps, for use cases including collaboration, customer support, events, sales, scheduling, and more. The Basic plan only includes integrations with Outlook and Google Workspace, the Standard plan adds popular integrations like Salesforce and Zoho, and the Premium plan supports premium integrations like Microsoft Teams and InformaCast.
Popular GoTo Connect Integrations:
Salesforce: Use GoTo Connect click-to-call directly from Salesforce
Zendesk: Utilize GoTo Connect features within Zendesk, including incoming call notifications, caller record auto-population, automatic ticket creation, and more
Slack: Receive and listen to voicemail notifications in Slack with callback options, receive SMS in Slack, and log in and out of call queues with Slack
Google: Click to call and inbound screen-pop notifications in Google Chrome
GoTo Connect Pros and Cons
While GoTo Connect outmatches all competitors with its wide unlimited calling area, its team chat lacks some useful collaboration features such as calendaring, live document co-authoring, and task management.
| | |
| --- | --- |
| GoTo Connect Pros | GoTo Connect Cons |
| 50-country unlimited calling area | Team chat lacks some collaboration features–task assignment, calendar sharing, etc. |
| Includes all core channels | Basic plan only allows 4 video-meeting participants |
| Drawing tools in video meetings | No domestic-only unlimited calling plans |
GoTo Connect Alternatives to Consider
Here are some of the top GoTo Connect alternatives.
Nextiva
Nextiva is a business communications platform with VoIP service, team chat, SMS, and video conferencing with up to 250 participants. The NextivaONE app includes chat collaboration features like task assignment and document sharing. Nextiva plans include unlimited calling across the US and Canada.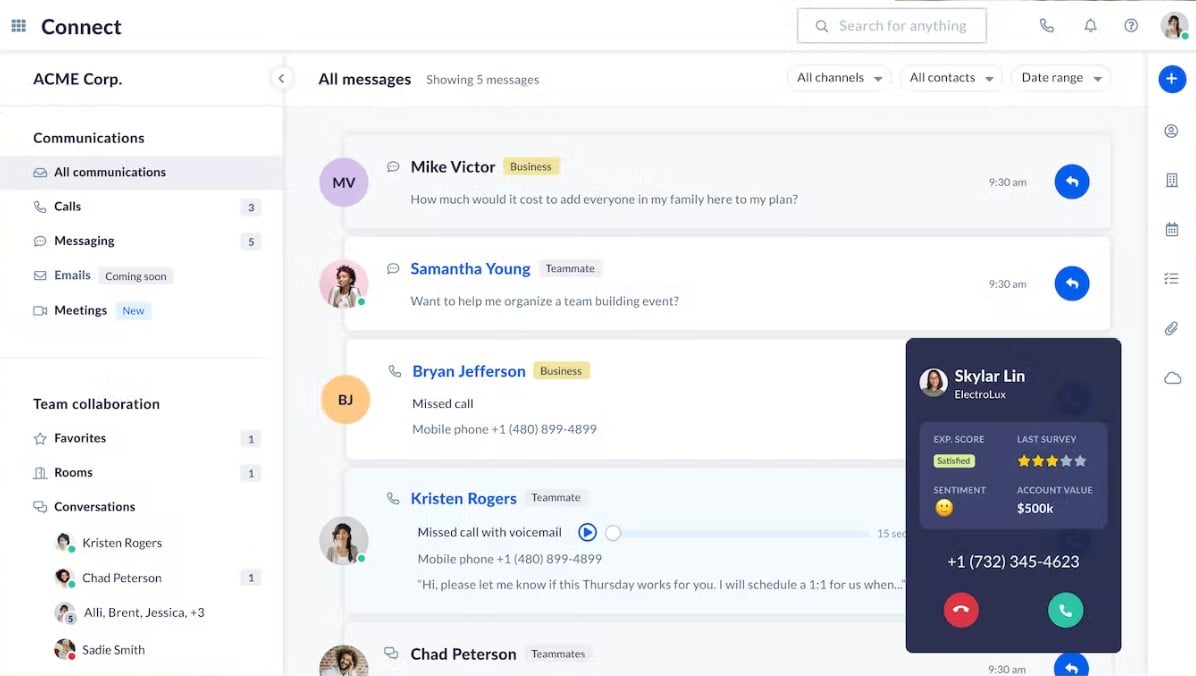 Dialpad
Dialpad is a small-team-focused UCaaS platform with VoIP, SMS, team chat, and video conferencing with up to 10 participants. The Dialpad app boasts AI support, including live video transcription, speech coaching, and auto-generated video meeting summaries. Dialpad plans support unlimited calling in the US and Canada.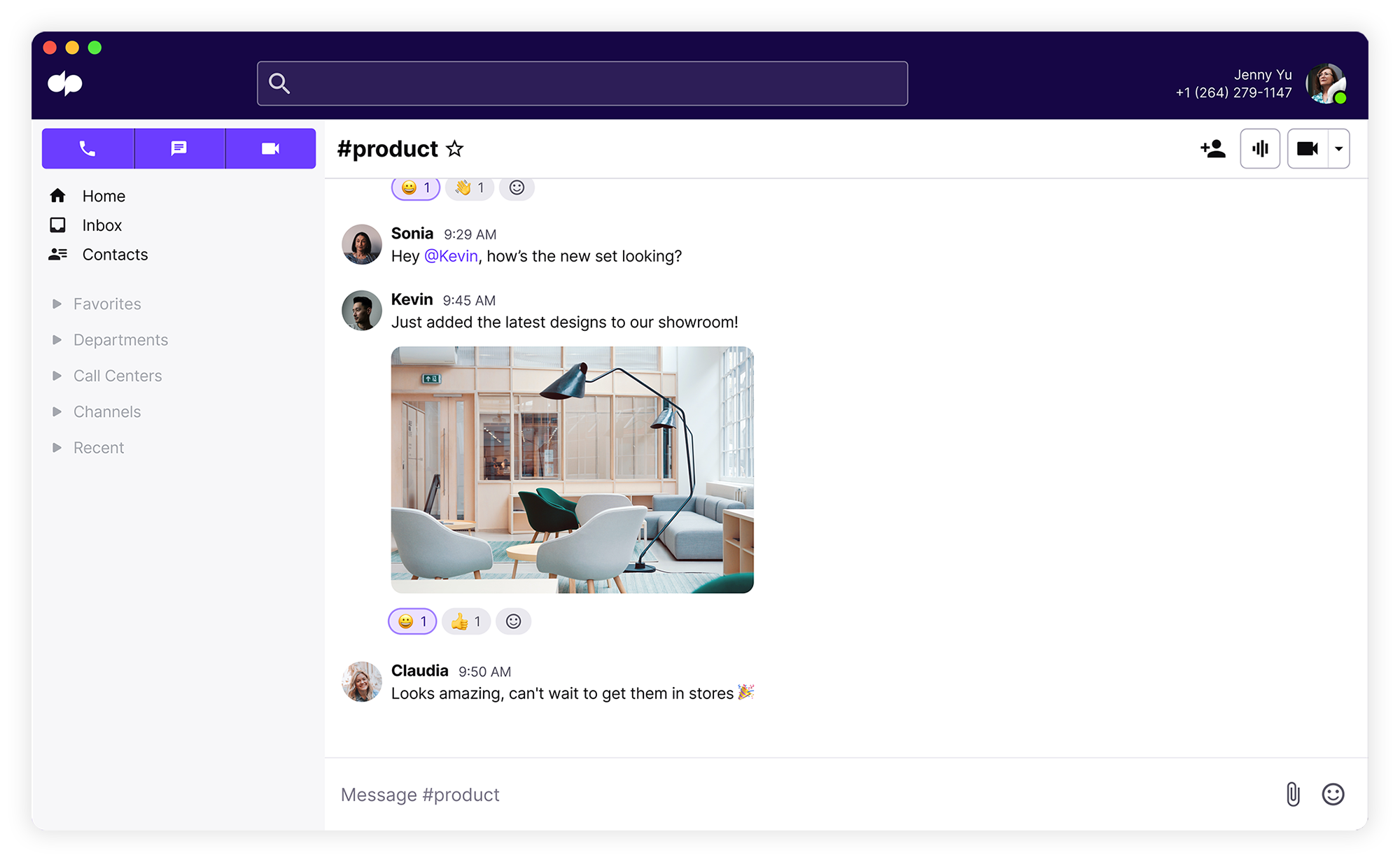 RingCentral
RingCentral offers an all-in-one UCaaS platform including VoIP, SMS, team chat, and video conferencing with up to 200 participants. Plans include a team collaboration interface rich with features like custom message formatting, file sharing, and task assignment. RingCentral offers DID numbers in up to 100 countries, with unlimited calling inside the US and Canada.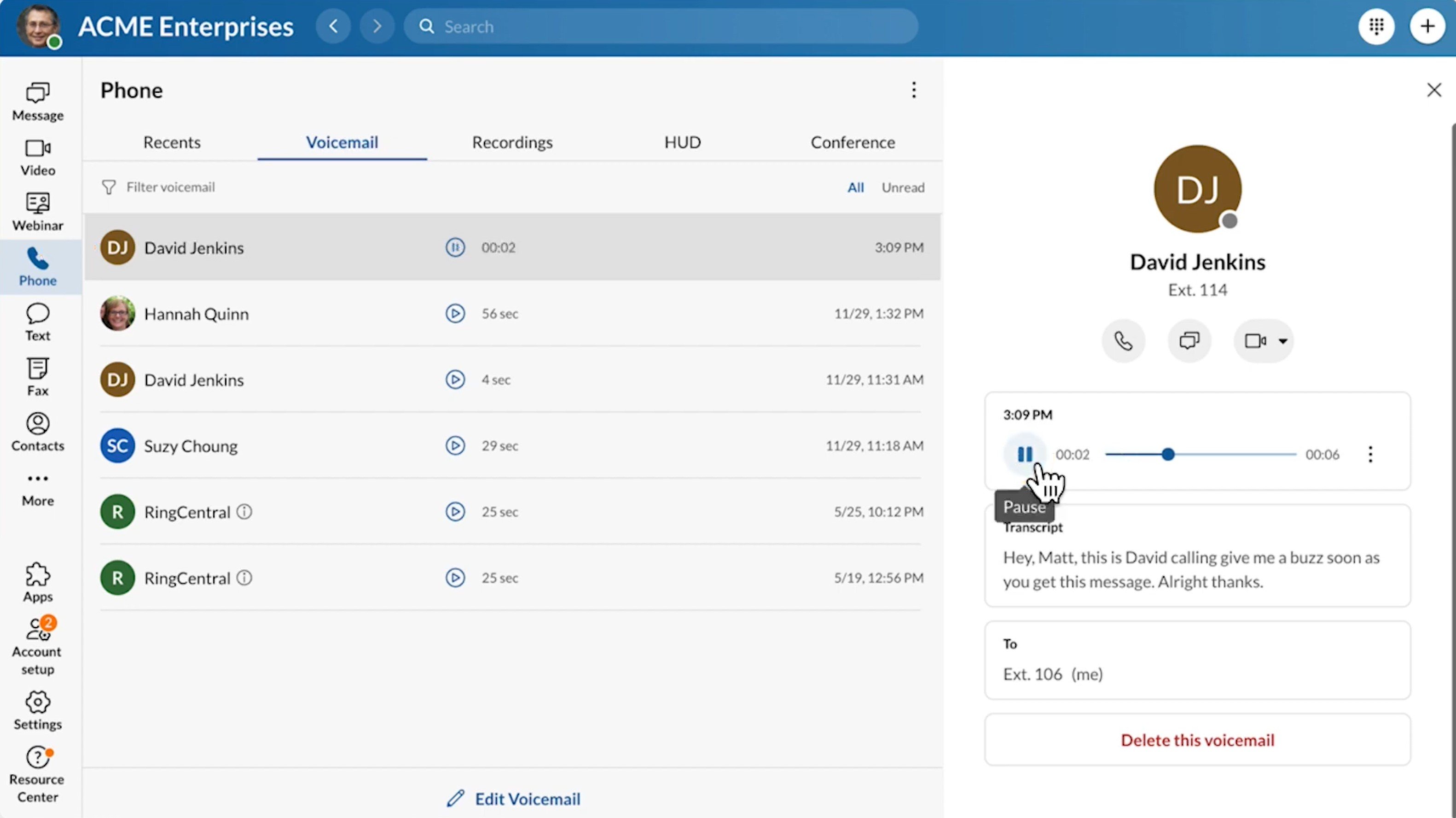 Vonage
Vonage's unified communications platform includes VoIP, SMS, team chat, and video meetings with up to 100 participants. Vonage plans include routing features like call groups and auto attendants, but basic team chat and video collaboration options. Vonage's unlimited calling area includes the USA and Canada, and Mexico.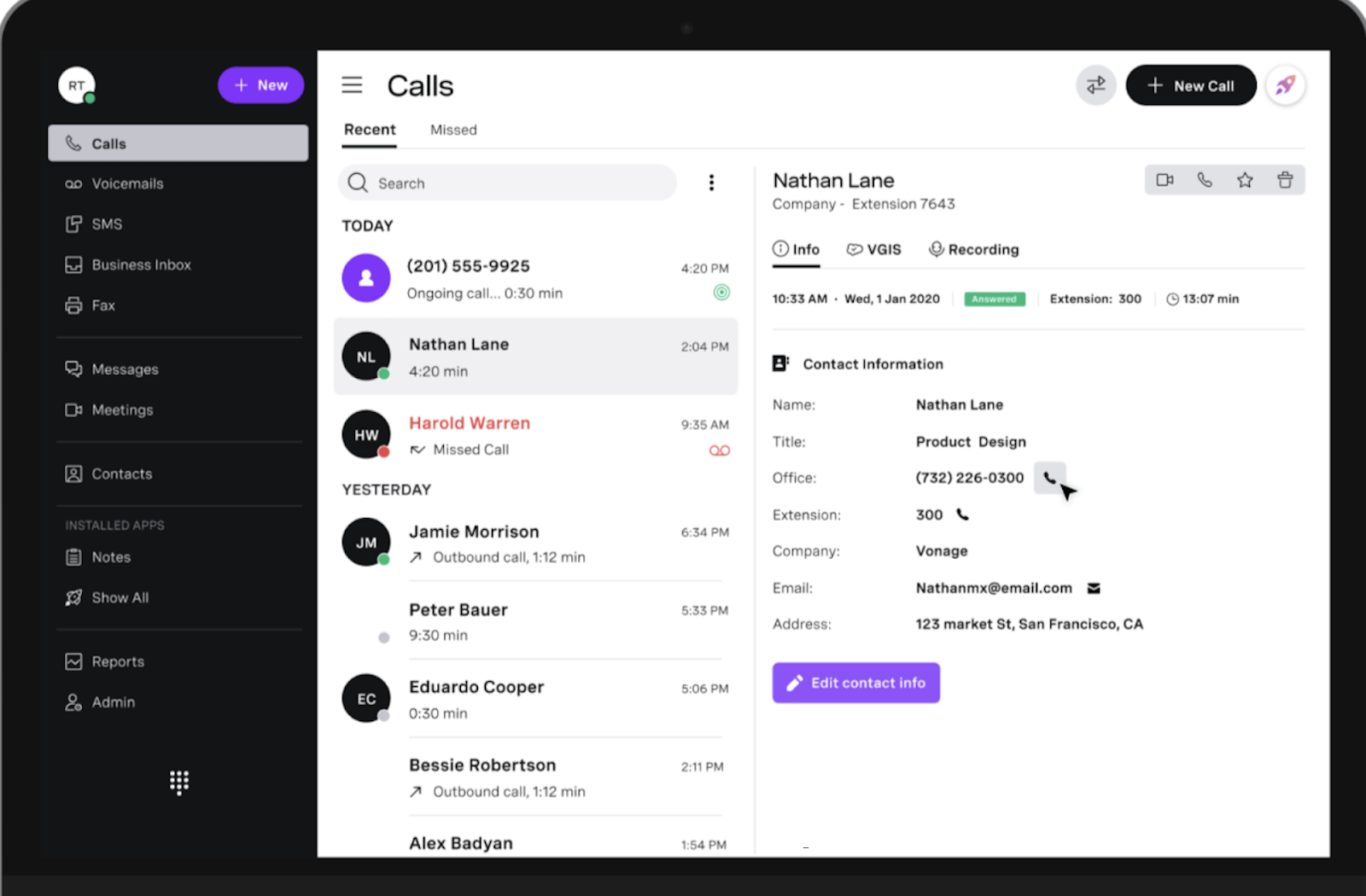 OpenPhone
OpenPhone is a cloud phone system and collaboration platform with VoIP calling, SMS, and team chat. Plans include flexible number assignment, allowing multiple team members to easily share and jump between phone numbers–even simultaneously making calls and sending messages from the same number. The unlimited calling area includes the US and Canada.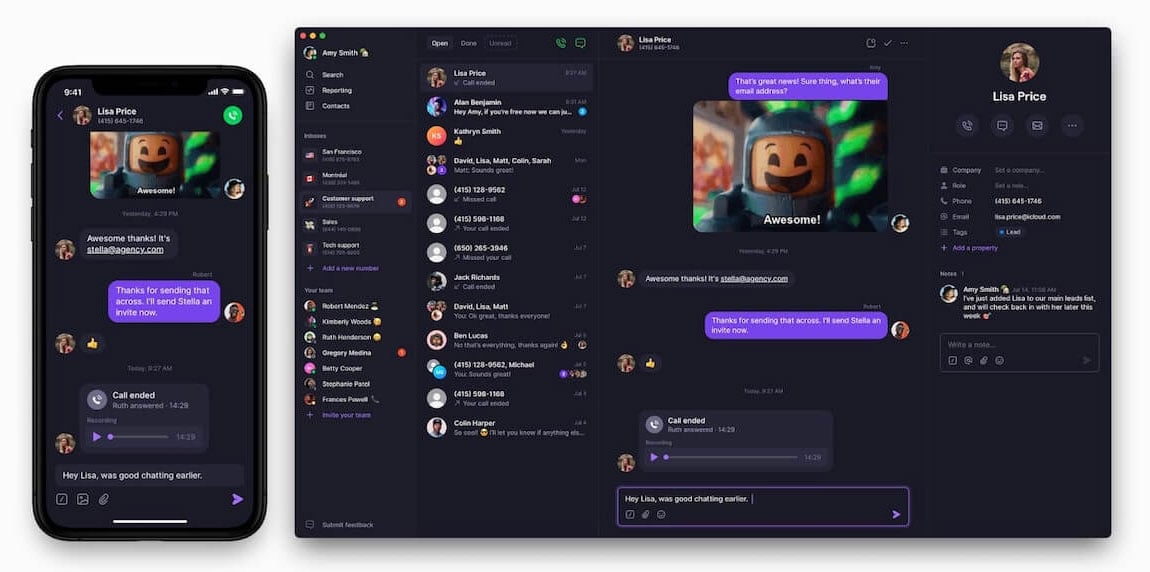 Ooma Office
Ooma Office is a virtual PBX phone system with VoIP, SMS texting, and video conferencing. Ooma's plans include routing features like auto attendants and ring groups, call queues, and call analytics. The provider's unlimited calling area covers the US, Canada, and Mexico.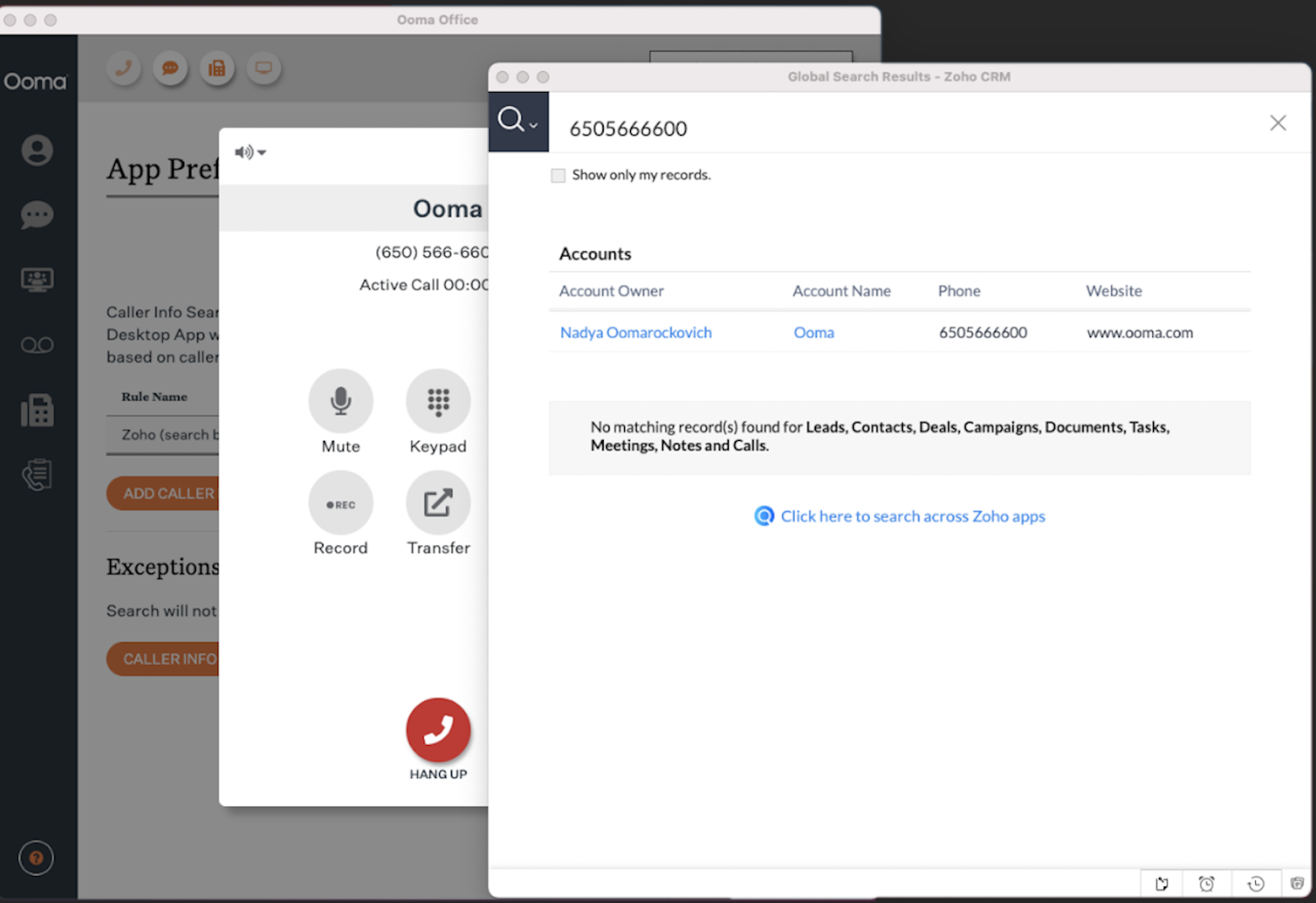 Who is GoTo Connect Best For?
GoTo Connect is best for US-based companies with high international call volumes. While the phone system does not outmatch competitors in team-chat collaboration features, GoTo strongly outperforms competitors with its 50-country international calling area.
Further, GoTo Connect's phone system offers options for teams of all sizes. Medium-sized teams might prefer the standard plan with queueing and routing features, while large or spread-out teams may prefer the Premium plan that adds call center monitoring tools.