Though Zoom is best known for its video conferencing platform, Zoom Meetings, it has continually expanded to offer additional software solutions that meet the remote workforce's increasing demands since the pandemic.
Zoom now offers Unified Communications (UCaaS), advanced team collaboration tools, a VoIP phone system, virtual events, and hybrid office environments.
Each product has flexible tiers and pricing plans–including free versions–that allow for a variety of use cases across large and small teams.
This article outlines Zoom pricing, plans, and features of each product: Zoom One, Phone, Events, Webinars, Rooms, and Contact Center.
Jump to ↓
Zoom One
Zoom One, Zoom's multichannel unified communications product, streamlines Zoom Phone, Zoom Chat, Zoom Meetings, and business SMS messaging into one communications solution.
The pricing of Zoom One starts at $14.99 per user per month. The lower-tier plans offer video and chat only, while the higher-tier plans add SMS, voice, and expanded features.
Basic
Pro
Business
Monthly cost (per user)
Free
$14.99
$19.99
Key features
-Unlimited 40-minute meetings

-3 Whiteboards

-Automated captions

-Breakout rooms

-Unlimited time for video meetings

-Polls, recording, and streaming in video

-Unlimited whiteboards

-Admin portal

-Video recording transcripts

Channels
-Video, 100 attendees

-Chat

-Video, 100 attendees

-Chat

-Video, 300 attendees

-Chat

Technical support
Help center
Ticket and live chat
Ticket, live chat, and phone
Zoom One Basic
Zoom One Basic is Zoom's free collaboration software with video conferencing and team chat, full of participant-engagement features within an easy-to-use interface.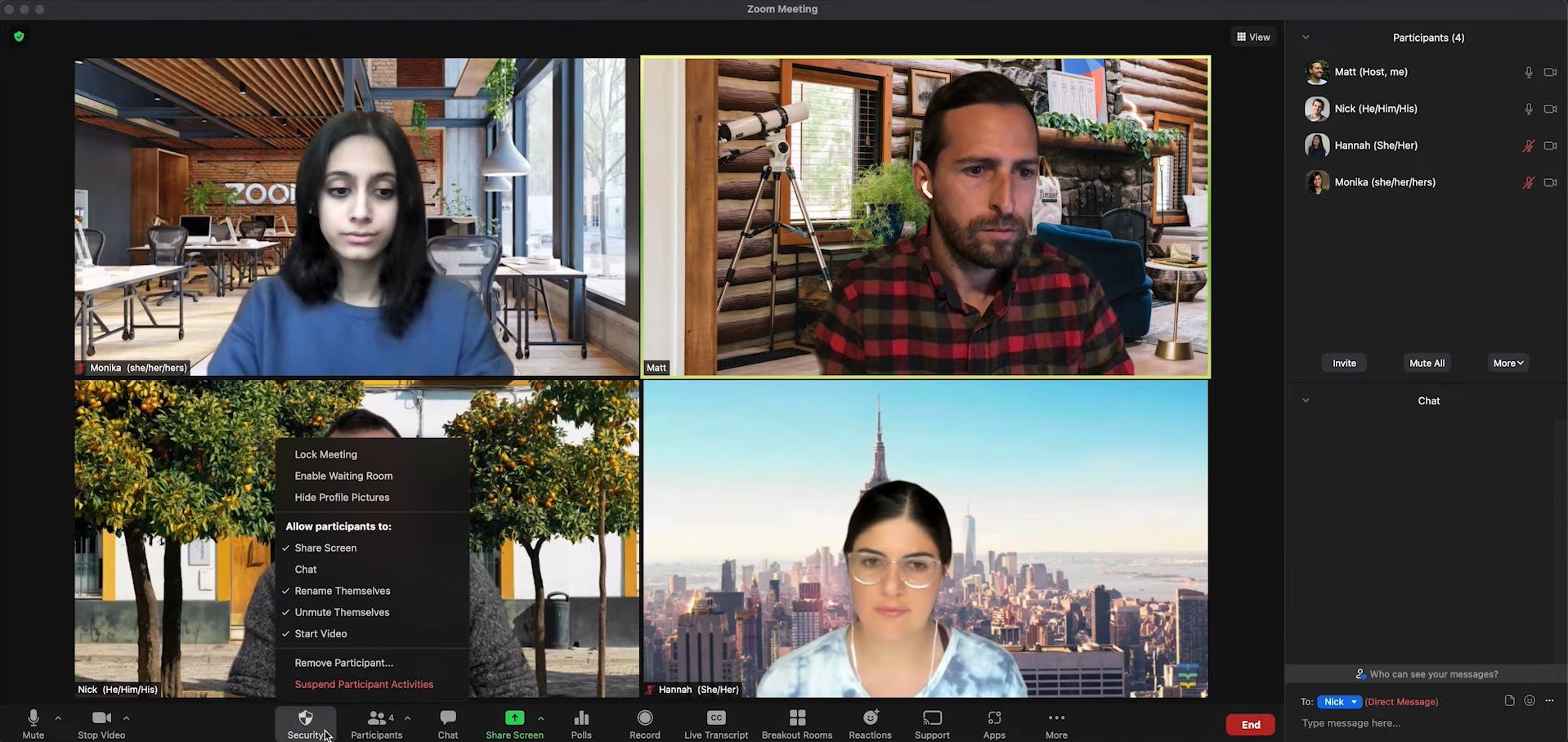 It supports up to 100 participants in video meetings but limits meetings to 40 minutes. While multiple basic users can share an account and license, licensing multiple employees under one company account requires switching to a higher tier.
For a free plan, the Basic tier includes a surprisingly robust set of video features to encourage in-meeting collaboration and real-time communication on desktop and iOS or Android mobile devices.
In a Zoom Meeting, hosts and participants can access the following controls:
Meeting information: The top-left corner icon provides information about the meeting room's title, Meeting ID, host, passcode, and invite link
Mute/join audio: Mute/unmute microphone, test audio, and select meeting audio source
Start/stop video: Turn video camera on/off, select camera, add Zoom background images/filters
Security (host only): Meeting lock/unlock, enable meeting waiting room, hide/display participant photos and video streams, add/remove participants, and control participant activities
View participants: See meeting participant names, the total number of attendees, which users have a microphone or camera on/off
Video collaboration features in Zoom's Basic plan:
Chat: Type a message to all participants, create smaller channels, or use one-on-one private messaging. Send files, images, lines of code, emojis, and GIFs
Screen sharing: In-meeting simultaneous screen sharing
Responses and hand-raising: Emoji reactions and virtual hand raising
Breakout rooms: Split larger meetings into up to 50 randomized or pre-assigned breakout rooms to promote small-group collaboration
Virtual background: Substitute an image, blurred background, or slide deck as a user background
Waiting room: Before meetings, participants remain in a virtual waiting room until the host admits them
Filters: Add colors, stickers, and mask-like filters to video streams
Spotlight: Spotlight up to 9 users to pin their videos to the main screen for the meeting duration, no matter who is talking
Whiteboard: Zoom Whiteboard, included in all Zoom One plans, is a collaborative canvas where participants can simultaneously draw, annotate, and ideate with multicolor pens, images, shapes, sticky notes, and comments.  Editable boards are saved in the Zoom cloud and can be shared during and outside of meetings. The Basic and Pro plans include 3 whiteboards, while the Business plan and up support unlimited whiteboards.
Storage: Though there's no cloud storage on the Basic plan, users can locally record videos and save their mp4 files on their device
Zoom One Pro
Like Zoom Basic, Zoom Pro supports only video, chat, and whiteboards. However, Zoom Pro expands the meeting time limit to 30 hours, supports up to 9 licenses within your company account, and offers 5 GB of cloud storage, compared to no cloud storage in the Basic plan.
While the Pro plan maintains the same 100-participant limit as Basic, Pro offers a handful of meeting features that expand administrative and developer capabilities and increase meeting attendee engagement:
Meeting Co-hosts
Meeting hosts can assign unlimited co-hosts to manage participants, virtual backgrounds, slide presentations, breakout rooms, polls, and in-meeting chat to free up the main host.
Polling
Polls allow you to create and pose up to 50 questions to participants during a meeting or webinar, providing information and feedback, and keeping teams engaged. Structure questions as multiple choice, matching, agree/disagree, rank order, short answer, or long answer.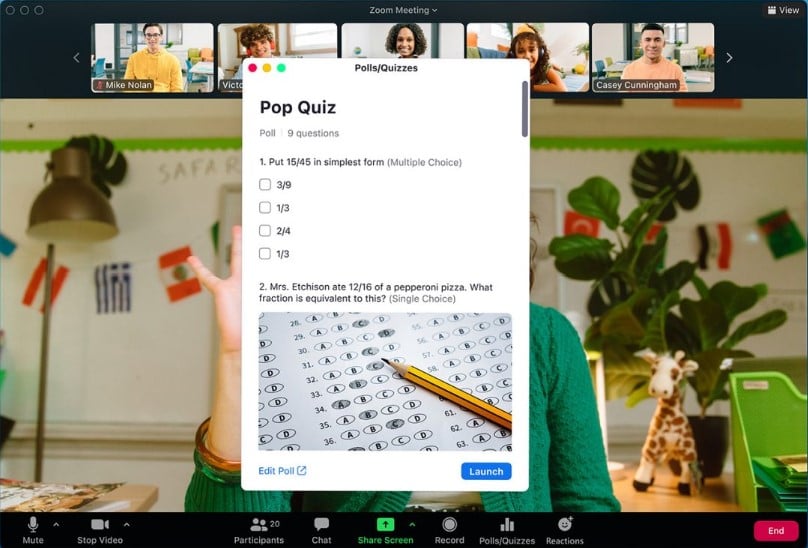 Create polls in the Settings page and set poll anonymity.
After a meeting or webinar, poll responses are logged in reports for administrators to view.
REST APIs
Zoom REST APIs are pieces of code that allow users and developers to access Zoom information and actions within external apps.
The information contained in your Zoom account, such as meeting and user details, and webinar reports, can be useful for other purposes within your company's app, like adding to a database or CRM system.
By scripting Zoom's APIs into your company's apps, you can:
Access Zoom user details
Access dashboard data
Perform Zoom platform actions like creating a new user or deleting cloud recordings
Streaming
Live stream meetings and webinars to URLs on Youtube, Facebook, Twitter, Twitch, or third-party streaming services.
Reporting
Access reports and information about meeting usage, including: 
Number of weekly/monthly/etc. meetings
Meeting dates and times
Meeting participant names
Number of meeting participants
Meeting durations
Zoom One Business
Like the two lower tiers, Zoom One Business offers video, chat, and whiteboards–no phone or SMS.
However, Zoom One Business, which provides between 10 and 99 licenses, expands meetings to support 300 participants and offers unlimited concurrent whiteboards.
The added admin portal provides one interface for an administrator to manage all facets of the contact center: billing, user management, accessibility, and usage insights.
Managed email domains make it easy to batch-add users by company or domain through automated emails prompting Zoom account creation.
Zoom One Business also adds useful video tools:
Recording transcripts: Searchable, shareable meeting recording transcriptions and audio files, recording editing, and recording highlights
Branding: Add your company branding and logo to the meeting login page, meeting background, scheduling emails, and create a custom meeting URL.
Language interpretations: Designate an in-meeting interpreter with an interpreter audio channel, so participants can choose their preferred channel and overlay multiple languages at different volumes
Zoom One Business Plus
Zoom One Business Plus combines phone, chat, video, SMS, desktop and mobile apps, plus call routing and administrative features–making it a comprehensive omnichannel collaboration platform and business phone system. It also doubles cloud storage up to 10 GB and supports between 10-99 company licenses.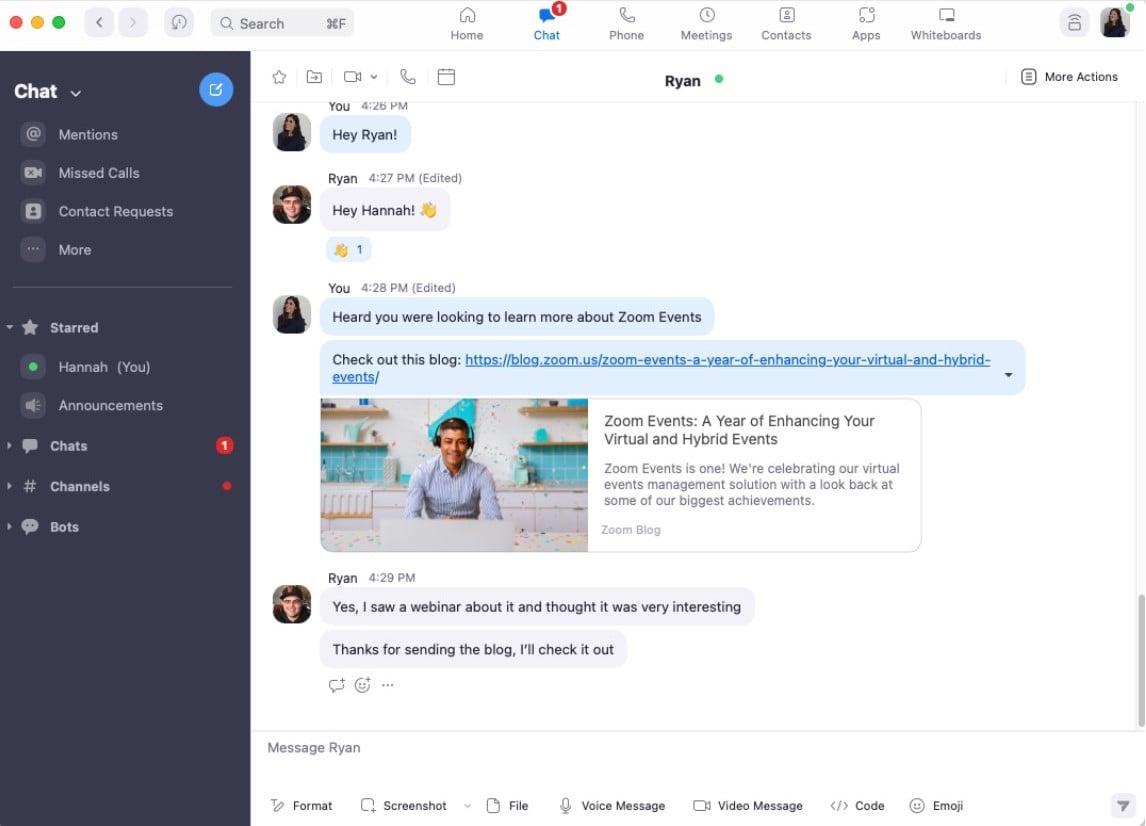 Purchase local and toll-free international numbers or port pre-existing numbers.
Zoom offers unlimited HD voice internal calling and your choice between unlimited or metered outbound calling. Enable and access line extensions, a dial-by-name directory, a voicemail system, an emergency response center within your company, and shared lines among agents.
The Zoom native mobile and desktop apps provide a central hub for agents and administrators to access all communication, scheduling, and analytics information across channels.
Desktop and mobile users can make calls from the dial pad and access all in-call functions like block, record, 3-way calling, one-click video, call transfer, and call hold. Access contact information, call history, and shareable voicemail transcriptions. Create chat groups, communicate via SMS, and schedule video conferencing.
Phone features in Zoom One Business Plus
Voicemail transcriptions: All inbound voicemails are logged, transcribed, shareable, and searchable by keyword
Unlimited IVR or auto attendants: Create drag-and-drop self-service voice menus that navigate inbound calls throughout your phone system. Auto attendants provide instant customer support, authenticate users, collect and update contact information, and manage call routing.
ACD groups: Set up automatic call distribution groups that route inbound calls by agent skill, location, business hours, relationship, and more
Call Barge/Monitor/Whisper/Takeover: Supervisors and administrators can listen in on any call center conversation and can privately "whisper" real-time agent guidance or feedback. If needed, the supervisor can join or take over the call.
3-way ad hoc conference calls: Easily dial and add a third party to an audio conference call
Call recording: Automatic and on-demand call recording, transcription, storage, downloading, and sharing
Call device handoff: Agents can instantly "flip" calls between desktop and mobile without hanging up
Holiday and business hours routing: Set custom routing options and voicemail messages for after-hour or holiday inbound calls
Chat: One-on-one or group chats, in-chat whiteboarding, link sharing, emoji reactions, chat via third-party messaging apps like Slack
Real-Time Reporting and Dashboards
Business Plus includes live meeting reporting and quality dashboards, showing current meetings, webinars, and attendee devices, names, and locations.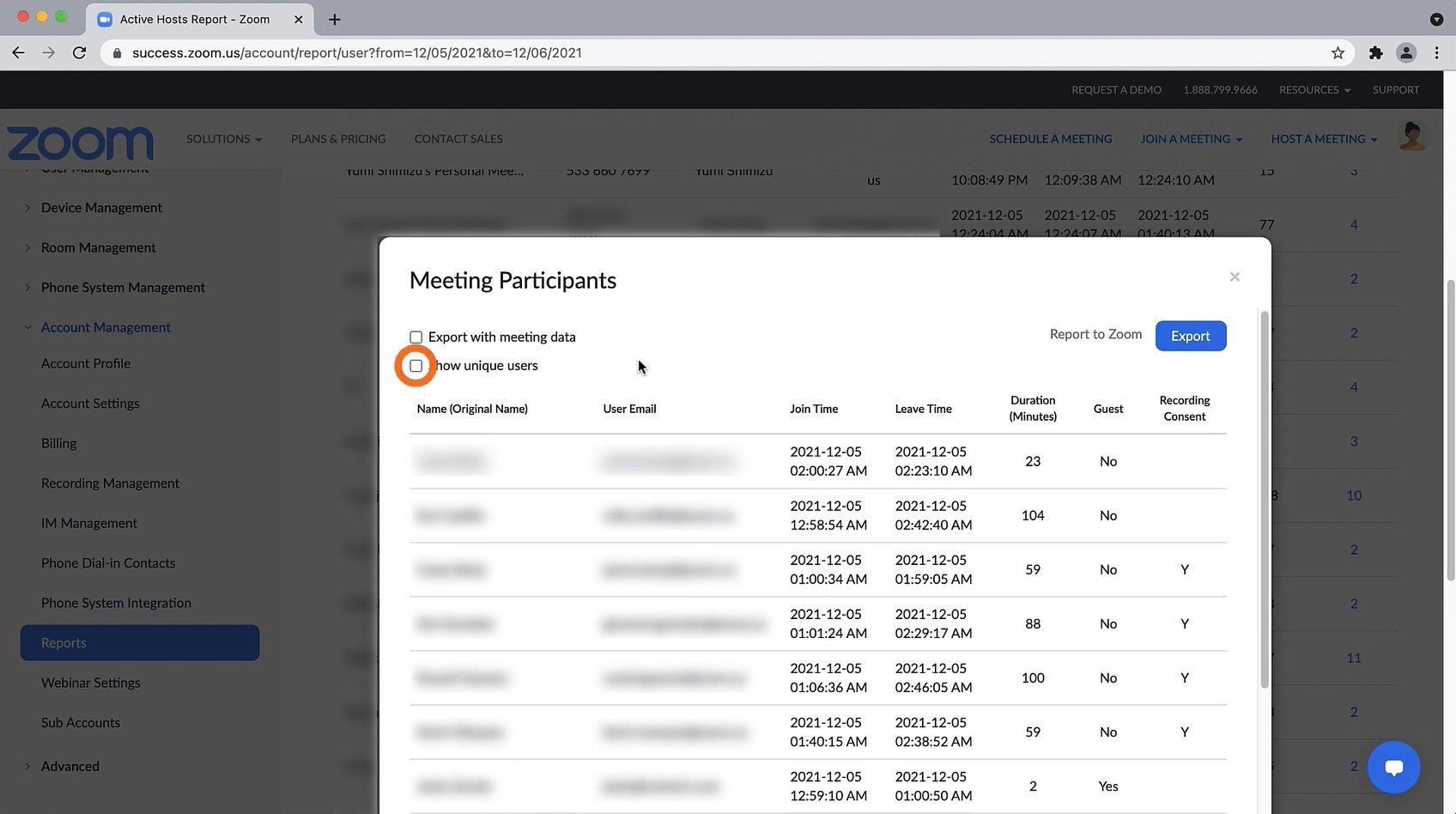 Activity analytics: Ranks users by minutes spent in meetings and shows the most popular user locations and devices. Admin can see current hosts, join active Zoom meetings, and view features and products in use
Meeting reporting: Historical meeting data and users over set time frames, including usage reports, participants, meeting minutes/user, inactive users, and more
In-meeting reports: Real-time in-meeting connection quality and performance monitoring, CPU usage, audio and video quality, and screen sharing speed.
Zoom One Enterprise
Offering over 250 user licenses, Zoom One Enterprise combines Zoom Meetings, chat, Zoom Phone, SMS, Zoom Webinars with up to 1000 attendees, and Zoom Rooms for hybrid workforces.
Enterprise video meetings support up to 500 active participants, and Zoom webinars host up to 1000 attendees.
A webinar host typically prepares a presentation beforehand, alongside attendee interaction tools like meeting registration, polls, webinar branding, and Q&As. Webinars include live streaming, CRM integration, audience emoji reactions, and their own dashboard with engagement and ROI reporting.
Zoom Rooms, also included in the Enterprise plan, syncs in-office hardware and Zoom technology to create frictionless, highly collaborative, hybrid employee workspaces.
Features included in Zoom Rooms, part of the Enterprise plan
Workspace reservation: Enables your team to reserve workspaces–desks, devices, or rooms-and lets admin track usage
Scheduling display: A tablet or device outside conference rooms that shows the number of people in the room, if there's a current meeting, upcoming meetings, and available time slots
Smart gallery: Provides up to three unique video streams within a single camera for close-ups, analyzes multiple streams to select optimal view and angle to show participant
Kiosk mode virtual receptionist: Turn a screen into a brandable face-to-face virtual kiosk and place it anywhere an in-person receptionist would be. Kiosks can help customers or employees find a workspace or navigate to the right location.
Remote meeting control: Control Zoom Rooms meetings from a mobile device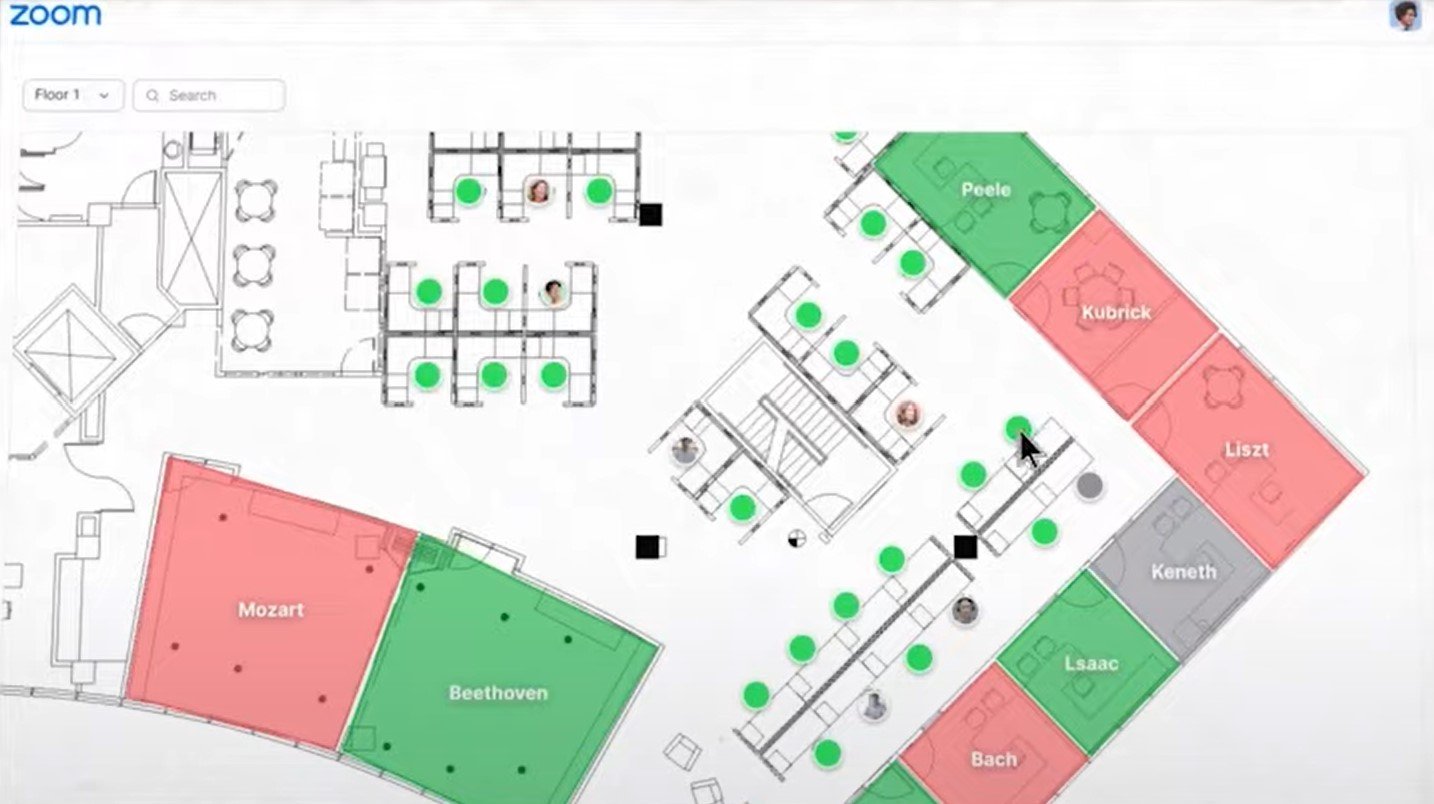 For further detail, scroll down to the Zoom Rooms section.
Zoom One Optional Add-on Plans
Zoom Whiteboard ($24.90 per year): Unlimited zoom whiteboards
Large Meetings ($600 per year): Expands meeting capacity to 500 or 1000 participants
Cloud Storage ($120 per year): Storage options up to 5 TB/month
Audio Conferencing ($1200 per year): Outbound, global toll-free, and local dial-in calls to premium countries. Participants can call in free from any device.
Zoom Phone Power Pack ($300 per year per user): Enhanced real-time and historical call queue analytics, an expanded contacts window for desktop users, and the ability for customers to reach your IVR system via SMS
Conference Room Connector ($499 per year): Connects your SIP or cloud-based phone system with a tablet, mobile devices, Zoom Rooms, and other SIP endpoints to facilitate hybrid conference room functionality
Zoom IQ for Sales: Live conversational intelligence for agent support
Zoom Phone
Zoom Phone is a low-price VoIP phone system, offering HD voice to over 40 countries globally, but with fewer video conferencing and analytics features than Zoom One.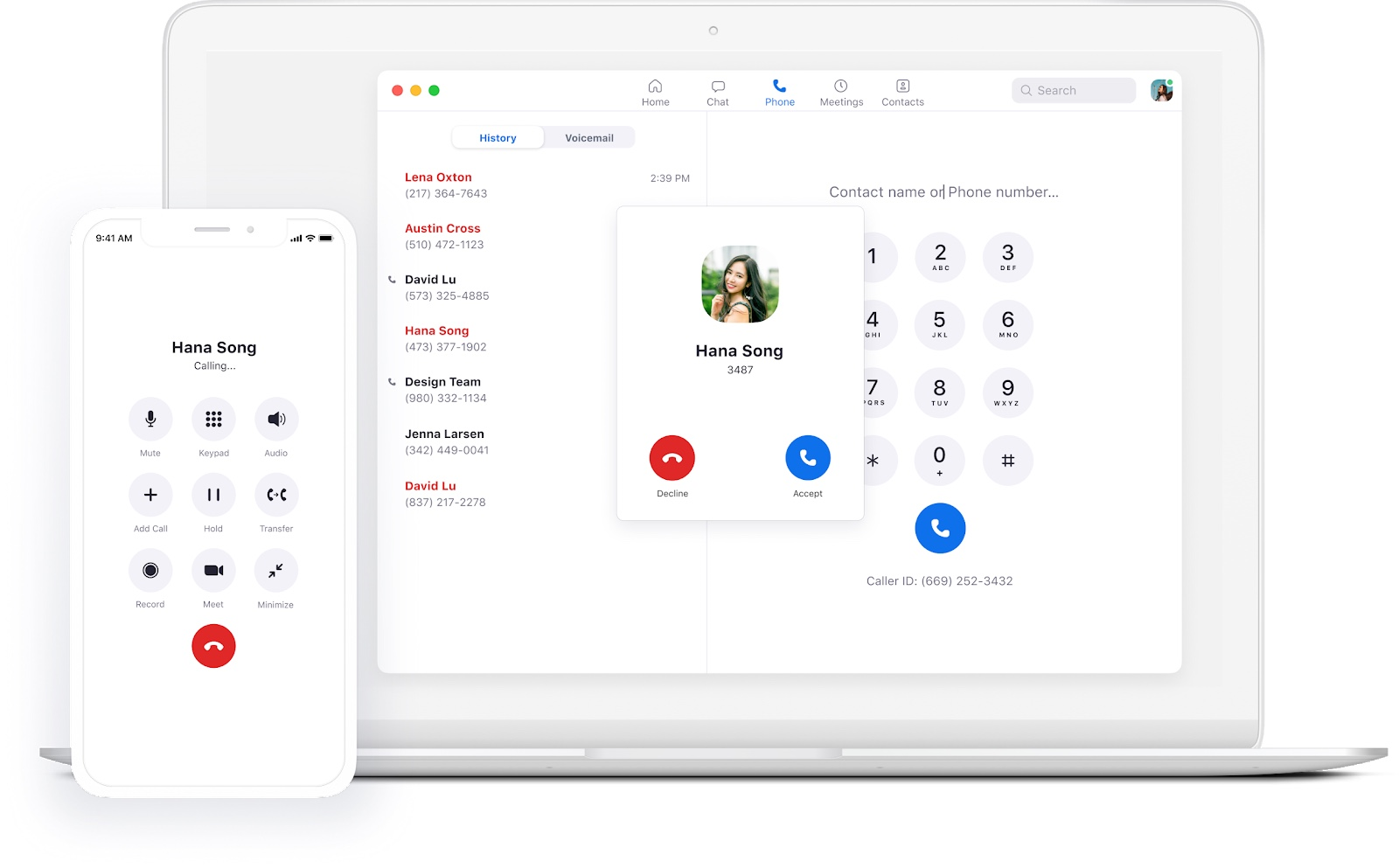 Whether you need a VoIP number, a small business phone system, or an enterprise call center software, Zoom Phone makes it easy to transition to the cloud.
Purchase local, global, or toll-free virtual phone numbers from Zoom, or port pre-existing business or mobile numbers.
Zoom also supports companies in transitioning their legacy PBX systems into cloud-PSTN hybrid systems. To keep your current PSTN provider contract, calling rates, and phone numbers, Zoom offers bring your own carrier (BYOC) options: use a session border controller (SBC) to route existing voice circuits from your PBX system to the Zoom Phone cloud, or utilize Zoom's SIP trunking system powered by global PSTN carriers.
Once connected to the Zoom Phone cloud, enjoy all the benefits of an advanced VoIP system.
Zoom Phone pricing plans include the following features:
Unlimited internal calling
Desktop and mobile apps
HD voice
Global toll-free numbers
ACD groups with call queueing
Voicemail with transcription
Barge/Monitor/Whisper/Takeover
Holiday and business hours routing
3-way conference calls
Call management tools
Single sign-on
Internal team chat
SMS and MMS
Elevate call to a Zoom Meeting or video call
Transfer call to a Zoom Meeting or Zoom Room
Integrations with Salesforce, Slack, contact center software, Microsoft, and Google
Zoom Phone offers 3 paid plans. Your best choice depends on your desired area or country codes–and if you want to pay with a metered calling system or monthly subscription.

Each plan comes with one management portal per account, where administrators can manage users, permissions, and monitor call quality and usage data.
US & Canada Metered: Pay as You Go
The US and Canada Metered plan offers pay-as-you-go calling from a US or Canada number. The plan costs $10 monthly with free inbound calls and unlimited SMS, with metered outbound and toll-free calls.
Zoom charges a different per-minute rate for each destination country, but here are the US metered rates:
Pay As You Go 
Monthly Commit 
Outbound calls
$0.0318
$0.0318
Local toll-free calls
$0.0376
$0.0376
SMS
$0
US & Canada Unlimited
At $15 monthly, the US and Canada Unlimited plan offers unlimited calling and texting in the United States and Canada, with corresponding business phone numbers.
Pro Global Select
At $20 monthly per user, the Pro Global Select plan offers unlimited domestic calling within any of the 40+ supported regions outside the US or Canada, along with a direct dial number in the country where they'll make calls.
Zoom Phone Optional Add-ons
Toll-Free Numbers ($5 per month): Add toll-free numbers so customers can call you at no cost to them
Additional Phone Numbers ($5 per month): Add local, toll-free, or international premium numbers
International Calling Add-on ($10 per month): Unlimited international calling to 18 countries/territories
Hardware as a Service ($5.99 per month per device): Lease/upgrade hardware by the month
Zoom Phone Power Pack ($25 per month per user): Real-time analytics and historical reports
Zoom Events & Webinars
Zoom Events and Zoom Webinars let you host webcasting conference events, seminars, or presentations in HD video for up to 50,000 attendees, with 1,000 interactive live video panelists.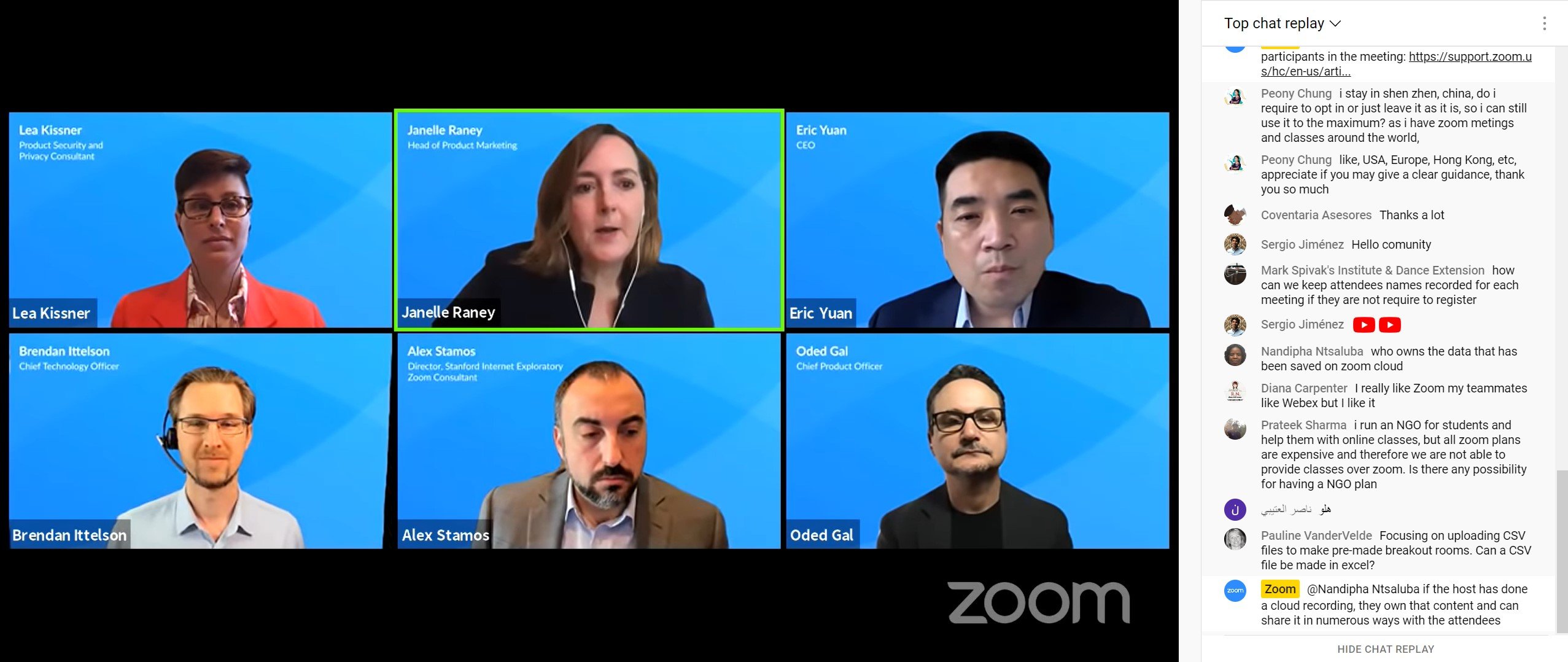 With Zoom, you can host standalone webinars or string them together into Zoom Events, ongoing webinar series. Webinars and events let admins manage virtual event registration, branding, in-webinar audience engagement and networking, and reporting.
Zoom Webinar and Event Use Cases: 
Virtual classrooms
Product debuts and launches
New feature demos
Announcements
Campaign events
Onboarding and professional development
Large meetings
Zoom Webinars and longer-duration Zoom Events have different pricing tiers.
Below, fund the pricing for virtual events with 1000 attendees. A larger audience capacity increases the price.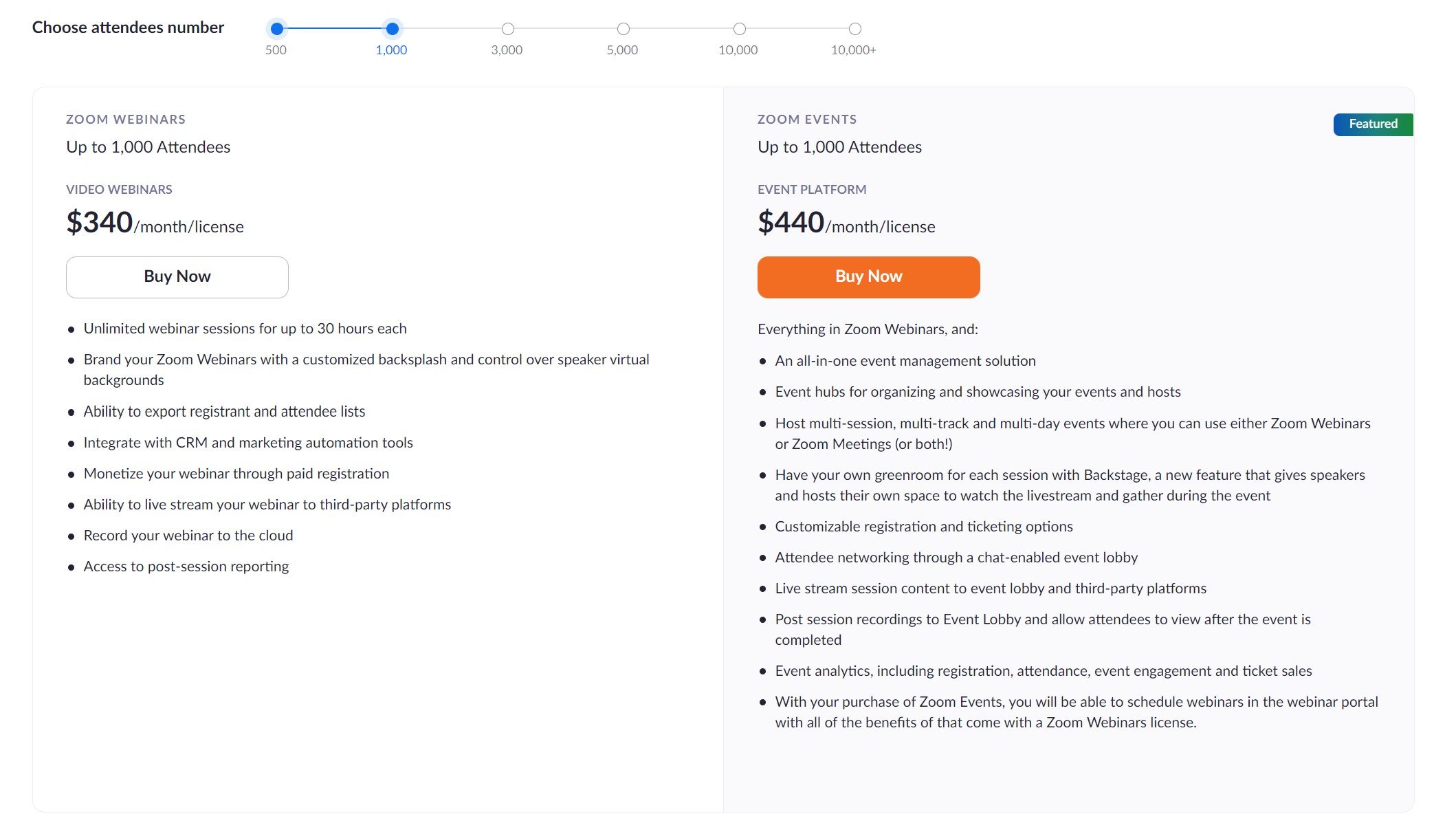 Zoom Webinars
Host single-session webinars up to 30 hours in length, with the following features:
Customizable email reminders
Customizable registration page
Over 100 live video panelists
Live streaming to third-party platforms
Live polling
Live event transcription, logged afterward
Language interpreter support
Performance and audience engagement reports
CRM and marketing software integrations
Zoom Events
Zoom Events transforms webinars into large-scale virtual experiences with increased customization, step-by-step event management, attendee networking, and event analysis.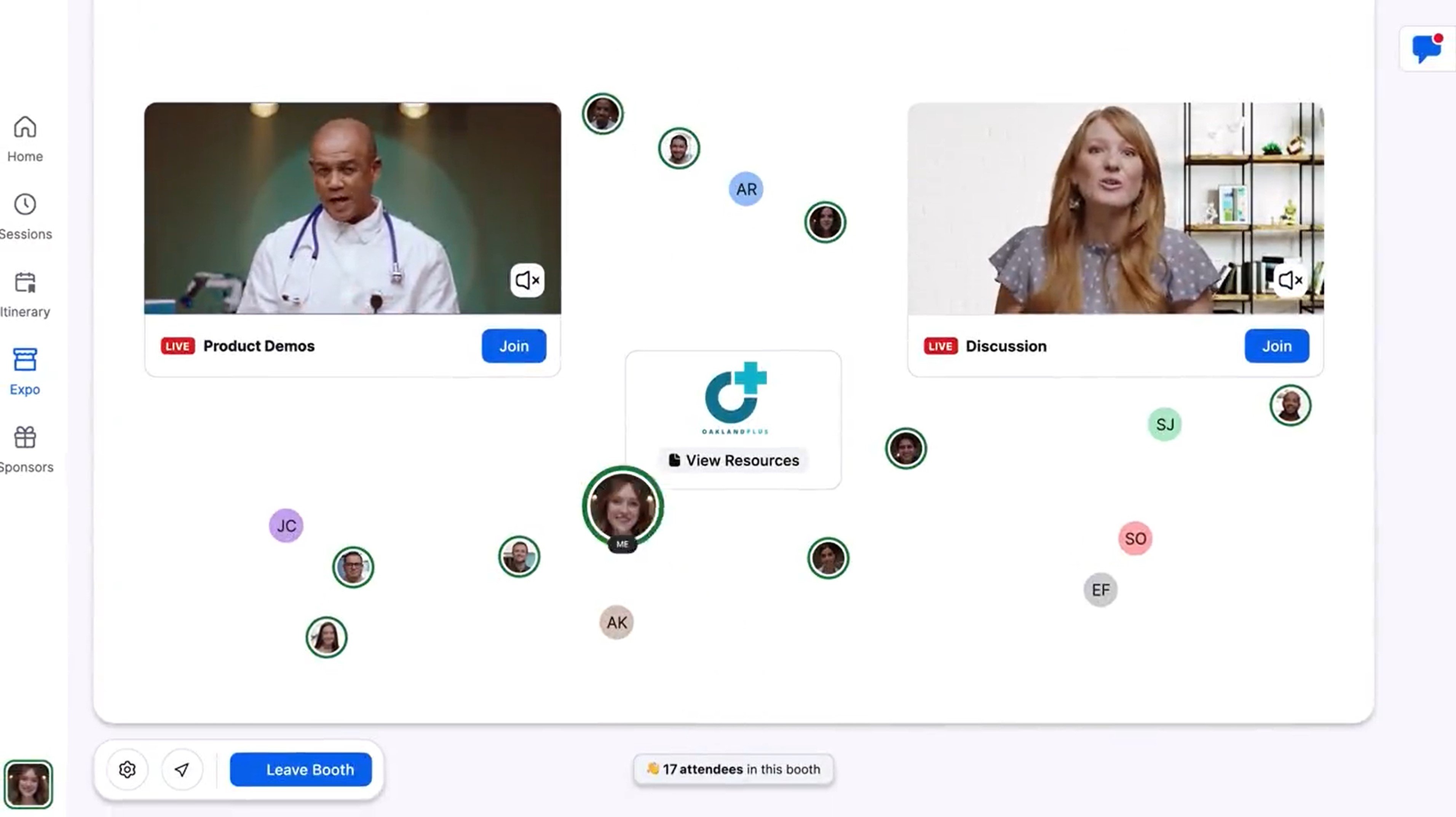 Zoom Events adds the following features:
Expo: A virtual event floor where attendees can move about freely, listening in on the webinar while networking through one-on-one chat. Vendors, sponsors, and attendees can set up expo booths for sales and meeting customers.
Backstage: A place where hosts, panelists, production, and event crew can gather, strategize, watch the live stream, and test sound quality
Branding: Customize the event's backsplash, and each employee's virtual background and nametag
Event hubs: Step-by-step event editors to create branded event hubs to manage events, rooms for attendees, and web pages for event discovery
Customizable registration and ticketing: Create tickets or collect donations for specific events
Various event types: Public or private, free or paid, single session or multi-session
Reports and analytics: Track registration, attendee engagement, ticket revenue, and event performance
Optional Add-on Plans
Audio Conferencing ($100 per month): Dial-in webinar access on any device, at no cost to attendees
Cloud Storage ($10 per month): Store, share, or download video and webinar recordings in the cloud in MP4 or M4A file formats
Zoom Event Services ($300 per hour, minimum 3 hours): Zoom Event professionals provide personalized online event management, consulting, planning, and live event support
Developer Support: Technical resources, troubleshooting, and developer case support
Zoom Rooms
Zoom Rooms is a software-based work organization system that combines video conferencing software, wireless screen sharing, device usage tracking, and audio conferencing to sync live, hybrid, and remote meeting environments.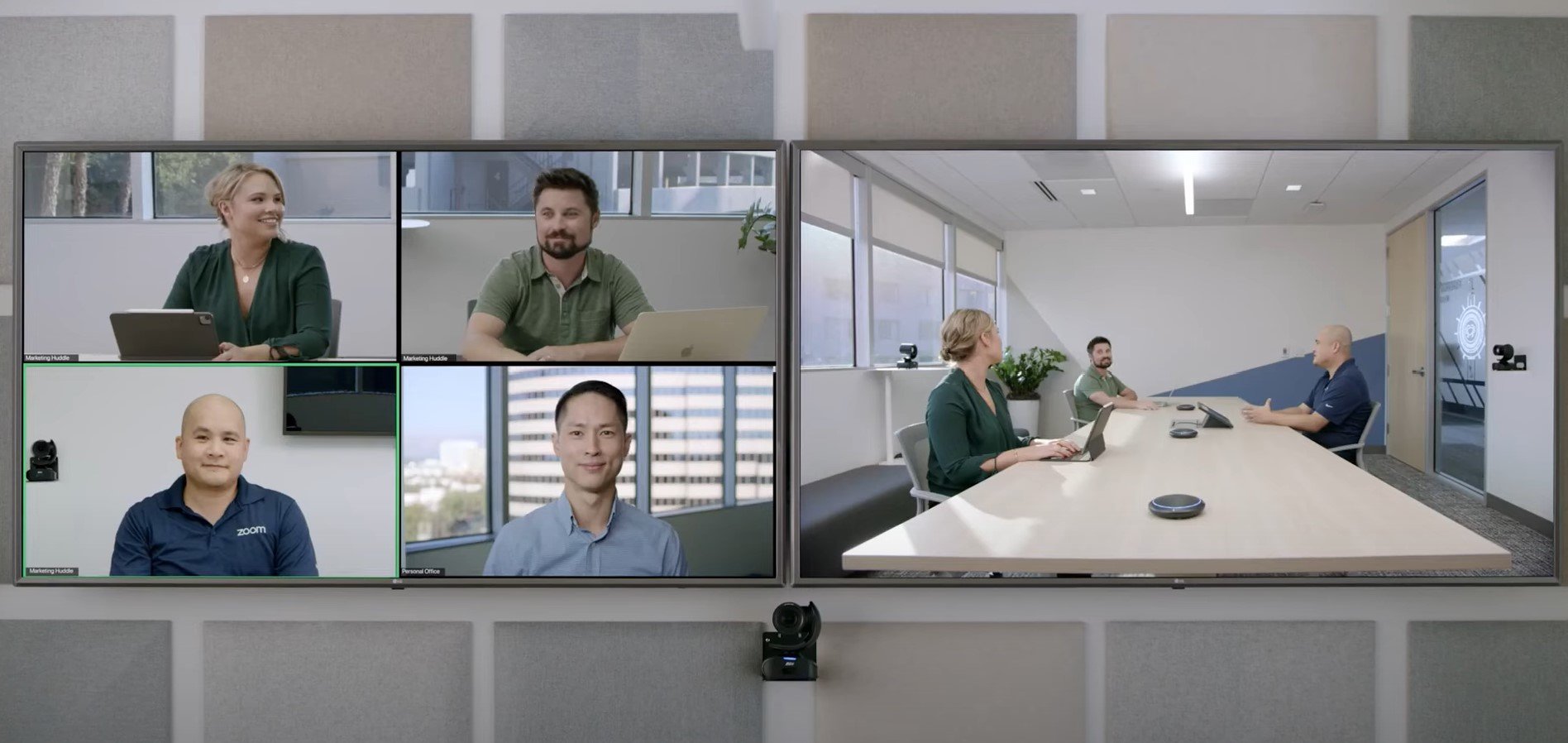 Rooms utilizes tablets, desktop computers, smart TVs, mobile devices, cameras, and speakers to make conferencing and device-reservation seamless. Users can reserve conference rooms or devices remotely, walk into any reserved room, and begin the scheduled meeting with one click.
Companies with large in-person offices will benefit from Zoom Rooms because it works in any meeting space–desks, huddle rooms, lounge areas, classrooms, training centers, and more.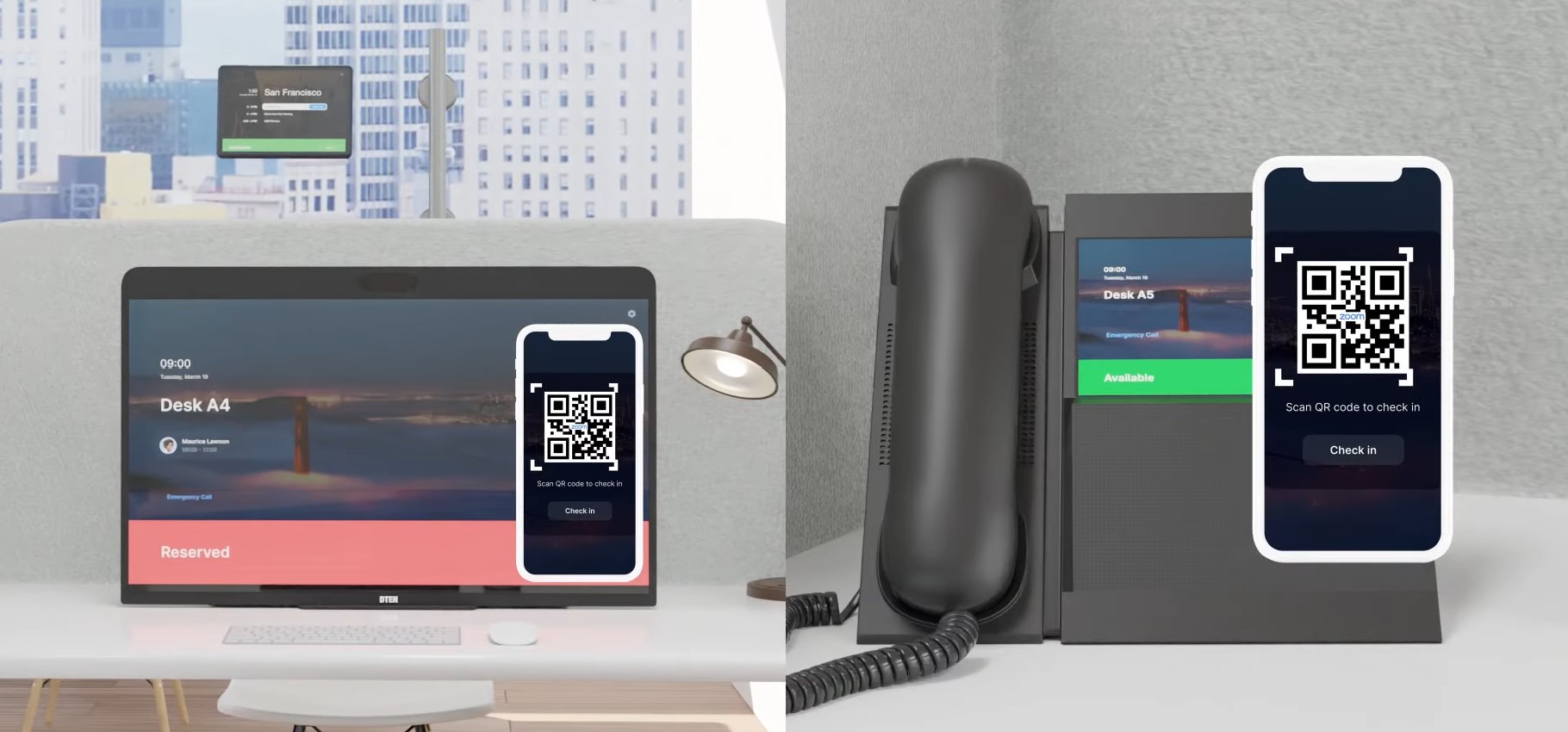 Scaling requires only purchasing (or renting) new hardware–from companies like Logitech, Polycom, Yealink, or others.
All Zoom Room Plans include the following features:
Wireless sharing: Multiple attendants can simultaneously share content from their laptop or mobile device, with one click
One-click joining: One-click meeting access when a user sits at any available device
Workspace reservation: Team can reserve workspaces–a room or device–before work or in the office, on an interactive company map in the Zoom App. Employees and supervisors can monitor reservations, schedule usage times,  review coworker activity, and more.
Easy check-in: Users scan a QR code at their assigned desk//room for instantly personalized data, channels, and history
Kiosk: A physical device to set up anywhere you'd put a human receptionist. Use kiosks to greet guests/employees, direct them to their destinations, display reservations and floor maps, or connect kiosks to a live remote receptionist.
Digital signage: Set up devices outside conference rooms or in important locations to display signs, schedules, images, agendas, or announcements
Smart gallery: Three unique video screens within a single-camera view, providing a clearer face-to-face experience for remote participants
Remote control: Create and join meetings, start, stop, mute, share content, and record meetings–all remotely from a mobile device or laptop
Rooms supports up to 1000 video participants or 10,000 webinar viewers per meeting and integrates with calendar functions in Office 365, Exchange, and Google.
Zoom offers a 30-day free trial, a $49-per-month regular plan with up to 49 licenses, and a $49-per-month Enterprise plan for more than 49 licenses.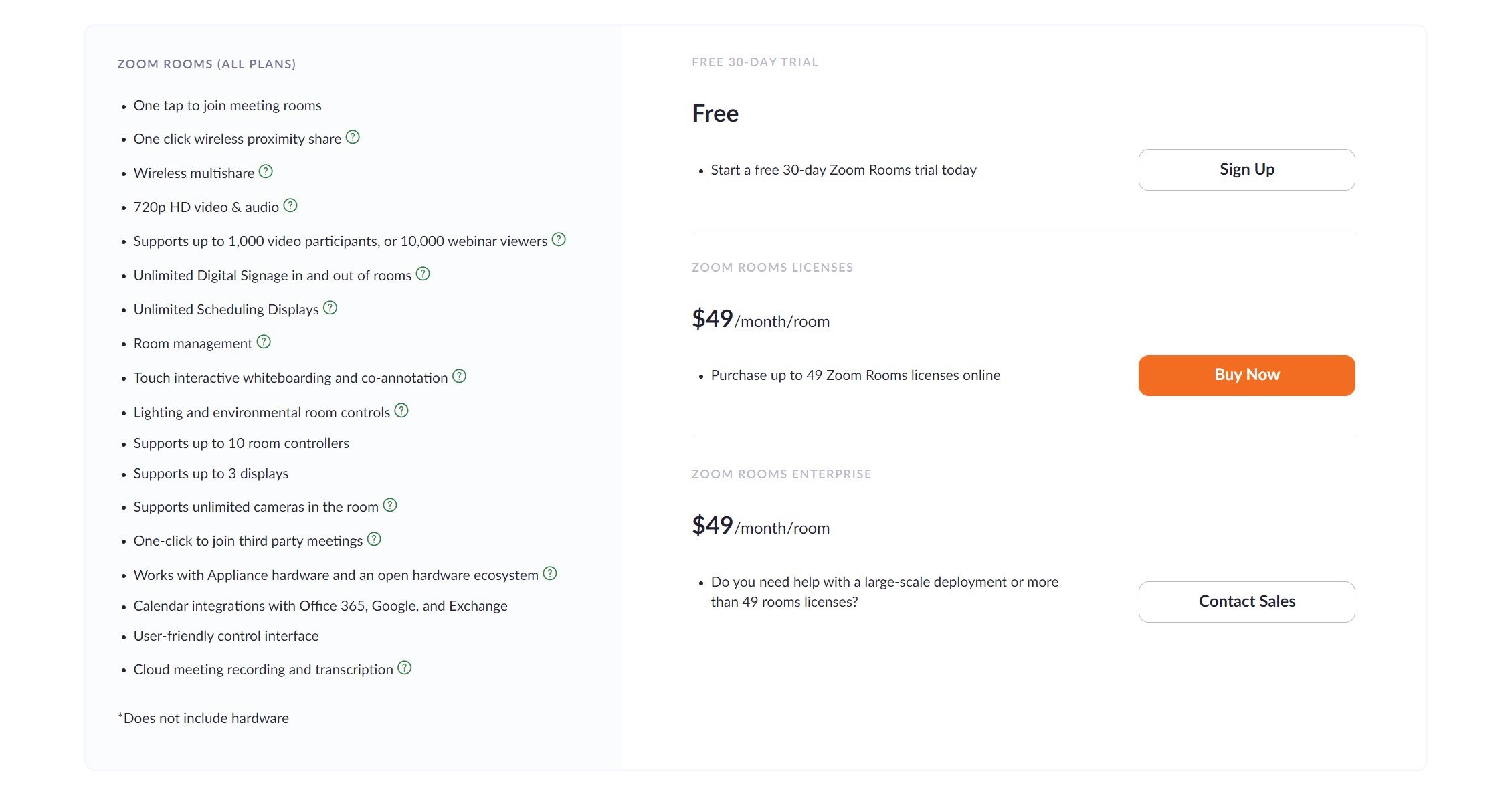 Zoom Contact Center
The Zoom Contact Center is a video-conferencing-focused omnichannel contact center unifying voice, web chat, self-service chatbots, and SMS.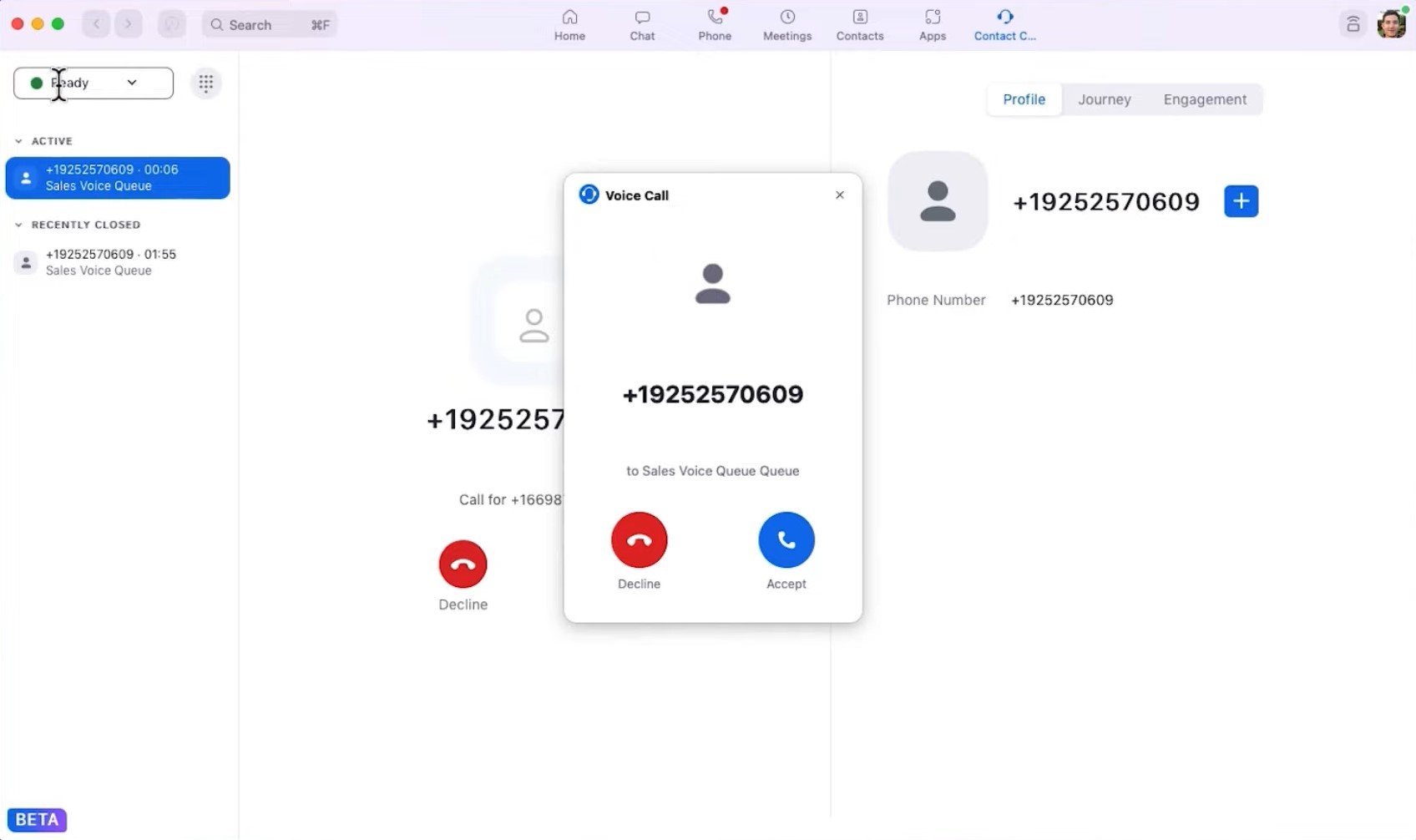 An omnichannel agent inbox and dashboard aggregate inbound messages, allowing agents to respond to customers quickly on any channel or device.
From an administrator's perspective, the Zoom Contact Center allows you build, customize, and monitor with tools supporting ease of use.
Quote-Based Pricing
Zoom provides custom contact center pricing quotes, to create a unique plan for your business needs and size.
Unfortunately, even after contacting Zoom through multiple channels, we did not receive any custom quotes for their contact center.
Drag-and-Drop Editor
Create a customer self-service routing menu–either a conversational IVR system or an automated chat messaging system–that helps customers reach an agent or voicemail, take an action, or gain information. Editor call and messaging flows can utilize voice, chat, SMS, or live video at any step in the process.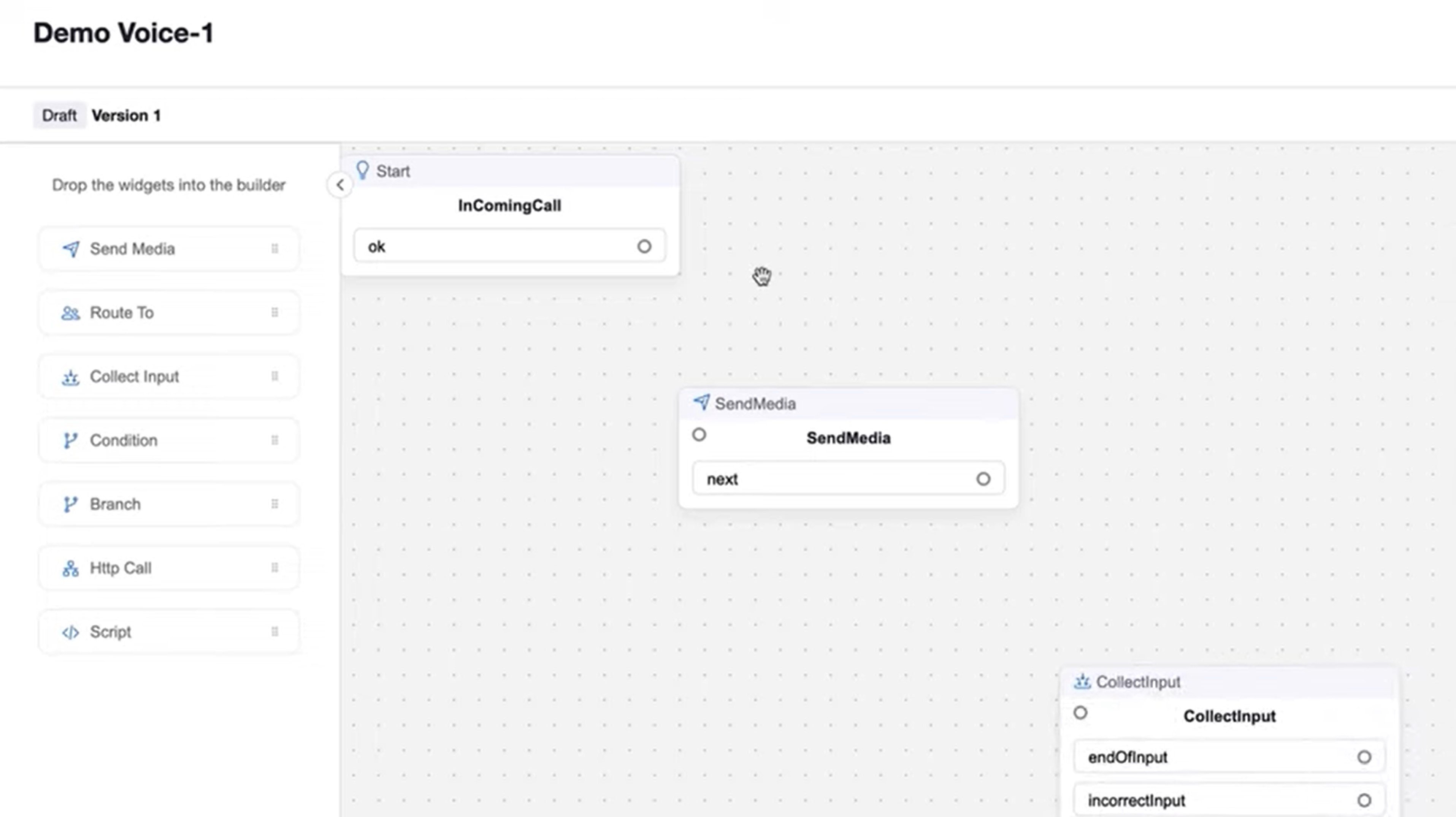 Use a drag-and-drop flow builder to design your auto attendant, creating output messages with native recordings or text-to-speech. Customers can respond with dual-tone multi-frequency buttons, text keywords, or voice, because Zoom conversational AI understands natural language.
The call plan editor uses widgets to customize each step in the customer's journey. For example, the Collect Input widget provides customers with menu dial-tone or button selections, while the Send Media widget triggers an outbound message, sends a file, or initiates a video meeting.
Skills-Based Routing
Skills-based routing ensures that incoming tickets reach the optimal agent by using routing profiles to sort incoming tickets to queues based on ticket priority, conditions, and agent skills.
Create skills, skill categories, and proficiency levels, and minimum agent proficiency requirements. The routing system then directs incoming calls, chats, and SMS tickets to agents with the optimal skillset, improving first-call resolution and CSAT scores.
Analytics
Supervisors and administrators have access to a large glossary of metrics, KPIs, real-time reports, and historical reports providing contact center insights. Monitor active voice calls, live call queus, agent availability, individual agent call and ticket resolution statistics, channel usage, audio and performance quality reports, service level statistics, and customer satisfaction.
Optional Add-on Plans
Add the following features to your Zoom Contact Center plan: 
US/Canada Virtual Service Phone Number ($5 per month): Add new US and Canada virtual service numbers to your account for agent or IVR use.
US/Canada Toll-Free Phone Number ($5 per month): Add new US and Canada toll-free numbers to your account
Who Should Use Zoom?
Each of Zoom's products–Zoom One, Rooms, Phone, Events and Webinars–is optimized for video, so the best candidate for a Zoom product is a company looking to add video as part of a communication solution or phone system.
Those looking to collaborate remotely with a video-first platform will appreciate Zoom One, while companies in a hybrid office setting should look to Zoom Rooms.
Due to its wide library of video and telephony features, Zoom has become a staple for all sorts of use cases:
Education: teachers connect with students in groups and one-on-one, using surveys and polls to engage and check for understanding
Medical and healthcare: Patients can meet with their doctors via Zoom, or attend medical webinars
Financial services: Clients meet with their bankers via Zoom video, sharing documents and screens to discuss finances
Architecture: Design and architecture teammates use whiteboards to sketch and share ideas, offering feedback with sticky notes and chat
Justice: Parole hearings, arraignments, prison visitation, and witness testimony can all occur via video in a safe and distanced environment
eCommerce: Use chat, phone, or SMS to recommend products to customers, sharing links and images. Promote new items and releases with Zoom Webinars.
Zoom Pricing FAQs
Below, we've answered commonly asked questions about Zoom pricing.
Most of Zoom's plans charge a monthly fee. However, Zoom One's Basic plan is free.

Each Zoom product has unique pricing plans, ranging from $10 to over one hundred dollars monthly per user. Zoom even offers a free Basic plan for Zoom One.

Your company's best fit depends on the features your company desires, and your intended use case for Zoom. The Zoom One Business Plus plan offers a multichannel communication system for a great deal–$25 monthly per user.

Yes. You can upgrade and downgrade your Zoom plans by the month.