If you're trying to run a successful business, proper communication is a must. Most companies today are opting to unify and enhance their communication systems using Voice over Internet Protocol (VoIP) technology. Traditional desk phones and lines are slowly but surely being replaced by superior VoIP technology that provides multiple benefits for its users and customers.
There are multiple companies today competing for market dominance within the VoIP field. As each business VoIP provider looks to provide the most features at the best price, it can often be hard for businesses to choose the right provider. That's why it's important to review in-depth product reviews for major players, and today, you can learn about Comcast Business VoiceEdge.
In this article, you'll find a comprehensive review of the Comcast VoIP option, covering everything you need to know about the plans, features, pricing, and more.
What is Comcast Business VoiceEdge?
Comcast Business VoiceEdge is the cloud-based PBX solution from the well-known Comcast Corporation. Their business internet services can serve more than just the Wi-Fi needs of business customers with their powerful UCaaS solution.
Comcast VoiceEdge features a powerful phone system along with a unified communications platform that allows businesses to stay on the cutting edge of business communication. Comcast offers multiple phone solutions to choose from and VoiceEdge is built to provide only the best. Comcast VoiceEdge comes with a business app with advanced functionality, sleek design and is marketed as one of the best UC options on the market.
Before we jump to any conclusions, let's see what exactly VoiceEdge has to offer and how it compares to its competitors.
Comcast Business VoiceEdge Plans and Pricing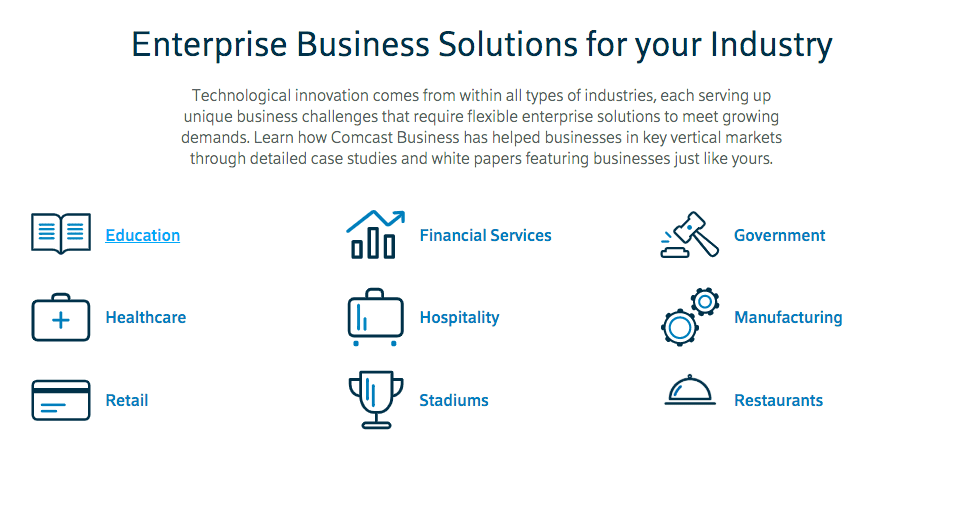 Comcast Business phone plans offer three solutions including Comcast Voice Mobility, VoiceEdge Select, and Comcast VoiceEdge. The first two options are built for smaller teams that require basic VoIP features at an affordable rate. VoiceEdge is packed with all of the available features and is built to support anywhere between 5 to 5,000 users.
Comcast VoiceEdge comes with full cloud PBX functionality plus advanced UC features. Comcast VoiceEdge pricing will depend on the number of users as well as the additional features. Although the exact pricing is not listed on the official website, sources claim the cost to be $34.95/mo/seat for 20+ phone setups, with a one-time installation fee of $29.95 per seat.
Based on these numbers, Comcast VoiceEdge pricing seems to fit the standard market rate. The value is in the specific features and here's what you're getting with VoiceEdge.
Comcast VoiceEdge Features
Comcast Business VoiceEdge comes packed with a lot of features spread across three categories: basic, advanced and additional features. Here's a quick overview of each feature you'll get to enjoy using Comcast's VoIP solution.
The Basics
Comcast Business VoiceEdge offers unlimited local calling plus nationwide long-distance calls with additional charges and it supports multi-site use. Call features such as caller ID, forwarding, waiting, hold, transfer, history, and auto rerouting are also included with each line.
Comcast VoIP for business's basic features provide a fair amount of functionality to work with. The system lets you forward a call to multiple numbers with a distinctive ring. For outbound calls, the caller id feature is always there to remind you of the customer's basic information.
All the standard cloud VoIP features from Voice Mobility are available. Comcast also provides phones, DECT phones, HD phones, and LAN compatibility. Overall, the basic phone system features cover pretty much everything that a modern business needs to operate successfully.
Simple Digital Control
Administrators get access to an online account management tool that provides an easy way to manage the voice service, pay bills, open tickets, and more. Additionally, as an admin, you get to choose the exact features you'd like to use on your business phones.
Be Anywhere
Be Anywhere along with Find Me/Follow Me is a standard Voice Mobility feature that allows VoiceEdge users to receive calls on any phone, at any location. There's also the option to show a business number on caller ID, even from a personal mobile or cell phone. This is a useful component that promotes the overall mobility and flexibility of the VoIP system.
Automated Attendant
This feature provides a user-friendly virtual receptionist that automatically assigns the incoming calls to the most qualified person or department. Automated Attendant ensures that inbound calls receive prompt and professional treatment. Customers route themselves via menu prompts directly to the specific information/department they seek.
Auto attendants can provide quick answers to frequent questions such as hours of operation, sales or specific directions to your location. It's another standard feature that saves a lot of time and should be considered by every business.
Audio Conferencing
You can host and control audio conferences for up to 50 participants, using the app from your mobile device or a desktop computer. This feature does not include HD video but it can still enable you to host a stable, high-end web conference with clear voice quality.
Hunt Group
Hunt Group enables advanced routing and call forwarding based on priority or availability. There are multiple settings to choose from, allowing you to choose precisely who gets to answer the call. Options include ringing all available phones, connecting to the first person who answers, routing calls based on phone priority, round-robin call distribution, and sending incoming calls to an idle agent.
Leveraging Hunt Group features can boost overall business productivity as well as improve customer satisfaction by routing calls to the most qualified agents.
Readable Voicemail
In case a voicemail gets lost, you can choose to have it transcribed and delivered straight to your email in a textual form.
Reliability
The Comcast Business VoiceEdge platform is very secure and reliable as it runs over one of the largest reliable managed VoIP networks in the country and not the public internet.
Busy Lamp Field and Shared Call Appearance
Busy Lamp Field lights let you see whether another extension connected to the same PBX is busy or not. If the light shows green, the extension number is free. BLFs are helpful when answering colleagues' phones. This is also an ideal option for someone who has a phone in the office and at home.
VoiceEdge Add-ons
Users can add customizations for an additional monthly charge. These add-ons are completely optional but can be useful in certain situations.
Call Queue Agent allows you to professionally manage a high volume of calls. You can get additional voicemail boxes to use with hunt groups or auto attendants, or exclusions to keep your number out of directory listings. There's also the receptionist console software that lets you see who's available while you manage call routing across your site.
Comcast Business App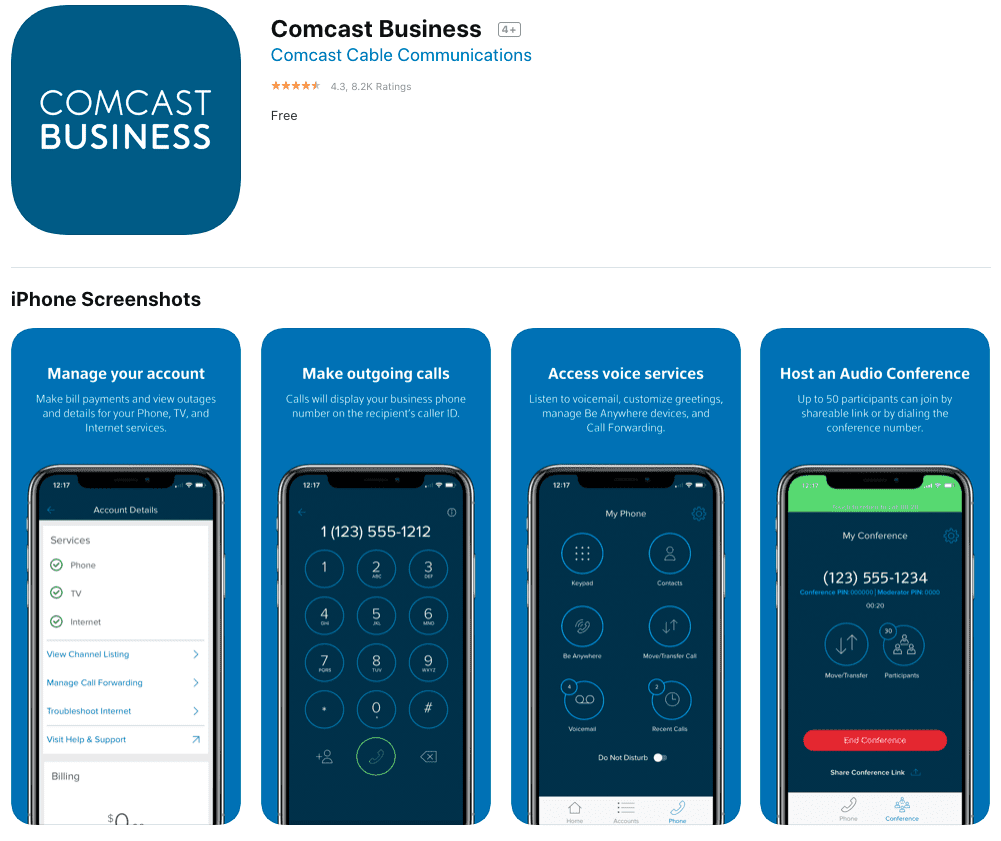 All VoiceEdge customers get exclusive access to the Comcast Business app. You can use this app to manage your account or use your phone services anytime you want. You get access to basic account information, settings, billing, help center, and more.
Managing your account on the go has never been easier. Not only can you manage your account information and get Comcast VoiceEdge offers services from anywhere, but you can keep your company going while you're on the go. You can get customer support, view appointments, and open service tickets when you're having issues.
Booking service requests and managing outages for your business is a challenge when you're not in the office. Thanks to the Comcast Business app, it's possible to make those requests and to be notified every step of the way.
Whether you're an entrepreneur, managing a small business, or in charge of operations for a major enterprise, you can use this app to handle bills and payments from anywhere.
Business VoiceEdge Select customers get all of the voice services you'd have in your office with help from the app. You can check voicemails, customize your greetings as needed, and even forward calls. With the app, you can take business calls and move them either to another member of your team or from your desktop to your mobile device when you need to get moving.
Switching between devices and managing a mobile workforce securely has never been easier. On top of that, Business VoiceEdge customers can set up conference calls right from the app. Desktop users can set them up with help from the companion app. The Comcast Business app is an integral piece of the system that enables maximum mobility.
VoiceEdge Companion Apps and Integrations
Comcast Business VoiceEdge is fully compatible and integrated with Office365, Skype for Business, or Google Chrome. These companion apps allow you to make calls through these interfaces with ease and are compatible with PC and Macs. Also, you can integrate VoiceEdge with your CRM software thus connecting your business telephony with a sales improvement tool.
Outlook integration includes a telephony toolbar in your Microsoft business application. You can use a click-to-dial function from within your Outlook contacts or from phone numbers you see online. Answering calls, dialing, and forwarding calls is all possible from within the toolbar.
You get one-click activation of your headset or speakerphone.
On top of that, your team can benefit from voicemail-to-email integration to get messages right in your inbox. If you're away from your phone but attached to your business via email, you'll never miss an important call.
Chrome users will find that after they install the app, they see a small "CB" icon next to phone numbers. While using business applications, you can initiate a call via the companion app by clicking the little icon.
Skype users can enjoy a similar experience when they integrate their Skype app with Comcast. A new menu option will appear when it's time to make a call. The menu will read "Call with Business VoiceEdge" along with the CB icon that Chrome users see in their browser.
Compatible VoIP Phones:
With Comcast Business VoiceEdge, each seat includes a Polycom 311 business phone with UC features and capabilities. As your business grows you can choose to add more seats or upgrade your phones for an additional monthly fee. Options include phones such as Polycom 601, 1500, 6000, or Panasonic TPA60 and TPA65.
Phone
Features
Price*

Polycom 311

Six-line SIP business phone with 2 Gigabit ports
Backlit LCD
Includes echo cancellation and background noise suppression

Zero-touch provisioning and web-based configuration ready.

Retail value: $90

Polycom 601

Manages up to 16 lines
Local three-way audio conferencing capability
4.3″ LCD screen
Flexible line appearance with keys assigned for each extension

Retail value: $215

Polycom 1500

H.323 video and simultaneous SIP telephony
Allows quick video connectivity via touch screen technology
Third-party integration possible through a fully-operational browser and Polycom API

Retail value: $399

Polycom 6000

Built to handle the voice traffic coming from multiple SIP and VoIP business lines
HD audio for clear communication from 14 kHz to 220 kHz
Full-duplex technology to implement echo cancellation and eliminate drop-outs.

Retail value: $675

Panasonic TPA60

HD wideband audio
Programmable address book with up to 500 slots
1.8″ color LCD screen

Retail value: $80

Panasonic TPA65

HD wideband audio with headset jack
1.8″ color LCD and 3-color LED indicator
Compatible with KX TGP600 wireless IP phone system

Retail value: $125
*retail value based on Amazon pricing. Phone upgrades are available for a small monthly fee. Call Comcast for more.
Comcast Support & Resources
Comcast offers resource materials to help you improve your quality of service. All users get access to training materials, resources, self-help videos, and webinars. These resources cover everything from the most basic features to detailed phone settings.
Comcast VoiceEdge comes with a high-quality customer support service with lots of options to choose from. If you can't find your answers manually, you can always engage with the VoiceEdge community through customer forums. Here is a detailed breakdown of the support options:
24/7 Customer Service: Anytime, day or night, you can access a live agent for customer service or troubleshooting.
Training and Resources: All customers get access to a library of training material. Experts at Comcast have put together material to make training your staff a breeze.
Interactive Learning: Regulations change all the time and as industries adapt to protect customer data, it's important to know how to work within the boundaries of the law. Comcast customers get regularly updated information to follow regulatory requirements.
Customer Forums: One of the best resources that Comcast customers can rely on are its other customers. If your team has a question, someone else has probably asked that question before. Interact with the Business VoiceEdge community and share your knowledge.
VoiceEdge Portal Access: The VoiceEdge portal gives customers exclusive access to all of the above services and more in an easy to use online platform.
Comcast Business VoiceEdge vs Other VoIP Providers
Comcast Business VoiceEdge phone service offers a long list of features, but how exactly does it stack up against the rest? Most VoIP providers can match the basic features and pricing but the choice usually comes down to some of the specific advanced features. Let's explore some of the common competitors and see what they have to offer.
Vonage Business
Vonage was founded in 2001 and is one of the earliest entrants to the VoIP industry. Vonage is among the top providers for almost two decades now, offering some of the best features at affordable rates.
The basic plan starts at $19.99/month per line and covers the basic phone features along with desktop/mobile apps for iOS and Android along with team messaging software. Access to advanced features like video conferencing, auto-attendant, integrations, call recording and more is available for premium and advanced plans. The full suite is available for $39.99/month plus taxes.
When it comes to Vonage, orange glove setup and features such as video conferencing are a big plus. However, most of it is reserved for the advanced plan. Service uptime also seems to be a big selling point for Vonage.
RingCentral
If you did any research into top VoIP providers then you know RingCentral is among the best. As one of the veterans in the industry, RingCentral continues to impress with VoIP solutions.
RingCentral's business phone system has a low entry rate at just $19.99/month/user. This includes some of the basic features required for a professional phone system but excludes things like integrations and custom app development. Also, these rates are only available with annual plans for more than one user.
The optimal version of RingCentral Office comes for $34.99/month/user and includes all advanced features along with video conferencing, call recording, and 2500 toll-free minutes per month. This seems to be the standard rate for premium plans with most providers as is the case with Comcast and RingCentral.
8×8
Founded in 1987, 8×8 is the oldest company on this list and certainly deserves our attention. All 8×8 plans are packed with features. The auto-attendant feature is available with all plans which is usually not the case with most providers. The international coverage of 8×8 is one of the best in the industry which makes it the ideal pick for maximum global coverage.
When it comes to customer support and pricing, 8×8 is not the best option. There's no live chat on the website, and bulk pricing isn't as good as some of the other options. The cheapest plan (X2) starts at $25/month/per user while the X4 plan providing the most coverage starts at $45/month.
If you're looking to maximize your global reach at any cost, 8×8 may be the right pick.
Nextiva
Nextiva is one of those names that always comes up when you talk about VoIP solutions. Despite the feature-packed product, Nextiva's most expensive plan starts at only $30.00/month meaning it's one of the most affordable options.
Apart from providing a powerful phone system, Nextiva also offers unique live chat, survey, and analytics features. There's a lack of collaboration software but Nextiva makes it up with a solid business communication suite. Nextiva is a cheaper alternative compared to some other providers but it still provides a solid business communication suite.
The Bottom Line
Comcast Business VoiceEdge is an affordable yet limited solution for professionals, manufacturers, retailers, and non-profit organizations. The solution is light on hardware and packed with all kinds of basic features that enable industry standard communication.
As always, business owners should consider multiple options and choose the plan that best suits the business needs. For more information feel free to check out our comprehensive list of the top business VoIP providers right now.