Ready to make the switch to VoIP from POTS?
In addition to increased flexibility, improved voice quality, and lower operating costs, VoIP offers scalability and features that help your team to operate more efficiently.
The Comcast Business VoiceEdge phone system comes complete with compatible hardware, advanced third-party integrations, and features like call queuing, auto-attendants, and patented Be Anywhere technology.
Read on to learn about pricing, user experience, and more for the Comcast Business VoiceEdge business phone solution.
Table of Contents: 
What is Comcast Business VoiceEdge?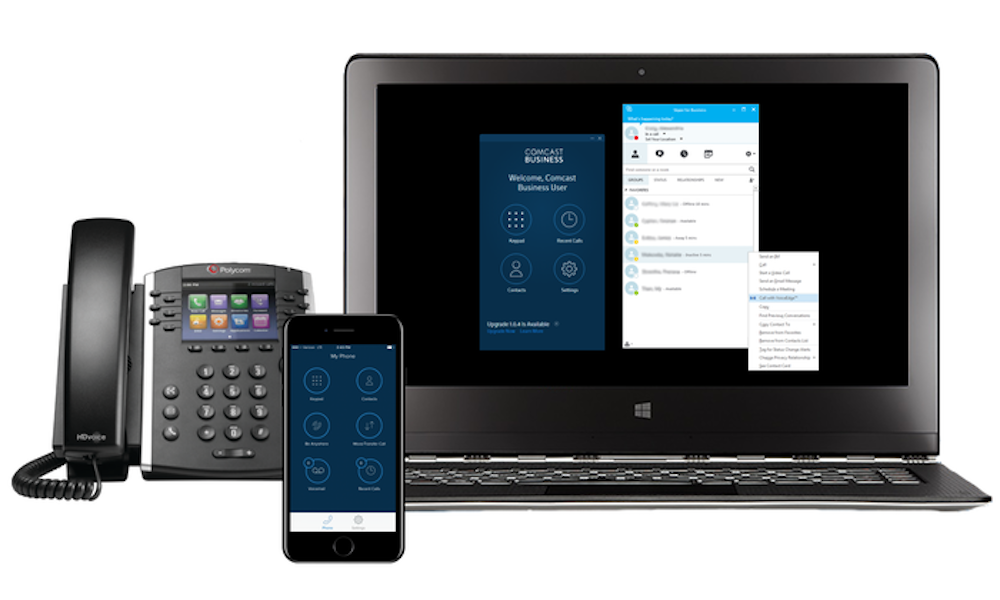 Comcast Business VoiceEdge is a cloud PBX phone system and unified communications solution that allows users to make and receive calls over Wi-Fi and Ethernet Internet connection.
Its streamlined platform improves the customer quality of service, offers greater flexibility and mobility, and offers third-party software integration to improved internal communication and collaboration. Users can also select add-on features to further customize their VoiceEdge experience.
VoiceEdge is accessible via PC with the VoiceEdge Desktop App, on cell phones and other mobile devices with the Comcast Business Mobile App, and via a Google Chrome Extension. In addition to softphone functionality, compatible desk hard phones can be used with VoiceEdge. (We'll speak more about Comcast desk phones later in this post.)
Comcast VoiceEdge Pricing
Even though detailed prices are not publicly listed on the Comcast website, our research helped us uncover more about the cost of VoiceEdge.
Though there is no free trial, Comcast does offer a 30-day money-back guarantee. Additionally, there is a one-time installation fee of $29.95 per seat. VoiceEdge provides free unlimited nationwide calling, and international calls start at $0.02/minute.
Each seat comes with one Polycom 250 phone, and a minimum of 5 seats is required.
Note that all VoiceEdge customers are required to sign a contract with Comcast, usually for a minimum of two years. There is an early termination fee equalling up to 75% of the remaining monthly fees until the contract was set to expire.
Paid add-on features include additional voicemail boxes, call queues of up to 25 calls, and a receptionist console for functionalities like agent status updates/presence indicators and advanced call distribution.
The cost is based on the number of seats, and follows the below tiers:
| | |
| --- | --- |
| Number of Phones | Cost Per Seat Per Month |
| 5-9 Phones | From $44.95/month per seat |
| 10-19 Phones | From $39.95/month per seat |
| 20+ Phones | From $24.95/month per seat |
Compared to other UCaaS providers, this is on the higher end of the cost spectrum, especially when considering that VoiceEdge lacks many standard Voice over Internet Protocol features like call recording and native chat messaging. In order to access these features, you'll need to integrate with third-party software, some of which will also require paid plans.
Get in touch with Comcast directly to receive a free quote.
Business VoiceEdge Features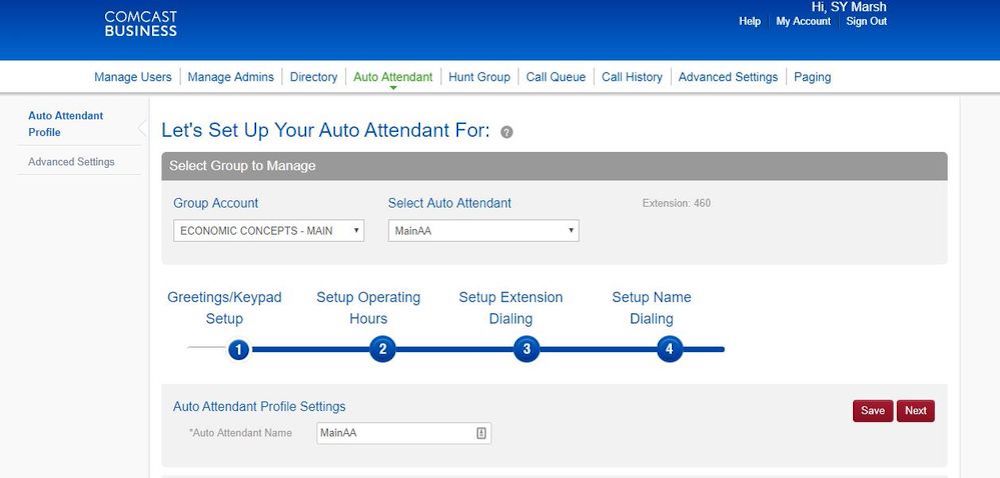 VoiceEdge offers a variety of VoIP phone calling features designed to shorten customer resolution times and decrease call abandonment rates.
Here, we'll outline top features like:
Voice Calling
Desktop and Mobile Apps
Voicemail
Call Queues and Hunt Groups
Auto Attendant and Receptionist Console
Voice Calling
Each VoiceEdge seat comes with a Direct Inward Dial (DID) business number, along with inbound and outbound local and long-distance calling for a set monthly price. All users also receive toll-free and international calling capabilities, along with a directory listing.
An individual user can be assigned a maximum of 10 business numbers and/or extensions as a part of Comcast's "Be Anywhere" feature. This lets every user set several network endpoints such as smartphones, desk phones, or home telephone numbers, allowing them to make and receive forwarded business calls no matter where they are.
VoiceEdge offers several call forwarding and call transfer paths. Users can choose to have calls forwarded to another number or agent if the phone isn't answered within a set number of rings, if a party's phone is busy, or set their own selective call forwarding criteria.
Users can also take advantage of the "call notify" feature, which sends an automatic, real-time email notification to their desktop computer or smartphone when an important call comes in. The priority alert feature doesn't send an email notification but instead triggers a specific call ring tone or volume when pre-determined callers contact the agent.
Basic call logs let agents and admins review the past 20 dialed, missed, and received telephone calls.
The system also allows for audio conferencing for up to 50 participants. Users are shown a participant list. Moderators have host controls for audio conferences like muting, adding/removing participants, and mute.
Additional audio calling features include:
Blind and warm call transfers
Automatic callbacks
Call waiting
Call barging and call intercepting
Hold music
Call parking
Two-digit code speed dialing for up to 100 numbers, single-digit speed dialing codes for up to 8 numbers
Simultaneous call blasting for up to 35 phones
Find Me/Follow Me
Push-to-talk intercom
Last number redial
Do Not Disturb
Selective call acceptance and rejection
Busy lamp field
VoiceEdge Desktop and Mobile Apps
The Business VoiceEdge Desktop App from the Cloud Solutions Marketplace is a free, browser-based unified communications dashboard for desktop computers.
It's a softphone app that allows users to make, receive, and manage calls from their PCs. The Desktop App offers a user-friendly way to make/receive video calls via third-party integrations. The self-service portal makes managing settings simple, providing capabilities like password resetting, access level restriction, personal feature management, and more.
The Comcast Business App for mobile devices is compatible with Android and Apple Mac iOS devices. It lets users have calls routed to their mobile devices, sends real-time push notifications to smartphones for missed calls and new voice messages, and lets users listen to voice messages on their mobile phones.
The mobile app also lets users make outgoing calls while ensuring that the call recipient still sees the agent's business caller ID. Users can also access company directories on mobile devices, as well as see recent calls.
Voicemail
VoiceEdge's Unified Messaging system supports customizable, pre-recorded messages for callers that are either unable to reach agents or that have been automatically directed to the voice message box.
Inbound callers can review the voice message before they leave it, and can record a new one if needed. They'll also receive a warning tone if a longer voice message is about to be cut off.
The voicemail-to-email automatically sends voice messages to an agent's inbox as an audio attachment, notification, or as a visual voicemail transcription.
Call Queues and Hunt Groups
The Call Queuing add-on feature allows for more advanced call forwarding paths and hunt groups.
Admins can create hunt groups of agents that are trained to handle specific issues, so inbound callers are connected to agents that are the most likely to be able to help them.
Hunt groups also cut down on hold time through set call queues.
Callers in the queue receive a welcome message with an estimated wait time. Agents can view essential information like caller contact information, the number of callers in the queue, how long a caller has been on hold, and information about which callers have been on hold for the longest among to time.
Guard timers beep to let agents know how much time they have left before they'll be transferred to another caller in the queue.
Users can also set different call routing paths, including:
Simultaneous Ringing
Circular/Round Robin Ringing
Sequential Ringing
Idle Ringing (rings the agent that has been idle for the longest)
Auto Attendant and Receptionist Console
Comcast also offers a virtual automated attendant that allows for greater customer self-service thanks to Interactive Voice Response (IVR) menu options.
The pre-recorded messages direct business customers to the correct agent, phone extension, or department with the click of a button. These automated messages can be updated at any time, and users can set up specific temporary call routing options for after-hours or holiday incoming calls.
The Receptionist Console takes things a step further and allows admins to view current switchboard activity, supports point-and-click call management, and shows current phone status and alternate telephone numbers. Users can also take notes on calls and agent activity within the Receptionist Console.
VoiceEdge Integrations
Because VoiceEdge doesn't have many advanced team collaboration features, it offers a number of third-party software integrations.
Top integrations include:
Office 365
Skype for Business/Microsoft Teams
Slack
Zendesk
Salesforce
G Suite
Microsoft 365
Alexa for Business
eComFax
Zipwhip
Comcast Business Phones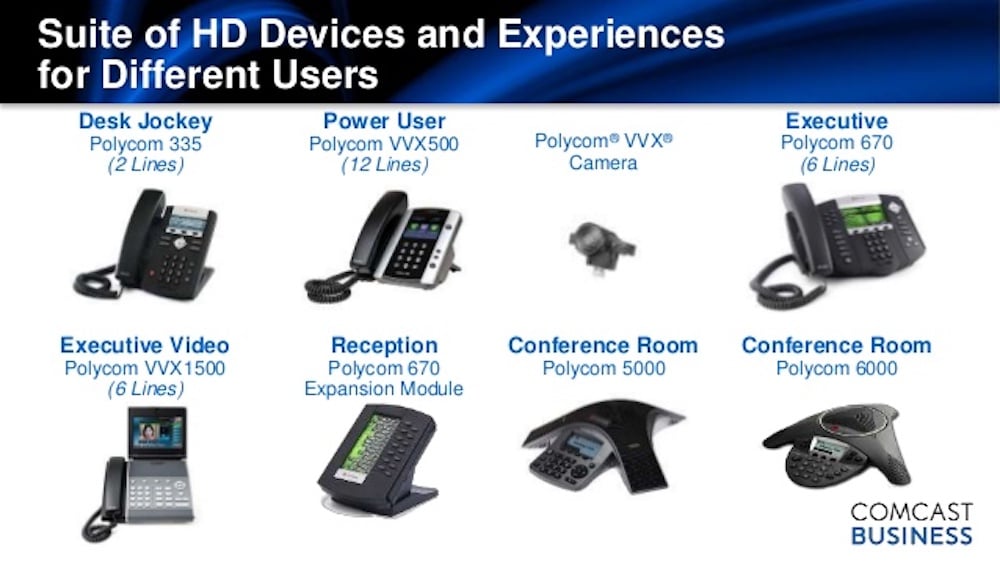 Although VoiceEdge comes with the Polycom 250 phone, users have several other compatible hardware options to choose from.
The below table outlines the top available office phones and phone accessories that can be purchased initially or upgraded for an increased monthly fee as your business grows.
Polycom VVX 310/311
Polycom VVX 410/411
Polycom VVX Color Expansion Module
Polycom VVX 500/501
Polycom VVX Camera
Polycom VVX 1500-HD
Panasonic KX-TPA65
SoundStation IP 6000
Price (Based on Current Amazon Pricing)

$60.00

$123.00

$117.50

$141.90

$155.99

From $269.88

$148.00

$515.00

Features

Backlight LCD Screen

Echo Suppression/Background Noise Cancellation

6 Line/Speed Dialing Keys

Two Ethernet Ports

HD Voice

3.5" Color Display 

Up to 12 Lines

Speaker Phone

 

Ethernet 10/100 or GigE

Works with VVX 410, 411, 600, 601

28 Line Keys for Call Appearance, Speed Dial, BLF

2 LED Keys for Line Appearance 

3.5" Color Display Screen

Up to 12 Lines

HD Voice

Supports USB Camera

Ethernet 10/100 or GigE

Hard keys Home, Mute, Volume

Streaming Media Video Playback

Compatible with VVX 500, 501, 600, 601

Turns desk phone into a video conferencing tool

Plug-and-play capability (USB)

One-touch calls 

Up to 24 Lines

Built-in Video Calling

Bluetooth Enabled 

Adjust camera tilt, height, screen angle

CRM Integrations

Open API 

Color 1.8" Screen 

DECT Wireless Phone

No dedicated phone wiring

LED Call Appearance Light

HD Audio 

LED Backlit Display

HD Voice

The built-in microphone picks up to 12 feet 

Echo Suppression and Noise Cancellation

Multiple SIP/VoIP lines 
VoiceEdge User Experience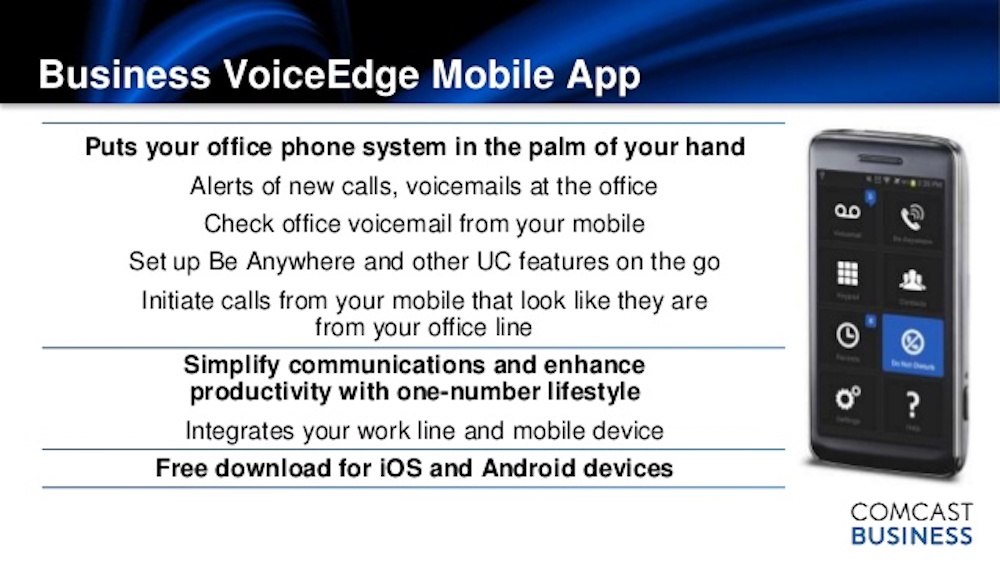 Customer reviews show that the biggest upside to VoiceEdge is its superior customer training and support.
VoiceEdge offers 24/7 live customer support and has a robust online knowledge base including video tutorials. There is also an online customer forum for even more tips. Online interactive training seminars are also available for a small fee, which allows team members and admins to easily learn how to use the platform and stay up to date with industry regulations.
However, the biggest downside of VoiceEdge is its lack of features.
As even basic features like video calls, chat messaging, call recording and transcription, and SMS texting aren't included with VoiceEdge, it's heavily reliant on third-party integrations. In truth, VoiceEdge is less of a Unified Communications platform and more of a virtual business phone service with lots of available integrations.
Additional pros and cons drawn from customer reviews are outlined in the table below.
| | |
| --- | --- |
| VoiceEdge Pros | VoiceEdge Cons |
| "Be Anywhere" feature offers better privacy and lets agents take calls on-the-go from any device | Lack of transparent pricing and long contract terms |
| Customizable call routing options/greetings for after-hours and holidays | Phone service completely reliant on your Internet connection |
| No complicated on-premises system/equipment to manage  | Call audio quality needs improvement |
| The high number of software integrations | No spam call protection can mean a high number of daily spam calls |
| Comes with hard phone, so no need to worry about phone compatibility issues | User interface/dashboard not intuitive, the high learning curve |
What Are The Top VoiceEdge Alternatives?
Looking for alternatives to VoiceEdge that have a higher number of standard features and a competitive price point?
The below table outlines some of the top providers.
Features
RingCentral

 

8×8
Zoom Phone
Nextiva

Pricing

$19.99/user/month to $49.99/user per month

$12.00/user/month to $44.00/user/month

$10.00/user/month to $30.00/user/month with pay-as-you-go minutes

$19.95/user/month to $27.95/user/month

Team Chat Messaging and File Sharing

✓

✓

✓

Professional and Enterprise Plans only 

Business SMS

✓

X2 and X4 Plans only 

X

Professional and Enterprise Plans only 

Native Video Calling

✓

✓

✓

Professional and Enterprise Plans only 

Third-Party Integrations 

Salesforce, Slack, Zoho CRM, Zendesk, Zapier

Slack, Outlook, Microsoft Teams, Office 365, GSuite 

Five9, Twilio, GSuite, Microsoft 365, Slack, Salesforce

HubSpot, Zendesk, Salesforce, ServiceNow, GSuite, Microsoft 365

Advanced Real-time and Historical Call Analytics 

✓

✓

✓

✓

Call Recording 

✓

✓

✓

Professional and Enterprise Plans only 

Call Monitoring (Call Barge, Call Whisper)  

✓

✓

✓

✓
To learn more about popular enterprise-grade phone systems and business Internet telephony, check out our interactive table of enterprise grade Voice over IP providers. Here, we break down features, plans, price, and user feedback of platforms like GoToConnect, Dialpad, and more.
VoiceEdge is an ideal voice calling solution for SMBs, startups, and sole proprietorships that need more advanced calling features than a standard POTS can offer, but not ones required of a Fortune 500 company.  It's also an excellent option for smaller remote teams, whether they're a permanent remote workforce or temporarily working from home due to COVID-19 restrictions. It works equally well for highly mobile teams that need to be available from anywhere, such as real estate professionals, contractors, and sales reps of any kind.  Note that Comcast business telephones have two other plans, Comcast Voice Mobility and Comcast VoiceEdge Select, which are specifically designed for small and micro-businesses. 
Though VoiceEdge claims to be able to serve small businesses and enterprise-grade companies, we feel that the majority of large corporations won't be satisfied with the basic UC features Comcast currently offers.  Most larger companies need a call center software system with more robust call monitoring, call control, analytics, and team collaboration features -- and they won't want to have to jump between multiple applications to get them.  It's also not a good fit for companies that are currently on a tight budget, or those that don't want to be tied to a long SLA and user contract. Finally, companies with advanced regulatory requirements, like HIPAA or FINRA phone regulations, will not be best served by VoiceEdge. 
Yes, it's possible to transfer existing contacts to your VoiceEdge account. Users can also port in any existing phone numbers, and port out their numbers if they switch from Comcast in the future.
Features like call blocking and caller ID allow users to have more control over screening calls and preventing spam phone calls. Anonymous call rejection takes things a step further, as it prevents any inbound call using an anonymous phone number from connecting with users unless they unblock their phone numbers. Call tracing lets users track down those making offensive or inflammatory calls.  Other security features include: private voice messages, business Voice PIN number, admin user controls and E911 capabilities.  Note that, as of this writing, VoiceEdge does not offer end-to-end encryption. 
Yes, though they include an activation fee, usage fee, and a recurring monthly charge.