Five9 is a contact center solution that combines communication channels, call center monitoring, and integrated apps within one omnichannel dashboard–enabling agents to provide personal, context-driven customer service.
However, many of Five9's competitors also offer powerful multichannel contact centers.
This article will outline Five9 alternatives, comparing their pricing plans and key features.
Best Five9 Alternatives and Competitors
Here's the list of the top Five9 alternatives:
Talkdesk
Talkdesk is an intelligent omnichannel contact center that offers VoIP phone, SMS, web chat, WhatsApp, Facebook Messenger, video, and chatbots.
With DID phone numbers available throughout the world, Talkdesk supports international calling with routing and queueing. Talkdesk especially separates itself from the competition with the machine-learning tools–which support agents in real-time, pull from your knowledge base, assist supervisors in managing workflows, and power chatbots–across channels.
Talkdesk gives agents a single-pane, all-encompassing omnichannel view on the web app, and a conversation-optimized view on mobile for iOS and Android.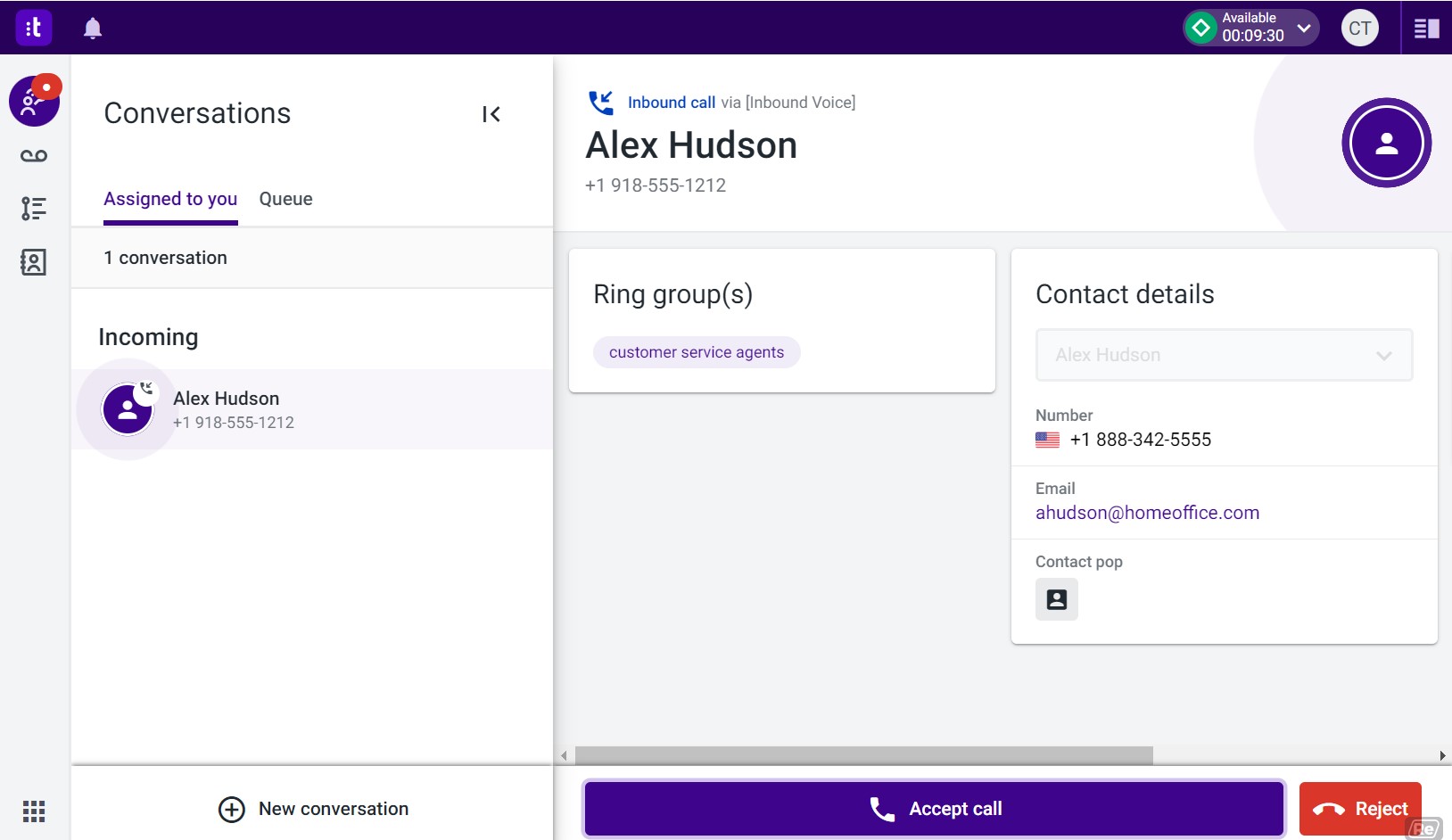 Talkdesk Pricing and Plans
Talkdesk plans are charged per user, on a monthly subscription basis. The budget-priced CX Cloud Essentials plan includes voice only, along with basic versions of Talkdesk's dashboards, routing, analytics, and AI agent support. The higher-tier plans add digital channels–email, SMS, Facebook Messenger, WhatsApp–video, more robust call-center management, and supervisor tools. The Experience Clouds plan offers packages geared toward specialized institutions: banking, insurance, and healthcare.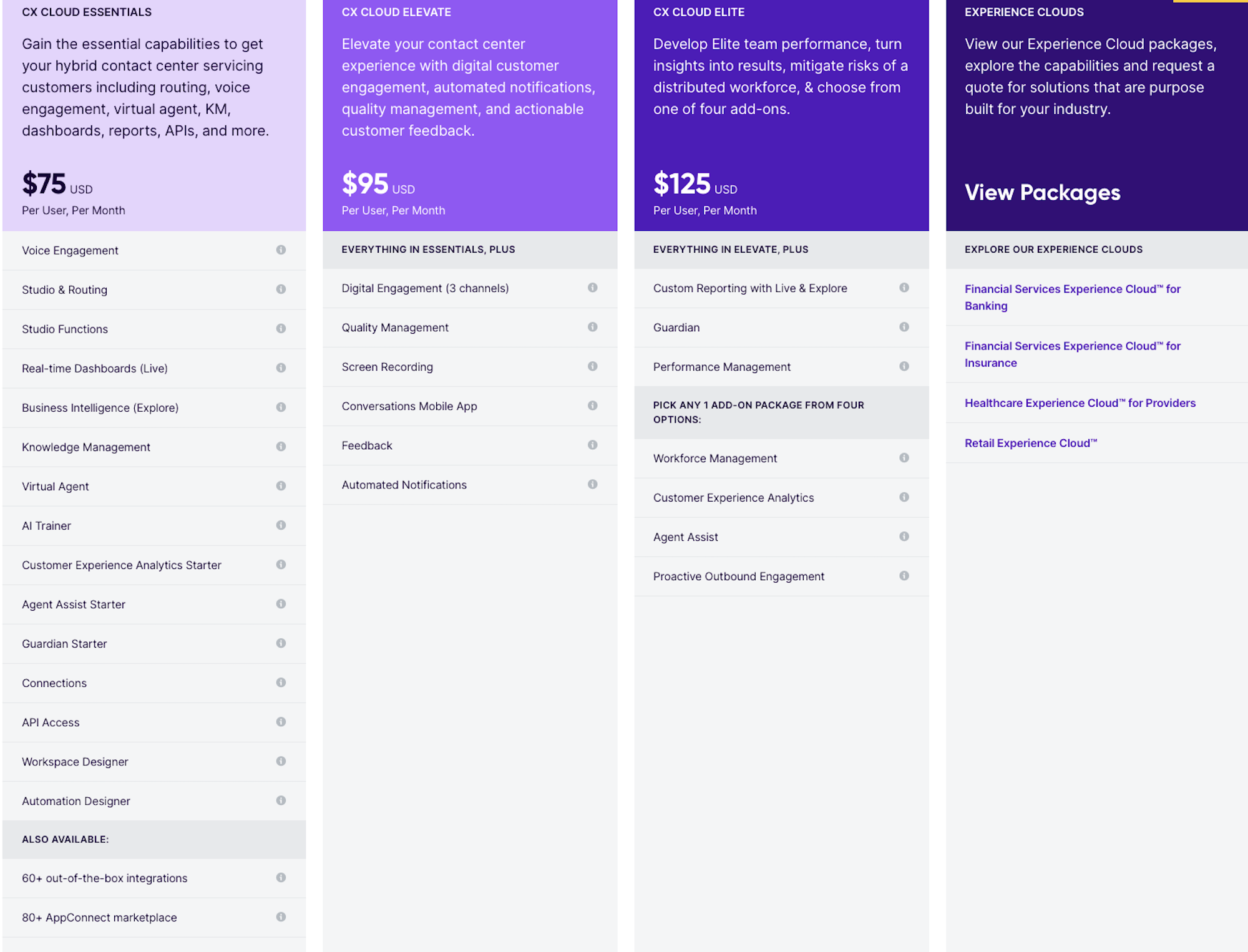 Standout Features
Talkdesk virtual agent: Power voice and digital-chat channels with conversational self-service AI menus, like IVA and IVR, embedded into your website via text or phone–powered by machine learning and natural language processing to identify customer intent.
Agent Assist: Real-time machine learning to support agents with canned responses and quick-answer scripts, next-action recommendations, and automated workflows for pre-call, on-call, and post-call activities. AI connects to your knowledge base to inform detailed, smart replies during live conversations.
Workforce management: Data visualizations, tools, and dashboards that help managers drill down, evaluate, and measure agent performance and identify areas for improvement. Supervisors can view agent schedules alongside queue demands, and automate schedules based on agent skills.
Real-time agent collaboration: Live task sharing enables agents to transfer calls and messaging conversations to each other. SaaS integrations with collaboration tools like Slack and Microsoft Teams allow agents to view contact center insights along with internal team messaging.
Why We Picked Talkdesk
Talkdesk offers an affordable voice-only pricing plan option, for companies looking to service customers solely via phone. Further, Talkdesk's machine-learning tools provide exceptional support for help desks–especially small businesses needing to save time with understaffed support teams.
Twilio Flex
Twilio Flex is Twilio's programmable CCaaS platform, built using their wide library of communication APIs: programmable voice, video, SMS, WhatsApp, Facebook Messenger, webchat, email–and conversational messaging.
Twilio uses a plugin-based code setup, which allows you to customize any layer of your app: routing, communication channels, dashboard, and workflows. Although it supports add-ons, Flex's out-of-the-box app is ready in minutes. The agent display features an easy-to-use taskbar to manage dozens of multichannel customer conversations at once, switching between tasks in seconds.
Flex integrates with virtually any software that contains an API, allowing you to embed thousands of tools into your contact center. It utilizes an advanced skills-based routing engine across channels, unlimited queues, and advanced analytics.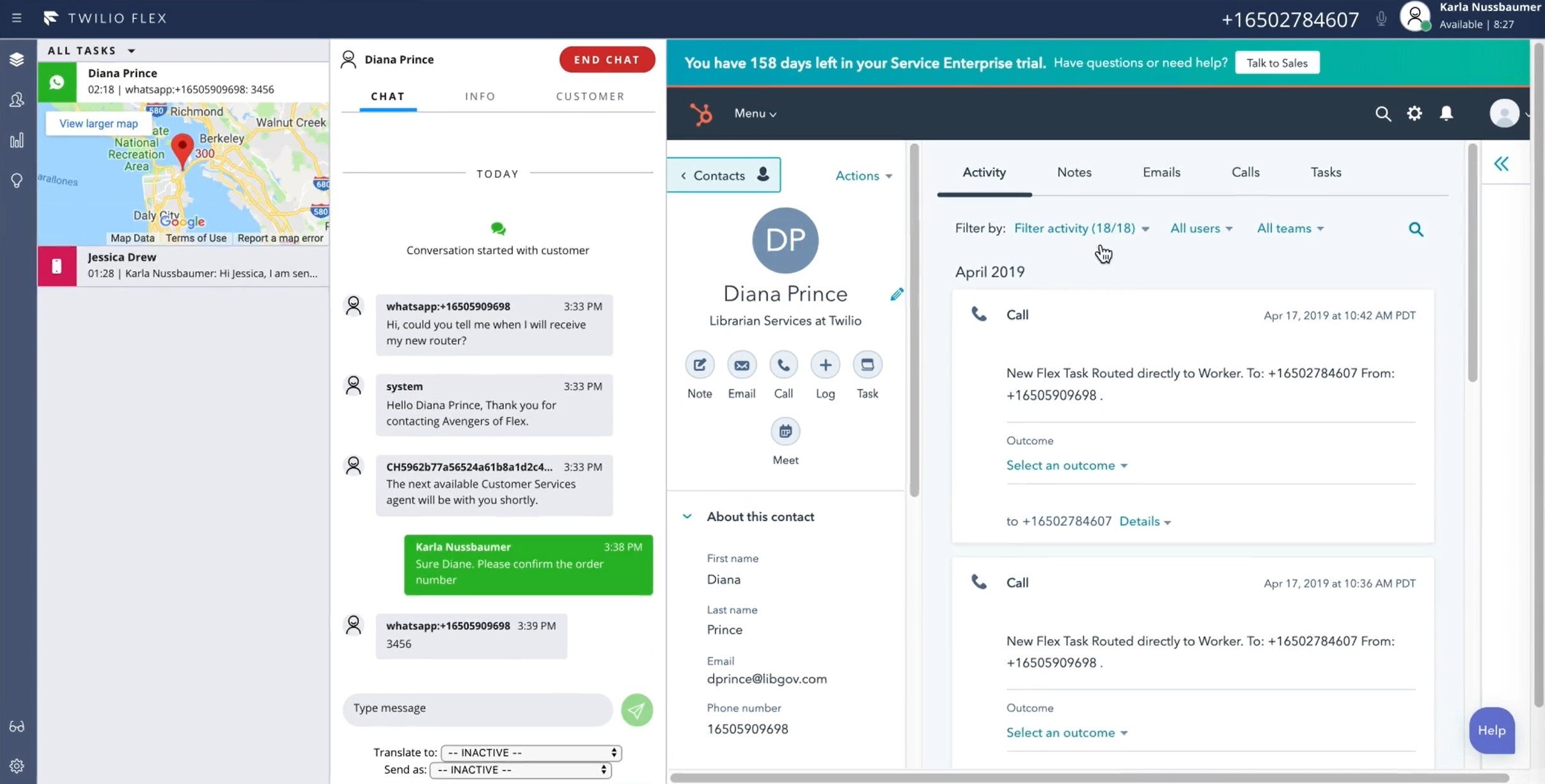 Twilio Flex Pricing and Plans
In addition to 5000 free minutes, Twilio offers two unique and flexible payment options:
$1 per active-user hour: Pay $1 for every hour that someone uses their Flex account. This structure works well if your company has many part-time users that work just a few hours per day, or days per week.
$150 monthly per named user: A more traditional pricing structure, this plan works well if you have a team of full-time users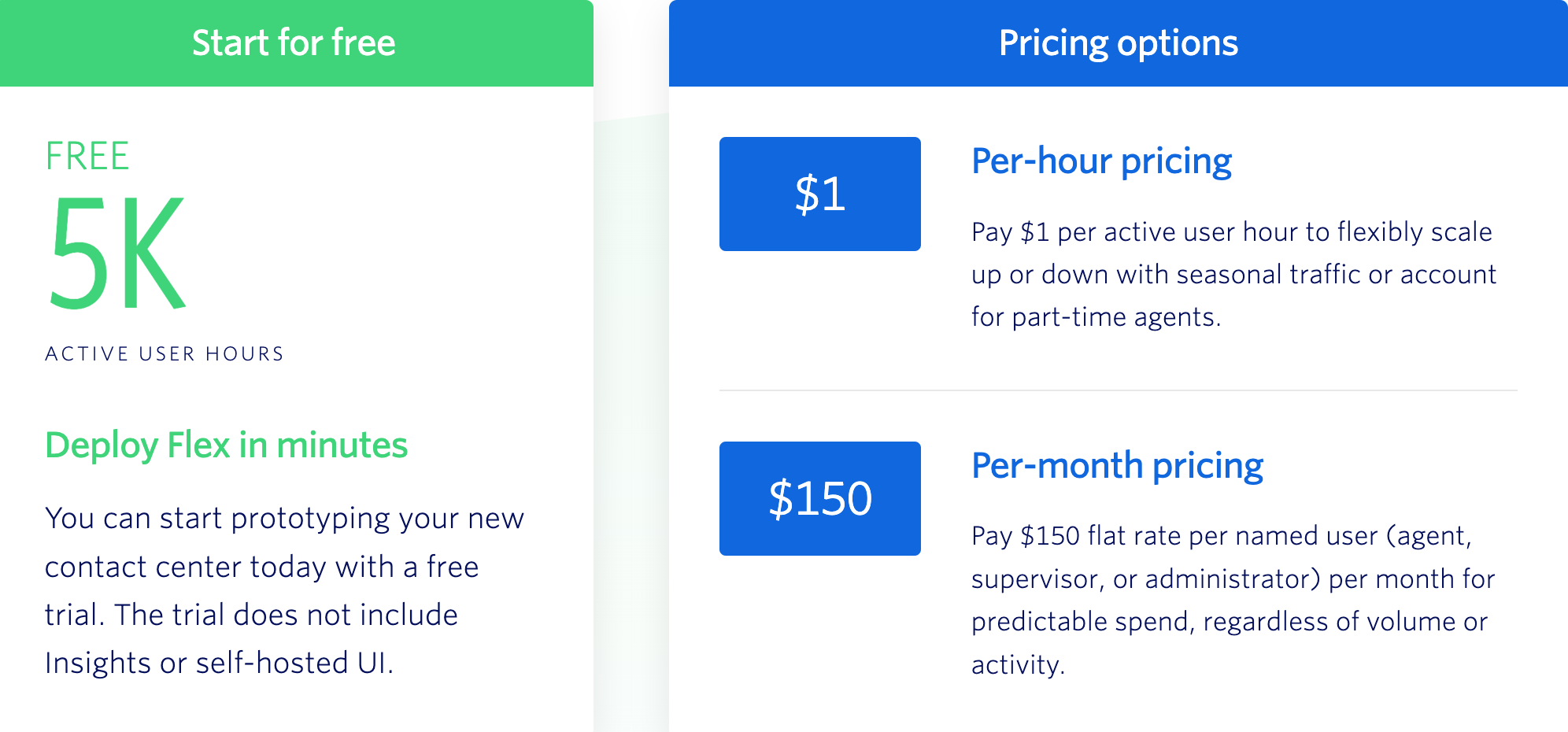 Standout Features
Programmability: Twilio Flex uses an API- and plugin-based infrastructure, enabling your developers to customize virtually everything about your Flex application–the agent interface and display, the routing system, the channels you use, workflows, even the popup messages that agents receive.
Omnichannel agent interface: The Flex agent dashboard makes it easy for an agent to do their job. Tasks are organized neatly with one-click buttons to accept or reject. Within each task, agents have single-pane access to a wealth of customer background information.
Programmable and conversational messaging: Twilio Flex includes both Twilio's programmable messaging API and their two-way conversational API, unlocking a variety of automated, bulk-messaging, and customer support use cases. Send automated alerts, authentication messages, one-time passwords, and delivery status updates–or provide personalized product recommendations when an agent takes over for the chatbot.
Flex Insights: Flex's highly customizable analytics and reports platform allows you to customize dashboards and displays–for any agent or queue, over any historical timeframe. Build comparative visuals to drill down particular statistics, choosing between bar graphs, line graphs, pie charts, tables, and more.
Why We Picked Twilio Flex
Twilio Flex, appropriately named, is probably the most flexible contact center on this list. Its programmability supports a wider variety of integrations than any other competitor, making Flex extremely malleable. Further, Flex's active-user-hour pricing is unique.
Nice CXone
Nice CXone is AI-powered call center software that unites dozens of channels: voice, video, email, SMS, collaboration platforms like Slack, streaming sites like YouTube, and social media messaging sites like FB Messenger.
It utilizes a global, meshed network with dozens of outbound and inbound carriers across every continent. Nice CXone's collection of over 450 REST APIs provides a framework of diverse functionality, providing your developers with databases and resources to compose tons of aspects of your contact center.
Enlighten AI, part of CXone, uses 200 pre-built AI models that work out of the box to empower solutions across your app: routing based on agent personality and analytics, real-time agent interaction guidance, service quality and performance management, and smart self-service tools optimized for your contact center's data.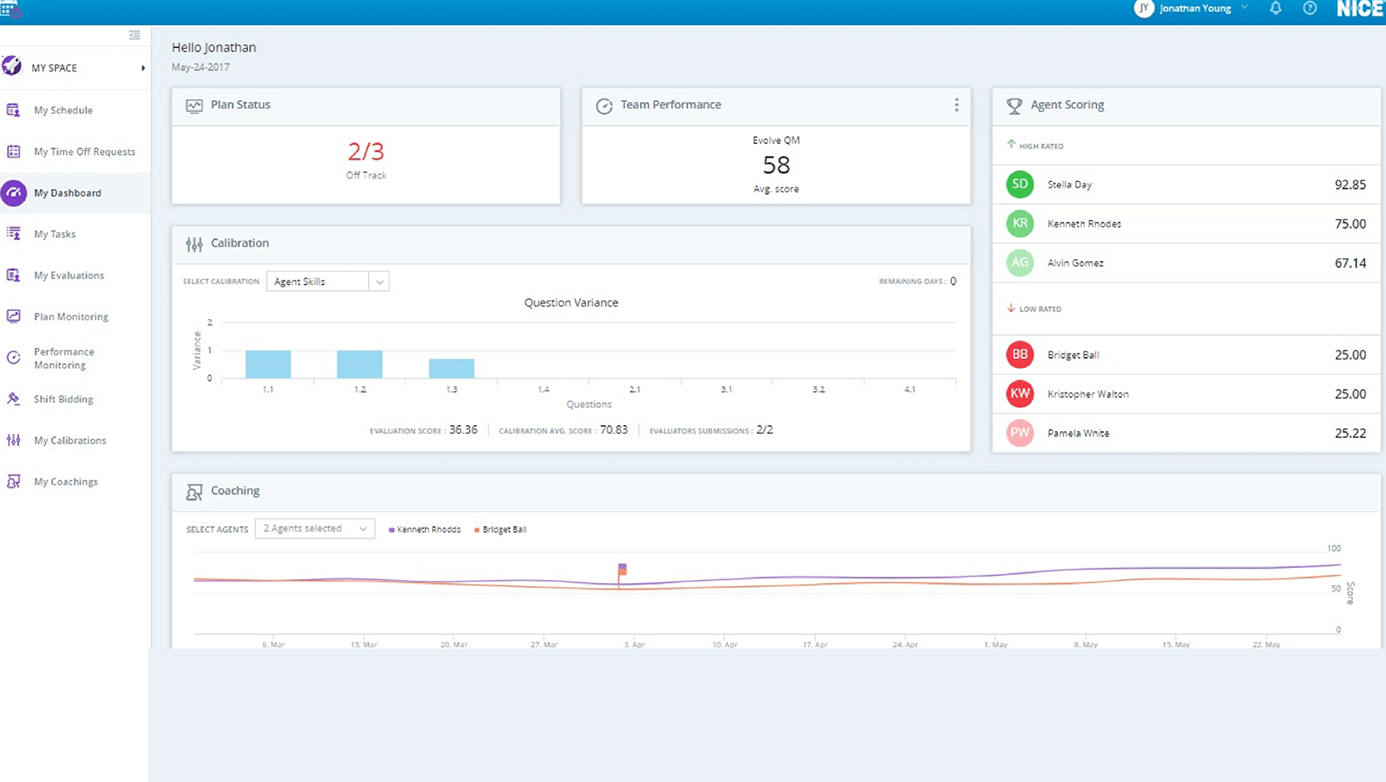 Nice CXone Pricing and Plans
Nice CXone offers individually quoted pricing plans, so you will have to contact them for a custom quote.
However, they offer four subscription-based pricing plans–each including your choice of digital messaging channels, voice, or an omnichannel combination. The Customer Engagement plan includes softphone functionality, routing, and administration, and each higher-tier plan adds increasingly robust monitoring tools.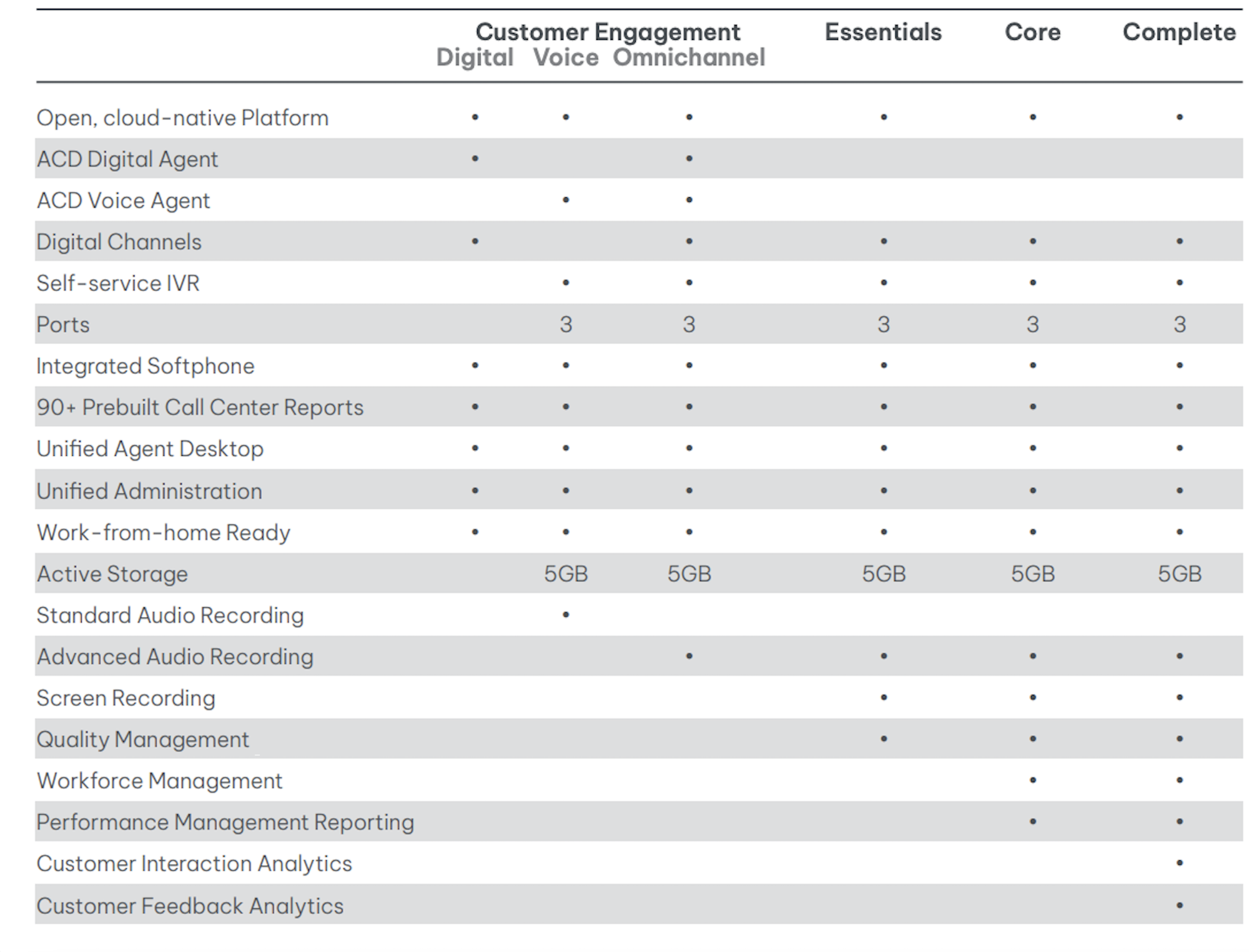 Standout Features
AI-based self-service: CXone's Enlighten Experience Optimization analyzes historical voice and text interactions, tracking sentiment and frequently mentioned topics, using these to improve automated support. CXone's multichannel self-service tools–built with a drag-and-drop designer–can offer discounts, facilitate account-management actions, and more.
Personalization customer journey orchestration: Transition customer conversations seamlessly across over 35 different automated and in-person channels–including voice, email, chat, video, collaboration platforms like Slack, and social media–maintaining a single conversation history, so the customer never has to repeat themselves.
Agent omnichannel display: In the agent dashboard, agents can handle dozens of conversations at once. Customer profiles compile contact information, recent notes, and the customer's multichannel conversation history. Agents can share files, share the task with other agents, and access the knowledge base within the dashboard.
Supervisor tools: CXone Supervisor combines a wide bank of manager capabilities–an overview of queue insights and data, live monitoring dashboards, real-time sentiment metrics, skills management tools, and reports. Supervisors can view agent screens, listen in on conversations, speak privately to agents, or join the conversation live.
Why We Picked Nice CXone
NiceCXone supports an exceptionally wide variety of communication channels, with drag-and-drop tools to connect them and AI enhancements to create a powerful customer experience.
Genesys Cloud CX
Genesys Cloud CX offers a cloud-based call center software with VoIP telephony, SMS, email, web chat, video meetings with screen sharing, and social media messaging across Facebook, Twitter, and Instagram.
Cloud CX's desktop agent interface provides a unified hub where agents can manage all channels on one screen. The Conversations inbox organizes all of an agent's tasks across channels, enabling agents to prioritize certain customers and jump between them quickly. During an interaction, agents have access to a knowledge base, dynamic customer profiles with journey information, multichannel conversation history, and information pulled from CRM or database integrations.
Genesys supports agents with AI tools like predictive engagement and predictive routing, custom self-service options like IVR and chatbots, and live speech and text analytics that help agents and supervisors identify critical engagement opportunities.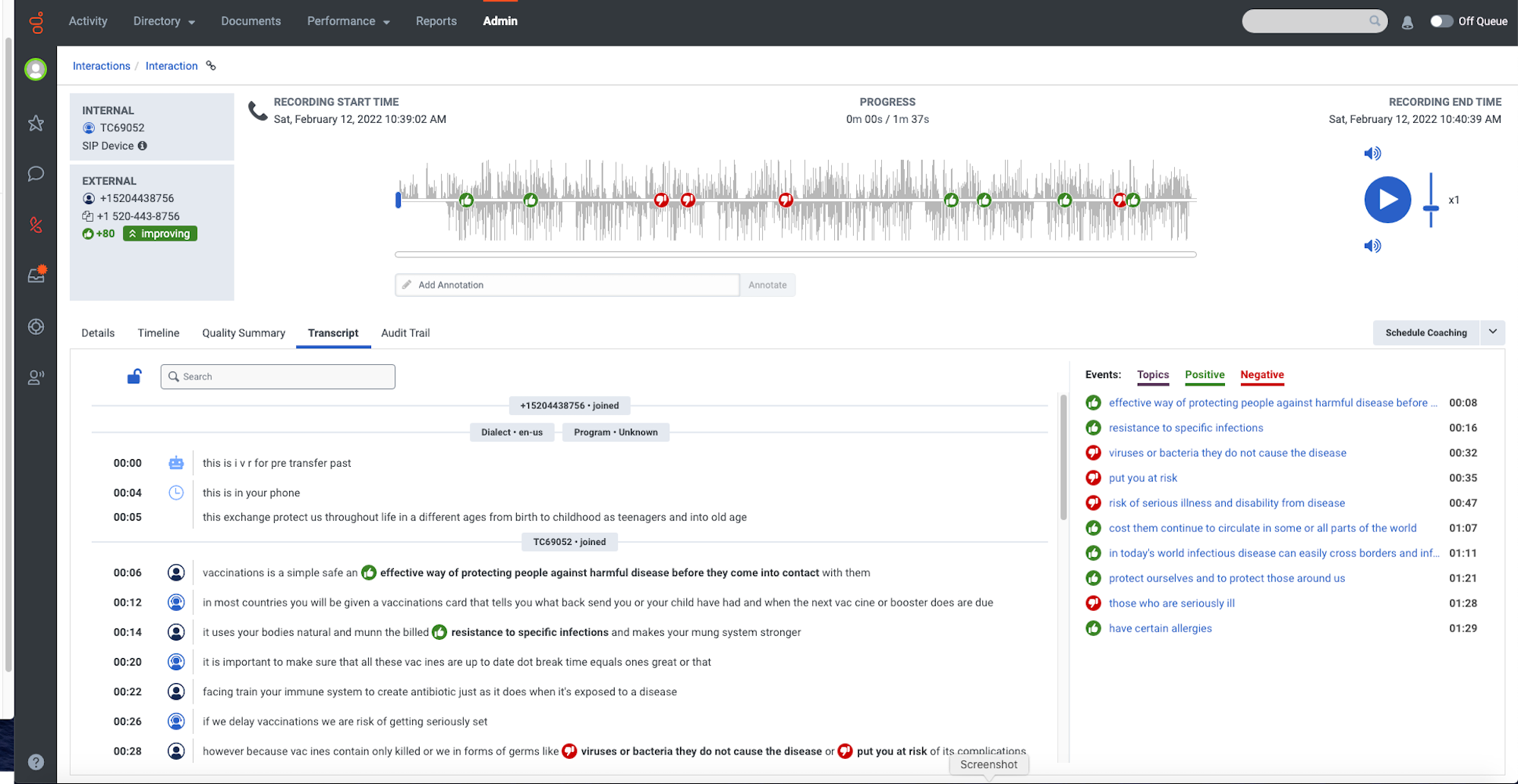 Genesys Cloud CX Pricing and Plans
Genesys Cloud CX offers 5 pricing plans: 3 tiers of features, split into digital-only or voice-added options. The basic CX 1 plan includes voice only, with basic routing and IVR features. The CX2 plan adds digital channels, multichannel conversations, and a knowledge base. Finally, CX 3 adds Genesys' diverse library of AI tools, including automated coaching, scheduling, and conversation analytics.
Plan
Genesys Cloud CX 1
Genesys Cloud CX 2
Genesys Cloud CX 3
Cost (monthly per user)
$75
$90 for digital, $110 for digital and voice
$130 for digital, $150 for digital and voice
Communication Channels

Email
Web chat
SMS
Messaging apps like WhatsApp and Facebook Messenger
Voice (optional)

Key Additions

Dynamic routing
Self-service IVR
Drag-and-drop call flow builder

Digital workspace and multichannel conversation histories
Quality management tools
Knowledge base

AI-powered speech and text analytics
Built-in agent coaching
AI-powered scheduling and forecasting
Standout Features
Workforce management: Use AI to forecast staffing demands and generate adaptive agent schedules, modifiable by budget and available staff. Automatic call recording and customer insights help supervisors monitor agent performance, in addition to real-time queue insights and KPIs.
Speech and text analytics: Genesys AI offers complete transcription for all audio interactions and voicemail, analyzing for insights. Set rules based on detected keywords and phrases, to take action in response to meaningful conversations. AI identifies customer topics and sentiment trends, and managers can sort this information by agent, queue, or flow menu like IVR or chatbot.
AI-driven predictive engagement: Agents have a variety of display- and AI-based tools at their disposal for improved customer satisfaction. Access rich customer profiles with historical data and cross-channel interactions, customer journeys, and predicted outcome scores.
Knowledge management tools: Genesys Cloud CX includes a built-in content management system, where you can write articles and build a knowledge base. Answer Q&As, sort articles into categories, and format articles with fonts, bullet-point lists, and images. Customers can search your knowledge base by keyword, and agents and chatbots can share knowledge-base articles in live conversation.
Why We Picked Genesys Cloud CX
Genesys uniquely offers the option for digital-only pricing plans, in addition to voice-only and omnichannel options. Further, Genesys provides a well-rounded suite of AI-based agent-support and routing capabilities.
Dialpad
Dialpad's AI contact center offers an omnichannel dashboard uniting VoIP phone, SMS, social messaging platforms, video conferencing, customer-facing web chat, and internal team chat channels.
Build your cloud-based phone system with the numbers you already use, or select new VoIP numbers from Dialpad's international bank of local and toll-free numbers. Create unlimited auto attendants and call queues, with in-queue callback options so customers don't have to hang around on the line. The agent dashboard manages all external and internal conversations–across channels–in one inbox. Transition customer conversations seamlessly between channels, while retaining a single conversation history.
Dialpad transcribes all voice calls in real-time, offering a variety of AI live-support tools: coaching suggestions about speech pace or word usage, sentiment updates, and suggested canned responses. Supervisors retain a live view of queue performance, with a live view of all active agents, sentiment scores, transcripts, and post-call summaries. Supervisors can hop into conversations, leave notes on a transcript, and view real-time and historical queue reports.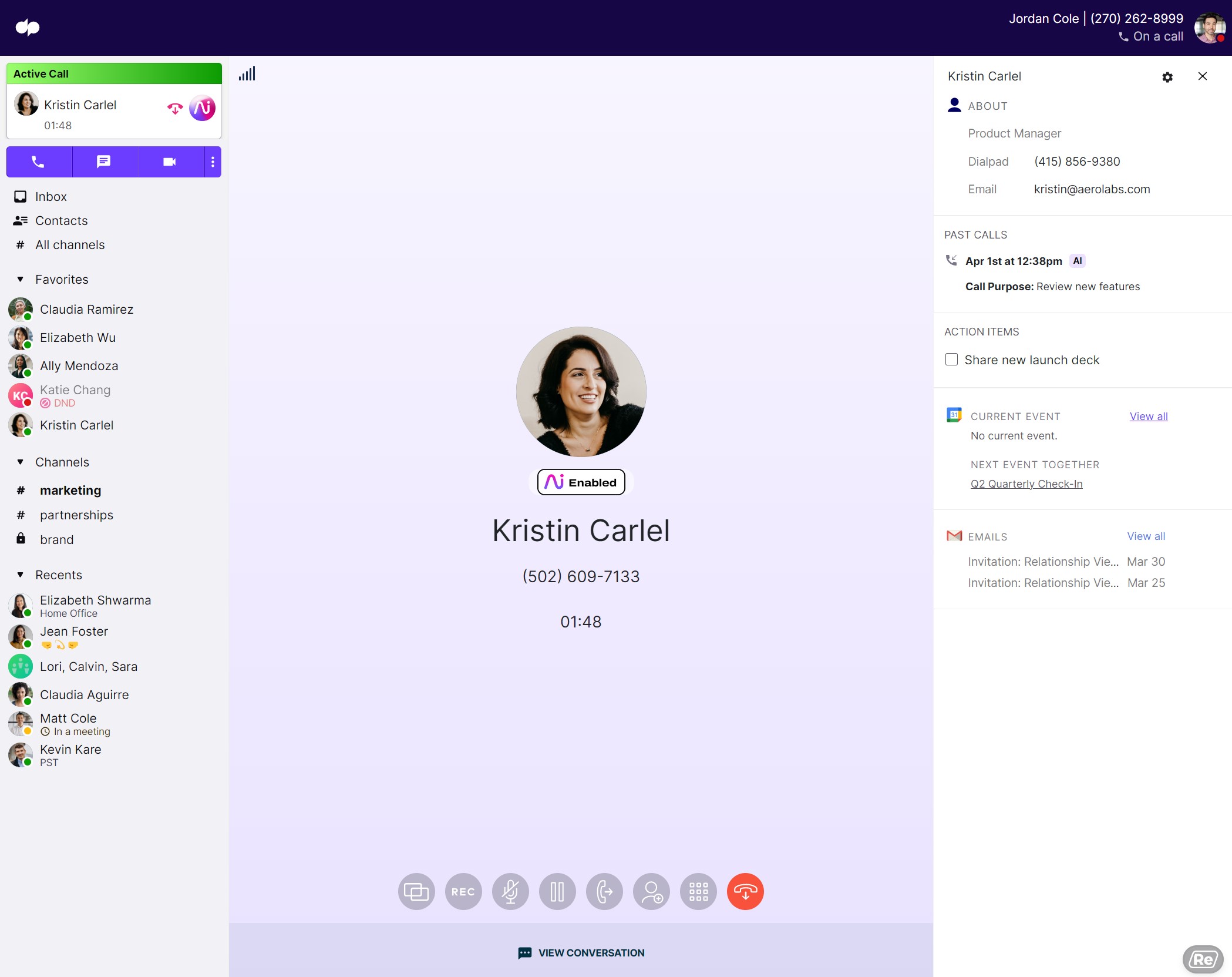 Dialpad Pricing and Plans
Dialpad AI contact center offers two plans, both on a custom-quote basis that will require your company to contact Dialpad.
The Pro plan has a 3-license minimum, including all contact channels, CRM integrations, 25 call queues, unlimited routing, and Dialpad's full AI suite. The Enterprise plan has a 50-license minimum and adds unlimited queues and dashboard customization options.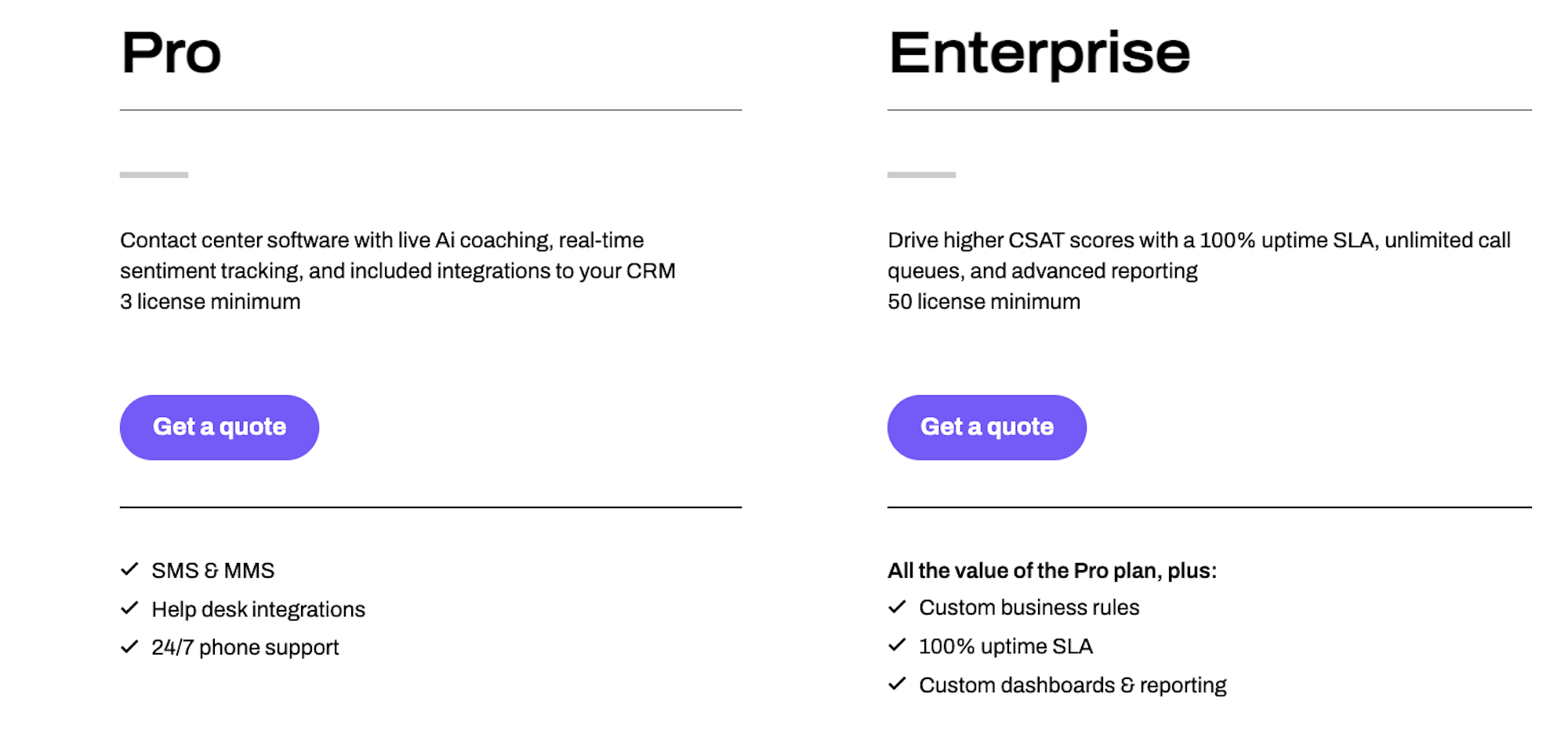 Standout Features
AI-generated sentiment and coaching: Dialpad identifies customer sentiment and CSAT scores for 100% of your customer interactions, using this information to provide agent feedback and generate predictive analytics. Live coaching includes pacing and word-choice suggestions, knowledge base information, and canned response suggestions.
Supervisor dashboard: Supervisors retain a live view of queue happenings, seeing conversation participants, live call durations, sentiment scores, and live transcripts. Click on a call to listen in or join the call via audio.
Post-call summaries: After each call, Dialpad sends agents an automate post-call summary containing the recording, transcript, action items, topics, and key moments. Agents and supervisors can search each transcript.
Team collaboration channels: Create an unlimited number of team chat channels, where users can chat, share emojis and images, and send files. Each channel includes a video-meeting button, where up to ten users can meet live at any time.
Why We Picked Dialpad
Dialpad's contact center software is unique in that it offers not only automated agent support but unlimited internal team messaging–doubling as a UCaaS platform.
8×8 Contact Center
8×8's cloud contact center bundles voice, web chat, SMS, email, social media messaging, and messaging apps like WhatsApp.
The call center solution doubles as a UCaaS platform by including 8×8 Work–an internal collaboration app available on browser, desktop, and mobile app with internal team chat, video conferencing, and file sharing.
8×8 offers toll-free and DID numbers around the world, routing and auto attendants, and call queues. Supervisor tools include customizable analytics, a live-monitoring dashboard with whisper and barge, and automated agent feedback tools.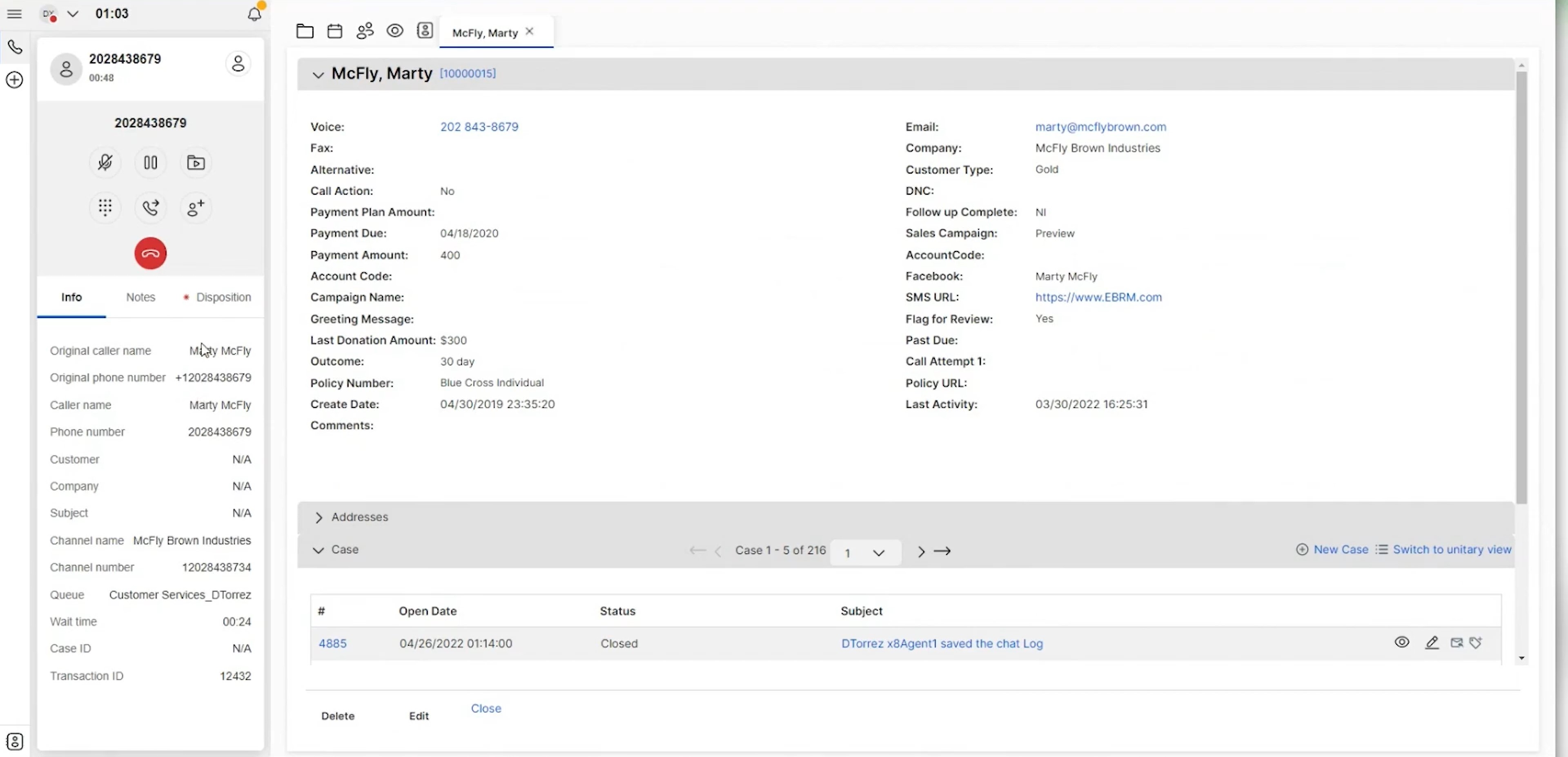 8×8 Pricing and Plans
8×8's CCaaS platform offers 3 pricing plans. The X6 plan is voice-only–with call routing, monitoring tools, queueing, and analytics. The X7 pan adds omnichannel routing–chat, emails, SMS, social media, and messaging apps like Facebook Messenger and WhatsApp. The X8 plan adds an autodialer, quality management tools, and speech analytics.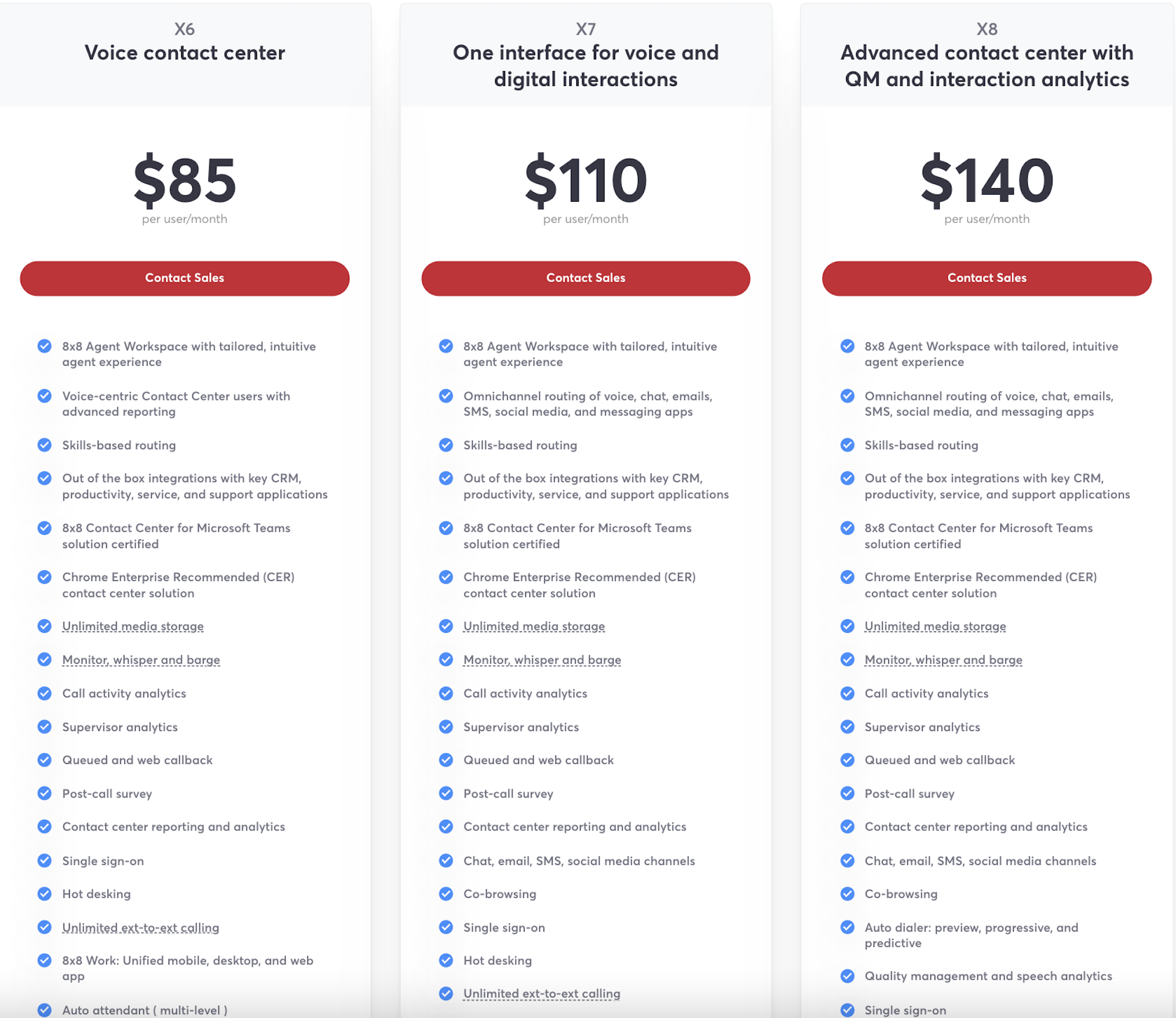 Standout Features
Omnichannel routing: Build an intelligent, self-service IVR system that utilizes AI, speech recognition, and natural language processing to route inbound customers to the right agent or queue. 8×8 offers an intuitive drag-and-drop IVR design tool.
Workforce engagement management: Dynamic evaluation tools to make feedback and coaching easier. Supervisors can drill down into each conversation with transcripts and audio playback, with the option to make comments. Speech analytics identify sentiment and repeated words, and automated customer services gather detailed feedback.
Analytics: 8×8's Analytics tab offers dozens of dashboards and hundreds of KPIs, customizable to view by agent and historical timeframe. View live queue summaries, agent interactions and activity, call summaries, queue activity, and agent performance over time–viewable in statistical, table, or graph form.
Agent workspace: The omnichannel workspace organizes all active tasks in one dashboard, with each conversation separated into a unique tab. New tasks pop up on an agent's screen, with the option to accept or reject. Agents can jump between tasks, place outbound calls, respond to customers via any channel, jump between channels mid-conversation, and view customer profile information.
Why We Included 8×8 Contact Center
8×8's most basic plan offers a budget price with a wide array of advanced features–analytics, monitoring, queues, and an internal collaboration platform.
Why Five9?
Five9's omnichannel contact center platform combines VoIP phone, SMS, web chat, video, email, and social media messaging like Facebook Messenger–all in one desktop dashboard that enables agents to serve customers across channels.
The Five9 contact center solution also offers powerful omnichannel and skills-based routing, workflow automation, workforce optimization with AI agent support, call center monitoring, and analytics.
Five9 bolsters its omnichannel dashboard with customizable routing features, like self-service voice-based virtual assistants (IVA) and mobile-based visual virtual receptionists (IVR). Design chatbots to embed into your website for simple tasks, routing complex queries to live agents.
Streamline workflows with Five9's drag-and-drop designer. These workflows combine all of your communication channels with in-app functions like password change, report requests, calendar event creation, routing, queueing, and more–creating a tool that efficiently utilizes AI, self-service, and live agent support.
Why Seek a Five9 Alternative?
While Five9 offers an omnichannel user interface with customizable routing and powerful call-center-monitoring tools, it doesn't offer the extensive and flexible integration library that some competitors do. Rather, Five9's integrations are limited to CRM systems like Salesforce and Zendesk, inventory databases, and unified communications platforms.
Further, some Five9 alternatives offer competitive and flexible pricing models, customer-service features, and contact-center customization tools that Five9 does not.
Which Five9 Alternative Should You Choose?
The best Five9 alternative for your company depends on your budget, the channels you want, and the features your agents need.
Some CCaaS platforms on this list–such as Dialpad and 8×8–double as UCaaS platforms, with collaboration-focused apps including internal team chat and video meetings. On the other hand, if you have a team of developers ready to customize and design your contact center, go with a flexible and highly programmable option like Twilio Flex or Nice CXone.