Recent studies show that, when compared with on-premise business phone systems, cloud-based contact center software cuts downtime rates by 35%.
As a call center manager or IT administrator, you're ready to switch to a cloud-based CCaaS platform, but you want to learn more about the features that top providers like Genesys and Five9 have to offer that your traditional phone system doesn't.
In this head-to-head comparison of Five9 vs Genesys, we'll compare incoming and outgoing calling features, Intelligent Voice Recognition capabilities, omnichannel support, and more to make your decision easier.
Compare contact center software
from top providers
Quick links:
What is Genesys?
Genesys is an omnichannel unified communications cloud contact center software with advanced call management features to streamline customer service, increase customer engagement, and boost agent productivity.
The Genesys Cloud™ is designed to engage with customers across multiple touchpoints while offering agents increased business communications flexibility.
Top Genesys features include:
CloudVoice interconnected VoIP telephony or BYOC
Incoming call routing
Outgoing call management
Customer self-service capabilities
Chat messaging
CRM integration
Business SMS text messaging
Team collaboration tools
Workforce engagement and analytics
Third-party app integration
What is Five9?
Five9 is an intelligent cloud call center software that integrates with most CRM and helpdesk ticketing platforms to provide multiple channel customer support and optimize internal workflow strategies.
The Genius™ contact center solutions take a customer-first approach to business communications.
Its best-known features are:
UC integration or Cloud Voice VoIP virtual phone system integration
Advanced incoming and outgoing call management
CRM integration
Chat messaging
Customer self-service
SMS text messaging
Five9 vs Genesys: Feature Comparison
Here, we'll offer a side-by-side comparison of the top Five9 vs Genesys features, which include:
Incoming Calling
Outgoing Calling
Customer Self-Service
Omnichannel Communication
Workflow optimization
Analytics and Reporting
Integrations
Incoming Calling Features
Genesys Inbound Voice is designed to increase first call resolution rates through the use of ACD routing based on live customer data and interaction history, set calling rules, and agent availability.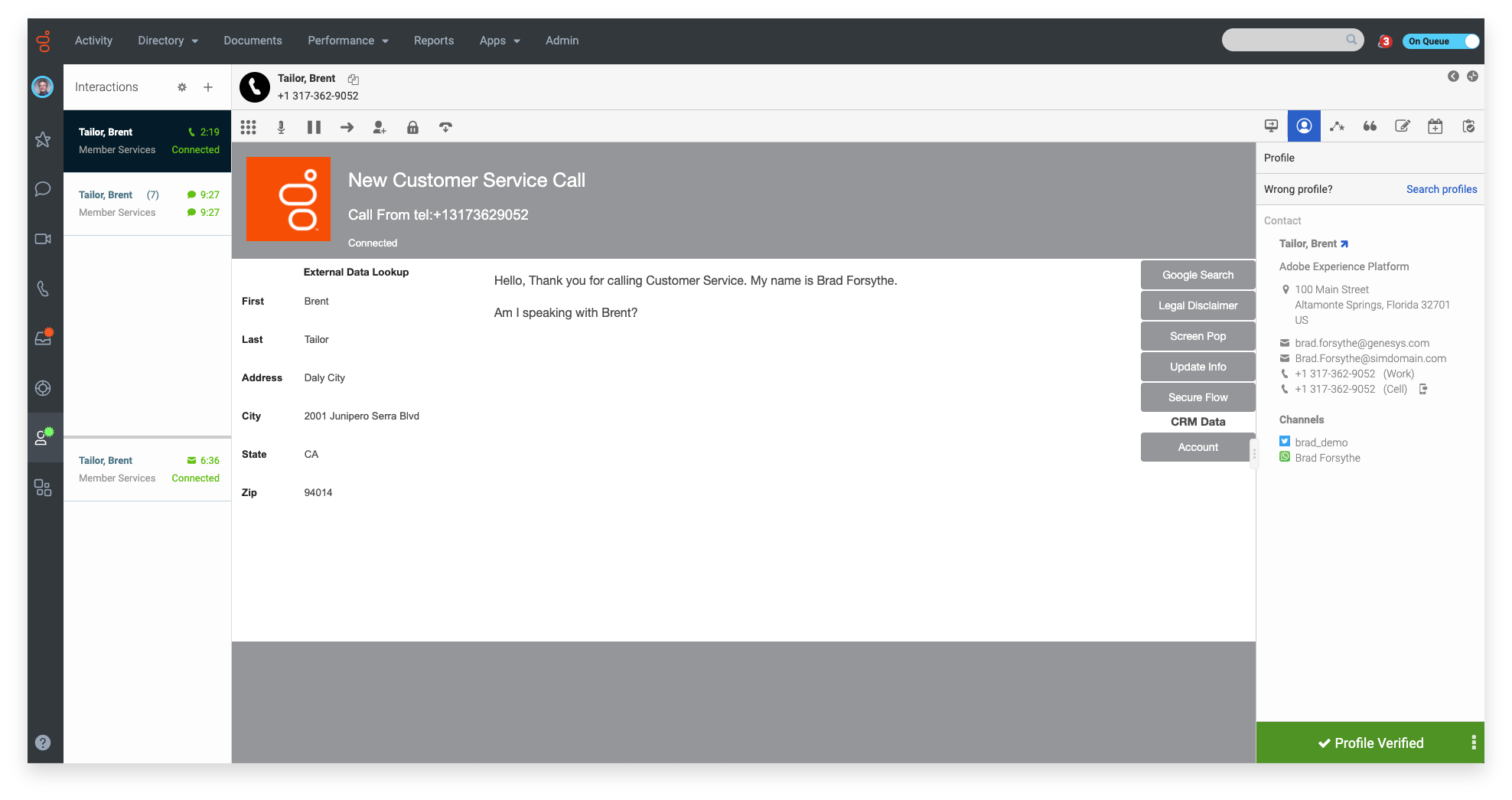 Its intelligent call routing system is designed to replace PBX phone systems, unify a geographically diverse workforce, and harness the power of artificial intelligence to enhance customer calls.
Screen Pops provide agents with all recent and relevant customer data as soon as they accept an incoming call, eliminating the need for callers to repeat themselves to multiple agents.
It supports customer segmentation for increased personalization, and allows for call prioritization according to customer value, the level of service needed, or current call center traffic and estimated wait times.
Inbound Voice uses call forwarding and priority routing to ensure that, no matter where an agent is located or the device they're using, they connect with their VIP clients.
Additional Genesys Incoming call features include:
BYOC or VoIP Cloud Voice calling
Built-in speech recognition
Live agent and call flow monitoring
Relationship-based routing
Skills-based routing
Automated call notifications
Workforce routing
Network Voice routing strategy to lower SIP trunking costs
Agent scripting
CRM integration
Five9's incoming calling center uses its Engagement Workflow to route calls to the best available agent, and also uses CTI Screen Pops to display recent previous customer journey touchpoints.
Routing options include:
Time-of-day routing
Voicemail routing
Priority routing
Round robin routing
Like Genesys, Five9's incoming calling software is designed to promote personalized interactions. Segmented agent scripts for incoming callers make it easy for representatives to provide quick assistance to customers, increasing their first call resolution rate.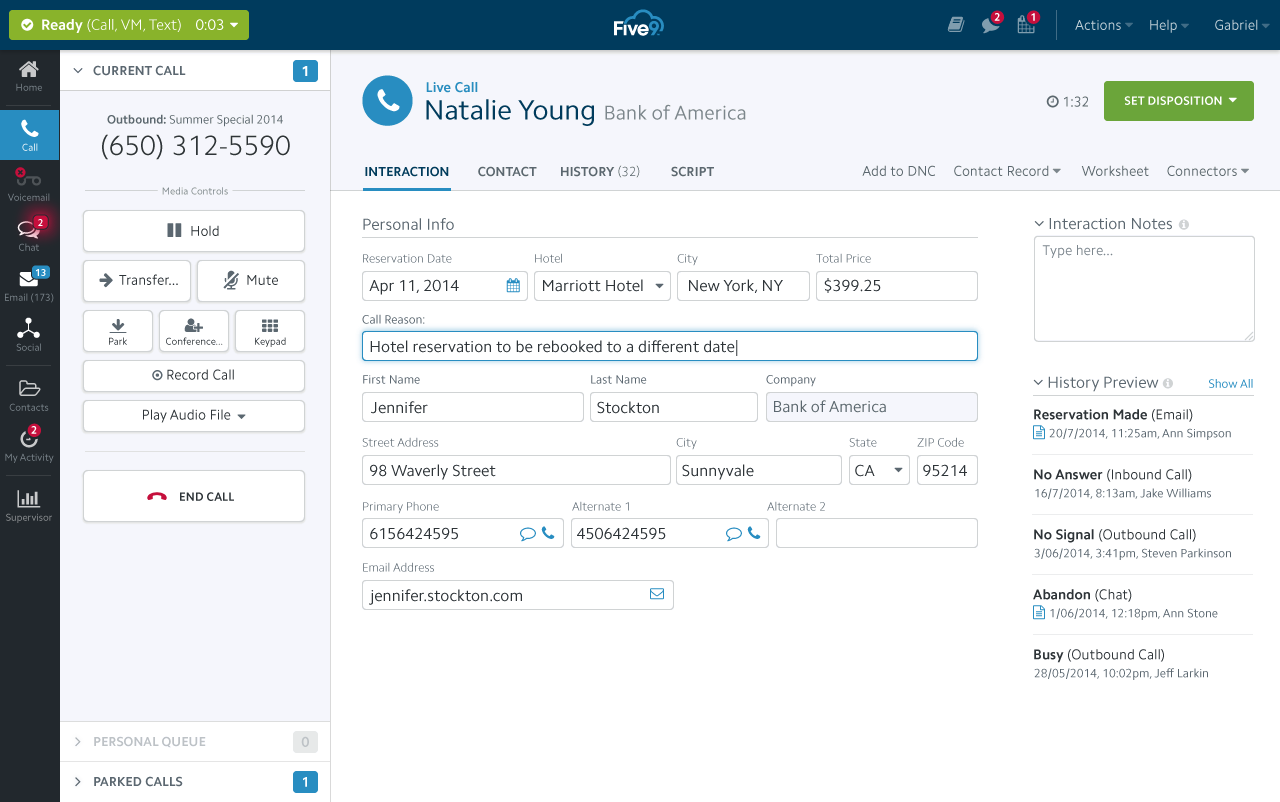 Additional Five9 incoming calling features include:
Incoming call whisper
Call monitoring
Text-to-speech
Voicemail to email
Call notifications
Contact management
CRM integration
Outbound Dialers & Calling Features
The Genesys outgoing call tool includes features that make it easier to anticipate customer needs and lower incoming calling rates.
The auto dialer uses call pacing, voicemail filters, and busy signal/unanswered call filters to increase agent talk time. Genesys' blended call system ensures that agents can easily switch from incoming to outgoing calls, or vice versa, to accommodate increased call queues.
Much like incoming Screen Pops, outgoing preview dialing tools provide agents with customer information before call initiation, allowing them to be better prepared for the conversation.
Additional Genesys outgoing call features include:
Progressive dialer
Automated callbacks and reminders
Predictive dialer
Integrated Do Not Call lists
Drag-and-drop call flow
Landline and mobile call strategies
Automated suppression lists
Customer opt-ins
Telemarketing tools and scripts (upselling, customer data collection, etc.)
Escalation matrix and dialing rules
Outgoing call analytics and customer reports
Outgoing Intelligent Voice Recognition
Customer and list segmentation
Call progress detection
CRM integration
Five9 Outbound Calling offers several custom dialing modes designed to maximize agent productivity and connect representatives to as many leads as possible.
The automatic Power Dialer mode, unlike predictive or progressive dialing, follows a set calls-to-agent ratio. As soon as an agent activates the Power Dialer, the calling system begins calling potential leads at a speed consistent with the current calls-to-agent ratio.
This way, agents no longer lose time on unanswered calls, busy signals, or numbers that are out of service.
Users can also transition to predictive, preview, or progressive dialing modes at any time.
With live Do Not Call list management, answering machine detection, and automated voicemail, Five9 can help to increase agent talk time by over 300% per hour.
Five9 auto-dialing rules are in full compliance with TCPA and other VoIP regulations.
Additional Five9 outgoing calling center features include:
Campaign and list management
Outgoing call priority
Disposition redials and timers
Timezone rules calling
FTP data importing
United States Local caller ID
Voice recordings
Vertical dialing mode
List penetration dialing
Agent scripting
Call Center Software Comparison
The below table shows additional Genesys and Five9 Call Center features:
| | | |
| --- | --- | --- |
| Features | Genesys | Five9 |
| Inbound, Outbound, and Blended Calls | ✓ | ✓ |
| Speech-Enabled IVR | ✓ | ✓ |
| Caller ID | ✓ | ✓ |
| ACD Routing | ✓ | ✓ |
| Number Porting | ✓ | ✓ |
| Toll-Free Telephone Numbers | ✓ | ✓ |
| Call Scripting | ✓ | ✓ |
| Screen Pops | ✓ | ✓ |
| Softphone Capabilities | ✓ | ✓ |
| Call Recording | ✓ | ✓ |
| Video Calling | ✓ | ✓ |
| Call Monitoring | ✓ | ✓ |
| Auto Dialing | ✓ | ✓ |
| Automated Call Scheduling | ✓ | ✓ |
| Intelligent Virtual Agents | ✓ | ✓ |
| UCaaS | ✓ |  ✓ |
| US Based Support | ✓ |  ✓ |
| Chatbots | ✓ |  ✓ |
Winner: Thanks to its Power Dialing mode, Five9 has the better outgoing dialer software, while Genesys boasts superior incoming call management and IVA features by allowing customers to opt-in.
Customer Self-Service
Genesys CX offers multi-channel customer self-service through the use of AI-powered digital assistants, chatbots, and voice bots.
In addition to the standard call center IVR features, Genesys Voice Callback allows incoming callers to request a callback as soon as an agent is available or at a time that's the most convenient for them, eliminating the need for long wait times.
It also uses Natural Language Processing (NLP) from Nuance to allow customers to speak to Voicebots naturally.
Genesys Call Center self-service makes it easy to schedule more personalized menu options and implement customized microapps that allow for customers to resolve their own issues even faster.
Automated chatbots make providing instant customer service over your website, social media messenger tools, WhatsApp, and more much easier. They integrate with chatbots from Amazon, Google, and IBM to allow users to keep their preferred interface.
Chatbot analytics allow users to identify common problem areas within the customer journey, and then automate bots to communicate with customers once they get there.
Additional customer self-service Genesys features include:
Visual Intelligent Voice Recognition
Multi-lingual self-service
Touch-tone to enter personal information
Customer verification
Self-service payments
Transition to live agent
Five9's customer self-service tool provides many of the same features as Genesys, including both visual Intelligent virtual assistants and speech recognition with Natural Language Processing.
It also offers prompts for self-service, callback scheduling, estimated wait times, and the ability to opt to transition to a live agent or leave a voicemail. Its customer tone analysis better prepares agents for a prickly caller.
AI-powered virtual assistants allow for chat messaging via an iPhone or Android mobile app or desktop computer and let customers select the specific topic they need assistance with.
Additional features of the Virtual Assistant include:
Self-service capabilities in 17 languages
Ability to update customer information
Appointment scheduling
Automated social distancing policy
Customer verification
Winner: Genesys offers better multi-channel virtual assistance in addition to allowing for Intelligent Voice Recognition payment collection, which Five9 does not allow for.
Omnichannel Communication
Genesys's CX Omnichannel contact center Solutions allow customers to connect with agents on the device or platform of their choosing, ensuring that the conversation will pick up exactly where it left off regardless of whether they're on Facebook Messenger or email.
Genesys allows customers and agents to communicate via live web chat, email, phone, messenger apps, SMS texting, even through video with screen sharing, offering a true omnichannel customer experience.
It presents all current and historical customer experience data and conversations into one unified agent interface.
Additional multi-channel communication features include:
CRM integration
Customer co-browsing
Email routing
Concurrent agent chat sessions
Multiple channel automation
Customer profiles
Customer experience notes
Typing indicators
Stored chat transcripts
Transfer to or conference with a colleague
Graphic and video SMS and email messaging
Five9 takes a digital-first approach to omnichannel customer service, which is what makes it markedly different from Genesys.
Conversation synching and a unified multi-channel interface mean that both agents and customers can communicate on their preferred device.
Like Genesys, Five9 allows for communication via social media messaging apps, video calling, email, online chat, SMS messaging, and video calling. However, unlike Genesys, Five9 anticipates multi-channel communication, allowing users to add or switch channels at any point during a customer interaction.
Additional Five9 Omnichannel Communication features include:
CRM integration and the ability to route emails to CRM
Auto-greetings and automated comfort messages
Customer forms to explain issue before the session
After-hours messaging
Multi-touch email responses
Concurrent messaging sessions
Transfer and conference current calls/messages
Winner: Draw, as the winner here will vary depending on if your company relies on digital-first or phone call-first communication with customers. Whatever your preference, Five9 and Genesys offer virtually the same multi-channel communication capabilities
Workforce Optimization
Genesys Workforce Optimization for Call Centers allows users to evenly distribute workloads, monitor agent activity, schedule calls, and meetings, and decrease average handle times.
Speech analytics and text-based analytics provide deeper insight into employee workflow and common customer concerns, making it easier to understand processes to automate or improve.
Team collaboration via video, email, and chat prevents miscommunication, while multichannel recording allows team leaders to better analyze employee performance.
Additional optimization features include:
Forecasting
Genesys Performance DNA (employee evaluation and optimization)
Drag-and-drop scheduling
Customized training and assessment tools
Graphical script editor tool
Five9 Workforce Optimization (WFO) tools are designed based on partnerships with vendors like Authority Software, Verint, and Calabrio to offer insights into workflow management.
In addition to identifying current contact trends and forecasting future ones, Five9 also creates potential schedules related to current employee headcount and call volumes.
Five9 also takes a more hands-on approach to quality management. Like Genesys, it records phone calls, chat transcripts, email interactions and more — but Five9 has searchable transcripts and scoring methodologies that make it easier to analyze employee performance.
Other Five9 workforce management features include:
6 different forecasting methods
Live multi-screen agent monitoring
Evaluation form creation and employee evaluation response
Scalable recording storage
Multi-skill forecasting
Agent shift bidding and shift preference setting
Agent coaching packages
Vacation management tools
Cost of schedule analytics
Winner: Five9 takes the lead here. While Genesys relies more on analytics to inform workflow patterns, Five9 also includes features to automatically adjust agents' schedules or allow representatives to bid on shifts — two things that make optimization much easier.
Analytics and Reporting
Genesys reporting and analytics tools make data-driven call center optimization possible through 360-degree customer interaction reviews.
Data exporting, real-time analytics, and predictive analytics allow managers to know exactly what is going on in their call centers at all times.
Users can track a variety of call center metrics and KPIs in Genesys, including:
Average call length
Average number of calls per agent
Call resolution time
Agent productivity and closure rates
Current agent status
Speech and text analytics
Customer feedback
Customer journey tracking
Five9 provides more than 120 highly customizable KPI reports, delivering actionable insights regarding both real-time and historical data.
Features like multichannel campaign statistics, multi-channel agent performance indicators, call logs, and ACD queue monitoring give a more in-depth look at agent productivity. Admins can filter by the employee, department, call list, and more. They can also monitor Intelligent Voice Recognition interactions, update lists according to live interactions, and export data to CSV, PDF, HTML, and RTF files.
Plus, unlike Genesys, Five9 has gamification capabilities that allow call center managers to reward positive work habits and create a greater sense of accountability among employees.
Five9 vs Genesys Analytics
The below table offers a head-to-head comparison of Five9 and Genesys reporting and analytics capabilities.
| | | |
| --- | --- | --- |
| KPIs/Data Provided | Genesys | Five9 |
| Customer Surveys/Feedback | ✓ | ✓ |
| Real-time Analytics | ✓ | ✓ |
| Call Length, Number of Calls, Current Agent Status | ✓ | ✓ |
| What-If Forecasting | ✓ | ✓ |
| Gamification | X | ✓ |
| Visual IVR monitoring | X | ✓ |
| NLP Speech Analytics | ✓ | ✓ |
| Automated Reports | ✓ | ✓ |
Winner: Five9 offers a higher number of KPIs, gamification, and deeper customer sentiment analysis than Genesys.
Integrations
The below table outlines the top third-party apps integrations available within the Genesys App Foundry and Five9 Contact Center Integration.
| | | |
| --- | --- | --- |
| App | Genesys | Five9 |
| Public APIs | ✓ | ✓ |
| Zoho Smart | ✓ | ✓ |
| Oracle | ✓ | ✓ |
| Salesforce | ✓ | ✓ |
| GSuite | ✓ | ✓ |
| Microsoft 365 | ✓ | ✓ |
| PureSocial | ✓ | X |
| Bright Metrics | ✓ | X |
| Zoom | ✓ | ✓ |
| Trello | ✓ | X |
| Microsoft Teams | ✓ | ✓ |
| Zapier | X | ✓ |
| Okta | ✓ | ✓ |
| Zendesk | ✓ | ✓ |
Winner: Genesys has more integration capabilities than Five9, especially regarding more in-depth data and analytics apps. Additionally, user reviews point out that Genesys integrations are less prone to crashes and glitches than Five9's integrations — which users say can cause the system to crash when too many are run simultaneously.
User Experience
Current and past user reviews of both Five9 and Genesys highlight the consistent pros and cons of each tool, outlined below.
| | |
| --- | --- |
| What Users Like About Genesys | What Users Like About Genesys |
| Overall ease of use, intuitive user interface | Weak customizable reports |
| Reliable, outages or dropped calls rare | Customer support needs improvement |
| Frequent product updates, receptive to user suggestions | Need for more robust outgoing calling rules |
| | Need for increased email and webchat features |
| Cloud-based, compatible with numerous browsers | Recording retention needs to be longer |
| | |
| --- | --- |
| What Users Like About Five9 | What Users Dislike About Five9 |
| High level of report and dashboard customization | Dropped calls more common than is acceptable |
| Excellent agent training and customer support | Issues with Java-based application |
| User-friendly interface designed with fully remote teams in mind | Lackluster message history tracking |
| High voice call audio quality | Inbound voicemails require "digging" to find |
| Excellent admin settings and user controls | |
Winner: Though individual satisfaction with either software will vary based on required features, company budgets, and required use cases, as of this writing, Five9 has far more glowing reviews — especially when it comes to overall ease of use and overall employee onboarding — than Genesys.

Pricing Structure
Genesys offers three fixed price monthly paid plans. The CX2 and CX3 plans come in a digital only and digital + voice version. The lower price for each of these plans represents the digital only option.
Genesys Pricing and Plans
The below table outlines the Genesys Cloud pricing and plans.
| | | | |
| --- | --- | --- | --- |
| Features | Genesys CX1 | Genesys CX2 | Genesys CX3 |
| Price | $75/month per agent | $95-115/month per agent | $135-$155/month per agent |
| Speech Enabled IVR | ✓ | ✓ | ✓ |
| Conversational AI | ✓ | ✓ | ✓ |
| Chatbots | X | ✓ | ✓ |
| Co-browsing and Screen Sharing | X | ✓ | ✓ |
| SMS and Messaging apps routing | X | ✓ | ✓ |
| Voicemail | ✓ | ✓ | ✓ |
| Inbound/Outbound Blending | ✓ | ✓ | ✓ |
| Workforce Management | X | X | ✓ |
| Third-Party App and API Integrations | ✓ | ✓ | ✓ |
| Real-Time and Historical Performance Analytics | ✓ | ✓ | ✓ |
Five9 Pricing and Plans
Five9 pricing also follows a tiered pricing approach based on the number of users, products purchased, and features required. The Core plan is offered in a "voice only" or "digital only" version (both are the same price).
The below table outlines Five9's pricing and plans.
| | | | | |
| --- | --- | --- | --- | --- |
| Features | Core | Premium | Optimum | Ultimate |
| Price | $149/month per agent | $169/month per agent | $199/month per agent | $229/month per agent |
| Chat/Email | Included in the digital version only | ✓ | ✓ | ✓ |
| Auto dialing | Included in the voice version only | ✓ | ✓ | ✓ |
| Voice | Included in the voice version only | ✓ |  ✓ |  ✓ |
| Quality Management | X | Essentials QM | Enterprise QM | Enterprise QM |
| Workforce Management | X | X | ✓ | ✓ |
| Workflow automation | ✓ | ✓ | ✓ | ✓ |
| Blended inbound/outbound | ✓ | ✓ | ✓ | ✓ |
| SMS/Social Messaging | Included in the digital version only | Add-on only | Add-on only | Add-on only |
| Interaction analytics | X | X | X |  ✓ |
Winner: Genesys. Genesys has more affordable pricing that Five9 and offers a solid platform with plenty of advanced features.
Genesys vs Five9: Is There a Clear Winner?
In the Genesys vs Five9 showdown, specific call center software use cases or industries will tip the scales in favor of one platform over another. Both tools are ideal for any company size, including large enterprises and local businesses.
Five9 is best for:
Digital-first communication
Companies with a need for more in-depth analytics
Entirely remote teams
Genesys is best for:
Companies that depend heavily on customer self-service
Collections agencies/financial industries that rarely meet clients in person
Companies that use multiple business communication software options