Customer self-service exists in many forms today–from website chat and video tutorials to online user forums and interactive product demos.
Despite all the advances in omnichannel, on-demand customer support, phone-based self-service IVR is still one of the most popular options.
Customers prefer self-service IVR because it's fast, user-friendly, convenient, and does the hard work of finding the right agent for them. Today's IVR systems can even schedule appointments, take payments, send out reminders, and call customers back at their preferred time.
What is self-service IVR, why do you need it, and what can it offer your agents and your customers?
Read on to find out.
Compare the best self-service IVR providers
What Is Self-Service IVR?
Self-service IVR (Interactive Voice Response) is an automated business phone system feature that relies on speech recognition and AI–not live agents–to collect, analyze, and direct callers based on their responses to call menu prompts.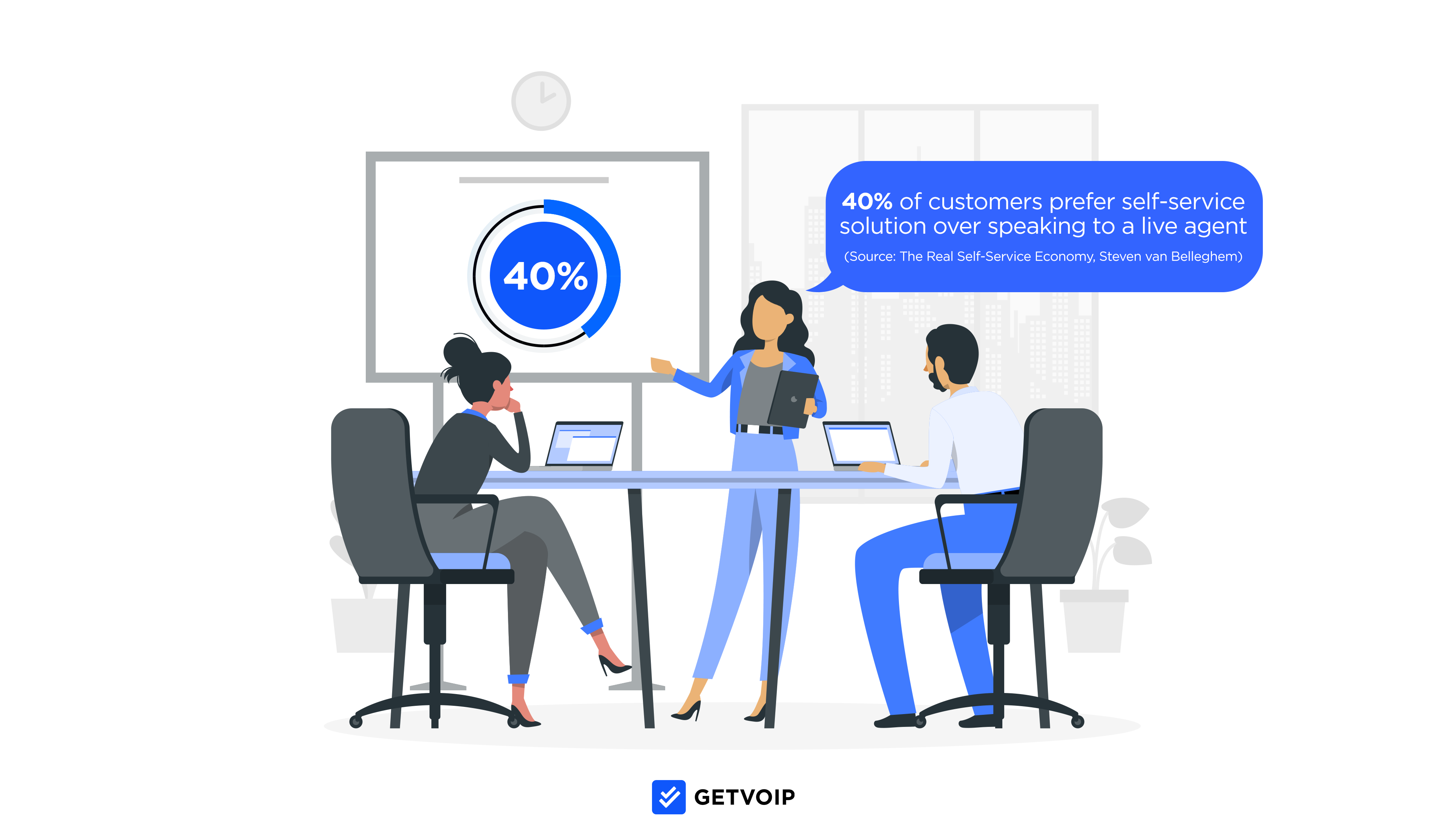 Depending on the customer's preferences, responses, and the complexity of the caller's request, self-service IVR can:
Completely resolve customer service and support issues
Route and connect the caller to the best available live agent
Schedule an automated callback at the customer's preferred time/date
Use call forwarding to send calls to multiple phone numbers for the same agent
Transfer calls to another agent, ring group, voicemail box, or IVR menu/sub-menu
Collect or update customer information (change of address, etc.)
Direct the caller to additional digital support channels (website, SMS, on-demand webinars, etc.)
While IVR apps can offer both inbound and outbound self-service options, they're most often used to automate inbound customer service and support. Inbound IVR frees up more agents to make sales calls or address more complicated customer needs.
More importantly, IVR provides customers with quick, straightforward answers to the most common support questions, eliminating the frustrations of long hold times, multiple call transfers, and missed callbacks.
Self-service IVR improves the customer experience, reduces agent burnout, and keeps call centers productive even during high-volume periods.
How Does Self-Service IVR Work?
Self-service IVR works by automatically playing a pre-recorded interactive call menu containing prompts for common customer support requests, analyzing the customer response using Natural Language Processing, then directing the call according to the call flow path.
Your business's main IVR call menu might sound something like:
"Hello, you've reached Tuckerfield Office Supplies, located at 123 Emerald City Way and open every day from 8 AM to 8 PM. 
To continue in English, say 'English,' or just stay on the line. For Spanish, say, 'Spanish.' To speak to the billing department, say 'Pay my bill.' To track the status of your order, say 'Order Status.' To place an order or speak to the sales department, say 'Sales.'  To speak to an agent, say 'Connect me now.' For all other inquiries, say, 'Something else.'"
The customer will then speak (or enter in via DTMF touch tone) their response, which initiates AI-powered Natural Language Processing (NLP.)
NLP uses a rules-based approach (words/phrases it has been programmed to recognize) or a machine learning algorithm (sentiment analysis, keyword recognition, intent analysis, etc.) to evaluate the customer response. Once the IVR system "understands" the response, the auto attendant initiates the call flow path.
The IVR call flow path is the customizable "path" that calls are forwarded, routed, and/or transferred through in order to either solve the issue completely or connect the caller to a qualified and available agent.
Best Practices for the Use of Self-Service IVR
While self-service IVR offers superior features on its own, following these IVR best practice tips can make the experience even stronger–and increase customer satisfaction rates as a result.
Keep Call Menus Clear and Concise
If you've ever interacted with an IVR system before, then you're already well aware of just how much the length and quality of the menu options impact your experience.
Lengthy call menus with poor audio quality, confusing jargon, and limited options will make your customers hang up fast–and your IVR system will end up causing more problems than it solves.
Keep your main menu under 30 seconds, and use nested IVR sub-menus to offer support for more specific requests. Many businesses use multiple phone numbers, each connected to a unique IVR menu, to further simplify and speed up the call menu navigation process.
Text-to-speech options let admins type in call menu options, then automatically record and upload them to the IVR, ensuring a high-quality, clear recording. Some providers even offer professional IVR call menu and greeting recordings from voice actors to ensure your business makes the right impression on customers even when you're not directly interacting with them via an agent call.
Whether you go with a DIY approach or hire a professional, always make sure to give callers the option to connect with a live agent at the start of your IVR menu recording.
Use A Variety of Call Routing Strategies
A quality IVR solution will provide several call routing options to increase the likelihood of connecting a caller to a live agent when needed.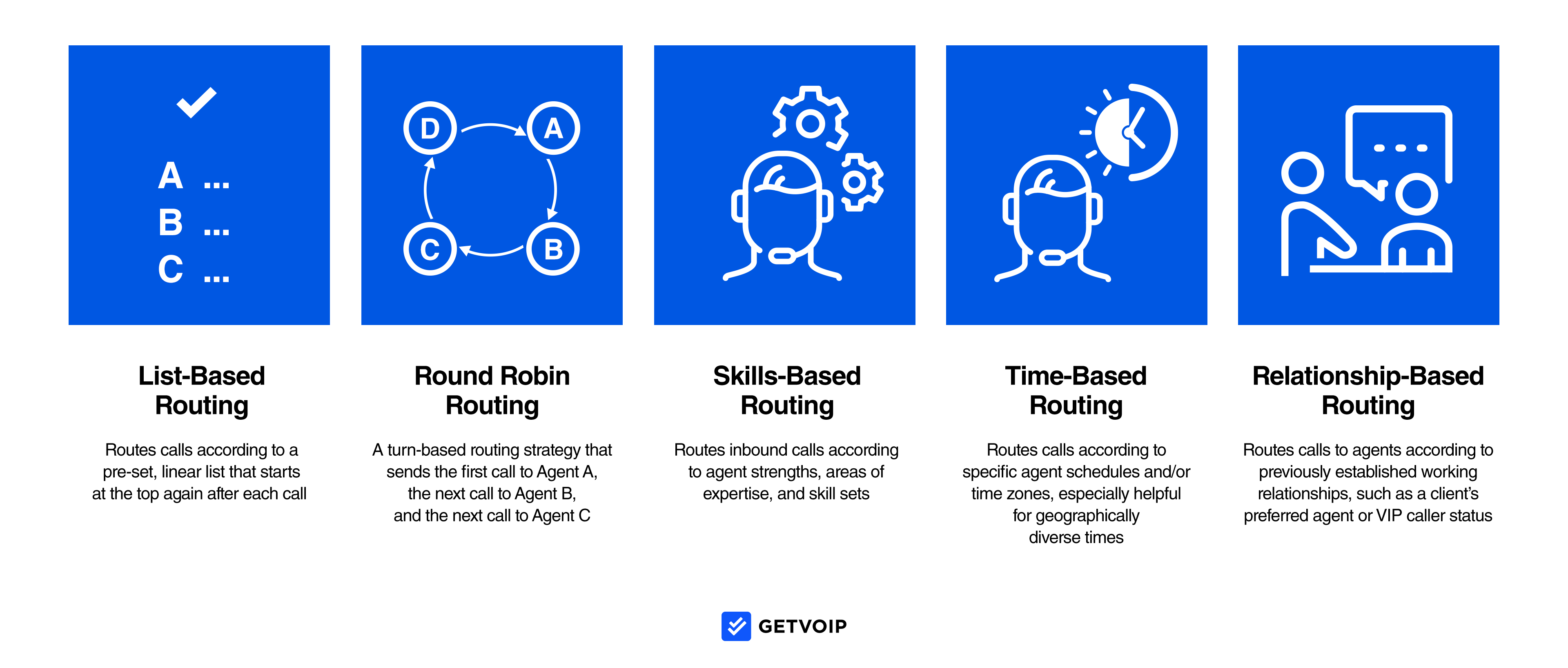 Implementing and testing out different call routing strategies prevents agents from being overworked, ensures inbound sales calls are evenly distributed, and optimizes available agents. It also uses segmentation to ensure callers are connected to a representative with the skillset and training needed to best assist them.
Popular call routing strategies for self-service solutions include:
List-Based Routing: Agent A is always "first in line" to answer every call, and Agents B, C, etc. only handle calls if Agent A is already engaged/unavailable
Round Robin Routing: Agent A takes the first call, the next call is sent to Agent B, the next to Agent C, etc. until every agent has had their "turn"
Skills-Based Routing: Calls are directed to agents with the skills to solve the caller's issue based on their input into the IVR system
Relationship-Based Routing: Sometimes called VIP routed, top clients are either pushed to the front of the call queue, or callers are sent to their preferred or assigned agent
Most Idle Routing: Calls are sent to the agent who has gone the longest amount  of time without interacting with a caller
Time-Based Routing: Calls are routed according to agent schedules and time zones
Review Analytics To Optimize Call Flow
Your business phone system analytics and reporting tools provide valuable insight into how your customers interact with your IVR–and what you can do to improve it.
KPIs and metrics to monitor include:
Average call waiting times
Average call queue length
Peak call times and average call volume
First call resolution rates
Percent of calls transferred to an agent
Number of calls sent to voicemail
Average call handling time
Containment rates
Studying these analytics, making small edits, and tweaking your call paths will improve your IVR system's effectiveness.
Ask For Customer Feedback
Analytics provide insight into the way your customers are interacting with your IVR system, but post-call customer surveys can give much more detailed feedback.
Your IVR menu should give customers the opportunity to complete a post-call survey (or have live agents suggest the same) so you can learn firsthand what customers do and don't find helpful about your automated support process.
Not only does this provide opportunities to improve your IVR system and get to know your customers better–it also lets customers know their input is valued.
Optimize Call Queues 
Even the most effective IVR system still has to put customers into a call queue every once in a while.
While having to wait to speak to an agent is frustrating, there are several things you can do to improve the process.
Optimize call queues by:
Providing updated wait times or updates on the number of people in the queue
Offering the option to schedule a callback
Playing appropriate and calming hold music
Providing callers with information about upcoming promotions, events, or new products
Recording personalized, engaging call waiting messages (trivia questions, jokes, etc.)
Offering alternative contact/support options
Set automatic call queue time limits
Automatically assigning additional agents to call queues when a certain number of people are on hold
What You Shouldn't Do with a Self-Service IVR System
In addition to implementing the above best practices, there are a few things you should absolutely not do with a self-service IVR system.
DON'T: Make The Caller Repeat Themselves 
Anyone who has ever contacted a business has had the unfortunate experience of having to repeat themselves to multiple agents who seem to have no knowledge of their previous interactions with the company.
A shocking 56% of customers say they've had to repeat themselves to multiple agents over the phone–and consumers consistently name it as one of the most frustrating customer service problems.
Not only do customers hate repeating themselves, but having them do so negates the purpose of having an IVR system in the first place. There's no point in automating self-service if your business just repeats the customer intake process when connecting them with a live agent.
To avoid this, integrate your CRM system with your IVR solution.
This way, agents will have access to prior interaction history throughout the customer journey, basic customer and account information, notes from other agents, and other key context. Instruct agents to always take the time to review the caller's IVR input, and ensure your call center software provides access to a searchable company knowledge base containing agent scripts and answers to common questions.
If the caller must be transferred, use the warm transfer functionality to give the prior agent time to explain the situation to the agent who will be taking over the call.
DON'T: Suddenly Disconnect The Caller
No one enjoys being hung up on–especially not your customers. If you wouldn't slam down the phone in the middle of a live conversation, don't do it with your IVR system.
Never suddenly disconnect callers from your phone system if the IVR solution can't help them. Instead, play a pre-recorded message that includes other customer support avenues like digital channels, when to call back, or at the very least, an apology that no one could assist them.
DON'T: Forget to Update Your Greeting 
For many, your IVR greeting may be their very first interaction with your company. To make a good impression, keep your call menu up-to-date through simple additions like:
Holiday greetings/information about changes in business hours
Addressing large-scale company problems you know many customers are calling in about (a social media faux pas, shipment delays, inventory issues, etc.)
Adding launch dates/information about a popular new product, product restocking dates, etc.
Announcements about upcoming sales, events, etc.
DON'T: Automate Everything 
As convenient as a self-service IVR system is, there are sometimes when it's just not the appropriate or most helpful tool.
Only provide IVR solutions for business processes and customer service interactions when genuinely helpful. IVR is best for basic, repetitive tasks like delivery status updates, appointment cancellations, or account balance information. It's not ideal for complex tasks that require real human interaction, like sales, taking customer complaints, or helping callers understand your business values and branding.
Benefits Of Self-Service IVR
There are countless self-service IVR benefits, but one of the most important is meeting customer expectations.
Over 80% of customers want more self-service options, and 81% try self-service options first, before reaching out to the company directly.
Clearly, customers want to be able to help themselves–but self-service does a lot for your business, too.

Top self-service IVR benefits include:
Decreased operating costs
Higher customer satisfaction rates
Faster support resolution and response times
Decreased customer churn and employee turnover rates
Fewer communication errors
Automate routine business processes
Let's take a look at some other business and customer-centric IVR benefits in detail.
24/7 Customer Service
When customers can get help at any time, they're much more likely to reach out when it's convenient for them–and often, that's after traditional business hours.
By offering 24/7 customer service with IVR, you can dramatically reduce the number of inbound customer support calls your large or small business receives during valuable working hours–especially during peak seasons. This also means you'll be able to better service customers across time zones–especially key for international consumers.
24/7 self-service IVR technology also translates to reduced support costs, allowing your business to avoid hiring additional agents during peak seasons and cut down on overtime requests.
When customers are able to get 24/7 customer service, why would they do business with companies that don't offer it? Increase customer loyalty and beat out competitors with around-the-clock availability.
Increased Team Productivity and Morale
Customer service has a huge impact on your business's reputation and profitability–but it also takes up a lot of time.
Using self-service IVR to automate customer support means more time for sales calls, continuing education, collaboration, and customer relationship building. Automation can handle up to 45% of repetitive tasks, saving agents thousands of hours each year.
But dealing with difficult customers isn't just time-consuming–it also hurts employee morale and, as a result, productivity. Constant beratement from angry customers isn't just bad for morale–it also increases your employee turnover rates.
Given the costs associated with finding and training new hires, it's much more profitable to keep existing employees happy. Give your customers the chance to get their anger out on a machine, not an agent.
Downsides Of A Self-Service IVR
If you follow the best practices mentioned above, it's easy to avoid many of the potential self-service IVR downsides.
That said, the most pressing problem with IVR is that it can only provide assistance from a list of limited options–those included within the pre-recorded call menu. If customers have a more complicated issue or a question about something not mentioned in the call menu, the IVR system may not be able to provide the instant response that so many consumers today expect.
If customers can't get the help they need, they're likely to get frustrated–and take that anger out on any agent they're connected to. They may also just hang up, negatively impacting your first call resolution rates and potentially taking their business elsewhere.
This lack of access to high-level automated support is one of the main reasons why many companies are upgrading from IVR to IVA–Intelligent Virtual Assistants. IVAs use Natural Language Understanding (NLU), Conversational AI, and machine learning to understand and replicate natural speech–and therefore, more complex customer support issues. IVAs are ideal for businesses needing automated support tools that can independently manage customer interactions from start to finish–without ever needing to connect callers to a live agent.
Depending on your familiarity with call path configuration and management–or your access to an IT department–you may find setting up and editing self-service IVR call flows challenging.
To truly optimize inbound call flows, you'll need to constantly monitor and update your call path strategy–especially during peak seasons. The good news is that quality IVR and contact center software providers simplify this process with a drag-and-drop call path editing tool. Top platforms also let admins create multiple call flow strategies that can be activated at any time according to call volume, the number of available agents, business goals, the time of year, and countless other scenarios.
Should Your Business Offer Self-Service IVR? 
Self-service IVR is best for businesses with a moderate to high daily inbound call volume, or businesses of any size that don't want to hire additional agents to handle an increase in customer support requests.
It's ideal as both a standalone software and as a feature of a contact center solution.
IVR is also a good solution for businesses that have noticed customers frequently call in with the same issues, all of which have simple, one-size-fits-all answers. In this case, self-service IVR would automate much of the customer service process, allowing agents to focus on more high-value projects or customers.
The right self-service IVR system offers a variety of use cases, and can automate routine tasks like:
Activating new credit/debit cards, reporting lost/stolen cards
Making, canceling, confirming, or changing appointments
Updating client information
Providing order updates, shipping updates, tracking information
Providing bank account balance and bill payment updates
Sending reminders for upcoming appointments, payments, application deadlines, contract renewals, etc.
Post-call or other customer surveys
Accessing flight information
Offering televoting options
Self-Service IVR FAQs
Below, we've answered the top self-service IVR FAQs.