UCaaS providers combine multiple communication channels into one interface, preventing miscommunications that negatively impact customer experience and team productivity. With UCaaS, conversations are picked up right where they left off, even if those conversations took place across multiple channels.
UCaaS benefits include cost savings, improved internal collaboration, streamlining all external communication channels, and greater employee flexibility.
Here, we've provided a brief summary of what is UCaaS, features, pricing, and user experiences of the top UCaaS providers.
Overview of Best UCaaS Providers
| | | | | | |
| --- | --- | --- | --- | --- | --- |
| Provider | Pricing | Trial | UCaaS Features | Integrations | More Info |
| Zoom | From $25/user per month to $30+/user per month | Zoom's Basic plan is free (forever) | Unlimited calling, ACD call queueing, Configurable call blocking, Video calls with up to 1,000+ attendees, Live and recording transcription | Salesforce, Slack, HubSpot, Hive, and 1,000 more | Zoom Reviews |
| Nextiva | From $19.95/user per month to $27.95/user per month and above | 30-day free trial | Unlimited voice & video calling, Voicemail, Toll-free numbers, Unlimited internet fax, Multi-level auto attendant | Outlook, Google Contacts, Salesforce, HubSpot, Zendesk, Microsoft Teams, Oracle Sales Cloud, and ServiceNow | Nextiva Reviews |
| GoTo Connect | From $24/user per month to $29/user per month | 14-day free trial | Unlimited auto attendants, Automated routing, Virtual voicemail, Softphone app, Find-me follow-me | Salesforce, Slack, HubSpot, Zoho, Okta, ServiceNow, Zapier, Zendesk, Office 365, and more | GoTo Connect Reviews |
| RingCentral | From $20/user per month to $35/user per month | 30-day free trial | Unlimited number of users, Unlimited US/Canada calls, Up to 10,000 toll-free minutes per month, Unlimited business SMS text messages, Team messaging with document sharing | Office 365, Google Workspace, Slack, Salesforce, Zendesk, and more | RingCentral Reviews |
| Dialpad | From $25/user per month to $75/user per month | 14-day free trial | Unlimited calling, Unlimited SMS & MMS, Call controls (call forwarding, transfer, hold, mute), Custom voicemail greeting, Voicemail transcription | Google Workspace, Office 365, Salesforce, HubSpot, Miro, Slack, Okta, and OneLogin | Dialpad Reviews |
| 8×8 | From $24/user per month to $140/user per month | 30-day free trial | Voice, video and messaging in one app, Unlimited calling in the US and Canada, Auto-attendant, Intelligent call routing, Music on hold & voice mail | Microsoft Teams, Google Workspace, Salesforce, Freshdesk, Zendesk, Zoho, HubSpot, Slack, Skype, ServiceDesk, Okta, Flowdeck, and more | 8×8 Reviews |
| Vonage | From $19.99/month per line to $34.99/month per line | 14-day free trial | Find me, follow me, Call flip, hold, park, Voicemail to email, Online fax, Virtual and visual voicemail | Google Workspace, Office 365, Microsoft Teams, Microsoft Dynamics, HubSpot, Workplace, Slack, Salesforce, SugarCRM, ConnectWise, Clio, NetSuite, JobDiva, and more | Vonage Reviews |
| Mitel | From $20.99/user per month to $38.49/user per month |  N/A | Unlimited monthly minutes, Up to 100 audio and video conference participants, Video conference screen sharing, Softphone app, Call recording | Microsoft Teams, Outlook, Salesforce, GSuite, NetSuite, Chrome Browser, and more | Mitel Reviews |
The Best UCaaS Providers
Below, is a detailed review of best UCaaS providers.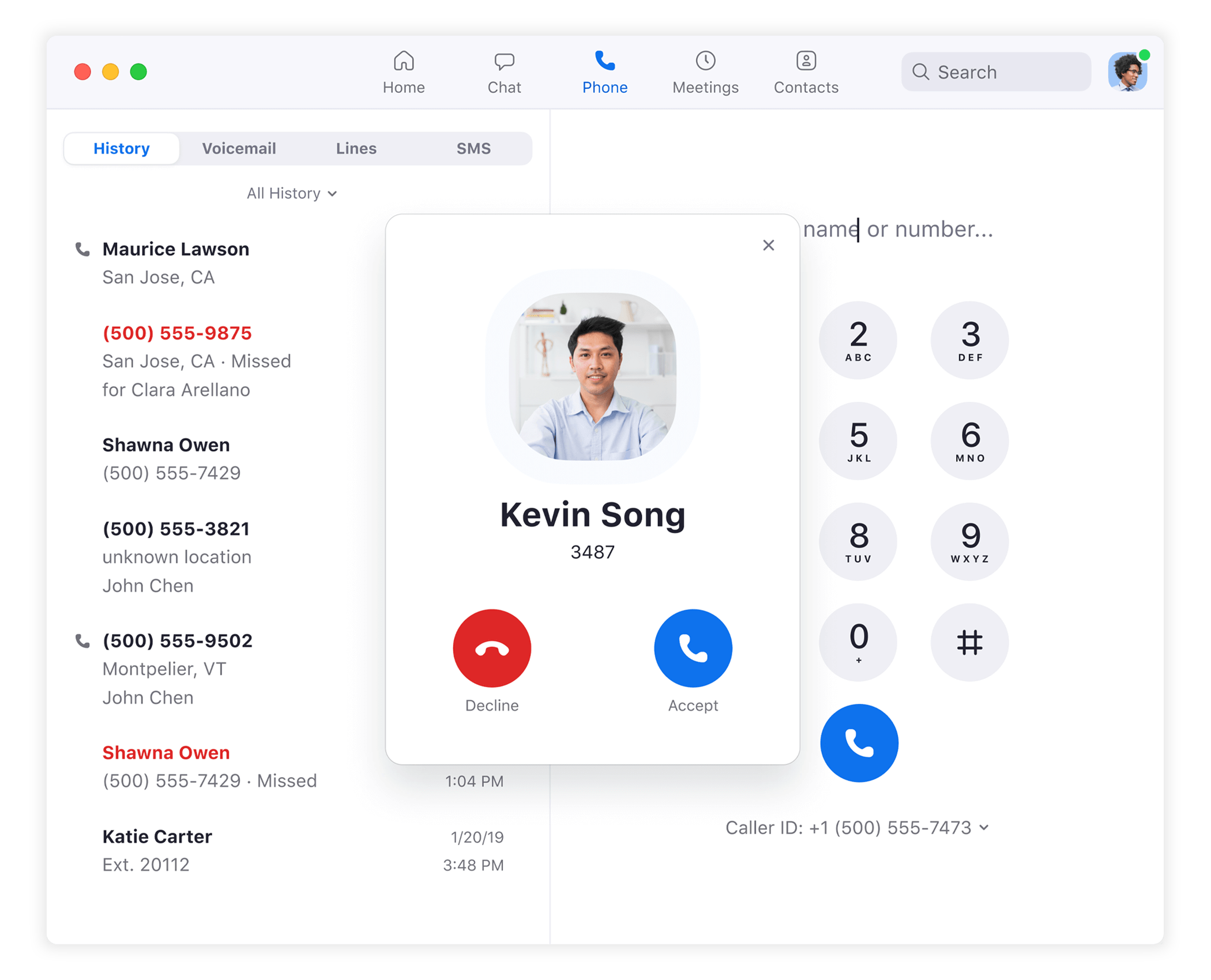 Though Zoom initially made its name as a video conferencing platform, it now offers Zoom Phone voice calling, SMS texting, social media streaming, instant chat messaging, and more within Zoom One, its UCaaS tool.
Zoom One includes Zoom Phone and Zoom Meetings and offers a plethora of third-party integrations to allow for additional communication channels.
Features like unlimited inbound, outbound, and internal calling, ACD, call queueing, and configurable call blocking strategies allow Zoom One users to find the right balance between advanced contact center software and standard VoIP phone service.
Additional Zoom One features include:
Group video calls with up to 1,000+ attendees for up to 30 hours
Unlimited cloud storage for recordings
Advanced meeting view options like filters, multiple participant spotlights, and up to 9 pinned videos
Live transcription and recording transcription
Unlimited auto-attendants
Voicemail transcription
Holiday and business hours call routing
Slack, Salesforce, Microsoft, and Google integrations
Zoom One pricing includes three paid plans ranging from $14.99 to $30.00+/user per month.
The below table outlines the top Zoom One pros and cons based on feedback from current users and our own research on how well this UCaaS solution stands up to the competition.
| | |
| --- | --- |
| Zoom Pros | Zoom Cons |
| The Zoom One has a free plan offering Meetings, Whiteboards, and Messaging | Limited call routing options when compared to other UCaaS providers |
| High level of third-party integrations, more than many other providers on this list | International calling is available only as a $10.00/month add-on, even in most expensive plans |
| Extremely intuitive, familiar, and easy-to-use interface | Users are required to buy the Zoom Phone Power Pack for $25.00/user per month to access real-time and historic call queue analytics |
| A high level of customer onboarding and continued support including a dedicated Customer Success Manager, tiered support packages, priority support, custom user training | No native CRM features require the integration of a paid CRM tool |
Zoom One is Best For:
Current free Zoom users that need to add the Zoom Phone business phone system capabilities to the video calling platform. Though Zoom users will likely always mainly rely on video communications, they need to be able to provide customers with a business telephone number and take advantage of standard calling features like IVR, call recording, and call routing.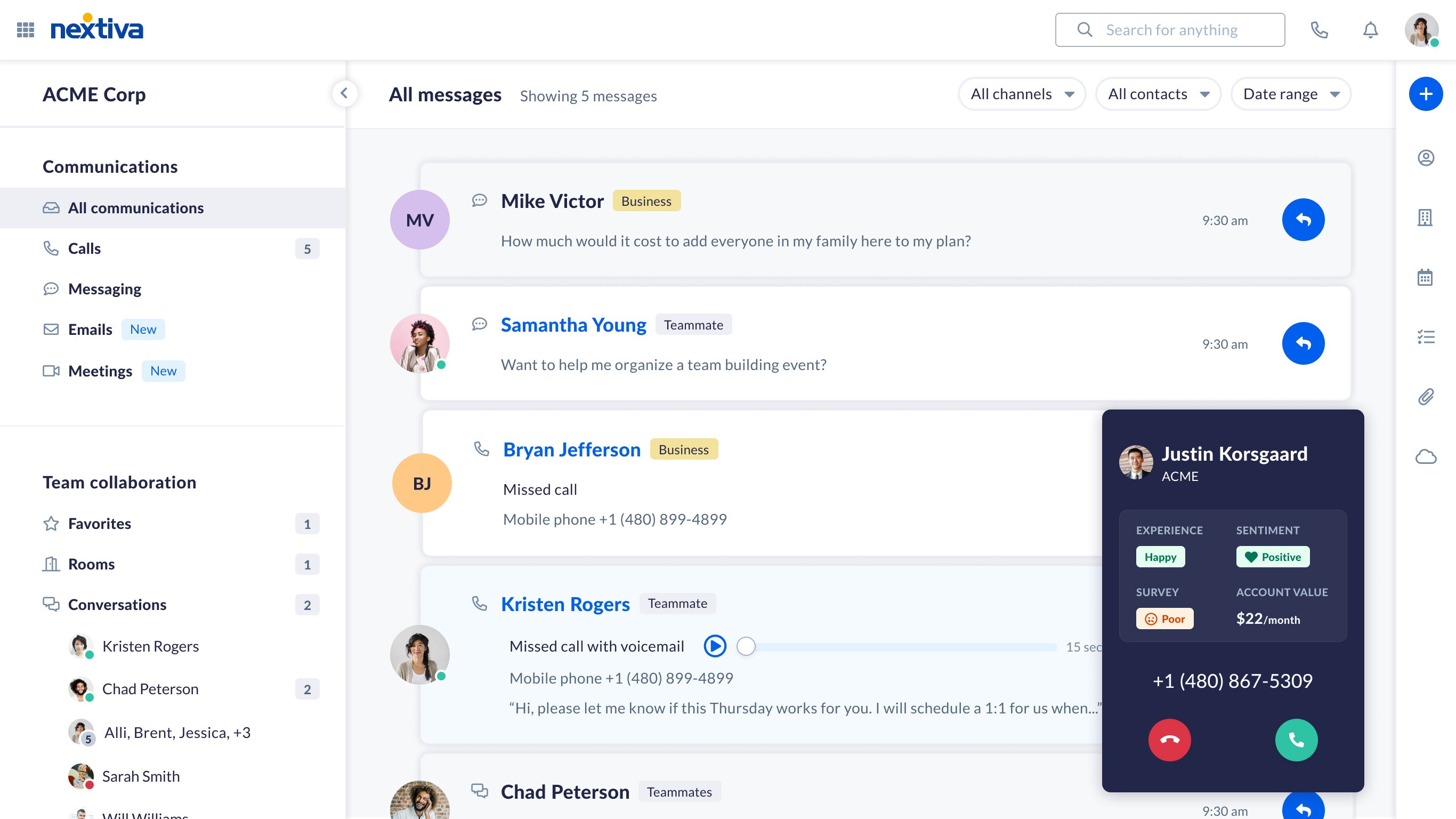 Nextiva disrupted the UCaaS space with the creation of its Business Suite. This package combines business phone system, CRM, chat and SMS messaging, video conferencing, and online faxing into a single platform.
With the Nextiva Business Suite, users can take advantage of automation, improved customer feedback, stronger team collaboration tools, and better customer engagement.
Voice over Internet Protocol phone systems allow users to prioritize, anonymously block, route, and screen calls from any device thanks to its softphone app. Caller AI and CRM integration display a "screen pop" with the essential customer and case information whenever communicating with a customer. Video conferences can have up to 200 participants and include features like remote desktop control, screen sharing, dial-in access, and meeting recording.
Additional Nextiva features include:
Phone number porting
Multi-level auto attendant
1-click video call access
10,000 toll-free minutes per month
Voice transcription
Unlimited local calling
Salesforce, Slack, Dropbox, Outlook, G Suite, Zendesk, Hubspot integrations
Call history and call log reports
Unlimited virtual fax
Voicemail to text/email
Nextiva pricing for the Communication Suite offers three plans, ranging from $19.95/user per month to $27.95/user per month and above.
The below table shows the top pros and cons compiled from real customer reviews.
| | |
| --- | --- |
| Nextiva Pros | Nextiva Cons |
| Robust native features, including CRM capabilities | No MMS business texting |
| Superior user training | Integration capabilities lacking |
| Strong mobile app | A steep learning curve and a lengthy transition period |
| Excellent and prompt customer service | High cost |
Nextiva Is Best For:
Companies with a need for feature-rich UCaaS and CCaaS software with lots of daily internal and external omnichannel communication. Nextiva has bundled services options tailored to the needs of both enterprise-grade and small businesses. With their built-in CRM, it's also a good option for customer-centric businesses that rely primarily on customer feedback and data to inform key business decisions.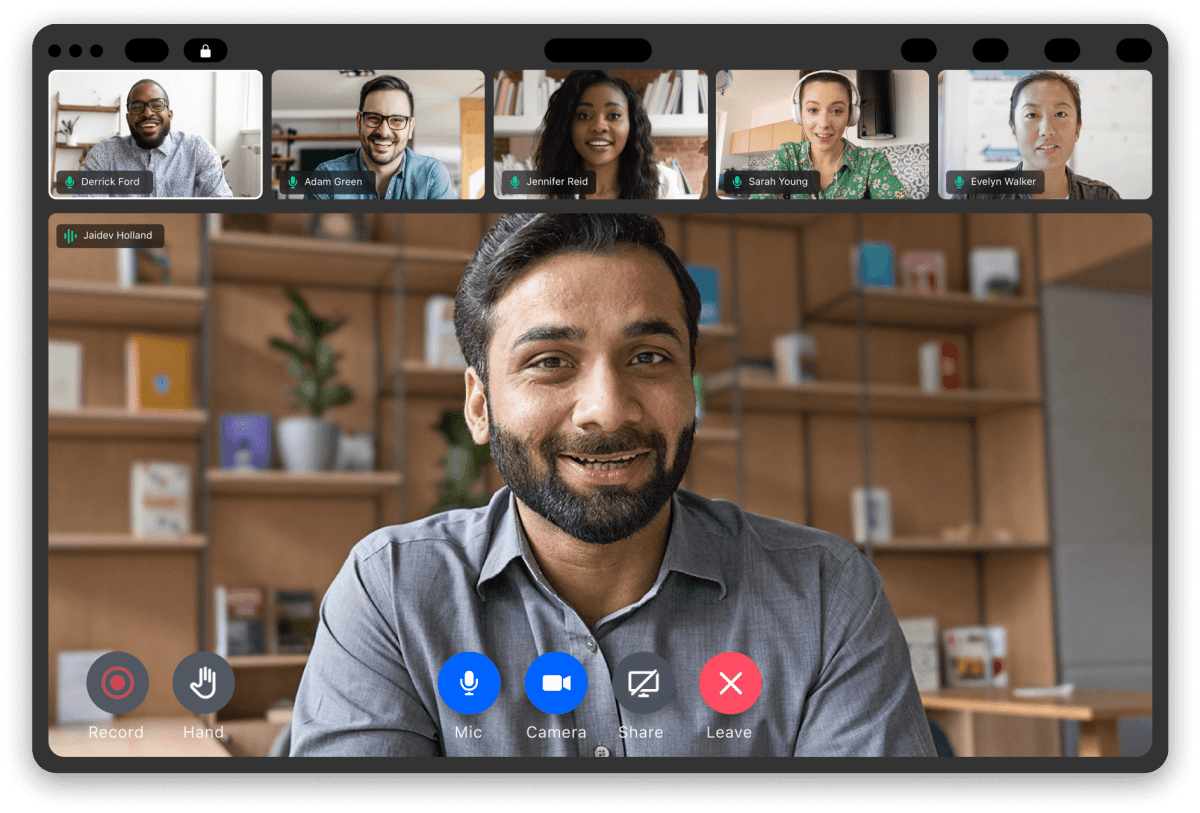 GoTo Connect is a cloud PBX-based unified communications solution. It is designed for remote teams and includes online telephony, voice management features, SMS texting, one-click video calling, and chat capabilities.
GoTo Connect pricing starts at $24 monthly for the Basic plan, which has a 20-user cap. The price for either the Basic or Standard plan ranges from $22 to $29 monthly per user, depending on how many users you have.
Top features include:
Unlimited auto attendants
Automated routing
Virtual voicemail
Softphone app
Find-me follow-me
Unlimited extensions
Call and video recordings
Up to 250 video meeting participants
Virtual fax
Agent status/presence updates
Call monitoring
Ring groups
Integration with Zendesk, Oracle, Salesforce, etc.
Below are the top pros and cons mentioned in user reviews of GoTo Connect.
| | |
| --- | --- |
| GoTo Connect Pros | GoTo Connect Cons |
| Overall ease of use, especially regarding call flow management | Consistent mentions of poor customer support |
| One of the most affordable UCaaS solutions | Lack of product training makes onboarding a challenge |
| High-quality HD video streaming and excellent video calling features | Porting numbers is a lengthy process |
| Less downtime than other providers, reliable and consistent service | The mobile app needs serious improvement |
GoTo Connect Is Best For:
Companies that rely primarily on business telephony and video conferencing as a form of communication. It's also ideal for companies that prioritize an intuitive and clean interface that allows team members to manage their own schedules and workflow as much as possible. The software is designed specifically with remote teams in mind. So, companies that are transitioning to remote work or who have always had employees that work from home will benefit the most from this UCaaS provider. However, GoTo Connect also has product bundles/suites for enterprise-level companies, start-ups, and mid-sized businesses.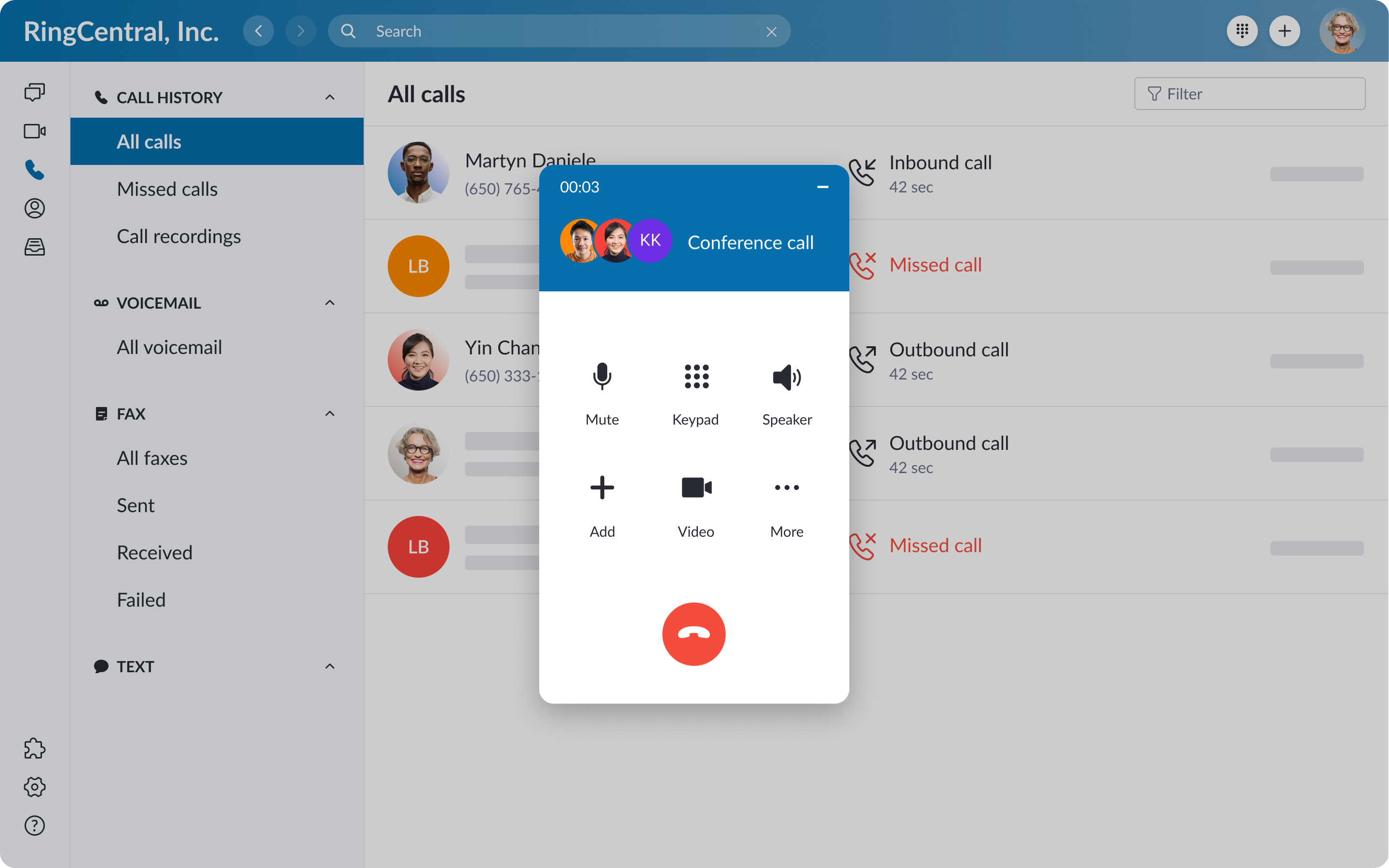 RingCentral MVP Business Communications is a cloud-based UCaaS provider with enterprise VoIP telephony capabilities. Gartner Inc. named RingCentral Office as a UCaaS leader 5 years in a row. Moreover, UCToday named it 2020's Best Unified Communications Platform of the Year.
Its best-known clients include Del Monte, Canal+ France, the Detroit Pistons, and the Salvation Army.
The software includes telephone cloud communications, video/audio conferencing, SMS texting, instant messaging, analytics, and third-party integrations. There are three plans to choose from, which range in price from $20.00/user per month to $35.00+/user per month when paid annually. Monthly billing is available, but annual billing offers up to a 33% discount.
Top features include:
Unlimited number of users
Unlimited US/Canada calls
Up to 10,000 toll-free minutes per month
Unlimited business SMS text messages
Team messaging with document sharing
Voicemail to text and email, visual voicemail
Unlimited online faxing and audio conferencing
Conference Calling
Integrations with CRM tools like Salesforce and Zendesk
Integration with Slack, G Suite, Microsoft365, etc.
Automatic recording of calls
Multi-level auto attendant
Real-time analytics
Advanced call handling features like barge, whisper, call queue overflow, etc.
Below, we've outlined a table of the most common pros and cons mentioned in their user reviews.
| | |
| --- | --- |
| RingCentral Office Pros | RingCentral Office Cons |
| High voice calling/audio quality | Meeting links can be unreliable |
| Ease of use and intuitive interface | Mobile softphone app needs improvement |
| Above and beyond team collaboration features | A high learning curve is time-consuming |
| Responsive customer service, receptive to user suggestions | The faxing feature often doesn't send/receive complete documents |
RingCentral Is Best For:
RingCentral Office is best for medium to enterprise-level businesses with a high number of remote employees that frequently collaborate with one another. It's also ideal for companies with an international presence. The software is especially popular within the healthcare, financial, and IT industries.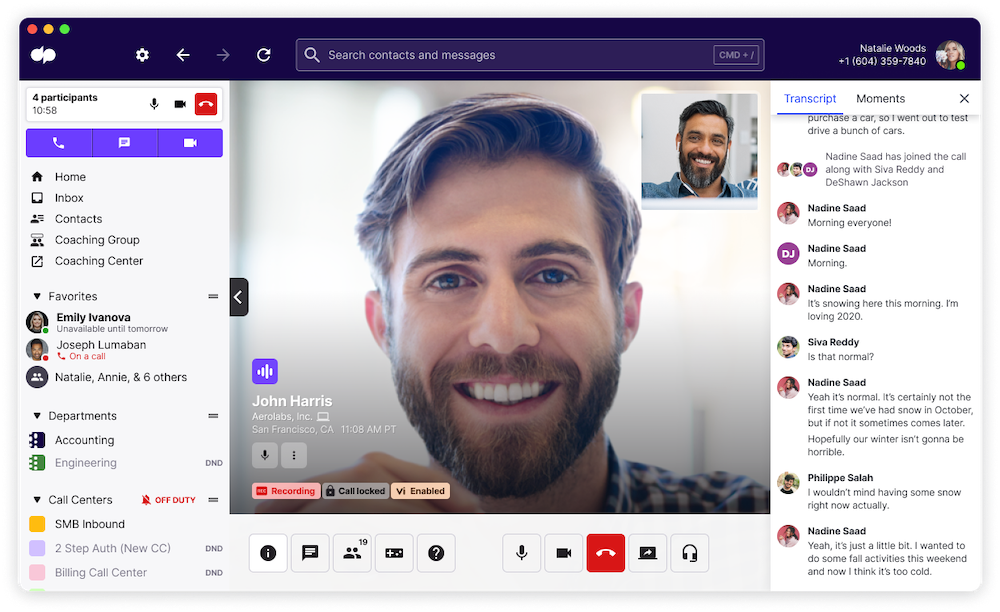 Dialpad is a BYOD cloud communications solution with over 70,00 worldwide customers including Uber, HubSpot, and Motorola.
It connects teams via online meetings, voice calling, web conferencing, and chat messaging tools.
Dialpad is best known for its Voice Intelligence features, which use natural language processing and voice recognition to improve real-time customer service. Voice Intelligence allows for customer sentiment analysis, automated note-taking and call summary logging, and real-time coaching and assistance.
Dialpad pricing ranges from $25 to $75/user per month and up. Make sure to contact Dialpad for a direct quote.
Additional features include:
Unlimited US and Canada calling
Unlimited SMS messaging
Integration with Slack, Zendesk, Zapier, Okta, G Suite, Office 365, Salesforce, and more
Number porting
Communication recording
Call analytics
Dialpad Everywhere softphone app
Team presence and status updates
Voicemail and virtual fax
Business SMS, MMS, and group text messaging
VoIP calling
Dialpad Meetings video calling
Below are the most common pros and cons mentioned in Dialpad user reviews.
| | |
| --- | --- |
| Dialpad Pros | Dialpad Cons |
| Superior 24/7 omnichannel customer support | Lack of desktop keyboard shortcuts |
| Strong international calling options | SMS texting features need improvement |
| The ability to text pictures improves collaboration and communication | No native chat tool, Dialpad Meetings video calling tool add-on feature |
| Easy to transfer calls to other devices at any time | Frequent updates are time-consuming, but the quality of service is compromised if admins delay running them |
Dialpad Is Best For:
Though Dialpad is an enterprise-grade UCaaS provider, it offers superior communications options to small businesses and startups. This is due in large part to its high-level web conferencing features, which allow users to quickly set up, record, and take notes in meetings. It also offers a robust set of features for a low price point, which is especially beneficial for newer businesses. Real estate professionals, retailers, and legal professionals are key Dialpad target markets.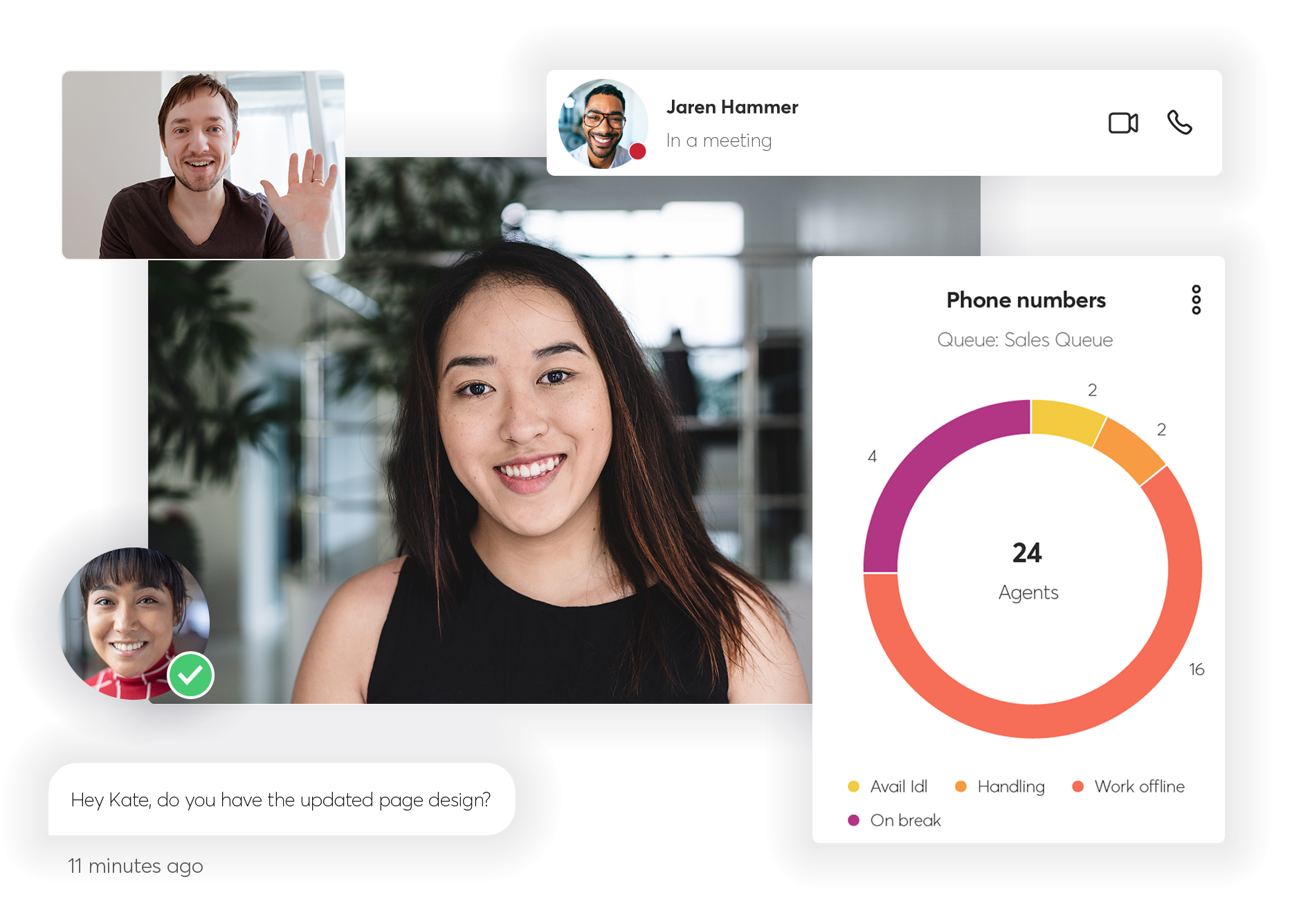 8×8's eXperience Communications Platfrom is an all-in-one UCaaS company for voice and telephony, audio and video conferencing, SMS, and chat messaging.
An eight-time Gartner Magic Quadrant Leader, 8×8 UCaaS is trusted by McDonald's, Regus, Farmers Insurance, and other top companies. Its cloud PBX business phone system offers free unlimited calls and SMS texting in the US and Canada, as well as unlimited global calling in up to 47 countries. It is HIPAA compliant, allows for call recording with cloud or Dropbox storage, and has advanced call routing and monitoring tools.
Unique features like anonymous meeting attendance and compatibility with more than 25 PSTN carriers quickly set it apart from the competition.
Additional features include:
G Suite, Outlook, Zendesk, Salesforce Slack, Microsoft Teams integrations
IVR customer self-service
Number porting
Multi-level auto attendant
Employee status/presence updates
"Meet Now" capabilities
Remote desktop control
Message thread following and user tagging
Native CRM features
8×8 pricing ranges from $24 to $140/user per month when paid annually, with five plans to choose from.
The below table represents the top pros and cons of 8×8, according to customer reviews.
| | |
| --- | --- |
| 8×8 Pros | 8×8 Cons |
| Strong mobile application | File sharing capabilities need improvement |
| Highly-responsive customer support | Longer-term contracts |
| Frequent updates improve user experience without an overcomplicated installation process | Screen sharing reduces video quality |
| Overall ease of use as compared to other systems | High cost |
8×8 Is Best For:
8×8 is best for high-level corporations requiring near-constant omnichannel communication throughout the business day and beyond. Common use cases include accounting, retailers, federal government agencies, and medical professionals. Though its high cost may make it prohibitive for some users, the plethora of capabilities it offers means that those who can afford to use it, should.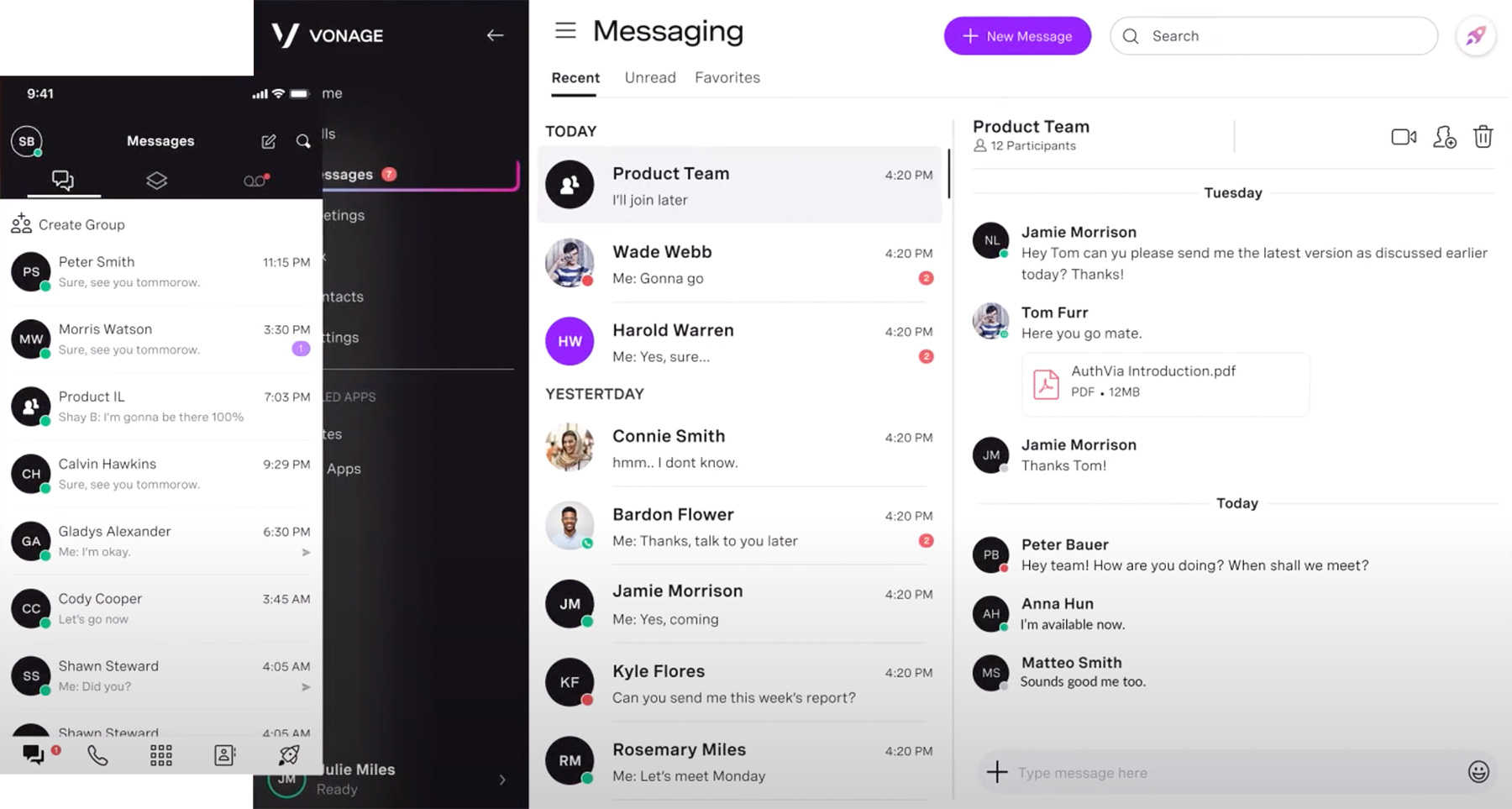 The Vonage Business Communications platform is a cloud-based UCaaS tool with over 50 communication features and productivity tools.
Users can communicate via chat messaging, business telephony, SMS, social media, video calling, and more.
Top features include:
Find me, follow me
Call flip, hold, park, recording, forwarding, and routing
Voicemail to email
Online fax
Integrations with Slack, Salesforce, G Suite, Office 365, Zendesk, and more
Virtual and visual voicemail
Automated SMS messaging
Softphone app
Call announce
Call monitoring
Audio conferencing for up to 30 participants
Vonage Meetings
Spam shield
Toll-free calling
Directory assistance
Virtual receptionist
Vonage pricing is based on the number of users, in addition to the specific features which you need. There are three plans, ranging in price from $19.99/month per line to $34.99/month per line and up.
| | |
| --- | --- |
| Vonage Pros | Vonage Cons |
| An easy installation process, excellent customer training, and support | Some issues with web browser compatibility |
| Excellent video and audio quality | High early termination fees |
| 99.999% uptime offers superior reliability | No images with SMS messaging |
| Clean, sleek, intuitive interface | Some essential features are paid add-ons |
Vonage Is Best For:
Vonage is best for companies of all sizes that prioritize a flexible, highly-customizable communications tool. It's also ideal for businesses looking for a turnkey app that allows them to get started with unified communications as soon as possible. Common Vonage users include law firms, retailers, healthcare professionals, and insurance companies.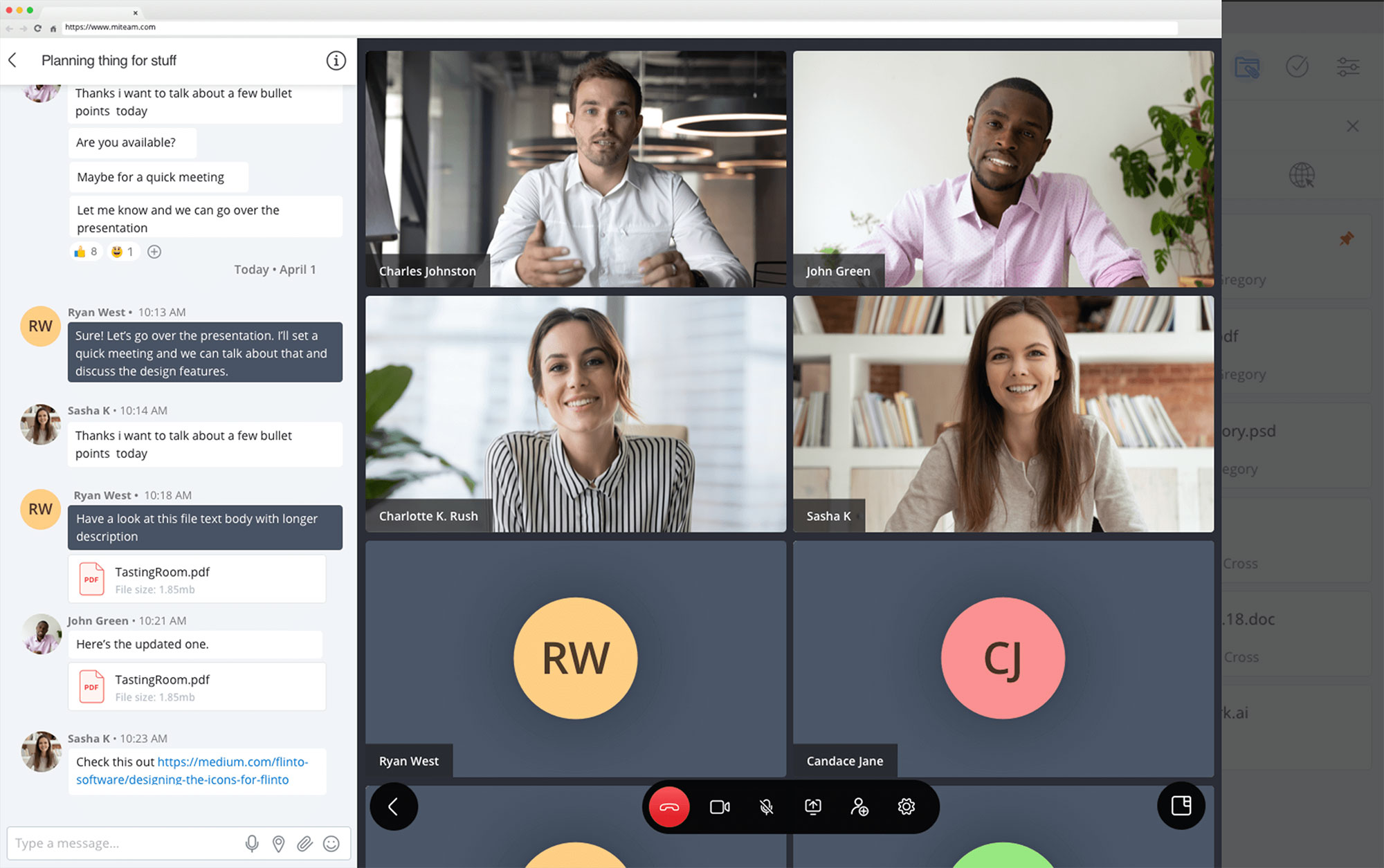 Mitel's MICloud Connect is an all-in-one communications center built on the Google Cloud.
It offers hosted PBX phone service, instant chat messaging, audio and web conferencing, and video meetings, and SMS messaging.
Additional features include:
Unlimited monthly minutes
Up to 100 audio and video conference participants
Video conference screen sharing
Softphone app
Outlook, GSuite, Salesforce, and other CRM software integration
Call recording
One-click audio and video calling
Built-in VoIP VPN
Call routing by presence
Call parking, forwarding and transferring
SIP trunking capabilities are available
Mitel MICloud offers three plans ranging in price from $20.99/user per month to $38.49/user per month and above. Mitel's contact center and CX tools can be easily integrated with MICloud Connect for an additional fee.
The below table outlines the common pros and cons of Mitel MICloud Connect.
| | |
| --- | --- |
| Mitel MICloud Pros | Mitel MICloud Cons |
| High level of customization for user preferences | Open customer support cases have long resolution times |
| Supports Single Sign-On | Updates require new software downloads and reconfiguration of previous downloads |
| Administrative controls easy and offer a high level of control | Not especially feature-rich without contact center add-on |
| Ease of deployment | Chat message notifications don't always appear onscreen |
Mitel Is Best For:
Mitel's MICloud is designed for mobile-first use and is best suited for smaller organizations with more basic, uncomplicated UC needs. Companies with 50 or fewer employees are likely to get the most out of the tool, as are those that rely heavily on business telephony for communication.
What is UCaaS?
Unified Communications as a Service (UCaaS) is software that streamlines and unites all business communication channels and third-party software integrations within one unified cloud-based platform.
UCaaS solutions centralize and synch the most popular communication and collaboration channels in real-time, including:
Voice calling/conferencing
Business SMS text messaging
Video conferencing
Instant Messaging
Live Chat messaging
Email
Social media messaging
Online faxing
In addition to simplifying business communications management, UCaaS companies provide valuable insight into customer journeys, customer support, employee presence/productivity, and more.
Plus, the scalability of the cloud means you don't have to pay for the features you don't need. Instead, you can create a communications solution that's tailor-made for the current needs of your company, but can also grow with your business in the future.
How Does UCaaS Work?
The best way to understand how UCaaS works is to focus on the "as a service" aspect of the tool.
First, let's break down the definition of "Unified Communications" (UC.)
Unified Communications is a united interface/dashboard that provides access to every communication channel your business uses in one place, eliminating the need to constantly switch between applications.
Think of UCaaS as a subscription-based means of deployment for unified communications, as UCaaS (unified communications as a service) is what actually gives business access to unified communications (UC) capabilities.
With UCaaS, companies don't have to create their own central communications hub from the ground up. Instead, they can access unified communications from the provider's cloud services.
Because UCaaS works over the Internet, there's no need for businesses to purchase expensive, bulky hardware.
UCaaS is also much easier to use, as it requires little to no user knowledge of software development and tech support. This is because UCaaS providers, not users themselves, handle the backend data center, security, functionality, cloud hosting, and setup. This means there's also no need for a business to invest in its own in-house IT team.
UCaaS providers users integrate their contact center and existing CRM tools into the platform to further streamline their internal and external communications systems.
UCaaS vs. VoIP vs. CPaaS: What's The Difference?
Voice over Internet Protocol, or VoIP for short, is not the same thing as unified communications.
Instead, VoIP is a part of your overall UCaaS platform.
While both tools allow for communication over the Internet from desk phones, smartphones, and other mobile devices, UCaaS provides more robust business communication capabilities.
VoIP is used primarily for telephony communication, whereas UCaaS systems include Internet voice calling, chat messaging, email, video conferencing, and more. VoIP systems have advanced routing, IVR, and voicemail features that can be integrated into the UCaaS platform. For more information about the difference between VoIP and UCaaS, make sure to read this piece.
The difference between UCaaS and CPaaS (Communications Platform as a Service) is a bit more complicated.
Both provide additional communication channels to businesses — it's the way they go about it that's different.
UCaaS solutions offer a multichannel communications platform that is essentially "ready to go" right out of the box. CPaaS, on the other hand, relies on individual communication APIs to add individual communication channels to existing applications. This means CPaaS users will need to have much more technical knowledge and experience than UCaaS users.
The Benefits of UCaaS
UCaaS offers several benefits to your business, like:
Reduced communication costs and scalability
Team flexibility and mobility
Increased security and reliability
Stronger, more personalized customer communication
Increased productivity and collaboration
Let's take a look at each of these benefits in more detail below.
Lower Communication Costs 
Research shows that switching to a UCaaS provider can save businesses up to 30-50% of current operating costs.
UCaaS systems help to lower operating costs by:
Reducing IT staffing costs
Negating the need to purchase expensive hardware (decreased upfront costs overall)
Providing unlimited VoIP phone calling minutes
Optimizing employee activity and scheduling
Offering scalable solutions that ensure businesses don't pay for features and users they don't need/want
Creating better opportunities for revenue/sales growth
Team Flexibility 
Because UCaaS is available across multiple communication channels and multiple devices, it's perfect for today's remote, mobile workforce.
Employees have all the data and tools they need at their fingertips, no matter where they are.
This level of flexibility means companies are no longer geographically limited when it comes to who they can hire. Thanks to the remote-friendly nature of UCaaS, it's easier than ever to invest in high-quality employees — and keep them happy.
Nearly 80% of team members say that they're more likely to stay loyal to companies that offer remote work solutions, while others say they most appreciate the simpler, user-friendly nature of UCaaS companies.
Better Customer Communications
Your employees aren't the only ones who will benefit from UCaaS implementation.
Unified solutions vastly improve the overall customer experience by:
Allowing customers to communicate on the channel of their choice
Integrating with CRM tools to provide agents with instant conversation/client history, meaning customers won't need to repeat themselves
Making it easier for agents to provide personalized customer support and service
Increasing first contact resolution rates
Increased Security and Reliability
A study by Frost and Sullivan found that the two most important factors businesses use to evaluate a cloud services provider are security and reliability.
Though this may initially come as a surprise, the reality is that all the features in the world for the best possible price can never make up for poor security and unreliable tools.
When it comes to security, UCaaS providers offer:
HIPAA/PCI compliance
End-to-end encryption
Third-party security certifications (GDPR, SOC II, etc.)
Advanced administration controls and user management
SSO/multi-factor authentication
When businesses host platforms themselves, they often leave themselves open to major security threats — many that they may not even be aware exist. The provider manages all security measures in an offsite data center, monitors activity 24/7, and can instantly identify and act if an issue is detected.
The same goes for network reliability.
UCaaS platforms have multiple servers in different parts of the world (called "geographic redundancy.) This helps them to ensure they provide an uptime of at least 99.9% — a high level of reliability.
More Productivity and Collaboration 
A study from Cisco found that over 3/4 of UCaaS users report an increase in productivity levels after switching to a unified platform.
Real-time team collaboration features like instant chat messaging, user presence, and file co-editing/storage increase productivity while lowering the chance of miscommunication.
Collaboration and cross-channel team communication are especially essential for today's remote and blended workforce, and UCaaS tools make it easy for users to connect with each other.
Our study on the State of Unified Communications found that over 80% of teams feel the collaboration features UCaaS software includes vastly improve productivity levels.
Plus, UCaaS automates several time-consuming, tedious business processes so your team can stay focused on and devote more time to what really matters.
UCaaS analytics also make it easier to review employee engagement levels, so you can quickly identify performance issues or common problems before they get out of control.
Additional Business Communications Tools
Looking for more in-depth reviews of the options we've mentioned here? Unsure if you need a UCaaS system or another communications platform like Cisco, Intermedia, Fuze, or Zoom?
Our interactive tables on call center software, enterprise voice over IP, and hosted PBX systems will help you learn more about all of your options for business communications.