The difference between UCaaS and CCaaS is that UCaaS focuses on keeping team members connected within an organization (internal communication), while CCaaS is built with the purpose of keeping customers connected to support and sales representatives (external communication.)
This straightforward, plain-English comparison of UCaaS vs CCaaS will help you determine which business software solution is the ideal fit for your customers and your team.
Compare UCaaS and CCaaS solutions from
top providers
An Overview of  UCaaS vs CCaaS
The below table offers a quick overview of UCaaS vs CCaaS.
UCaaS
CCaaS
Best For
Businesses that highly depend on voice and video communications for both internal and external communication and team collaboration
Businesses with a high volume of inbound and outbound external communication on various channels, that prioritize and optimize customer experiences
Available Communication Channels

Team chat
Video conferencing
VoIP audio calls
Email integrations

Live chat
Social media
VoIP audio calls
CRM integrations

Essential Features

File sharing
Cloud storage
Task management
HD audio and video

Ticketing system
Advanced routing
Call center metrics
AI-powered support
Customer self-service

Average Monthly Cost
$20 to $40 per month for each seat
$70 to $200 per month for each seat
Top Benefits

Team collaboration
Productive workflows
Internal communication

Customer satisfaction
Omnichannel support
More efficient call flows
What is UCaaS?
UCaaS (Unified Communications as a Service) is a cloud-hosted software that combines and automatically syncs several business communications channels into a single platform (a "unified" interface.)
Also known as simply, "Unified Cloud Communications," UCaaS applications improve inbound and outbound communications while eliminating the need to frequently switch between platforms.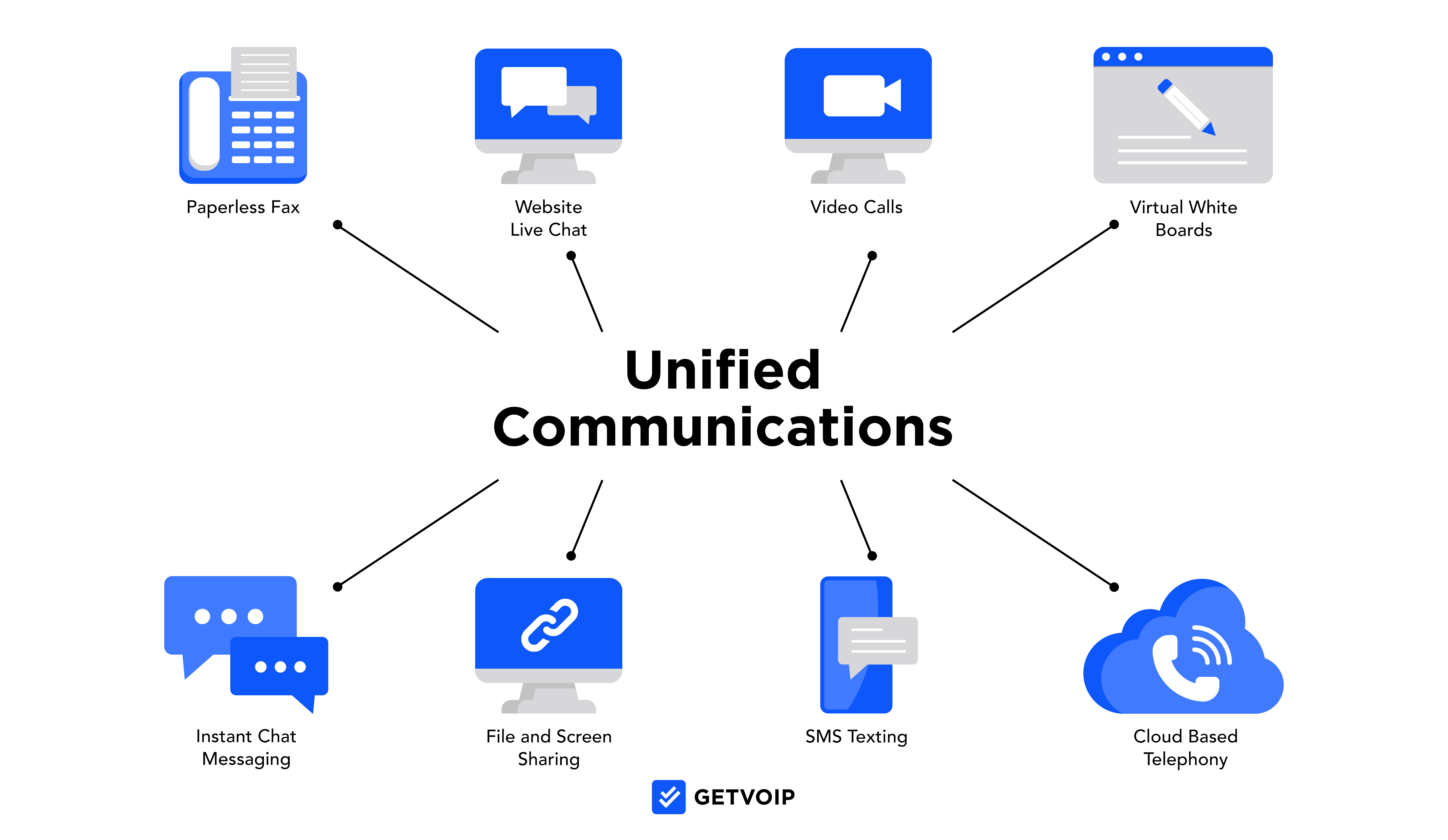 Though the term was coined in 2014, UCaaS wasn't widely seen as an essential communication tool until 2020, when the COVID pandemic forced businesses to transition to remote work nearly overnight.
Today's large and small businesses rely on the streamlined communications UCaaS offers to keep up with the competition. Given that the UCaaS industry is expected to reach a $79 billion valuation by 2024, it's clear this tool is now a necessity, not an option.
Common UCaaS features include:
Team chats
Video conferencing
VoIP audio calls
Screen sharing, whiteboards, and other in-meeting collaboration features
Mobile applications
Third-party integrations and APIs with CRM tools and project management software
What is CCaaS?
CCaaS (Contact Center as a Service) is similar to UCaaS in that it provides subscription-based cloud-hosted platforms designed to streamline communication. The main difference between the two, however, is in the feature set and intended use case.
Most UCaaS solutions are utilized for internal communication – which is why it focuses on video conferencing, project management, and collaboration features. Conversely, CCaaS is meant to be used by contact centers, so its features and functionalities focus on external communication and tools to enhance the customer support experience.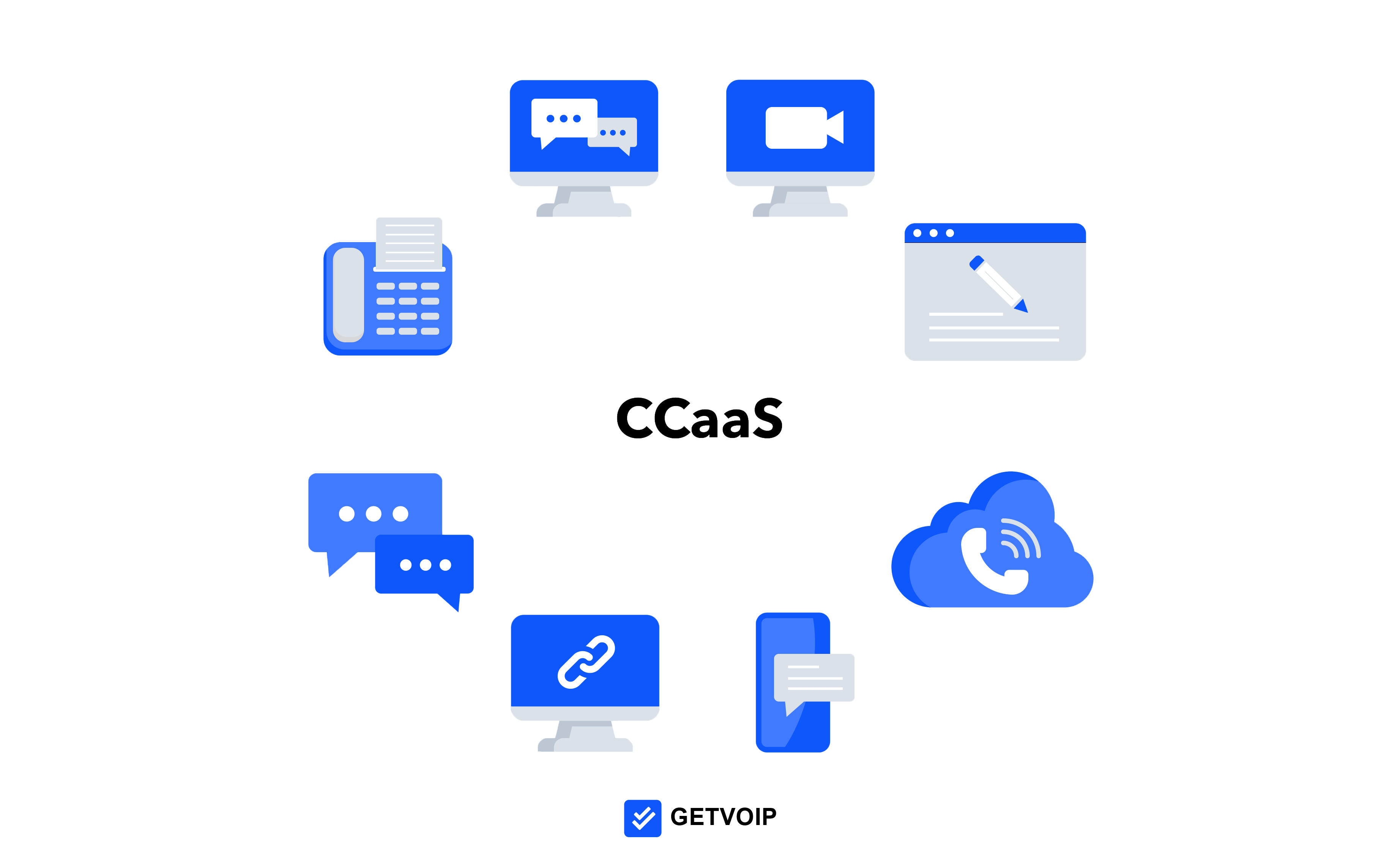 Customers expect higher levels of support with every passing year. In fact, 64% of customers under the age of 40 say that customer service feels like an afterthought with most of the businesses they buy from according to the 2022 CX Trends Report from Zendesk.
Given the volume of transactions that take place entirely over the Internet (whether via business websites or social media platforms), it's essential that companies offer more than just virtual telephony-based voice caller support.
Common CCaaS features include:
Multichannel and Omnichannel messaging capabilities
Historical and real-time analytics and contact center KPI reports
Call queueing and routing
SMS text messaging
Voicemail and visual voicemail
AI-powered support workflows
Social media messaging
International numbers
Custom greetings
Live chat
IVR menus
Automation
Help desk and CRM integrations
Our post on the state of CCaaS offers additional information on the above features and provides insight into what's next in the world of Contact Center Software.
What are the Differences Between UCaaS and CCaaS?
As UCaaS and CCaaS are built with different use cases in mind, it's not surprising that their feature sets tend to differ.
Here are a few differences that you should note before deciding which option is right for your business and customer interactions.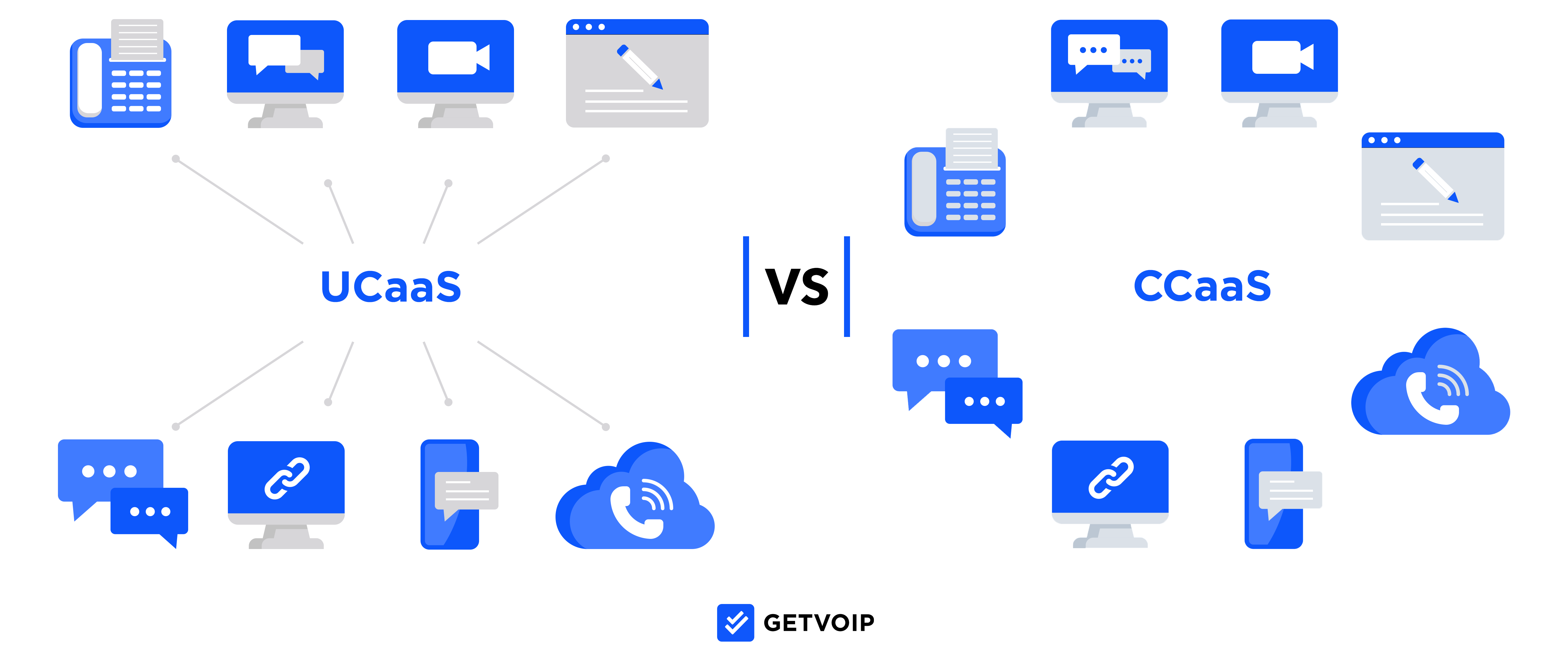 Video Conferencing
While some CCaaS platforms offer web conferencing, in general, this feature is less prominent than in UCaaS solutions. This is because video conferences are primarily used for internal communication, not for support ticket resolution.
A few video conferencing features that you should look for include:
Screen sharing
Whiteboarding
Text chat
Hand raising
Virtual backgrounds
Breakout sessions
Self-Service Support
One area that CCaaS platforms excel at is customer self-service support.
You'd be hard-pressed to find so much as a knowledgebase on UCaaS platforms but CCaaS solutions go the extra mile with chatbots and AI that can suggest resources to users before they join the support queue.
Having IVR (Interactive Voice Response), call routing, chatbots with natural language processing, and internal knowledge bases are just a few of the ways that a CCaaS platform can make it easier for customers to solve their own problems — with one study finding that 73% of customers prefer self-service.
Call Routing
While UCaaS platforms have auto-attendants and basic routing capabilities, they can't compare to the advanced call routing you'd find with a dedicated CCaaS platform.
Certain CCaaS solutions even have visual call flow editors that make it easier to plan out your call routing strategy.
What are the Similarities Between UCaaS and CCaaS?
Now, let's review some of the things UCaaS and CCaaS have in common.
Channel Aggregation
Yes, UCaaS focuses on internal communication and CCaaS focuses on external communication.
However, both platforms seek to unify multiple communication channels so admins, customers, and team members can access everything within a single dashboard.
Third-Party Integrations
UCaaS and CCaaS platforms often feature large third-party integration galleries, allowing you to use your existing business software in your SaaS solution interface.
However, there's less similarity when it comes to which tools are available as integrations.
UCaaS platforms often emphasize task management and time tracking, while CCaaS leans towards CRM tool integrations.
Per-Seat Subscriptions
The pricing structure tends to be rather similar for most UCaaS and CCaaS platforms. Per-seat subscription pricing is by far the most common but there are also solutions of both kinds that charge a fixed monthly rate with unlimited seats available.
CCaaS seats tend to cost $50 to $300 per month while UCaaS subscriptions tend to go for $360 to $480 per year. This means that, on average, UCaaS software tends to be cheaper than CCaaS software.
The Benefits of UCaaS
Below, we'll explore the main benefits of UCaaS.
No Hardware Costs
Unlike on-premises PBX systems or physical conference rooms, you won't need any pricey hardware that would take time to set up and add expensive maintenance to your operating costs. All you need is a reliable Internet connection, smartphones, and (optionally) VoIP desk phones.
Better Employee Experience
Whether your employees work in an office or from the comfort of their own home, having a robust UCaaS platform will make it a lot easier for them to collaborate with other team members.
Cost-Effectiveness
In the majority of cases, it will be cheaper to get a subscription for a UCaaS platform rather than individual subscriptions for every tool or feature that your company might need.
For instance, RingCentral has video conferencing, project management, and analytics capabilities — all at a much lower cost than paying for these features individually.
You could get Zoom, Jira, and Mixpanel but, while you'd likely get more advanced features, the cumulative subscription cost will likely cost you more than most UCaaS platforms currently on the market.
Improved Team Collaboration
For both remote workspaces and physical offices, there'll always be instances where employees work on their own instead of sharing tasks with other team members. This lack of collaboration can lead to slow turnaround times and a higher frequency of miscommunications.
However, implementing UCaaS software will help employees see what their colleagues are working on and open the door to more collaborations with features like shared editing or subtask creation.
Workforce Optimization
Whether you're an administrator or a new recruit, a reliable UCaaS platform can make it easier to keep track of deadlines, assign tasks to team members, and get a clear idea of timelines and workflow responsibilities.
It also helps companies balance the workload across multiple team members to ensure that no employee ends up with an unscalable mountain of work on their plate.
Mobility
As most UCaaS solutions have mobile apps available, it'll be a lot easier for your employees to stay productive while on the go — no matter where they live across the globe! It's worth noting that some mobile apps are better than others when it comes to UCaaS solutions.
A notable example would be Ooma Office as their iOS app is ahead of most competitors while their Android app is quite subpar. Be sure to find a service provider with positive reviews on both app stores like Vonage or RingCentral.
The Benefits of CCaaS
Now, let's review a few of the top CCaaS benefits.
Cost Savings
CCaaS platforms save money for contact centers in multiple ways. First of all, they reduce the amount of lost time due to agents switching between tabs or logging into different tools throughout the workday.
The cloud services nature of CCaaS solutions also means contact center agents will be able to use their smartphones instead of having to rely on expensive hardware at the office just to perform their duties.
Lastly, CCaaS software tends to reduce employee churn, which lowers hiring costs.
Better Customer Experience
By giving customers more communication channel choices and by implementing self-service alternatives, you'll make it a lot easier for them to solve problems themselves or connect to an agent who can resolve the issue for them.
In short? You'll be able to offer a better overall customer experience.
Portability features like hot-desking and mobile apps also reduce the average resolution time since agents will be able to work on support tickets even when they're out of the office.
Finally, CCaaS advanced routing protocols ensure customers reach the right agent immediately.
Scalability and Reliability
In the past, companies would have to worry about the quality and reliability of their customer support reducing as they scaled up. This might be due to physical PBX systems getting overloaded, agents accidentally working on the same ticket, or a general lack of coordination.
However, companies that have CCaaS infrastructure rarely have to deal with such issues since smart dashboards assign agents to tickets automatically, don't require additional hardware during scaling, and offer insightful analytics that helps you pinpoint problems early on.
Stronger Security
CCaaS platforms tend to put a bigger emphasis on security since they cover external communications and thus come into contact with sensitive customer data. End-to-end encryption and two-factor authentication are a must when choosing any CCaaS software.
Of course, leading UCaaS providers like RingCentral do have incredible track records. That said, there are still quite a few UCaaS platforms that are lagging behind on the security front with key features like 2FA not even being standardized across the whole industry yet.
Efficient Communication
Communicating with customers is more efficient across the board when you're using a CCaaS platform. One of the reasons that it's so much more efficient is the ability to retain and sync customer communications and other information across all your channels.
This omnichannel conversation syncing ensures that customers will never have to repeat themselves even if they're talking to a new agent on a different channel. All the CRM integrations for CCaaS solutions further unify customer data for your company.
Analytics and Insights
Instead of relying on loosely-connected third-party tools to collect analytics on your customers, having a single CCaaS platform that tracks everything from agent KPIs to other call center metrics will streamline the collection of insights for your target audience.
A few call center metrics you could track with CCaaS software include:
Cost per call (CPC)
Average speed of answer (ASA)
Customer satisfaction (CSAT)
Customer effort score (CES)
Increased Revenue
The efficiency and satisfaction ROI of CCaaS is already worthwhile in itself, but there are also financial returns to consider. Being able to communicate efficiently, automate repetitive tasks, and create more opportunities for sales teams with chatbots and live chat will undoubtedly help you scale revenue.
Lastly, upselling or cross-selling to customers will generally be more successful when your business has a presence across multiple platforms. They might not convert when you first tweet out the announcement but seeing the news for the second time on Facebook could change that.
When to Use UCaaS
If most of your software needs center around collaborating with team members and communicating internally, then a UCaaS solution will likely be the best option for your business.
Key factors to consider when choosing your UCaaS solution include:
Pricing
Collaboration features
Third-party integrations
Video conferencing capacity
How it fits in with (or replaces) with your existing collaboration tool stack
When to Use CCaaS
If most of your software needs focus on improving customer satisfaction and streamlining the support experience,  then you'll be best served by a CCaaS solution.
A few things to consider when choosing your CCaaS solution include:
Pricing
Performance analytics
Third-party integrations
Phone system calling costs/rates
How long it will take to train new agents until they fully adopt the software
What To Look For in Business Communication Tools
When choosing communications systems for your company, there are seemingly endless factors that you should consider. However, making an educated buying decision comes down to narrowing down the criteria that matter most to you, your employees, and your customers.
The most common variables to consider include pricing, feature set, supported integrations, and the quality of their customer service team. This applies to both UCaaS and CCaaS platforms, albeit in varying degrees.
Frequently Asked Questions
Below, we've answered common UCaaS vs CCaaS FAQs.