Five9 and NICE CXone are two of today's most popular contact center providers, both offering omnichannel CCaaS software with a VoIP phone system, call queuing, AI, automations, self-service chatbots, and analytics.
While the two providers have a lot in common, they offer some distinct features and advantages.
This article will compare Five9 and CXone, outlining each CCaaS provider's pricing, features, pros, and cons.
Jump to ↓
Five9 vs NICE CXone At a Glance
Five9's omnichannel contact center offers video, live transcripts, and a comprehensive auto dialer–while NICE CXone shines with customizable self-service tools and advanced workflow automations.
Five9
NICE CXone
Pricing
4 plans from $149 to $229 monthly per user
Custom pricing
Communication channels
6 main channels:

Voice
SMS
Email
Live chat and chatbots
Social messaging
Video meetings

6 main channels:

Voice
SMS
Email
Live chat and chatbots
Social messaging
Social monitoring

Standout features

Live call transcription and agent guidance
Self-service across channels
Automated scheduling and forecasting
Skills-based routing

Drag-and-drop chatbot and automation designer
Virtual attendant that identifies workflow bottlenecks and suggests automations
Customer journey analytics

Auto dialer types

Power dialer
Preview dialer
Predictive dialer
Progressive dialer

Integrations
CRM, collaboration, and UCaaS integrations, including:

Salesforce
ServiceNow
Microsoft Teams
Slack
RingCentral

CRM, collaboration, and UCaaS integrations, including:

Zendesk
Salesforce
Microsoft
Zoom Phone
RingCentral

Best for
Small and medium-sized call centers prioritizing outbound sales campaigns, or those who want phone-only without other communication channels
Large call centers with diverse needs for customer support and sales, including multichannel and self-service use cases
What is Five9?
Five9 is a cloud contact center software that unifies multiple communication channels–voice, email, SMS, webchat, and video.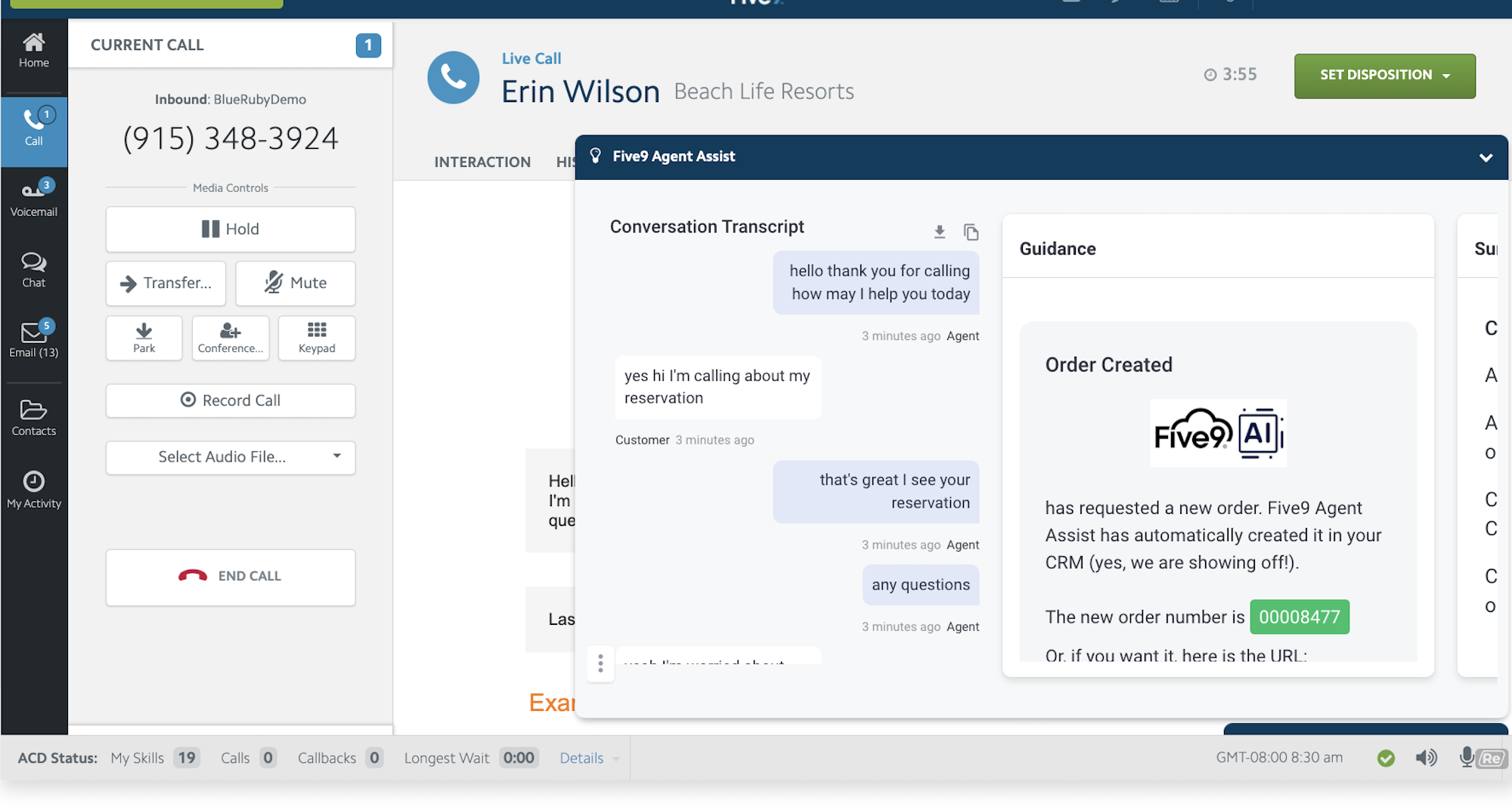 Five9 includes advanced call queuing and routing, mobile-friendly customer contact methods, AI-based agent support, and integrations with CRM and unified communications systems. In addition to the agent app and dashboard, Five9 offers a supervisor dashboard where administrators and managers can monitor the call center, configure IVR systems and queueing, purchase phone numbers, and customize the app's layout for all users.
What is NICE CXone?
NICE CXone is a customer-experience-focused omnichannel contact center combining voice with digital channels: email, chatbots and live chat, SMS, social media, messaging apps, mobile apps, and social monitoring.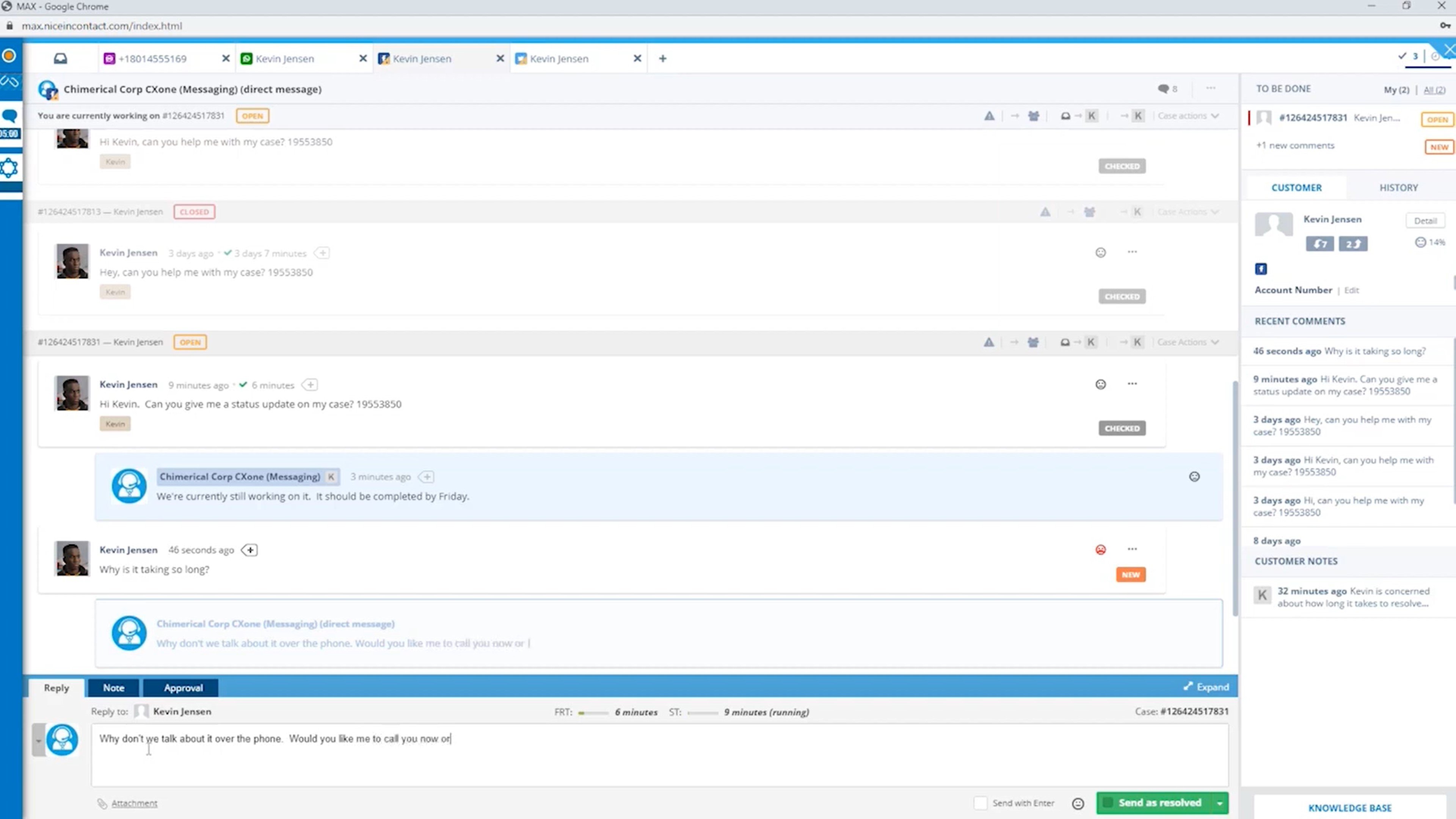 CXone's desktop app helps you support your customers with self-service tools, including knowledge management systems, interactive voice response (IVR), and interactive chatbots. Route inbound calls and use auto dialers for custom outbound voice campaigns. Use artificial intelligence (AI) to automate workflows and support agents in real-time.
Formerly known as NICE inContact, NICE CXone is built on an open-cloud platform, with CRM and UCaaS integrations, plus APIs and SDKs that support your developers in personalizing your CCaaS application.
Learn more about Nice CXone
Five9 vs NICE CXone: Pricing and Plans
Five9 offers 4 pricing plans, ranging from $149 to $229 monthly per user:
The Core plan offers a voice-only call center software–no other communication channels or advanced automations–but includes the agent dashboard, call recording, and softphone functionality.
The Premium plan expands to an omnichannel contact center, adding chat and email functionality–plus CRM integrations, call center monitoring, supervisor coaching tools, and screen recordings.
The Optimum plan adds workforce schedule- and skill-based forecasting, gamification, call transcription, and live AI sentiment analysis.
The Ultimate plan adds real-time call center insights, including conversation trend and topic identification, query analysis and agent assist, plus live speech and text analysis.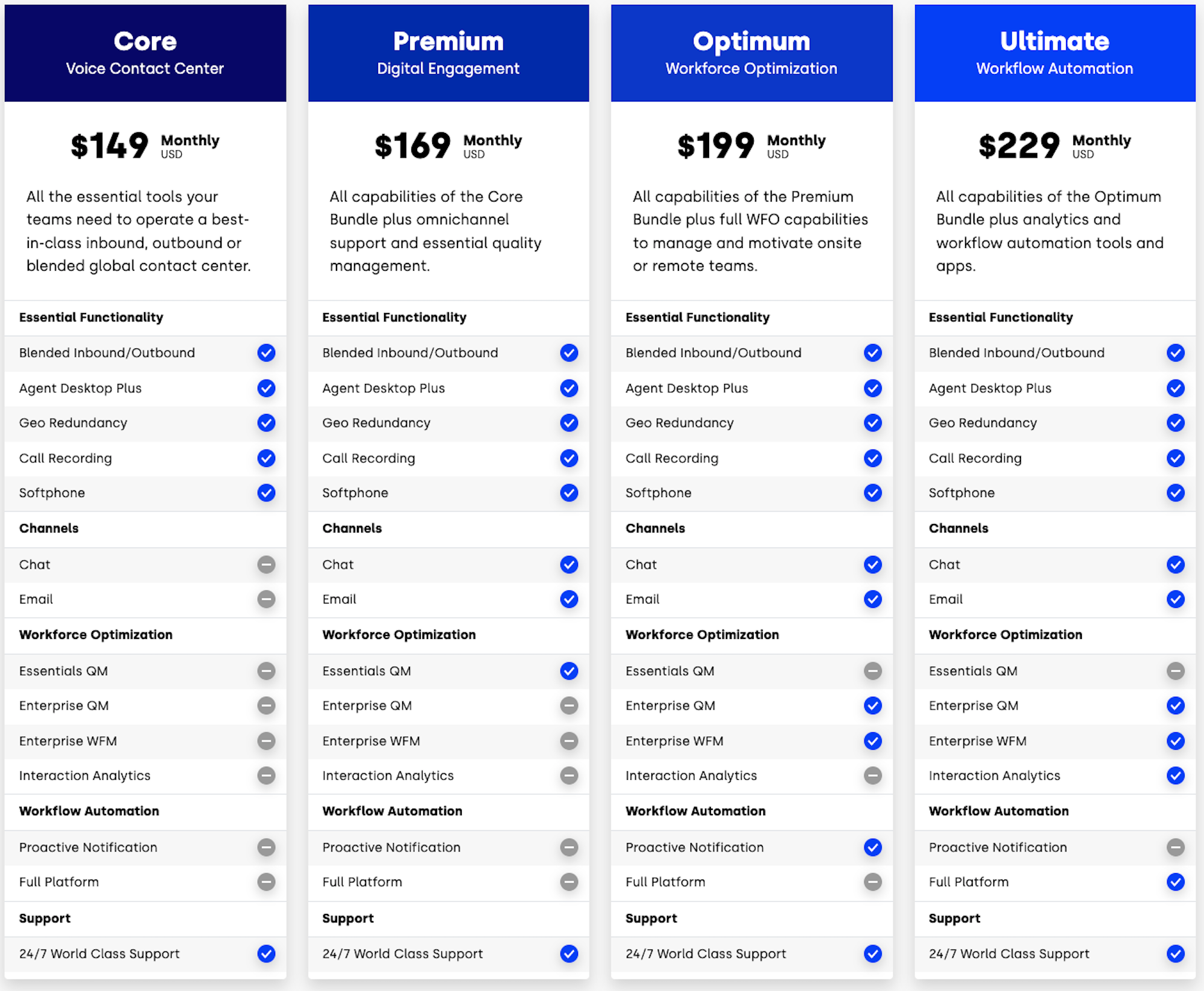 NICE CXone does not offer public pricing models, instead providing flexible pricing options customized to business needs on a case-by-case basis. Contact them directly for a custom quote.
Five9 vs NICE CXone: Feature Comparison
Below, we compare Five9 vs NICE CXone across 6 key contact center features:
Communication channels
User interface
Phone system
Workforce optimization
AI and automations
Analytics and reporting
Five9 Communication Channels
Five9 agents can engage with customers from the agent dashboard using 6 communication channels:
Voice: Make outbound calls with softphone functionality or VoIP handset, and receive calls with screen pops and an IVR system
Chat: Use Five9's single web interface to chat with customers through your website, application, social media, or SMS. Chatbots can handle simple queries and route customers to the appropriate agent.
Email: AI mines email text to prioritize emails and route them to the right agent
Social messaging: Message customers on social media apps like Facebook Messenger, Twitter, WhatsApp, and others. Automatically route inbound messages to the right agent.
SMS/text: Send automated, bulk, and conversational texts. Automate texts like appointment reminders and account updates, handle simple queries via SMS chatbot, and route customers to agents for live 1:1 texting.
Video: Instantly escalate a live call into a video meeting for more immediate customer service, with screen-sharing capabilities
Nice CXone Communication Channels
CXone allows you to connect with your customers via over 30 mediums, broken down into 7 general channel types:
Voice: Inbound and outbound voice–including auto dialers, queues, and routing
Email: Send and respond to emails directly within the omnichannel app
Social media: Send social media messages and make posts on Instagram, Twitter, LinkedIn, Youtube, and Facebook.
SMS and messaging: Send and receive automated and conversational messages on a variety of messaging services and platforms–SMS WhatsApp, Facebook Messenger, SMS, and more.
Live chat: Connect with customers via live chat, embedded into your website or mobile apps
Chatbots: Build or import automated chatbots that provide customer self-service on most messaging channels
Social monitoring: Monitor your company's presence across social media sites, blogs, and news
Five9 User Interface
The Five9 desktop app's agent interface enables agents to connect with customers via any of the 6 channels while retaining full context regarding customer information and journey history.
The app home screen displays an agent's call distribution status–all active phone numbers, calls, and wait times for each–with one-click options to jump into any call. An agent can monitor multiple phone numbers at once, and multiple teammates can share responsibility for one phone number–enabling queue functionality.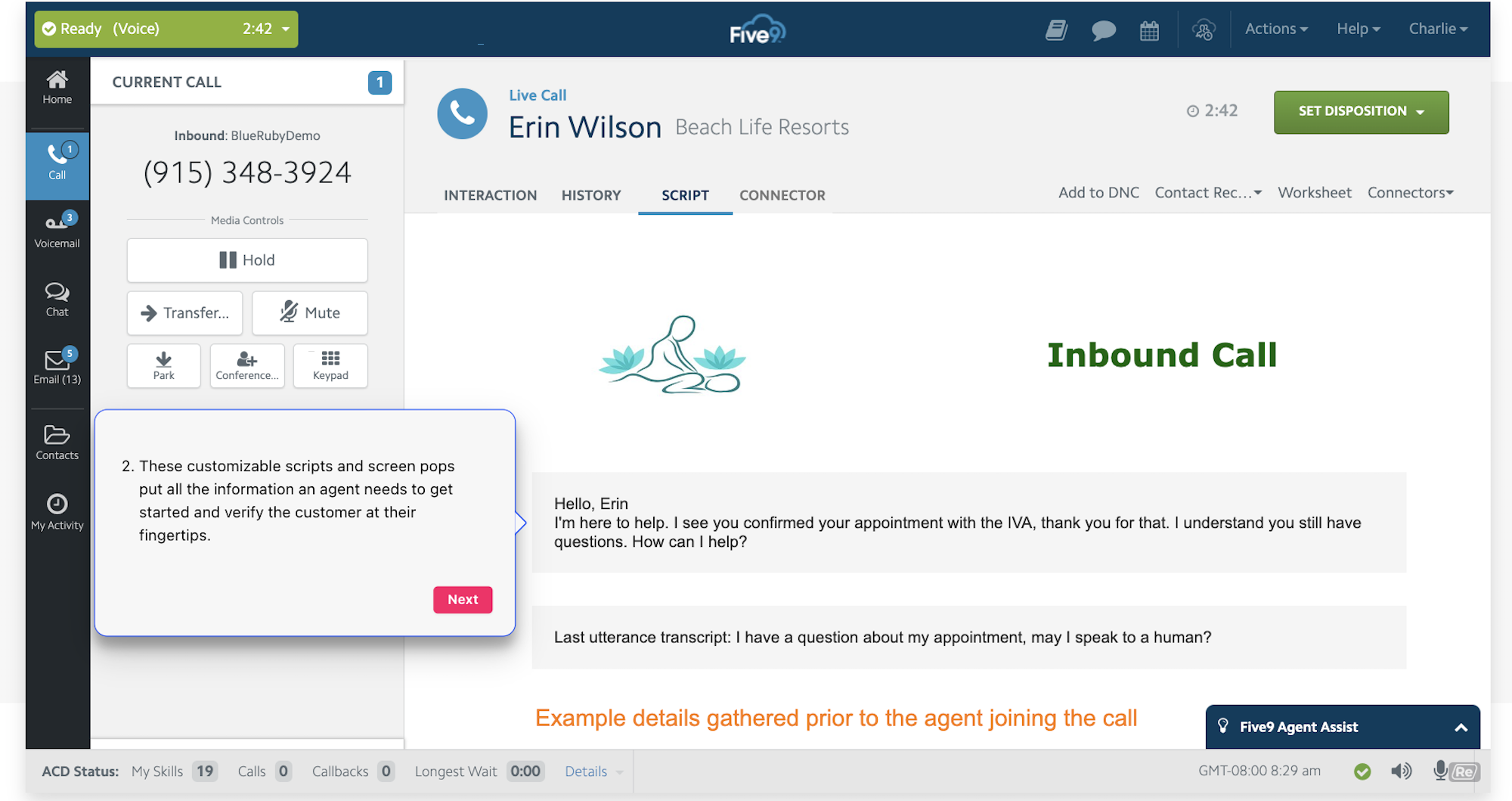 The left-hand menu displays key communication channels and tools, each popping up with notification pings when an agent receives a new inbound task.
Call: The Call menu allows agents to dial any number with click-to-call, contact selection, or a phone number dial pad. All active calls are organized onscreen, and agents can monitor their queue and the communal call parking space, prioritizing and jumping between calls.
Active calls: While on an active call, agents have access to all call controls–mute, transfer, forward, hold, park, record, and the dial pad. Agents can view contact information, add notes to the customer's profile, and gather background information from the CRM or database.
Voicemail: Agents can monitor the voicemail for multiple phone numbers, enabling multiple agents to share responsibility for voicemail boxes
Chat: All active chats are organized in a left-hand menu inbox, where an agent can jump between them and instantly access each customer's chat history, even chatbot conversations
Email: All inbound emails to a user-assigned email address appear in an email queue, or a user can compose an outbound email to any customer or email address
Contacts: Search for any contact by name–finding their contact information, notes left by colleagues, relevant reminders, and interaction history.
My Activity: View recent activity–including call logs and messages sent–with information like talk time, relevant campaigns, and comments
NICE CXone User Interface
The CXone desktop app dashboard, called MAX (My Agent Experience), provides an easy-to-use omnichannel inbox where agents can balance dozens of customers, tasks, and queues at once.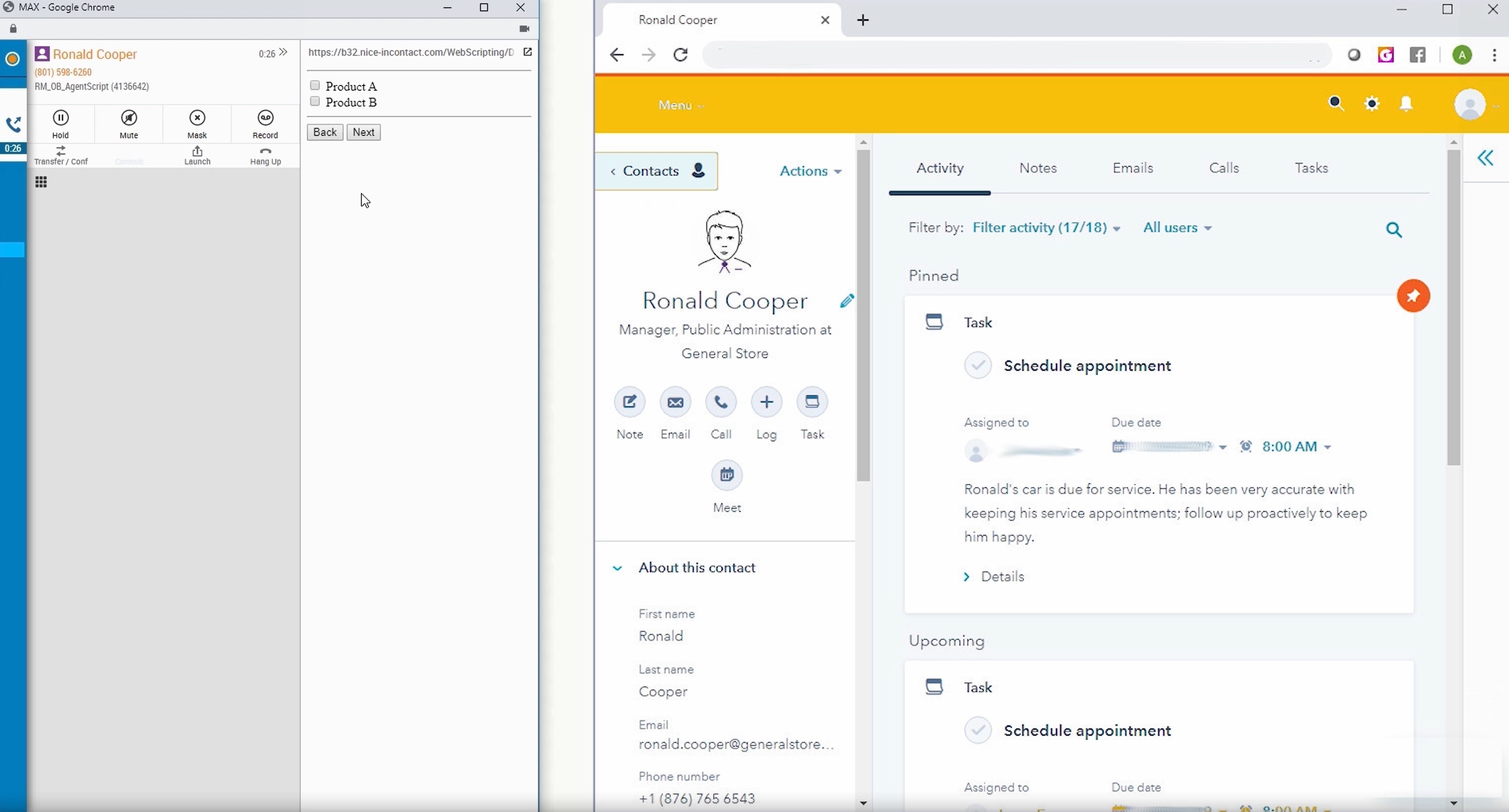 New tasks automatically populate the multichannel inbox, where agents can monitor and respond to Facebook posts, text messages, DMs on social media channels, live inbound calls, and more. Agents can forward tasks to each other, or add public notes and comments.
The agent's live call queue is displayed in the left-hand menu, organized distinctly from digital channels. Agents can see how many calls are in their queue, and how long each customer has been waiting. Alongside the queue, view your call history, voicemail, and daily schedule: upcoming scheduled breaks, meetings, and shifts.
Upon opening a task, the agent dashboard zooms in on that particular interaction while retaining visibility for other tasks with tabs and pop-up notifications for new queries.
Live-Interaction Dashboard Elements:
Text box: Type and send messages through any channel–including posting on social media
Notes: Leave a note about the customer or interaction
Resolution status: Mark an interaction as Resolved, Escalated, or Pending
Customer card: Displays the customer's contact information and multichannel conversation history, along with recent tasks, sentiment statuses, and notes left. For social media posts, the card displays a customer's social media background, popularity, influencer status, and recent relevant posts.
Multichannel contact: At any moment during a customer interaction, escalate the interaction to a call, or contact the customer through any digital channel.
Call controls: Live one-click call control buttons–Record, Hold, Mute, Mask Caller ID, Transfer, Conference, Hang up, and Present IVR menu.
To-do list: A view of all pending action items and tasks across channels
Five9 Phone System
Five9 offers HD-voice quality around the world, with points of presence across 5 continents for international calling no matter where your agents and supervisors are located.
Manage and combine physical contact centers and remote agents–configuring queues, IVRs, and outbound campaigns. Purchase and assign toll-free and local virtual phone numbers worldwide, enabling multiple agents to share phone numbers and voicemails.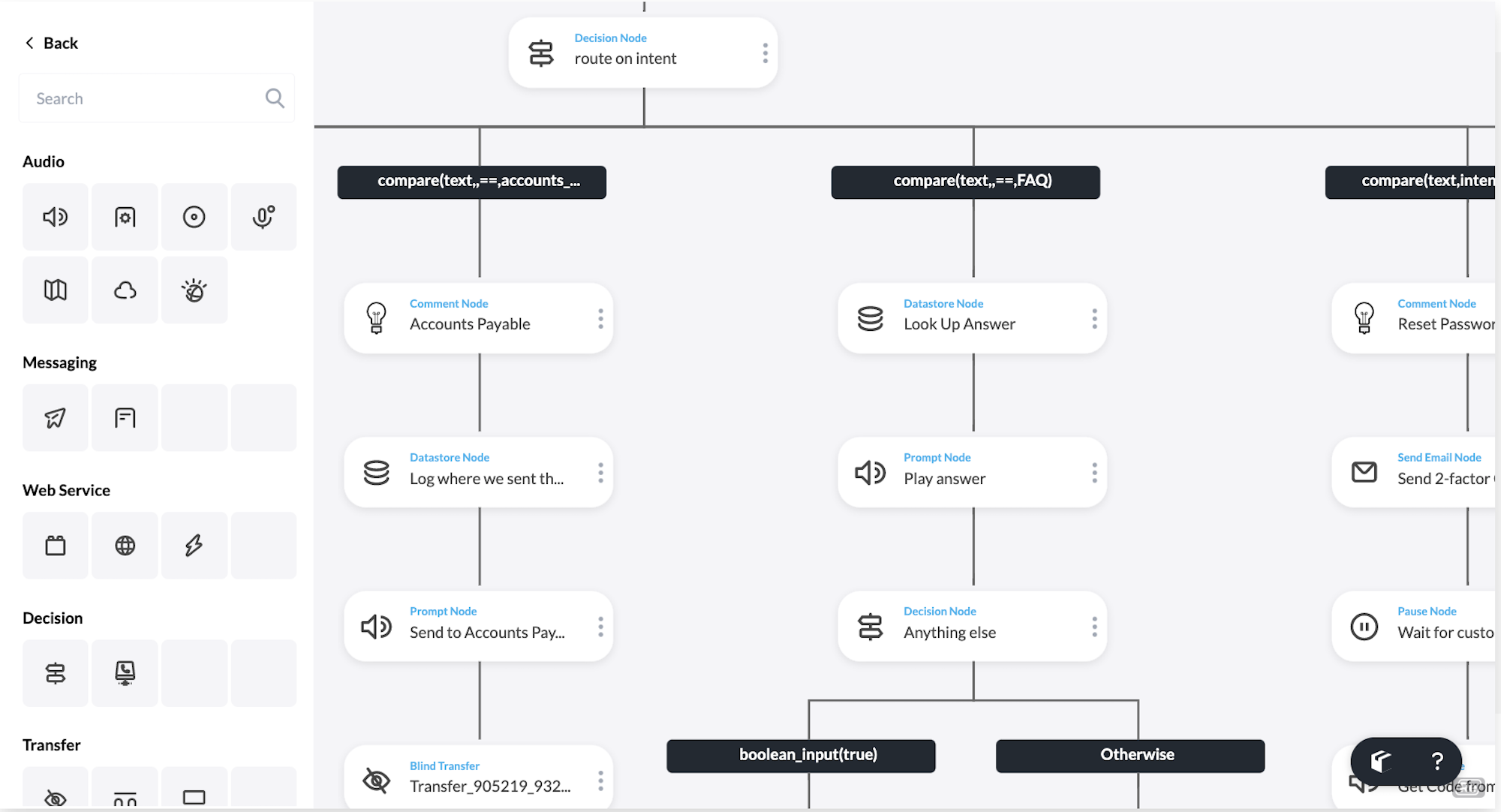 Five9 Phone System Features:
Call distribution algorithms: The phone system receives omnichannel inbound queries and routes them to the optimal agent or phone number
Skills-based routing: Route inbound omnichannel queries based on agent skills, priority, time of day, and agent availability
Call queues: Group agents and phone numbers to share inbound call responsibility, organizing calls in a visual queue that agents can manage. Queues offer estimated wait times, with an automatic callback option.
Dynamic IVR: A mobile and voice-based omnichannel IVR system, with scripts and menu options that customers can navigate with app-style buttons or DTMF audio selections. Create scripts with a drag-and-drop designer, enabling IVRs to handle tasks like appointment scheduling, payment acceptance, and survey administration.
Recording and transcription: Five9 records calls and transcribes the audio in real-time, analyzing this transcript to support AI coaching
Call monitoring: Supervisors can monitor all call centers and agents in real-time from their own dashboard, examining call status and agent desktop activity, and receiving alerts related to failed SLAs. Supervisors can listen in silently on calls, whisper private guidance, join the call, or take it over.
Screen pop: Inbound calls trigger a screen pop on the user's interface, for a quick answer and easy transition into the active-call display
Auto dialer: Five9's contact center includes outbound auto dialer software–with a predictive dialer, progressive dialer, power dialer, and preview dialer. These tools save time by allowing groups of agents to rapidly dial large groups of customers according to preset campaigns, which you can configure in your CRM or database.
NICE CXone Phone System
NICE CXone's virtual phone system offers global VoIP telephony, capable of making HD-voice calls with 99.99% uptime to over 130 countries. NICE plans support unlimited calling within the US and Canada, plus affordable per-minute rates for international calls.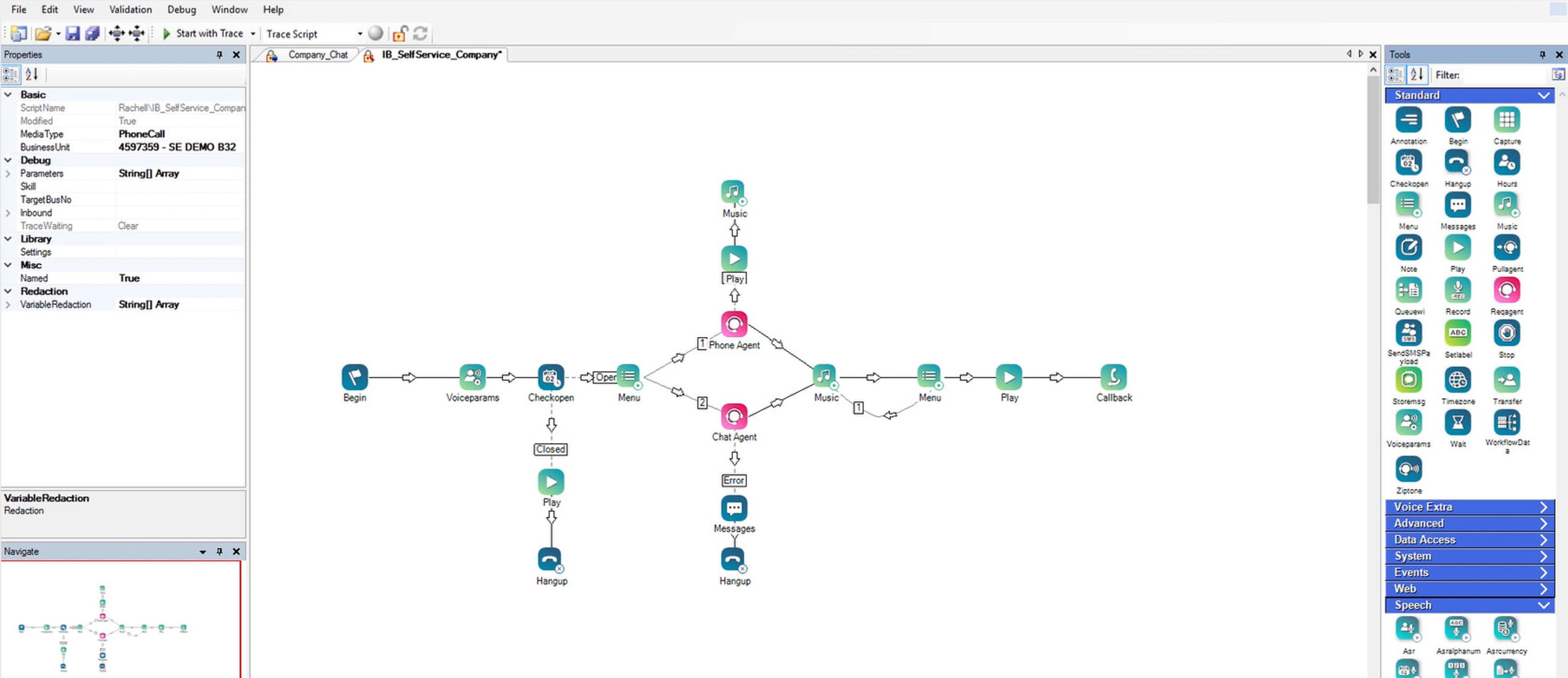 Administrators can purchase local and toll-free DID numbers around the globe and manage them easily in the administrator portal, assigning numbers to agents. Nice CXone's phone system includes built-in inbound routing and queueing features–IVR, AI-based routing, and ACD technology–plus outbound auto dialer functionality.
Routing, Queueing, and Outbound Phone System Features:
Auto dialer: NICE CXone includes an outbound no-pause dialer with built-in list management. The dialer makes proactive outbound calls from campaign lists, with automated messages and the option to recipients to a live agent.
Automatic contact distribution (ACD): The phone system automatically compiles customer records and gathers customer data, integrating this information with your CRM to facilitate data-driven, skills-based routing
IVR: A drag-and-drop menu to build a self-service IVR system that integrates with your call distribution system to route inbound callers to the right agent or queue. CXone IVR also handles basic tasks like bill payments and providing basic account information.
AI routing: When the phone system receives an inbound call, it uses CRM data, contact interaction history, and IVR information to analyze the caller's needs. It then matches these needs to each agent's skills and availability, routing the caller to the optimal agent based on predicted performance.
Five9 Workforce Optimization
Five9 includes a variety of WFO tools to help supervisors and administrators manage, organize and support call center processes.
Easily purchase and assign phone numbers, evaluate agents based on skills, and forecast staffing and scheduling needs with multiple built-in forecasting methods across channels and skills. Five9 also features self-service scheduling for agents, with built-in shift bidding when multiple agents want the same time slot.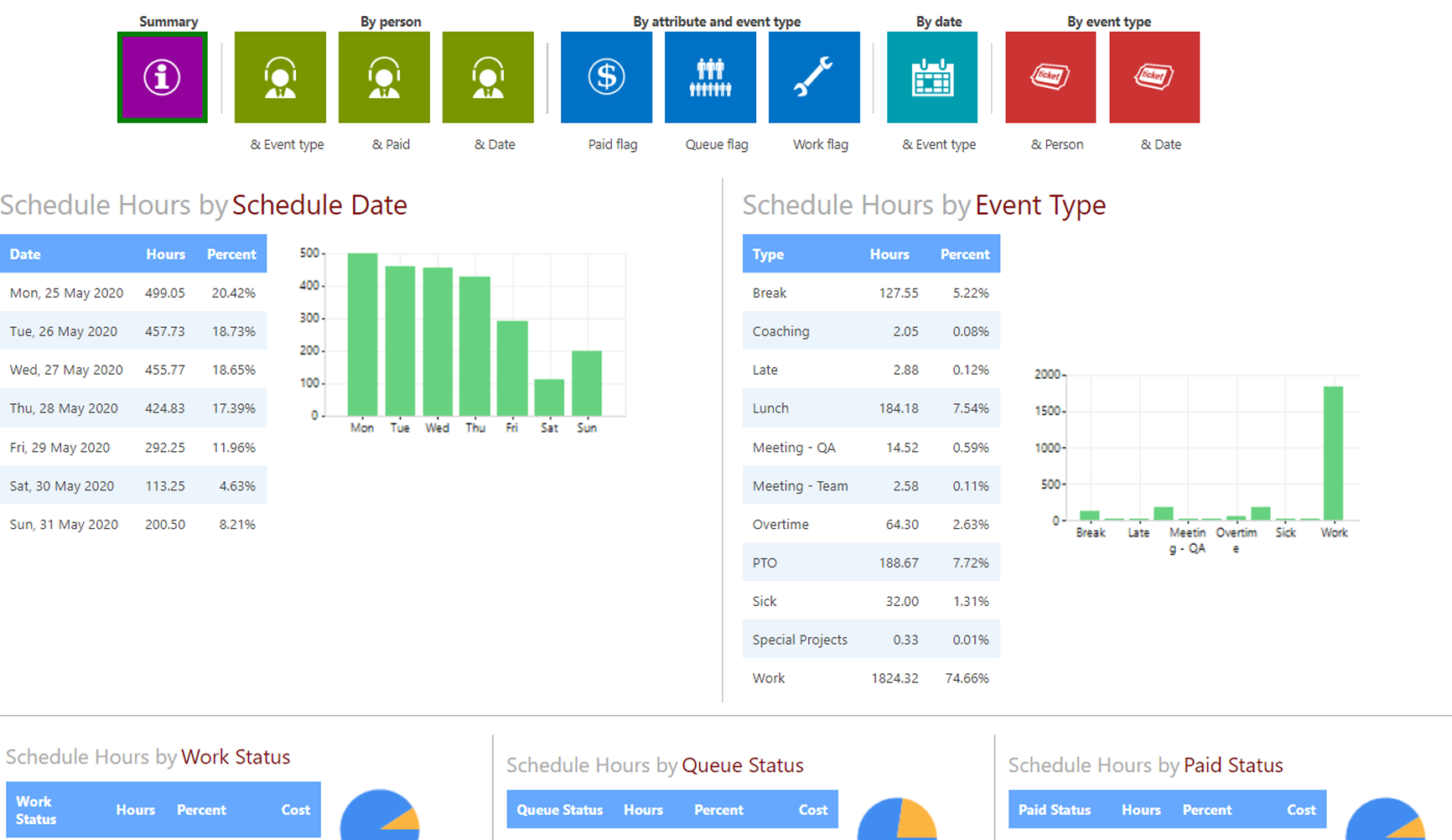 Workforce Management Tools:
Forecasting: Use static or dynamic scheduling views that consider and display each agent's FTEs to optimize schedules based on skills and weekly work hour requirements
Scheduling: View up-to-date schedules that take into account agent breaks, lunch, meetings, and training/coaching time
Agent portals: Within the app, agents can view their schedules, request time off, trade shifts, and message their supervisor
Adherence view: Supervisors can view an agent's screen display and app usage–monitoring performance and efficiency
Scoring and evaluation: Supervisors can listen to call recordings and transcripts, or view digital messaging conversations, evaluating agents and providing feedback across channels. Supervisors can create custom evaluation forms and coaching packages, to tailor feedback for each agent.
NICE CXone Workforce Optimization
NICE CXone uses AI and machine learning to power omnichannel forecasting and scheduling, along with agent training and onboarding tools.
Multi-criteria schedule assignment factors in anticipated demand, agent proficiencies, agent FTE and hours, and channel activity to create a schedule forecast for your whole contact center, based upon multiple algorithms. The system re-forecasts during the day as needed, providing up-to-date schedule reports. Agents can manage or change their own schedules with peer trade requests, shift bidding, and more.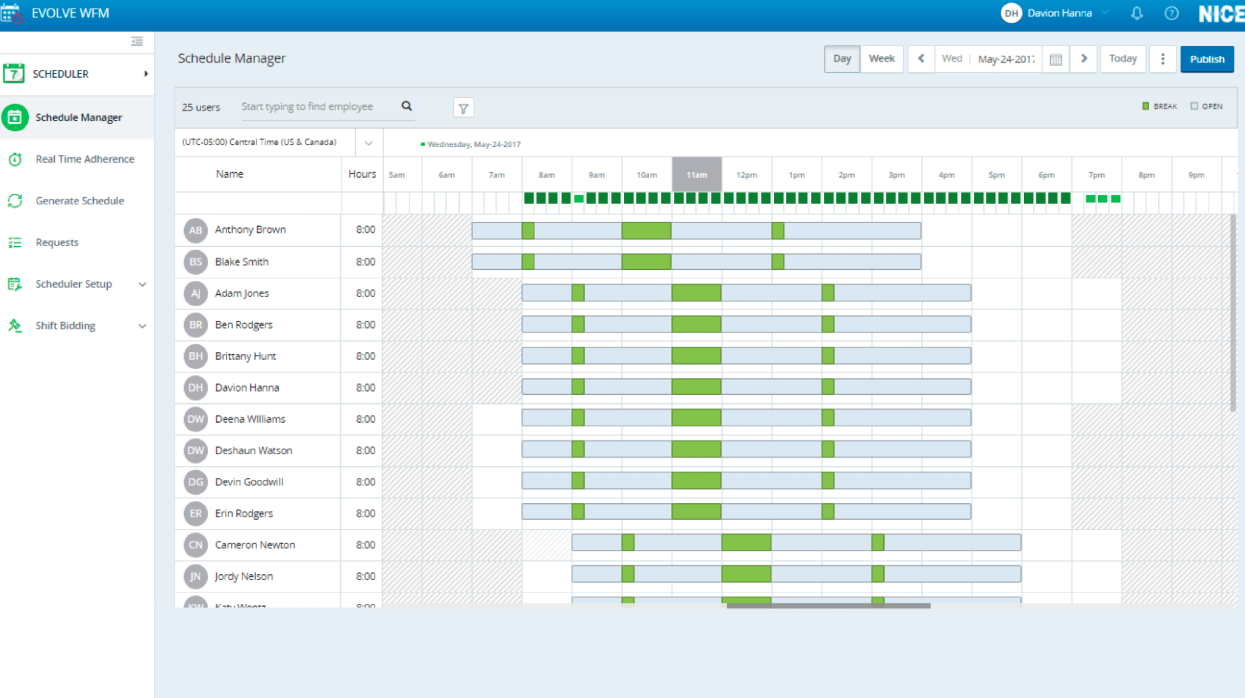 CXone supports supervisors with several quality management tools–including drag-and-drop evaluation form design, real-time reports and dashboards, and automated workflows. AI analyzes conversation transcripts to determine customer sentiment and interaction importance, enabling supervisors to evaluate the most critical interactions.
Performance Management and Coaching Tools:
Screen recording: Record agents' screens across interactions, to get a live view of their conversation activity for more informed monitoring
AI-based evaluation: Language processing analyzes interactions to evaluate agents across a range of sentiment and category types, for advanced feedback and scoring
Collaborative and self-evaluations: Create evaluation sheets for agents to score themselves, or each other
Drag-and-drop form creator: Create form templates, combining KPIs and custom metrics to provide streamlined and consistent agent feedback
Real-time dashboards and scorecards: Supervisors can keep an eye on many call-center agents at once with agent scorecards and live dashboards, which provide live sentiment tracking, performance updates, and alerts when issues arise
Gamification: Live performance dashboards for agents, with game-style presentations for engagement
Five9 AI and Automations
Connect customer data across platforms and apps, creating automated workflows that combine CRM, billing, sales and marketing, customer service, and omnichannel functionality. Build multi-event triggers based on business rules, automatically handling workflows like sending a follow-up or order-confirmation SMS to a customer after an interaction, notifying a supervisor via Slack about important activity, and more.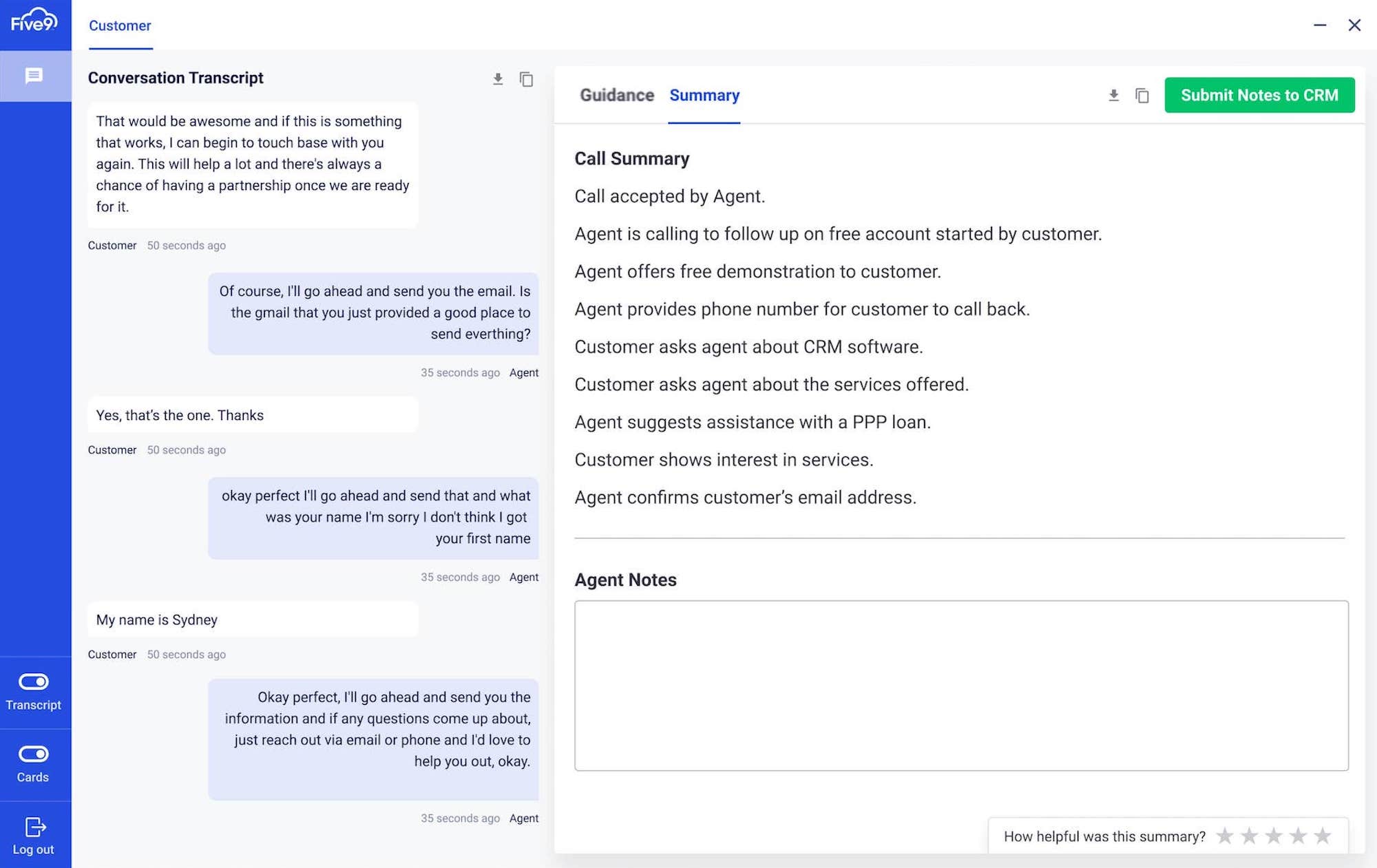 Five9 also averages AI to facilitate agent and supervisor support. Agent Assist analyzes customer intent, providing agents with action guidance cards of knowledge-base articles to answer customer questions or provide the optimal response.
AI and Automation Features:
Proactive notifications: Automate outbound texts, emails, and calls for a variety of customer-service purposes: appointment reminders, billing updates, order statuses, and outage or closure alerts.
Agent Assist: AI that analyzes call transcripts to offer live next steps and knowledge base suggestions, as well as call summaries once the call is completed. Agent Assist adds summaries to a CRM system or database of your choice and triggers follow-up actions for agents and supervisors.
AI Checklist: Analyzes call intent–using the help of IVR and IVA when relevant–to provide agents a live action-item checklist, with coaching items like HIPAA reminders, objection handling assistance, and upsell opportunities. AI tracks agent speech and checks items off the list throughout the call.
Intelligent virtual agent (IVA): Create drag-and-drop multichannel self-service menus that analyze customer language and tone to deliver basic functionality and routing via chat, SMS, or voice. Once the caller is routed to an agent, IVA information is used to contextualize and inform the agent's service. Choose from 25 natural-sounding voice avatars for your voice menu.
NICE CXone AI and Automations
The NICE CXone app features AI-based tools that expedite and support many contact center functions–customer self-service tasks, routing, workflows, repetitive tasks, and live agent interaction guidance.
NICE Employee Virtual Attendant (NEVA)
NEVA, CXone's built-in AI attendant, supports contact center agents across daily tasks, including live interactions, data input, and workflow routines. During live interactions, NEVA provides agents with compliance prompts, next-best-action guidance, relevant sales promotions, and contextual customer data.
Developers can build custom NEVA automations in CXone's Automation Studio, a low-code cloud-based and local application with a drag-and-drop design interface. Combine workflows, callouts, screen elements, data, third-party app integrations, event triggers, and services–like creating appointments, sharing PDF documents, web and MS Office-based tasks, and more. Customize NEVA's appearance and design–including links, labels, text, images, and video.
NEVA Discover is a patented task-mining tool that tracks millions of data points and user behaviors to identify repetitive tasks and usage patterns, with the aim of automating new time-saving solutions. AI recommends process optimizations, system enhancements, and training or coaching opportunities.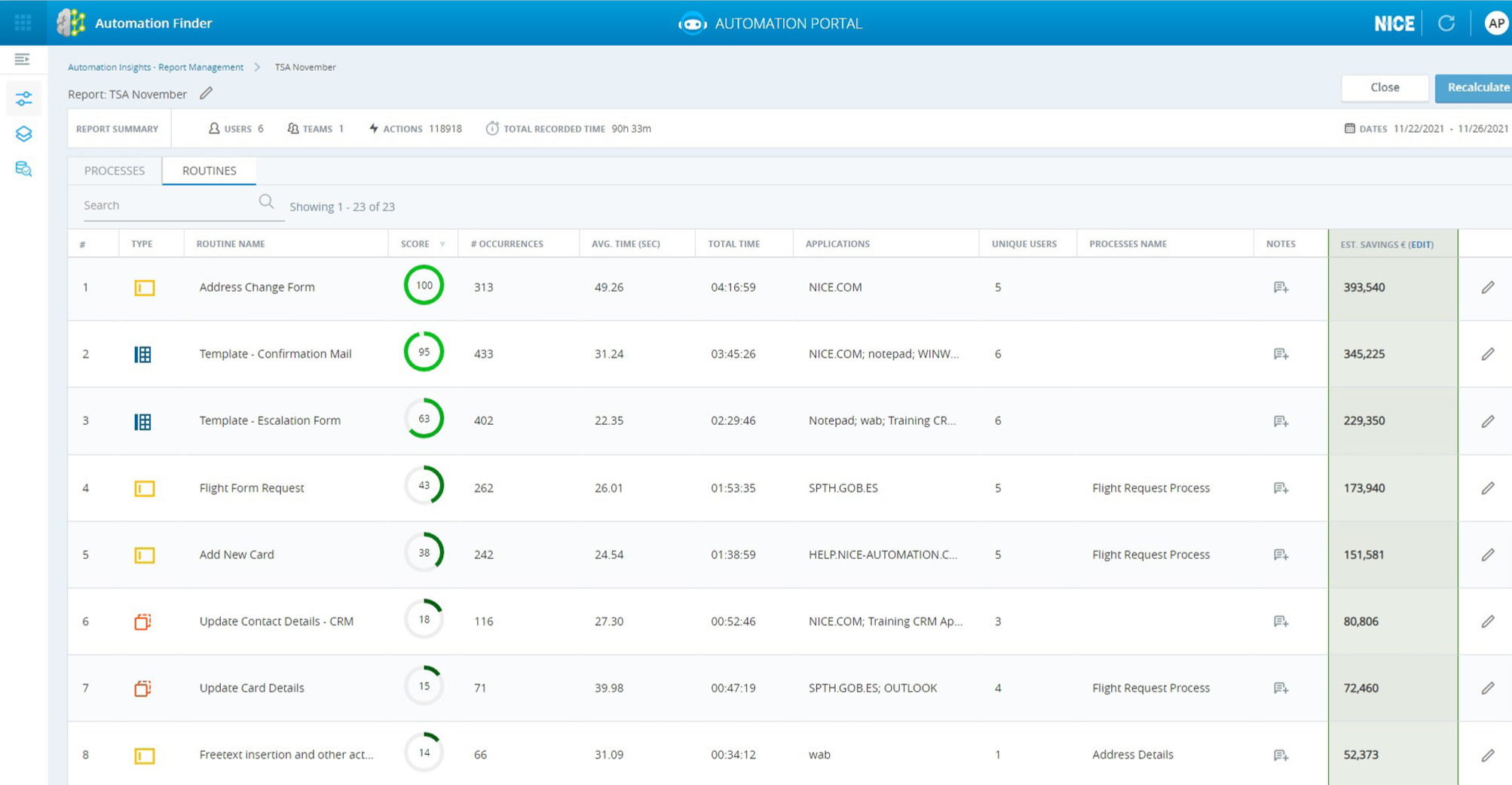 Self-Service Chatbots
Import your own chatbot, purchase one from the CXexchange marketplace, or build one using the no-code builder for any of CXone's 30 voice and digital channels
NICE CXone Chatbot Capabilities:
IVR and omnichannel routing
Natural language detection and predictive behavior
Survey administration
Scheduling
Knowledge-base recommendations
Voice authentication
Five9 Analytics and Reporting
Five9 offers over 120 real-time and historical reports, with various displays and KPIs for agent or supervisor viewing. Supervisors have live views into IVR and queue activity, agent state, and call distribution statistics, along with the option to customize each display by historical time period.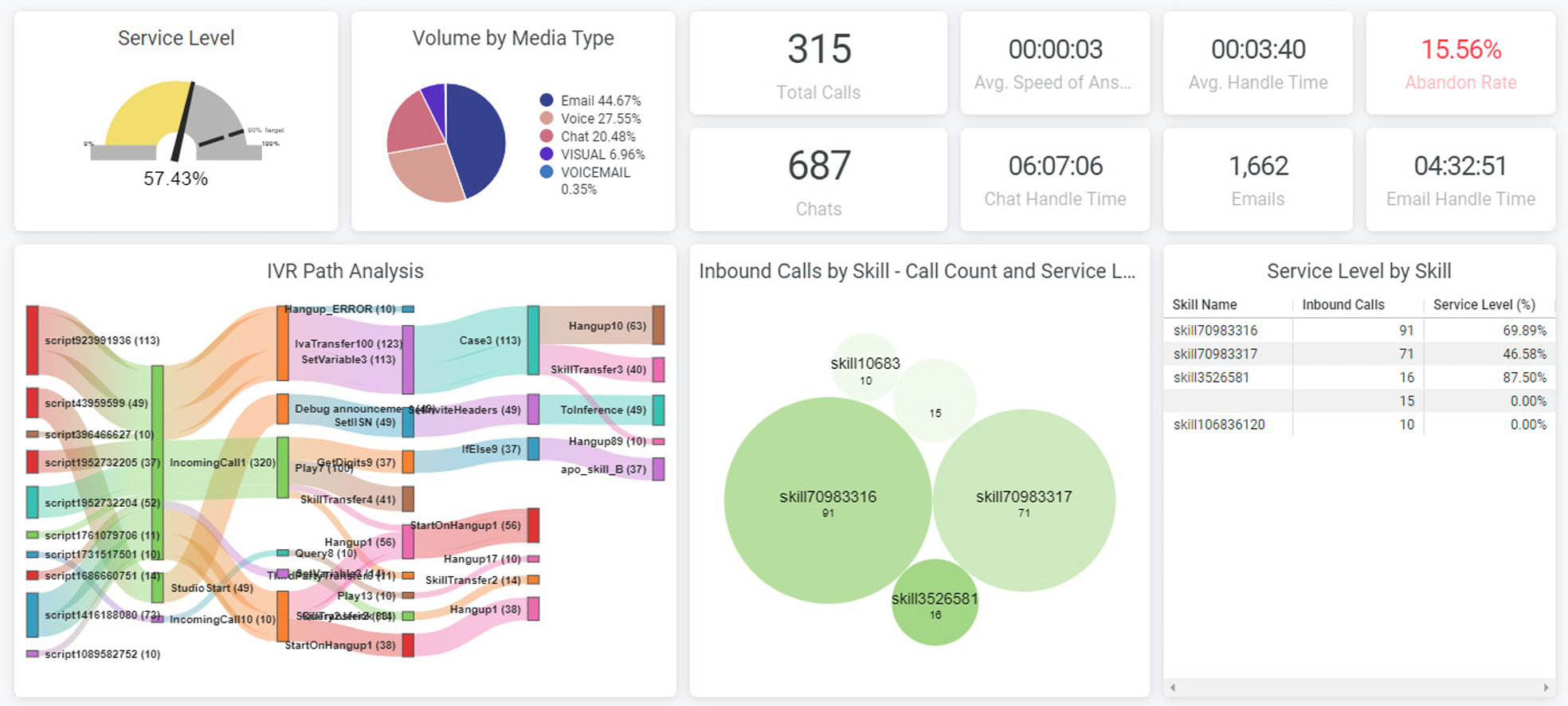 Reports display KPIs in a variety of visuals, including speedometers, charts, line charts, cluster bar charts, stacked column charts, grid charts, and more.
Five9 reports cover the following:
Call distribution and queues
Agent activity and performance
Call logs and histories
Campaigns and outbound dialing results
Contacts with interaction history
Omnichannel usage, with channel activity and popularity
IVR interactions and history
NICE CXone Analytics and Reporting
CXone 's AI engine analyzes interactions, transcripts, agent behaviors, customer sentiment, and general call center trends to provide insights and visual displays for all sorts of call center activity.
CXone Analytics Standout Features:
Enlighten AI: An out-of-the-box analytics solution that scores agents based on AI-detected behavior, customer sentiment, and customer satisfaction metrics. It detects agent soft skills like empathy, listening ability, effective questioning, and self-service promotion.
Interaction analytics: CXone gathers thousands of insights and metrics across live customer interactions on all channels, organizing these metrics into hundreds of categories in a repository that supervisors can sort and search.
Intuitive dashboards: Supervisors and agents can access over 90 reports and dashboards with real-time and historical insights about trends and call center KPIs, including channel usage, queue activity, and agent performance
Five9 Pros and Cons
While Five9 thrives with an easy-to-use agent dashboard and live-interaction display, it does not provide the same depth as competitors when it comes to AI-based automations and analytics.
| | |
| --- | --- |
| Five9 Pros | Five9 Cons |
| Includes video | Limited workflow automation potential |
| Intuitive and easy-to-use interface | Call quality can be inconsistent |
| 4 types of auto dialer | Reporting can feel clunky and basic |
NICE CXone Pros and Cons
While NCXone offers highly customizable workflow automations and chatbots, the software's agent interface feels clunky and outdated.
| | |
| --- | --- |
| NICE CXone Pros | NICE CXone Cons |
| Wide-ranging analytics and AI insights | No video |
| Includes social media monitoring and posting | Interface feels outdated |
| Highly customizable workflows and chatbots | Limited auto dialer functionality |
Which of the Two is Best for Your Business?
Between Five9 and NICE CXone, the best contact center solution for your business depends on several factors: the channels you want, your agents' sales and customer-support use cases, and how much visibility and monitoring capabilities your supervisors require.
For an easy-to-use omnichannel interface that includes video, Five9 is a better option–especially if you don't mind compromising somewhat with relatively basic workflow automations and analytics.
On the other hand, NICE CXone is best for teams that don't mind a clunky interface and prioritize advanced automations, including customer self-service and agent workflows.