Contact Center as a Service (CCaaS) providers Five9 and 8×8 are both powerful omnichannel platforms packed with tools to optimize workflows, increase first contact resolution rates, boost employee engagement, and automate multi-step business processes.
This overview of Five9 vs 8×8 compares each SaaS provider's pricing, available features, analytics, security, and user experience, empowering business owners and supervisors to make the best decision for their teams and long-term goals.
Compare contact center software from
top providers
Five9 vs 8×8: Overview 
The table below provides a quick summary of the criteria we cover in this Five9 vs 8×8 comparison.
| | | |
| --- | --- | --- |
| | Five9 | 8×8 |
| Pricing | 4 paid plans from $149-$229/month, per concurrent user | 3 paid plans from $85-$140/user/month when paid annually |
| Top Inbound Calling Features | IVAs and Agent Assist | Frontdesk and Intelligent IVR |
| Top Outbound Calling Features | Auto Dialer | Advanced outbound campaign management |
| Omnichannel Capabilities | Voice, Video, Website Chat, Email, Social Media Messaging, SMS | Voice, Video, Website Chat, Social Media Messaging, SMS, Email |
| Top Workforce Management Features | Forecasting, Shift Bidding, Gamification | Speech Analytics, Transcript Snippets+Commenting |
| Key Analytics Features | Interaction Analytics and Performance Dashboards | Conversation IQ and CX Analytics |
| Key Integrations | Salesforce, Zendesk, Zoom, Microsoft Teams | Salesforce, Microsoft Teams and Microsoft 365, WebEx, Google Workspace, Slack, Fleep |
| Guaranteed Uptime | 99.999% | 99.999% |
| Best For | Enterprise blended contact centers that rely on automation and AI-powered insights to optimize agents for high daily call volumes | Remote, mostly inbound contact centers that provide one-on-one live customer support mainly via phone |
What is Five9? 
Five9 is a cloud-based inbound, outbound, and blended contact center solution that leverages the power of AI to optimize omnichannel customer experience and agent workflow.
Five9's digital-first approach relies heavily on automation to streamline internal and external communications across voice, video, chat, SMS, email, and social media.
It provides robust customer self-service capabilities alongside seamless CRM integrations and in-conversation Agent Assist to boost first contact resolution rates for all customer-agent interactions.
Workforce Management, real-time and historical reporting, and Interaction Analytics provide detailed insights into agent productivity, the quality of customer service and support, and contact center trends.
What is 8×8?
8×8 is a cloud contact center provider that unites voice and video calling, SMS, chat, email, social media, and contact center solutions within its all-in-one eXperience Communications Platform, XCaaS.
Sometimes referred to as "The X Series," XCaaS provides scalable solutions for every business size, offering both bundled monthly plans and Communication APIs for voice, video, chat, and SMS.
Native CRM and Workforce Management tools, alongside cross-platform analytics and an open integrated network, allow users to create a highly customized contact center without sacrificing the tools they already use.
Mix-and-match licensing lets businesses keep costs down while ensuring high-value team members can access the features and communication channels they need.
Five9 vs 8×8: Inbound Calling
8×8 Inbound Calling
8×8 offers unlimited calling in 14-48 countries, including the United States and Canada. Local, toll-free, vanity, and international business phone numbers in 100+ countries are available, as is number porting.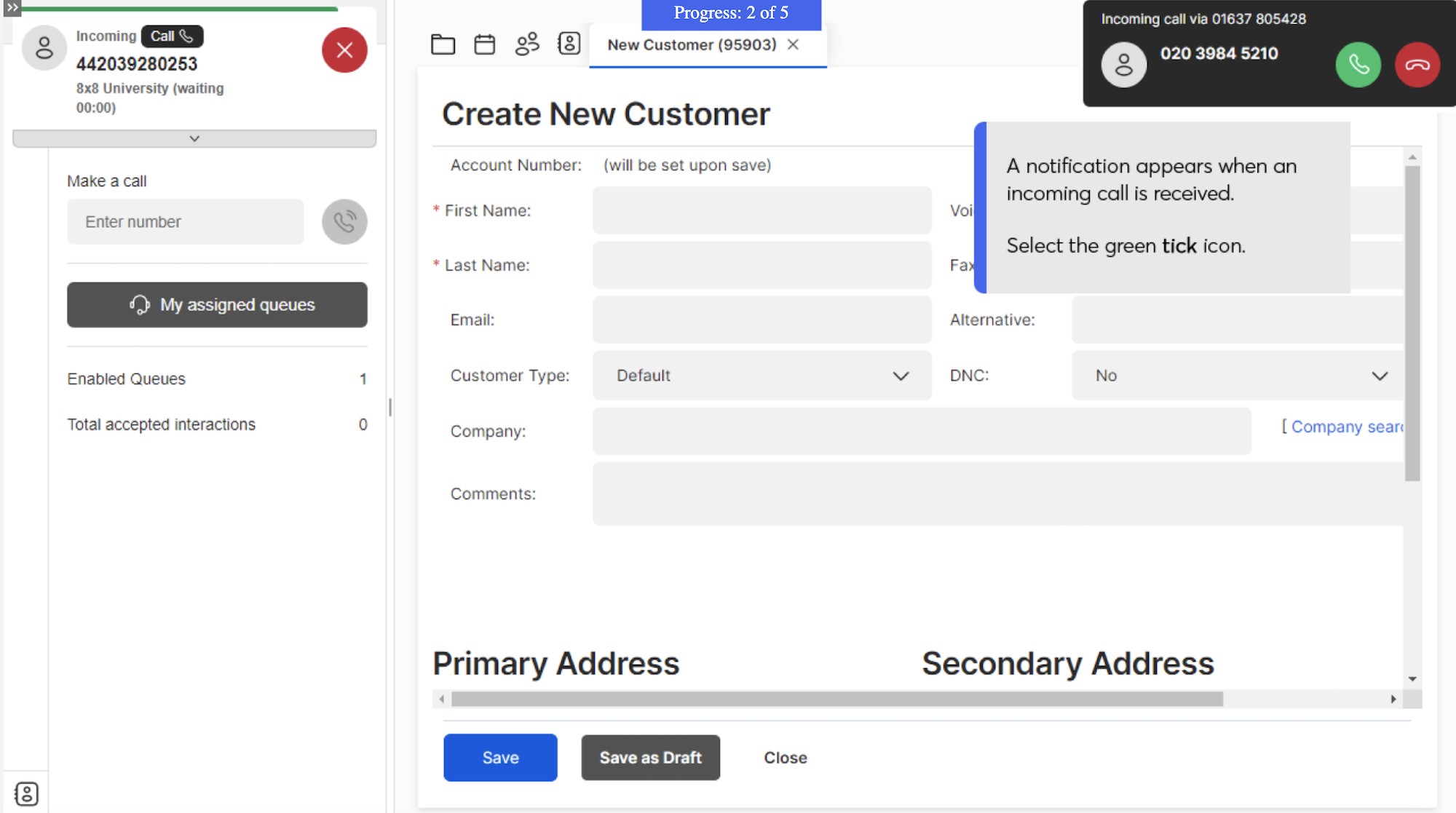 Admins can choose from several VoIP call routing strategies, including:
Least Occupied/Most Idle routing
Simultaneous Ringing to pre-configured call groups
Time-based/schedule-based routing
Sequential/list-based routing
VIP/Relationship-based routing
Intelligent Routing
8×8 Frontdesk gives all agents instant access to roles-based call handling capabilities, including multi-call management, call parking, warm/blind call transfers, call forwarding, call flip, and even message-based consulting with other agents. Agents can also access call greetings and call scripts within Frontdesk.
Frontdesk is especially ideal for remote and high-volume virtual call centers, as it essentially allows all agents to function as receptionists. This level of phone system control makes it possible for agents to provide personalized customer service while optimizing productivity and streamlining overall workflows. Real-time syncing, even with third-party apps like Microsoft Teams, keeps User Presence and other call center updates current.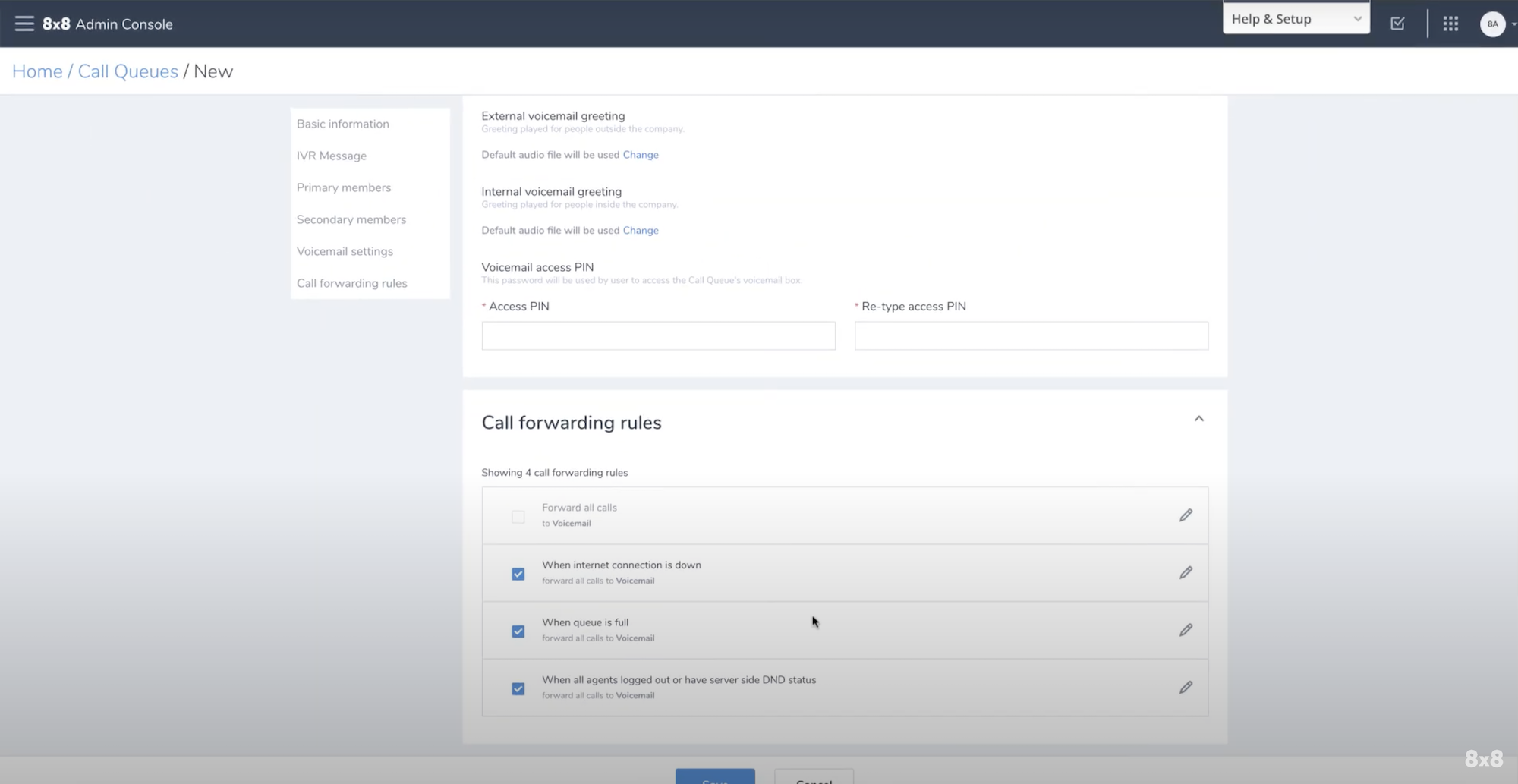 Intelligent IVR takes traditional IVR-powered automation and customer self-service to the next level using Natural Language Understanding, Automatic Speech Recognition, and machine learning. Admins can create individual call paths and call path templates via the drag-and-drop call flow editing interface, and edit them at any time based on available agents, call volume, and during peak seasons. Intelligent IVR can assess current agent availability, call queues, and even analyze customer intent and sentiment to route the call to the best available agent.
AI Agent Assist can pick up on trigger words and phrases to provide instant support pulled from internal knowledge bases and agent scripts.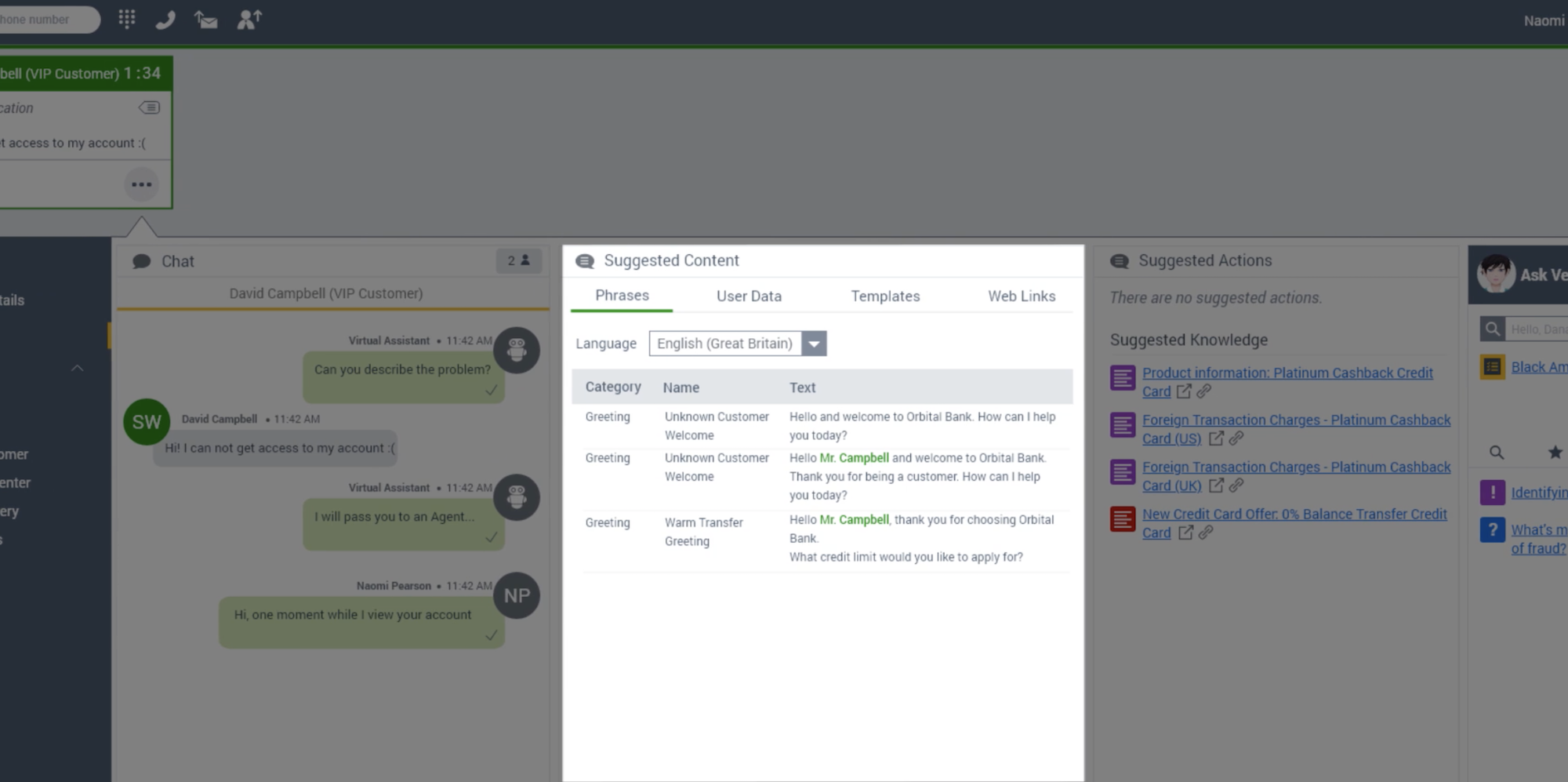 8×8 also uses AI to power Virtual Agents that handle entire interactions from start to finish–even more complex ones like bill payments, order tracking/updates, appointment scheduling, and customer support requests. They can collect detailed information from customers, provide real-time call transcription, and machine learning ensures they only get more accurate and efficient with time.
Additional key 8×8 XCaaS inbound calling features include:
Caller ID, Call Forwarding, Call Parking, Call Queuing, Call Flip
Visual Voicemail
CRM Integration with screenpops
Shared call notes
Automated Callbacks
Unlimited virtual faxing
Call filtering and number blacklisting
Hold music
Audio conferencing for up to 500 participants
Call recording and transcription/closed captioning with unlimited capacity media storage
Hot desking
Click-to-call
Hunt Groups/Ring Groups
Multi-level IVR and auto attendant with ACD
Call barge, call monitor, call whisper
Five9 Inbound Calling
Five9 Inbound Voice call center relies heavily on Interactive Voice Response (IVR) to keep call wait times low, maximize available agents, and bring automated customer self-service to the forefront.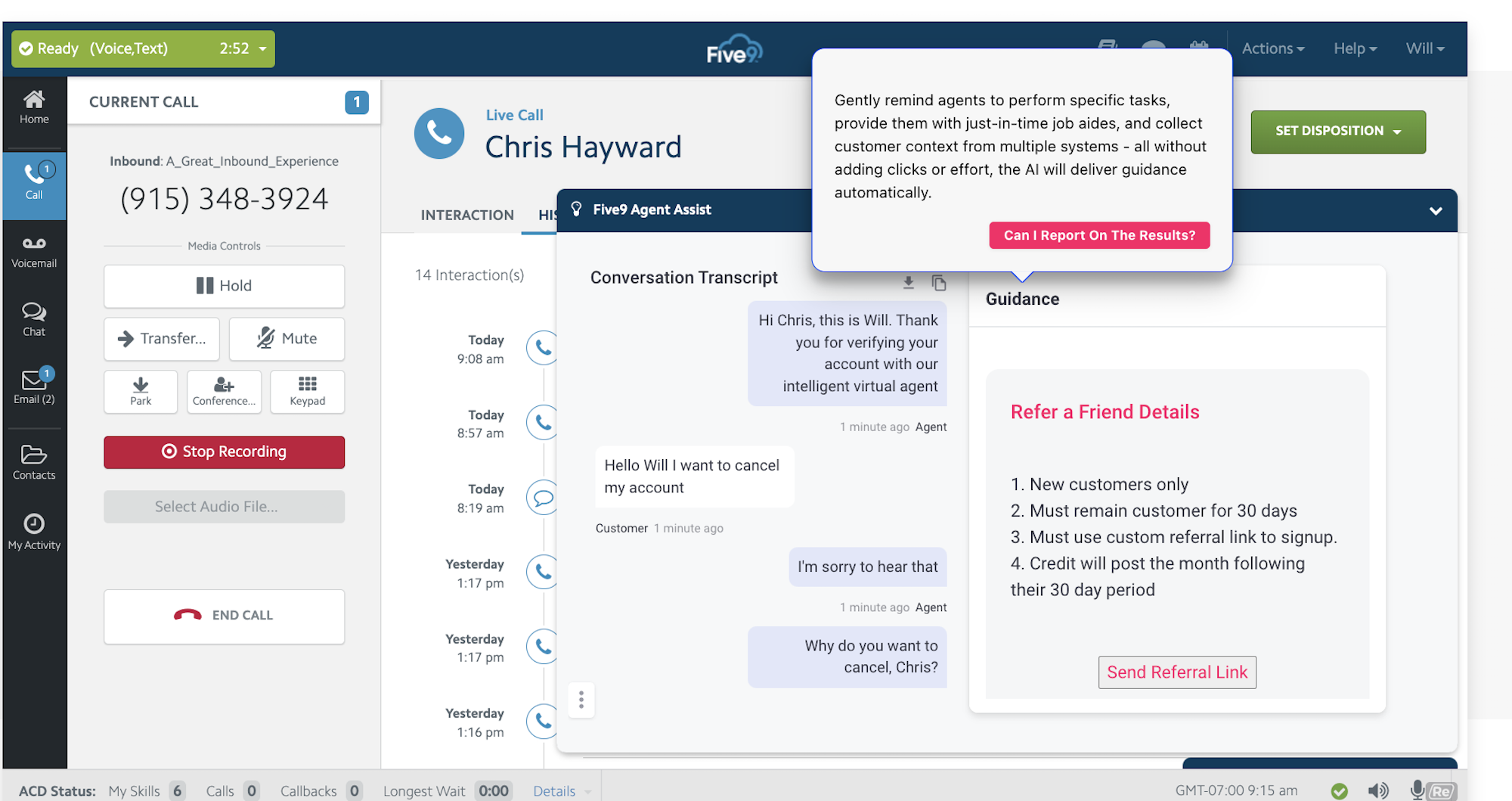 Users can record their own IVR call menu prompts or opt for Five9's talk-to-text Virtual Voiceover tool, which uses natural-sounding synthetic voices to create realistic, but still expedient, call menu recordings.
Mobile-first Visual IVR speeds up the call menu navigation process through an app-like interface that lets customers click on-screen buttons to direct their own calls without having to listen to lengthy, audio-only menus. Visual IVR also allows for the creation of visual post-call surveys, in addition to audio ones.
Five9's Speech-Enabled IVR lets admins set call path rules that allow for remote call forwarding, omnichannel routing, voicemail routing, and popular intelligent call routing strategies like skills-based, priority-based, and time-based routing. Call distribution algorithms like most idle time, round robin, and longest wait time can also be specified.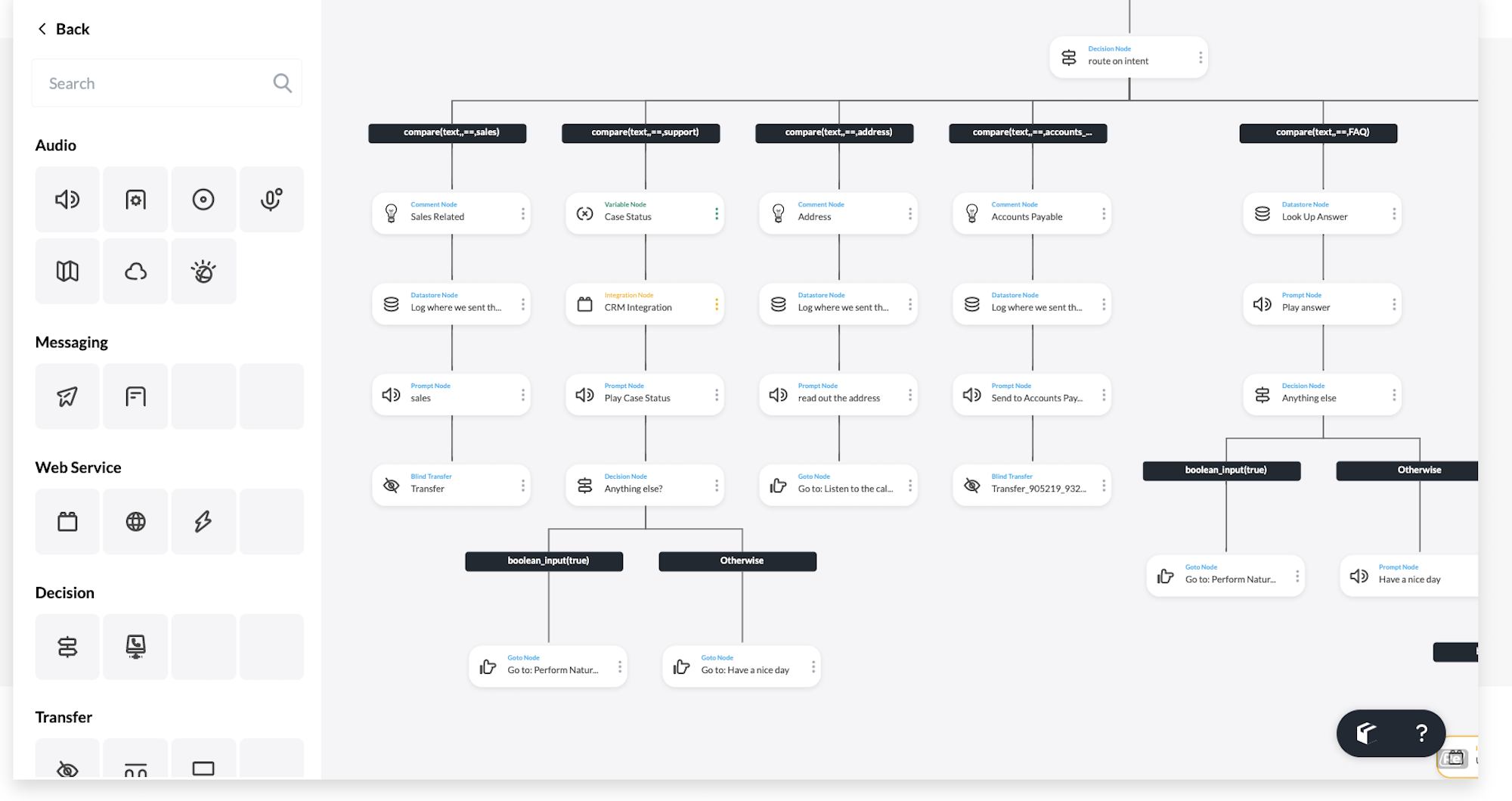 Intelligent Virtual Agents (IVAs) from Five9 offer a complete self-service experience across voice and digital channels. IVAs automate routine customer support requests that don't really need a live agent to complete. For example, IVAs can manage contact information updates, password resets, appointment scheduling, payment, checking order and shipping status, and more. IVAs make 24/7/365 customer service possible, free up live agents, and even lower operating costs. IVAs use Conversational AI to replicate natural language and create a personalized experience–and even transfer customers to a live agent when needed.
If a customer needs to connect to a live agent on any channel, Five9's AI-powered Agent Assist tool keeps average handling time low.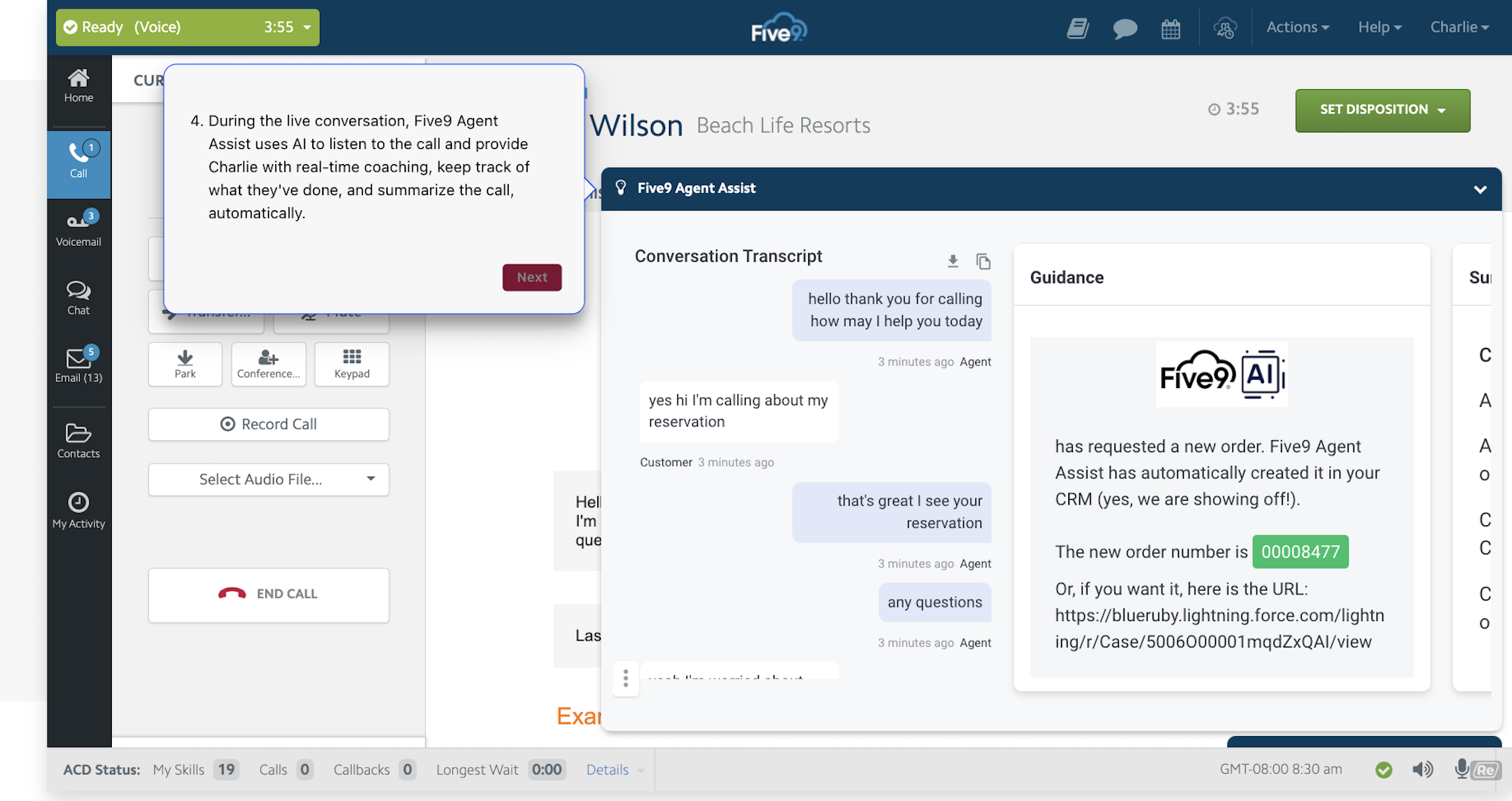 Using a combination of machine learning, Natural Language Processing, and automation, Agent Assist provides real-time, in-conversation agent guidance by:
Analyzing customer intent and customer requests
Generating and displaying relevant Guidance Cards with data pulled from your internal knowledge base, call scripts, CRM sources, conversation histories, prior agent notes, etc. to guide the agent through the customer service and support process
Transcribing conversations in real-time
Creating an AI Checklist, a "task list" of agent action items that ensure customer needs and company expectations are met of things the agent needs to do during the conversation (Call recording disclosures, upselling opportunities, collect contact information, etc.
Using voice analytics to check completed tasks off the AI Checklist in real-time, during the conversation
Creating an automated post-call summary to reduce notetaking and after-call work (all call summaries can be seen by all agents)
Collecting and analyzing call summary data to create drilled-down customer service insights
In addition to Agent Assist, Five9's Engagement Workflow tool optimizes one-on-one, real-time conversations for both agents and customers.
It evaluates available agents, schedules, time zones, languages, agent skill set, and customer requests to route customers to the best available agent, on the best available channel. Before connecting the agent and customer, the Engagement Workflow tool pulls relevant data from all your CRM sources, creating an automatic CTI screen pop filled with the essential customer and conversation details.
Additional Five9 inbound call center features include:
Toll-free and local phone numbers
Live call monitoring, call whisper, call barge/takeover, agent coaching via real-time chat between agents and supervisors
Agent scripting with drag-and-drop script design
Call queuing with estimated wait times
Call recording with real-time call transcription
Call park
Call forwarding
Five9 vs 8×8: Outbound Calling
Five9 Outbound Calling
Five9's outbound call center is defined by its powerful Auto Dialer, which uses several automated dialing strategies to increase talk time, speed up lead list penetration, and maximize agent productivity.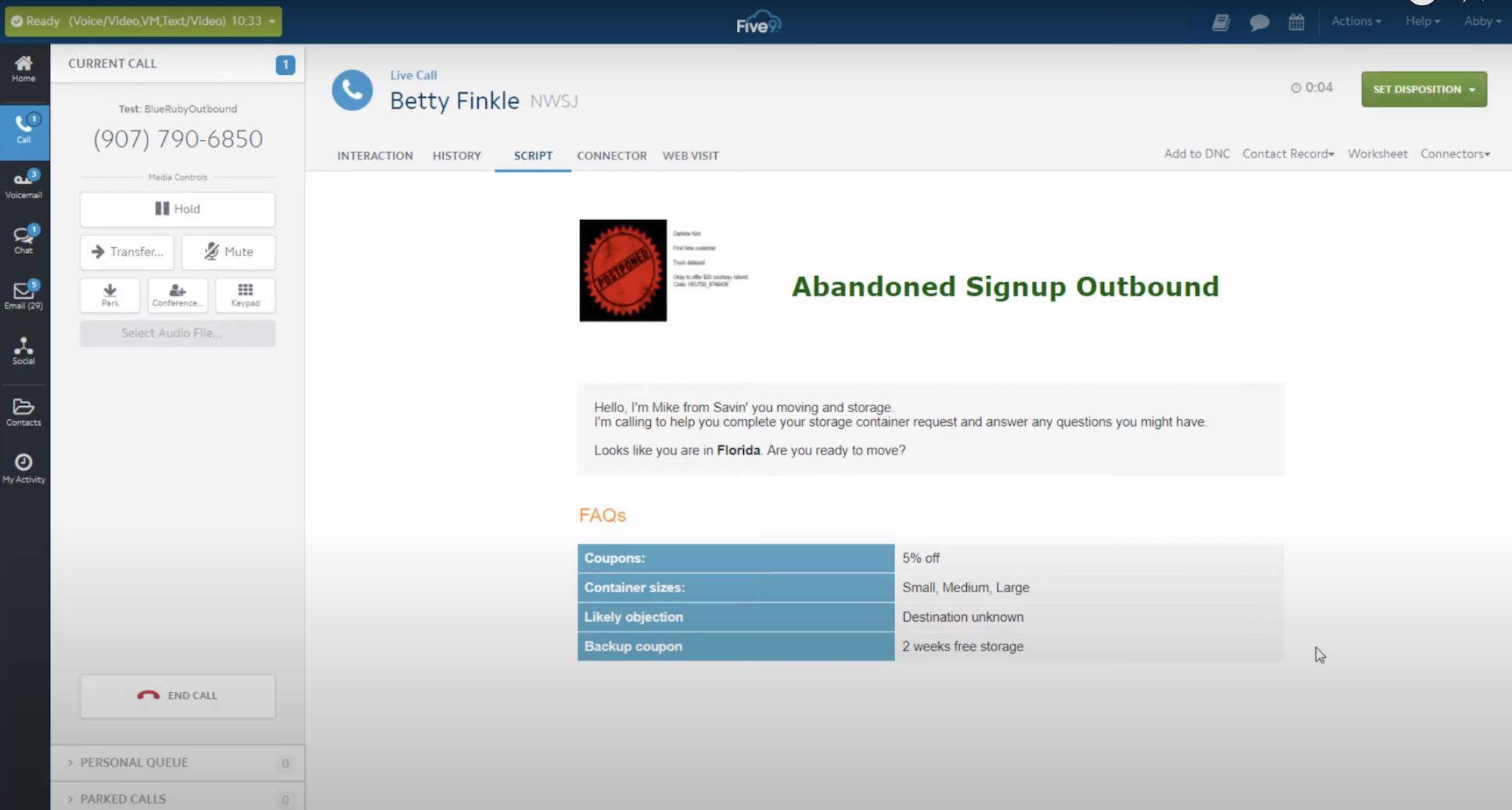 Predictive, Preview, Progressive, and Preview dialing modes are available, and all modes are TCPA compliant. Time Zone dialing modes, vertical dialing modes for up to three numbers per contact, and list penetration dialing mode can also be activated. Admins can specify which caller ID and phone number is displayed, as leads are more likely to answer calls from familiar, local phone numbers.
As with its inbound call center, Five9's outbound call center provides automated CTI screen pops populated with customer and lead data and conversation histories. Disposition and after-call work timers can be customized and edited in real time. Answering machine detection with automatic voicemail lay down further speeds up the outbound dialing process.
Admins can easily import existing call lists, assign them to specific campaigns, and specify or randomize which lists should be contacted first. Campaign management features automate list scrubbing by removing disconnected or wrong numbers and updating DNC lists in real time.
Businesses with comparable inbound: outbound call ratio will appreciate Five9's Active Blending feature, which optimizes available agents by automatically reassigning agents to inbound or outbound call queues based on current call volume and call center activity.
If agents can't connect with a customer or lead but don't want to leave a voicemail, they can automate a Digital Follow-Up via SMS, email, or social media message. This increases response rates at a much higher rate than voicemail alone, lets agents reach out on a customer's preferred channel, and allows for more personalized customer service consistent with customer contact permissions.
8×8 Outbound Calling
The 8×8 Outbound Auto Dialer with Preview, Progressive, and Predictive dialer modes lets admins create outbound campaigns from existing or CRM data-generated call lists and assign them to agent groups.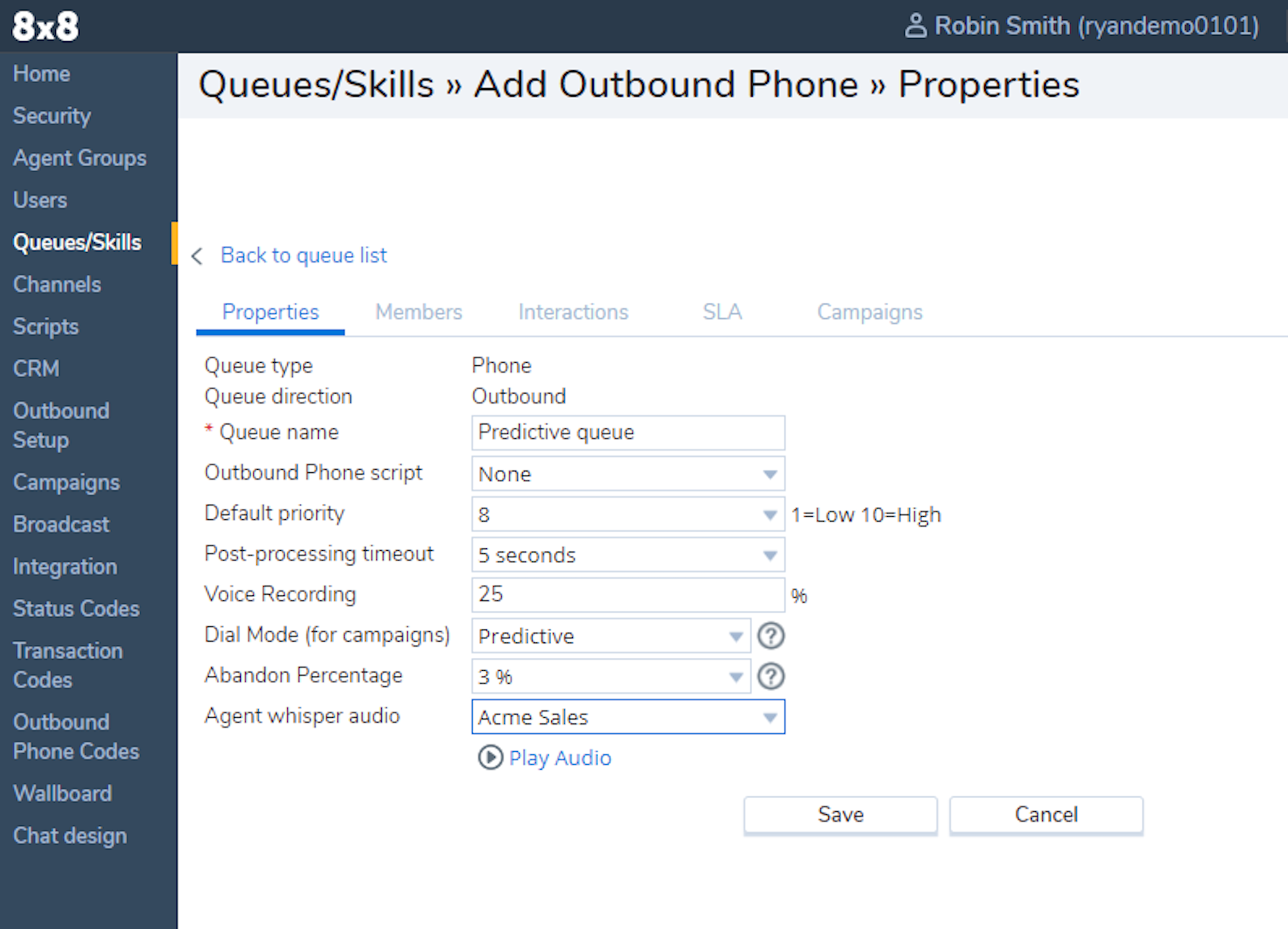 Each campaign is then assigned to an outbound call queue, which allows admins to specify data like:
Queue dialing mode
Queue name
Outbound caller ID
Selected outbound call script
Priority
Post-call work time
Call whisper enable/disable
Campaign start/end times
The acceptable percentage for abandoned calls
Target CRM properties/fields
Enable/disable agent skip
Enable/disable answering machine detection
TCPA DNC list detection/block list generation
Dialing paces can be manually adjusted or set to automatically adjust to meet SLA standards and productivity requirements.
In addition to automating the dialing process, admins can automate the outbound message content by uploading pre-recorded messages or outbound IVR call paths to call queues.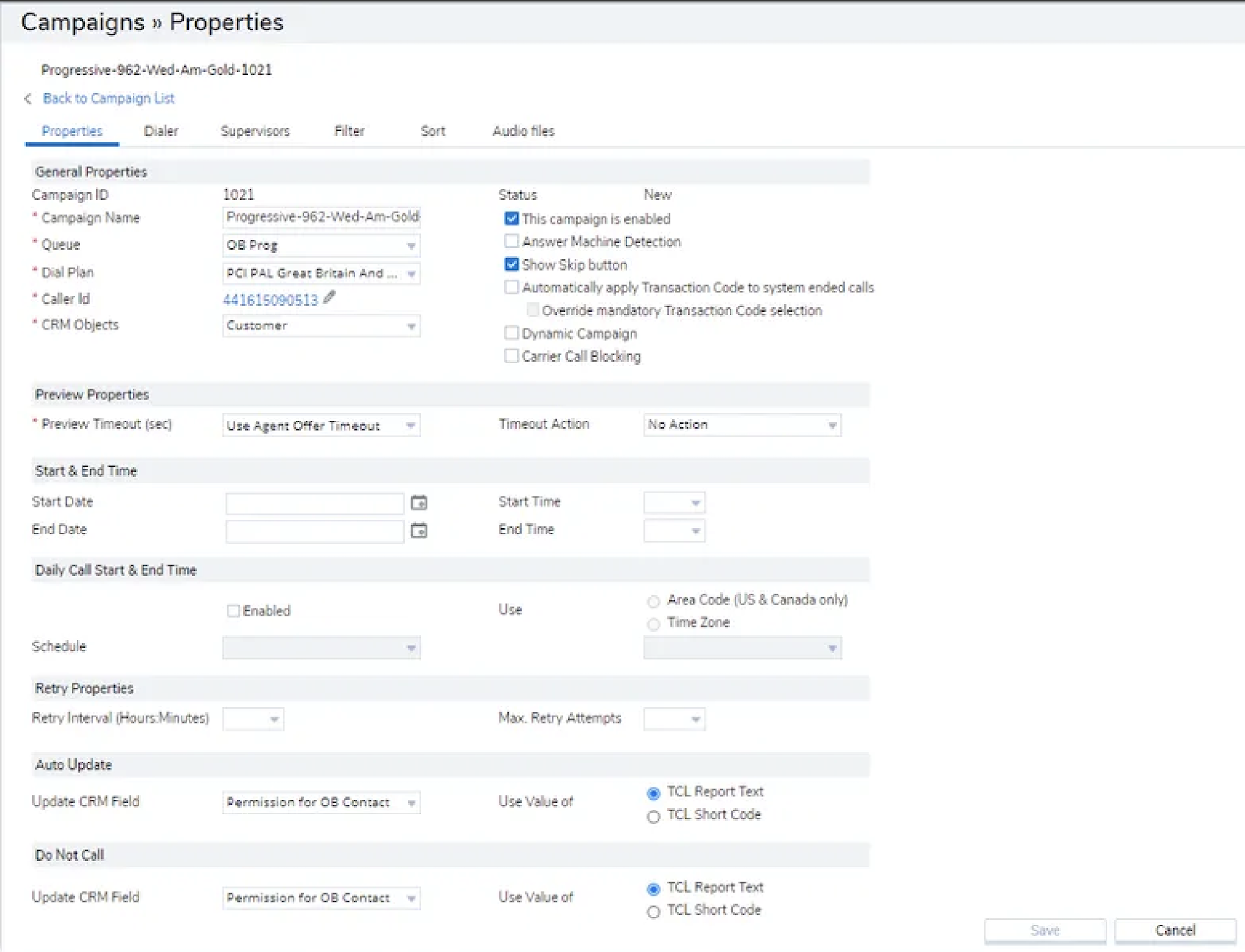 Agents can set disposition codes for outbound calls, which are linked to corresponding disposition actions that automate next steps like scheduling customer callbacks, retry contact later, or adding them to the Do Not Call list. Blended contact center software capabilities make it easy to shuffle agents between inbound and outbound queues based on current call volumes.
Five9 vs 8×8: Omnichannel Communication
Five9 Omnichannel Capabilities
Five9's Digital Engagement is a feature suite that integrates with Five9's call center software to create a digital-first, omnichannel customer experience.
The Digital Engagement suite connects the customer journey across multiple channels–SMS text messaging, social media messaging (Facebook, Twitter, WhatsApp), email, chatbot and live agent chat, and voice calling with live agents or automated IVAs.
This way, customers can choose their preferred communication channel and switch seamlessly between channels at any time. Agents can use digital channels simultaneously alongside traditional ones, sending SMS confirmations to customers while on a phone call with them, for example.
Five9 Video, a key aspect of the Digital Engagement suite, lets customers connect with agents via an Apple or Android mobile video call. Customers can share their screens with agents, who provide personalized, face-to-face assistance with tools like screen annotation, in-call photo and file sharing, and even barcode and ID scanning.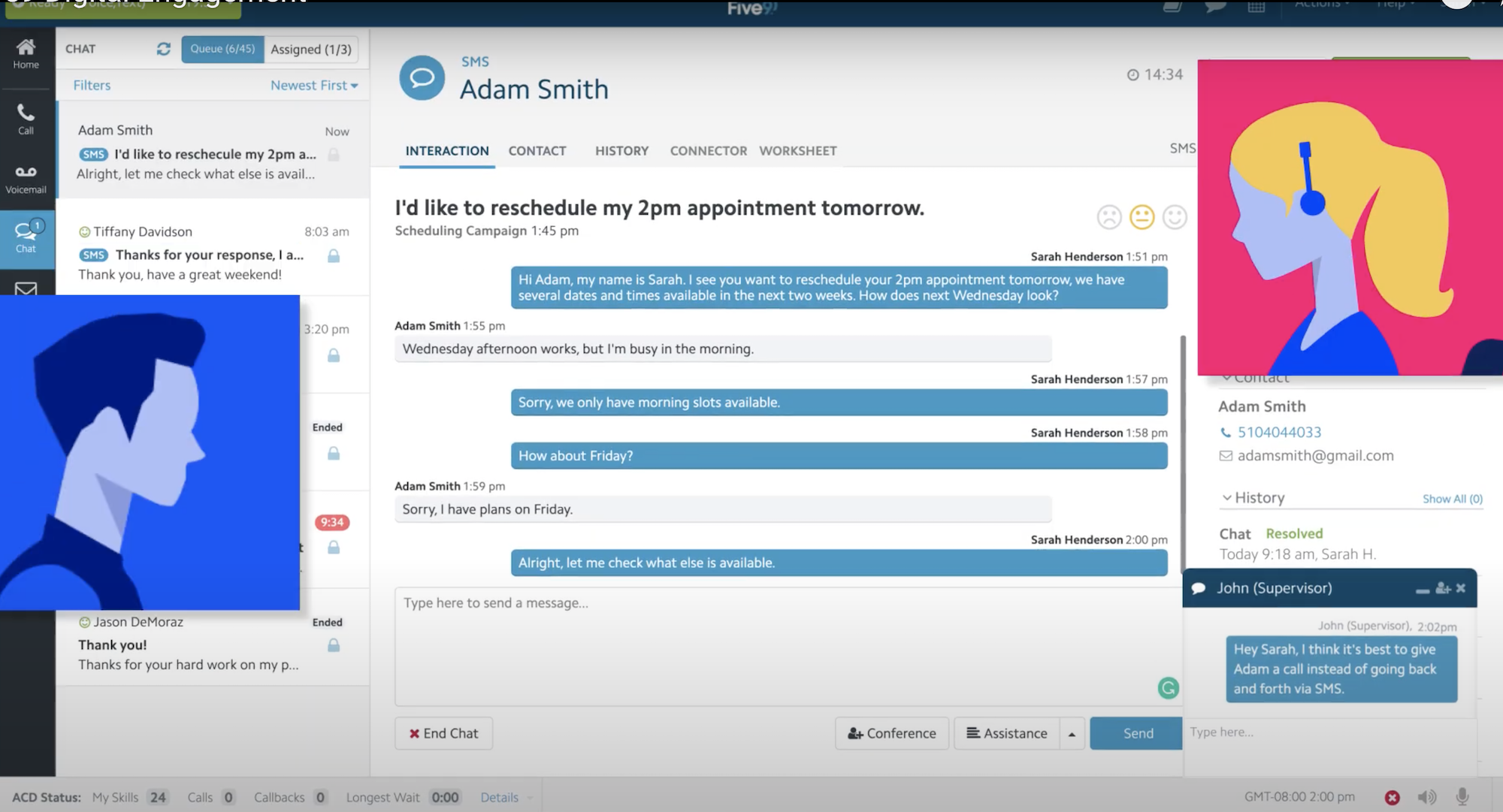 Five9's Unified Chat Experience provides a single interface for all message-based communication, including SMS, social media messaging, and website chat. This common interface with real-time omnichannel syncing ensures agents always have instant access to relevant customer conversation histories and CRM data. This prevents customers from repeating themselves and speeds up the resolution process.
Chat and messaging capabilities include:
Message transfer and re-queue
Customer-requested message transcripts
Multiple/simultaneous messaging sessions
Proactive automated messaging at custom steps in the customer journey
Comfort messaging
Agent alias/custom agent profile
Drop-down web form for key data collection (account number, order number, customer contact info, support topics)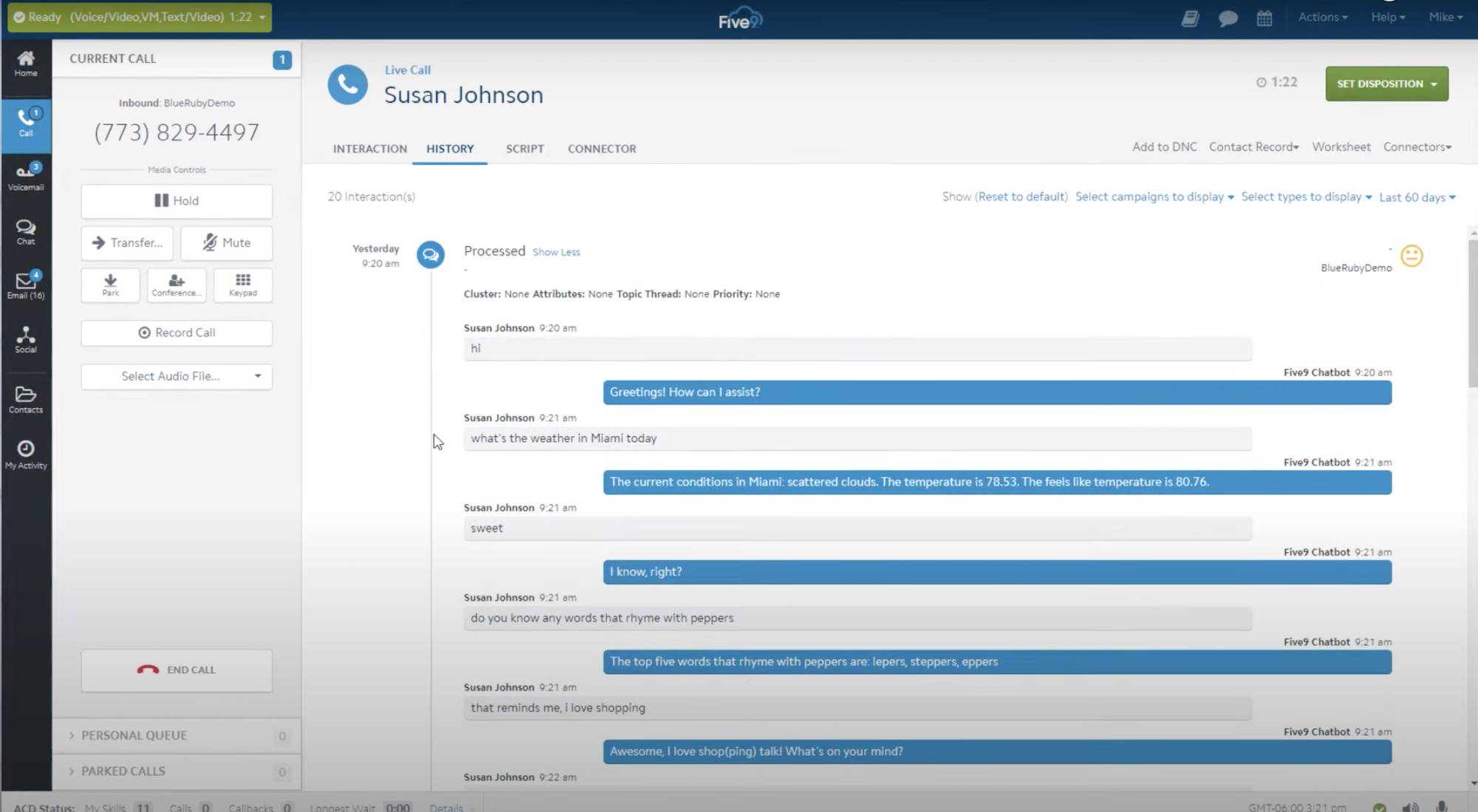 Five9 Omnichannel Routing is an intelligent routing feature that, like standard call routing, directs customers to the appropriate agent based on preset rules, customer input, and existing customer data. But instead of being limited to routing just voice calls, omnichannel routing sends customer queries to agents across all available channels. Five9 Intelligent routing strategies can be customized by an agent's skillset, the agent/customer location and timezone, business hours, channel, and more. In addition to automated routing, agents can pick and choose which tickets they'd like to work on.
The omnichannel Engagement Workflow pulls key information from customer data sources to create omnichannel screen pops containing:
Customer Persona (Account/order history, contact information)
Interaction/conversation history
Customer sentiment analysis
Outcomes (current customer journey phase)
Suggested next action for the agent
8×8 Omnichannel Capabilities
In addition to inbound and outbound voice calling, 8×8 Digital Channels connect customers, agents, and automated support via email, SMS, social media messaging, website chat, and even co-browsing.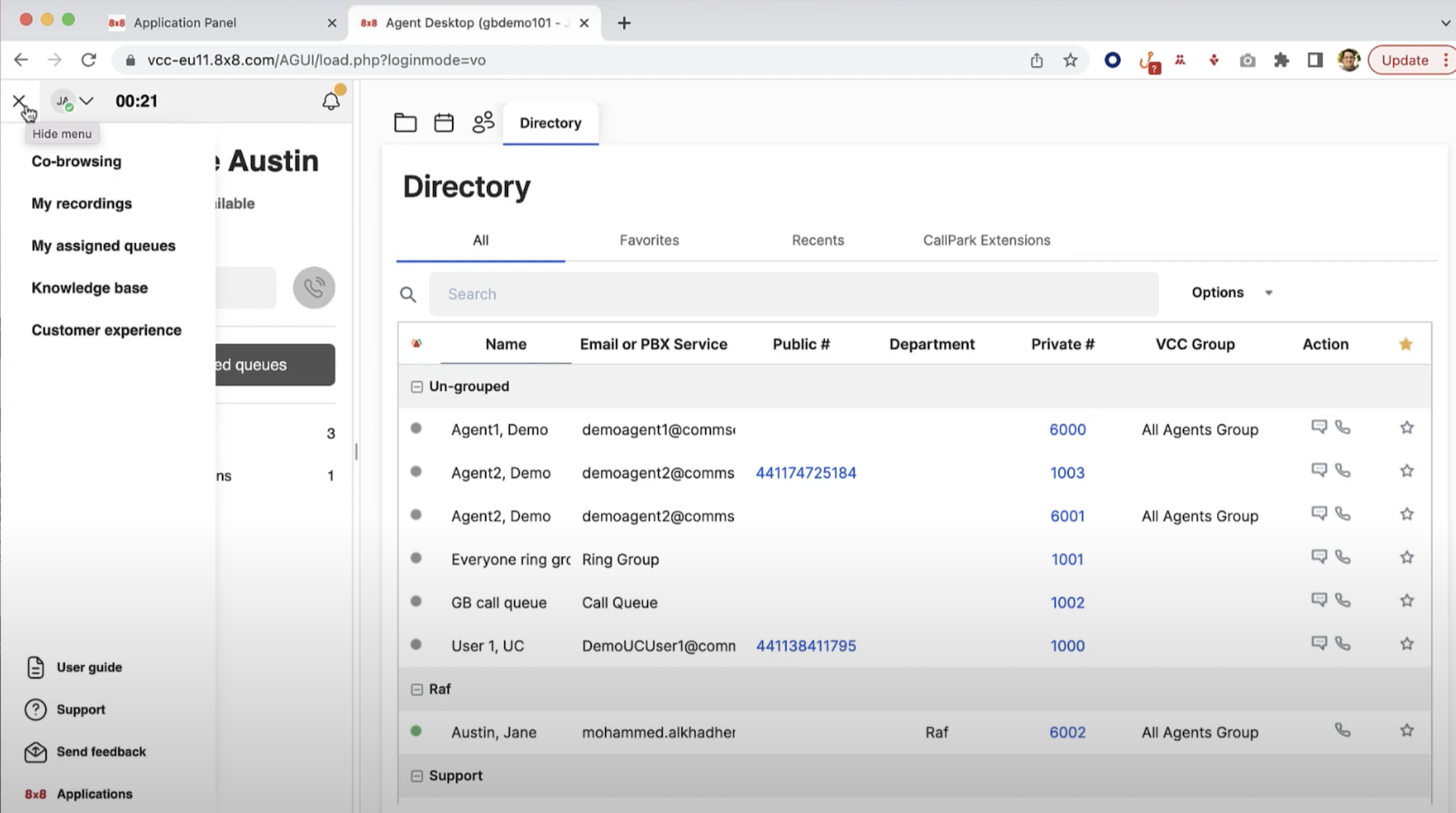 As with 8×8 Voice channels, 8×8 Digital Channels allow for both live agent:customer and automated interactions managed via IVA chatbots.
8×8 Omnichannel Routing ensures customers can reach the best available live agent or pre-configured IVA contact menu regardless of the channel they're using. The feature manages customer interactions across voice and digital channels by automatically syncing cross-channel conversation history, agent notes, contact scripts, and CRM integrations within the singular Agent Workspace.
The Agent Queue shows team members all assigned open cases and interaction across channels, alongside omnichannel pop-up notification for real-time inbound calls/messages.
The Agent Workspace interface provides the below interaction and customer data on a single-pane-of-glass:
Inbound interaction channel
Customer account data and conversation history
The customer's IP address
Customer wait/hold times
Customer routing path
Customer IVR/IVA interactions and responses
Cobrowsing lets customers share their screens directly with agents, who can then identify the issue and guide the customer through next steps. After-call work lets agents assign call sentiment, make updates, and add personalized interaction notes.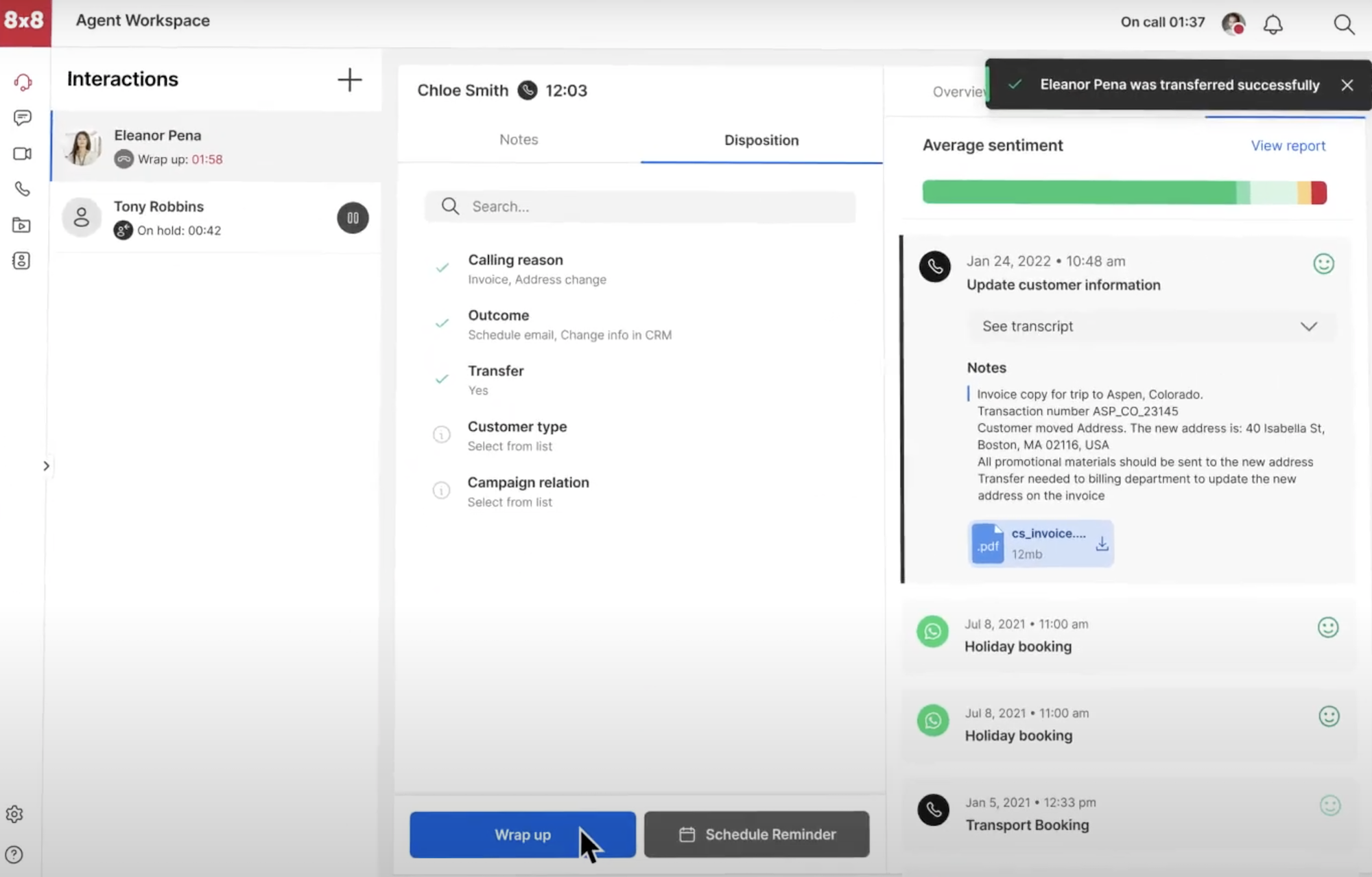 Below, we've provided a quick summary of 8×8 email, chat and social media messaging,  and SMS capabilities.
8×8 Email
Users can connect their preferred email inboxes to the Agent Interface to create an automated Case Overview for all inbound emails.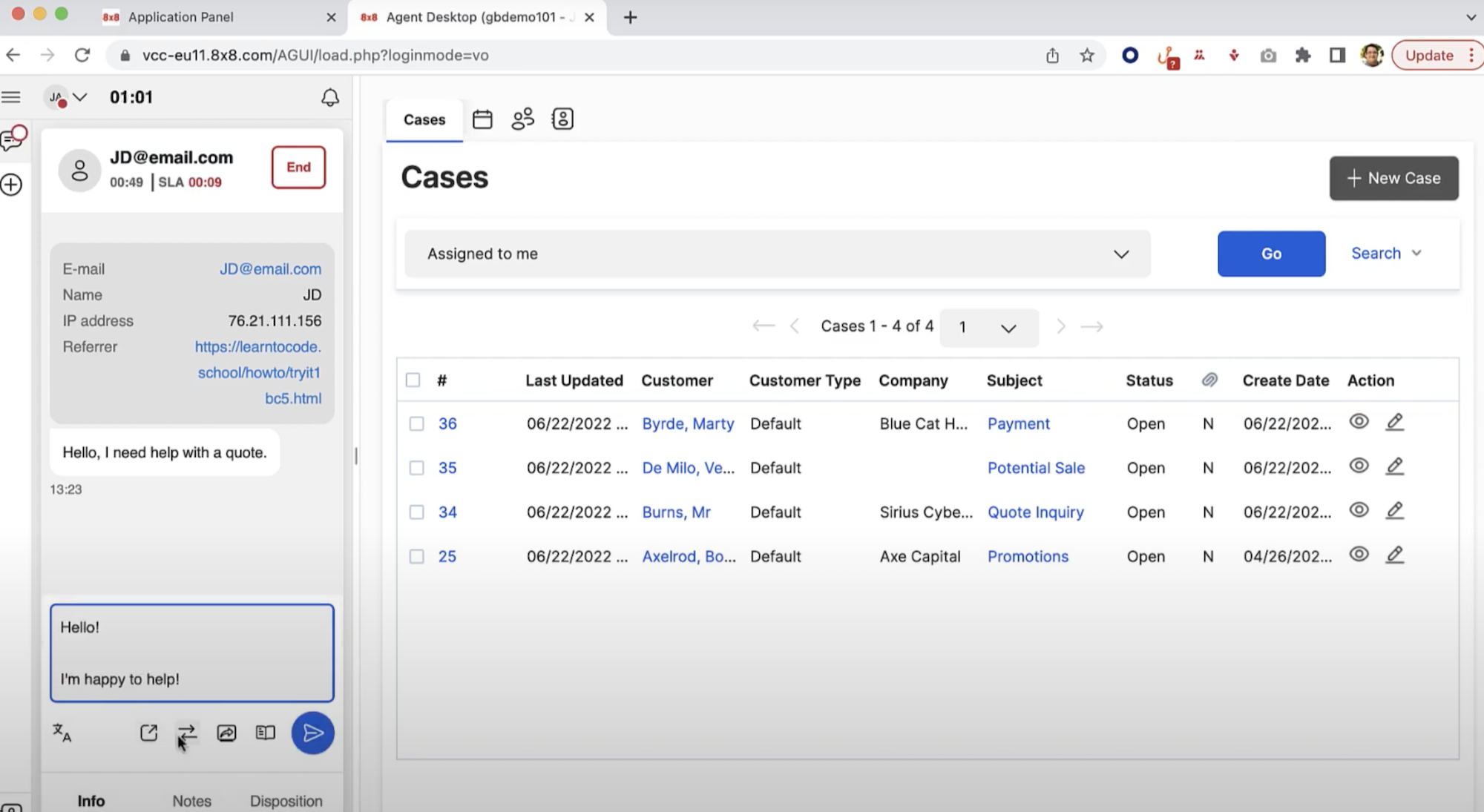 Email Case Overviews show:
Email content
Sender contact and CRM information
Case creator
Case status
Case cateroy
Case visibility
Case priority level
Within the Email Queue, agents can:
View all email interaction history and resolved cases
Respond to emails manually or via canned responses
Forward/transfer emails
CC and BCC others on email response
Send attachments
Save emails as drafts
Customize email signatures
8×8 Chat Messaging
Agents can view and respond to real-time and assigned customer chat messaging within the Agent Workspace, as well as review omnichannel interaction history and integrated CRM customer data.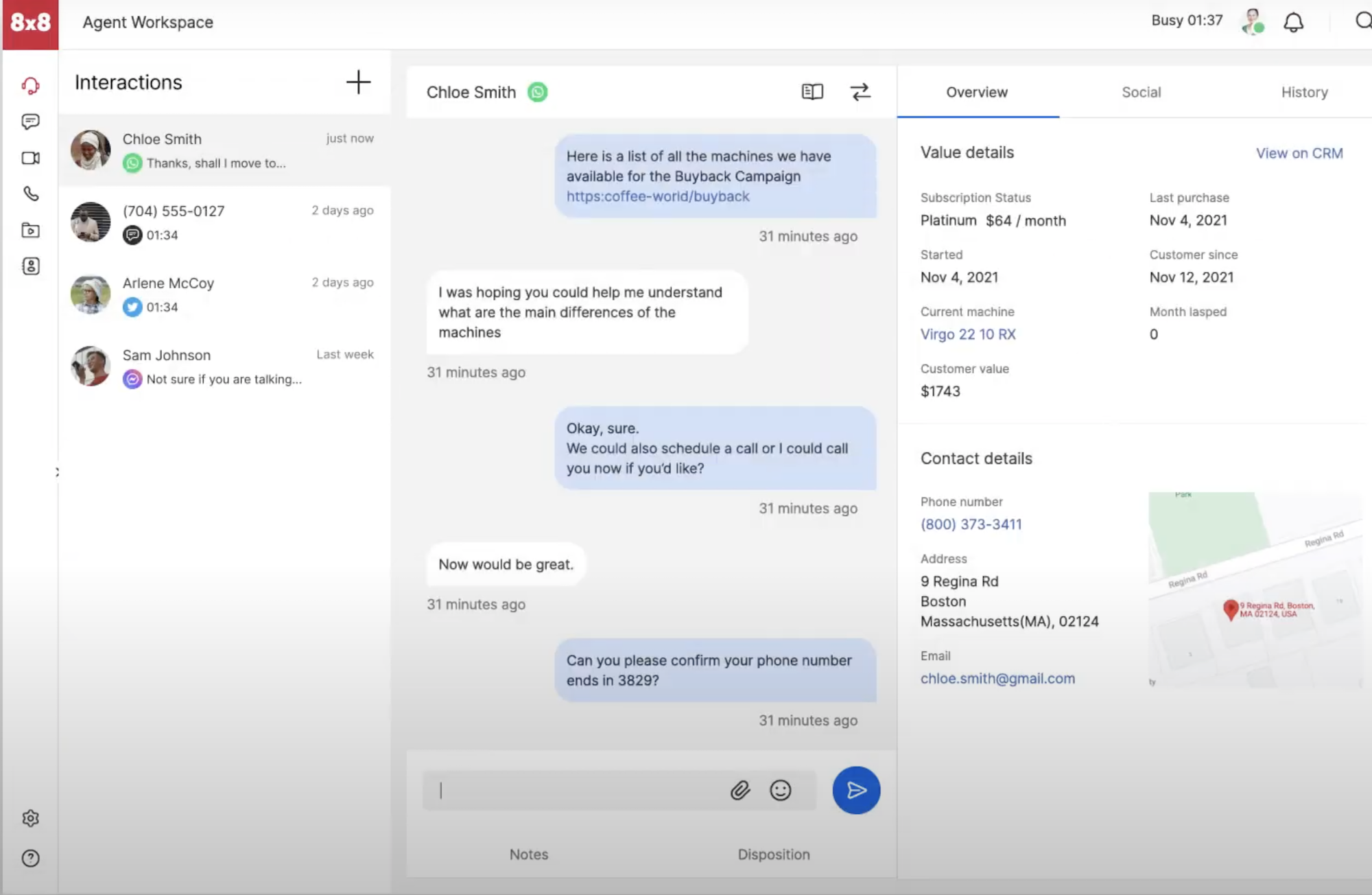 Within the Chat Queue, agents can:
Manage simultaneous chats
Share and embed links into chat
Enable multilingual chat, spell check, and automated translation
Access canned responses, scripts, and internal knowledge base
Chat with other internal agents for real-time support
Review customer interactions with chatbots
Transfer messages
Continue messaging in a pop out window
Activate cobrowsing
8×8 Social Media and Messaging Apps
8×8 connects to top social media platforms and messaging apps like Twitter, WhatsApp, and Facebook to enable automated and live social media messaging between customers and agents.
IVA chatbots collect essential information before transferring customers to a live agent, like email address, a basic summary of the issue/question, order number, etc.
As with website-based chat messaging, social media messaging shows CRM data, prior messages, customer contact and order information, and other key insight. Social media messaging offers the same functionalities as website chat (mentioned above.)
Five9 vs 8×8: Workforce Management
Five9 Workforce Management
The Five9 Workforce Optimization (WFO) suite contains tools that increase employee engagement, evaluate agent performance, streamline and automate workflows and agent schedules, and provide a holistic view of the omnichannel customer experience.
The WFO suite is made up of four main components: Workforce Management, Quality Management, Interaction Analytics, and Performance Management.
Workforce Management (WFM) tools use powerful forecasting tools and automation to optimize agent scheduling and meet customer demand. Within the desktop and mobile Agent Portal, team members can bid on shifts, request PTO/overtime, view/edit their schedules, and more. Supervisors benefit from real-time and historical agent adherence updates and alerts, flex scheduling with automated cross-channel agent notifications, and optimal meeting scheduling. Multichannel and multi-skill forecasting tools include what-if analysis, capacity planning, and even intraday management.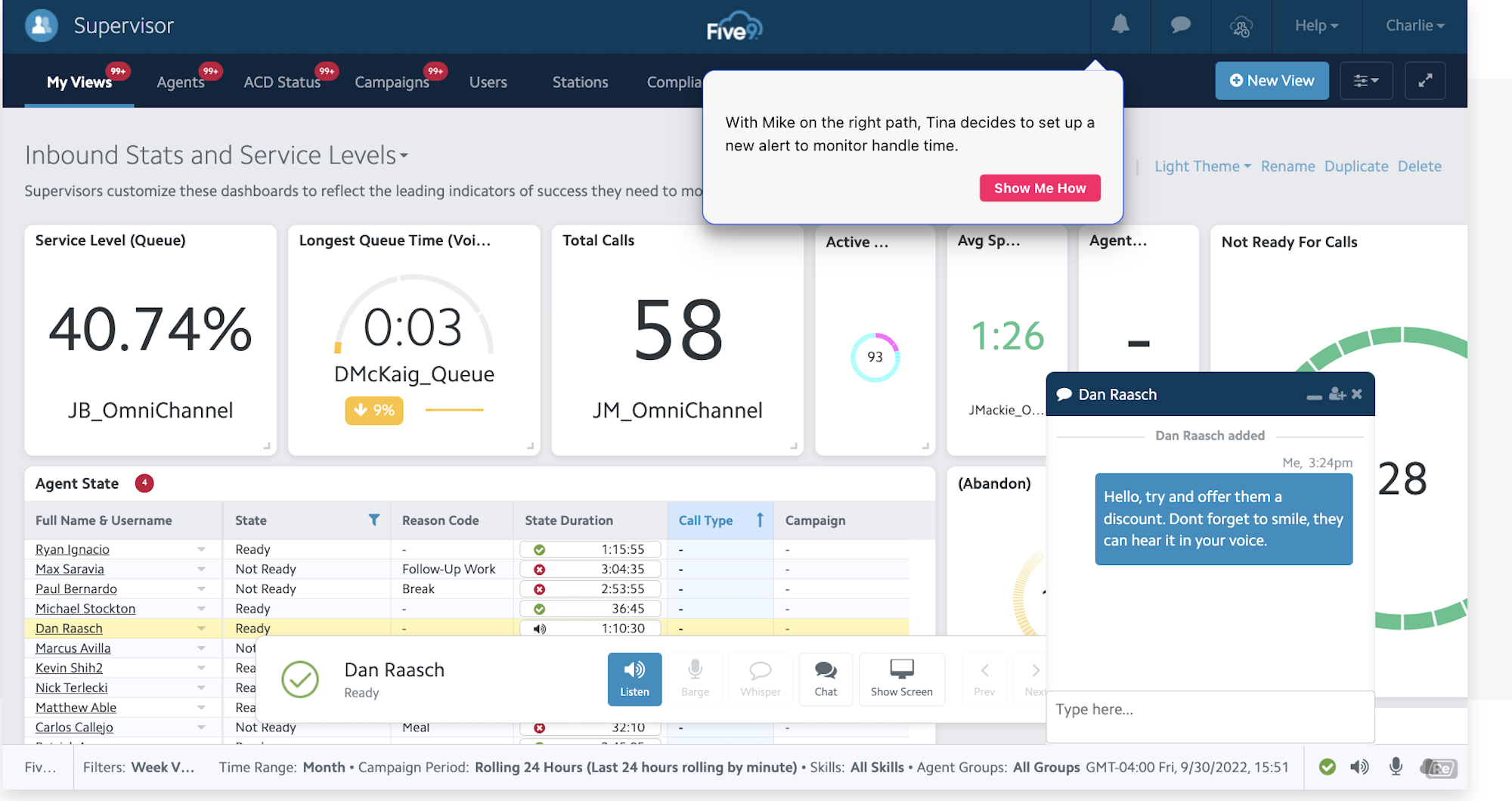 Quality Management (QM) includes high-level monitoring features like searchable, synchronized audio and screen recording and transcription, pre-made evaluation templates, call scoring, and agent timelines. Both agents and supervisors can review reports, call transcripts/recordings, and send/receive relevant feedback and training materials like targeted coaching packages and eLearning modules. Planned, ad hoc, and performance-driven coaching options are all available.
Interaction Analytics, one of the best features in Five9's Workforce Optimization suite, transcribes and analyzes all customer-agent communication across every channel using the latest Large Vocabulary Continuous Speech Recognition (LVCSR) technology.
LVCSR uses AI and machine learning to continually analyze not just conversation content, but emotion, acoustics, and other key indicators throughout the entire interaction history–even across multiple channels or languages. Topic tagging, word clouds, and color-coding streamline root-cause analysis, drilling down data by agent, skillset, topic, specific words/phrases, and more.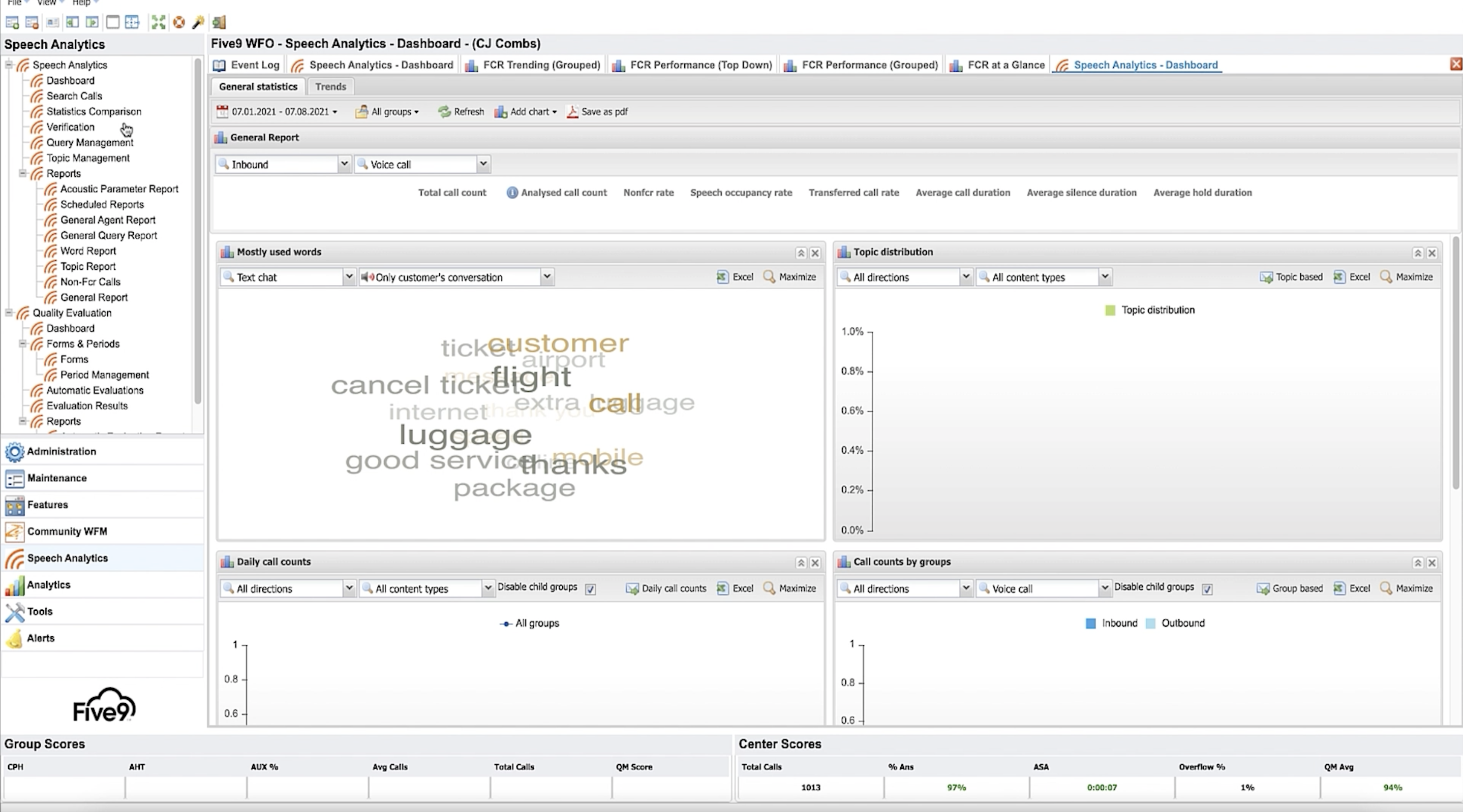 Performance Management features are accessible within multirole Five9 Performance Dashboards for agents, managers, and supervisors. These Performance Dashboards show real-time and historical interactive analytics, giving a birds-eye-view of the most essential performance data for each role.
Push notifications allow for agile contact center management by alerting team members to sudden drops in performance, schedule changes, increased call volumes, or other factors requiring quick action.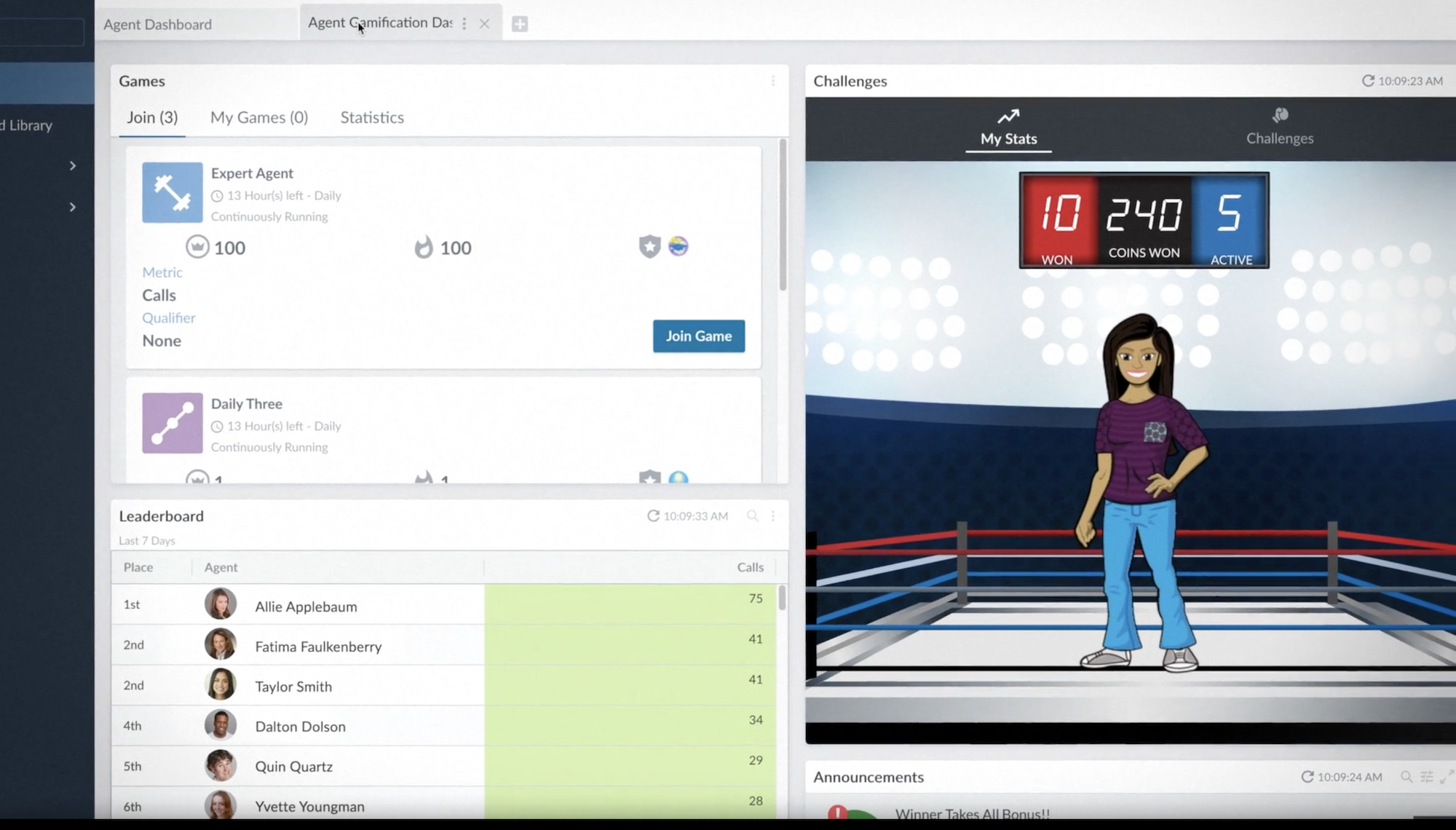 Five9 Gamification keeps employees productive and engaged by turning sales/performance rankings into games with real-time wallboard updates visible to all team members.
8×8 Workforce Management
8×8 Workforce Engagement Management (WEM) consists of 4 main components:  Quality Management, Workforce Management, Customer Surveys, and Speech Analytics.
Admins and supervisors can provide in-interaction live coaching, assign training modules according to agent performance, review transcripts and chat histories, and create "best of" training libraries out of successful customer service interactions.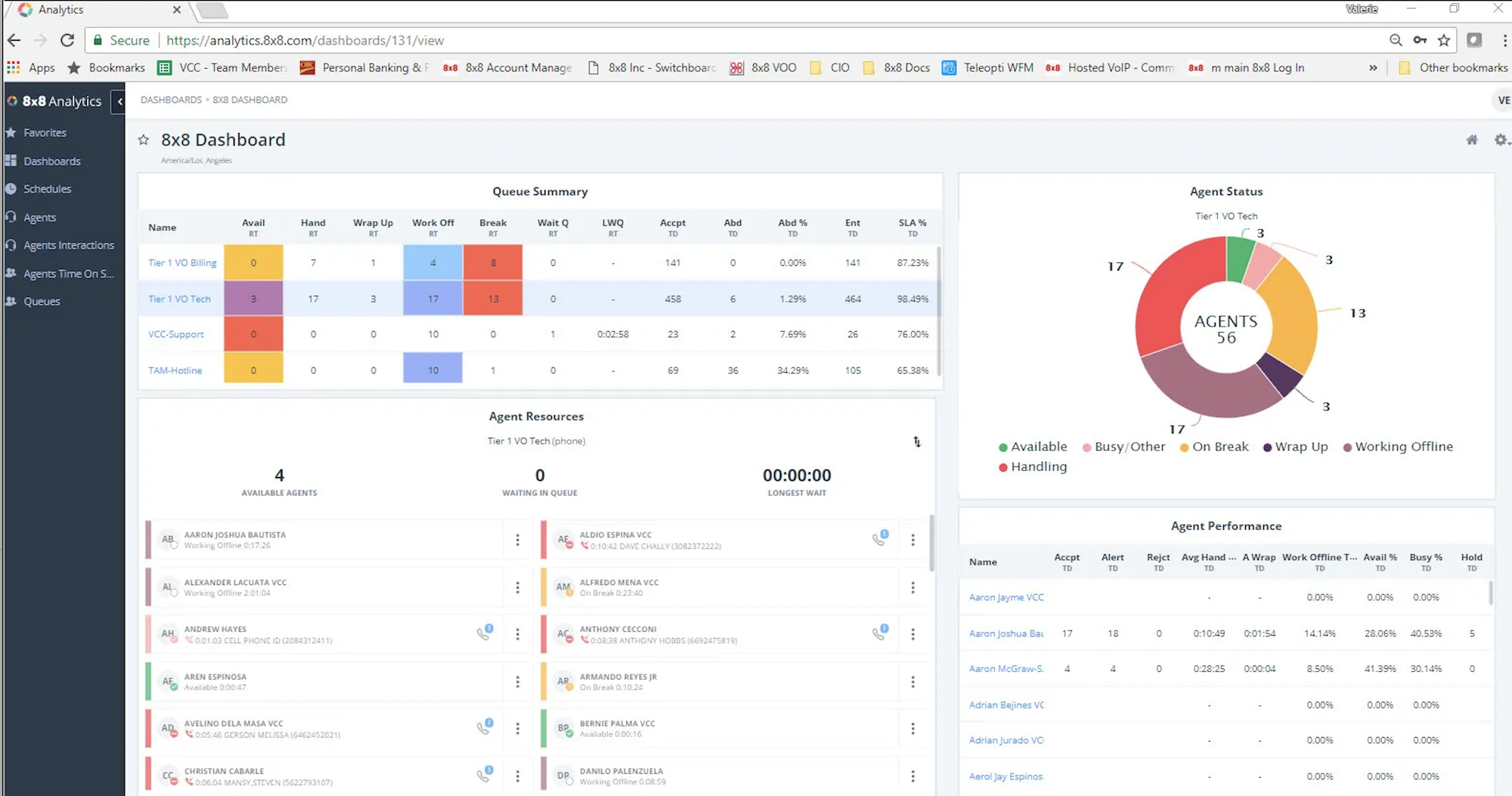 Quality Management lets admins/supervisors review, highlight, tag agents, and take notes on call transcripts and message histories to provide detailed coaching. Admins can use chat or call whisper to provide real-time coaching, get notifications when employees have completed training modules, and receive alerts when agent performance dips. Screen recording gives supervisors a complete view of in-call agent activity.
Advanced, AI-powered Speech Analytics provide high-level insights into contact center activity and increase forecasting accuracy. Speech Analytics recognizes keywords and phrases to ensure compliance, understand common customer issues, and identify gaps in team member training.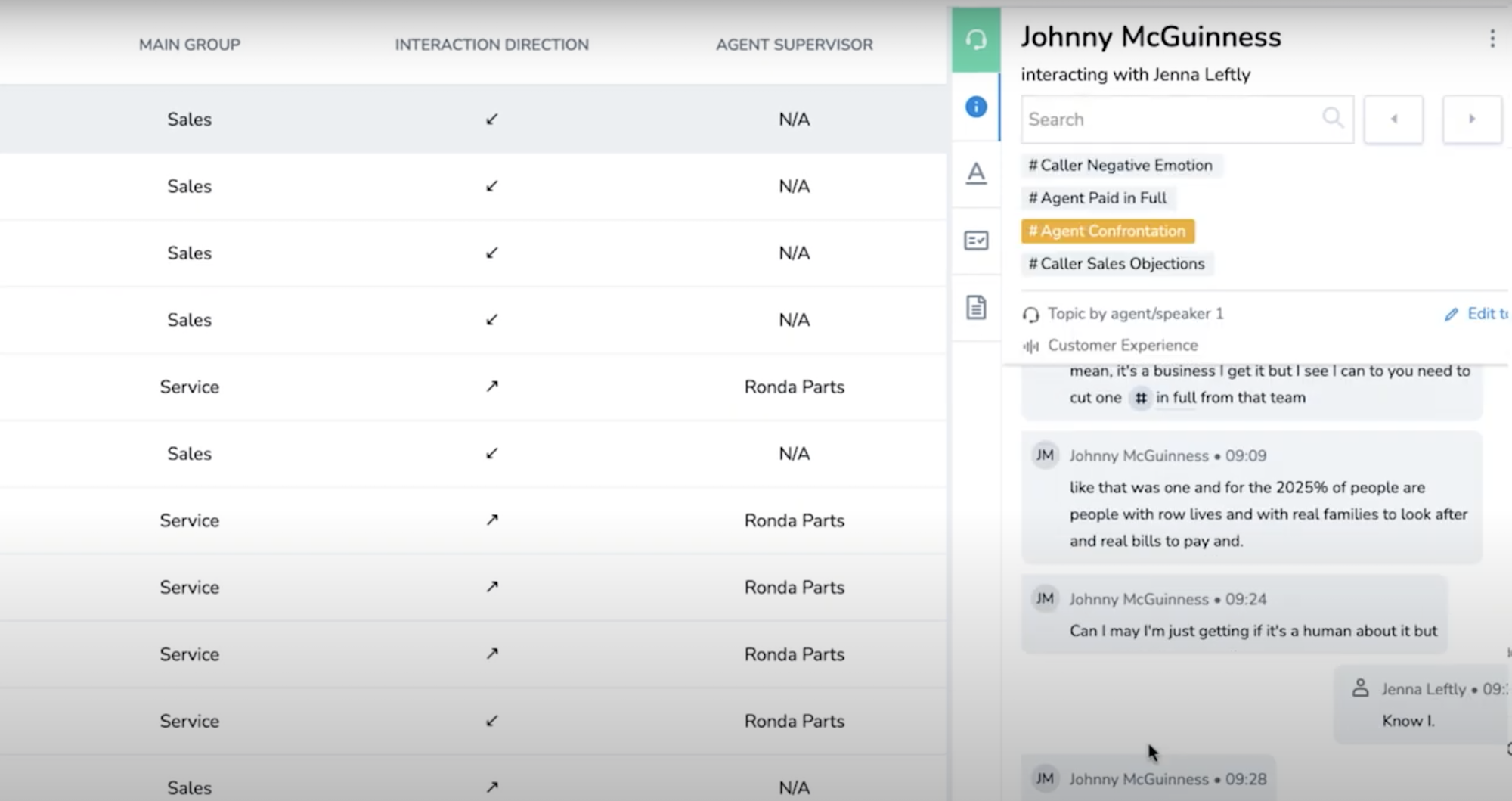 Speech Analytics also plays a huge part in creating an accurate Workforce Optimization and Workforce Management strategy. 8×8 Workforce Optimization studies interactions to identify which business processes to automate, help you improve IVR call menu quality, and identifies contact center trends.
WFO forecasting makes it easier for supervisors to optimize agent schedules, as well as identify which queues should be assigned to which call groups or agents.
Additional 8×8 WEM and WFO features include:
Transcript timestamp commenting
Call snippets can be downloaded and shared with agents
Pre-made evaluation templates
Custom emailed evaluations
Automated coaching scheduling
Schedule adherence monitoring
Employee feedback
Customer survey analytics
Agent Performance reports
8×8 Team Collaboration Tools
8×8 Work, available as a part of XCaaS, combines team chat messaging, internal voice and video calling, and collaboration tools within one agent-facing interface for desktop and mobile devices.
Because 8×8 XCaaS combines UCaaS and CCaaS software into one platform, it has a native unified communications and collaboration suite Five9 simply doesn't offer.
Users can set their Presence Status within 8×8 Work to Invisible/Visible, Away, On Call, Busy, Available, or Do Not Disturb to keep team members updated on their current availability.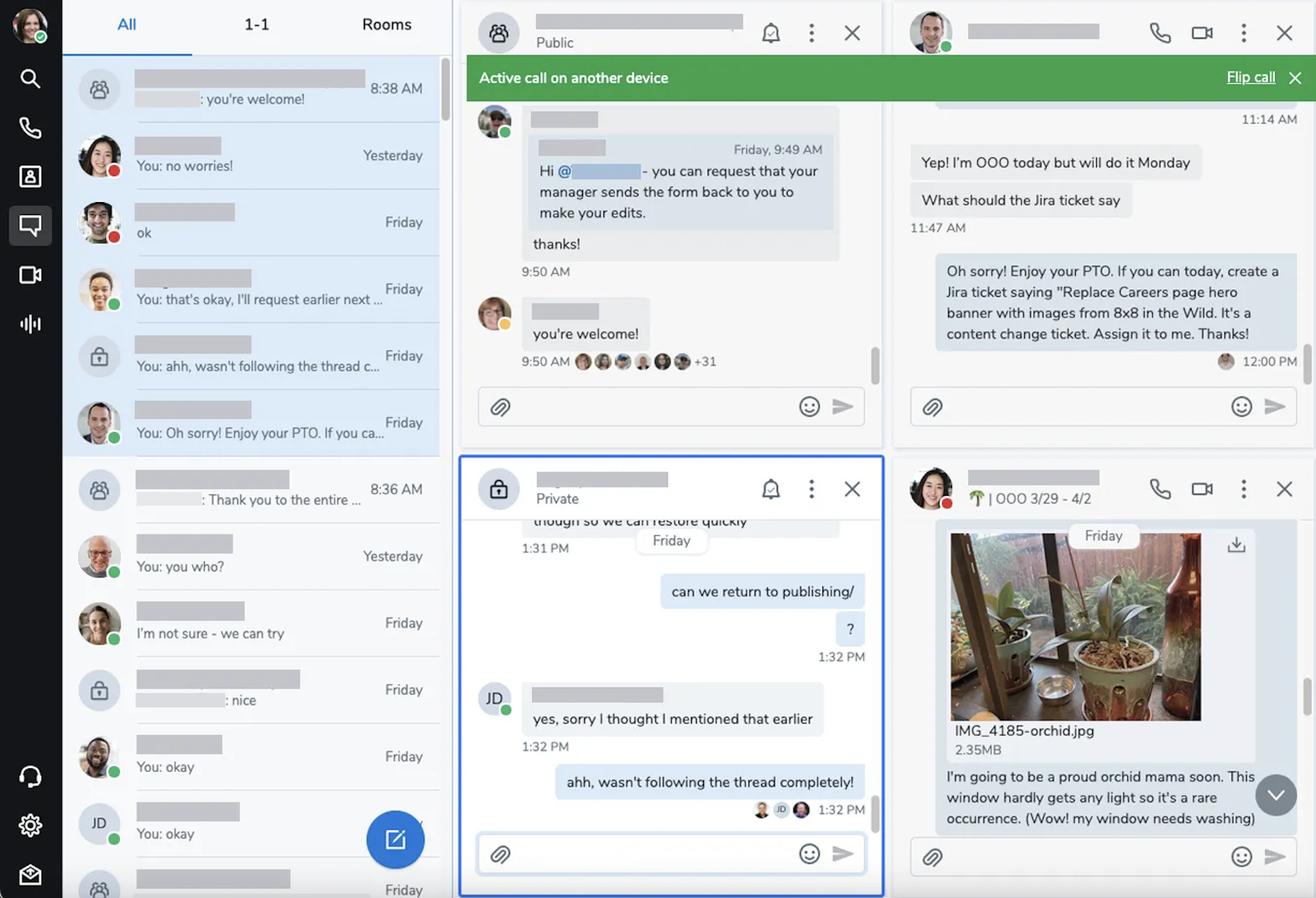 8×8 Work's Universal Messaging feature lets teams collaborate and chat across multiple messaging apps in one interface–so agents can check their Slack, Teams, Webex, Fleep, Flowdock, and more chats within the 8×8 Team Chat App. Users are automatically added to the 8×8 chat interface from the company directory to make sure everyone's in on the conversation.
Within the 8×8 Team Chat App, users can access persistent and in-meeting chat-based collaboration features like:
Private, public, invite-only chat channels (called "chat rooms" in 8×8)
1:1 messaging
File sharing
Chat notification customization
User mentions
Read receipts
Message Formatting
Messaging editing and deletion
Searchable chat history
Add external collaborators
Emoji reactions
In addition to chat messaging, 8×8 Meet offers audio and end-to-end encrypted video calling for up to 500 participants. Users can schedule video calls or meet ad hoc directly from the chat interface.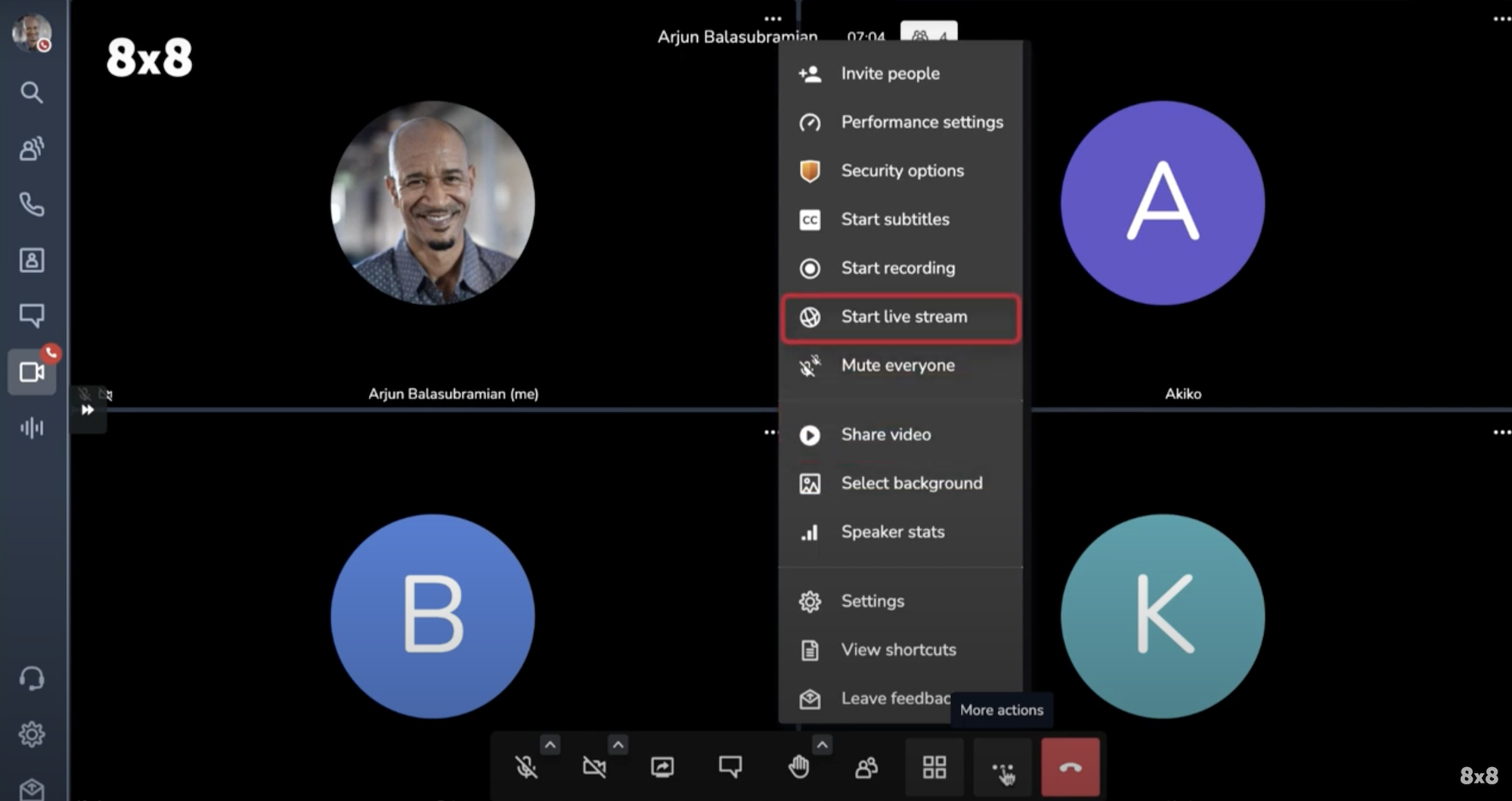 Key 8×8 Meet video conferencing features include:
Dial-in access
In-meeting chat
Meeting recording and transcription, 60 days cloud storage
YouTube live streaming
Calendar integrations
Host controls
Branding
Virtual backgrounds
Personal meeting spaces
Virtual hand raising
Breakout rooms
Live polling
Live closed captioning
Unlimited meeting length
Simultaneous content and screen sharing
Five9 vs 8×8: Analytics and Reporting
Five9 Analytics
Five9's extensive real-time and historical analytics are among the best among top CCaaS providers.
Accessible in Supervisor and Agent Desktops, Five9 analytics aggregate data from multiple sources including WFM portals, integrated and native CRM tools, agent activity, omnichannel customer queues, and customer-agent conversations.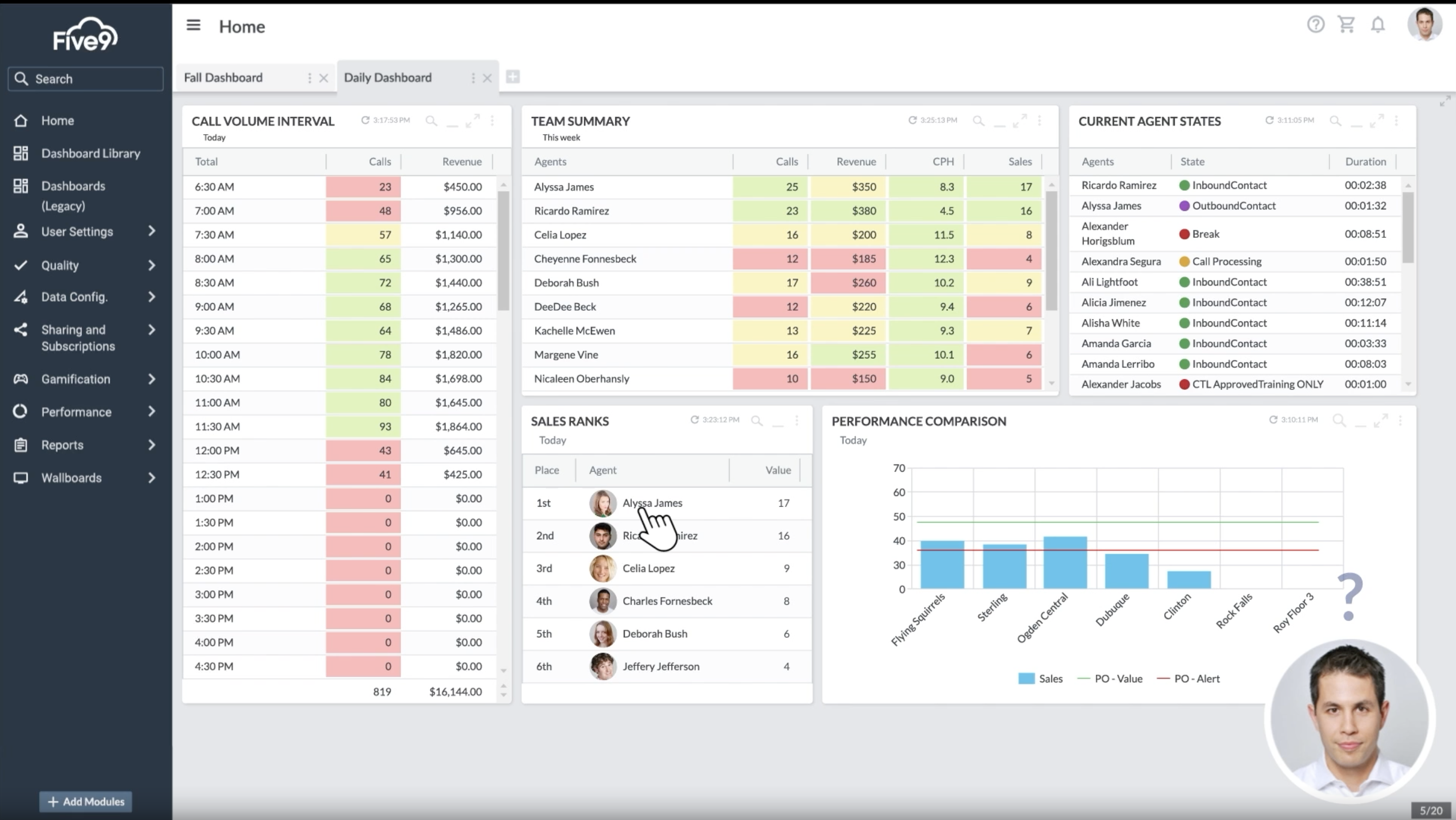 Supervisors can set multi-conditional alerts across all channels, broadcast messages, personalize reporting dashboards, and share reports internally and externally. Charts, graphs, list-based, and gamified reporting views are available.
Five9 includes over 120 pre-made interactive reporting templates in addition to custom live and historical reports for agents, teams, departments, queues, and more.
8×8 Analytics
8×8 Analytics provide complete real-time and historical analytics across channels, roles, departments, agents, time zones, third-party applications, and more.
8×8 collects data from every interaction at your contact center to offer both standard and advanced, AI-powered live and historical analytics. Admins can filter, search, download, and share reports in multiple file formats.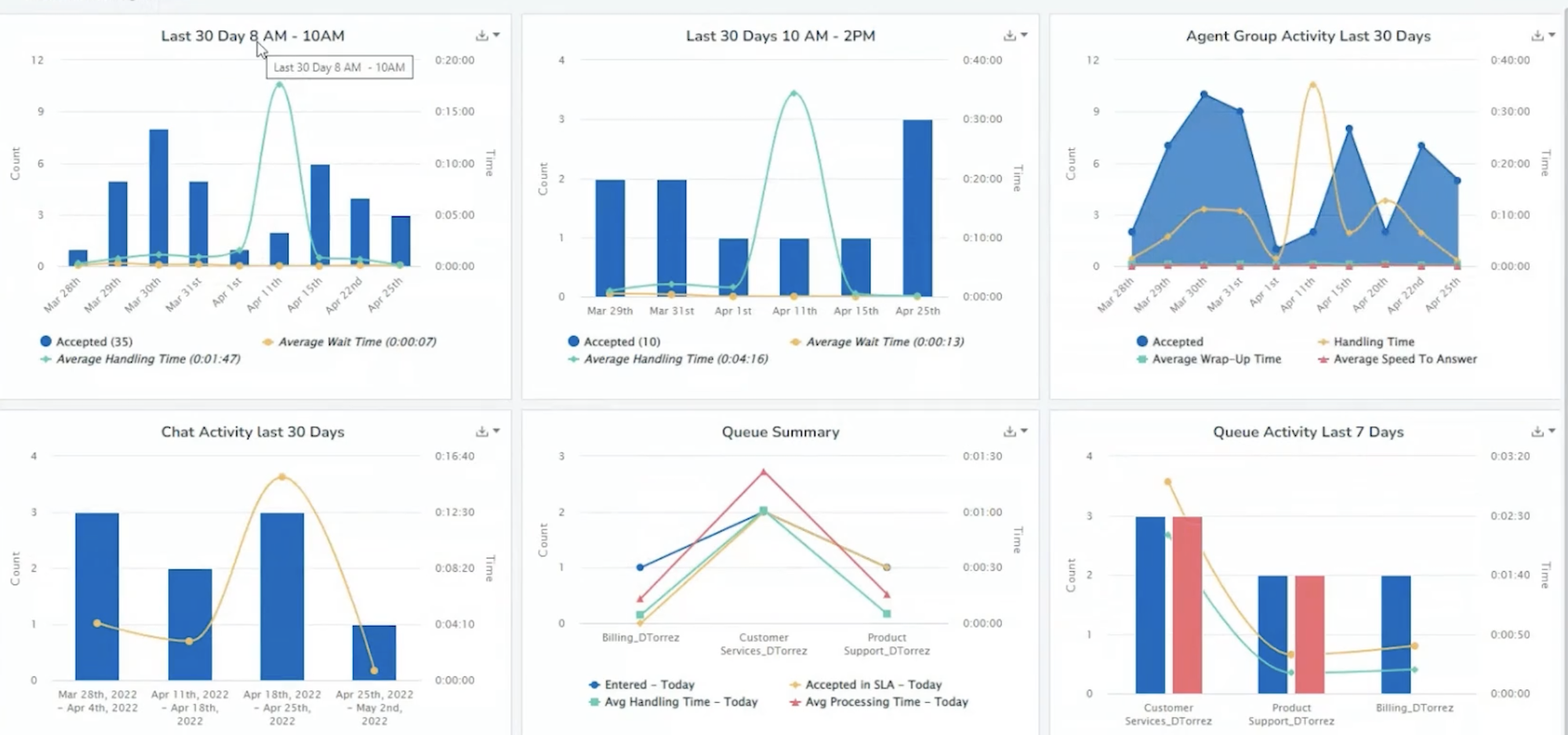 8×8 Essentials Analytics include:
Company Summary: At-a-glance insight into volume of calls by time of day, number of answered calls, call abandonment rate, average caller wait time
Extension Summary: A summary of activity by phone number extension
Active Calls: All active calls in real-time, current call length, agent name, caller ID
Unreturned Calls: Number of calls transferred, missed, unreturned, sent to voicemail
Employee Report: Real-time employee presence updates
Call Queue, Call Quality, Device, Ring Group activity
Interactive Views: Organize data by custom dashboards, line graph, bar graph, columns, pie charts, etc
Call Queue and Ring Group: Real-time call queue updates, historical data on ring group queue management performance
The 8×8 AI-powered Conversation IQ analytics suite provides advanced insight into omnichannel contact center activity, customer experience, customer service quality, agent performance, and more.
CX (Customer Experience) Analytics provides a holistic, flowchart-based view of the complete customer journey. CX Analytics details step-by-step IVR menu navigation, call queue time, agent interaction information, and post-call survey data. Admins can play the call recording or read the transcript directly within the interface, see CSAT and NPS scores, and review their most popular IVR call flows to see common customer issues and optimize automated call menus.
Speech and Text Analytics analyze all call center recordings and transcriptions to provide high-level insight into customer and agent activity, sentiment, and trends at your contact center. The Speech Center provides a word cloud that makes it easy to understand the most popular and can be filtered by Category, Topic, and Phrase.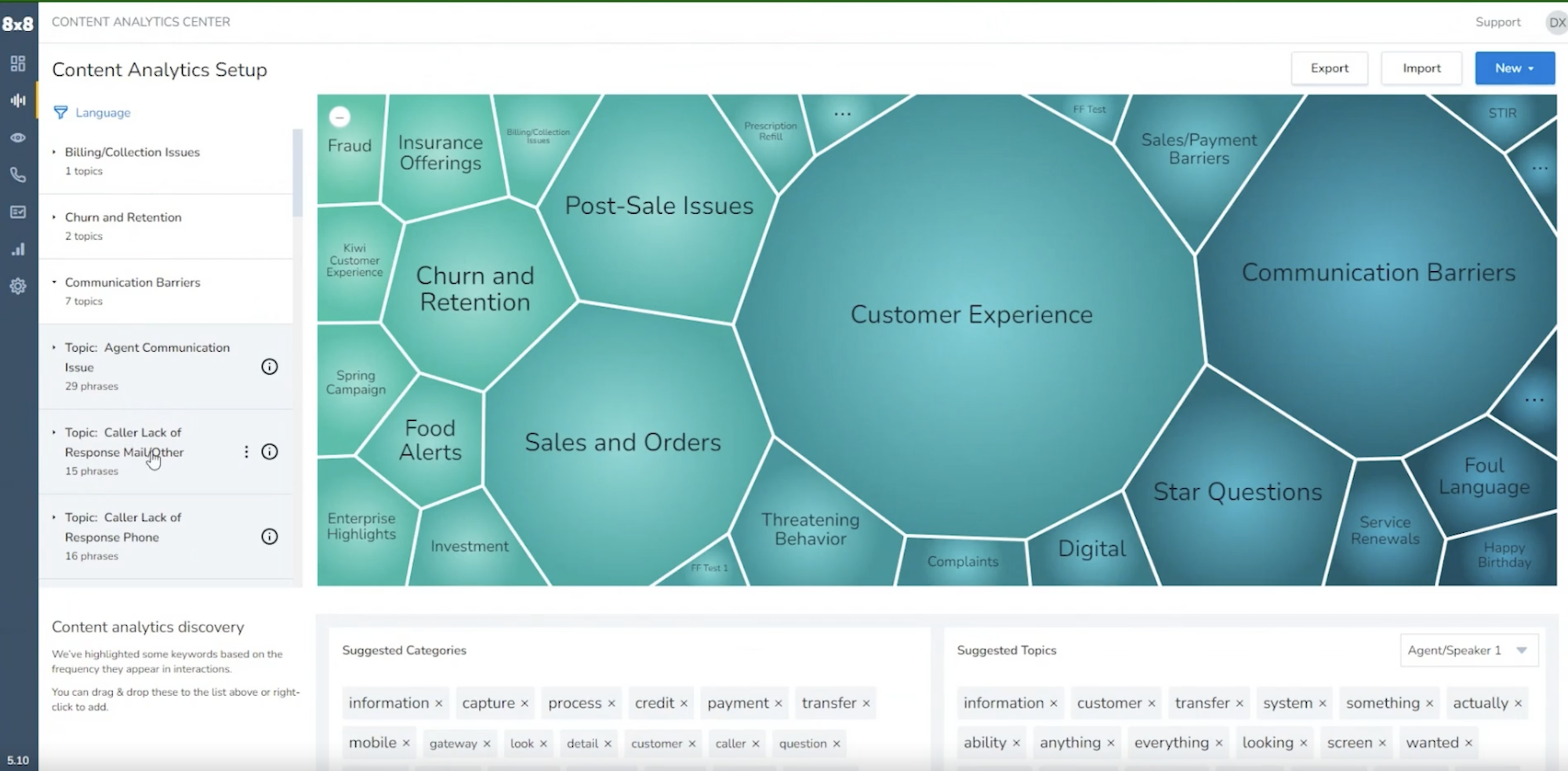 Additional Speech and Text analytics tools include:
Emotion detection via tone detection and sentiment analysis, filter calls by emotion
Data on Overtalk (where agents and customers talk at the same time)
Identification of "Best Of" and important recording moments
In addition to private or shareable reports, admins can enable company-wide wallboards that show key agent performance insights in real-time, keeping teams competitive and accountable.
Integrations
Five9 Integrations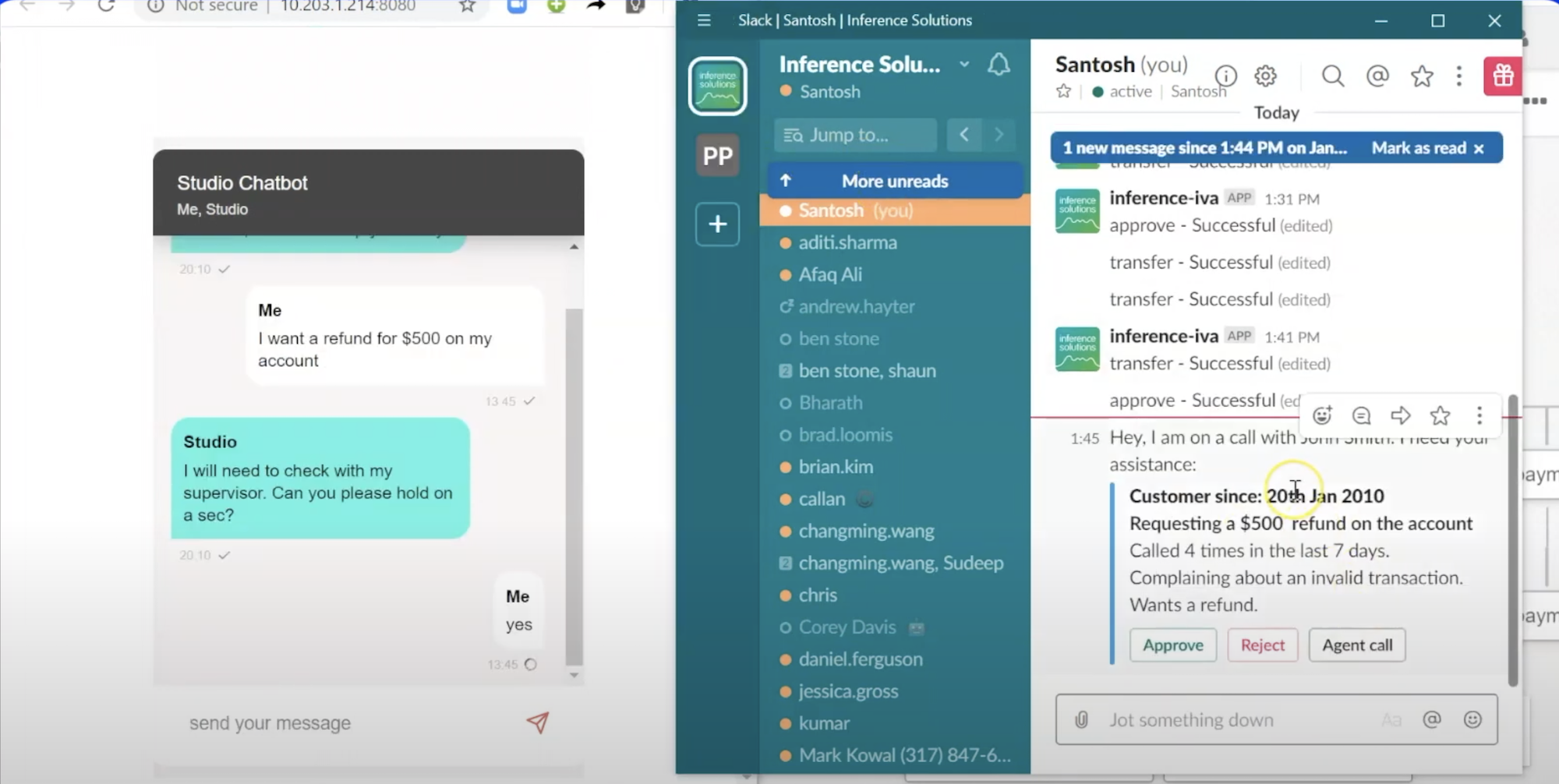 Five9 includes numerous pre-built integrations with third-party platforms like:
Salesforce
Zendesk
Oracle
Freshdesk
Microsoft Dynamics
NetSuite
RingCentral
Zoom
Microsoft Teams
ServiceNow
In addition to the above integrations, Five9 offers REST APIs and reference UIs for further customization.
8×8 Integrations
8×8 offers both third-party integrations and prepackaged Communications APIs. These Communication APIs let users build their own contact centers from the ground up, or let them add individual functionalities to their existing applications.
8×8 cloud Communications APIs include voice, SMS, chat, video, and the 8×8 Connect communications management portal.
8×8 pre-built integrations and plugins include:
Salesforce CRM and Salesforce Service
Zendesk
Microsoft 365, Microsoft Teams, Outlook, Dynamics 365
Google Workspace
Slack
ServiceNow
Bullhorn
NetSuite Oracle
Okta
Security and Customer Support
Five9 Security and Customer Support
Five9 offers 24/7 phone, email, and online portal customer support for all users–not just those on its most expensive plans.
Five9's online support knowledge base includes:
Searchable online resource library
Datasheets and whitepapers
On-demand training webinars, instructor-led courses, and custom training
Podcasts and eBooks
Demo videos and product tours
Professional consultation, managed IT, and several strategic implementation packages are available for purchase.
Five9 offers a 99.999% guaranteed uptime backed by global points of presence, network redundancy, and carrier-grade voice calling.
Five9 security and compliance certifications include:
PCI, GDPR, HIPAA
SOC 2 Type 2
CSA
ISO 27001
Encryption, HTTPS, FTP, RTP can be configured
Real-time intrusion detection with 24/7 network monitoring
8×8 Security and Customer Support
8×8 offers 24/7 live customer support to all X2 plan users and above via phone, website chat, and its online ticketing portal.
8×8 Express customers–and any customers preferring self-service– can use its website customer support chatbot, Otto.
Additional 8×8 support resources include:
Searchable online knowledge base
Multilingual product guides and manuals
Online user community
On-demand online training courses
Custom and managed implementation
Customer Success Manager
8×8 maintains a 99.999% guaranteed uptime thanks to over 15 global points of presence, 24/7 network monitoring,  and built-in redundancy. 8×8 uses Global Voice routing to automatically find the highest-tier carriers, optimizing traffic and call paths.
8×8 security and compliance certifications include:
GDPR, HIPAA, PCI
End-to-end video encryption
ISO 27001
SOC 2 Type 2
CSA
FedRAMP
Five9 vs 8×8 Pricing
Five9 Pricing and Plans
Five9 offers four "Solution Bundles," which use a concurrent pricing model and cost $149-$229/month.
These tiered plans, alongside Five9's numerous add-ons, provide a high level of scalability. The downsides are that it's unclear which specific features each plan includes, and the cost of each add-on is unlisted and presumably quote-based.
Though Five9 offers numerous online demos and product tours, as of this writing, no free trial is available.
All Five9 plans include:
Essential Blended/Outbound/Inbound Voice Contact Center features
Agent Desktop Plus
Call Recording
Geo Redundancy
24/7 support
Available add-ons for all plans include:
AI Agent Assist
Intelligent Virtual Agent
Digital Engagement (Social, Video, SMS, Digital Outreach)
Performance Dashboard
IVR with Speech Recognition
Essentials Workforce Management
Admin Assist
Gamification
Agent and Supervisor Dashboards
CRM Connectors
Extra Storage
The table below outlines available Five9 pricing plans.
| | | | | |
| --- | --- | --- | --- | --- |
| | Core (voice only)/Digital (digital only) | Premium | Optimum | Ultimate |
| Pricing | $149/month | $169/month | $199/month | $229/month |
| Chat Channels | Digital plan only | ✓ | ✓ | ✓ |
| Email | Digital plan only | ✓ | ✓ | ✓ |
| Quality Management | X | Essentials Only | Enterprise QM | Enterprise QM |
| Enterprise Workforce Management | X | X | ✓ | Yes, plus Interaction Analytics |
| Full Platform | X | X | X | ✓ |
8×8 Pricing and Plans
The 8×8 XCaaS offers 3 plans with contact center functionality, ranging in price from $85.00/user/month to $140/user/month when paid annually.
Mix-and-match pricing is available for all plans, so businesses aren't forced to pay for expensive user minimums to access the features on more advanced plans. This way, businesses only need to purchase higher-tiered plans for users that truly need the features they offer.
All XCaaS plans include:
Unlimited calling in US/Canada
Audio and video conferencing
8×8 Work unified desktop, mobile, web app
Basic auto attendant
Hold music
Voicemail
Features and pricing for the X Series plans are outlined in the table below.
8×8 X6
8×8 X7
8×8 X8
Pricing
$85/user/month

(Annual and monthly price)

$110/user/month

(Annual and monthly price)

$140/user/month

(Annual and monthly price)

HD Audio and Video Conferencing with 500 participants
✓
✓
✓
Advanced Call Management (Host Desking, Multi-level auto attendant, Hunt Groups, Ring Groups, etc.)
✓
✓
✓
Call Barge, Monitoring, Whisper
✓
✓
✓
Omnichannel Routing
X
✓
✓
Co-Browsing
X
✓
✓
Agent Workspace
✓
✓
✓
Auto Dialer
Add-on only
Add-on only
✓
Interaction Analytics and Quality Management
Add-on only
Add-on only
✓
Additional available 8×8 add-ons include Conversation IQ, Intelligent IVR, and 8×8 Secure Pay.
Five9 vs 8×8: User Experience
Five9 Pros and Cons
| | |
| --- | --- |
| Five9 Pros | Five9 Cons |
| Superior outbound Auto Dialer with Predictive, Preview, Power, and Progressive dialing modes alongside real-time DNC updates, list scrubbing, and Digital Follow-Up | Most of Five9's best features, including IVAs, Agent Assist, Digital Engagement, and Speech Recognition with IVR, are available only as add-ons or on more expensive plans |
| Intuitive and automated omnichannel Agent Desktop Plus makes transition between tasks, features, and channels seamless and provides a one-click, holistic view of the customer journey | Limited pre-built third-party integrations, and integrations with key team collaboration tools like Slack, MailChimp, Gmail are only available with Workflow Automation add-on/upgrade |
| 24/7 phone and email support included with all plans | Advanced features and platform-specific jargon will mean a high, likely lengthy, learning curve |
| Leverages Conversational AI, CTI, machine learning, and NLP to provide high-level customer self-service and in-conversation agent assistance virtually guaranteed to speed up resolution times | Lack of transparency regarding differentiation between "Essentials" and "Enterprise" features included in each "Solution Bundle" makes it hard to know what you're actually buying |
| Excellent Workforce Management and Employee Engagement tools including gamification, contact center activity forecasting, and self-service agent portals | Many users report frequent crashes or lagging during peak times, especially those using a high number of automations or with a high volume of simultaneous omnichannel contact |
8×8 Pros and Cons
| | |
| --- | --- |
| 8×8 Pros | 8×8 Cons |
| Omnichannel Agent Workspace provides the same queue and real-time interaction capabilities across channels with a consistent, easy-to-interface | Omnichannel capabilities aren't as AI-heavy as competitors like Five9, optimized primarily for routing to live reps instead of handling interactions from start-to-finish |
| Offers mix-and-match pricing without user minimums for advanced plans, meaning businesses can purchase higher-tiered, more expensive plans only users needing them | Essential features like ACD and IVR, omnichannel routing, auto dialer, and advanced analytics are only available on most expensive plans or as paid add-ons |
| High-level Conversation IQ Analytics suite provides access to AI-powered insights, including unique keyword clouds and customer journey flowcharts | Customer support isn't 24/7 for all plans, and customers across all plans report difficulty connecting to a live agent using chat support alongside a lackluster automated support chatbot |
Who Should Use Five9?
Five9 is best for enterprise-level blended contact centers that communicate with a high daily volume of customers across multiple channels. Five9 users heavily rely on automation and AI to streamline routine business processes, as they need to keep as many live agents as they can free for outbound sales calls and customer support.
Its high price tag, plus the substantial number of add-ons enterprise companies will need, means it's doesn't meet the business needs of teams of any size looking for a budget-friendly choice. Five9 users will likely also need the budget for user training, given the platform's high learning curve and advanced feature set.
In spite of the cost, Five9 provides scalable contact center solutions and detailed, AI-powered analytics that will optimize your workforce, keep operating costs low, and provide invaluable insights into customer interactions, feedback, and personas.
While especially popular with telemarketing call centers and customer support departments, Five9 also has a strong user base in the healthcare, financial/banking, and retail sectors.
Who Should Use 8×8?
8×8 is best for remote contact centers that handle mainly inbound customer service and support requests via voice calling. 8×8 users may also rely on automated, IVR-based outbound calling and messaging apps to confirm appointments, provide automated order updates and take orders, or run seasonal marketing campaigns.
Though 8×8 has recently upgraded their AI-powered automation capabilities, most contact centers that use 8×8 provide highly-specialized or technical customer support that requires conversations with a live agent.
IVR/IVA is used mainly to help those live agents be as prepared for customer interactions as possible–not to resolve them completely.
8×8 users are more interested in robust internal collaboration features across channels than advanced automation and AI.
Enterprise-level eCommerce companies and IT/technical support teams of all sizes will get the most out of 8×8.