Five9 and Talkdesk are among the market leaders of contact center software that offer calling features such as IVR, auto dialing and call recording, along with omnichannel support tools and workforce management features. But which of the two providers is a better solution for your business needs?
In this article we will compare Five9 and Talkdesk in pricing, features, integrations and more so that you can choose the best platform for your call center.
Compare contact center software from
top providers
Jump to ↓
What is Five9?
Five9 is a contact center as a service (CCaaS) provider that specializes in inbound, outbound, and blended contact center solutions. As a cloud-based solution, this provider makes creating a feature-rich contact center very easy. In the past, most small businesses couldn't afford the expense of opening up their own centers due to the high cost of hardware and software. With cloud-based solutions, the hardware is present on remote servers that are maintained by the provider's staff.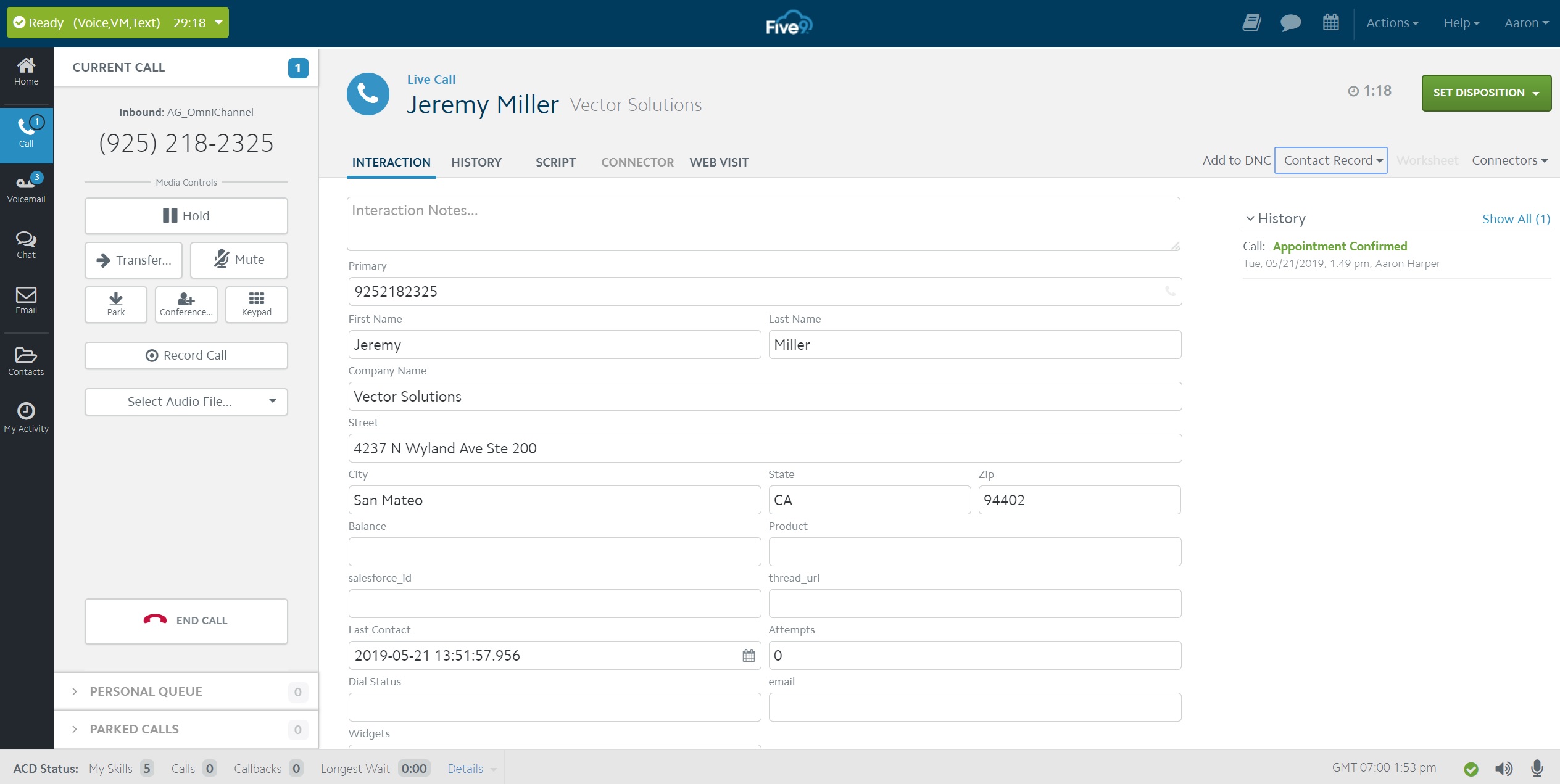 The name, "Five9," refers to systems reliability – a traditional "five nines" uptime guarantee means that the server has 99.999% uptime. This means that your business will have only a few seconds of service inaccessibility in a calendar year. Strangely enough, the provider actually falls slightly below this uptime target at only 99.994%.
As a contact center solution, customers of this provider also have multiple touchpoints they can use to reach customers. With the service, you'll be able to reach out via email, social, and other platforms so that you're not just limited to voice. Also, you'll have access to a complete dialing package; they include TCPA, predictive, power, and progressive dialer options.
What is Talkdesk? 
Talkdesk is a CCaaS solution that stands out because it's one of the only on the market with a 100% uptime guarantee (at the Enterprise level). This makes it a very reliable option for larger centers that need to be positive that they aren't losing calls.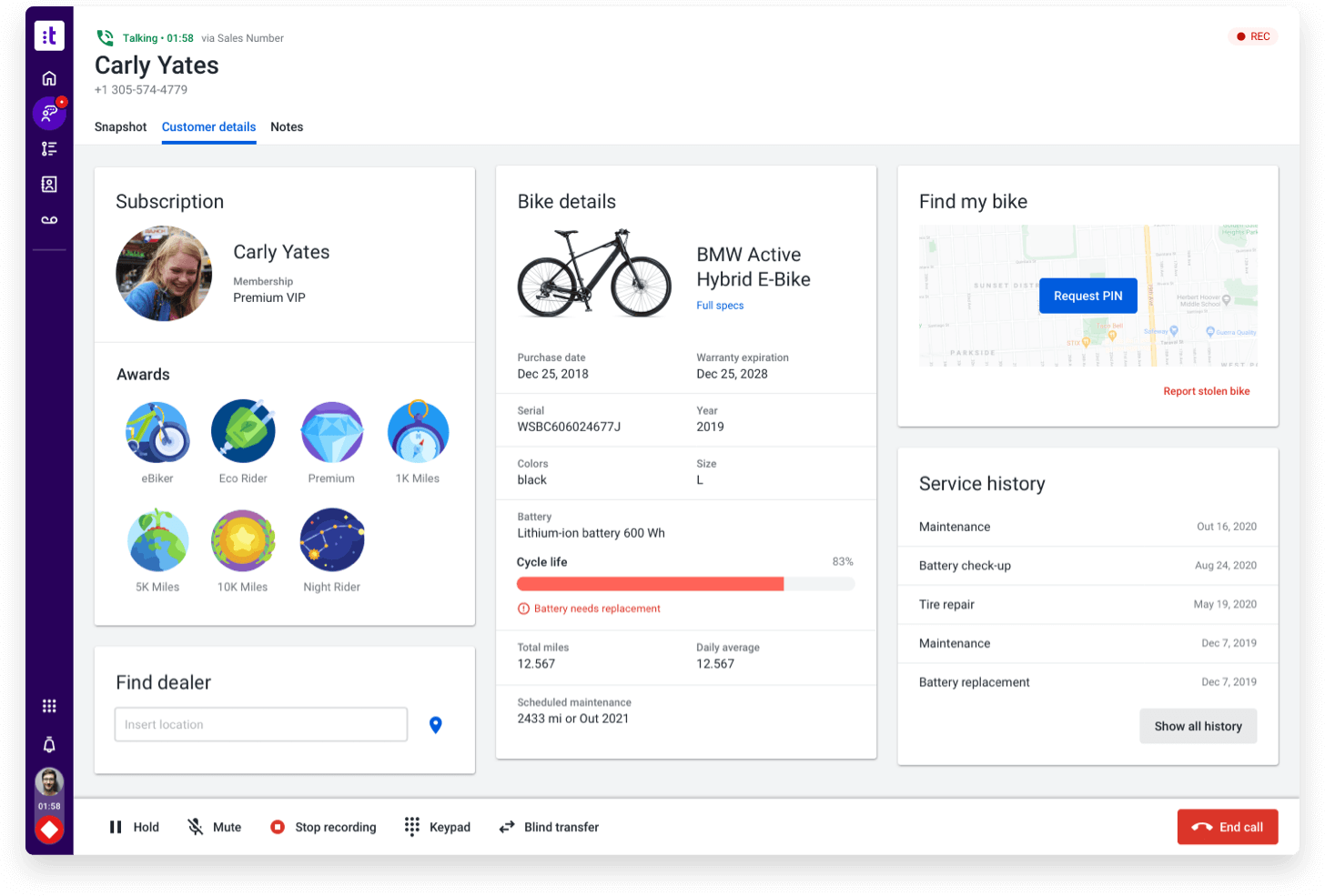 Like Five9, Talkdesk moves far beyond calling features – with SMS, email, social messaging, and chatbot capabilities. Additionally, Talkdesk's Callbar feature brings ease of use for agent dialing, even when other software is in use on an agent desktop. Unlike Five9, Talkdesk doesn't charge porting fees for pre-existing numbers.
When it comes to plan structures, Talkdesk has a three-tiered plan structure that adds features as you scale upwards. The provider has recently added artificial intelligence (AI) powered features including virtual agents, agent assist, and interaction analytics.
Additionally, Talkdesk has also developed technologies such as their Visual SDK system that's designed for centers without extensive development staff. Instead of requiring extensive coding, these allow for visual IVR call flow building with their "clicks, not code" ethos.
We covered the provider in our Talkdesk Pricing piece, but what makes the provider unique, especially compared to its competitor?
Five9 vs Talkdesk: A Quick Overview
Now that we've given you a quick glimpse into the plans available from each provider, let's take a look at a feature-by-feature comparison between the two.
Five9
Talkdesk
Pricing
$149-$229 per user/mo.
$75-$125+ per user/mo.
Key Features
– Workflow automation
– Interaction analytics
– 6 types of auto dialer
– Real-time dashboards
– Agent assist
– Screen recording
Plan Options
– Inbound
– Outbound
– Blended
– Professional
– Professional Plus
– Enterprise
Pricing Structure
Tiered
Tiered
Service Quality Tools
– Call Monitoring
– Call Barge
– Call Whisper
– Call Recording
– Call Monitoring
– Call Barge
– Call Recording
Service Uptime Service Level Agreement
99.999%
100% with Enterprise Plan
Data Centers for Georedundancy
5
9
Omnichannel Platforms
Voice, email, SMS, chat, social, visual IVR, video engagement
Voice, email, SMS, chat, social, chatbots
Dialing System
Predictive, Progressive, Power, TCPA
Predictive
Best For:
High volume contact centers and enterprises
Small businesses, SMBs, and contact centers in the financial, healthcare and retail industries
Comparison of Plans and Pricing
There are some differences between the pricing structures of Five9 and Talkdesk. Both providers have a four-tier plan structure: Talkdesk has open pricing that scales up while Five9 doesn't openly advertise its pricing and you'll need to request a quote for each tier.
Five9 Pricing and Plans
Five9 offers five paid plans from $149/month to $229+/month:
Digital Plan ($149/user/month): Digital-only contact center (chat, email, SMS/MMS, social media messaging)
Core Plan ($149/user/month): Voice-only contact center (no digital channels included), outbound auto dialer included
Premium Plan ($169/user/month): Chat, voice calling, and email (no included SMS/social media messaging) plus Workforce Engagement Essentials
Optimum Plan ($199/user/month): Chat, voice, email (no included SMS/social media) plus Enterprise WFM and Quality Management
Ultimate Plan ($299/user/month): Chat, voice, email (no included SMS/social media), Enterprise QM+WFM, plus Interaction Analytics
Talkdesk Pricing and Plans
Like with Five9, Talkdesk offers features for outbound, inbound, and blended contact. It's critical to note that those looking for the 100% uptime guarantee, which is the only one in the CCaaS market, will have to invest in the CX Cloud Elite Plan. Here's a quick look at what's available for each plan:
Talkdesk offers three plans $75-$125+/user/month and quote-based, industry-specific plans:
Cloud CX Essentials ($75/user/month): Voice-only call center with routing, IVA, and Basic versions of key Talkdesk features like Agent Assist and Guardian
Cloud CX Elevate: ($95/user/month): Essentials+Digital Engagement, screen recording, and customer feedback
Cloud CX Elite ($125/user/month): Elevate+custom real-time and historical AI analytics, performance management, full Guardian capabilities, and lets users choose from 1 of 4 add-ons to include in their package (Workforce Management, Customer Experience Analytics, Agent Assist, Proactive Outbound Engagement)
Experience Clouds (Quote-based pricing): Custom-built, industry-specific solutions for healthcare, retail, banking, insurance, and more
Five9 vs Talkdesk: A Head-to-Head Feature Comparison
To really help you figure out which provider fits your needs, we are going to take several aspects that you may want to have and compare each topic thoroughly. After we discuss what each provider offers, we will decide who the winner is for each category so that you can create a tally based on the specific needs of your company. Let's get started.
Omnichannel Offerings
When you have a contact center and you need to make contact with customers regularly, the more touchpoints that you have available, the easier it will be for customers to contact you on their own terms. In our State of Contact Centers piece, we explained how having an omnichannel contact center can increase the efficiency of a business. In fact, many agents can handle more than one customer at the same time if they are using multiple touchpoints. So, what do these two providers offer when it comes to ways to engage customers?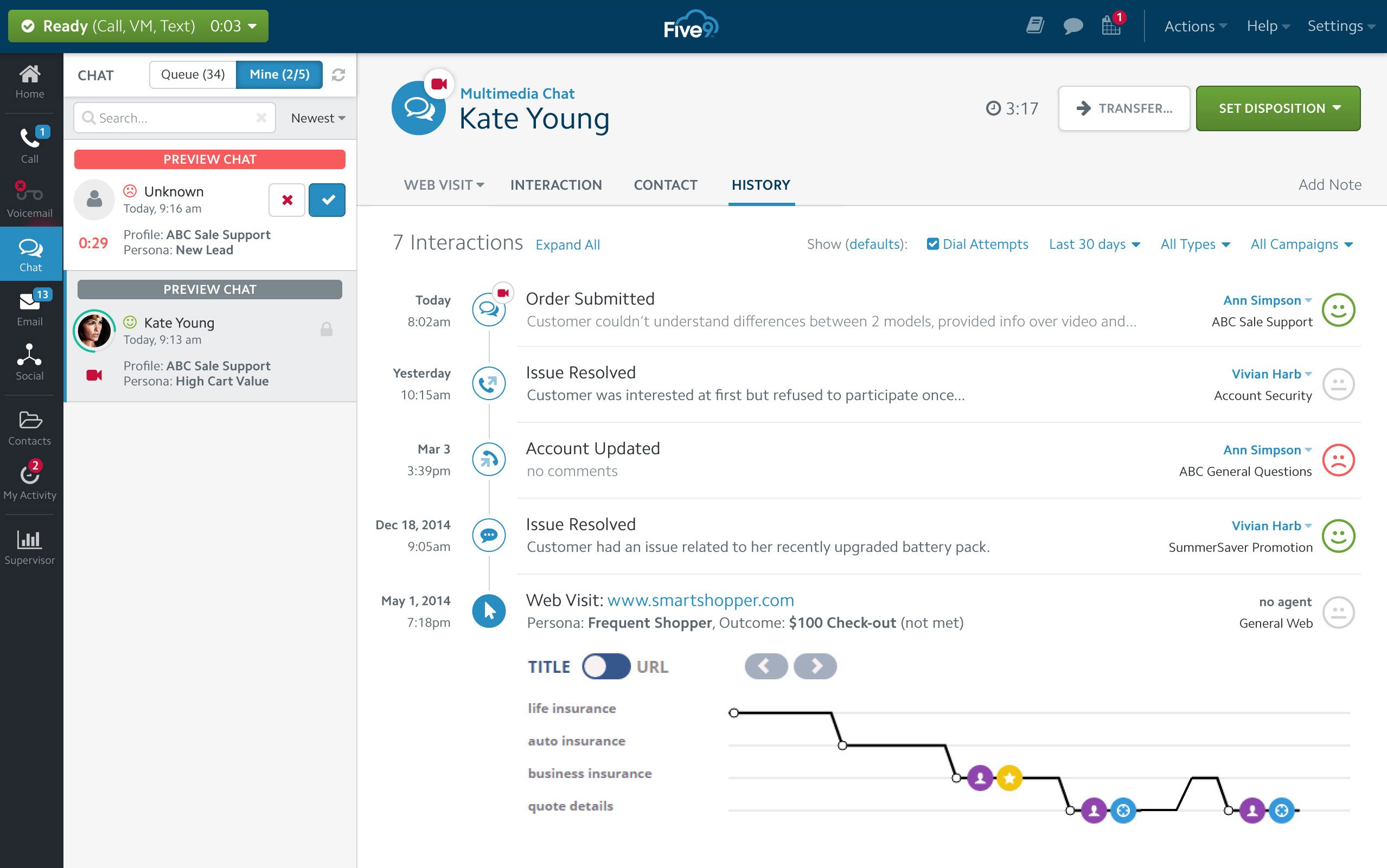 Five9 is fully stacked with options that allow customers to make initial contact using any of their touchpoints and move seamlessly between them whenever they need to. As a provider, they also offer real-time reporting and recording on these channels to make sure that the customer experience is optimal. The provider allows contact using these touchpoints:
Voice
Email
SMS Messaging
Social Media Messaging
Web Chat
Chatbots
Self-Service
Visual IVR
Web Engagement
Video Support
Talkdesk also has omnichannel support so that customer contact is easier to maintain. It allows interactions to happen more quickly, and agents can easily move from one touchpoint to another during the interaction if the customer requests it. The touchpoints include:
Voice
Email
SMS Messaging
Social Media Messaging
Web Chat
Chatbots
Video Support
Winner: Five9
Both providers offer all of the major touchpoints for contact with a customer, but Five9 has a few more options that may be critical for solving issues with customers and producing new opportunities for leads during interactions.
Available Integrations
If you have a business today, you know how important CRM VoIP integration is to making lead outreach more streamlined. With the right integrations, whether they are CRM or third-party, you will be able to cut the overall costs and make agents much more prepared for each call. In fact, the right CRM integration increases the chance of conversion during contact with a customer by up to 300%. Because of this, you are going to want to have the most CRM options available as soon as possible so that your team is ready to go.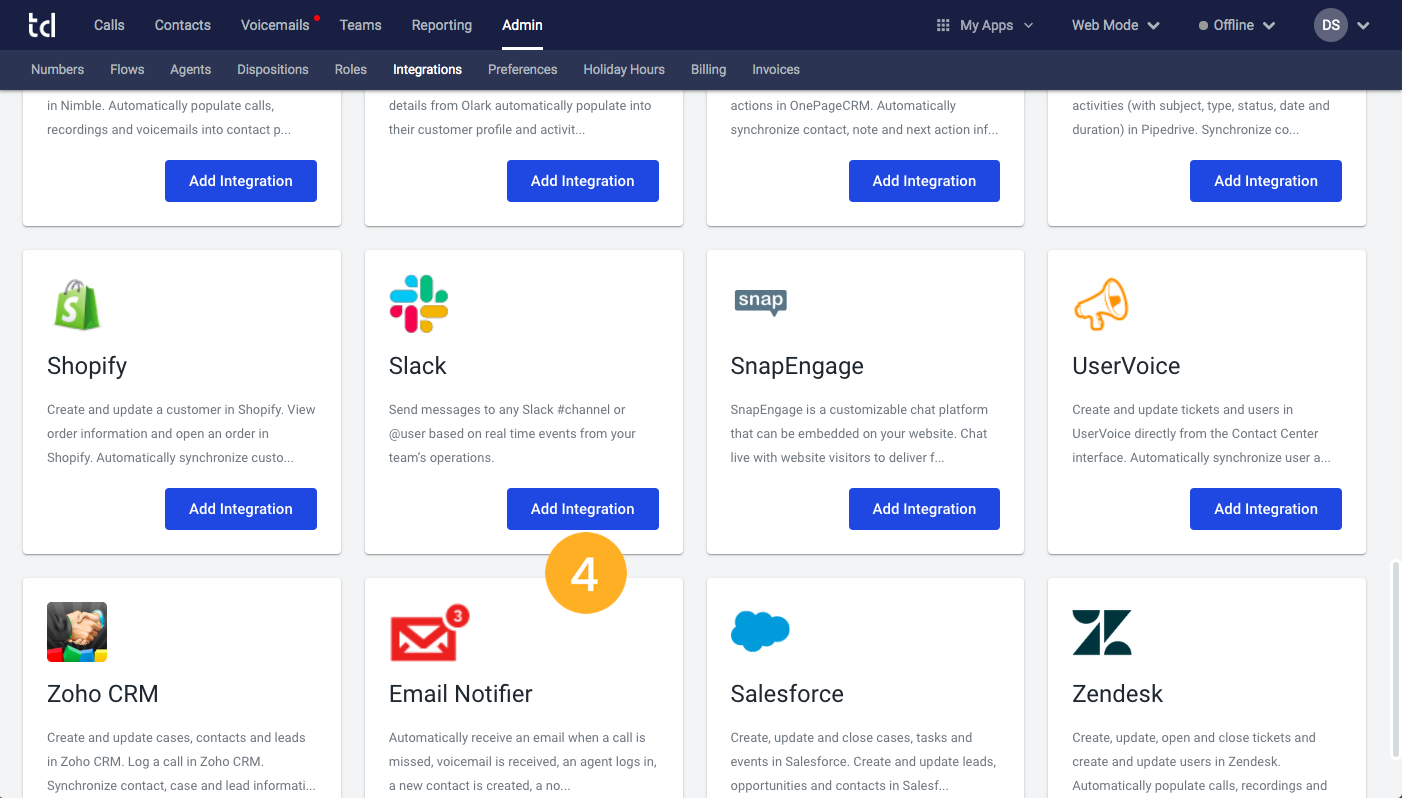 Five9 says that they have "hundreds" of integrations on their site; however, many of the options that they have available are not published. They do include some of the CRM integrations that are most important for business as well as UC integration. The provider has built-in packages that are designed to accommodate contact centers and other specific businesses, and they allow users to customize their integrations to help you optimize your agent's productivity.
Talkdesk provides more information about their integrations, and they provide access to 60 of these out of the box. This type of full integration will give agents the option to integrate additional screens and click to call features to help them save time. Customer data will be synchronized at the beginning of every call so that the agent has any information from previous calls that may be important.
This provider has AppConnect, which is a platform that grants access to several third-party software packages. These are designed to work with the provider and deliver extra functionality for management and agents using the service. The app market is consistently growing, so this is a good future-ready feature of the provider.
Here are some of the integrations that each provider has made available:
 Five9 integrations include:
Salesforce
Sugar CRM
Zendesk
Oracle
Netsuite
Talkdesk integrations include:
Salesforce
Zendesk
Freshdesk
Help Scout
Intercom
BigCommerce
Winner: Talkdesk
Both of these providers have most of the essential integrations available, but Talkdesk has far more overall. In addition, there are 60 integrations ready for you to use right away, which means there is no need to configure them or spend significant time setting them up. The idea of having integrations is to save time so that your agents can be more productive. With that being said, building your own integrations is less attractive than having a pre-set package that's ready to work within seconds.
Management
Contact centers need to manage teams effectively, which is often done using agent management and reporting tools. When it comes to managing calls, Five9 has an approach that focuses on the quality management of the agents, as well as the historical data of interactions with customers.
As a provider, they utilize the standard KPI's that contact centers should be concerned with. They also use real-time reporting to schedule agents according to call volume. All contact is recorded so that coaching is simplified and agents can be more efficient.
Talkdesk focuses more on the reporting aspect of managing teams. They have real-time reporting as well as alerts to indicate when an agent is falling behind on their goals. Calls are recorded and analytic info is collected to provide context.
One of the key contact center features that Talkdesk lacks is call whisper. This feature allows a supervisor to converse independently with agents when they are on the line with a customer. This coaching is done without the customer's knowledge and helps achieve first call resolution and reduced customer bounces.
Winner: Five9
If you are looking for management options that go beyond reporting metrics in real-time, Five9 has much more comprehensive management tools that will be useful for a contact center. The fact that Talkdesk is lacking call whisper is very noteworthy for many contact centers. Still, if you need other standard management and coaching features like monitoring and call barge, then Talkdesk is a competitive choice.
Uptime and Reliability
| | | |
| --- | --- | --- |
| | Five9 | Talkdesk |
| Uptime SLA | 99.999% | 100% (Enterprise) |
| Number of Worldwide Data Centers | 4 | 9 |
| Essential Technology | Redundant subsystems and compartmentalized security zones | Browser communications backup plan (BCBP) provides continued connectivity even when the provider's carrier is experiencing connectivity issues |
| Security | Member of the Cloud Security Alliance (CSA), HIPAA compliance, and multiple security standards | 30 security certifications |
| Infrastructure | Carrier-grade telephony | Global latency architecture |
Uptime and reliability are essential for business. Ideally, you are going to want as little downtime as possible to make the company more efficient. Five9 has five Tier 4 data centers in the United States and Europe. The data center in Florida is specifically for the LATAM region. This is efficient in most cases, but if something happens to the data centers in the US, there is very little backup in place.
Additionally, even though the name of the provider implies that they have a five 9s uptime, their actual guarantee provides an uptime of 99.994%. This service level agreement actually allows for 31 minutes and 33 seconds of downtime a year, which is not massive, but it can be problematic for some businesses.
Talkdesk has nine data centers that are distributed around the globe. This increased georedundancy ensures that there will be a backup in place to pick up the slack if one of the data centers goes down. Additionally, Talkdesk has a 100% SLA for Enterprise Plan users. This means that you will never have downtime when your agents are available to make contact with customers. This provider even has a disaster recovery program that helps them stay on top of eliminating any issues that could potentially cause downtime.
Winner: Talkdesk
Overall, Talkdesk outperforms Five9 for reliability and uptime. They guarantee 100% uptime and the disaster recovery that they offer automatically kicks in so that no data is lost in unforeseen circumstances.
Technical Support
As a business owner, it's important that customers are able to contact you whenever they need to. Both of these providers can be contacted 24/7. Email and phone support are supplied by both providers as well as self-service options which include video tutorials and e-guides. They also provide a FAQ section that customers can use for common questions.
Five9 has a few more offerings that make contacting them easier. They have instant chat available as well as online support and training courses that are lead by an instructor. If you opt for the premium plan, you will get dedicated reps as well that are trained to offer premium support.
Winner: Five9
Since Five 9s has more methods of getting support and they offer training videos and live instructions to customers, they win this battle. You may have to log in, but this additional step should not matter if you select them as your provider.
Five9 Pros & Cons
Below are some of the advantages and disadvantages of Five9
What Sets Five9 Apart
The pros to choosing Five9 over Talkdesk include:
Five9 offers an affordable digital-only plan with social messaging (social messaging is only available as an add-on with Talkdesk)
Five9 offers 6 types of auto dialers which are included in all plans (Premium Talkdesk plans only offer power and preview auto dialers)
Five9 offers real-time call center video chat as an add-on (Not offered by Talkdesk)
Five9 Drawbacks
That having been said, here is where Five9 falls short: 
Five9 is more expensive than Talkdesk
SMS/MMS is only included in the digital plan or as an add-on
Five9 has fewer pre-built integrations than Talkdesk (though APIs are available)
Talkdesk Pros & Cons
Below are some of the advantages and disadvantages of Talkdesk
What Sets Talkdesk Apart
The pros to choosing Talkdesk over Five9 include:
Talkdesk includes over 60 pre-built integrations (Five9 has under 10)
Talkdesk offers industry-specific packages with prebuilt workflows (Five9 does not offer this)
100% uptime SLA with experience cloud packages (Five9 does not offer 100% uptime SLA)
Talkdesk Drawbacks
That having been said, here is where Talkdesk falls short: 
Marketing, outreach, and WFM/WEM features like bulk SMS, preview dialing and automated scheduling are only available in the most expensive plan–and customers may only choose one of these features to be included in their package (Five9 includes WFM/WEM tools in Premium plan and up)
Limited digital engagement channels (chat, SMS, email) are only included in the mid-range pricing plan and up
Talkdesk does not offer some advanced inbound features such as screen pop or incoming call whisper (Five9 offers these features in all plans)
User Experience: What are Customers Saying?
For some, information about uptime, the dialing system, and Management features are all academic. What are the user reviews saying? We've taken a look at what some of GetVoIP's users have been saying about both providers, and here are a few that stand out.
Here's what Five9 users are saying:
"The service is very reliable and dependable. They have great customer support. Issues are always resolved in a timely manner and they stay in constant communication with you with updates so you always now the status of your issue being resolved. You can customize your features to meet all of your business needs." – Tina A.

"Even though we're a small call center, Five9 provides the support and attention we need. The Five9 platform meets all of our needs and makes our call center run more effectively." – Jake N.
Here's what Talkdesk users are saying:
"Talkdesk is an excellent platform on which to connect with customers across a variety of communication methods such as phone, chat and email. It provides well developed tools to monitor performance and deep integration across the various apps. The cloud based approach allows colleagues to work remotely and connect across all of our sites easily and has helped during the current COVID-19 pandemic." – Paul James R.

"This is easy to use. Everyone will be able to learn to use it and be able to use it with ease. Makes monitoring the agents and statuses easy. All of the monitoring is on one screen so it is easy to find statuses of a specific agent. Finding the calls stats for the day is conveniently in one location and you are able to change the dates and times to monitor a certain time frame easily." – E'Llysa A.
Who Should Use Five9?
Five9 is a secure and reliable platform with a long list of calling features as well as omnichannel options. For outbound call centers, Five9's offers a large selection of auto dialers including preview, progressive, manual TCPA, and power. For inbound call centers Five9 offers tools such as intelligent IVR.
With a higher price tag than many CCaaS competitors, Five9 is not a feasible option for startups or small businesses looking to keep costs down. Five9 is best for medium-sized inbound, outbound, and blended contact centers or small businesses experiencing rapid growth. Especially centers that need workforce management tools in addition to a contact center solution.
Who Should Use Talkdesk?
Talkdesk is a solid CCaaS platform with over 30 security certificates and a 100% uptime guarantee for experienced cloud users. It also offers some of the lowest prices in the CCaaS space.
Talkdesk's Cloud Essentials plan is suitable for SMBs that need a reliable voice only call center solution. Where Talkdesk really shines, however, is with its industry specific plans. These plans are unique in the CCaaS space and allow businesses in the banking, insurance, healthcare, and retail industries to quickly implement a solution with pre-built workflows, integrations and IVAs that are specific to their needs.
Talkdesk is therefore best for contact centers in the financial, healthcare and retail industries.