As a result of the advent of cloud based call center software, more companies are opening their own contact centers without the extensive hardware requirements of non-cloud-based models. These contact centers are convenient for bringing customer contact in-house.
Today, small businesses are presented with unique opportunities that simply weren't available a decade ago. However, which cloud contact center software is best for modern SMBs? In this guide, find out who comes out ahead in our head-to-head: Five9 vs Talkdesk. These two providers are leaders in the market, but which one is best for your organization?
What is Five9?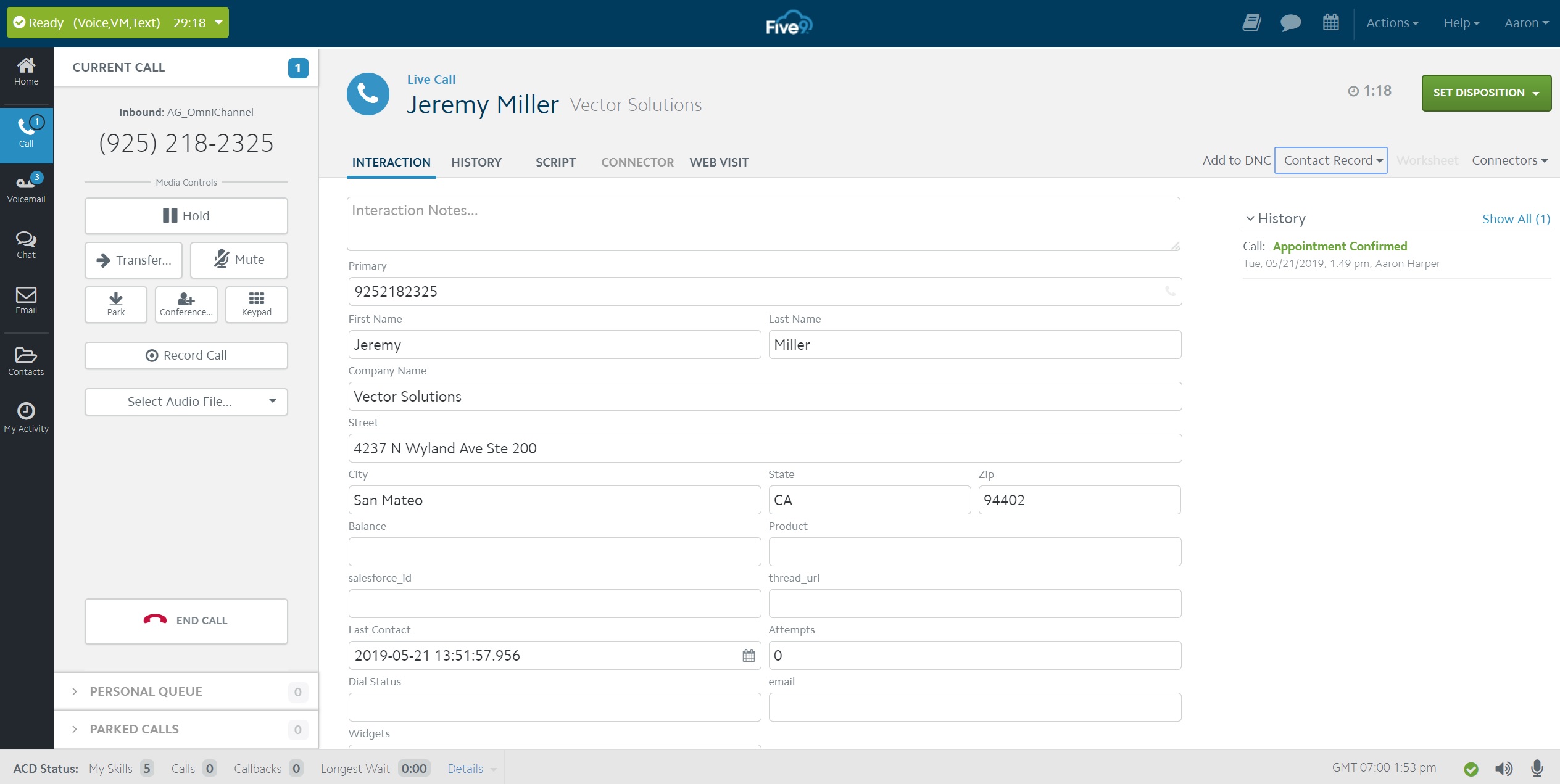 Five9 is a contact center as a service (CCaaS) provider that specializes in inbound, outbound, and blended contact center solutions. As a cloud-based solution, this provider makes creating a feature-rich contact center very easy. In the past, most small businesses couldn't afford the expense of opening up their own centers due to the high cost of hardware and software. With cloud-based solutions, the hardware is present on remote servers that are maintained by the provider's staff.
The name, "Five9," actually refers to systems reliability. A traditional "five nines" uptime guarantee means that the server has 99.999% uptime. This means that your business will have only a few seconds of service inaccessibility in a calendar year. Strangely enough, the provider actually falls slightly below this uptime target at only 99.994%.
As a contact center solution, customers of this provider also have multiple touchpoints they can use to reach customers. With the service, you'll be able to reach out via email, social, and other platforms so that you're not just limited to voice. Also, you'll have access to a complete dialing package; they include TCPA, predictive, power, and progressive dialer options.
There's no question that this provider is an industry leader – they have earned a position on the Gartner Magic Quadrant for four years running as a CCaaS provider. Here are a few unique aspects of the service that make it a worthy option for customer outreach and call reception:
Pay for What You Need
This provider stands out because of its unique and flexible pricing schema. With this CCaaS solution, your business only pays for what it needs. This is very different from most competitors in the CCaaS market, which charge based on plans and may have a few add-on features for your business to consider. With this provider, pricing varies significantly based on the seats you provision for the service, the usage per month (or annually), and the features that you select for your center.
Instead of a locked-in plan, this feels more like a pay-as-you-go service, which is very small business-friendly. Don't need a feature like speech recognition interactive voice response (IVR)? Well, with this service, you aren't chained to a feature that you'll never use.
At maximum capacity, the service allows for your business to accommodate up to 1,000 agents at a time, and at its minimum, it allows for as little as three seats. This makes this an attractive service for those businesses in a state of growth; there's a lot of wiggle room for both features and seats that you can take advantage of as you scale. The provider also has a fairly rapid deployment – you'll be set up within a few weeks, which is very fast given the service requirements of running a center.
Team Collaboration
While many may consider team collaboration software as an integral component of unified communications systems, it's also critical for CCaaS providers. As your agents manage customer needs, it's essential that they have the most comprehensive support so that they can answer questions and provide A++ service. Tools like Microsoft Teams and Slack allow them to reach out via chat to coworkers and managers while remaining on the line with the customer. This creates a type of network that improves customer satisfaction by making agents seem more knowledgeable.
Five9 has several team collab software integrations that deliver this type of functionality for your agents. With features like Microsoft Teams and Skype for Business integrations, it becomes much easier for agents to leverage the knowledge of experts inside your organization. These features are available via the desktop and they can even be accessed via smartphone on both Android and iPhone devices.
For example, rather than shunting customers to different departments, your agents communicate with those departments in order to reduce the customer bounce rate. As we covered in our call center KPIs guide, you need to keep your average call transfer rates low for higher customer satisfaction since multiple transfers frustrate customers.
This product also provides cloud APIs so that your developers can create connections between the software and your favorite team collab or workforce tool solutions. This makes for a very versatile and agile experience for those looking to broaden the knowledge base of the entire center. According to Forrester, the "superagent," who has highly specialized knowledge, is becoming more common in centers. Granting your reps easy access to your more knowledgable agent's specialties via team collab tools will help your team seem more ready for customer inquiry.
What is Talkdesk?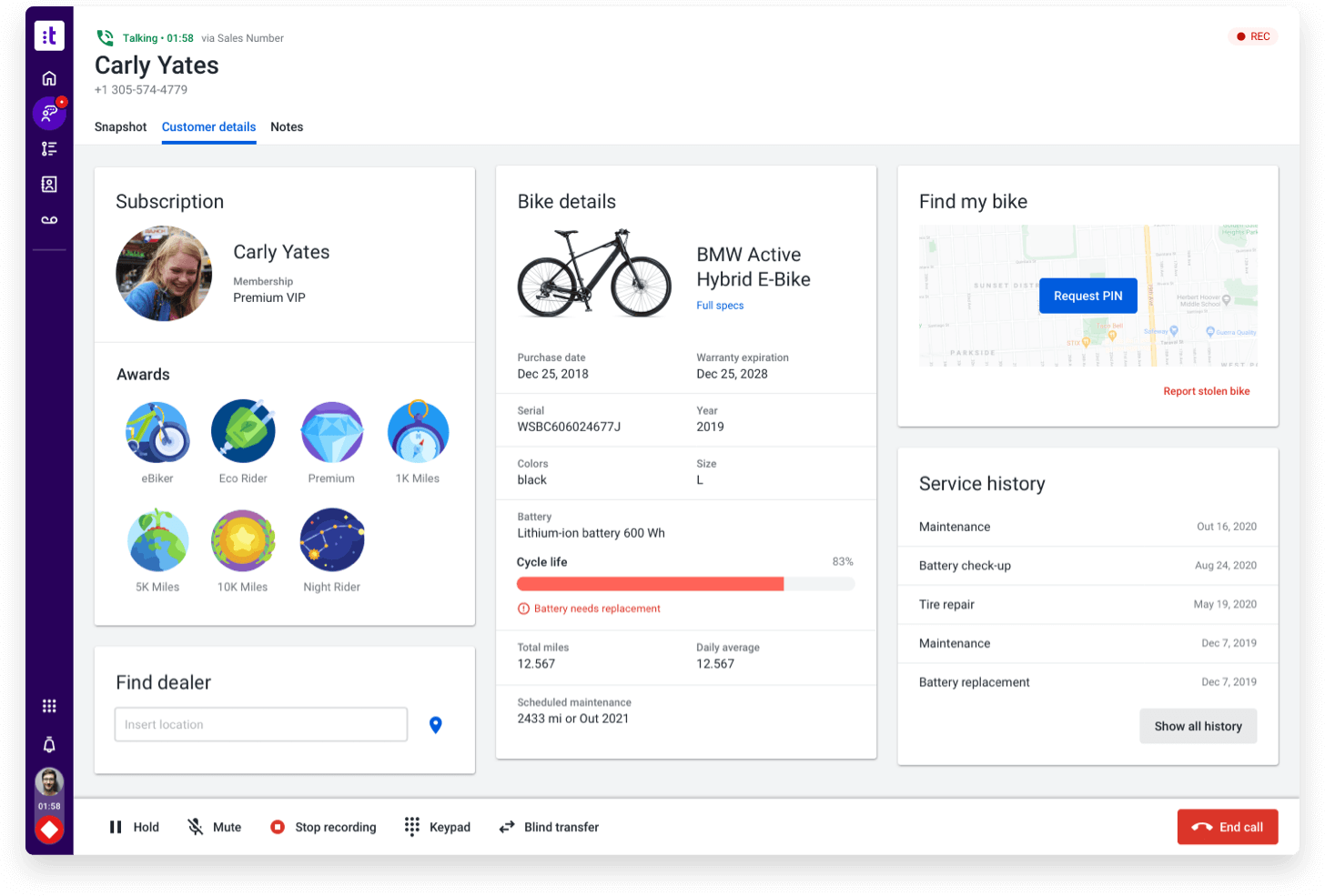 Talkdesk is a CCaaS solution that stands out because it's the only one on the market with a 100% uptime guarantee (at the Enterprise level). This makes it a very reliable option for larger centers that need to be positive that they aren't losing calls. Like Five9, this is a provider that moves far beyond just voice contact – with the service, you'll have SMS, email, social, and chatbot contact. Additionally, their Callbar feature brings ease of use for agent dialing, even when other software is in use on an agent desktop. Unlike the other provider, they don't charge porting fees for preexisting numbers.
When it comes to plan structures, Talkdesk is much more in-line with other solutions; it has a three-tiered plan structure that adds features as you scale upwards. The provider also has focused on artificial intelligence (AI) features as of late. This is increasingly critical for centers based on research by Gartner that states that 25% of businesses will use automated customer service assistants this year.
Additionally, they have also developed technologies such as their Visual SDK system that's designed for centers without extensive development staff. Instead of requiring extensive coding, these allow for visual IVR call flow building with their "clicks, not code" ethos.
We covered the provider in our Talkdesk Pricing piece, but what makes the provider unique, especially compared to its competitor?
Three Plans for Scalability
Compared to Five9, this provider has a more straightforward plan schema. Professional has the lion's share of the features and Professional Plus and Enterprise simply add options like a mobile agent for smartphones and APIs. Enterprise, as we mentioned, is also the tier with the 100% uptime SLA, which is very useful for larger centers. Also, with APIs being available via this plan, this is definitely the more developer-friendly option for businesses.
Overall, Talkdesk, like the other cloud contact solution, is very friendly for businesses that are looking to scale. While the other provider is attractive because it has support for agent counts between three and 1,000, this provider stands out because it has no real preset limit on the number of agents using the service.
Visual IVR Flow Designer
While there is no actual visual IVR with the system that sends IVR menus to your customers via text, the provider does have an IVR designer that uses visual elements to tailor your call flow. As you may have noticed with our recent guide on GoTo Connect plans, pricing, and features, we find these kinds of editors very convenient. They allow you to drag and drop elements of your call routing so that a more dynamic experience is created for customers. Their variation, which they call their Talkdesk Studio, is clean and easy to use and allows your team to build problem-free call flows without much effort.
Remember, brief and to-the-point call flows keep customers on the line, so a tool that helps you tweak the experience for maximum customer engagement provides strong value.
A Look at Plans and Pricing
There are some differences between the pricing structures of Five9 and Talkdesk. Both providers have a four-tier plan structure: Talkdesk has open pricing that scales up while Five9 doesn't openly advertise its pricing and you'll need to request a quote for each tier.
When it comes to Five9 pricing and plans, this provider has:
Monthly On-Demand: This allows businesses to pay for what they need. This plan type starts at $150 per month, per user.
Per-Minute: Certain features such as IVR with speech recognition incur additional costs. This is tabulated based on how much you use these features.
Annual Contracts: For those looking to commit to certain usage levels, the provider has annual contract plans that reduce the cost of service.
Here's a breakdown of features that are available for Core, Premium, Optimum and Ultimate packages:
Five9 Plans
| | | | | |
| --- | --- | --- | --- | --- |
| Core Functionality | Core | Premium | Optimum | Ultimate |
| Blended Inbound/Outbound | ✔ | ✔ | ✔ | ✔ |
| Agent Desktop Plus | ✔ | ✔ | ✔ | ✔ |
| Geo Redundancy | ✔ | ✔ | ✔ | ✔ |
| Call Recording | ✔ | ✔ | ✔ | ✔ |
| Softphone | ✔ | ✔ | ✔ | ✔ |
| Digital Channels | | | | |
| Chat | X | ✔ | ✔ | ✔ |
| Email | X | ✔ | ✔ | ✔ |
| Workforce Optimization | | | | |
| Essentials QM | X | ✔ | X | X |
| Enterprise QM | X | X | ✔ | ✔ |
| Enterprise WFM | X | X | ✔ | ✔ |
| Interaction Analytics | X | X | X | ✔ |
| Workflow Automation | | | | |
| Proactive Notification | X | X | ✔ | X |
| Full Platform | X | X | X | ✔ |
| Support | | | | |
| 24/7 Support | ✔ | ✔ | ✔ | ✔ |
As a provider using a standard tier system, Talkdesk offers four plans that expand features as you scale upwards. CX Cloud Essentials is $75, CX Cloud Elevate is $95, and CX Cloud Elite is $125 per user per month. There's also the Experience Clouds package for which you'll need to contact sales directly for more details about pricing.
Like the with Five9, Talkdesk offers features for outbound, inbound, and blended contact. It's critical to note that those looking for the 100% uptime guarantee, which is the only one in the CCaaS market, will have to invest in the CX Cloud Elite Plan. Here's a quick look at what's available for each plan:
Talkdesk Plans
| | | | |
| --- | --- | --- | --- |
| CX Cloud Essentials | CX Cloud Elevate | CX Cloud Elite | Experience Clouds |
| $75 Per User, Per Month | $95 Per User, Per Month | $125 Per User, Per Month | Request quote |
| Voice Engagement | Everything in Essentials, Plus | Everything in Elevate, Plus | Everything in Elite, Plus |
| Studio & Routing | Digital Engagement (3 channels) | 100% Uptime SLA | Industry Workspace |
| Studio Functions | Quality Management | Custom Reporting with Live & Explore | Industry Integrations |
| Real-time Dashboards (Live) | Screen Recording | Guardian Guardrails | Industry Workflows |
| Business Intelligence (Explore) | Conversations Mobile App | Performance Management | Industry Virtual Agents |
| Guardian | Feedback | Pick Any Add-On Package from Four Options: | Pick Any Add-On Package from Four Options: |
| API Access | Automated Notifications | Workforce Management | Workforce Management |
| Knowledge Management | Visual Agent | Customer Experience Analytics | Customer Experience Analytics |
| Connections | Self-Service Portal | Agent Assistance | Agent Assistance |
| API Access | | Proactive Outbound Engagement | Proactive Outbound Engagement |
| AI Platform | | | Explore Experience Clouds |
| Also Available: | | | Financial Services Experience Cloud |
| 60+ out-of-the-box integrations | | | Healthcare Experience Cloud |
| 80+ AppConnect marketplace | | | |
So, which one is for you? Both of these scale very well, but Five9 may be more useful for businesses with calling requirements that vary consistently. For example, a non-profit that has irregular pushes for donor outreach might prefer the pay-as-you-go, pay-for-what-you-need structure of that provider. This means that when you don't need the service, you won't be paying for unused features.
Talkdesk, on the other hand, is useful for large enterprises with more regular calling and might have a larger (1,000+ member) staff. This makes it a good go-to for those considering opening multiple contact centers across multiple territories that need consistent reliability.
Five9 vs Talkdesk: A Quick Comparison 
Now that we've given you a quick glimpse into the plans available from each provider, let's take a look at a feature-by-feature comparison between the two.
Five9
Talkdesk
Plan Options

Professional
Professional Plus
Enterprise

Pricing Structure
Tiered
Tiered
Service Quality Tools
Call Monitoring

Call Barge

Call Whisper

Call Recording

Call Monitoring

Call Barge

Call Recording

Service Uptime Service Level Agreement
99.999%
100% with Enterprise Plan
Data Centers for Georedundancy
5
9
Omnichannel Platforms
Voice, email, SMS, chat, social, visual IVR, video engagement
Voice, email, SMS, chat, social, chatbots
Dialing System
Predictive, Progressive, Power, TCPA
Predictive
Five9 vs Talkdesk: A Head-to-Head Face-Off
To really help you figure out which provider fits your needs, we are going to take several aspects that you may want to have and compare each topic thoroughly. After we discuss what each provider offers, we will decide who the winner is for each category so that you can create a tally based on the specific needs of your company. Let's get started.
Omnichannel Offerings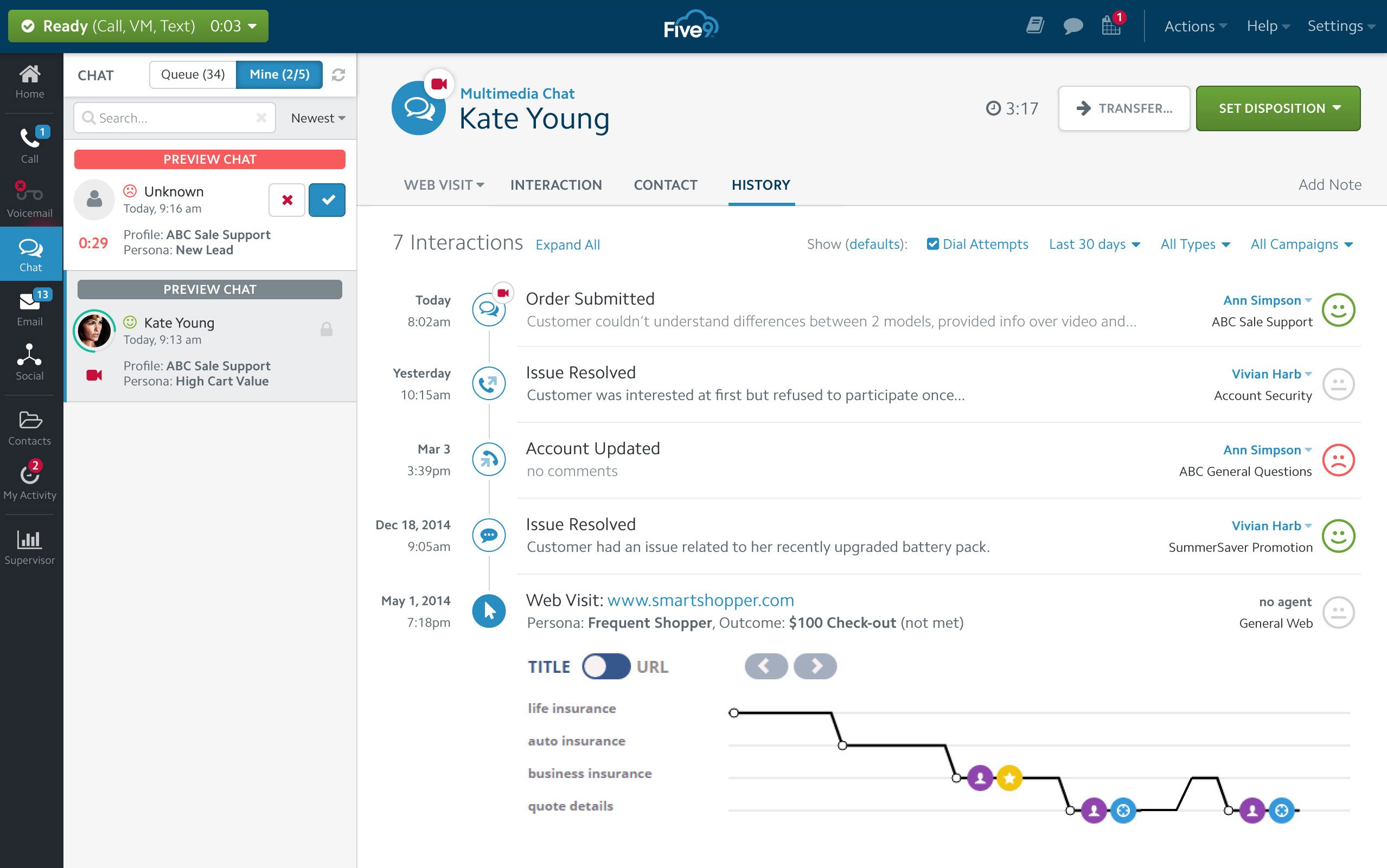 When you have a contact center and you need to make contact with customers regularly, the more touchpoints that you have available, the easier it will be for customers to contact you on their own terms. In our State of Contact Centers piece, we explained how having an omnichannel contact center can increase the efficiency of a business. In fact, many agents can handle more than one customer at the same time if they are using multiple touchpoints. So, what do these two providers offer when it comes to ways to engage customers?
Five9 is fully stacked with options that allow customers to make initial contact using any of their touchpoints and move seamlessly between them whenever they need to. As a provider, they also offer real-time reporting and recording on these channels to make sure that the customer experience is optimal. The provider allows contact using these touchpoints:
Voice
Email
SMS Messaging
Social Media Messaging
Web Chat
Chatbots
Self-Service
Visual IVR
Web Engagement
Video Support
Talkdesk also has omnichannel support so that customer contact is easier to maintain. It allows interactions to happen more quickly, and agents can easily move from one touchpoint to another during the interaction if the customer requests it. The touchpoints include:
Voice
Email
SMS Messaging
Social Media Messaging
Web Chat
Chatbots
Video Support
Winner: Five9
Both providers offer all of the major touchpoints for contact with a customer, but Five9 has a few more options that may be critical for solving issues with customers and producing new opportunities for leads during interactions.
Available Integrations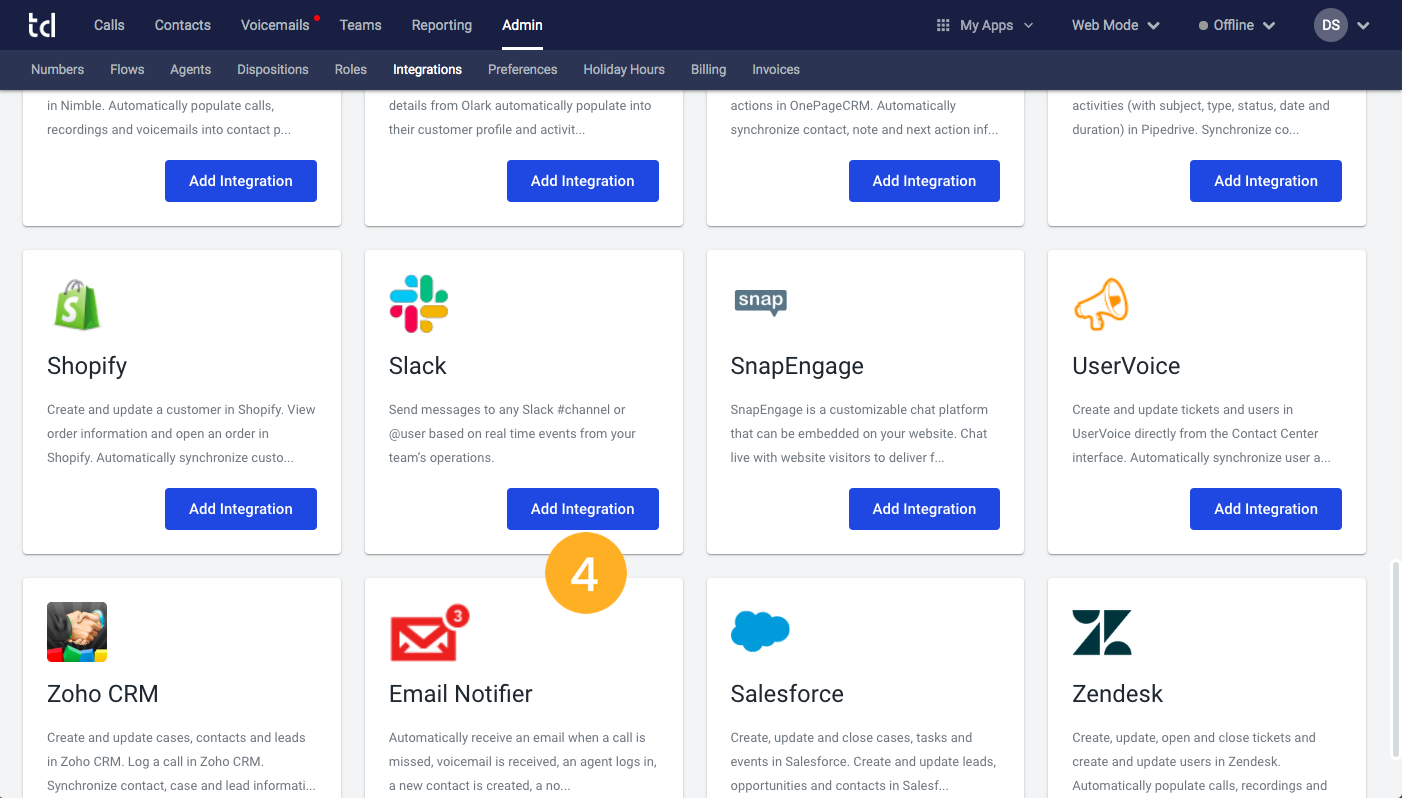 If you have a business today, you know how important CRM VoIP integration is to making lead outreach more streamlined. With the right integrations, whether they are CRM or third-party, you will be able to cut the overall costs and make agents much more prepared for each call. In fact, the right CRM integration increases the chance of conversion during contact with a customer by up to 300%. Because of this, you are going to want to have the most CRM options available as soon as possible so that your team is ready to go.
Five9 says that they have "hundreds" of integrations on their site; however, many of the options that they have available are not published. They do include some of the CRM integrations that are most important for business as well as UC integration. The provider has built-in packages that are designed to accommodate contact centers and other specific businesses, and they allow users to customize their integrations to help you optimize your agent's productivity.
Talkdesk provides more information about their integrations, and they provide access to 60 of these out of the box. This type of full integration will give agents the option to integrate additional screens and click to call features to help them save time. Customer data will be synchronized at the beginning of every call so that the agent has any information from previous calls that may be important.
This provider has AppConnect, which is a platform that grants access to several third-party software packages. These are designed to work with the provider and deliver extra functionality for management and agents using the service. The app market is consistently growing, so this is a good future-ready feature of the provider.
Here are some of the integrations that each provider has made available:
| | |
| --- | --- |
| Five9 | Talkdesk |
| Salesforce | Salesforce |
| Zendesk | Zendesk |
| SugarCRM | BigCommerce |
| Authority | Contactually |
| Oracle | Freshdesk |
| Netsuite | Front |
| Velocify | Help Scout |
| Microsoft Dynamics CRM | Highrise |
| Zoho | Infusionsoft |
| Skype for Business | Intercom |
| Bitium | Kustomer |
| Freshdesk | LiveChat |
| | Microsoft Dynamics CRM |
| | Nimble |
| | Olark |
| | OnePageCRM |
| | UserVoice |
| | Snap Engage |
| | Pipedrive |
| | ServiceNow |
| | Shopify |
| | Slack |
| | Engage |
| | Zoho |
| | Microsoft Teams |
| | Salesforce Desk |
Winner: Talkdesk
Both of these providers have most of the essential integrations available, but Talkdesk has far more overall. In addition, there are 60 integrations ready for you to use right away, which means there is no need to configure them or spend significant time setting them up. The idea of having integrations is to save time so that your agents can be more productive. With that being said, building your own integrations is less attractive than having a pre-set package that's ready to work within seconds.
Management
Contact centers need to manage teams effectively, which is often done using agent management and reporting tools. When it comes to managing calls, Five9 has an approach that focuses on the quality management of the agents, as well as the historical data of interactions with customers. As a provider, they utilize the standard 22 KPI's that contact centers should be concerned with (these are the ones covered in our call center metrics article that is linked above). They also use real-time reporting to schedule agents according to call volume. All contact is recorded so that coaching is simplified and agents can be more efficient.
Talkdesk focuses more on the reporting aspect of managing teams. They have real-time reporting as well as alerts to indicate when an agent is falling behind on their goals. Calls are recorded and analytic info is collected to provide context. One of the key contact center features that this provider lacks is call whisper. This feature allows a supervisor to converse independently with agents when they are on the line with a customer. This coaching is done without the customer's knowledge and helps achieve first call resolution and reduced customer bounces.
Winner: Five9
If you are looking for management options that go beyond reporting metrics in real-time, Five9 has much more comprehensive management tools that will be useful for a contact center. The fact that Talkdesk is lacking call whisper is very noteworthy for many contact centers. Still, if you need other standard management and coaching features like monitoring and call barge, then Talkdesk is a competitive choice.
Uptime and Reliability
| | | |
| --- | --- | --- |
| | Five9 | Talkdesk |
| Uptime SLA | 99.999% | 100% (Enterprise) |
| Number of Worldwide Data Centers | 4 | 9 |
| Essential Technology | Redundant subsystems and compartmentalized security zones | Browser communications backup plan (BCBP) provides continued connectivity even when the provider's carrier is experiencing connectivity issues |
| Security | Member of the Cloud Security Alliance (CSA), HIPAA compliance, and multiple security standards | 30 security certifications |
| Infrastructure | Carrier-grade telephony | Global latency architecture |
Uptime and reliability are essential for business. Ideally, you are going to want as little downtime as possible to make the company more efficient. Five9 has five Tier 4 data centers in the United States and Europe. The data center in Florida is specifically for the LATAM region. This is efficient in most cases, but if something happens to the data centers in the US, there is very little backup in place.
Additionally, even though the name of the provider implies that they have a five 9s uptime, their actual guarantee provides an uptime of 99.994%. This service level agreement actually allows for 31 minutes and 33 seconds of downtime a year, which is not massive, but it can be problematic for some businesses.
Talkdesk has nine data centers that are distributed around the globe. This increased georedundancy ensures that there will be a backup in place to pick up the slack if one of the data centers goes down. Additionally, Talkdesk has a 100% SLA for Enterprise Plan users. This means that you will never have downtime when your agents are available to make contact with customers. This provider even has a disaster recovery program that helps them stay on top of eliminating any issues that could potentially cause downtime.
Winner: Talkdesk
Overall, Talkdesk outperforms Five9 for reliability and uptime. They guarantee 100% uptime and the disaster recovery that they offer automatically kicks in so that no data is lost in unforeseen circumstances.
Technical Support
As a business owner, it's important that customers are able to contact you whenever they need to. Both of these providers can be contacted 24/7. Email and phone support are supplied by both providers as well as self-service options which include video tutorials and e-guides. They also provide a FAQ section that customers can use for common questions.
Five9 has a few more offerings that make contacting them easier. They have instant chat available as well as online support and training courses that are lead by an instructor. If you opt for the premium plan, you will get dedicated reps as well that are trained to offer premium support.
Winner: Five9
Since Five 9s has more methods of getting support and they offer training videos and live instructions to customers, they win this battle. You may have to log in, but this additional step should not matter if you select them as your provider.
User Experience: What are Customers Saying?
For some, information about uptime, the dialing system, and Management features are all academic. What are the user reviews saying? We've taken a look at what some of GetVoIP's users have been saying about both providers, and here are a few that stand out:
Here's what Five9 users are saying:
"The service is very reliable and dependable. They have great customer support. Issues are always resolved in a timely manner and they stay in constant communication with you with updates so you always now the status of your issue being resolved. You can customize your features to meet all of your business needs." – Tina A.
"Even though we're a small call center, Five9 provides the support and attention we need. The Five9 platform meets all of our needs and makes our call center run more effectively." – Jake N.
Here's what Talkdesk users are saying:
"Talkdesk is an excellent platform on which to connect with customers across a variety of communication methods such as phone, chat and email. It provides well developed tools to monitor performance and deep integration across the various apps. The cloud based approach allows colleagues to work remotely and connect across all of our sites easily and has helped during the current COVID-19 pandemic." – Paul James R.
"This is easy to use. Everyone will be able to learn to use it and be able to use it with ease. Makes monitoring the agents and statuses easy. All of the monitoring is on one screen so it is easy to find statuses of a specific agent. Finding the calls stats for the day is conveniently in one location and you are able to change the dates and times to monitor a certain time frame easily." – E'Llysa A.
Five9 is a More Well-Rounded Platform
Simply put, for most organizations, we find that Five9 wins out when comparing the two providers. As you read in our face-off section, out of the five criteria that we measured, the provider won three. We also found that the pay for what you need aspects of the service were simply more useful for most SMBs looking to break into the contact center market. We'd recommend going with Five9 if you:
Need increased auto dialer features – the provider has progressive, power, TCPA, and predictive dialers
Need fuller omnichannel outreach; Talkdesk is missing visual IVR.
Need a more flexible model that allows you to add on features and pay only for what you use.
Need call whisper to coach agents during customer interactions without the customer being aware of supervisor/manager presence.
Talkdesk is still a favored provider for CCaaS, but a lack of call whisper really stands out as a missed opportunity for the provider. Still, you won't easily find a more convenient IVR call flow management that lets you change your menus on the fly. Also, the 100% uptime guarantee is a major consideration for businesses looking for stability. Consider Talkdesk if you require:
No setup fees for the CCaaS service.
A more immersive interface that is very easy to use and requires very little coding to add connectivity.
Access to several AI-based tools that help boost self-service and augment agent knowledge.
A system that has both historical and real-time reporting features.
Both of these providers deliver strong cloud-based contact so that you can reach your customers where they want to be contacted, but if you're looking for a broader business VoIP experience that encompasses both UCaaS and CPaaS, check out our business VoIP pages. We have comparison tables as well as pros and cons for each, and you can even read customer reviews for each.