When your call center is facing low customer satisfaction scores, inconsistent employee performance, and lost revenue from poor scheduling management, the first step is to identify the root cause.
Workforce Management (WFM) software uses AI analytics, advanced forecasting strategies, scheduling automation, and even employee engagement tools to help call center managers understand how to better support agents and customers.
In this post, we define workforce management for call centers, outline essential WFM features, explore the benefits of WFM software, and review top providers.
What Is Workforce Management in a Call Center?
Workforce Management is a suite of intelligent analytics, scheduling, forecasting, and performance management tools that optimize everyday call center operations, ensure continued alignment with long and short-term business goals, and improve the customer experience.
Workforce Management includes Workforce Optimization (WFO) to optimize agent performance and Workforce Engagement (WFE) to increase employee engagement and decrease agent attrition.
WFM helps businesses: 
Make data-driven decisions based on real-time and historical call center activity
Deliver and maintain superior customer service and high customer satisfaction levels
Optimize agent schedules, especially during peak times
Ensure all shifts have agents with all necessary skill sets
Identify gaps in agent training, top performers, and common customer requests
Increase team collaboration and employee satisfaction rates
Improve resource allocation, balance workloads, and streamline complex business processes
How Call Centers Benefit from WFM
Workforce Management software offers huge benefits to call and contact centers, including:
Risk Management: Decreased exposure to common business risks like human error, scheduling conflicts, and poor customer service
Streamlines Employee Training+Onboarding: Provides ongoing training via live and post-call coaching, uses analytics to identify gaps in agent training and training materials, scores agent performances to provide detailed feedback, automates the onboarding process, internal knowledge base gives agents instant access to company policies
Cost Savings: Optimizes available agents to avoid additional hires, identifies roadblocks in the buying process/customer journey to increase revenue, automates routine business processes to lower cost per contact
Optimized Schedules: Ensures enough agents are available to assist customers and generate revenue, lets employees manage their own schedules/PTO requests, uses historical analytics to help call centers prepare for peak times
Increased Employee Engagement: Balances workloads and prevents agent burnout, provides 1:1 coaching and training, recognizes top employees, improves schedule adherence, gamifies performance, increases team collaboration
Improved Customer Experience: Encourages customer loyalty, collects customer feedback, helps team members provide personalized and error-free customer support, limits hold/wait times, increases first-call resolution rates, lowers average call handle time
Key Components of Call Center WFM
The most important workforce management and workforce optimization features are:
Forecasting and Agent Scheduling
Forecasting uses historical and predictive analytics to help call center managers anticipate and plan for future scheduling and staffing needs, workload adjustments, and shifts in customer behavior and buying trends.
Most contact center platforms offer automated, template-based, value-based, and historical analytics-based forecasting strategies.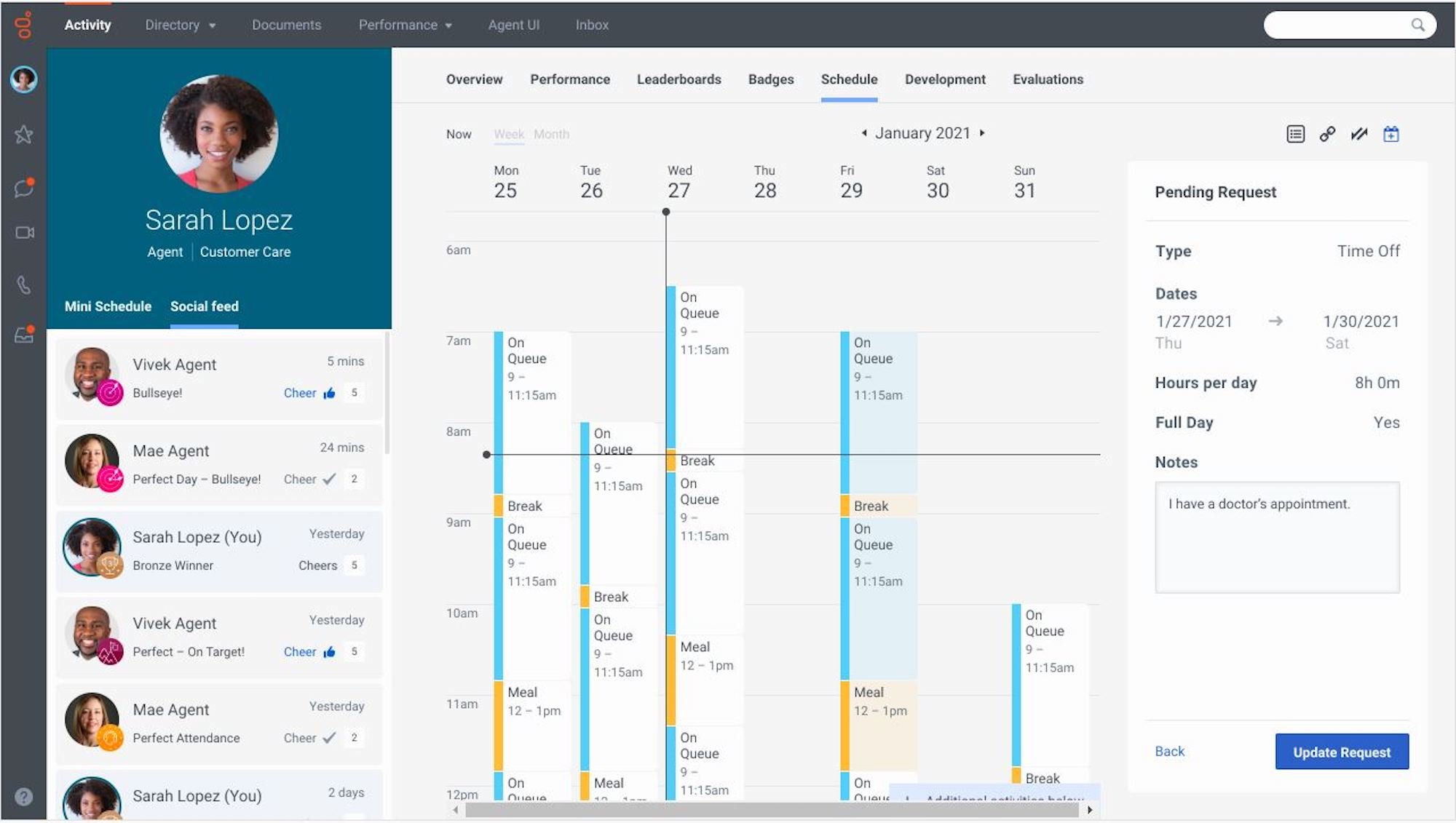 Forecasting ensures your call center has enough agents–and agents with the necessary skills and training–scheduled to manage increased call volumes during peak times.
Additional forecasting and agent scheduling features include: 
Suggested schedules
Manual and automated real-time schedule adjustments
Schedule adherence monitoring
Rules-based scheduling, skills-based scheduling, channel-based scheduling
Benchmarking
If/Then ("What If") Scheduling
Automated workflows
Real-time call queue, call group, and call flow path editing (intra-day management)
Agent shift bidding and scheduling adjustments
PTO and payroll management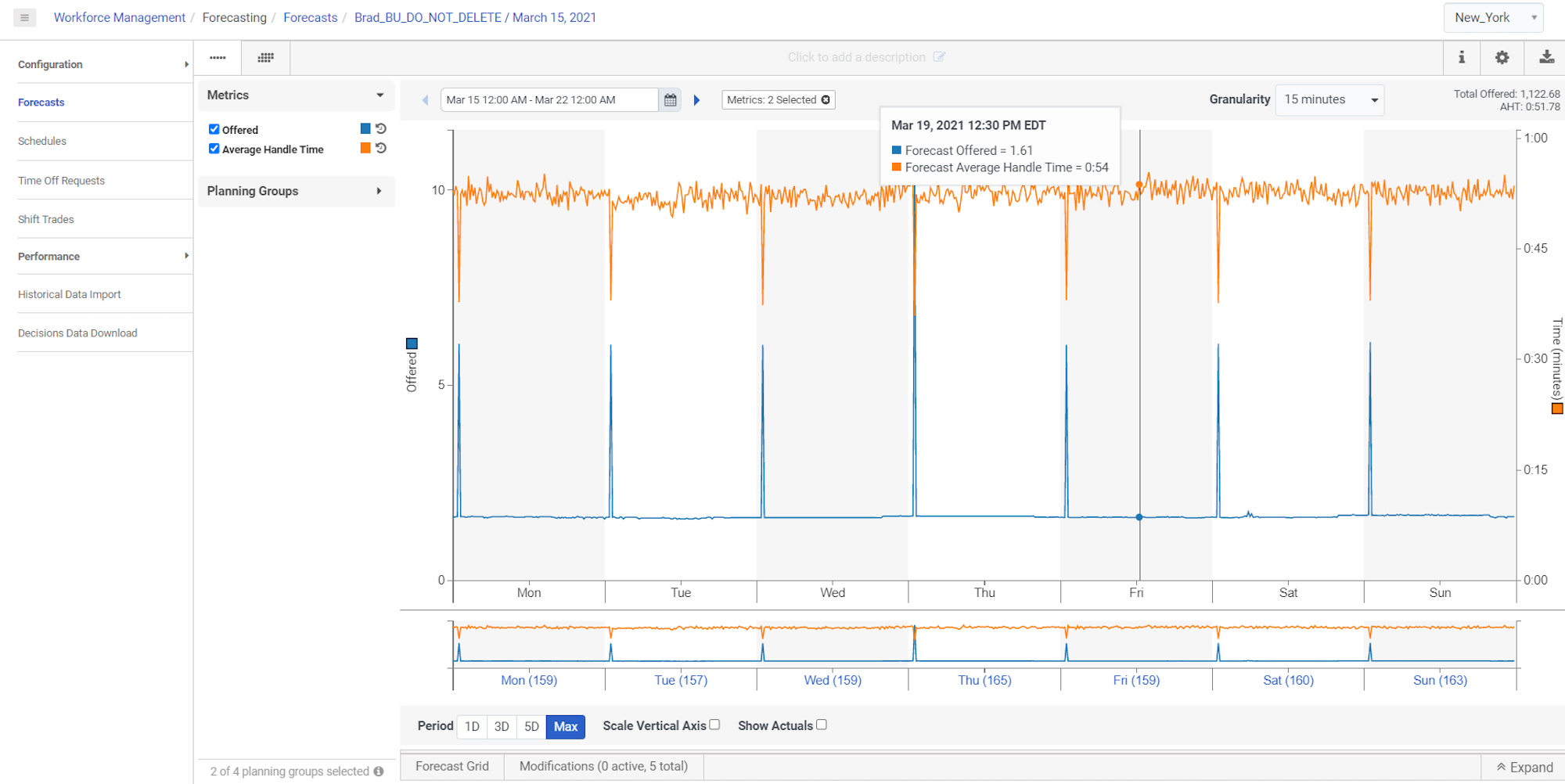 Performance Management
Performance Management, or Quality Management, is the continual process of evaluating and improving employee performance to ensure an excellent customer experience and high employee engagement.
The Performance Management process consists of 5 stages:
Set performance goals and employee expectations that align with business objectives
Create and implement the employee training process
Monitor real-time customer:agent interactions and historical performance metrics
Create and implement a method of rating employee performance and provide actionable feedback and coaching
Recognize, reinforce, and reward top performers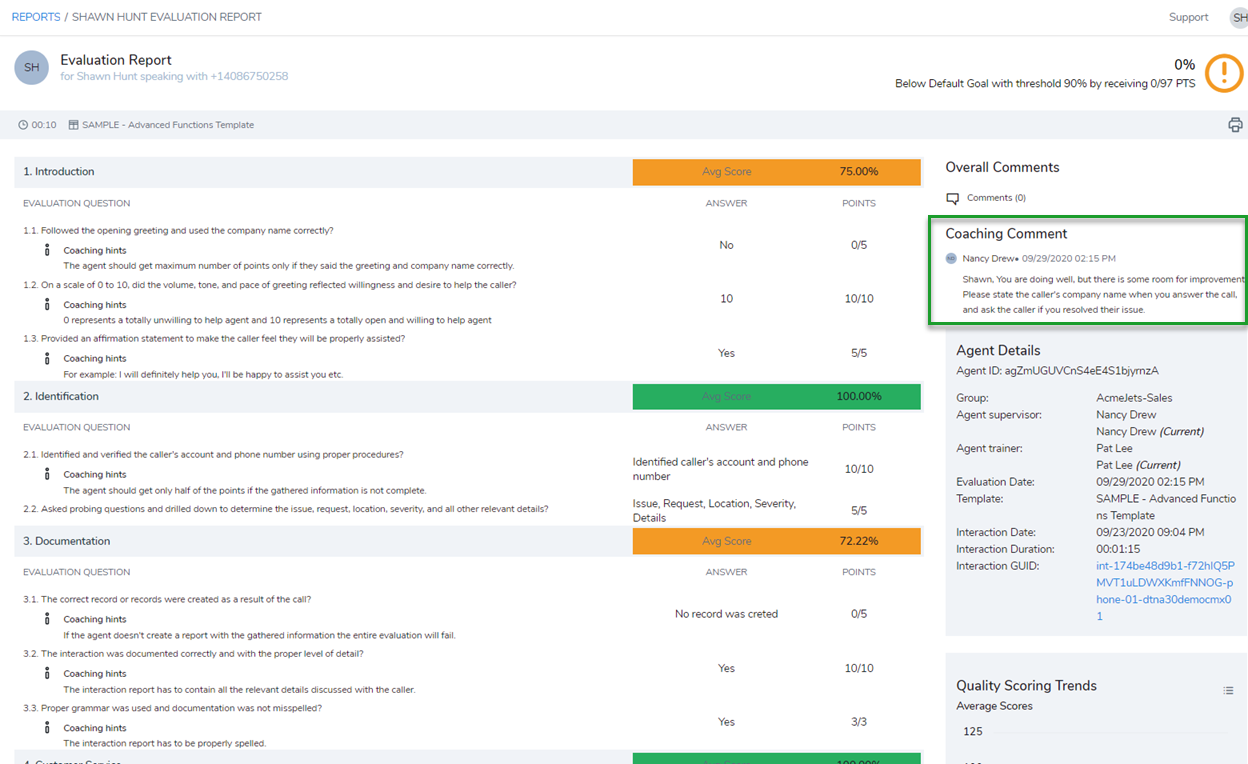 Common CCaaS performance management features include:
Call Monitoring: Managers can listen to/evaluate active customer support calls in real-time, whisper suggestions to agents during the call, or take over the call via call barge.
Call Recording: Managers review prior customer:agent interactions by listening to call recordings and reviewing searchable call transcripts (speech analytics may highlight important conversation moments)
AI Agent Assist: AI-powered in-conversation pop-ups using NLP and speech recognition to automatically display relevant call center scripts, internal knowledge bases, and canned responses on agent screens
Agent Scorecards: Automatic post-call agent scorecard with custom KPIs (first call resolution rate, call transfer rate, post-call work time) and AI analytics (customer sentiment analysis, utterance monitoring, user presence/time tracking data, etc)
Agent Coaching: Managers provide live agent coaching via chat messaging/call whisper, then assign agents relevant training modules based on performance metrics and customer feedback. Managers can enable automated KPI alerts to assist struggling agents and use previous call recordings/transcripts to create a "best practices" repository for agents to review
Agent Performance Gamification: Real-time agent activity monitoring and leaderboards instill a sense of friendly competition, boost productivity/support quality, and let managers publicly recognize and reward top performers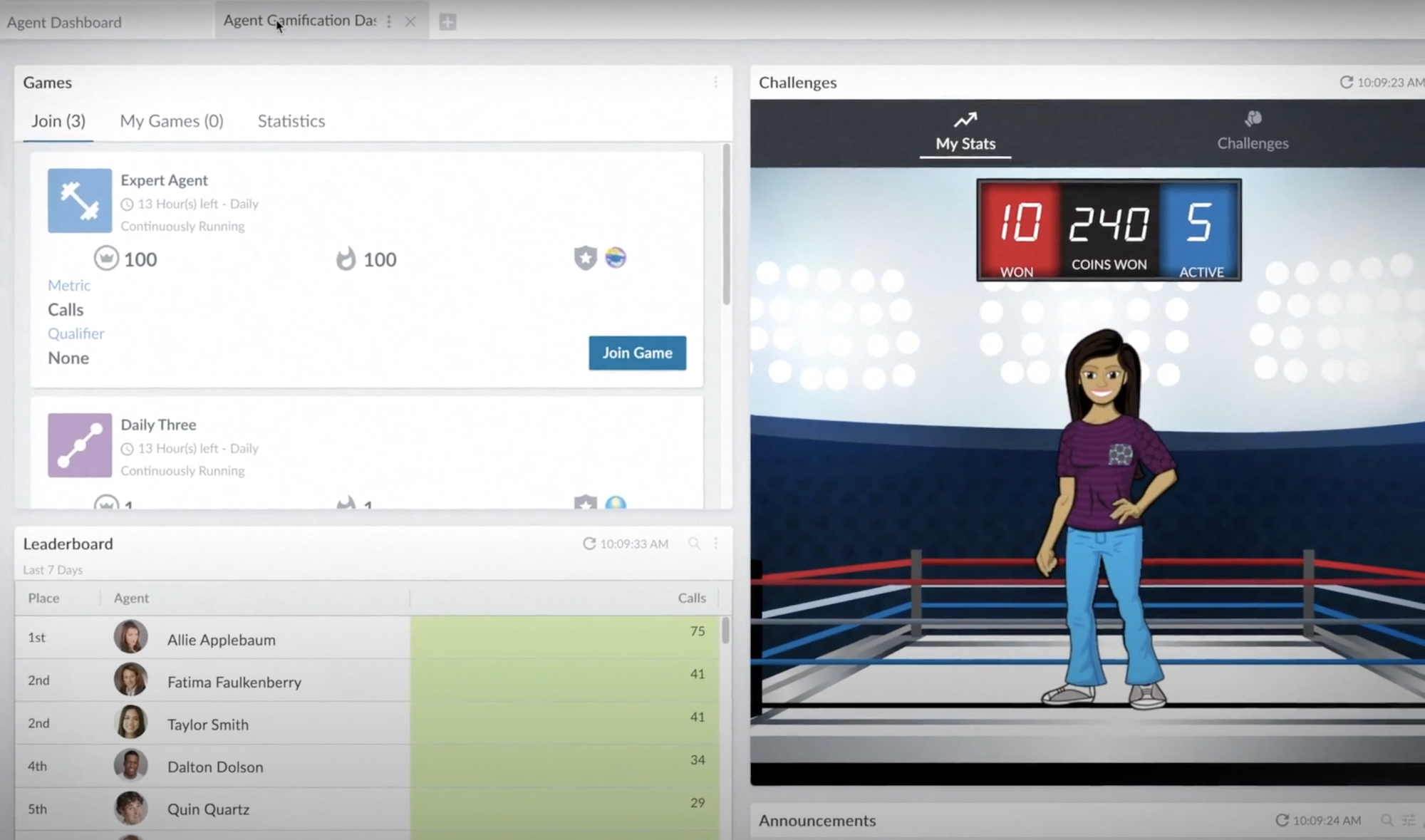 Customer Surveys
Template-based and customizable omnichannel customer surveys help call center managers collect feedback, identify customer journey roadblocks, and evaluate agent performance.
Popular customer survey formats include open-ended or multiple choice questions, star/number rankings and ratings, CSAT scoring, and NPS surveys. Survey data can be updated in real-time and automatically collected post-interaction across voice and digital channels.
Customer surveys provide unbiased insights into the overall customer experience, identify top performers, and highlight areas for improvement.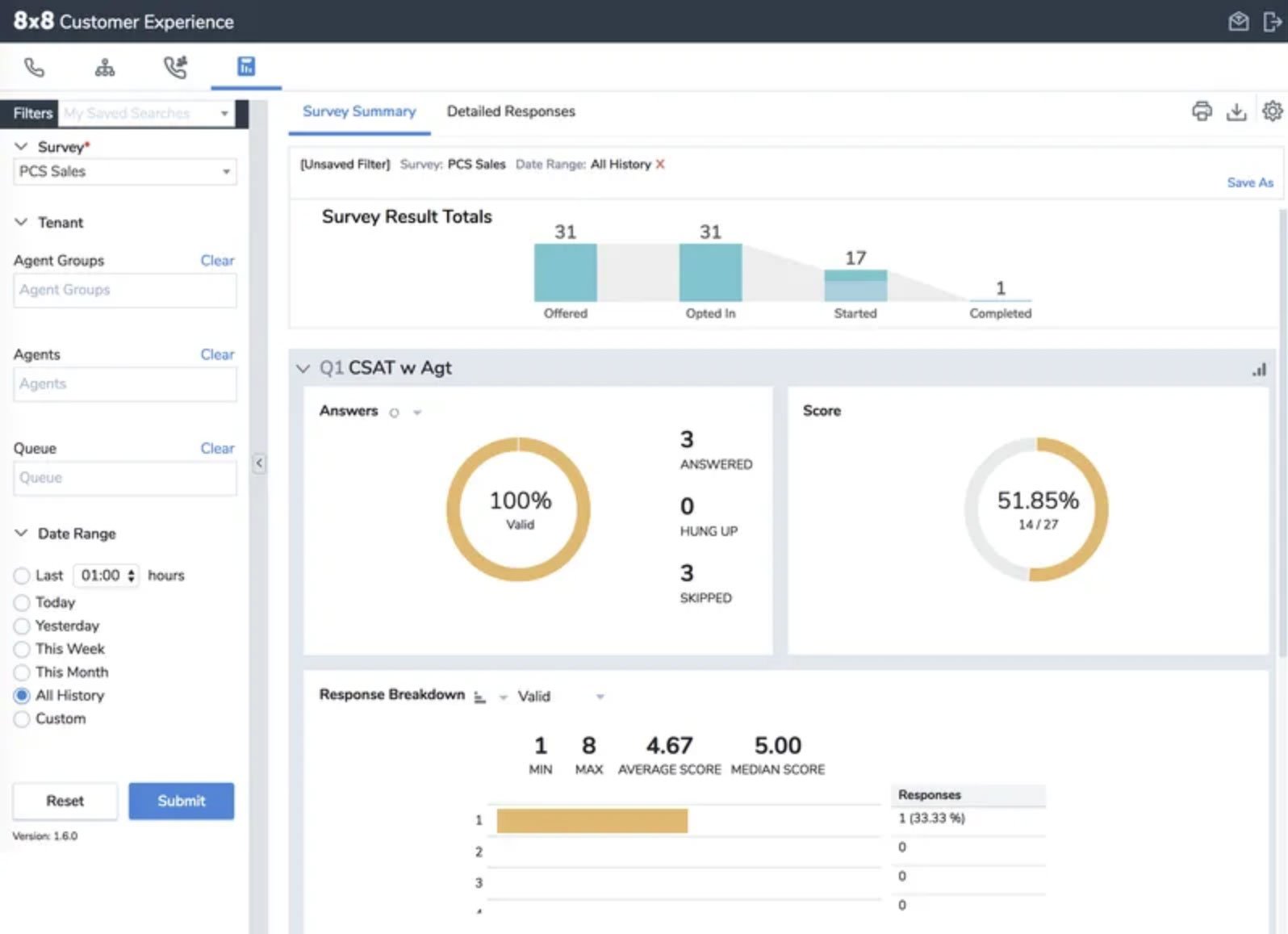 Conversation Intelligence 
Conversation Intelligence is a series of advanced AI Customer Experience Analytics powered by Natural Language Understanding, Speech Recognition, and Machine Learning. Conversation Intelligence uses speech and text analytics and data aggregation to evaluate nearly 100% of omnichannel interactions.
Admins can use custom call center KPIs to create bespoke Conversation Intelligence Reports, or choose from pre-made reporting templates like keyword word clouds.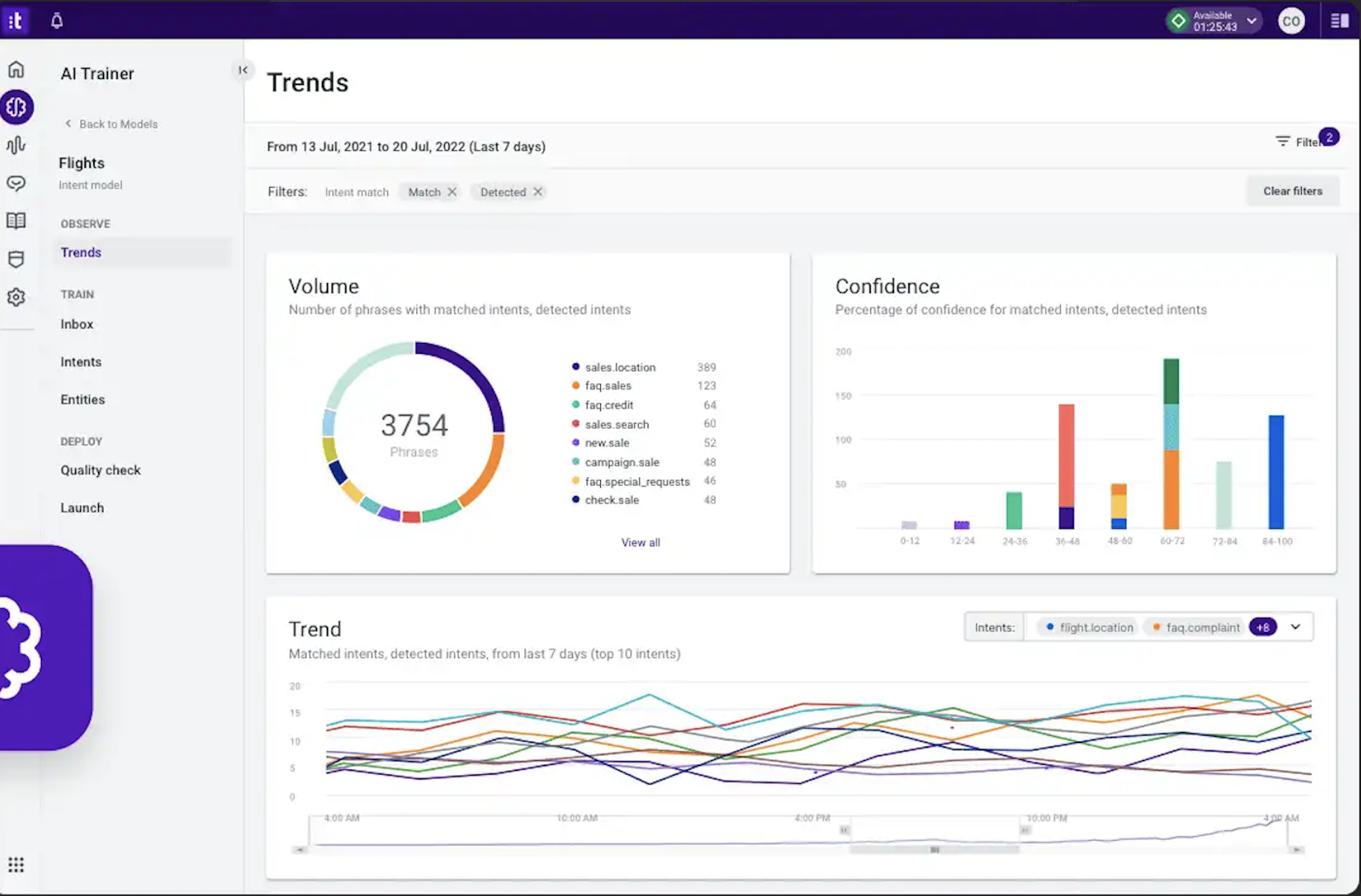 Conversation Intelligence provides insight into:
Customer complaints and their root causes
The customer journey and buying cycles
Gaps in agent training
Keywords and common support topics
Customer sentiment (mood and emotion)
Speech Analytics/Customer Experience Ai analytics: keyword analytics, word clouds, customer sentiment monitoring
CRM and Helpdesk Software Integrations
Third-party integrations, especially with popular CRM platforms and helpdesk software, are another essential Workforce Management capability.
CTI screen pops give agents in-conversation access to essential customer data like account value, order history, agent notes, and even CSAT scores. Helpdesk integrations automate the ticket management process and let admins create a searchable internal knowledge base accessible during live interactions.
Popular CRM and helpdesk platforms include Salesforce, Zoho CRM, Zendesk, Freshdesk, HubSpot, and SugarCRM.
Effective WFM: Tips and Best Practices
Best practices for effective workforce management and optimization include:
Collect employee feedback: Conduct anonymous employee surveys to identify team members needs, learn about ineffective business processes, and increase agent retention rates
Review analytics at set intervals: Review real-time and historical analytics consistently, and at set intervals, to accurately understand and monitor fluctuations in contact volume, agent status, KPIs, and more
Encourage team collaboration: Use call and contact center UCaaS features like team chat, video calling, file sharing, and whiteboard to foster employee collaboration, identify top performers, and free up managers
Update training materials: Use customer experience data, call recordings, and customer survey feedback to regularly update and improve employee training and onboarding materials
Switch up KPIs: Regularly evaluate and change up the specific metrics you use to monitor agent performance and customer satisfaction, and adjust KPIs to ensure you don't overlook key analytics or root causes
Automate administrative tasks: Save agents and customers time by implementing IVR/IVA, chatbots, automated scheduling tools, and customer self-service features that free up live agents and provide 24/7/365 customer support across time zones
Continually re-examine business goals: Regularly review your long and short-term business goals, and ensure your workforce optimization strategy is in line with them
Technology and Tools for Workforce Management
The table below outlines the 5 call and contact center solutions with the best workforce management features.
Provider
Pricing
Top WFM Features
Best For
NICE CXone
6 plans from $71-$209/month
CXone Guide for proactive customer outreach, Best Pick scheduling suggestions
Enterprise-level contact centers with high daily contact volumes across channels, especially within the healthcare and financial sectors
Genesys
5 plans from $75-$155/month
Predictive engagement with predictive lead scoring, Interaction Toolbox
Businesses of any size providing digital-first customer service, teams needing advanced agent scoring/performance monitoring features
Five9
5 plans from $149-$229/month
Performance Gamification with Marketplace rewards, cost of schedule analysis, 6 forecasting methods
Medium-enterprise-level contact centers heavily reliant on customer self-service across voice and digital channels, especially in the telemarketing sector
8×8
3 quote-based plans
Agent-Customer co-browsing, 8×8 Analytics for Contact Centers
Blended contact centers reliant on AI live and historical analytics to optimize workflows and agent schedules
Talkdesk
– 3 plans from $75-$125/user/month

– Custom, quote-based Experience Cloud Packages

Agent Assist, Talkdesk Live with 17 real-time call center activity dashboards, Interaction Analytics
SMBs with geographically diverse agents, teams needing scalable individual add-ons