RingCentral provides an all-in-one cloud business communications solution across multiple channels including VoIP calling, chat messaging, and video conferencing via its UCaaS solution, RingCentral MVP.
In early 2022, RingCentral launched its Webinar platform – one of the platform's most talked-about additions since RingCentral Contact Center's 2015 debut. These new products, RingCentral Video (formerly Glip/RingCentral Meetings), and RingCentral's robust set of team collaboration tools can all be integrated with hundreds of third-party applications.
In short?
RingCentral has a lot to offer – and it's all instantly accessible in a single, unified interface: the RingCentral App.
Here, we'll cover what the RingCentral App is, how the interface works, standout features, pricing, and more.
Jump to ↓
What Is The RingCentral App?
The RingCentral App is a cloud-based application for all RingCentral users that unifies and syncs message, phone, and video communications into a single interface accessible on any device.
Put simply: The RingCentral App is where teams access all of RingCentral's features and communication channels anywhere, anytime, and on smartphones, tablets and other mobile devices, or desktop computers.
The RingCentral App is uniquely suited to today's remote, blended, and highly mobile workforce, providing a clean, intuitive interface for one-click team communication and collaboration.
The App eliminates the need to switch between applications when changing communication channels, using third-party tools, or collaborating with teammates.
Users can even transition between the desktop and mobile versions of the App during live video or phone calls, and go from a team messaging chat to a video call with one click.
Everything users need for both internal and external communication is at their fingertips.
RingCentral App OS Requirements+Browser Compatibility
The RingCentral App can be used on desktop and mobile devices or via a web browser.
Desktop OS requirements are:
Windows 7 and above
Mac OS X Yosemite and above
Linux Red Hat v7 and up, Fedora v22 and up, Ubuntu
Mobile device OS requirements are:
Android 5 and above
Apple iOS 9.0 and above for iPhone, iPad
Supported web browsers are:
Safari
Chrome
Firefox
MS Edge
Opera
Setting Up The RingCentral App
Here, we'll walk you through the basic setup process for the RingCentral, Inc. Desktop and Mobile App.
RingCentral Desktop App Setup
The download and setup process takes under 3 minutes and requires an email or phone number.
Users can choose from a variety of themes, pictured below: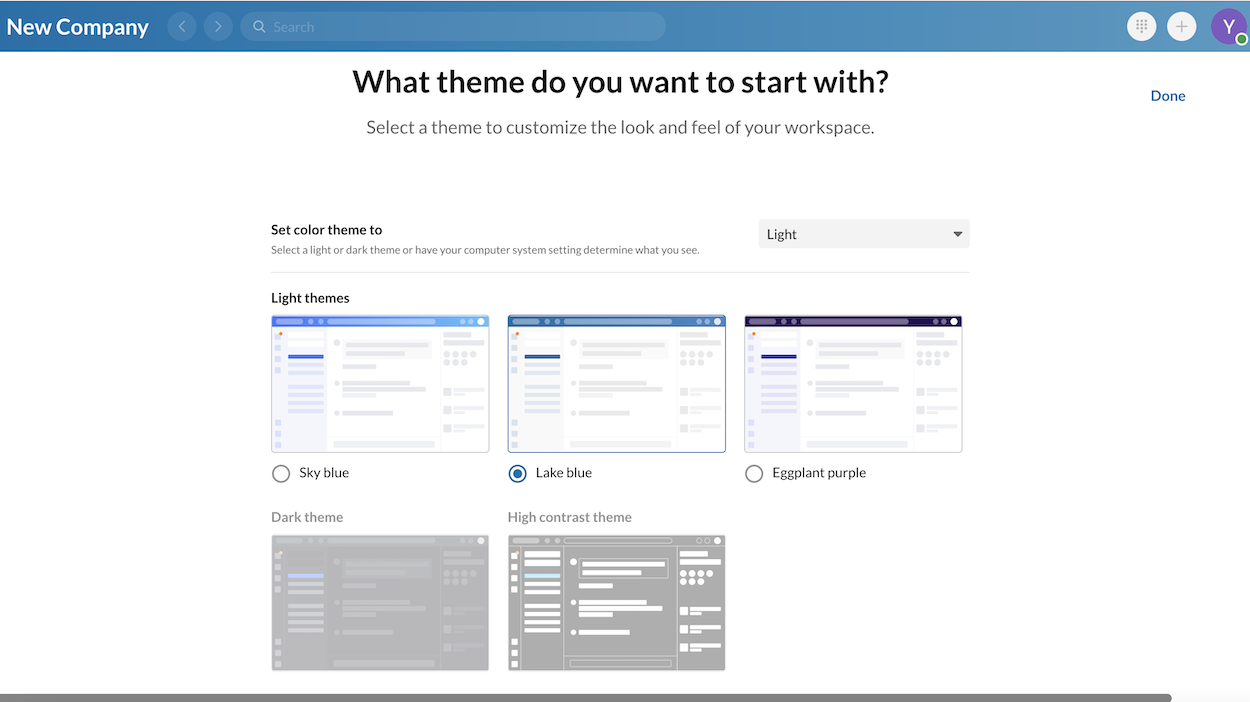 The account admin can name the company workspace, and individual users can create a profile with a photo, name, department, webpage, location, and job title. It's easy to add users directly from stored contacts or invites via email or shared link.
RingCentral also offers numerous customization options, including navigation bar icon order, as shown below: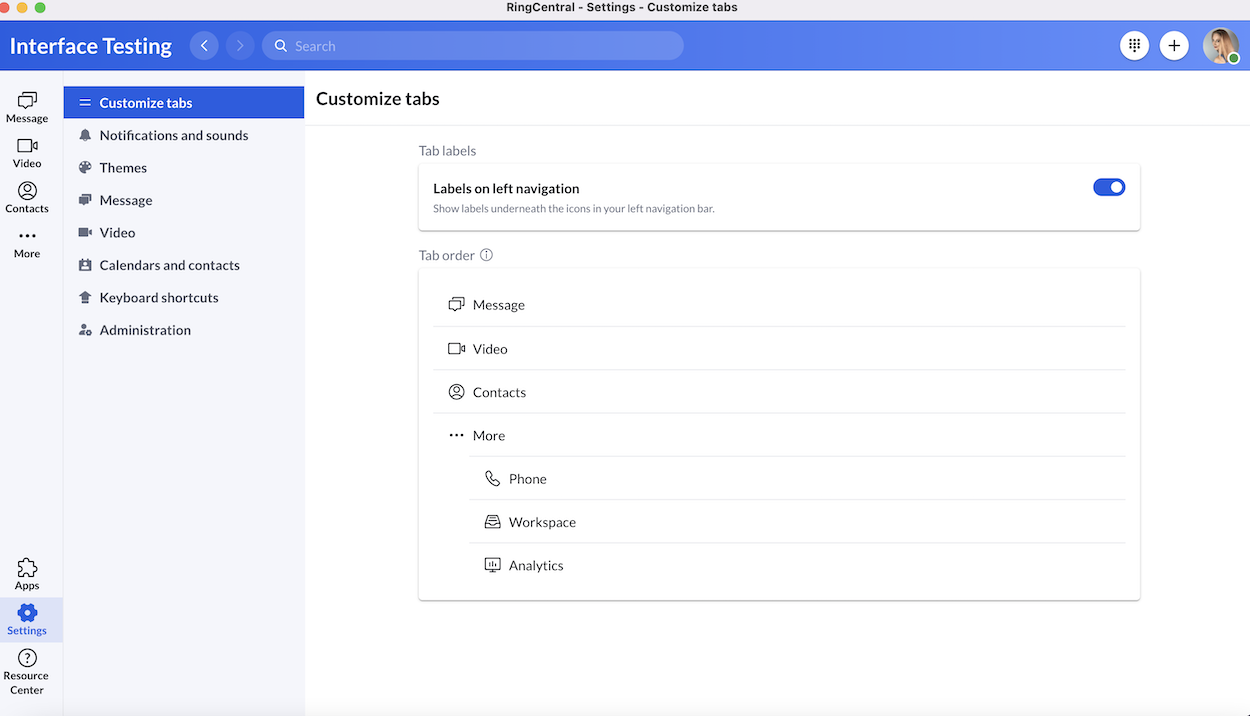 Additional dashboard customizations include:
Notifications and Sound Settings: What activities to receive notifications for, preset meeting reminders, automated reminders at preset intervals, specific notification settings for each communication channel, etc.
Message Settings: Message previews, number of displayed messages, etc.)
Video Settings: Manage Personal Meeting IDs, notification management/Do Not Disturb during meetings, etc.)
Contact and Calendar Settings: Google and Microsoft contacts and calendar syncing
Administration Settings: Add/remove admins, manage public/private team creation, external guest settings, etc.)
RingCentral Mobile App Setup
The Mobile App setup is just as fast, and SSO makes logging in simple. Users can add contacts directly from their iOS or Android contacts list, send invitations to individual contacts, or invite via email.
As shown in the image below, users can create and edit profiles, select up to 5 simultaneous tabs on smartphone navigation bars, connect existing calendars, and set the same customizations as the desktop version.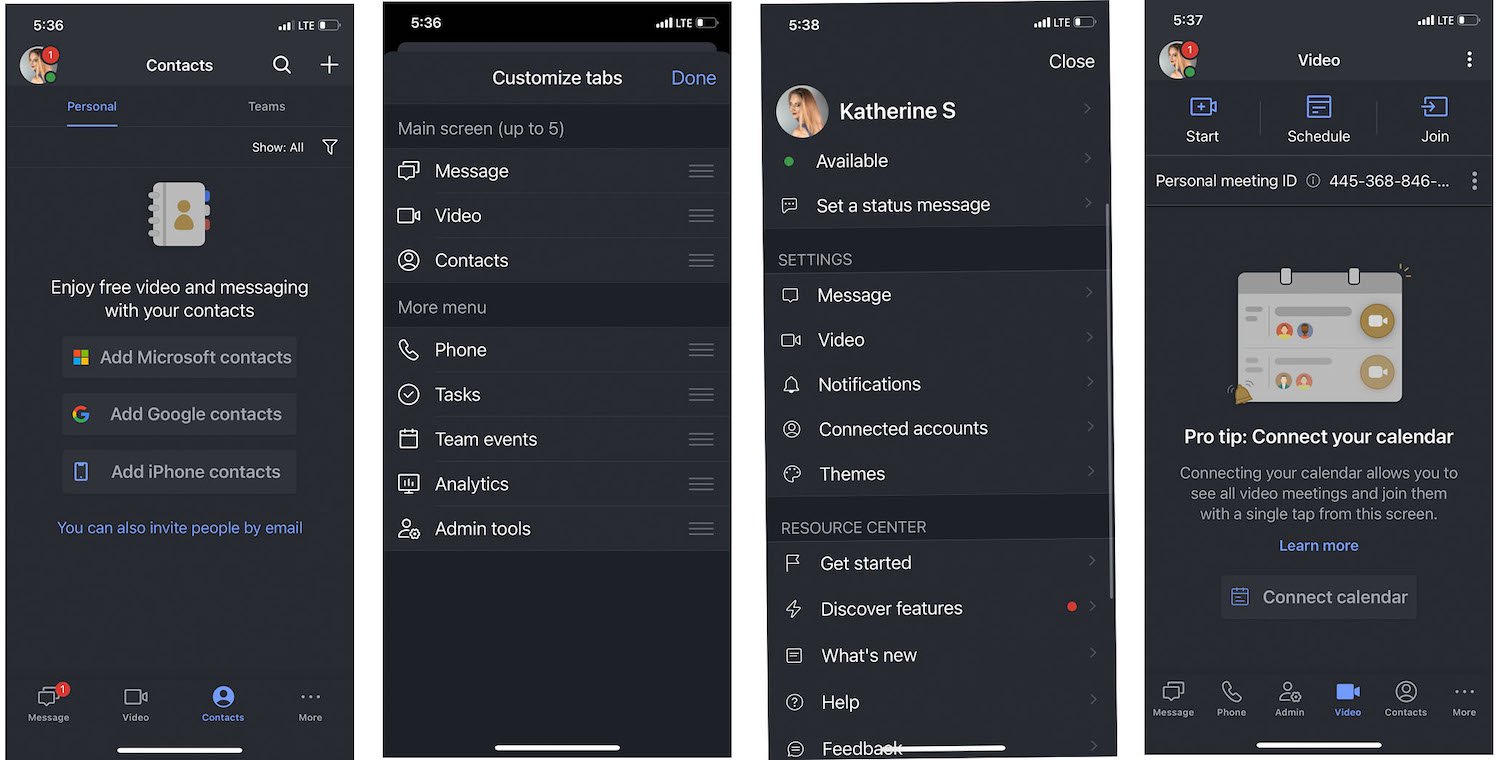 The RingCentral App Interface+Workspace
Now, let's get to know the RingCentral App Interface itself – what it looks like, where and how to access your most-used features and channels, and available customization options.
The below image shows the general RingCentral App Desktop dashboard.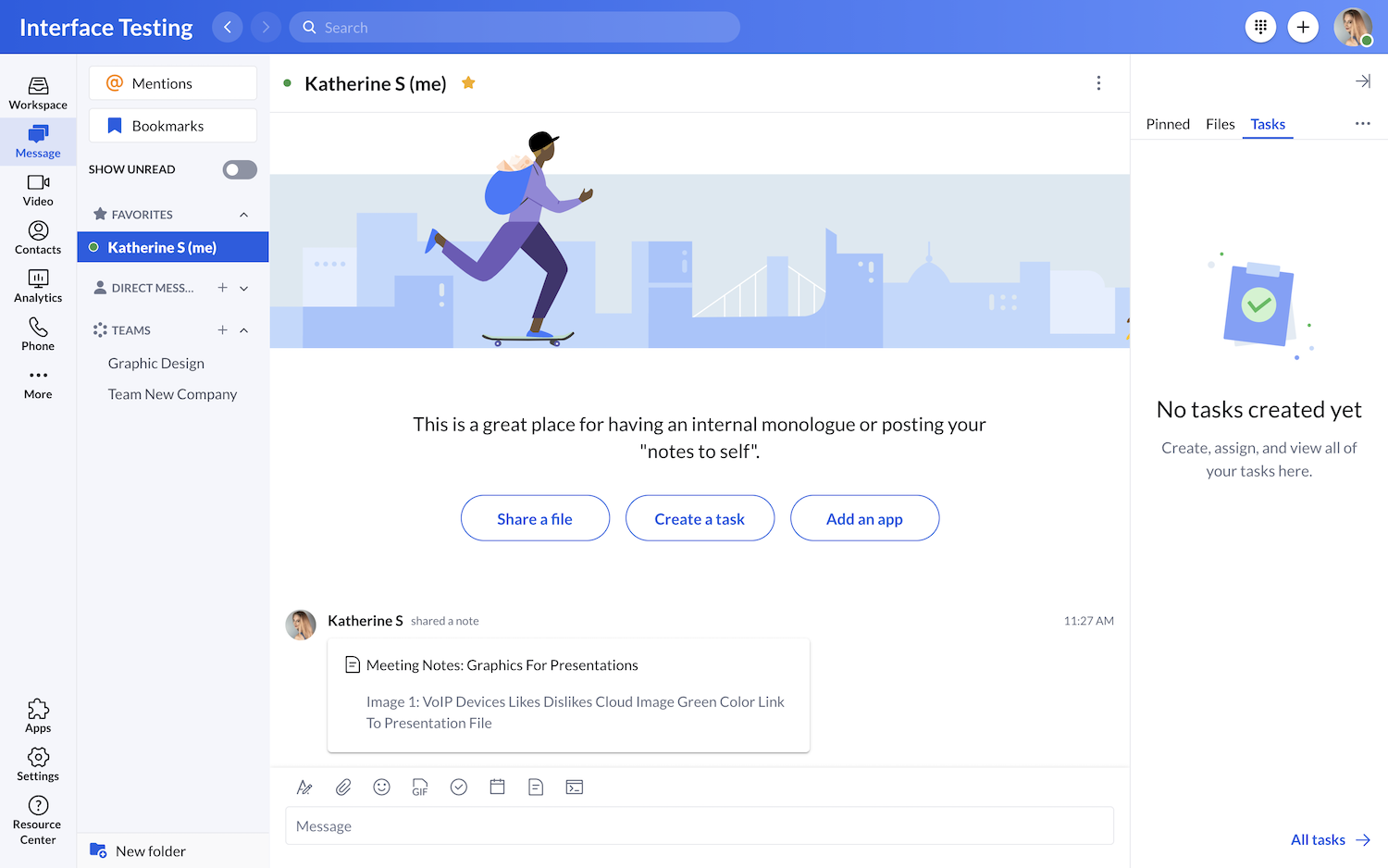 As shown, users can write notes to themselves, message others, create tasks, add third-party apps, share files, or switch communication channels by clicking the desired icon on the navigation bar to the left side. The sidebar to the right is a kind of repository for all recent or important tasks, files, and pinned messages.
To make phone calls, users simply press the dial pad button on the top right corner of the screen – inbound calls will automatically display within the App. The "Plus Sign" next to the dial pad icon lets users send messages, create new teams, invite contacts to RingCentral, and start or schedule a video call.
For a more complete view of upcoming projects and general workflow, RingCentral offers the Workspace view shown below, easily one of the App's best features.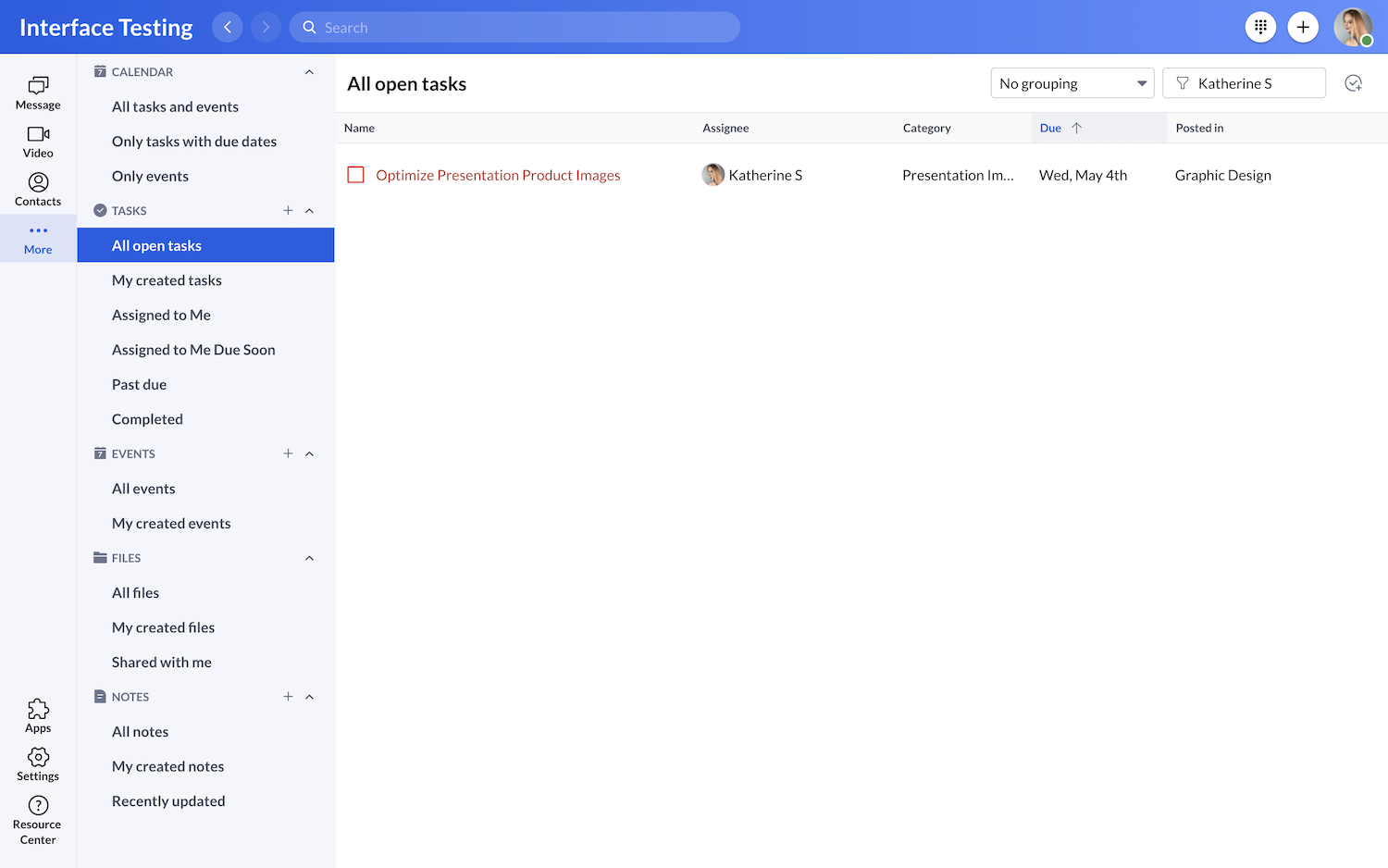 Users can enjoy a sortable, searchable bird's eye view of all upcoming and daily activities, including open tasks, work calendars, upcoming events, notes, and files.
Standout RingCentral App Features
The RingCentral Desktop App grants users access to virtually all RingCentral MVP, Video, Webinar, and Contact Center products and features via the downloadable or browser-based App versions.
As is normal, the Mobile App does not offer the same level of complete functionality as the Desktop App, but key features and channels are still available on smartphones or other devices.
For the sake of this article, we'll be reviewing the best features of the Desktop App, most of which are available on the Mobile App, as well.
RingCentral Phone
Voice calling is available via the RingCentral App softphone, which is essentially a virtual dial pad, on desktop and mobile devices.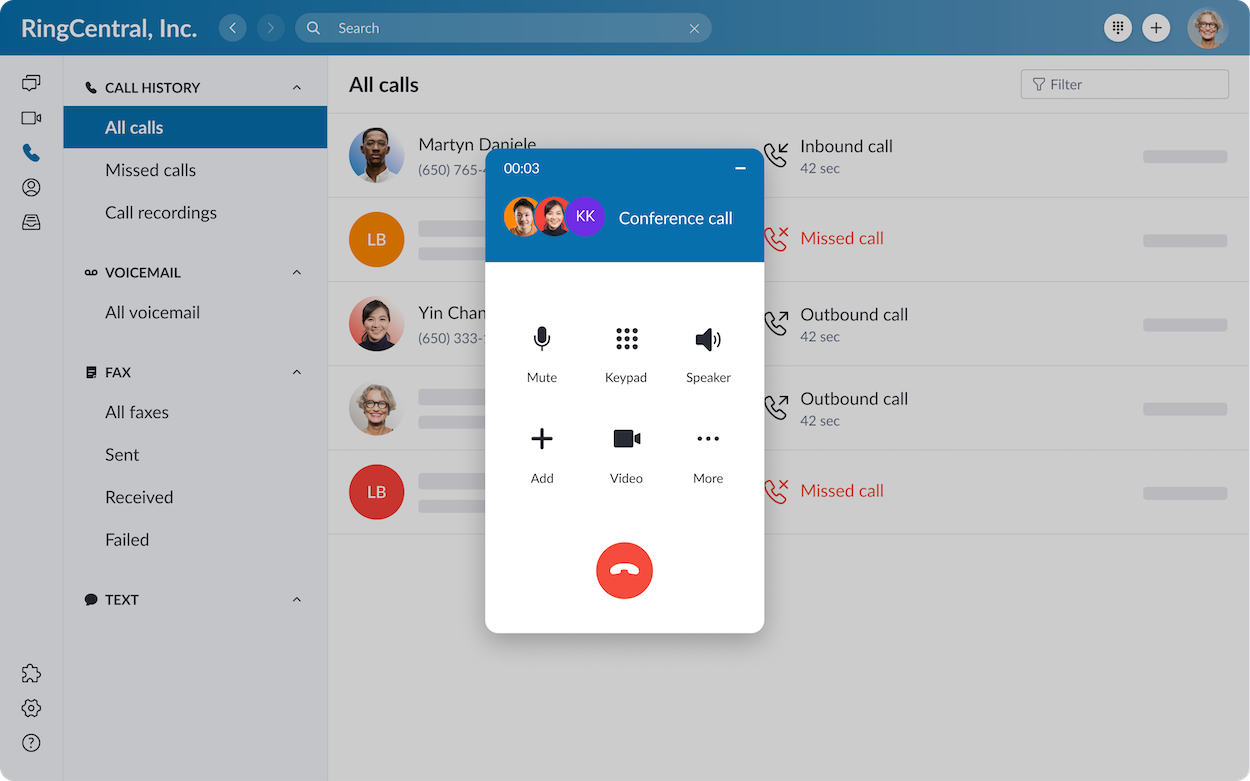 RingCentral Phone offers unlimited calling to the United States and Canada, and local phone numbers are available in over 200 area codes. Admins can easily add new phone numbers and extensions, or choose a local smart number that sends all inbound communication to a single, all-purpose business telephone number.
International calling coverage is available in over 40 countries.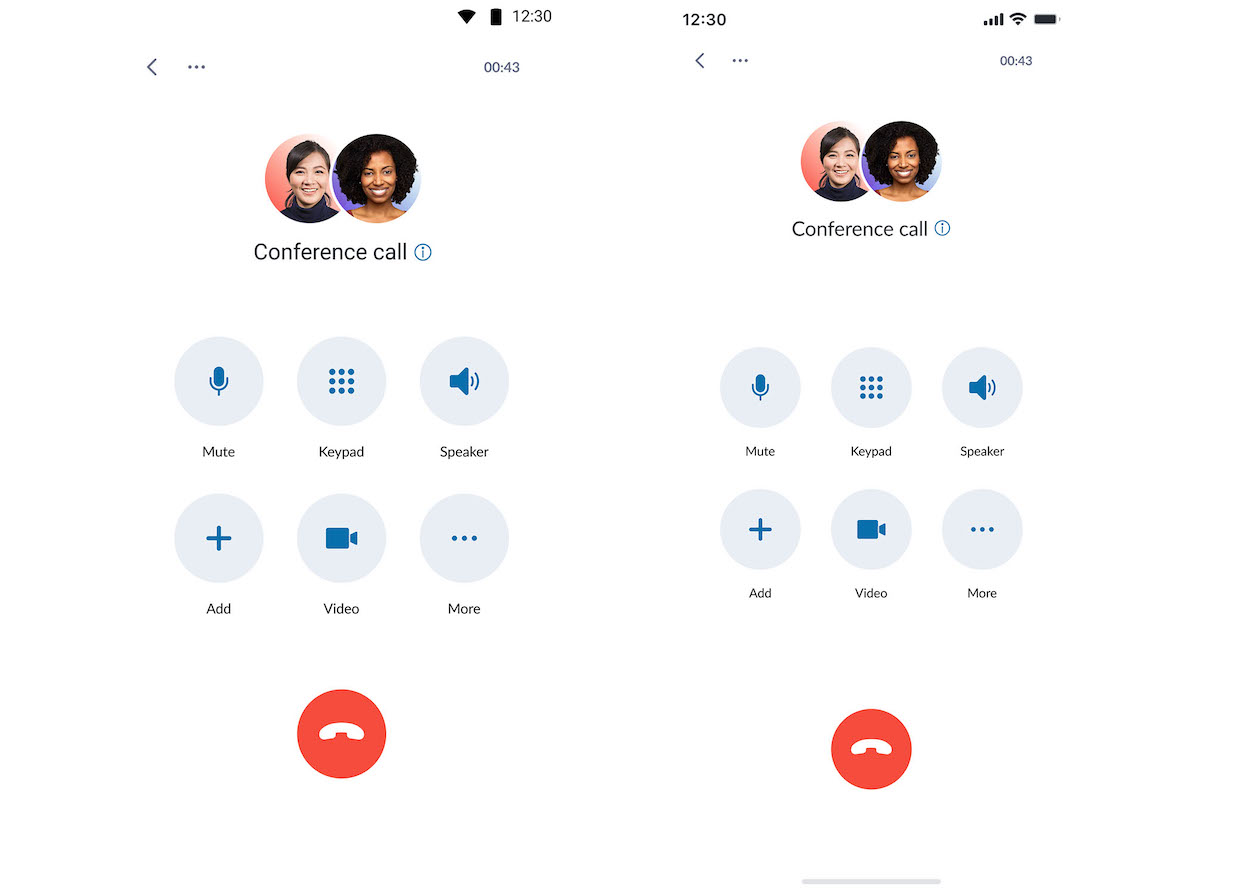 Toll-free and vanity numbers are also available, along with inbound international phone numbers in over 100 countries. Team members can also set their presence status to Available, Invisible, or Do Not Disturb to let others know they're on an active call.
Other key virtual telephony features include:
Call Screening and Caller ID
Conference Calling
Business SMS and MMS Texting
Call Flip, Call Park, Hot Desking
Call Routing
Dial-by-Name Directory
Call Analytics
Visual Voicemail, Voice-to-Text, Voicemail-to-Email
Auto-Attendant and Multi-Level IVR
On-Demand and Automatic Call Recording
Call Barge, Call Whisper, Call Monitoring
RingOut One-Touch Calling
Virtual Faxing
Instant Chat Messaging And Team Collaboration
RingCentral's collaborative instant team chat messaging tool lets team members and external guests communicate in real-time.
Users can chat via private and public group channels, one-on-one direct messaging, or create Team chats for departments, projects, tasks, etc. The images below show a direct messaging conversation between two people and how to create a Team (messaging channel) in the Desktop App.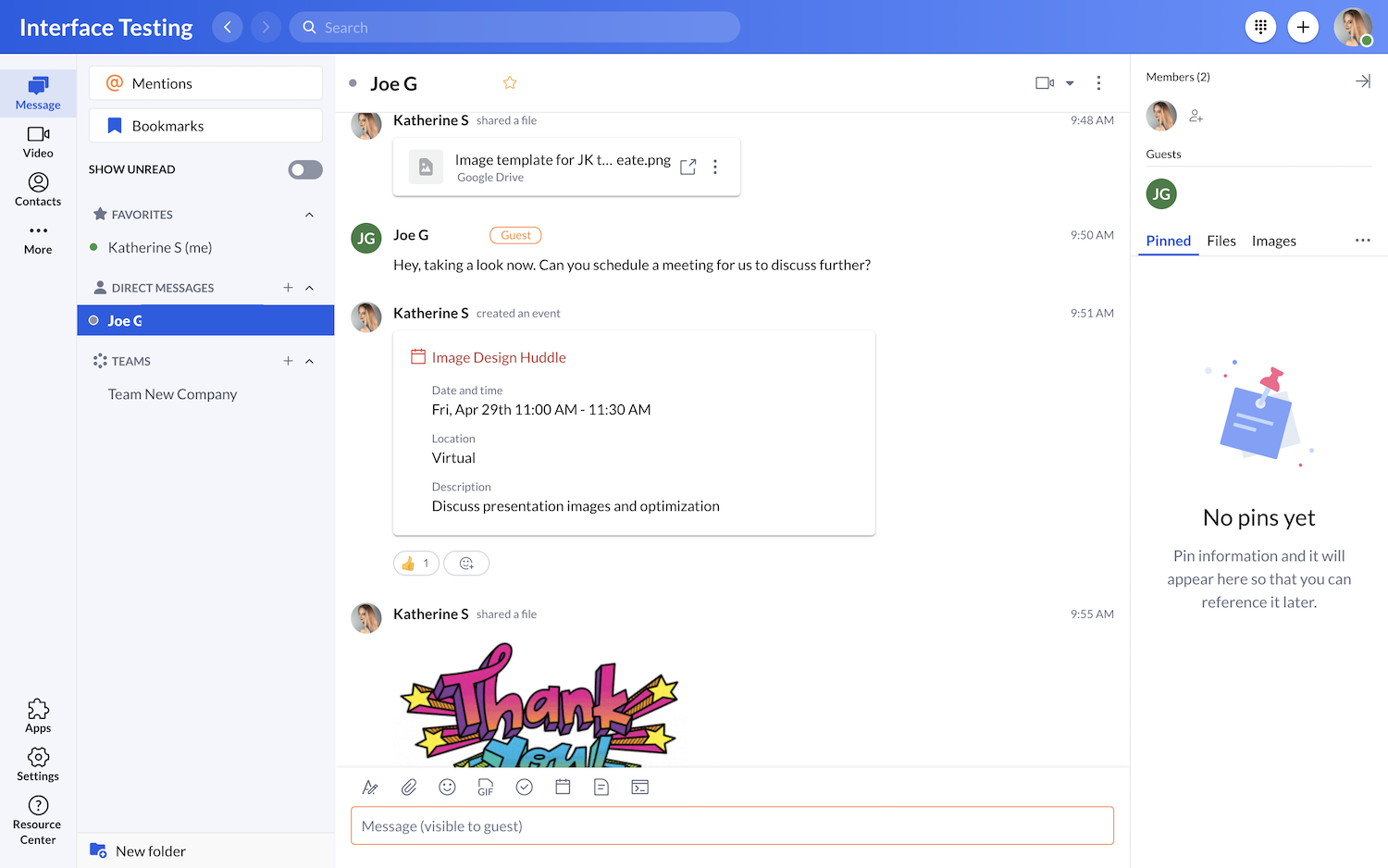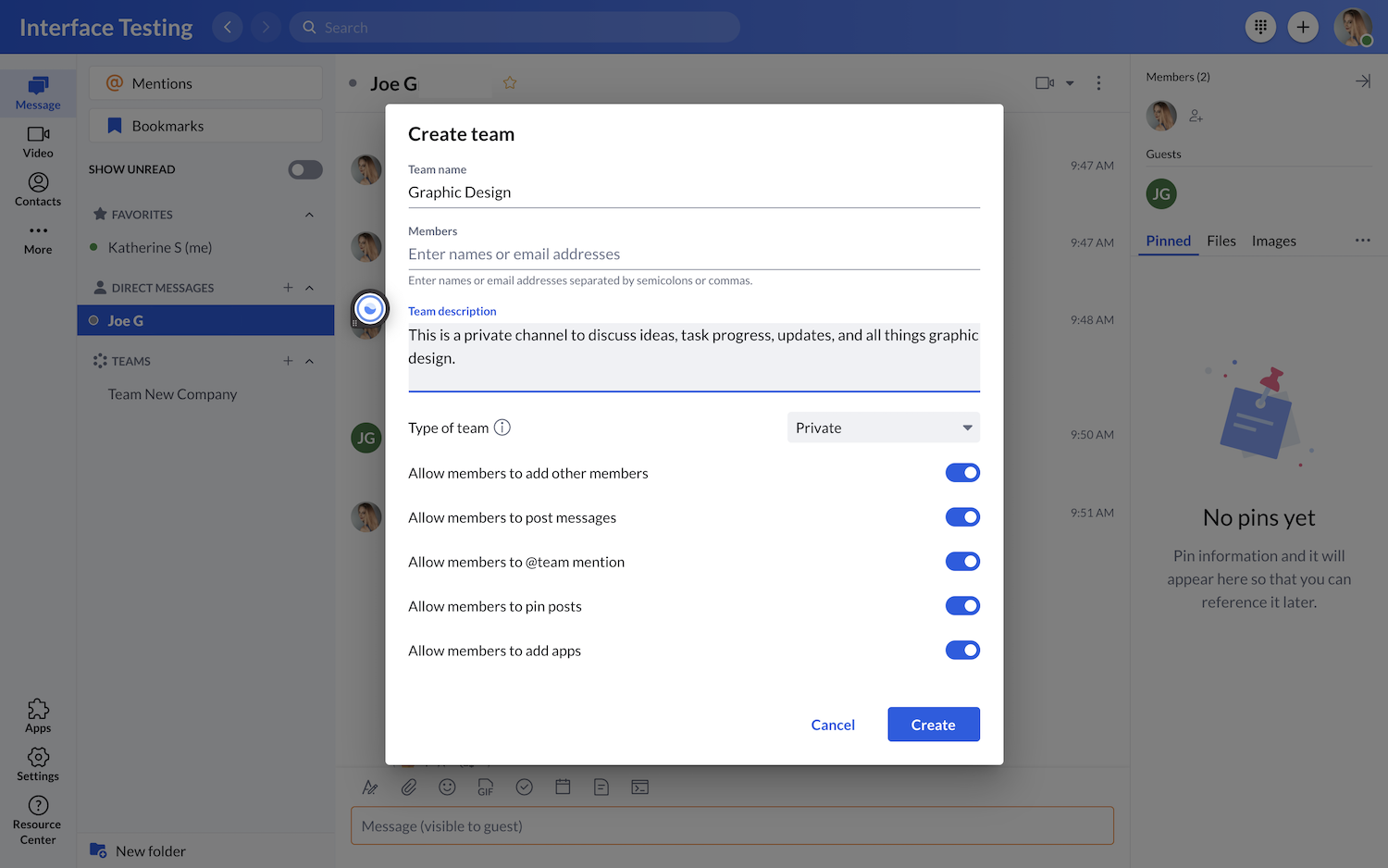 Basic messaging features include the ability to:
Transition directly from messaging to video
Mention/tag other users
Set user presence (Invisible, Do Not Disturb, Available, etc.) and status
Conduct polls
Search saved chat archived
Schedule and share meetings
Bookmark and format messages
Share code snippets
Upload/attach files from Google Drive, OneDrive/SharePoint, Box, Dropbox, or Computer
React to messages with emojis and share GIFs
Pin files, images, tasks, links, notes, events, apps, etc. for easy access
In addition to the above features, RingCentral Messaging includes more advanced team collaboration features.
While file sharing through third-party apps is available, the RingCentral Messaging App also lets users create, share, co-edit, and save notes. Images, links, headers, tables, and more can be included in notes, as shown in the below image: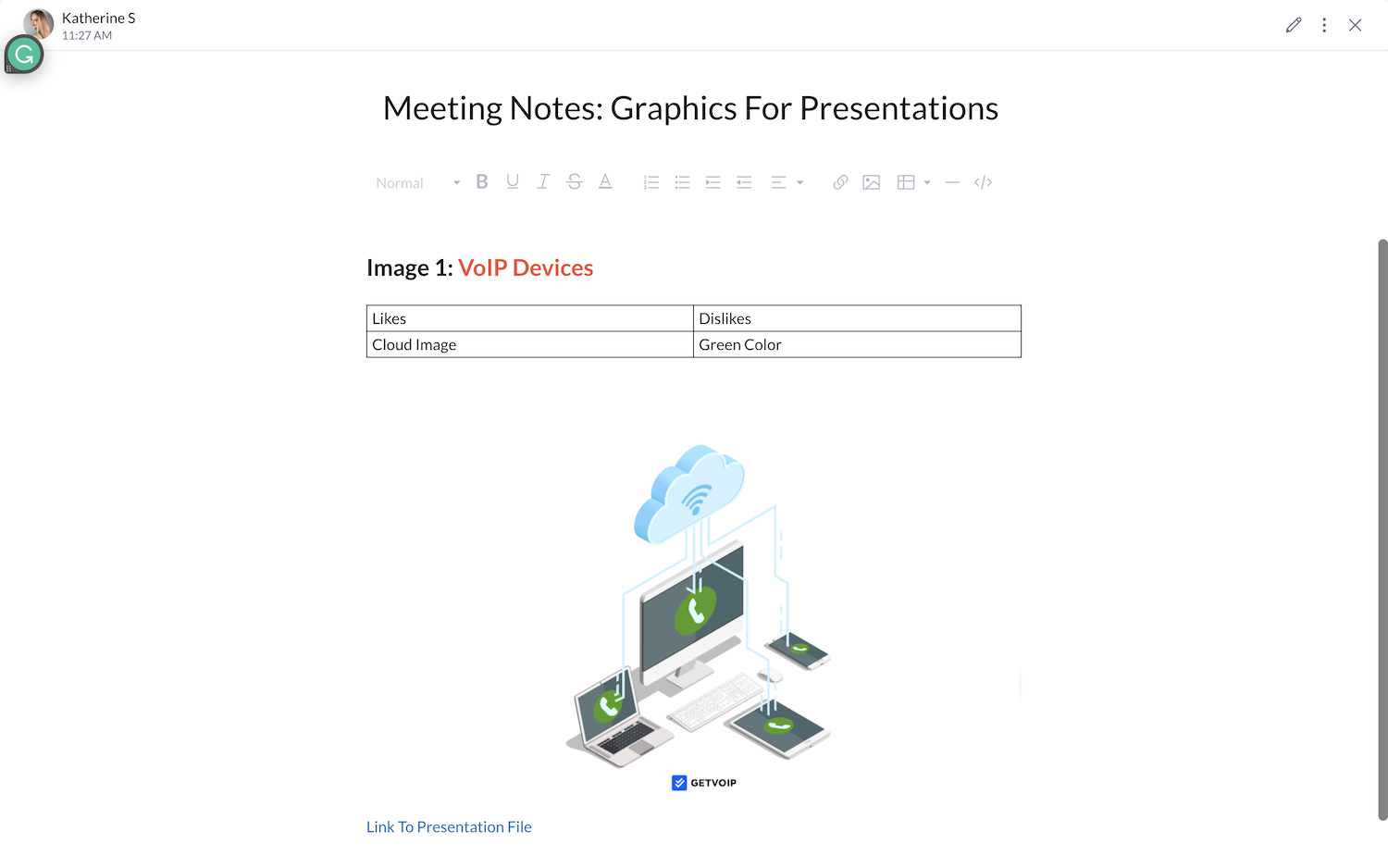 The RingCentral App also includes advanced task management features, one of the best tools the product offers. These tasks can be created, automatically repeated, shared within the Messaging App on desktop or mobile devices, assigned to specific employees or teams, and edited. These tasks are sortable by due or assignment dates, conversations, or assignees, and can be re-ordered within the drag-and-drop interface.
Task descriptions, color-coding, deadlines, file attachments, commenting, user tagging, and task status updates are also available, as shown below: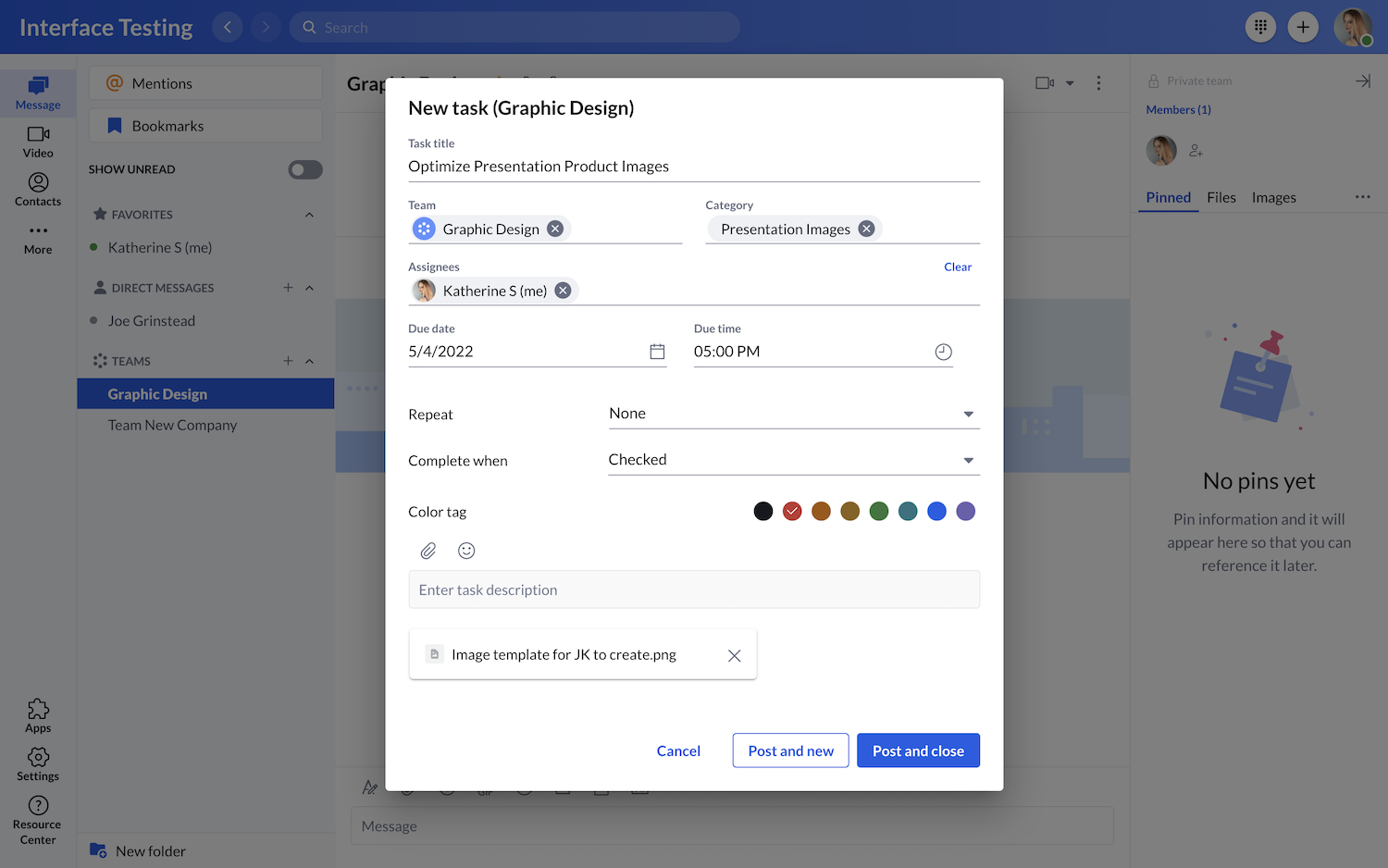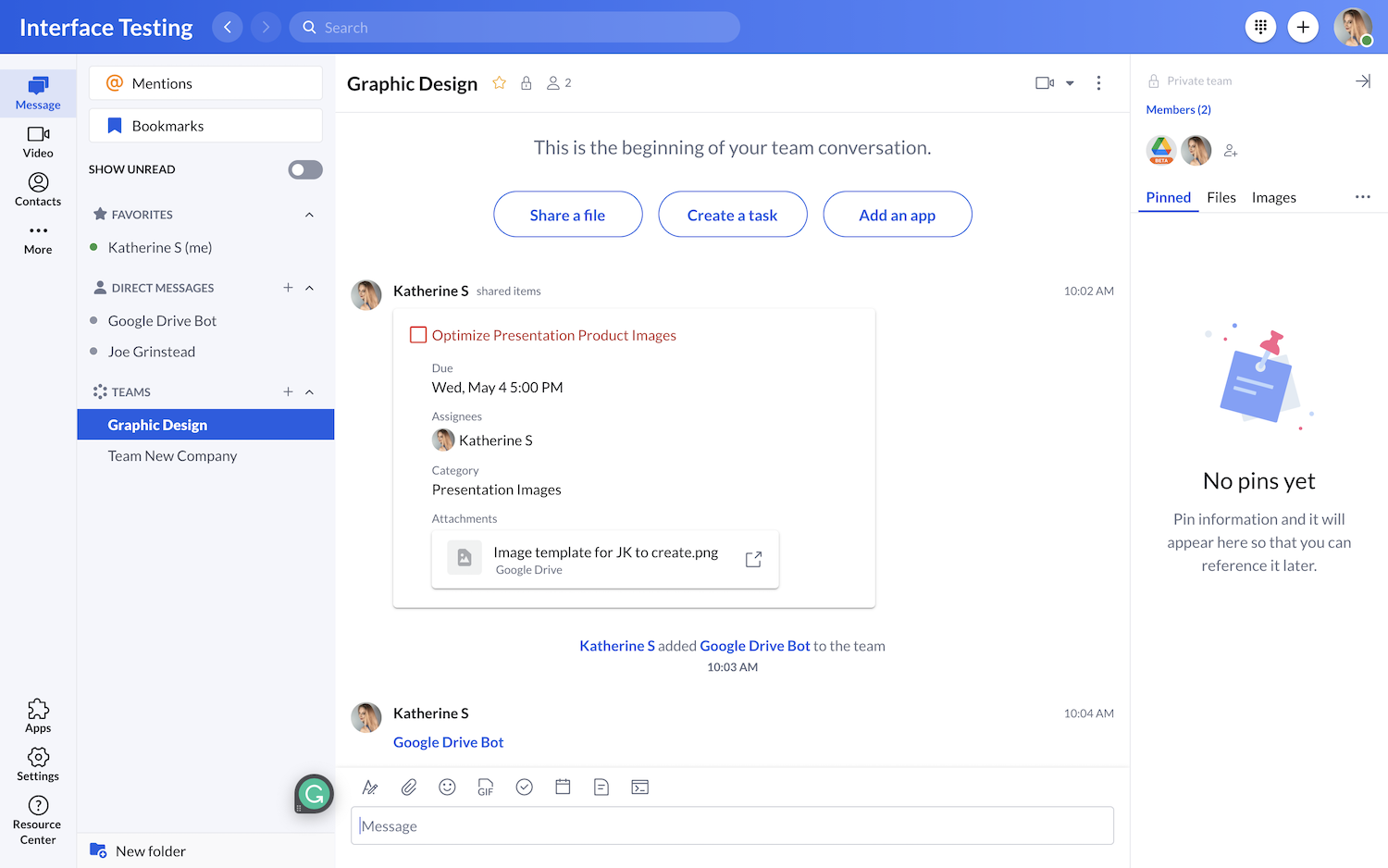 Users can also add third-party bots – which RingCentral calls "Add-Ins" directly into the App messaging interface, such as the Google Drive Bot shown in the image below.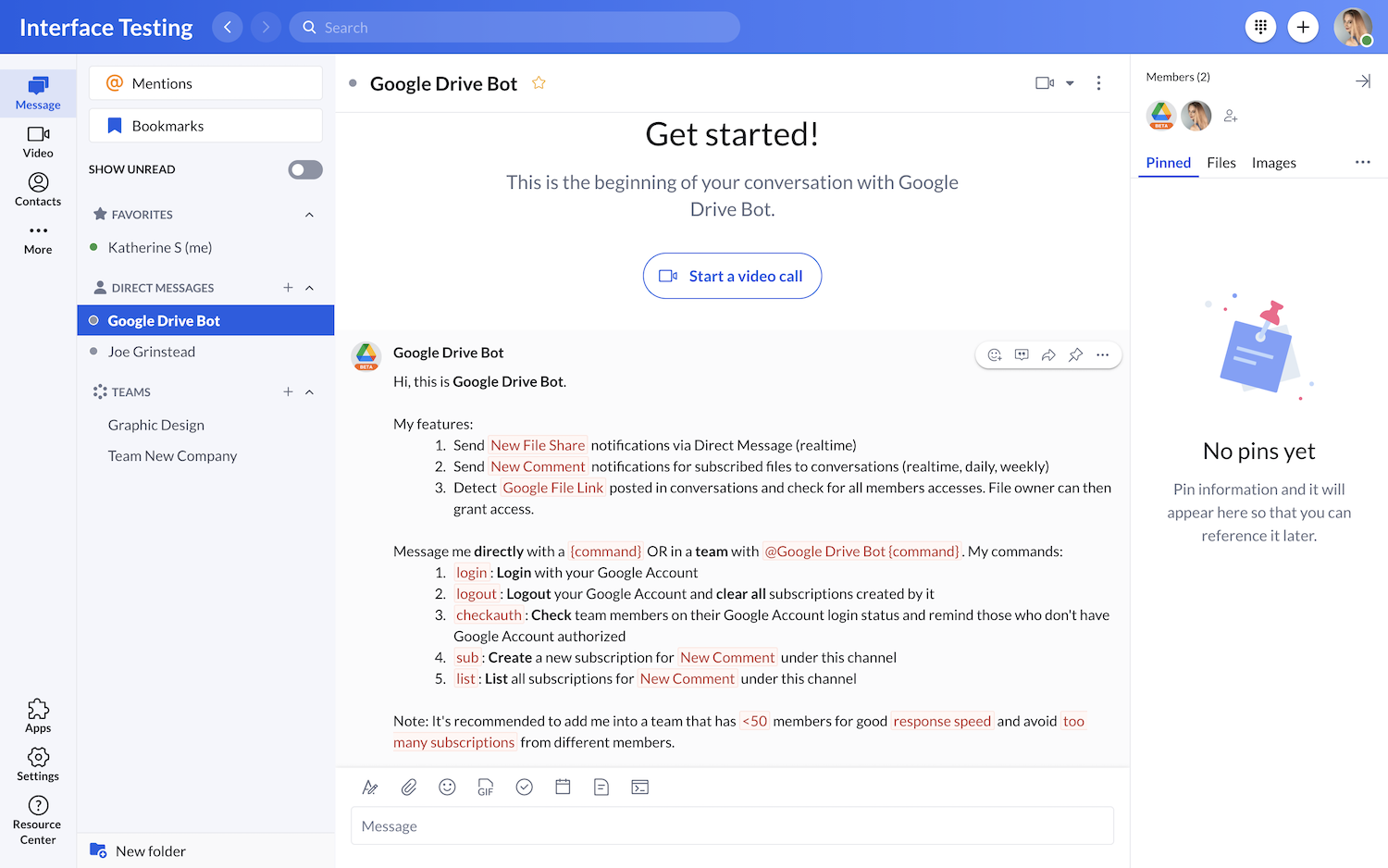 Users can create and share meeting links and invitations directly in the messaging interface, but we'll go into more detail on video meetings in the section below.
Video Meeting Features
RingCentral Video Meetings are available in the RingCentral App (or directly in a web browser) on desktop and mobile devices.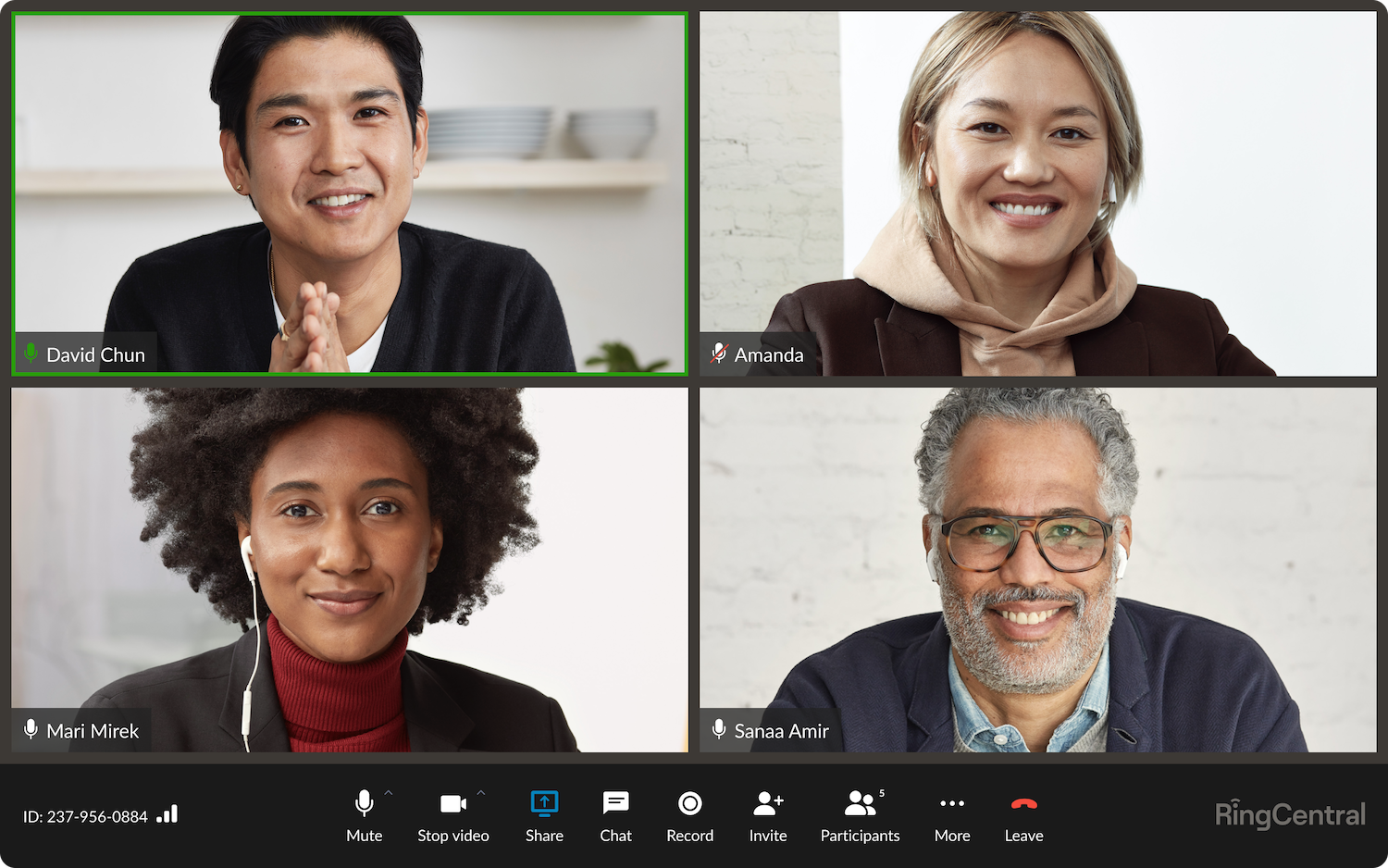 With a maximum capacity of 200 meeting attendees and 25 simultaneously shared screens, users can access all the above-mentioned team collaboration and messaging tools during a video call.
As seen in the image below, Messaging App users can start ad-hoc video meetings, share upcoming meeting links and invitations, join existing meetings, and schedule upcoming meetings with ease.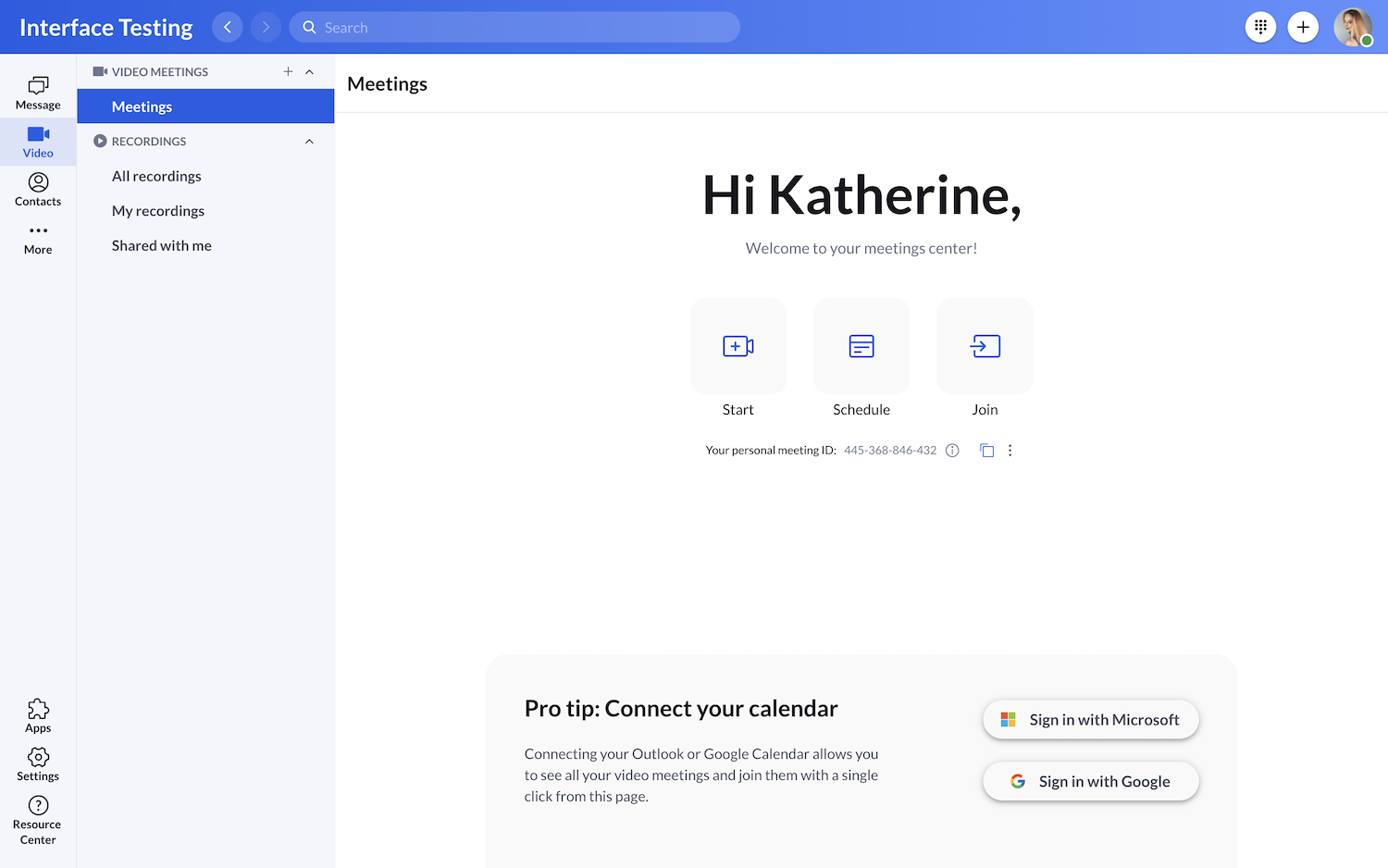 Meeting scheduling lets hosts title meetings, (called "Events") invite users and teams, set start and end dates/times, set up repeated meetings, create meeting descriptions, and even color-code meetings.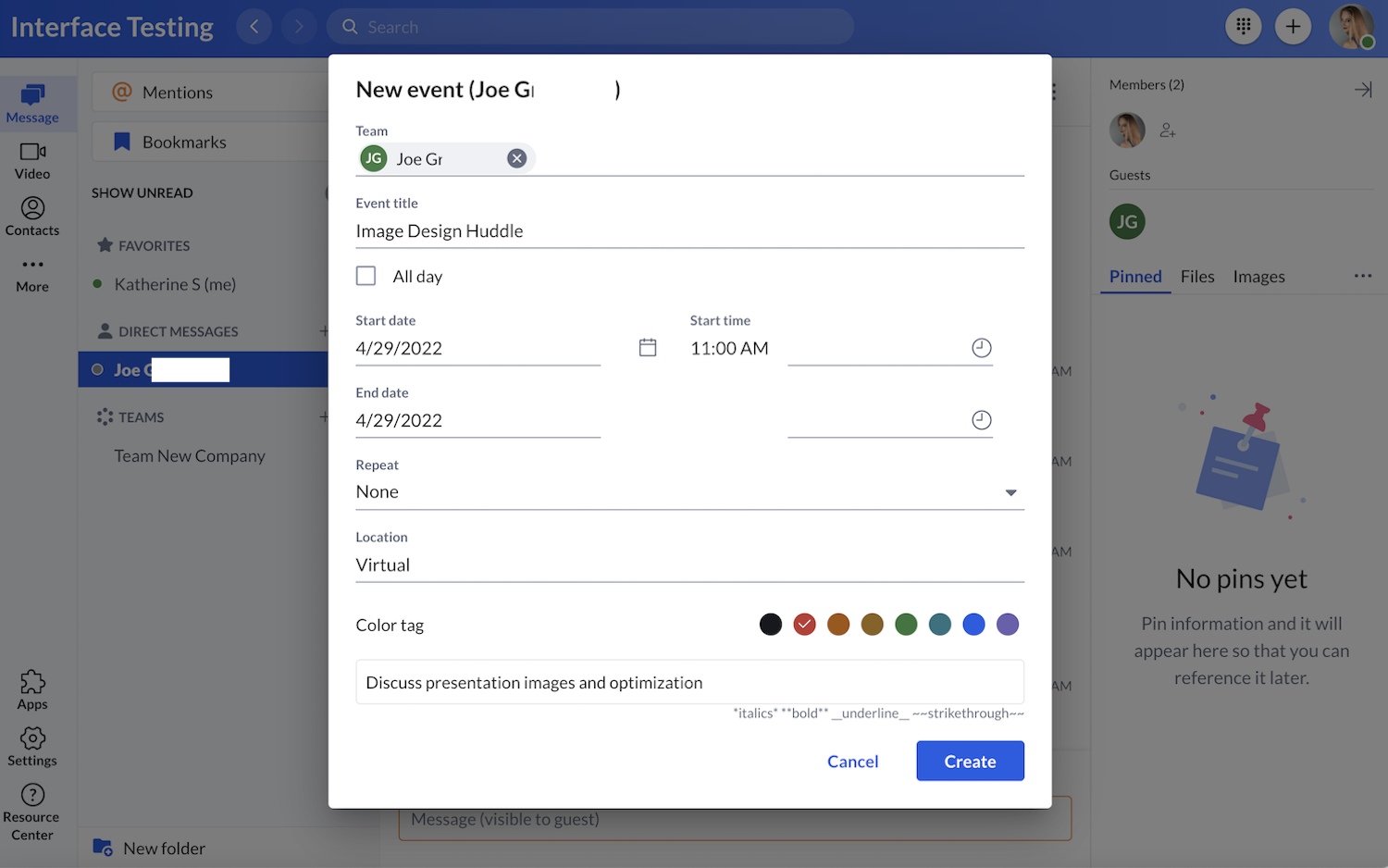 Up to 100 hours of video meetings (audio and video) can be recorded automatically or on-demand and stored for up to one year. Cloud meeting recordings are shareable and accessible in the App sidebar or the Workspace interface and can be filtered via the search bar.
Additional video meeting features include:
Screen Sharing (entire screen, web browser, or single app) and Screen Annotation
Remote Desktop Control
Active Speaker and Gallery Views
Whiteboarding
Virtual Hand Raising
Assign Meeting Moderators ("Delegates")
Personal Meeting Room IDs
Host Controls (Meeting Lock, Mute/Unmute, Remove Participants, Meeting Passwords)
Virtual Backgrounds
Live Meeting Transcription and Closed Captioning
Presentation Mode
Appearance and Lighting Touch-Ups
"Call Me" and Dial-In Meeting Access
Create, name, and randomly/manually assign users to up to 50 Breakout Rooms
RingCentral App Analytics
Real-time and historical analytics are directly accessible in the App and can be exported and shared with other team members.
RingCentral offers over 30 out-of-the-box contact center KPIs and analytics filters as well as customizable reporting. Admins can generate reports manually, or automatically at preset intervals.
Key metrics include:
Quality of Service (QoS) reporting
Call Queues/Call Wait Time
Business Phone System Call Volume (Daily, Weekly, Monthly, et.c)
Agent and Team Activity and Details (Average Talk Time, Handle Time, Service Level, etc.)
Incoming Calls: Outgoing Calls Ratio
Call Abandonment Rates
RingCentral Desktop App Integrations
Even though the RingCentral App is designed as a central location to monitor and execute a wide variety of business processes, some team members may still prefer to use familiar third-party tools.
RingCentral's app gallery contains hundreds of possible integrations with CRM tools, chat apps, and more. It  also provides an open-source platform for users to create their own APIs and customizations.
Top integrations include:
Salesforce, Hubspot, Zoho CRM
Microsoft 365 (Teams, Outlook, etc.)
Google Workspace (Gmail, Chrome, Google Calendar, etc.)
Slack
Zapier
Mailchimp
Asana, Trello
Zendesk, ServiceNow
Zoom
RingCentral App Pricing
The below image outlines available RingCentral MVP Business Communication pricing and plans when paid annually (annual billing offers a discount of up to 33% when compared to monthly billing options.):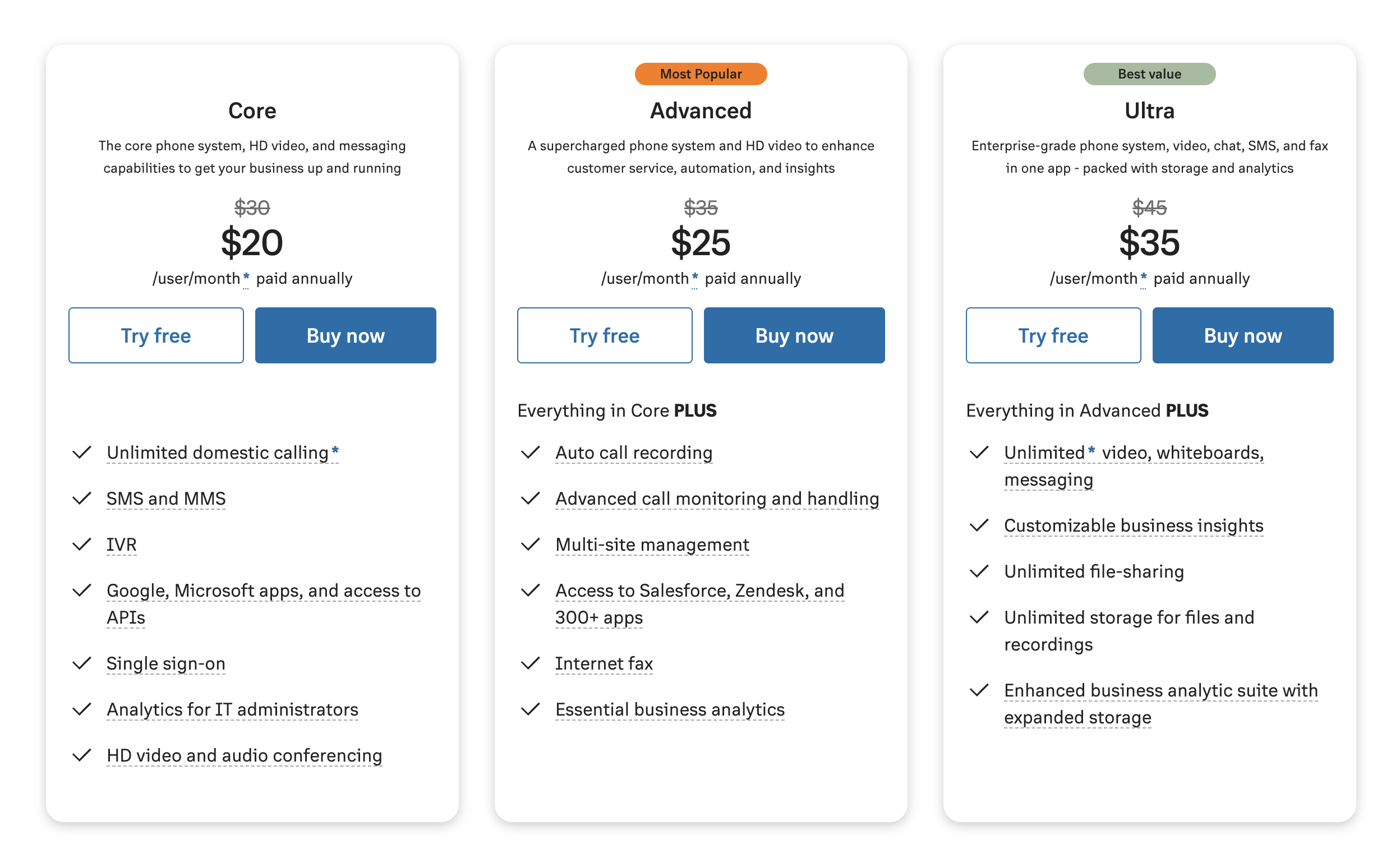 A 15-day free trial is available, and volume discounts are available for 50+ users.
Note that RingCentral's Free Plan includes basic messaging and video capabilities. Users that don't need the unified communications and business phone service RingCentral MVP offers may wish to upgrade only to the RingCentral Video Pro+ Plan.
Pricing and available features for the Video Pro Free and paid versions: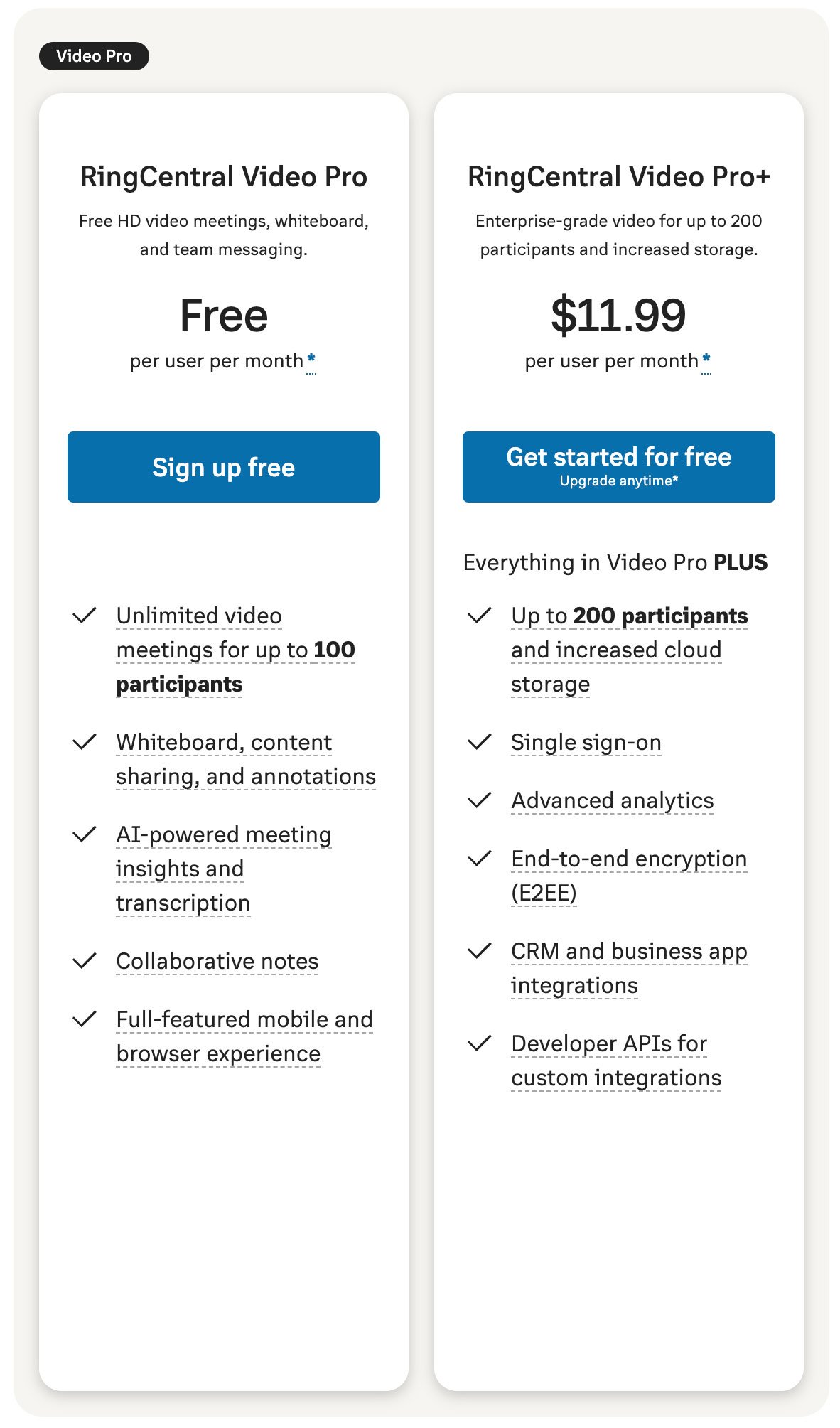 Who Should Use The RingCentral App?
The RingCentral App is clearly geared towards highly mobile, remote, and geographically diverse teams that need to represent the modes of in-office communication on a virtual level.
Though larger, enterprise-level companies may need to upgrade to the RingCentral Contact Center, small businesses and mid-sized teams will especially benefit from using a single app for nearly all of their communication and collaboration needs.
Even teams already using other business software can use the RingCentral App to consolidate their most-used tools into one interface.
To learn more about RingCentral as a Unified Communications solution and Contact Center, check out our complete RingCentral review.
RingCentral App FAQs
Below, we've answered some frequently asked questions about the RingCentral App.